Tsitsikamma National Park | South Africa
Hiking the Otter Trail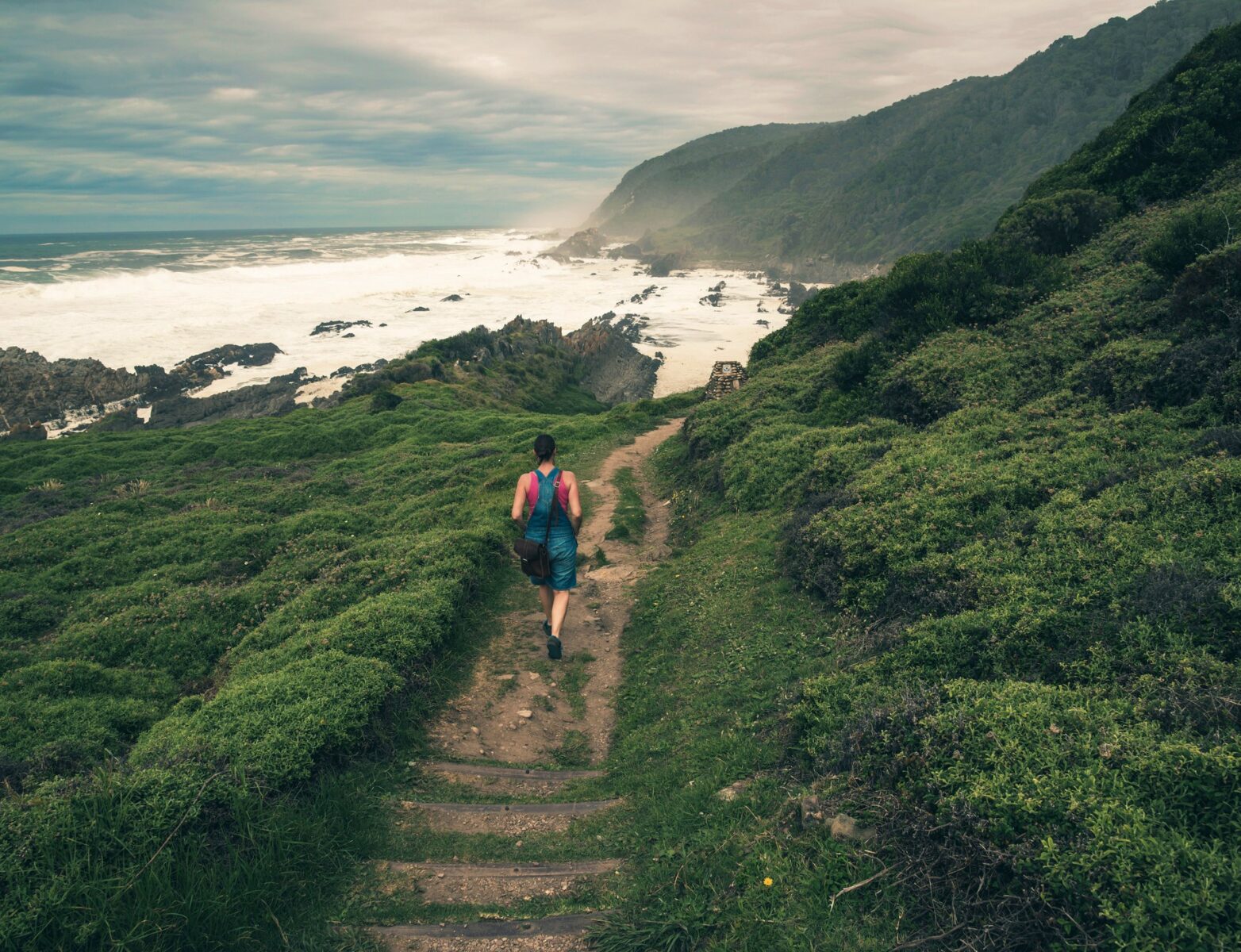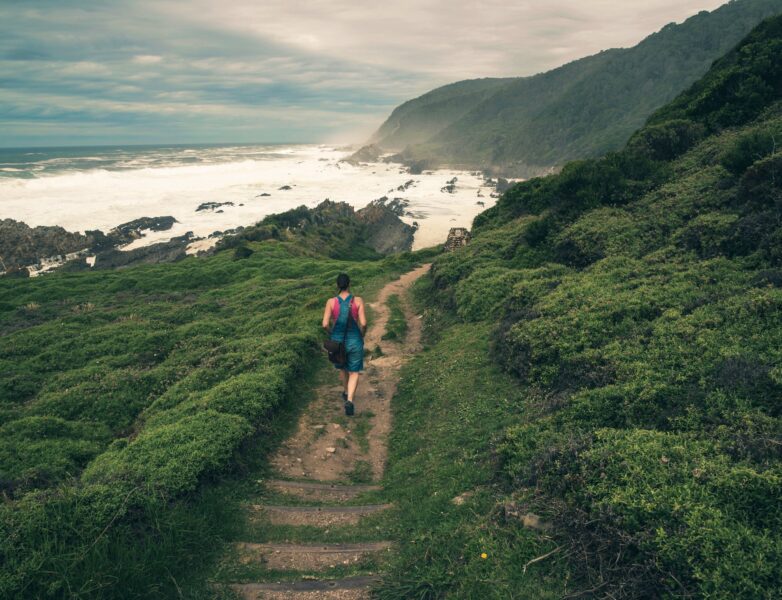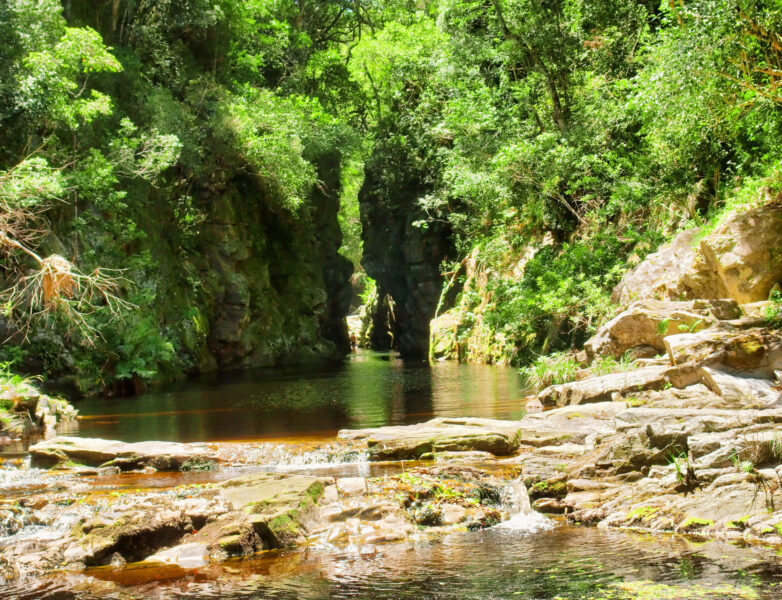 Otter Trail through Tsitsikamma is the best hiking in South Africa
Stretching from the Storms River Mouth to Nature's Valley, the 27-mile Otter Trail hike is widely regarded as one of the most beautiful trails in the world. With coastal mountains, scenic rivers, lush forests, and pebbled beaches, it's no surprise the Garden Route of the south-eastern coast of South Africa is recognized as a UNESCO Biosphere Reserve. Expert guides take you through the breathtaking Tsitsikamma National Park, which stretches along the coastline to the best photo-ops, otter spotting, and challenging trails. Expect an epic multi-day hike!
Most Popular Itineraries
Nature Valley and Otter Trail 3-Day Hike
Your first destination hiking on Otter Trail is a lagoon surrounded by forested hills. From there, you'll hike past ancient, towering trees, fresh streams and waterfalls, and dramatic coastal vistas. If you feel like paddling, canoeing is an option. Expect five to seven hours of hiking daily.
Otter Trail 5-day Thru-Hike
Once you get a taste of Otter Trail's enchanting wilderness, you'll want to stay forever. Two extra days is a good compromise. You'll hike 37 miles through the heart of Tsitsikamma National Park's mountains and forest. Explore natural pools that feel like a trip to the spa, conquer river crossings and scale peaks.
Trip Highlights
Regardless of the trip length you opt for, you'll spend your days trekking through indigenous forests, soaking up the sun on rugged coastal cliffs, or paddling in naturally amber-tinted lagoons. Tsitsikamma's hike route is untouched, home to genets, snakes and baboons. Due to the trail's remoteness, it might be the only life you'll encounter. You'll also be expected to perform a river crossing, which takes some preparation and knowledge of tides from your guide.
The hikes are evenly split over the days, so you will feel the miles but will be able to enjoy the views around you. You'll also sleep in fully functional and cozy huts. After a long day, you'll be able to take a hot shower and access an on-site toilet. Be sure to pack a swimsuit, a camera and let the Otter Trail amaze you.
Guides we recommend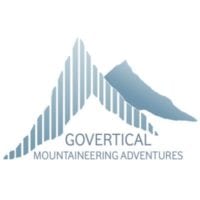 GoVertical Mountaineering
GoVertical Mountaineering
Established in 2002 GoVertical Mountaineering had the pleasure of guiding South Afr...
View details
Things you need to know
Why should I book with 57hours?
With us, it's all play and no work for you! 57hours is an open platform that connects you with trained and certified outdoor adventure professionals all over the world. Using our tech-savvy, we make it super easy to find and book adventures worth tackling, with guides worth booking, all gathered from the first-hand experiences of the locals who adventure in these amazing locations.
Why should I go hiking?
Cars just don't do the Otter Trail justice. Why view this breathtaking landscape passively through a window, when you can walk through lush native forests, past roaring waterfalls and breathe in the smell of the ocean? Hiking is undoubtedly the best way to enjoy Otter Trail's striking landscapes and experience the untouched nature around you.
What's included?
What you get in this adventure:
A GoVertical Guide
Packed trail lunches
8 hours of hiking per day
Accommodation
Tsitsikamma National Park fees
Transfers to trail heads
What can I expect from hiking with a guide?
Otter Trail's remoteness and untouched wilderness are its strongest selling points but also potential drawbacks. To avoid any hiccups, like getting lost due to the spotty cell signal, it's best you book a guide. Not only will you be getting the most of your trip, thanks to their extensive knowledge of the area, they'll let you in on the hidden gems along the way and know just what to do if the weather takes a turn.
What do I need to bring?
Here's a list of the equipment you need to bring:
Backpack (50 – 70 liters)
Waterproof cover or survival bag for backpack
Sleeping bag: 5℃ recommended — available to rent if needed
Warm waterproof jacket with hood
Hiking boots & socks
Sturdy sandals or water shoes for river crossings – not flip flops
Water bottle (2L)
Towel
Toiletries (biodegradable required)
Toilet paper
Sunglasses
Sun hat
Insect repellent
Headlamp
Personal first aid
Energy sweets and drinks
Optional:
Swimsuit
Kikoi (light towel or wrap)
Sandals
Camera
Binoculars
Hiking poles
Lightweight waterproof rain pants
What's the itinerary?
Day One:
The trail begins at the Groot River bank, a forested walk that will take you to the first hut. Today you'll hike for 5 hours. You'll be able to spend your afternoon swimming in the lagoon or at Natures Valley beach, both very close to the hut. When you get back, your guide will cook dinner.
Day Two:
The three-day option offers a canoe trip. If you prefer hiking, you can head out on a trail, instead. After breakfast, you'll hike through the indigenous forest, until you reach the Groot River valley below the Tsitsikamma Mountains. You'll hike for seven hours and rest at the Blaauwkrantz Hut, which offers breathtaking views of Peak Formosa, the highest peak in the Tsitsikamma, as well as stunning waterfalls and enormous natural pools.
Day Three:
Starting in the ancient Tsitsikamma forest, you'll hike along the steep escarpment looking over the Pig's Head viewpoint. From here, we'll descend to Nature Valley's beach, where the dark water of the Groot River flows into the ocean. After trekking for about six hours, you'll rest at a hut. If you chose the three-day option, this will be your last day.
Day Four:
If you opted for the five-day trip, you'll have a full day of fantastic hiking ahead of you. You'll make your descent to the Lottering River, ascend up to Rushes Pass and then enjoy the view of the mountains surrounding you. The trek follows the Elandsbos River before crossing it. Your hut awaits you in 
Heuningbos forest, where you'll find a river perfect for swimming.
Day Five:
On your last day on the trail, you'll explore the Tsitsikamma Mountains some more. During your climbs, you'll see rare endemic flora and descend to the suspended Storms River Bridge. From there, you'll be transferred to your last night's accommodation.
Day Six:
Today you say farewell to the Otter trail. Your guide will take you back to where you started your adventure, with plenty of new memories to reminisce about on your journey home.
How fit do I need to be?
You need to be able to hike for five to seven hour days, carrying a full daypack. Each day you will hike between seven to ten miles. You'll also encounter some uphill hiking and challenging river crossings. That said, if you are looking for adventure and up to the task of multiple days of full-day trekking, you'll be rewarded immensely.
What is the minimum age requirement?
Anyone 12 to 65 years old is welcome on this adventure. If you or a member of your party are younger or older, contact us prior to booking. It is possible to have age requirements waived, but on a case by case basis.
What about group sizes and pricing?
Groups usually consist of seven people, but you can arrange a trip with up to 12 people, if you're traveling with a larger party. All pricing is per person.
What about bad weather?
As the saying goes, "there's no such thing as bad weather, only bad preparation." You can expect your guides to be fully prepared for anything. Inclement weather can always get in the way of hiking, but your guide will know the best alternatives if the weather takes a turn.
Do I need an insurance policy?
It's highly recommended that you cover all your bases with travel and medical insurance. While hiking might seem like a low-risk outdoor activity, accidents can happen anywhere and we recommend insurance to avoid paying out of pocket for costly medical expenses. And as we've recently seen, travel plans can be abruptly halted, so it's a good idea to have cancellation insurance that also covers lost baggage. It's tried and tested, and it works.
Cancellation policy
All policies regarding cancellation, rescheduling and trip insurance will be clearly laid out by your guide prior to booking your adventure. Contact us if you'd like more information on a specific adventure.
Getting there and meeting location
You'll meet your guide at De Vasselot, a rest camp in Nature's Valley. If needed, the guides offer transfer from Storms River car park to the trailhead in Nature's Valley.