Trekking Kilimanjaro: Standing Alone Among the Seven Summits
Many have said that trekking to the summit of Kilimanjaro is like going from the equator to Antarctica. That is precisely the idea that propelled me to become a mountain guide.
The first time I went trekking up Kilimanjaro wasn't as a guide or a hiker eager to reach the summit, but as an interpreter translating Swahili to English. We had set out on the Machame Route, typically a week-long journey, and after the first day I already wanted to give up.
Why did they bring me up here? I just want to go back. I was perfectly fine without this, I kept thinking. But there was something inside that just kept pushing me up the tallest mountain in Africa.
After a lifetime of living in its shadow, engaging with porters and guides, seeing hikers with smiles returning from the summit, I needed to experience first-hand what all this excitement was about—and prove to myself that I, as well, was capable of such a feat.
By the time we got to the summit, I was in awe: the always changing ecological zones, the thousands of different plants; this, I knew, was the next step in my life. I was going to become a mountain guide.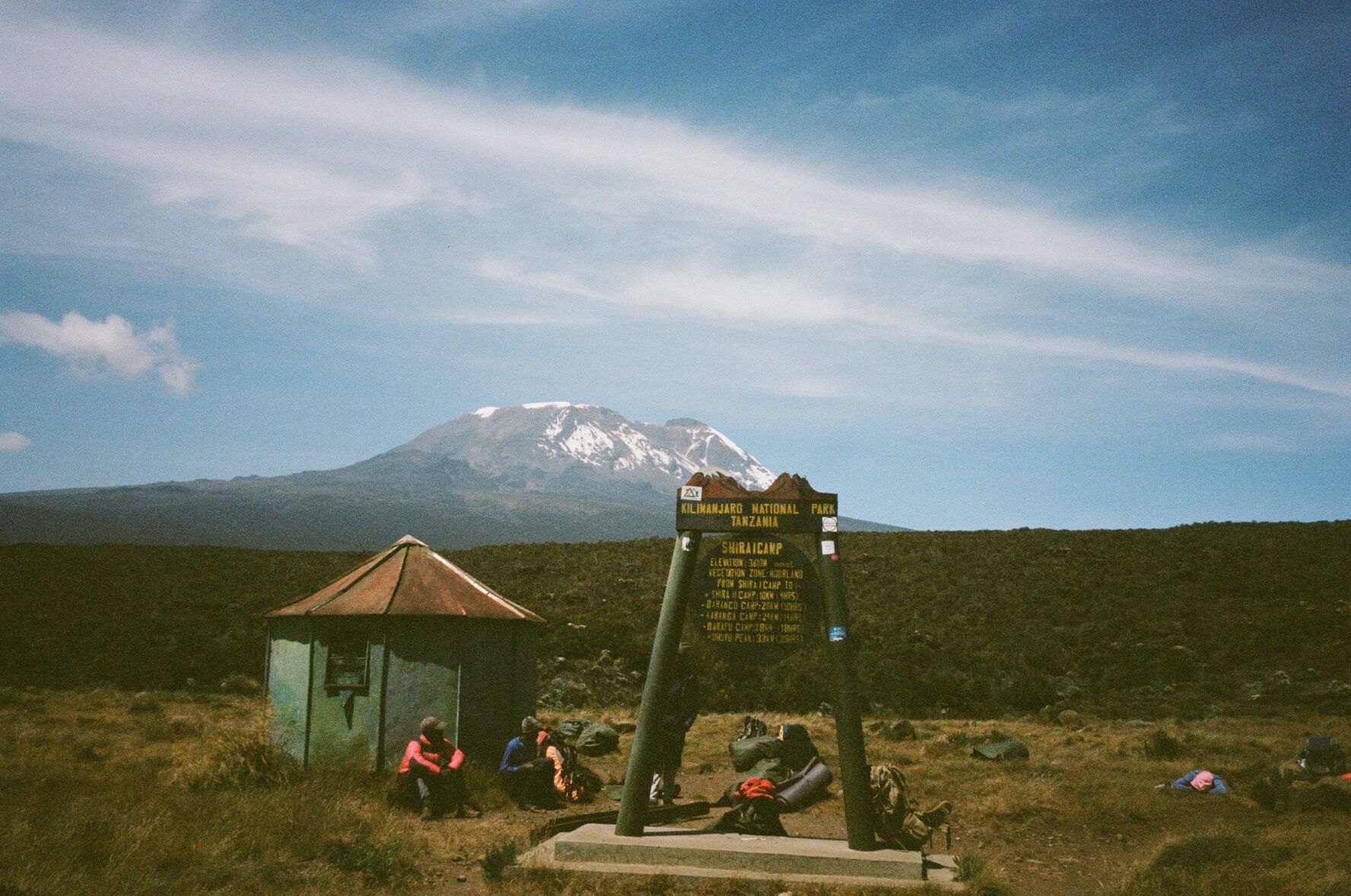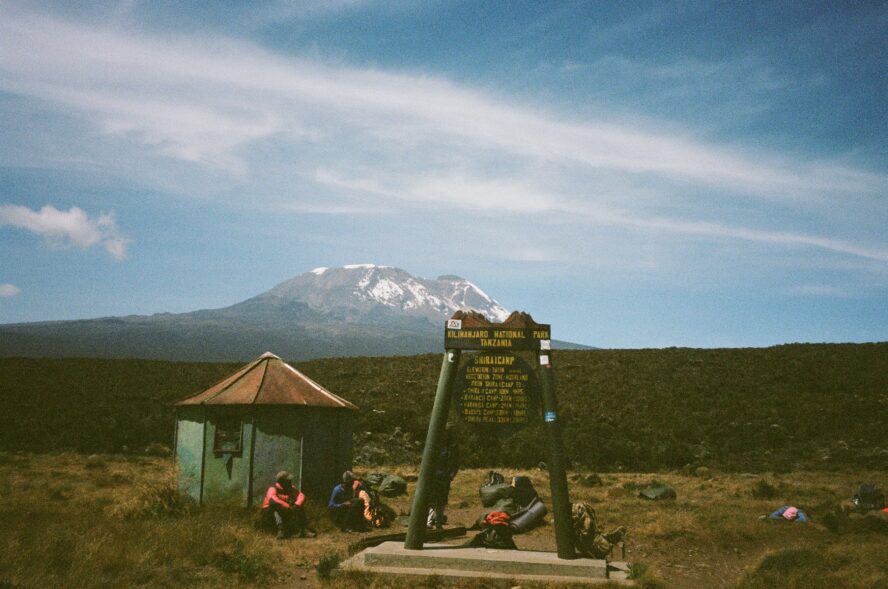 Pros and Cons of Trekking in Kilimanjaro
Seven different routes to choose from
Hike through five different climate zones
Be well on your way to the Seven Summits by reaching the highest point in Africa
Need to pack a lot of gear because of dramatic changes in the climate
Some of the routes can get crowded in the peak season
Volcanic Power Underlying Kilimanjaro
Millions of years ago, three volcanic cones erupted on the east coast of Africa, about halfway between the Indian Ocean and what is now Lake Victoria (an area which spans Kenya, Uganda, and Tanzania).
The first to show activity, 2.3 m.y.a., was Shira, which eventually collapsed in on itself, followed by Mawenzi and Kibo. Together, they form the distinctly flat-topped Kilimanjaro. While Shira and Mawenzi went extinct, Kibo continued to rise and is now the summit at 5,895m (19,341 ft).
The way I heard it: Why Kibo is white on the top
I grew up around Kilimanjaro, went to school in the area, and remember hearing old stories from my grandparents about why Kibo was white on the top. As they told it, once upon a time Mawenzi and Uhuru were good friends until Mawenzi got angry and threw a stiff porridge atop of Uhuru—which solidified and stayed put.
These stories accompanied me through my adult years as I worked odd jobs, guiding coffee tours, and driving tourists around town. The stories and the mountain's towering presence over my everyday life (it is the tallest free-standing mountain in the world after all) is ultimately what kept me curious about the mountain and grew my desire to climb it one day.
Trekking Kilimanjaro: "From the Equator to Antarctica"
I think one of the most magnificent things about Mount Kilimanjaro is the terrain.
Only 300 kilometers (190 miles) or so south of the equator, the summit is home to some of Africa's most magnificent glaciers. In fact, the top used to be covered by a 100 meter deep ice cap. In part, this is due to elevation: the mountain is 5,895m (19,341 ft) tall, and 4,900 meters (16,100 feet) above its plateau base. That is some serious elevation gain.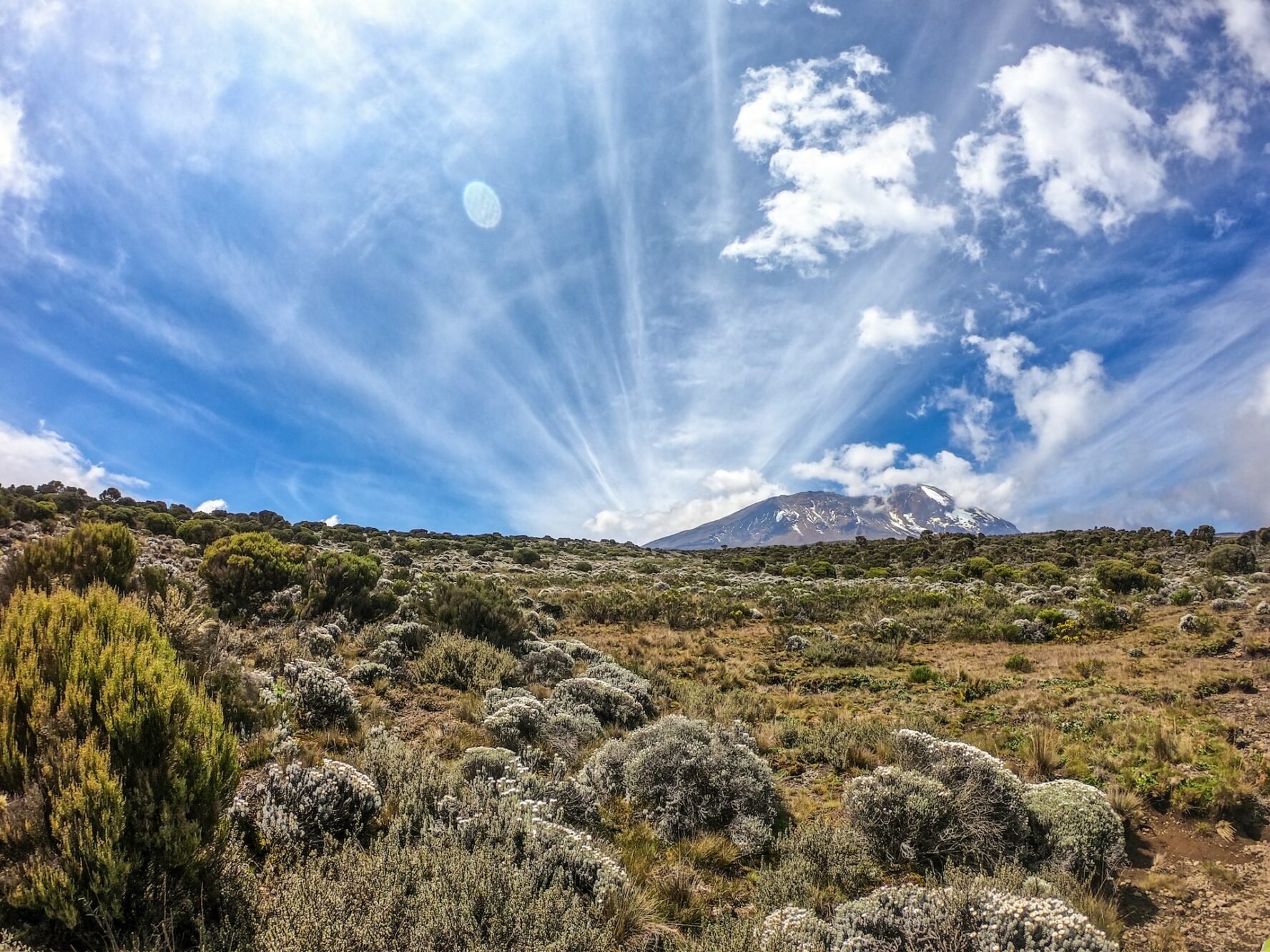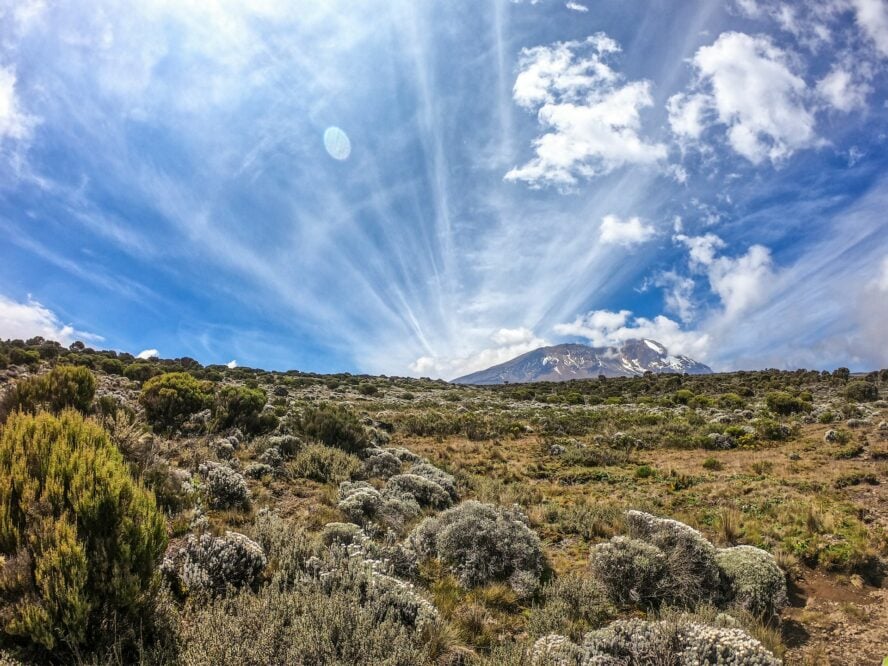 Five distinct ecological climate zones
On your way up, you pass through five distinct ecological climate zones: Cultivation, Forest, Heather-Moorland, Alpine Desert, and Arctic Summit, where, unfortunately, you'll only find about 15% of the ice cap remaining.
The changes occur roughly every 3-4,000 feet, each region with its own flora and fauna. According to a study from 2002 by Lambrechts et al., there are about 2,500 plant species on Kilimanjaro, while there is also an abundance of endangered mammals.
Kilimanjaro's Impact on the Economy, the People, and Me
The tourism Mount Kilimanjaro brings to Tanzania is beneficial to the economy:
Around 30,000 people attempt to summit each year, and this employs roughly 400 guides, 10,000 porters, and 500 cooks.
In 2013, the World Bank published a report stating that Kilimanjaro contributes to 13% of Tanzania's GDP with an annual revenue of US$50 million.
This money helps improve the lives of the communities around the mountain, which now have the highest school enrollment and adult literacy rate in the county.
At the same time, many companies have started taking advantage of people's desire to reach the top. In order to maximize their profits, companies pay porters below the salary recommended by the Kilimanjaro National Park Authority, they do not provide adequate clothing for the weather or proper sleeping tents, supply insufficient meals, and more. Further, when a porter is injured or worse, their suffering is not handled with the same level of importance that a client's suffering would be.
I believe in ethical tourism
When I started Eco-Africa Climbing, one of my main goals was to always have ethical treks and treat the locals who work on the mountain with the utmost respect and professionalism.
I will never offer my clients cheap climbs because cheap climbs exploit porters, the very people who ensure things go smoothly during a trek. I cherish our team and treating them the way I would want to be treated will always be my priority. That is why we partner with the Kilimanjaro Porters Assistance Project (KPAP).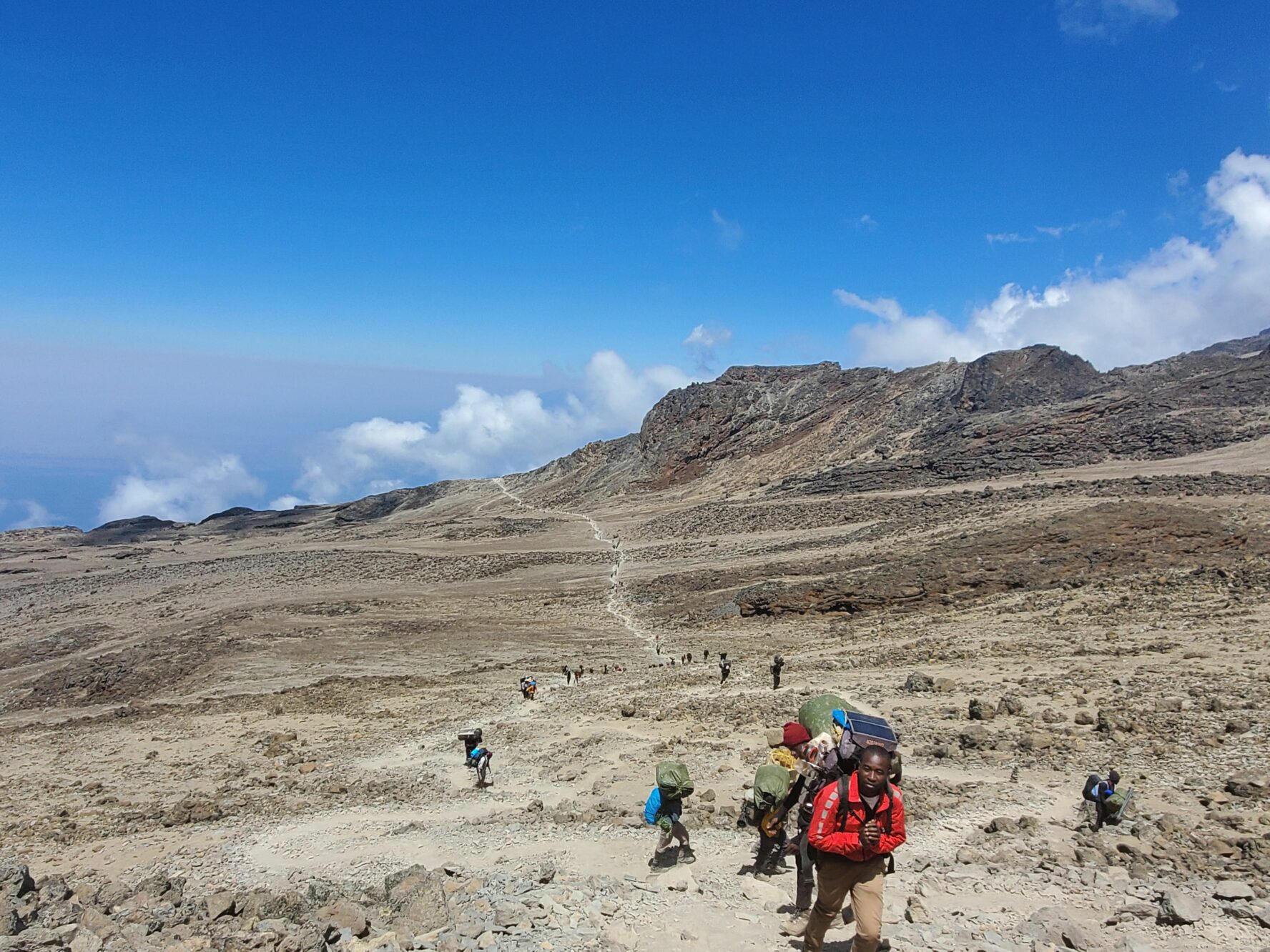 We have more than ten treatment criteria to ensure that we act responsibly towards our mountain crew. KPAP reviews each climb to verify that we are complying to their standards. Some of these include:
Salaries must be paid within two days of the descent of a climb
A transparent tipping procedure so porters receive the full tip amount intended for them
Loads carried by the porter should not exceed 20 kg (44 lbs.) for the company, excluding the porter's personal kit
Porters are provided with three meals per day, have proper shelters and sleeping equipment, and are outfitted with the quality gear
Sick or injured porters are properly cared for
More than this, I want the work that I am doing on the mountain to reach more people than just the guides and the porters. This is why we use any resources available to us to contribute to the Moshi community. We employ mountain crew from the local community, and for every one client we get to climb Kilimanjaro we make sure one child in Moshi gets health insurance for a year.
If you are considering trekking Mount Kilimanjaro, here are just two pieces of advice:
Work with a guide from the community so that you support the local economy. You can review a list of Partners for Responsible Travel who partner with KPAP, so make sure to check before you book!
Research if the guide is committed to fair treatment of porters and all other mountain staff. The importance of creating workforce equity for porters is vital around the globe, from Tanzania to Nepal to Ecuador and Peru. Marinel offers some important steps to help you evaluate tour operators.
Trekking Kilimanjaro's Many Routes
There are eight itineraries up Kilimanjaro:
Machame
Lemosho
Marangu
Shira
Rongai
Northern Circuit
Umbwe
Western Breach
To keep this short, I'll talk about two routes. My favorite, the Lemosho Route, and the most popular, the Machame Route.
Map of Mount Kilimanjaro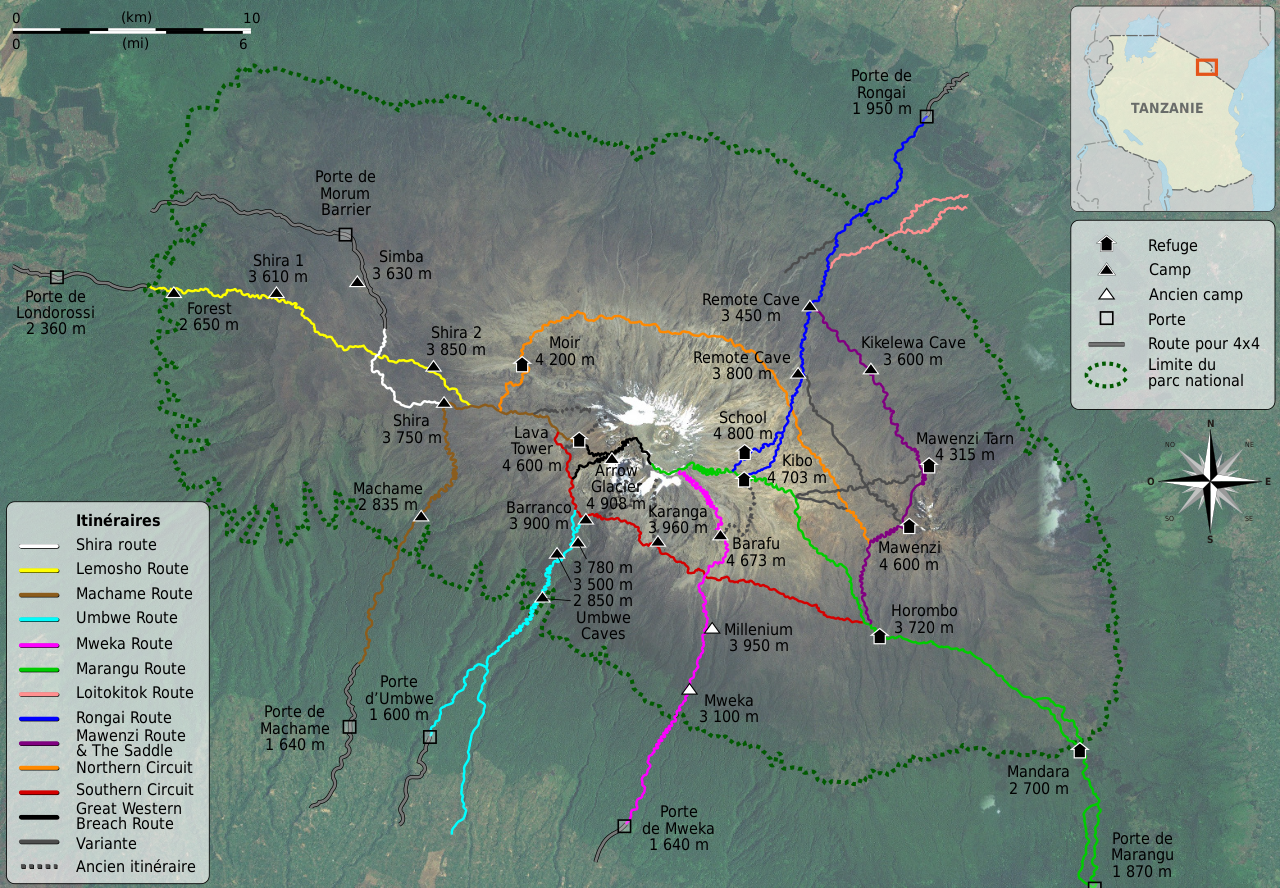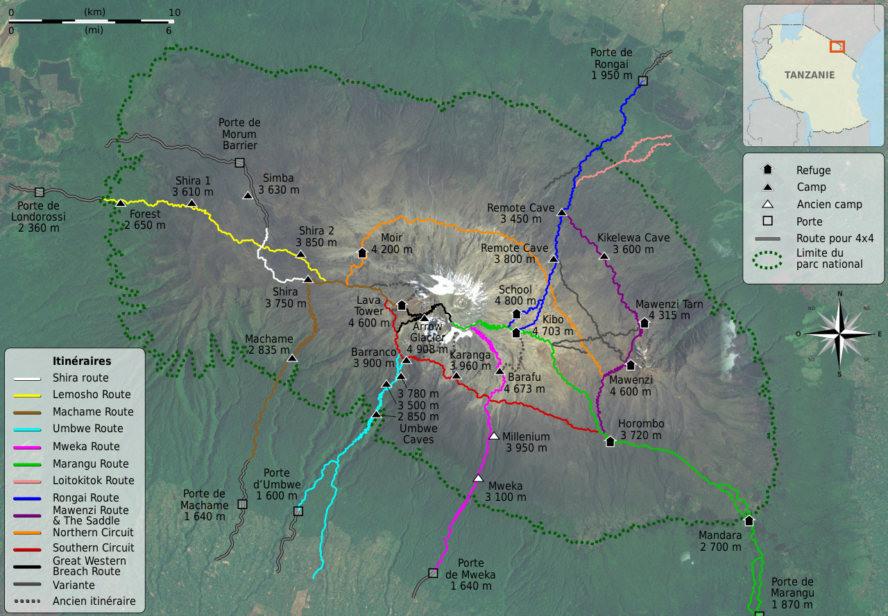 Lemosho Route: The Road Less Traveled
Quick facts:
Starts at 7,742 ft (2,360m)
The route is 70km (42 mi) total, and most days involve hiking between 4 to 17km (2.5 to 10.5 mi)
Balance of low traffic, beautiful scenery and a high summit success rate
Minimum number of days required for this route is seven days, although eight days is best
The Lemosho route is one of the newer ones on the mountain, and it is my favorite because it often has lower foot traffic and a higher success rate for reaching the top. It takes longer than climbing the Machame Route, though, but this also means more time for acclimatization.
You begin in the west with a drive to Londrossi Park Gate for registration on the first day. The actual hiking begins in the rainforest along a narrow forested path which you follow for two days to the Shira Ridge. Climbing Kilimanjaro via the Lemosho Route lets you cross the entire plain (compared to Machame which only spends a short time intersecting it), and is fairly flat. This gives you time to get adjusted to the altitude and enjoy the scenery.
By day three, the landscape starts to shift. At this point you leave the forest and enter the Moorland zone. An easier walk takes you across Shira Caldera past the Shira Cave which sits at 3,500 meters and then finally towards Shira Hut 1.
By day four you are fully walking on high Moorland. As you are traversing the southwest side of Kilimanjaro you will pass underneath the Lava Tower and the Western Breach. Now you are already at significant altitude (almost up to 4,600 meters in some sections), but what I like about this route is that it follows the rule of "walk high, sleep low" and therefore helps you avoid altitude sickness. The one downside is that by this point you have joined the buisier Machame Route.
Day five, begins with a descent into a ravine below the Great Barranco Wall, and continues with a steep (but not technical) climb up a cliff. You continue the day traversing over hills and valleys, and one more steep climb gets you to Karanga Camp. Day five is a bit shorter, and is therefore used for acclimatization.
The next day you connect to the Mweka Trail and continue up to Barafu Hut. This completes the Southern Circuit and offers many different views of Mawenzi and Kibo. An early finish to the day means plenty of time to prepare for the summit.
At midnight, you begin your trek to the top. This is by far the most challenging (physically and mentally) day.
The push to the summit
Uhuru means Freedom in Swahili. There is something empowering about the name of the top of the mountain: Uhuru Peak.
But you have to get there first, and sometimes you wake up and it's raining or windy. I often talk to myself, repeating, I can do it. I have to do it. Find whatever helps you because today is the day everyone has been working towards. Bill Allen says climbing Denali's West Buttress is "suffering with a smile," and I'd agree when it comes to trekking up Mount Kilimanjaro.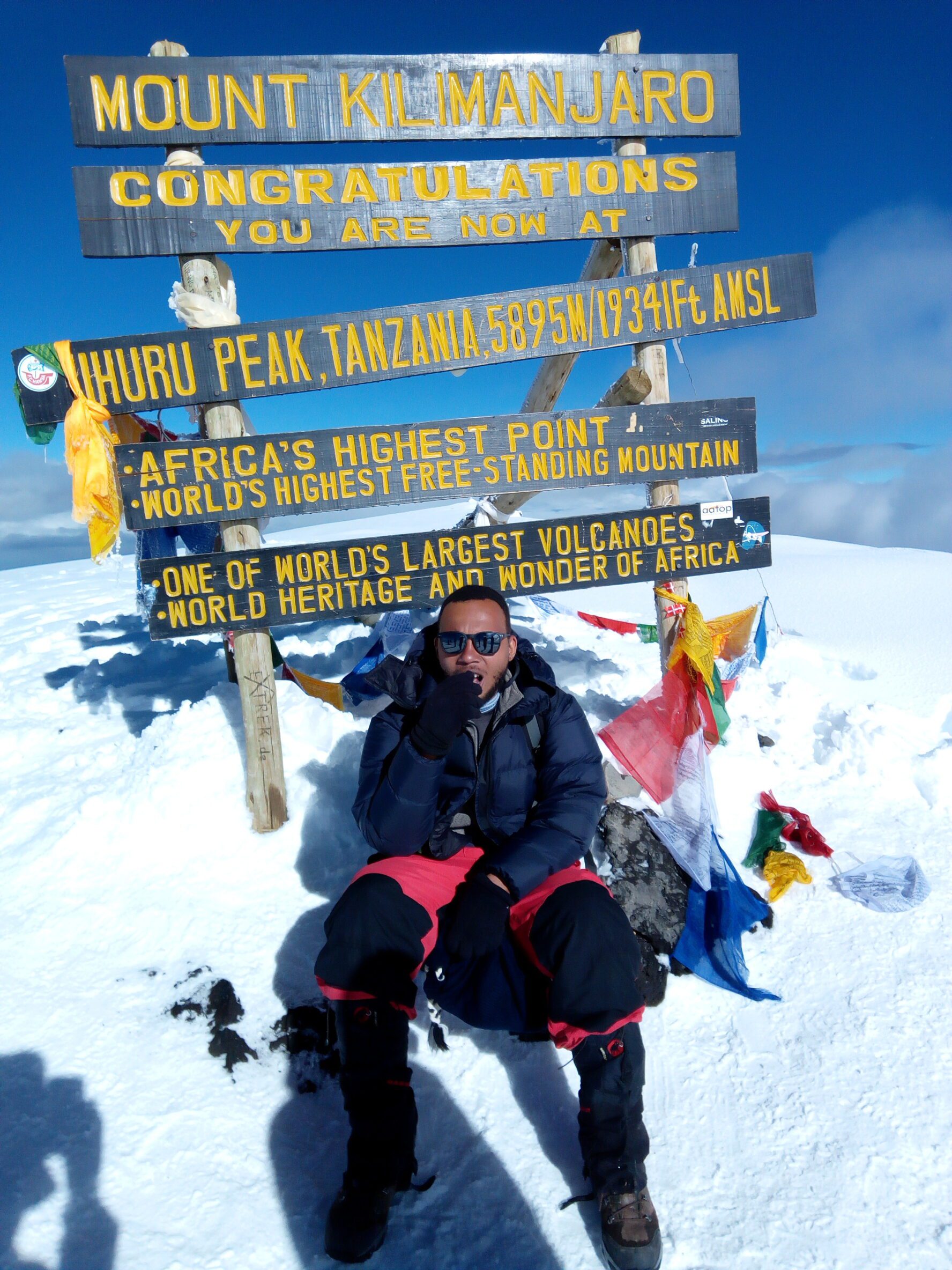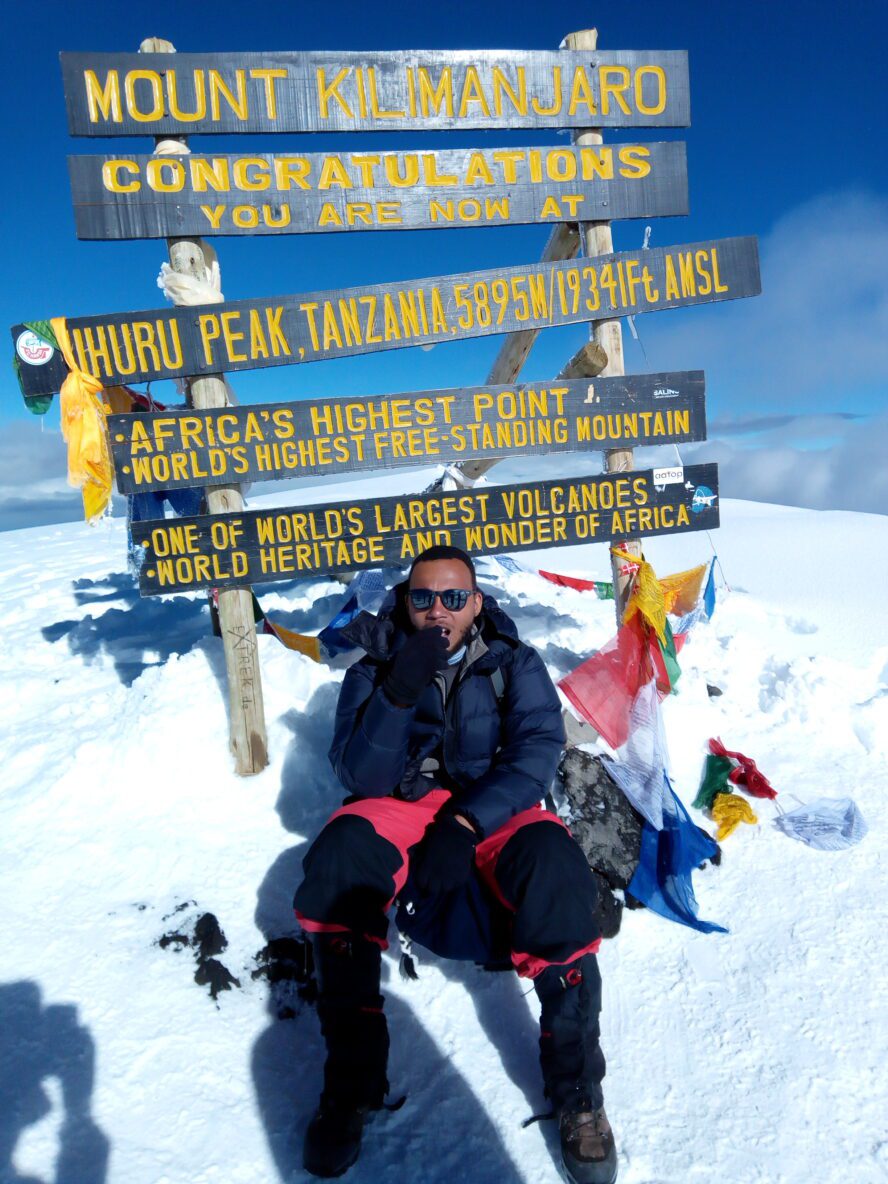 By the time you reach Stella Point (5,750m), you will start seeing glimpses of the sunrise coming over Mawenzi Peak and the magnificent views will most definitely be a confidence boost. About an hour longer and you are on the highest point in all of Africa.
Overall, you do not need any technical experience or equipment to climb Mount Kilimanjaro via Lemosho, just a good level of fitness.
Machame Route: The Road More Traveled
Quick facts:
Starts at 1,640m (5,381 ft)
The route is 62km (38.5 mi) in total, and most days involve hiking between 5 to 12km (3 to 7.5 mi)
Panoramic view of Shira Plateau but lower wildlife given the higher traffic
Minimum number of days required for this route is six days, although seven days is best
A guided climb of Kilimanjaro via the Machame Route is arguably the most popular way up the mountain but not the easiest. While I'd recommend Lemosho to beginners, I would suggest only those who have previous trekking experience to go up Kilimanjaro on Machame because the days are longer and steeper.
The first day goes through the lush jungle on an often muddy and wet path that is hard to see. After your first night on the mountain, you will continue up to the Shira plateau. It's the first time you get a good look at Kilimanjaro and the path ahead of you. I always tell people to remember to turn around and observe the equally magnificent Mount Meru rising over Arusha.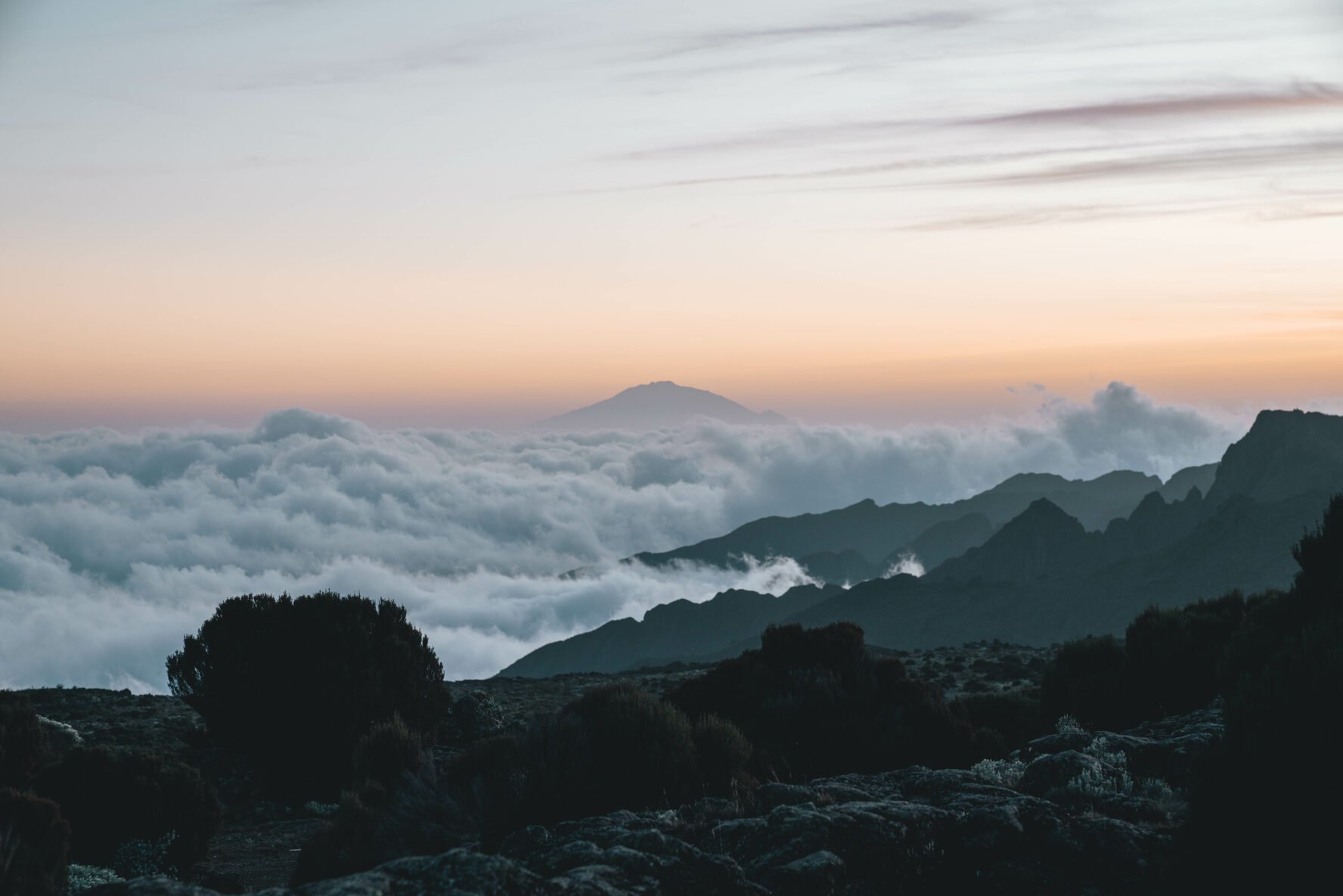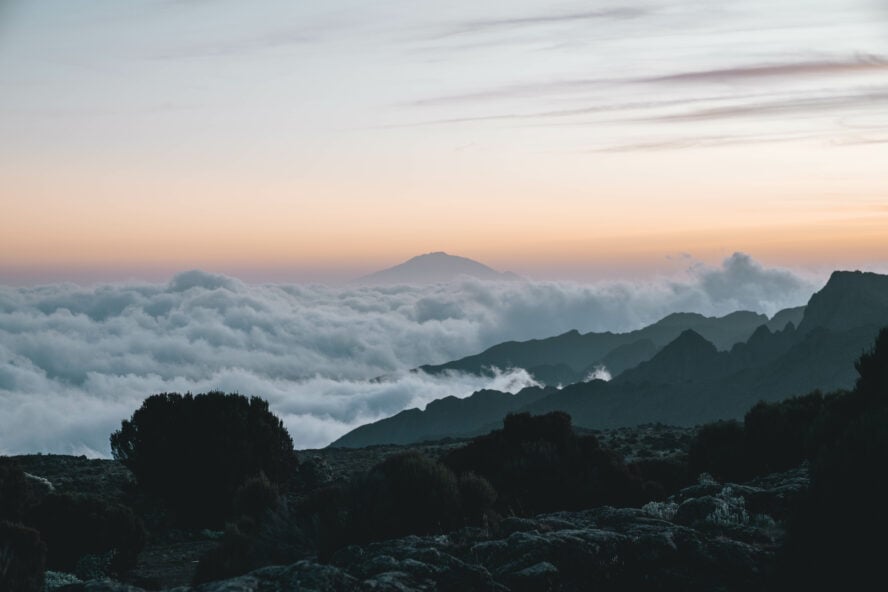 Once again, halfway through the trek the entire landscape changes into Moorland. As you are traversing the southwest side of Kilimanjaro passing underneath the Lava Tower and the Western Breach (up to 4,600m), you will follow the "walk high, sleep low" mantra by sleeping at the Barranco Camp (3,900m).
The next day will start with a descent into the start of the Great Barranco, a huge ravine, and then an exit up the Breakfast Wall which divides you from the southeastern slopes of Kibo. This is a climb over rocks and sometimes physically challenging, but it is by no means technical. You will also pass by two magnificent glaciers—Heim and Kersten—before you settle down for the night in the Karanga Valley.
Day six is the final (but short) hiking day before the summit! You will have the entire afternoon to relax and prepare. If the mountain gods are in your favor, you will start the walk up to the summit around midnight. By the time the first signs of the sun come out you will be on the crater rim at Stella Point (5,750m). Another hour and you will find yourself on Uhuru (5,896m).
Useful Information for Preparing to Hike Kilimanjaro
How hard is climbing Kilimanjaro?
I often get asked, can beginners climb Kilimanjaro? The short answer is, yes but it does take some preparation. As I said before, there are many different routes going up Mount Kilimanjaro and some are easier than others. It is very important to choose a route that is best suited to your hiking abilities.
How fit do I need to be to climb Kilimanjaro?
Like climbing Cotopaxi, climbing Mount Kilimanjaro doesn't require any technical climbing skills, but you do need to be in good physical shape. For most people, attitude becomes the main problem, so make sure you have some experience at higher elevations and are able to hike for extended periods of time at those heights. If you can hike for 6-8 hours, and feel good enough to do it for a few days then you are good to go!
How much does trekking Kilimanjaro cost?
On average, climbing Mount Kilimanjaro can cost anywhere between $2,000 and $6,000. Most often it will be between $2,000 and $3,000. There are many different factors that contribute to the final price tag such as Kilimanjaro National Park Fees, staff and porter wages, equipment, food, water, transportation, accommodations, and more. Anything below $1,500 should raise some eyes because it most likely means the company is not paying a sustainable wage to the porters.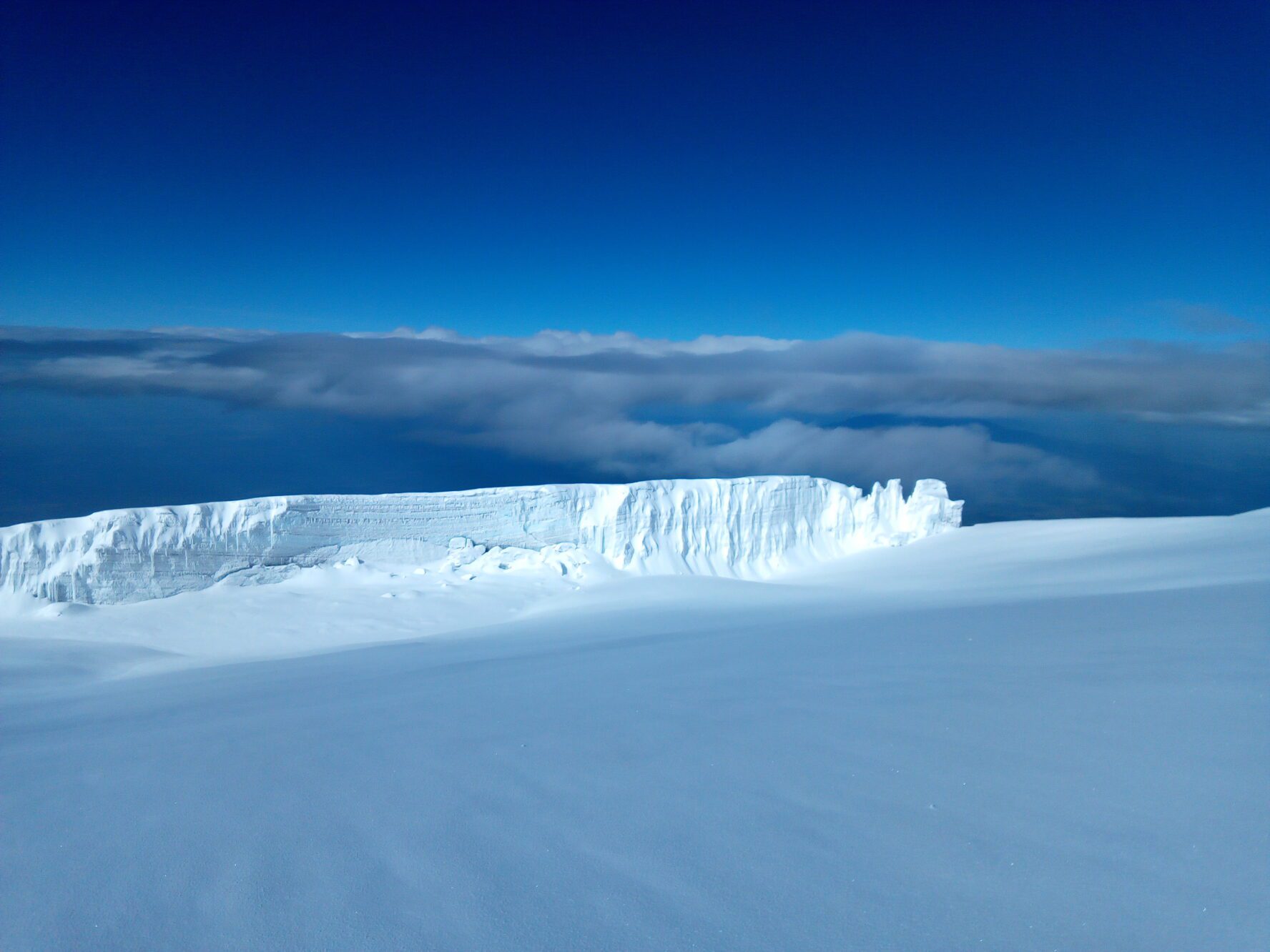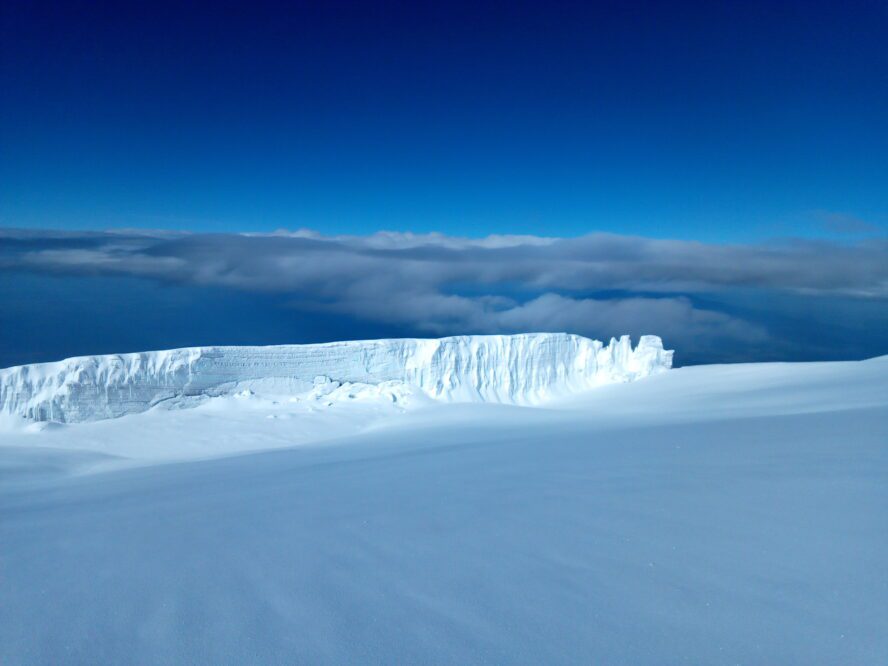 How many have died climbing Mount Kilimanjaro?
Like with climbing any other major mountain, there are certain risks one gets exposed to when trekking Mount Kilimanjaro. It is difficult to get an exact number of deaths per year on Kilimanjaro because the park authorities keep that information confidential. There has been some research in the past surrounding this topic and according to estimated guesses, about six to seven people die on Kilimanjaro each year, and around the same number of porters.
How do you get to Kilimanjaro National Park?
To get to Kilimanjaro National Park most people fly into Kilimanjaro International Airport, and from there go to Moshi, a small town near the Kilimanjaro National Park. From Moshi, you drive to the park via the town of Arusha.
What is the best month to climb Kilimanjaro?
There is a wet and dry season near Kilimanjaro. Hiking during the wet season can get very dangerous, so the best time to go is during the dry season: December to March, or late June to September.
What is the success rate of climbing Kilimanjaro?
The success rate across all routes and climbers is about 70-80%. But once again, the success of your trek will highly depend on the route you choose. A thorough examination by AWExpeditions, for example, found that the longer the route up Kilimanjaro, the higher the success rate.
How many camps are on Kilimanjaro?
There are 14 camps and seven huts on Kilimanjaro. The Marangu Route is the only one that uses only huts, and on all of the other routes you will have to camp.
What is the highest peak of Kilimanjaro?
Uhuru Peak is the highest peak of Mount Kilimanjaro at 5,895 meters above sea level. Mount Kilimanjaro is the highest free-standing mountain in the world, meaning it's not a part of a mountain range. Kibo is the highest of the three volcanic cones and Uhuru Peak is the highest point of Kibo.
Want to continue climbing the other Seven Summits?
The King of the Alps and the highest mountain in mainland Europe, climbing Mont Blanc via the Goûter Route is a quintessential tick for any big mountain hiker. For something a little taller, returning to the Southern Hemisphere brings us to climbing Aconcagua, a must-do for advancing mountaineers.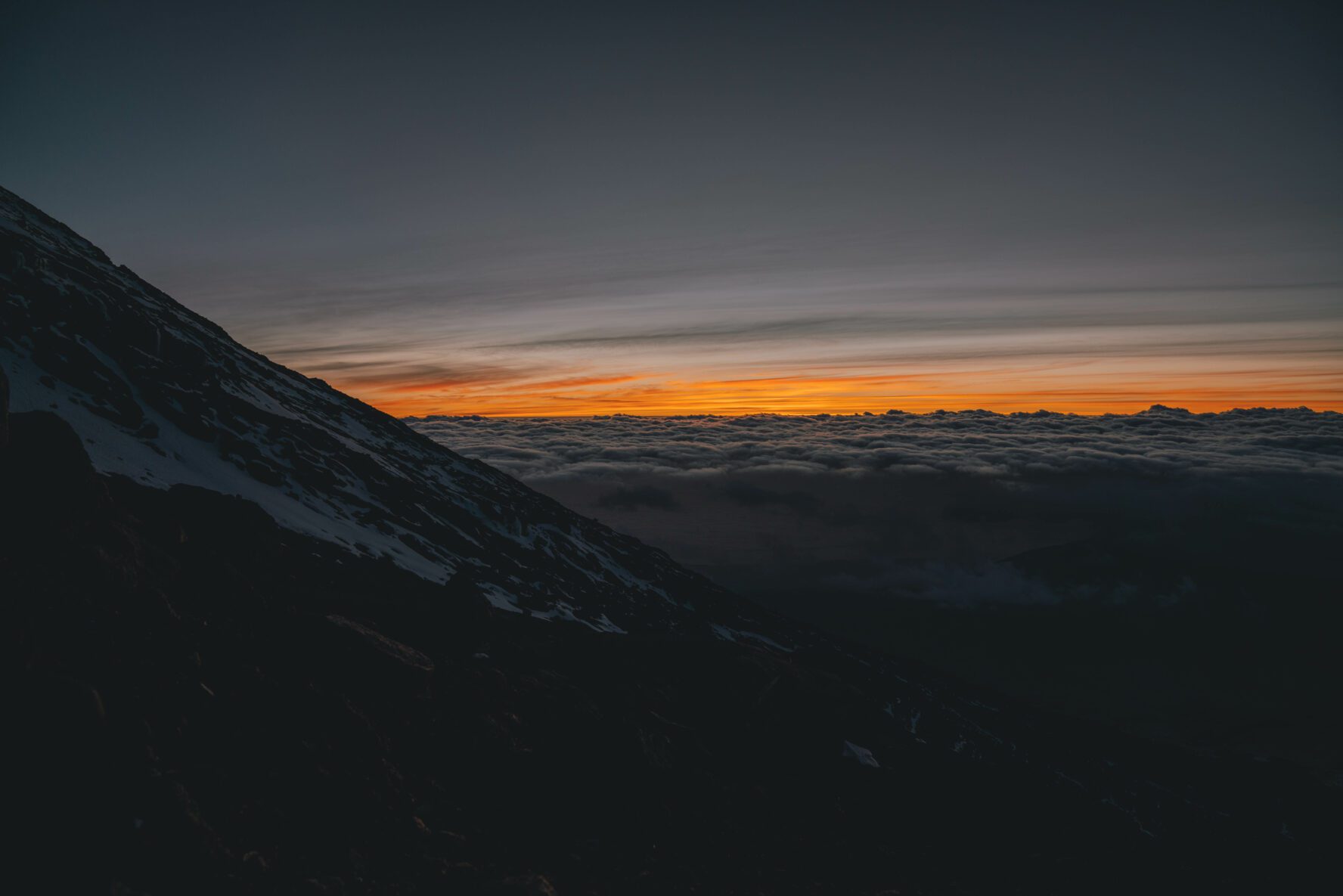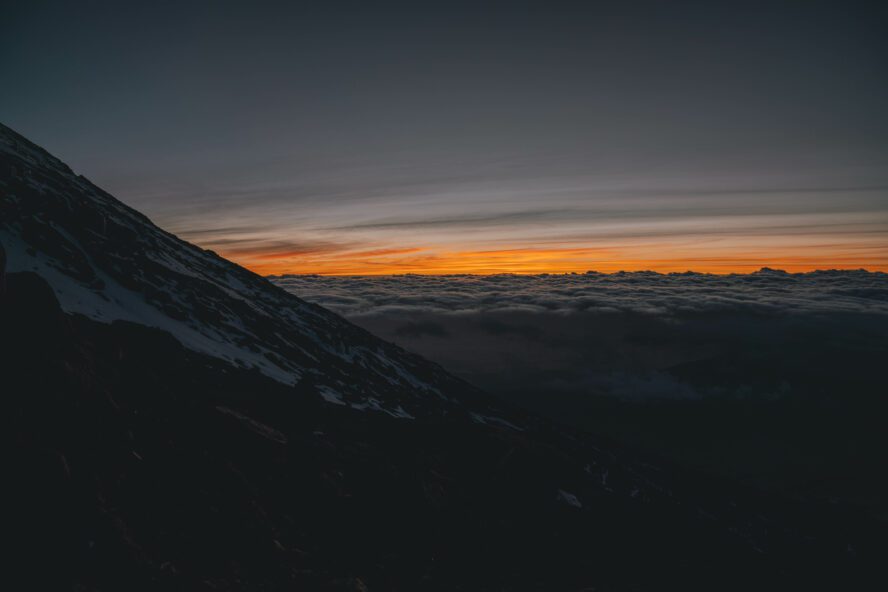 Interested in climbing the world's highest freestanding mountain yourself? Secure your spot for trekking Mount Kilimanjaro with a passionate local guide via the Lemosho Route or the Machame Route!