A Pro Hiker Shares 6 Best Hikes in Yosemite National Park
As a professional hiker, I've adventured around the world and Yosemite is one of my favorite hiking destinations anywhere.
Table of Contents
If visiting Yosemite isn't on your hiking bucket list, it should be. It's one of the best places to rock climb in the world, and undoubtedly one of the best places for hiking in the USA. Even when I lived on the edge of the park, the trails never got old, as these provide some of the best hikes in northern California. Whether you're on a family road trip or a backpacker seeking solitude in the high country, Yosemite is a world class destination that you'll want to revisit year-after-year. Here are six of the best (and my favorite) hikes in Yosemite National Park.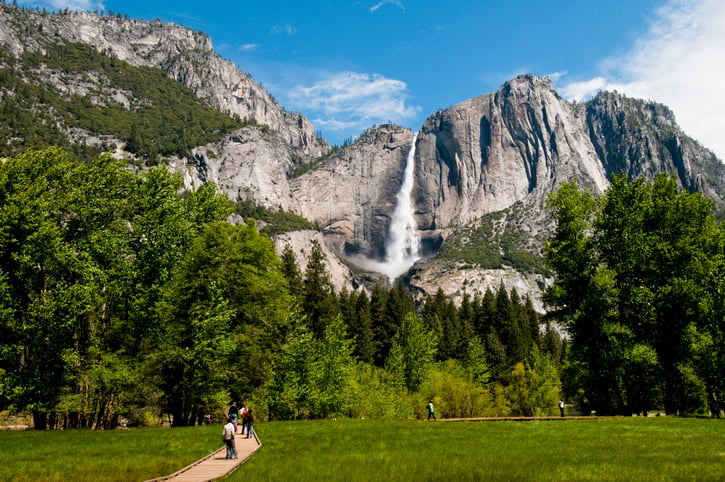 How hard are Yosemite Hikes?
Yosemite has hikes for all skill levels and abilities. Whether you're looking for a family-friendly day hike you can take your little ones on, or a gruelling overnighter that will challenge and test you, Yosemite has something for you. I love that there's something for everyone in this park. From the views to the waterfalls to the stunning scenery, whatever kind of hike you're looking for, you'll find it in Yosemite.
My tips for planning your Yosemite visit
For people coming to hike in Yosemite for the first time, I recommend staying in Yosemite Valley and making reservations well ahead of time. Yosemite Valley is home to over a dozen trailheads. No matter where you stand, you'll enjoy jaw-dropping views of granite cliffs and domes soaring above, as epic as the best Grand Canyon hikes. The Valley has plenty of restaurants, grocery stores to create trail-side feasts, and a free and frequent shuttle bus system. Lodging offerings run from camping to luxury hotels. For rest days, you can float the Merced River, explore bike trails, or watch movies about the park. Visit the National Park website to learn more about Yosemite trip planning, apply for permits, view Yosemite hiking maps and to check out your options for camping and lodging.
Download hiking gear checklist
Check your inbox
If you're looking for Yosemite with more alpine views and fewer crowds, Tuolumne Meadows is my favorite place in the park. With alpine lakes, wildflower-filled meadows, and numerous granite domes similar to the ones you find hiking in San Diego, it's a high-altitude wonderland. My sister worked in Wawona and says it's the place in Yosemite to see the iconic Giant Sequoia redwoods that inspired the creation of Yosemite Park. Wherever you go in Yosemite, you can't go wrong.
6 Top Hikes in Yosemite
Here are a few of my favorite must-see spots that you shouldn't miss if you're looking for the best hikes in Yosemite:
Easy Hikes in Yosemite
Intermediate Hikes in Yosemite
Strenuous Hikes in Yosemite
Now, I will detail why these 6 are the best you can do while you explore Yellowstone!