Top 9 Hikes on Oahu, Hawaii (Picked by a Local!)
Beaches might be the first thing that comes to mind when you think of Oahu, but the real beauty of this tropical island is found on its hiking trails.
Table of Contents
If I had to describe hiking in Hawaii with just one word, it would be—electrifying.
Soft sandy beaches caressed by the blue Pacific give way to lush jungles of the interior, while volcanic mountains—crumpled, cracked and overgrown with vegetation—rise above it all. Wherever you are, seaside serenity is always just a short hike away from dramatic sights.
More often than not, those sights are hard-earned and endlessly rewarding. This is especially true on Oahu, Hawaii's political, economic, and outdoor hub.
Your visit to this tropical paradise can include a myriad of watersports, delicious food, and scenic bike rides, but to elevate your trip from standard to Instaworthy, I invite you to explore the island by foot.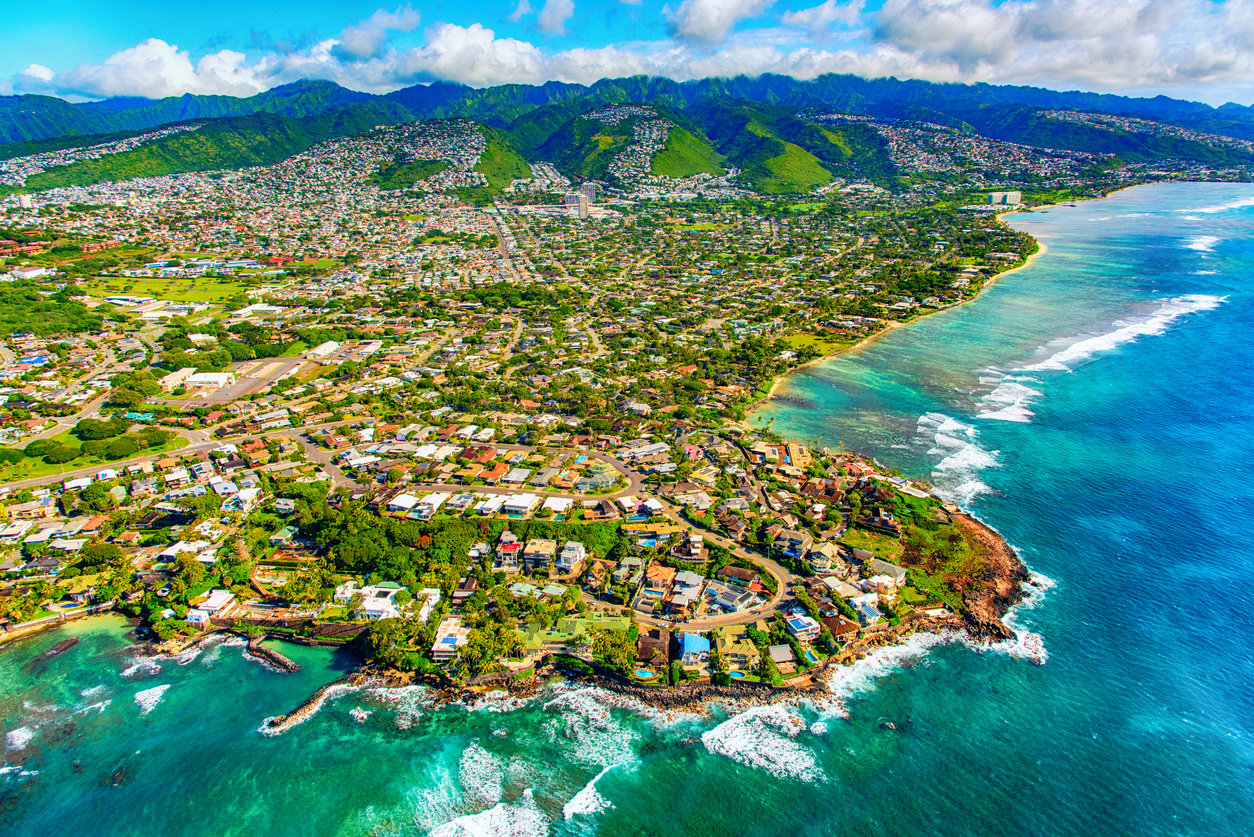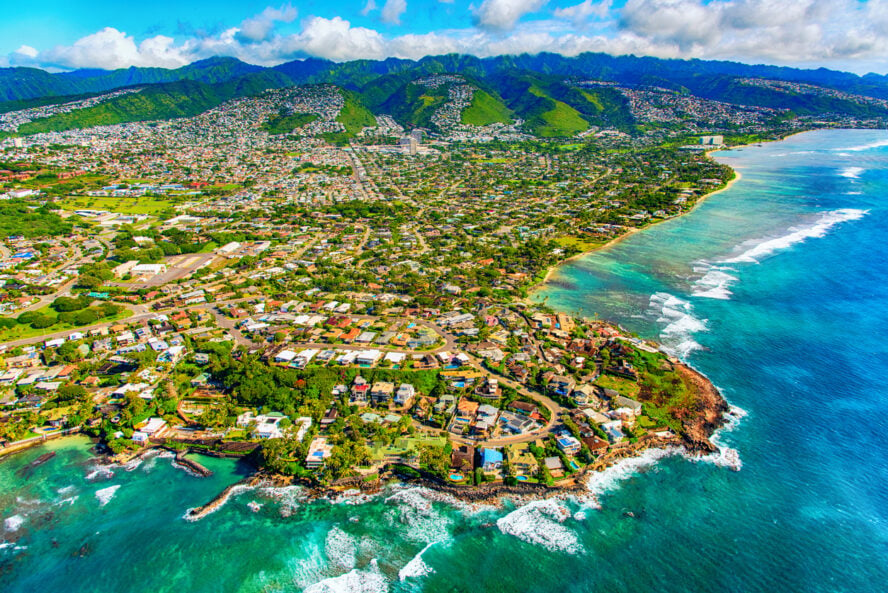 Say "Aloha" to the Archipelago of Adventure
The Hawaiian islands are an archipelago consisting of eight major islands, as well as numerous atolls and islets floating in the North Pacific Ocean. Although only the third largest island, Oahu (which aptly translates to the Gathering Place) is the most populous, and home to the capital city of Honolulu.
Oahu has two main mountain ranges: the Waianae and the Koʻolau. Waianae spans the length of the island's western coast for about 34 miles and is generally warm and dry. The wet, lush Koʻolau to the east is defined by rock faces carved out by heavy winds over thousands of years. Most of the best hikes to do in Oahu are located on the east side. Scattered throughout the island are numerous post-shield outcroppings known as volcanic cones.
In case you're wondering, there are no active volcanoes on Oahu, so you won't find lava on your hikes.
When it comes to hiking, Oahu is the king of the jungle
To state it simply: Oahu is blessed with outdoor activities. It has a longstanding reputation as one of the best surfing spots in the USA (with kiteboarding that isn't too shabby either), and pertinent to what I'm here to talk about, it also boasts some world-class hiking trails.
Before I came to Hawaii, I was comfortable in the mountains and familiar with a wide-range of terrain (my tick list read like a best hiking destinations in the world article). But then I went on my first hike here and felt completely out of my element.
Surrounded by jungle mudslides and with foliage denser than the rainforest hikes you find on New Zealand's North Island, I found the hiking in Hawaii to be completely different from the mainland: the mountains are smaller and the routes are technical—they're muddy, rocky, and require a lot of scrambling—which I adore.
What's considered moderate on the mainland is easy in Hawaii. The terrain is so challenging that every year there are between 50 and 100 rescue missions in Oahu alone. These trails will push you out of your comfort zone, but they'll also reward you with an unforgettable sunset from the top of a dormant volcano. How's that for a tradeoff!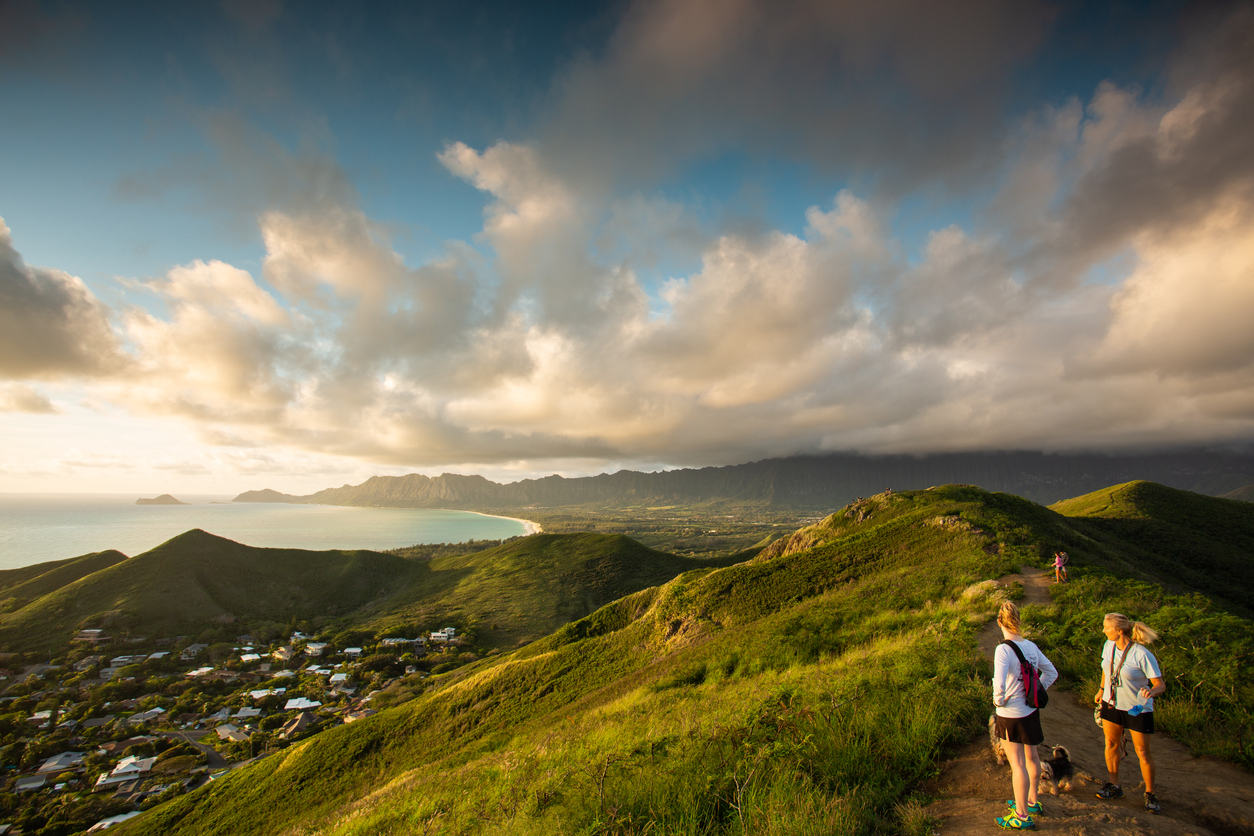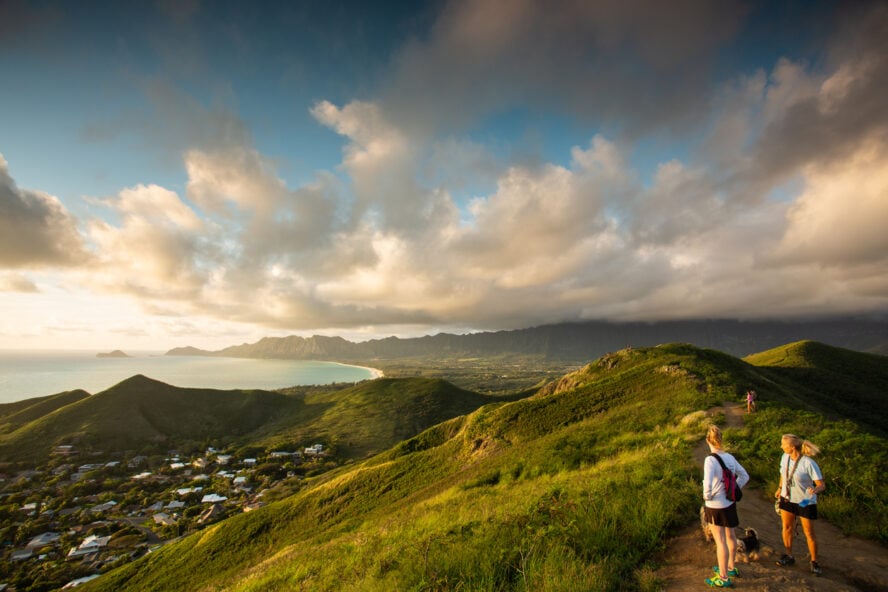 From Romania to the States: How I ended up in Hawaii
When I was a kid, my family would go on camping trips all the time. Our favorite destination was the Carpathian Mountains in Romania. I remember my father had this old Russian camera and he would carry it everywhere, snapping photos of the mountains and documenting our hiking achievements.
Having moved to the States to study physical education and sports, I began organizing trips to the White Mountains in Utah, Arizona, Nevada and the High Sierras for my friends, essentially becoming their personal hiking guide. Then, after one nasty snowstorm in Boston, I decided I'd had enough of the bad weather. Within a few months I was in Hawaii, with my own camera in tow.
I started volunteering with a Hawaiian trail and mountain club and worked on clearing the trails, which allowed me to learn about local vegetation and history. A couple of years later, I founded Hungaro Explorer, and I've been guiding on Oahu ever since. So far I've climbed over 160 peaks in the mountain ranges of Hawaii and achieved the fastest known time on its tallest mountain, Mauna Kea.
Discover the Best Places to Hike in Oahu, Hawaii
If you're looking to explore the best of Hawaii's dense rainforests, sparkling waterfalls, hidden caves, and sprawling shield volcanoes, you've come to the right place. These are my top Oahu hikes sorted by difficulty. Even though most of these trails require a certain level of experience and fitness, there are some options for beginners as well.
Easy hikes in Oahu:
Diamond Head Trail, best for a volcano hike
Manoa Falls Trail, best for a waterfall hike
Lanikai Pillbox Hike, best for a first-time hike in Hawaii
Moderate hikes in Oahu:
Ka-au Crater, best for a jungle hike
Wiliwilinui Trail, best for an Oahu ridge hike
Strenuous hikes in Oahu:
Koko Crater Trail, best for a big cardio workout
Olomana Trail, best for advanced hikers
Stairway to Heaven, best for a historical hike
Ko'olau Summit Trail, best for trail variety
TOP CHOICE FOR A VOLCANO HIKE
Quick and easy trip to an iconic landmark
360-degree views from the observation decks
Plenty of stopping points for rest
Gets quite crowded during the day
You have to pay a fee to enter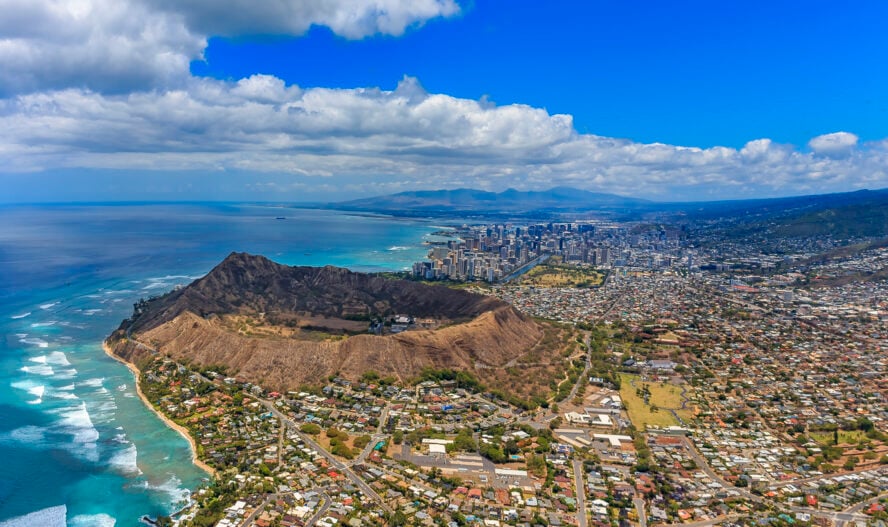 Diamond Head is the name of an immense circular crater that dominates the Honolulu skyline just beyond Waikiki Beach. This ancient tuff cone is part of Oahu's volcanic field and one of the state's most iconic landmarks.
Starting from the west side of the crater, you'll start your ascent up a sidewalk path that transforms into rocky switchbacks leading to the first lookout over the Pacific Ocean. From there the first set of steep stairs starts, leading to a 225-foot tunnel, after which another series of steep steps will take you to the bunker at the top of the crater rim.
A spiral staircase will take you to the top, where you can enjoy the panorama of the island and the ocean. You'll also find a small railed walkway with an excellent view of the crater floor. This is by all means a short and easy hike, but some people underestimate it to the extent that they come in flip-flops or don't carry enough water. If you don't want to sprain your ankle or faint from dehydration, come prepared.
Not even the inevitable throngs of tourists can diminish the views from the top of the Diamond Head crater. It's a classic for a reason.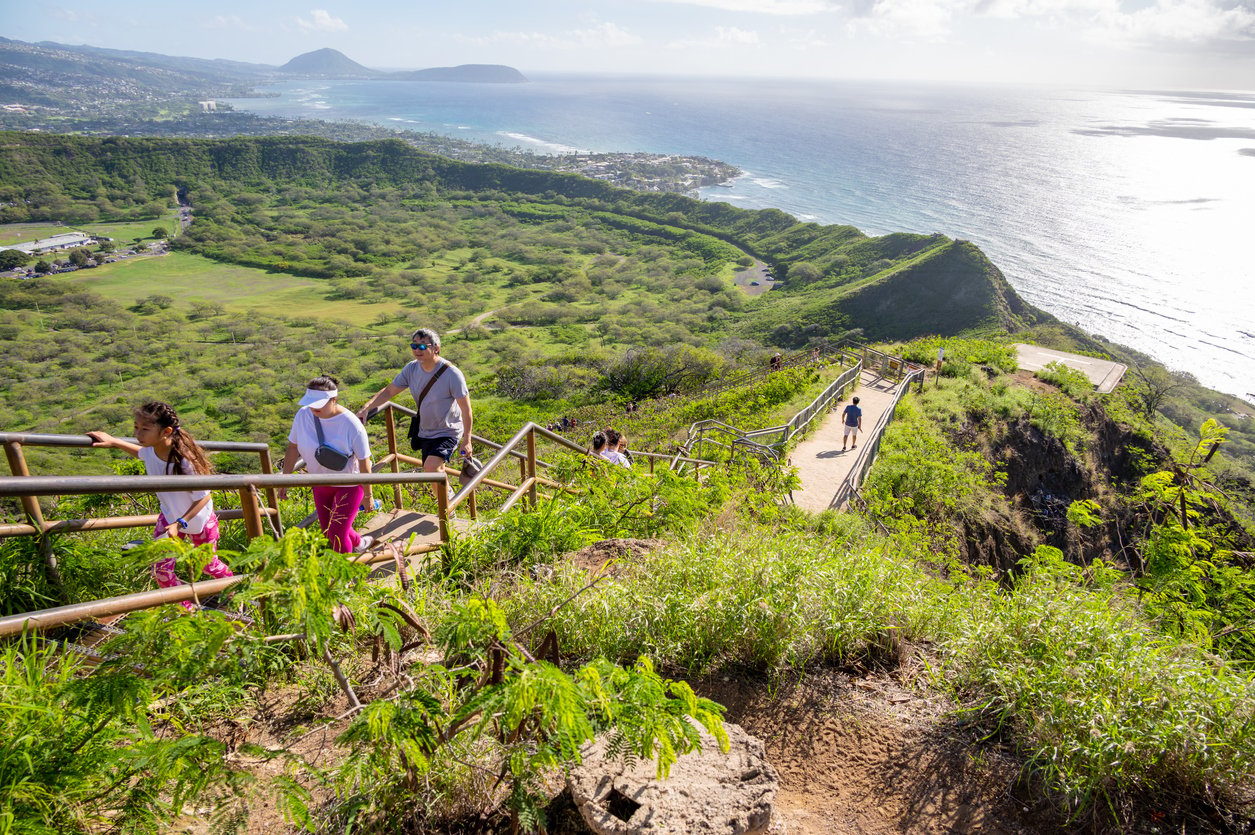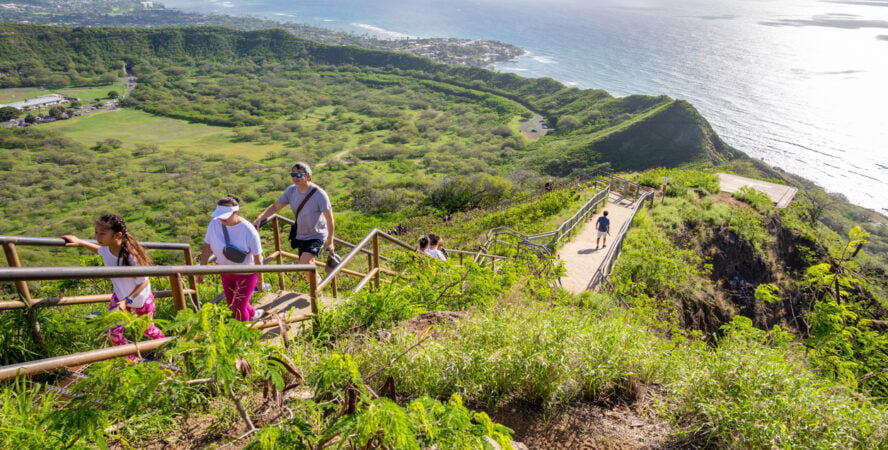 Hiking Diamond Head State Monument Oahu Hawaii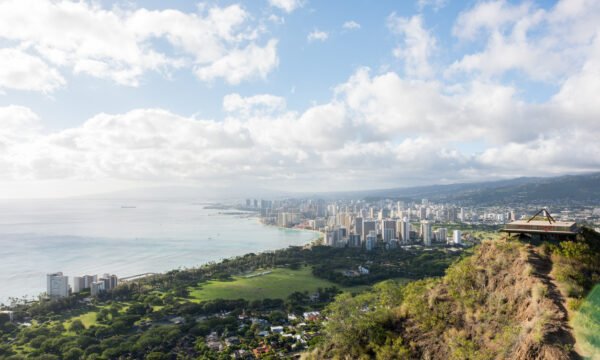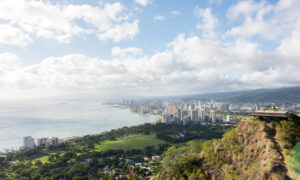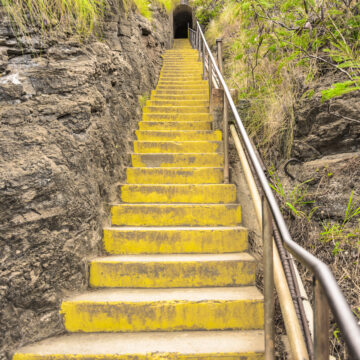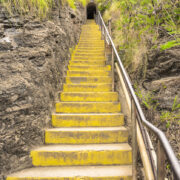 1. Diamond Head Trail - Good to Know
Skill level:
This is a beginner-friendly hike. Although the stairs can get a bit steep, they don't pose too much of a challenge.
Duration and length:
1-2 hours; 1.8 miles out and back
Terrain and elevation:
This is a short and steep hike that consists of a paved trail and a great number of steps, with around 450 feet of elevation gain in total.
Where to grab a bite:
There are food stands right next to the trailhead.
Getting there:
Diamond Head State Monument is located just east of Honolulu along Diamond Head Road. You can take a bus from the city or go by car. There's a parking lot right next to the trailhead.
Recommended guided trip:
TOP CHOICE FOR A WATERFALL HIKE
Experience Oahu's lush rainforest
Plenty of shade throughout the hike
Great payoff for such an undemanding hike
The trail can get quite muddy
Swimming is not allowed in the pool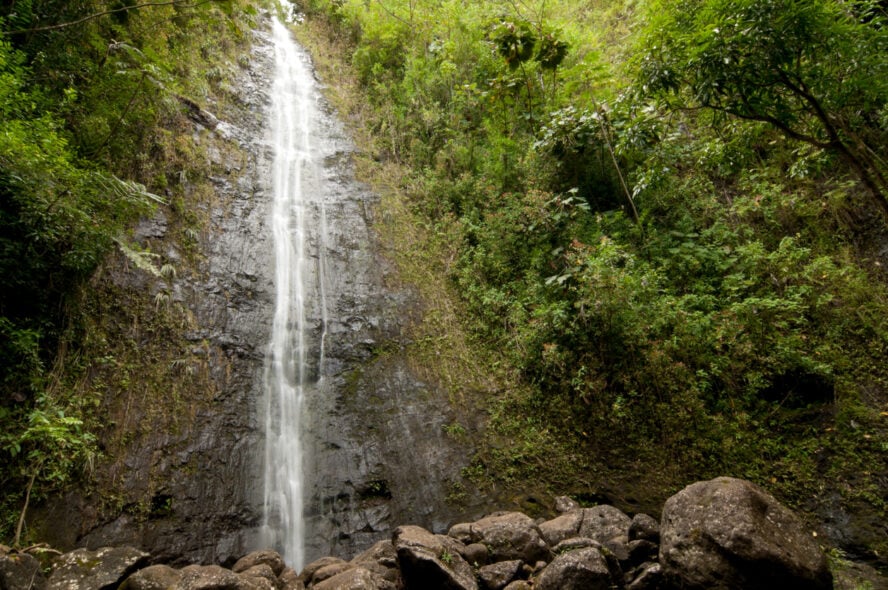 A couple of miles east of downtown Honolulu lies the Manoa Valley, a richly vegetated residential area and home to one of Oahu's easiest and most popular hikes. To reach the eponymous 150-foot waterfall waiting at the end, you'll have to follow a wide path that's recently been renovated to accommodate two-lane traffic.
From the starting trailhead, a rushing stream will lead you into a dense eucalyptus grove, a great example of Hawaii's diverse microclimates—even when Honolulu is sizzling hot and bone dry, deep in the valley it will be drizzly. That's why many different species of birds, fish, insects and frogs call the Manoa Valley home. It's also not uncommon to see rainbows while you're hiking.
As the trail gradually ascends, it will eventually reach a set of stairs that lead to a boardwalk surrounded by a bamboo thicket. By now, you'll be within earshot of the Manoa Falls, whose plummeting torrent waits at the end. To ensure the best possible experience, try to hike this trail after rain has fed the waterfall.
Although swimming in the pool is not allowed, some hikers disregard the warnings. Be respectful and enjoy the untouched nature around you.
Hiking Diamond Head State Monument Oahu Hawaii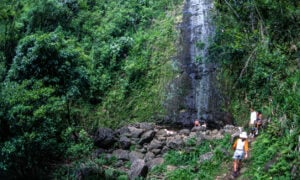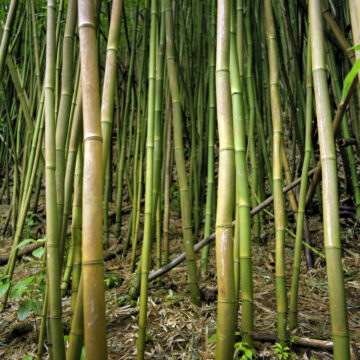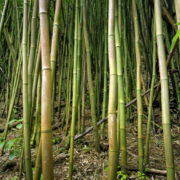 2. Manoa Falls Trail - Good to Know
Skill level:
Easy hike suitable for families. Just make sure to wear hiking shoes because it can get quite slippery.
Duration and length:
1-2 hours; 1.7 miles out and back
Terrain and elevation:
The trail used to be quite muddy, but it's now wider and drier after recent renovations.
Best time to hike:
After (or during) rain, when the waterfall is at its most powerful, which is most common from January to May. As always, an early start is the best way to avoid crowds.
Where to grab a bite:
Grab a refreshing shaved ice or some sandwiches at Rainbow's End, a snack bar near the parking lot.
Getting there:
You can either rent a car or take bus #67 from Honolulu and get off at the very last stop. From there it's a half-mile ascent to reach the trail. Note that going by car means you have to pay a fee.
Recommended guided trip:
TOP CHOICE FOR A FIRST-TIME HIKE IN HAWAII
Short hike with exceptional views
Climb up two military pillbox bunkers
Great views of the beach and ocean
Hard to choose which restaurant you'd like to dine at after (there are so many options)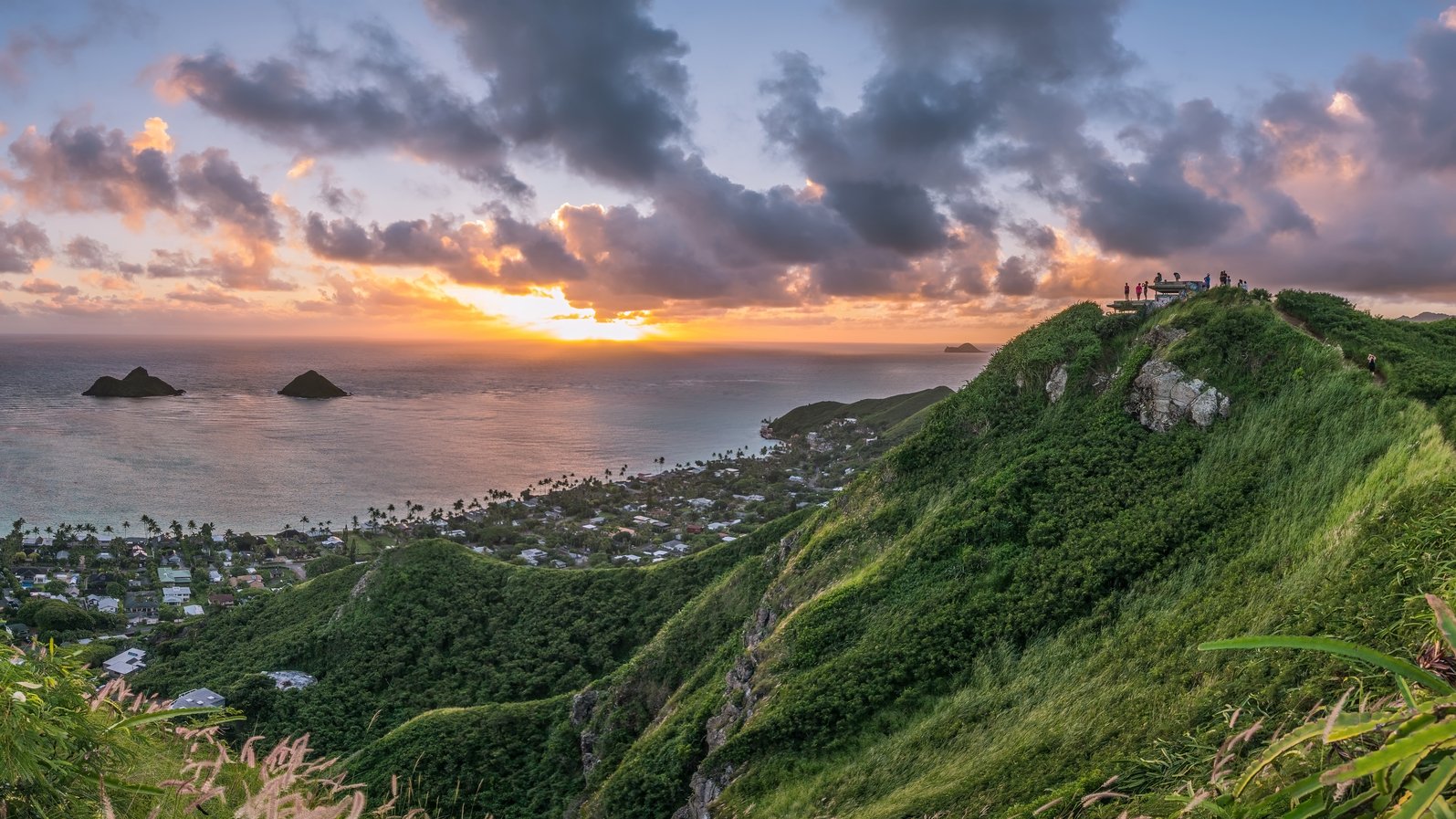 The Lanikai Pillbox Hike has earned its reputation as one of the most popular and impressive hikes on Oahu for good reason. Stretching up the mountains and ridges of the island's windward side, this short and steep trail rewards hikers with expansive views of wandering beaches and broad bays.
The hike starts at the end of a residential street. About a quarter mile in, along a relatively steep trail, you get to the first pillbox—a block-shaped fort used as a military guard post. There are a handful around Oahu and I love the bird's-eye views they offer. Once you head along the Ka'iwa Ridge, you'll find gorgeous views of the Hawaiian waters. I'm always enchanted by the music of the crashing waves and whistling winds.
You can easily go up, enjoy the scenery, then head back to the beach or into Kailua for a nice dinner or swim. Kailua used to be a quiet town on the edge of Hawaii, but in recent years it's transformed into a bustling beach town whose beaches appear on the front pages of travel magazines. There's also a vibrant restaurant scene to fill the bellies of avid adventurers.
People usually like to get to the top of the pillboxes and watch the sunrise. You can see Lanikai Beach, and two beautiful islands: Moku Nui and Moku Iki.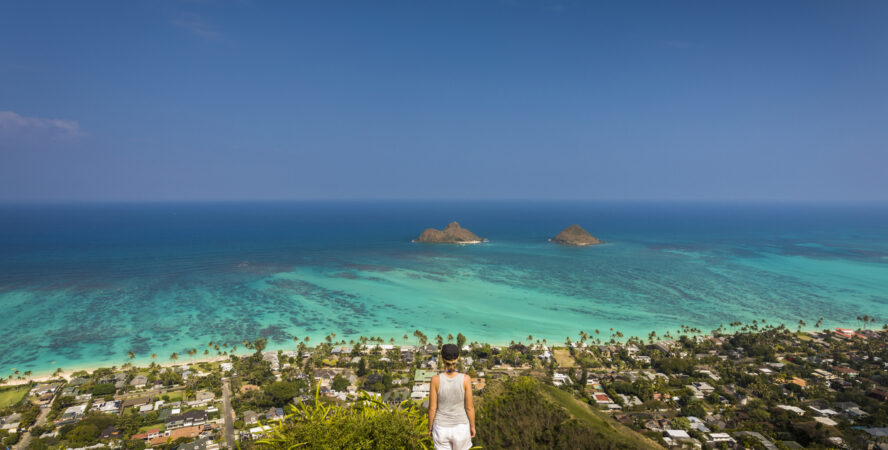 Lanikai Pillbox Hike - The Best Hawaii Hiking Trail?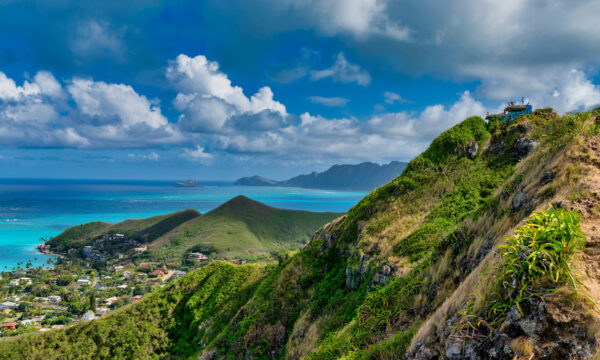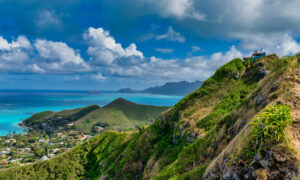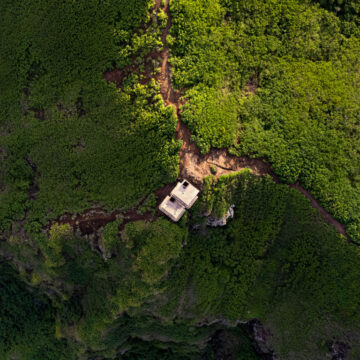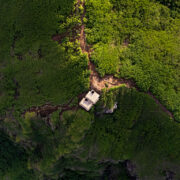 3. Lanikai Pillbox Trail - Good to Know
Skill level:
Easy to moderate. It will pose a challenge to beginners, but it's still doable.
Best time to hike:
At sunrise or sunset because it gets too hot in the middle of the day.
Terrain, distance, and elevation:
This hike is short and steep. At 1.8 miles with around 650 ft elevation gain, it usually takes hikers anywhere 40-90 minutes, depending on their skill level.
Getting there:
There are no designated parking spots for this hike; you must park on the street in a residential area. Once there, please be respectful of the locals.
TOP CHOICE FOR A JUNGLE AND WATERFALL HIKE
Beautiful waterfalls and a lot of natural diversity
You can go swimming in one of the pools
The trail can get pretty slippery
In a residential area, so parking is scarce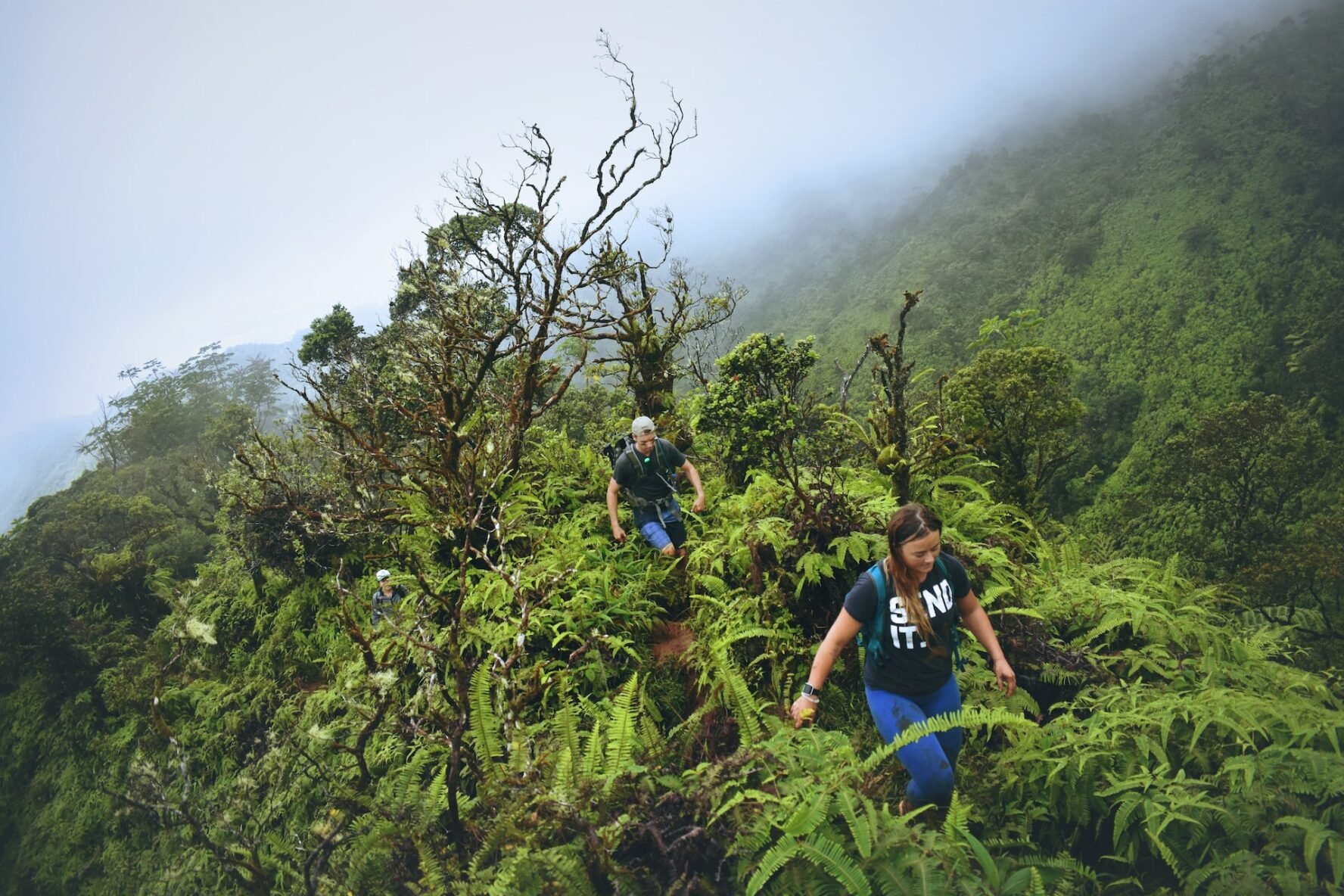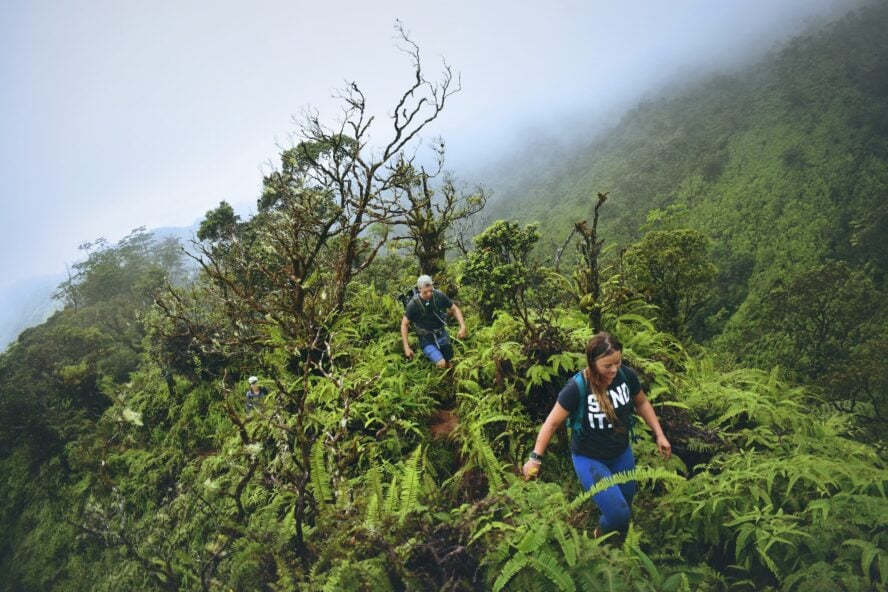 If you're looking for a classic Oahu jungle hike, the Ka'au Crater trail is the way to go. This is a trail immersed in nature, where sunlight peaks through the foliage only once in a while. The hike starts in a small residential area, but immediately enters a lush grove. Follow a stream surrounded by tall trees and vines dangling from every branch until you reach your first waterfall. This is a perfect place to have lunch and maybe even jump into the pool for a soothing swim.
Continuing through the forest, you'll have to do a bit of scrambling and use ropes to get over a few tricky sections, before reaching your second waterfall. After a quick climb up the side, you'll reach yet another one nestled between rocks. From there, the trail gets more technical; scrambling up the sides of the waterfall can get slippery and difficult. At the top, take a close look at Ka'au Crater because it's a view unlike anything else. Rest up, soak in the views, then continue your journey down a ridge to complete your loop.
I love this hike because it's never boring. Instead of offering the same scenery over and over again, it keeps switching things up—waterfall after waterfall, each one more enchanting than the last. After scrambling your way up, you don't take the same way down, but follow a ridge with completely different scenery. You won't find a lot of people on the trail, giving you the chance to enjoy the jungle in peace.
If you came to Hawaii for a great jungle hike, this is your best bet. Hiking through a lush rainforest decorated with three spectacular waterfalls—what's not to love?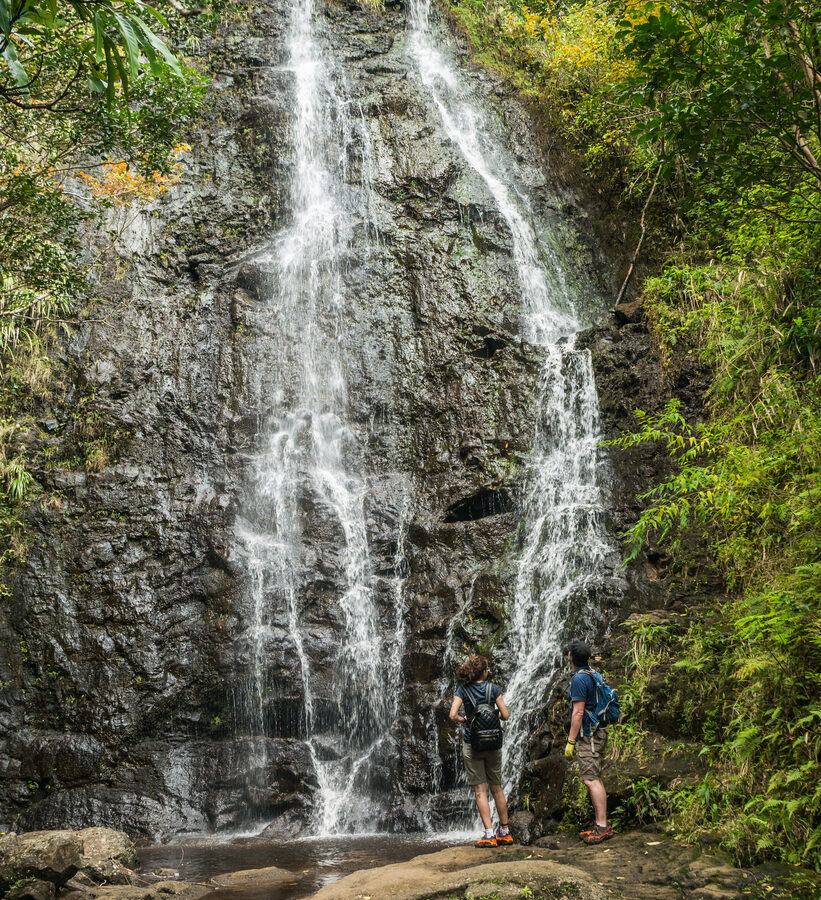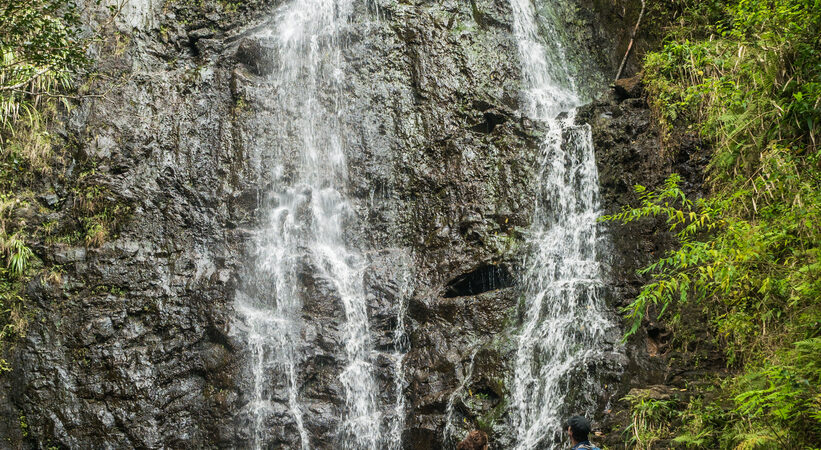 Ka'au Crater to Lanipo Loop | Hawaii 100 Highest Peaks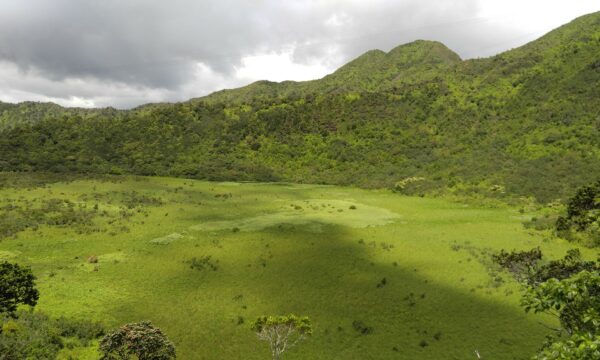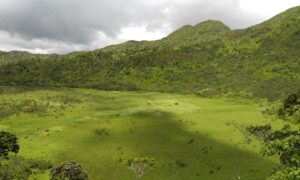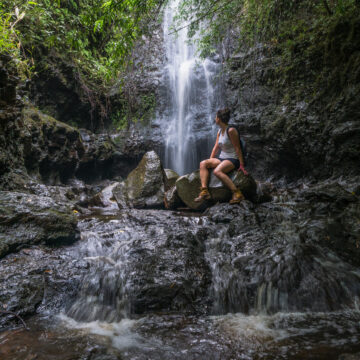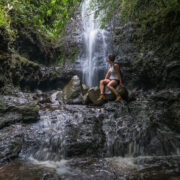 4. Ka'au Crater Trail - Good to Know
Skill Level:
Moderate to advanced
Best time to do it:
Starting early in the morning is ideal. Since it is a long hike, this will allow for extra time in case something goes south.
Terrain, distance and elevation:
This hike is muddy, traversing through the rainforest and on slippery rocks. It is a 4.5-mile loop, with an elevation gain of around 1,940 feet.
Getting there:
The trail starts in a residential area so parking is scarce. Please be mindful of blocking people's homes or disturbing them with loud talking or music early in their morning. Respect the locals and their homes.
TOP CHOICE FOR AN OAHU RIDGE HIKE
Exceptional views of the island
Safer than most ridgeline hikes
No technical skills required
The trailhead is located on private property
The starting portion of the trail is a bit unexciting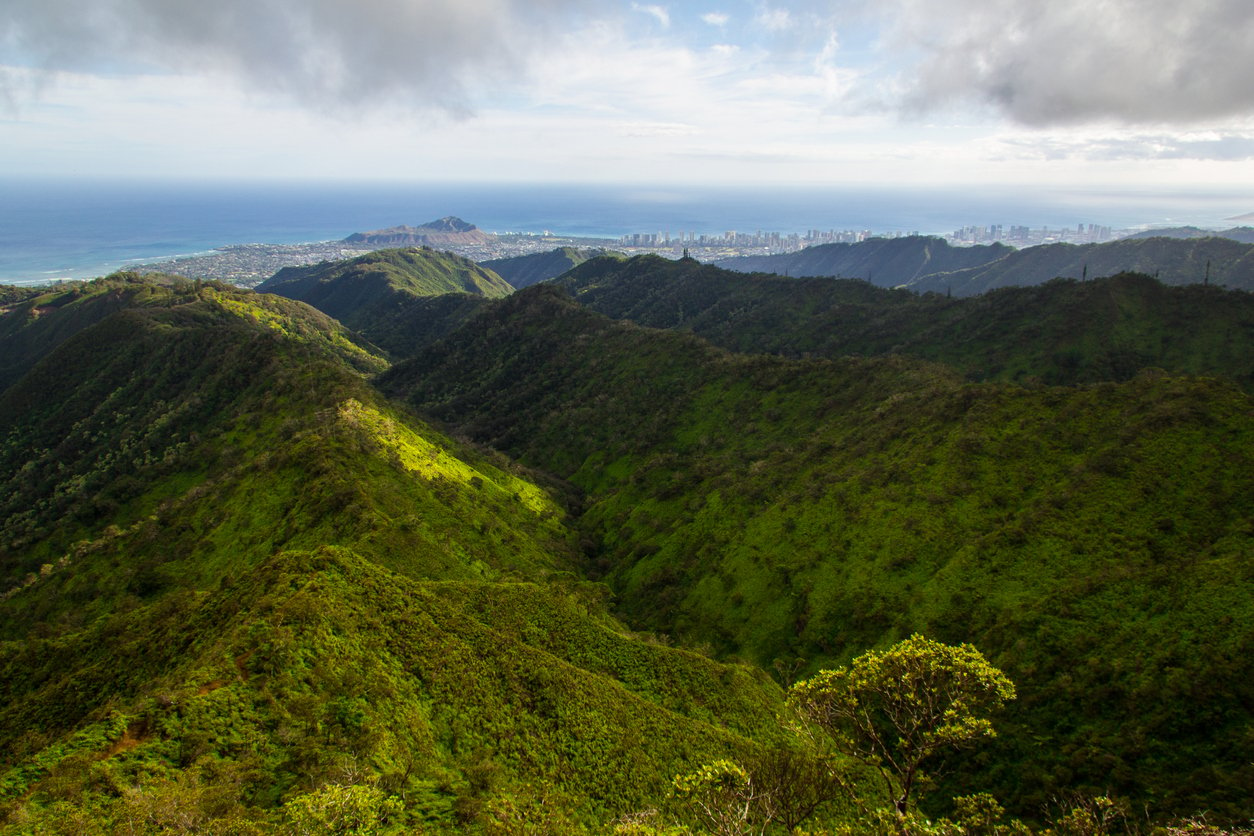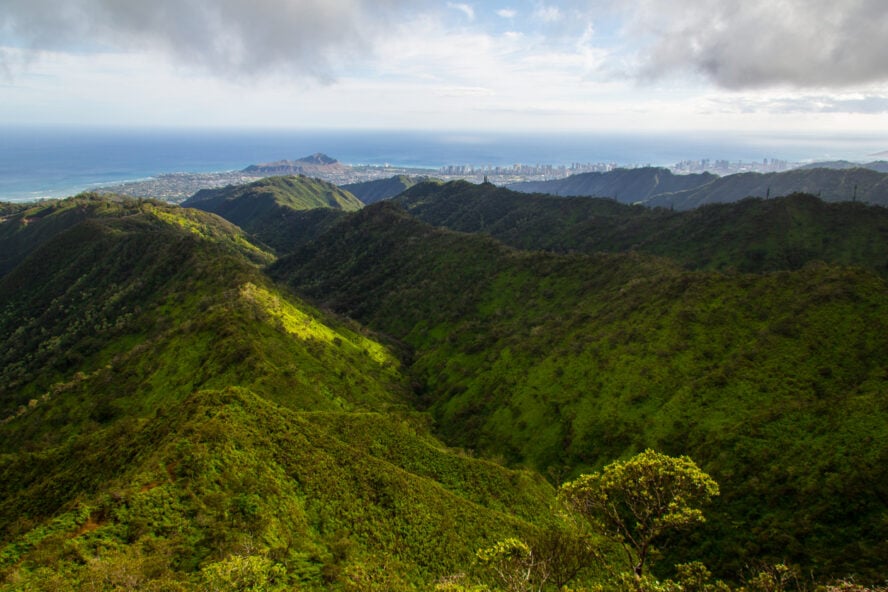 The promise of otherworldly views keeps hikers coming back to the volcanic ridgelines of Oahu, which wind across the island like the spine of some mythical creature. Compared to most other hikes of its kind, the Wiliwilinui Trail provides a safer and more approachable ridge hike suitable for fit adventurers who aren't necessarily in the market for technical, leg-burning challenges.
One of the unique things about the Wiliwilinui Trail is that it's tucked away in an upscale gated community in the hills above Honolulu. To reach the trailhead, first you'll need to get a parking pass from the security guard at the entrance. The passes are limited, so if you don't get one, you'll have to park outside the gate and walk an additional mile up a steep hill.
The trail starts as a wide dirt road before turning into a series of steep stairs that help you reach higher elevations quickly. Be careful of eroded or slippery steps. Some sections will have ropes to make the ascent easier, while others will require scrambling. After a while, you'll become surrounded by dense green layers of vibrant vegetation spreading to the ocean.
Once you reach the relay station tower, it's a short scenic walk to a small clearing where a lone viewing bench stands. On a clear day, you can see the towns of Kailua and Kaneohe backgrounded by the Pacific on the windward (eastern) side. Enjoy the panorama, you've earned it!
The Wiliwilinui Trail boasts beautiful views that are usually reserved for more strenuous hikes. If you can handle steep stairs and the occasional scramble, don't miss out on the vistas it offers.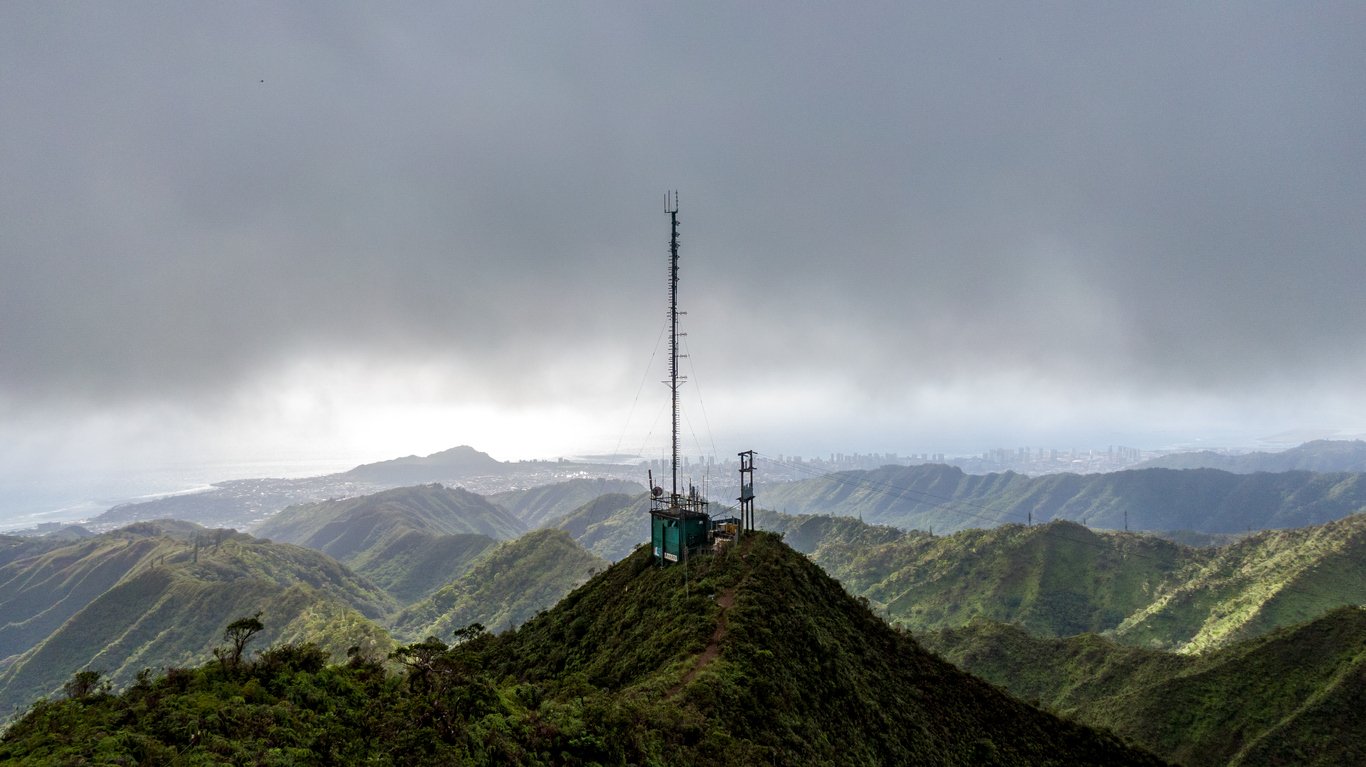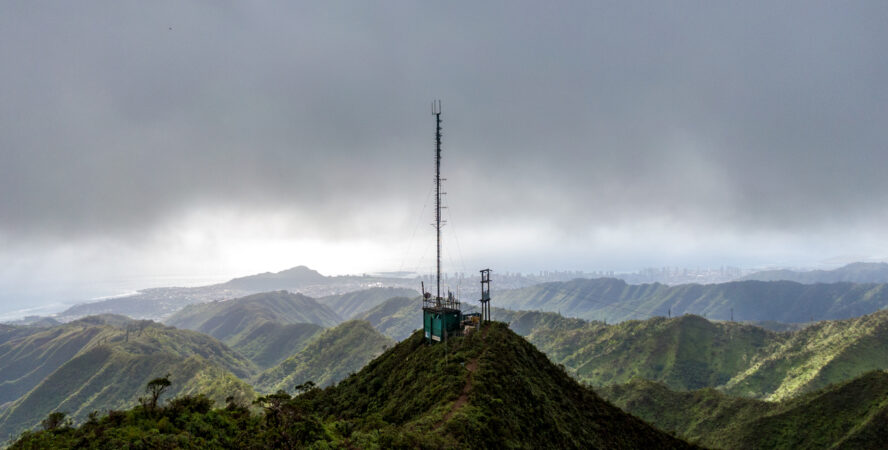 One of the BEST Hikes on O'ahu, Hawaii | Wiliwilinui Ridge Trail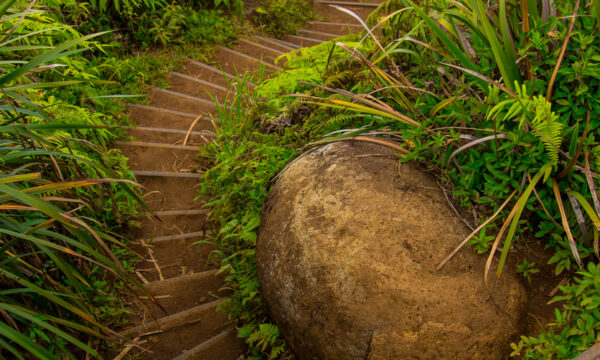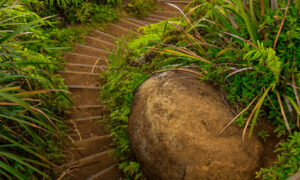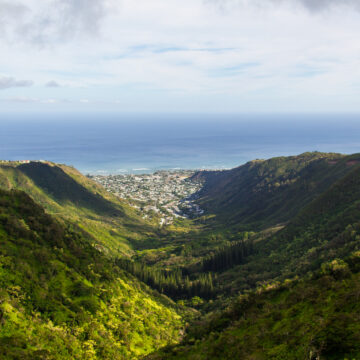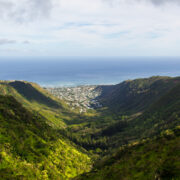 5. Wiliwilinui Trail - Good to Know
Skill Level:
Moderate. The biggest challenge are the steep steps, which are sometimes slippery or eroded.
Best time to do it:
It's best to go early and during weekdays in order to secure a parking pass from the guard at the entrance.
Terrain, distance and elevation:
The trail consists mostly of dirt and volcanic soil, with quite a lot of steps to reach the ridgeline. In total, it's 4.7 miles out and back with around 1600 feet of elevation gain, which should take you 3-4 hours to complete.
Getting there:
Follow Laukahi Street to the guard station in front of the Waialae Iki gated neighborhood. Once inside, turn left on Okoa and follow the trail signs to reach the parking lot.
Recommended guided trip:
TOP CHOICE FOR A BIG CARDIO WORKOUT
Hike on a historic tramway
Views of Hanauma Bay, Port Lock Peninsula, and Diamond Head
The feeling of accomplishment at the end is unmatched
One of the hotter (temperature-wise) hikes on Oahu
Need good endurance to complete the 1,000-stair ascent
The Koko Crater Trail, also known as the Koko Crater Stairs, is a test of endurance and mental strength. Consisting of 1,048 thousand steps built into a steep hill that rises 1,200 feet above the Hawaii Kai residential area and Hanauma Bay, it's a short hike that keeps getting harder and harder. If you like sweeping panoramas and giving your calves a good burn, this vertical walk was made for you.
During WW2 the military built the island's pill-box bunkers, but when they needed a way to haul cargo up the mountains, they created the Koko Crater Tramway. The leftover rails are now used as hiking stairs to reach the top of the military bunkers and the ridgeline.
After parking in the Koko Head District Park, head towards the easily discernible trail and start making your way up. After the first 100 steps, you will start to see Hanauma Bay and the Port Lock Peninsula. Keep making your way up and eventually you'll reach a beautiful lookout over the Koko Crater.
"It's just stairs, how hard can it be?" you might think, but the ones on Koko Crater Trail are much longer and taller than your average house stairs. Even the flat section poses a challenge as it's a bridge with a 40-foot drop. If you're afraid of heights, there's an alternative route you can take.
Bring plenty of water and avoid going at midday. If you're aiming for a sunset hike, don't forget your headlamp! If the Koko Head Stairs are too busy but you still want to get up close and personal with the crater, check out the Koko Crater Rim Trail.
The highlight of the Koko Crater hike is getting to the top. The feeling of accomplishment you get is something else.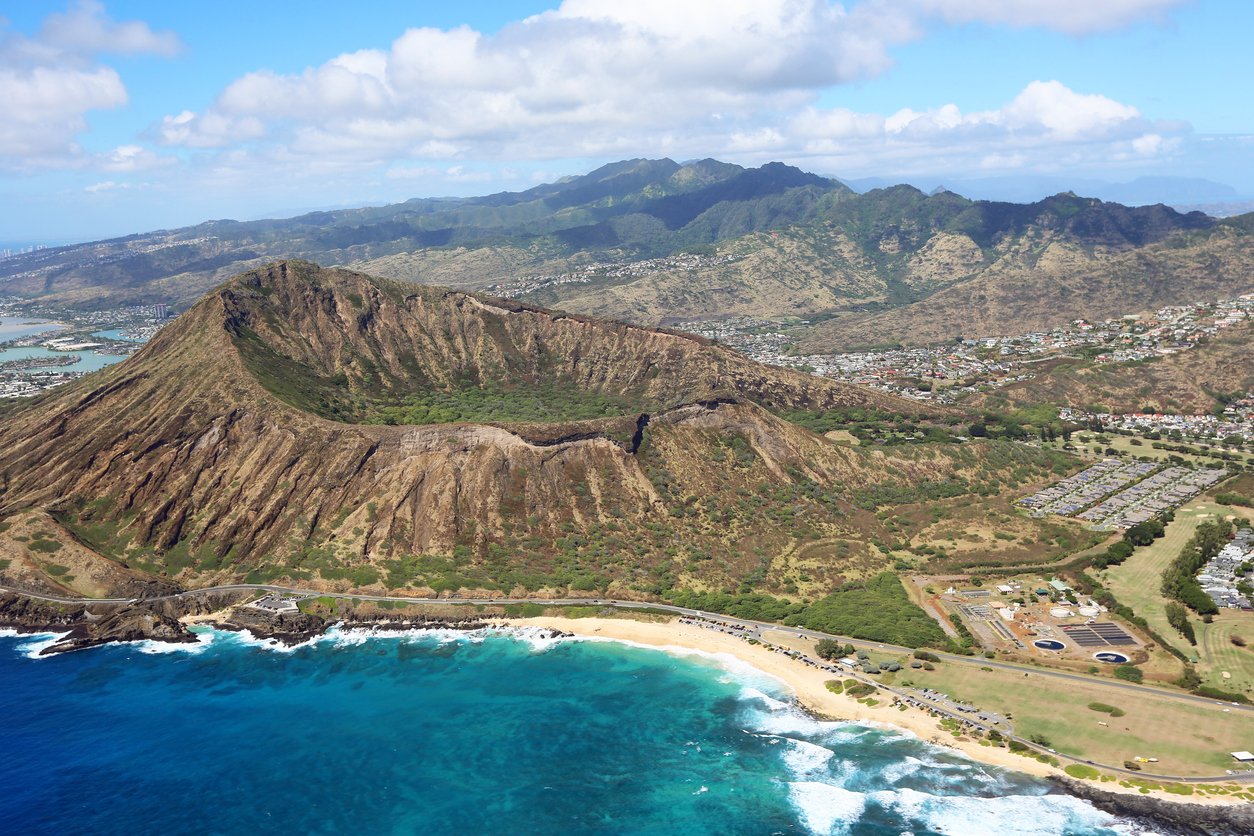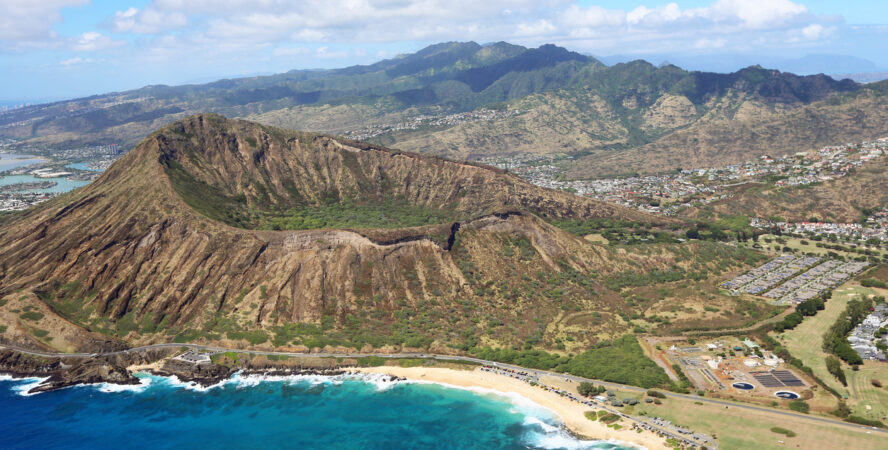 Koko Crater Stairs - Most Popular Hike on Oahu, Hawaii? - Bryce's Trail Guide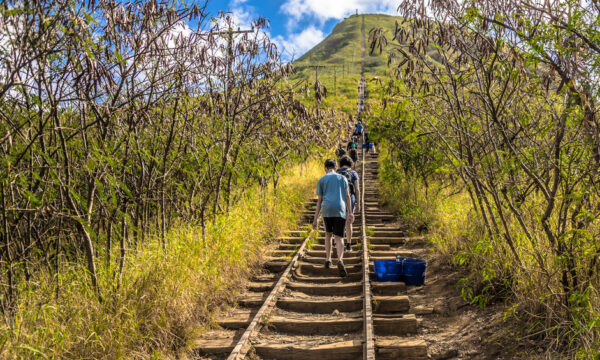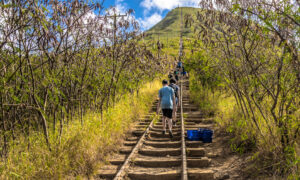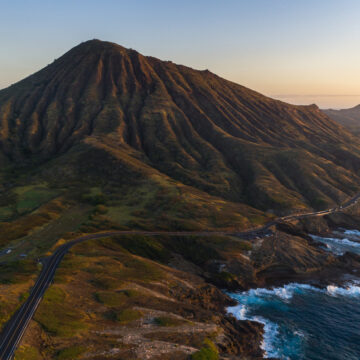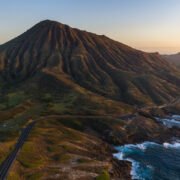 6. Koko Crater Trail - Good to Know
Skill Level:
Strenuous. This hike is made for experienced hikers with endurance.
Best time to hike:
The hardest part is the heat. Sunrise or sunset is the best time of the day. If you go at sunset, bring a headlamp!
Terrain, distance and elevation:
This hike is on a steep wooden railway. It covers 1.6 miles round-trip with about 885 ft elevation gain, and a peak grade of 50%.
What to bring:
Bring lots of water on this hike in particular because you'll definitely need it.
TOP CHOICE FOR ADVANCED HIKERS
Summit three different peaks
Very difficult but rewarding
Some dangerous sections require extreme caution
No parking at trailhead, so you'll have to park on the street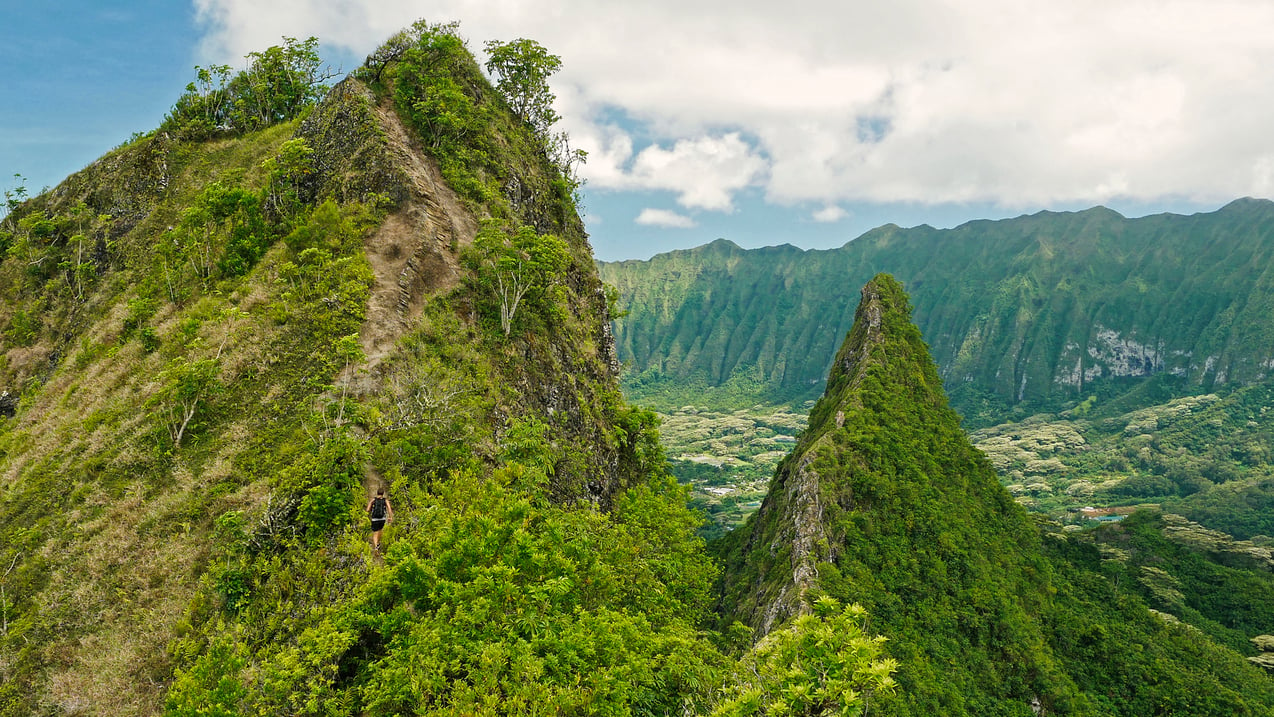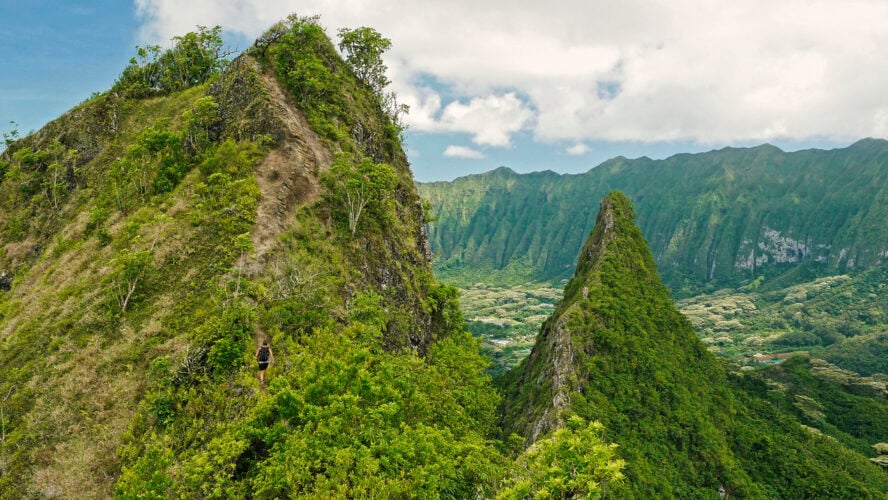 The Olomana Trail, also known as the Three Peaks hike, might just be my favorite of them all. Traversing the narrow Olomana, Paku'i, and Ahiki peaks, it feels like three different challenges rolled into one. As you go up in elevation, the trail gets more scrambly and technical.
You start off in a muddy jungle and reach the first peak, which offers views of the windward side of the island, including Lanikai Beach. The hike to the second peak takes about 10 minutes. 80% of people get to the second peak, then go back because it only gets harder from there.
The final section is the most technical. You have to drop down from the second peak with the help of ropes, then scale up the side of the third. It can get super narrow and the rock is often crumbly. The third peak is intimidating, but I don't want that to discourage anyone because the little extra push you might need to give your legs is 100% worth it! You can see all the way to Manana Island from the top.
Now the challenge, yet again, is going back the same way you came. That means retracing your steps on all three peaks then descending all the way to your car. It might seem daunting, but this hike is one of my personal favorites, especially for its sunrise views.
The Olomana Trail is worth it for the sunrise views alone, but the adrenaline rush I get from scaling these peaks is what keeps me coming back.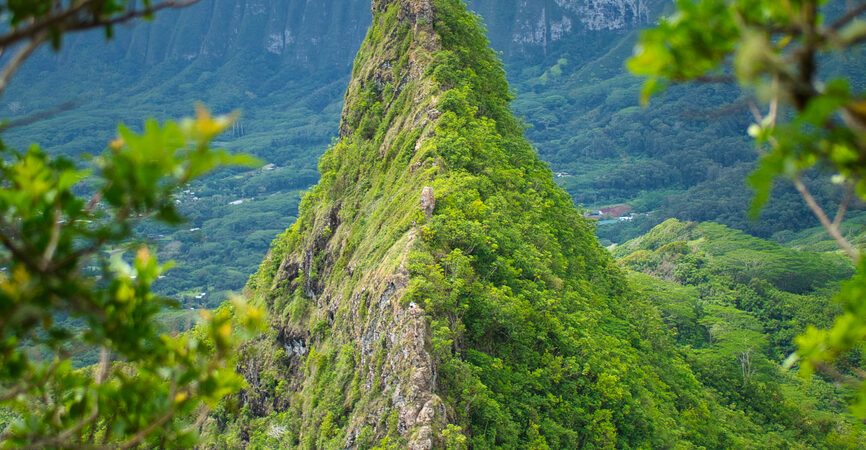 Olomana 3 Peaks Hiking Trail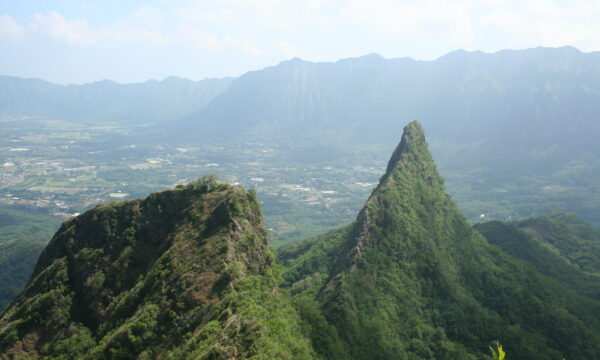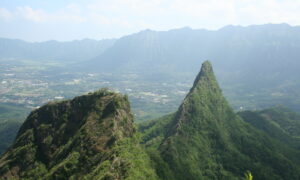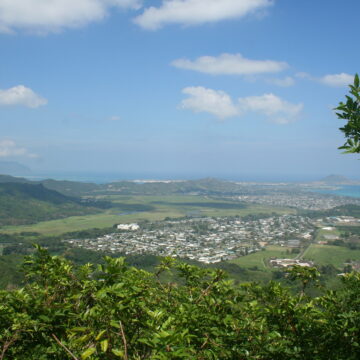 7. Olomana Trail - Good to Know
Skill Level:
Advanced. Use extreme caution and only hike areas within your comfort zone.
Best time to hike:
Start early in the morning because it will take a long time. You want to have enough time in case anything goes wrong.
Terrain, distance and elevation:
The first leg of this hike is muddy, but quickly turns into scrambles on narrow ridges. It's a 4.6-mile out and back trail with an elevation of around 2500 feet, taking between 2 to 4 hours to complete.
Getting there:
You have to park on the street, so be mindful of people's privacy and don't be too loud. Also, don't leave any valuables in the car because there have been reported break-ins into rentals.
Where to eat:
Head to the beautiful town of Kalua for a bite!
Best place for a post-hike treat:
For a rewarding dessert head to Crepes No Ka'Oi.
Must-do activity off the mountain:
Kayaking in Kailua Bay.
Recommended guided trip:
8. Stairway To Heaven (the Haiku Stairs)
TOP CHOICE FOR A HISTORICAL HIKE
Historical hike with structures used in World War II
Uniquely dramatic setting
Watching the sunset from the summit outlook
High risk of fines, even on the alternative hike
The rope sections can be muddy and slippery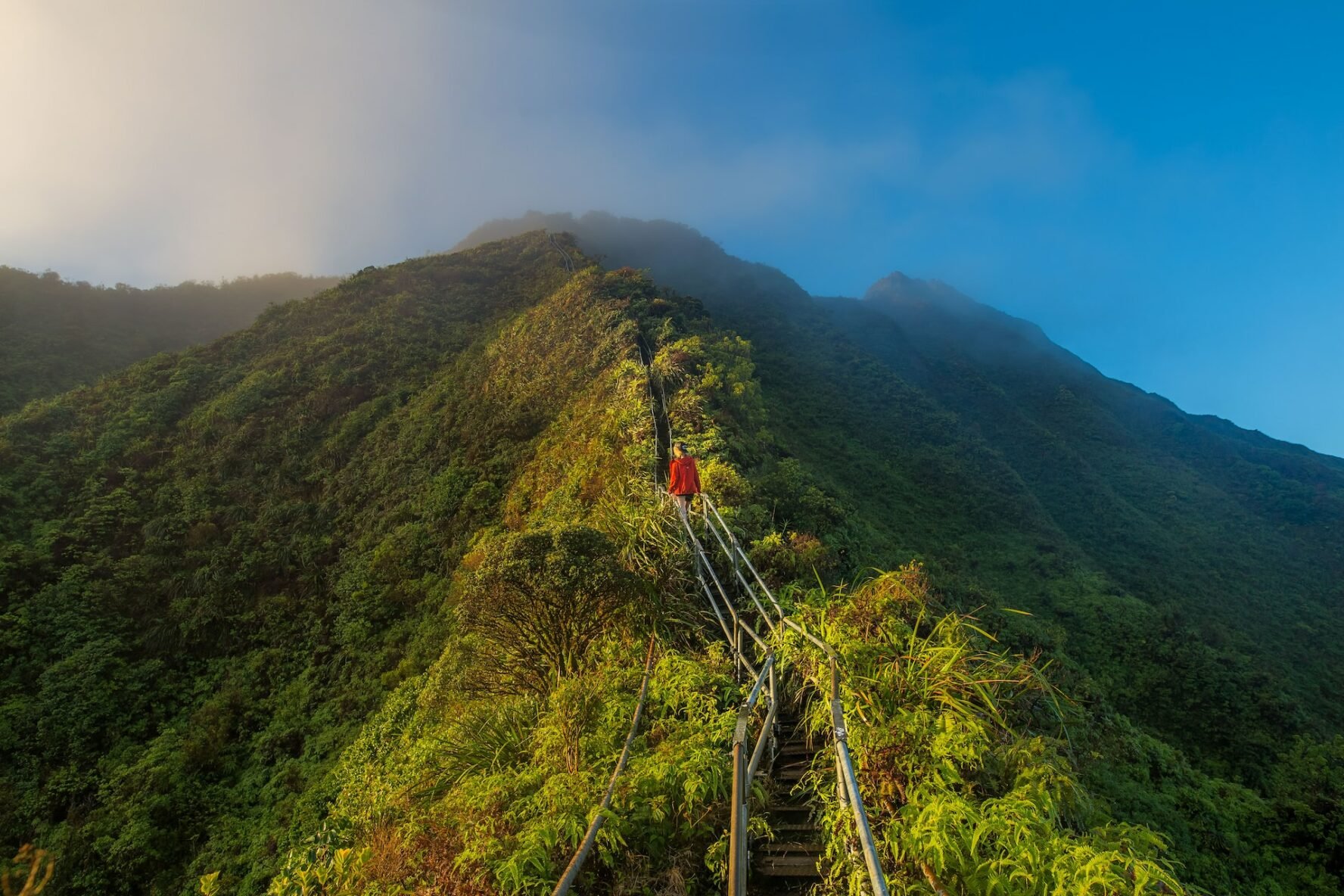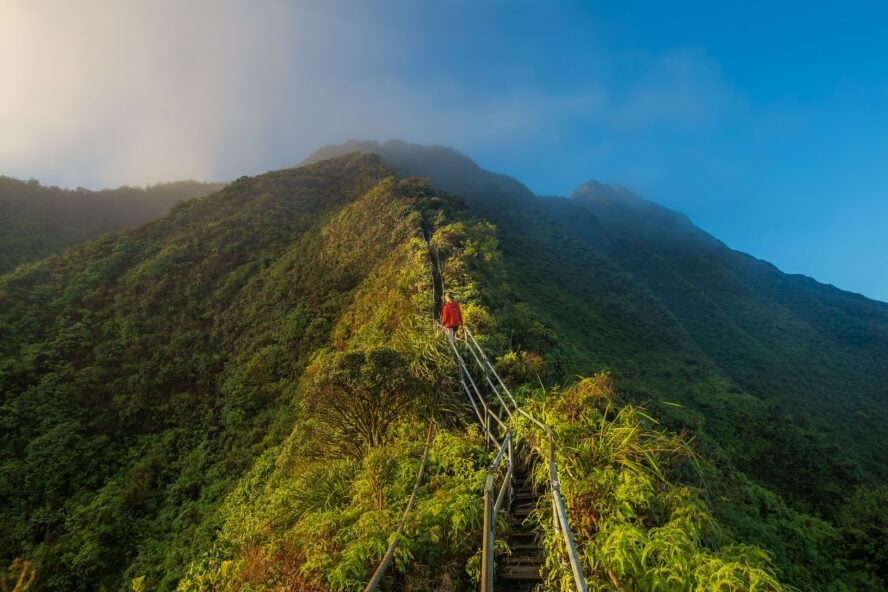 Stairway to Heaven (AKA the Haiku Stairs), one of the most photographed trails in all of Hawaii, is renowned for its beauty and the air of danger that surrounds it. Originally built in 1942 by the US military for transmitting radio signals to ships in the Pacific, these 3,922 stairs make their way up a steep mountain ridge.
Access has been prohibited since 1987 due to safety concerns, but local hikers and daring tourists continue to bypass the guards, risking heavy fines for trespassing in the residential area where the trailhead's located.
The back route to the viewpoint via the Moanalua Valley Trail (not hiking up the actual stairs) is a legal and more challenging alternative. Rocky, overgrown in places, and frequently muddy, this 10.5-mile out-and-back trek features multiple sections with rope climbs and very steep ascents. Hiking it will take you to the same viewpoint as the actual stairs would. Note that this route is not really permitted either. At one point close to the stairs, the police can fine you even if you're not on the steps because you are trespassing on private land.
There have been talks about tearing down the stairs, which could be more costly than simply repairing them. I think the stairs should be restored and opened to the public, possibly for a small fee. If you're a first time visitor, I suggest taking the legal route to avoid risking a run-in with the cops and a $1,000 fine. Also, please be respectful of the locals—don't jump over their fences and cause trouble.
Although illegal, Stairway to Heaven has become one of the most popular Oahu hikes thanks to social media. There is another way to do it, but it's not without its risks.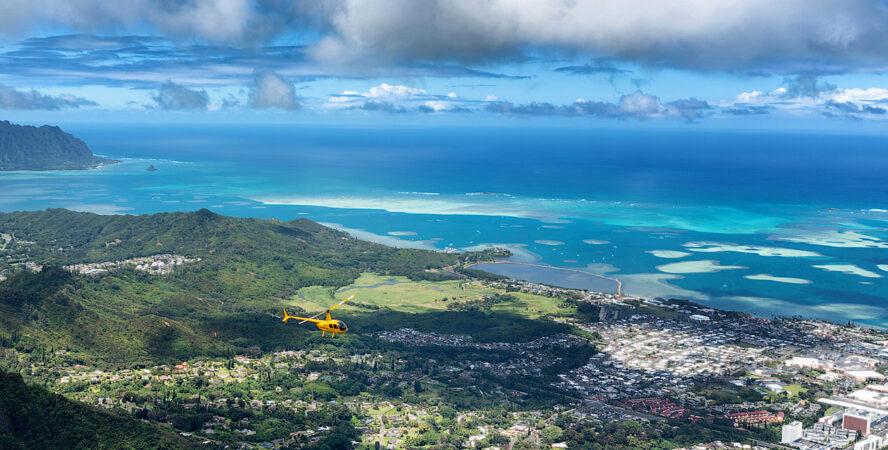 Moanalua Valley Trail to Haiku Stairs (Stairway To Heaven)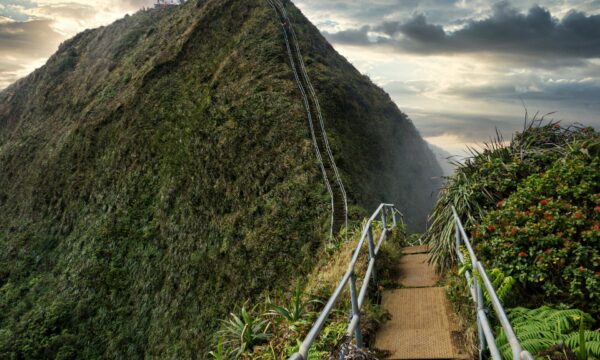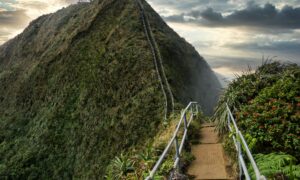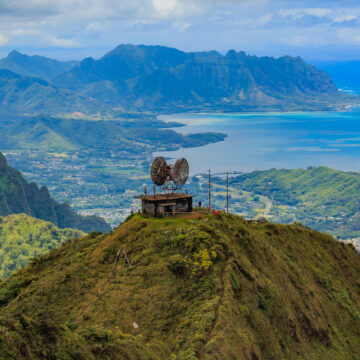 8. Stairway To Heaven (the Haiku Stairs) - Good to Know
Skill Level:
Moderate. The biggest challenge might just be avoiding the guards.
Best time to hike:
Anytime during the day. The sunsets are spectacular up here.
Terrain, distance and elevation:
The Moanalua Valley Trail is a mix of muddy and steep sections. It's a very long hike at just over 10 miles and can take between 7 and 10 hours.
Getting there:
You're parking in a neighborhood so be respectful of the people living there.
Must-do activity:
Drive a scooter around Oahu for a fun afternoon.
Recommended guided trip:
TOP CHOICE FOR TRAIL VARIETY
Can be accessed from many different locations
Lots of shorter and longer hikes you can string together
Choose how difficult you want it to be
Some of the trails are quite muddy and overgrown
Uninformed hikers might stumble onto the wrong path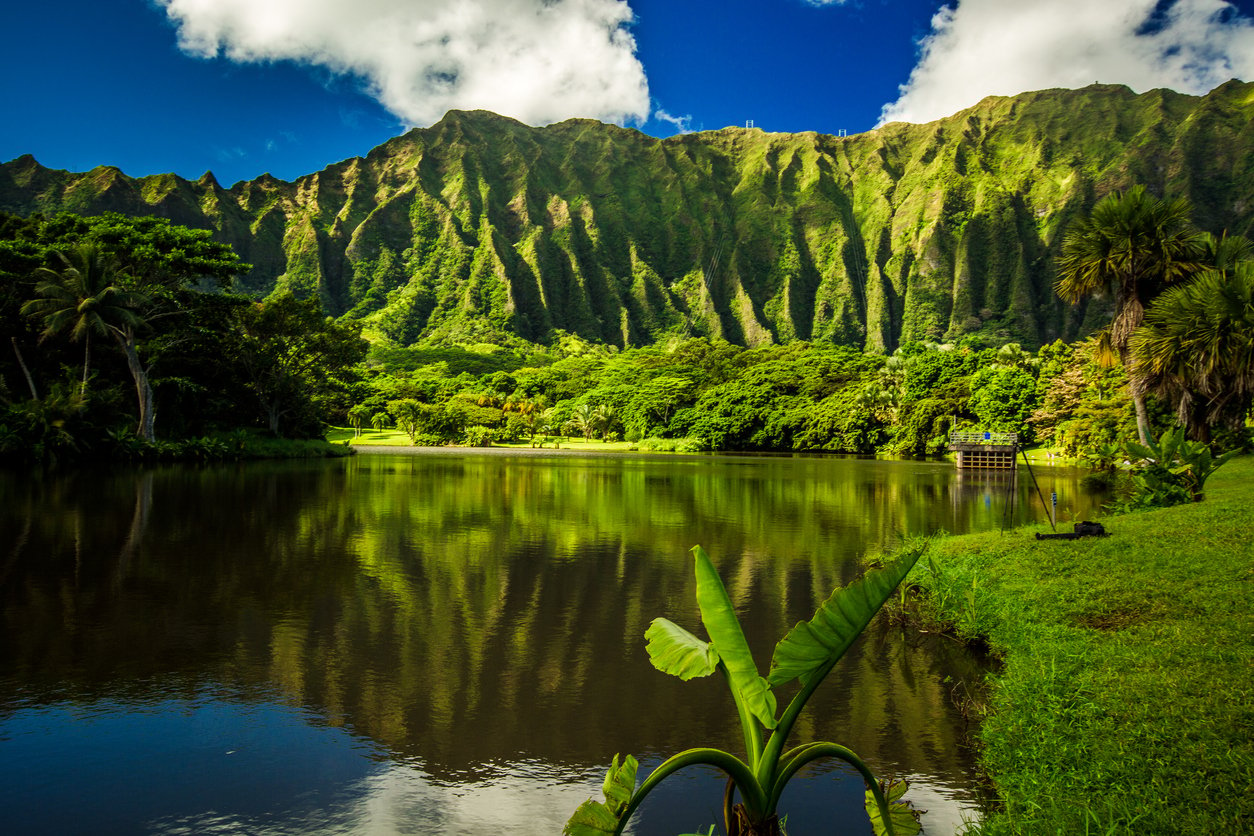 As I mentioned in the intro, the Ko'olau Mountains are one of the two major mountain ranges that make up Oahu. Compared to the Waianae Mountains, the Ko'olaus are shorter in elevation, longer in distance, and contain some of the best trails on the island.
The entire range is actually the remains of a massive shield volcano that began erupting over two million years ago, then subsequently eroded to give the mountains their strikingly dramatic appearance, like a serrated wall jutting out of the ocean. The Ko'olau Summit Trail follows the spine of the ancient volcano's western flank, with numerous trails—some more accessible than others—feeding it from both sides of the island.
The range is crowned by many 2,000-footers, but my favorite hike goes to the tallest peak, Konahuanui, which sits at 3150 ft. It's a challenging 7.5-mile out-and-back trail with excellent panoramas of the island. For a more relaxed time, the switchbacking Kuliouou Ridge Trail is the lightest of the bunch. It's not as exposed as the others and has some stairs to make the 4.7-mile walk easier.
Hardcore hikers looking for an extreme challenge might be interested in thru-hiking the Ko'olau Summit Trail—an 8-day journey that's as perilous as it is beautiful.
Every one of the trails leading to the Ko'olau Summit is packed with lush vegetation and Instagrammable views.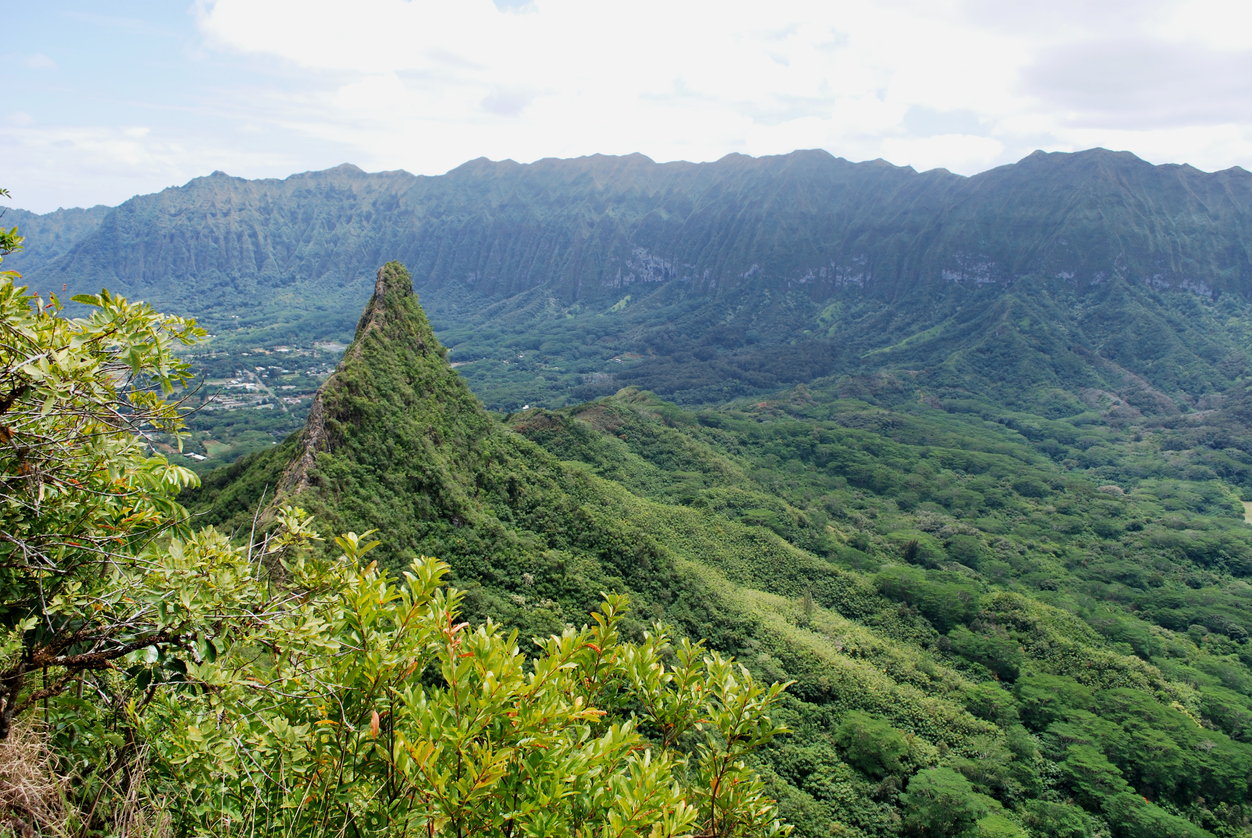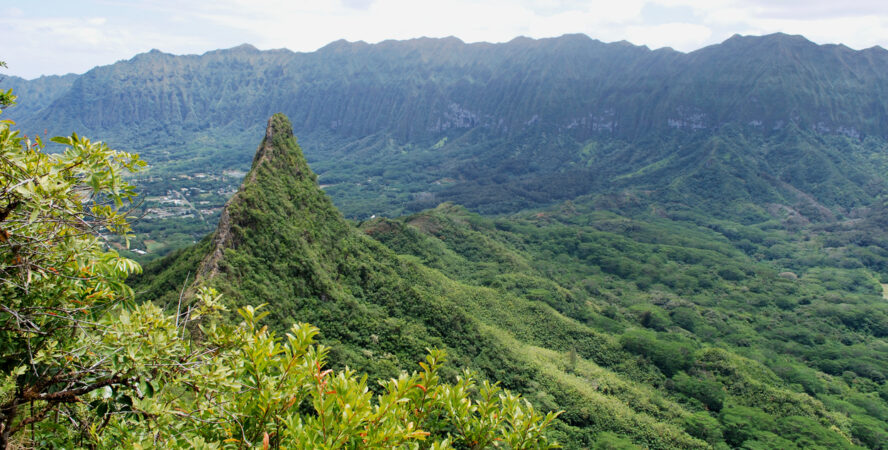 Koolau Summit Trail Traverse Attempt (South to North)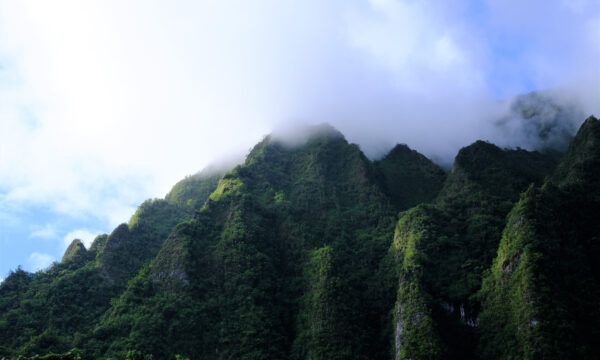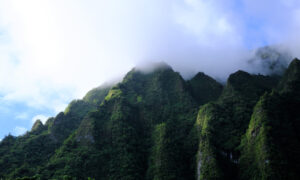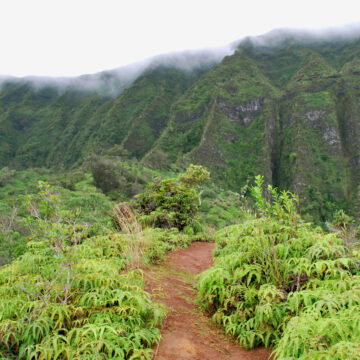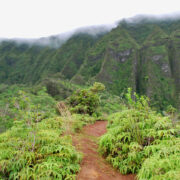 9. Ko'olau Summit Trail - Good to Know
Skill Level:
Moderate to strenuous, depending on your approach and chosen section of the trail. The Ko'olau Summit Trail in its entirety is the hardest trail on Oahu.
Best time to hike:
Go early in the day for optimal visibility as the trails can be almost impossible to navigate in low light.
Terrain, distance and elevation:
Mostly dirt surrounded by lush mountain vegetation. Gets quite muddy and treacherous after rain.
Getting there:
There are many different trails leading to the Ko'olau Summit. For the Konahuanui Ridge Trail, go uphill from Makiki Heights Drive to reach Tantalus Drive. Once you're near the top, go over a narrow bridge to find the trailhead on the left.
Pro tip:
Make sure to wear long pants to protect yourself from the sun, mosquitoes, overgrown vegetation, and minimize injury in case of falls.
Recommended guided trip:
Good-to-know Info for Hiking on Oahu
If you're planning an Oahu hiking trip, you should do your due diligence and thoroughly prepare for the challenges that lie ahead. Here are a few things you might want to keep in mind:
Does Oahu have good hiking?
Oahu has the best hiking of all the Hawaiian islands, hands down. Its trails cover two volcanic mountain ranges that border the island and feature waterfalls, rainforests, World War II pillboxes, and the rugged coastal ridgeline. Overall, Oahu offers a diversity of terrain for every skill level that's hard to find on any other island.
Tips for hiking on Oahu
Do your research beforehand so you know about the challenges and perils of each trail.
Stick to the trail and follow the official trail markers to avoid getting lost or hurt.
Make sure to always have enough water and food on you.
Bring sunscreen, mosquito repellent, and a light rain jacket.
If you're traveling by car, never leave your valuables inside.
What is the best time of the year to hike on Oahu?
While the weather permits you to hike on Oahu year-round, the best time to visit Oahu is from mid-April to early June or between September and mid-December. These are the shoulder seasons, meaning less crowds and cheaper airfare and accommodation.
What to pack for hiking on Oahu?
Here's a list of the equipment you need to bring:
Day pack large enough to carry all the items listed (around a 25-40L bag)
Hiking poles — optional
Water bottle or hydration bladder (2L capacity)
Lightweight hiking boots or shoes
Shorts or long pants
Waterproof rain jacket
Spare clothes for layering
Sunhat
Toiletries (sunscreen, hand sanitizer, bug spray, toilet paper, etc.)
Mosquito repellent
Headlamp or flashlight
Sunglasses
Camera — optional (but recommended)
Dress comfortably and for the weather in clothes you can move in. I suggest bringing clothing appropriate for the season. Layers are best and don't wear jeans.
What is the easiest hike on Oahu?
The Diamond Head Trail, Manoa Falls Trail, and the Makapu'u Lighthouse Trail are some of the easiest Oahu hikes. If you have time only for one outing or don't want to break too much of a sweat, head to the Diamond Head crater. It will teach you about the island's volcanic origin and offer great views of the surrounding nature.
What is the hardest hike on Oahu?
The Koko Crater and The Olomana Trail are among the hardest hikes on the island. The Koko Crater Trail is difficult because it requires a significant amount of endurance. Don't be fooled by the shortness of the hike, because it is steep and challenging. The Olomana Trail is for advanced hikers due to the increasing difficulty as you gain elevation. It is a hike that requires technical skill and endurance.
What is the longest hike on Oahu?
The Kawailoa Trail is the longest hike on Oahu at 9.4 miles. The trail is located near Haleiwa and it is a muddy and long path to the Koʻolau Summit. The hike takes about eight hours and consists of 1,408 feet of elevation gain.
How many hikes are there on Oahu?
Oahu has upwards of 200 hiking trails scattered throughout the island. They range from beginner-friendly to extreme, which means everyone can find something they like. There are trails for young families, hikers used to challenging terrain, super fit trail runners who want to test their endurance, people with pets, and more.
Where to stay on Oahu?
When it comes to accommodation, Ewa Hotel Waikiki and Waikiki Beachside Hostel will give you the best bang for your buck, while families with children will fawn over the Disney Aulani Resort, which feels like living in a theme park. For a dash of luxury, look no further than the Hilton Hawaiian Village Beach Resort in the heart of Waikiki, which has beach access and a private lagoon, or Sheraton Waikiki, whose impressive infinity pool will leave you speechless.
What to do on Oahu besides hiking?
When you're not traversing rainforests and traipsing on dormant volcanoes, why not try out some other popular activities on Oahu? Head to the beach for some swimming, surfing, snorkeling, and scuba diving action. Afterwards you can check out the island's many museums, restaurants, and botanical gardens. If you're in the mood for some action-packed sightseeing, consider a 4WD tour of the island.
Do you need a guide for Oahu hiking?
There are so many trails on Oahu that there's bound to be something here for everyone. Depending on your experience and skill level, with the right planning and info you may feel comfortable hiking on your own.
However, if you want to be completely safe in a new environment and learn more about the local history and biodiversity, hiking with a guide is the way to go. Not only will you get access to all the best spots, but you'll also be hiking with a certified local who will take care of the logistics, giving you more time to enjoy your trip.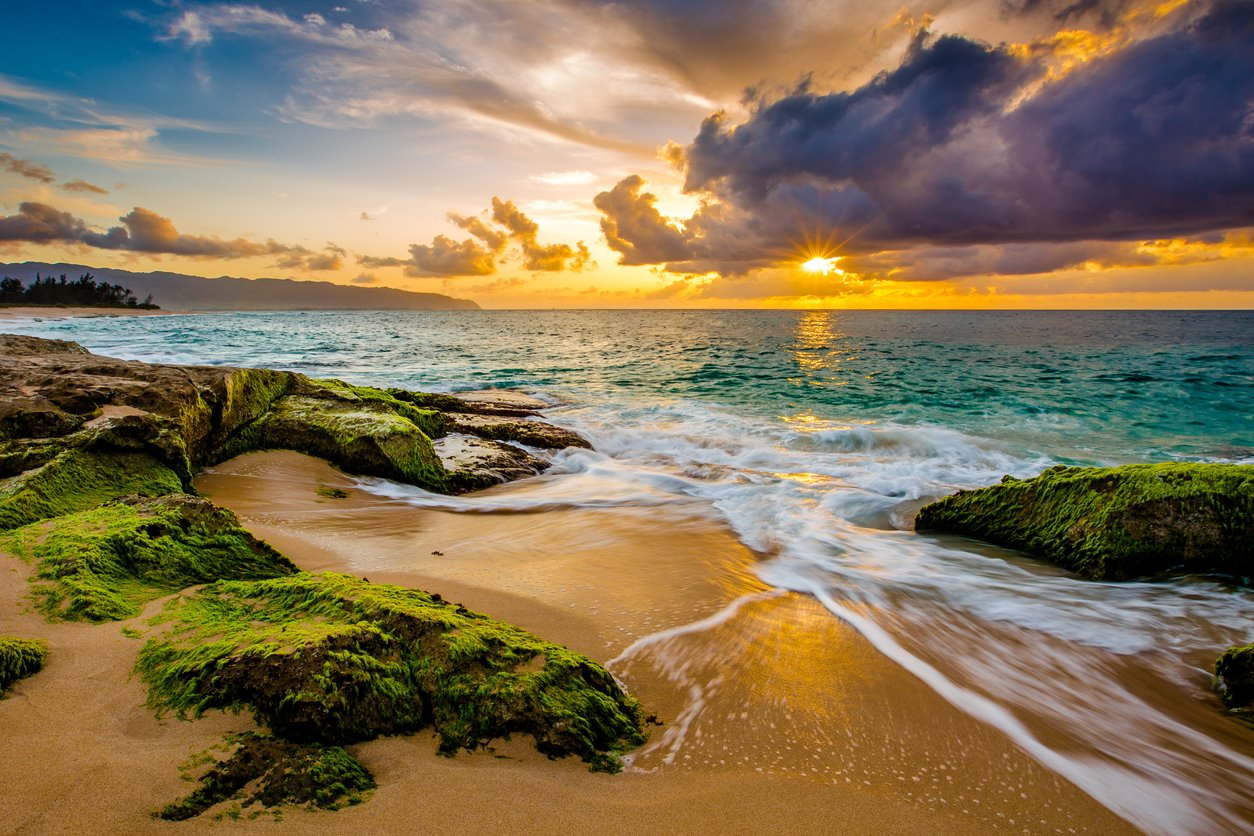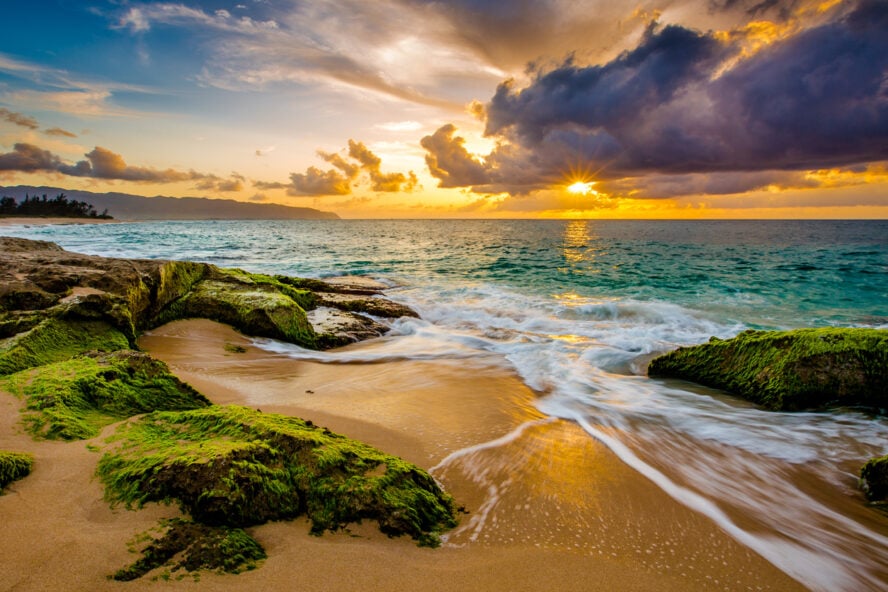 Go Where You Feel Most Alive
Moving to Hawaii was the best decision I made in my life. The tropical climate, beautiful nature, and most of all, the warm, kind-hearted people have made this place my personal paradise on Earth. Even after climbing over 160 peaks around the state, I can't get enough of these gorgeous trails and the secrets that they hold.
As a guide, seeing the look of pure wonder on people's faces when I take them to a jungle waterfall or the top of a giant volcano just makes hiking here all the more magical.
Are you ready to explore Hawaii with a guide? Check out some of the trails offered or set your sights on a private hiking tour of Oahu. One thing's for certain on Oahu, adventure awaits!