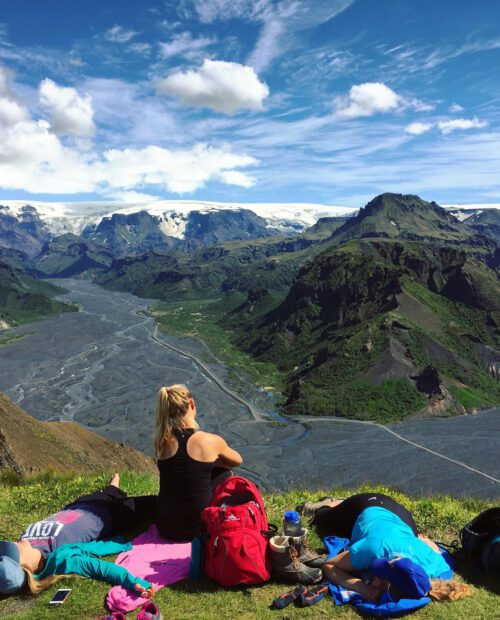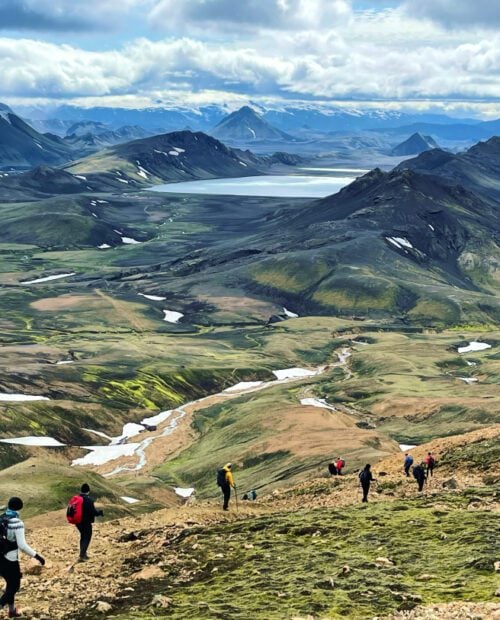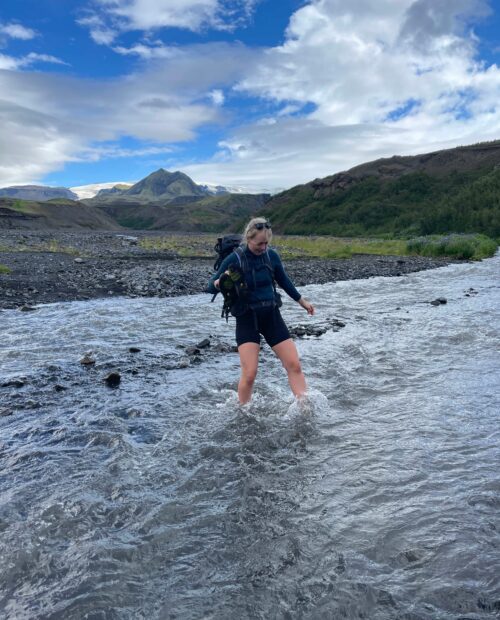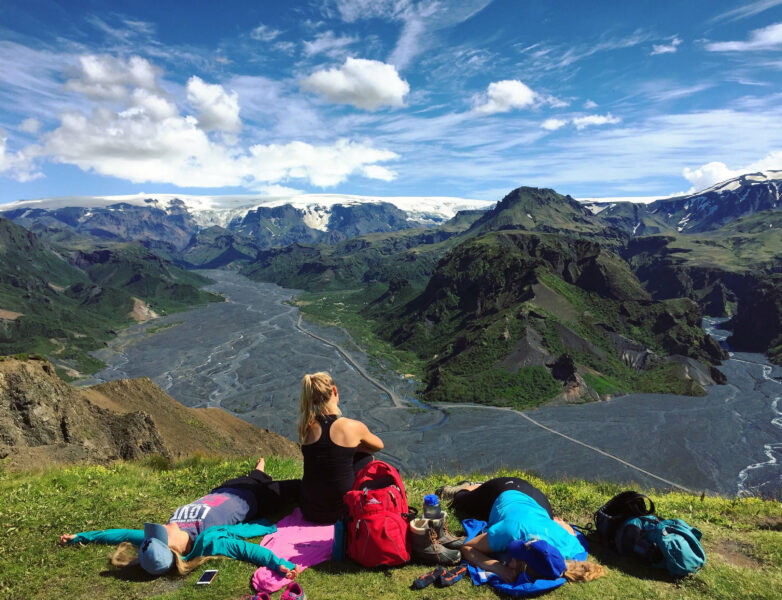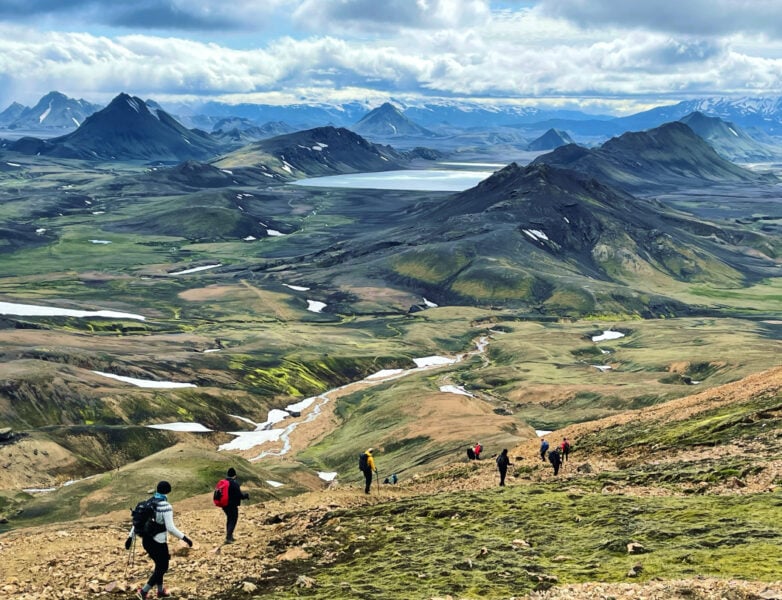 There's a reason National Geographic named this 34-mile trek through Iceland's Southern Highlands one of the most beautiful hikes in the world. The geothermal features give Yellowstone a run for its money, with looming glaciers, hidden waterfalls, inviting thermal springs, and black sand deserts dotted with huge shards of obsidian. This legendary all-women hike will have you sleeping under the midnight sun as you trek from place to place on this once-in-a-lifetime adventure! Explore the neverending beauty of Laugavegur by hiking the trail in 3 or 4 days—depending on your fitness. With each mile, you'll feel more confident and get a more refined sense of self than you had before. Learn more about this hiking adventure that combines wellness and adventure in the ancient land of the Vikings from Saga Lif, a local guide and the owner of Viking Women.
One of the most incredible shorter thru-hikes in the world

Landscapes formed by millennia of glaciers and volcanoes

Explore glacier-fed lakes, deep canyon, and hidden waterfalls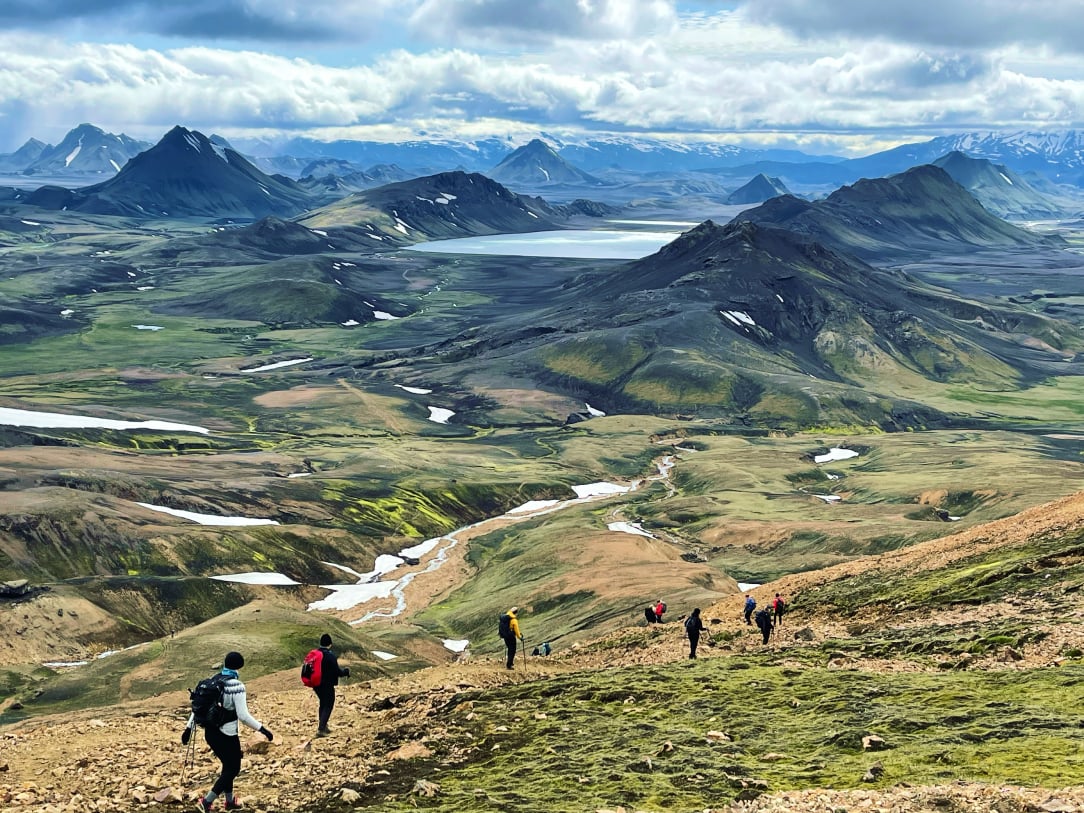 Choose itinerary
Early Bird Booking: 6-Day Classic Women's Laugavegur Hiking Tour
Jun 2024
|
Jul 2024
|
Aug 2024
|
+1 more
Early Bird Booking: 6-Day Advanced Women's Laugavegur Hiking Tour
Jun 2024
|
Jul 2024
|
Aug 2024
|
+1 more
Saga Líf
Local guide and owner of Viking Women
Local guide and owner of Viking Women
A self-described nature addict, Saga has always been drawn to the beauty of Iceland's natural world. She became a guide to help other women unleash their inner Valkyries and make meaningful connections through awe-inspiring adventures. He...
View details

Viking Women Tours is an exclusive women's travel group based in Iceland and operated by experienced local female adventurers. They are very passionate about the outdoors, traveling, and being able to introduce and explore their home to travelers world...
View details
Marci Wright-Smith
about
Vikingwomen
on 57hours
Saga lead us through a memorable experience. I found the pace and distance covered to be just right. Laugavegur trail in Iceland is rated one of the top through hikes in the world for good reason. This hike is a great way to experience the land of fire and ice.
Shaley Howard
about
Vikingwomen
on 57hours
What a fantastic experience! Hiked with 16 women from all over the world through sunshine, wind and cold rain! Sometimes tough, rugged terrain but stunning! When you complete something like this hike you can't help but grow and come away feeling incredible! A wonderful bonding experience and Saga our guide was knowledgeable, patient and very accommodating! Highly recommend! Saga was wonderful! Always making sure we were doing well, patient with those who were more beginner hikers and helped to create an extremely memorable experience I'll cherish forever! She's very knowledgeable and was able to answer a variety of questions we continually threw at her. She also provided this hike exclusively for women which I'm certain is appealing to many. She made hiking in Iceland feel safe, welcoming and like anyone could do it.
Lisa Green
about
Viking Women Tours
on 57hours
Saga Lif is aptly named as she and her Viking Woman Tours will lead you on an unforgettable and EPIC Icelandic adventure. The group dynamic that she facilities creates a fun and supportive environment for any traveller of any ability. Saga\'s organization, attention to detail, patience, and problem solving made this trip run so smoothly that the only thing we had to do was lace up our boots and enjoy the scenery. Our advice to anyone who is thinking about travelling with Viking Women is – Don\'t hesitate and say yes to everything she suggests (even when your tired) because she knows all of the best places off the beaten track. The Great Voyage Trip has left us with memories and friends that will last a lifetime.
Waiting for Saga to plan her next adventure, Lisa and Natalie.
Chloe Mariani
about
Viking Women Tours
on 57hours
A fabulous adventure led by an incredible guide, which I will never forget!
Carmen Beauregard
about
Viking Women Tours
on 57hours
Saga is a very nice person, well organise, calm and patient with all the clients. The trekk is fantastic, the food good, but i would have prefer better bread for the sandwiches (hi hi) , the group was not homogenous in the physical fitness, but it was ok. Every one help each others. Generosity was present in the group.
Carmen Beauregard
about
Viking Women Tours
on 57hours
Very nice saga, calm and ready for the adventure, speak to every one of the group but respect the rythm of every one.
Natasha Clyde
about
Viking Women Tours
on 57hours
Saga is extremely well versed in the area and the lore and history of the Laugavegur Trail. She was extremely well organized, ensured there was balanced nutrition for the hikes and ensured that we enjoyed our time on the adventure. When unexpected circumstances came up, she was quick to execute contingency plans which made for a great side adventure. She is knowledgeable, personable and has everyone participating to ensure in a great camaraderie and atmosphere. Would extremely recommend her company if you truly want to explore Iceland! Amazing and breathtaking views, rustic facilities, incredibly adventurous transportation to, during and from the hike. This is not for people that like to "Glamp". Go in with a great attitude, manage your expectations for accommodations, they are mountain hostels, but you will not be disappointed with the scenery, the sounds, the views or the memories and the sense of accomplishment. Would not recommend this hike if you don't plan to train for it or do not hike regularly.
Katie Diehl
about
Viking Women Tours
on 57hours
If you are looking for an authentic and unique Icelandic experience then you must do the Laugavegur. Breathtaking and surreal landscape with varied terrain and vegetation. A wonderful opportunity to build real connections and memories. An unforgettable experience. Saga's endless energy, positivity and sense of fun made the trek even more enjoyable. Saga was able to respond to challenging and changing circumstances with calm and excellent problem solving skills. I felt safe and had complete confidence in her ability. A true brave and strong Viking woman!
Anne-Marie Hurley
about
Viking Women Tours
on 57hours
Excellent, very knowledgeable. Iceland's terrain was amazing, the hike was not too difficult. We were lucky to have great weather too
Barbara Havrot
about
Viking Women Tours
on 57hours
I'm sitting in the airport waiting for the final leg home and as the participants photos begin to arrive on our WhatsApp group chat, I can't help but marvel at the beauty of the Laugavegur trail, the connections that were made, and the physical challenges of the trail. We experienced Mother Nature's powerful winds which closed roads on our first day, but she was kind and always had us arriving at our destinations in the sunshine. But the hero of our trip was our guide Saga. Despite all the challenges she managed to get us up to the top of the mountain via super jeep (an experience not one of us will ever forget), encouraged each and everyone of us to give our best effort, fed us very well, entertained us with Icelandic stories and most importantly showed us the marvels of the trail with the enthusiasm of someone experiencing Iceland for the first time. Was it challenging for a senior citizen? Yes. Would I do it all again? In a heartbeat.
Thank you Saga, you are not only a Viking woman but a Viking Princess. ❤️
Kristine Clay
about
Viking Women Tours
on 57hours
Brilliant Adventure! Scenery a hard trail but well worth it. My only regret was that the huts were a bit of a challenge being overcrowded and noisy. Even so I would do it again. Saga lead an incredible adventure in the Laugavegur trail of Iceland. She was mindful of the details and So incredibly knowledgeable. Saga\'s energy was amazing and she inspired me to Believe in my learning and ability — some thing I\'m very proud of having accomplished. I would definitely join Saga on another adventure and hope to go back to Iceland to do another Trail as soon as possible.
Kelly B.
about
Viking Women Tours
I spent a week traveling around the gorgeous scenery of Iceland with Saga and let me say–she is an incredible host. Not only is her knowledge of the country vast, she is also patient and caring for all of her guests. As a solo female traveler, Saga made me feel like I was just on a holiday with friends! Whether it was a glass of wine, history lesson, or trek on a glacier – she guided us through those experiences with ease and intrigue. Her itinerary was the perfect combination of adrenaline-packed adventures and relaxation. All said and done, I can't recommend Saga and Viking Women enough, solo female travelers and friend groups alike.
Bee A.
about
Viking Women Tours
My time in Iceland was truly life-changing and I have to give a special thanks to Saga for leading such a memorable experience! From her passion for her country, the culture, and adventure in nature, every moment was truly inspiring. Now when I think of "happy places" my favorite memories were our hike up Reykjadalur Valley to the hot river and our walk on Sólheimajökull Glacier that ended with a meditation underneath the sun and a rainbow! I will absolutely be back to explore even further with Viking Women.
Katherin J.
about
Viking Women Tours
Saga will take you on an amazing journey through Iceland! Whether it be a hike or a cave dive! Or even a road trip! Get ready to be shown highlights and small gems off the beaten paths! Filled with wonderful moments you will never forget! Listen to tales of elves and trolls while being surrounded by Iceland's natural splendor! If you want a guide who has the knowledge and is passionate about showing you their country look no further than Saga!
Things to know
57hours is committed to providing safe outdoor adventure experiences. We require all guides using our platform to have a COVID-19 safety plan and to make the details of that plan accessible to travelers. In most cases, group sizes will be reduced, guides will avoid overcrowded locations, and other safety measures will be met depending on the location and activity.

We also expect clients to respect local regulations and take measures to protect themselves, their guides, and the communities they're traveling to. For more information on COVID-19 measures in Laugavegur, Iceland, please refer to the official COVID-19 guidelines for traveling to and from Iceland.

Please contact us if you have any questions or require further information. We are happy to provide you with the most up-to-date information!

What you get on this adventure:

An experienced, local hiking guide with extensive knowledge of the area
6 days of hiking
All meals during the journey
Transportation from Reykjavik to the trailhead and back
Accommodation in cozy mountain huts (sleeping bag accommodations in dormitories)
Luggage transport from hut to hut

What's not included:

Accommodation before and after the adventure
Flights to and from Iceland
Transportation from the Keflavik airport to Reykjavik
Trip insurance
Gratuities (optional)
Sleeping bag (can be rented from camping rental stores in Reykjavik)

To make the most of this hiking adventure, you'll need to be able to:

Hike anywhere from 4 to 8 hours a day for 5 full days while carrying a daypack full of gear
Hike a total of 43-53 miles (70-85 km) in a week
Follow a pace of 7.5-10.5 miles (12-17 km) a day on the Classic Tour, or up to 15 miles (24 km) a day on the Advanced Tour
Handle a max of 1,970 – 2,620 ft (600-800 m) of elevation gain in a day

The trails are not paved, but in some places, paths have formed. Some trails are rocky but are easily accessible to anyone used to hiking in uneven terrain. Participants will need to cross rivers every day on the trail except on the first day. The water level in the rivers changes from time to time due to seasonal conditions. In some cases, you will be able to step from stone to stone to get to the other side. In other cases, you will need to take your shoes and socks off, put on river-crossing shoes and wade the rivers. Neoprene socks and sandals or neoprene shoes (beach shoes) are the best choice. Your guide will provide you with advice for river crossing, as well as help you to cross the river. Trekking poles might come in handy when wading rivers, as well as crossing with a partner.

In your daypack – large enough to carry all the items listed below (around a 25-40L bag)

A warm hat, sunhat and gloves
Waterproof jacket and waterproof pants
Sunglasses
Water Bottle or water bladder
Sunscreen
River crossing shoes / sandals
Fresh food and snacks provided by Viking Women every day
Extra fleece sweater or down jacket to put on when we stop for breaks
Hand sanitizer
Hiking poles (optional)
Camera (optional)

In your luggage:

Sleeping bag ( doesn´t have to be in your luggage, just attached to it somehow)
Travel pillow (optional)
Underwear and socks
Extra clothes for the trail
Extra clothes for the huts
Medicine
Hygiene and beauty products
Towel
Headlamp or a flashlight (for those doing the hike in August – September)
Powerbank to charge your devices
Earplugs and a sleeping mask
A bathing suit ( for those doing the 3 days on the trail adventure )
Cash or a debit/credit card

What to wear on the trail:

Good hiking boots that are waterproof
Hiking pants or leggings
Thermal top or lightweight T-shirt
Hiking socks
Mid layer
A buff (optional)
Gaiters (optional for those hiking in June month)

Your main luggage will be transported by transport vehicle, and you will not have access to it until you reach the huts in the afternoon. This also includes your sleeping bag. Everything needed for the day's trek must be in your daypack.

You are allowed to take one piece of luggage on the tour. Your guide advises you not to bring a massive one, as the huts don´t have much room to spread out our stuff. There are luggage lockers at four centrally located places in Reykjavik where you can store your extra luggage.

For your own well-being and safety, we strongly suggest following the advice of this equipment list. This includes having good quality rain gear, tops, and bottoms. Cotton clothing is not appropriate for any strenuous outdoor activity – nor are jeans and cotton t-shirts. Modern outdoor clothing is by far more comfortable and will greatly improve your experience.

Group sizes and prices:

For this adventure, the max client-to-guide ratio is 16:1.
This adventure requires a minimum of 8 people to run.

Hiking in Laugavegur can be arranged for larger groups. Contact us to make arrangements.

Min. age requirements:

If you are older than 18, you're good to go.
Minors younger than 18 may be permitted to join the hike on a case-by-case basis, but must be in the presence of a parent or legal guardian.

If your group has hikers under the age of 18, contact us prior to booking to make arrangements.

A 30% deposit to secure your place is due upon booking. Once the trip is confirmed by the guide, the cancellation policy stated below applies, and deposits are no longer refundable. The remaining 70% of the amount is paid the latest 3 months (90 days) prior the departure.

In the event that the minimum number of people to confirm the adventure is not reached, your guide can cancel the departure at most 2 months before the start of the trip. Please note the adventures for 2022 and 2023 are expected to reach the minimum number of people soon, and the likelihood of trip not happening is very low.

In case you need to cancel the adventure, the following cancellation costs would be incurred:

100% of the price of the adventure is refundable before the group is guaranteed
70% of the adventure price is refundable if canceled 59 days or more before departure, once the trip has been confirmed
50% of the adventure price is refundable if canceled 30-59 days before departure
25% of the adventure price is refundable if canceled 16-29 days before departure
0% of the price of the trip if it is canceled 15 days before departure.

All policies regarding cancellation will be clearly laid out by your guide after booking your adventure.

To get to Iceland, most people fly into Keflavík International Airport, located 45 minutes from the city center. From there, the best and the cheapest way is to take one of the public busses like Airport Direct or Flybus. Buses leave 35-40 minutes after the arrival of each flight, 24/7.

Once you and your guide agree on the details of your itinerary, your guide will suggest the best place to meet, whether that's at the BSÍ bus terminal in Reykjavík or a predetermined location. The guide will choose the appropriate terrain dependent on conditions and the ability of the group.
Get free trip brochure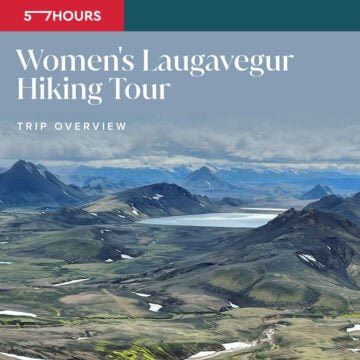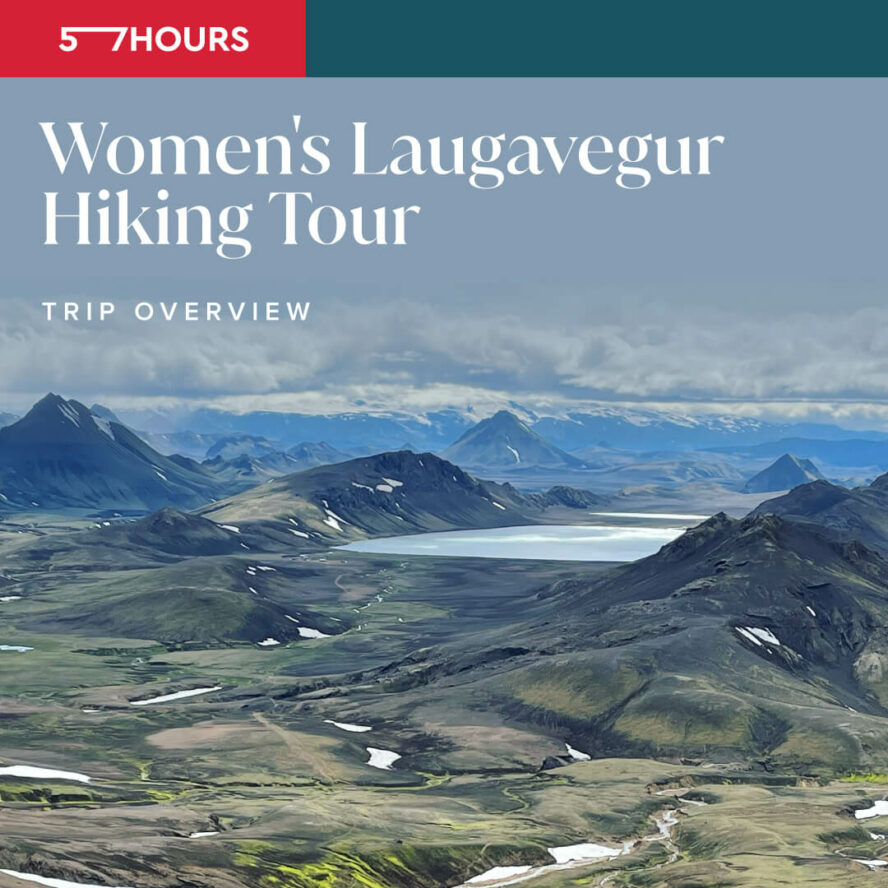 The brochure contains:
Adventure and location overview, itinerary, available dates, what's included, how to prepare, and much more.
Brochure sent, check your inbox