Michelle shared:
Her

expertise

on thru-hiking the AT 

Personalized

insights based on

your questions
Backpacking choices

making or breaking your Appalachian aspirations

How

supported thru-hiking

increases your chances

The nitty-gritty of the

5-month AT itinerary

she devised 

Budgeting, duration,

and

everyday life

on the trail
Wrapping your head around the Appalachian Trail thru-hike alone is no easy task. 14 states, 2,190 miles, 5 million steps—and just as many questions.
Managing the logistics and finishing the months-long traverse are both impressive—and challenging—undertakings in their own right. Luckily, A.T. guru Michelle Michaud is here to help.
Not only has she completed the Appalachian Trail three times, including two thru-hikes, but she also has an extensive experience in helping others become successful AT thru-hikers. With her expert guidance, the dream of making it to Mt. Katahdin will feel closer than ever before.
If you want to take part in an engaging Q&A session with a guide who knows how to overcome all the obstacles of thru-hiking the Appalachian Trail, sign up for this Adventure Talk.
Adventure Talk host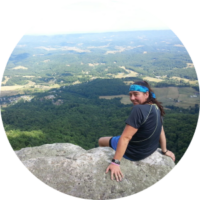 Michelle Michaud
Appalachian Trail guide and owner of Wandering Boots Adventure Tours
Michelle Michaud was born and raised in Maine and is currently based out of Lebanon, TN. She began hiking the Appalachian Trail in sections in 1998 and has since completed the A.T. three times, including two thru-hikes. As the Owner and operator of Wandering Boots Adventure Tours, Michelle helps others experience the joys of the trail. Their offering is comprehensive, handling as much, or as little, of the logistics as clients want. With Michelle, you can count on feeling part of the hiking family.