The Best of Big Sur: 8 Hikes and Backpacking Trails for 2023
Raw, rugged, and light on infrastructure, Big Sur is an uncut gem of Californian coastline that draws millions of visitors a year. Learn why hikers and backpackers can't get enough of the trails and what you need to know before you go.
Table of Contents
Big Sur should win an Oscar for visual effects.
Here you'll find redwood groves sprouting within sight of ocean coves, and mountains rising from the Pacific with an abruptness that rivals the prominence of the east face of Mt. Whitney. Even though the area is a 5-hour drive from Hollywood, Big Sur's flair for the dramatic may as well be cut from a movie script.
While the area sees upwards of 4 million visitors a year, most only enjoy a short hike or a drink by the ocean before leaving. To each their own, however, that is a bit like watching a movie trailer and assuming you've understood the whole plot. To fully enjoy this story, though, you need to spend at least a night here. Or better yet, a few: backpacking in Big Sur is the way to go.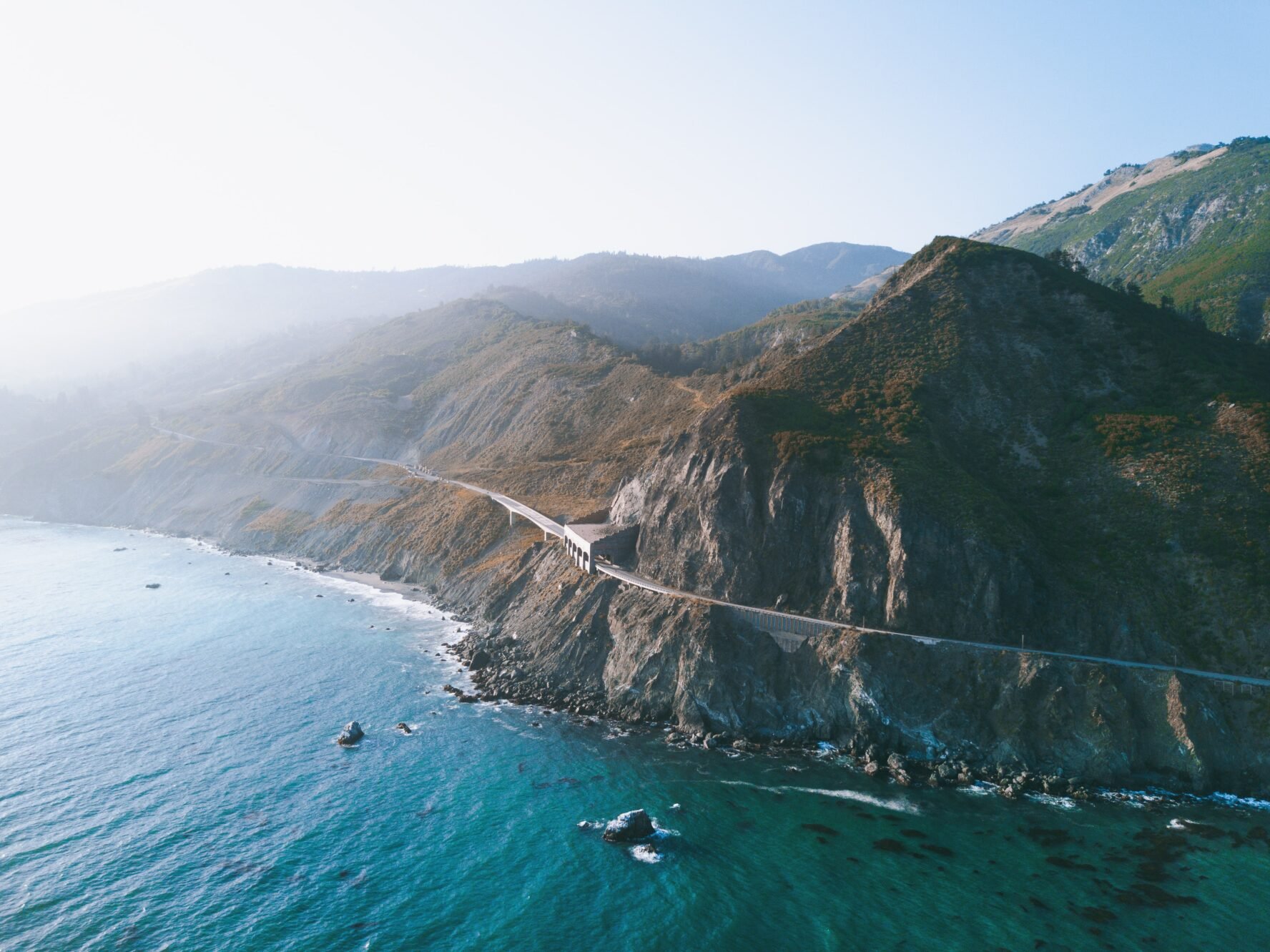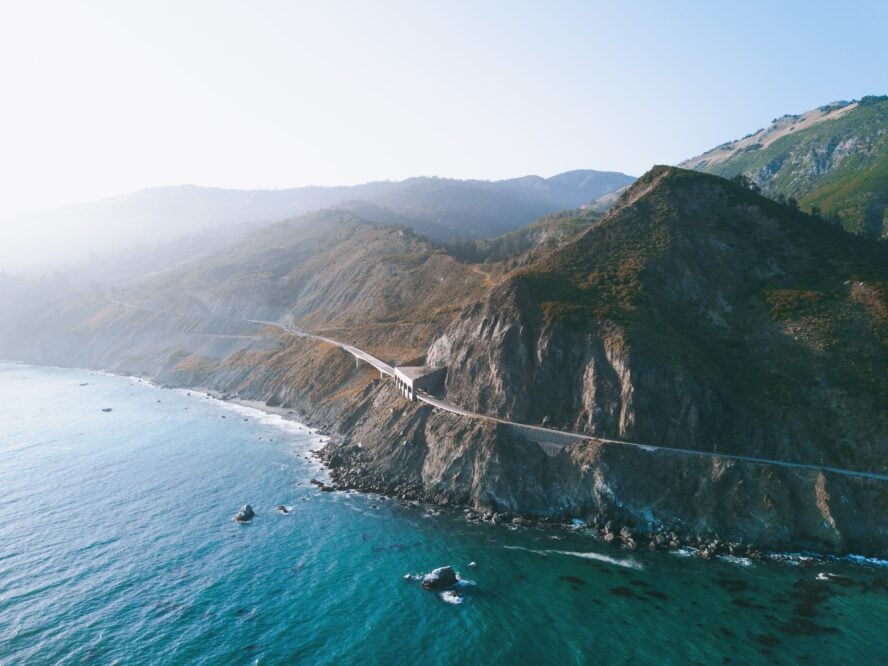 A Brief Overview of Big Sur
Between the year-round pleasantness of San Diego's hiking trails and the old-growth pathways of Redwood National Park sits Big Sur's seemingly untouched wilderness.
While locals might have their own definitions, Big Sur has no clear boundaries. When I use the name, I usually refer to a 71-mile segment of the California State Route 1, between the coastal Malpasso Creek in the north and San Carpoforo Creek in the south. Whatever the boundaries, it has been described as "one of the most beautiful coastlines anywhere in the world."
Surprisingly, the area sees about as many yearly visitors as Yellowstone, yet houses just under 2,000 permanent residents (and with much less infrastructure). That's because the land is protected under the 1976 California Coastal Act and the 1981 Big Sur Coastal Plan, whose guiding ideas are that Big Sur should be preserved for its open space, visual access, and unique ecology. Since its founding, land stewardship has been a defining feature.
As a result, Big Sur is home to seven state parks and two state preserves. Many of the greatest camping spots can be found in the mountainous portions of the region, including the Ventana Wilderness and Silver Peak Wilderness of Los Padres National Forest, as well as non-wilderness sections.
What's hiding under the "Rain shadow"? Big Sur's boundless biodiversity
The overall climate could be described as Mediterranean, however, Big Sur enjoys a whole host of microclimates that get more pronounced the further inland you go. This is mostly due to a phenomenon called "rain shadow".
In regions where a mountainous range sits right by a shoreline, the passage of wet and warm maritime air is blocked by the higher elevations. This leads to the coast-oriented side absorbing the rain and moisture, while the side facing away from the water stays dry.
Because of the stark climate diversity there is a wide range of flora and fauna. For example, the moisture trapped by the mountains creates a prime environment for coast redwood, usually found near creeks or in canyons. On the other, drier side, you'll find yucca and dusty chaparral flourishing along the trail.
Big Sur hosts many more unique plant species, including the Monterey pine, California bay laurel, and the rare Santa Lucia fir, found only on the steep slopes of its range.
My Favorite Backpacking and Hiking Trails in Big Sur
Sparsely populated, mostly uninhabited, and about as rugged as it was centuries ago, the best hikes in Big Sur pass through rarefied terrain. To see this dramatic landscape, I recommend hitting the trails.
Typically, hikers and backpackers congregate in two main areas: the Ventana Wilderness towards the central area of the region and Silver Peak to the south.
A third area, the Pine Ridge Trail from Big Sur Station to Sykes Hot Springs, used to be the most popular one. Unfortunately, a wildfire in 2016, followed by subsequent landslides, caused enough damage that the Forest Service closed it.
Hiking in the Ventana Wilderness
The Ventana Wilderness is a federally-designated 98,000-acre area of land that straddles the Santa Lucia range just south of the Monterrey Peninsula.
The area is popular among travelers for its sheer and rugged montane landscapes: creeks falling from steep crested ridges, craggy peaks descending into V-shaped valleys, deep pools, and hot springs lying secluded under brushy covers.
The Wilderness hosts nearly 200 miles of trails starting from 9 trailheads, the most popular of which is the 24-mile Pine Ridge Trail. Backpackers of all skill levels are mostly drawn to the trails around Kirk Creek in the south and Little Sur River in the north, as they provide access to the best campsites.
Hiking in the Silver Peak Wilderness
Rising sharply from the Willow Creek and Salmon Creek drainages to nearly 4,000 feet (1,220 m), the Silver Peak Wilderness is another highly-trafficked backpacking spot.
Known for its spectacular views of the shoreline, the area also hosts the southernmost redwood grove in the world and tons of vibrant flora around the creeks. It's best visited in the springtime as that's when the waterfalls come to life, and you're more likely to spot a deer, squirrel, rabbit, or wild turkey.
Due to how steep Silver Peak is, the trails there are more physically demanding. The most popular trek is a mild one leading to Salmon Creek Falls, but there are plenty of other, more adventurous, hikes climbing north across the area.
Map of Day Hikes and Backpacking Trails in Big Sur
From loops to one-ways, shoreline traipses to peak bagging, there are plenty of options when backpacking in Big Sur. Below, each marker indicates a backpacking area I'll be chatting about.
Your Guide for the Best Day Hikes and Backpacking Trails in Big Sur
To help you find your footing in Big Sur, I've compiled a list of 8 must-do day hikes and backpacking trips in the area. For convenience's sake, most of these adventures will take place in or near Ventana and Silver Peak, and I've selected a wide array of treks for visitors of all skill levels.
No matter how fit you are or how much time you have, you'll find something to do here.
Easy Day Hikes in Big Sur:
Moderate Day Hikes in Big Sur:
Moderate Backpacking Trips in Big Sur:
Challenging Backpacking Trips in Big Sur:
My Recommended Backpacking Trails in Big Sur