Road Tripping the Best National Parks for Hiking in the USA
Nothing says summer like hitting the open road with a map and a plan and a bucket list of national parks to visit.
Table of Contents
Ah summer, a time for bbqs, swim trunks and that classic family road trip in the trusty Plymouth Grand Voyager with pops blasting Beach Boys—from coast to coast and back again. That might date us a bit, so let's focus on the timeless instead: the splendor of seeing a national park for the first time. Even better? Taking a grand tour of the best the U.S. has to offer, and hiking them too.
Whether you're planning your first trip for yourself or your kids, or looking for a new itinerary this vacation season, we've organized two routes curated to see some of the most resplendent national parks for hiking. From high mountains to low desert, temperate rainforest to salt spray by the sea, there's a park and a trail for everyone on this list.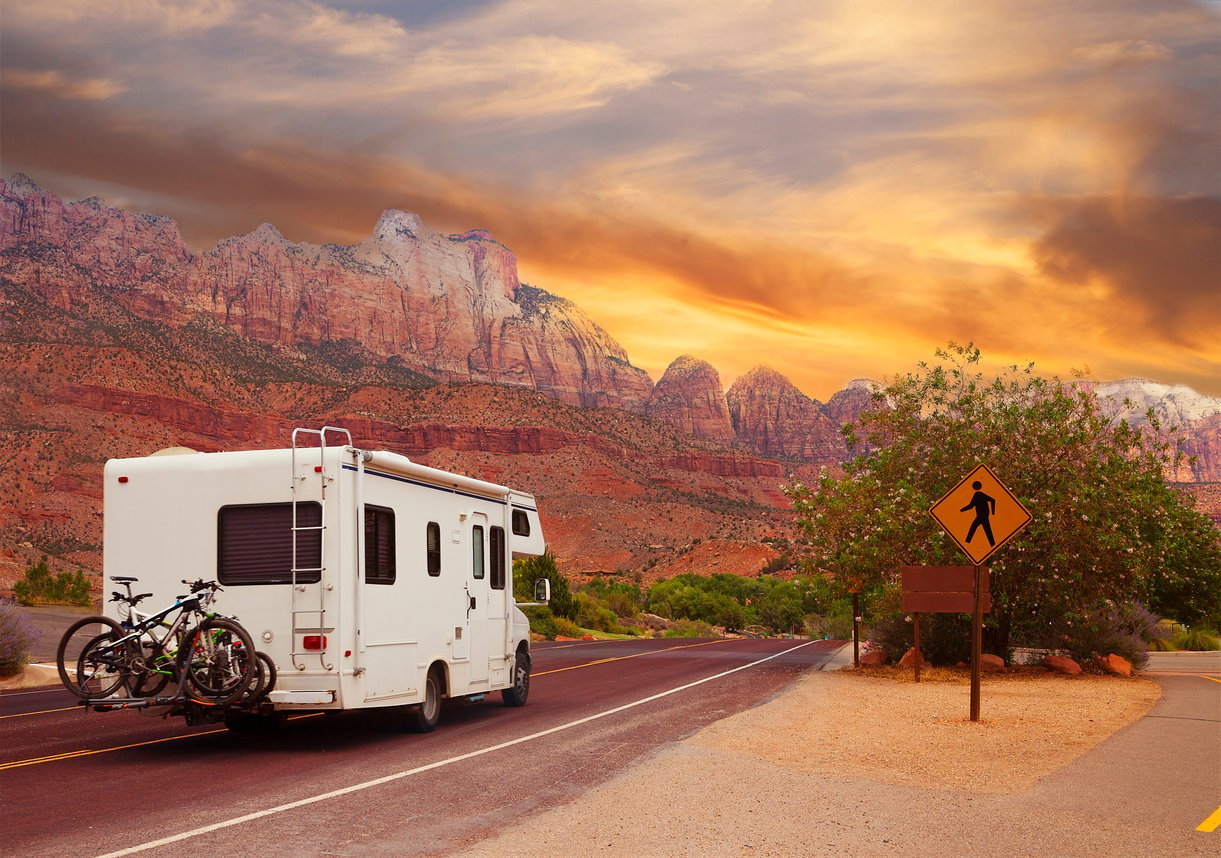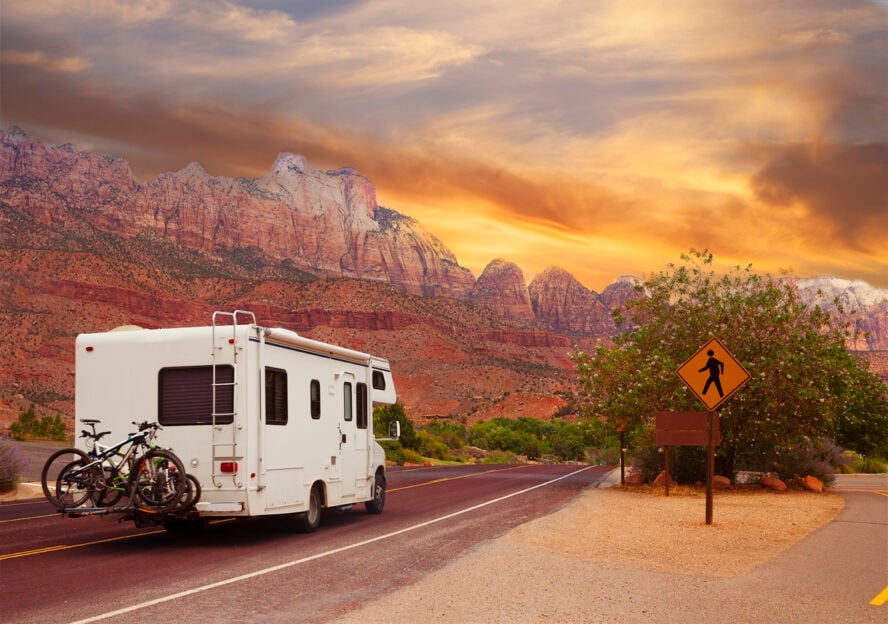 America's National Parks Are Some of the Best Places for Hiking in the Country
Since 1916, the National Park Service (NPS) has helped preserve some of America's most special lands. In total, they manage 63 national parks across the country, as well as many other protected zones, including national monuments, historic sites, and recreation areas. Each of these preserves spaces of outstanding natural phenomena, cultural features, or historical significance, for the enjoyment of present and future generations.
What makes the national parks great for hiking?
America's national parks offer some of the best hiking in the U.S. thanks to a wide range of natural landscapes, from high mountains to expansive deserts, temperate rainforests to pristine coastlines and everything in between. Hiking allows visitors to immerse themselves in these environments and witness the beauty of nature up close.
Because national parks are designed, in part, to make natural spaces accessible, many of them have well-maintained trails. Here you will find everything from short treks that are good for young children to half-day and full-day hikes, all the way up to backwoods backpacking adventures. The trails are typically professionally made, marked, and equipped with amenities such as interpretive signs, rest areas, visitor centers, ranger stations, and campgrounds.
Of course, the main draw is the untouched landscape, which offers natural ecosystems for wildlife. Often, these lands protect habitats as they've been for hundreds, if not thousands, of years. From bears, deer, and elk to birds, amphibians, and marine life, the parks harbor a rich variety of animal species. By hiking, you can see animals in their natural habitats, observe their behaviors, and gain a deeper understanding of their importance within the ecosystem.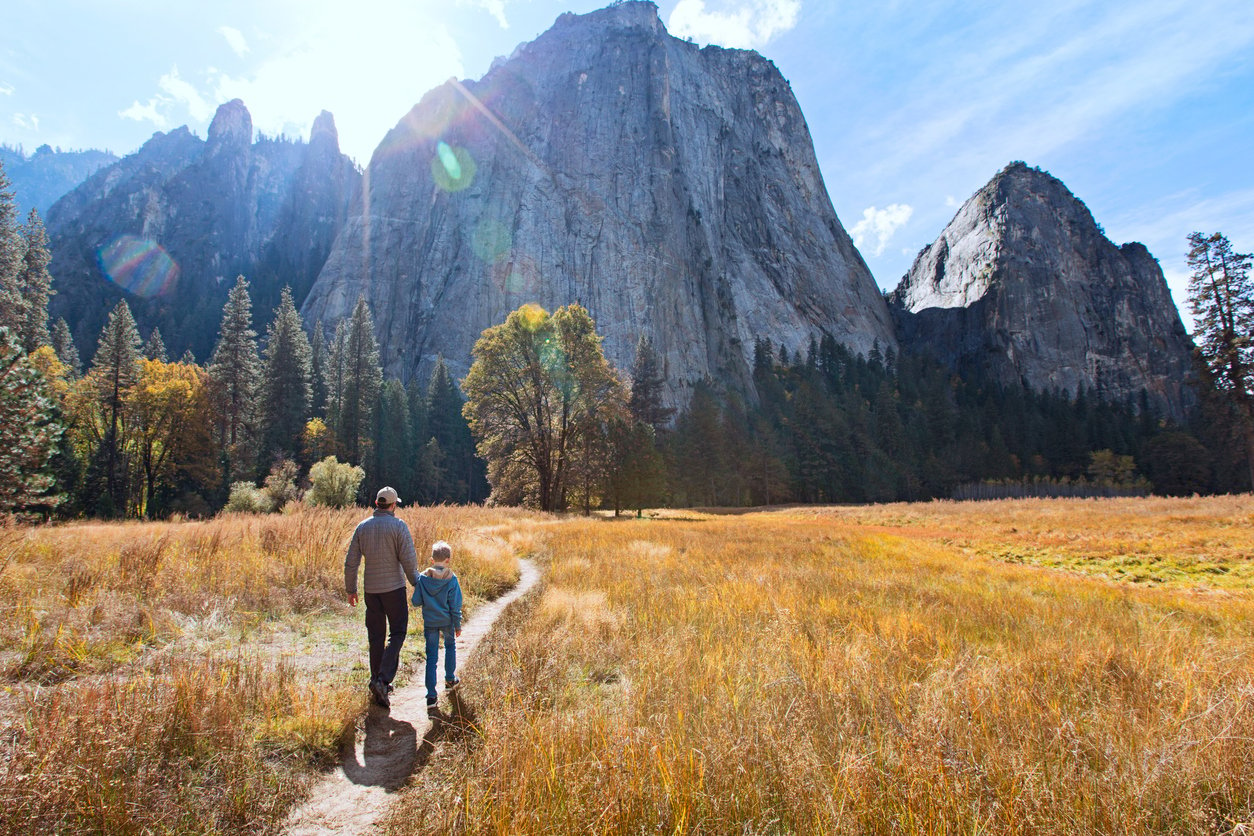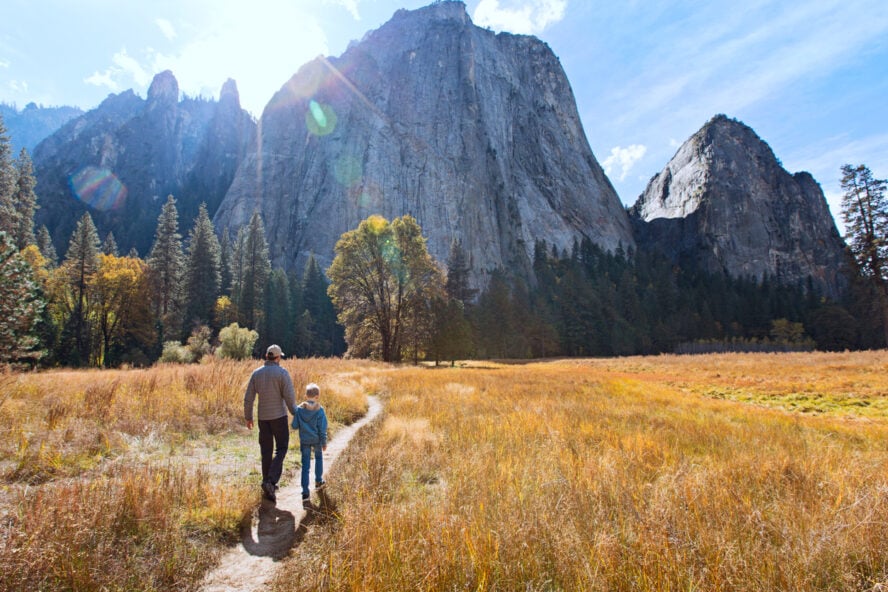 Planning your own hiking trip to national parks
To make the most of your national park road trip, you'll want to plan ahead. Here are some steps you can take to aid the process:
Determine your destinations: Research and decide which national parks you want to visit. Consider factors such as where they are located, park features, and your interests. Create a list of parks you'd like to include in your road trip itinerary.
Decide on your route: Use a map or online tool such as Google Maps or Roadtrippers to plan your route. Consider the distance between parks, travel time, and any scenic routes you want to take along the way.
Research each park: Visit the official websites of each national park you plan to visit. Familiarize yourself with the operating hours, entry fees, camping or lodging options, trail maps, and any specific regulations or permits required. Note any park closures or restrictions that may affect your visit.
Create a detailed itinerary: Outline your daily activities, including specific trails or landmarks you want to explore, and where you'll stay each night. Consider biking, wildlife watching, or guided hiking tours to help you explore hidden gems or gain a deeper understanding of the area. You'll want to book your accommodations in advance, especially if you are traveling during peak season.
Prepare your vehicle: Ensure your vehicle is in good condition for a long road trip. Get a maintenance check, including oil change, tire inspection, and any necessary repairs. Take a spare tire, emergency kit, and necessary supplies for your journey.
Pack essentials: Make a list of essential items such as clothing appropriate for various weather conditions, comfortable shoes for hiking, sunscreen, insect repellent, water bottles, snacks, camping gear, and any specific equipment or gear for activities you plan to do.
Stay Informed: Stay updated on park alerts, weather conditions, and any changes in regulations or closures. Check the official park websites and social media platforms for the latest information before and during your trip. Also consider downloading the new official app for the National Park Service that lets you explore more than 400 parks nationwide.
Lastly, remember to be flexible and embrace the adventure. Leave room for spontaneity and be open to exploring unexpected attractions or detours along the way. Soak in the natural beauty, learn about each park's history and conservation efforts, and enjoy what are sure to be lasting memories.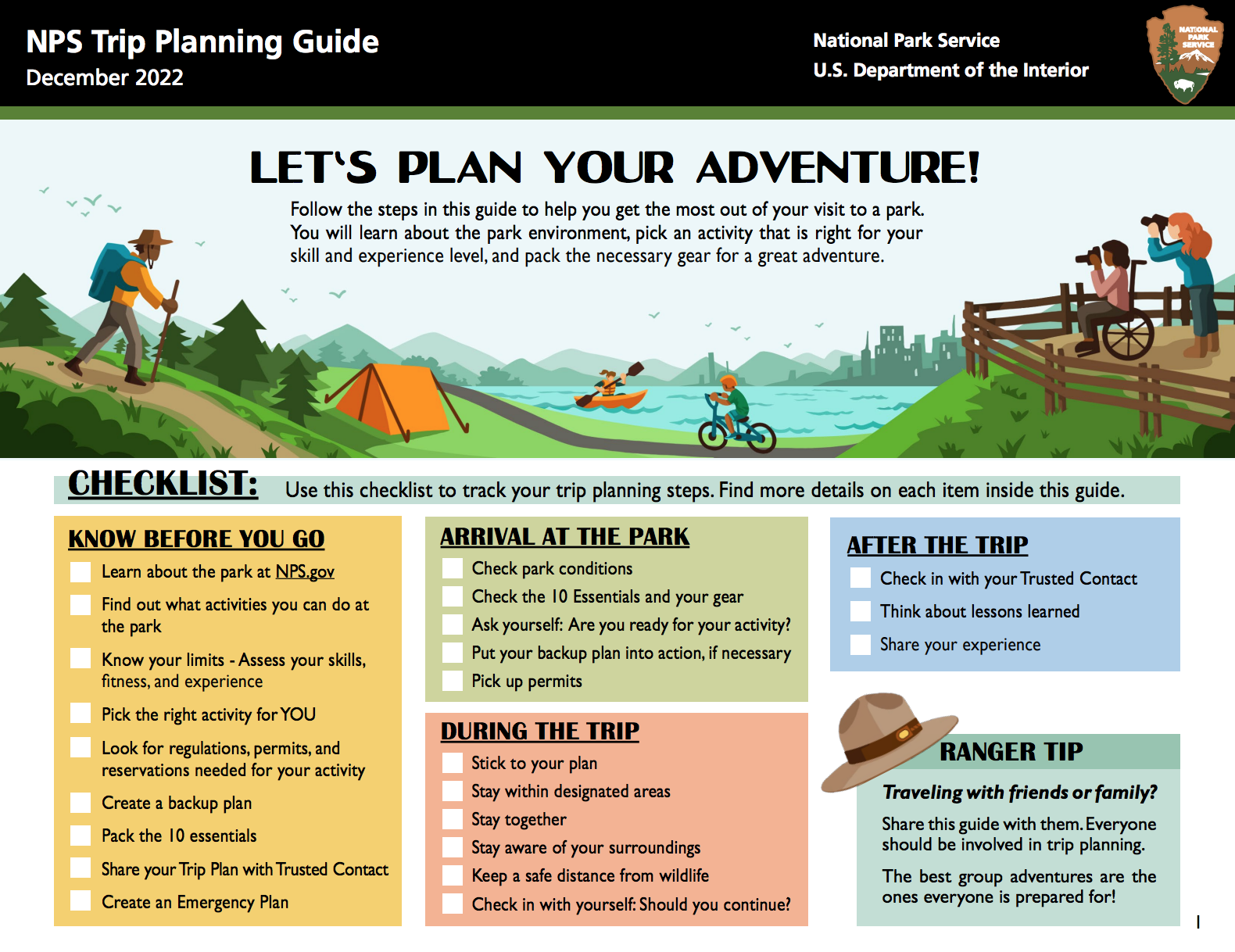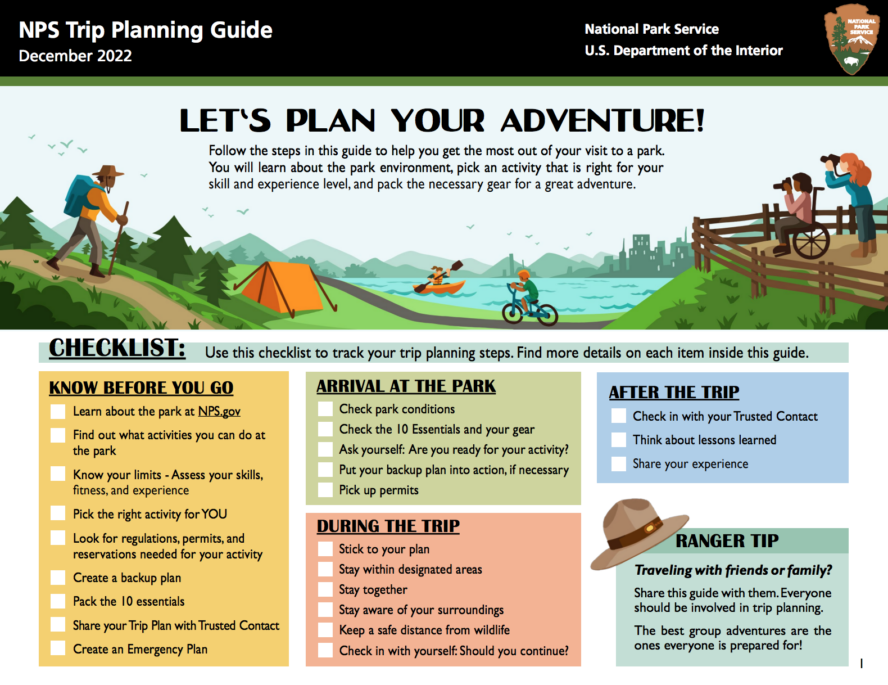 Consider purchasing a national park pass to save money on entrance fees
If you're doing a road trip, consider the America the Beautiful Pass—also known as the Interagency Annual Pass—as a way to save money on entrance fees to national parks and more than 2,000 federal recreation sites, including national forests, wildlife refuges, and other public lands. This includes entrance fees, standard amenity fees, and day-use fees.
Passes are valid for 12 months from the month of purchase and they cover the fees for the pass holder and accompanying passengers in a single, private, non-commercial vehicle. Children aged 15 and under are generally admitted free of charge.
Note that there are several pass types, including the Senior Pass, Access Pass, Military Pass, and 4th Grade Pass (a free pass valid for the duration of the 4th grader's school year through the following summer).
There are also several Fee Free Days in 2023:
January 16: Birthday of Martin Luther King, Jr.
April 22: First day of National Park Week
August 4: Anniversary of the Great American Outdoors Act
September 23: National Public Lands Day
November 11: Veterans Day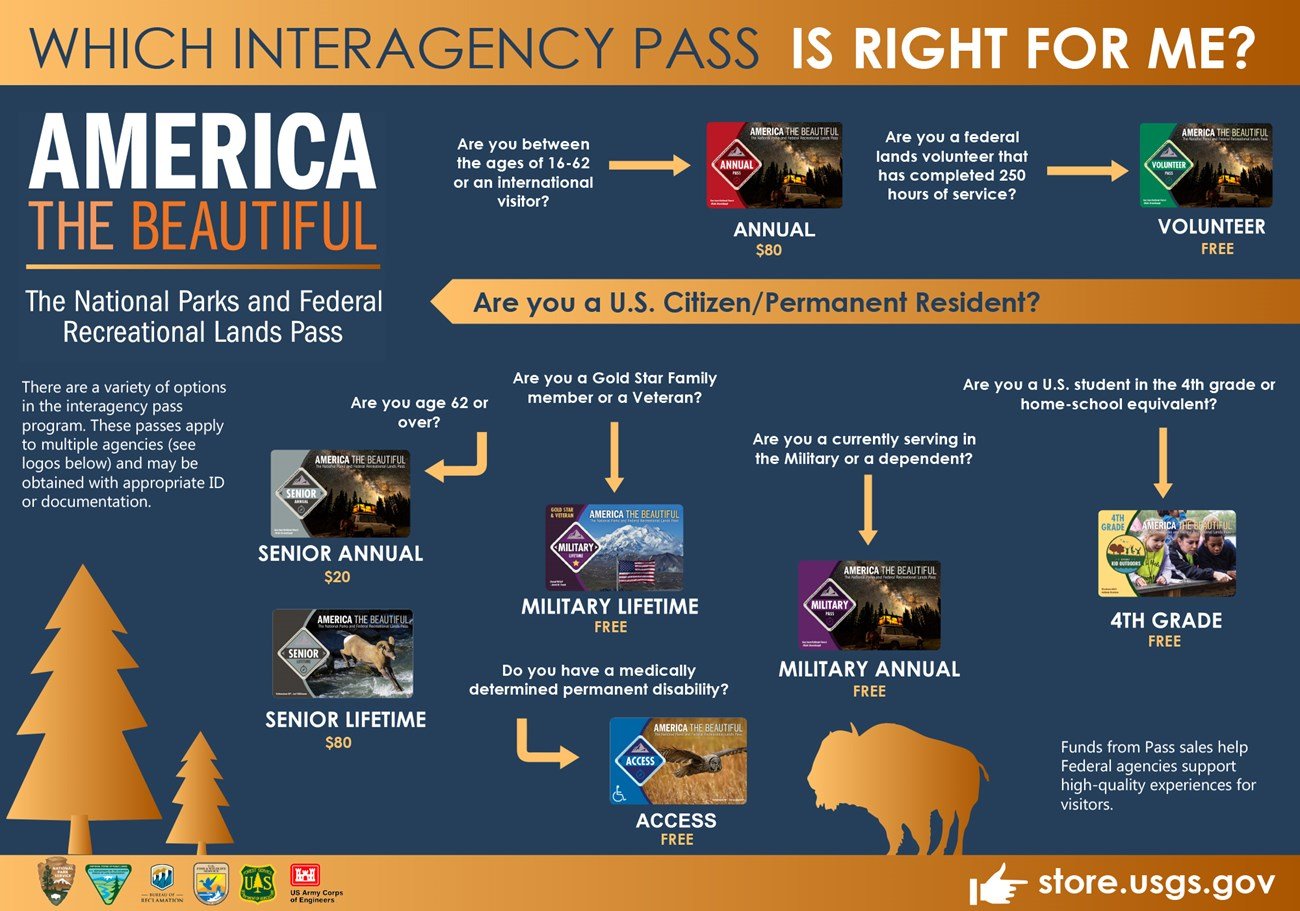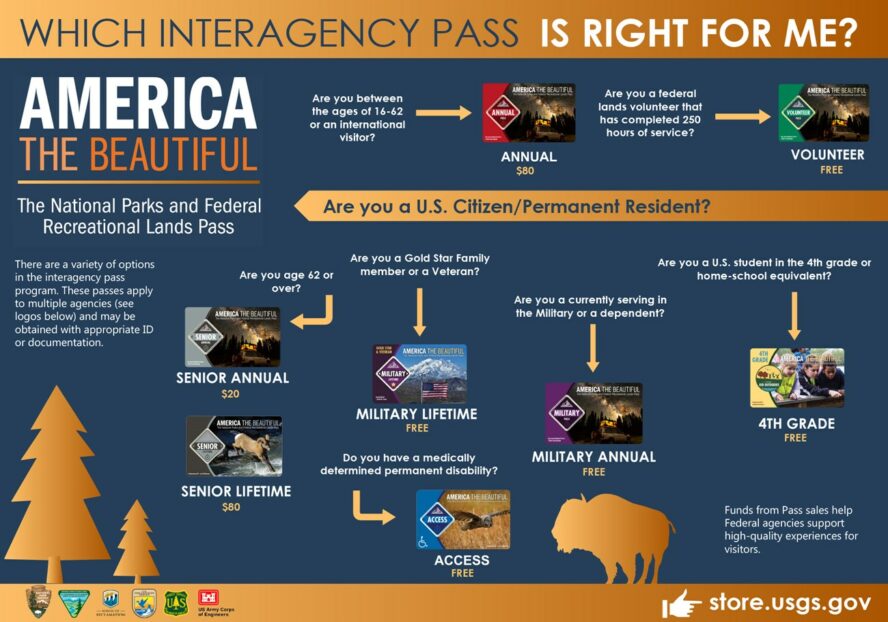 Road Tripping: Two Routes Explained
The country is home to some of the most beautiful and diverse national parks in the world, each with their own unique ecosystems and areas for exploration. But which national parks are best suited for hiking? Here are our top picks, laid out in two separate road trip itineraries.
In the first, the northern route focuses on parks known for their mountains. You will traverse the country from coast to coast, from the highest point on the Eastern Seaboard at Acadia all the way to Denali, the tallest peak in North America.
List of the Best National Parks for Hiking:
The Northern Route: Hiking Mountains from Coast to Coast
Acadia — Top choice for East Coast coastal hiking
Rocky Mountain National Park — Top choice for alpine hiking
Grand Teton — Top choice for big mountain inspiration
Yellowstone — Top choice for wildlife watching
Glacier — Top choice for glacial geology
Olympic — Top choice for ecological diversity
Denali — Top choice for wilderness
The Northern Route: Mountains from Coast to Coast