11 of the Best (And Most Photo-Worthy) Day Hikes in Yellowstone Park
If your bucket list had a bucket list, hiking in Yellowstone would be on it.
Table of Contents
Yellowstone National Park has some of the most impressive scenery—hundred-foot waterfalls, the world's largest collection of geysers, deep-cut canyons, wildflower meadows in full bloom, and no shortage of wildlife.
With over 250 hiking trails stretching along 1,000 miles, there's something for every skill level. So whether you've never done a hike before or you're looking for a grueling all-day push, Yellowstone delivers.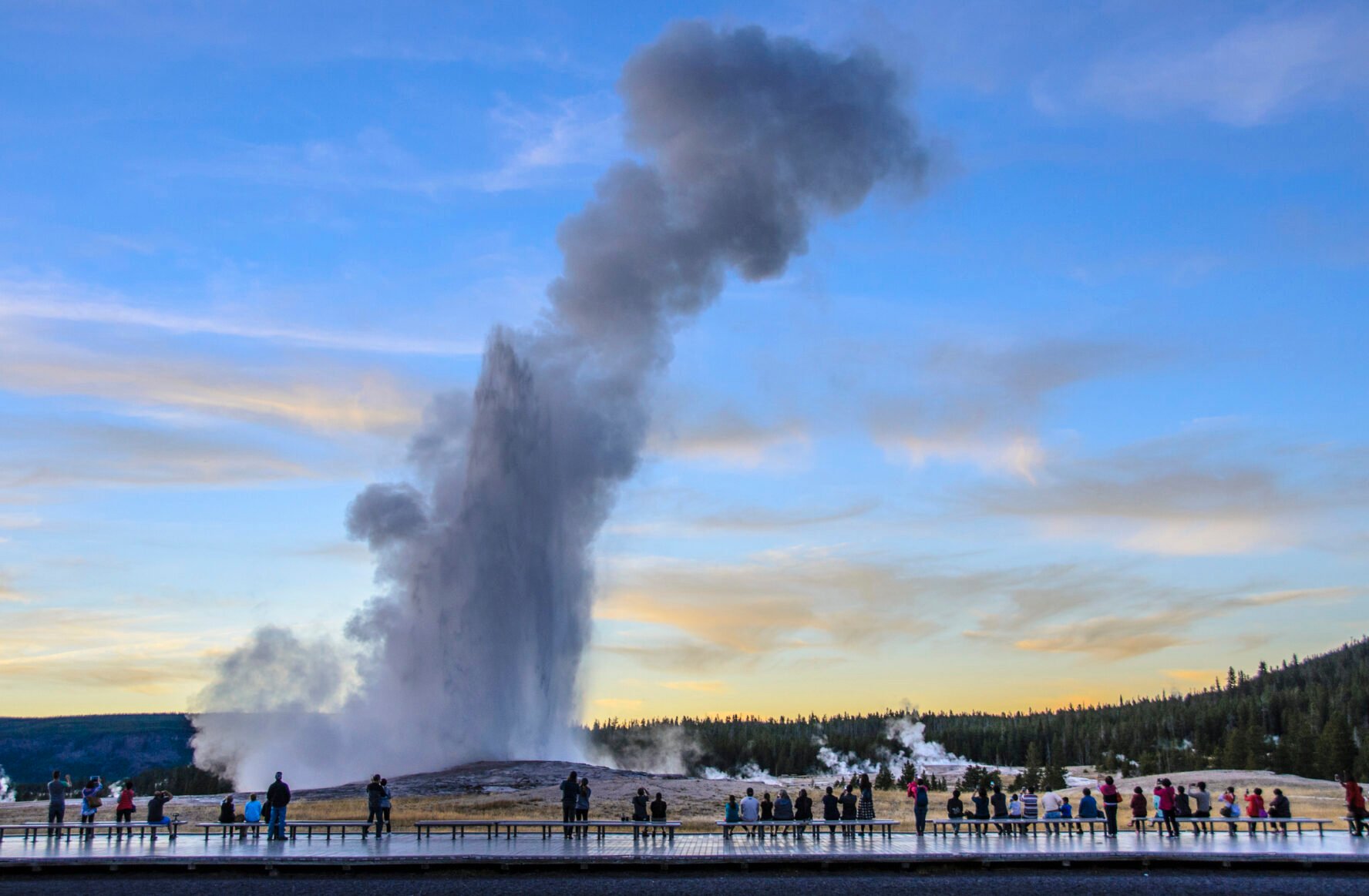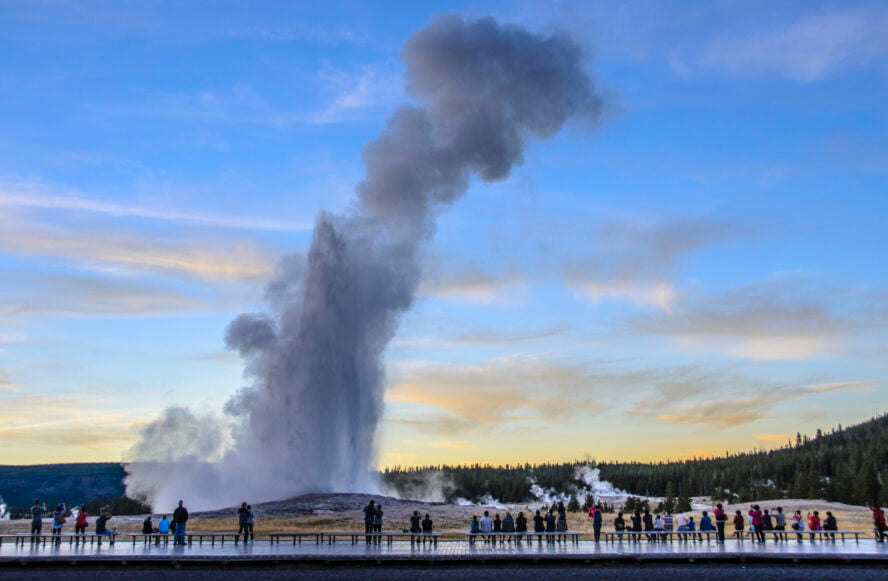 A Brief Overview of Yellowstone National Park
Yellowstone National Park was a family favorite growing up. We'd pass through while spending weeks road-tripping the American West. We'd camp on the outskirts of the park, either in Montana or Wyoming, and make day trips in for sightseeing. Witnessing Old Faithful erupt is one of those memories I'll never forget; getting up close and personal with herds of bison is another (get too close though, and you might win yourself a Darwin Award).
Founded in 1872, Yellowstone National Park is America's first national park. It covers 2.2 million acres and is located primarily in northwestern Wyoming, dipping over state borders into eastern Idaho and southern Montana.
While many people know of the unique ecosystems they can encounter on the best hikes in Olympic National Park — the other famous national park in the Northwest — there is actually more diversity here. Not that this is an apples to oranges or Blacktail Deer to Bison comparison.
Even though the park gets more than four million visitors yearly, most travelers never venture more than 100 yards from their vehicle, opting to take a scenic drive along the 142-mile Grand Loop Road—the main route that takes you past all the park's main features. It's an epic drive, but expect to be caught up in at least one "bison jam."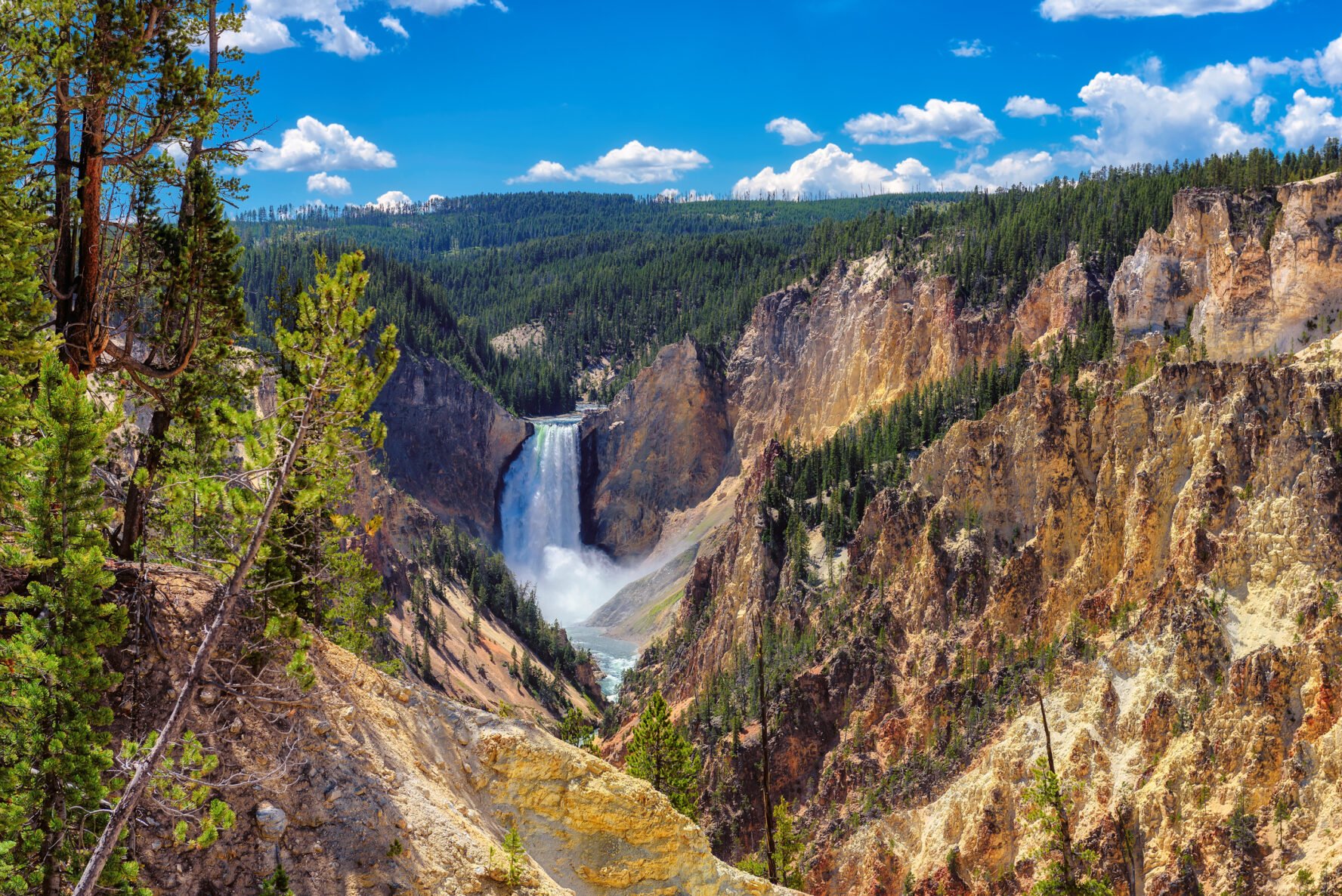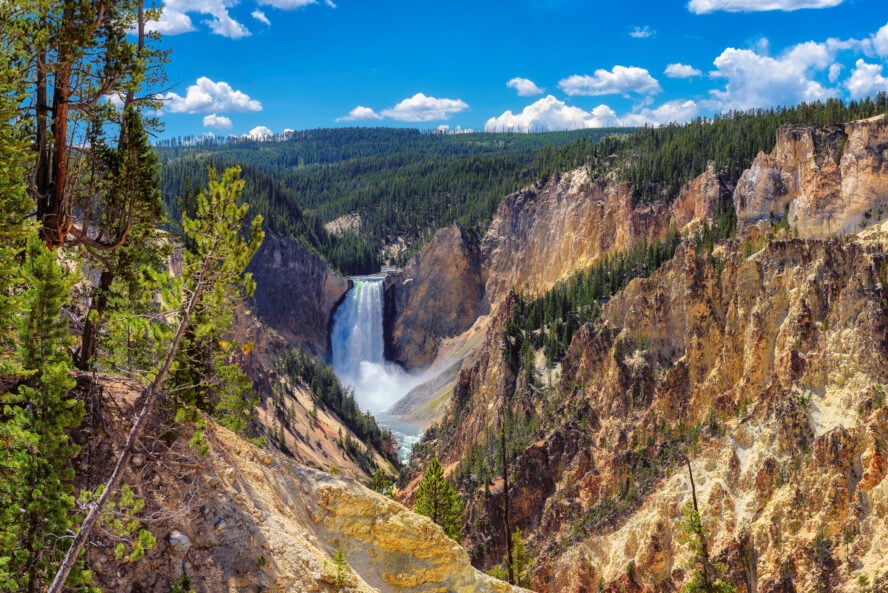 The Eleven Amazing Hiking Trails in Yellowstone
Before we delve deeper, here is a brief summary of the best day hikes in Yellowstone National Park:
Easy Day Hikes in Yellowstone

Moderate Day Hikes in Yellowstone

Strenuous Day Hikes in Yellowstone

Hiking in Yellowstone is a must-do on any trip to the park
Tackling a hike in Yellowstone Park rewards you with jaw-dropping views of some of the most majestic scenery the country has to offer. Whatever trails you choose—whether it's one mile long or ten—you'll leave with a restored sense of wonder and a deeper appreciation of nature. From shorter, family-friendly jaunts to all-day peak bagging, here are some of the best hikes in Yellowstone National Park.
Download our hiking checklist free of charge
Check your inbox
Wyoming
1. Lamar River Trail to Cache Creek
TOP CHOICE FOR WILDLIFE SPOTTING AND WILDFLOWER VIEWING
Best place to spot wolves
Abundance of wildflower meadows
Great spot for picnicking
Heavily crowded at peak season
Bugs can be bad in the summer
Lamar Valley is one of the best places to see wildlife in Yellowstone. Like stepping into a scene from a classic old western movie, herds of bison roam through the wide sweeping valleys and the vast meadow expanses make it a prime location for spotting for bears, pronghorn, elk, coyotes and badgers; within the park, it's the place to spot wolves. With such an abundance of wildlife in the area, stay alert and pack your bear spray.
Hiking to Lamar River
This easy hike begins at the Soda Butte Creek trailhead, where you'll cross the creek via a bridge (bird watchers should keep an eye out for songbirds and waterfowl here). As you continue on through the meadow, you might have the opportunity to spot the park's unofficial resident mascot: the bison.
At the right time of year, this area will be covered in wildflowers, with peak season for wildflower viewing generally starting in June and extending through July. After a mile and a half, you'll reach the junction. Continue straight on Specimen Ridge Trail for another mile or so, and you'll reach Lamar River—the spot to sit down with your picnic lunch and enjoy the scenery. When you're ready, head back the way you came.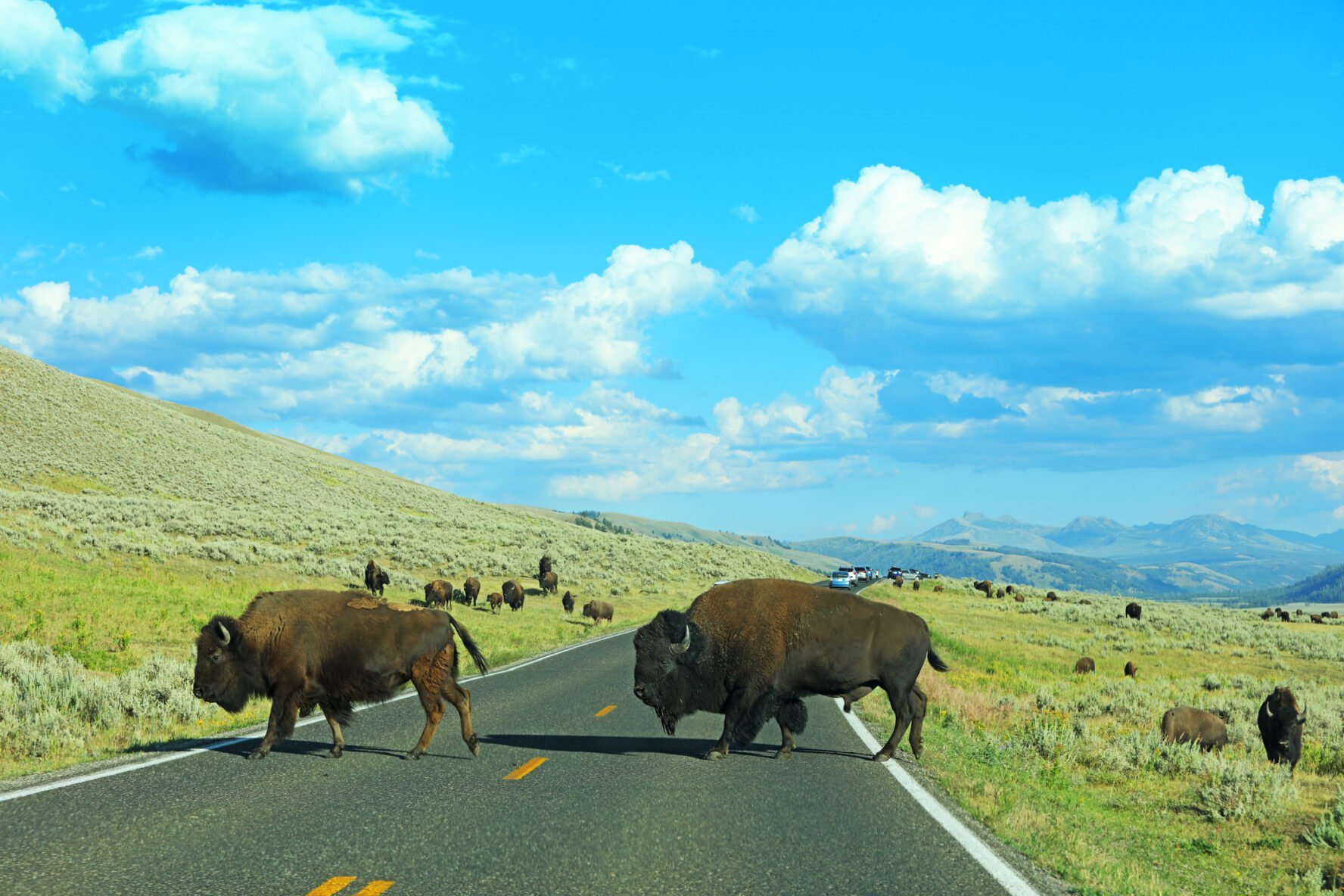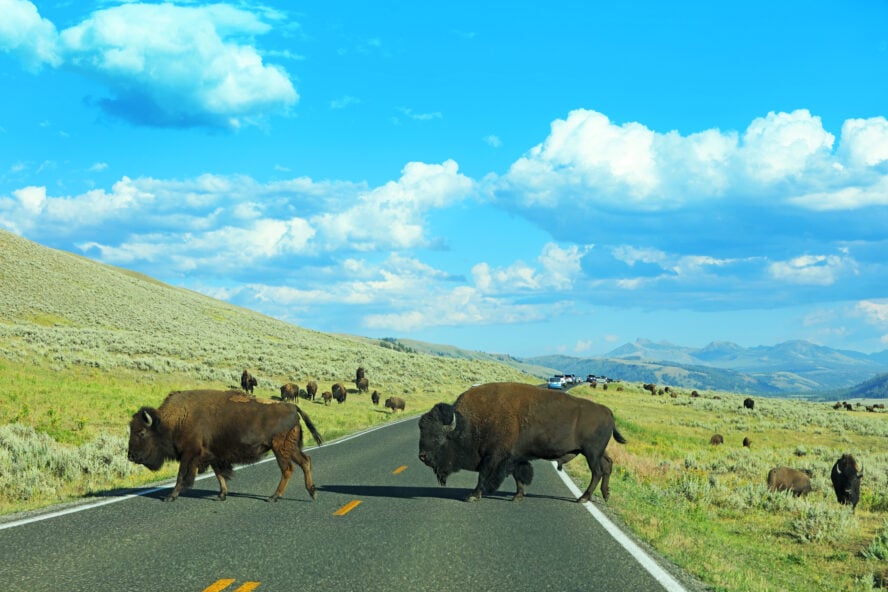 Continuing on to Cache Creek
Opting for the longer route through to Cache Creek (adding another two or so miles), you'll be trading in the meadows for woodland and mountain views as you hike. Back at the junction, turn left to stay on Lamar River Trail instead of continuing straight on Specimen Ridge.
Hiking through a narrow valley flanked by Mt. Norris and Amethyst Mountain, you'll gain a few hundred feet as you head to the base of Mt. Norris. There are some fun spring stream crossings, too. After a little more than 1.5 miles, you'll reach the Cache Creek Trail junction; continuing straight will take you to the creek. Another half mile more, and you'll be sitting on its banks.
If you took this route, this is where you want to sit down, wet your feet and have a snack before heading back the way you came. If you're backcountry camping, you'll be looking for sites EL1 and EL2.
An option for advanced hikers
For those looking for the epic Lamar Valley experience, hike Specimen Ridge. It's 17 miles, 3,000 feet of elevation gain, and has postcard views of Lamar Valley and the Grand Canyon of Yellowstone.
Starting along Specimen Ridge from the Lamar River trailhead means you have to do the hard climbing right off the bat, but you'll have a more gradual descent on the other end. Other than the views, highlights of this trail include fording the Lamar River (check conditions beforehand) and hiking to the peak of Yellowstone's Amethyst Mountain (9,600 feet).
Get there early! Whatever you think is early, get there an hour before that. Head straight to Lamar Valley, find a park and stay there for as long as you can — the wildlife just walks past you
by Cait Finch, traveller and Yellowstone Park visitor, July, 2019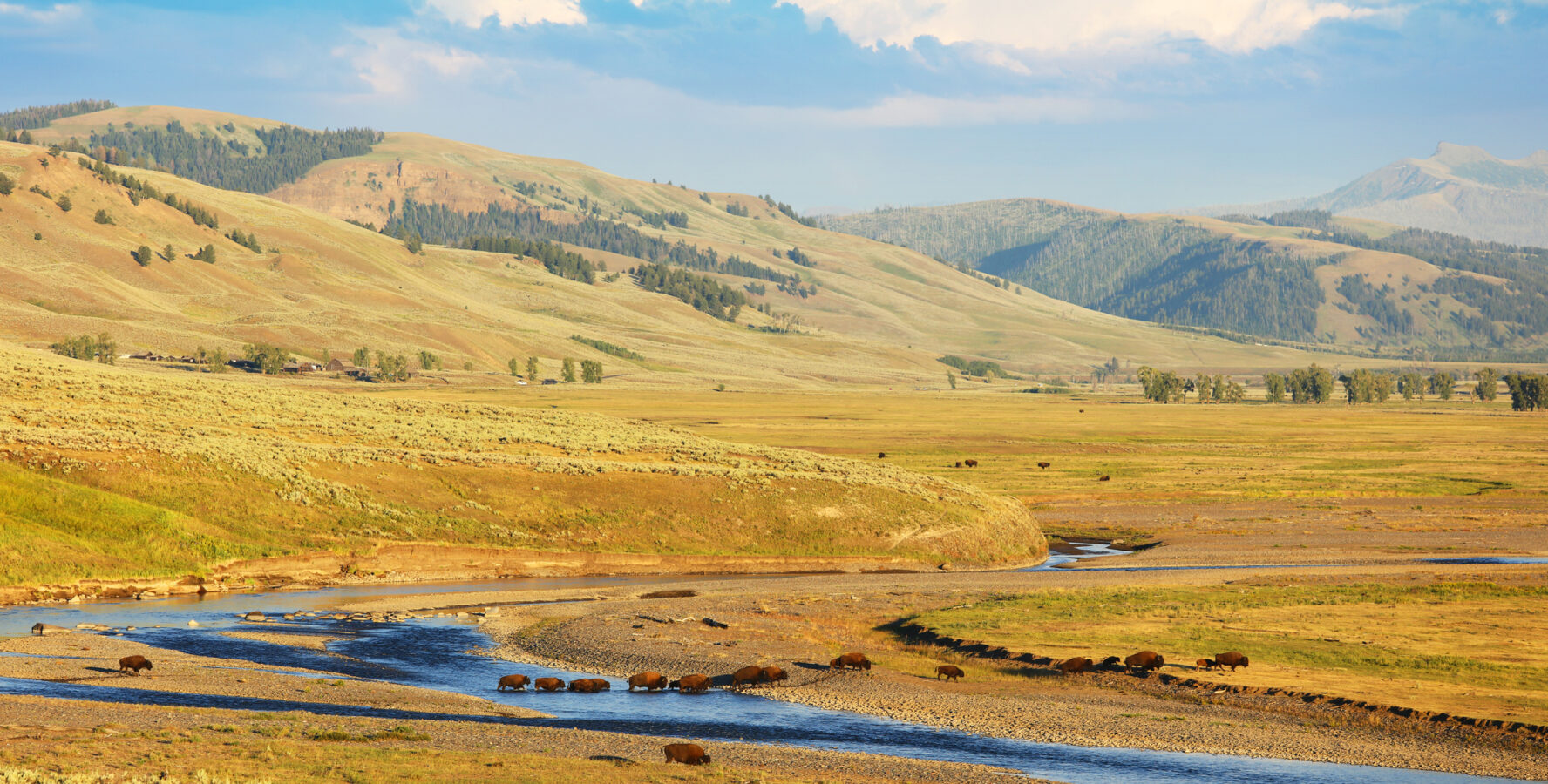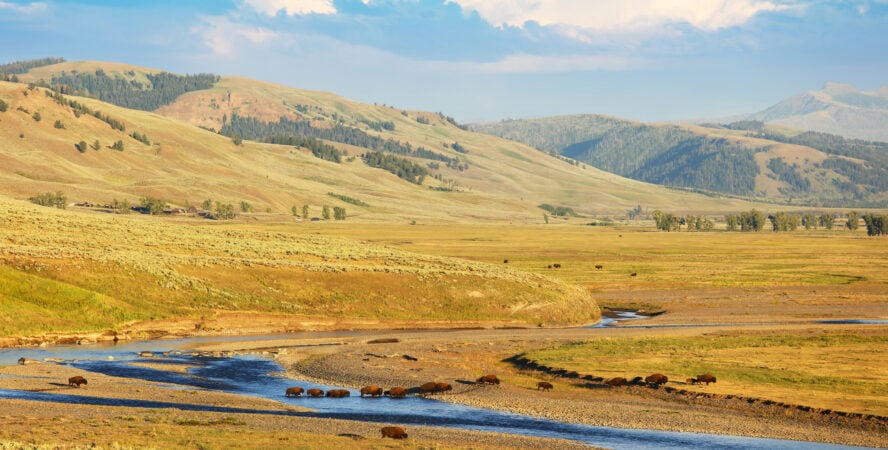 Lamar Valley, Yellowstone National Park Video (HD)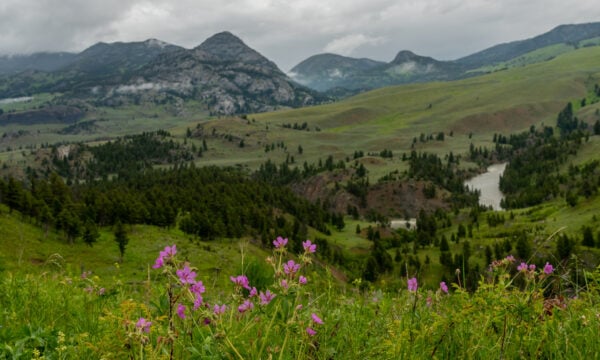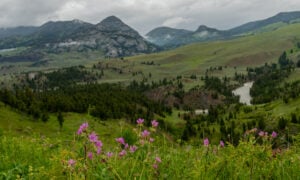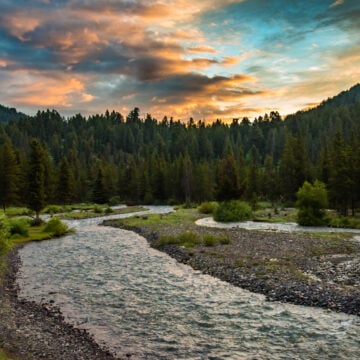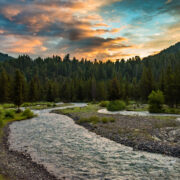 1. Lamar River Trail to Cache Creek - Good to Know
Distance:
7 miles, out and back
Terrain:
Wildflower meadows, woodlands, and mountains
Getting there:
Park at the pullout in front of Soda Butte on the Northeast Entrance Road and follow the signs to the Soda Butte trailhead
Wyoming
2. Fairy Falls Trail to Imperial and Spray Geysers
FLAT, GROOMED AND GOOD FOR FAMILIES
Best views of the Grand Prismatic Spring
Short hike with big payoffs
Less crowded geysers than other areas of the park
The Grand Prismatic Spring overlook is heavily crowded at peak season
Old Faithful might be more synonymous with Yellowstone, but the Grand Prismatic Spring is the thermal feature that will make you forget for a moment that you're still on Planet Earth.
Yellowstone's Fairy Falls Trail is one of the best short hikes in the park, leading you past the best vantage point for viewing the Grand Prismatic from above, and then along a well groomed trail to the 200-foot-tall Fairy Falls. Just a half-mile more and you're at the Imperial and Spray geysers.
Fairy Falls begins one mile from Yellowstone's Midway Basin Geyser and is one of the easier out-and-back hikes despite its length. Like the Old Faithful hike, the hike to Fairy Falls is relatively flat, and a great option when you're traveling with family and want something easy and rewarding (with some highly photographable spots). Kids will have no problem tackling this hike, and standing in the fall's mist is a fun way to cool off if it's a hot day.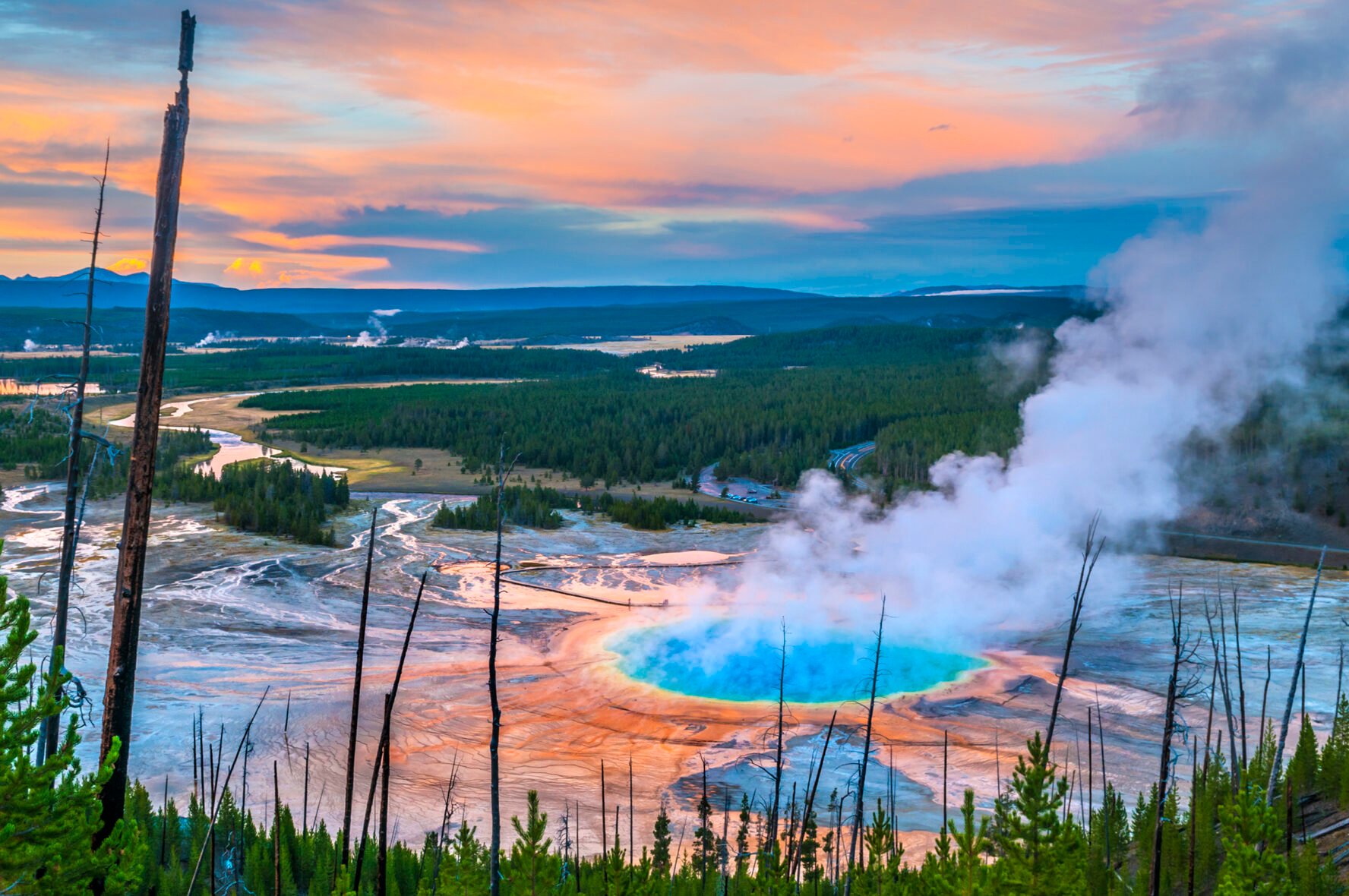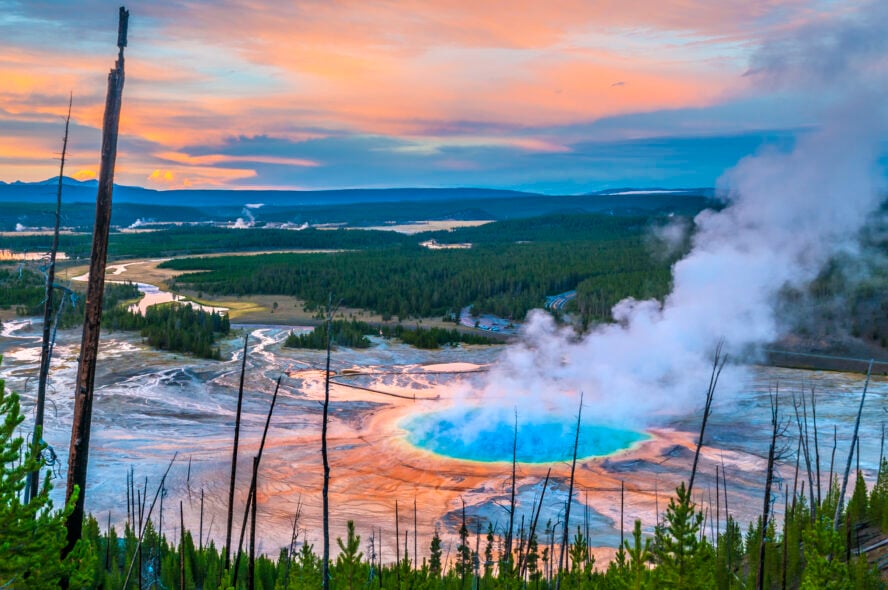 Enjoy a bird's-eye view of the Grand Prismatic
From the trailhead, hike a little over a half-mile and take the short, side trail to see the Grand Prismatic Spring and the Excelsior Geyser from the newly constructed overlook. The Grand Prismatic Spring is the largest hot spring in the US (and third largest in the world) and the most photographed thermal feature in Yellowstone — you're going to want to snap a few pics.
The multicolored rainbow layers that encircle this football field-sized hot spring are altogether otherworldly, and so vibrant they appear photoshopped. Early in the morning, the Grand Prismatic can be quite steamy, sometimes obstructing the view of the spring itself; stop on the way back from Fairy Falls and you'll have a better view of the spring's radiant hues, but expect more crowds.
How to hike to Fairy Falls
Continuing on, stroll through a regenerating lodgepole pine forest until you reach the spray of Fairy Falls, 2.5 miles from where you started. Nearly all of the Fairy Falls area was affected by the fires of '88, and it's worth taking note of the new growth that's bringing the forest back to life. Stop, have a snack and enjoy the spot before turning around or hiking the half-mile farther to the Spray and Imperial geysers.
The Imperial Geyser can reach up to 35 feet, but it erupts infrequently. Just a little more to the east, you'll come across Spray Geyser. It's a little more low-key, but a frequent erupter. These thermal features tend to be much less populated than other parts of the park, much more so than those along the Continental Divide Trail hike, and definitely worth checking out if you're looking for an escape from the crowds.
The trail is closed for bear management part of the year; it opens in late May and is suitable to hike until early winter. Make sure to check trail conditions before you hike.
No trip to Yellowstone is complete without viewing the Grand Prismatic Spring. From the vantage point of the overlook, you'll be able to see it in all its vibrant rainbow-hued glory — a definite must-stop for geology lovers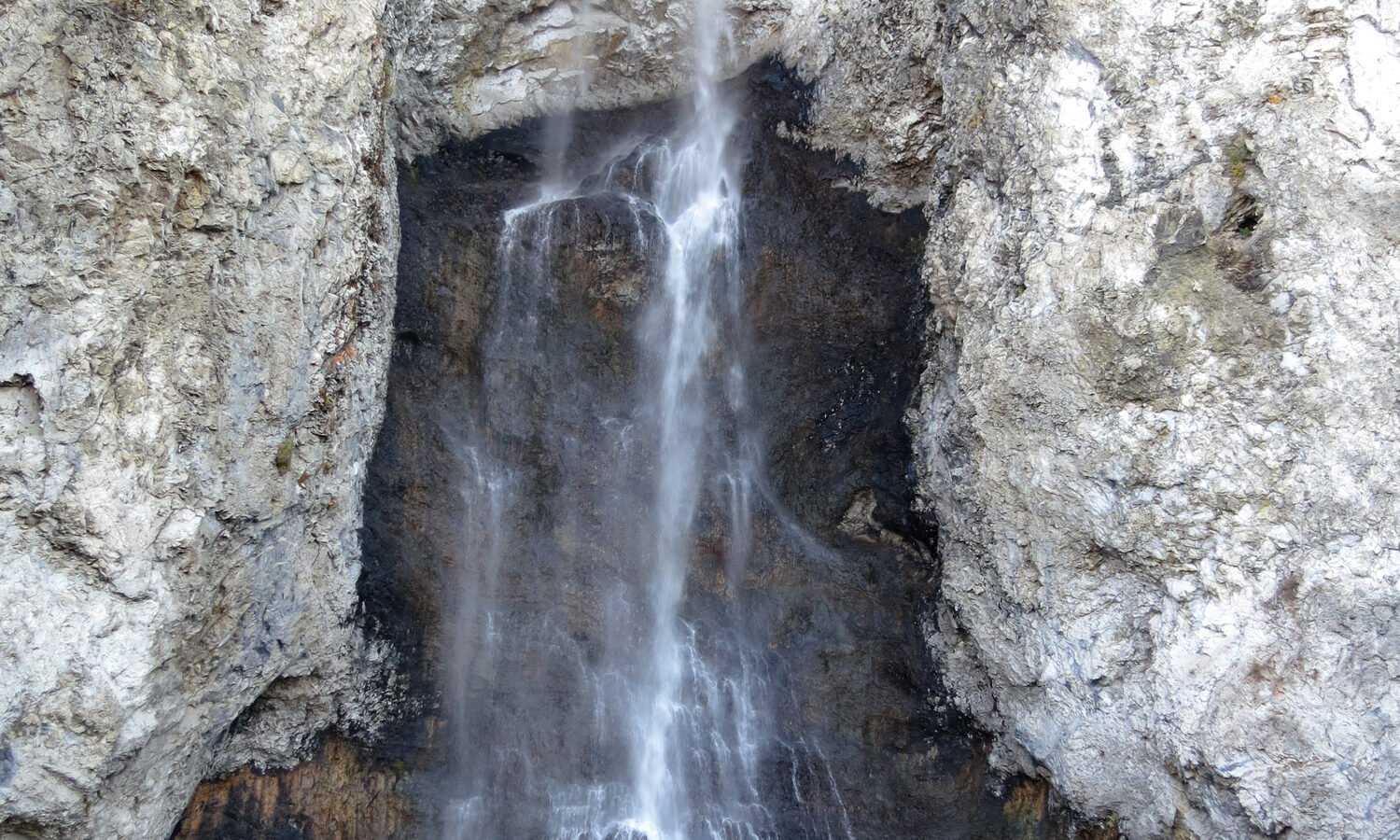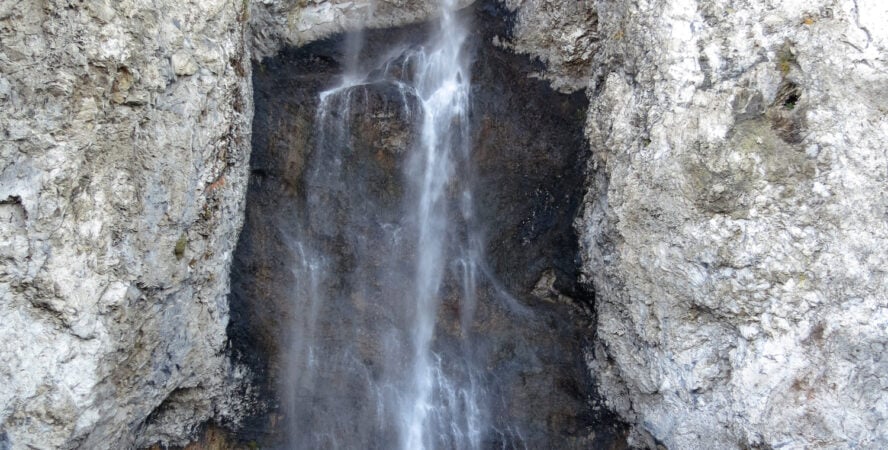 Grand Prismatic Spring, Yellowstone National Park, USA in 4K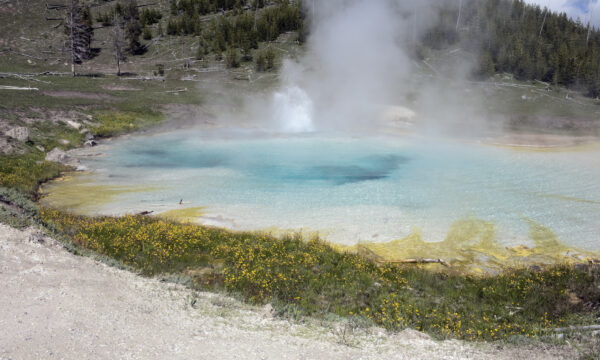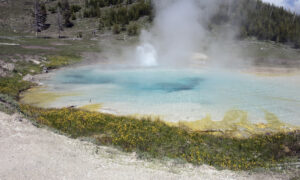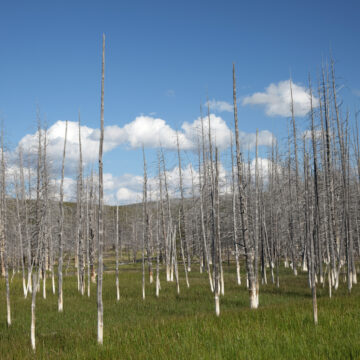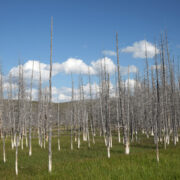 2. Fairy Falls Trail to Imperial and Spray Geysers - Good to Know
Distance:
6 miles out-and-back
Terrain:
Flat, groomed trail, lodgepole pine trees, thermal pools, 200-foot waterfall
What's nearby:
Midway Geyser Basin
Getting there:
Park at the Fairy Falls Trailhead lot, 1 mile south of Midway Geyser Basin (space is very limited)
TOP CHOICE FOR ADVANCED HIKERS
Lots of wildlife, including elk and bears
Popular, but not too crowded
Thunderstorms can roll in unexpectedly
Backcountry camping permits go quick
Electric Peak is in the northwest corner of the park, near Mammoth Hot Springs. At just shy of 11,000 feet, it's the tallest peak in the Gallatin Range. On this hike you'll travel through sagebrush grasslands, wildflower meadows, and dense pine tree forests, before tackling a fun scrambling section and reaching the peak.
From the Glen Creek trailhead, it's just over ten miles to the summit (and then another ten miles back out). Seasoned hikers can do it in one gruelling day, but it's also a great option for a two or three day backpacking trip. However, a backcountry permit will be needed. Also, you'll be looking to snag campsites 1G3 or 1G4 in the Upper Gardiner River area.
Hike through two states on this epic classic
Taking the route from the Glen Creek trailhead along the Sportsman Lake Trail, you'll begin this hike in Wyoming and end in Montana. Starting on the southside of the Kingman Pass, this hike follows the slow-meandering Glen Creek.
After about two miles, you'll pass trail markers to Snow Pass and Fawn Pass, and you'll continue on the trail through a valley that aims directly at Electric Peak. From here, it's not long before you enter the forest and begin the slow, gradual climb to the peak. After a few more miles along the Sportsman Lake Trail you'll come to a spur trail that leads to Cache Lake if you're up for a short side jaunt.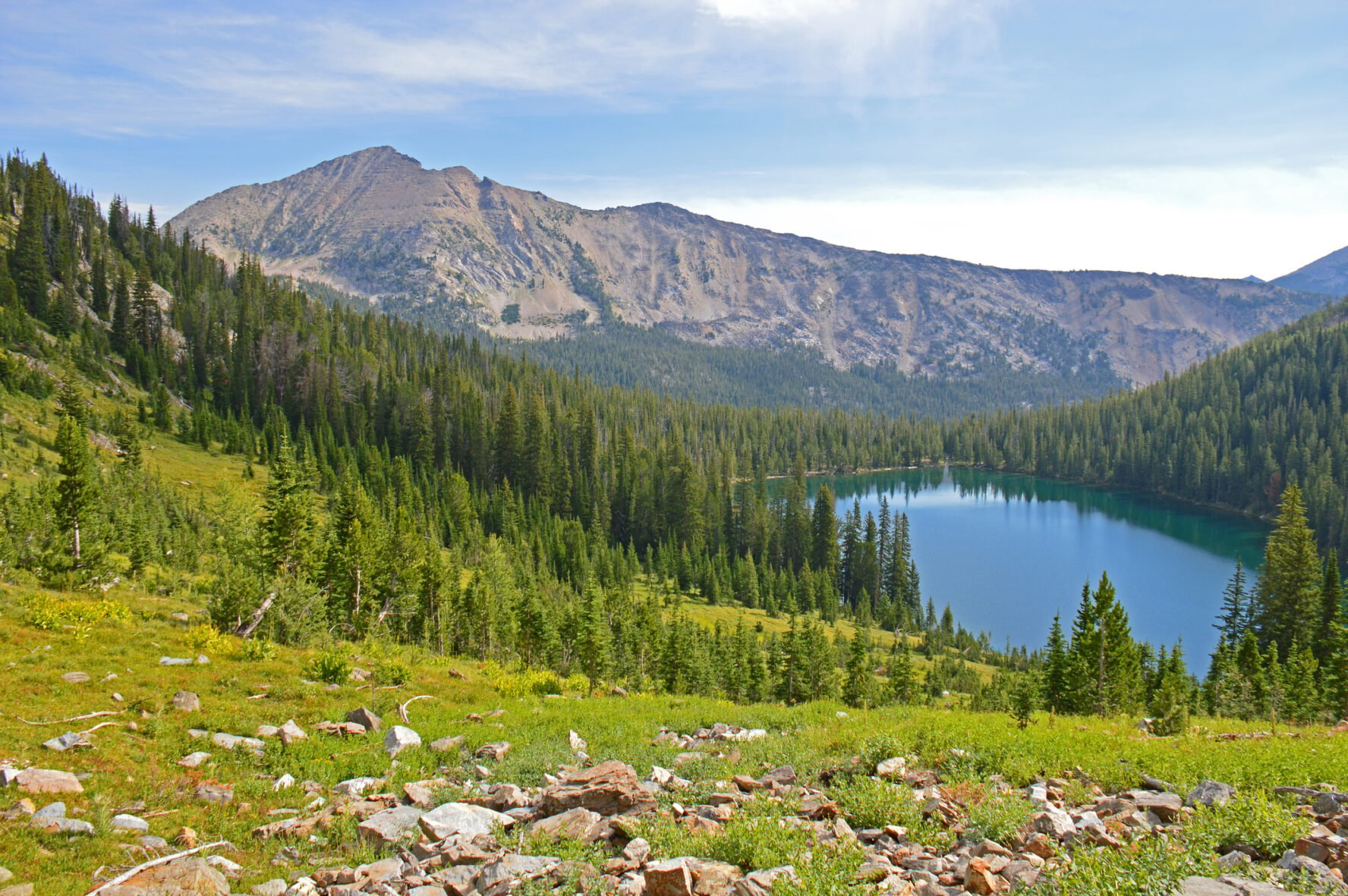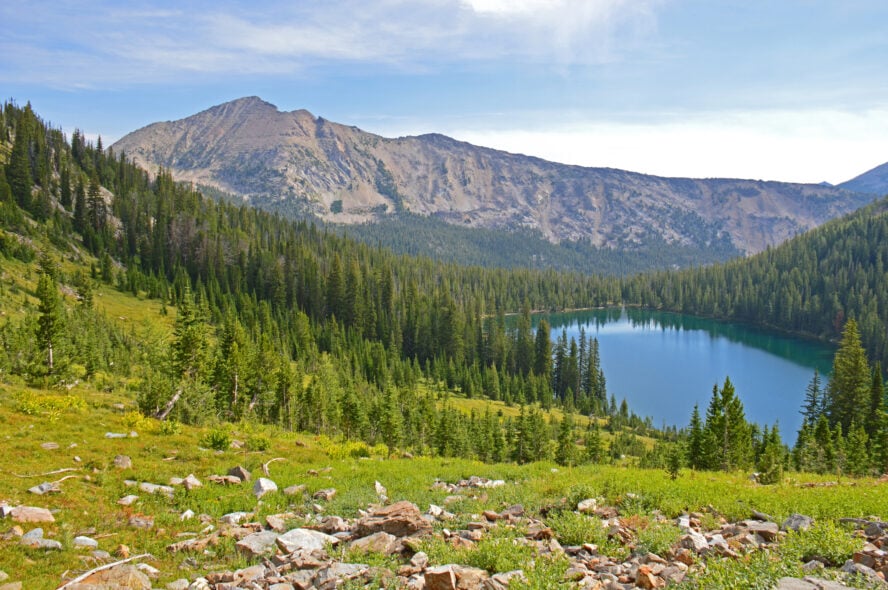 As you make your way along the main trail, you'll find the junction for the Electric Peak Spur Trail about a mile up ahead. If you're camping, stick to the trail you're on and make your way a short distance further to cross the Gardiner River, where the two backcountry campsites await.
If you're doing Electric Peak as a day hike, this spur trail junction is where you'll exit the main Sportsman Lake Trail and make your way towards your final destination. Soon, you'll be above treeline and ascending the southeast ridge of the peak, where the trail eventually begins to fade away.
Near the end, it takes some route finding and scrambling over loose scree to reach the peak, but when you do, you'll have unobstructed views of nearly 100 miles in every direction (if the weather cooperates).
Be prepared, hike early and have proper gear
The top of Electric Peak is as rocky and exposed as the best Joshua Tree hikes, so you need to be prepared with proper gear if the weather takes a turn, which can happen at a moment's notice. Dress in layers and bring a rain shell on this one; the wind can be fierce at the top, the snow can last until late July, and the rain can roll in from out of nowhere.
57hours contributor Maggie Slepian told me, "Electric Peak is my favorite hike in Yellowstone, [but] I speak from experience when I say to start early to avoid thunderstorms at the summit."
Electric Peak is an ideal combination of grueling elevation gain, techy scrambles, and the perfect route for an all-day push
3. Electric Peak - Good to Know
Distance:
20.6 miles, out-and-back
Terrain:
Sageland meadows, river valleys, lush forests, rocky mountains
What's nearby:
The North Entrance; Mammoth Hot Springs; Albright Visitor Center; Historic Fort Yellowstone; Mammoth General Store
Getting there:
Park your car at the Bunsen Peak parking lot and follow the signs to Glen Creek Trailhead
Wyoming
4. Dunraven Pass to Mount Washburn
BEST OVERALL VIEW OF YELLOWSTONE PARK
Popular, but not too crowded
Good for bighorn sheep spotting
Bag the 10,243-foot peak with moderate effort
No shade, so bring sun protection
The views from Mt. Washburn are some of the best in the park. Hike the 3.5-mile one-way trek and you'll be able to see the rim of the Grand Canyon of Yellowstone, Hayden Valley, Yellowstone Lake, and even the Grand Tetons, 50 miles off in the distance. Leave early enough in the morning and there's a chance you'll have some time alone to take it all in before the crowds start to roll in.
One stunning view after another on the hike to Mt. Washburn
This hike follows the path of an old 1905-constructed stagecoach road, which makes trekking to the top relatively easy compared to other peaks over 10,000 feet. After hiking just a half mile, there's a stunning overlook at the first switchback — and it only gets better from there.
At the second switchback, you can catch a glimpse of the fire tower on the summit of Mt. Washburn — that's your destination. Bighorn sheep are sometimes spotted on the slopes, and wildflowers can bloom into August. The fire lookout will shield you from any wind at the top, and there are some murals to help you identify the landmarks you're peering out onto.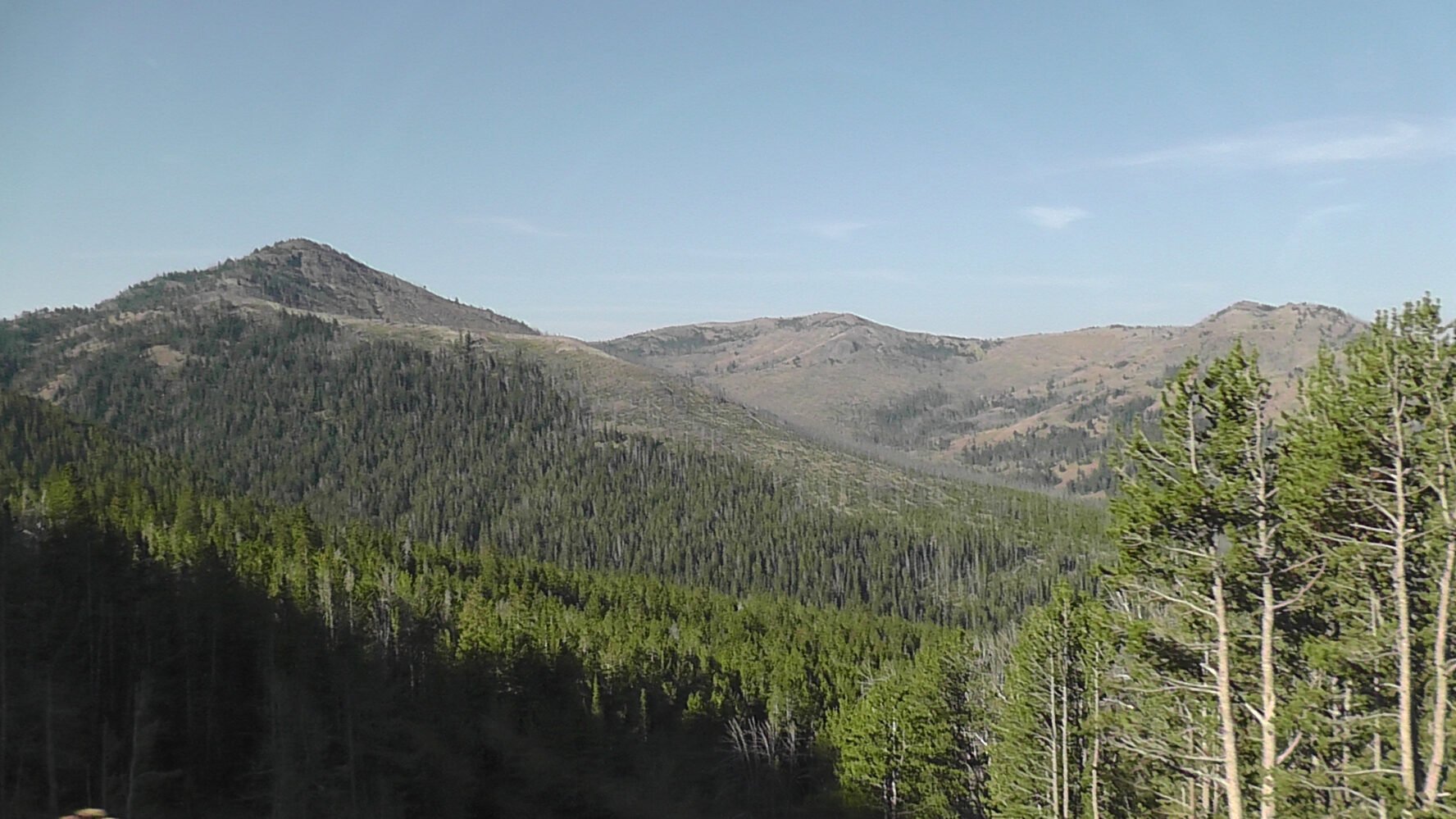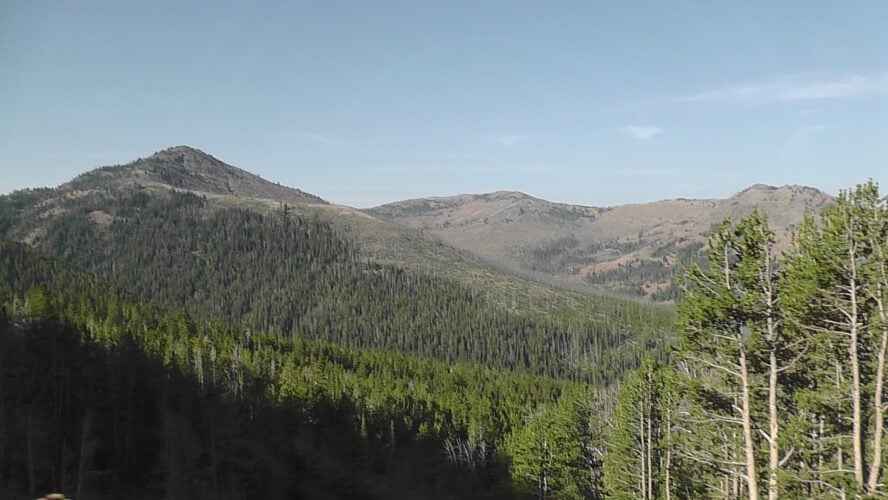 Expect snow and be prepared for bears
A few other things worth mentioning: Expect parts of the trail to remain snow-covered well into the summer, and be prepared for some slippery sections. Grizzly bears are popular in the fall. The National Parks Service does not recommend hiking this trail in September and October.
Dress in layers for this hike. You'll be hiking above treeline and in the hot sun for most of it, but the top can be cold and windy. A rainshell's not a bad idea either as summer thunderstorms can catch you off guard. You can also reach the top of Mount Washburn from Chittenden Road, a slightly shorter route that also allows bikes.
My family visited me when I worked in Yellowstone, and I took them up Mt. Washburn, which is great for people who want to bag a peak but aren't acclimatized to the elevation. We saw two grizzly bears and had amazing views of the park.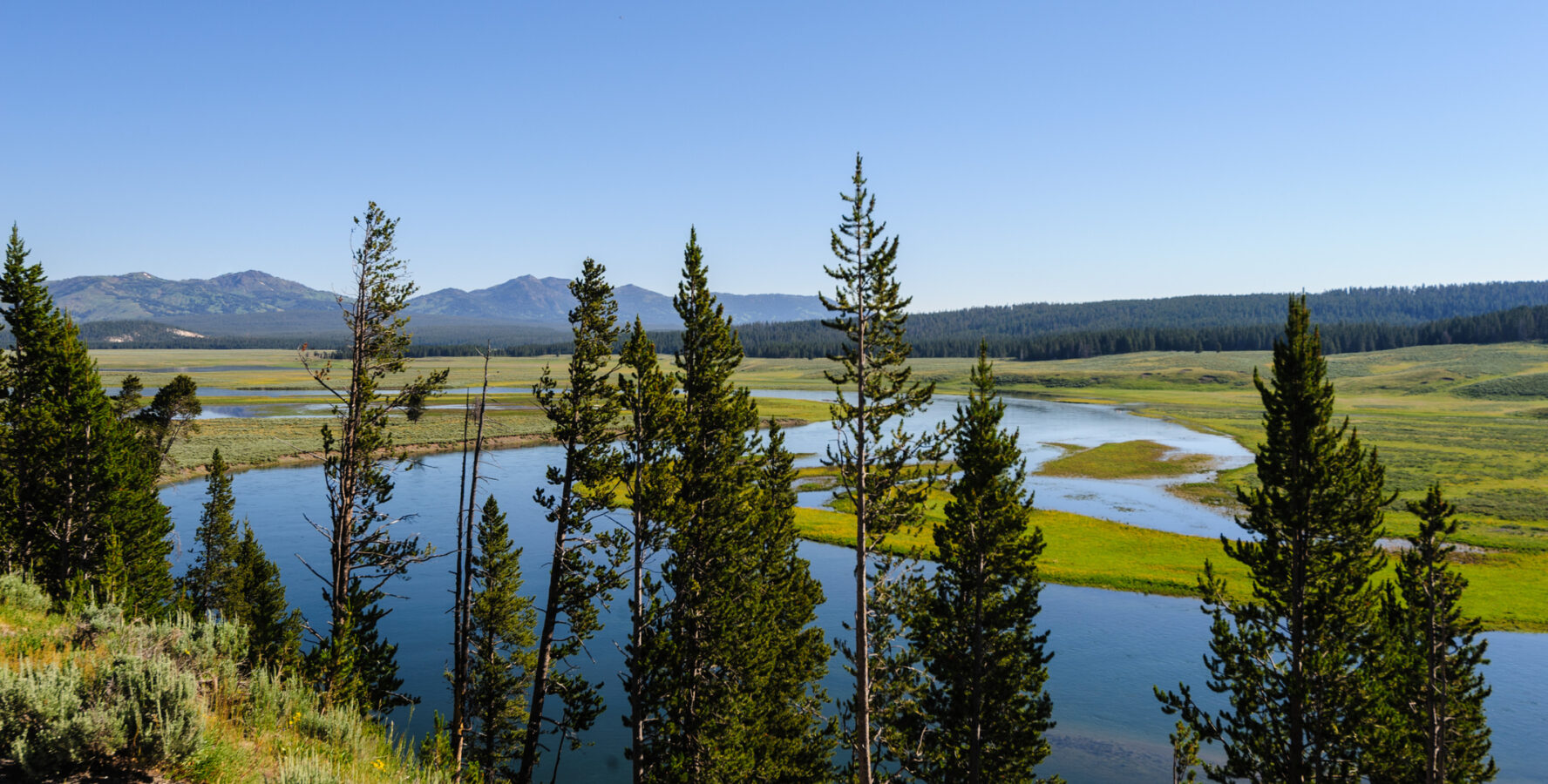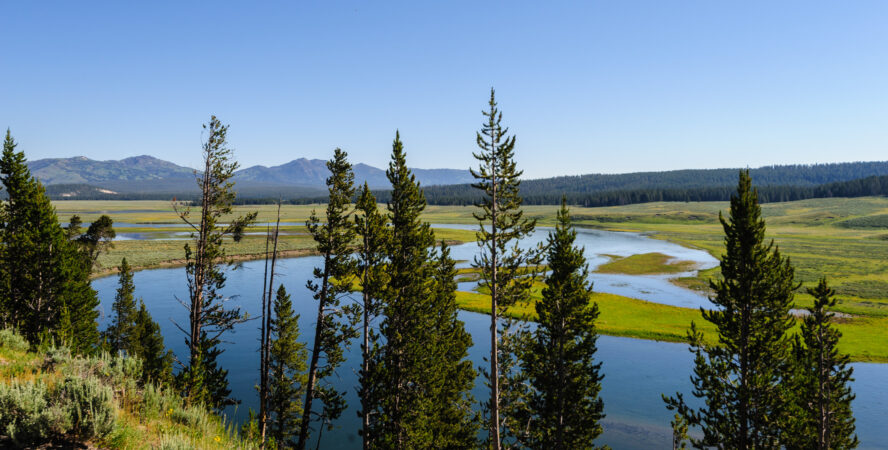 Mount Washburn - Yellowstone National Park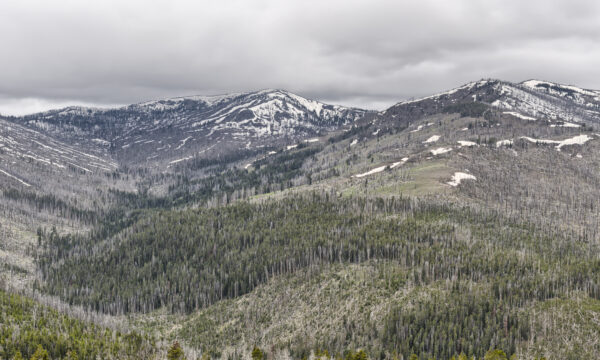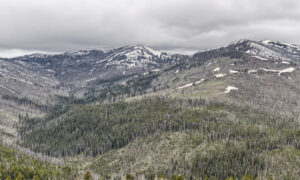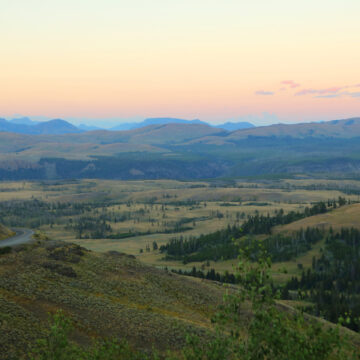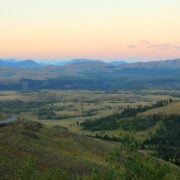 4. Dunraven Pass to Mount Washburn - Good to Know
Distance:
7 miles, out and back
Terrain:
Groomed trail, lodgepole pines, whitepark pines, mountain rock
What's nearby:
Restrooms at the top; Canyon Village Visitor Education Center; Upper and Lower Falls
Getting there:
Start at Dunraven Pass parking lot, 4.5 miles north of Canyon Junction
Wyoming
5. Bunsen Peak in Mammoth Hot Springs
A SHORT CLIMB FOR A BIG PAYOFF
Hike on a 50 million year-old volcanic rock formation
Short distance to hike for panoramic views
Lots of viewpoints along the way
Not a lot of shade; bring sun protection
The hike to Bunsen Peak is filled with view after view of some of Yellowstone's best features. On this relatively short hike, you'll see Mammoth Hot Springs, Swan Lake Flats, Gardners Hole, the Yellowstone River Valley, the Gallatin and Washburn mountain ranges, Glen Creek, the Golden Gate Canyon, and an abundance of wildlife. The last half-mile is a steep push, but one worth the panoramic views at the top.
.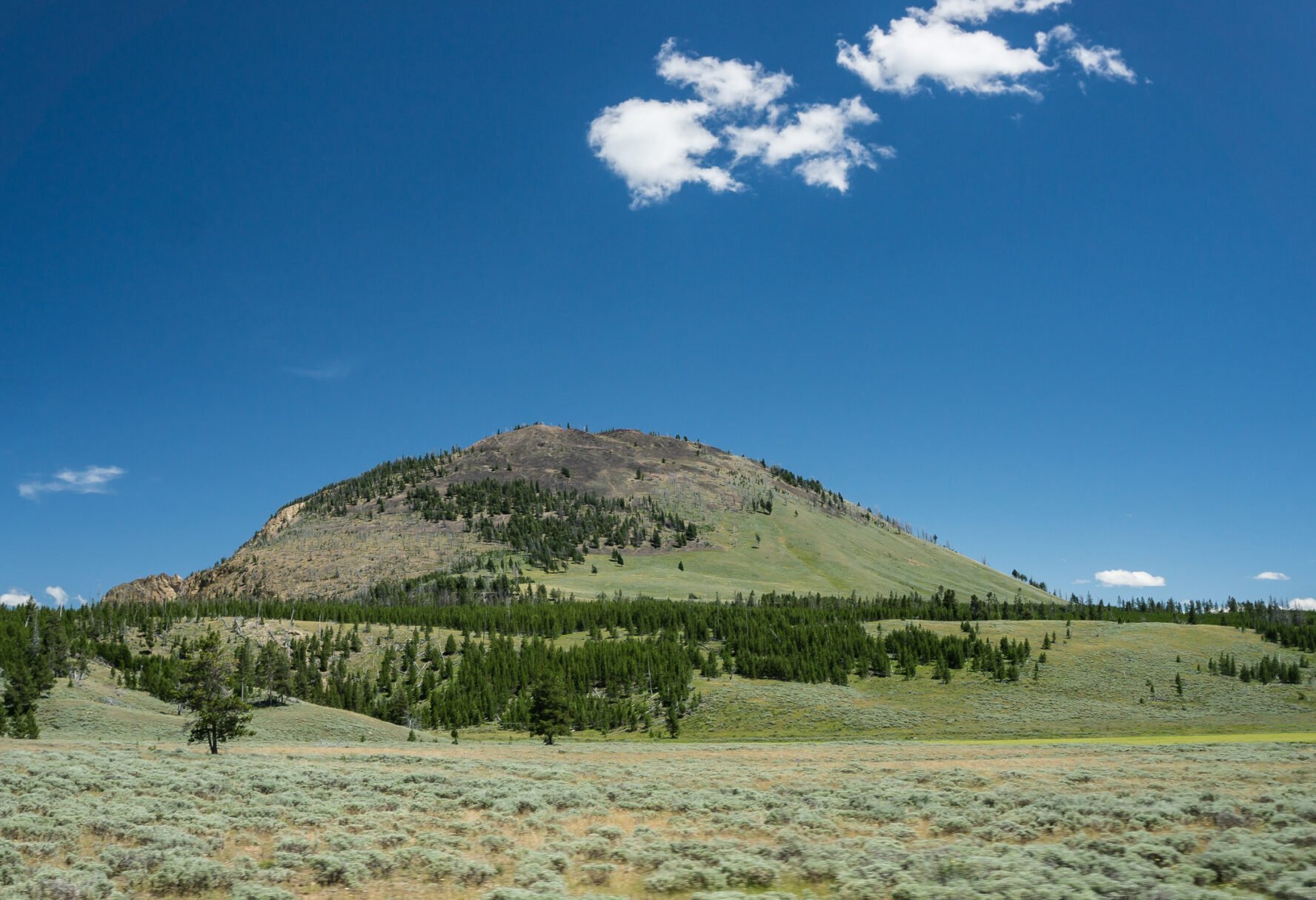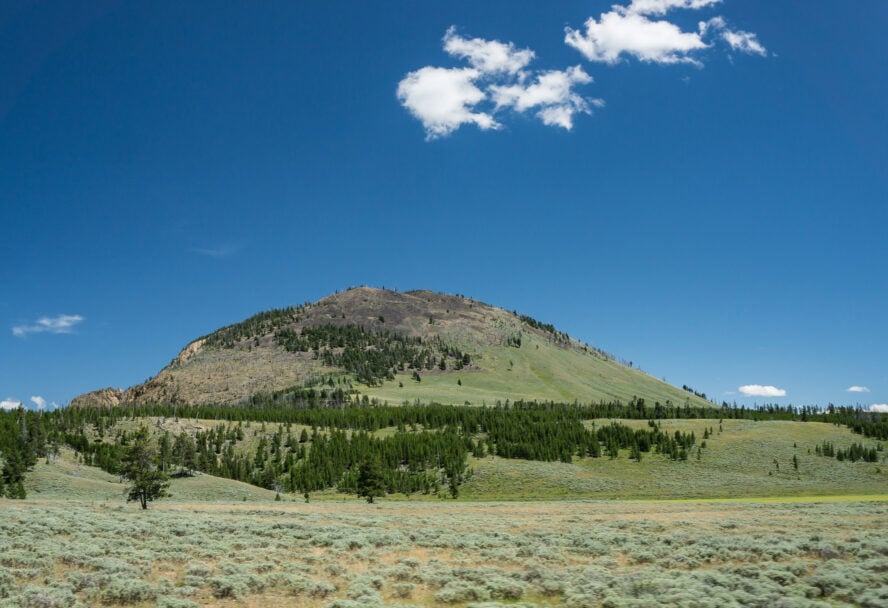 A steep final push to panoramic views
As you begin, you'll walk through sagebrush covered hillsides with views of the Grand Loop Road winding through the Golden Gate Canyon. As you make your way, you'll travel through sparse, new growth forests still remnant of the 1988 fires. After around a mile in, you'll see Swan Lake Flats, with Electric Peak and the Gallatins off in the distance.
You'll continue to trek upwards, through standing dead trees, until you make a sharp turn at Cathedral Rock. From here, it's loose rock and steep switchbacks until you reach the exposed and windswept peak another half-mile up. If you're lucky and left early enough, you'll have the place all to yourself.
Doing this as a morning hike is your best bet; not only will you get better photos of Swan Lake Flat and the Gallatins, but you'll also beat the risk of mid-afternoon thunderstorms which can make descending difficult.
This hike gives you the best bang for your buck. It's relatively short — albeit a bit of a push — but you're rewarded with views of some of Yellowstone's most noteworthy features when you reach the summit.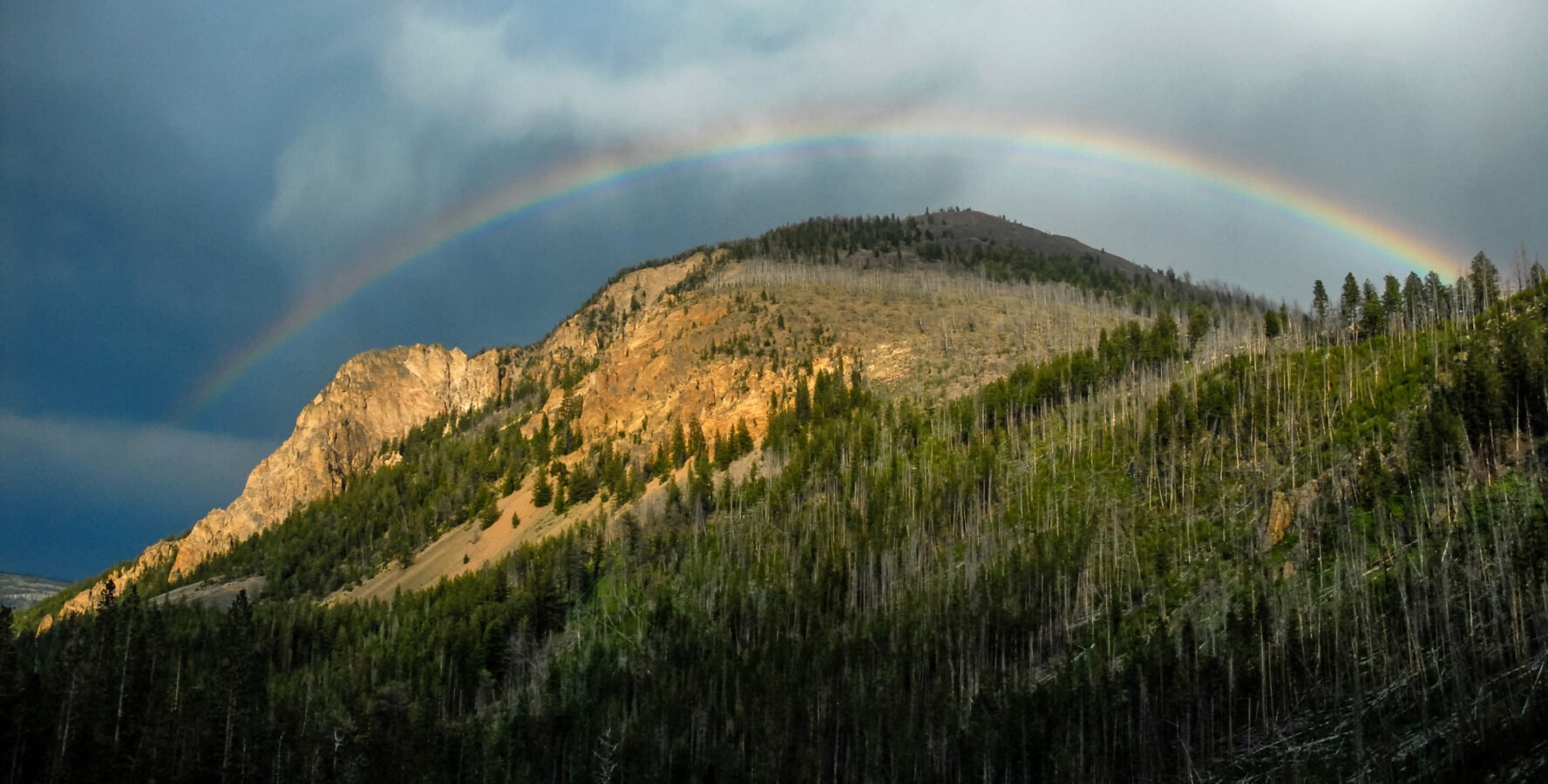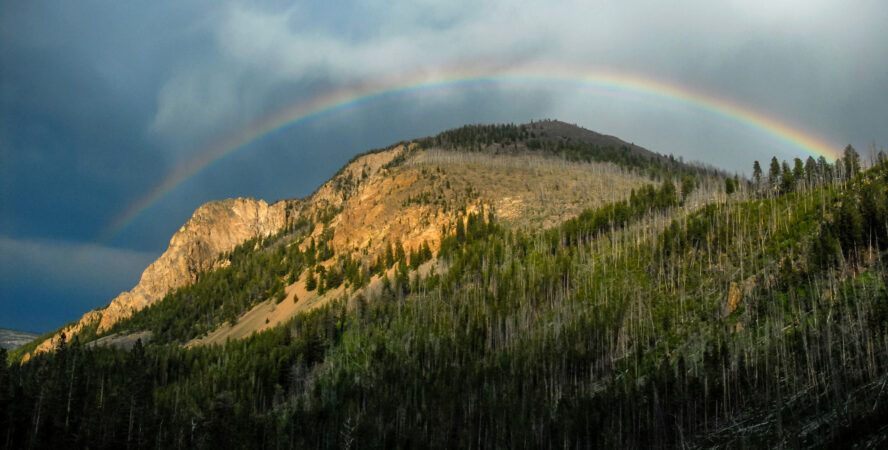 Bunsen Peak - Yellowstone National Park (Wyoming, USA)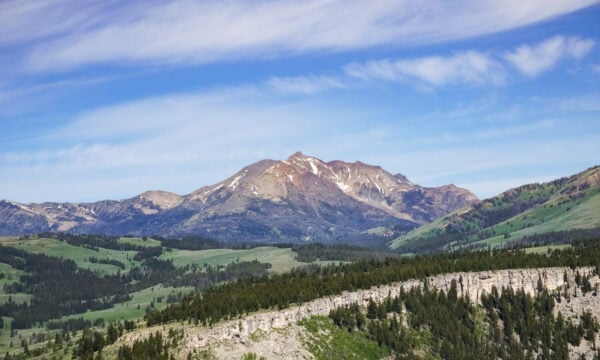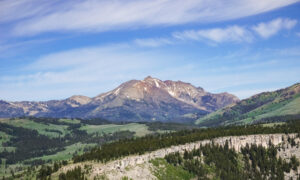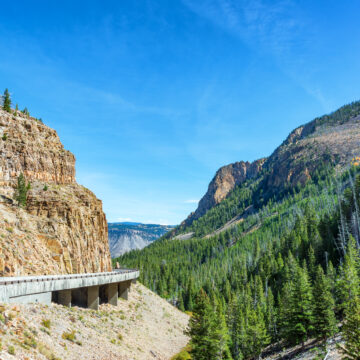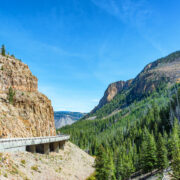 5. Bunsen Peak in Mammoth Hot Springs - Good to Know
Distance:
4.3 miles, out and back
Terrain:
Sagebrush, new growth forests, lots of switchbacks, and rocky, steep sections
What's nearby:
North Entrance; Mammoth Hot Springs; Indian Creek; Osprey Falls
Getting there:
Park in the Glen Creek Trailhead parking lot, just under 5 miles south of Mammoth Hot Springs and right past the Golden Gate Bridge Park
Wyoming
6. Brink of the Lower Falls Trail
THE BEST PLACE TO FEEL THE POWER OF THE LOWER FALLS
Stunning views of the iconic Lower Falls
A short walk suitable for most families
Lots of other places worth visiting in the same area
No trip to Yellowstone is complete without an up close view of the tallest waterfall in the park — the Lower Falls. On the North Rim, this hike will give you the opportunity to see the Yellowstone River rush over the edge of the Lower Falls, as it drops 308 feet at the head of the Grand Canyon of the Yellowstone (that's more than double the height of Niagara Falls). You'll also get views of the Upper Falls on this hike as well.
Get up close and personal with one of the park's biggest attractions
This is a steep "hike" with a lot of switchbacks. It's mostly forested and leads to an observation deck. It's heavily crowded so expect it to be slow going. Although it's a short walk mostly on pavement, the incline might be too much for some people (strollers won't do well here).
While most kids should be able to handle the walk down, this trail contains steep drop-offs and parents need to keep a close eye on their little ones. When you reach the bottom, after a 250 foot descent, you'll witness the power of the falls as they plunge over the edge at thousands of gallons per second.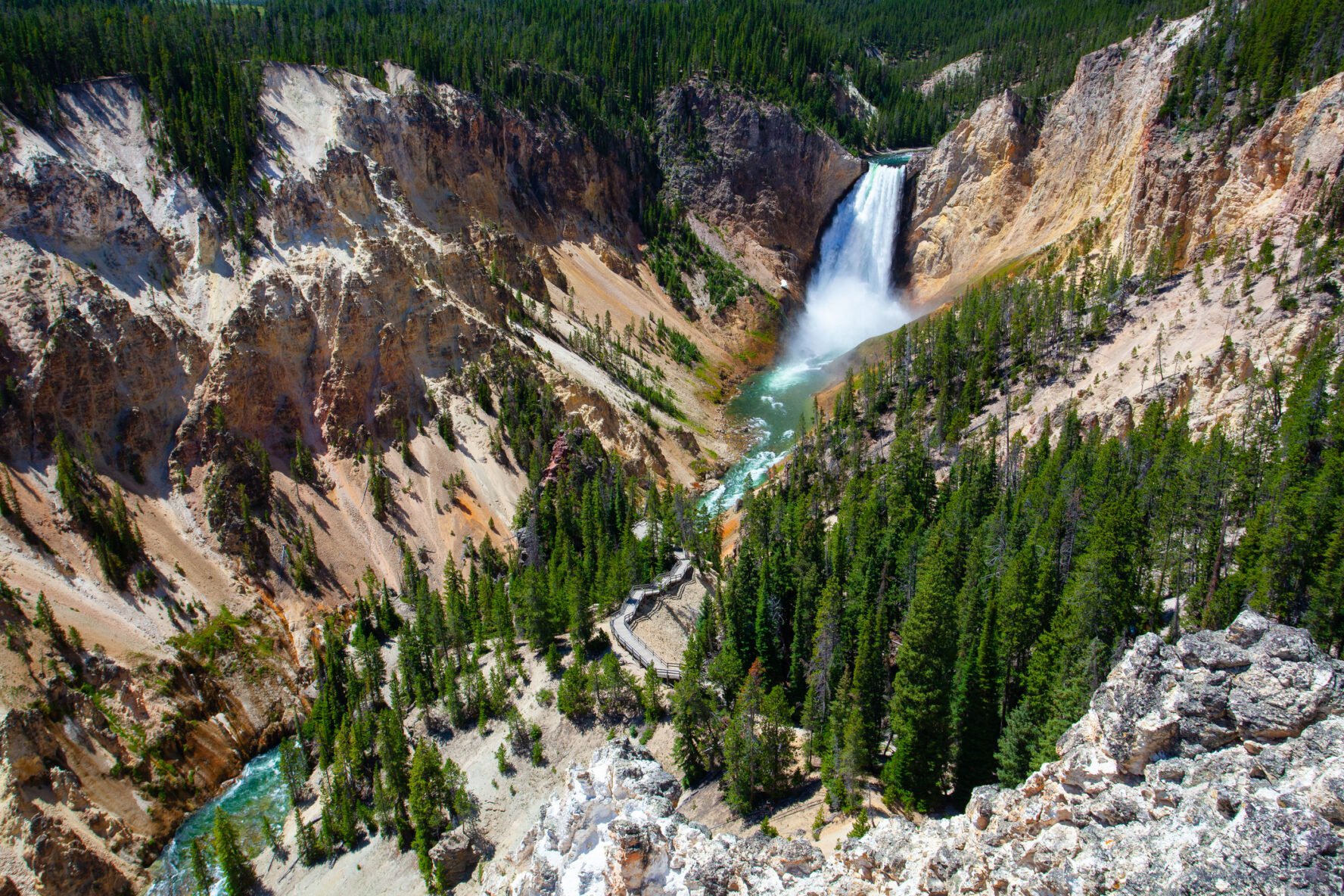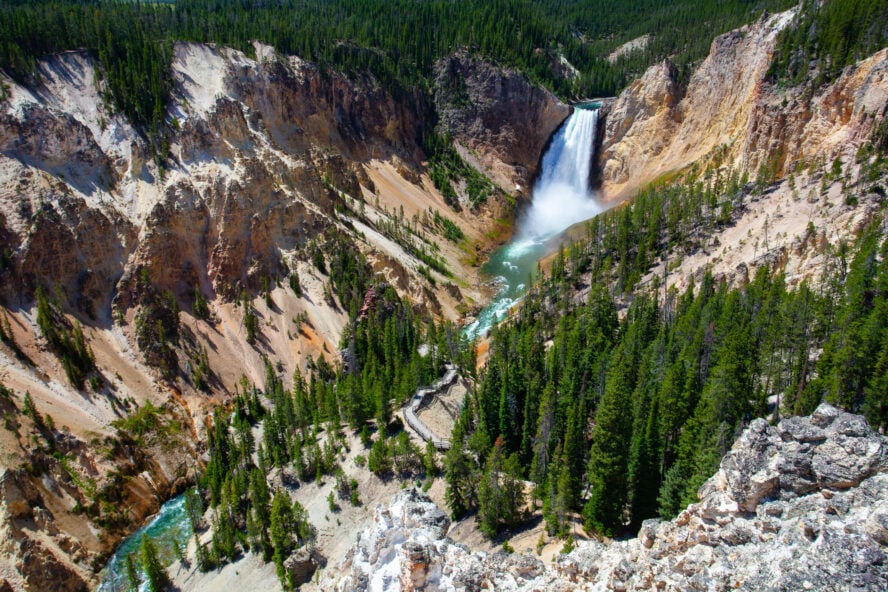 A photo opportunity you don't want to miss
For a view of the Lower Falls from the South Rim, stop at Artist Point — it's one of the best photo opportunities in the entire park. Suitable for all skill levels, Artist Point Trail is a quick 0.2-mile round trip walk that gives you dramatic views of the waterfall, grand enough to rival the hikes in Yosemite, and the brilliant yellow and orange-hued canyon walls. From here, the canyon is around 900 feet deep. Not quite like the best Grand Canyon hikes, but very impressive nonetheless.
This is a very crowded spot, but worth braving the traffic for the very little effort it takes to see the falls from this vantage point. It's also wheelchair accessible up until the stairs at the very end. And if you're in the mood for a longer hike, Artist Point extends right into the South Rim Trail, arguably the most popular hiking trail in the park.
[The Lower Falls] is stunning and no photo will ever do it justice. Pack the best camera you can get your hands on and most importantly — be patient! You'll be rewarded for it for sure!
by Cait Finch, traveller and Yellowstone Park visitor, July, 2019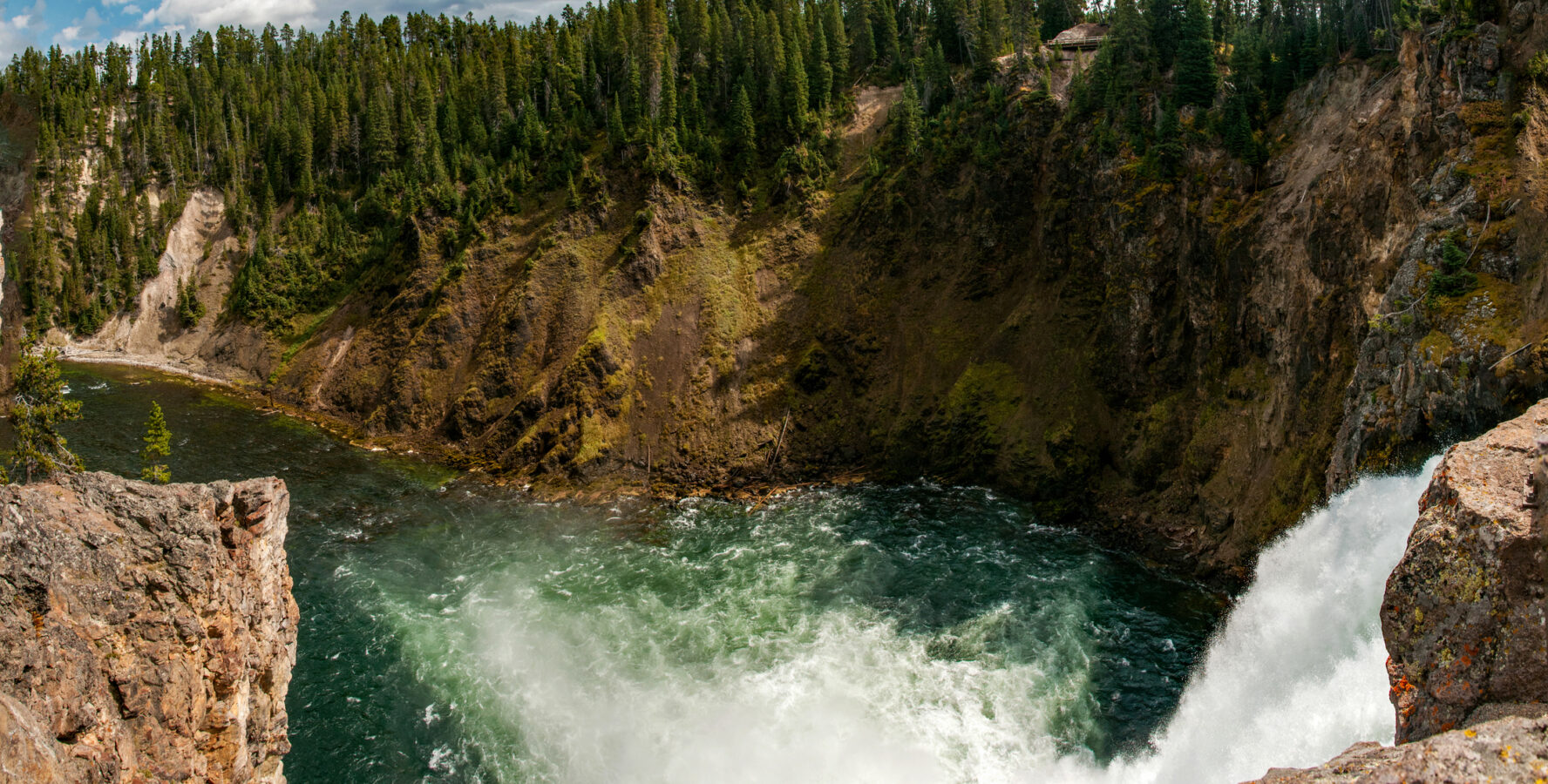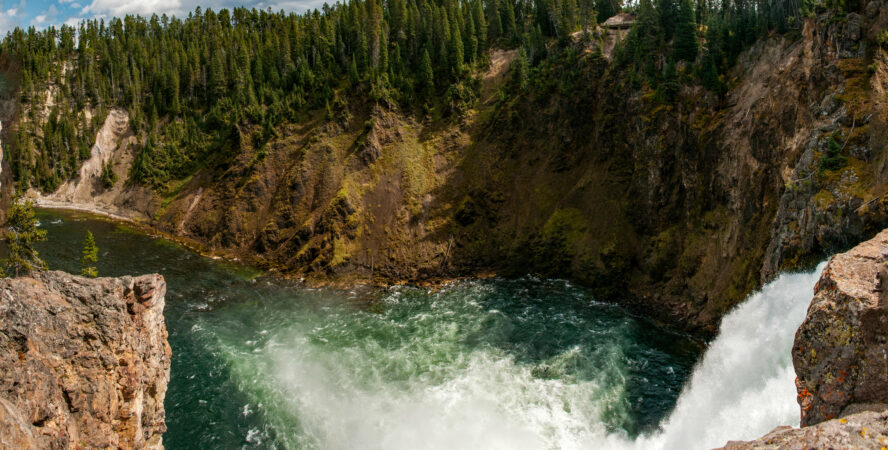 Brink of the Lower Falls - Yellowstone National Park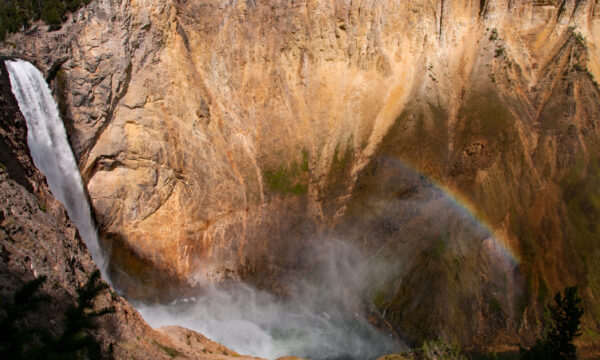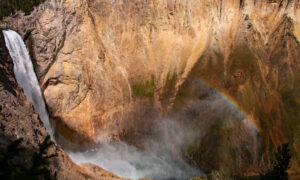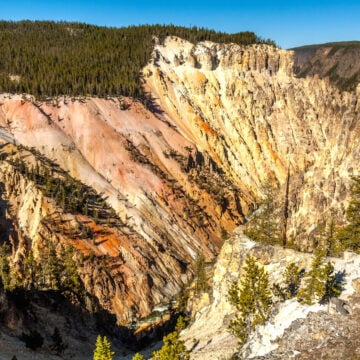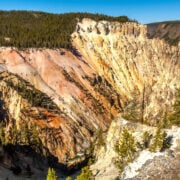 6. Brink of the Lower Falls Trail - Good to Know
Terrain:
Steep switchbacks, mostly paved
Difficulty:
Easy to moderate
What's nearby:
Canyon Village Visitor Education Center;  Inspiration Point; Uncle Tom's Trail; Hayden Valley
Getting there:
Just south of Canyon Village, take the one-way North Rim Drive to the Brink of the Lower Falls parking lot
Located just north of Mammoth Hot Springs, Yellowstone's Beaver Ponds Trail hike is a pleasant five-mile loop through sagebrush, forest stands and, you guessed it, beaver ponds.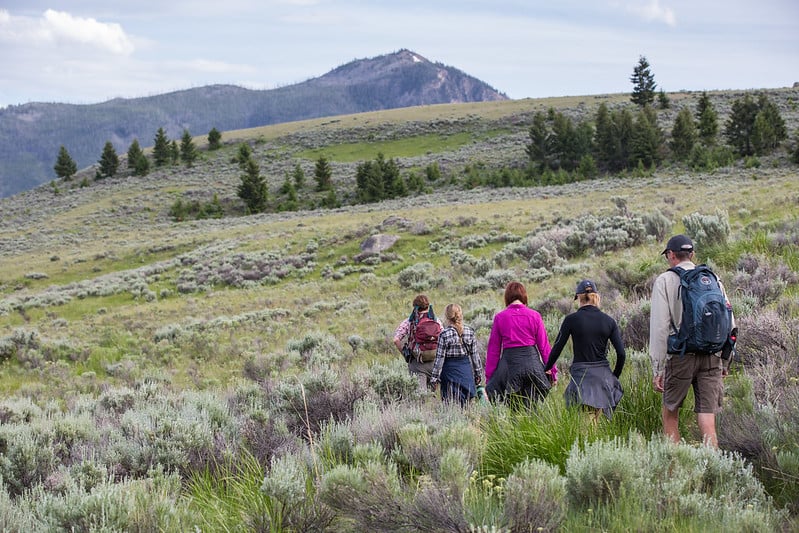 You'll find no crazy geothermal features here, but you will hike some serene grassy landscapes, get a good glimpse of the Gardner River Canyon, and you may even stumble upon an elk, deer, or antelope. Also, it's not the Continental Divide Trail hike, but this trail is still relatively long. As such, there are usually a lot fewer people than on the touristy boardwalks, so it's a great choice if you're avoiding the crowds.
8. Mystic Falls, Fairy Creek, and Little Firehole Loop
Another one that's often overlooked for the landmark it's adjacent to, the Mystic Falls Trail loop starts in Biscuit Basin, roughly 3 miles from Yellowstone's iconic Old Faithful. On your way to the basin, you'll encounter a fair share of geothermal curiosities, such as the Sapphire Pool, the deepest, bluest pool in the park.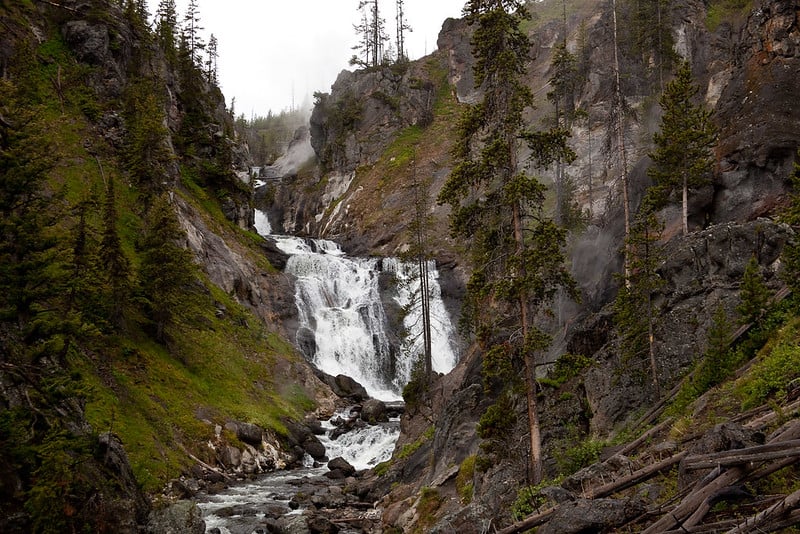 From the trailhead, the 2.5-mile hike follows a lovely little creek through a conifer forest right up to the foot of the titular falls. Before you complete the loop, spare a moment to watch the water tumble over 70 feet, cascading across a series of ledges and into a river cutting right through the canyon below. It's quite a sight, and always worth the detour.
A 10-hour marathon with 4,000 feet of altitude gain, Yellowstone's Sky Rim Trail hike is a proper conditioning check. Known as one of the toughest high-altitude loops in the park, this 20-mile hike regularly hits highs of nearly 10,000 feet, which makes it an excellent option for anyone training for the Mt. Rainier hikes. The pay-off is in the panoramas—Sky Rim hosts some truly epic views of the northern Yellowstone area.
While there are plenty of highlights here, the biggest one has to be the 6-mile ridgeline walk between Dailey Pass and Big Horn Peak, which you could even summit (if your legs are still listening to you). If you feel yourself up to the task, make sure to dress right, bring plenty of water, and watch out for thunderstorms.
The 4.5-mile hike to Yellowstone's Avalanche Peak is not for the faint of heart. The start will have you questioning your life choices—you'll steadily climb through a beautiful mixed fir, pine, and spruce forest, facing 2,100 ft of altitude gain in the first 2 miles. The trail then takes you across some large talus slopes and along a narrow, iffy ridgeline until you reach the majestic bowl of Avalanche Peak, with 360-degree panoramic views of pretty much the entirety of the park.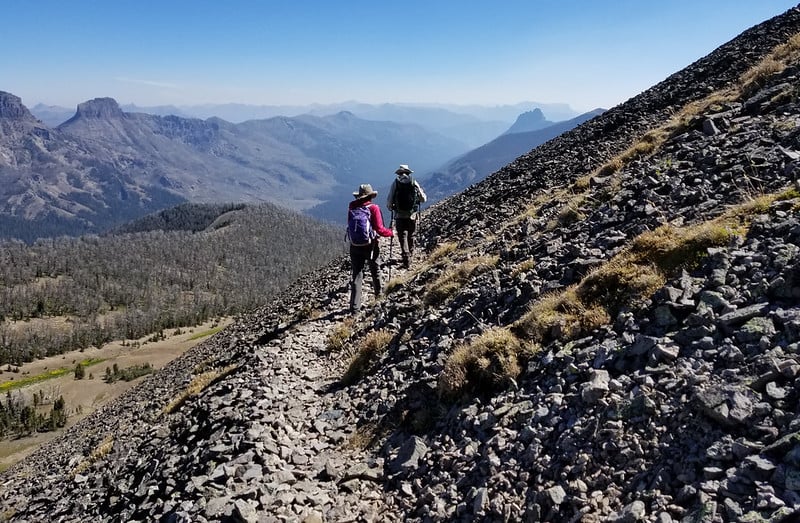 Avalanche Peak is often snowy until early July, so it's best to plan your trip for peak summer. And even if it feels like overkill, bring some gloves and a wool hat—the you from the peak will be grateful.
If you prefer the shoreline to the mountains, Yellowstone's Storm Point is the hike for you. The easy-going and popular trail starts on a meadow near Yellowstone Lake, before veering away from the water and into some dense forests and grasslands. Admire the greenery and the occasional steam vent before you reach Storm Point, the highlight of the hike.
With rocky beaches and strips of sand dunes, Storm Point will have you feeling like you're on the East Coast. Wildlife watching is a big deal here—bring a chair, sit back, and look out for shorebirds, otters, or the local yellow-bellied marmot population. Storm Point is pretty exposed, so bringing a windproof jacket is recommended. The hike is only an hour long, so it's easy to squeeze in between geyser-hunting seshes.
Good-to-Know Info for Hiking in Yellowstone National Park
Do you need a car to visit Yellowstone Park?
Driving a car is your best bet for getting around the park as there are no shuttles. The entrance fee for each vehicle is $25, and that's good for the week. Plus, the pass also gets you into the Grand Teton National Park.
How many entrances are there?
Yellowstone has five different entrances, and since the park is massive, choosing the right one could save you a lot of logistical headaches. If you're interested in seeing the Mammoth Hot Springs, choose the North Entrance, which is open year-round. For a wildlife-watching trip, the Northeast Entrance, the closest one to Lamar Valley, is your best bet.
The East Entrance grants you easy access to Yellowstone Lake and its rich geothermal features, while the South Entrance allows you to hit up the hikes in Grand Teton and down two national parks in a single tour. Finally, the West Entrance takes you right into geyser country, which is why it's the most popular entrance to the park. This is also where you'll find the most restaurants, attractions, and off-trail activities.
How many days is enough in Yellowstone?
You should plan to spend at least 3 days in Yellowstone. Unlike some other popular destinations you'll encounter on a Western National Park road trip, such as the hikes in Bryce Canyon, which can give you a gist of the area in a single day, this park is huge, varied, and filled to the brim with stuff to see, and anything less than 3 days wouldn't do it justice. Just as an example, you could spend the first day wildlife watching, day 2 exploring the geysers and checking out the geothermal curiosities, and save day 3 for an awesome goodbye hike.
What do I need to see?
Geysers are Yellowstone's biggest draw, so if you don't stop by the legendary Old Faithful or the colorful Grand Prismatic Spring, it's like you haven't even been here. Wildlife watching is also a big deal—Yellowstone boasts the biggest free-roaming wildlife population in the Lower 48 and visiting the park without hitting up Lamar Valley and seeing some elk, bison, and grizzly bears in their natural habitat would be a waste.
When it comes to epic landscapes, you absolutely have to visit Mammoth Springs, with geology that's often compared to "a cave turned inside out". And for the best panoramas in the park, add the Grand Canyon of the Yellowstone River to your bucket list.
Can you camp in Yellowstone's backcountry?
Of course. Yellowstone has 293 designated backcountry campsites, complete with food poles and storage boxes to keep the bears away. Reservations are generally not required, but they're heavily encouraged since nearly three-quarters of the campsites are usually booked online.
Backcountry permits are available for only $5 per night, plus a $10 non-refundable reservation fee, at recreation.gov. Alternatively, if you dish out another $10, you can partake in the Early Access Lottery, which may grant you first dibs on some of the more popular campsites during peak hiking season.
Can I hike off-trail in Yellowstone?
Off-trail hiking is generally frowned upon in Yellowstone National Park. Yellowstone is a delicate ecosystem, and even a small step away from the trail could offset the natural balance of the park. Also, straying from the designated pathways leaves you at the mercy of the park and its wildlife—in the unmarked wilderness, nobody can guarantee your safety.
It's best to not leave the trail unless you absolutely have to. If you're new to hiking or want to review the optimal preservation practices, it's a good idea to check out these hiking tips for beginners.
Should you hire a guide to hike in Yellowstone?
Hiking with a guide in Yellowstone National Park will guarantee you have the best possible time on the trail. Your guide will make sure you see the best of Yellowstone, help you escape the crowds, and provide you with valuable information you wouldn't otherwise get.
Whether you're just exploring for a day or want to do a longer backpacking trip, hiking tours with a guide are the best way to make the most out of your Yellowstone National Park adventure!
Be aware of road and trail closures in Yellowstone
There's always some trail or road closed for maintenance in Yellowstone, and it's good to check conditions before you head to the park. You'll want a backup plan if the places you plan to visit are under construction or affected by the weather. The visitor centers will also have the information you're looking for.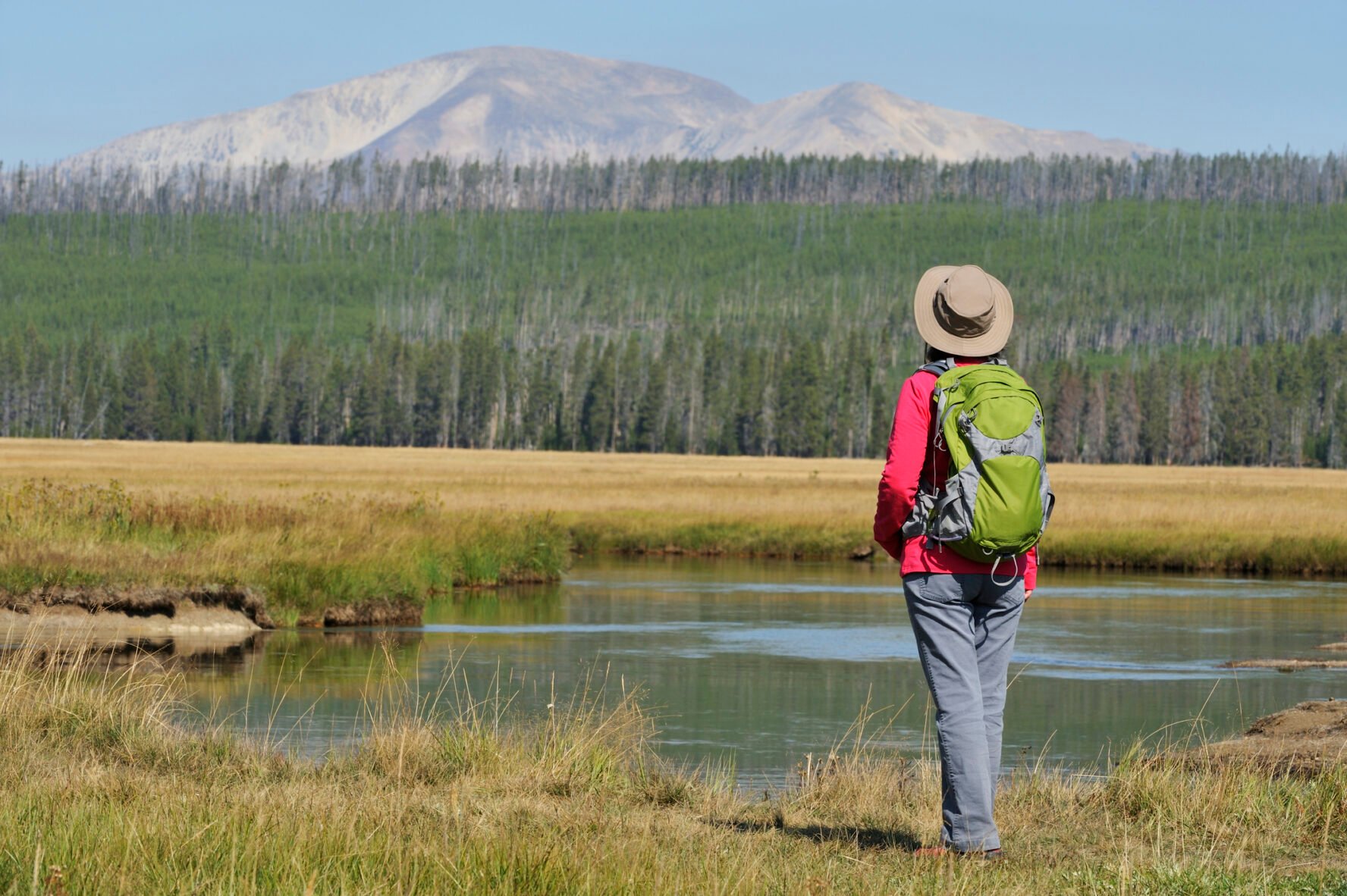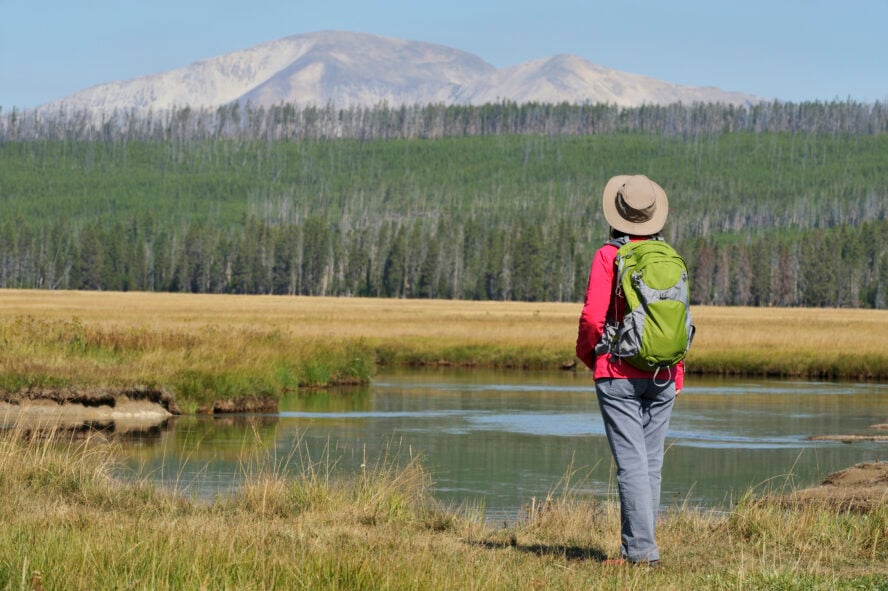 What's the Best Time to Visit Yellowstone?
While it's true that Yellowstone is worth visiting year-round, many of the activities in the area are best enjoyed, or even limited, to a single season. Learn more about your best time to visit Yellowstone from our handy little guide.
Spring – best for seeing the park come to life
Summer – best for wildlife watching
Fall – best for avoiding the crowds
Winter – best for wolf spotting
Yellowstone comes to life in the spring
Spring is the shortest season in Yellowstone, but it's also the most dynamic one: the park turns green, the wildflowers start popping up, and it's the perfect opportunity to see the baby animals roam the landscape. While you can still find some snowshoeing and XC skiing, early-morning hikes are the best way to see wildlife. Keep in mind that the trails are still muddy and the weather can dip to the single digits, so bring a warm jacket, extra layers, and quality hiking boots.
Summer sees Yellowstone packed with adventure-and people
Between June and August, the weather is stable with the temps staying in the 70s, and all the trails and facilities are open making this the best time for outdoor activities. Wildlife watching is the obvious choice, but you can also observe the wildflowers, tour the park's waterfalls, or even try horseback riding. Higher elevations still see some snow and there's the occasional afternoon storm, but for most activities, a shirt and some shorts will do (though you'll want to bring sunscreen!). Crowds are the biggest issue, especially on the popular trails—avoid the Memorial Day and Labor Day weekends like the plague.
Have a crowd-free fall in Yellowstone
With thinning crowds and vibrant foliage, Yellowstone has plenty to offer between September and November. When the temperatures drop in the mountains, many of the park's most emblematic animals migrate to the lower elevations. This means that camping, backpacking, and hiking provide great opportunities to spot elk rut and bears preparing for hibernation. The temperatures vary wildly and snow starts to accumulate in late November, so make sure to layer up.
Experience Yellowstone's wild winter wonderland
Between December and February, Yellowstone is at its wildest—most roads are closed, the rivers and lakes are frozen, and everything is covered by a thick layer of snow. That's not to say that there's nothing to do: try cross-country skiing or snowshoeing, spot free-roaming wolves, or watch the geyser basins steaming in the freezing cold.
Get yourself a Yellowstone Park map (or two!)
It's handy to know the general layout of the park and where the majority of highlights are scattered, so familiarize yourself with a park map beforehand. Cell service is spotty, so make sure you've downloaded some maps to use offline — like this one from the National Parks Service. The NPS has also released an app for visiting the park that makes planning your visit easier.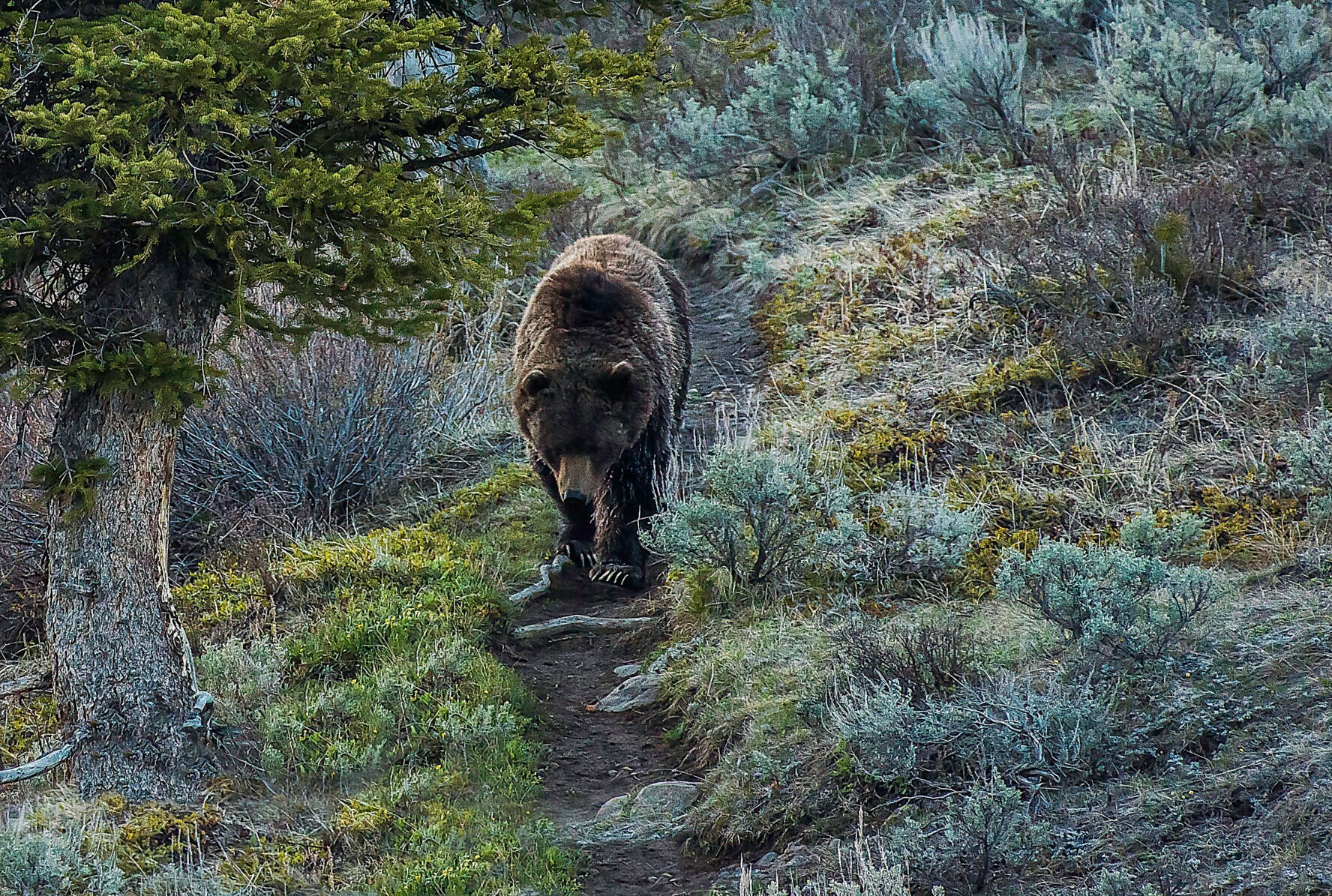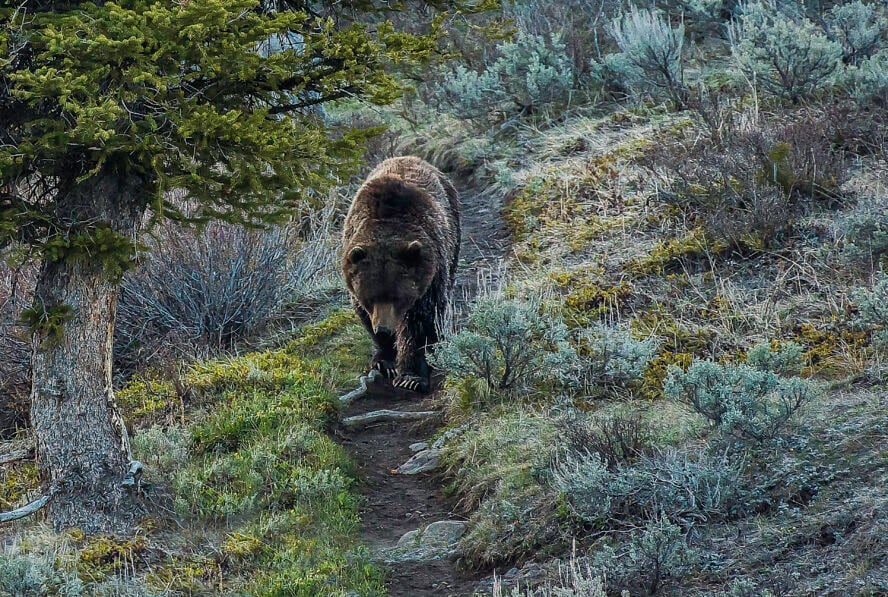 Is it safe to hike in Yellowstone? It is if you respect the wildlife.
You need to be extra alert in Yellowstone when it comes to wildlife — there's a lot of it. It goes without saying that you shouldn't get too close to any of the park's resident animals (stay at least 100 yards back), and you need to be packing bear spray if you intend to hike (and you need to know how to use it!).
The Yellowstone National Park Service has provided comprehensive guidelines on bear safety. Be sure to check-in at the different visitor centers around the park for updates on wildlife activity.
Stock up on supplies before you head to Yellowstone
Have plenty of food and water. There are lots of places to get supplies around the park, but it's best to be prepared to end up waiting in traffic at least once during your visit (not to mention, park options are pricey, limited, and crowded). If you're coming back to the car from a long hike and don't have any water, you might not be able to get some for a while so plan accordingly.
Heed the Call of the Wild
I know, Yellowstone can be overwhelming. With dozens of must-see spots and hundreds of hikes intertwining across millions of sprawling acres, it's almost too much to wrap your head around. However, let go of the idea that you need to see everything in one go, and you'll find that the park's massive and unpredictable nature is actually its best part. If you're not sure what to see next—and hopefully our list helped narrow it down some—just close your eyes, throw a dart at your hiking map, and get ready for a hike of a lifetime!
Are you ready to hit the trails in this world-famous park? Let a Yellowstone hiking guide take you on a private customized day tour for your entire group. Looking for something longer? Try a four-day backpacking trip past the park's best highlights.