Three El Chaltén Hikes For Every Type of Adventurer
One glance over the jagged, glacier-carved peaks rising from expansive flatlands is enough to understand why El Chaltén was dubbed "Argentina's Trekking Capital."
Barren moraines laying in the shadow of serrated peaks, gem-coloured icy lagoons and treks that take you as close as you can get to majestic glaciers — El Chaltén will give you something to write home about. The sleepy mountain village lies in the eastern part of the UNESCO World Heritage site, Los Glaciares National Park, on the border between Argentina and Chile. It may be home to some of the lesser-known Patagonia hikes, but it's stunning trails that wind through the surrounding wilderness are some of the best in the world. One panoramic look out over the Southern Patagonian Icefield and you'll understand what makes this place truly unique.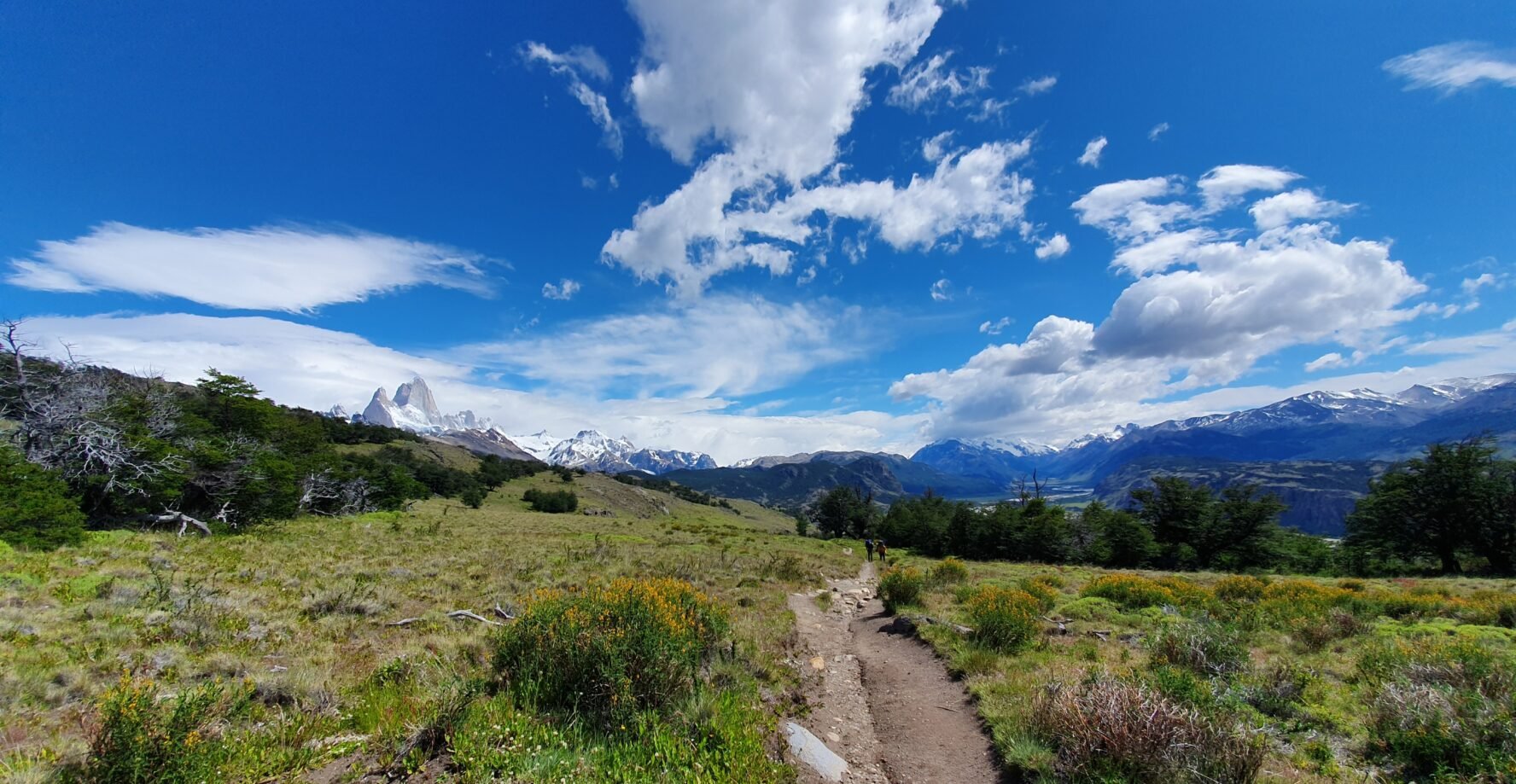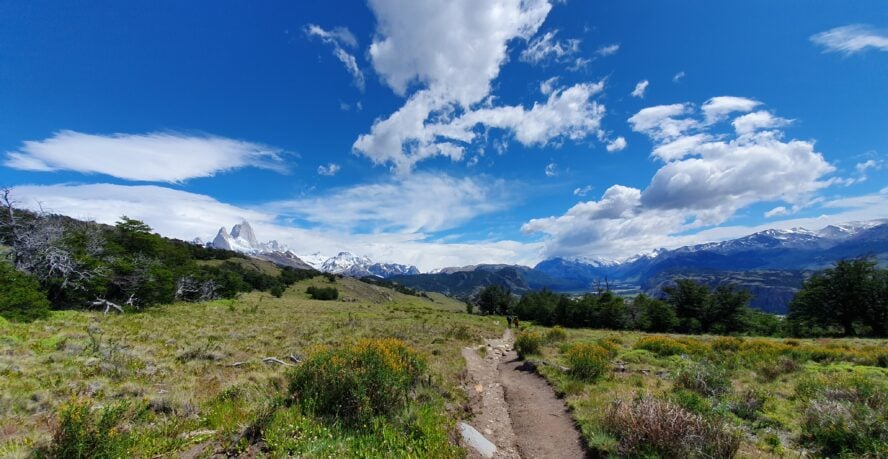 Pros and Cons of hiking around El Chaltén
Hike through a truly wild landscape molded by ancient glaciers
Explore alternative trails around the iconic Mount Fitz Roy terrain
Experience pure solitude and adventure on glacial treks in the mountains
Fly over icy rivers via a fixed line and explore the crevasses of the ice field
Beginner options tend to get crowded by day hikers
Intermediate treks require preparation and should be hiked with a guide
Beloved by hikers and rock climbers alike, El Chaltén serves as a gateway for the iconic Fitz Roy Massif Trek, considered one of the best hikes in the world. The terrain changes as you hike through the landscape carved by escaped glaciers. Rivers fed by the melting ice spread through the valleys like fingers, pumping life into an otherwise still landscape. Trails follow the region's undulating moraines and rock fields stretch high above the timberline. Here, you'll discover a treasure trove of lakes and lagoons hidden in the clouded, desolate peaks of El Chaltén.
An El Chaltén hiking guide born and raised in Patagonian
I'm a Bariloche native and have lived in Northern Patagonia all my life. When I was five, my parents signed me up for a mountaineering club. It started a life-long love of trekking. I became an instructor for mountaineering and ski schools after getting a degree in physical education with a focus on outdoor activities. I first studied teaching, which has remained a crucial part of my work as a guide with Montañas de una Vida.
Today, I'm mainly guiding in Los Glaciares National Park, as well as in the neighbouring Peru and Bolivia. In the El Chaltén region, I focus on treks such as hiking Fitz Roy and Cerro Torre Massifs and hiking the Huemul Circuit. Guiding gives me an opportunity to help people achieve what they otherwise thought impossible. When I'm guiding a client, I don't just help them navigate their surroundings; my end goal when they leave El Chaltén is to make an autonomous, experienced adventurer out of each and every traveler.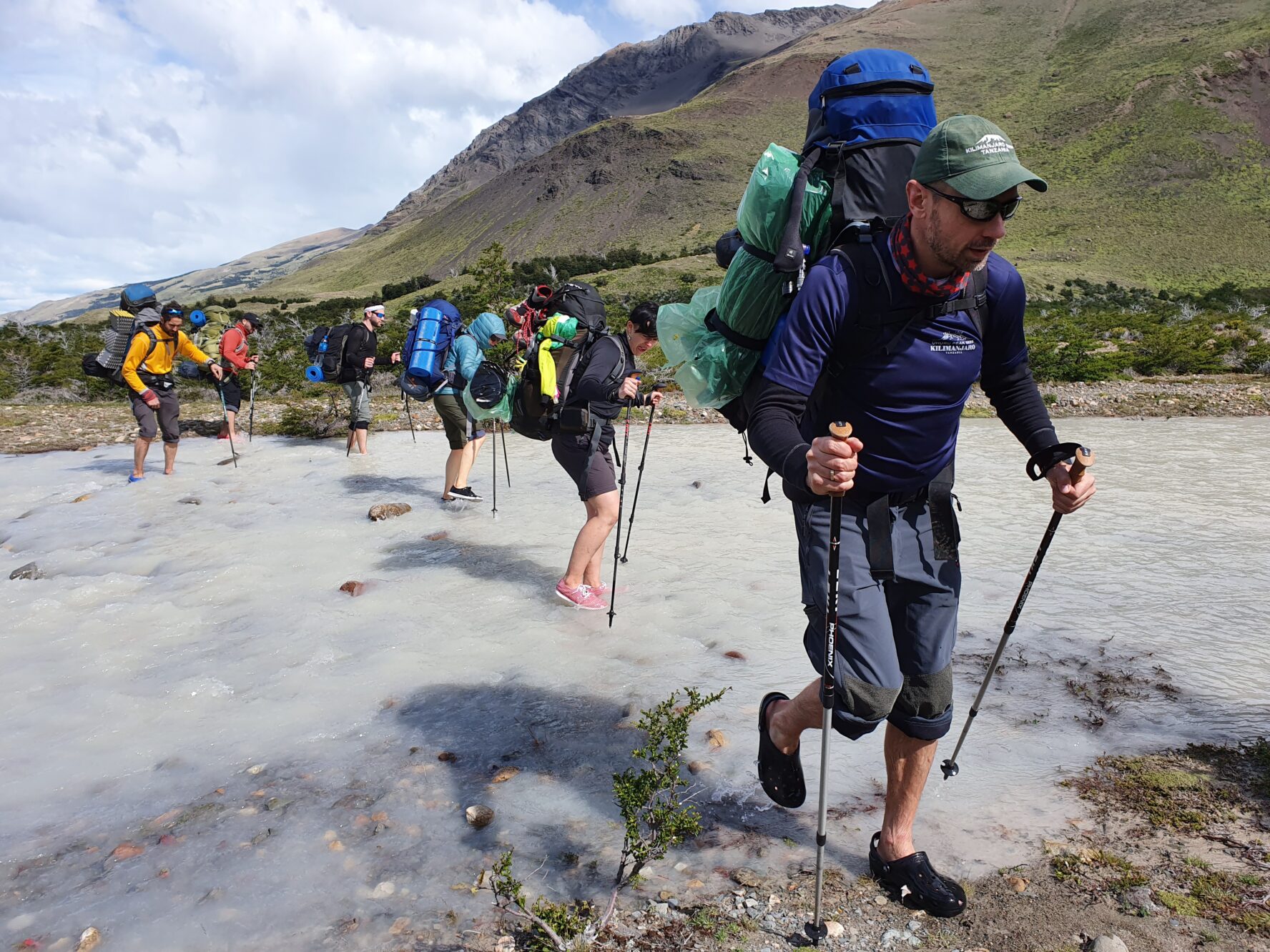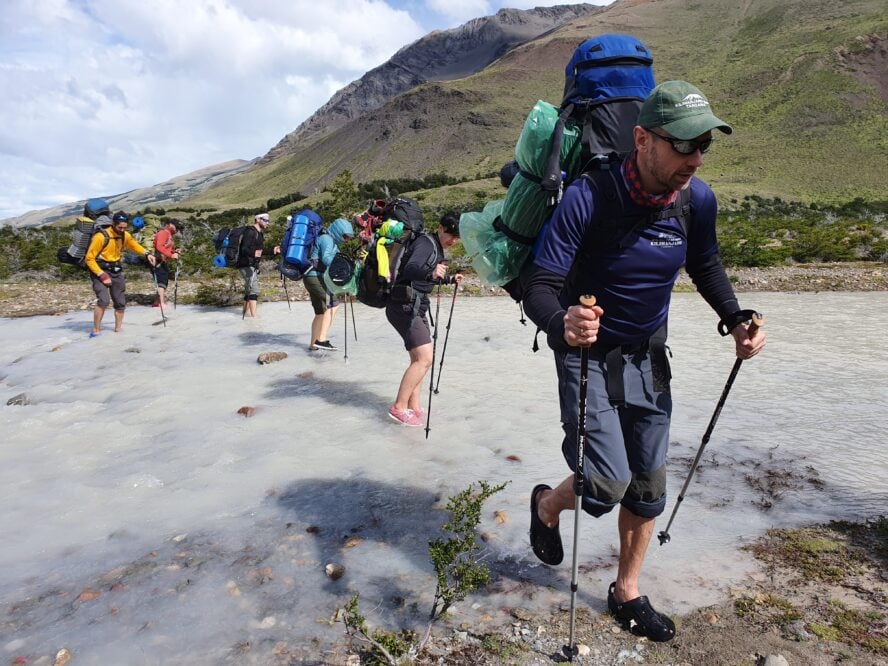 Why Patagonia's best hikes are in El Chaltén
El Chaltén is the heart and soul of outdoor adventure in Argentina. Whether you're an avid hiker or a group with miscellaneous skill levels, El Chaltén has a hike for you. The trails are well-marked and easy to follow. I always find something new to admire, even though I traveled these paths countless times past towering mountains, crystal lakes, and dense forests. The glaciers of South Patagonian Ice Cap sculpted the vast moraines eons ago and are still shaping the countryside. You also get to witness the terrain's evolution — between wading icy rivers and scrambling up jagged spires, that is. There's something in the air in this mountain paradise. Your muscles will need plenty of rest after tackling the many trails through the wilderness of Patagonia, but your soul just might come alive.
El Chaltén's Ultimate Classic Hikes
The El Chaltén region has something for every level of hiker. If you're here to explore the beauty of Patagonia, the iconic Fitz Roy massif trek brings you as close as you can get to the mountain without climbing it. For anyone looking for a dose of adrenaline with their vistas, Agostini Steps is an intermediate hike with some technical challenges. Can't get enough of the otherworldly Los Glaciares National Park? Tours can be expanded into a 10-day trip by adding on the challenging yet doable Huemul Loop featuring an ice trek. The best hikes in El Chaltén cater to a range of skill levels and time frames. Let's dig into a few that I believe to stand out above the rest.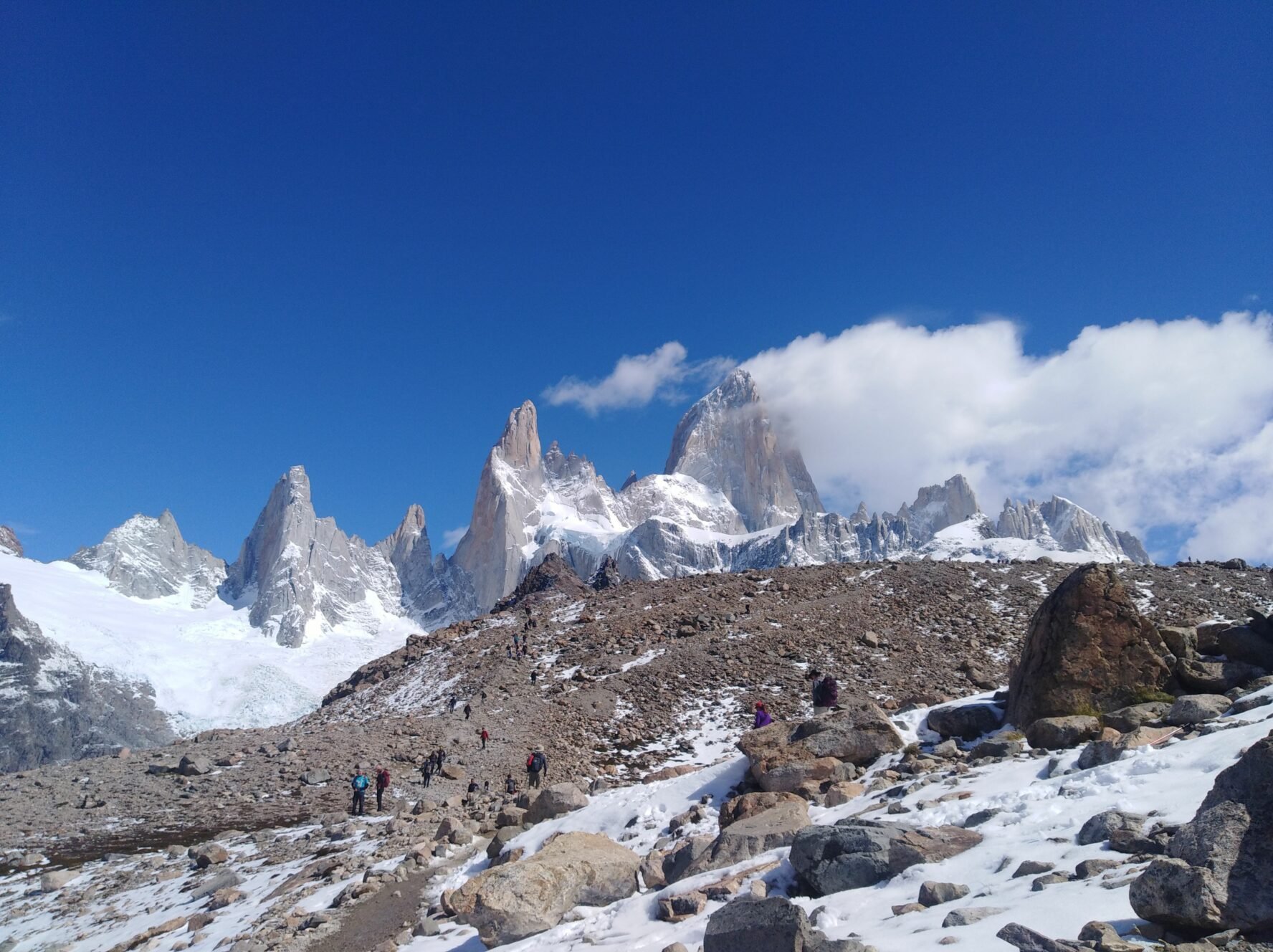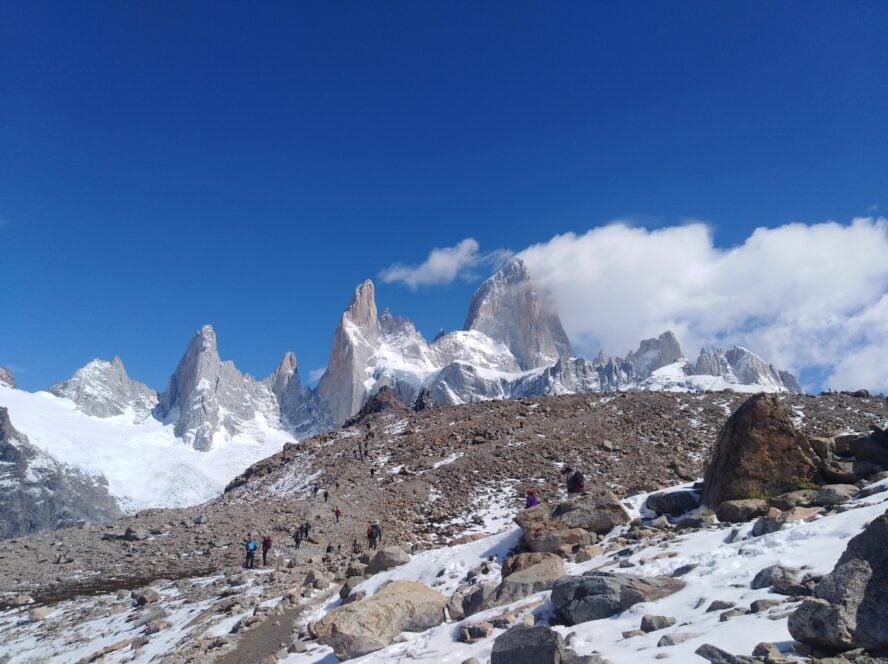 1. Fitz Roy Massif Trek: A crowd favorite
There are few sunsets so world-renowned as ones viewed at the foot of Fitz Roy. It's no surprise the American rock climber Tommy Caldwell named his son Fitz after watching the sun hit its granite peaks. If travelers are short on time, the Fitz Roy Massif trek can be completed as a scenic day trek packed with icy alpine lakes and vistas of the surrounding mountains. Hikers typically reserve three days to take in the sights and complete the trek. I recommend the following itinerary for El Chalén hiking enthusiasts.
Day One: Hikes to the Poincenot campground to start the El Chaltén trek
You can start your El Chaltén trek adventure one of two ways. Head out early and hike from town or snag a transfer to the trailhead. The Massif trek is well-paved and easy to follow. Poincenot is a popular campsite where most people choose to rest and drop their equipment. The campground is eight kilometers away from the town of El Chaltén, shrouded by a beautiful lenga forest. From there, you'll hike up for 2.5 kilometers to reach the stunning Laguna de Los Tres. This ascent will be the steepest part of the trail, but the views from the top are worth the effort.
Brave hikers might decide to take a polar plunge and swim among the many icebergs that have chipped off the nearby glacier. You've come this far, right? After taking all the photos of the east face of Fitz Roy, Laguna de Los Tres, and the glacier, you'll head back to the campsite or El Chaltén for a good night's rest.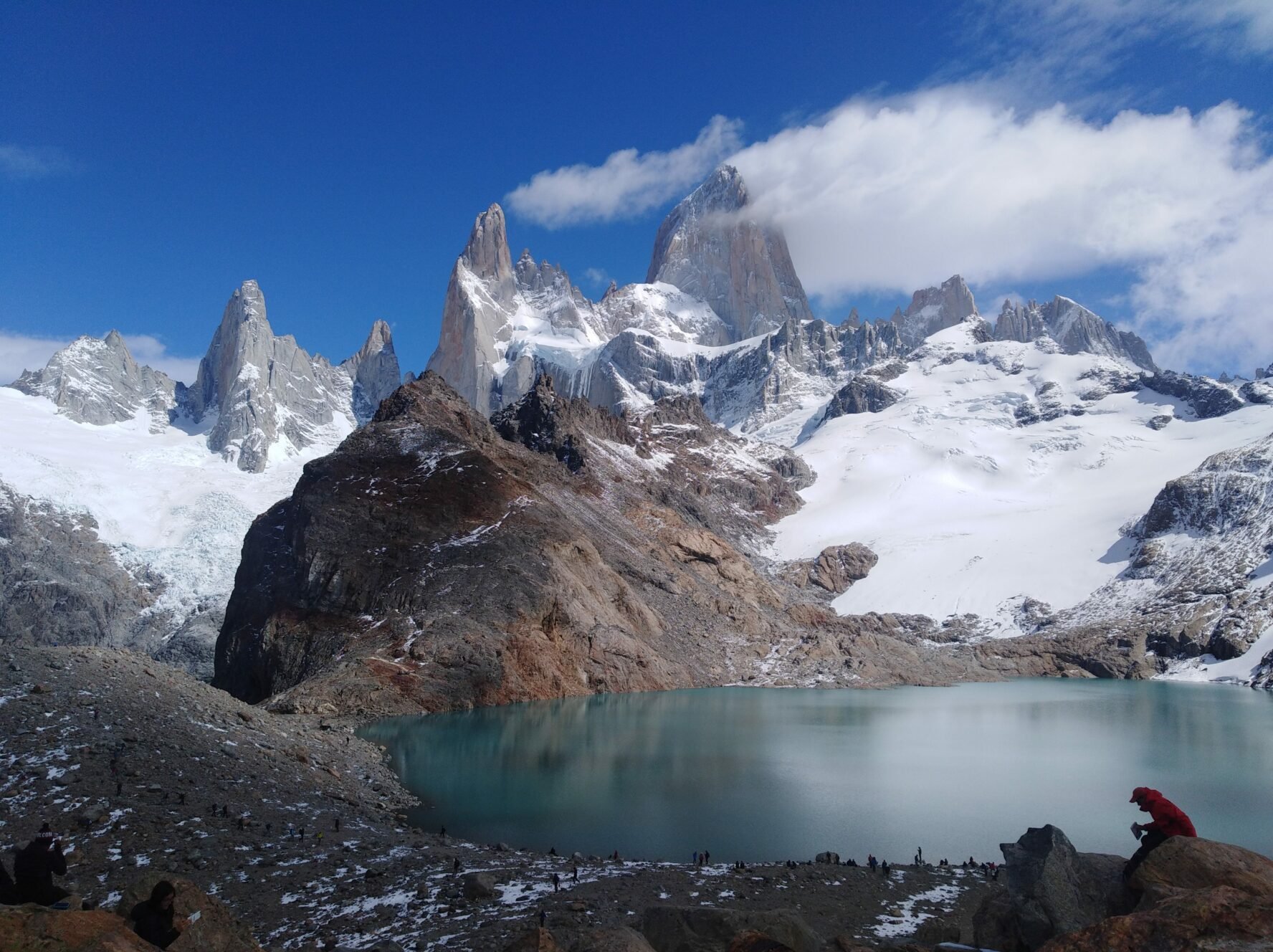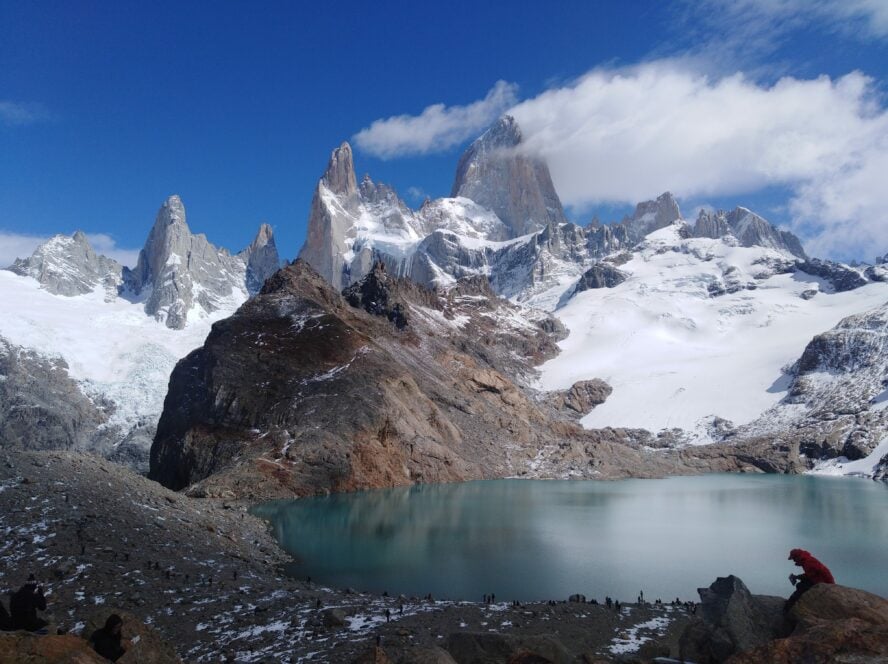 Day Two: Witness one of the most beautiful sunsets in Patagonia — and the world
Waste no time by heading to the Piedras Blancas Glacier viewpoint, where unparalleled views of the icy landscape await. Do be mindful of the park policies. Trail availability is prone to change if rangers estimate a trek needs to be closed off for repair. The landscape can get worn down as a result of high demand. If Piedras Blancas turns out to be unavailable, head to the Laguna Sucia trek instead. You'll find the trail's namesake lake, located at the foot of the massif, is a worthy replacement. Continuing with gorgeous bodies of water, you'll also hike past Madre e Hija lakes, which translates to Mother and Daughter. Your final destination for this 15-kilometer hike is the valley of the cloud-covered Cerro Torre.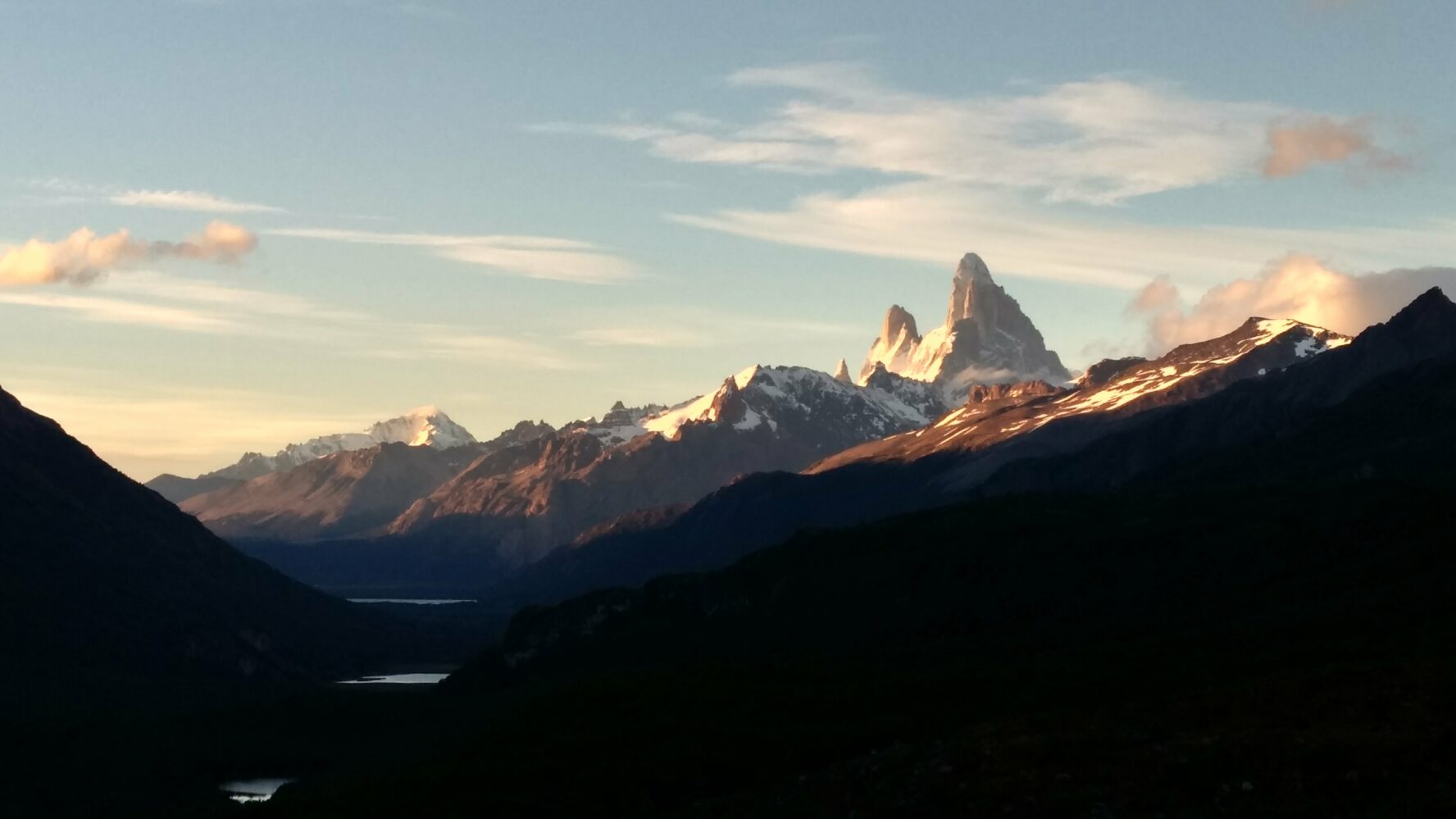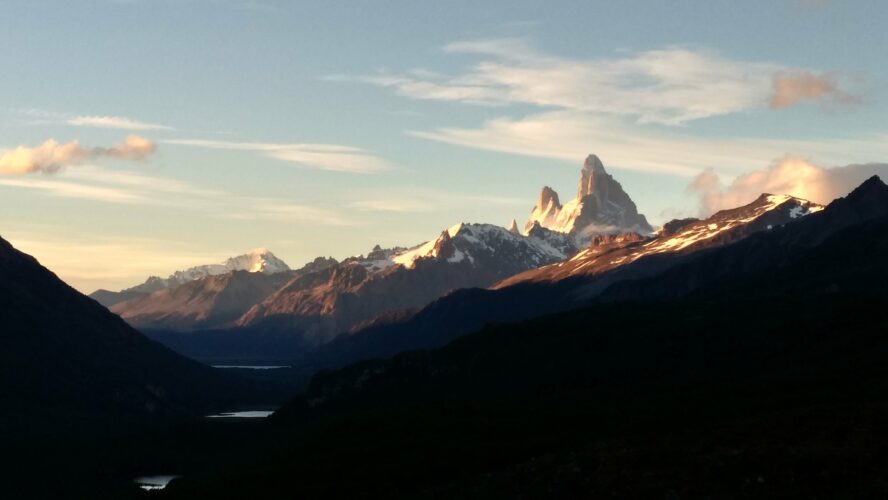 Day Three: Hike to the Maestri viewpoint for the best views of the Cerro Torre mountain
Your last day starts with a short hike to the Maestri viewpoint, named after the man who was (unofficially) the first person to climb Fitz Roy. He is said to have arrived with binoculars and map in hand only to discover the incredible Cerro Torre views. It's best to do this hike in the morning to avoid the crowds from town. By noon, you'll be on your way back to El Chaltén. The exit trail is mostly flat and accessible 10 kilometers long. It's far from challenging, compared to the ascents of day one.
Day Four: Gain 360-degree views of the legendary Fitz Roy and Cerro Torre
If you're feeling particularly adventurous and can't get enough of the El Chaltén area, spend an extra day in the shadow of the massif. You'll hike out of town at dawn and pass the barren eastern valley with stunning views of Fitz Roy. You'll first encounter lenga forest crossing and small hill ascent before approaching one of the most amazing landscapes in Patagonia — a 360 viewpoint of Fitz Roy and Cerro Torre. It's one of my favorite places to end an El Chaltén trek.
2. Agostini Steps and Paso del Cuadrado: Head there for panoramic vistas

The Paso del Cuadrado trek requires technical ascents but results in views you won't get elsewhere when hiking in El Chaltén. Photo by Julián López
Day One: Start at the Río Eléctrico before trekking to the El Fraile Hut
This Paso del Cuadrado trek starts at the Río Eléctrico bridge, half an hour away from El Chaltén by shuttle. After crossing the river, you'll follow an easy trail through a thick forest to the El Fraile Hut waiting on the other side. Hikers can choose to camp outside of the cabin or reserve a spot to stay in the hut. While there's still daylight, you'll hike to Laguna Pollen and Lago Electrico, rounding up to a seven-kilometer return trip. Your first day will serve as a mild warm-up for what's to come, so make sure to get plenty of rest.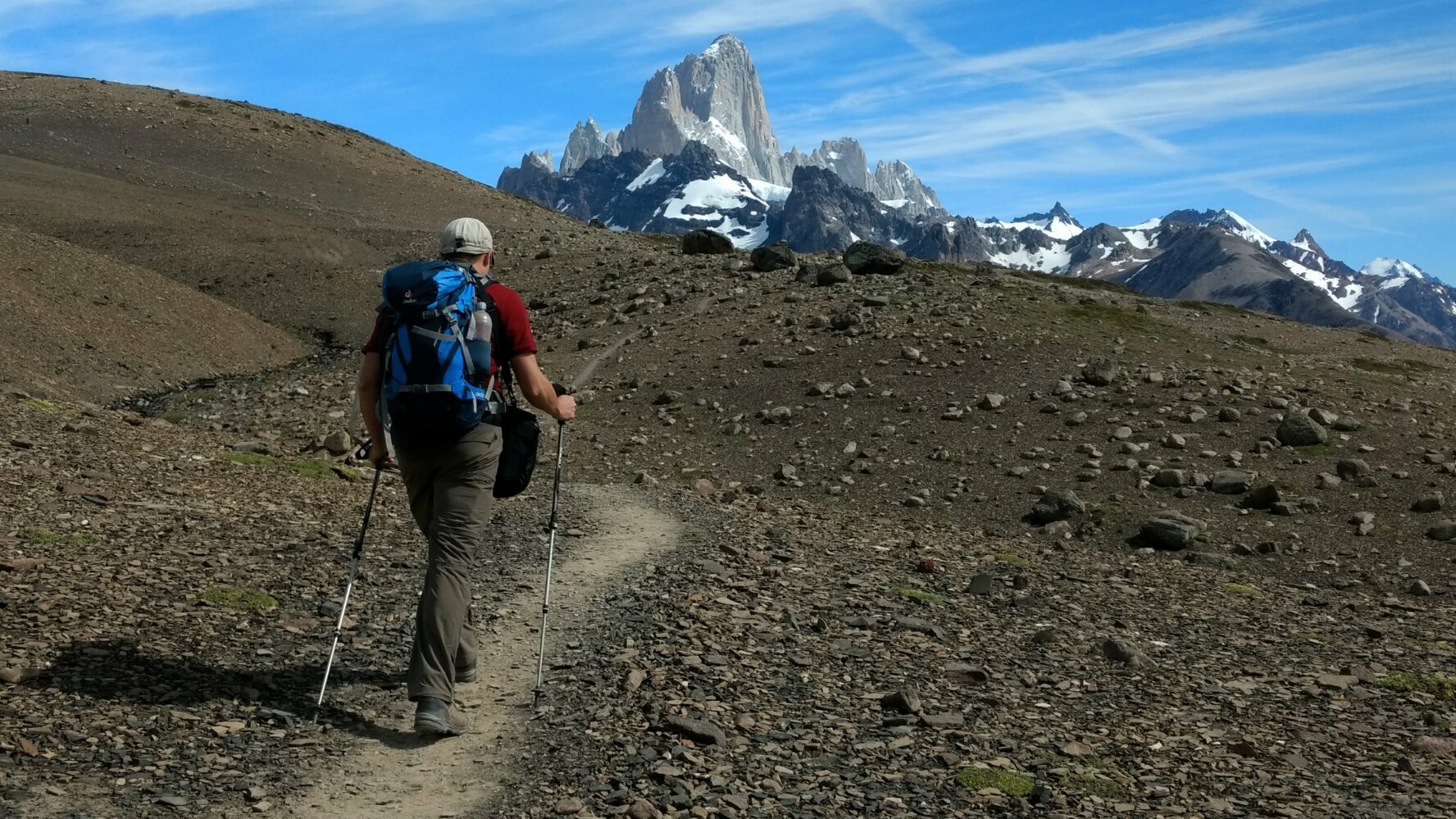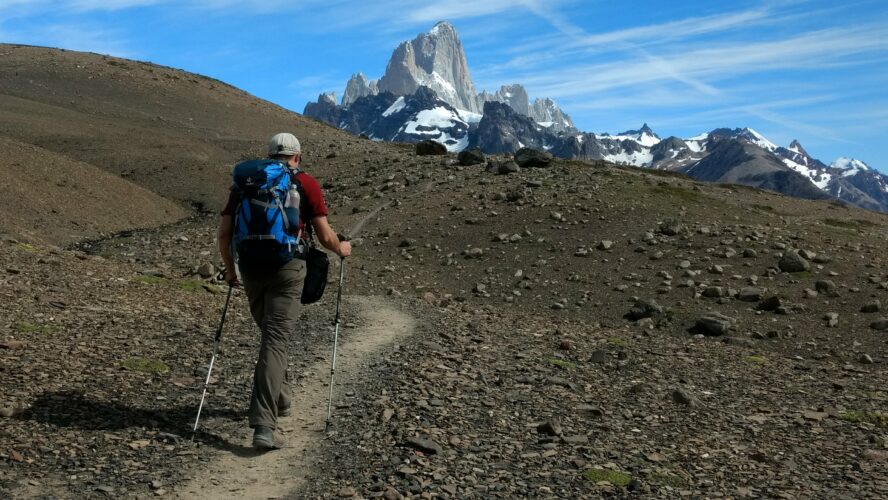 Day Two: Conquer a technical ascent of Fitz Roy to reap huge rewards
Your second day on the Patagonia hike will feature a far more committing trek. You'll hike — and scramble at times — for 13 kilometers. Leaving the Piedra Negra basecamp behind, the trek continues to Paso del Cuadrado or the Square Pass. This is where the 1200-meter elevation gain then 1200-meter loss come into play. This section is a highly technical ascent requiring previous experience with similar climbs using proper equipment.
While it doesn't feature a regular glacier traverse, this gateway to the west face of Fitz Roy is challenging. You'll have to rope up and wear crampons, depending on the weather conditions. The rewards are huge. Seeing Fitz Roy from a different angle, trekkers are free from the hustle and bustle of the crowds. The last part of your adventure is the descent back to the Río Eléctrico bridge.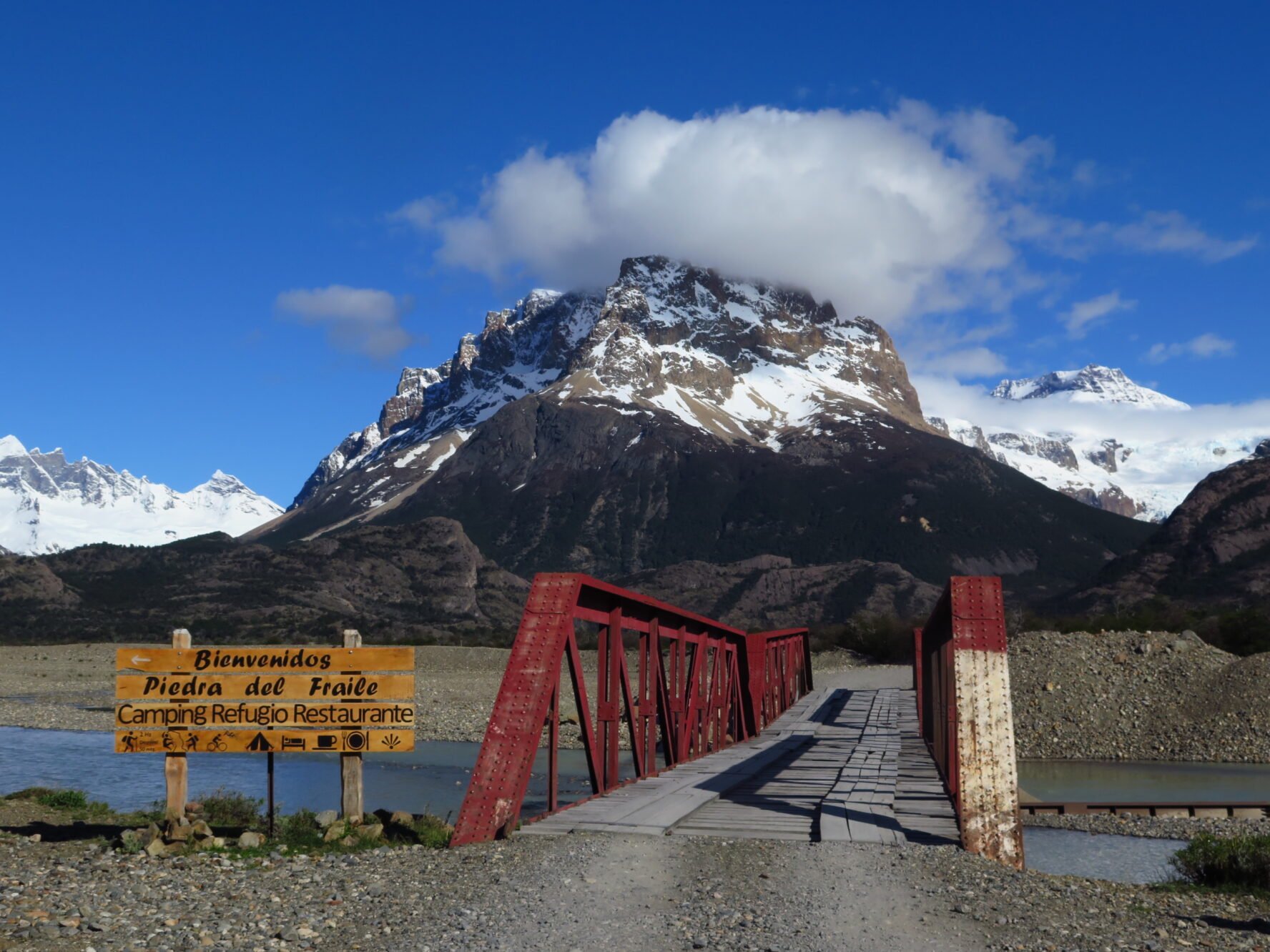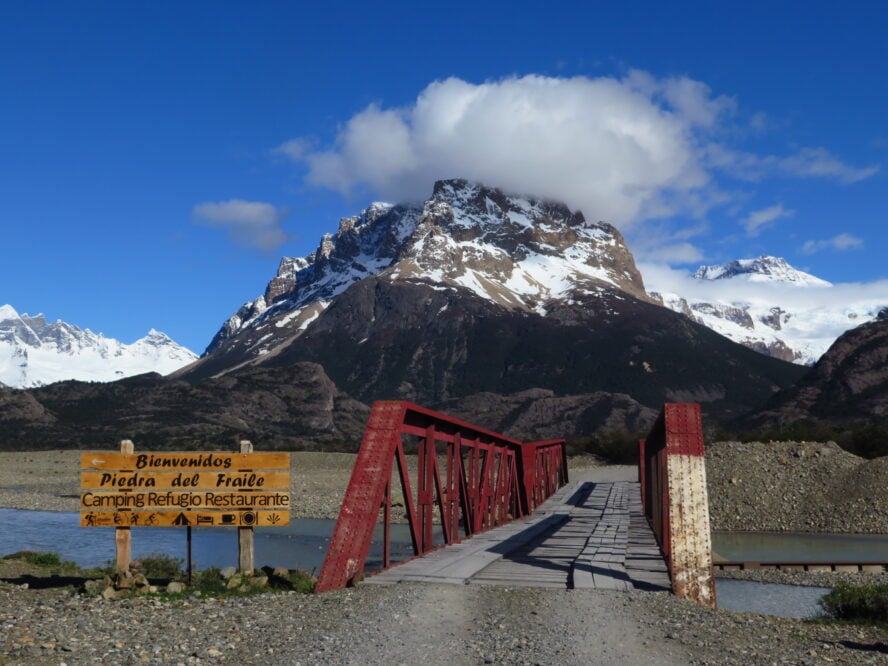 3. Huemul Circuit: This magnificent trek delivers three trails in one
Hiking the previous treks is like taking on another Patagonia classic: the iconic W Trek in Torres Del Paine. Much like the highlights in Paine, you could traverse similar must-see spots like Laguna De Los Tres or the challenging Paso del Cuadrado. If the adventure bug takes hold of you, connect all three treks with a magnificent crescendo — the Huemul Circuit trek. Guarding the nearby ice field, Cerro Huemul is one of the highest mountains in the area. Viewpoints of glaciers and the ice field alone draw in a sizable crowd. What most don't know is that the only obstacle standing between stunning photo-ops and frosty landscapes is a short but doable glacier traverse.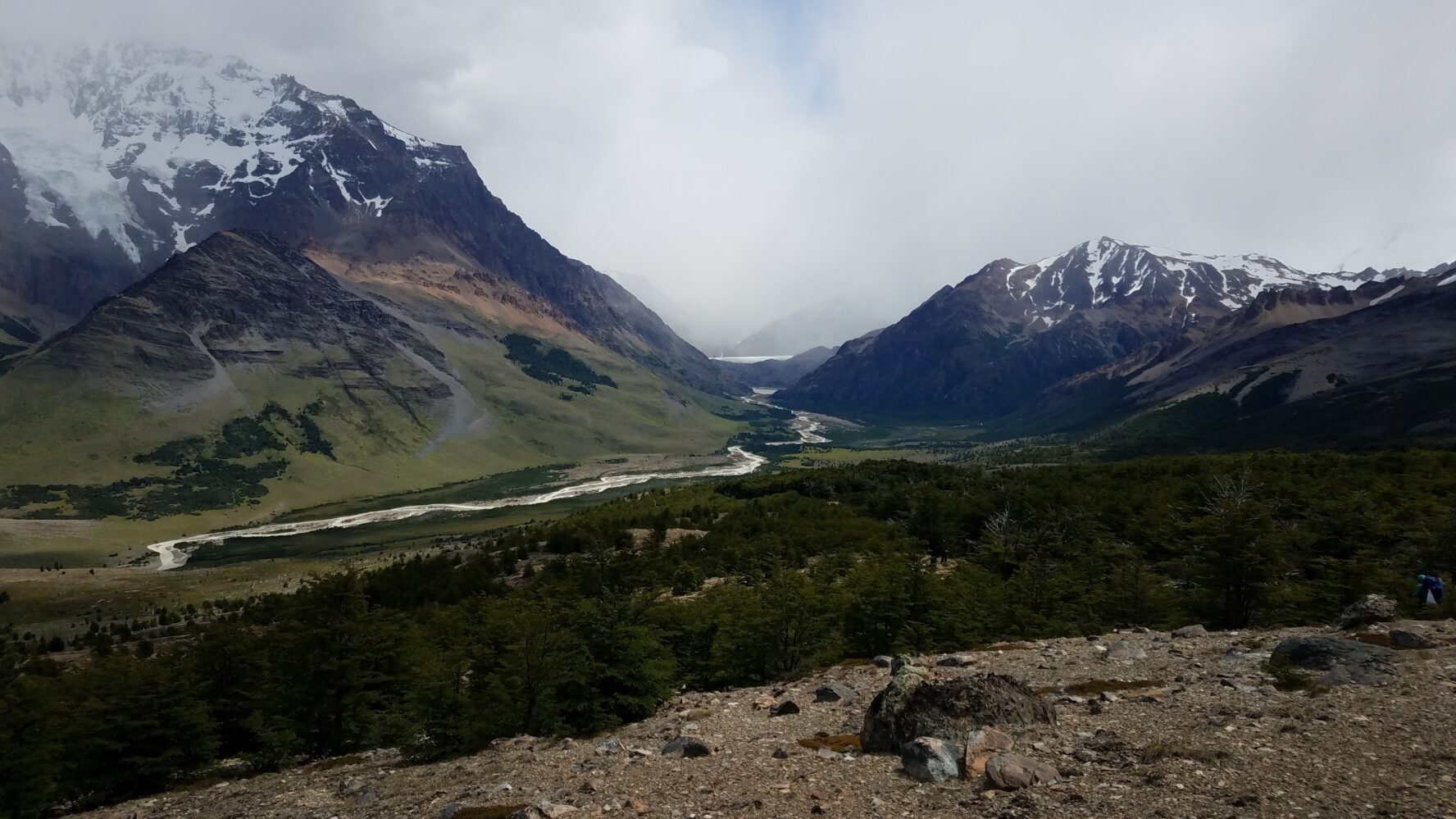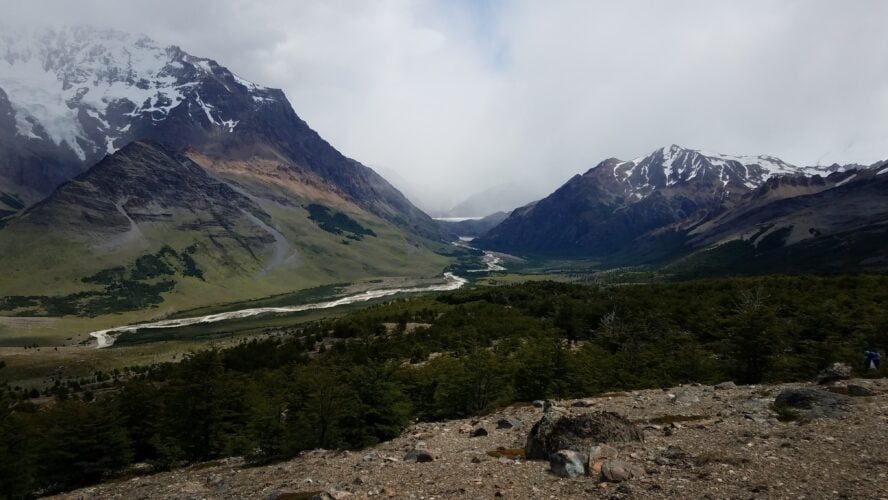 Day One: Start at El Chaltén towards an icy trek through the Toro River
This four-day trek starts in the town of El Chaltén. Your first destination lies deep in the Toro River Valley, about six to eight hours and 15 kilometers to reach it. Strong hikers need to be ready to ascend almost 3000 meters of elevation gain. The views of Fitz Roy are really what will leave you breathless as you travel the vast flatlands. Mild undulations turn into a sharp descent towards the Toro River. At this point, you're going to need waterproof boots. This route requires wading through several icy-cold streams to reach the campground. All streams and rivers are glacier-fed, so hikers dress for the elements and prepare for a chill. The trek leads to one last glacier sitting about a kilometer away from the campground. It's worth taking in the views, before defrosting in your tent.
Day Two: Get a taste of Southern Patagonian Ice Field
If you're riding solo, you'll head up the mountain ridge. A guided tour, however, includes using some ice trekking equipment. You'll venture where few have dared — into the ice field. As you make your way to the top, instead of leaving the ice field to fall into the background, you'll explore the many nooks, crevasses, and crevices. The detour connects to the rest of the trail near a windy saddle high in the mountain. Depending on the weather conditions, tours either return to the same campground or set up camp for the night further up the trail.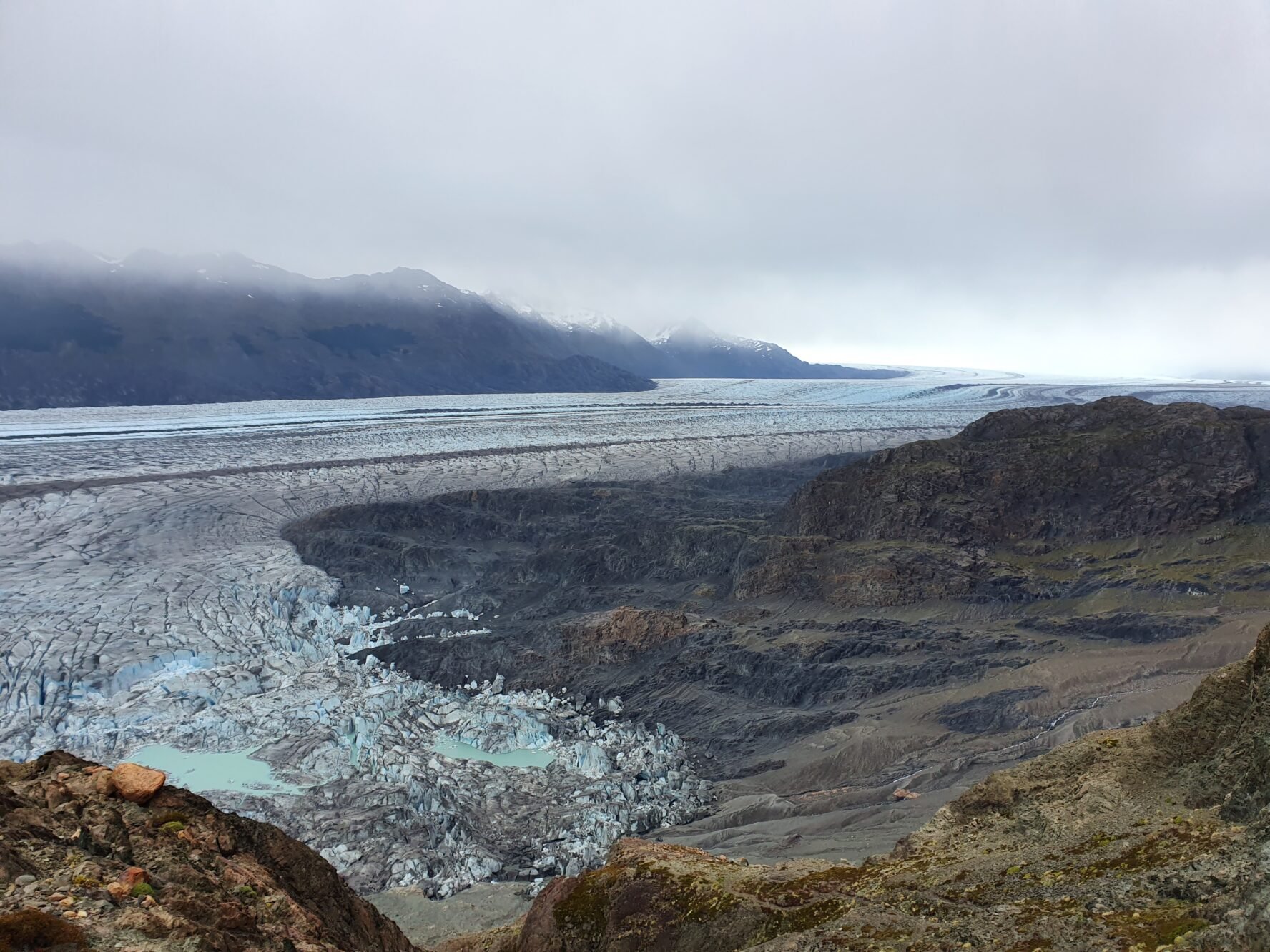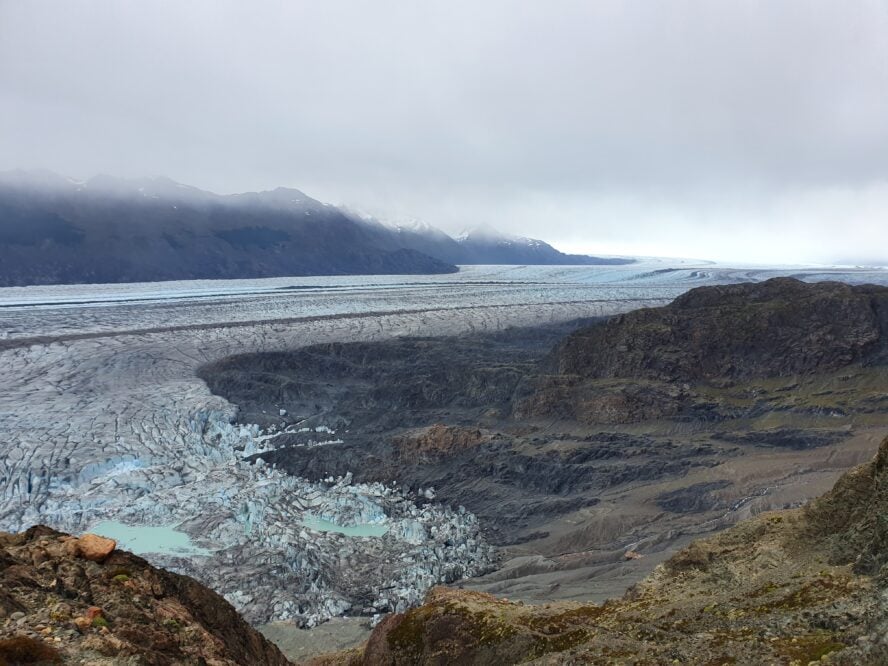 Day Three: Scale Paso del Viento for a gorgeous end to this El Chaltén hike
Make sure to rest up for your ascent to the aptly named Paso del Viento, or the Windy Pass. It's the highest viewpoint with clear vistas of the Southern Patagonian Ice Field. The hike is only 11 kilometers with a 1000-meter elevation gain. Easy, right? Think again. A force of nature comes into play here. No matter how clear the sky overhead or beautiful the day, if the wind pummels Paso del Viento, you won't be able to make it through. The wind gains speed as it rushes through the ice field and crashes into the saddle. What was supposed to be a leisure climb can turn into quite a battle. The terrain is fun to traverse and full of gorgeous glacial landscapes. A full day will end in a rest in Paso del Viento Refugio, a campground nestled next to a small lagoon.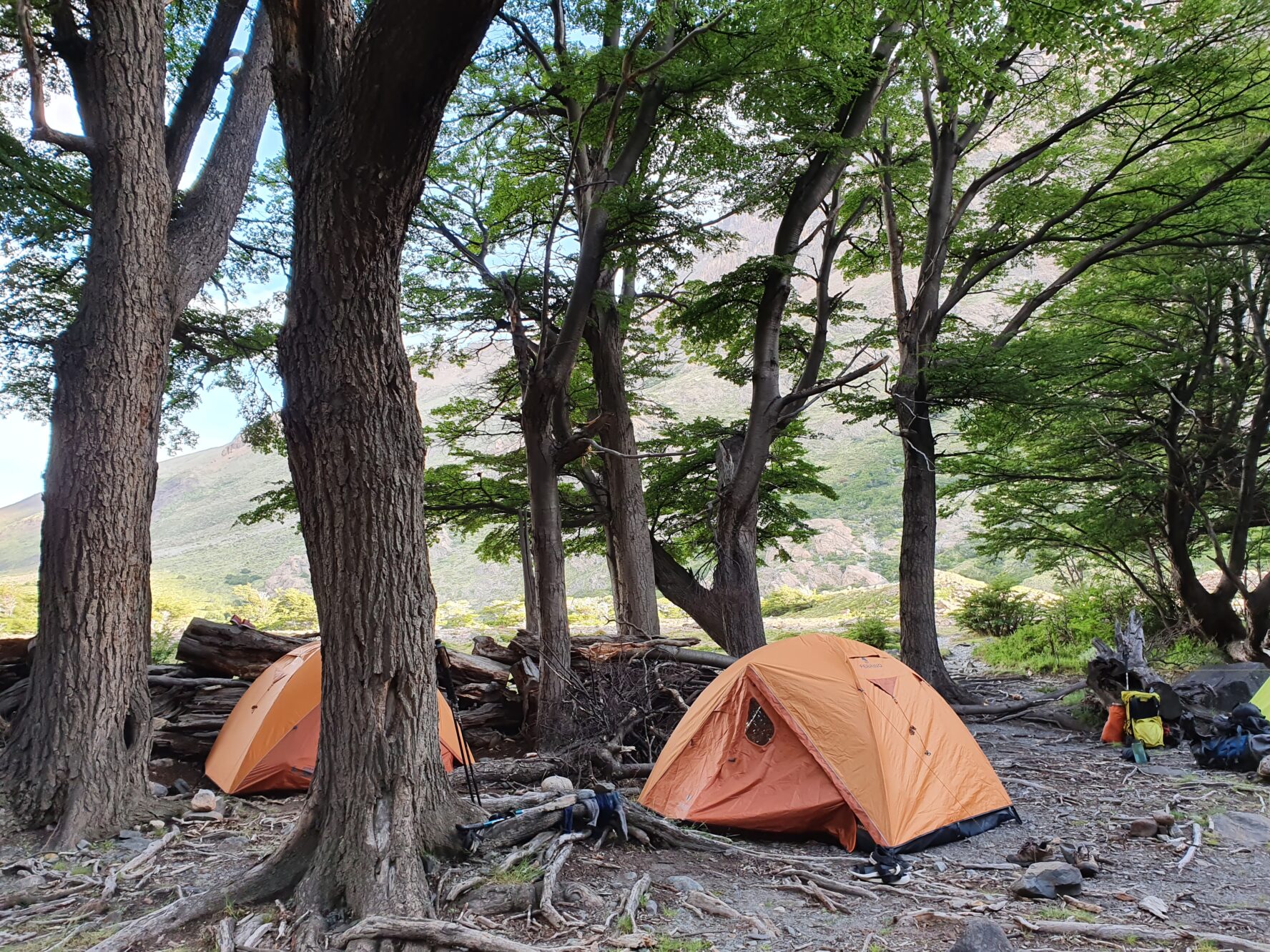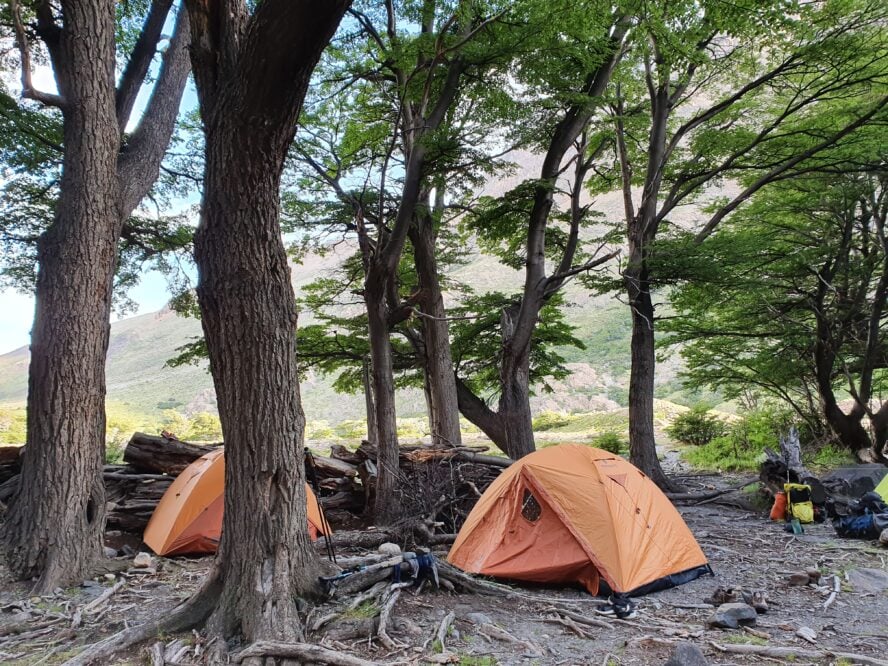 Day Four: Ascend to Huemul Saddle for an ice plunge in Bahía de los Témpanos
Compared to yesterday's hike, this climb will be a breeze if the wind cooperates. The majestic Viedma glacier will serve as the backdrop for a 550-meter ascent towards the Huemul Saddle. From there, you'll make it down a steep 1200-meter slope to reach Bahía de los Témpanos. This bay took its name from the many icebergs dotted throughout. Set up camp and admire your surroundings after all that hard work. Some also opt for an ice plunge to get their heart going and give their muscles a cool down!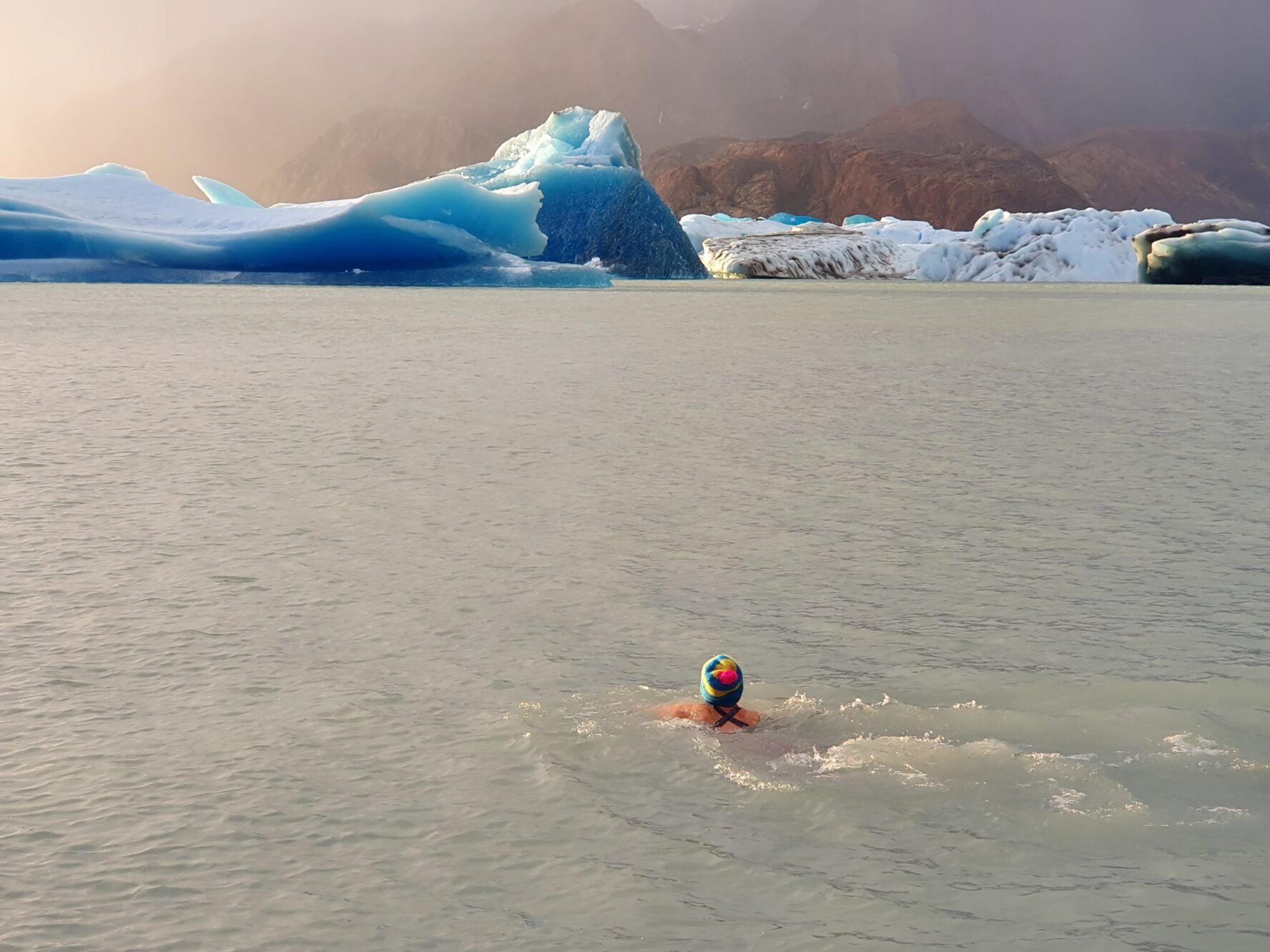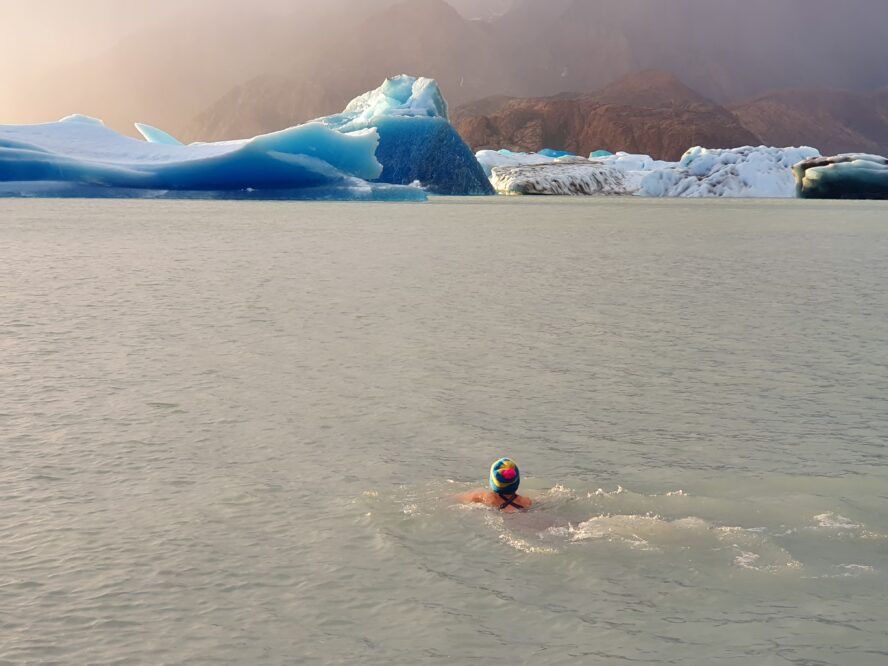 Day Four/Five: Head back to El Chaltén and plunge down a fixed line
As your Huemul Loop adventure nears its end, you'll witness yet another stunning Patagonian sunrise. Watching the glacier seemingly set afire by sun rays is something you'll remember forever. The trek back to El Chaltén is 15 kilometers with a 500-meter ascent and descent. Once again you'll be in a familiar landscape, keep an eye out for endemic orchids breathing life into an otherwise barren valley. A fixed-line across Toro River is the last adrenaline rush standing between you and the town El Chaltén, ending your trip with a bang.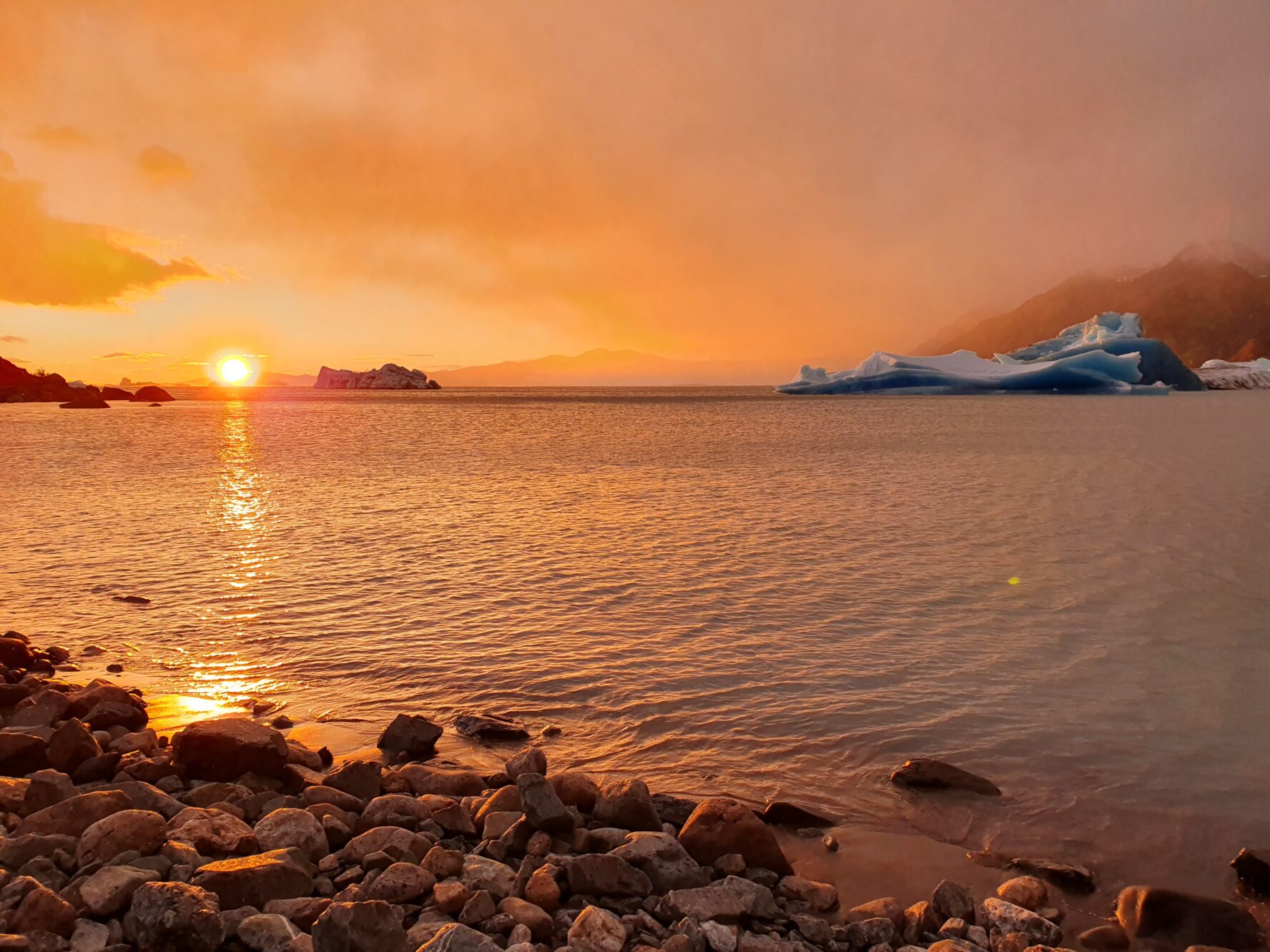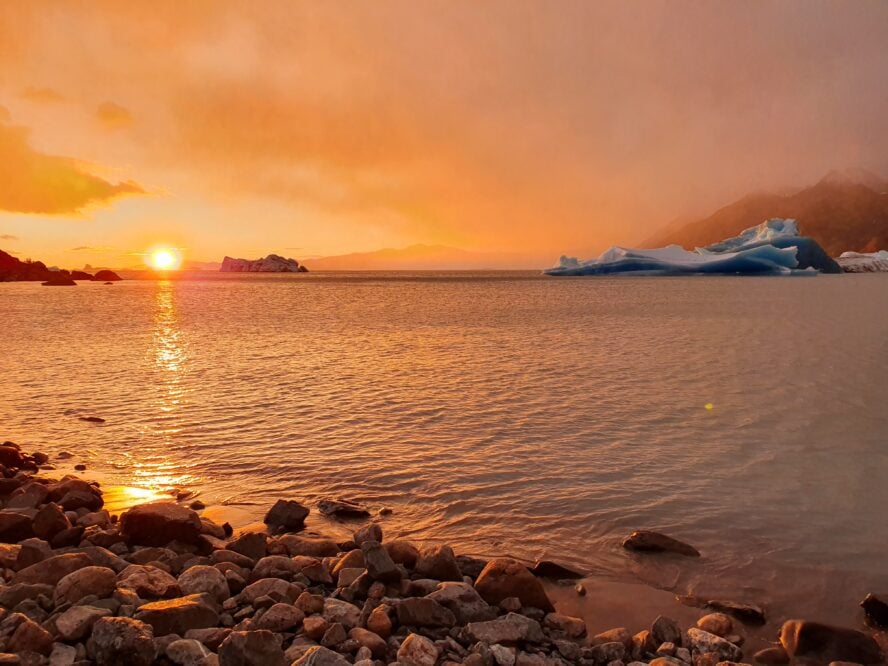 Tips for Your El Chaltén Hiking Trip in Patagonia
El Chaltén is the best of what Argentina and Patagonia have to offer. Whether you're an avid hiker looking for adventure or a family who wants to create memories for years to come, El Chaltén has a hike for you. Here are my tips to keep in mind when planning your El Chaltén trekking trip.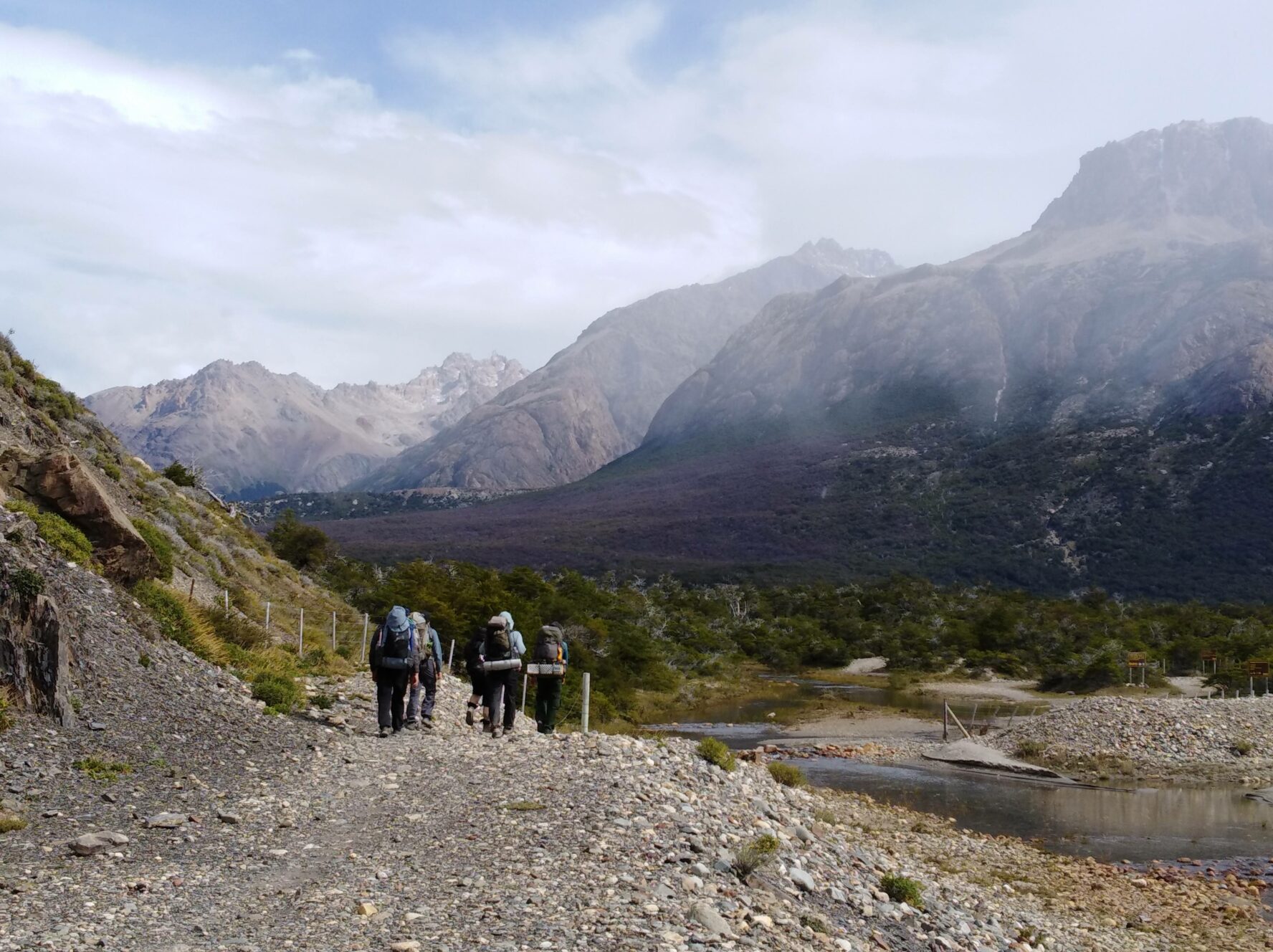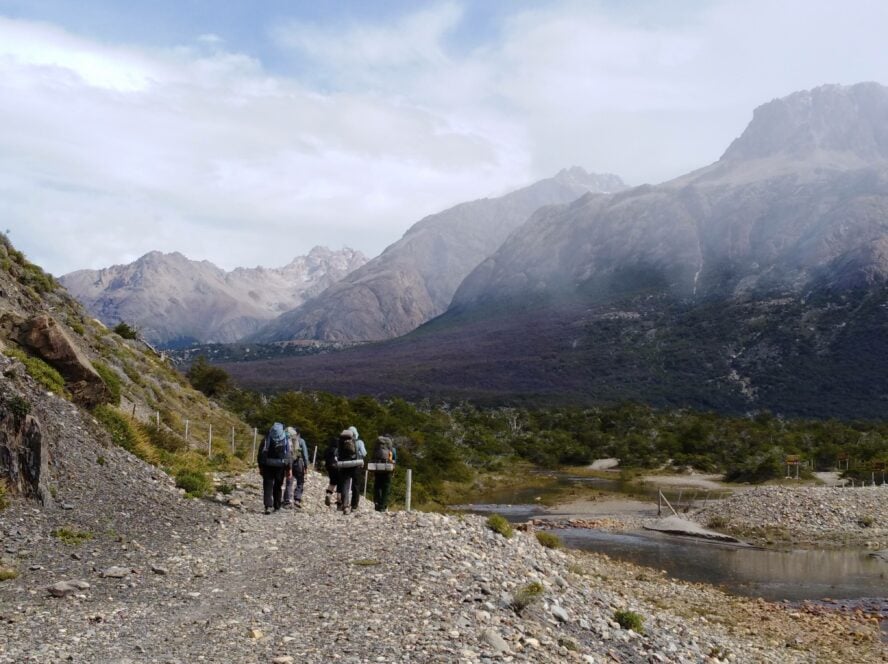 Patagonia's unexpected weather delivers all four seasons in minutes
Take any words of caution about Patagonia's volatile weather and multiply it by ten. Only then will you sense how moody the atmosphere over El Chaltén can be. In Bolivia or on the Inca Trail to Machu Picchu in Peru, you might experience all four seasons in a matter of days. In Patagonia, the seasons will change before your eyes in mere minutes. Don't trust the two-day forecast. The same glaciers responsible for creating the stunning landscapes — easily El Chaltén's biggest selling points — make the persistent winds icy cold. If you find yourself crossing a mountain pass when the wind is particularly strong, you'll have to wait until it dies down.
When should you plan your El Chaltén hiking tour? The high season starts in October and ends in April. You're likely to encounter lenient weather in mid-October or in late January. Even during otherwise promising weather windows, you can't be sure you'll hike under calm, blue skies.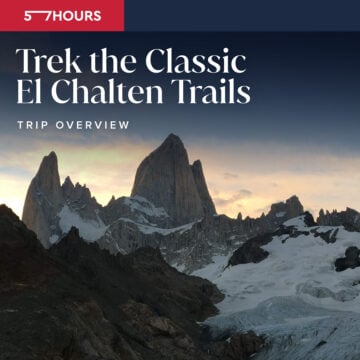 Get free trip brochure
Check your inbox
Do you need a permit for the best hikes in El Chaltén?
You don't need any permits for hiking the trails in El Chaltén, but visitors do need to pay an admission fee to stay in the Los Glaciares National Park. Children ages 12 and under enter at a reduced rate, while kids ages five and under enter free. If you book a guide, this fee will be part of the package. The free sites at El Huala in Lago Roca are primitive, so there are latrines but you'll need to pack in your own water.
Do you need a guide for El Chaltén trekking?
You don't need a guide to hike in the El Chaltén area of Argentina. The famous Fitz Roy Massif trek is well-marked and quite populated. You're unlikely to run into any issues if you stay on main trails and are reasonability fit. In fact, most tourists who visit this El Chaltén day hike complete the tour in simple running shoes. If you opt for some of the more challenging hikes, however, you need intermediate-level hiking skills. When registering for the trek, the national park authorities will also ask you about your previous experience and check your equipment.
While you aren't required to hire a guide, it will only better your El Chaltén experience. Guided tours are similar to other outdoor activities like skiing or climbing, you can't get to the next level if you don't have someone more experienced to show you the way. Guides not only can lead you to a hidden swimming hole, but you'll be ecstatic to have a helping hand when it comes to choosing a spot for your tent that's sheltered from the wind.
A few guided hikes I recommend in El Chaltén include the Huemul Circuit and Ice Trek in El Chaltén and Hiking Fitz Roy and Cerro Torre Massifs.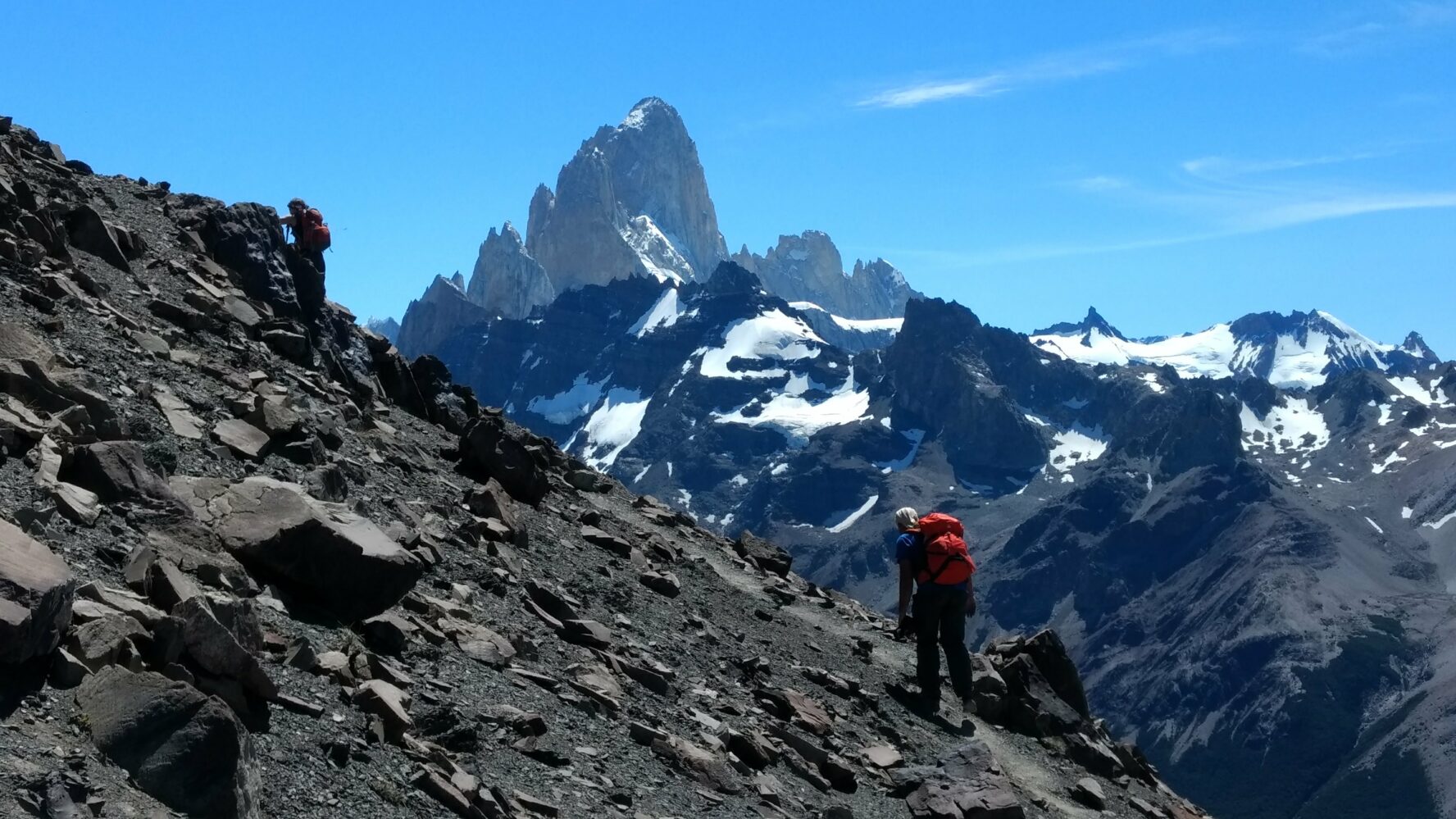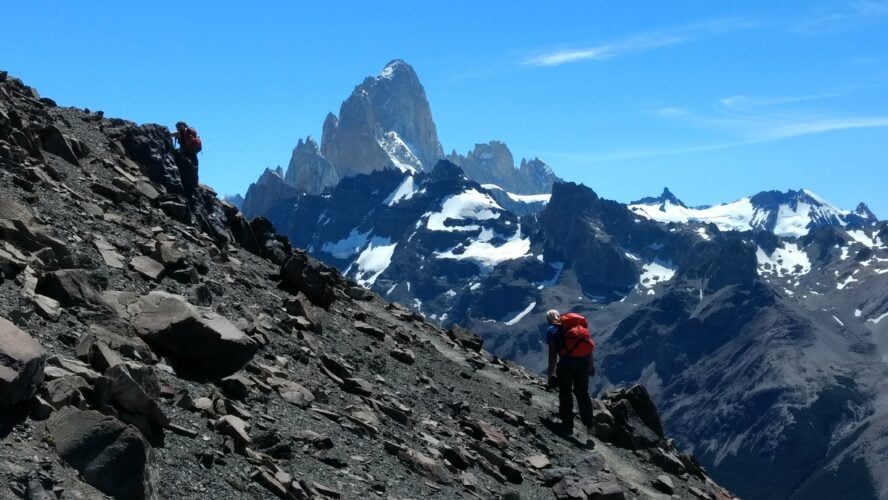 Hiking El Chaltén is accessible for a range of skill levels
The required level of fitness for hikes in El Chaltén depends on the area you want to hike. The Fitz Roy Massif trek is completely beginner-friendly. I've seen people well in their seventies complete it successfully. D'Agostini Steps are for intermediate climbers only. You'll need to be able to hike for a full day and have previous experience in ice trekking. The Huemul Pass requires additional technical knowledge and endurance. Not only will you hike for five days, but you'll also need to carry a full backpack. All of the hikes are at high alpine elevation, so make sure you go through height exposure training before exploring in the mountains.
Dress for the Patagonia weather with plenty of layers
The best defense to Patagonia's unpredictable weather is to bring and wear lots of layers. Start with warm base layers that are easy to take off, merino wool or quick-drying synthetics are preferred. Then finish up with a trusty waterproof jacket that can also block some of the wind. Nights in tents can get chilly, as you'll be sleeping at the foot of a glacier. Additional puffy jackets, warm hats and gloves can be game changers at the campsite. Equipment-wise, beginner trails don't require anything except regular walking shoes. Your ankles will have much better support from hiking boots, especially on steep parts of the trails.
Nothing goes bump in the night in Patagonia
Patagonia isn't known for its bustling nightlife, which includes the wildlife that is quite shy and keeps hidden. The most prominent inhabitants of Los Glaciares are birds. As you hike through scenic Lunga forests, you'll see woodpeckers. If you're lucky, you might spot a Patagonian mara, a curious-looking rodent resembling a hare or even a Huemul, endemic species of Andean deer. As you venture deeper into the mountains and reach less-populated campgrounds, you need to keep food secure. Foxes tend to scavenge in people's backpacks.
How do I get to El Chaltén?
The easiest option to get to El Chaltén is to fly into El Calafate, Argentina, from Buenos Aires. From there you can either rent a car or take a shuttle. El Chaltén stands at the base of the mountain and is a popular starting point for many hikes in Los Glaciares National Park. You'll find everything you need for your trip in town. Just make sure you bring cash, as there are no ATMs in El Chaltén.
If you are only stepping into the world of hiking, the classic 3-day Fitz Roy and Torre Massif trek was made for you. Intermediate hikers will love the 2-day hike to Paso del Cuadrado. The unique 5-day Huemul Circuit trip, combined with an ice trek, is a true technical feast. El Chaltén really does have something for everyone!