Why the Magical Isle of Skye Should Be Your Next Hiking Adventure
Known for volatile weather, jaw-dropping sights and rich history full of turmoil and magic alike, be sure to bring your camera along to the ever cloud-clad, misty Isle of Skye — the crown jewel for hiking in Scotland.
The Isle of Skye is where many sci-fi and fantasy heroes have come to life. With epic landscapes that need to be seen to be believed, you can hike where dinosaurs have left their footprints, among fairy circles, and in the places where clans have spilled blood centuries ago.
Known as the "Island of Clouds," see gloomy ruins and sweeping landslides, crystal lochs said to house mythical creatures, and leave the crowds behind on trails so remote that distant whale songs and wandering sheep will be your only companions. Whether you're here to cross a specific trail off your bucket list like the Cuillin Ridge, or experience the rich history of the area, one thing's certain — Skye is worth the trip. Here are my tips for getting the most out of your mythical Isle of Skye hiking adventure.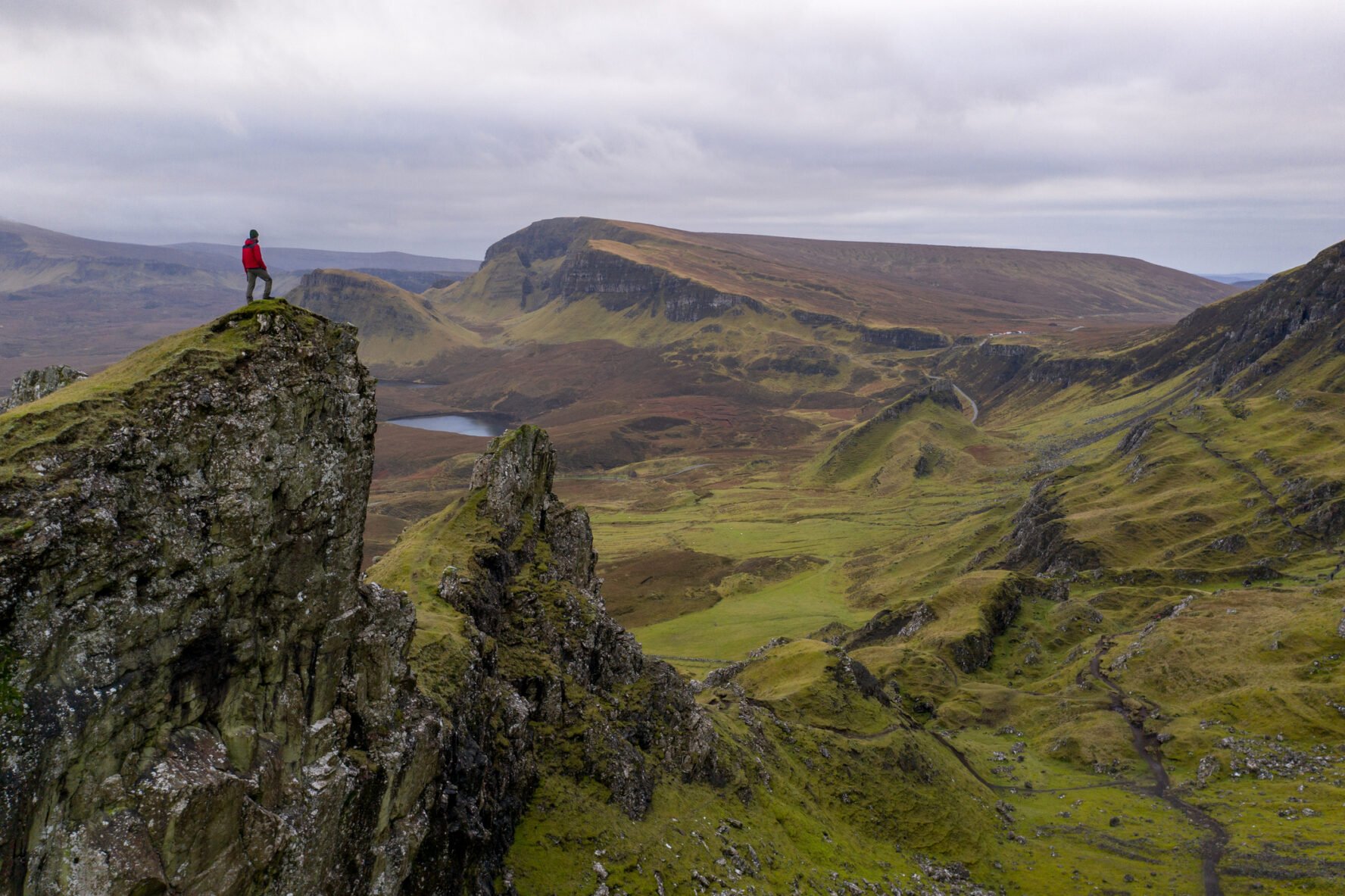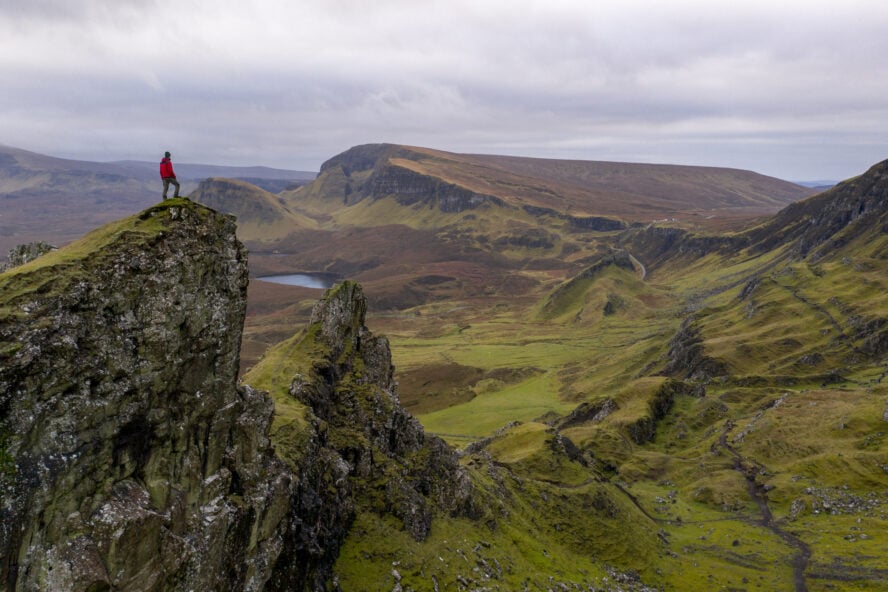 Pros and Cons of Hiking on the Isle of Skye
Challenging hikes with huge rewards
Rich history, both real and mythical!
Stunning vistas, straight out of a sci-fi movie
Erratic weather poses its own challenges
My ties to Skye
My first calling was publishing, but I've always had an interest in the outdoors. I found myself escaping from the city more often, so I called it quits on the 9-5 and got my mountain leader qualification. Based outside of York, I guide all over the UK and Ireland and am the founder of Large Outdoors. For over 12 years, I've got to see people achieve what they thought they couldn't. Encouraging people and developing relationships with my clients is what I really love doing.
What is the Isle of Skye known for?
Skye will never stop surprising you. As cliche as it sounds, it has good everything, which is why it's widely known as one of the best hiking destinations in the world. It's set in breathtaking coastal scenery with beautiful, quiet bays, and the jagged spine of the massive mountains of the Cuillin range jutting out from the middle of the isle. Yes, the weather is about as wishy-washy as it is on the GR20, but it hardly matters. If there's wind or clouds looming practically above your head, opt for scenic low walks. If you get lucky and there's no clouds in sight, high-level trails have views that will astound you.
The Best Isle of Skye Hikes for Everybody
Most people tend to go to Isle of Skye for a week or so, doing lots of little different walks in different areas, instead of longer distance thru-hike, like the strikingly similar Laugavegur hiking Trail. This works well because you have less chance of the weather ruining your plans. Some people come here with a specific trail in mind, most likely on hiking tours in the Cuillin hills or the ridge — an impressive feather in your cap for more experienced hikers. But, no matter what your skill level is, if you're looking for a hike that will challenge you and allow you to enjoy Skye's impressive landscapes, there's plenty to choose from. Here are some of my favorites:
1. Quiraing has some of the best views on Skye
Quiraing is easily my favorite hike. It's a It's an 11km (7 mile) loop that's a good introduction to what Skye has to offer. Quiraing is a massive landslide with cliffs that slump down and create a really bizarre landscape of looming towers and pinnacles that guard hidden valleys. It's a famous area, and people will stop at the car park and admire the views. For those that choose to leave their car, they'll find themselves amongst impressive Lord of the Rings-esque landscapes. The circuit has a sharp, but short uphill start with rewarding views towards the outer Hebrides.
About 50 miles away, Hebrides are the last bit of land before you hit Skye. They are a wonderful sight to see, with curious geological features and golden eagles soaring above. I could go on and on about Quiraing and still not do it any justice. It's a trail you have to walk on your own — and most everyone can — to truly understand how spectacular it is. Be sure to wear proper footwear and leave the sandals at home, though.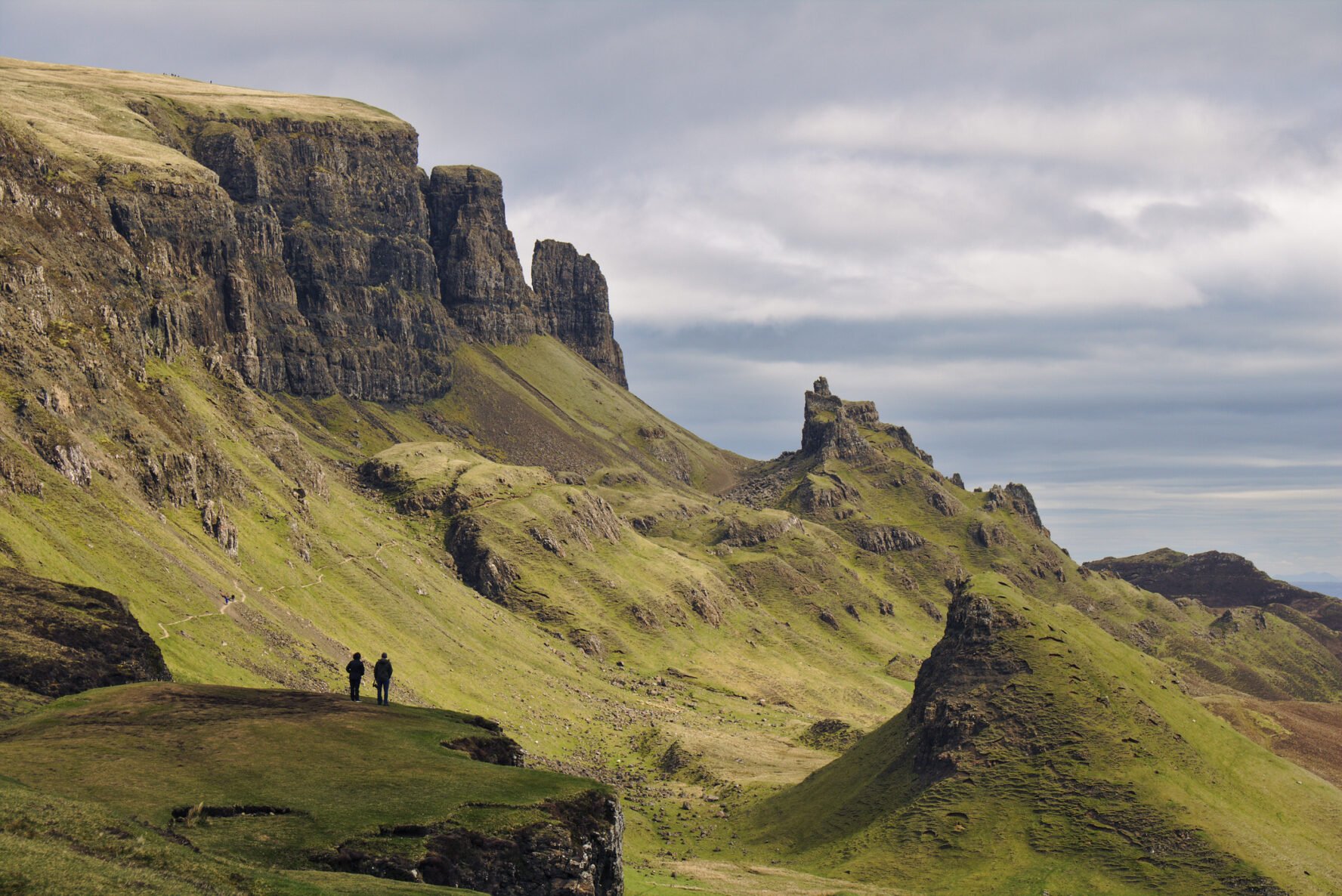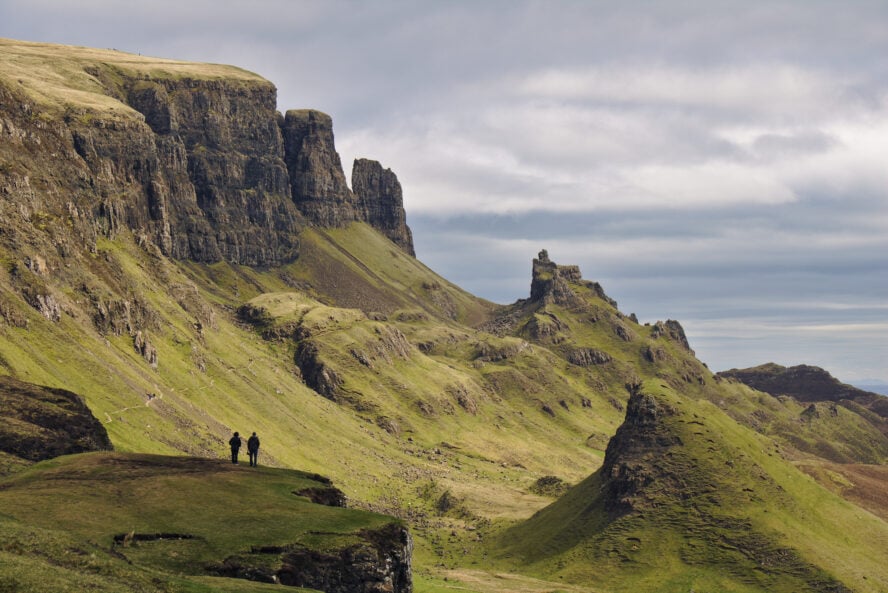 2. MacLeod's Maidens will leave you speechless
If you want to enjoy Skye's beauty in silence, away from the crowds, MacLeod's Maidens on the northwest coast is the place to explore. This wonderful 16km (10 mile) trek starts with quiet bays. You won't be the only one who appreciates the quiet; if you picked the right season for your hiking tours, you might just see sea otters splashing around on the shores. From here, you walk along the cliff edges and end up at the MacLeod's Maidens, a group of three impressive and famous sea stacks. You can choose to go back the same way or make it a loop. Unless you're an experienced hiker, I don't advise you to do this. This is a moderately challenging hike due to its length and your legs are sure to get a good workout.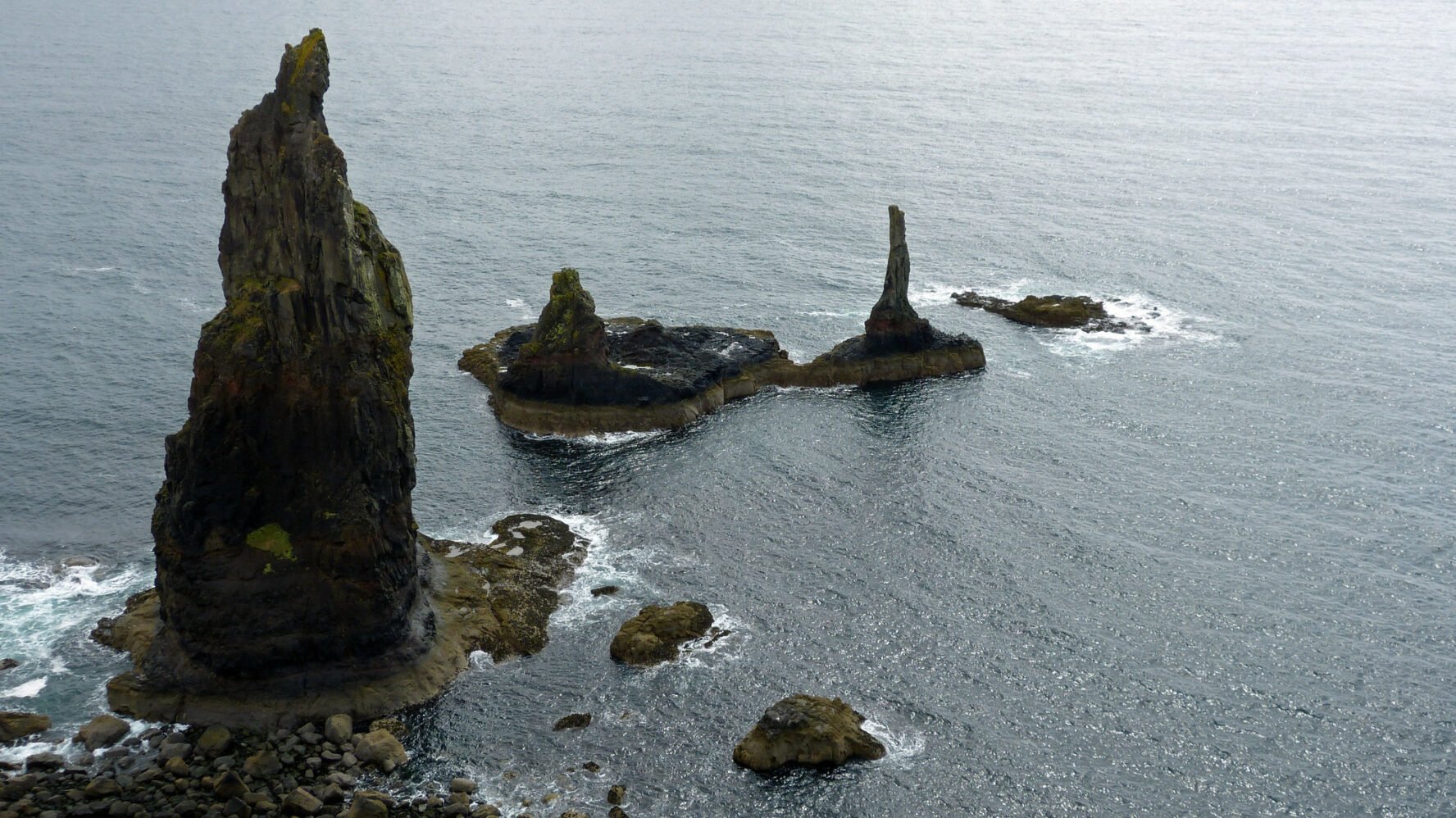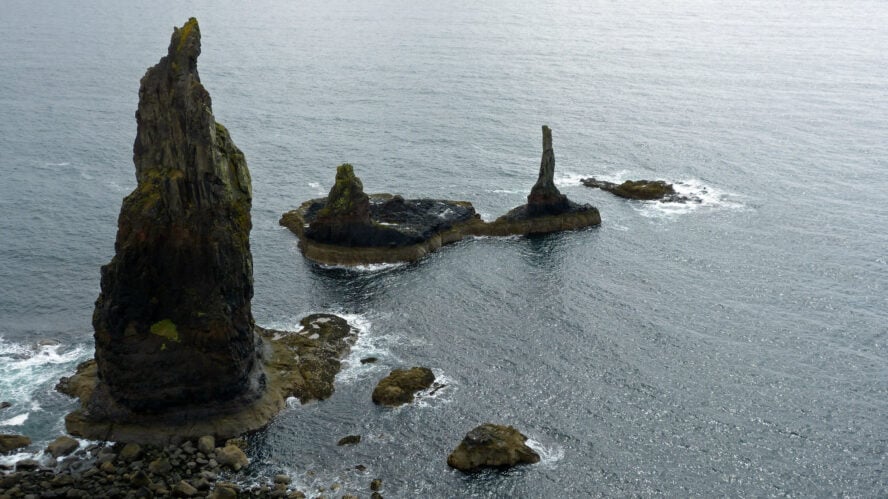 3. Cuillin Ridge is the quintessential Isle of Skye challenge
Seasoned hikers from all over come to Skye with one objective in their mind — taking on the iconic Cuillin Ridge. If you were to ask a child to draw a mountain range, they would draw Cuillin, a long mountainous spine with over 22 jagged peaks waiting to be scaled. You can hardly call traversing Cuillin Ridge hiking; it's more appropriately described as scrambling. Even getting here is a little adventure in itself. You jump on a boat that takes you to a small, remote loch at the foot of the ridge. From there, it's just you and a 11-kilometer-long rock precipice.
You'll want to pack gloves because the rocks are sharp and will shred your hands. If you're a climber, there's a treat waiting for you in the form of Inaccessible Pinnacle — Isle of Skye's most notorious climb. It takes effort and skill, and not only to scale, but to get to. Our guides spend years trying to get that perfect weather window to climb the whole ridge. We do a lot of day hikes here, making our way to one of the peaks if the skill level of the group allows. It's a great opportunity to take a breather from the crowds, but if you want to climb the whole ridge, you'll really want to cater to the erratic weather.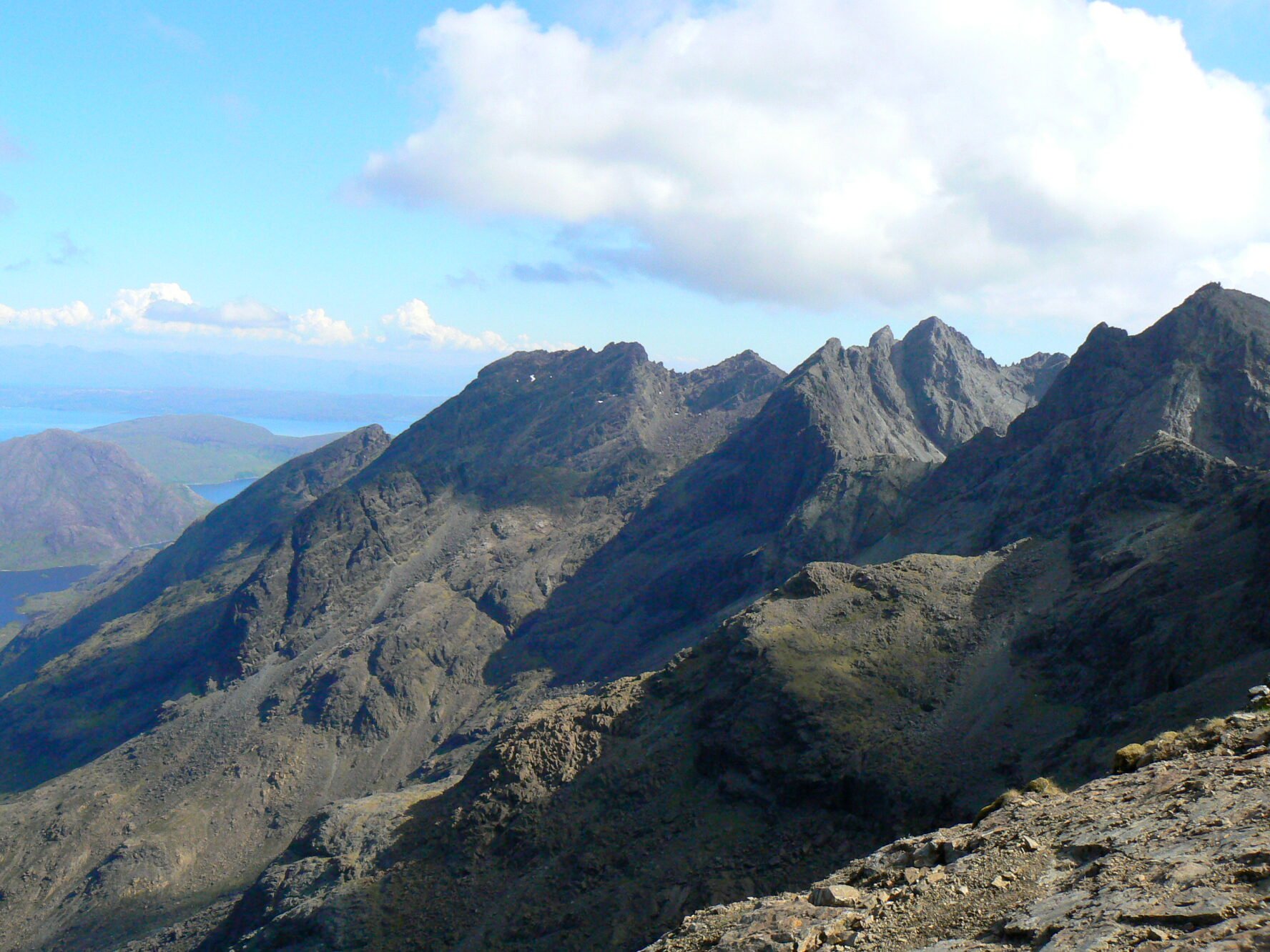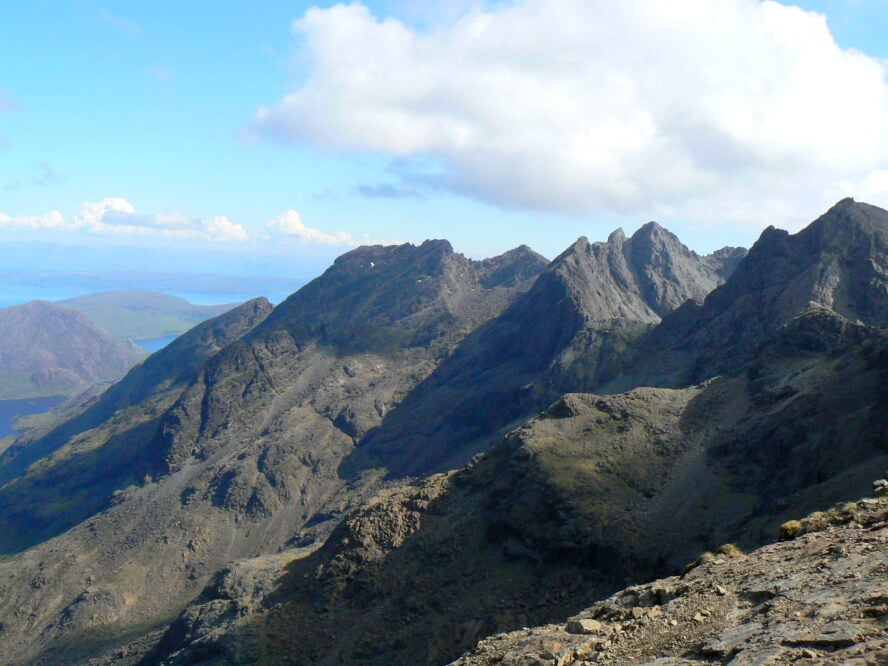 4. The Isle of Skye Trail
The Isle of Skye Trail, also known as just the Skye Trail, is probably the best way to experience the island on foot. The longest trail on the island, it takes you on 128 kms (80 miles) of breathtaking, ever-changing landscapes. The northern end was originally covered in ash and lava flows from the volcanoes. Today it's quite flat and set on rolling green landslides. The middle part of the island is where you find all the mountains, and then comes the southern part, where the trail finishes up in lowland levels, getting great contrast in sceneries.
Even though it's an established trail, there is no footpath for most of it. You'll really want a guide for this one, otherwise it's just you walking across the open mountainside. Since it is the longest trail, we break it off into small chunks and take the minivan back to Portree. If you want to sleep under the stars, or more likely, rain, of the Isle's erratic sky, there are plenty of campgrounds.
5. Up close and personal with the iconic Old Man of Storr
For most of the people, the Old Man of Storr is the one location they saw a photo of and it made them book a ticket to Scotland. Synonymous with Isle of Skye, Old Man of Storr is a must-hike. It's a bit of a short and sharp push, and for a trail that's only about 4.5km long (about 3 miles), your lungs will feel it.
One of Scotland's most iconic natural features, this bizarre looking pinnacle sticks straight out of a side of the mountain. Despite being quite steep, it's a well established trek. You can definitely take your young ones here, but you might have some trouble getting them back down, since Old Man of Storr is featured in lots of SF and fantasy films, they might not want to leave this magical place.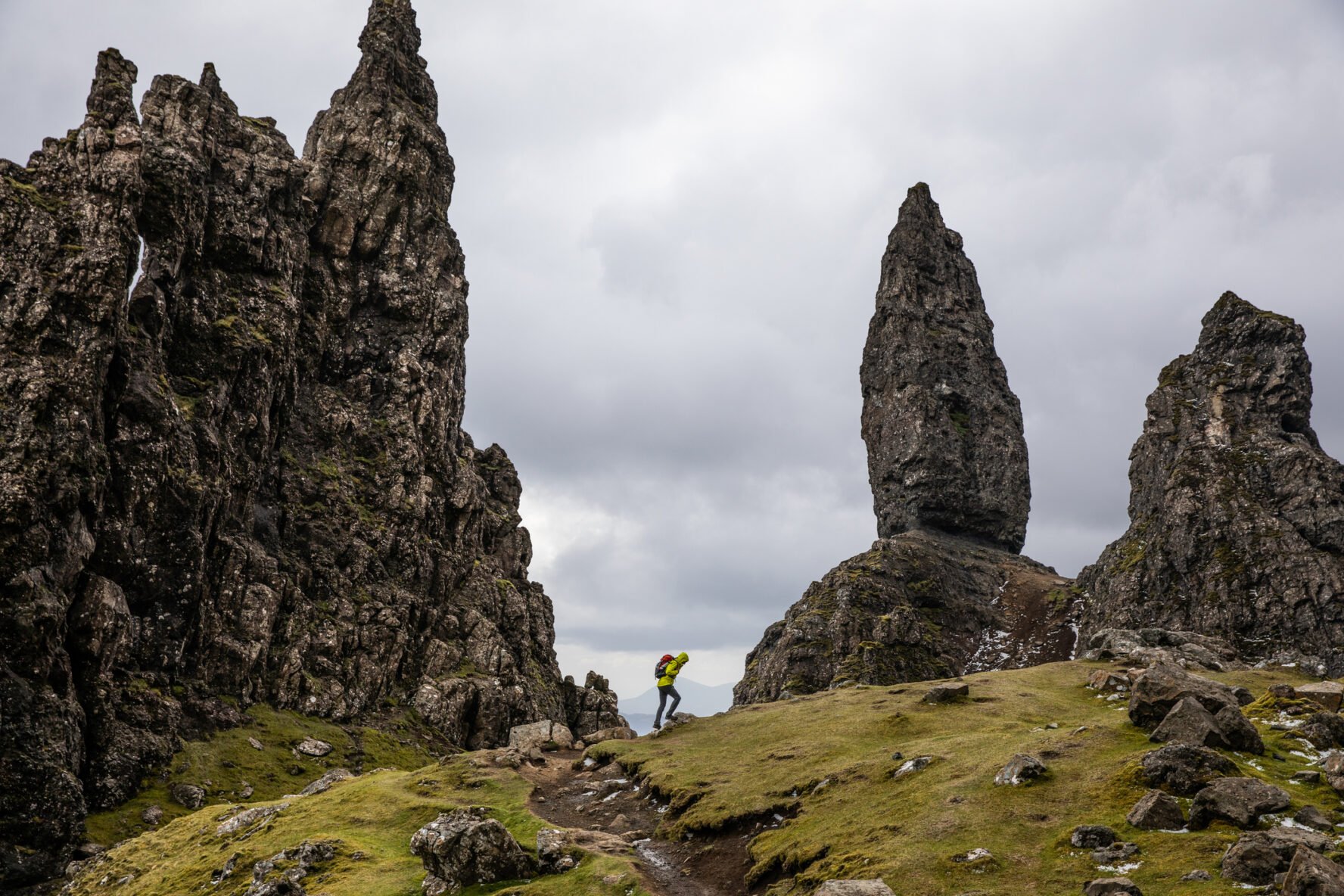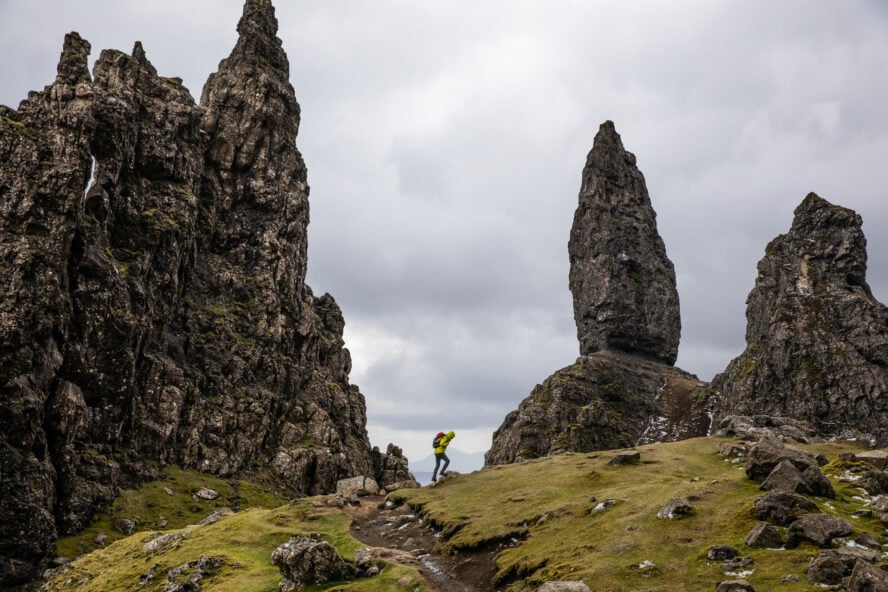 6. Catch a whale sighting at Waternish Point
One of my remote favorites, the Waternish Point hike is a stunning 11-13 km (7 to 8 miles ) long coastal out-and-back hike that starts off at the Trumpan Church and takes you past highlights like the Fairy Bridge. Waternish is the place to be for whale watching. If you don't catch the famous minke whales on their migratory path, there will be plenty of dolphins and other sea life to keep you company.
Be sure to wander around the ruins of the medieval Trumpan Church — a grim massacre site in 1578 during the Macleod and MacDonald clan wars, now a landmark and reminder of historic events that took place on Skye. In the late afternoon, this trek turns into a beautiful spot for sunset watching. Rest your legs, have tea and cakes in the quaint Skyeskyns yurt cafe that will replenish you for your trip back, or stay overnight and stargaze.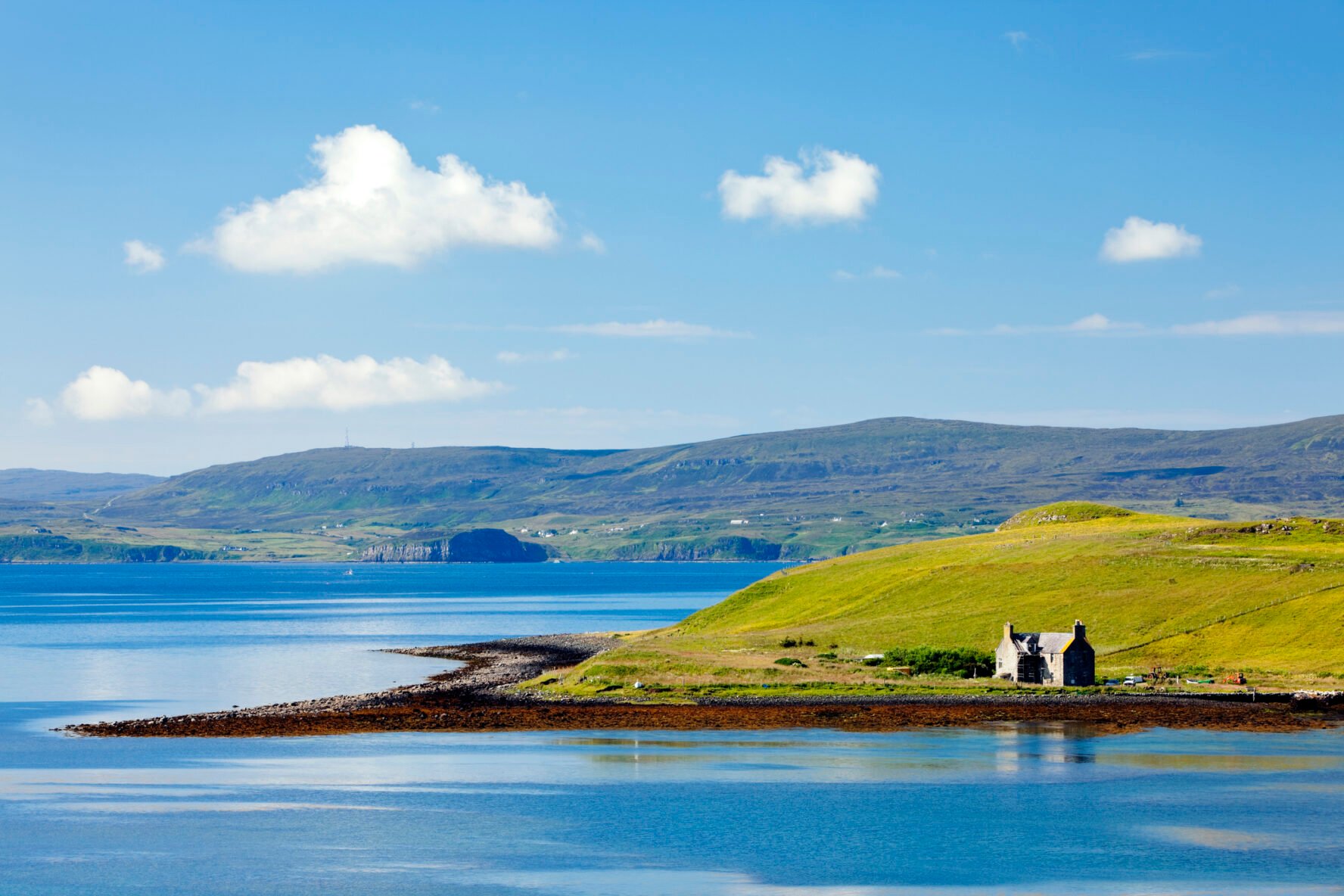 Planning Your Isle of Skye Hiking Trip
With Scotland's most beautiful hikes, it's no surprise that the Isle of Skye is a highly coveted tourist spot. Here are some of my travel planning tips that will make sure you get the most out of your Isle of Skye trip, including extra activities for when the weather goes awry and info to help you with packing gear and logistics.
How long should you spend on the Isle of Skye?
If you want to experience everything that Isle of Skye has to offer, three to four days is necessary, but spending a week is really ideal. Although not that large in area, there is a lot to see and do. A week will ensure you can take on most of the popular treks, visit the historic sites and immerse yourself in all things Skye. You'll be able to explore the entirety of the island. I recommend two days minimum, if you're strapped for time and want to take in just the highlights.
When is the best time to visit the Isle of Skye?
The best time to visit the Isle of Skye is spring, summer, and early fall. That's when the weather will be most cooperative. Most tourists finish their summer trip to Glasgow and Edinburgh with this checkpoint. My favorite time of the year is September and October, when the weather is least likely to surprise you. Crowds have died down, too, so you'll have more of the popular places all to yourself.
The weather has a mind of its own
When you look up Skye, more often than not, its spires and cliffs are cloud-clad. Yes, the weather is wonderfully unpredictable here. On most of our trips, we joke that in the morning, Plan A has already become Plan B. By the time we have breakfast, we're on Plan C. In the winter, Skye is known for being windy. That's when the Cuillin Ridge becomes the star of the show, when the winter conditions make it even more challenging — and rewarding — to complete.
When the weather is just dreadful, I recommend going shopping and taking in the culture. There's a ton of amazing little tours that take you through all sorts of arts and crafts shops and art galleries. Some people set up galleries in their sheds of all the things they've made, and it's so interesting to tour and catch a glimpse of what life is life for inhabitants of the island. If you're willing to roll with the punches, even though the weather has its own agenda, it will hardly ruin yours.
Exploring Isle of Skye on your own
You are permitted to hike Isle of Skye by yourself, but I would recommend only going alone if you have a good map, a compass, and you know how to use it. Even with being a really experienced hiker, there are risks if you don't know the area. The trails aren't that well marked and there are no signposts anywhere. On top of that, cell service is spotty, which adds to the experience of hiking on these historic trails, but can be a problem if you get lost. And if you do lose your way, it can be difficult to find someone to help you. This is one location where it's a good idea to consider hiking with a guide.
Secondary to your safety, a guide will ensure you get to experience all the Isle of Skye has to offer. They know where to head if the weather isn't cooperating and they can tell you all about the area. There's a huge history of people and culture, including dinosaurs, and even supposed fairies. A guide will be able to provide you with the background information while you trek across epically beautiful landscapes. If you're looking for a guidebook to familiarize yourself with the area, Walking the Isle of Skye (Cicerone Guides) by Terry Marsh is incredibly comprehensive; it's got trail maps to dozens of Skye hikes along with all the background info you'll need to know.
What to bring to Isle of Skye?
The temperature varies and the weather can change pretty drastically, so layers and waterproof jackets and pants are your best friends. It's quite remote and there's not much cell service in a lot of places, so you need to be prepared. Pack a group shelter bag or a tent and be sure to have a compass on you and good maps of the area if you're travelling without a guide. Depending on the trails you want to walk, you'll want to bring decent mountaineering shoes, your kit if you're planning on climbing, and gloves for the sharp rocks.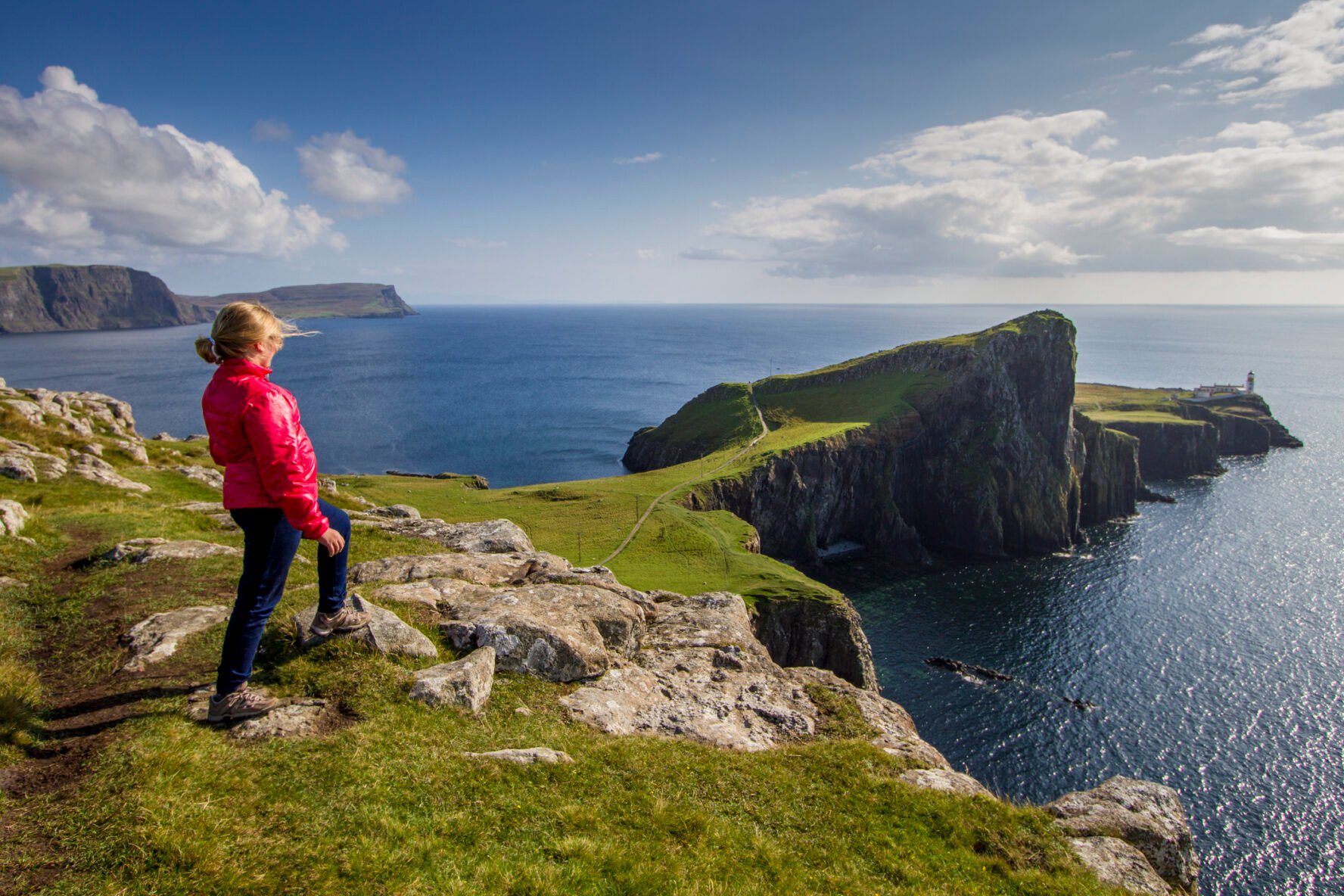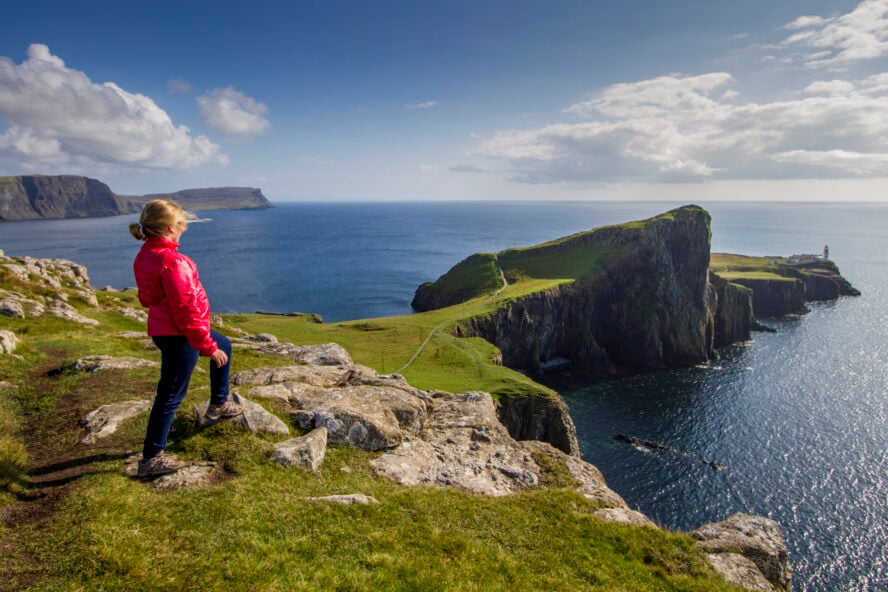 Getting to Isle of Skye
The nearest international airport is Glasgow. If you rent a car and drive from there, it's just over 200 miles from Glasgow to Portree, the best place to make your home base. It's about a six-hour drive, but in the summer, when traffic is higher, it can take a little longer. You can also take a train from Glasgow or Inverness. They won't take you right to Skye, but from Mallaig you can catch the ferry over, or from Kyle, you can take a bus over the Skye Bridge.
Once on the island, a car is essential to getting around. At 50 miles long and 25 miles wide, the island is a fair size, and it takes about two hours to drive around the island due to the small size of the roads. That's without taking into account all of the amazing hikes, photo ops, historical points and other things you'll want to stop and experience along the way. If you choose a guided tour of the island, the guide service will provide the transportation for you.
Where to stay on Isle of Skye?
When choosing a place to stay, Portree would be your best bet, in my opinion. As the capital of Isle of Skye, it has the most options for different types of accommodation; hostels, hotels, guesthouses — you name it. Be sure to check out their great seafood restaurants, as well as the picturesque pink, yellow and blue painted cottages at the port.
Broadford, the first stop when you get onto the island, has a couple of pubs and a shop, and that's about it. It's not very big at all. The main High Street is probably a mile drive and you've done the whole place, really. Then there's the northern village of Dunvegan, which is famous for the Dunvegan Castle — home of the Chiefs of the Clan MacLeod for 800 years and the oldest continuously inhabited castle in Scotland.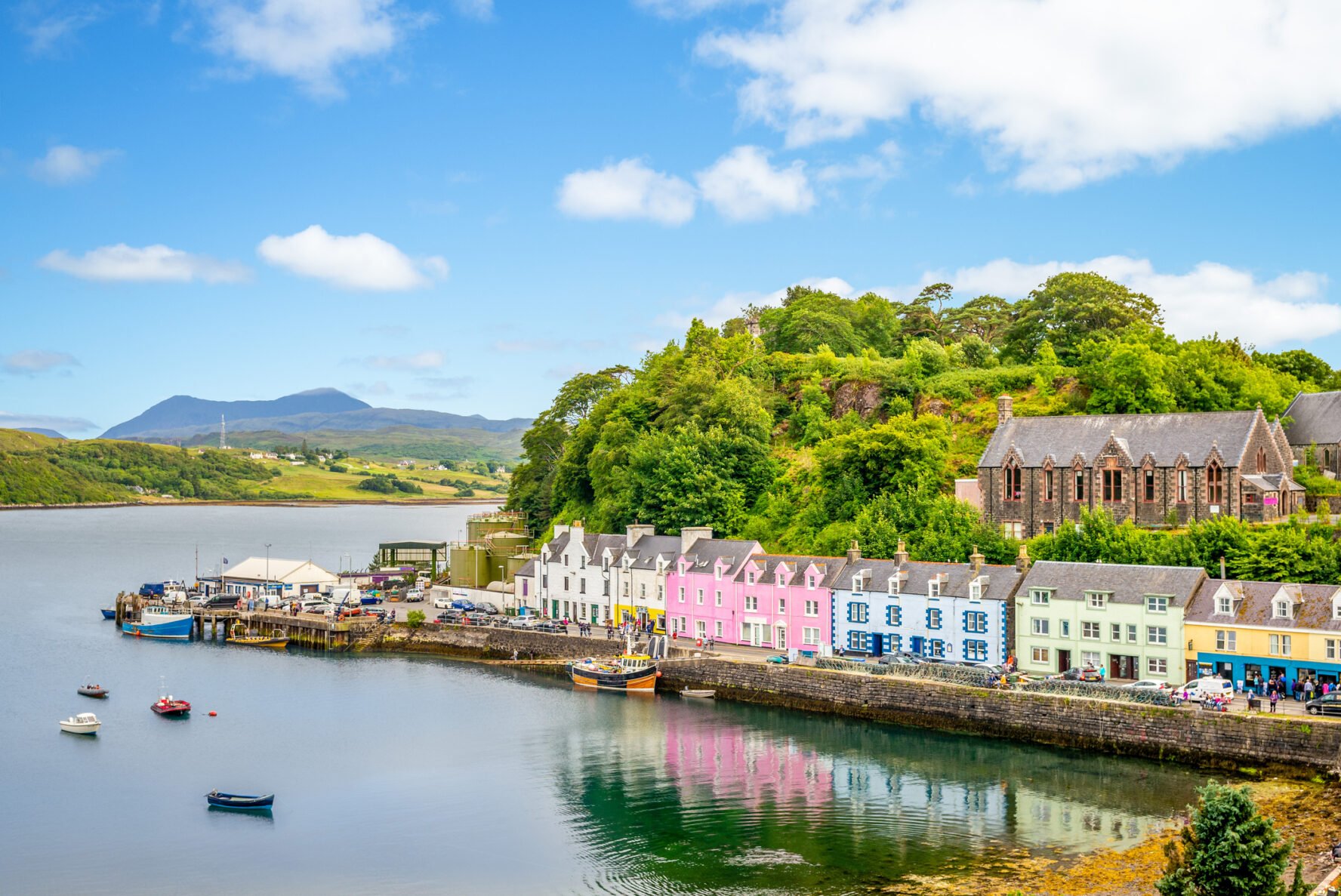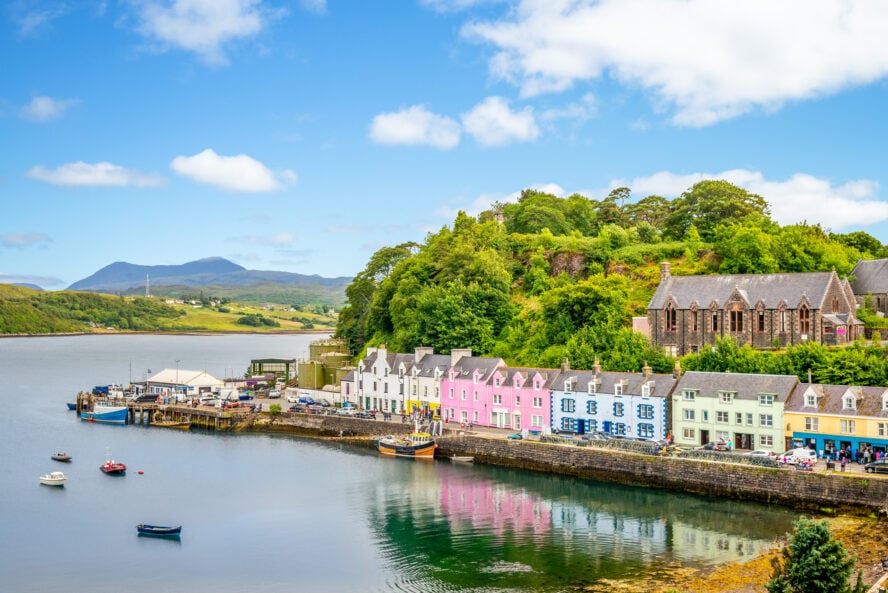 Plan ahead, Isle of Skye is a popular destination
Isle of Skye certainly deserves the hype. And for all the hype, even more people are interested in visiting and hiking in Skye. Booking in advance is crucial. You'll want to do research and make a plan before visiting the island. In the summer months, crowds swarm Skye; it's tourist central here. Make sure you've booked your accommodation and even a table at a restaurant you plan to visit months in advance. also, if you're new to hiking or you need a quick refresher, make sure to check out these hiking tips for beginners.
Make sea kayaking a part of your adventure
If your legs need a bit of a rest after all that hiking, but you're still hungry for more breathtaking sights, then let your core and arms do the work while you admire the Isle of Skye from sea level. Paddle with sea eagles soaring above you and sea otters lounging on Skye's shoreline. Depending on your level of experience, what you're looking for, and what the weather has in store, you can be gliding on glass or in for the wildest ride of your life. Either way, for adventures looking to get out on the water, it's hugely rewarding.
Other must-try hikes in the North of Europe
Want a more low-down tour that's crowd-free in peak summer? Try the North York Moors walks in northeastern Yorkshire, England. For something more exotic, head to the Land of Fire and Ice for a hiking tour of the hidden trails of Iceland, or experience some of the most remote and isolated landscapes in the world by hiking the Faroe Islands.
Are you ready to hike through history and jaw-dropping scenery of Isle of Skye? Go on a guided once-in-a-lifetime Isle of Skye day hiking tour.