Discover the Best of Peru on the 4-Day Santa Cruz Trek
Some hikes are simply a form of recreation, but hiking the Santa Cruz Trek is an experience. While discovering this alpine wonderland, you might discover yourself, too.
If you were to combine alpine vistas one could encounter hiking the W Trek and the incomparable history of hiking the Inca Trail, you would get the Santa Cruz Trek. Just as gorgeous and challenging as its Patagonian counterparts, but even more wild, the Santa Cruz Trek winds through 46 kilometers (28 miles) of dramatic mountain paths. The circuit trek will take you past striking turquoise glacial lakes and ancient Incan ruins that tell the history to those who come to listen.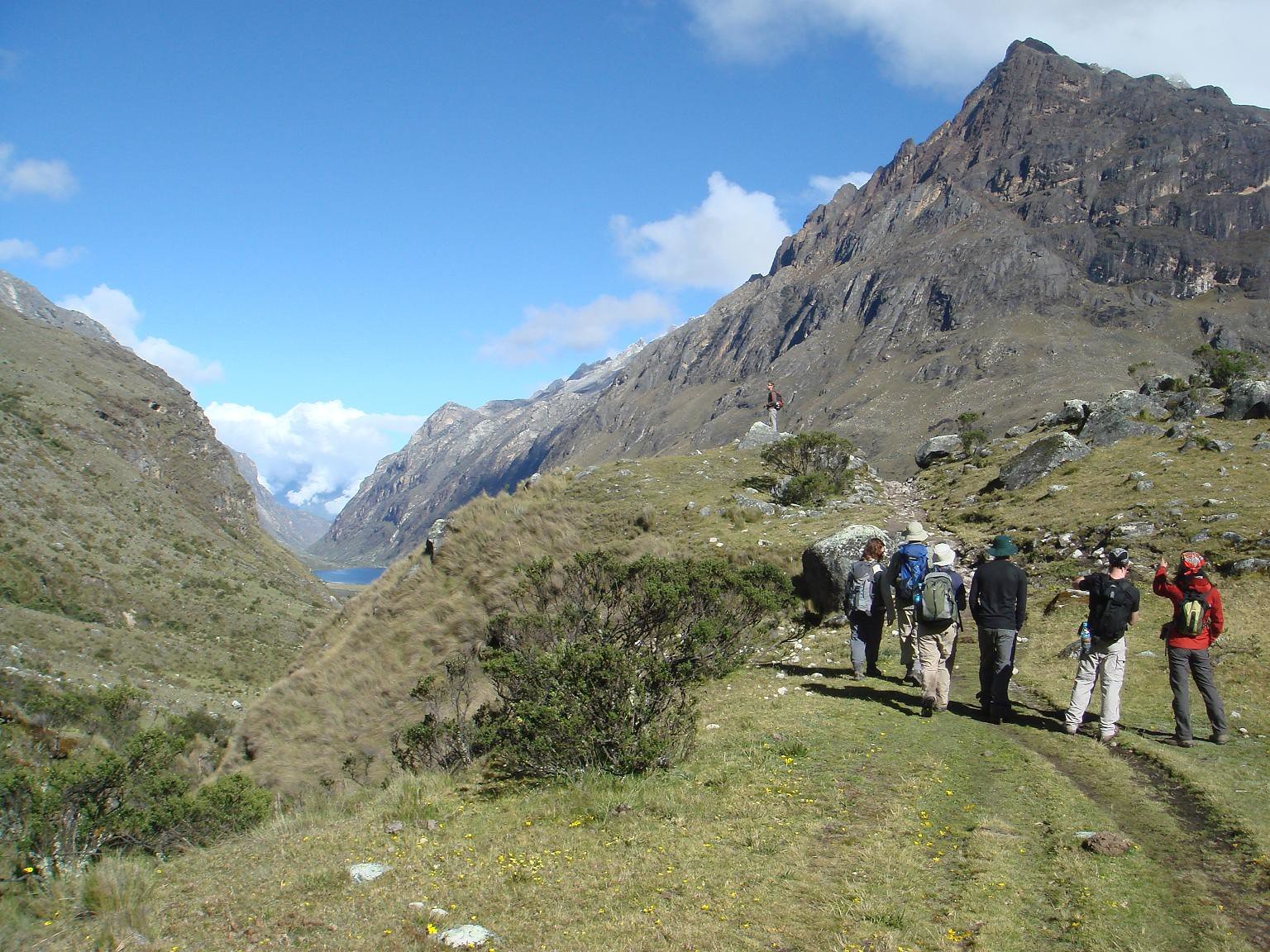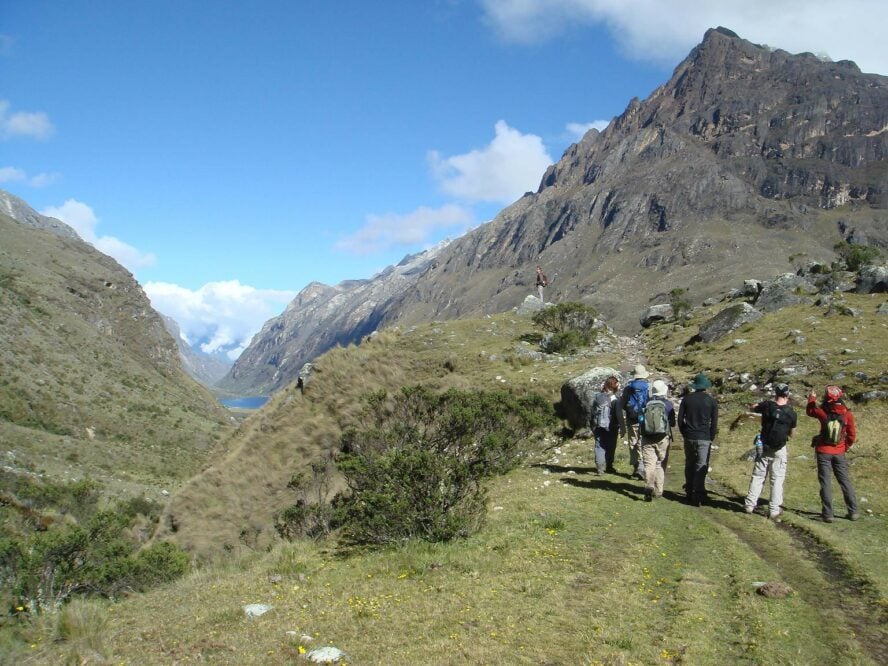 Pros and Cons of Hiking the Santa Cruz Trek
Discover jaw-dropping alpine vistas
Challenge yourself with a once-in-a-lifetime hike
Be one with nature and see what you're made of
Its isolation is a double-edged sword
Give yourself time to adjust to altitude sickness
The Santa Cruz Trek is situated in a UNESCO World Biosphere Reserve, threading across the Cordillera Blanca range. In the native Quechua language, the range is known as Yurak Janka, and is the highest tropical mountain range in the world. This stunning range falls under the Huascaran National Park territory and has world-renowned trails for everything from hiking to mountain biking. Immersing yourself in pure alpine wilderness, far away from civilization is an experience unlike any other. There is something about being alone with nature and being left to your own devices that lets you see parts of yourself you never knew were there.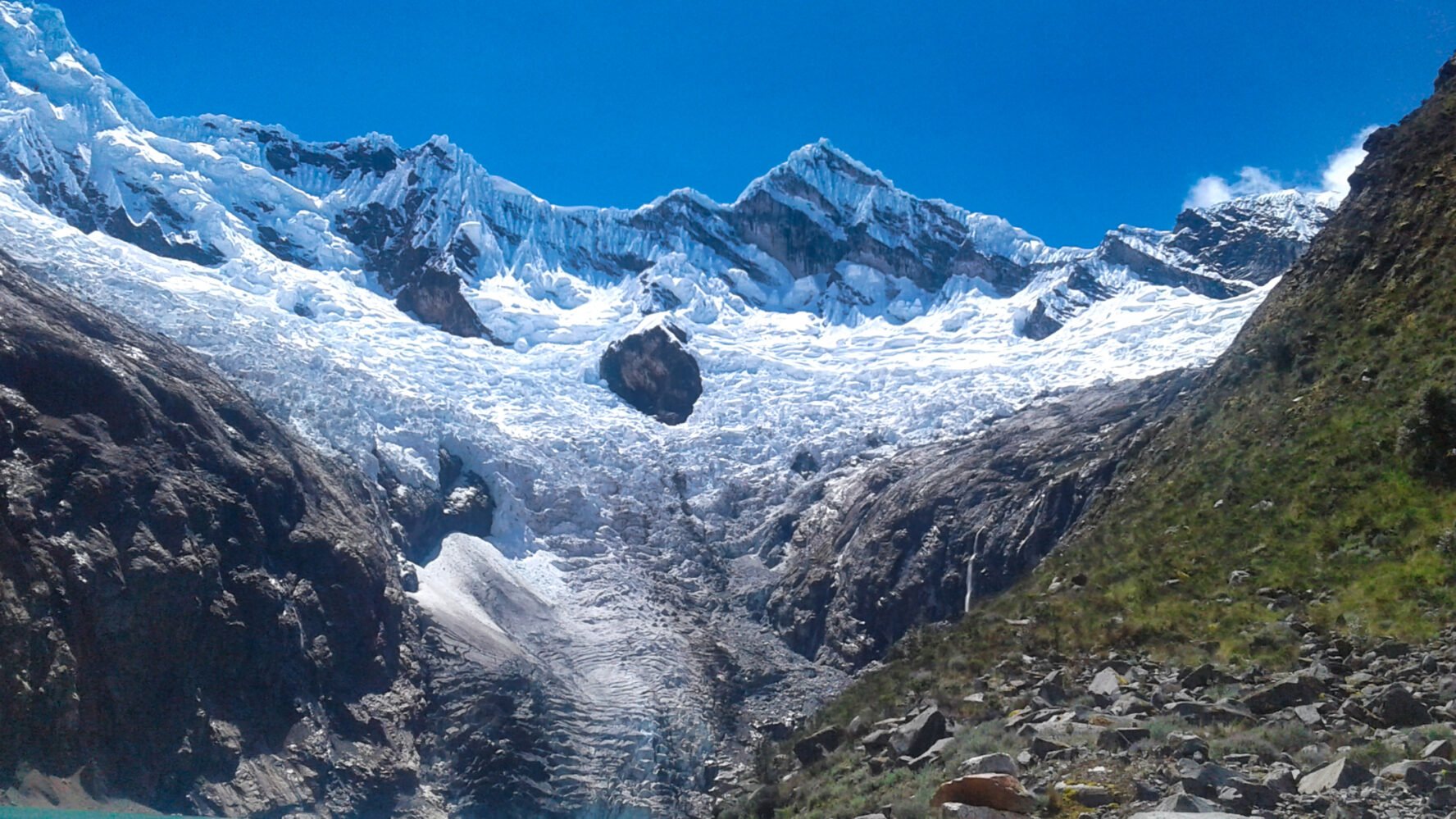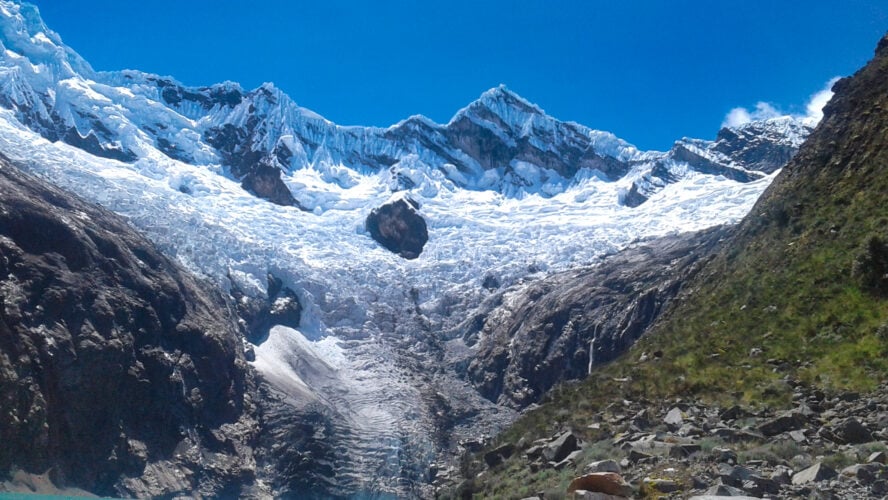 The Andes never fail to surprise me
I'm a second generation adventurer and have more than 16 years of guiding experience. I started guiding in my last year of high school, but wasn't sure where I wanted to guide. After travelling the world, I realized there was nothing like the gorgeous Cordillera Blancas. There was no doubt in my mind that I wanted to be a guide here for the rest of my life, so I started my own guiding agency, Eco Ice Peru.
Being cut off from civilization can be oddly freeing. On an adventure like the Santa Cruz Trek, we'll encounter an animal or two, but mostly it's just me, a group of travellers and the wilderness. Being a guide allows me to witness the unique experience of seeing people connect with nature first-hand. Their reactions never fail to fulfill me.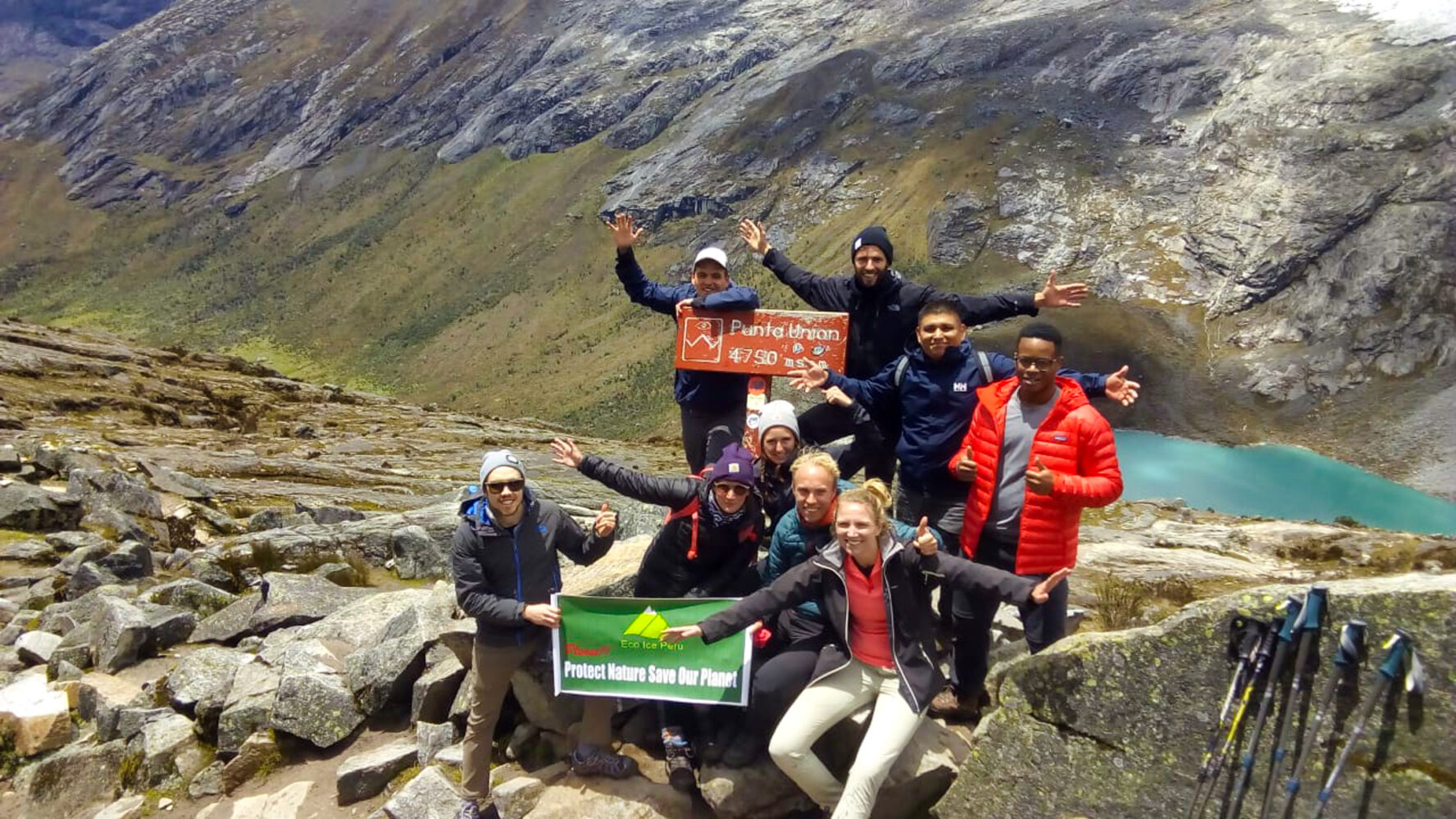 Hiking the Iconic Santa Cruz Trek
Untouched wilderness, a unique sense of solitude, and breathtaking vistas wherever you look — I can't recommend hiking this amazing trek enough. This is an overview of what spending time in the gorgeous Cordillera Blanca mountains looks like.You can view the full Santa Cruz Trek trail map on All Trails. Be warned, by the time I'm finished explaining what four days of hiking this trail looks like, you'll want to book your Santa Cruz Trek trip ASAP.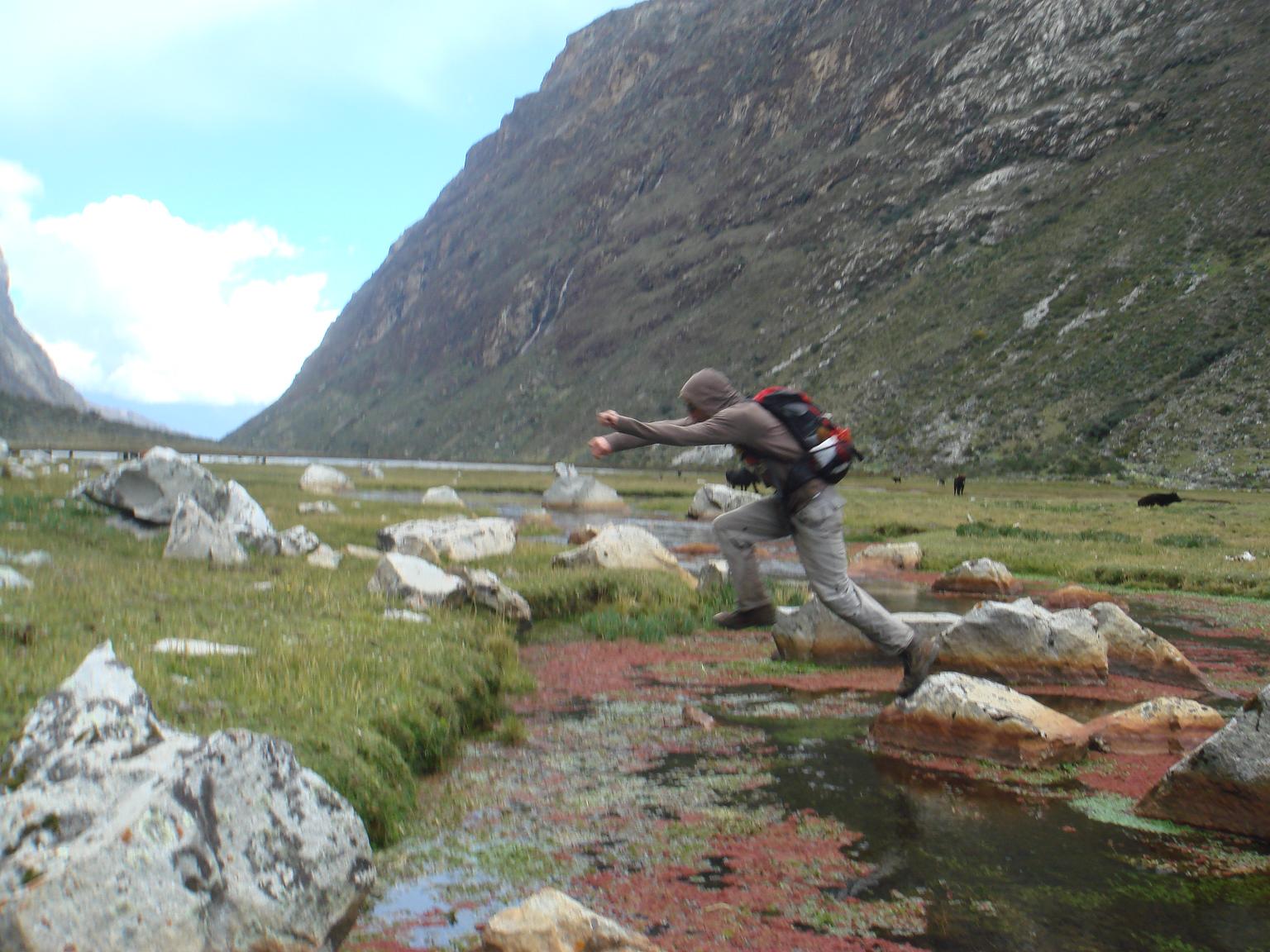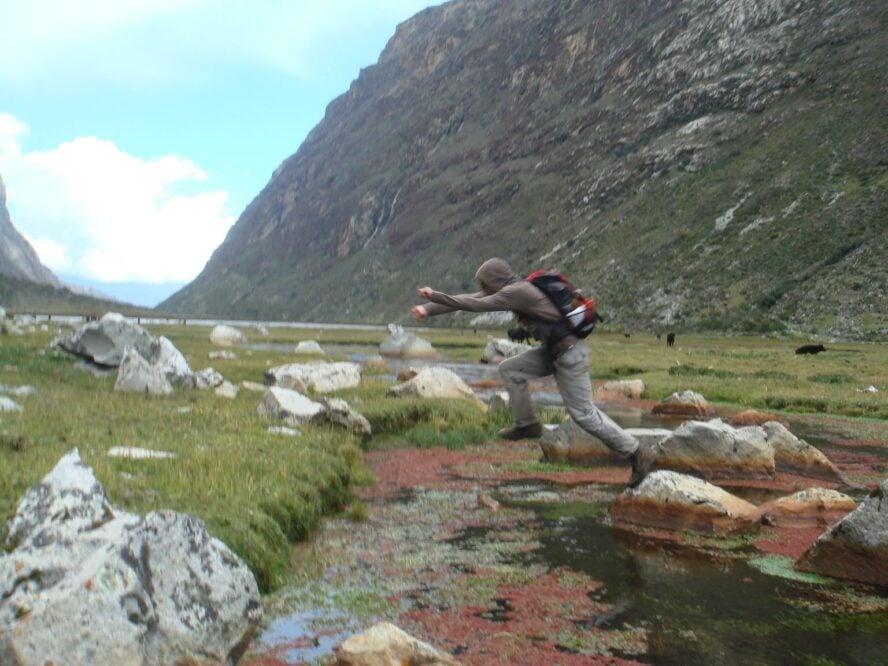 Day One: From Huaraz to Paria
The adventure starts with a bus ride from Huaraz. Be sure to sit by the window and observe the Rio Santa and a couple of authentic Andean villages along the way. You'll cross the Portachuelo Pass, a 4,767-meter peak and the highest point of the Cordillera Blanca. If you can, make a stop and soak in the mountain vistas surrounding you. You'll see gorgeous lakes even before you start the trek. The sister lakes called Llanganuco are only a taste of what's to come.
The drive ends in Vaqueria, where you can rent donkeys which help you carry the load. You're officially on the trail! Your first day will be an easy warm-up with 770 meters of elevation gain. The first sightseeing op are small villages nestled in the Huaripampa Valley. Not far from the villages awaits another National Park Huascaran office. From there, all that's standing between you and resting is a scenic four-hour hike to Paria, your first campground.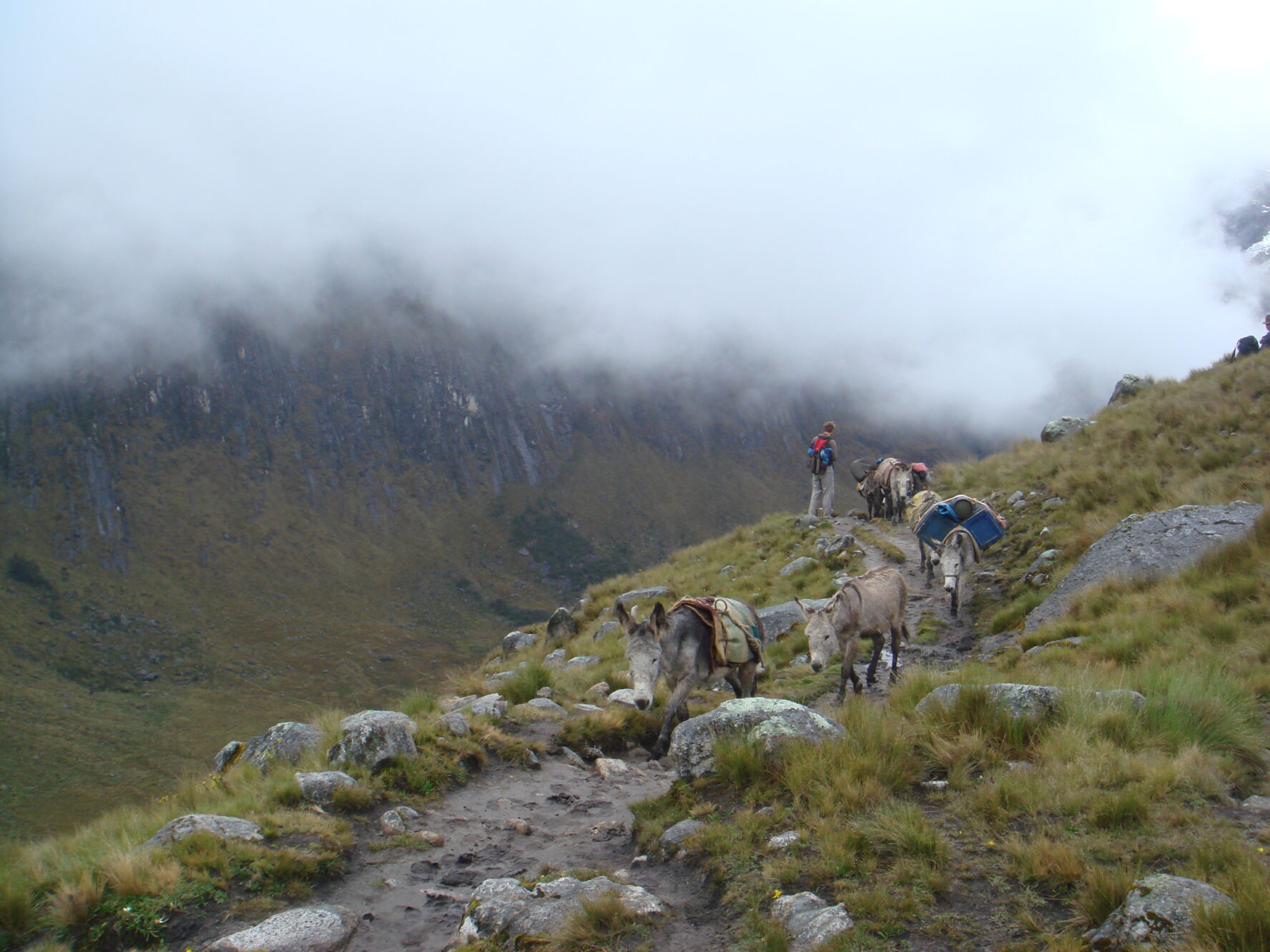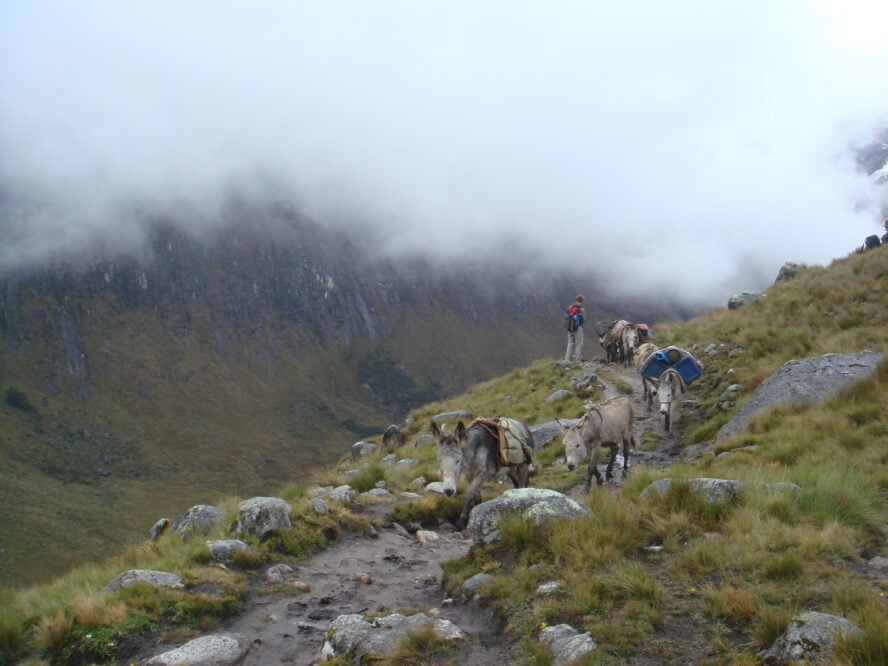 Day Two: Reaching the highest point on the Santa Cruz Trek
Today is the day you reach the highest point of your trip, the Punta Union Pass (4750 m). I advise you get an early start and take your time trekking up this daunting peak. In my experience, it takes around five hours to reach the pass. The trail ascends gradually and offers plenty to see on your way up. In colonial times, it was a crucial route for transporting goods along the Andes. The closer you get to the pass, the more majestic the views get. Get ready for panoramic vistas of the Santa Cruz and Huaripampa Valleys.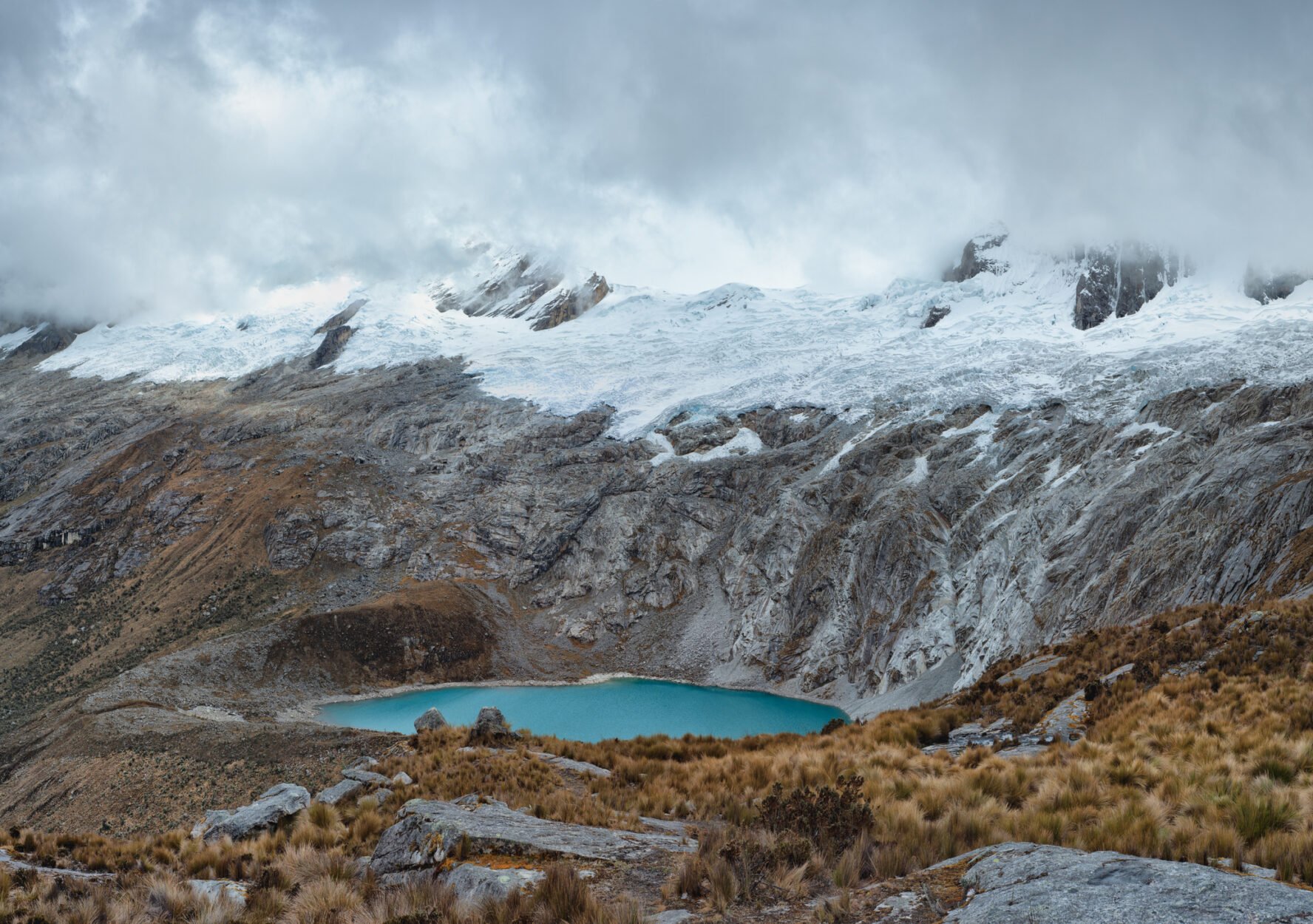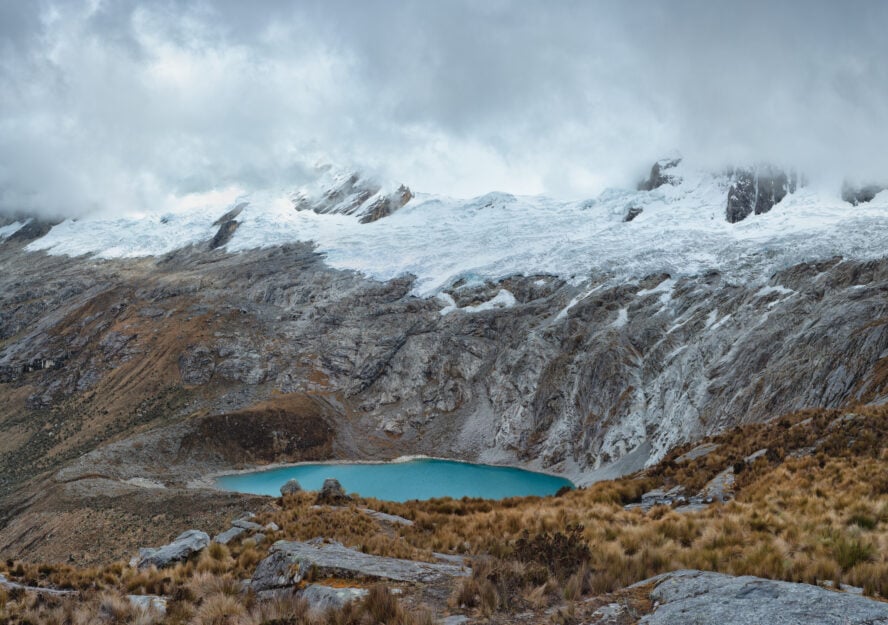 This is one of the most breathtaking parts of the entire trek. Ancient Andean queñual forests clash with towering peaks covered with piercing white snow. As you follow the ascending path, Mount Tauilliraju will loom above you, guarding a glacial lake. When you reach the top, you'll want to take a break for two reasons: your muscles will beg for it and you'll want to pick your jaw off the floor. You'll feel like you're standing on the top of the world. From there, you'll make your way down the mountain. After a two-hour hike, you'll reach Taullipampa.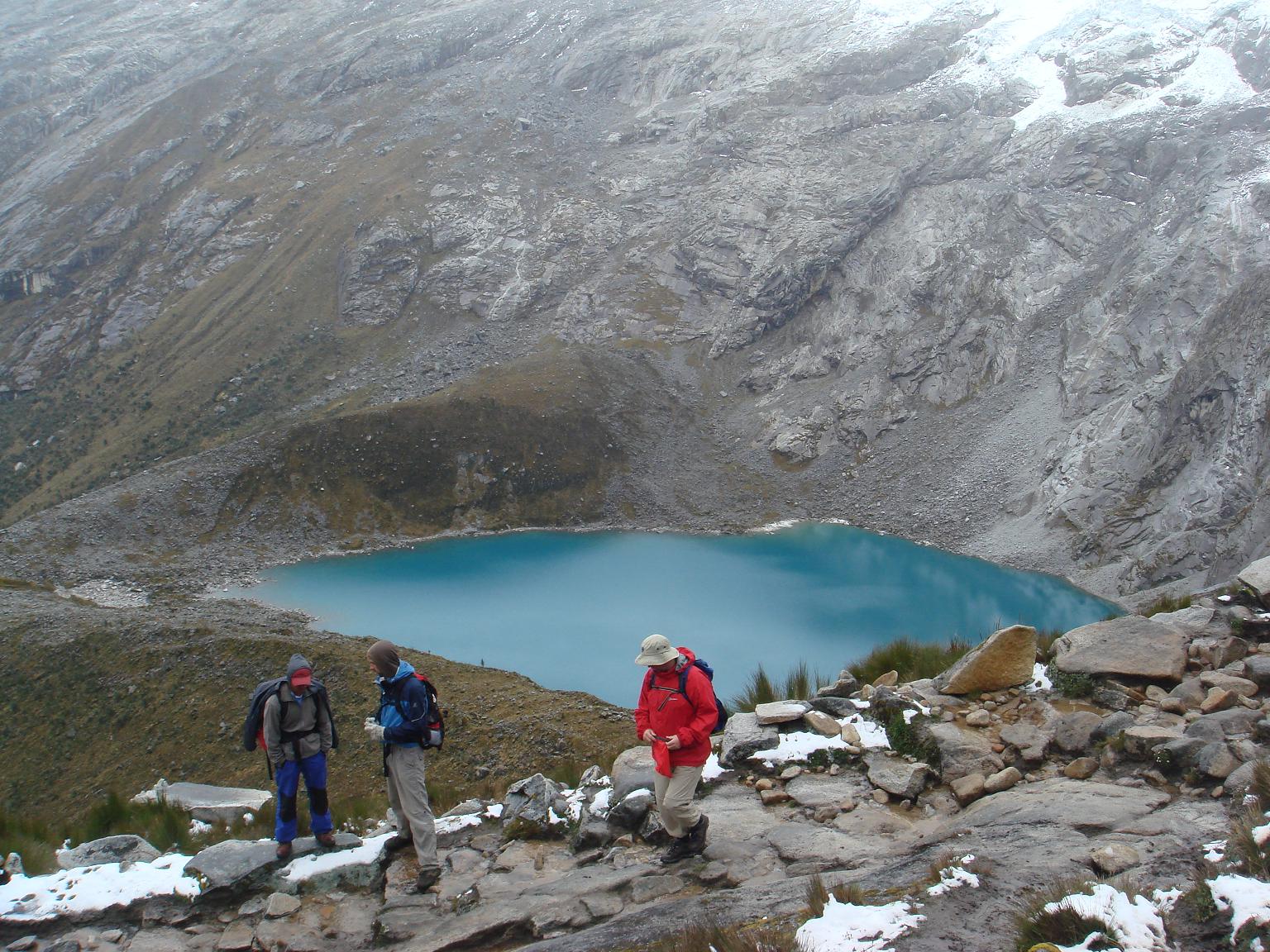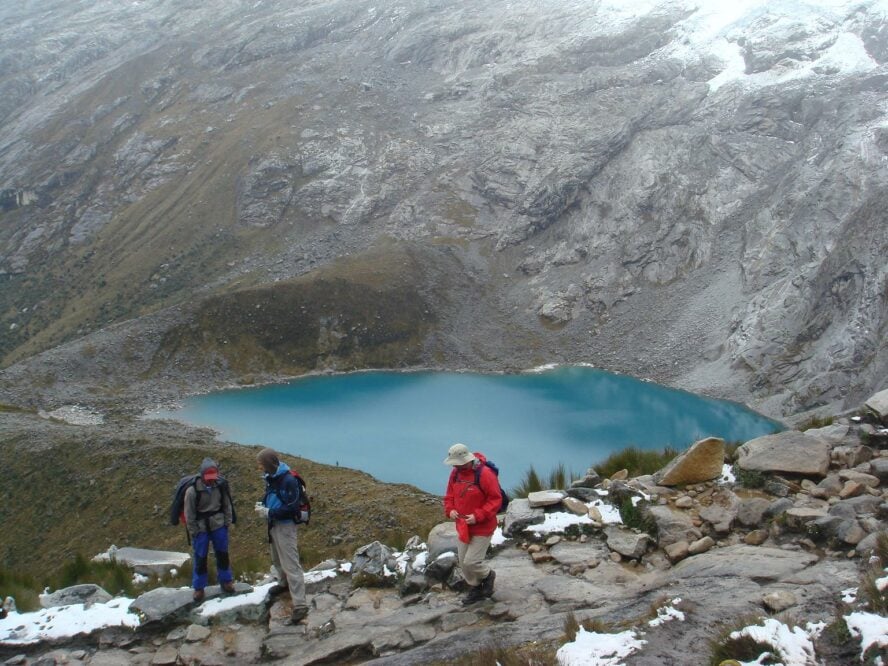 Day Three: Scenic lakes, local birds and the Llamacorral campsite
The third day is full of things to see. I recommend you take a shortcut to Alpamayo's base camp, where you'll find the striking turquoise Lake Arhuaycocha. Your next stop will be the Santa Cruz Valley, which is three hours away. You'll want to have your camera ready and your eyes off the path for this section. You'll see lake after lake, and each one will be equally as beautiful. You won't be the only one appreciating the lakes. In the Huachuca Mountains, expect to see ducks and local bird species bathing in the shadow of many peaks towering from above. An hour later and you'll reach the Llamacorral campsite.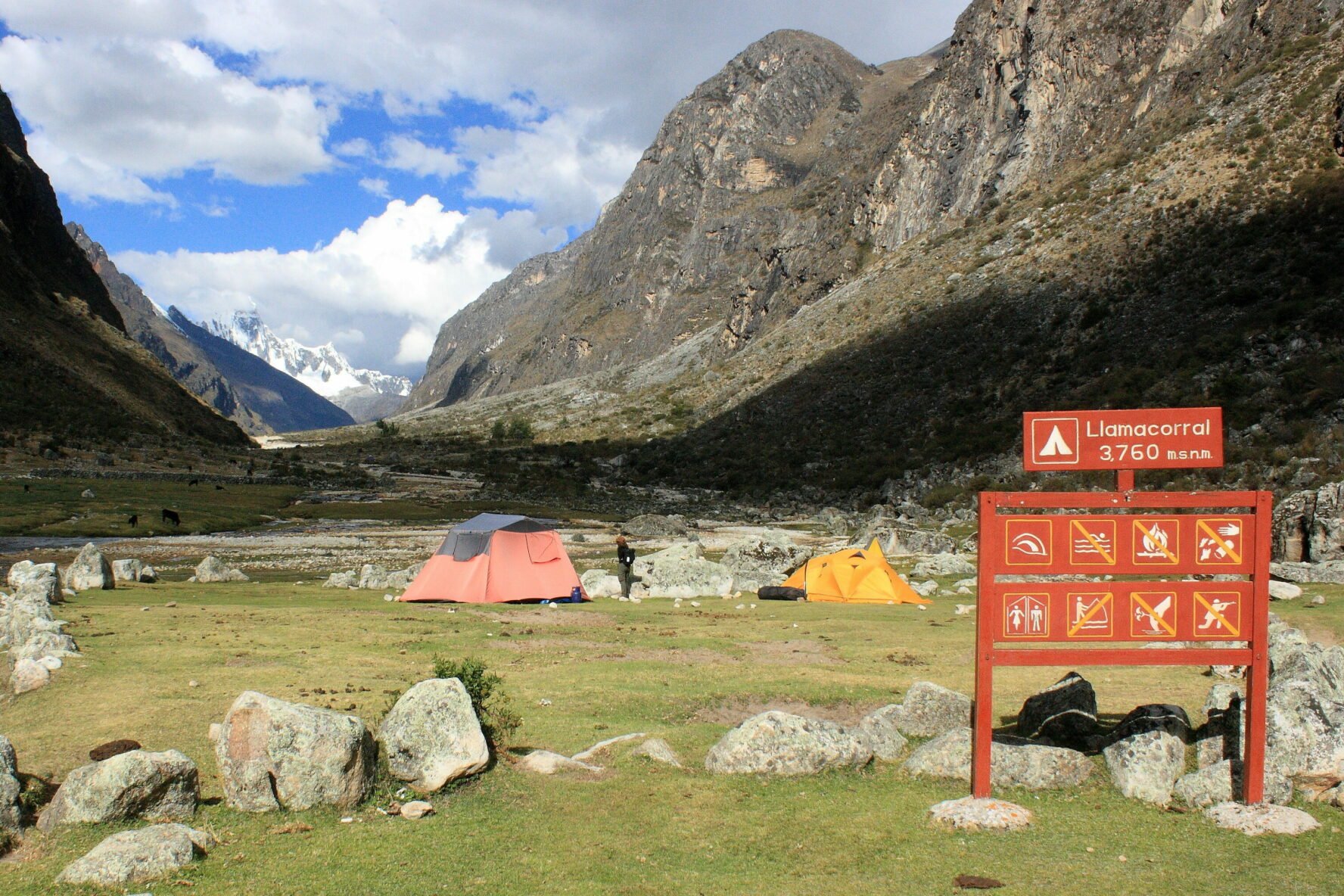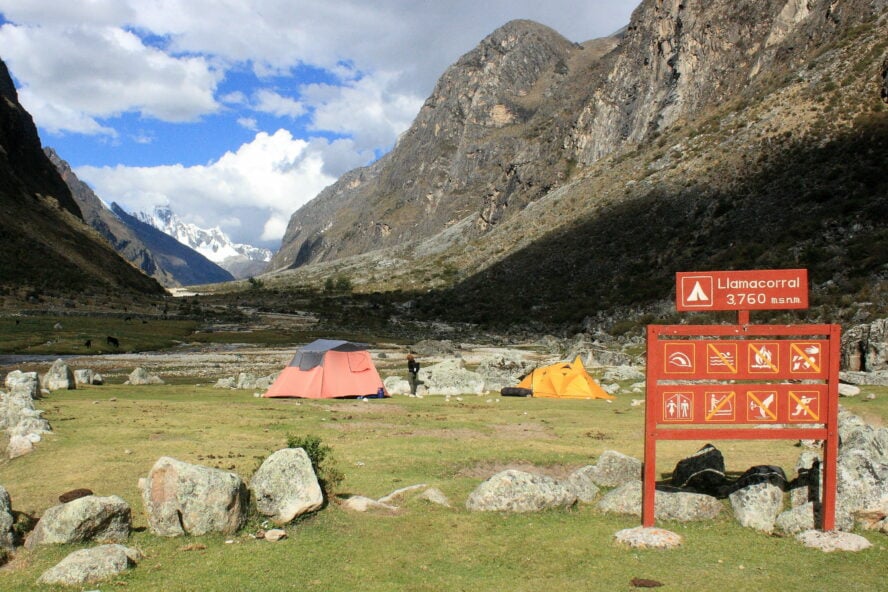 Day Four: The last stop in Cashapampa
As your adventure comes to an end, you'll get a chance to soak in the alpine vistas for one last time as this is the last day in Huascaran National Park. You'll follow a path winding past a river and the vegetation will soon start to change. Your last stop will be Cashapampa. In Cashapampa, you'll be met with fellow hikers who've already experienced the Santa Cruz Trek and those who are only beginning their journey through the Andes.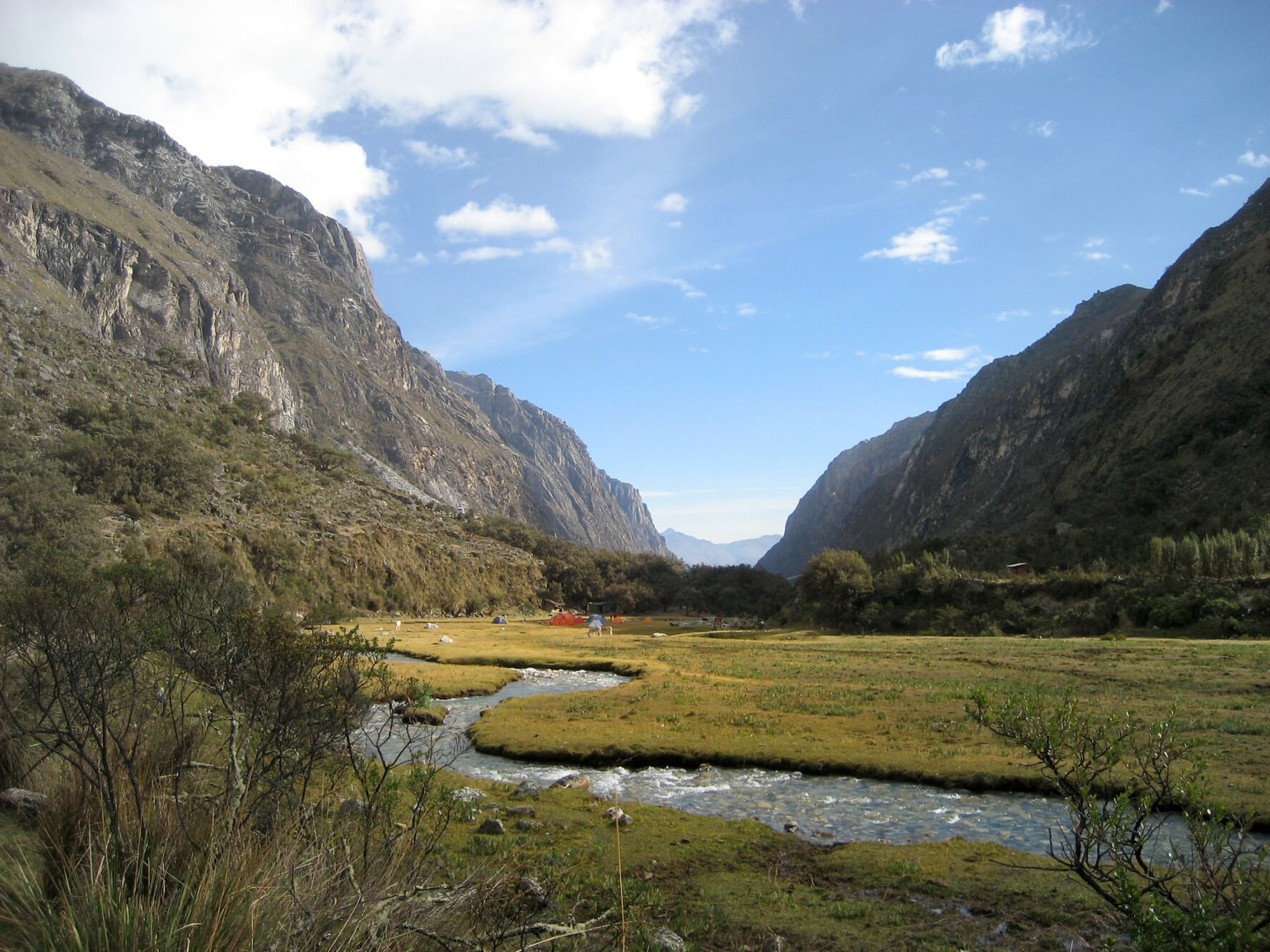 Travel Tips From a Santa Cruz Trek Guide
Even getting to the trailhead of the Santa Cruz Trek can be an adventure. From tips for what to pack to tackling the logistics, here is what you'll need to know before you go on your own Santa Cruz hiking trip.
How long does it take to hike the Santa Cruz Trek?
Most people choose to hike the Santa Cruz Trek over four days. You can choose to hike it starting from Vaquería or Cashapampa. The trek itself isn't as lengthy as some of the other best hikes in the world, but all of its 46 kilometres are jam packed with views—and the same can be said for the Inca Trail when hiking to Machu Picchu. You could probably squeeze in the Santa Cruz trek in just under three days, but rushing through this once in a lifetime experience would be a shame.
What is the best time of year to hike the Santa Cruz?
The best time to hike the Santa Cruz Trek is between April and October. These months fall into the dry season. While other parts of the word have four seasons, our weather typically falls into two categories: dry or wet.. If you plan your hike during the dry season, you're more likely to hike under blue skies and witness Santa Cruz's beauty to the fullest. The wet season sees less tourists and amps up the challenge aspect of the trek — not only will you be hiking through mountainous terrain, you'll have to fight the elements as well. That said, the dry season doesn't guarantee that the sky won't come down on you. Much like if you were hiking the Inca Trail, you need to come prepared for everything. Andean weather is fickle, but it's one of the reasons why this adventure is so unique.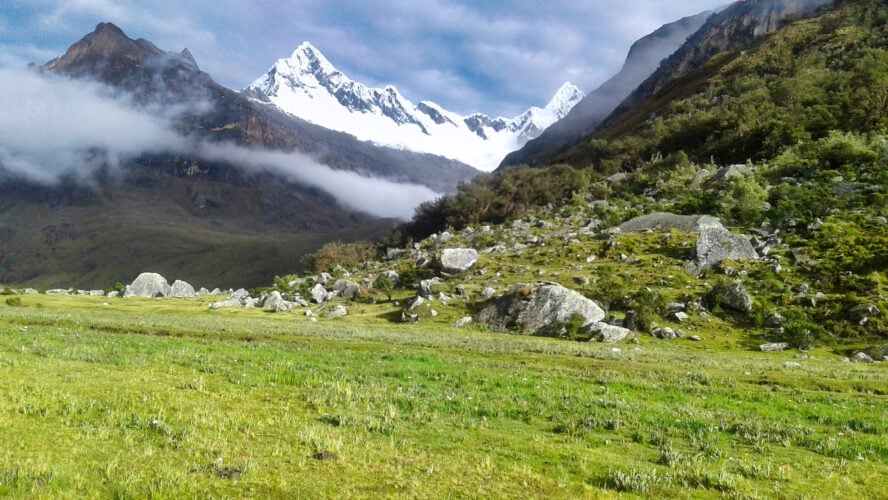 Adjust to the altitude
If this hike was at sea level, I would consider it an easy hike. The only thing standing between you and having the adventure of a lifetime is altitude sickness. The highest point of the trek sits at almost 5000 meters. If you have time, spend a couple of days exploring Huaraz and the neighboring villages. Not only will this let you experience the Andean way of living, you'll be a lot less likely to suffer from altitude sickness.
Do you need a permit to hike this trek?
You do not need a permit to hike the Santa Cruz Trek, but you will need to pay an entrance fee, since the trek goes through the Huascarán National Park. You can purchase a pass while in Huaraz, where you'll find the National Park's office, or in Cashapampa. If you choose to go on a guided trip, one of the upsides is that your guide will deal with logistics..
What should I pack for the Santa Cruz Trek?
Just like packing for a Mt Fitz Roy hiking trip, when packing for your Santa Cruz trip, keep three things in mind. If you hike solo, you'll have to carry your own luggage, which can get tiring really fast — pack light! Second, you'll want to be as comfortable as possible, so make sure you pack sturdy hiking shoes with good ankle support. Lastly, don't forget how quickly the weather can change here. It's best you pack waterproof, moisture-wicking clothes and plan to dress in layers. In addition to that, you'll need your regular 30-35L daypack and a trusty sleeping bag.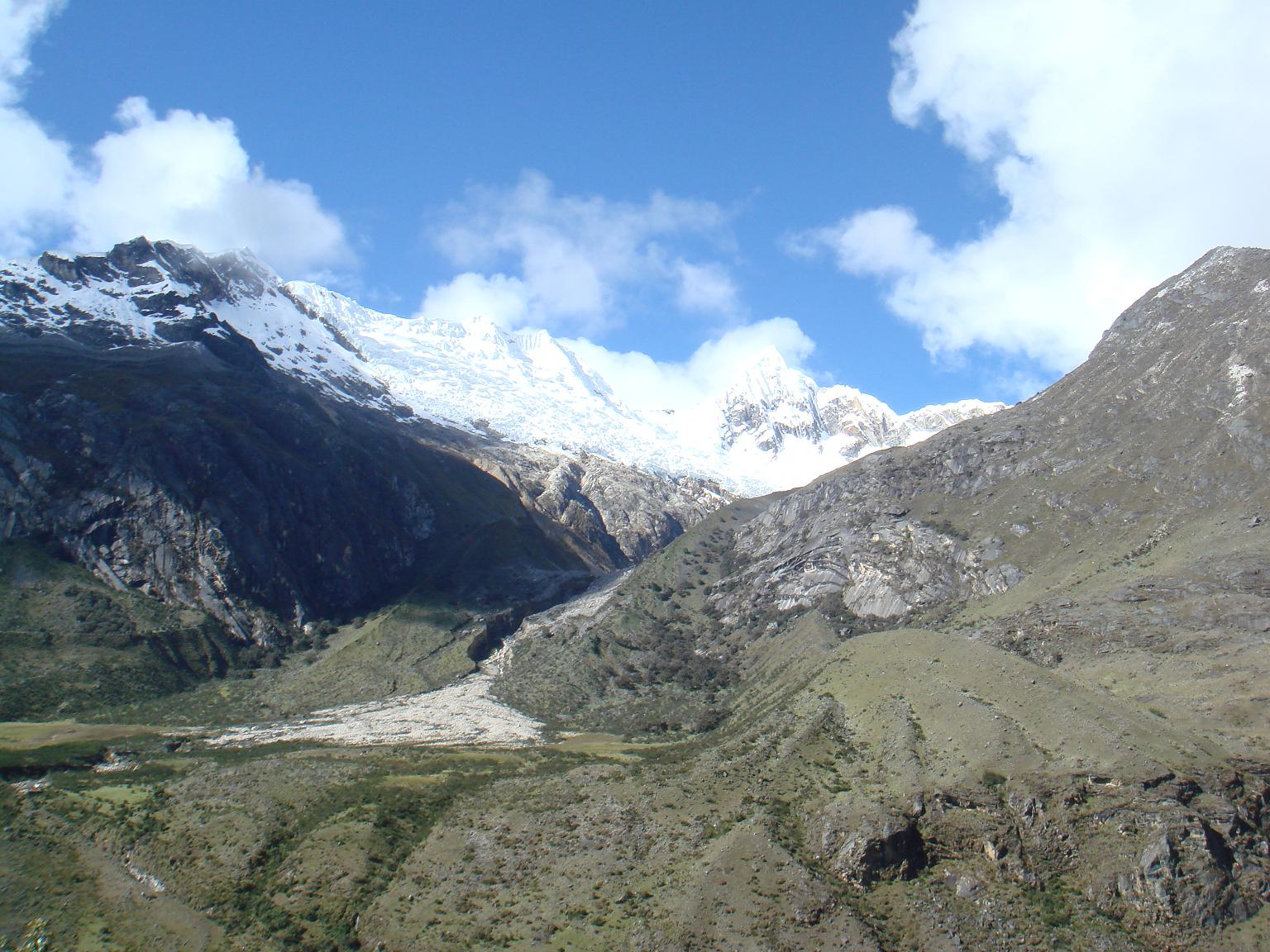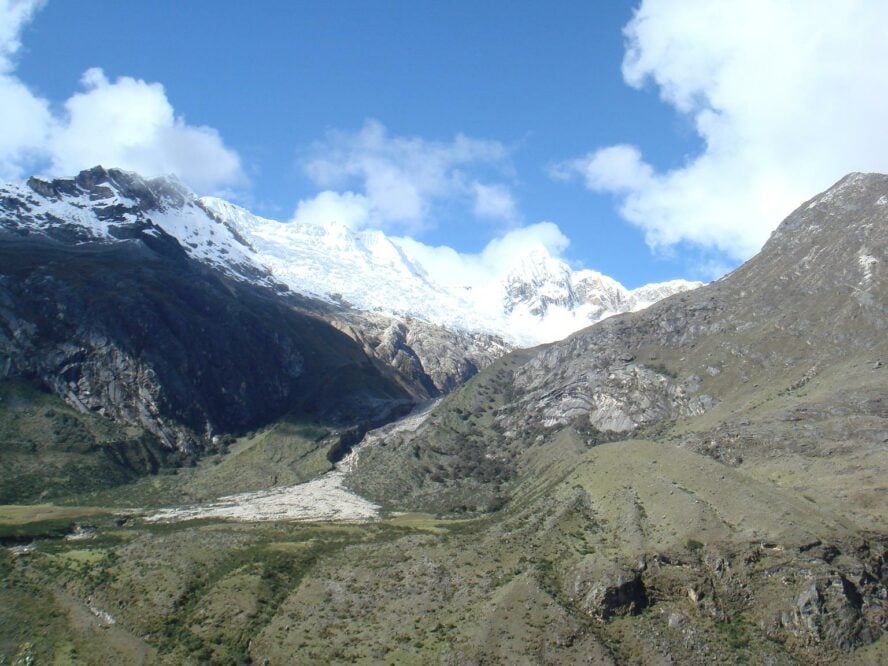 Who can hike the Santa Cruz Trek?
The Santa Cruz Trek is moderately difficult, but it all depends on your hiking experience and fitness level. I have guided many beginners and they all completed the trek successfully. You're going to be hiking five to six hours per day. While the terrain is manageable, the big build-up to crossing the Punta Union pass can get strenuous. This is why you should spend time acclimatizing, ideally before your trek. If you want to make sure you're ready to trek the Santa Cruz, practice hiking on long distances while carrying a full daypack.
Do you need a guide to hike the Santa Cruz Trek?
You can hike the Santa Cruz Trek solo, however, going on a guided trip has its benefits. From having someone to handle logistics in a foreign country to hearing stories that will enhance your Santa Cruz experience, having a local guide will only do you good. It pays off to hike with someone who knows which spot in the campground gets less wind exposure and taking care of little things like that will improve your trip immensely. From the safety point of view, you will be hiking high up in the mountains, cut off from the world. While the unique sense of solitude the Santa Cruz Trek offers is part of its charm, it can get quite isolating. Hiking with a guide takes any guesswork out of your adventure and allows you to immerse yourself in the gorgeous vistas of the iconic Santa Cruz.