The Art of Getting Lost: Wilderness Navigation Course
I was going to learn to bust myself out of the woods with a map and compass.
Wilderness navigation depends on the right tools, a keen eye for the lay of the land (topography), and paying close attention to your trail transit. I struggle mightily with the latter. Technologies like GPS are available on most smartphones. If not for those pesky batteries and lack of cellphone towers in the woods, we'd usually be able to bail ourselves out of any situation.
Then, I started to hear horror stories of city folk getting very lost on basic trails. I felt like there's still a place to learn how to traverse the backcountry.
Survival Starts in the Parking Lot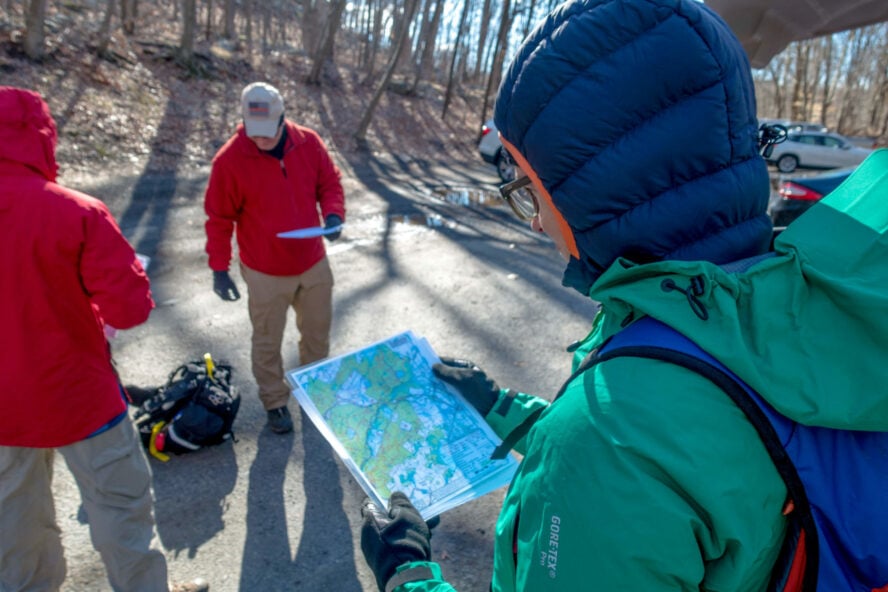 Karmen, my 57Hours teammate, and I chatted as we merged highway after highway toward Allamuchy State Park. It's one of those places you say and immediately follow with "… or something." It's Al-a-moochy: your shoe-salesman friend who never seems to have his own grass.
At the trailhead, our guide from Northeast Mountain Guiding called out my name to confirm our arrival. John Rovetto was his, and he had a protegé, Joe, helping plant small orange flags that radiated from a pile of John's gear. A couple more guys filtered in and they seemed to know each other.
"There's a story here…" I thought. Friends, co-workers…A SURVIVALIST MILITIA? The real answer almost made me squeal with glee, and would provide an interesting context to our experience.
Highlights

"Aside from learning to orient with the compass and the cool people we met, I liked 'The Pebbles'. Large boulders deposited by glaciers, known as erratics" – Josh

"Wow, this was a flashback to my childhood! I was so excited to be Huckleberry Finn on my own exploration adventure." – Karmen
John gathered us around in the parking lot, and we exchanged names and pleasantries once everyone had settled. John, Joe, Pete, and James were all members of New Jersey Search and Rescue (NJSAR).
If you're already in SAR, why take this class? Search and rescue volunteers have different specializations and roles in their organizations: water rescue, mountain rescue, human and K-9 based tracking, to name a few. Joe was the group's greenhorn, but everyone was learning alongside us. We felt like honorary members of NJSAR a few hours.
"I like to get lost," John chuckled, when asked how he got into SAR. After years in the emergency rescue field, initially cutting his chops in ski rescue out in Oregon, he decided to return to New Jersey. He did a final check on his pack, gadgets springing from each pocket. Dude was ready. So were we.
Capture the Flag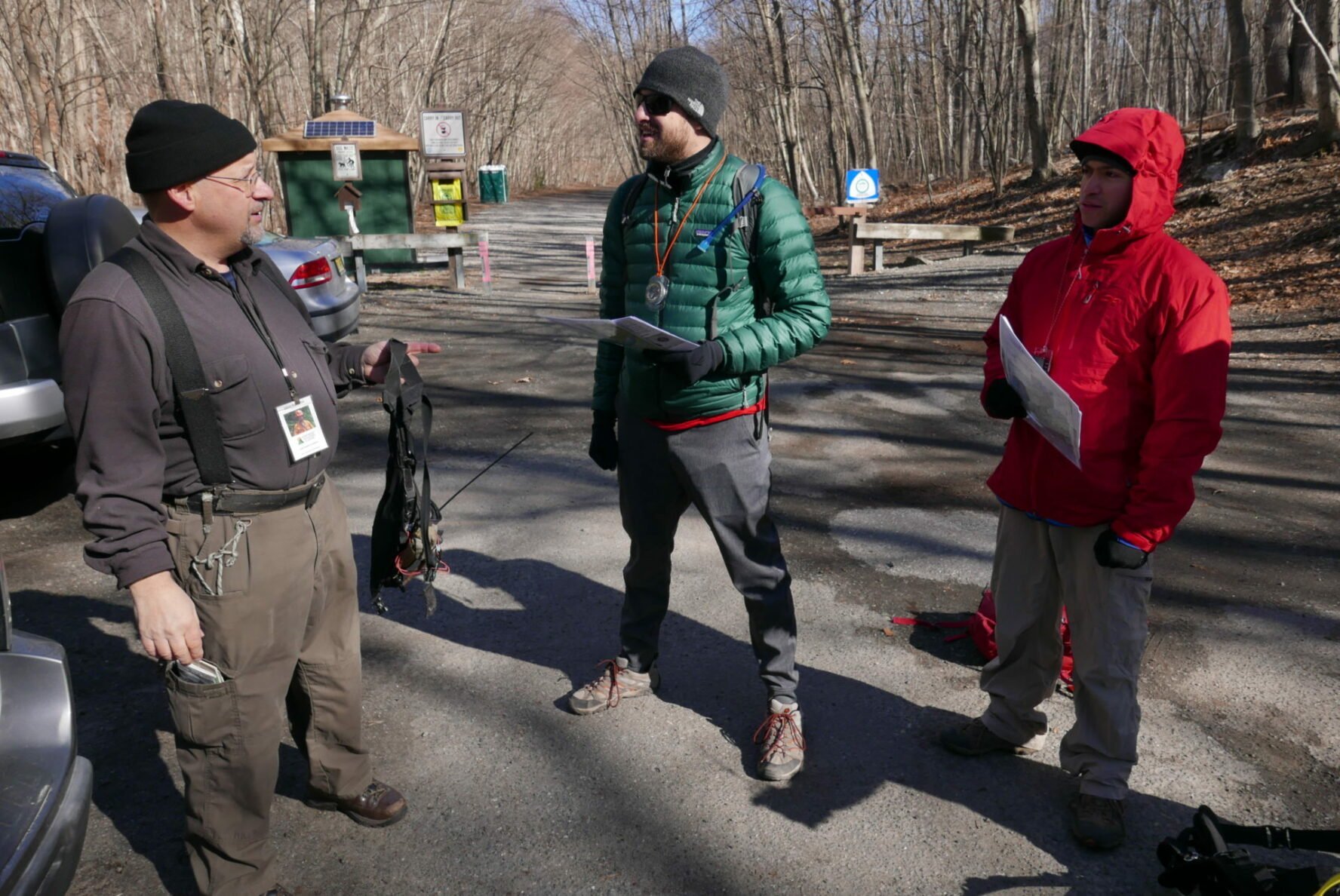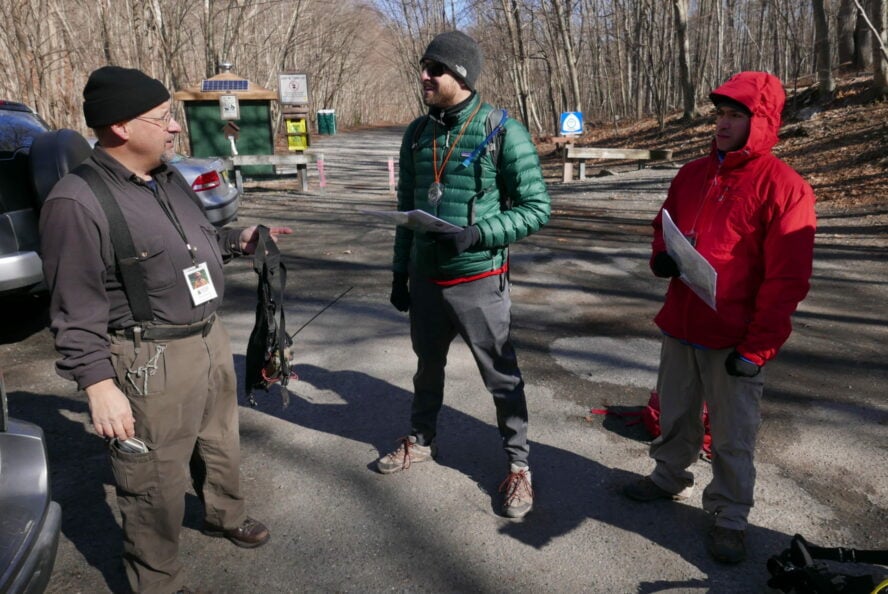 Orienteering was started by the Swedish military in the late 1800's as a training exercise. Participants navigate quickly through the terrain using a gridded map, a compass, and natural landmarks. As an adventure sport, runners, mountain bikers, and skiers have added it to their races. As if getting lost in the dark woods wasn't adventure enough?
John entrusted us with our gear for the day: a basic compass, a laminated map, and a nice info-packet. After giving us the day's agenda, John debriefed us on the basics of map, compass, and topography.
Tips from the Trail

North is So Hot Right Now

Aside from the terrain, three norths help us navigate:

True north follows the earth north at its axis.
Grid north is true north, but represented on the map's longitudinal grid.
Magnetic north is what the compass reads. Any difference between it and true north is called "declination".
Our first navigation exercise was an instant knowledge test. We were each given a small cardboard problem set: "Start at X, proceed at 175 degrees, write down the flag letter." Here's how we found our next objective:
1. Zero the compass dial on the direction of travel line.
2. Turn our bodies toward magnetic North using red floating compass needle.
3. Adjust the dial to 175 degrees.
4. Line up the compass needle with the red orienting arrow beneath it – the "shed".
5. Walk it out.
6. Write down Flag "B" for breakfast, which wish I'd eaten more of.
It was difficult at first. I'm not sure if it was a lack of coffee or brain cells, but there was a lot to know that early in the morning. Practice helped, and by the end of the card we had the gist. Some of the flags didn't line up, but hey, having to go back to verify meant bonus practice.
Now it was time to disappear into the woods.
Getting Blazed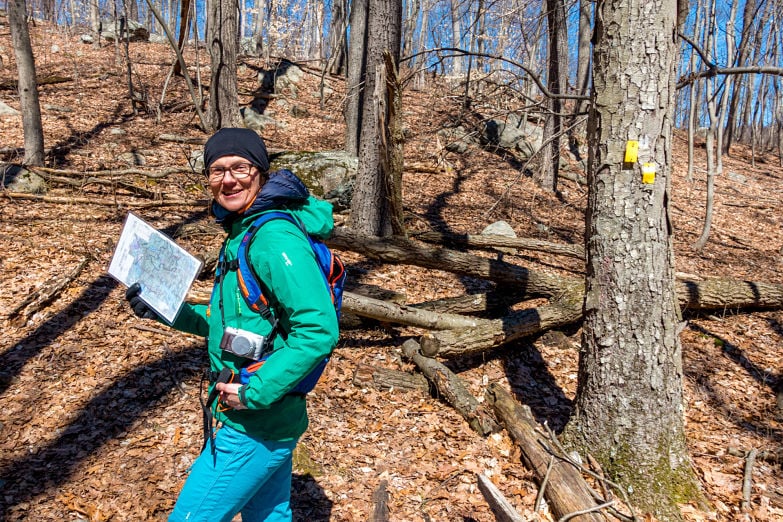 Navigating trail systems can be difficult if you're not paying attention, and dangerously so if you're hiking without a map.
"There was a newspaper article or blog post that listed an incorrect trailhead. We were getting calls to find some of these people for months after it was published," Pete said.
On most established trail systems you'll notice notches or colored markers on trees called "blazes". These indicators will tell you when a trail starts, splits in a different direction, or ends. We were enjoying some fantastic conversation – snakes, rescues, allergies – when we overshot our turn.
Fork in the Road? Take it.

Trail markers or "blazes" tell you where the trail leads, diverges or ends.

Colors signify the trail you're on, hopefully matching your map. Single blazes indicate you're continuing on that trail. Diagonally aligned blazes of the same color indicate left or right turn. Triangle patterns indicate the start or stop of a trail.
John caught our mistake quickly. Was this a test?
"You can see how easy it is to miss a turn when you're not checking in with your surroundings from time to time," John reminded us. I personally had this happen before in Colorado and Oregon. It cost me sore knees and a day on the couch, but could have been much worse.
As we hiked we referenced hills to what we saw on the map, and midway through we had a gorgeous view of Waterloo Valley's lakes and streams. Here we learned what cliffs look like on the map. I unpacked a salami sandwich and protein shake for lunch, and enjoyed the view.
The Right People to Get Lost With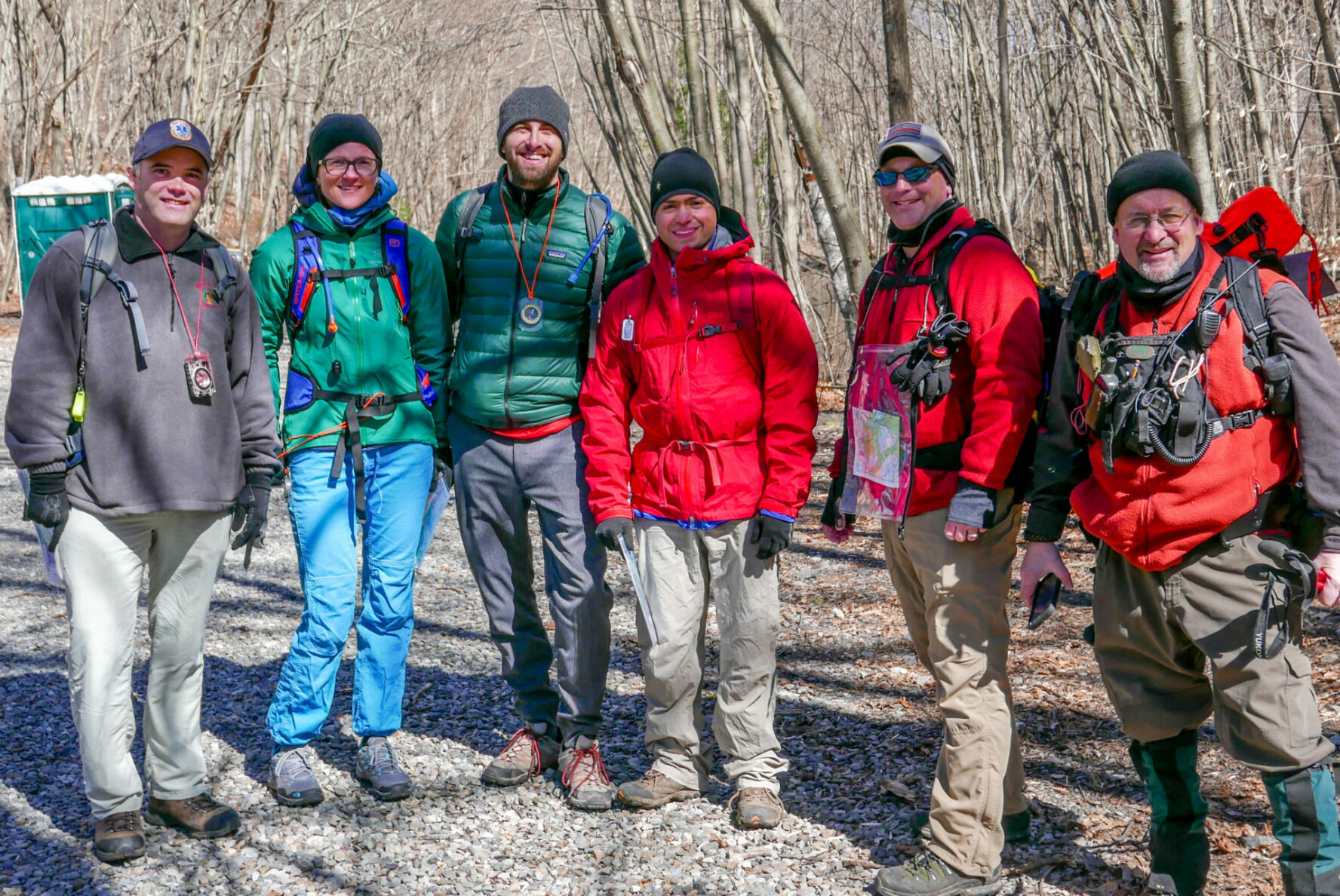 Everyone in our group had fascinating anecdotes and trail tips. It was like having three bonus instructors with us. I learned James was a volunteer EMT, providing medical assistance if necessary on the NJSAR missions. He's a legal professional by day.
"Wait, so you're an EMT and lawyer? How do you chase the ambulance while you're in it?" I asked James, hoping he'd appreciate my new material. If what I heard was a pity laugh, I'll take it.
Our four mile hike through Allamuchy Mountain SP had nice variety of scenery and elevation changes. To keep us on our toes, John had us trade off as trail leaders. The trees were bare, and the forest floor leaf-littered. I wondered if the summer canopy would complicate navigation. I got lost in more thought. When hiking in groups, it's ok to lag and do some thinking. On your own, it can take you off your guard.
A couple more miles and we were back safely in the parking lot. We had successfully navigated the park and picked up some life-saving info along the way.
Give Wilderness Navigation a Shot!
Would I take up orienteering as a sport? I'd probably check it out. The thought of exploring off-trail, but in a controlled setting, is a softer prospect than having to actually navigate and survive. If anything, I left with the confidence to use a map and compass on my big hikes.
What piqued my interest more was the potential to volunteer for a local search and rescue unit. After hearing stories from the crew, I realized how important SAR can be as a service to its community.

Getting to Allamuchy Mountain SP

By car

From the Holland Tunnel, take Take I-78 W to NJ-139 W. Take the I-280 exit and continue on until it turns into I-80 W. At Exit 25, take the International Dr. Loop until you merge right onto Waterloo Valley Rd. Go straight and you'll the find the trail head at the intersection with Waterloo Rd.
Grab a Bite Near Allamuchy Mountain SP

Mattar's Bistro

All the food that… Mattars. American fare with great seafood options, including sushi. Be brave, try the Spicy Tuna "BLT" with a side of an entire brick oven pizza.

Salt Gastropub

Salt has an extensive bottled beer list and pairing suggestions with their pub grub. TOTALLY WORTH ITS SALT. I'm killing it with the food puns today.
Lesson Details

Our Instructor

John Rovetto

Our Class Size

Five students and one instructor

What to bring

Daypack, snacks, 1-2 liters of water

What's provided

Map, compass, navigation learning packet
Interested In More Outdoor Classes?
If survival skills isn't your bag, there are many ways to get into outdoor adventuring! Check out our intros on climbing at Cliffs LIC and Brooklyn Boulders, and a surfing lesson with NY Surf School.