The 7 Best Joshua Tree Hikes According to a Pro Hiker
With trees that look ripped straight from the pages of Dr. Seuss, Joshua Tree is a year-round hiking destination that every adventurer needs to explore at least once.
Table of Contents
Who else would you want to take trail advice from than a pro hiker that calls Joshua Tree her backyard? Liz "Snorkel" Thomas shares her intel on the best short hikes, long hikes, and backpacking spots in Joshua Tree National Park — a place with some of the most diverse and interesting geology in the U.S. She's also got tips and helpful information you're going to want to know before you go.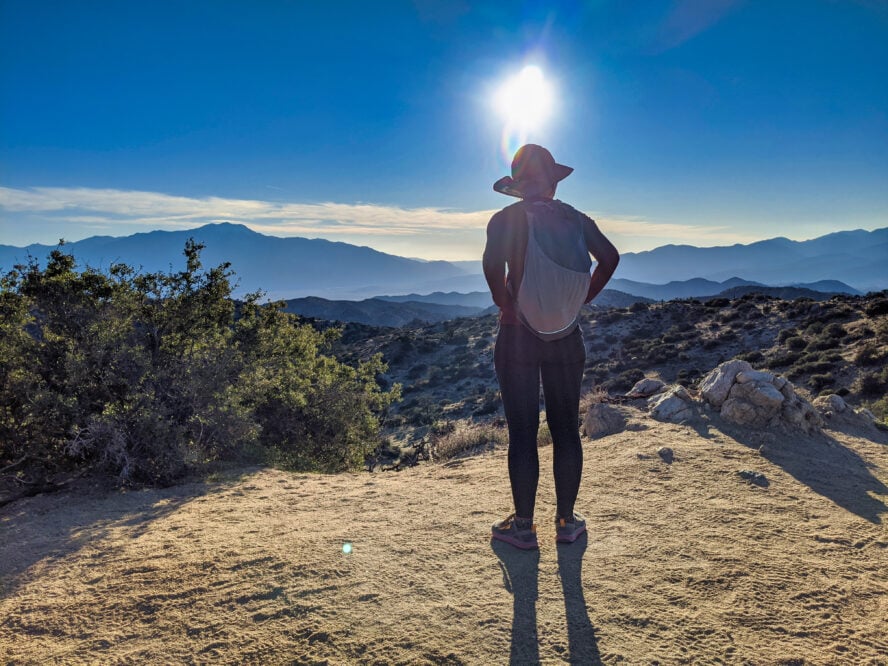 Joshua Tree National Park is a wonderland filled with whimsical boulders and plants that look like they were designed by Dr. Seuss. At almost 800,000 acres, it's the size of Rhode Island with over half of the park designated as wilderness. Whether you're into wildflower viewing, stargazing, bird watching (it's not as common as when hiking in Northern California, but you might even catch sight of a condor), scrambling, or photography, there's something for everyone in this winter-friendly park.
Why is Joshua Tree National Park called "Joshua Tree"?
The park gets its name from the furry-looking Joshua Tree (Yucca brevifolia), famous from the eponymous U-2 album and as the inspiration for Seuss's truffula tree. The tree only lives in a few high altitude places in the Mojave Desert. J-Tree Park, as locals call it, has some of the densest groves of these yucca anywhere.
Nowhere else can you see the Mojave and lower Colorado Desert (with all their geological and botanical differences) together in one place. Wildflower enthusiasts flock to Joshua Tree each spring to view flowers from both deserts. When you're visiting the hikes in Arizona or the best Grand Canyon hikes for the desert views, this is what you really want.
Joshua Tree National Park is home to rocks as old as 1.7 billion years. It has six distinct mountain ranges — some going east-west, and some north-south. There's nothing to rival Mount Shasta climbing here and you won't encounter any volcanoes like on the best hikes in Washington, but the mountain views are still impressive. Erosion, alluvial fans, and the San Andreas Fault System all add to the fascinating geology of the park.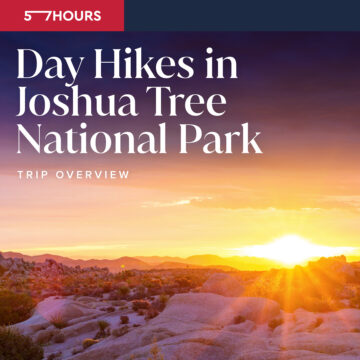 Download brochure with curated day hikes
Check your inbox
Joshua Tree hiking rivals the climbing
A world-class rock climbing destination, the red boulders and cliffs in Joshua Tree look like they dropped straight from Mars. But for hiking in southern California—close to major cities like San Diego and Los Angeles—Joshua Tree can be just as legendary. History buffs will enjoy scouting the relics of mines and ranches from a time when the area had a wetter climate.
Joshua Tree is well-renowned as the mecca for mountain biking in California. Also, amateur astronomers flock to Joshua Tree, bringing telescopes for campsite-side stargazing. If you're into botany or just want to see some cartoon-looking boulders, don't think of it just as one of the best spots for rock climbing in California Joshua Tree hiking trails have something for everyone.
Whether you're hiking, backpacking, or looking for a gentle nature walk, Joshua Tree has options for all kinds of visitors. The following trails are some of the best day hiking and backpacking trails in the park. Whether you want a short hiking trail or overnight adventure, a history-filled hike or a trek among the park's namesake trees, these trails give you a taste of what makes the park so special. Here are my picks for the best hiking trails in Joshua Tree: