The 7 Best Joshua Tree Hikes According to a Pro Hiker
With trees that look ripped straight from the pages of Dr. Seuss, Joshua Tree is a year-round hiking destination that every adventurer needs to explore at least once.
Table of Contents
Who else would you want to take trail advice from than a pro hiker that calls Joshua Tree her backyard? Liz "Snorkel" Thomas shares her intel on the best short hikes, long hikes, and backpacking spots in Joshua Tree National Park — a place with some of the most diverse and interesting geology in the U.S. She's also got tips and helpful information you're going to want to know before you go.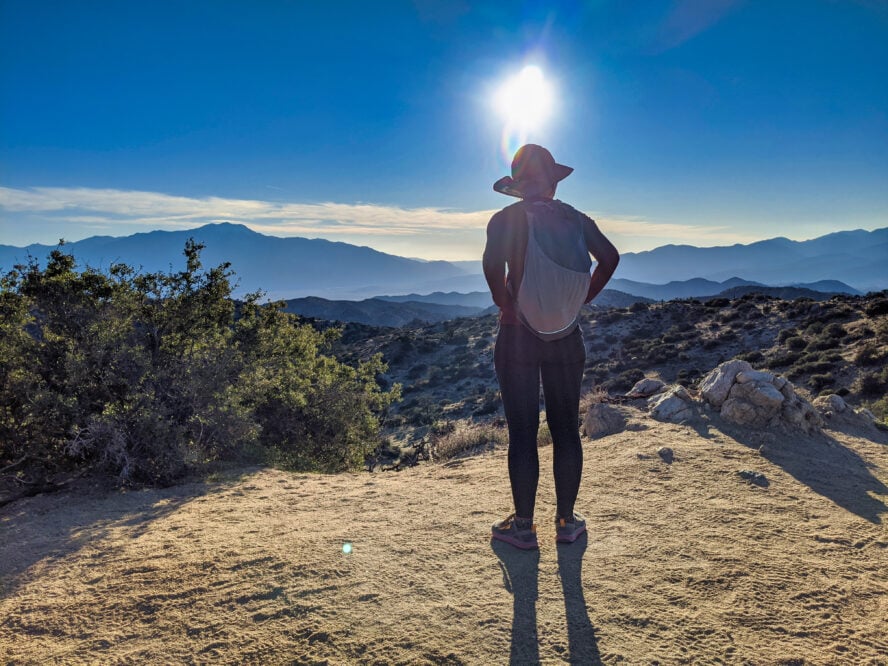 Joshua Tree National Park is a wonderland filled with whimsical boulders and plants that look like they were designed by Dr. Seuss. At almost 800,000 acres, it's the size of Rhode Island with over half of the park designated as wilderness. Whether you're into wildflower viewing, stargazing, bird watching, scrambling, or photography, there's something for everyone in this winter-friendly park.
Why is Joshua Tree National Park called "Joshua Tree"?
The park gets its name from the furry-looking Joshua Tree (Yucca brevifolia), famous from the eponymous U-2 album and as the inspiration for Seuss's truffula tree. The tree only lives in a few high altitude places in the Mojave Desert. J-Tree Park, as locals call it, has some of the densest groves of these yucca anywhere.
Nowhere else can you see the Mojave and lower Colorado Desert (with all their geological and botanical differences) together in one place. Wildflower enthusiasts flock to Joshua Tree each spring to view flowers from both deserts. Joshua Tree National Park is home to rocks as old as 1.7 billion years. It has six distinct mountain ranges — some going east-west, and some north-south. Erosion, alluvial fans, and the San Andreas Fault System all add to the fascinating geology of the park.
Joshua Tree hiking rivals the climbing
A world-class rock climbing destination, the red boulders and cliffs in Joshua Tree look like they dropped straight from Mars. But for hiking in southern California—close to major cities like San Diego and Los Angeles—Joshua Tree can be just as legendary. History buffs will enjoy scouting the relics of mines and ranches from a time when the area had a wetter climate. Amateur astronomers flock to Joshua Tree, bringing telescopes for campsite-side stargazing. If you're into botany or just want to see some cartoon-looking boulders, Joshua Tree hiking trails have something for everyone.
Whether you're hiking, backpacking, or looking for a gentle nature walk, Joshua Tree has options for all kinds of visitors. The following trails are some of the best day hiking and backpacking trails in the park. Whether you want a short hiking trail or overnight adventure, a history-filled hike or a trek among the park's namesake trees, these trails give you a taste of what makes the park so special. Here are my picks for the best hiking trails in Joshua Tree:
THE BEST FAMILY-FRIENDLY HIKE
If you want a quick tour of some of the most interesting geology and landscapes in Joshua Tree, I think it's hard to beat the Discovery Trail. Built in 2012, the Discovery Trail is one of the newest Joshua Trail hiking trails with a distinction that I love: it was built by kids, for kids. The trail placement and information placards were designed by students from the local Morongo Unified School District to highlight what they found to be some of the neatest rocks in the area. The actual construction was done by high school students in the Youth Conservation Corps. With this backstory, I consider this trail one of the finest ways to get into Joshua Tree National Park hiking.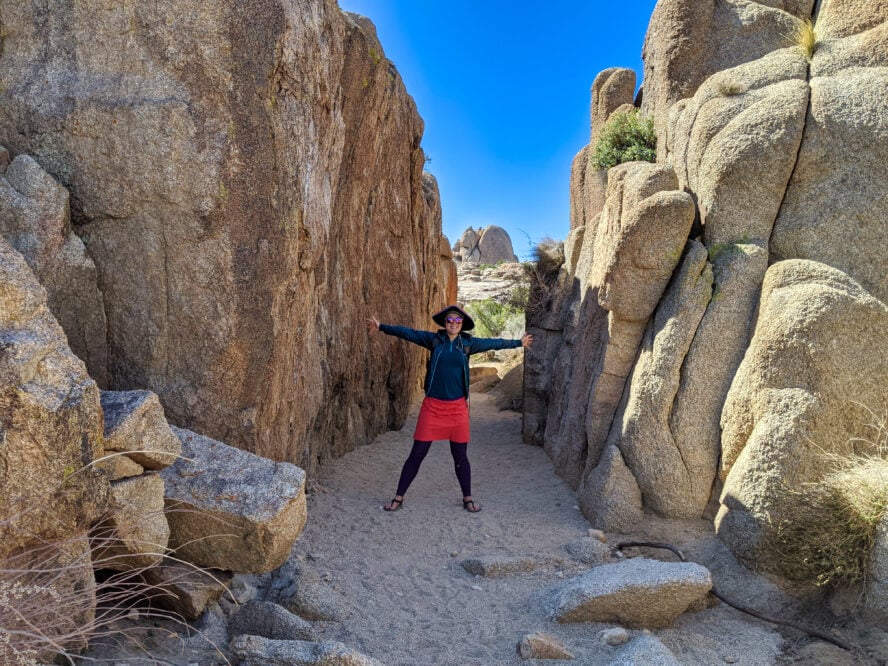 As many times as I've visited Joshua Tree, wrapping my head around the geology can still be overwhelming. I really appreciate the frequent informational placards. I was surprised to discover that the Park Service installed a viewing telescope half-way through this hike. It corresponds with a locator map, so you can identify the named boulders and peaks in the area. The Discovery Trail is a 0.7-mile loop with 8- feet of gain. It requires some scrambling, so may not be suited for everyone.
How to hike the Discovery Trail
Park at roadside parking for Skull Rock off of Park Boulevard. If that parking lot is full, I've found more parking at the nearby Live Oak Picnic Area and the Jumbo Rocks Campground. Connector trails make it easy to link up to the trailhead. See the National Park Service's Joshua Tree Map for exact locations.
Before starting the hike, I recommend visiting Skull Rock along the southside of the road (opposite the Discovery Trailhead). It looks like a skull and is one of the most notable named boulders in the park.
The Discovery Trail starts at the north side of Park Boulevard. A sign and a map show where the trail goes. I like taking the loop going clockwise, turning left on a trail shared with the Skull Rock Trail (that connects to the Jumbo Rocks Campground). After 0.14 miles, turn right and uphill towards a viewing telescope with panoramic views of the area. An interpretative sign makes it easy to identify nearby points of interest, including Skull Rock in the distance. At an intersection, turn right to return to the trailhead.
One of the best short hikes in Joshua Tree, the Discovery Trail was built for kids, by kids. It highlights some of the park's most impressive geological features (as determined by kids), and it's a fantastic introduction to the Park.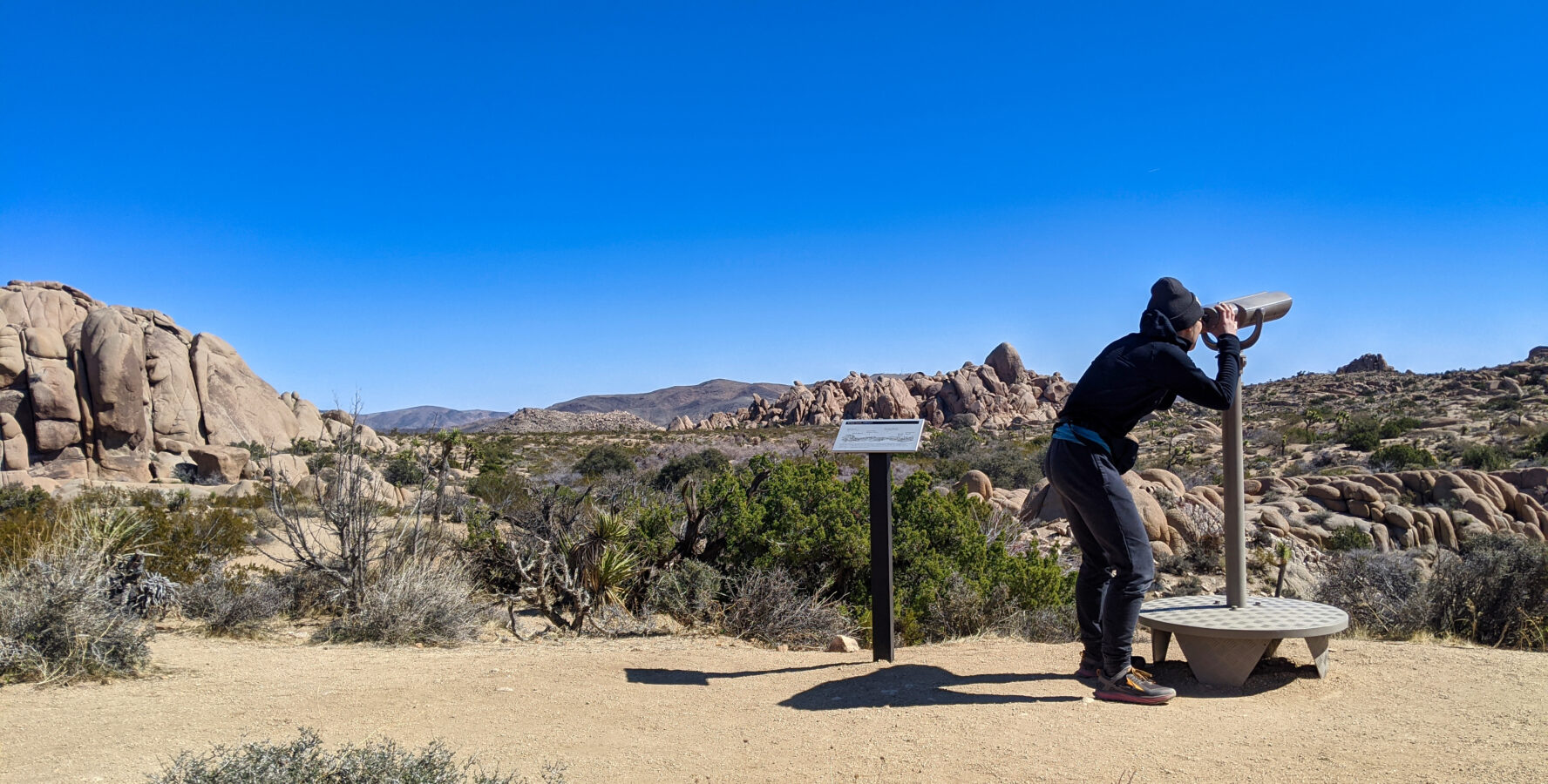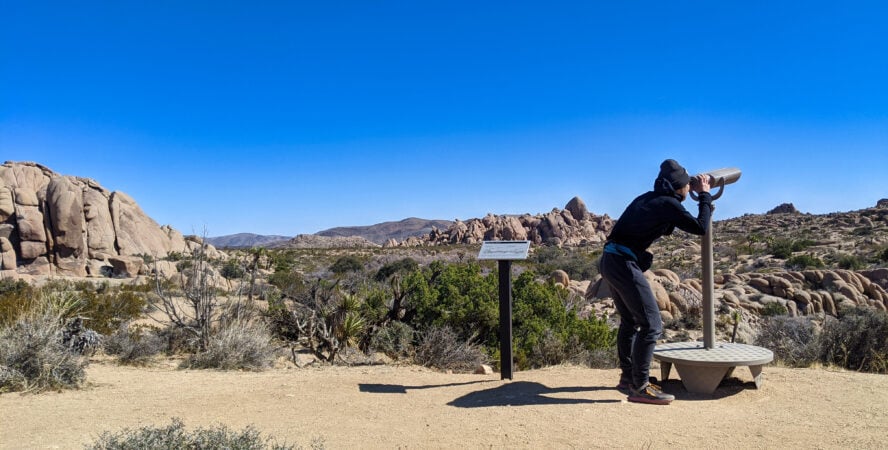 Hiking Joshua Tree (Skull Rock, Ryan Mountain)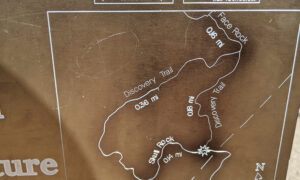 THE TOP CHOICE FOR BACKPACKING
The Boy Scout Trail is one of the best backpacking trips in Joshua Tree National Park. Whenever I want to experience wilderness in the park, this is one of the first trips that come to mind. This long day hike or overnight backpacking trip goes from the popular Park Boulevard near the West Entrance to the less-visited Indian Cove northern section of the park.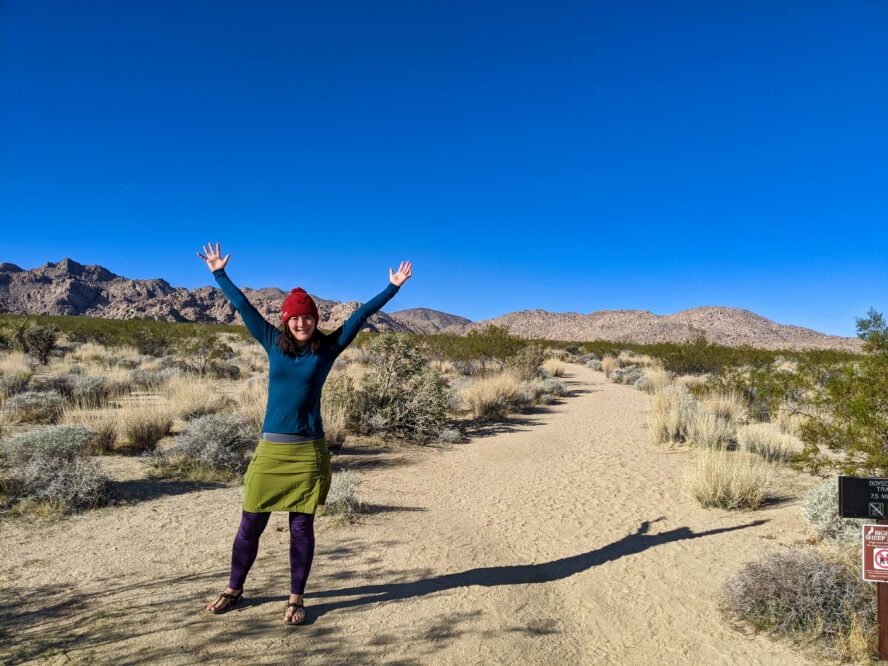 For hikers looking for solitude
I've hiked this trail several times in both directions and always marvel at the solitude, even during busy times like fall and spring. That's one reason why it's one of the best trails to spot endangered Bighorn Sheep and Desert Tortoises, which both call the Joshua Tree wilderness their home.
Although this is the most popular backpacking trip in the park, the Boy Scout Trail still feels isolated and remote, even just a few miles from the trailhead. The trail travels along the edge of the unworldly Mars-like Wonderland of Rocks, a jumble of giant granite boulders so dense that no road has been built through it.
How to hike the Boy Scout Trail
Before hiking, the Park Service recommends setting up a vehicle shuttle at the northern trailhead at Indian Cove Backcountry Board. Ambitious hikers and backpackers occasionally experience the trail as a 16-mile out-and-back, but most hikers do it as a one-way trip because there is no water along the route and you must carry everything you need.
Most hikers (including myself) start at the southern terminus off of Park Boulevard. Be sure to sign in at the backpacker's permit registration board along with your anticipated dates out. There's no cell reception for large parts of this hike, so you can't count on your phone in case of emergency. Most people find it easier to drop a car at Indian Cove and then drive to the West Entrance. See the National Park Service's Joshua Tree map for where the two trailheads are relative to one another.
What to wear, where to camp
As with all hikes in Joshua Tree, I've found loose-fitting clothes and a wide-brimmed had to be essential for backpacking this mostly unshaded route. Apply sunscreen and hike during the cooler parts of the day. Park rules allow you to camp anywhere along the western side of the trail. I've found plenty of flat spots for multiple tents in the numerous sandy washes along the trail (but be sure to watch for flash floods). Sections of the Boy Scout Trail use washes as the trail, so it's especially important to stay on trail to prevent getting lost. Pay attention to signed intersections with other trails. The Boy Scout Trail is 8.0 miles long one-way trip with 1,190 feet of elevation gain.
This long and strenuous backpacking trip ventures through the less visited wilderness areas of the park.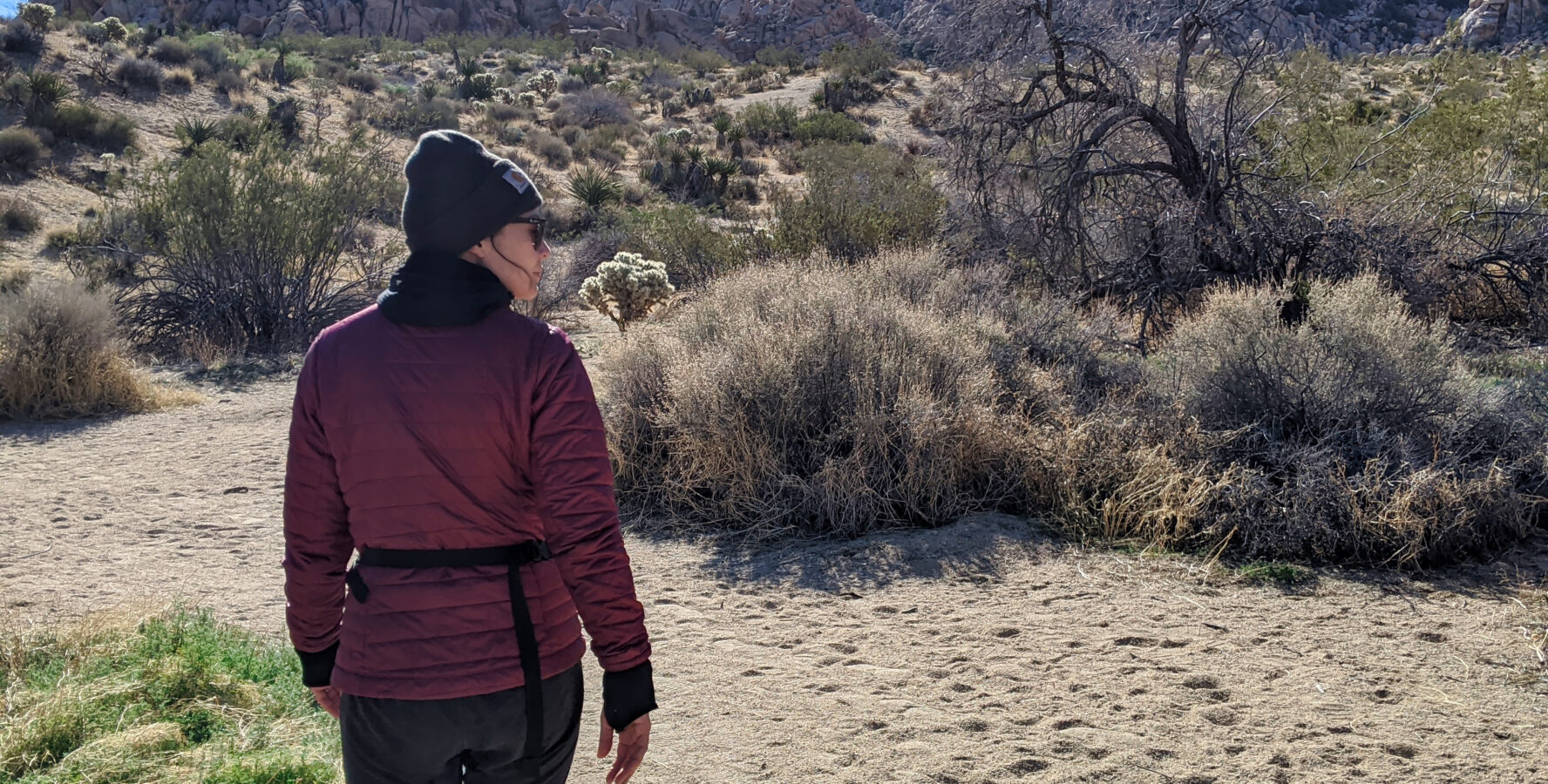 Boy Scout Trail (Joshua Tree) Hike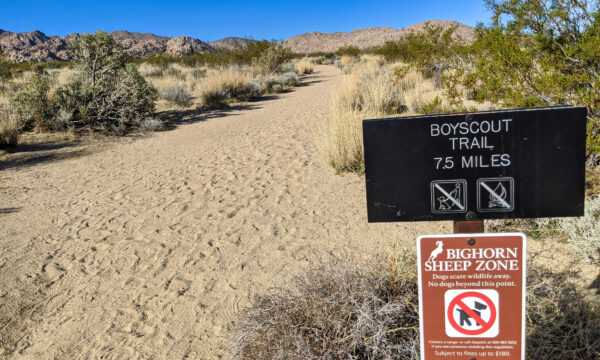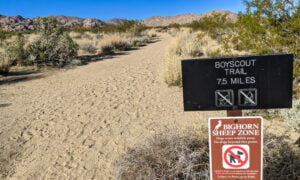 3. Black Rock Canyon Panorama Loop
Considered by many to be one of the best hikes in Joshua Tree in the Black Rock Canyon region of the park, the Panorama Loop follows a sandy wash to some incredible views of the surrounding mountain ranges. It's one of my favorite hikes to take friends who are game for a longer hike and don't mind heights.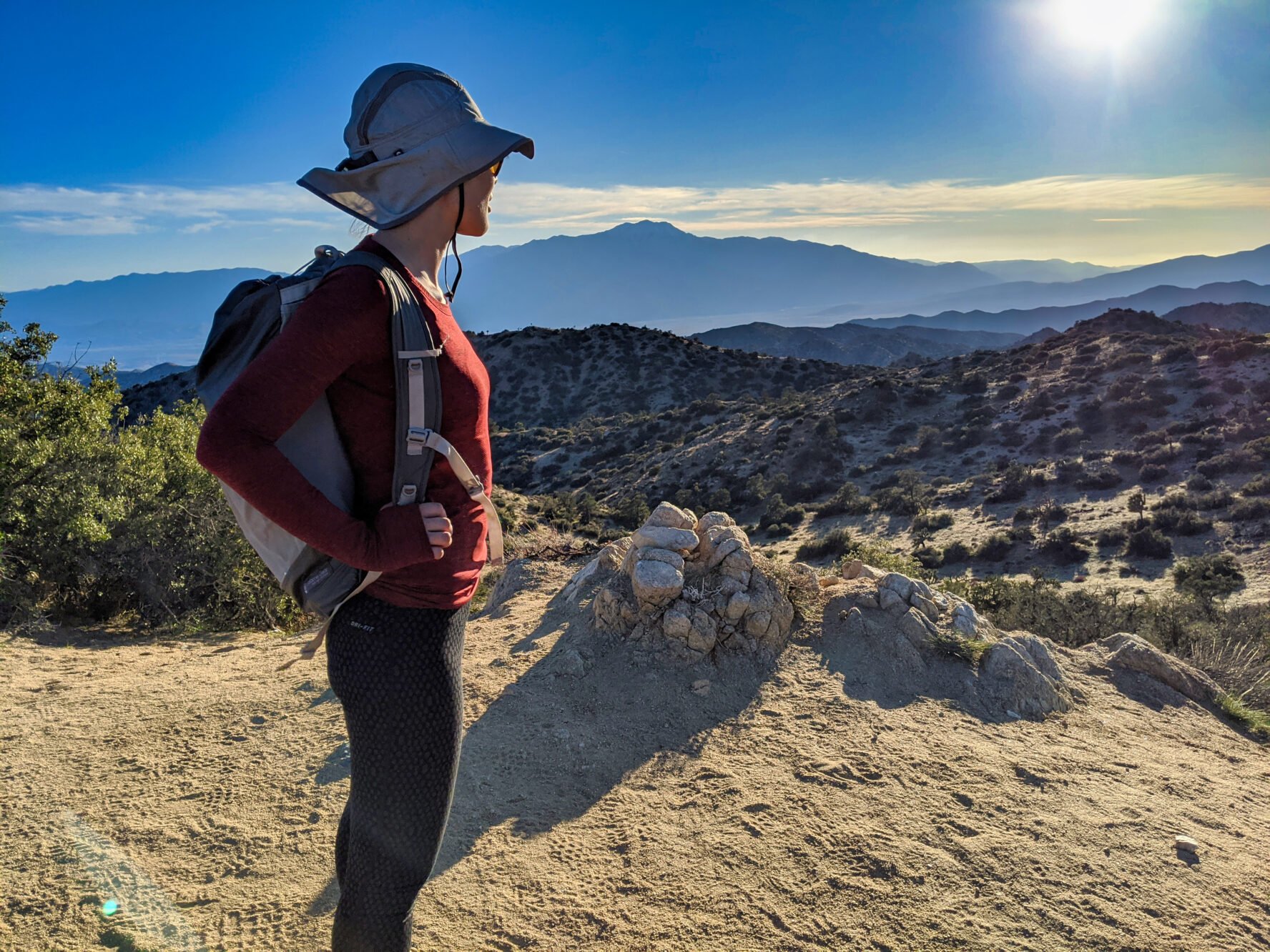 Black Rock Canyon is known for having some of the densest groves of Joshua trees in the park. I like that this hike is one of the few trails of its length in the park that visits juniper forest, too. The Panorama Loop is a killer place for epic panorama photos, and while I hate to admit it, I always stop at the top for something Instagram-worthy.
How to hike the Panorama Loop
Technically a lollipop loop, the trail starts and ends on a sandy wash by the Blackrock Backcountry Board. The trail is signed at all intersections, including connectors that go back to the Black Rock Campground nearby. After about half a mile, the canyon narrows. After passing Black Rock Spring (not reliable or always noticeable), you'll reach signposts indicating where the trail becomes a loop. I've found that the signage and navigation is a little easier if you head counter-clockwise. As you climb, there are incredible views of Mount San Jacinto (10,834 feet) and San Gorgonio (11,503 feet), part of Sand to Snow National Monument. I always stop for a photo with the abnormally large Joshua Tree smack in the middle of the trail. The Panorama Loop is 6.5 miles round trip with 1,200 feet of elevation gain.
This aptly named scenic loop ventures into the less-visited Little San Bernardino Mountains through dense forests, narrow canyons, near-razor edge ridgewalking, and panoramic views.
THE BEST HIKE FOR HISTORY LOVERS
The Wall Street Mine Trail is my go-to Joshua Tree day hike for friends and family who are history lovers. It's one of the best hikes in Joshua Tree for learning about the park's past. Bill Keys (whose name is also found elsewhere in the park, at Keys Point), operated Wall Street Mine from 1930 to 1966 to process gold ore. It worked by first having miners cart ore to the top of a mill. There, it was crushed by stamps into sand. The miners mixed the sand with water and mercury. Because gold and mercury stuck together, they could wash away the worthless gravel with water.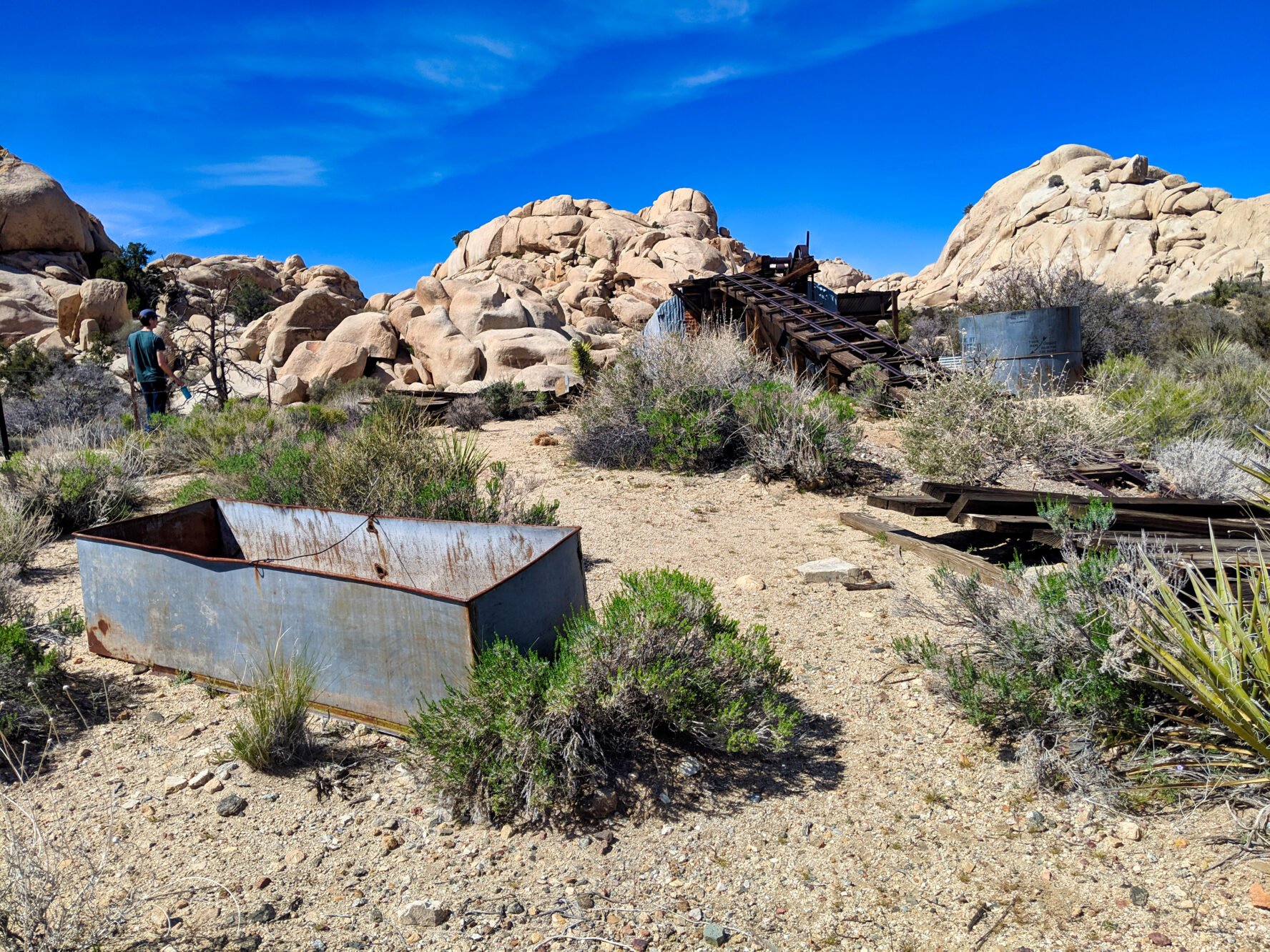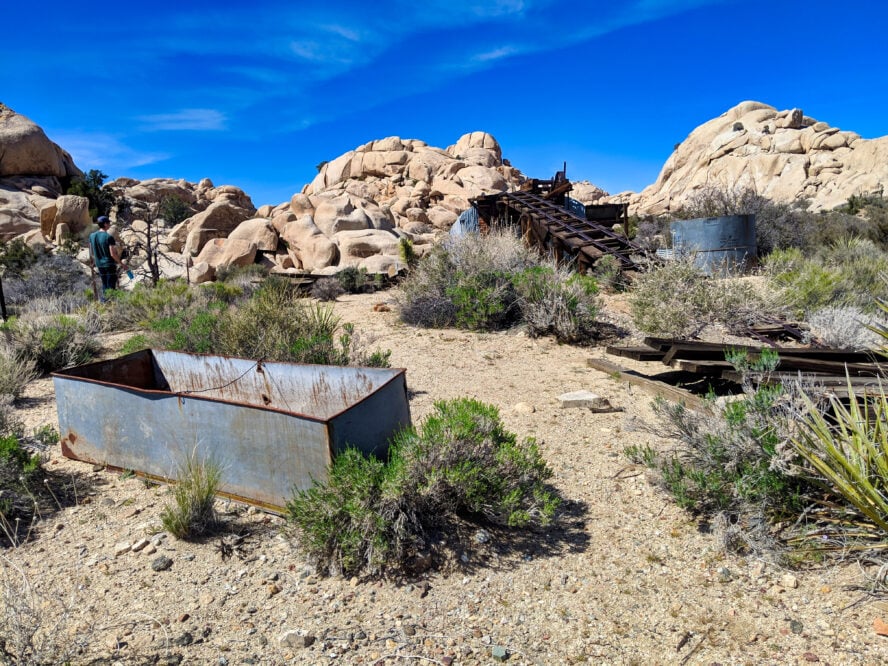 Explore Wild West artifacts along the way
While the mine is registered on the National Register of Historic Places, I like the Wall Street Mine Trail for the fun artifacts along the way. On your way to the mine, you'll pass the ruins of Wonderland Ranch, rusted cars, and an old windmill that pumped water for the mill. There's even a stone marker to show where Keys killed Worth Bagley in a land dispute shoot out (he spent five years in jail but was deemed innocent). I like to imagine a time when the area had enough water to support cattle and what it was like to live here during the days of the Old West.
How to hike the Wall Street Mine Trail
Park at the Wall Street Mine Parking Area off of Park Boulevard, following a marked trail heading northeast. This parking area can get crowded, so see the Joshua Tree Park Map for alternatives. As there are many historic artifacts here, it's important to leave what you find. You'll walk on a wide main trail that was an old dirt road used by the mine, passing the Desert Queen Well, shootout site, and rusted cars. The trail ends at the mill. Be mindful of old buildings, which lack structural stability. They may be fun to look at but are not safe to explore. Park Service signs show where you can and can't enter. The Wall Street Mine is a 1.4-mile, 100-feet of elevation out-and-back hike.
One of the best short hikes in Joshua Tree, history buffs will enjoy visiting one of the best-preserved early-20th century historic gold mining sites found anywhere.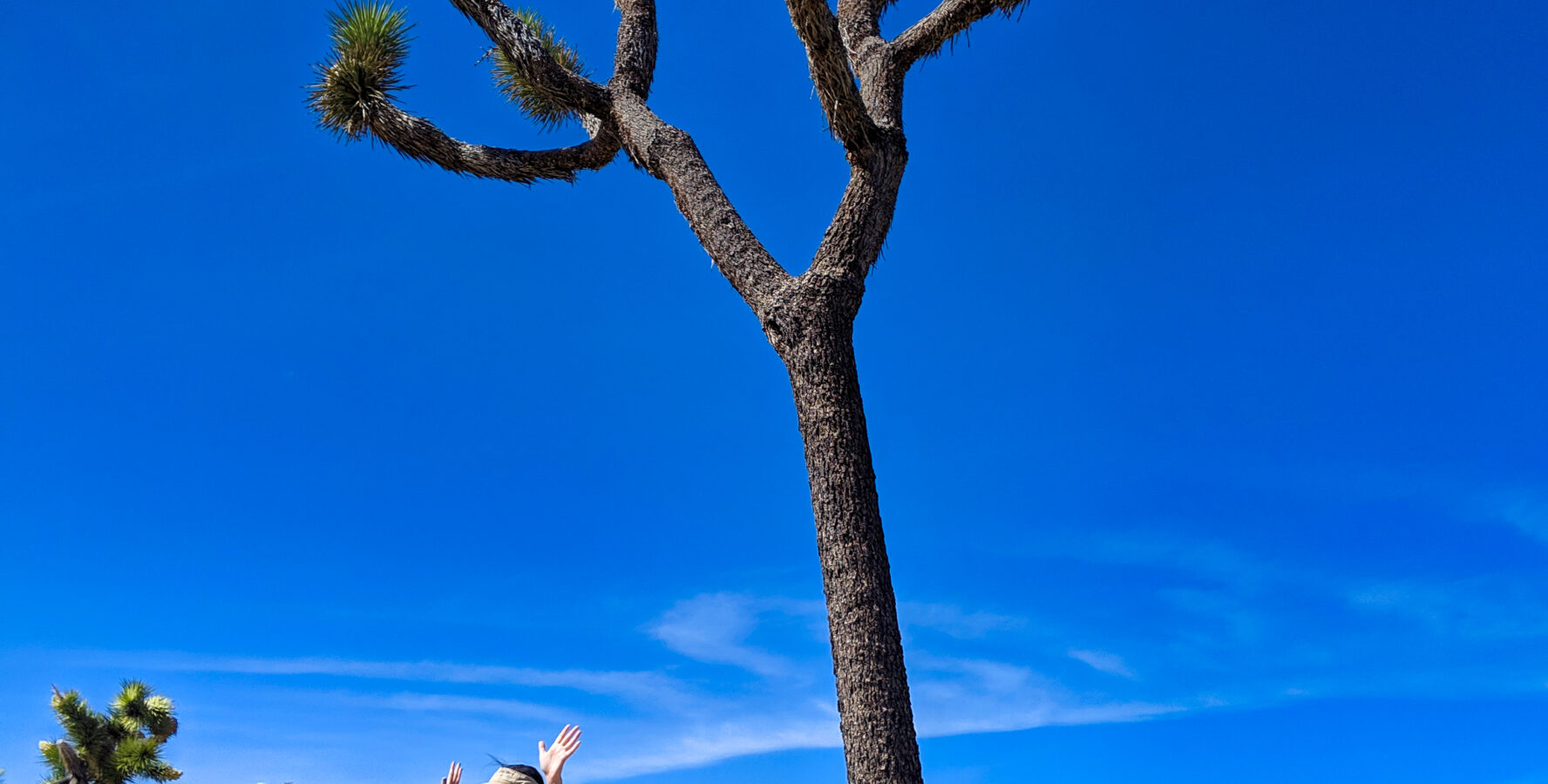 Hiking Joshua Tree National Park - Wall Street Mill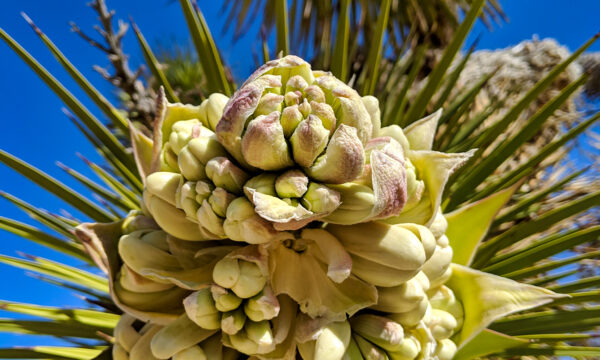 Barker Dam is one of the best day hikes in Joshua Tree of its length (just 1.4 miles). Although this trail can get crowded and parking is limited, it's hard to find another Joshua Tree hiking trail that offers the variety of scenery and cultural history found at Barker Dam.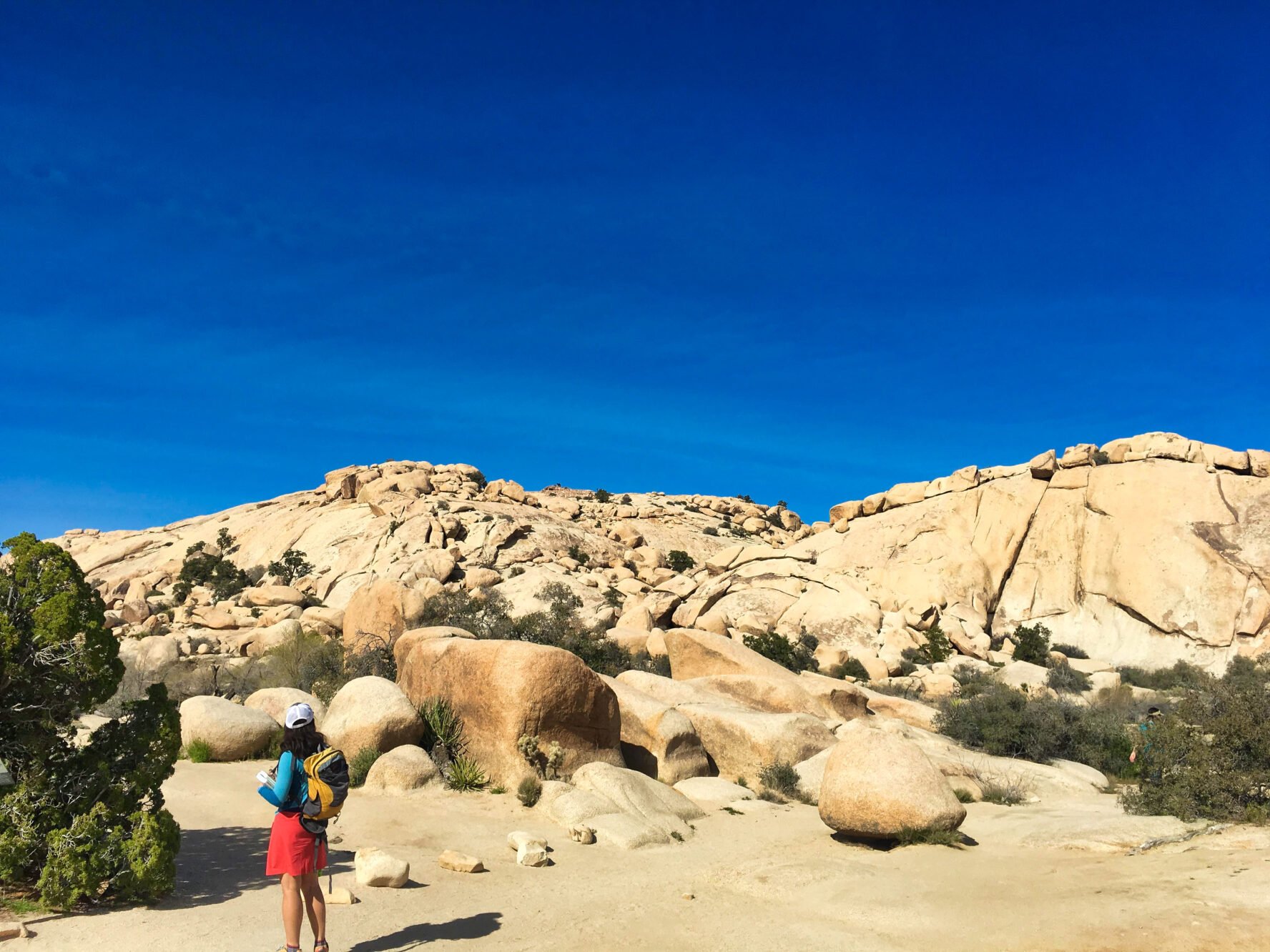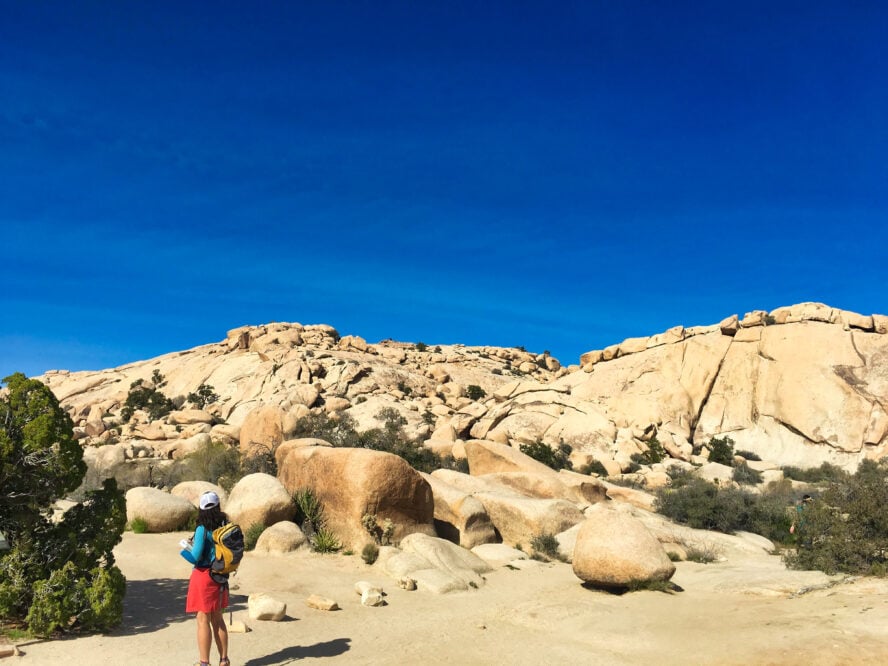 An oasis within the desert
The Barker Dam Nature Trail visits one of the largest historic reservoirs in the Park — built more than a century ago by the Barker & Shay Cattle Company to support cattle ranching in the park. When I've visited during wetter springs, there's a lake behind that dam that supports waterfowl and riparian vegetation. Tucked under cliffs and lined with the Wonderland of Rocks, this place feels peaceful (even when crowded). I love this hike because it's not what you'd expect to see in a desert park. Another nice perk of this trail is that it ends by dropping into a Joshua tree and yucca-filled valley where petroglyphs can be found not far from the path.
How to hike the Barker Dam Nature Trail
From the Barker Dam/Wall Street Mine parking area, walk north on broad trail, following signs to the dam. The nerd in me reads all the interpretative signs along the way, which tell of the hard life of native vegetation. The trail enters a narrow corridor but opens into what feels like a surprisingly open valley. There, you'll find Barker Dam (and if it's early in the season or been a wet year, Barker Lake). Follow the edge of the lake and then drop into a Joshua tree and yucca-filled valley. At the end of the hike, pass petroglyphs that tell of the Native American history. This is a great go-to hike in the spring (especially if it has been a wet year) and pairs nicely with the nearby Wall Street Mine hike, which shares the same parking lot. The Barker Dam Nature Trail is a 1.5 mile-long loop with 100 feet of elevation gain.
One of the most popular Joshua Tree day hikes, Barker Dam is a historic dam built by early cattle ranches and one of the only places you can see natural water in the park.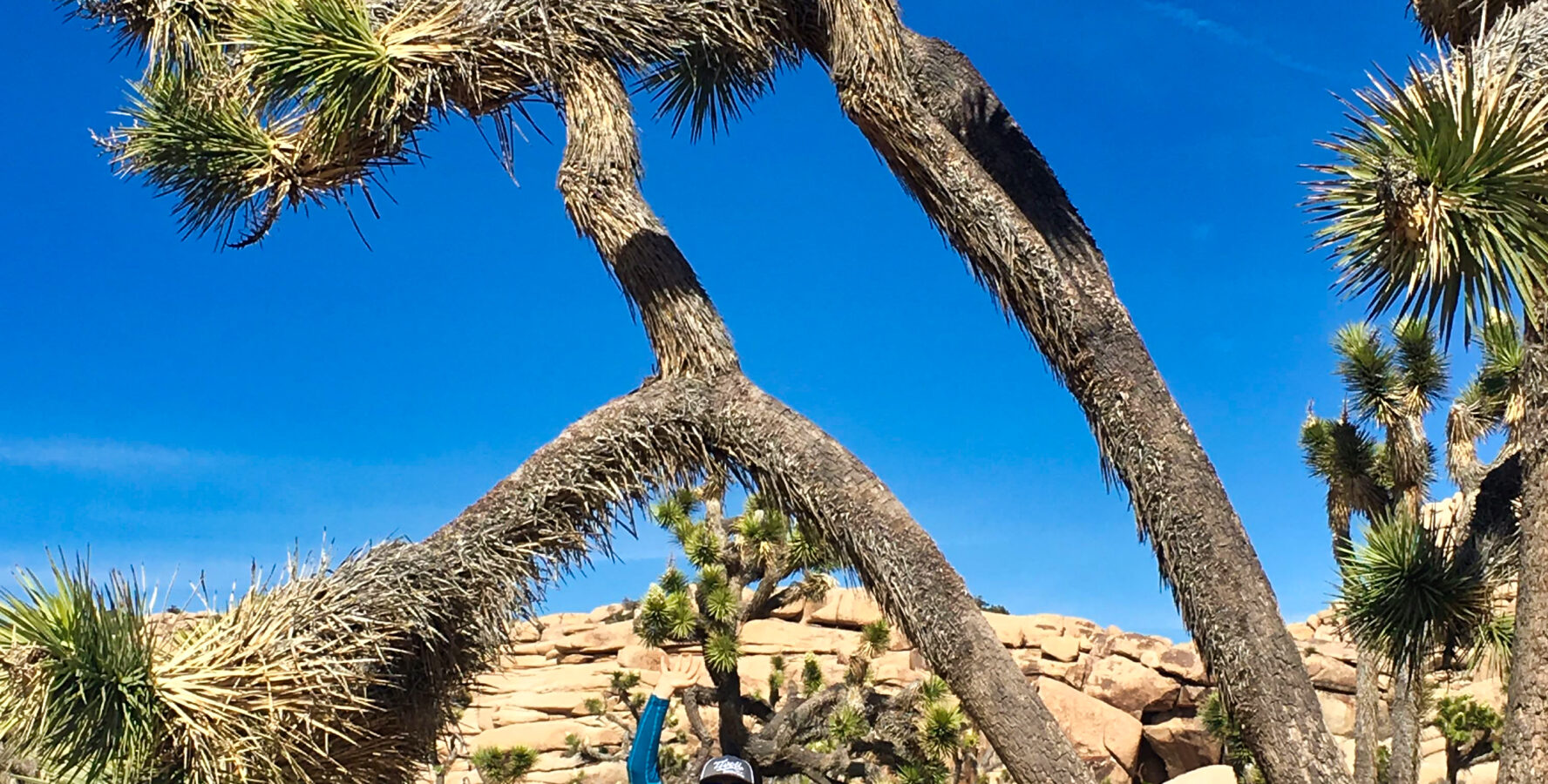 BARKER DAM TRAIL, JOSHUA TREE NATIONAL PARK, CA.
6. Split Rock Trail with Face Rock Spur
THE BEST TRAIL FOR SCRAMBLING AND BOULDER VIEWING
This classic Joshua Tree day hike is a loop that takes you past three of the park's famed giant monzogranite boulders: Split Rock, Tulip Rock, and Face Rock. I like this hike because there are so many places to scramble and play on the rocks.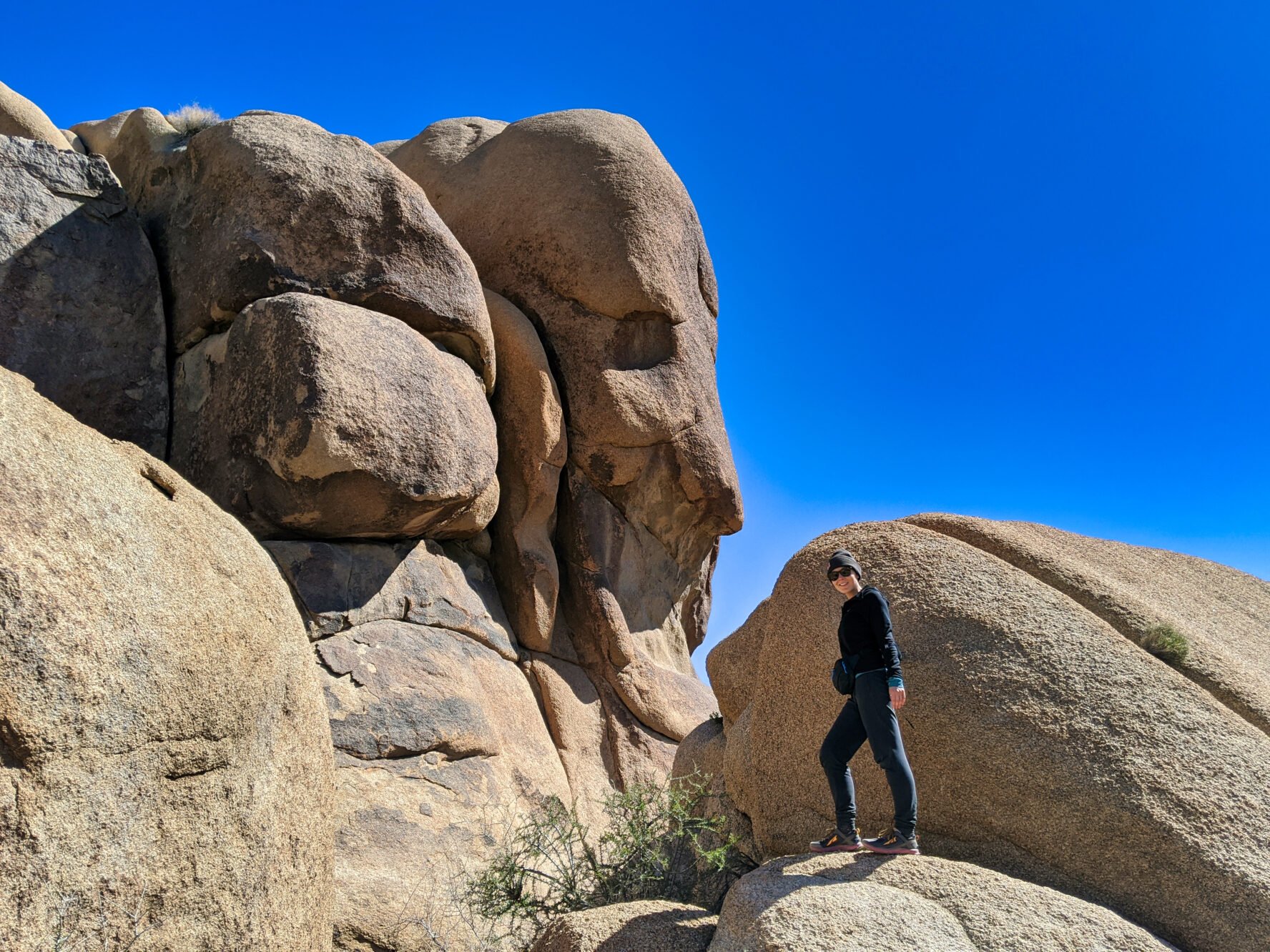 Along the way, you'll pass a cave formed by an overhanging boulder that even has a tunnel at the back big enough for kids to crawl through. I also like that the trail passes several marked climbing locations, which have posts showing user trails. In the past, it was easy to get the hiking trail and climbers trail mixed up, but this area has become a great example of how multiple-users can share a beautiful area.
Easy access to a network of trails
The Split Rock hike features several house-sized formations big enough to crawl into. One of the best things about this hike is how easy it is to add on spurs, like the 0.3-mile round trip path to Face Rock. The Split Rock Trail becomes a means to access a whole system of trails in the area and visit even more house-sized boulders in this area of the park.
How to hike the Split Rock Trail
Start at the Split Rock Picnic area, where signs and posts mark the Split Rock Trail loop. On your right after just a minute of hiking, you'll find the cave to your right. Next, you'll see Split Rock in the distance, which has a narrow fissure dividing its upper half. A few more minutes on the trail, and you'll see Tulip Rock, which looks like a cockscomb on a rooster. In Spring 2020, rangers were working on making this trail even easier to follow, with small rocks lining the trail on either side. Maps and signs make it easy to add on spurs. The Split Rock Trail is a 2.5-mile-long loop with 150 feet of gain, but you are free to add on as many of the connected trails in the area system as you would like.
One of the best day hikes in Joshua Tree, this view-filled hike visits caves and some of the most famous giant boulders in the Park.
7. Cholla Cactus Garden Loop
A SHORT HIKE WITH INCREDIBLE PAYOFFS
One of the best short day hikes in Joshua Tree, the 0.25-mile loop through the Cholla Cactus Garden is a must-see for every Joshua Tree visitor. Located on the less-visited Pinto Basin Road, the cactus garden is the only hike described here that lies in the Colorado Desert, not far from the transition zone separating the Mojave Desert.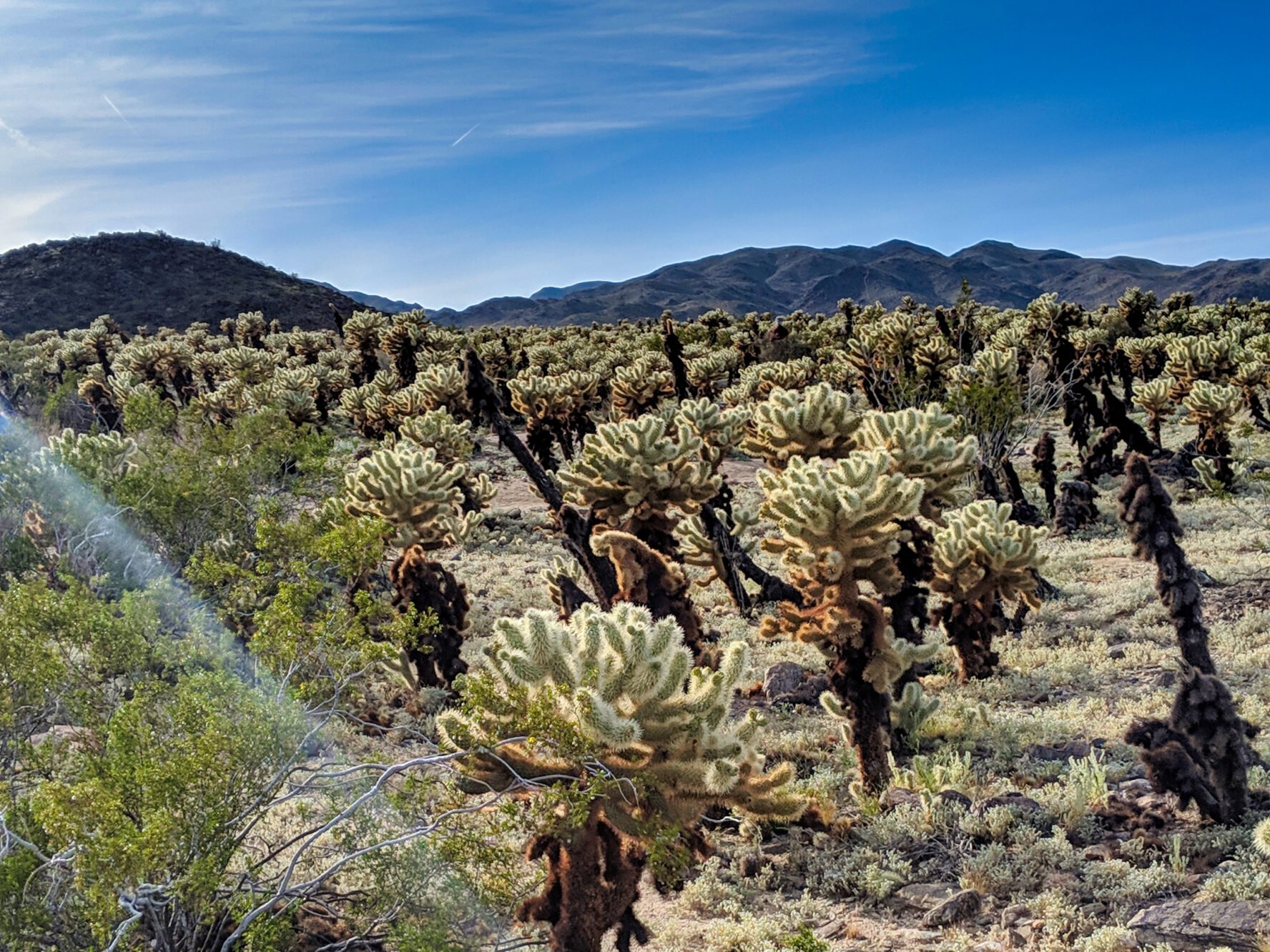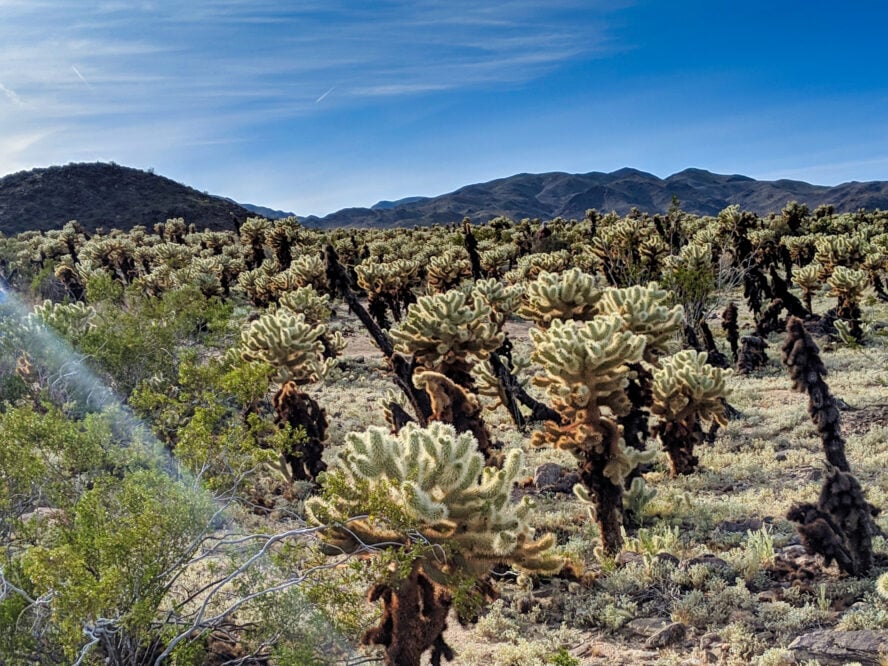 Despite the long drive, I like visiting the cactus garden because it's botanically and geologically unlike so many of the more popular hikes in the park. Sure, given that it's an easy hike, it does get crowded. But catching sunrise or sunset set over the cholla is one of the most magical experiences I've had in Joshua Tree National Park.
How to hike the Cholla Cactus Garden
Located smack in the middle of the park, the Cholla Cactus Garden is accessible from three different entrances. From the North Entrance Station, take Park Boulevard to Pinto Basin Road, pass White Tank Campground, and follow it through Wilson Canyon to the Garden. From The West Entrance, take Park Boulevard and turn right onto Pinto Basin Road. From the Cottonwood Ranger Station, take Pinto Basin Road past Ocotillo Basin. The trail itself is an elevated wooden platform designed to protect the cactus and your feet from impacting each other. Stay on the trail and wear close-toed shoes and be cactus-aware. Many people have been spiked inadvertently by the densely populated cacti.
One of the best short hikes in Joshua Tree, the Cholla Cactus Garden Loop takes hikers to see thousands of naturally growing cholla cactus.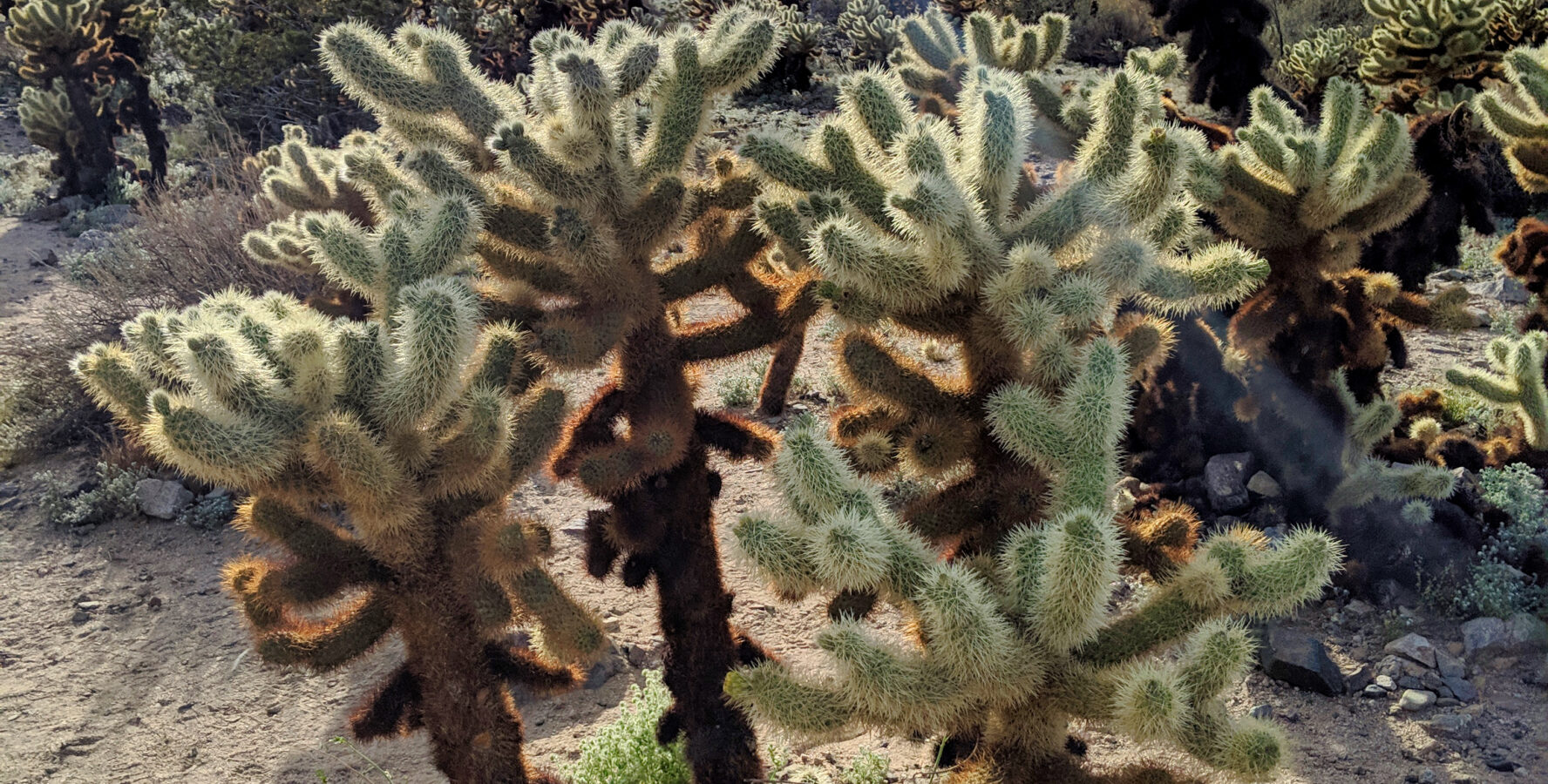 Joshua Tree Cholla Cactus Garden | 4K Walking Tour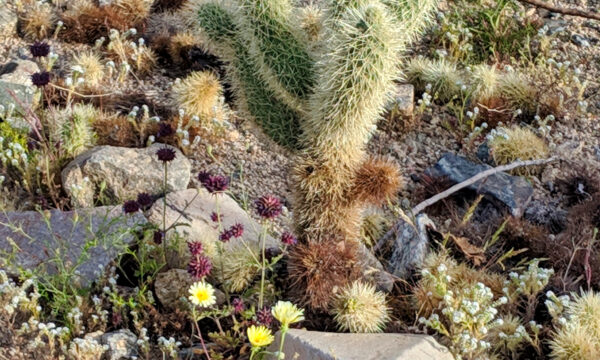 What You Need to Know Before Visiting Joshua Tree National Park
Diversity of geology give you plenty of reasons to take close-up and landscape photos
One of few National Parks that are best to visit during winter, spring, and fall months, as it rarely gets snow
Wildflower displays during spring are incredible
Stargazing opportunities abound as well as legendary sunsets
The park is well-designed for visitors with numerous campsites, outhouses, and signage throughout
A world-class rock climbing destination, with plenty of opportunities for all climbing skill levels
Heat, wind, dry air, and mild altitude can make hiking challenging for some people. Try to acclimate to the area before attempting longer hikes.
While the trails in this guide are well-marked, it can be easy to confuse desert washes for trail
During early fall, late spring, and summer, temperatures and sun exposure can make hiking extremely challenging during the day
Like all national parks, bikes and dogs are only allowed on paved roads
Before you start planning a hiking, backpacking or camping trip to J-Tree, here's some things you'll need to know before making your pilgrimage:
When is the best time of year to go to Joshua Tree National Park?
One of the best things about Joshua Tree for hikers, campers, climbers, and backpackers is that its peak season is during autumn, winter, and spring. Peak season, according to the Park Service, is October through May. Yosemite rock climbers flock to J-Tree when higher mountain ranges are too cold and icy to play in. Hikers, too, explore Joshua Tree when nearby San Jacinto and San Bernardino are less accessible due to winter road closures.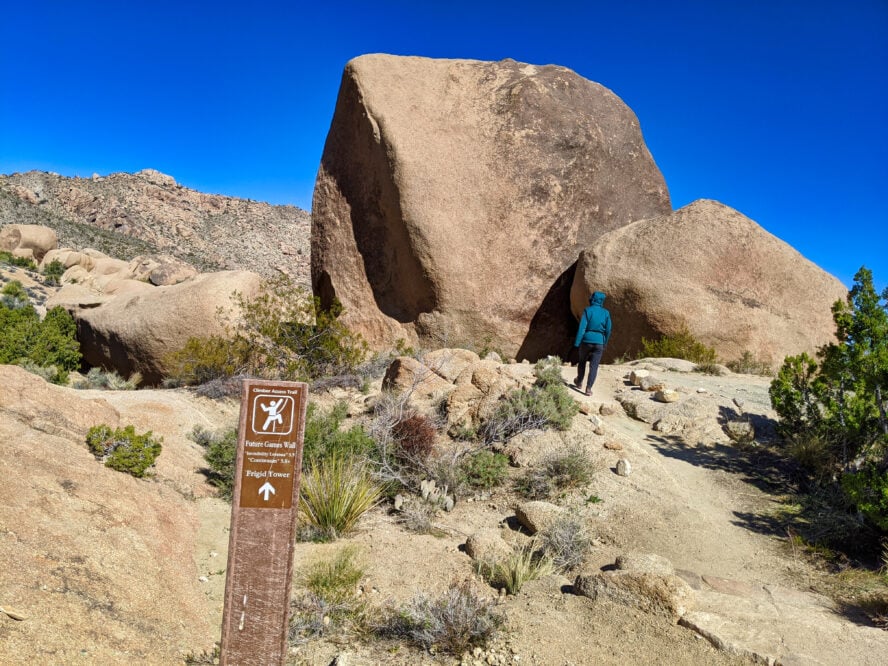 However, Joshua Tree can be dangerously hot during the summer. There is almost no natural water in the park, and the Park Service requests that all water be left for wildlife. I'd suggest planning hiking and backpacking trips here for the cooler months. When I'm visiting during warmer months, I've found it's ok taking short hikes early in the morning, sticking to trails near campgrounds.
Do I need a permit to backpack in Joshua Tree?
Joshua Tree has an entrance fee of $35 per standard automobile (which is good for in-and-out entry for seven days). There's no other permit required for hiking or backpacking in the park.
Joshua Tree backpackers can self-register for free at 13 different trailheads. Additionally, I will get a free California Fire Permit so that I can operate any stove in the backcountry, including Jetboils and other backpacking stoves that use pressurized fuel. You can obtain a free permit online by watching a video and answering a short, multiple-choice quiz. I print my permit and take it with me before leaving home.
While it's never a good idea to leave valuables in a parked car at a trailhead, I've generally found Joshua Tree trailheads to be safe. Unlike some national parks, I don't have to worry about wildlife break-ins, so I usually leave some celebratory car snacks and beverages (including plenty of water) to enjoy after my backpacking trip.
Where to camp in Joshua Tree
Joshua Tree has eight campgrounds inside the park. Each of these campgrounds is $15 per night with a maximum of six people, three tents, and two licensed vehicles (although I've discovered some sites can only fit one car). All the campsites have toilets, picnic tables, and campfire rings with fire grates. As Joshua Tree is a high desert, the campsites range from 3,000 to 4,300 feet in elevation, so nights can be cool. Bring a warm sleeping bag.
Only two of the campgrounds — Black Rock and Cottonwood –have water and flush toilets available. When I'm staying at the other campgrounds, I'm sure to leave home with many gallons of water or fill up jugs in town with enough water for the night (plus any water I need for day hikes). There's also a spigot at the West Entrance Station, Oasis Visitor Center, Cottonwood Visitor Center, and Indian Cove Ranger Stations. None of the campgrounds have showers.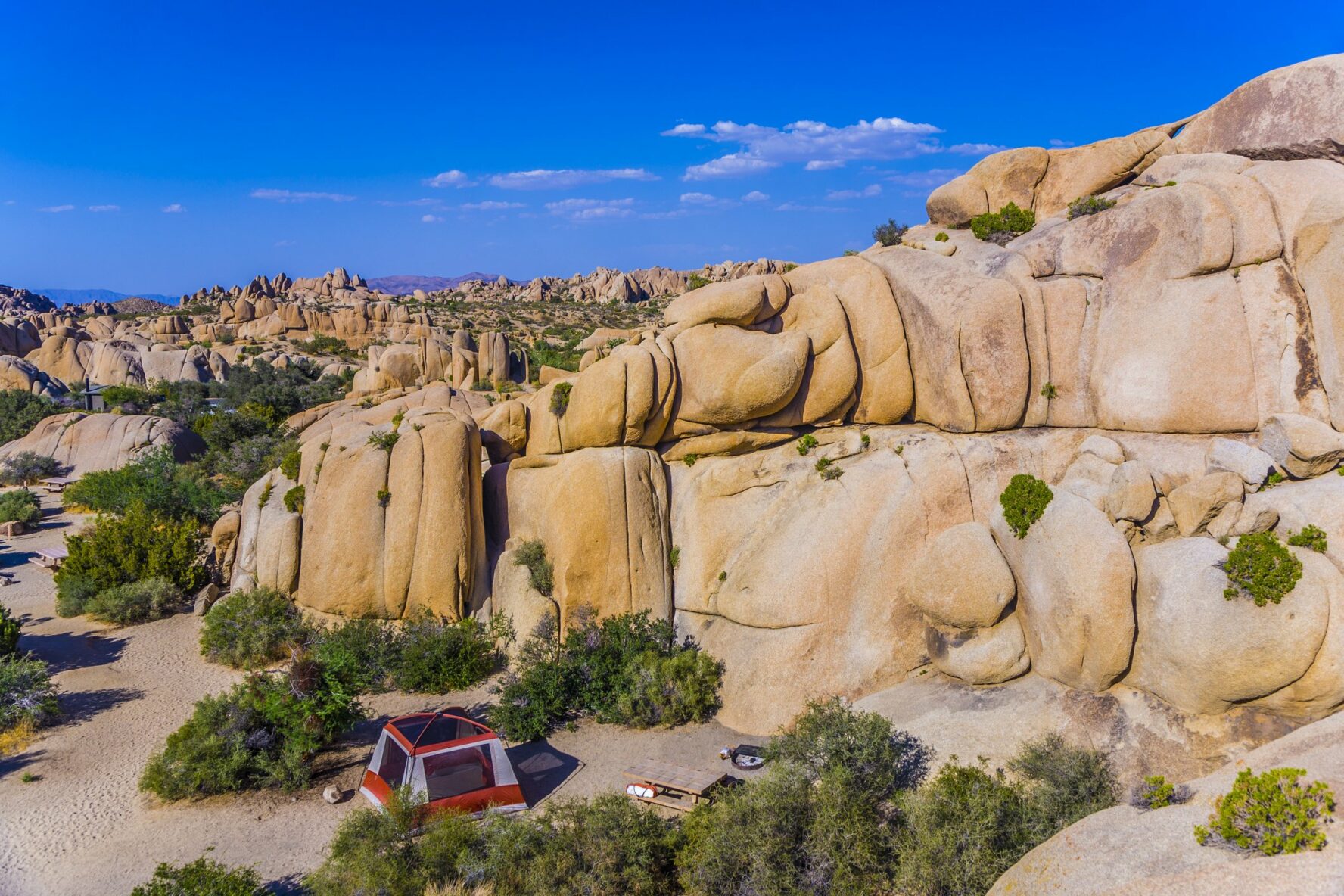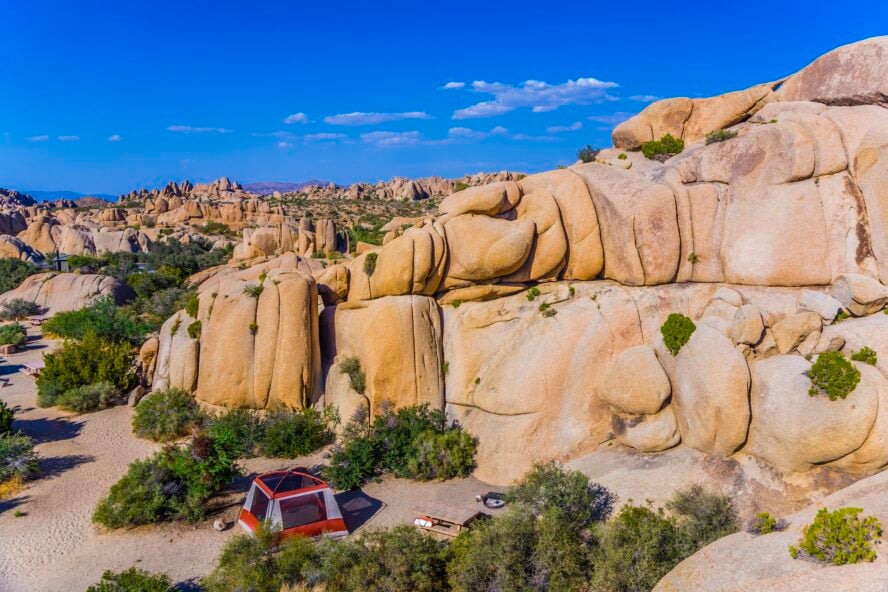 Four of the park's campgrounds are on a first-come, first-served basis: Belle, Hidden Valley, Ryan, and White Tank. The other four sites–Black Rock, Cottonwood, Indian Cove, and Jumbo Rocks — can be reserved at www.recreation.gov or 877-444-6777. Reservations can fill quickly, especially on weekends, during holidays, and between October and May. I recommend using the secure online system as soon as you know the dates of your trip.
Additionally, there are four private campgrounds outside of the Park, most which feature hookups and dump stations for the RV crowd.
Can you have a campfire in Joshua Tree?
Campfires are not allowed outside of the Joshua Tree campgrounds. When I want a campfire, I use one of the eight designated campgrounds inside the park. I've found out the hard way that none of the campgrounds sell firewood (and collecting firewood from the park is illegal, not to mention impossible to find). Be sure to buy a bundle or two in town before heading to your campsite.
Check conditions before you backpack
While rain and snow are relatively rare, wind and extreme heat can be issues in Joshua Tree. Check conditions before you go. Additionally, localized weather reports are available at the entrance stations and visitor centers.
Should I hire a hiking guide in Joshua Tree?
Definitely! Hiking with a guide in Joshua Tree is the best way to experience the park. Your guide will show you the best trails, help you escape the crowds and provide you with valuable information you wouldn't otherwise get. In short, hiking with a guide will make the most out of your Joshua Tree National Park adventure!
Do I need hiking boots for Joshua Tree?
Many hiking trails in Joshua Tree follow desert washes, which can be as sandy as walking on a dry beach. Other trails can be quite rocky. If you are accustomed to hiking in boots, I'd suggest bringing your favorite pair along. If boots aren't your thing, I'd suggest hiking shoes or trail running shoes, both of which offer stability and traction necessary for the rocky, uneven trail. While some hikers prefer to hike in sport sandals, Joshua Tree is one place where I'd suggest against it. I've learned the hard way that Joshua Tree hiking trails have sharp pieces of granite sand that can easily get lodged under sandals.
Can I hike with my dog in Joshua Tree?
Like almost all national parks, you can only hike with your dog on roads or trails. Pets are allowed at Joshua Tree campgrounds but must stay on-leash at all times and cannot be left unattended. Several private pet hotels are available in the area, including 1.0 mile from the West Entrance Station.
Are there snakes in Joshua Tree?
Yes. Joshua Tree is in a thriving desert ecosystem, and snakes play an essential part in reducing rodent populations. To avoid contact with snakes, never put hands or feet into rock crevices or places where you cannot see. Snakes, like many desert creatures, seek shade from the intense desert sun and can be found in rock piles. If you do encounter a snake, give it lots of space, be patient, and let it slither away.
Are you ready to hit the trails in this world famous park? Let a Joshua tree hiking guide take you on an outdoor adventure you'll never forget. Four days backpacking around the best parts of the Mojave Desert? A private customized day tour for your entire group? We've got you covered!