Cara covered:
How to find amazing biodiversity in Yellowstone NP
Expert tips for spotting even the rarest animals
Choosing the right season for your epic wildlife watching adventure
The logistics behind planning a perfect stateside Safari
Essential tips for being a respectful observer
With 3,500 square miles of dazzling wilderness and a bevy of geothermal wonders, Yellowstone National Park is a world-renowned symbol of the American West. But did you know that it's also home to the largest concentration of wildlife in the lower 48?
In the canyons, lakes, rivers and mountains of (mostly) Wyoming, wolves and grizzly bears scour the hills and valleys as bald eagles patrol the air. Moose trot across the wetlands, while the steppes echo with the rumble of bison herds. Of course, spotting wildlife in such a sprawling park can be a challenge.This is where a good guide comes into play!
Check out this free webinar hosted by a seasoned wildlife expert Cara McGary where she talks about the ins and outs of successful wildlife watching in Yellowstone. Discover a spectacular ecosystem where 400 different animal species run, swim, slither, and soar across awesome landscapes, and see why witnessing them all in their natural habitat beats the zoo any day of the week!
Learn about the park's natural history, ecology, and the conservation efforts that take place in one of the greatest megafaunas in the world!
Webinar host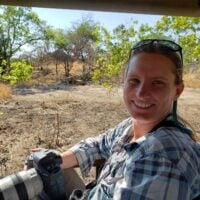 Cara McGary
Biologist guide and owner of In Our Nature Guiding Services
During a winter visit to Yellowstone National Park, biologist Cara McGary instantly fell in love with its flora, fauna, and breathtaking landscapes. Inspired by her trip, she founded In Our Nature Guiding Services with the sole purpose of bringing the magic of Yellowstone to curious adventurers from all over the world. When she's not in Yellowstone, Cara enjoys snorkeling and exploring tidepools.