Roland covered:
Highlights from the greatest hiking trails to Machu Picchu
Choosing the right trek for your goals and fitness level
The historical sites and natural landmarks you'll encounter
When to visit and how to deal with the weather
What to bring on your hike
Pro tips on avoiding the crowds
When it comes to Machu Picchu, the Lost City of the Incas, the journey matters just as much as the destination. There are numerous paths leading to this ancient citadel hidden in the clouds—so which one should you take?
The coveted Inca Trail winds across the Andean Mountains through jungles and embanked ruins of the Sacred Valley before taking you through the Sun Gate. The Salkantay Trek is a rich smorgasbord of Peru's lush environments and ecosystems, while the Lares Trek provides an inside look into the lives of locals, letting you stay in their villages, sampling the cuisine and bathing in the hot springs.
And who doesn't like a good easy option? The short and sweet Huchuy Qosqo Trek will take you to Machu Picchu in under three days of light walking. Plus, here's a secret: if you're really strapped for time, you can even take the train!
If you want to hear about all these epic hikes from a local guide, make sure to check out our free one-hour webinar. Roland covered everything you need to know for your very own trip to Machu Picchu, one of the New Seven Wonders of the World.
Webinar host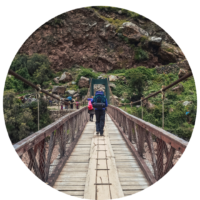 Roland Llave
Co-Founder of CrossoverPeru
Roland Llave's unique group tour adventures in Peru aren't the typical 60-seater-bus affair—his team offers a more individual and personal approach, letting you get up-close and personal with the landscapes and the people. Roland prides himself on working with local communities, and his greatest goal is to contribute to the development of the country through high-impact projects, under the principles of empathy and sustainability.