Bear Mountain Hiking — A Perfect Escape From the Big Apple
If you're due for a dose of adventure and serenity, I can attest that you can't go wrong with a visit to Bear Mountain State Park. Who knew amazing hiking awaits only an hour away from the hustle and bustle of big city life?
Over 5000 acres of tree-covered hiking trails with hidden lookouts and surprising amenities along the way, breathtaking 360-degree views looking out over the Hudson Valley — I could go on and on about why Bear Mountain State Park is the best go-to choice for taking a break from the chaos of city life.
I hiked through the area during my Appalachian Trail thru-hike and was highly impressed with the state of the trail and the park itself. The grade was challenging but not unreasonable, the tread smooth, and the trails around this area are incredibly well-maintained. There is a truly amazing section of trail heading up the mountain. The 1,000 stone steps are admittedly exhausting to climb, but one of the most amazing examples of trail building I've seen in my time on the trails. Add a pool, a carousel, and even a zoo, and you've got the spot for a perfect weekend adventure.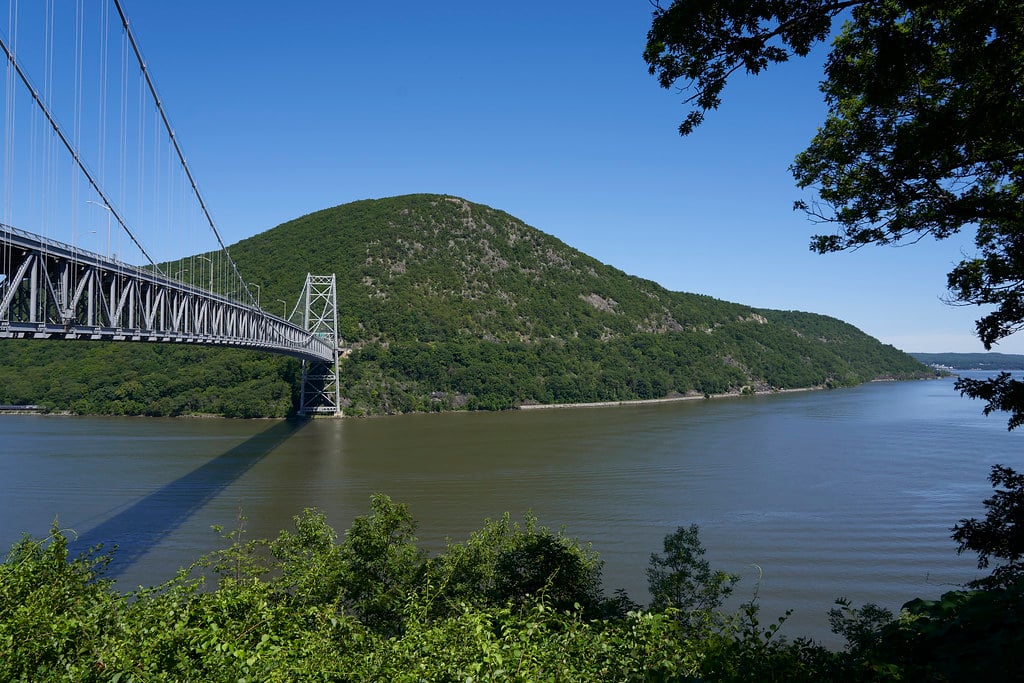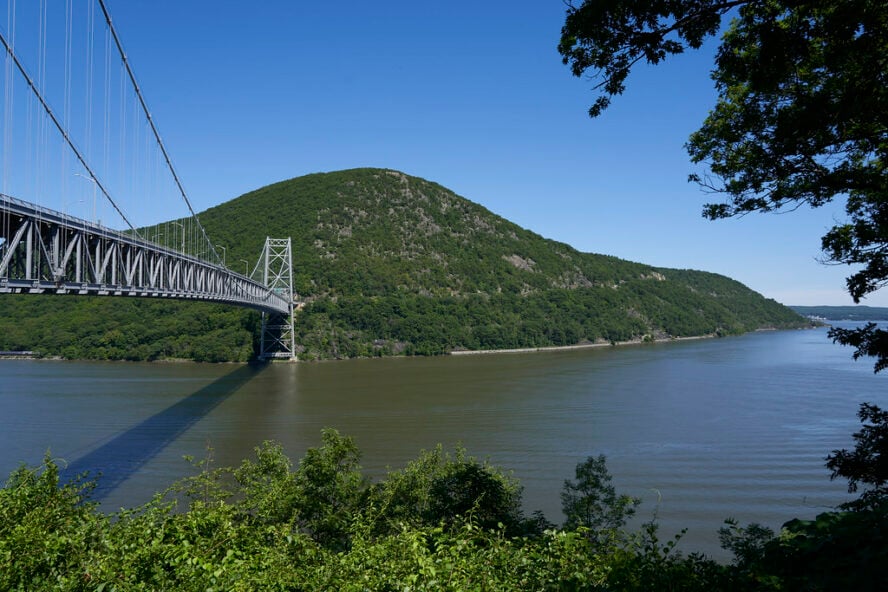 Pros and Cons of Hiking in Bear Mountain State Park
Outdoor recreation opportunities for visitors of all ages and fitness abilities
Ample parking and well-organized infrastructure
Park is open 365 days out of the year, with activities for all four seasons
Trail maintenance is top notch
Many locations and amenities are accessible
Can be crowded depending on season and activity
The parking lot at the top of Bear Mountain is a bit of a buzzkill for people who hiked up
A bit of local history surrounding Bear Mountain
Nestled in the Hudson Valley on Palisades Parkway, Bear Mountain State Park sits on the west bank of the Hudson River and stretches into the surrounding mountains and hills. As development increased throughout the Hudson Valley at the turn of the century, efforts were made to preserve the rugged natural beauty of the area. Bear Mountain State Park was established in 1910, thanks to the combined efforts of wealthy local businessmen. It has grown and expanded in the 100+ years since its creation to become a hub of recreation and a getaway to the heart of nature within close range of New York City, which is why it made my list of one of the best hiking destinations in USA.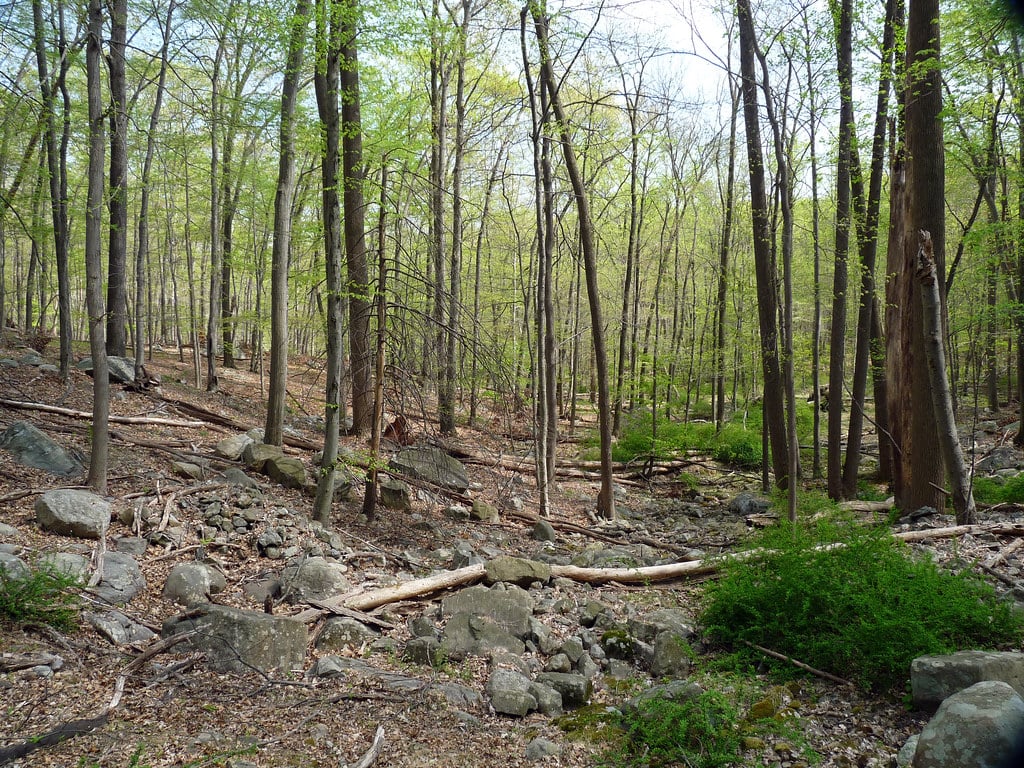 How many trails does Bear Mountain have?
Bear Mountain boasts over 50 trails across 200 miles, spanning all corners of the park, spread out over 5,000 acres of land. You'll mostly hike in wooded terrain, complete with tough, but rewarding ascents, and stunning 360-degree views waiting for you at the top. If you're not up for a summit day, take a stroll along the lower elevations or piece together a connected series of loops depending on how much time you have. If you're looking for a Bear Mountain hiking trail map, the state park website has you covered.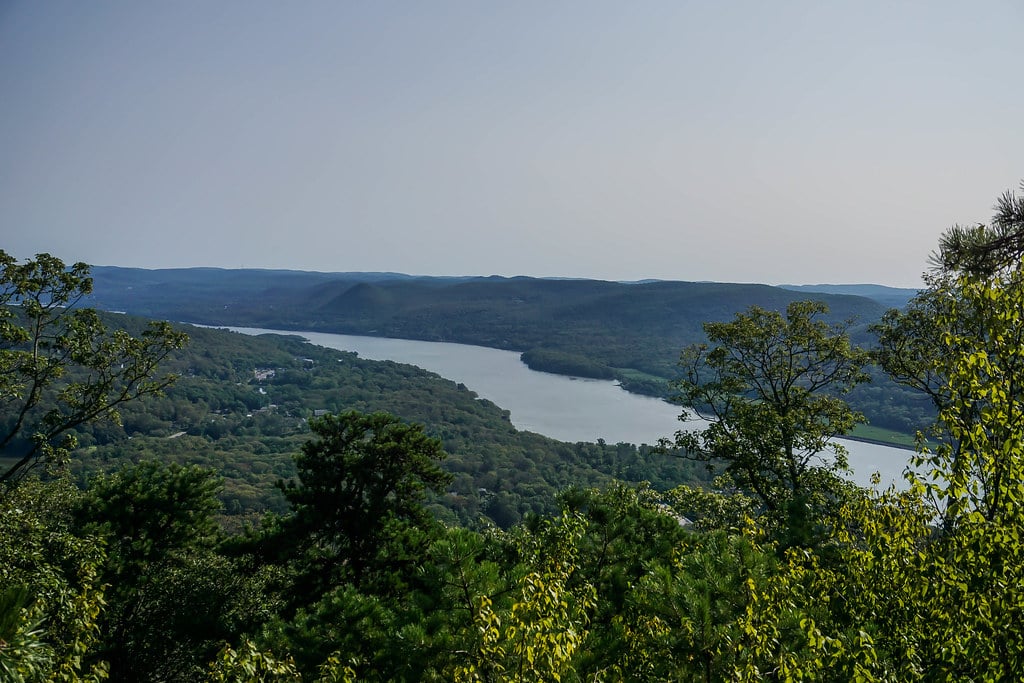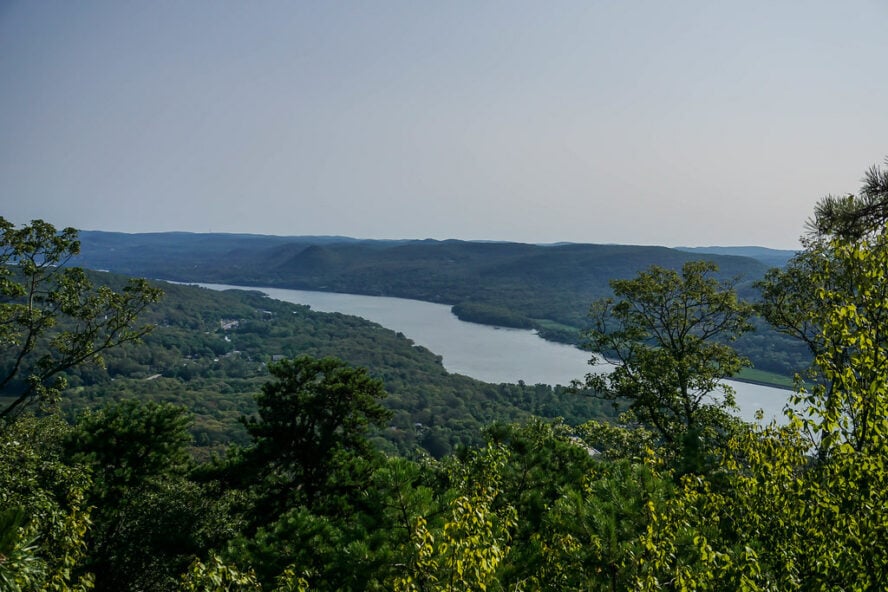 Hiking in Bear Mountain State Park
Hiking options in Bear Mountain State Park range from challenging, steep climbs to peaceful walking paths. The Bear Mountain Loop Trail is the classic choice, with some steep, rocky sections to get your heart rate up. While there is a shortcut to the top, you'll be glad you walked this trail's stone steps — all one thousand of them.
Hiking the Bear Mountain Loop Trail
The Bear Mountain Loop is easily the main attraction and the biggest draw to the place. Spoiler alert, it lives up to the hype, and many fellow hikers can attest to that. Don't let its popularity deter you from venturing out. This 4.2 mile-long trail is one of the best in the region, possibly one of the best short hikes I've ever experienced. The trailhead and final destination of the hike is the Bear Mountain Inn. The loop trail combines the Major Welch Trail and the legendary Appalachian Trail with other short, scenic hikes that crisscross the park.
Your first feat will be following the well-marked Major Welch Trail, taking you on a decently paved path. After you pass the scenic Hessian Lake, you'll climb the first portion of stone steps. They look like something out of a fairytale but will get your lungs going. The climb is gradual and mildly challenging. Make sure you snap a few photos of the wildflowers peeking from dense laurel, it's gorgeous when they're in bloom.
The real treat and crux of the hike is the 1.5-mile ascent up Bear Mountain. This section of the trail is steep-city, with crumbly, loose rocks. Bear with it (pun intended) because the views from the top are worth it. As you make your way down the mountain, you'll see the Perkins Memorial Tower, which sits at the summit of Bear Mountain. From there, you'll link up to The Appalachian Trail grade, which is actually less challenging. The terrain dips down on stone steps. While they aren't difficult to navigate, there are a lot of them. I would recommend you stray off the main path here and there, as there are hidden lookout points worth exploring.
How long does it take to hike Bear Mountain?
The most famous Bear Mountain hike, the Bear Mountain Loop, takes anywhere from 2 to 3 hours to hike. This will greatly depend on your fitness level and the amount of experience you have with hiking on loose, uneven terrain. The hike itself is moderately strenuous, so if you don't have much outdoor experience, stick to the lower elevation hikes.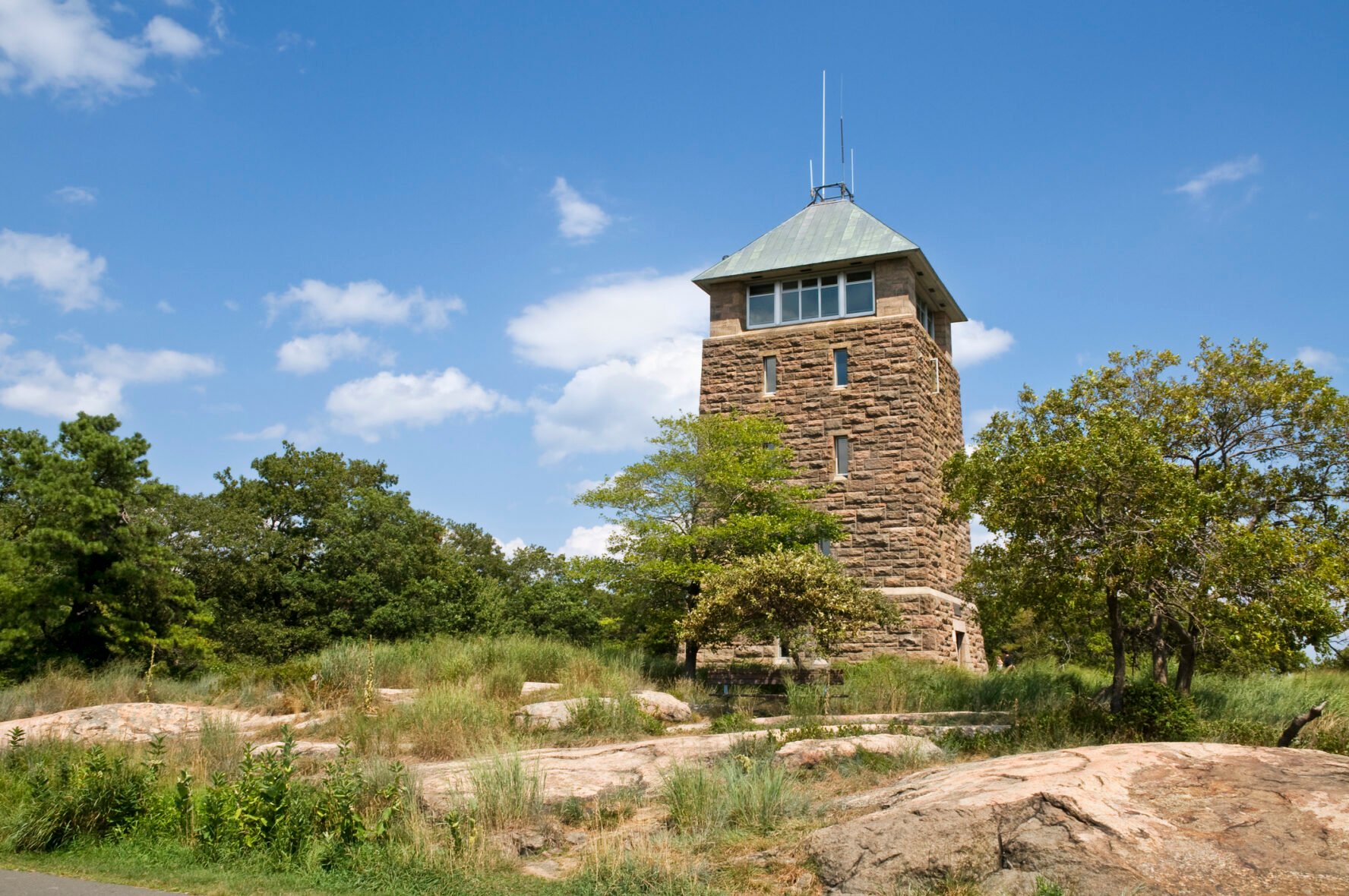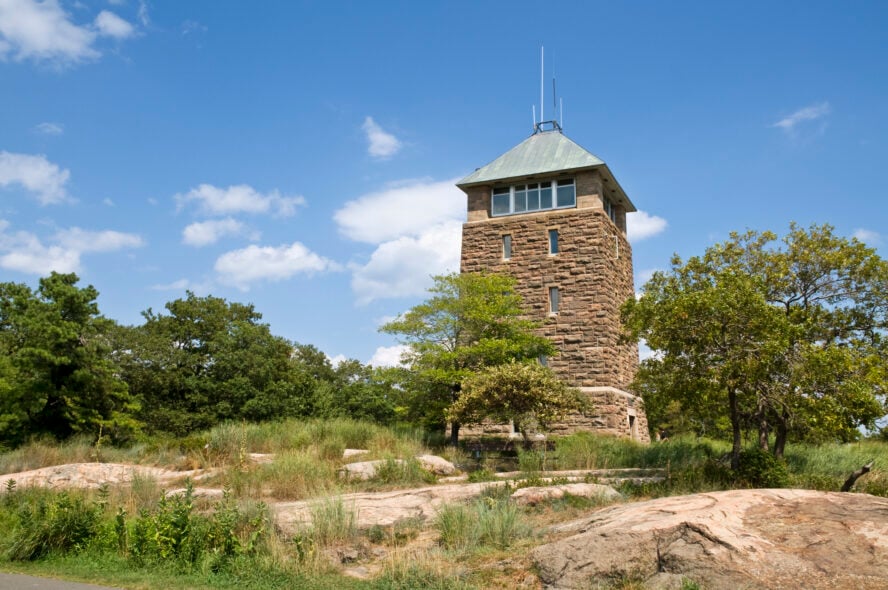 My Tips for Planning Your Bear Mountain Hiking Trip
There's no shortage of things to do at Bear Mountain State Park. Whether you're looking for a challenging hike, an afternoon of fishing, a peek at the zoo animals, or a ride on the carousel, you'll find it here. These are a few highlights, along with a couple of my tips that will set you up for a great day of hiking.
Getting there
Accessing Bear Mountain State Park is simple, which is part of the reason I recommend this area so much. Simply take Palisades Parkway North, then connect to US 202 West. Directions can be found here, and a map of the area can be found here.
Do you need a permit?
The entrance to Bear Mountain State Park is $10 per vehicle, with additional small fees for parking and pool entrance. Plan your trip early in the day, as the area gets closed off due to respecting social distancing measures.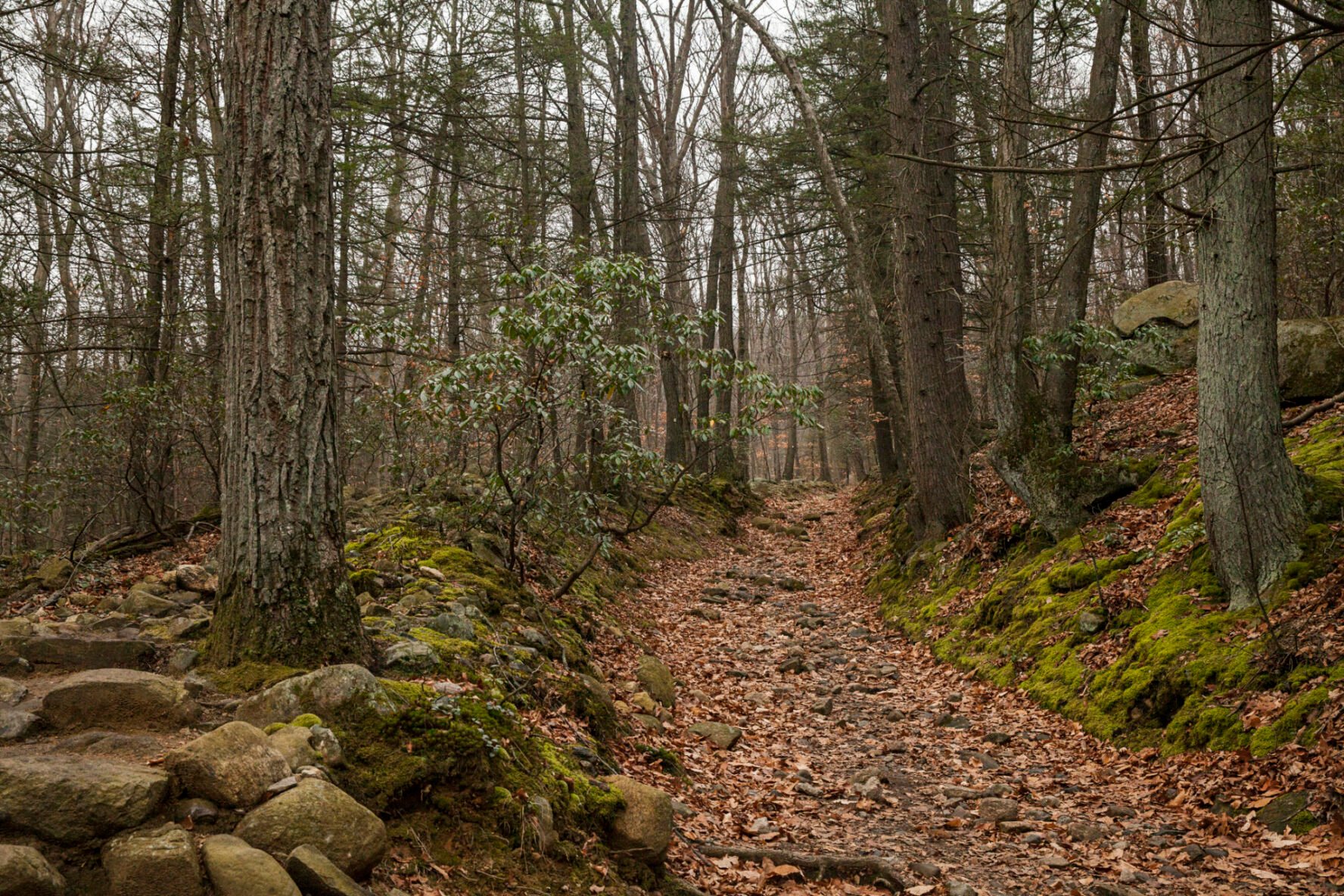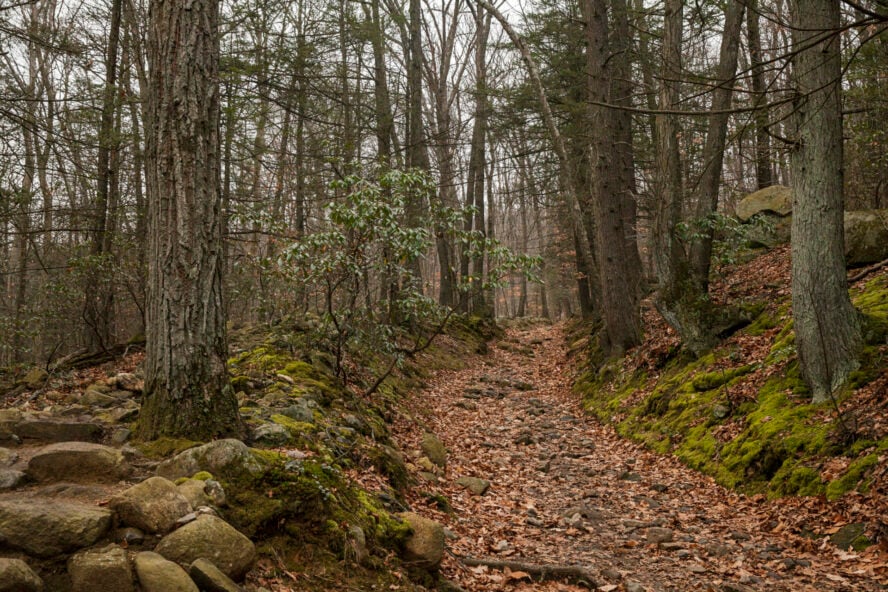 When to go hiking in Bear Mountain
Bear Mountain State Park is optimized for year-round recreation — it all depends on what you want to do. You can plan your visit anywhere from April to September. Depending on the season, be ready for crowds at the pavilion, on the trails, at the zoo (yes, there's a zoo and a carousel), and on the water.
I visited this area in early July, and it was highly populated. We saw a school bus for a summer camp unloading dozens of children, passed many families on the trail, and were surprised to see a crowded parking lot at the top of Bear Mountain. Keep these things in mind when planning your trip, and if crowds aren't your thing, consider a shoulder-season or weekday visit.
What gear do you need?
There is no extensive packing list needed for hiking in Bear Mountain. As long as you stick to waterproof layers and bring your regular day pack, you should be good to go. One thing worth investing in, especially for hiking in this rocky terrain, is a pair of sturdy hiking boots. The ascents are steep and harsh on your ankles. Even the signs that mark the way will make sure to remind you to bring proper footwear.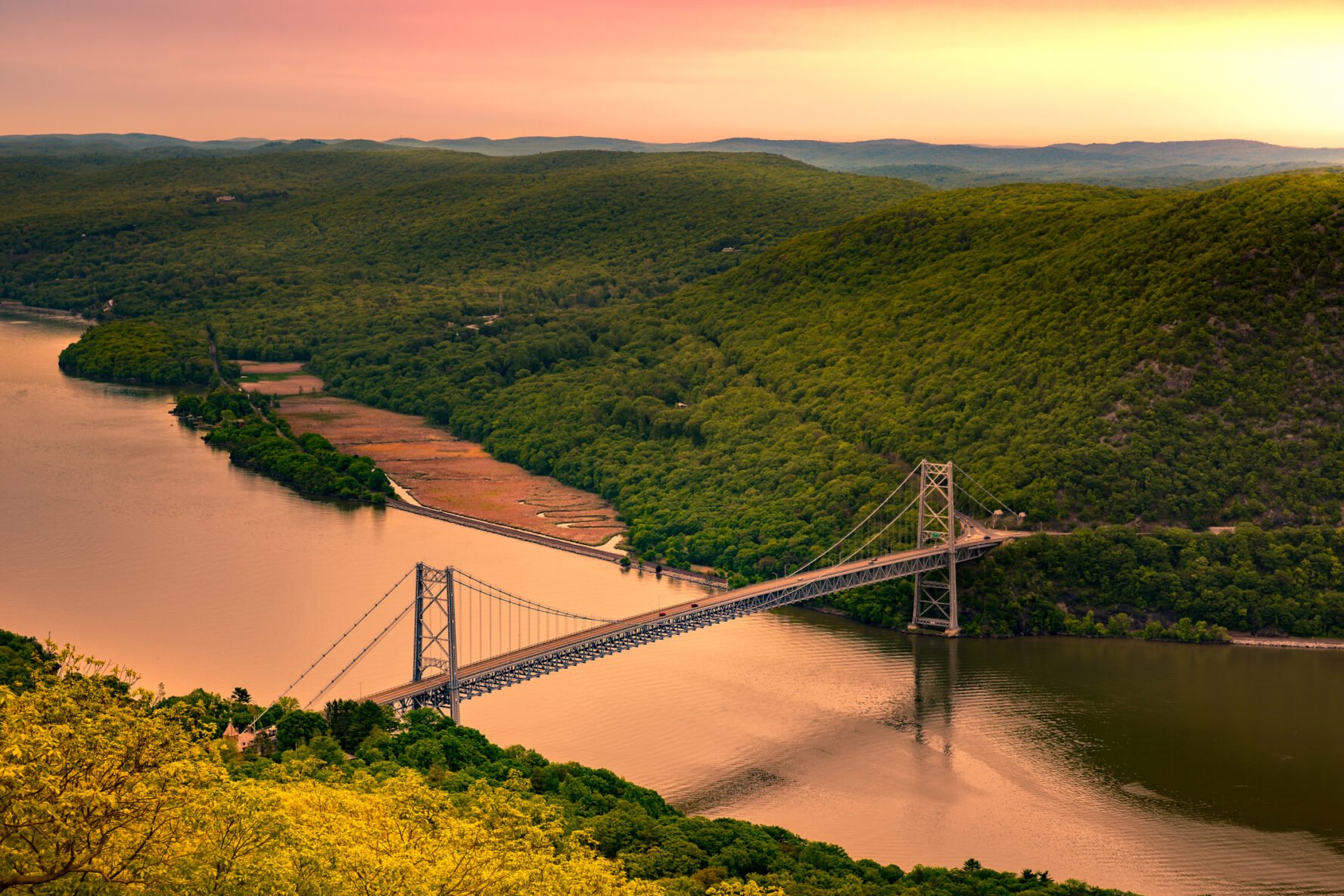 Are there bears in Bear Mountain NY?
As the name suggests, there are bears in Bear Mountain, NY — black bears, to be precise. The park authorities stay on top of the situation and take measures to close off parts of the park with increased bear sightings. Before your visit, make sure you know what to do in case of bear encounters. Check out a handy guide on bear safety.
Pay a visit to the Bear Mountain Inn
Coming from farther out of town and looking to stay a night or two? Check out the Bear Mountain Inn, a historic, elegant lodge situated right alongside the Appalachian Trail. The Bear Mountain Inn opened in 1915 and is honored with a spot on the National and New York State Registers of Historic Places. Admire the classic Adirondack architecture — the building was constructed with locally sourced stone and timber. I didn't stay overnight at the Inn (thru-hiker budget!) but I did stop for lunch here before we continued up the trail. Try to snag a spot on the porch while enjoying your meal.
Take a dip in the pool
There is a small fee to get into the pool but on a muggy New York day? Totally worth it. I spent an hour relaxing in the pool and hit the trail feeling refreshed and ready to log more miles. Dive off the diving board, swim a few laps, or just relax by the side of the pool and jump in when it gets too hot.
Take a stroll through the zoo
Like I mentioned above, there is an actual zoo right in Bear Mountain State Park, along the Appalachian Trail. See coyotes, black bears, several different species of raptors, and reptiles in the Herpetology House. Pack a picnic lunch and stop by the playing fields or a grill area for lunch in the great outdoors.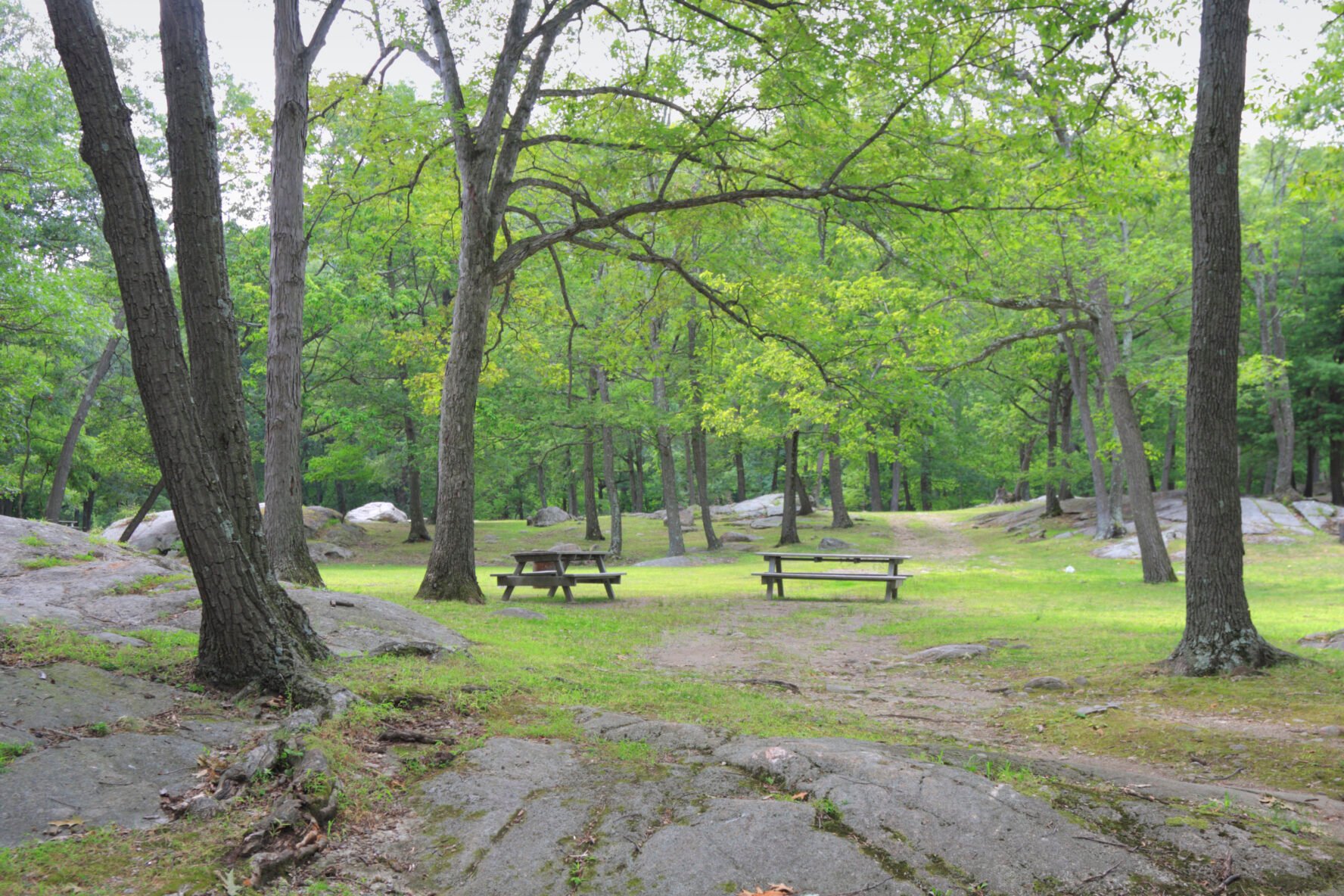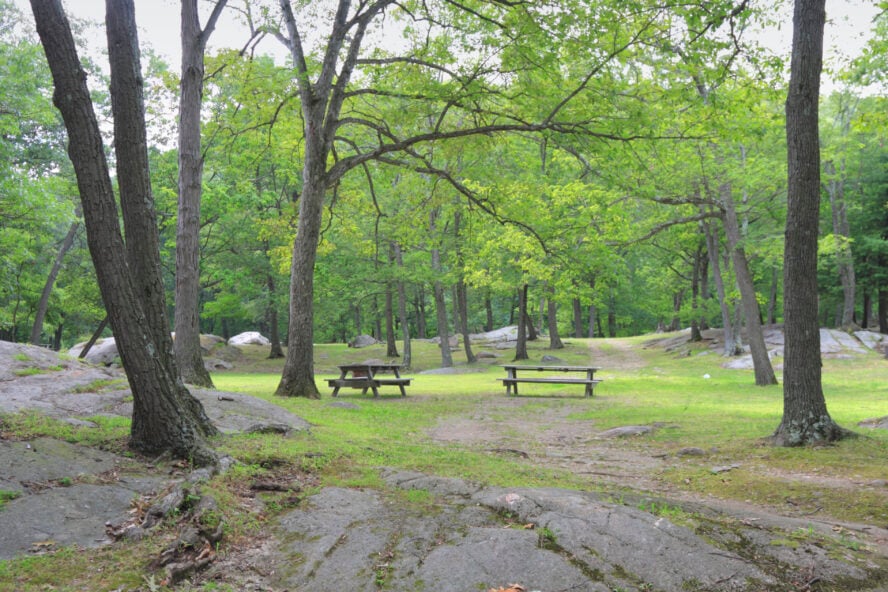 Explore the trailside museums
Four different museums cover a variety of subjects about ecology and regional history — both natural and human-centered. Discover the history of human occupation in the Hudson Valley in the History Museum, then learn about the ecology of local reptiles in the Herpetology House. Visitors to the Nature Study Museum will get a close look at natural specimens to learn about regional animal identification. Lastly, the Geology Museum rounds out the educational experience with fascinating information about the formation of the mountains you can explore right out the back door. All four museums were built in the 1920s from local granite, making the buildings a local wonder in their own right.
Spend the afternoon fishing and boating
Fishing is available along the banks of the Hudson, but remember that a current New York fishing license is required. Want a break from fishing? Rent a paddleboat or a rowboat throughout the summer for just a few dollars an hour.
Visit in winter for cross-country skiing and snowshoeing
Once the snow falls, snowshoeing and cross-country skiing turn this location into a year-round recreation destination perfect for a day or weekend excursion from surrounding urban areas. The trails are groomed and well-marked, so get hyped for a good time in Bear Mountain, even in winter.
Ready to hike in Bear Mountain State Park? Let a guide take you out, show you the trails, introduce you to the local flora and fauna, and give you detailed information on this historic area.