Alberto shared:
What makes winter hiking in Iceland exceptional
The logistics of navigating the island's South Coast
Expecting the unexpected: Iceland's unpredictable weather
Crafting your personalized journey in the winter wilderness
What it takes to hike and snowshoe on unbeaten trails
Stunning photos and videos from Iceland's most remote spots
Imagine this: a blanket of untouched snow cracking under your feet, the cool Atlantic breeze filling your lungs, and gleaming in front of you—the vast riches of Iceland's untamed landscape. Crystal lakes, geothermal valleys and slumbering volcanoes, hidden since the dawn of time.
This is what winter looks like in the Land of Ice and Fire, forged by the will of the gods.
In this one-hour session, AIMG Mountain and Glacier Guide Alberto Ojembarrena took you on a virtual journey to the remote corners of Iceland, whose rugged landscape holds some of the world's most spectacular winter hiking trails. In the island's rough and unpredictable wilderness no two days are ever the same and every journey is utterly unique.
If you've ever wondered what secrets lie in the mythical domain of the Vikings, now is your chance to find out.
Webinar host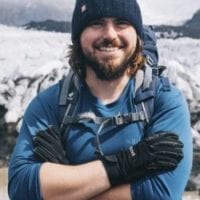 Alberto Ojembarrena
AIMG Mountain and Glacier Guide
Alberto is the owner of Amarok Adventures and has guided adventure treks in Iceland, Greenland, South America and Nepal. He has also worked as a documentary and travel photographer for international magazines. He has lived in Iceland since 2015, traveling the country discovering hidden gems and loads of adventure off the beaten path — always with his camera in tow.