The Best Hikes in New Hampshire For Views Anyone Can Enjoy
Who needs switchbacks? Asked every White Mountain trail builder ever. While the hikes in New Hampshire might not be as tall as those out West, they are steep—which also means many summits are doable in a few hours rather than a day.
Going above tree line for the first time is a special feeling.
I remember getting to the top of Mount Adams in New Hampshire as an eight, maybe nine year old, and thinking, "I can't believe this kind of landscape exists outside of magazines and nature documentaries!"
Hiking through low-hanging clouds, the rocky ridge was cloaked in fog and peppered with sage-colored lichen. There was little noise besides a stiff breeze pushing through our Starter jackets and trekking poles scraping against stone.
I didn't appreciate it at the time, but we didn't need to travel far from our home in Massachusetts to experience this. Nor did we have to train in advance or buy expensive gear. I was just a kid who loved the outdoors, and that was enough to get me to the summit.
That's what I love about the hikes in New Hampshire compared to many ranges out West: a breathtaking alpine experience is accessible, even for folks who don't have a lot of hiking experience.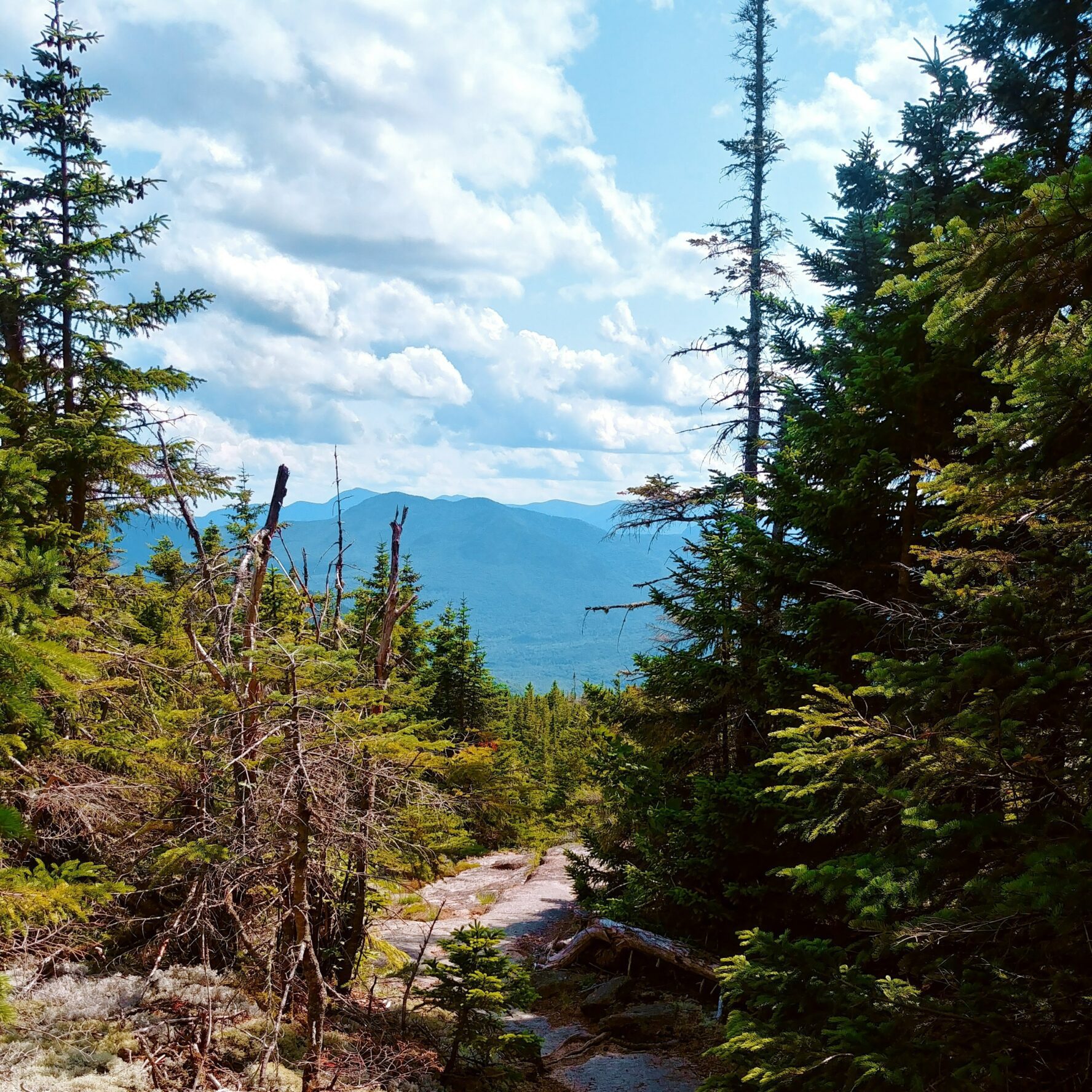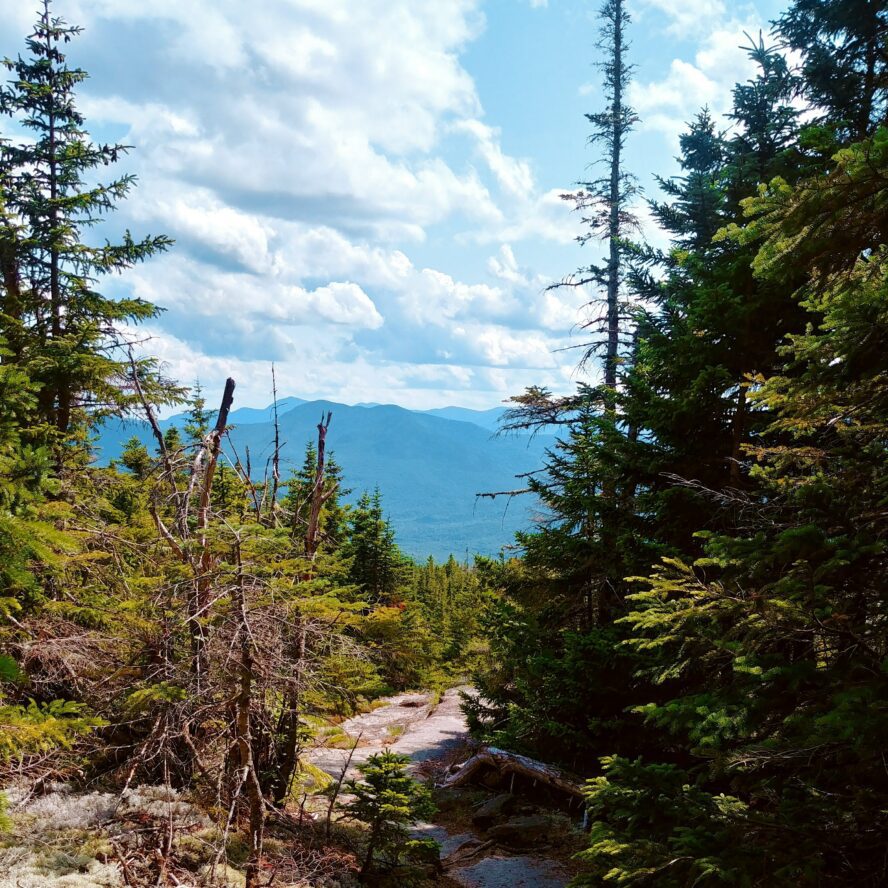 Pros and Cons Hiking in New Hampshire
Day hikes yield spectacular views
Many trails are enjoyable in all four seasons
The White Mountains are relatively accessible to those living in Northeastern cities
Weather can be unpredictable, especially above treeline
Some popular trails can be extremely crowded
New Hampshire doesn't know the meaning of switchbacks
Hike Your Way Through the "Granite State"
With a state motto like "Live Free or Die," you better believe there are adventures to be had in New Hampshire.
As the pivot point between rolling green hills to the west (where Vermont has some of the best mountain biking around), the urban centers of Massachusetts, and the rustic life of Maine, NH sits as the outdoors center of New England. And thanks to more than 4,000 miles of trail, it's the main draw for hiking in the Northeast too.
In the south, there's Mount Monadnock, which is said to be the second most-hiked mountain in the world, behind only Mount Fuji in Japan. Then there's the Cohos Trail in the north, a remote 170-mile route that finishes at the Canadian border. In-between you'll find hikes to waterfalls and lakes, treks across exposed ridgelines with some of the highest recorded winds on the planet, and jaunts to haunted landscapes (allegedly) and historic sites.
Blaze a trail in the Whites
Above all, it's the White Mountains that embody New Hampshire hiking at its peak. The range spans from the center of the state northwards and includes some of the tallest mountains in the area, including that very Mount Adams from my boyhood. Throughout the granite crags you'll find rock and ice climbing, mountain biking, backpacking and, of course, day hiking.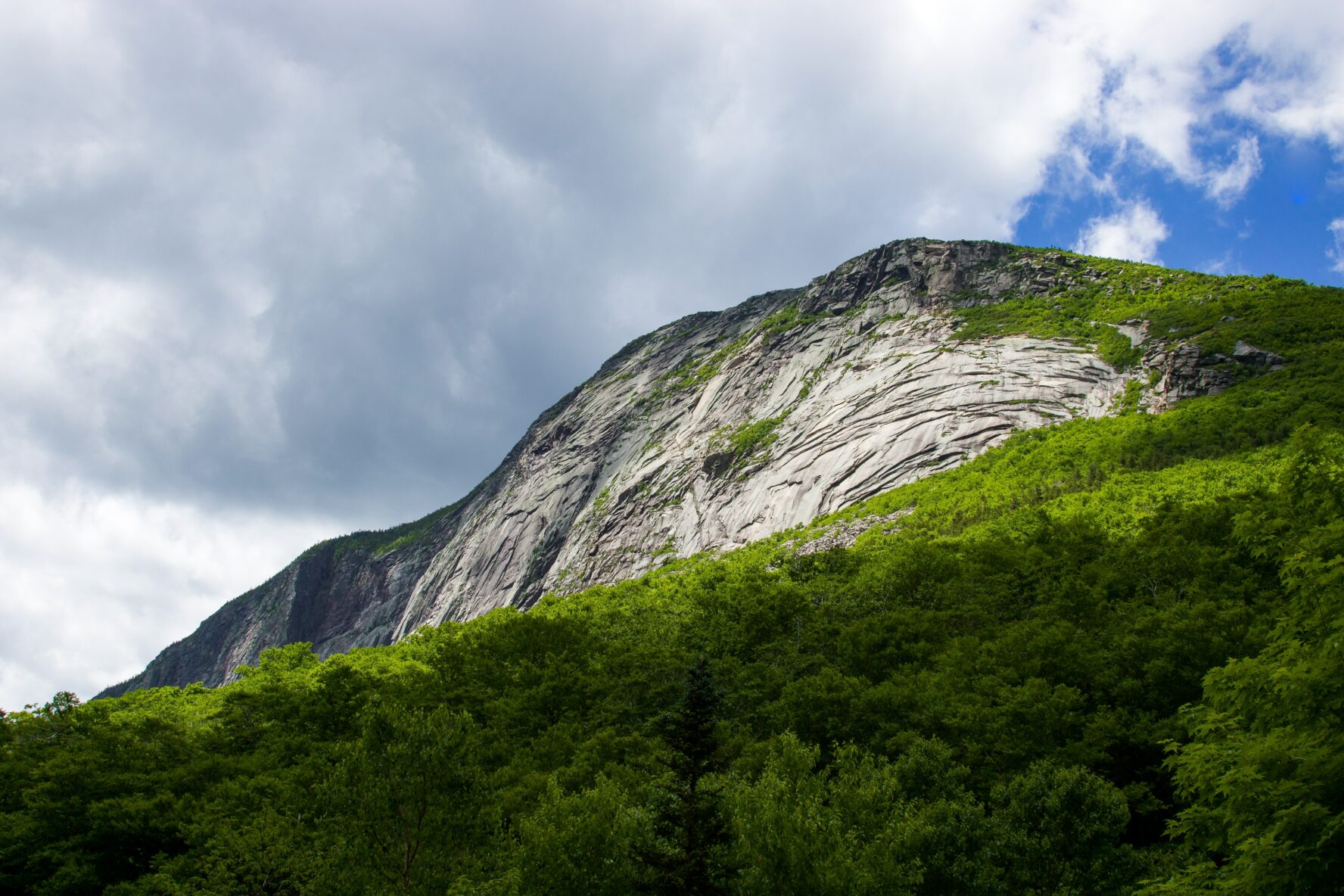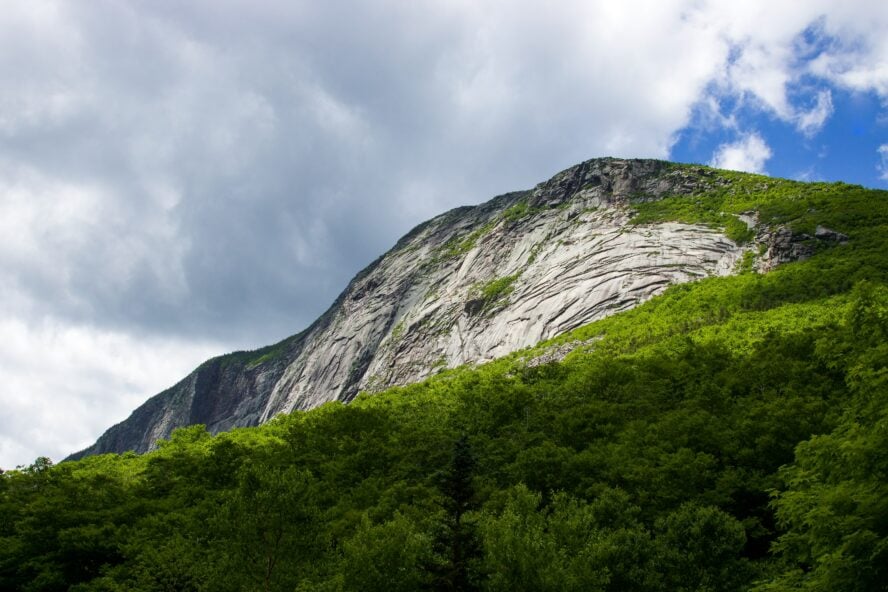 A half-day's drive from New York City, Boston and Montreal, it's a popular destination for anyone looking for a break from city life—and has been for centuries. The Crawford Path is the oldest continuously-used mountain trail in America, some of the first hiking clubs, huts, and trail systems were developed here, and there are dozens of miles of the historic Appalachian Trail.
What you won't find, however, are switchbacks. While many visitors from the West will initially scoff at the low elevation numbers, they'll often, begrudgingly, concede the surprising difficulty of the steep trail grades.
A Lifelong Love
After a childhood filled with outdoor adventures, I started Northeast Mountaineering with my brother, Brett. Growing up, a family friend would often take us to visit the White Mountains. Then in middle school, I began going with my mom to backpack in Acadia National Park in Maine and around Vermont.
It was ultimately a family road trip circumnavigating the United States that sealed the deal. We did a short hike up Washington's Mt. Rainier, to Panorama Point, where I watched climbers coming down the mountain. It kicked off a lifelong obsession.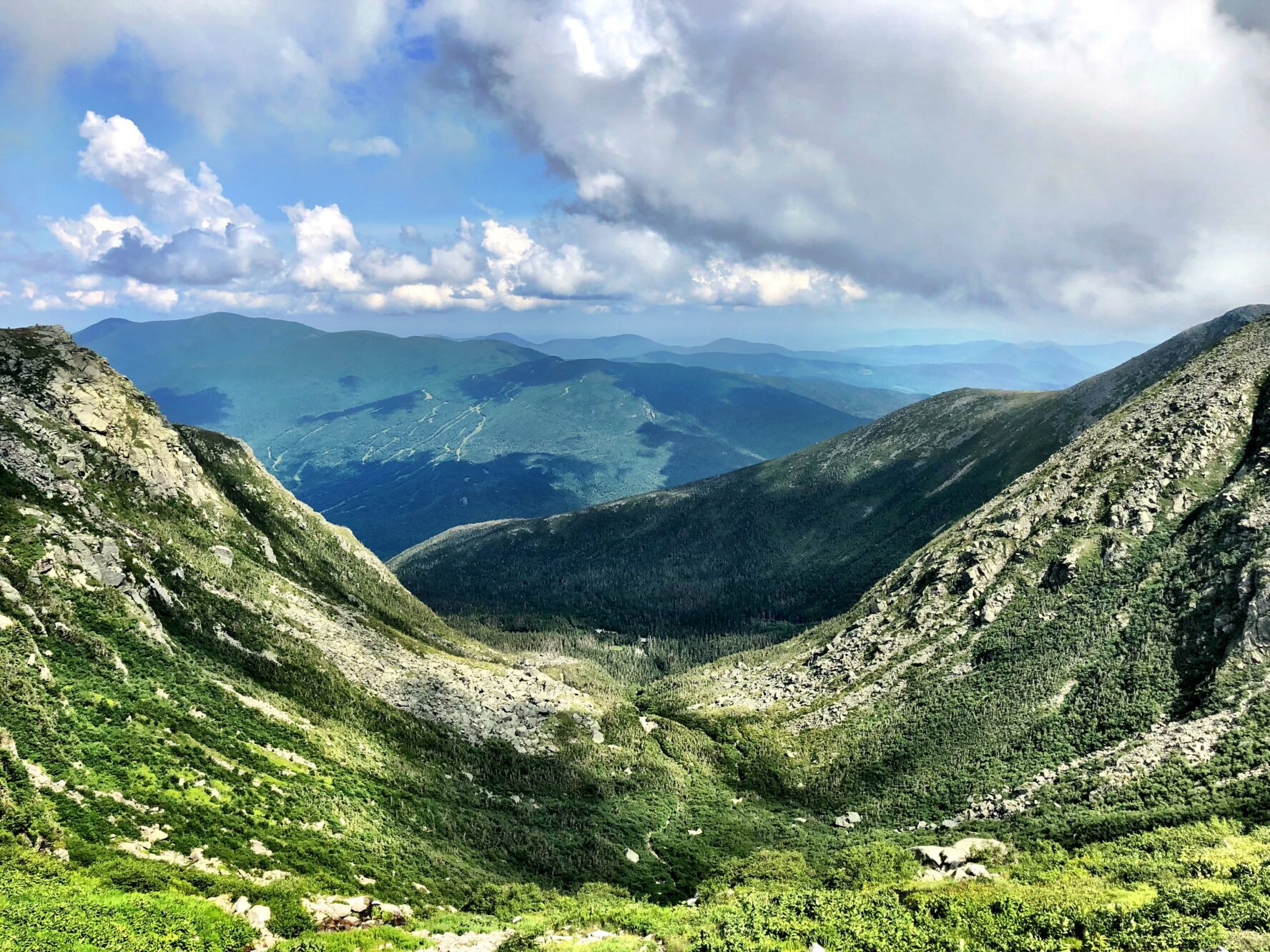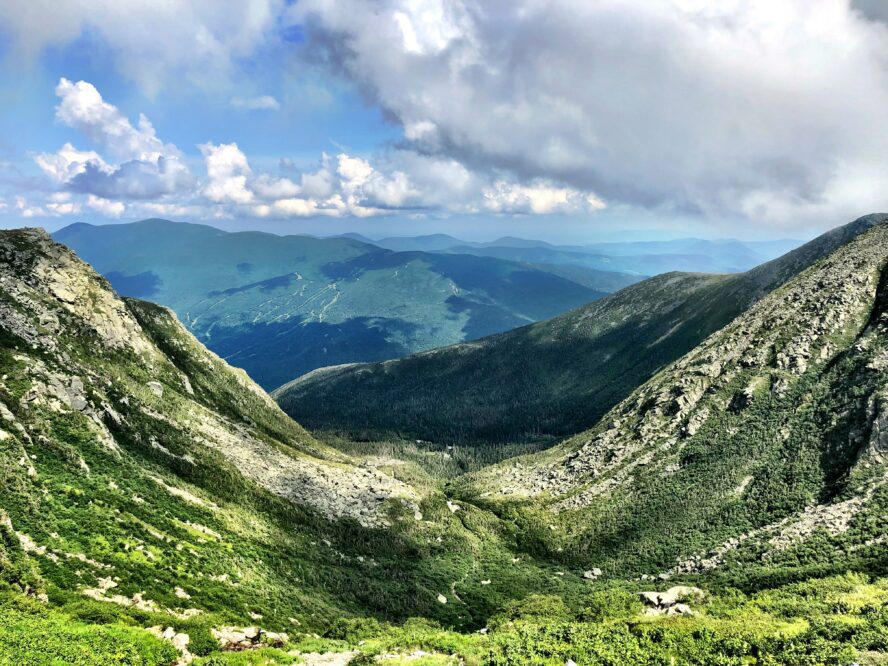 Since then, I've spent the last decade guiding—out on the west coast and abroad, including trips to Kyrgyzstan, Iceland and Ecuador, but mostly in New Hampshire. Of all the state has to offer, there a few trails that stand out as classics.
The Four Best Hikes in New Hampshire
Before we go deep, here is a brief summary of the best day hikes in New Hampshire:
Easy Hikes in New Hampshire
Lonesome Lake Trail – 3-mile loop, best for families
Moderate Hikes in New Hampshire
Franconia Ridge Loop – 9-mile loop, best ridgeline day hike
Strenuous Hikes in New Hampshire
Presidential Traverse – 20 miles one-way, best for peak bagging
Mount Washington via Tuckerman Ravine – 8 miles out-and-back, best for peak bagging
Franconia Ridge Loop: Not for the Faint of Heart
The Franconia Ridge Loop is a wildly popular trail, and arguably one of the most scenic traverses in the Northeast. That's not to say it's an easy one. The terrain is steep and rocky, and once you're above treeline, you're completely exposed to the elements for about three miles. But that's the best part! Along that narrow ridge walk are phenomenal 360° views.
Bag two four-thousanders
Most people follow the 9.3-mile loop counterclockwise, taking Falling Waters Trail to the Ridge, but I prefer going the opposite direction and taking Old Bridle Path. Either way, it's hard to go wrong, as you'll hike alongside waterfalls and streams—it's not called "Falling Waters" for nothing!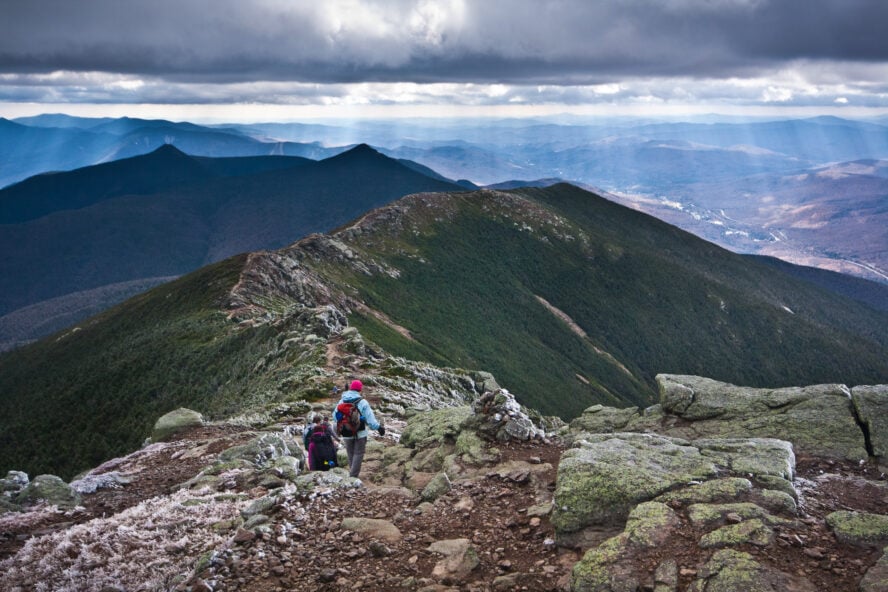 Franconia Ridge Loop links three peaks: Little Haystack Mountain, Mount Lincoln, and Mount Lafayette, which is the tallest of the three at 5,249 feet. Lincoln and Lafayette are two of the 48 mountains in New Hampshire that stand taller than 4,000 feet. Hike them all and you can join the esteemed Four Thousand Footer's Club.
On a clear day, anywhere along the ridge will provide a beautiful spot to take a break and eat lunch. If the weather is less than ideal, Greenleaf Hut, which is maintained by the Appalachian Mountain Club (AMC), sits below treeline on Lafayette, and is another nice place to rest tired legs and dig into some trail mix.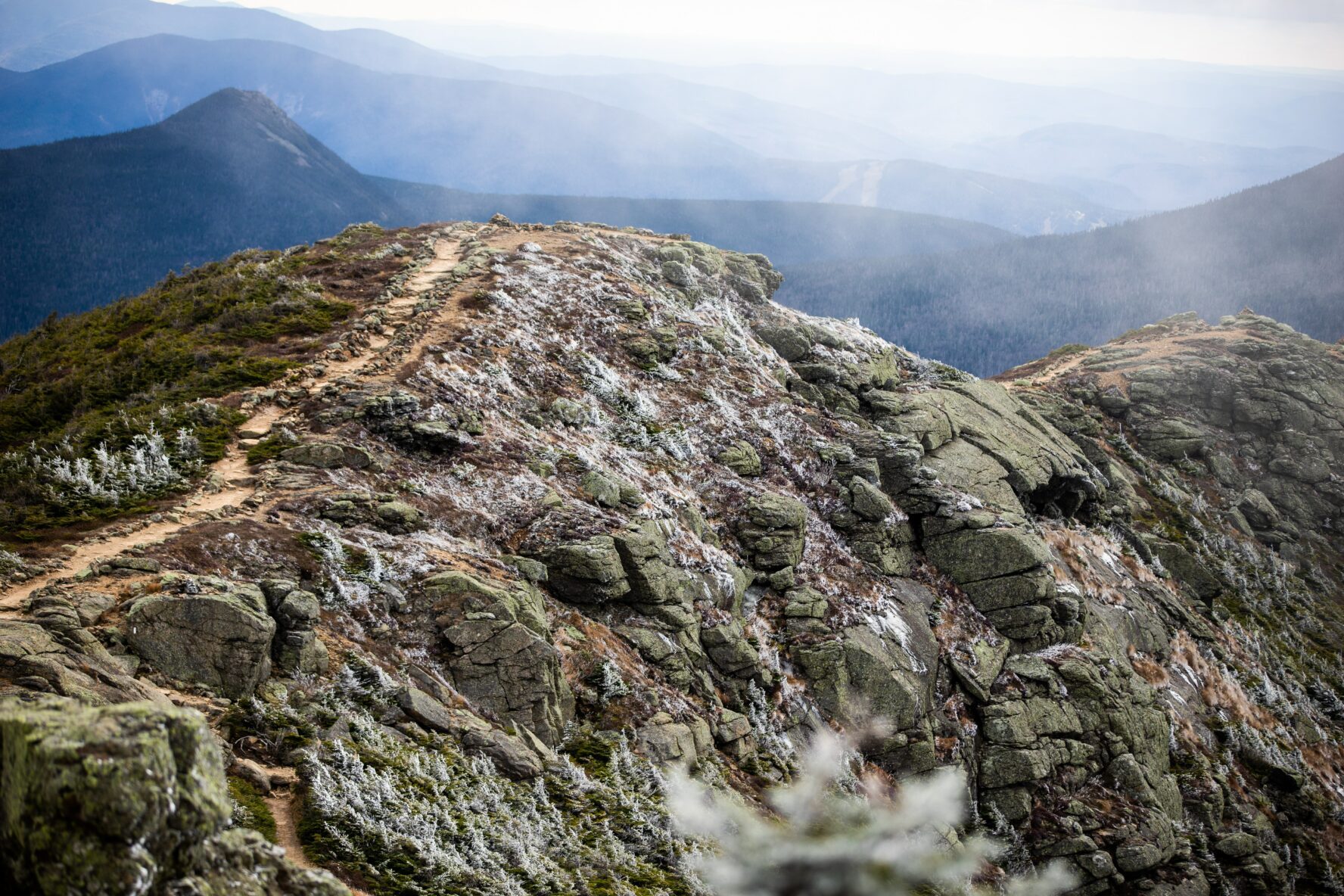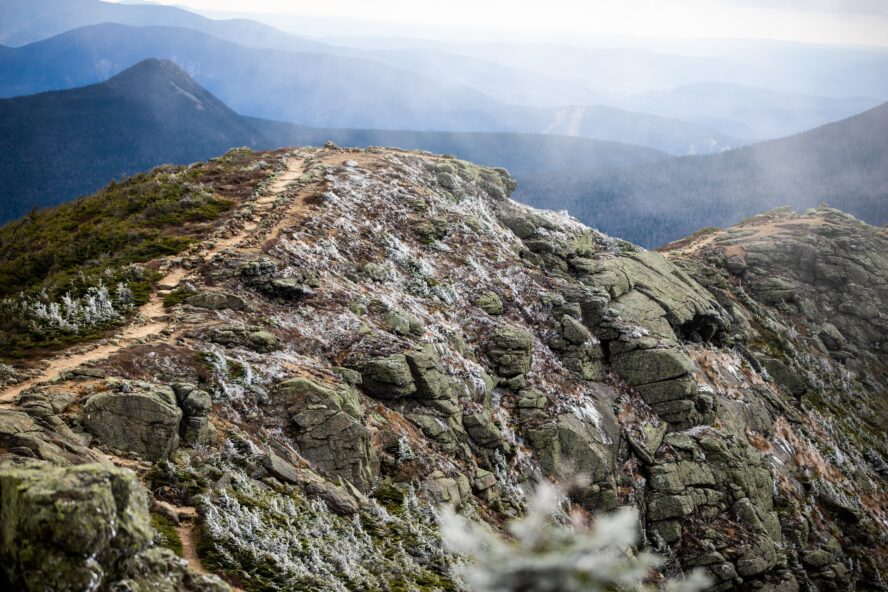 Note that the weather can change quickly, so even if it's a warm and sunny day down at the trailhead, that doesn't necessarily mean you'll be cruising under a blue-bird sky up at the ridge. Being above treeline can be dangerous if you're unprepared for the elements, and approaching Lafayette, visibility can become poor under foggy conditions. Between that unpredictability and the challenging terrain, I'd say the loop is good for experienced hikers. Likewise, be sure to pack sunscreen, a map, plenty of layers, and enough food and water to last a full day.
The parking lot is easy to find right on I-93 North. Given its popularity, you'll want to arrive at the trailhead early to snag a spot. When the Old Bridle Path lot fills up, you'll have to drive about two miles north to an overflow lot at Cannon Mountain. For $5 (cash only!), you can catch a shuttle to the trailhead on weekends.
Lonesome Lake Trail: A Family-Friendly Loop
If you want to explore Franconia Notch but don't have much experience, or are hiking with a crew of kids, there are plenty of trails for you too.
A good hike for beginners is Lonesome Lake Trail, a short-and-sweet path that will carry you to a picturesque mountain lake. At just over three miles round-trip, you can take all the time you want to enjoy the views.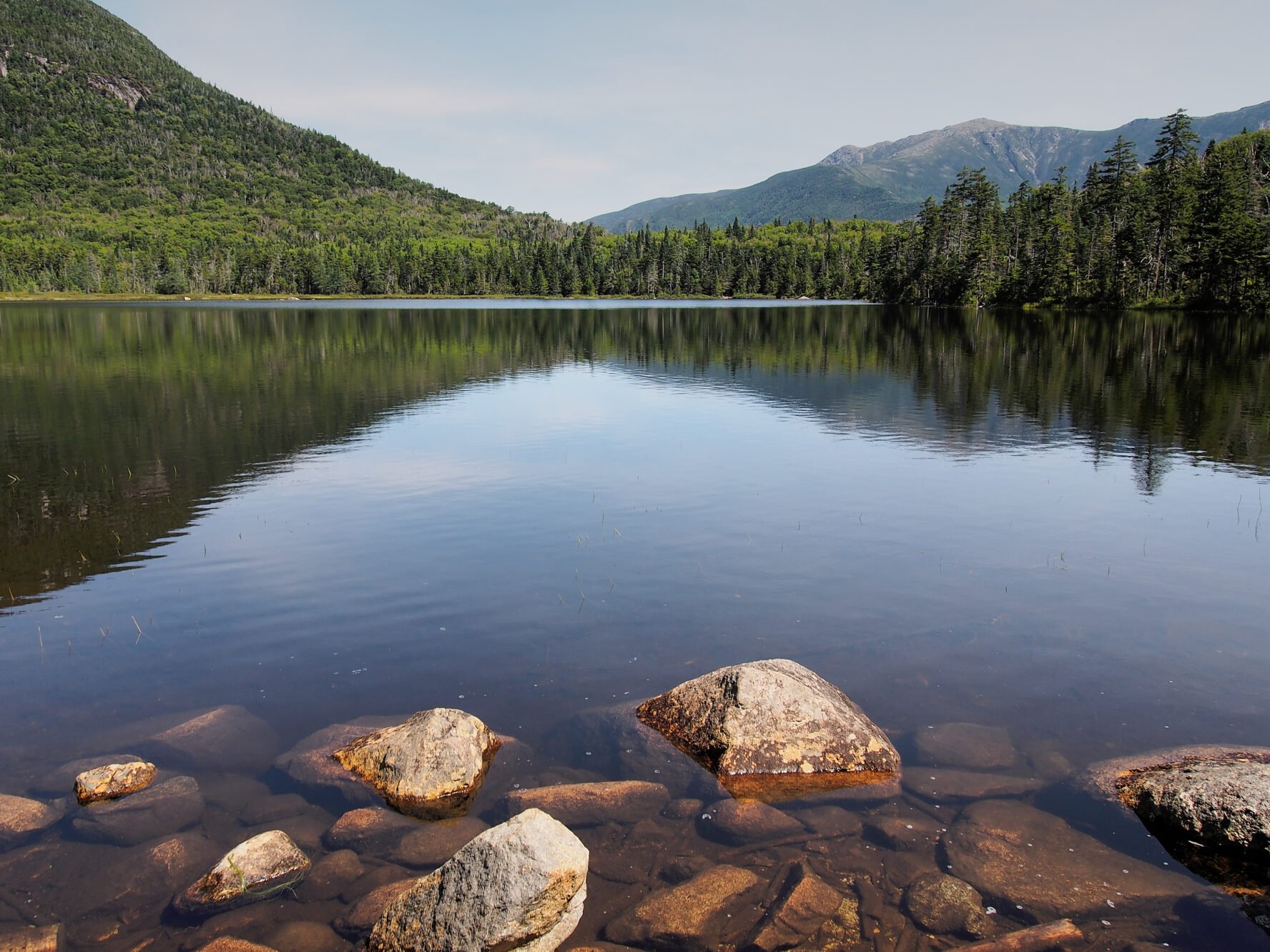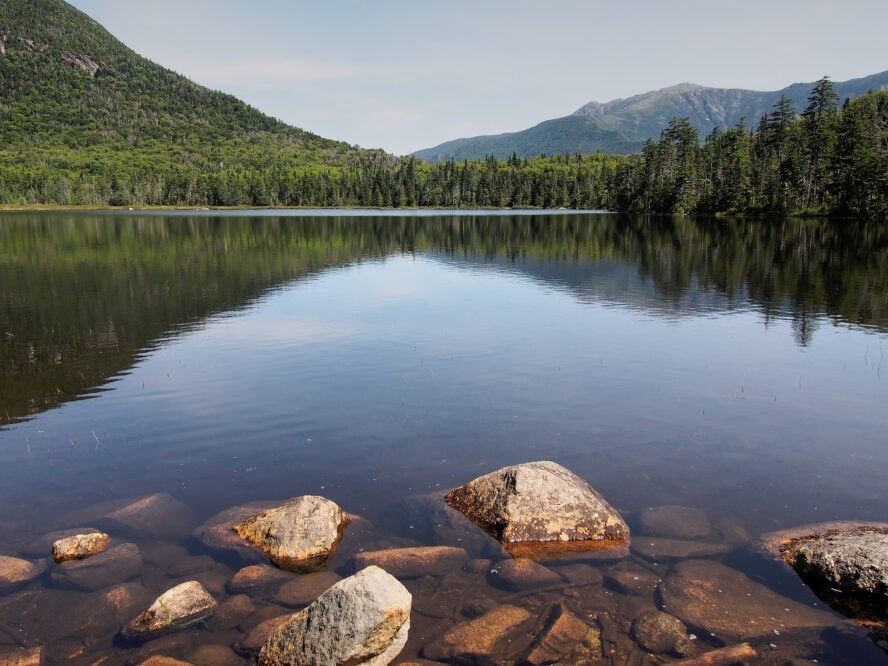 Right off I-93 South, and just across the highway from the Old Bridle Path parking lot, there's a small lot adjacent to Lafayette Campground. (Again, if there's no space, head north toward the overflow lot near Cannon Mountain.)
After winding a bit through the campground, you'll start climbing steadily. The trail tackles most of the 1,000 feet of elevation gain in the first two-thirds of the hike, but with a couple of switchbacks, it isn't quite as brutal as some other options on this list. Around 0.8 miles, the trail will level off as you approach the lake. (Actually, calling it a lake feels a bit generous. Think of it more as a large mountain pond.)
Reaching Lonesome there's a small clearing in the trees, and you can look across the water to catch a glimpse of the AMC hut that awaits on the other side. It can be a nice place for a quick dip, but if you're looking for a full-on swimming hole, there are other places in Franconia Notch I would point you toward.
There's a loop that circumnavigates the lake. During the summer, people typically follow the trail along the lake's southern shore, balancing on puncheons until reaching the hut. In total, hiking to Lonesome Lake and back takes about an hour and a half, leaving plenty of time to explore Franconia Notch's other features.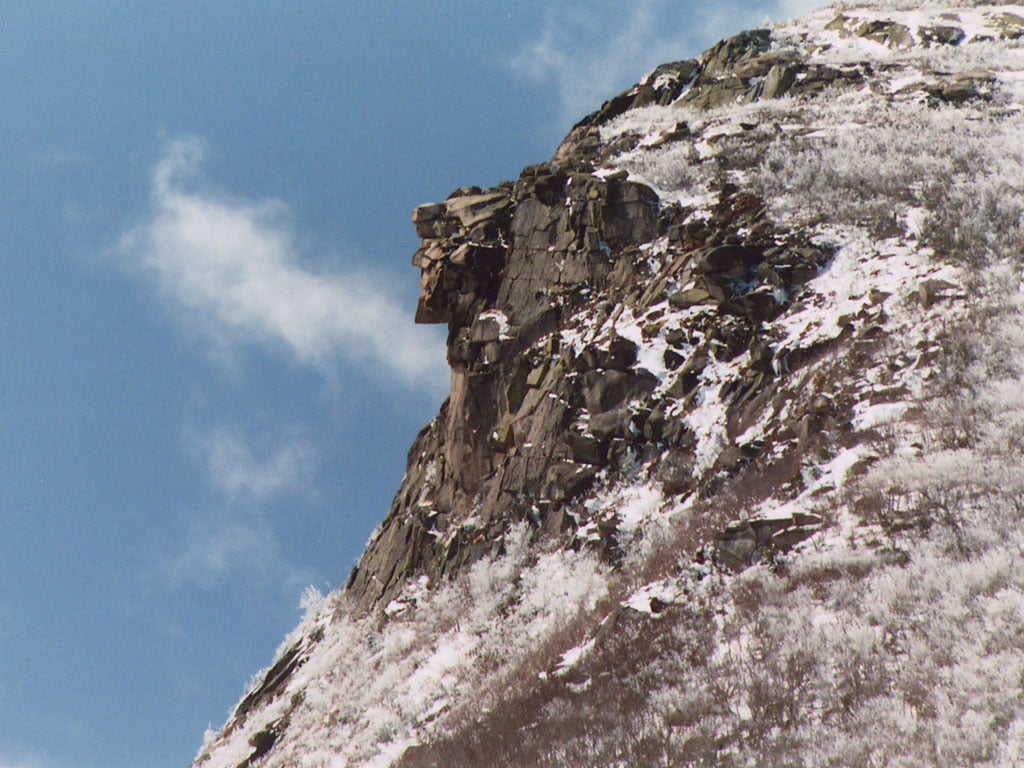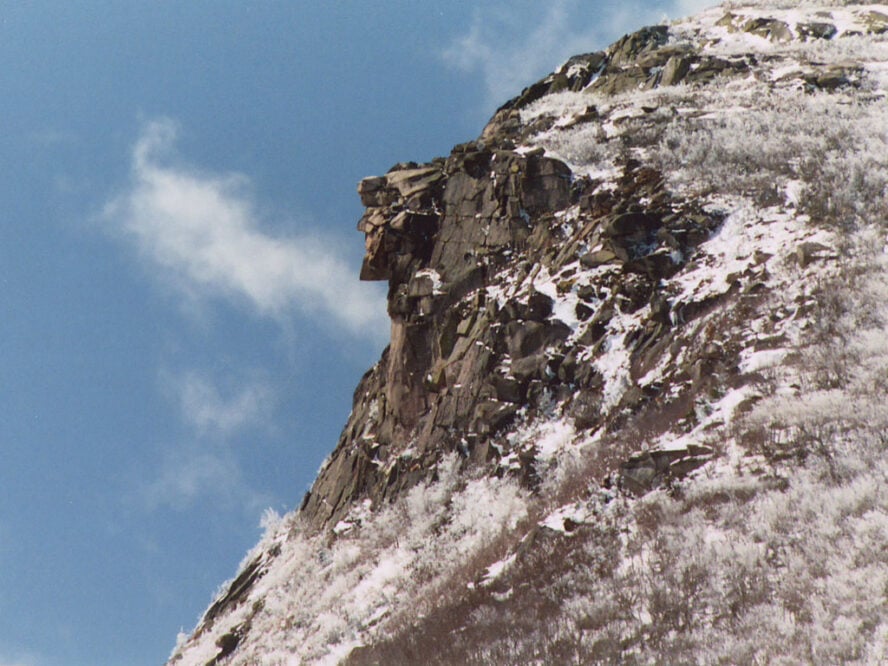 Exploring Franconia Notch
A bit further north, Echo Lake sits at the base of Cannon Mountain where you can rent canoes, and kayaks, and there is a small general store with food, drinks, ice cream, and firewood. The Notch is also where the iconic Old Man of the Mountain—a series of rocky outcroppings on Cannon Mountain that once formed a weathered face—watched over tourists and locals before crumbling in 2003. If you're in New Hampshire for more than say, 20 minutes, you'll notice the Old Man everywhere.
If you visit Franconia Notch State Park, be sure to have some cash or a check on hand. Parking is $4.00 per adult and $2.00 for kids age six to 11.
Presidential Traverse: More Fun Than Mount Rushmore
Hiking the Presidential Traverse is a presidential feat. Named after several presidents and a few other prominent figures from the country's founding, the traverse links several of the highest peaks in the White Mountains for just over 20 miles—it is largely considered one of the most challenging hikes in New Hampshire, if not all of the East Coast
From north to south, you'll cover Madison, Adams, Jefferson, Clay, Washington, Monroe, Franklin, Eisenhower, Pierce and Jackson. There's nowhere else in the northeast where you can continuously hike above tree line for so long.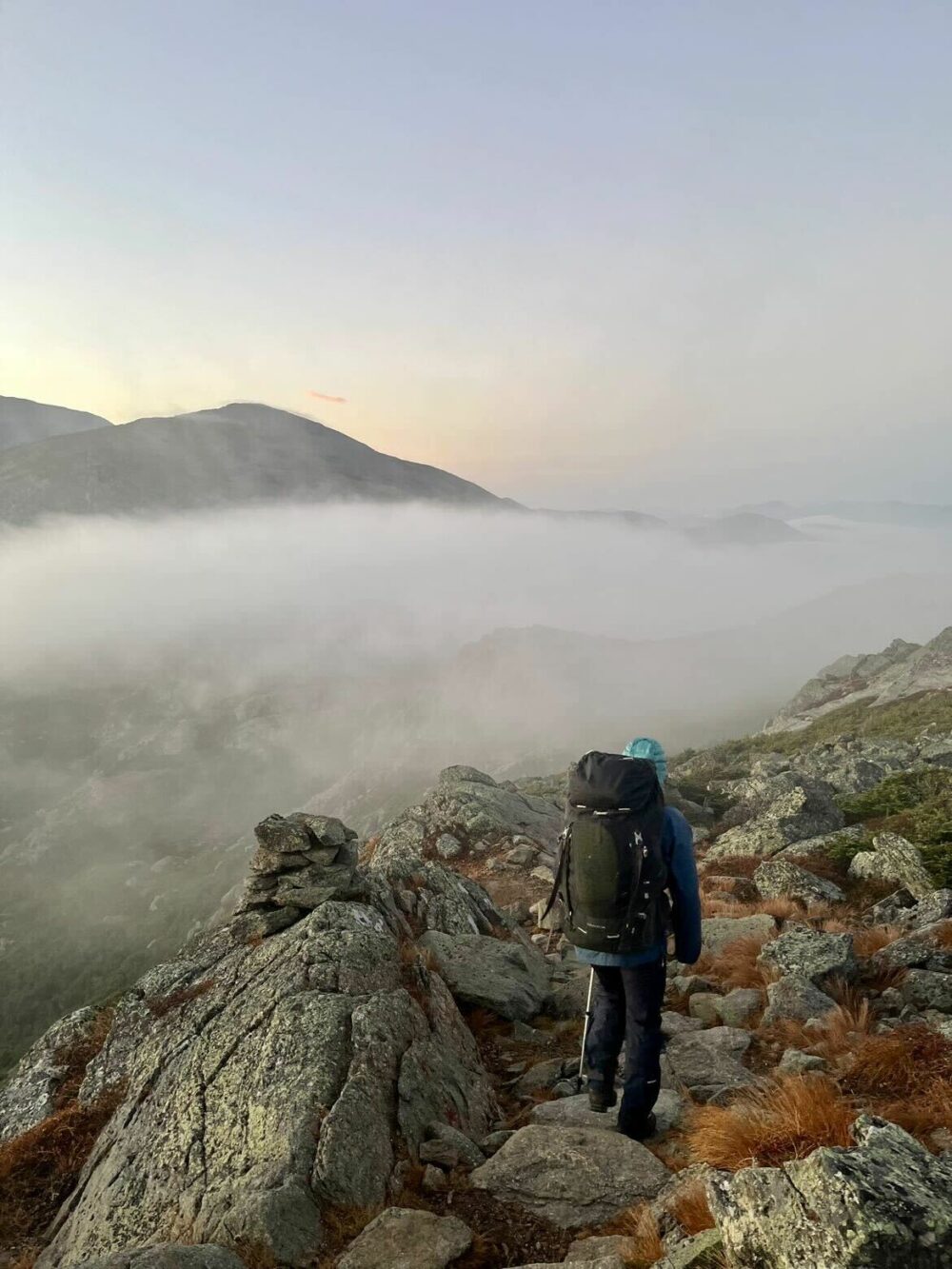 Watch the weather
At 6,288 feet, Mount Washington is the presiding figure of this lineup. I'll have a bit more on this marvel a little later, but for now, just know that it's the highest peak in the Northeast and home to some of the worst weather in the world. For more than six decades, it held the record for the fastest measured gust of wind: 231 mph in 1934.
To give you an idea of how unpredictable the weather can be: I was once hiking the traverse with a buddy and just as we got to Washington's summit, a storm unexpectedly unleashed bouts of lighting across the landscape. In the absence of trees, we were the tallest points on the ridge, an unsettling experience, to say the least. Thankfully, we were able to take refuge in the visitor center's cafeteria at Washington's summit before bolting down to an AMC hut during a brief break in the storm.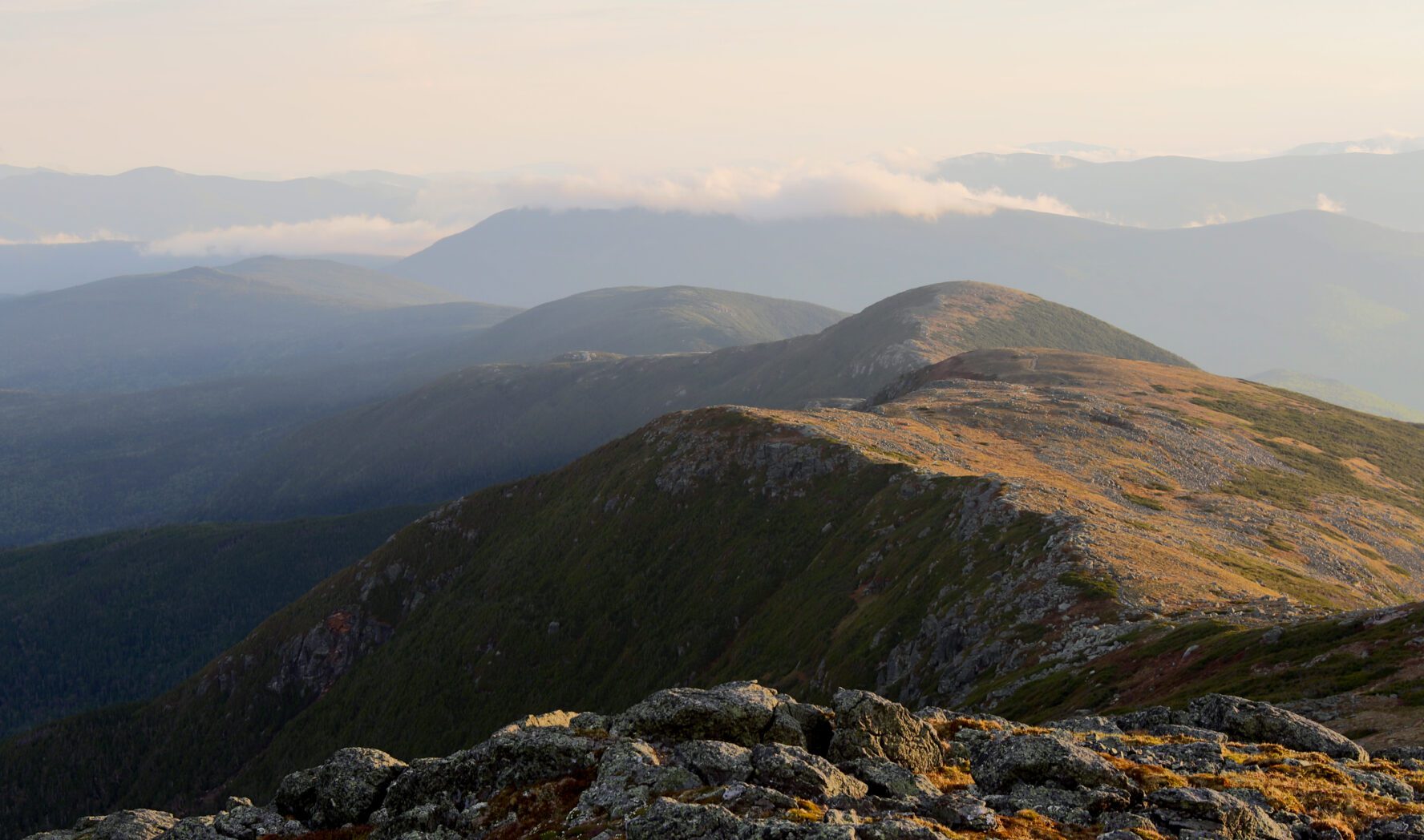 Take your time, or not—you do you
While challenging, the traverse is special for its choose-your-own-adventure quality. There are AMC huts along the way, so for a more relaxed experience, you could break the hike down into a two or three-night adventure. Though it can be a bit pricey, this is a good option for anyone wanting to take their time and savor the experience—and there's the added bonus of hut staff cooking hot meals for you.
Or you could take on a 10 to 14-hour trek and complete the traverse in a single day. It's a serious undertaking and suitable only for very experienced hikers or trail runners. But the single-day push is my favorite way to experience the traverse; you don't have to carry too much gear and it's amazing to see how much ground you can cover in a single push.
That's all assuming you're attempting the traverse in the summer. In the winter, it becomes something else entirely.
A winter traverse? Proceed with caution
I consider a winter Presidential Traverse to be one of the most brutal experiences in New England. It's always cold, wildly windy, and navigation can be challenging, especially if you're the one breaking trail. Still, you'll be hard pressed to find a better training ground around if you're training to climb Mont Blanc or a bigger peak out West.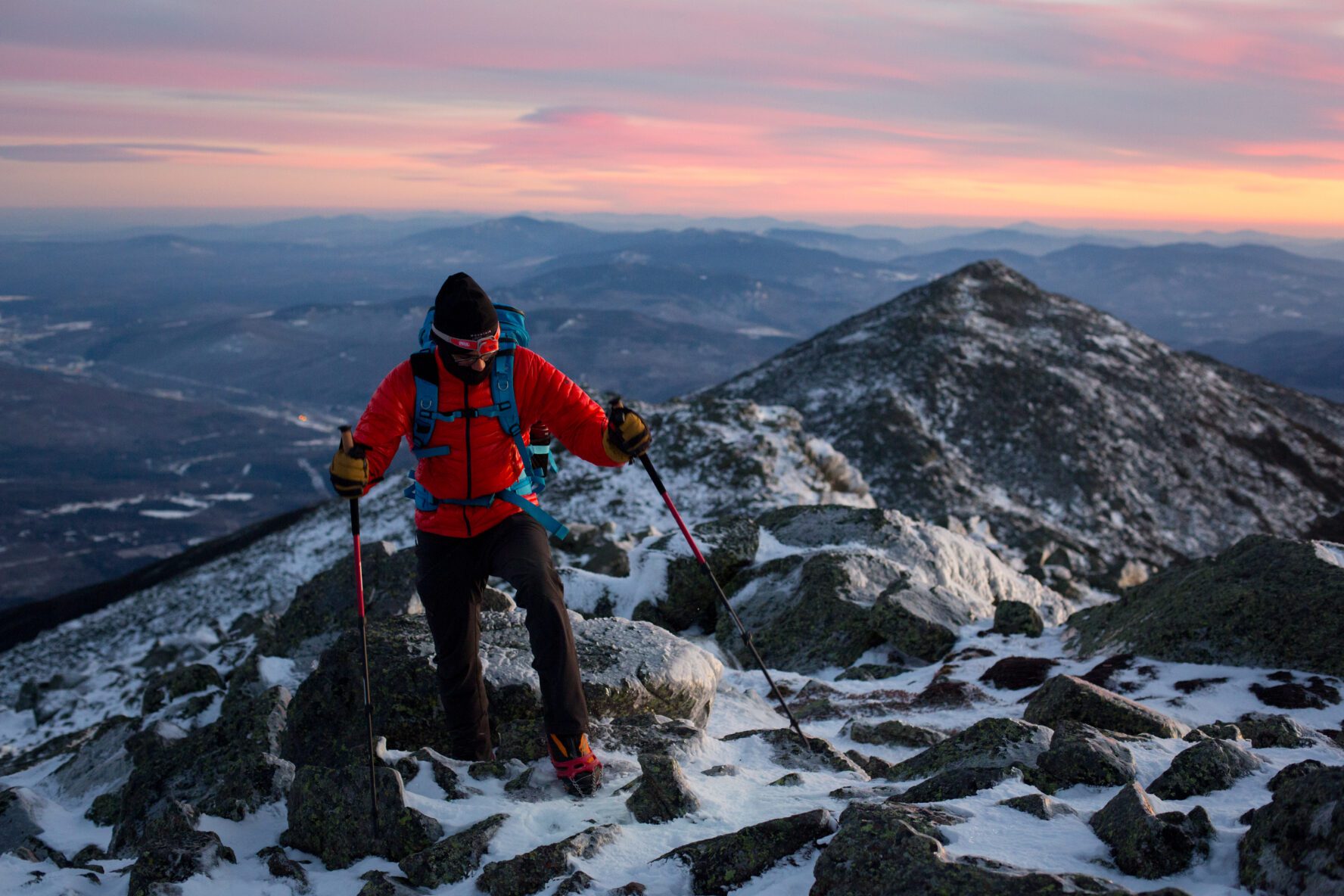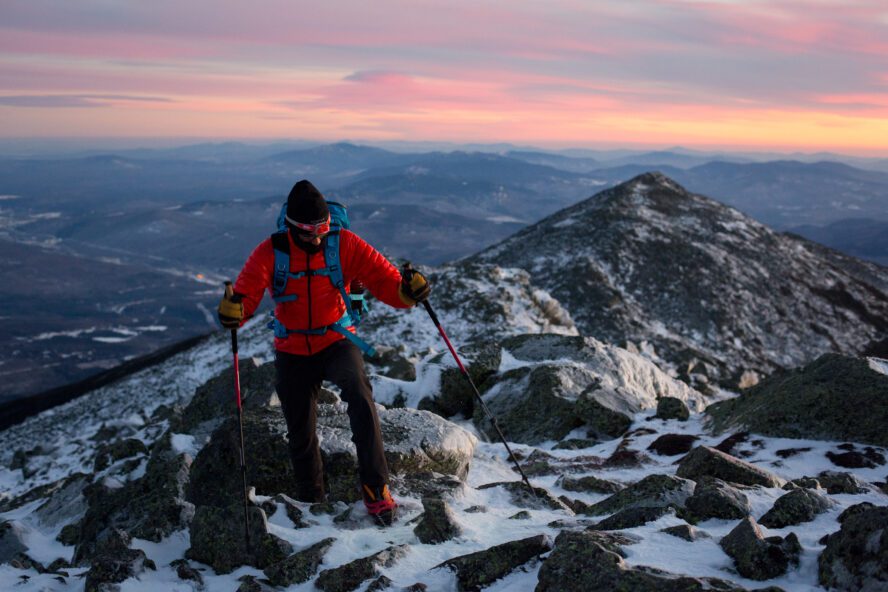 Early on in my mountaineering career, I attempted a winter traverse with my brother and a friend. We budgeted three days for the trip, but arrived late during a snowstorm. Day one, we only made it about a mile in our snowshoes. Day two, we were breaking trail through snow that came up to our hips, and the next morning we had to shovel our way out of our tent and up to the treeline. And that was it—three full days just to get to treeline.
We had a blast regardless, but that goes to show what the White Mountains can dish out and how important it is to understand what you might be getting into. I've since successfully completed many a Presidential Traverse, and it's a rewarding experience for people with the skills, experience, and heart to do it.
Mount Washington via Tuckerman Ravine: Go Direct
I've already given you a bit of the low-down on Mount Washington, however there are as many ways to skin a cat as routes to the summit. So if you're not sold on the Presidential Traverse, you've got options.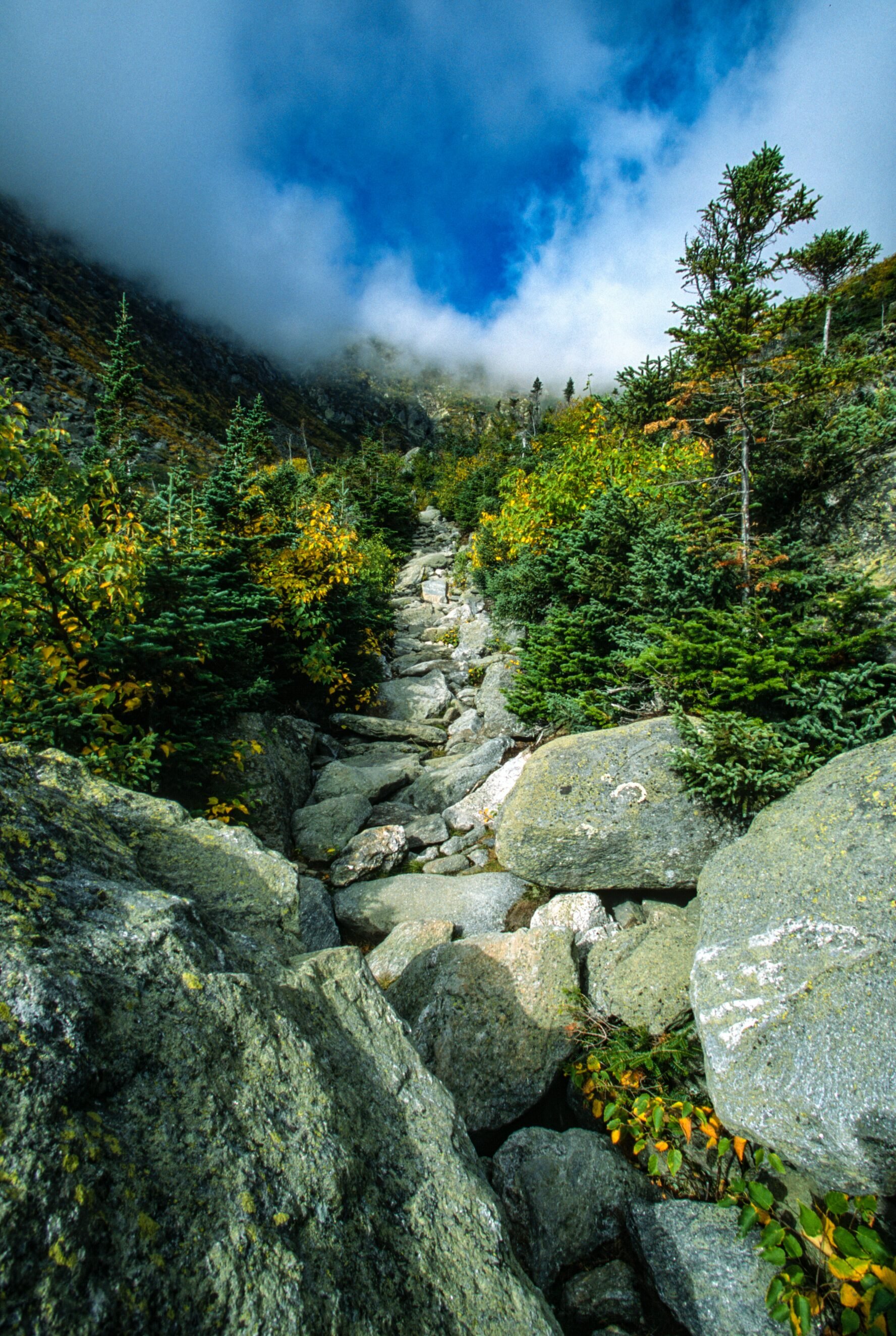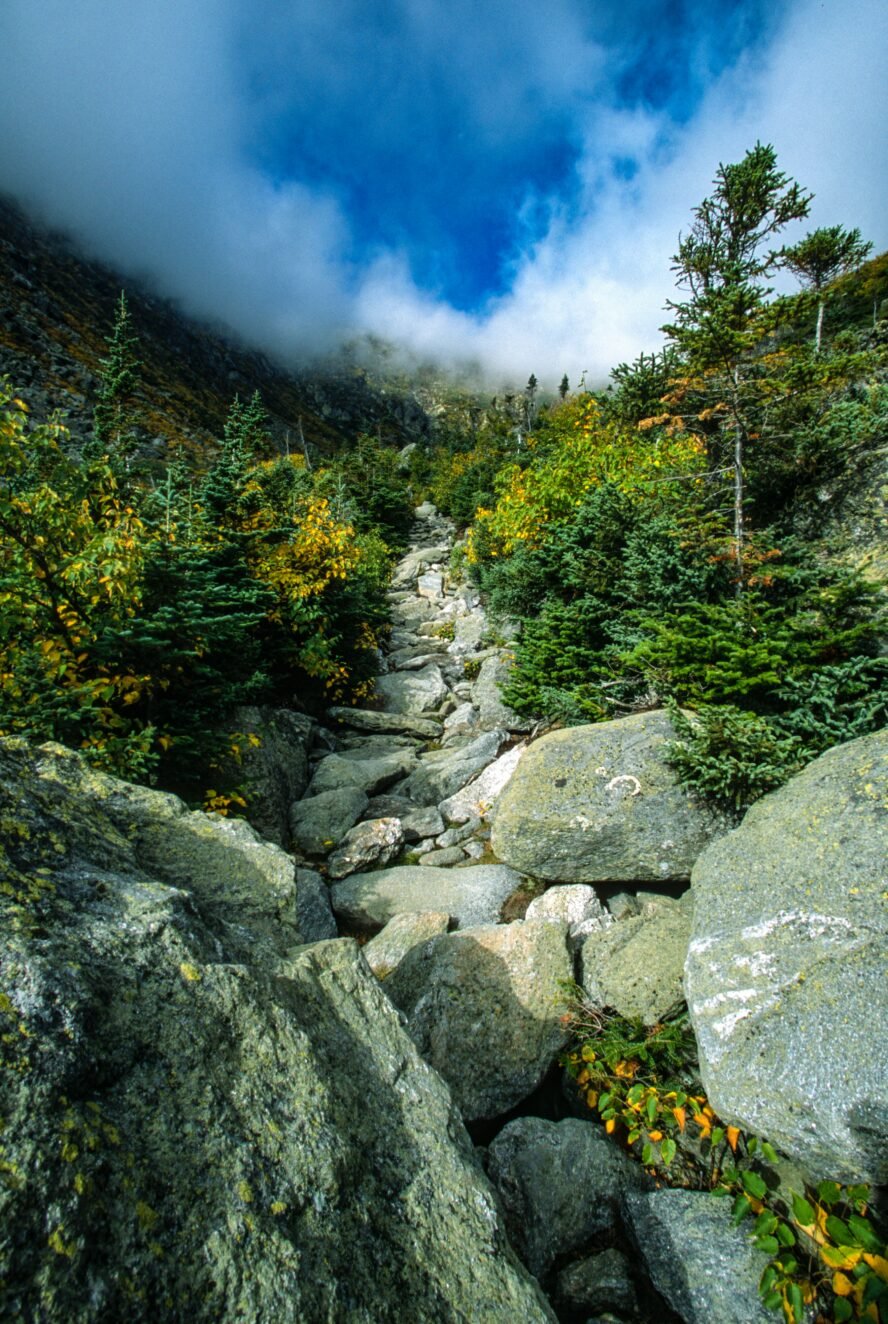 For an alternative hiking tour up Mount Washington, the Tuckerman Ravine Trail is probably the most direct route to the summit. In fact, thinking about it now, I don't remember a single switchback on this trail. It's easy to follow, and as the most popular route to the summit there will certainly be other hikers you can follow if the trail gets confusing.
Just under eight miles out-and-back, you'll ascend 4,000+ feet trending from hardwood forest through a section of scree and onto the summit.
Breaking down the climb to the top
You can park for free at the Pinkham Notch Visitor Center, which is conveniently located at the base of the Tuckerman Ravine Trail. From there, it's a steady climb for about two and a half miles until you reach the Hermit Lake Shelters, gaining 1,800 feet in elevation along the way. The AMC-owned shelters are a fine place to rest before the push ahead.
From there, you'll gain another 600 feet or so as you hike into the bowl of Tuckerman Ravine, which is a glacial cirque carved out of Washington's eastern slope. It's then a really steep up-and-up the ravine's north side for about 1,000 feet before you emerge in the alpine zone with completely unobstructed views. This part is super rocky, so it's a boulder-hopping challenge (it's considered a class 2 rock field) until you reach the top after another mile or so.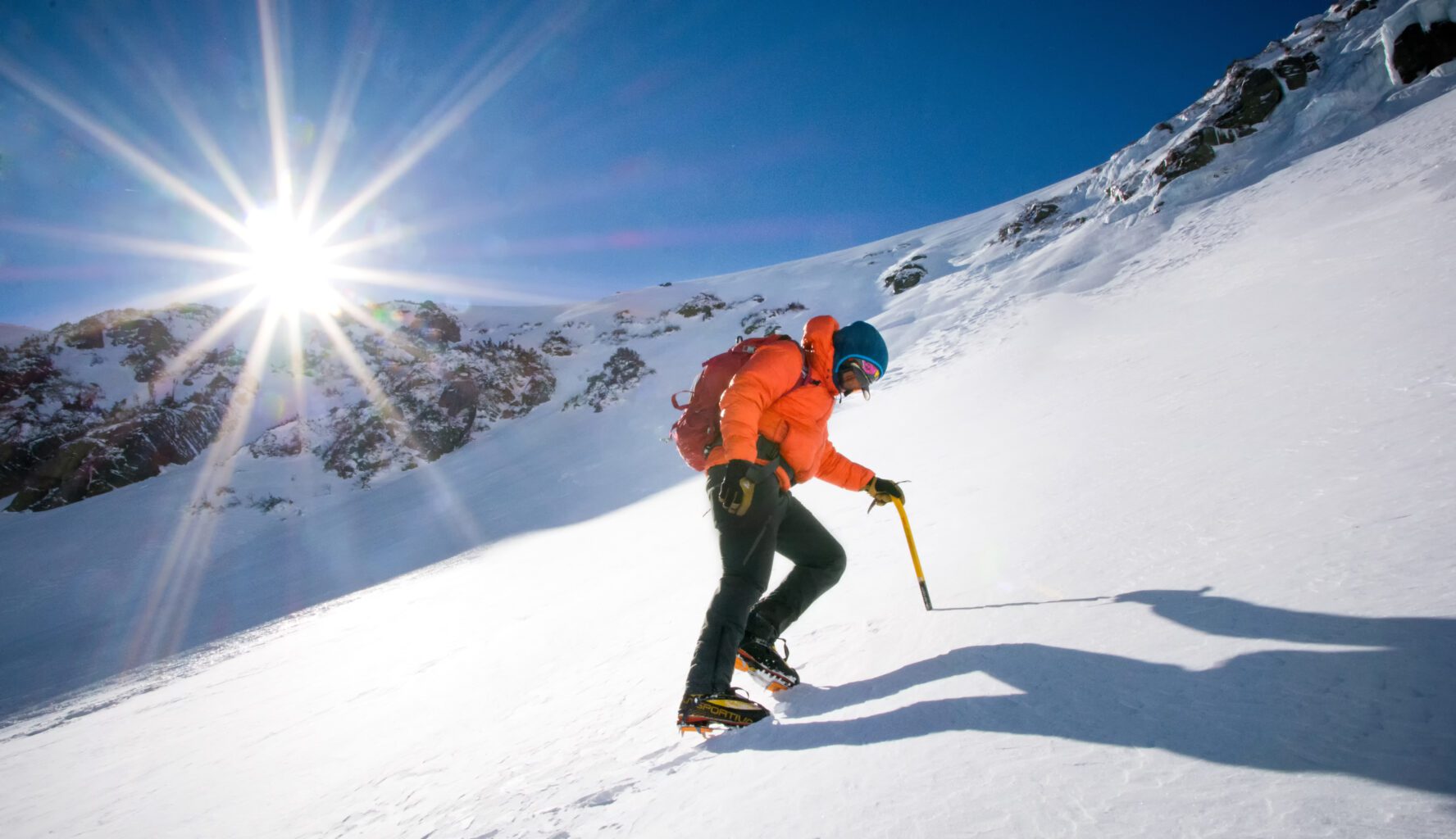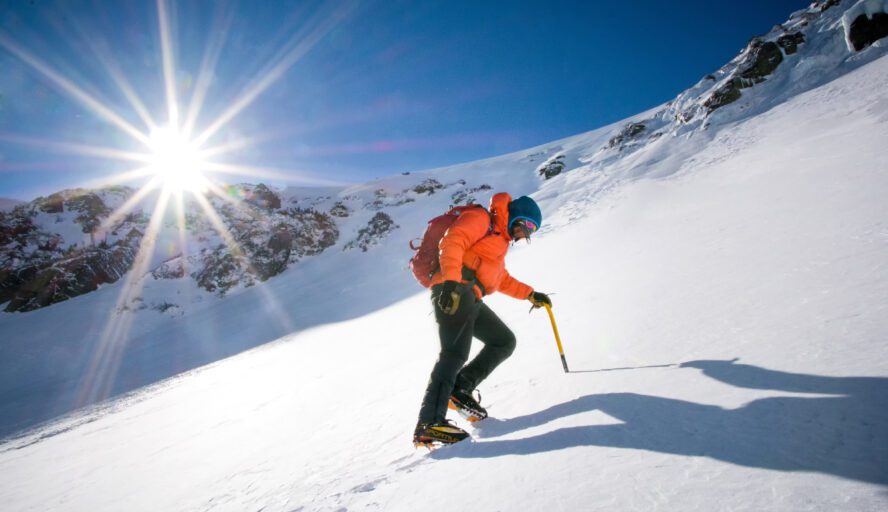 A New England rite of passage
Spring is the time to go if you're looking for something of a cultural experience. As the weather warms, the snow stabilizes and backcountry skiers come from all over to test their skills.
It's a bit of a circus, with more than a few questionable decisions being made. In a single day, a couple of thousand skiers and snowboarders will hike up to the ravine, some with a pack of beer in tow. It's a full-on party in the mountains—which, of course, can have its drawbacks—but it's like nothing you'll find anywhere else. Even if hitting the slopes isn't your thing, it's a fine place to hike up as a spectator.
But be careful: Tuckerman Ravine is prone to avalanches.
Useful Information to Help You Prepare for the Hikes in New Hampshire
Safety first
Before embarking on a hike in New Hampshire, you need to understand safety is a priority. Be sure to check a weather radar and bring a physical map so you don't rely solely on your phone for navigation.
For the last several years, I've been a search-and-rescue volunteer. It's a gig that can be both extremely rewarding and heartbreaking. In remote areas like the Presidential Range, it could be hours before anyone makes it out to save you from a dangerous situation, and even minor injuries can quickly evolve into something more dire.
Between volunteering and working as a guide, I've grown to be a much more cautious outdoorsman. I recommend that hikers—or really anyone engaging in outdoor recreation—purchase a Hike Safe Card from the state. These are $25 for an individual or $35 for a family and the funds go toward N.H. Fish and Game search and rescue efforts. Purchasing a card is probably the closest thing to hikers insurance—once you buy one, you won't necessarily be liable to cover costs in the event you need to be rescued. (Though there are exceptions outlined in state legislation.)
At the day's end
So you've turned your knees to mush dashing across the Presidential Traverse or you've just enjoyed a sunset from Artist's Bluff. Now you're faced with the day's next great endeavor: finding some R&R.
Hostel:
Northeast Mountaineering has a hostel-style bunkhouse in Bartlett where clients can stay if they're spending a few days in the area. CoHo Hostel is another option, based in Conway, and is popular with those thru-hiking the Appalachian Trail. There are plenty of hotels, airbnbs, bed and breakfasts, and other places to stay in the Mount Washington Valley, from locally-owned inns to campgrounds to the iconic Omni Mount Washington Resort.
Camping:
Backcountry tent camping is permitted throughout much of the White Mountain National Forest, generally for free except for the cost of leaving your car at the trailhead. In most cases, camping and fires are prohibited within 200 feet of a trail, but it's always a good idea to check in with a ranger about restrictions and exceptions for particular areas.
Food:
As far as restaurants go, we're pretty spoiled here in the North Country. I always recommend visiting the Red Fox Bar & Grille for its proximity to our headquarters and because the food is pretty amazing. Delaney's Hole in the Wall in North Conway, the White Mountain Cafe in Gorham… I could probably rattle off a dozen others that will either fuel your day's adventure or help you recover from a joyfully challenging trek.
If you were waiting for an invitation, here it is
Through the mountain mist, under sheets of fresh snow, or bone dry under the New England sun, we've got dreamscapes here in the White Mountains. No matter your ability level, there are spaces that will remind you just how exciting and beautiful it is to exist on this good green earth!