Hiking the Untouched Nature of the via Dinarica
I always want to experience nature as it's supposed to be, unmasked from man-made things. For me, hiking the Via Dinarica is all about getting back to what trails are supposed to be.
Every time I step foot on the Via Dinarica I feel a part of history. For me, the trail is about exploring what has been there for millennia, yet feeling like you are the first person to walk those paths.
Many people still haven't heard of this cross-border project that links all of the diverse countries of the former Yugoslavia—Slovenia, Croatia, Serbia, Bosnia and Herzegovina, Montenegro, Kosovo, Albania, and North Macedonia. But for those who make it out, there is immense beauty in this lesser-known outpost of Europe. I've been hiking since the age of four, and it's been a way of understanding myself and making sense of the world around me. The land has always been important to me, and even more so as I've gotten older; I became a volunteer guide here, got certified, and started my company, Dinaric Guides. As the first person from the Balkans to complete the whole trek, and having lived through the complicated history of the region, I'm excited to share this cross-cultural trip with all of you!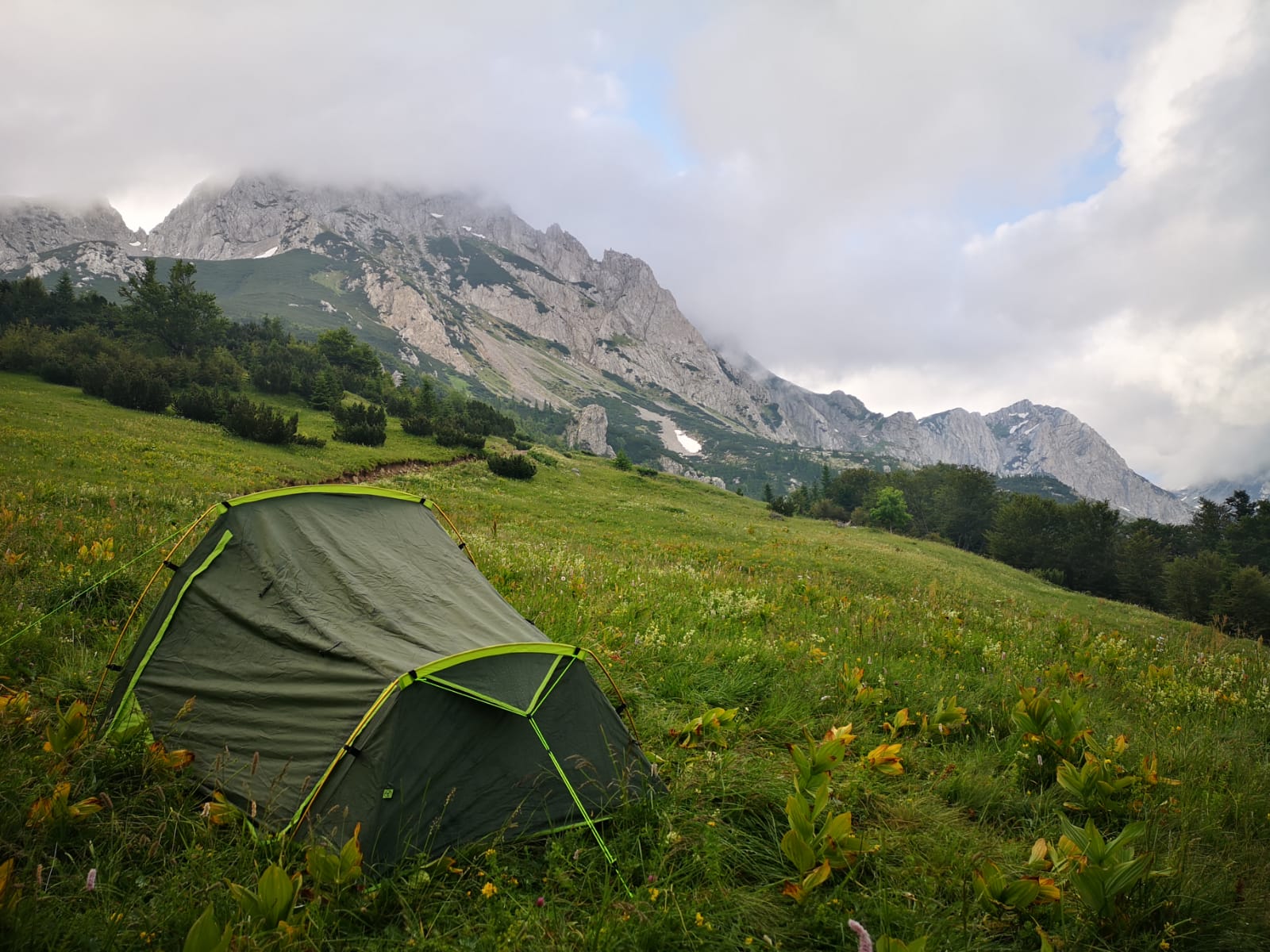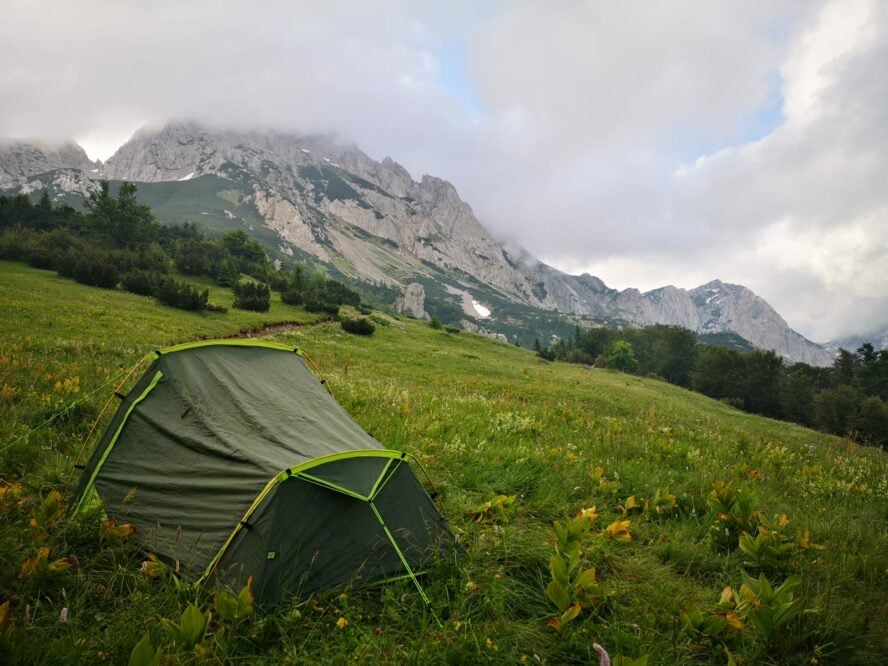 Pros and Cons of Hiking Dinarica
A relatively new trail that remains largely untouched
You are free to choose your itinerary
The people you meet on the trail are even better than the scenery
Accommodations are not as fancy as other places in Europe, but that is also the beauty of it
Finding water is a challenge in the summer months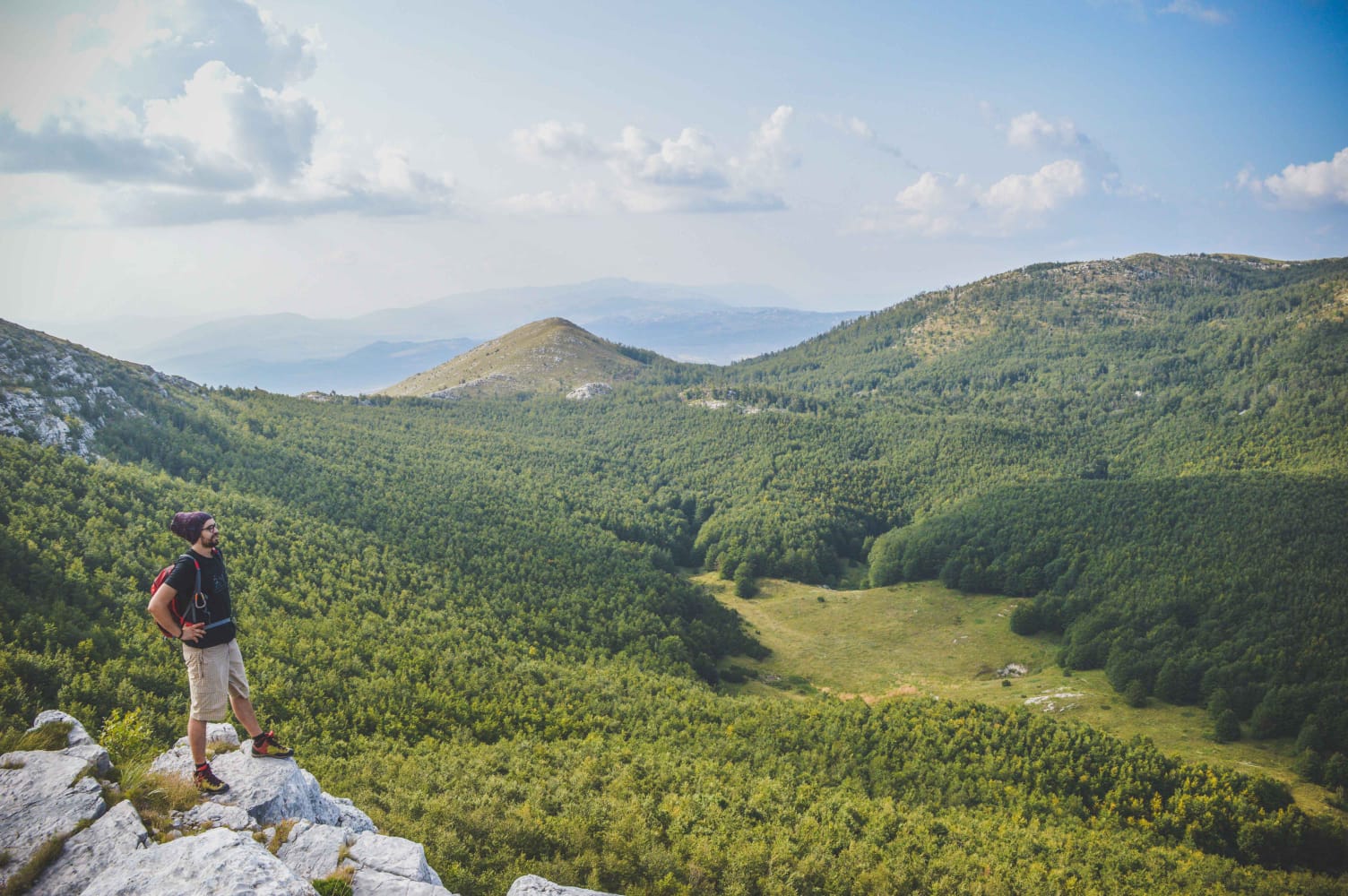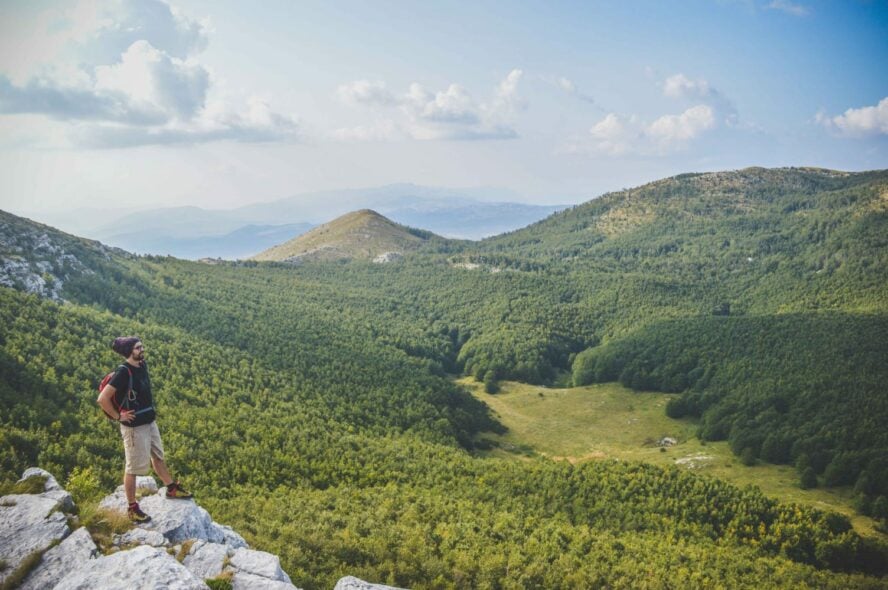 The place I call home
The Balkans are a cultural and geographical kaleidoscope, and thanks to the Via Dinarica, it is becoming one of the best-hiking destinations in the world too. This long-distance hike weaves through one of Europe's least explored mountain ranges using old shepherd paths, ancient war routes, long-established trails, and some that are brand new. The hills are full of villages and stone fortresses from the Ottomans, Austro-Hungarians, Romans, and even earlier groups, and you're never far from an Orthodox monastery, Muslim mosque, or Catholic church. While I grew up in Croatia, I hadn't seen most of this before.
All of that changed in 2018 when I completed the roughly 1,300 km trek. And I'm glad I did. Before me, only about 10 people had completed the length of the route, and being on it felt like hiking an untouched trail. In retrospect, it basically was. For long stretches, it was me and the shepherds, their families, sheep, and cows. For about a third of the year, they live a nomadic life in the hills, selling milk, cheese, and other animal products, which meant I could eat well each day.
I followed the White Trail, the most popular option. This path starts in Slovenia and summits the highest peak in each country all the way to Albania. There are two other options—the blue which flows along the coast, and the green which walks further north through more forested terrain. Even if you only have a few days, I recommend the White Trail for some of the best views in the Balkans.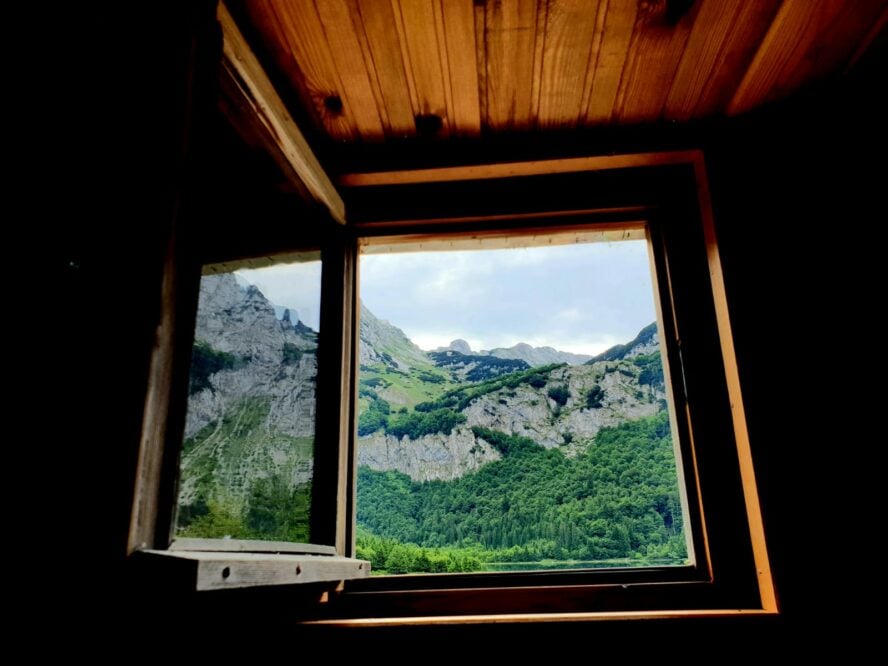 59 Days of Hiking the Via Dinarica, in Short:
The 1,260 km journey took me 59 days to complete. In total, I climbed more than 52,000 vertical meters which is about the same as climbing up and down from the Indian Ocean to Mt. Everest six times. Rather than review the whole thing, I'm going to give you a bite-sized segment that covers my favorite part of the two-month journey.
These six days are right around the middle of the White Trail. We start in Bosnia and Herzegovina (BiH) then head southeast over the border into Montenegro.
Day 1: The beauty of Zelengora and homemade rakija
The first site on the six-day snippet is mount Zelengora in BiH. This section of trail is about two hours away from Sarajevo, so I would recommend starting your trip here. The hardest part of today may be finding the trailhead as it is largely unmarked so you might require the assistance of locals. Luckily, the rest of the trail is easier to follow and well worth the effort of navigating to it in the first place.
Zelengora translates to green mountain, and the name describes what you'd expect. This remote range looks like a giant. A jolly green giant. After a tough hike, we come upon lake Donje Bare, one of the eight stunning "eyes" of the mountains that shimmers like a rainbow trout's scales. To wrap up your day, I recommend a little glass of homemade rakija. There are mountain huts and local bnbs along the way so there are high chances you will never be far from a bottle. Trust me, one glass cures all achy muscles.
I want to note that even though this is a little trafficked trail, there is plenty of accommodation throughout. Of the 59 days, I only spent 5 in a tent. The mountain huts, while not luxurious, are convenient, have all of the basic necessities, and most importantly, store plenty of rakija.
Day 2: A summit with lovely views of a heart-shaped lake
For breakfast, we summit Bosnia's highest peak. Maglić Mountain stands at 2,386 m and straddles the boundary between Bosnia and Montenegro. The Montenegrin peak is about 2 meters higher than the Bosnian one, though I'm sure there's no animosity since the views from the two are unmatched.
This is one of the most demanding parts of this trek, though, with the ascent requiring roughly four hours. I love to stop for lunch overlooking Trnovacko Lake, a bright blue, heart-shaped body of water nestled between coarse peaks and chaotic foliage. Seeing it is like a visual refuge, and honestly, looking at the lake and its surroundings makes you, in some odd way, feel wooed and cherished just as if you were to be in a cheesy romance movie.
During the spring and summer months, you can buy berries grown wild on the hillsides, picked by locals that very day. The berries are a lifesaver at the end of a long journey.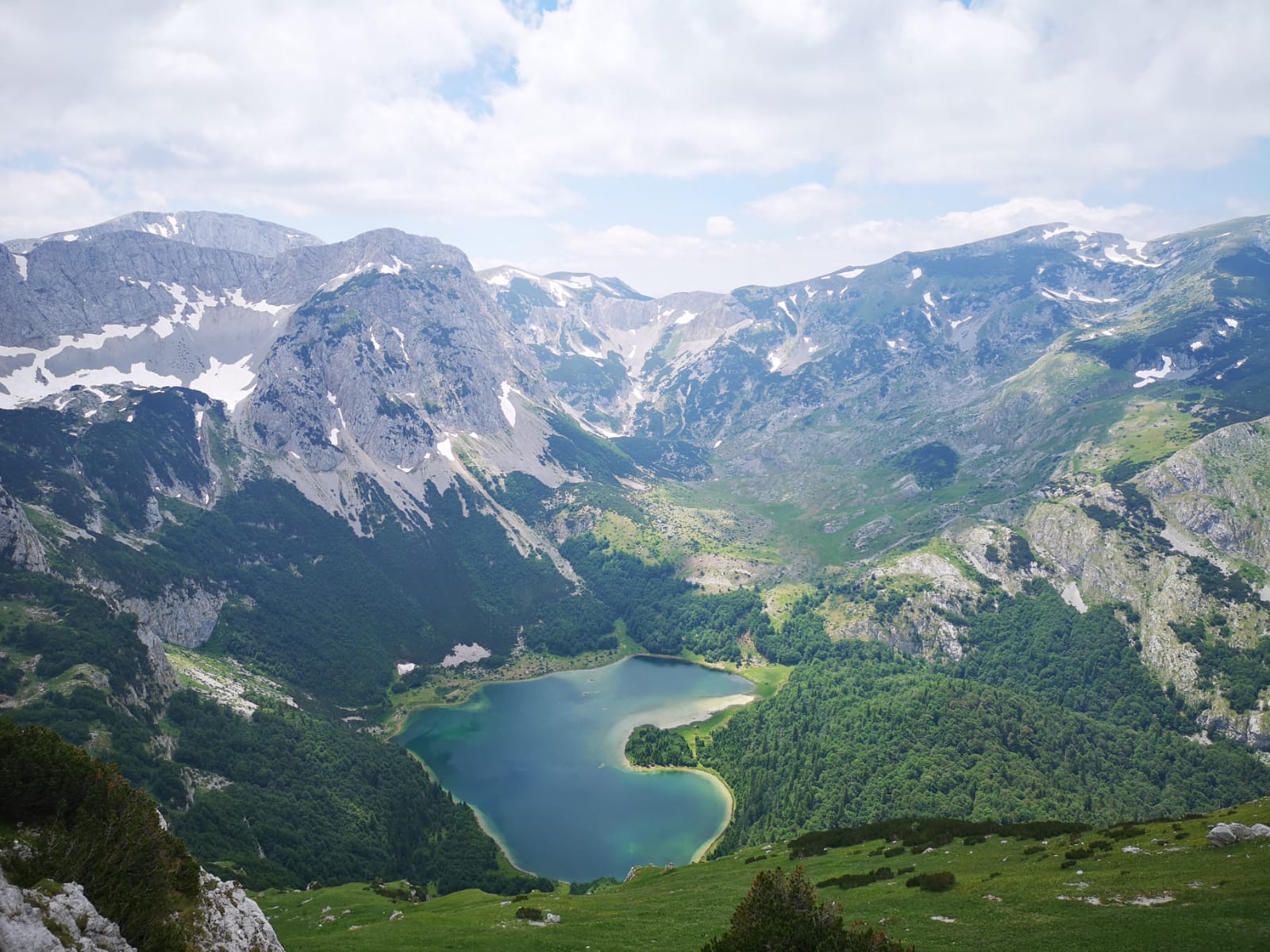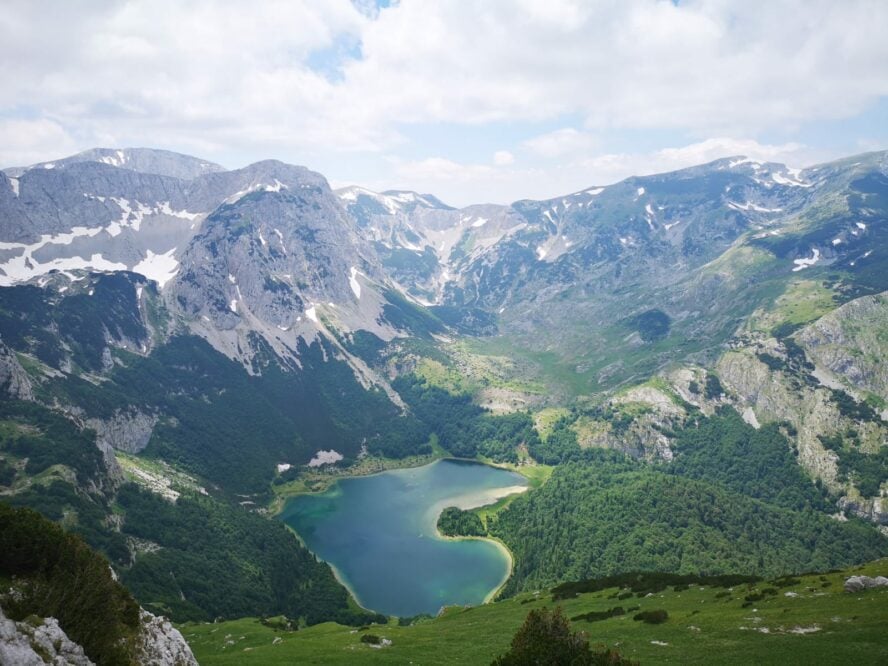 Day 3: Walking through one of the last primeval forests in Europe
Today the trail heads to Piva National Park. The landscape is comprised of more than 20 small villages that are sheltered between sharp faces of limestone, cold yet inviting rivers and lakes, and meadows interrupted by jutting hills. The quaint houses were built to preserve as much nature intact as possible. By not cutting down the trees around them, the houses blend in perfectly.
This is a place for a history lesson because you can see the old culture and tradition of Montenegro. Be sure to chat with the local cheesemakers who, traditionally and to this day, have been living in the mountains during the summer with their cows, producing a dozen different types of cheese.
We continue into the Perućica reserve, one of the last remaining primeval forests in Europe. When an increase in demand for agricultural land and wood fuel caused deforestation all over the continent, the Government of the Socialist Republic of BiH placed this forest under the protection of the state. Walking alongside hundreds of year-old Greek maples makes you feel like no other trek, so enjoy it and I respectfully request that you help preserve it. With the effects of human-caused climate change becoming irreversible, we need to protect what we have left. When I say that the nature of the Via Dinarica is pure and untouched this is what I'm talking about.
Day 4: Connecting with the culture of Montenegro
Now we cross the border and are on the Montenegro side overlooking the Mratinje dam. At 220 meters it is one of the tallest in Europe. I took my time crossing over the grassy plateau, seven hours to be exact, to the edge of Durmitor national park. There are many medieval tombstones that you pass along the way, and if you are a history buff you might figure out what they are from.
While all the scenery is beautiful, the people are what I fell in love with. Locals will invite you into their homes to share a slice of cheese or to try their new fig spread. In all of my days on the trail, I was never once turned away.
There are many families in Montenegro who are shepherds. They move with their relatives and livestock into the mountains for four or five months at a time. This nomadic lifestyle has died out in most places, but here it has been preserved, much like their tart james.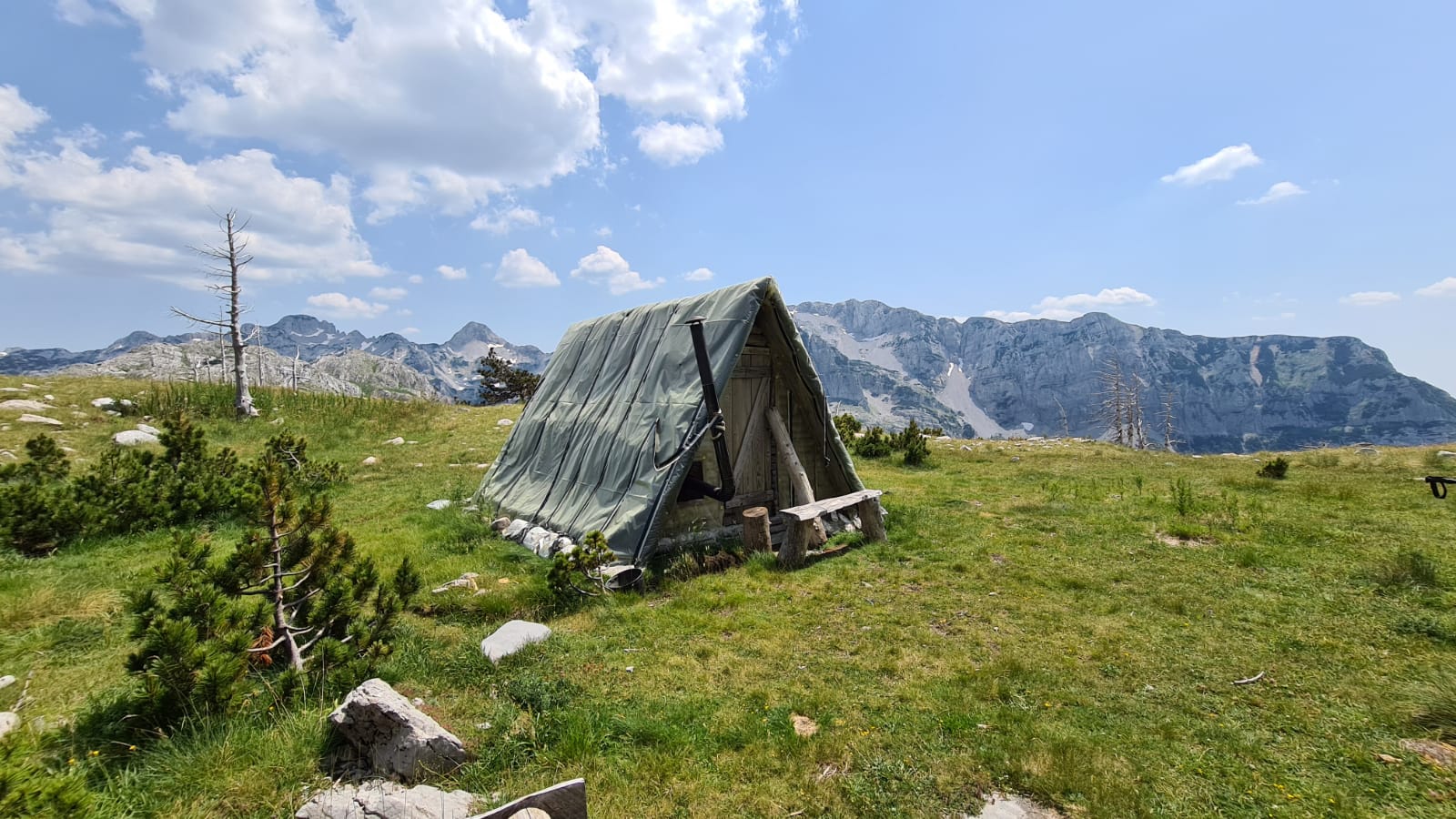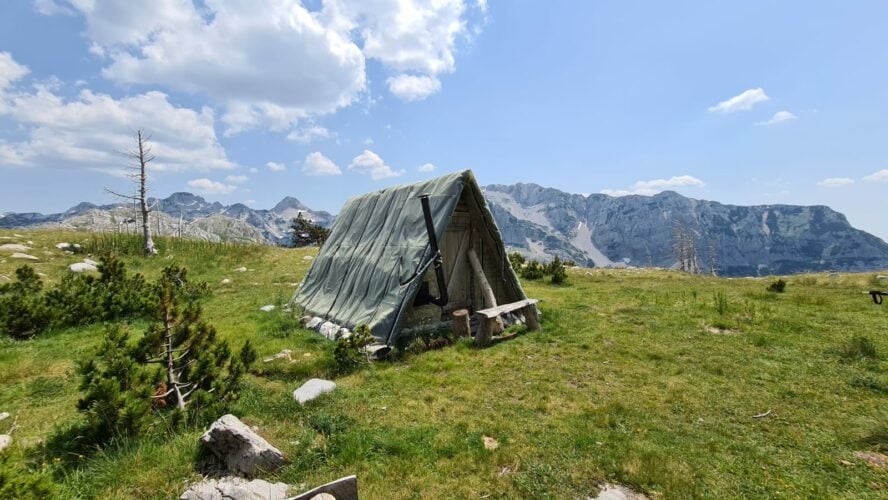 Day 5: A tour of two lakes
The hike continues to Susicko and Skrcko lakes. Susicko lake ​​is right in the heart of a canyon surrounded by imposing peaks—the walls go straight up from the edges of the lake. Skrcko lake, on the other hand, consists of water so clear that you can see to the bottom, and shines a particular green that blends in with the surrounding pine trees. The day is about 19 kilometers.
Day 6: A sweet ending over Botun pass
For the final day, we make our way down Skrcko lake over Botun pass and down to Zabljak, a town located in the middle of Durmitor National Park. Botun pass is at 1,877 meters, so you will make your way up 900 meters and then descend down about 1,000 meters to Zabljak. The part over Botun pass has plenty of exposed rock and steep bits. Zabljak is a small town in the north and from here you can continue hiking to Kosovo or get transported back to Podgorica, the capital city of Montenegro.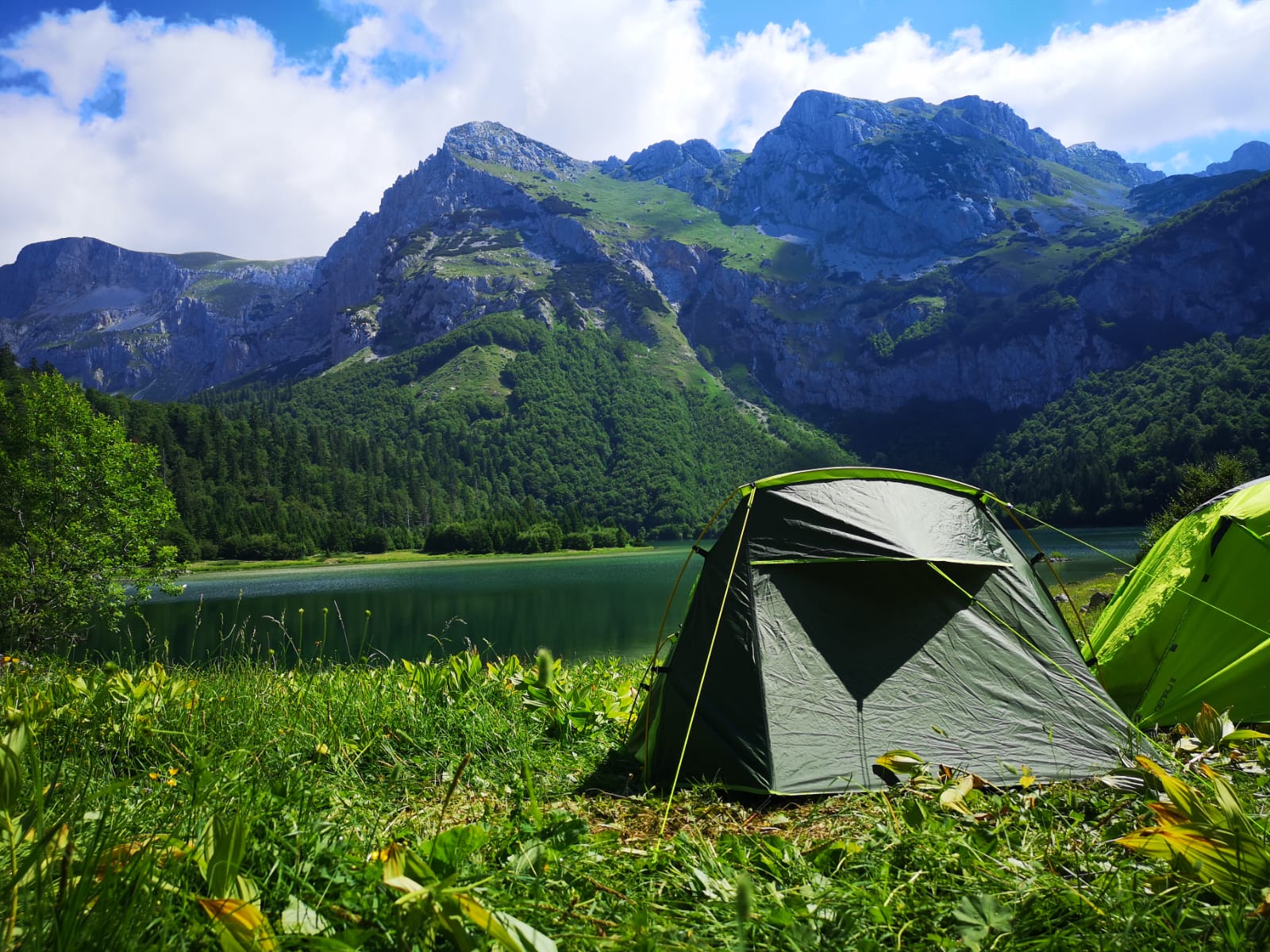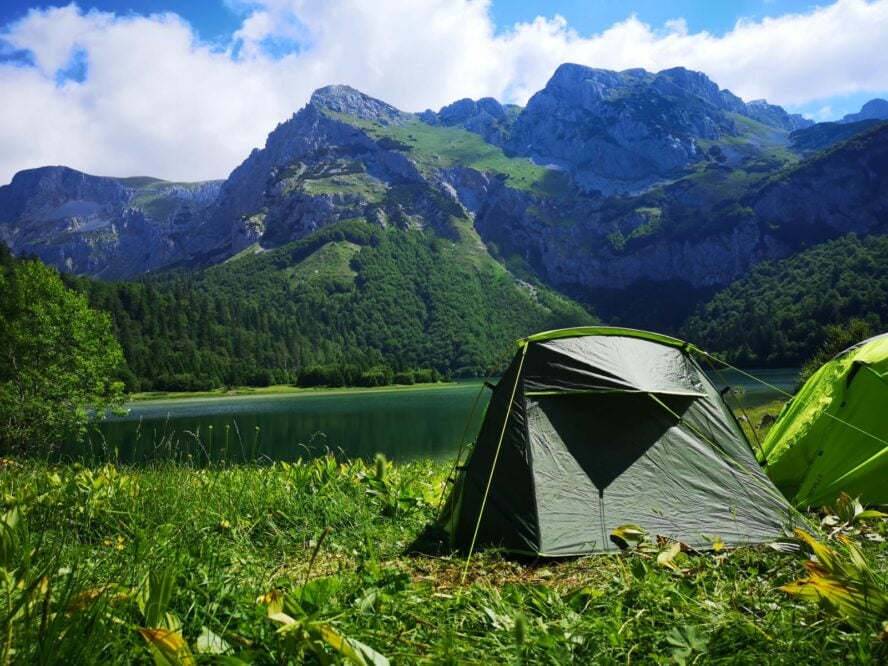 More Information to Help You Prepare for Your Trip
How difficult is the terrain?
The Via Dinarica is a demanding hiking trail, and the terrain ranges from family-friendly to very challenging summit days. The White Trail goes through some of the most pristine wilderness areas in Europe, including the Velebit in Croatia, over Prenj Mountain in Bosnia and Herzegovina, and a steep ascent of the Accursed Mountains on the border of Montenegro and Albania. During the fall, winter, spring (sometimes even early summer) there is snow at the higher elevations.
Bugs and snakes, oh my!
This is one of the most biodiverse areas in Europe. You will encounter mosquitos and other harmless bugs, but they will most likely never become a nuisance. You should watch out for poskok, a venomous snake that is native to the Balkans.
Are old mines a concern?
The Via Dinarica White Trail is safe from land mines. Mines were left over from the Bosnian War which happened between 1992­ and 1995. It was a horrific war fought in Bosnia over ethnic struggles during the separation of Yugoslavia. During this time period, both sides buried mines, many of which remain. After the war, the country and NGOs have been demining the lands and it is a process that continues today. Rest assured that mines are not a concern on the Via Dinarica.
Is any specific gear needed?
You need your basic hiking equipment: sturdy shoes, hiking layer, puffy jacket, a raincoat, plenty of water and food, and if you want, trekking poles. You might consider bringing a tent in case you cannot make it to your accommodation, or want to enjoy a night under the stars.
How long does it take to hike the Via Dinarica?
The Via Dinarica spans about 2,000 kilometers in total from Slovenia through to North Macedonia. When I hiked the entirety of the White Trail, the longest consecutive route, it took me 59 days.
When should you go?
I recommend June and September as the absolute best time to go. The temperatures are perfect for hiking and it avoids the rainiest months. Generally, the hiking season runs from May until October, however during the summer months, especially July and August, it can be oppressively hot. Of all of the months, August has the lowest average rainfall in high-altitude areas. During late fall, October, and November, the weather transitions into the rainiest period of the year and fog that doesn't leave for days or even weeks.
Accommodations
While it doesn't have as fancy of accommodations as you'll find when hiking the Tour du Mont Blanc or Laugavegur Trail, there is always a mountain hut, refugee, or local hotel that you can stay in. Regarding the huts and other accommodations, prices range from 5 to 50 euros. The higher end of this range is more like luxurious hotels. For most huts, you can expect to pay 10 euros.
I only spent about five days in a tent. Bringing one is always a good idea in case of unforeseen troubles, but rest assured that most nights you can sleep comfortably inside. Note that wild camping is not allowed in Slovenia and in the National Parks of Croatia. It is allowed in Durmitor for a camping fee of about 3 euros per night for a small tent and 5 euros for a big one.
Do you want to walk this almost secret path like Ante? Or would like to try the shorter (but not any less sweet) version of it? Plan your next adventure with Ante and Dinaric Guides today!