Matias will cover:
Why Torres del Paine National Park is the hiking capital of Patagonia
A detailed overview of the O and W treks
Choosing the right trail for your needs and abilities
How to physically prepare for your hike
Pro tips for efficient planning and packing
Torres del Paine National Park presents the peak of Patagonian hiking, and the W and O treks showcase that to a T. Titled after the shapes they take from a bird's eye view, there's a good reason these trails spell out "WOW".
The more trendy of the two, the W trek was shaped by one of the greatest glaciers in the Southern hemisphere. Snaking through both steppe and summit, this non-technical trail covers all the highlights of the area, including Towers Base lookout, French Valley, and the Grey glacier.
A tougher trail than its neighbor, the O Trek is the hidden gem of hardcore Patagonian hiking. Looping through granite and glacier, "O" takes adventurous travelers through both Paine Massif and the Southern Patagonian Ice Field, while being crowd-free even in the high season.
If you're looking to learn more about these two treks from a certified expert, tune in to this free hour-long session. From general facts about trekking Torres del Paine and the differences between the two hikes to logistical pro tips, you'll be all set to tackle this Patagonian paradise.

Live Q&A sesssion
Matias will follow up with a live Q&A session, where you can ask them anything you want to know about hiking in Chile's Torres del Paine National Park.
Webinar host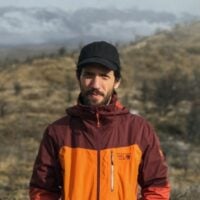 Matías is a full-time tour guide and a family man, with more than 7 years of experience working in Torres del Paine National Park. He has worked for prominent companies in the tourism industry such as Hotel Explora, Quasar, and Hotel Singular. He lives in the city of Puerto Natales where he works as a booking manager for different international companies, taking charge of the offers, relationships with suppliers, and product design. Still, what Matías enjoys the most is going on hiking tours and sharing the best gems with his clients.