The Best Hiking Destinations Worldwide
Table of Contents
Taking a vacation is one thing, but experiencing some of the planet's most incredible backcountry terrain by foot is another. Every time I hike in a new destination around the world, the experience of that particular country and culture is brought to the next level. From compressed volcanic ash to the world's most iconic mountain ranges, hitting an international hiking destination can be thrilling and rewarding in a way your standard vacation just can't measure up.
Whether you add these to your long-term bucket list or book a ticket right away, it's never a bad thing to dream about the best hiking destinations around the world.
Iceland
1. Laugavegur Trail
TOP CHOICE FOR MODERATE HIKERS
Point-to-point, shuttle needed
Iceland's dramatic landscapes, formed by millennia of glaciers and volcanoes, make it a destination for epic hiking trips for travelers from around the world. There is no better way to see these spectacular formations than by hiking through them, and the Laugavegur Trail offers access to the best geological features that Iceland has to offer, all on a trail that's hikeable in under a week.
This trail is like a portal to another world. Glacier-fed lakes, black volcanic rock, spouting thermal vents, and rolling hills make it one of the most incredible shorter thru-hikes, mile for mile, anywhere in the world. Weather and season are the crux of the Laugavegur Trail. Summer is really the only conceivable time to hike the trail, and even in the middle of summer, the area is prone to high winds and dramatic precipitation. The Iceland Travel Association maintains huts along the trail, open seasonally. Camping regulations vary, make sure you're informed before you head out.
Laugavegur Trail's brightly-colored orange mountains, deep canyons, birch forests, and rivers provide some of the best visual landscapes we have on the entire planet.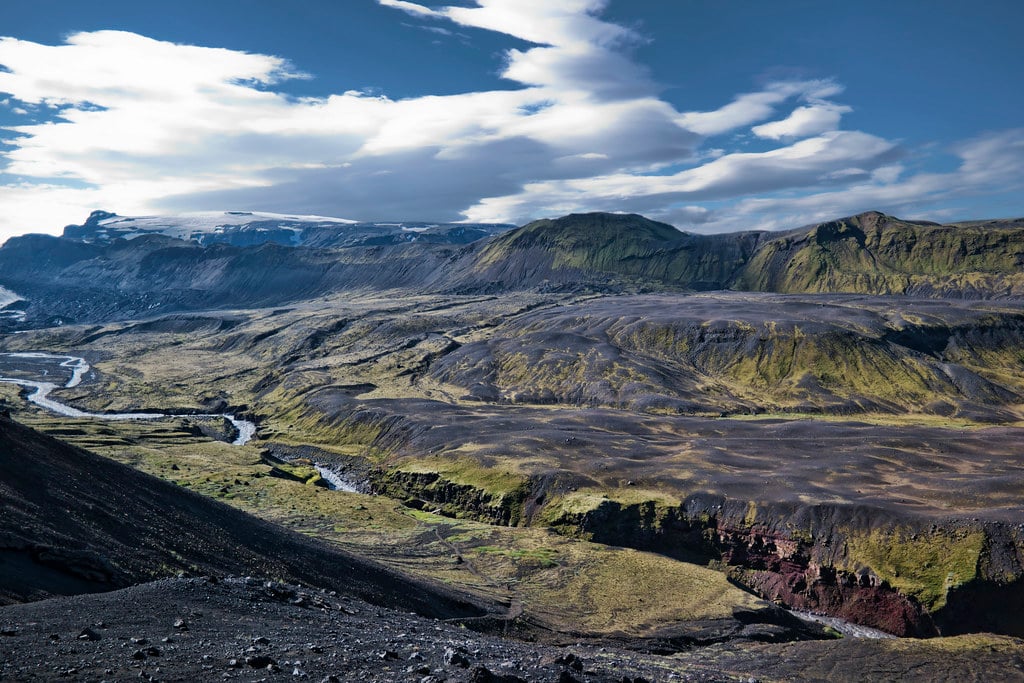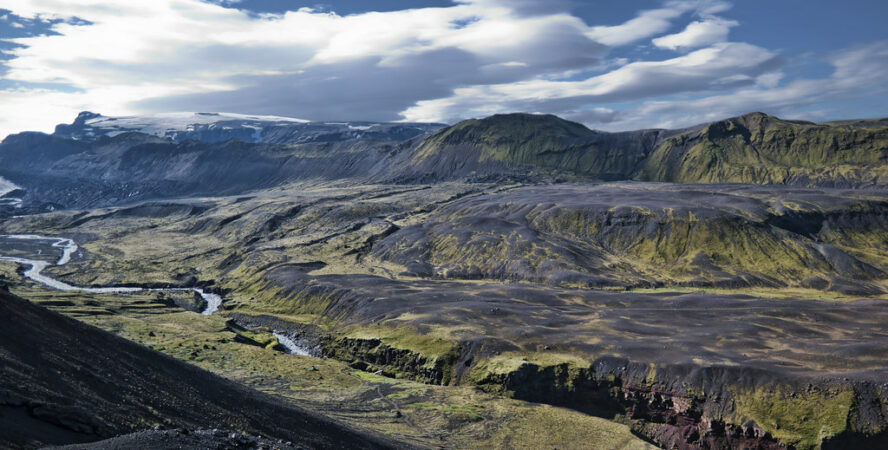 ICELAND - LAUGAVEGUR TRAIL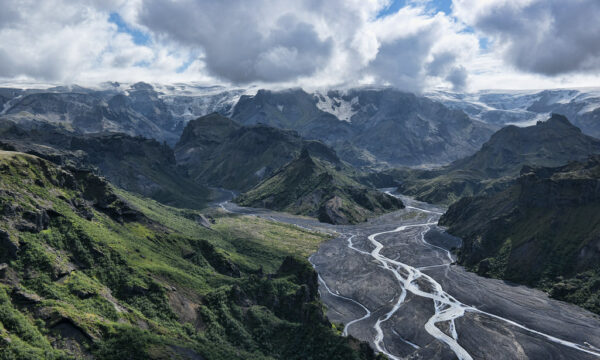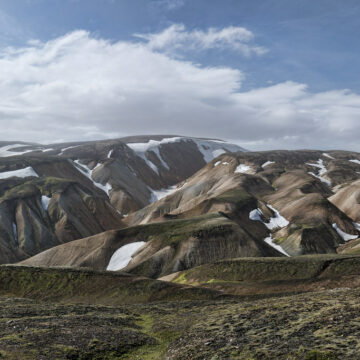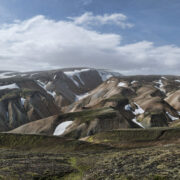 Laugavegur Trail - Good to Know
Terrain:
Moderate, rolling
Don't miss:
The Blue Lagoon
Other activities:
Whale watching off the coast of Reykjavik
Closest airport:
Reykjavik
Guided trips:
RECOMMENDED FOR FIT DAY HIKERS
Simple directions and signage
Options for bus travel halfway to summit
Reservations needed for huts
Mt. Fuji has the distinction of being Japan's highest mountain while also being reasonably accessible for fit hikers to climb in one day. The route is non-technical, and the tourism boom around the peak means plenty of transportation, services, and information available for people interested in summiting. Paved roads go nearly halfway up the mountain, with 10 "stations" along the way, complete with ample signage and warnings about potentially hazardous terrain.
Depending on which route you choose and whether you want to see the sunrise, you can start hiking at night from one station, and catch a few hours of sleep at a higher-elevation station later. From there, you can get an early start and reach the summit just in time for sunrise. Fit hikers can do this in one day, but many people will want to stay overnight at a hut. This is a summer-only hike, and since it's such a destination, the area can get very crowded. Be prepared for an influx of hikers especially on summer weekends; try to hit this peak on a weekday if you can.
Climbing Mt. Fuji is a rite of passage and near religious journey. What makes it magical is that even in this age of technology, so many humans can be entranced by a sunrise coming over a mountain.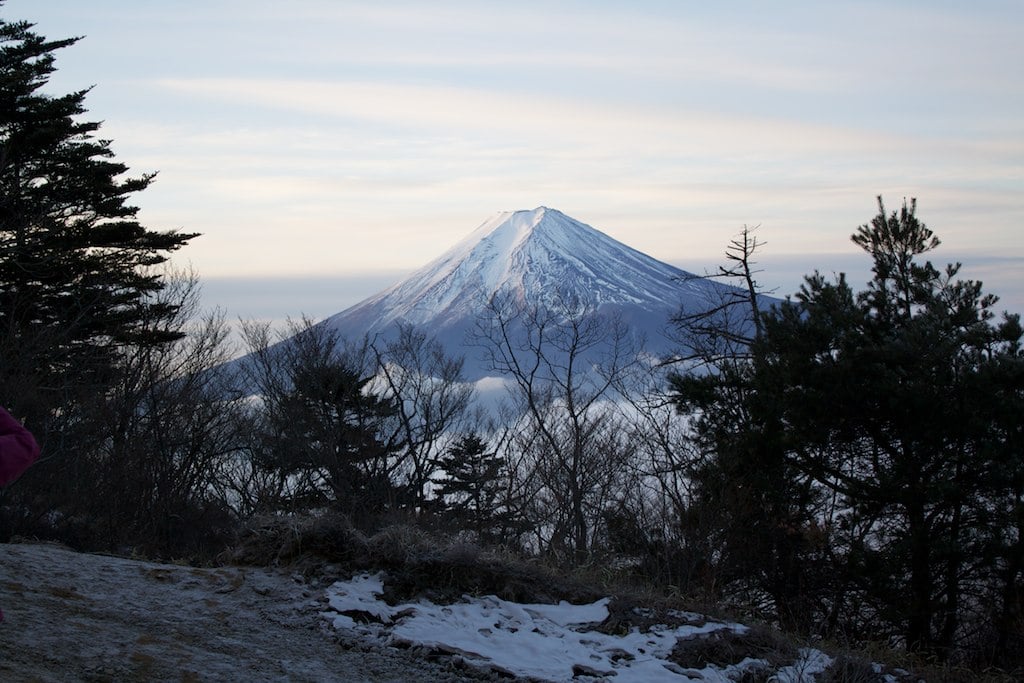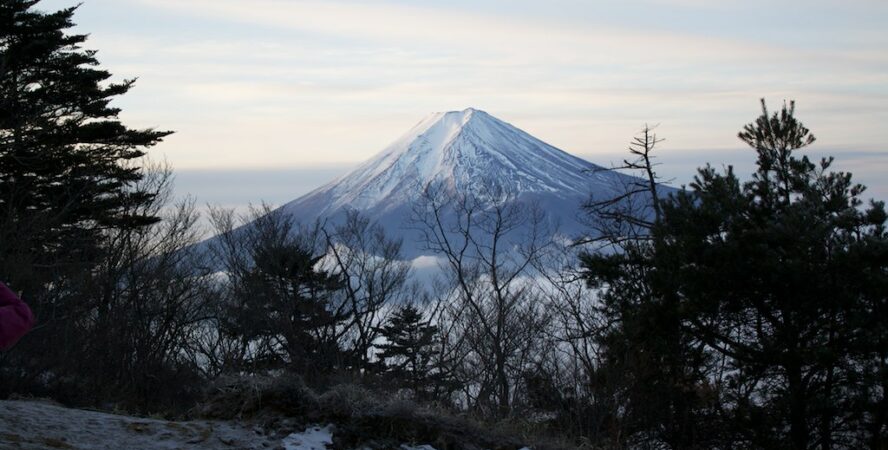 CLIMBING MOUNT FUJI: The Tallest Mountain in Japan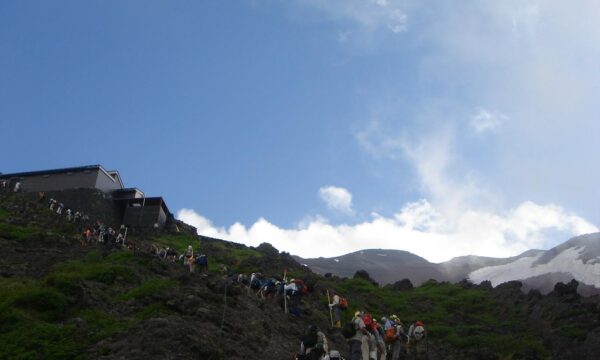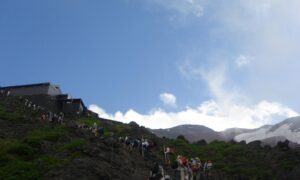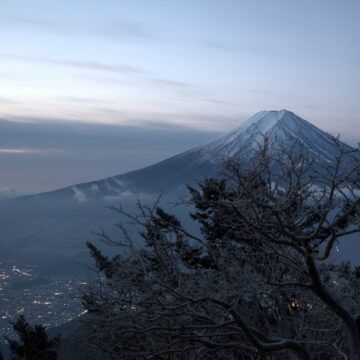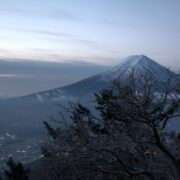 Mt. Fuji - Good to Know
Terrain:
Steep, non-technical peak
Season:
July – Mid-September
Guidebook:
Don't miss:
Take a break in a hut, even if you don't stay in one
Other activities:
Visit Lake Kawaguchik
Closest airport:
Shizuoka Airport
RECOMMENDED FOR HIGHLY EXPERIENCED HIKERS
Many options for challenging trails
World-wide destination for peak-baggers
Many people know Fitz Roy as the iconic logo from clothing brand Patagonia. In reality, this destination is a haven for experienced and adventurous trekkers and climbers, with challenging, technical ascents and epic backcountry travel that climaxes in views that eclipse the best Grand Canyon hikes. For the region, Mt. Fitz Roy is one of the most popular destinations. The peak is located in Parque Nacional Los Glaciers, and the trailheads can be accessed right in the town of El Chatan.
While the opportunities for advanced exploration are seemingly unlimited, trekking to Mt. Fitz Roy is an accessible objective for hikers without in-depth technical skills or experience. The region is proud to offer plenty of resources, guides, and outfitters, making planning as hands-off as you want.
Leaving from El Chatan allows for everything from day hikes to multi-day backpacking trips. Hiking under the shadow of the iconic granite peak is a bucket-list adventure for visitors to the area, but it is not simple to get to. The flights, the driving, and the hiking all make for an involved trip. Climbing Fitz Roy is for experts only, but non-technical trekkers will be happy with any outing in this national park and surrounding area. Be prepared for rain, wind, and other challenging conditions. Waiting out storms is to be expected, so backpackers should be prepared with gear and extra food.
The last hour to the summit was strenuous and steep but the view at the end was rewarding. [Patagonia is] one of those places that you are truly awed by what nature has created and the entire landscape makes you feel so tiny in comparison.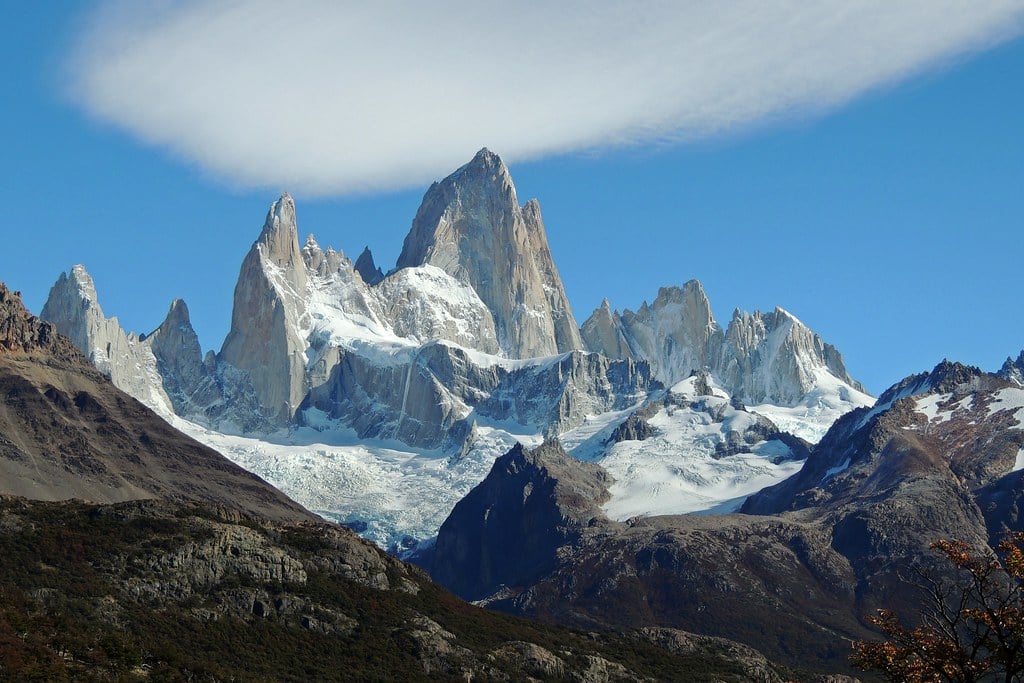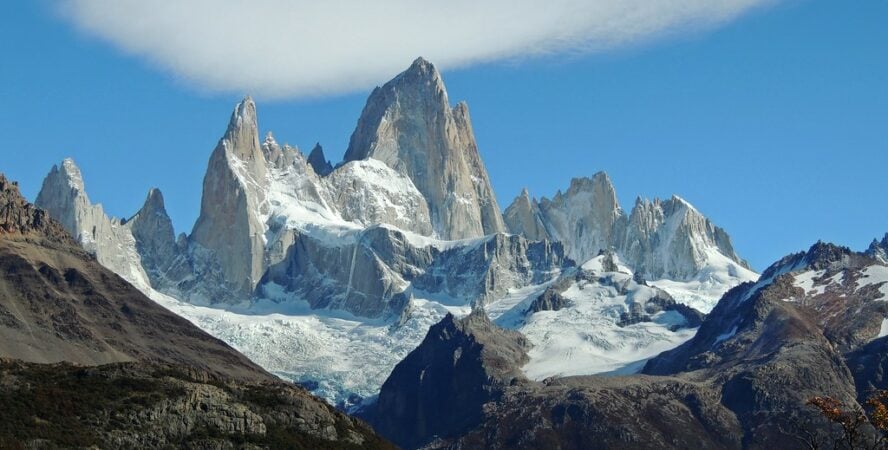 Fitz Roy Patagonia - Hikes from El Chalten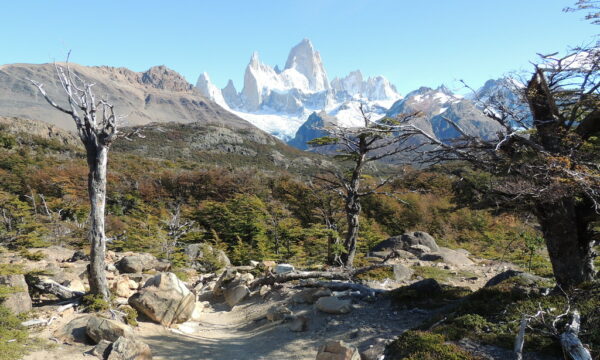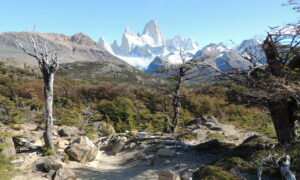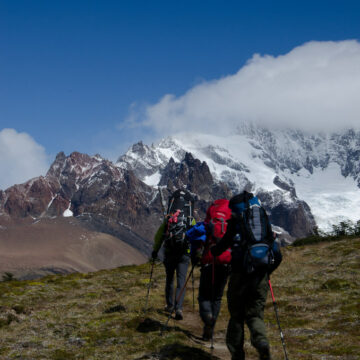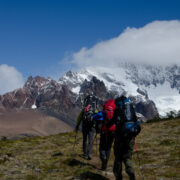 Fitz Roy - Good to Know
Distance:
Varies. Day hikes and expedition options
Terrain:
Technical, steep, high-elevation
Timeline:
Plan to spend at least a week in the area
Don't miss:
Mirador del Torre hike
Other activities:
Take a boat out on a glacial lake
Closest airport:
El Calafate Airport
RECOMMENDED FOR HIKERS OF ALL ABILITIES
Vast array of trail lengths and difficulties
Plethora of regional information
More popular trails can be crowded
Tourism has made some lodging options expensive
The Isle of Skye is the largest island in the Inner Hebrides of Scotland. Famous for its rugged interior, coastal walks, and interlacing miles of hiking trails, this is one of the most popular destinations in Scotland each summer. It's also a hiker's paradise. No matter the style, length, or difficulty of your intended hike, the Isle of Skye has something to offer.
Check out the coral beach at Claigan for one of the only fine-sand places on the island. This hike is a family-friendly walk and not super committing. Alternately, to see some of the most incredible landscapes on the island, head out on the the Quiraing Walk, a loop hike that can be completed in an afternoon. Towering cliffs, rock spires, and massive drop-offs mean you won't want to forget your camera. There are too many legendary hikes and excursions around the Isle of Skye to list—do your research and plan your route ahead of time to get the most out of your trip.
Known for volatile weather, jaw-dropping sights and rich history full of turmoil and magic alike, be sure to bring your camera along to the ever cloud-clad, misty Isle of Skye — the crown jewel for hiking in Scotland.
by Gareth Williams – Mountain Leader and owner of Large Outdoors
Read full review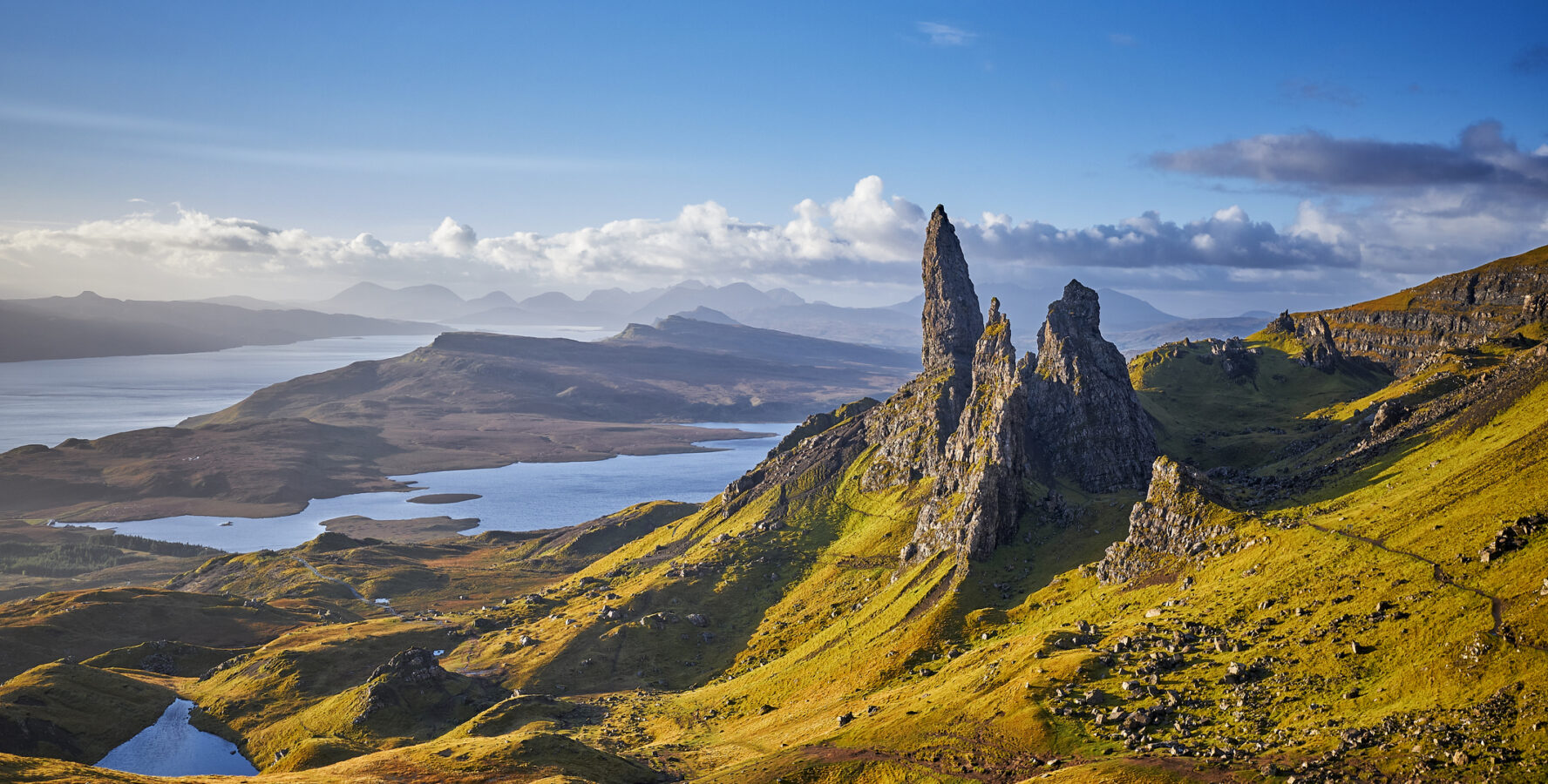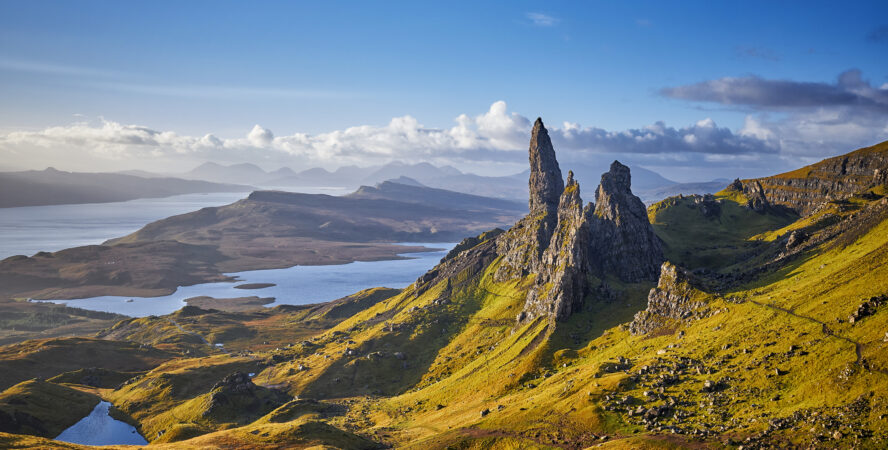 Best of ISLE OF SKYE Vlog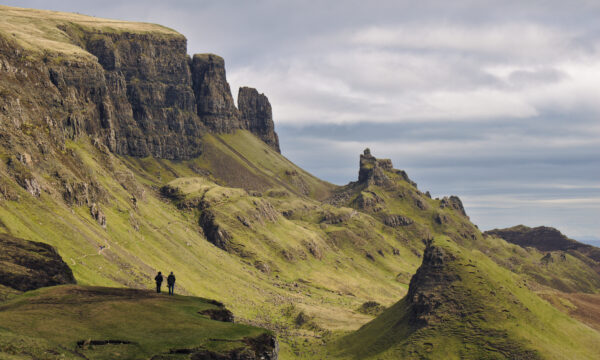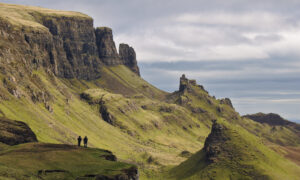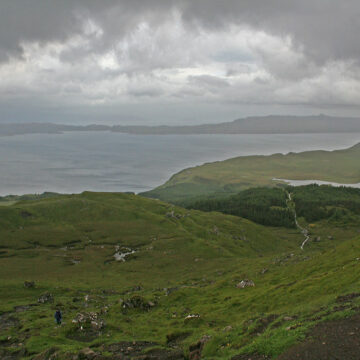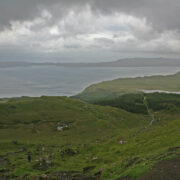 Isle of Skye - Good to Know
Distance:
Full range of trail lengths
Terrain:
Coastline to rugged mountain scrambles
Timeline:
Spend at least 3-4 days in the area
Season:
Spring, summer, early fall
Don't miss:
Seeing the Old Man of Storr
Other activities:
Sea kayaking along the coast
Closest airport:
Inverness Airport
Guided trips:
RECOMMENDED FOR BEGINNER HIKERS
Accessible trails, paved options
UNESCO World Heritage Site
All trails can be hiked in a day
Urban-oriented hikers, look no further. The Cinque Terre is a cluster of five small fishing villages just north of Pisa. This region is full of rich history, world-renowned cuisine, and is visitor-friendly. Situated on the imposing cliffs above the Mediterranean, this UNESCO World Heritage Site can actually be hiked on an 11km trail, highly recommended for motivated visitors.
Linking these towns together on foot on the Sentiero Azzurro, or "Blue Path" makes for an unforgettable day. Each town offers the chance to stop for food at local markets, a full meal, or exploration in general.
The trail sections can be hiked on their own, and there are different difficulty options within the different sections. Hikers looking for the most challenging trail section should be sure to try the hike from Vernazza to Monterosso. It can be done in just a few hours and is only 3km, but the steep climb and descent and the intimidating drop-off makes it more challenging for novice hikers. Reward yourself at the end of the day with a fresh seafood meal in any of the cliffside towns and enjoy the ocean views and pastel-colored buildings.
We chose to hike the Blue Path, and really took our time in each town. We stopped for food and sightseeing and made it a full-day outing.
by Renee F, climber, friend and fellow traveler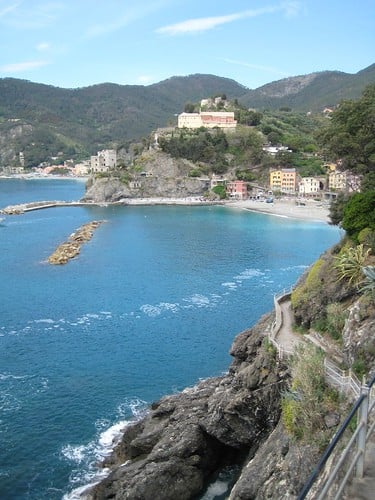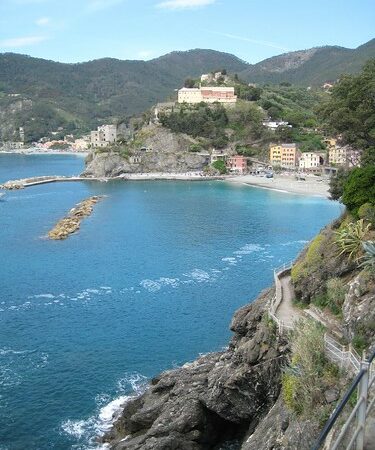 Hiking All of Cinque Terre, Italy IN ONE DAY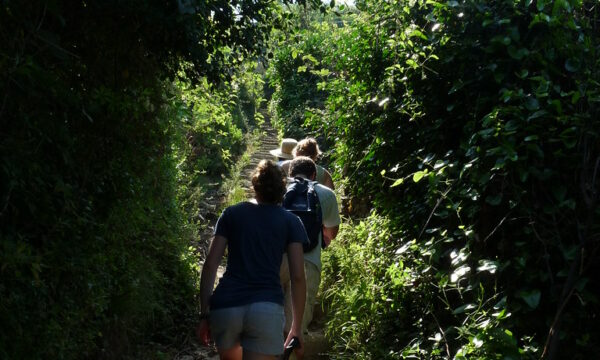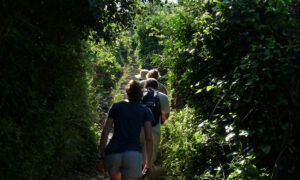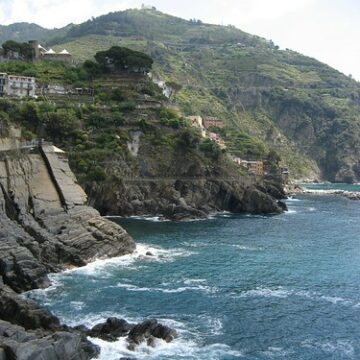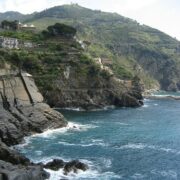 Cinque Terre - Good to Know
Terrain:
Urban feel, some steep climbs
Don't miss:
Catch a sunset from one of the many overlooks and viewpoints
Other activities:
Grab a meal at Fuori Rotta in Riomaggiore.
RECOMMENDED FOR FIT HIKERS
Several route options for reaching Machu Picchu
Plenty of guides and support
Get ready to see some llamas
Intimidating if you have a fear of heights
The terminus for hiking on the Inca Trail is the majestic ruins of Machu Picchu in the Andes. The massive blocks are held together without mortar, presenting a mind-blowing feat of construction from the 15th century. Hikers aiming for Machu Picchu have multiple options for the trek, ranging from a week-long excursion to a one-day hike on the Inca Trail. Most fit hikers will likely want to choose something in between, spending 3-4 days on the Inca Trail and getting a taste of everything it has to offer. Permits are limited due to concerns about maintaining the integrity of the site and avoiding erosion on the trail itself.
The Inca Trail is one of the most famous hiking trails in the world. From tundra to cloud forest to high mountain passes, hikers will travel through an incredible array of scenery and ecosystems, challenging their legs and lungs with long climbs at high elevations. The "Classic" route runs 42 kilometers and is often hiked over four days, allowing hikers time to acclimate and appreciate their surroundings. Get ready for some serious elevation. Hikers will ascend to 13,000' over mountain passes, and altitude sickness can be a real concern. Make sure you're fit and ready for climbing—hikers can expect up to nine hours of hiking for multiple days during the longer route options.
The Inca Trail isn't the easiest way to reach Machu Picchu from Cusco, but it is the best way — beautiful views, centuries of culture, and just about as close to the gods as you can get.
by Raul Ccolque – Sacred Valley local and owner of Alpaca Expeditions
Read full review
Inca Trail - Cusco to Machu Picchu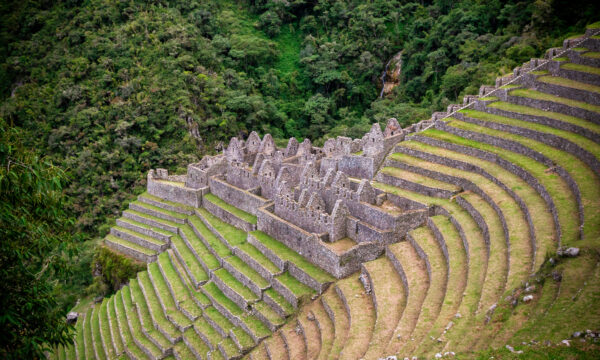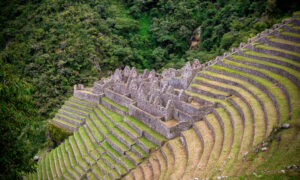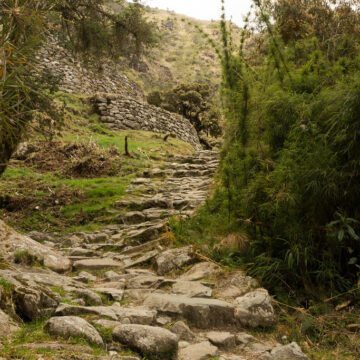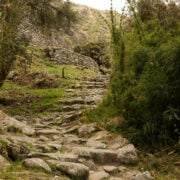 Inca Trail - Good to Know
Distance:
42 kilometers (Classic route)
Terrain:
Rugged alpine tundra, mountain passes
Season:
Mid-spring to mid-fall
Don't miss:
Try a llama trekking trip
Other activities:
Trek to Vinicunca (Rainbow Mountain) outside Cusco
Closest airport:
Alejandro Velasco Astete International Airport
Guided trips:
RECOMMENDED FOR FIT DAY HIKERS
Bucket-list Norway excursion
Challenging terrain is worth the effort
Frequent signage is easy to follow
Higher elevation can be cold
Full-day hike, plan ahead
Doing a hike simply for the photos can seem like it's defeating the purpose of the expedition… but hiking to Trolltunga might be the exception. While you don't hike specifically to take pictures, you can't reach this iconic cliff without snapping a few once you reach the "Troll's Tongue," a diving-board formation extending into free air 700m above Ringedalsvatnet, a lake which provides hydroelectric power for nearby communities.
The hike to Trolltunga is difficult, and gains 900m in elevation. It crosses great swaths of granite with views of fjords, valleys, and snow-capped peaks. And after all that, there's steep climbs followed by more level sections. Fit hikers should expect a full day to complete the 42km from trailhead to Trolltunga and back.
The trailhead is located at Skjeggedal carpark, and is marked with a red "T" along the route. Like many locations on this list, weather can change rapidly in the high mountain regions, so be prepared with extra layers and don't be afraid to turn back . Also be aware that though the internet might show solo photos out on the Troll's Tongue, there was likely a line waiting to take that photo. This is a popular hike, and while it's well worth the potential crowds, don't be disappointed when you're waiting in line to get your snap.
Norway's Trolltunga hike is one of the most epic in the world….The hike takes you to a long piece of stone sticking out over a huge drop to the ground that's a dramatic backdrop on its own, but also offers one of the most dramatic spots for a photo!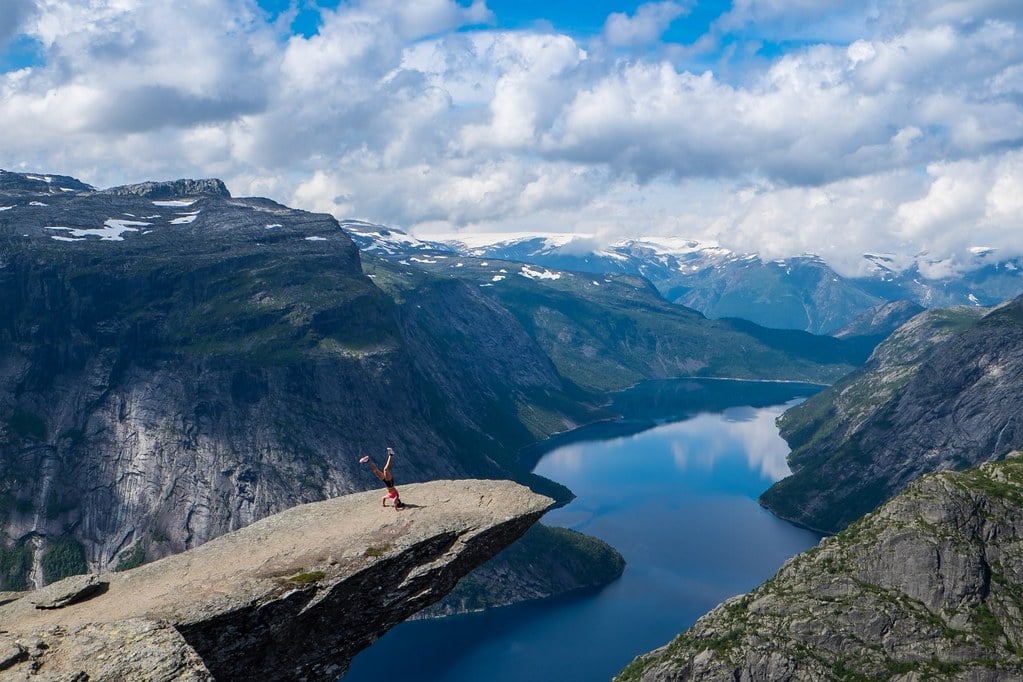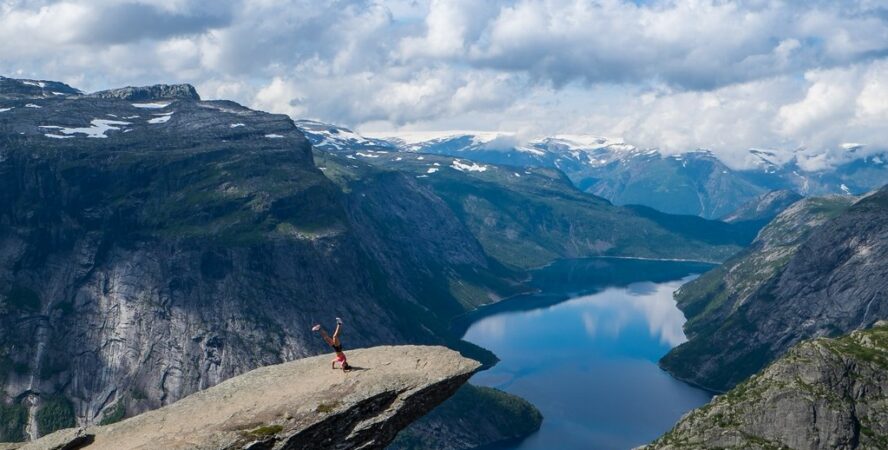 10 hour Trolltunga hike compressed in 3 minutes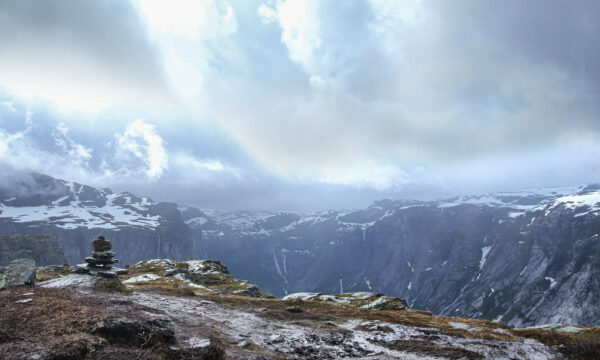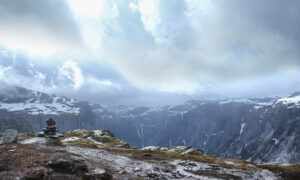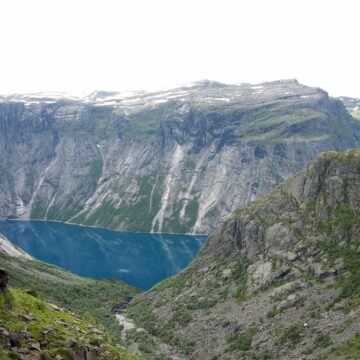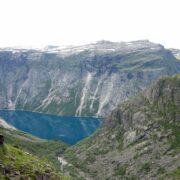 Trolltunga - Good to Know
Terrain:
High-elevation, can be steep
Season:
Late spring – early fall
Don't miss:
The classic photo on the cliff's edge, of course
Other activities:
Zipline at Trolltunga Zippe
Closest airport:
Haugesund Airport
France, Italy, and Switzerland
8. Tour du Mont Blanc
RECOMMENDED FOR HIKERS WHO LIKE TOWN STOPS
Cross three international borders
Consistently changing landscape
Options for R&R in cozy villages
Can feel almost too comfortable
This is a pricey trek thanks to accommodations and town stops
The juxtaposition between hiking through expansive valleys and over passes surrounded by the rising peaks of the Alps…and then stopping for dinner and local beer can be startling, but certainly something you can get used to. Hikers trek all day through Sound-of-Music type scenery, followed by a night in a bed and breakfast, all while circling Mont Blanc, the highest peak in Europe. Pack light for this hike. Food, water, and accommodations are found every few hours at the most. You can also do this hike by camping instead of staying in huts, but you'll likely still be paying for a campsite.
The alpine scenery can't be beat and sure the accommodations might be plentiful, but this hike is no slouch. Hikers who complete the whole Tour will gain and lose a total of over 30,000' of elevation through alpine meadows, around glacial lakes, and over steep passes. The frequent huts provide food, water, and rest. One of the best things about this hike is the history and culture found along the entire route, from 18th-century churches to walking the cobblestone streets of Chamonix.
[This hike was] ten days, seven valleys, five cols, 2,650 meters in elevation at our highest point, 110 miles, and one grand adventure.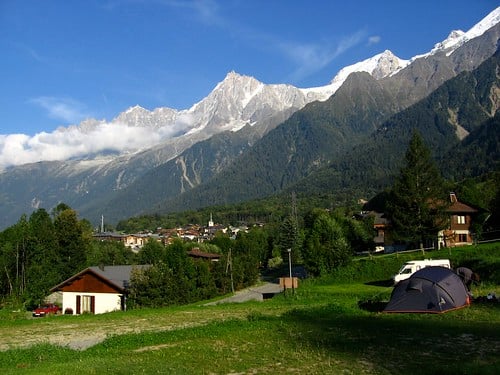 Tour du Mont Blanc Hiking Trip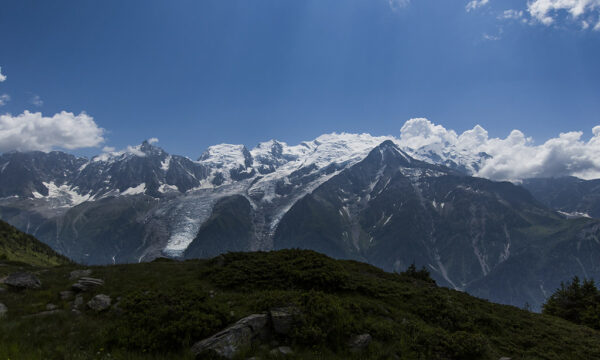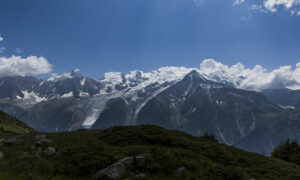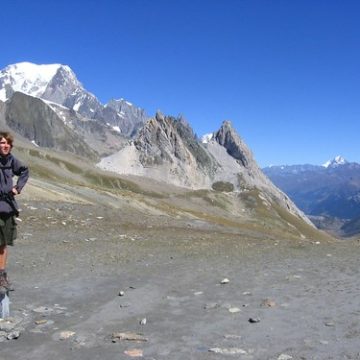 Tour du Mont Blanc - Good to Know
Terrain:
Alpine passes, glacial valleys, serene farmland
Don't miss:
Stay at Refuge de Mottets in the Valley of Glaciers
Other activities:
Take a ride on the Aiguille du Midi cable car
Closest airport:
Geneva Airport
New Zealand
9. Kepler Track
RECOMMENDED FOR MODERATE HIKERS
Great support with huts and trail system
Mountains and water views
Sun exposure on ridgelines
Bookings required for huts, advance planning needed
While most visitors stick to hiking New Zealand's North Island, the island's (arguably) greatest trek can be found in the south. The Kepler Track is one of the Great Walks in New Zealand, and manages to provide some of the most varied and lovely scenery without the crowds of more well-known excursions. Spanning 60km above glacier-carved valleys and passing plunging waterfalls, this hike will take about four days to complete, and has hut support along the way.
This is a loop hike, making logistics as easy as possible, and offering several options for starting locations. Take a swim in Brod Bay before switchbacking for a while up to the top of limestone bluffs and taking in the New Zealand scenery once you get past bushline. From here, the trail stays above the trees and brush for miles, summiting Mt. Luxmore before dipping back into the valley. Hikers will have their choice of huts for lodging, but advanced booking is required. Fees can be expensive, so be prepared and budget accordingly for hut stays.
The Kepler is a worthy alternative for the busier Routeburn Track, probably even prettier and less crowded. A total must-do when in New Zealand!
Kepler Track - Good to Know
Terrain:
Moderate with some steep gains
Season:
Mid-fall, winter, early spring
Guide:
Don't miss:
Explore the Luxmore Cave
Other activities:
Tour the Te Anau Glowworm Caves
Closest (major) airport:
Queenstown International Airport
RECOMMENDED FOR ADVANCED HIKERS
Technical, exciting terrain
Can be dangerous thanks to high exposure
Arguably one of the hardest long-distance hikes in Europe, the GR 20 takes backcountry travel to a whole new level. The trail crosses Corsica end to end, and has very few miles of travel without some sort of technically challenging terrain. Refugios, or mountain huts, along the way provide some food, which helps save on pack weight. Exposure is one of the cruxes of this trail, with some sections featuring narrow tread and steep drop-offs. Expect plenty of rock scrambling, chain climbing, loose scree, steep climbs and descents, and questionable weather.
Despite the difficult terrain, the trail is well marked and blazed, and there is a plethora of information available online. Water is plentiful along the route, but be sure to fill up whenever you see a source. Late into summer, some water sources might not be readily available. The trail is loosely defined, and involves a lot of picking your way around obstacles and along challenging segments, looking for the next blaze or cairn. You can reserve spots at the refugios, and it is recommended you do so during the most popular hiking season.
The GR20 is one of the toughest trails in the world...but the mountain scenery, waterfalls, swimming holes, and small taste you get of the Corsican culture are enough to make all that pain in your knees melt away.
by Liz Thomas, professional thru-hiker and 57hours contributor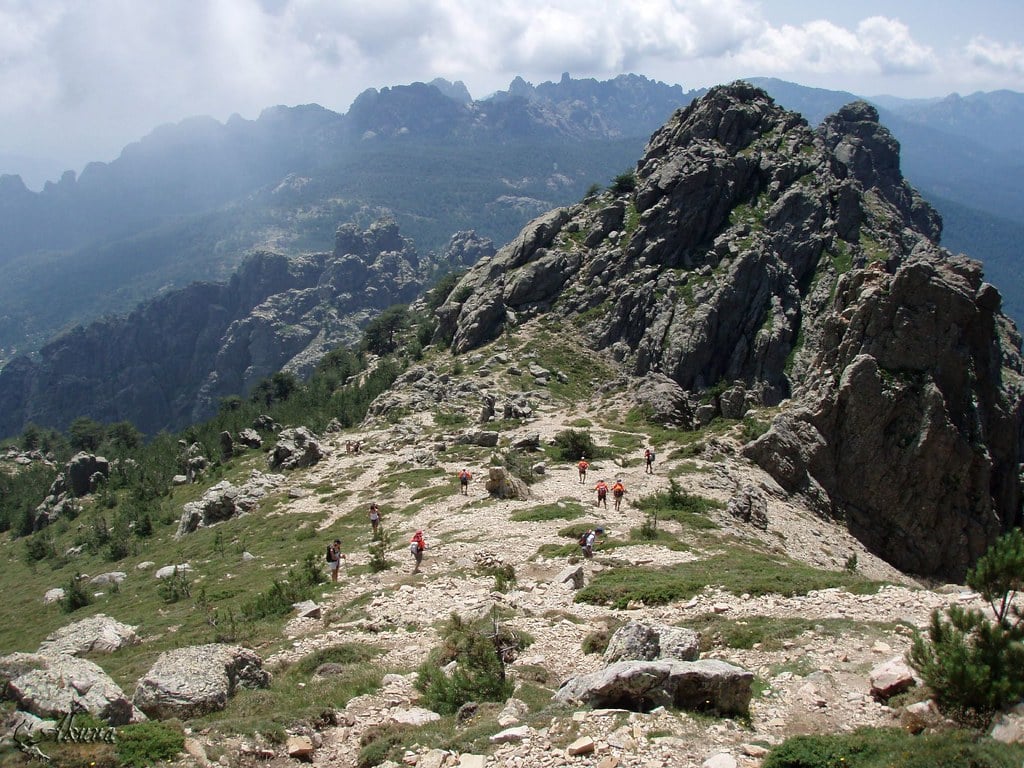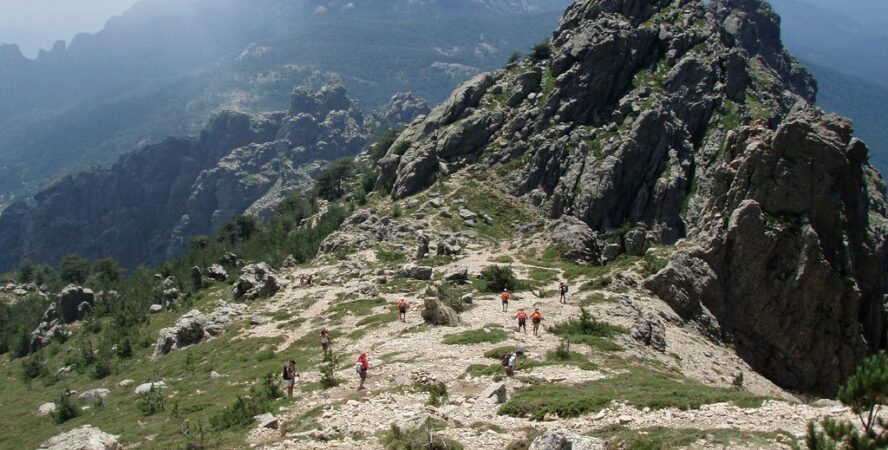 Corsica GR20: The Toughest Trail in Europe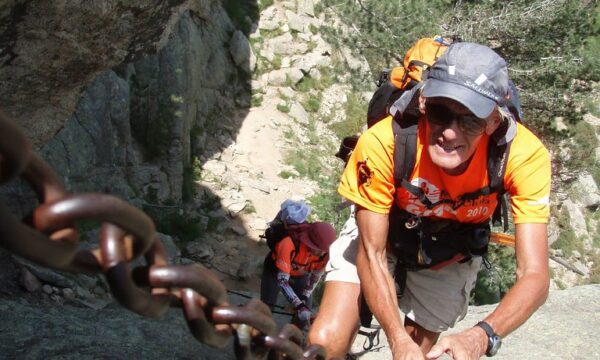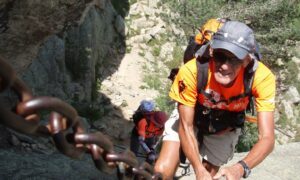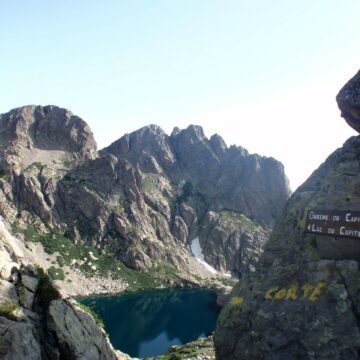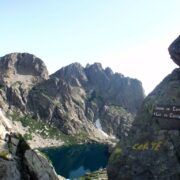 GR 20 - Good to Know
Terrain:
Granite peaks, technical sections
Don't miss:
Views from Bréche de Capitello
Other activities:
Hit the beach! You earned it.
Closest airport:
Sainte Catherine Airport