Why Choose An All-Female Backpacking Trip in Paria Canyon?
Some of the remotest wilderness in the American Southwest? Check. Go completely off-the-grid and see places hardly anyone else has? Check and mate. For the hard-charging adventurer (who treads lightly) Paria Canyon is an epic wilderness worthy of any backpacker's bucket list.
One look at a map of Vermilion Cliffs National Monument and you'll notice there aren't any paved roads. That's because the Paria River Canyon is in a-no-man's land on the border of Utah and Arizona, with both ends roughly 40 miles from the closest towns. If you're not familiar, Paria Canyon is an extensive canyon system in the U.S. that is etched inside a sprawling wilderness of huge red rock amphitheaters, sandstone arches, tall escarpments, and towering cliffs. Really, the only way to see any meaningful portion of it is by backpacking.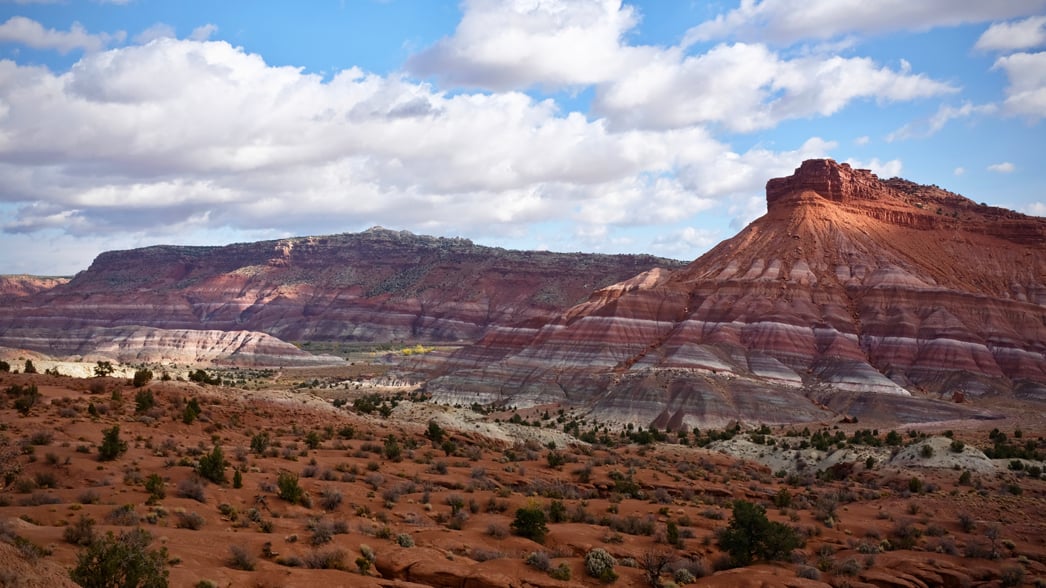 Pros and Cons of Backpacking in Paria Canyon
You will see very few, if any, other people on this adventure
Get up close to centuries-old petroglyph panels
Hike through stunning rainbow rock formations and slot canyons
Flash floods can be unpredictable and sometimes cause the trips to be canceled
Your feet are going to get wet!
Connecting With the Past in Paria River Canyon
I love looking at a map and finding Bryce Canyon to the north and tracing the route south along the Paria River Canyon with my finger. The headwaters of the Paria River originate at about 9,000ft near Bryce, but the river drops gradually the further south you go: by the Paria flows into the mighty Colorado at the east end of the breathtaking Grand Canyon you've dropped by about 6,000'. As you move south along the Paria Canyon—moving from Southern Utah just across the border into Northern Arizona—you feel like you're marching directly into the murky belly of the Earth. Here you'll lose sense of time while hiking amid miles-thick rock layered with the geologic past.
'Paria' means "frothy water" in the language of the Paiutes, the indigenous people who have used the Paria canyon as a travel path since time immemorial. Today, hikers pass through this roadless expanse as people have for millennia, following the movement of the ancient Natives evidence of which can be seen throughout the sculpted red walls.
Not too many people, though. Unlike, for example, backpacking in Big Sur, you need a permit to backpack here and only 20 passes are allotted per day. The remoteness paired with its sheer beauty is what makes it such a remarkable place.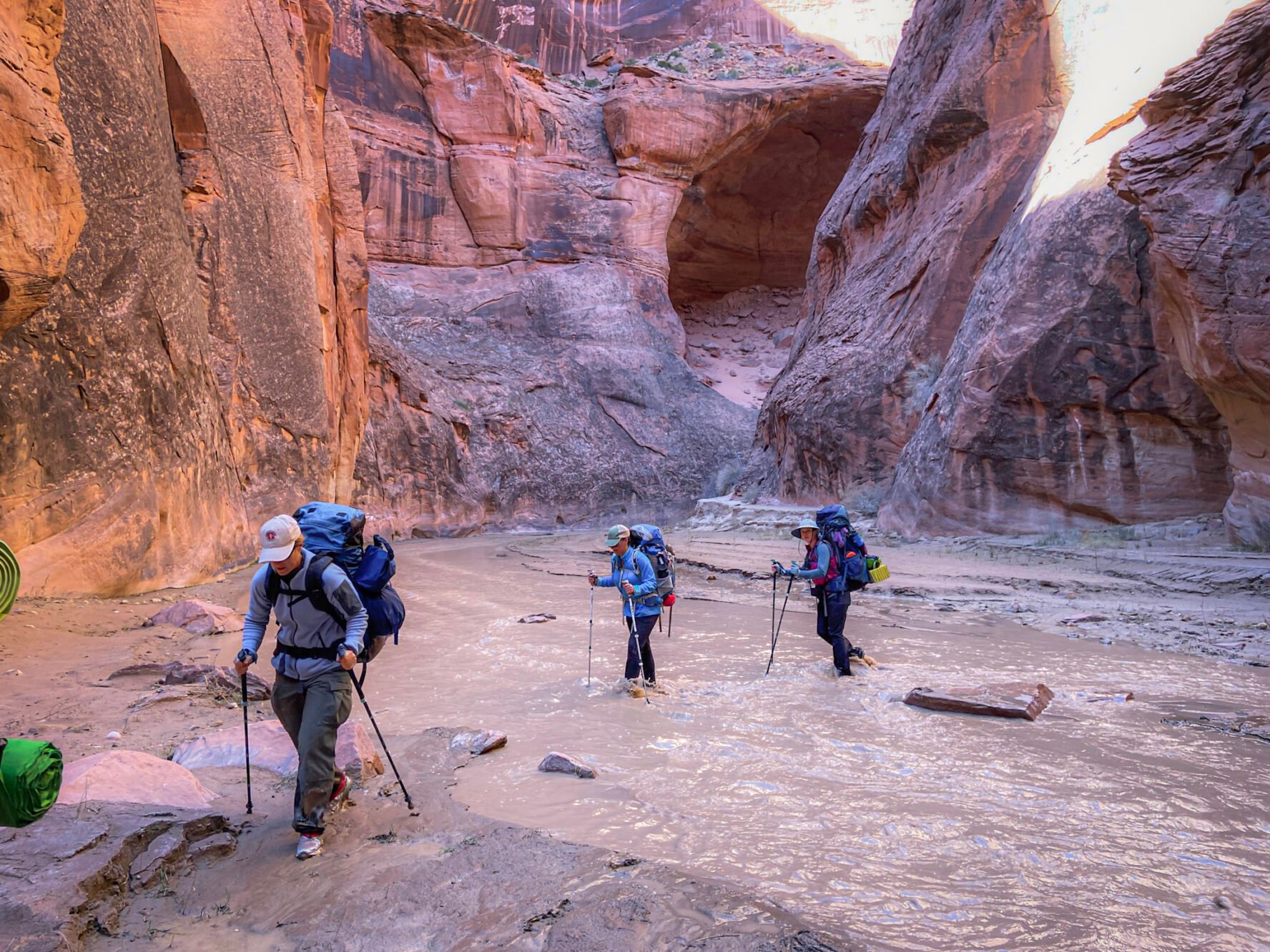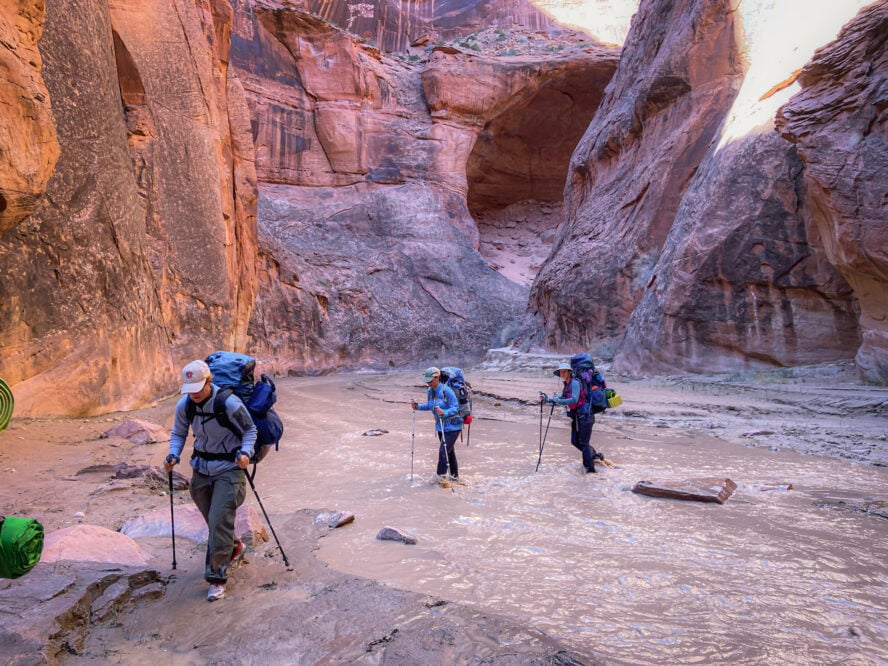 Beyond the geography and weathered landscapes, there are century-old Paiute petroglyphs as well as some artifacts from Mormons who attempted to settle here but eventually abandoned the area. These historical gems are a reminder that at one point Paria Canyon was part of the area residents' daily life and not just an outdoor adventure for recreationalists.
Why This Desert Wilderness Is Special to Me
Though I've traveled a lot, I've chosen Paria Canyon as one of the places I lead guided trips because, quite simply, I love the scenery, geology and history of the Southwest. The geology here is spectacular—from the picturesque splitter cracks of Moab to the striated red rocks of Sedona—and hiking in Paria Canyon you'll literally be able to trace your way through eons of earth's history. I was also drawn to this area because of its proximity to so many other natural wonders and places to recreate, such as the incredible hiking in Southern Utah.
Endurance pursuits and the outdoors have been a big part of my life for the last ten+ years. In fact, I have several FKTs to my name. (FKT is short for Fastest Known Time and means that someone has the current record for traversing a particular trail or route). But that wasn't always the case – there was a definite turning point.
Dedicating myself to the outdoors and helping more women get out there
In my 20s, I worked as a strategy consultant. I was working hard during business hours, and playing hard on weekends and during my time off – including during two months sabbatical that gave me a welcome opportunity for a solo ascent of Aconcagua in the Andes. That experience, though positive, was not without commentary by strangers I met on the mountain. The most common reaction I got was that other climbers were surprised by the fact that I was out there on my own, without a guide or boyfriend or husband.
This was not new to me. Having worked in male-dominated industries, I was keenly aware of both subtle and not-so-subtle gender bias. My experience on Aconcagua, however, was the catalyst that inspired me to start AWExpeditions: I wanted to not only acknowledge gender bias but take concrete steps to help neutralize it by empowering women in the outdoor adventure world.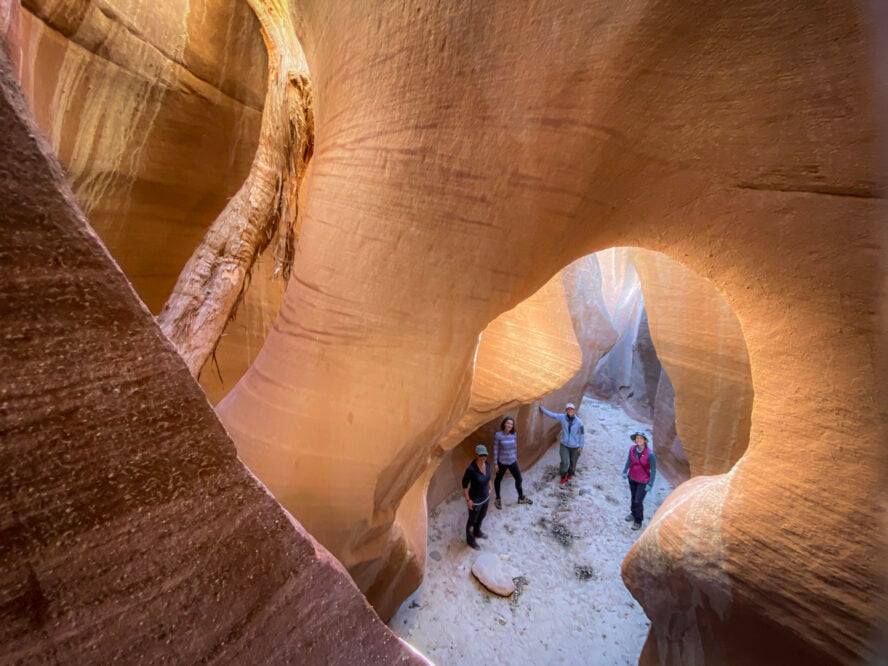 Since that trip in 2014, I've launched AWExpeditions, through which we lead all-female guided mountaineering and backpacking trips. I strongly believe that getting out and having these kinds of big adventures creates more than awesome memories — I think pushing oneself in the outdoors gives us the opportunity to develop a refined sense of who we are.
These trips we take part in have a way of bleeding into our regular lives, allowing us to tackle bigger goals, both at work and in our personal lives, which is why I'm committed to providing a platform for other women to develop mountaineering and backpacking skills in an all-female environment—such as Paria Canyon!
Make the Most of Backpacking Paria Canyon in Five Days
If you're thinking about tackling this trip, I suggest taking at least five days to enjoy the trek. Here's my favorite day-by-day itinerary of hiking in Paria Canyon.
Day 1: Leaving modern society behind
We start our adventure with a quick visit of Paria Townsite en route to White House Trailhead. Even though we'll be walking for 38 miles along the same river within the canyon, what we'll see changes radically along its length. Setting out, you can expect to get your feet wet within about ten minutes, and shortly thereafter, it'll feel like leaving the modern world completely.
You may see a few hikers on the first day but after that the likelihood of encountering others decreases by the mile. There's no cell phone coverage, no cars, and no paved roads so be ready to make a clean break from your normal life.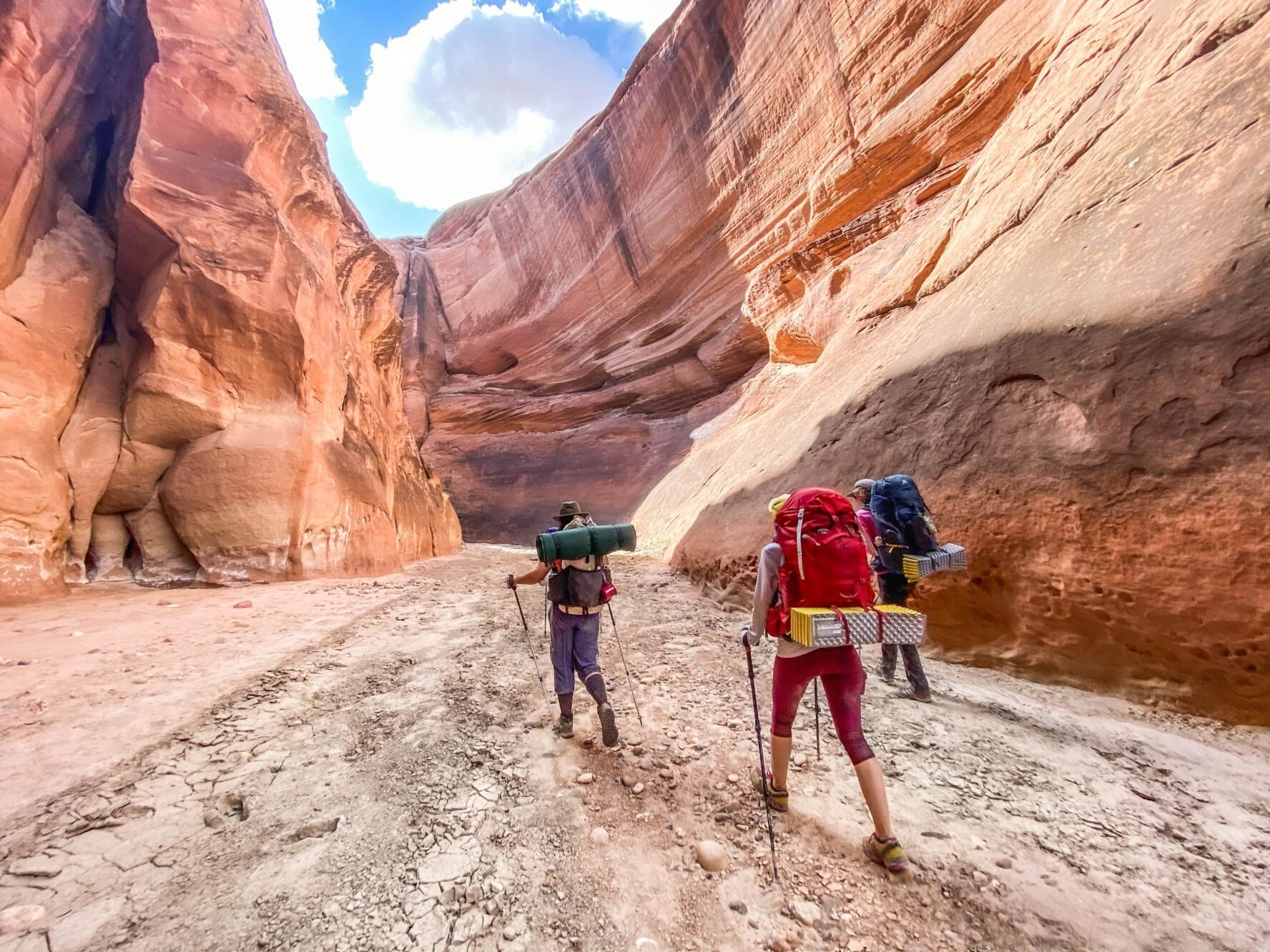 Some of my favorite sights on this first day are washed out salt deposits that create the so-called "Windows of the Paria" and Slide Rock Arch. These are great places to take a break, and a few photographs. As you progress, you'll begin to notice that the walls are getting taller and the sky is shrinking.
This is known as the narrows and you need to know exactly what the weather is up to. The flow of water changes dramatically depending on the season and you don't want to be exposed to flash flooding. Remember, the canyon itself is carved by the force of floods! We typically end Day 1 at the confluence of Buckskin Gulch.
Day 2: Buckskin Gulch, a slot canyon like no other
Today we explore upstream in Buckskin Gulch. This 14 mile-long slot canyon is considered the granddaddy of all slot canyons in the U.S. and it is very narrow with deep walls – narrower and deeper even than the Paria, it strongly evokes the hiking in Grand Canyon. When the sun hits, the walls' illumination from reflected light is something to behold. Rather than hiking its entirety, we'll dip into some of Buckskin's deepest, sections from the bottom and turn around near the Boulder Jam, a spot that marks one of Buckskin Gulch's most challenging obstacles.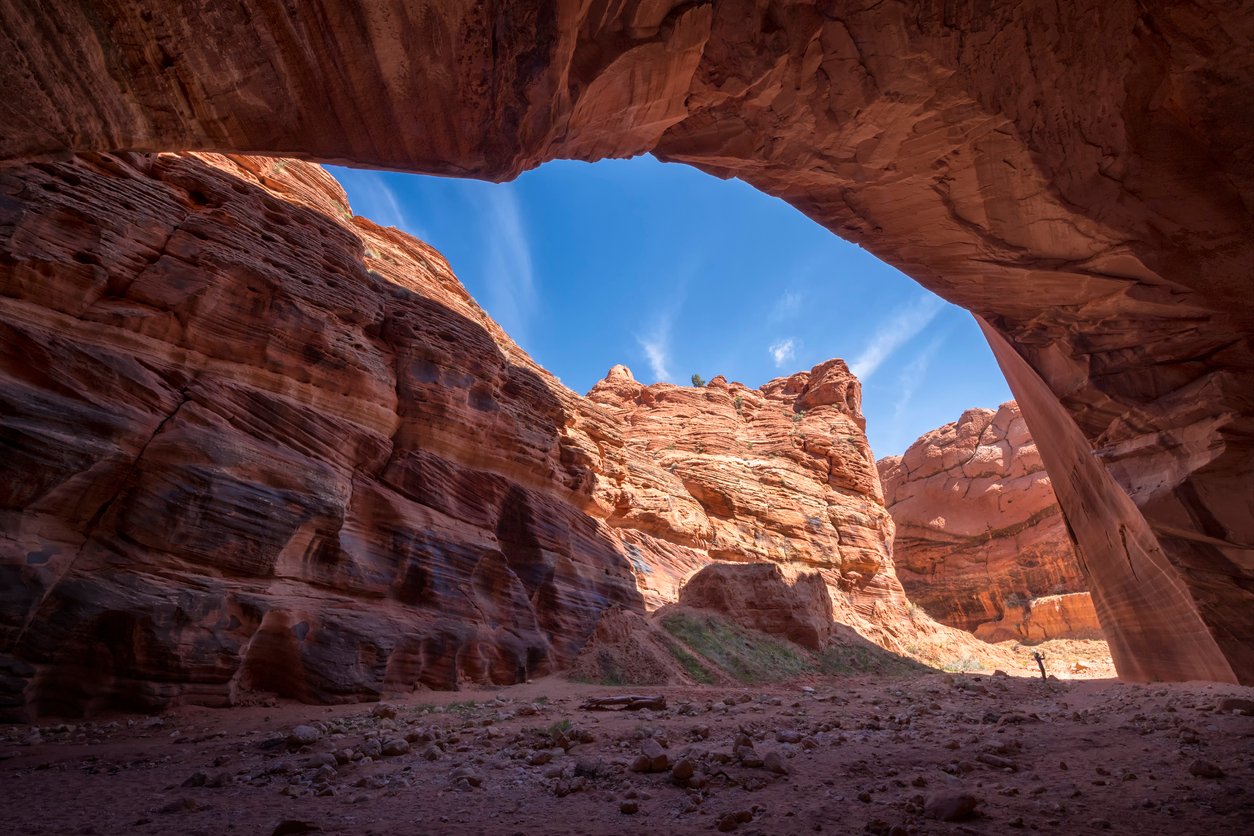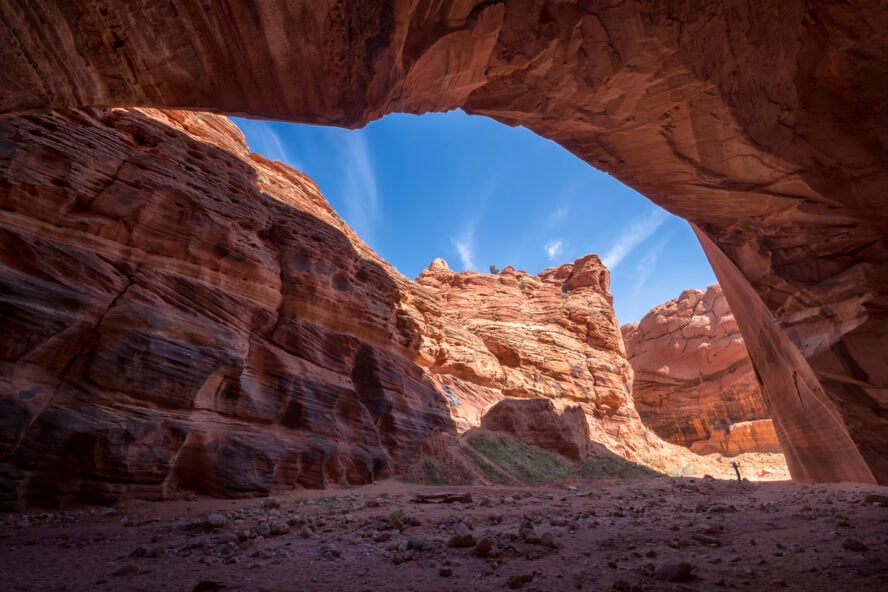 After we backtrack to Paria Canyon and continue our hike south, we'll start seeing springs that feed the river. These are often accompanied by gorgeous hanging gardens that may seem out of place in the desert to the uninitiated. Day 2 usually ends by setting up camp at Big Spring, which, as the name suggests, is a voluminous natural spring where you can refill your water bottles straight from the wall.
Day 3: Ancient and awe-inspiring artwork
We continue downstream along the Paria, entering the Judd Hollow Area – another personal favorite of mine. Here you'll find spring-fed vegetation and wider landscapes, and if you visit in the fall, you may even see a change in the color of the leaves. The Paria River narrows and their 190 million year old Navajo sandstone gradually give way to progressively older rock layers and changing topography.
Today there is a lot of wading and stream crossing. This is a water backpacking trip after all, so you can expect your feet to get wet and stay so nearly the whole time. Witness to the ebb and flow of the water level, you'll find a rusty pump from the 1930s here, among other relics. In addition to tracing the steps of Mormon Pioneers, we'll also spend time exploring the Paria River Canyon's walls for older signs of civilization: petroglyph panels. There is a lot of evidence of Native American presence along the Paria, though many of the panels are easy to miss if you don't know exactly where they are and what you're looking for!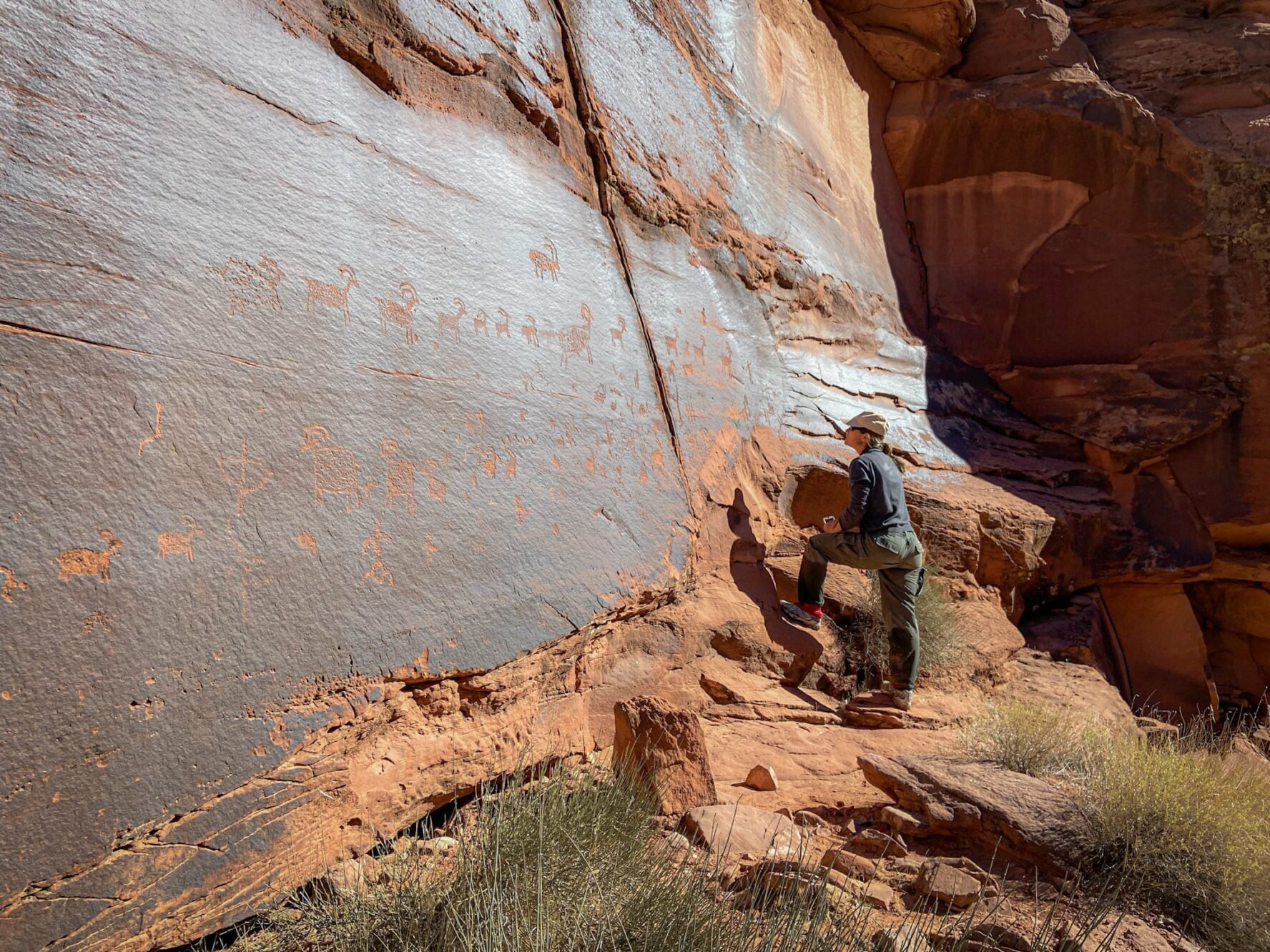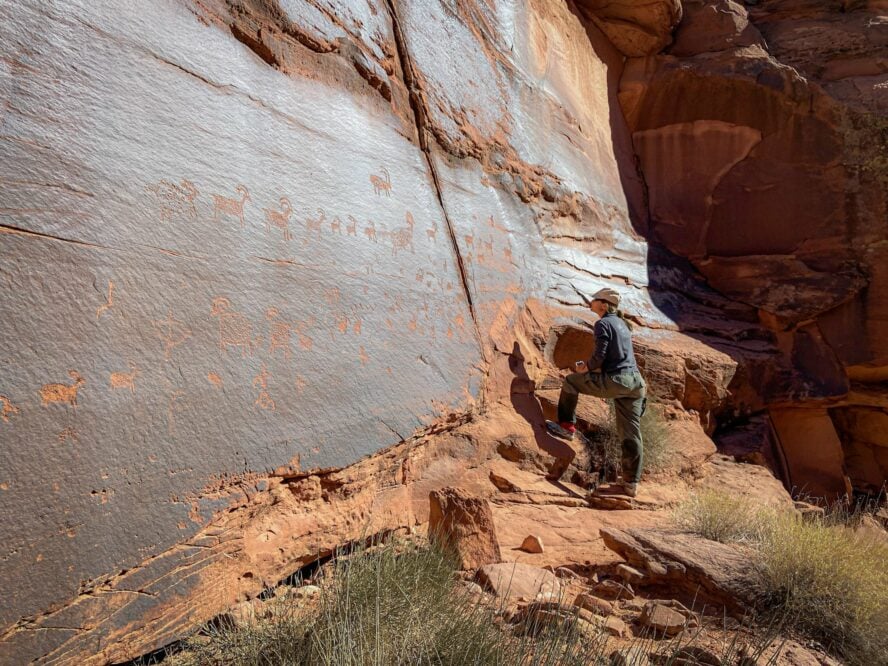 Unlike other petroglyph panels in easier-to-access parts of the United States, the ones in Paria Canyon aren't behind a fence or barrier. It is possible to get up close to the drawings of bighorn sheep but please refrain from touching them as the oils in your fingers will damage them. Different theories exist among interpreters as to the presence of these bighorn sheep drawings: we typically try to refrain from superimposing our own meanings and simply marvel at the rich Native history that they bear witness to.
Day 4: The remote wonder that is Wrather Arch
Wrather Arch is one of the highlights of our fourth day and a gem of the entire backpack. To visit Wrather Arch, we hike up side canyon in order to approach what is considered one of the largest natural arches in the States—spanning about 180 feet—and one of the least accessible. There are very few who get to see it because you can only access it by hiking a minimum of 18 miles through the Paria to get there.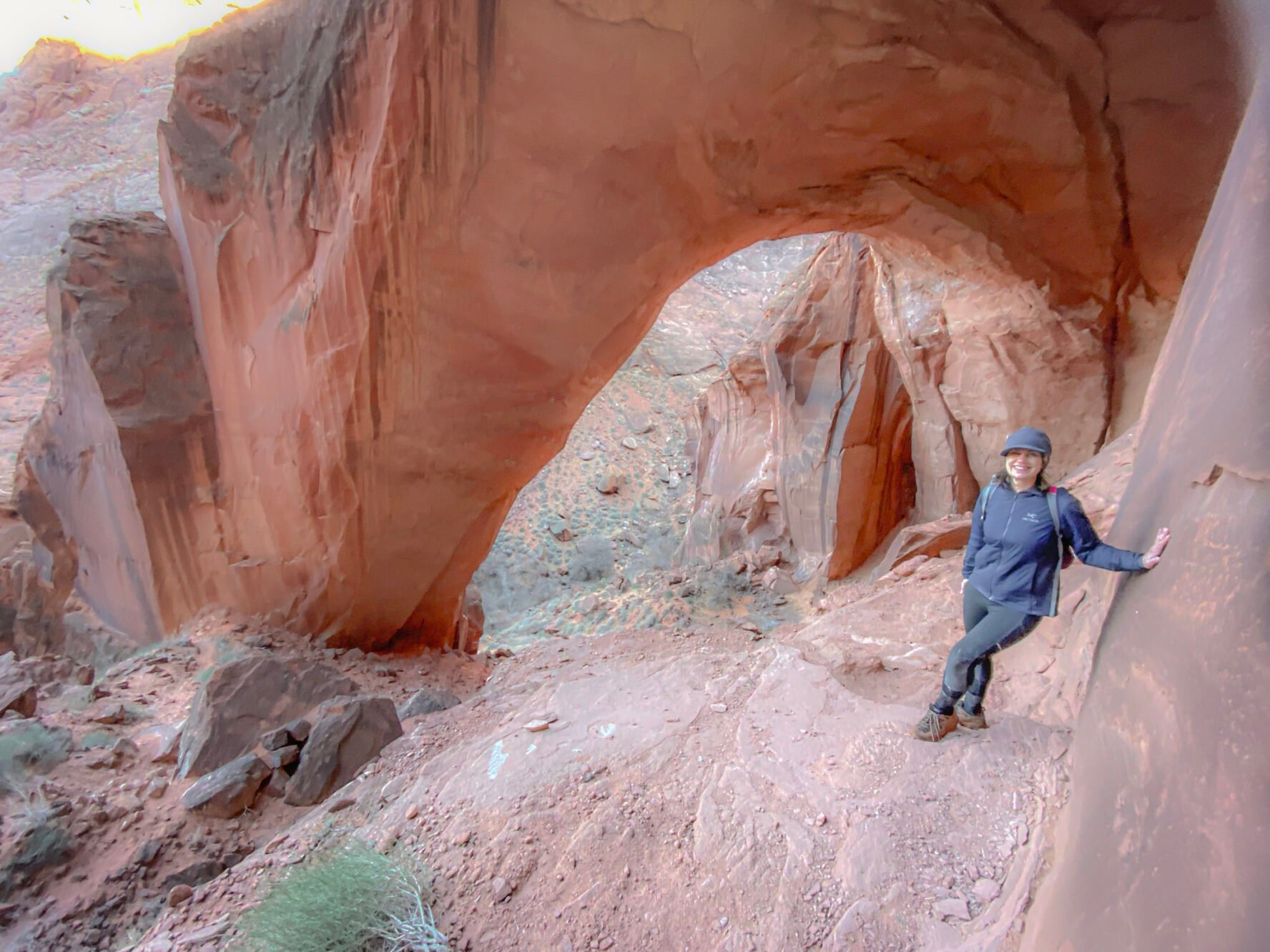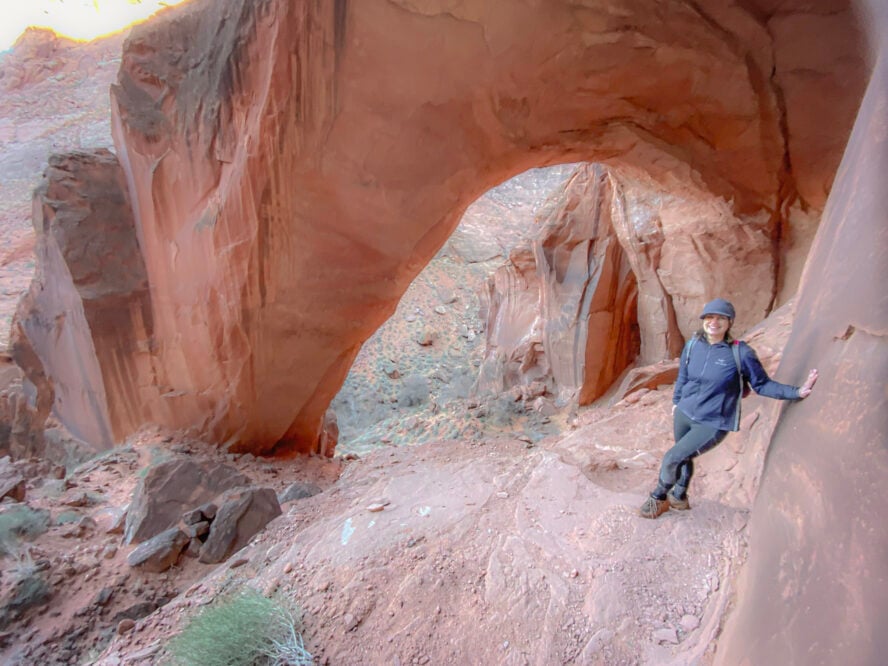 Continuing downstream, we're no longer in tight, narrow rock corridors now but rather a wider landscape. Here you'll encounter side trails, boulder hopping, and a changing water course, along with expansive sections with petroglyph panels.
Day 5: A shower and a cold beverage await you at the end
You're in the homestretch now. The southern terminus is Lee's Ferry and we've got about 10 miles on somewhat established trails to go. Now the landscape opens up to the point where, if it's sunny out, you will need to take care to manage sun exposure. While in the canyon you frequently need to work to keep warm due to a lack of sunlight, out here the air temps can easily reach into the 100s in the summer and you have to be diligent about water intake and wearing proper clothing, such as long sleeves and a hat.
Our backpacking trip finishes at the Lonely Dell Ranch Historic District, part of Glen Canyon National Recreation Area, where you'll find an orchard offering shade as well as the confluence of the Paria River and the mighty Colorado. Lee's Ferry is right there as well, the Colorado River boat ramp that is the classic departure point for Grand Canyon rafting trips. If you're feeling up for it, a dip in the chilly Colorado River is one of my favorite ways to celebrate the completion of an adventure.
Gear Recommendations for Backpacking the Paria Canyon
Regardless of whether you do this on your own or choose to book a guide, you'll need some gear. Standard backpacking gear will mostly suffice, with a couple of additions.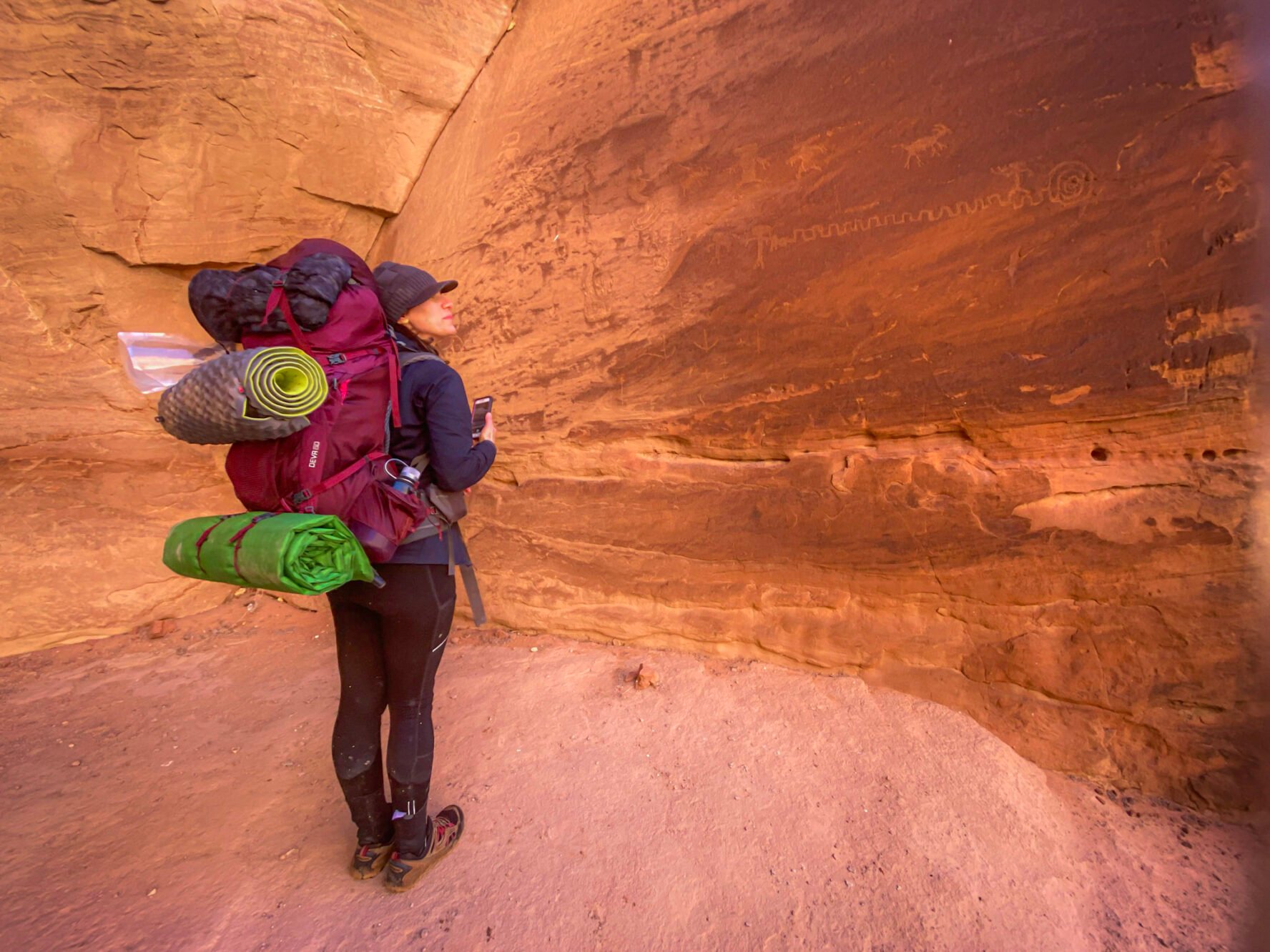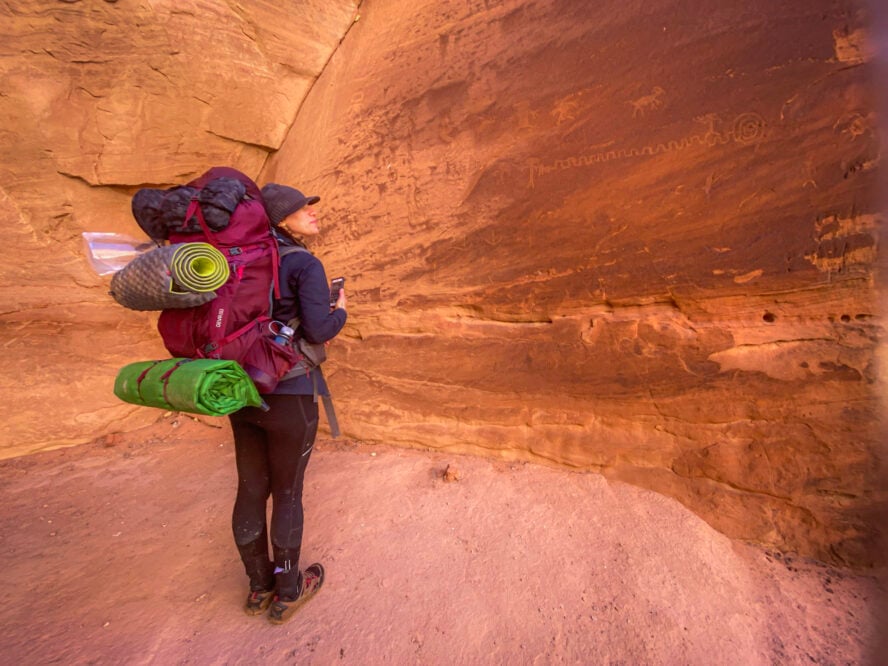 Backpack: something that can help you comfortably shoulder several days worth of supplies. Your gear will weigh roughly 35-40 pounds so make sure it fits properly.
Trekking Poles: these are mandatory. You'll be wading across water and you'll need them for stability.
Boots: taking care of your feet is the first step to having an enjoyable time. On this trip there's just no way to keep water from entering your shoes because you'll often do river crossings when it's up to your knees. As a result, you won't have the luxury of switching back and forth between wet and dry shoes. There are too many water crossings to make this logistically possible. To that end, it's not recommended that you hike in leather footwear or Gore-Tex-based footwear, because in this kind of environment Gore-Tex traps water inside your boots and prevents your feet from drying. Get synthetic, lightweight, breathable shoes that can dry out quickly.
Socks: lightweight, synthetic hiking socks are the best for this trip. Think thin yet sturdy. If you choose to hike Paria Canyon during cold weather, consider packing 2-3mm neoprene socks which will keep your feet a little warmer.
Tent: a light one person tent, sleeping bag, and pad is fine. If the weather is stable, you can also sleep outdoors without a tent (that's what I typically like to do) which is a unique experience unto itself.
Refillable water bottles: bring 3L of capacity so you can make it between fresh water springs where we fill up. The Paria river is usually sediment-laden and will make your filter useless very quickly.
GPS communicator: cell phones don't work down there so I carry one for emergencies.
Common Questions I'm Asked About Backpacking in Paria Canyon:
Do I need a permit to hike in Paria Canyon?
Yes. Permits are available 3 months in advance so plan ahead because they get scooped up quickly. There are only 20 permits a day for individuals, so if you go with a group each person needs one.
When is the best time to backpack in Paria Canyon?
You can do this trip pretty much year round but conditions vary radically. Peak season is late March to May and then again in the fall. In the winter you will want gear for traction, neoprene socks, and a way to thaw out your boots. It's an entirely different trip.
The summer brings a real risk of flash floods and heat-related difficulties. Monsoon season is July to September and while rain in and of itself doesn't always trigger flash floods the chance of powerful afternoon thunderstorms greatly enhances the danger. Regardless, flash floods are difficult to predict so if there's a chance of precipitation not just near the Paria, but throughout its entire catchment basin (which extends all the way up to Bryce Canyon!), it's recommended not to go in. To prepare, be sure to note where rain is coming from because it's not just about where you are but also what's happening upstream.
What should we do if there's flooding?
If you are in a situation where there's flooding, aim to reach higher ground as quickly as possible. There are some sections of the Paria Canyon Wilderness area, such as the Paria Narrows and Buckskin Gulch, where you need to be especially vigilant. In the itinerary I described above, Day 4 and 5 aren't of great concern because you'll typically be far enough above the river and can easily escape to higher ground. Days 1-3 are a different story. I've personally aborted or rerouted many canyon trips due to flash flood risks.
Are there snakes in Paria Canyon?
Yes. You'll want to keep your eyes peeled for rattlesnakes. That said, they typically announce themselves in advance and it's always a treat to see them. It's rare to get to see them, and it's very rare to have a dangerous (close-proximity and aggressive) rattle snake encounter.
What kind of fitness do you need for this trip?
To have an enjoyable experience you have to be able to hike 10-12 miles a day with a 35 lb. fully-loaded backpack and not feel completely spent at the end of the day. The trek may still be possible if you don't have that kind of fitness, but it'll create safety challenges and likely not be much fun for you.
Is there a lot of up and down walking?
No, the majority of the trip is pretty flat – but there is a lot of uneven footing, and lots of wading, which taxes your stabilizer muscles and core in a very different manner than hiking on a well-worn trail. Even though there isn't much elevation change, you'll get a workout and the Paria will test your endurance.
Want to know more about what it takes to backpack in Paria Canyon? Check out my webinar and learn about this empowering experience in one of the remotes wildernesses of the Southwest!