The 5 Best Places to Go Hiking In and Around San Diego
Urban hikes. Coastal hikes. Rigorous mountain climbs. Add in the favorable year-round conditions, and San Diego makes for one the best hiking cities in the country.
Table of Contents
From beach to mountain, pines to palm, San Diego has hiking trails to please everyone. One of the most landscape diverse places in the country — with more trails, parks, public land, coastlines, and national forests of almost any county in the U.S. — you haven't seen San Diego until you've seen it on foot. As a professional hiker who's walked must-see destinations around the world, I think San Diego is one of the best cities to visit and live if you're an outdoor lover.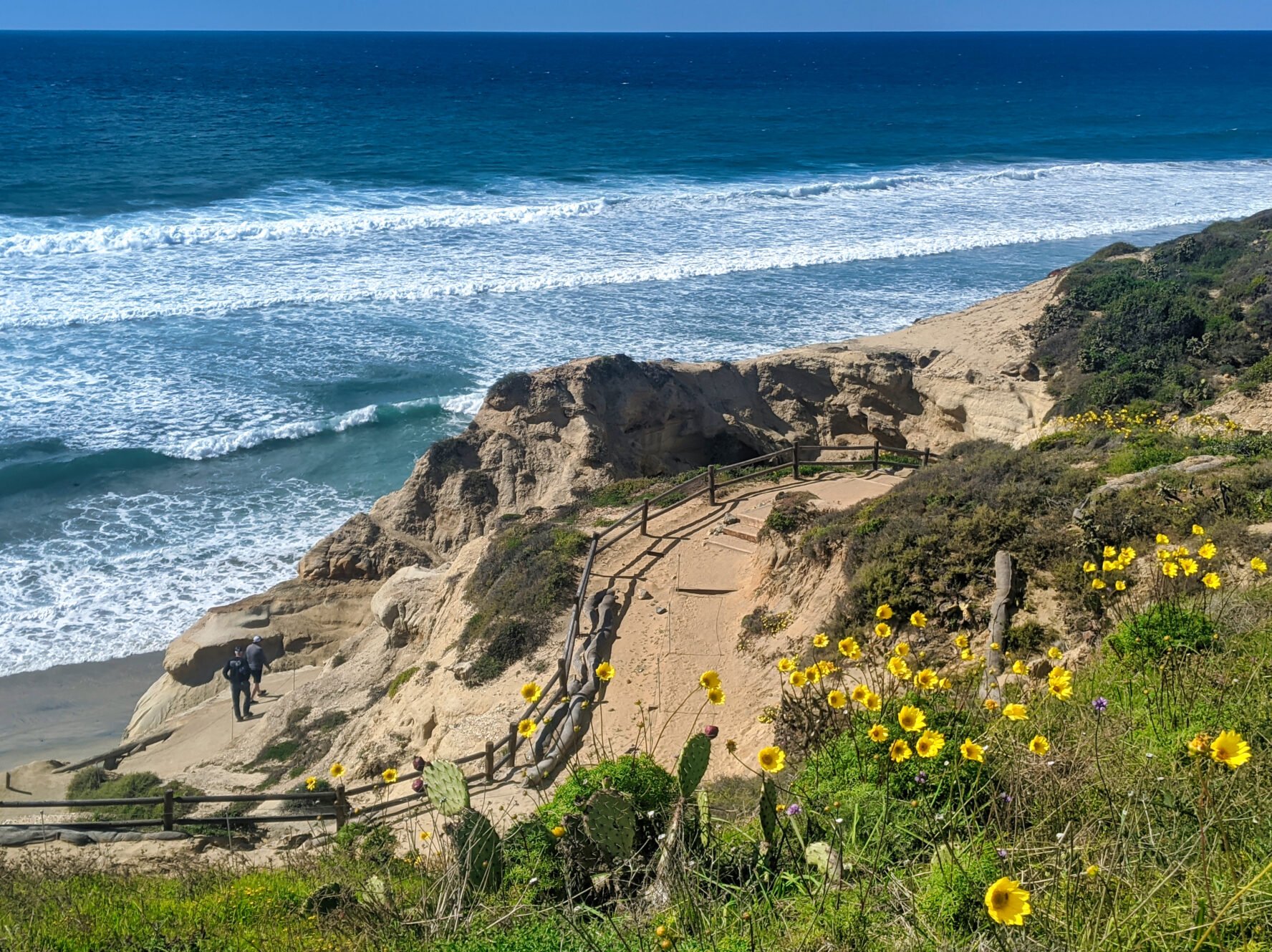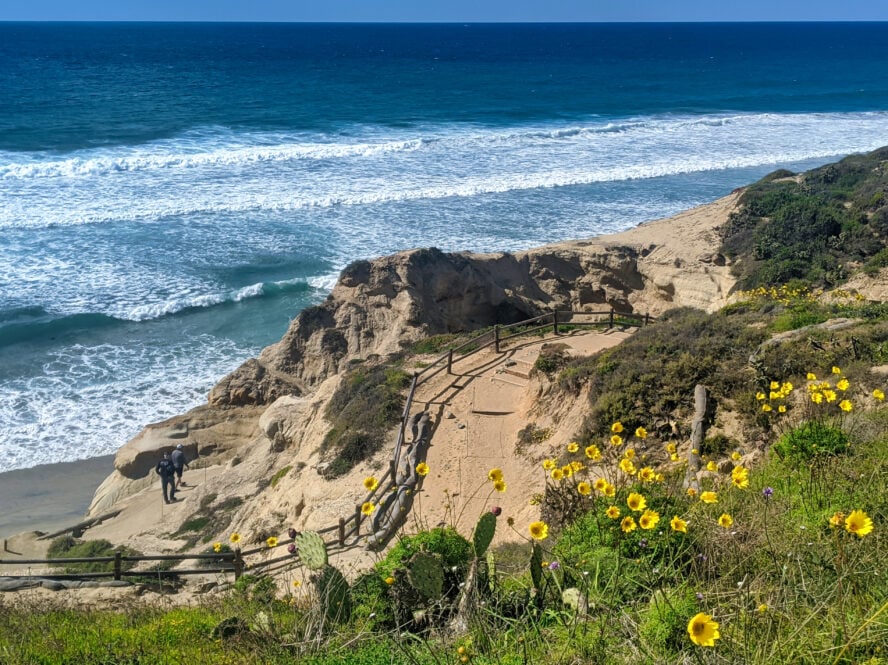 The trick to San Diego is to do like the locals and skip the traffic and theme parks. Stroll, hike, trail run, bike, or horseback ride on thousands of miles of hiking trails in and around San Diego. The county has so much to see that no matter what season you visit, you're sure to find hikes to suit your level of fitness and sense of adventure. Bonus: after the hike, you can look forward to some of the best beers, tacos, and burritos in the world!
So whether you're just starting out, hiking with kids, looking for an urban adventure, or ready to tackle a strenuous, full-day outing, here are the five best places to hike in or near San Diego:
CALIFORNIA
1. Balboa Park: Urban Park Loop
57h badges
TOP CHOICE FOR URBAN TRAILS
Pros and cons
Stroll through one of the most iconic destinations in San Diego on trails open to dogs
Travel on well-maintained trail that always has cell reception
Nearby restrooms, water fountains, cafes, restaurants, and visitor centers
Close to downtown with easy access by public transit
As an urban hike, trails are almost all paved, which can have a greater impact on the feet than dirt trails
As an urban hiking trail, it doesn't have as much nature as other places you can hike
The park can get crowded, especially around the Botanic Garden
Parking can be an issue on weekends, holidays, and during events
Considered one of the premier destinations in San Diego, Balboa Park is one of the most visited places in the city. Given its expansiveness, it's a great urban hiking destination. The trail through the park visits fountains, world-class architecture, botanic gardens, and more — some of which are free to enter and all of which are among the most photographed places in the city.
The Central Park of San Diego, 65 miles of trail connects 17 museums, the famous San Diego Zoo, and numerous gardens and fountains. While many folks drive up and choose one destination, this five-mile urban hike takes you past architectural, botanical, historical, and cultural landmarks of the city. While Balboa Park is known for its human-made attractions, its natural areas and hiking trails add to the uniqueness of what Balboa Park has to offer.
The five gateways
Balboa Park has five hiking trailhead gateways: Morley Field, Park Blvd., Sixth and Upas, Golden Hill, and Marston Point. Each gateway has a kiosk with a large map of the hiking trails in the area. Most trails are marked with colored and numbered markers. While these markers aren't at every intersection, major trails are visible on Google Maps, and you'll always have cell reception in the park, so navigating back to your car shouldn't be an issue.
Each trail is also rated by difficulty, taking into account elevation gain and the terrain it covers. Most numbered hiking trails are on a combination of dirt, sidewalks, and paved paths, so plan to bring shoes with good traction and enough cushioning for soft and harder surfaces. If there's been rain, some dirt trails can be muddy for a few days after, so you may opt for a hiking route that utilizes more paved surfaces and sidewalks.
Good options for families or people strapped for time
With 65 miles of trails and numerous attractions, locals and visitors alike have their own opinions on which is the best of the numbered trails to hike. Still, for those visiting San Diego for the first time (and otherwise weren't planning to visit Balboa Park separately), I advise a combination of Route #43 and #44. This nearly five-mile loop touches on highlights that make the park one of the finest in the U.S., including the 1915 1915 Panama-California Exposition grounds, views from the West Mesa, the architectural beauty of the Cabrillo bridge, and gardens that showcase native trees and botany of San Diego.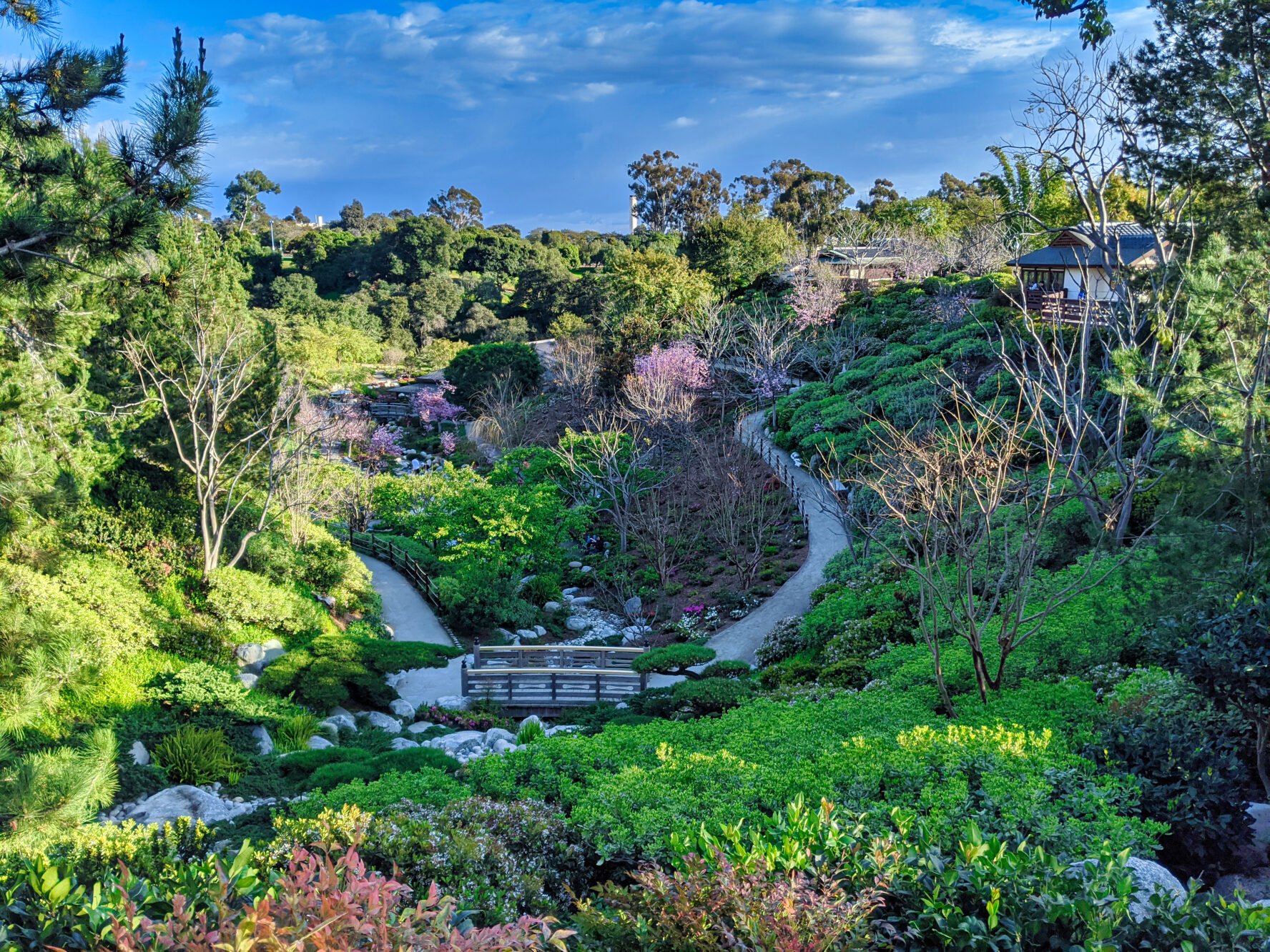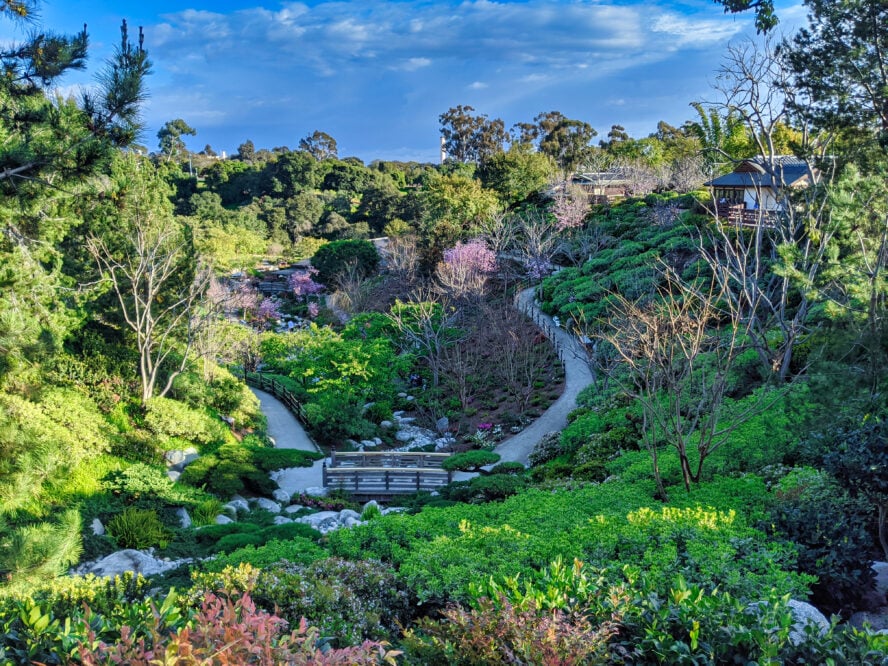 Before you go, check the weather and predicted temperature for the day. Although there are trees and shade in some parts of the park, during summer, it's better to get your hiking done during the morning and save the afternoons for air-conditioned museums.
While the park is well-trafficked by tourists and locals alike during the day, the park closes at dusk. San Diego, like most West Coast cities, has a population of houseless people who camp in parks at night.
This urban adventure takes hikers longer than they expect because it's designed for exploration. I recommend taking the time to visit the free botanic garden or art museums, play in fountains, listen to live music and take lots of photos.
Forested views and native plants
Start at the Cypress Grove Picnic area, heading south on the paved trail towards Cabrillo Bridge. You'll pass gnarled trees, a medicinal plants garden, and forested picnic areas — most with informational placards. Admire Cypress Point and Redwood Circle, which both have expansive views east over the forested Cabrillo canyon towards the California Tower. Its ornate dome is one of the most recognizable landmarks in San Diego.
Walk behind the Bowling Green, where enthusiastic players can be seen almost every afternoon. Then, you'll find yourself on Cabrillo Bridge, a pedestrian and car bridge that connects Uptown to El Prado Complex, the former grounds of the 1915 Panama-California Exposition.
The walk across Cabrillo Bridge
The 450-foot long Cabrillo Bridge spans 150 feet above the forested Cabrillo Canyon. Built for the 1915 Panama Exposition, the bridge is designed after the Alcantara Bridge in Toledo, Spain. It was the first multiple arched cantilever bridge in California. When it was dedicated in 1914, Franklin D. Roosevelt gave the opening speech and was a passenger in the first car crossing. Nowadays, cars are still allowed on the bridge, but it's mainly used by pedestrians. Crossing the bridge is a fun experience for pedestrians as it's incredible to look down at the floor of the canyon while suspended so high above. The Cabrillo Bridge was nominated for the National Historic Register of Places in the 1970s.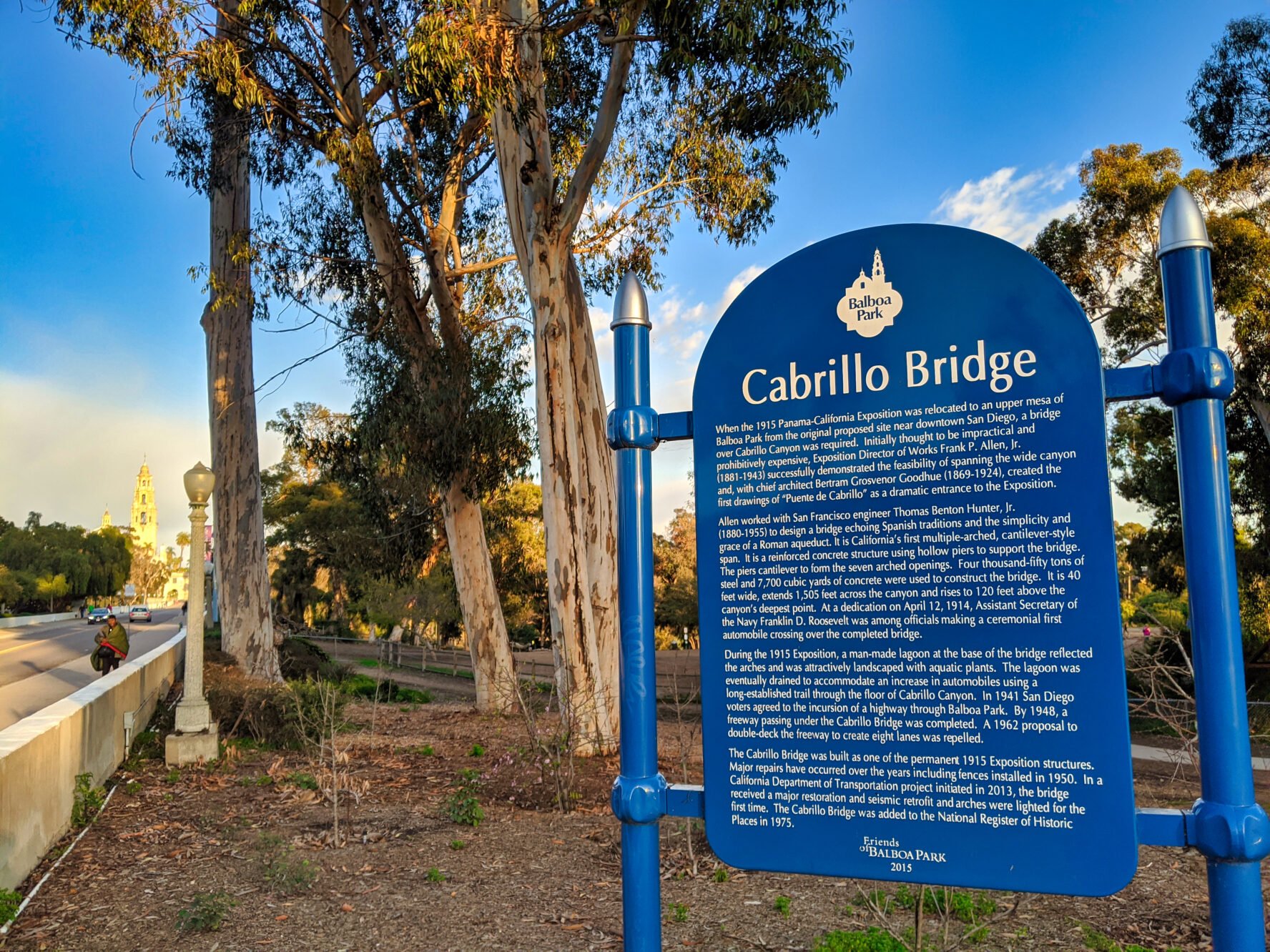 El Prado (1915 Panama Exposition Grounds)
Whether you are a hiker or not, I think the El Prado is the #1 must-see attraction in San Diego. A historic district, the pedestrian-friendly complex was designed by famed architects Bertram Goodhue and Carleton Winslow. The next mile or so of your hike visits an area also on the National Register of Historic Places.
From the California Quadrangle and California Tower, explore the El Prado Arcade, an arched covered walkway. In summer, I've walked through it instead of in the plaza for shade. Pass numerous fountains, including the reflecting pool in front of the Botanical Building. One of the largest lath structures in the world, the garden building and pool in front are considered the most photographed spot in San Diego. I'm fond of watching the koi and red-eared slider turtles swim in the pond nearby.
A pedestrian pathway takes you to Spanish Village, a complex of art galleries. Elephant topiaries announce you're approaching the entrance of the San Diego Zoo. While this is another must-see in San Diego, you'll want to dedicate a full day to the experience, so I wouldn't advise taking the zoo detour while on this hike.
Head towards the Historic Carousel and Miniature Train until you pass the giant Moreton Bay Fig Tree. It's the largest Ficus macrophylla in the park with a trunk girth of 486 inches and numerous aerial roots. I'm a big fan of the giant fig trees throughout the park, but this one takes the cake on size alone.
Don't miss Palm Canyon
After visiting the fountain by the Natural History Museum, return through the plaza before taking a detour to the left. You'll pass above the Japanese Garden on your way to the Spreckels Organ Pavilion, the world's largest pipe organ in a fully outdoor venue. Descend the dirt trail to Palm Canyon, the most natural and serene part of this hike. This shaded forested area is a palm oasis similar to what you'd find in the eastern part of the county. Like an oasis in a wild area, it is home to many birds. Climb wooden stairs up to Alcazar Garden before recrossing the Cabrillo Bridge.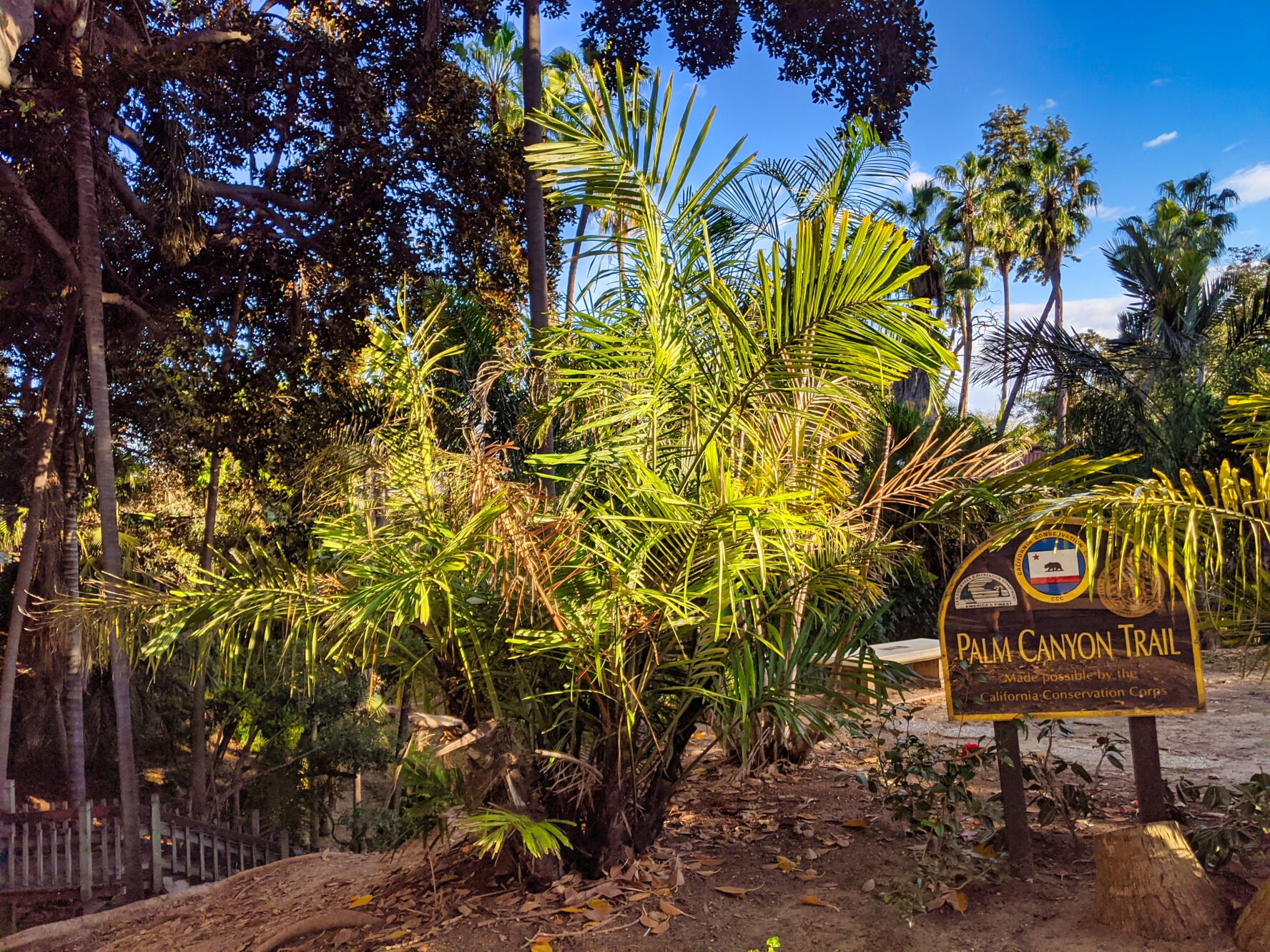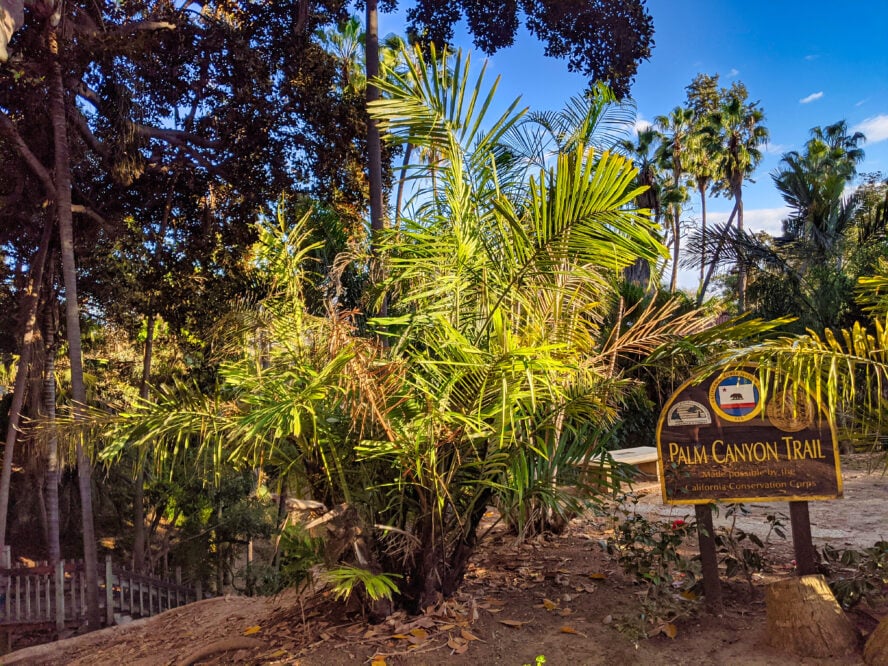 Here, if I still have the energy and daylight, I like to turn left after Nate's Point dog park to visit the West Mesa. After crossing Pine Grove Picnic Area, you'll reach Marston Point. I like this part of Balboa Park because it is forested and feels more peaceful and quiet than other parts of the park. It's a nice reprieve from the busy museum district. There are expansive views south towards downtown.
From here, follow the lightly trafficked road back to your car.
Quote
While Balboa Park is known for its human-made attractions, its natural areas and hiking trails add to the uniqueness of what Balboa Park has to offer.
By Liz Thomas — urban hiker
Gallery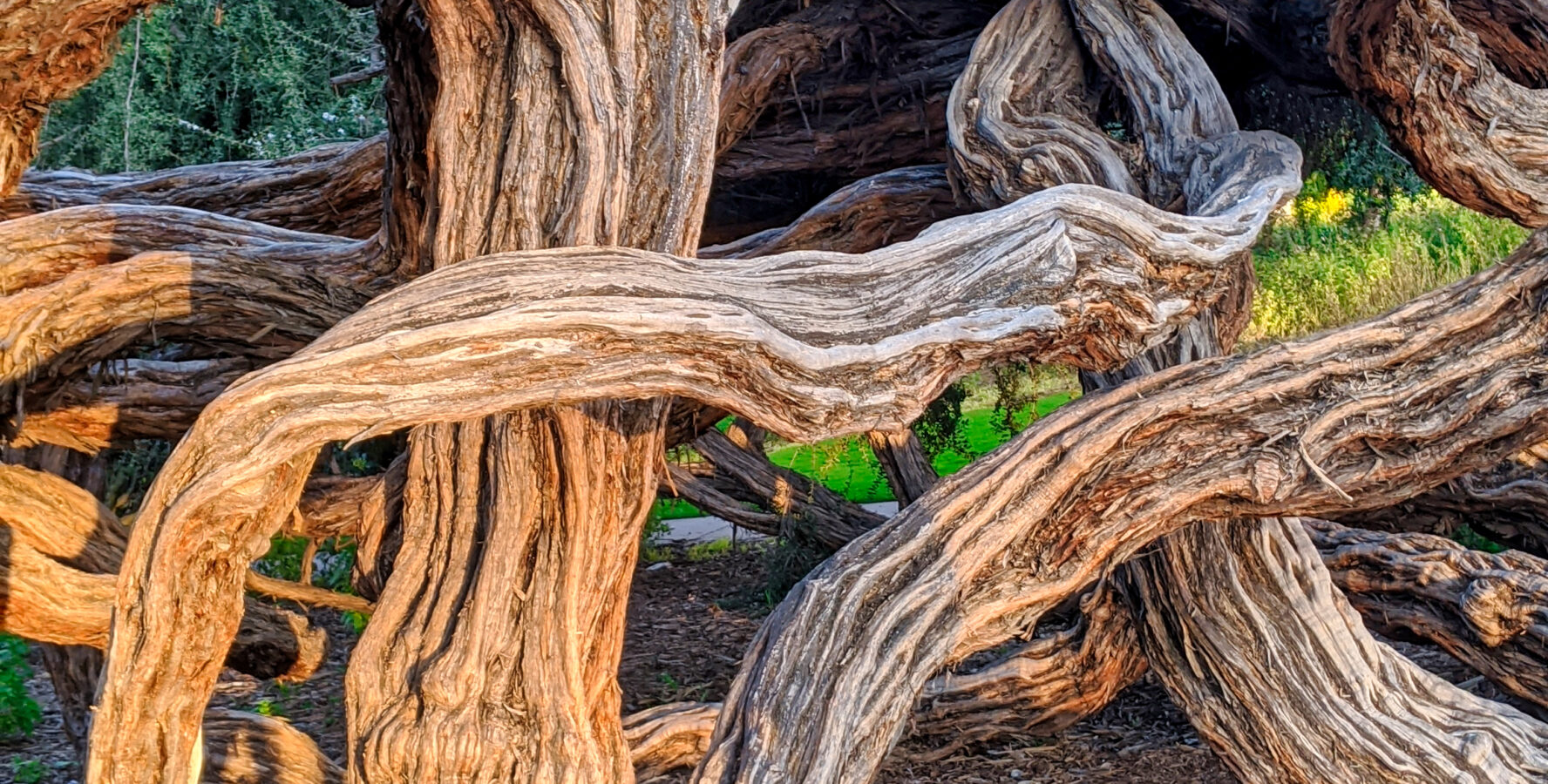 Exploring Balboa Park in San Diego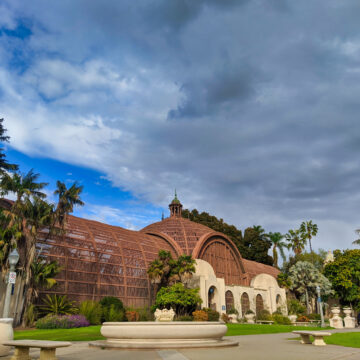 1. Balboa Park: Urban Park Loop - Good to Know
Skill level:
Moderate (for length)
Getting there:
From 6th Ave. and Upas St., take Balboa Drive to the Cypress Parking Area.
Time allotment:
2.5 to 6+ hours, depending on side-trips to museums
Best time to hike:
Year-round
Getting there
Balboa Park is close to downtown San Diego and the San Diego Airport. It's accessible by walking, biking, public transit, and car. Most people fly into San Diego Airport and rent a car to get around the city. There are numerous free parking spots in the park and in surrounding neighborhoods. However, parking can be a pain on weekends, holidays, and during events. Bus Route 120 (Fashion Valley), Route 7 (City College), and Rapid 215 all go through the park. It's also easy to use rideshare services in the city to get dropped off at the trailhead.
CALIFORNIA
2. Torrey Pines State Park Loop
57h badges
GREAT CHOICE FOR MODERATE HIKERS
Pros and cons
Hike in one of the most iconic places in San Diego
This trail visits beach, chaparral, pine forests, coastal sage scrub, and pine forests
See the endangered Torrey Pine, one of the rarest pines in the world
Cool ocean breezes keep this hike enjoyable year-round
With over 400 species of wildflowers, you're likely to catch the bloom anytime in late winter or spring
Can get crowded on weekends and holidays
Limited parking. Consider taking the bus or a rideshare service
No food is allowed in the Reserve. That mea's there's no cafe or restaurant in the park
For one of the most iconic views on the California Coast, check out Torrey Pines State Park. Named after the Torrey Pine (Pinus torreyana), one of the most endangered pine trees in the world, this reserve is home to over half of the world's population of 6,000 trees. This loop trail hits highlight viewpoints from Razor Point to Yucca Point past the Big Basin down the Beach Trail to Flat Rock and up Broken Hill back to the West Overlook. For beginner hikers, this is a great option for a guided hiking tour.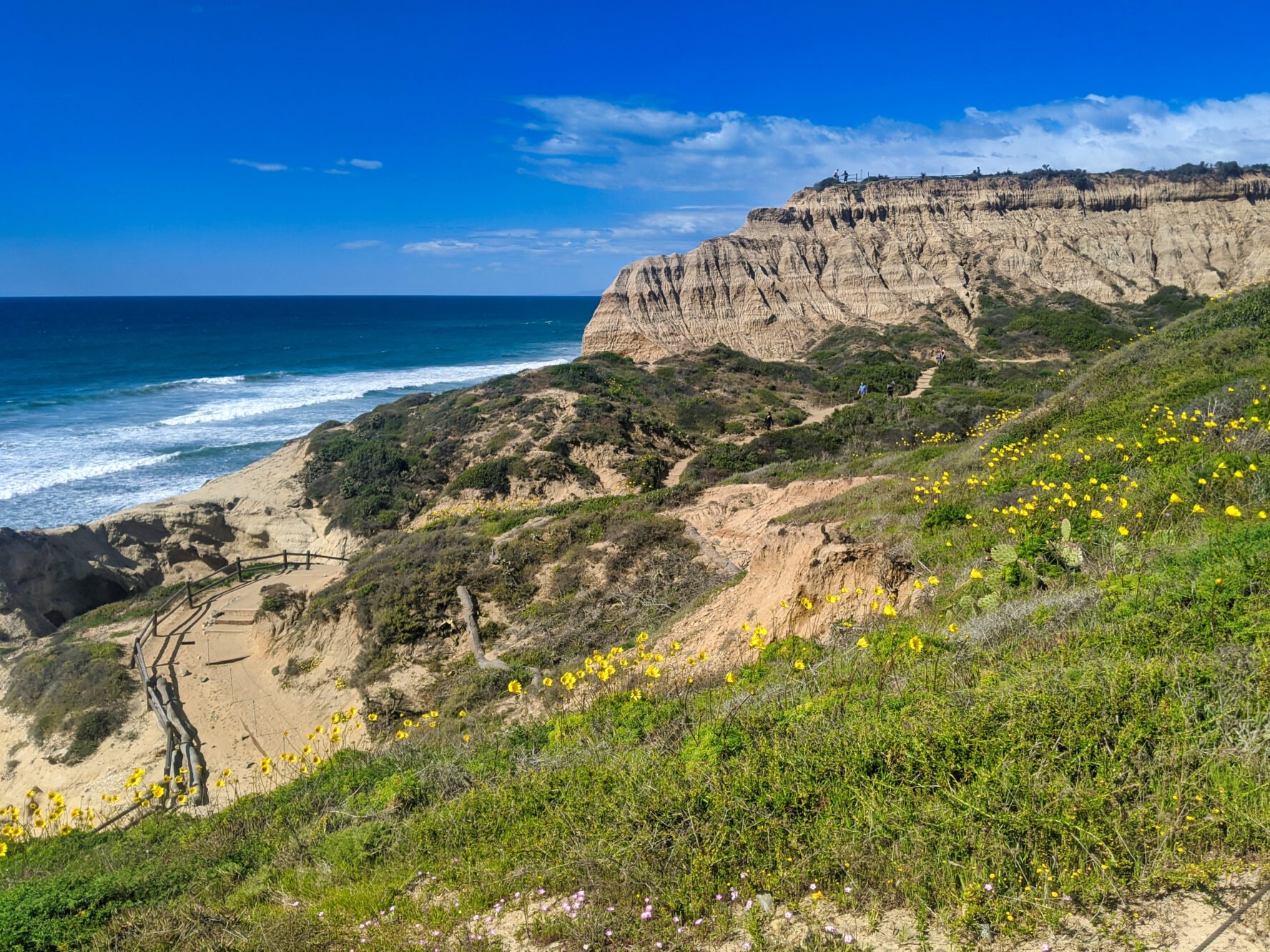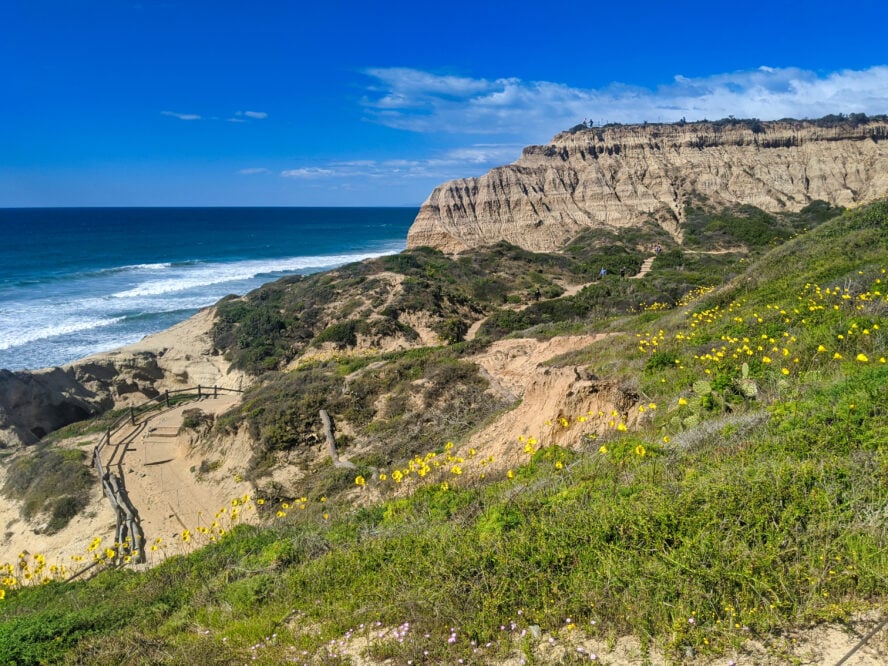 How long is the Torrey Pines hike?
Torrey Pines is best hiked as a five-mile loop, although there are trails that are ⅔ of a mile (Guy Fleming Trail), ½ mile (Parry Grove Trail), and the High Point Trail (100 yards). It's common to see locals running along the loop I describe because it's so scenic and well-defined. The State Reserve does an excellent job of marking trails and delineating where they are. They even have cables along the edges of many trails to serve as "bumper lanes" that prevent hikers from confusing animal paths for the real trail.
Starting at the West Overlook
Start at the West Overlook, where there is parking, toilets, and a viewpoint. Be sure to fill up your water bottles here as this is the last spot on this hike with any water. An information board, trail signs, and take-with-you paper map all help point the way. Follow the Razor Point Trail to a red, rocky outcropping. This is the spot to take epic photos because it is so prominent against the coastal bluffs and has great views of the ocean behind. From the viewpoint, descend towards Razor Point. After half a mile, you'll be at an overlook right over the ocean.
From Razor Point, ascend back to an intersection that takes you towards Yucca Point via the Beach Trail. You'll circumnavigate around Big Basin, famous for its "badlands" like erosion. Approximately 160,000 years ago, rivers deposited silt and sand that eroded to form steep slopes, canyons, hoodoos, gullies, buttes, and mesas. In the spring, I like coming here to see abundant wildflowers like the bright yellow sea dahlia, blue wild hyacinth, and purple wild lupine.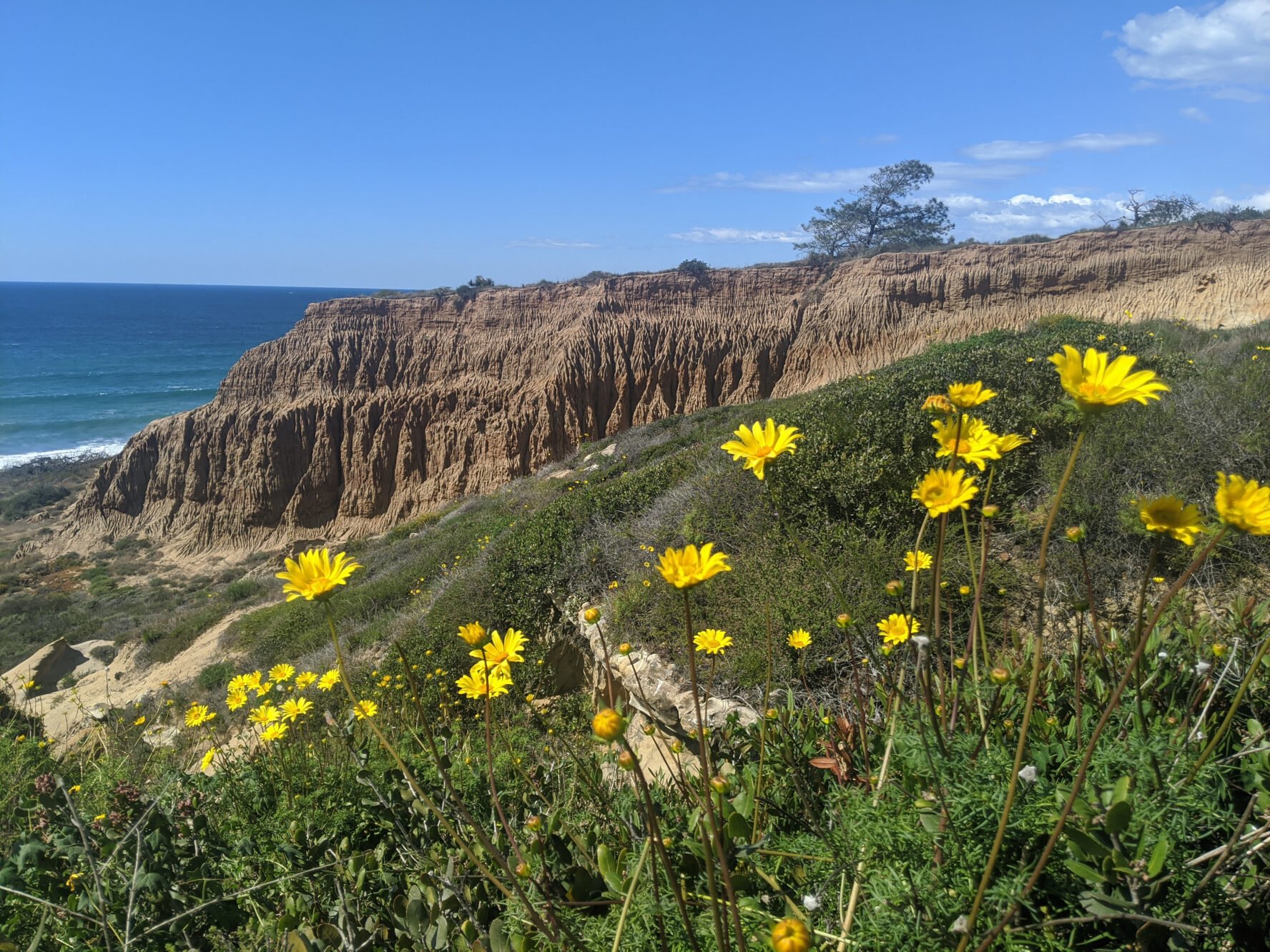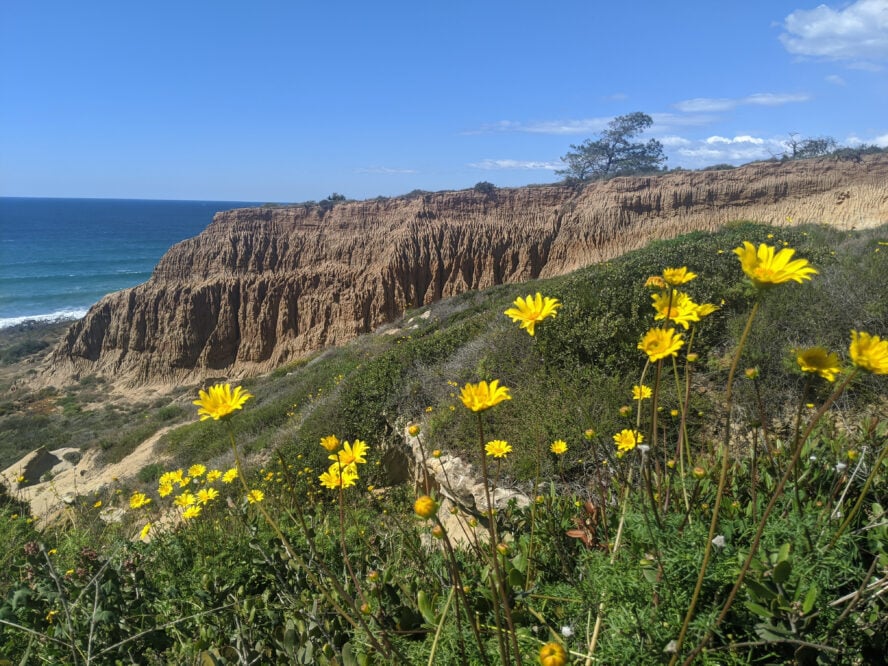 Continue on to the beach
I think a highlight of this hike is the maze-like narrow canyons of rock that take you on the last descent towards the beach. You'll swirl around a small cave before walking on the thin edge of a cliff. Descend stairs, and you'll reach a secluded cove. Check the tides before you leave the visitor center. During high tide, the beach is underwater. From here, you can see the crowded Torrey Pines Beach to your right. More sandy coves, cliffs, and bluffs are to your left. Adventurous locals will run from Torrey Pines State Beach all the way to Black's Beach, sometimes holding onto the cliffside to get around bluffs.
After the beauty of the beach, I can't help but feel bittersweet turning around and heading back up the stairs. But returning to the car on the Broken Hill Trail lets you see a part of the park that is a little less crowded. With chaparral, sagebrush, and just a few trees, there's plenty of scenic views to be had. Towards the end of the hike, you'll see the backside of the Torrey Pines Golf Course. I always enjoy comparing the natural area that I've been hiking in with the manicured grass on the other side of the reserve boundary.
You top out on a road closed to motor vehicles (but open to bikes). From here, walk the flat, Torrey-pine lined ridge. Below you is Peñasquitos Lagoon, where freshwater streams reach the tidal saltwater creating a shallow, coastal lagoon. In the distance are the high granite mountains of San Diego. They were created millions of years ago from a chain of volcanoes formed by the collision of tectonic plates. The volcanos eroded, and the granite was lifted and carved into mountains by rivers. These mountains make up some of the best hiking areas in the county, and may even be snow-covered some winters.
Return to your car having viewed or hiked through many of the major ecosystems in San Diego County. As you descend more than 500 feet (and have to climb back up), budget some extra time for this hike.
Quote
Torrey Pines State Reserve deserves the hype. Between the beach, ocean views, wildflowers, bluffs, and badlands, this Reserve packs in a lot of nature in one hike.
By Liz Thomas — urban hiker
Gallery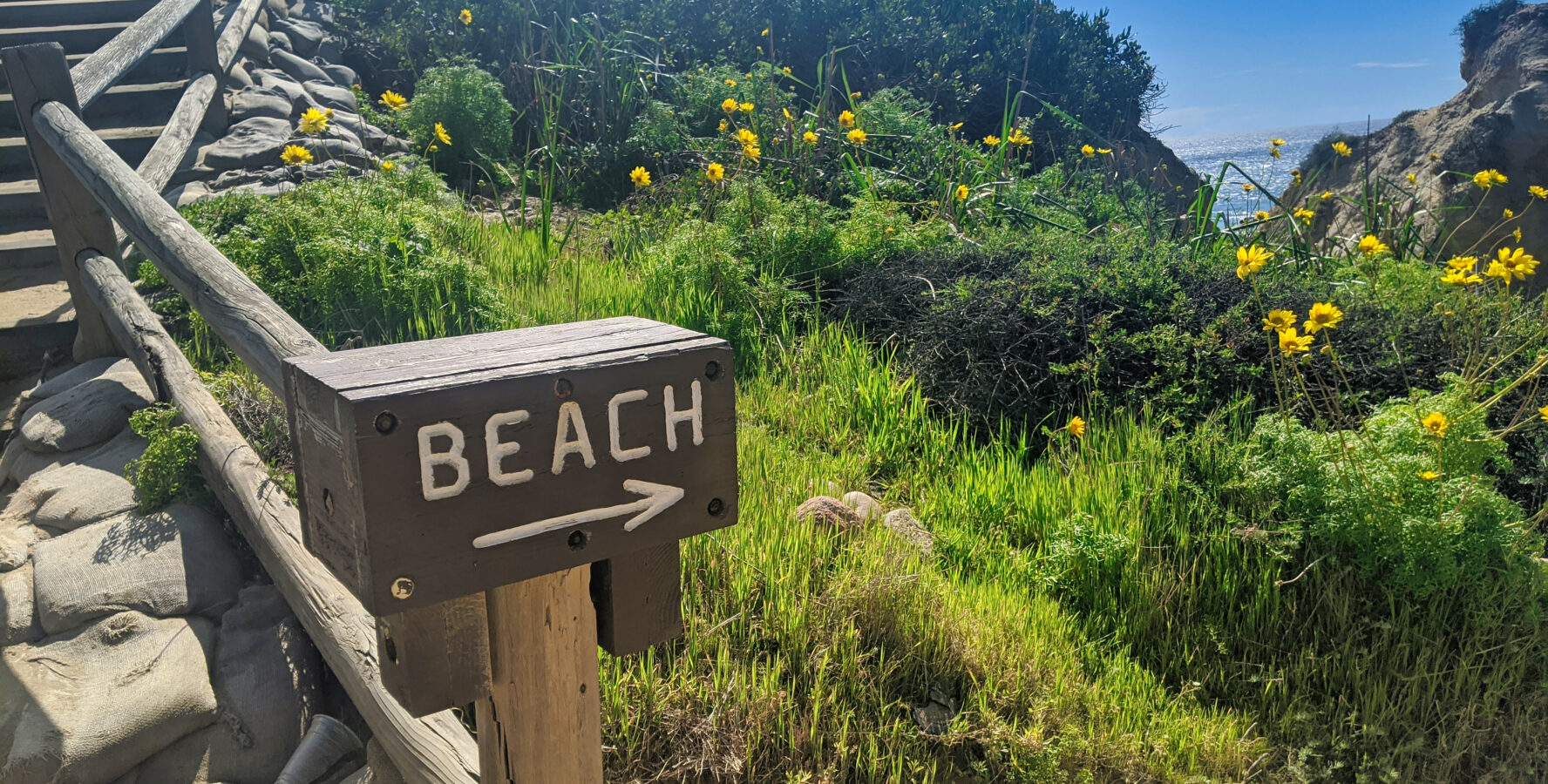 Torrey Pines Hiking Trail 2016 - San Diego Hikers Association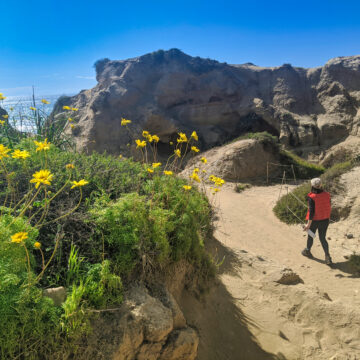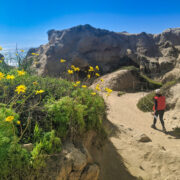 2. Torrey Pines State Park Loop - Good to Know
Distance and elevation gain:
5-mile loop, about 500 feet total on the return
Camping/Where to stay:
There's numerous hotels in La Jolla and RV-style campgrounds in Del Mar, both of which are pricier neighborhoods in the area. I suggest staying farther out and driving in for the day.
Entrance/Parking fee:
Day Use fee is $12-$25 per vehicle (demand-based pricing) or a valid annual California State Parks Vehicle Day Use Pass. Day use passes from other California State Parks won't work at Torrey Pines State Reserve.
Time allotment:
2 to 4 hours
Best season:
Year-round. Wildflowers bloom from February to May
Insider tip:
The park is busiest from 10 AM to 1 PM, especially during summer and holidays. The South Lot and free parking along North Torrey Pines Road are the first to fill. Plan your trip around those times and consider parking at the North Beach Lot.
More info:
Getting there
From downtown San Diego, take I-5 north for about 17 miles to the Torrey Pines State Beach South Parking or North Parking Area. There's convenient bus stops to get to-and-from the beach, as well. If you're driving, most folks park on the left (west) side of North Torrey Pines Road at the South Beach parking lot. The North Beach parking lot is on the right (east) side. A lucky few can snab a free spot along the road, but don't count on it, even on weekdays. You can avoid paying the day use fee by taking the bus and walking up. Otherwise, you can take a ride-share and get picked up/dropped off just outside the gate near the bus stop in the free parking area. You'll have to walk 0.9 mile uphill to reach the trailhead. Locals do it just for the extra exercise.
CALIFORNIA
3. Los Peñasquitos Canyon and Waterfall
57h badges
THE BEST DOG FRIENDLY HIKING TRAIL
Pros and cons
This dog-friendly hike is relatively flat, shaded and soft on paws. It even has water to cool off half way through
Open to hikers, bikers, and horses, it's an excellent way to experience trails in a new way
Nature in close proximity to the city
Ample free parking and easily accessible from suburban areas
Can get toasty during summer months
The trail crosses above the plunge, so it's hard to get a good angle to see it go over the edge
A local favorite — especially among dog owners — Los Peñasquitos Canyon is a nature preserve in the middle of the northern San Diego suburbs. Los Peñasquitos means "little cliffs" in Spanish, referring to the series of big volcanic boulders that the small waterfall tumbles down. At 4,000 acres and over seven miles long, Los Peñasquitos Canyon is one of the largest urban parks in the world. This shady, multi-use trail is open to hikers, bikers, and horse riders.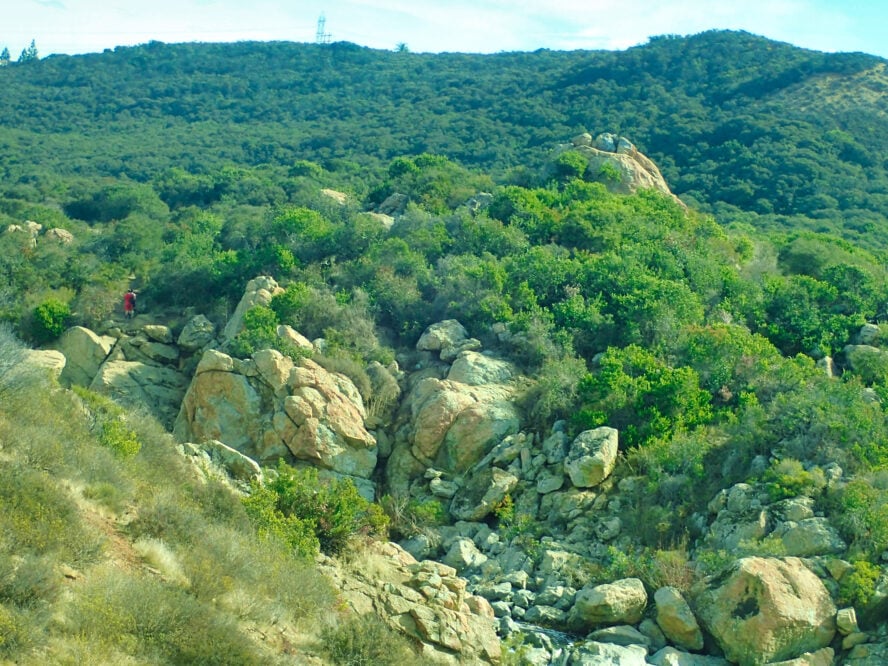 Pass through a canyon rich in plants and wildlife
From the Los Peñasquitos Canyon trailhead, fill up your water bottles and head west on the dirt road. You'll pass through a forest of giant California Live Oaks. The preserve is also home to over 500 plant species and 170 different species of birds. Native American history in the canyon goes back 7,000 years. Side trails lead to historic sites like an adobe ranch house, a museum, and community garden.
Even when other trails feel too hot to hike, I like visiting this trail because it is shaded and relatively flat. It's part of the Trans San Diego County Trail. This 140-mile long-distance hiking route goes from the eastern edge of the county at the Salton Sea, across Anza Borrego Desert State Park, over the Cuyamaca Mountains and Pacific Crest Trail, and down to the Pacific Ocean.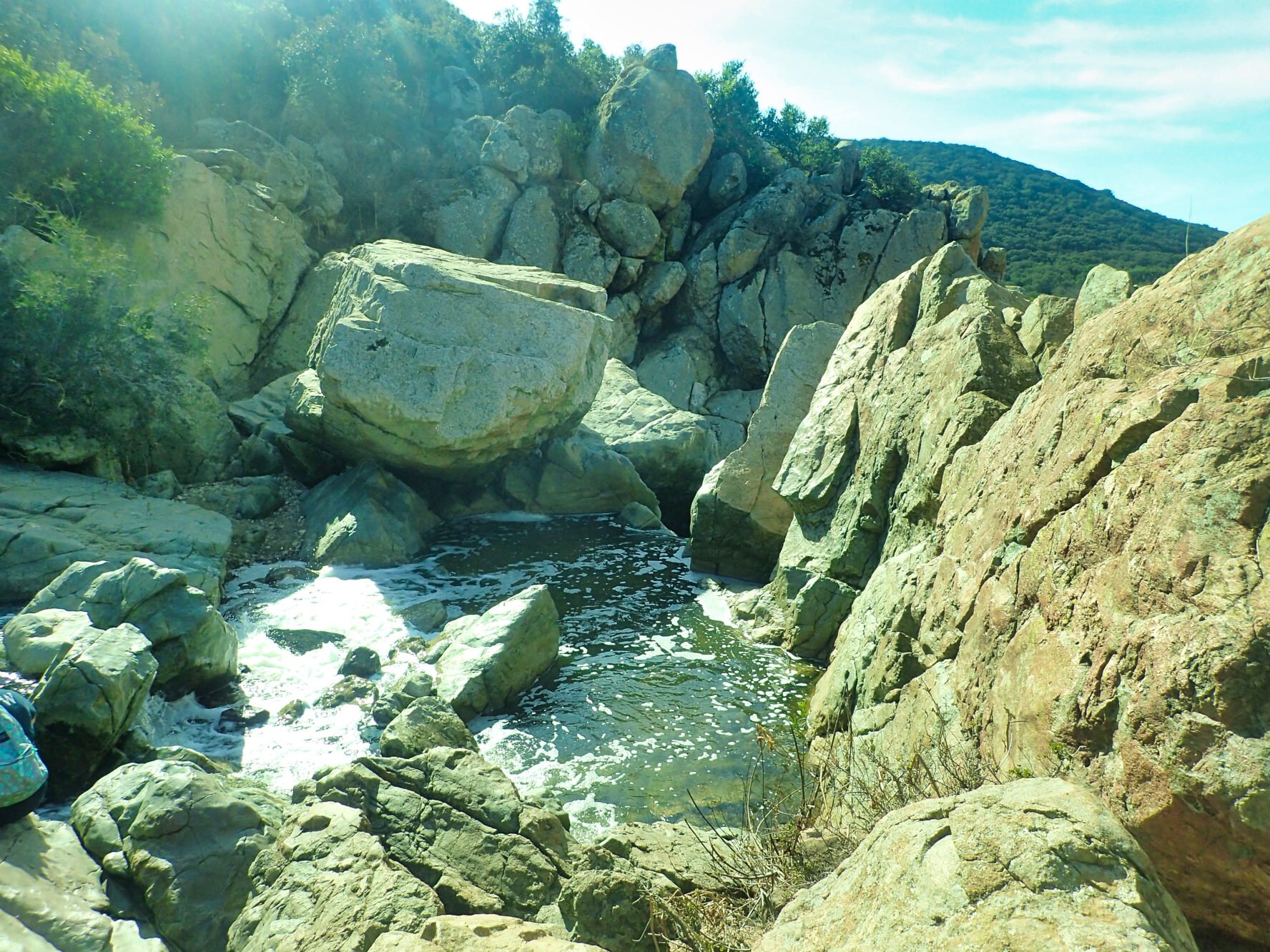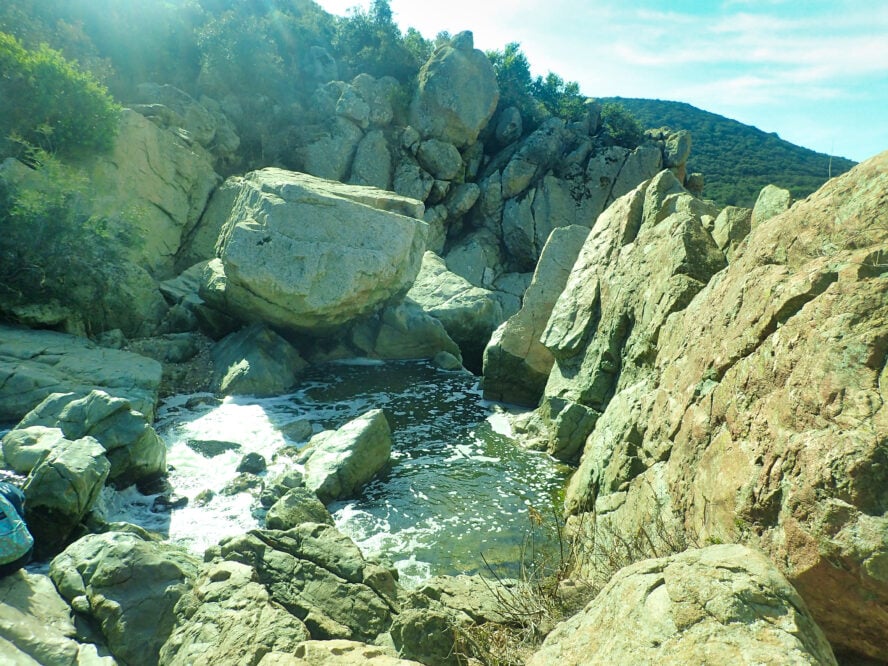 A great trail for hiking with friends
The trail is wide enough to walk side-by-side with other hikers in your party. In this peaceful wooded area, it's easy to get caught up in conversation with your trail buddies. Signs along the way point to side-trails. Mile markers make it easy to track your progress.
After about three miles, you'll see a signed intersection for the waterfall. Head right towards some stone stairs to the top of the bouldery falls. The trail continues across the water, so bring sturdy shoes and get ready to get wet. You can keep going. But, for a moderate hike, this is a good place to turn around and return to your car.
Quote
At 4,000 acres and over 7 miles long, Los Peñasquitos Canyon is one of the largest urban parks in the world.
By Liz Thomas — urban hiker
Gallery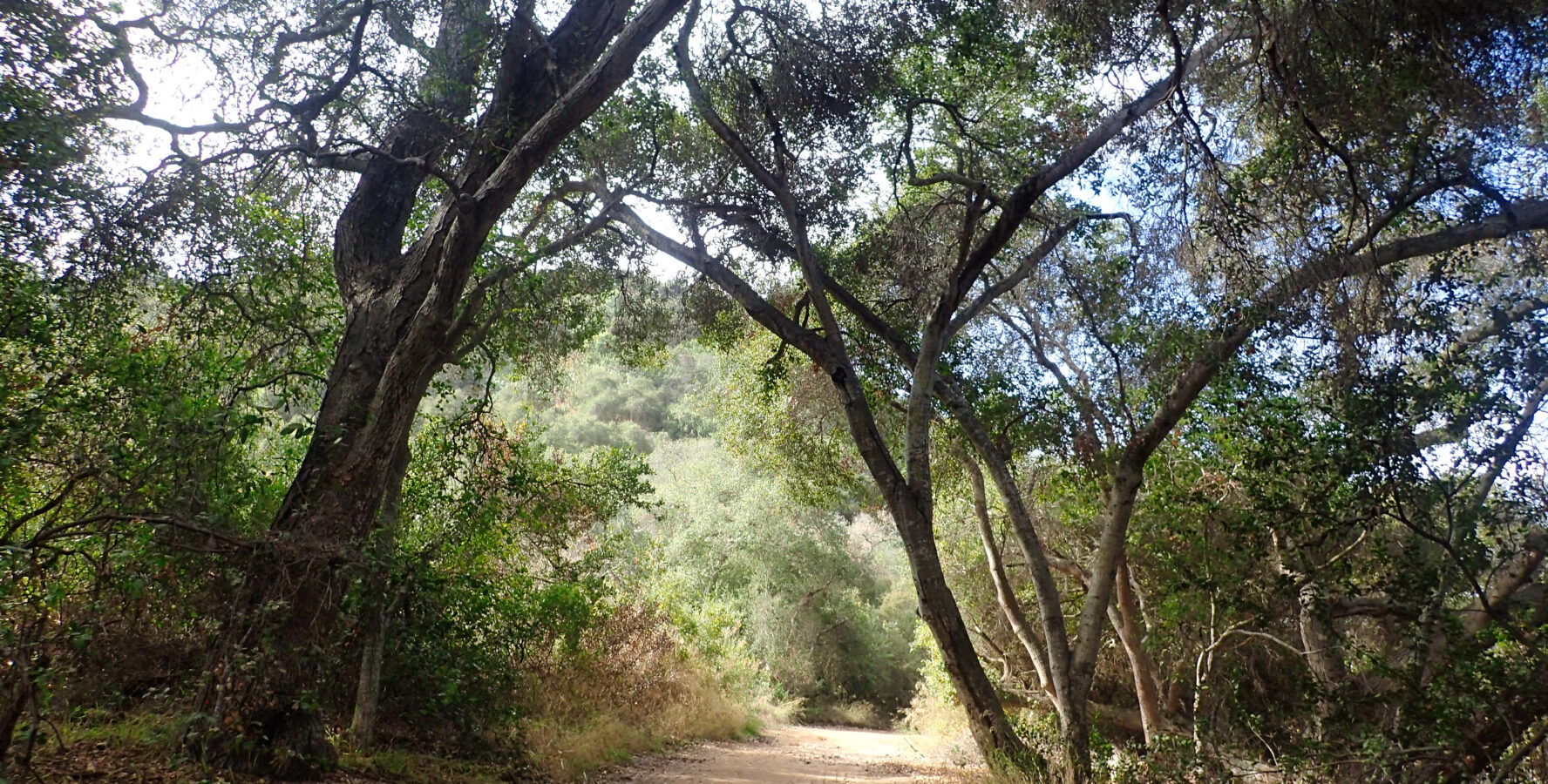 LOS PENASQUITOS CANYON TRAIL SAN DIEGO, CALIFORNIA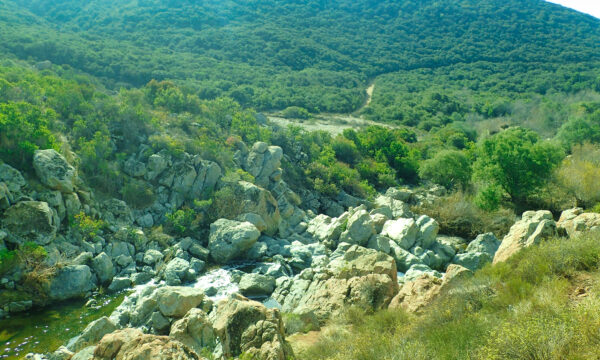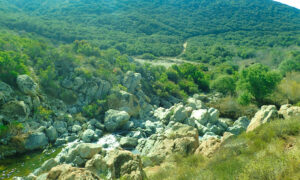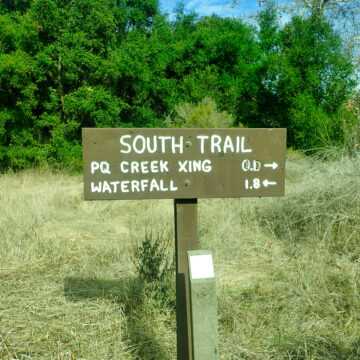 3. Los Peñasquitos Canyon and Waterfall - Good to Know
Skill level:
Beginner to moderate (because of length)
Distance and elevation gain:
6.2 miles out-and-back, 200 feet of gain
Camping/Where to stay:
Nearby Sorrento Valley and Mira Mar neighborhoods have numerous hotels. Unfortunately, this is a locals' trail, so there aren't great camping options neary.
Trailhead amenities:
Drinking fountain, outhouse, horse staging area
Insider tips:
Wait until late afternoon/early evening for cooler temperatures. Be sure to bring your headlamp just in case.
Best season:
This hike is good year-round if done early in the morning, but winter, spring and fall have the best weather and winter and spring are the best for viewing the waterfall.
Getting there
Start at the Los Peñasquitos Canyon trailhead on Black Mountain Road. The waterfall is also accessible from a northern entrance near Peñasquitos Creek Park at the intersection of Park Village Road and Camino Del Sur in Rancho Peñasquitos. See this park map to see where the access points are to the preserve.
CALIFORNIA
4. El Cajon aka El Capitan Mountain aka El Cap
57h badges
A RIGOROUS MOUNTAIN CLIMB FOR THOSE WHO WANT A WORK-OUT
Pros and cons
This long, steep hike makes you really feel like you accomplished a big goal when you reach the summit
Wilderness-like feel and granite peaks remind some people of Yosemite (hence the nickname)
Incredible 360-degree views towards the ocean to the west and the Cuyamaca Mountains to the east
Almost no shade and no water, so be sure to start early in the day
A whopping 4,000 feet elevation gain, often on very steep trail
El Cajon Mountain, known locally as "El Capitan," or sometimes just "El Cap," is one of those hikes that makes you feel like you've made it as a hiker. One of the hardest hikes in San Diego County, summiting El Cajon via the rugged, steep, and exposed trail, is proof that you are hardcore. Locals use this as a training hike for Mt. Whitney and other Sierra peaks and a good friend trained for a Pacific Crest Trail thru-hike on this mountain.
El Cajon Peak has a prominence of 1,955 feet — meaning you can see it against the skyline for a long distance and there's no easy way up. Part of the Cuyamaca Mountains, El Cap is a high peak in eastern San Diego with a wilderness-like feel and granite boulders that remind some people of Yosemite (hence the nickname).
A steep trail worthy of a workout
For the fit and adventurous, the steep route up El Cajon Peak travels 11 miles and 4,000 feet of gain to a wild summit filled with granite boulders. Start early and bring plenty of sunscreen — this trail has very little shade and no water along the way. While technically open to leashed dogs, I think it's best to leave your pets at home for this one. This is one intense hike that gets incredibly hot, is very long, and ridiculously steep, so it's really only accessible for the most hardcore of four-legged (and two-legged) friends.
I've heard hikers call El Cajon "uphill both ways," and that seems accurate given the roller-coaster-like up-and-down profile of this hike. The trail follows an old mining road that's steep, making even the descent to be a tricky affair. I'd advise bringing trekking poles to help on the way up and down. I usually don't carry trekking poles but was incredibly happy to have them last time I descended this peak. I'd also recommend good hiking shoes or boots with excellent traction, stability, and support. The trail is quite rocky towards the top and twisting an ankle is not something you'd want to do in this remote place.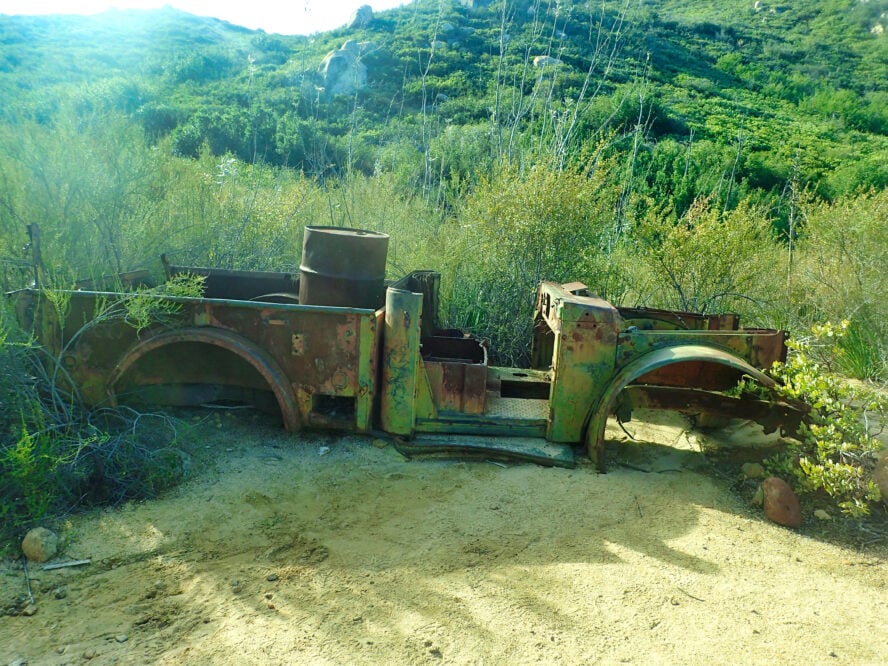 I'd advise carrying at least 3 liters of water and tackling this hike in the winter only. It's so exposed that I've been hot hiking downhill at 10 am in January. The hike gets so hot that the San Diego County Parks department closes it down completely in August.
How to hike El Cajon Peak
The first half mile takes you up a mix of paved and gravel roads to the "official" trailhead — your last opportunity to use an outhouse. As you ascend the trail (really, a wide, old road), you'll see thick chaparral on either side and your first views of granite boulders. It's easy to navigate the trail, but the loose dirt can make ascending it tricky. With this kind of terrain, I'd advise wearing shoes with excellent traction and timing your hike for a day or two after a rainstorm (the extra moisture makes it easier for feet to stick to the soil).
The trail isn't a direct five miles up to the summit. At times, it flattens before ascending some very steep hills. Sometimes, it goes downhill for a while, which I find a bit upsetting after all the effort required to climb. The closer you get to the summit, the rockier and more eroded the trail becomes. However, navigation is easy on this hike. The trail is marked with signs showing the mileage and maps showing where you are relative to the elevation gain you have ahead.
As the trail gets rockier and the ascent more unrelenting, I like to remind fellow hikers that it is ok to take plenty of breaks. You're in one of the most beautiful places in the county, and the views are incredible. Don't be ashamed to take a breather and a photo. There's even a metal bench at an overlook halfway up specifically for this purpose.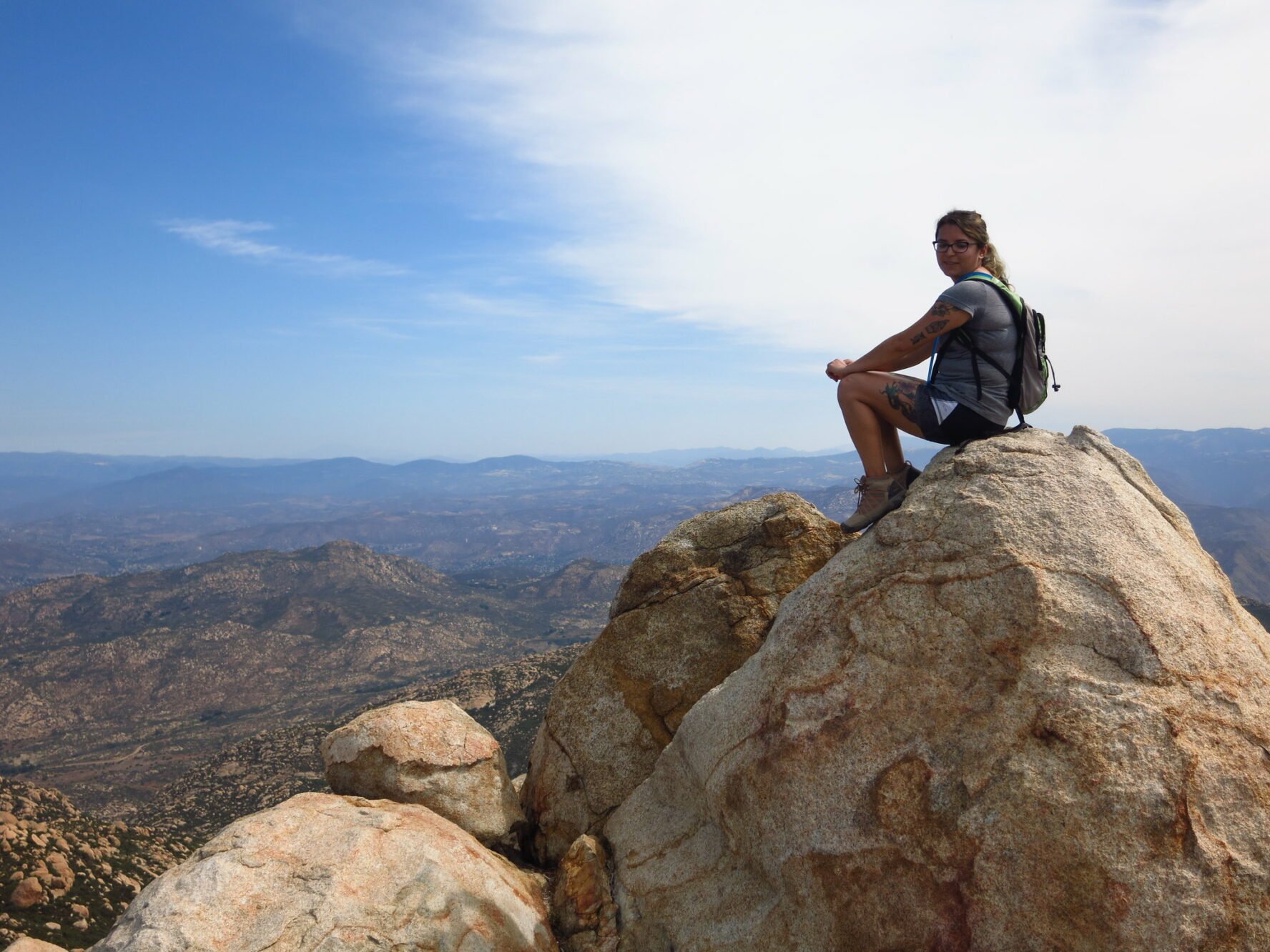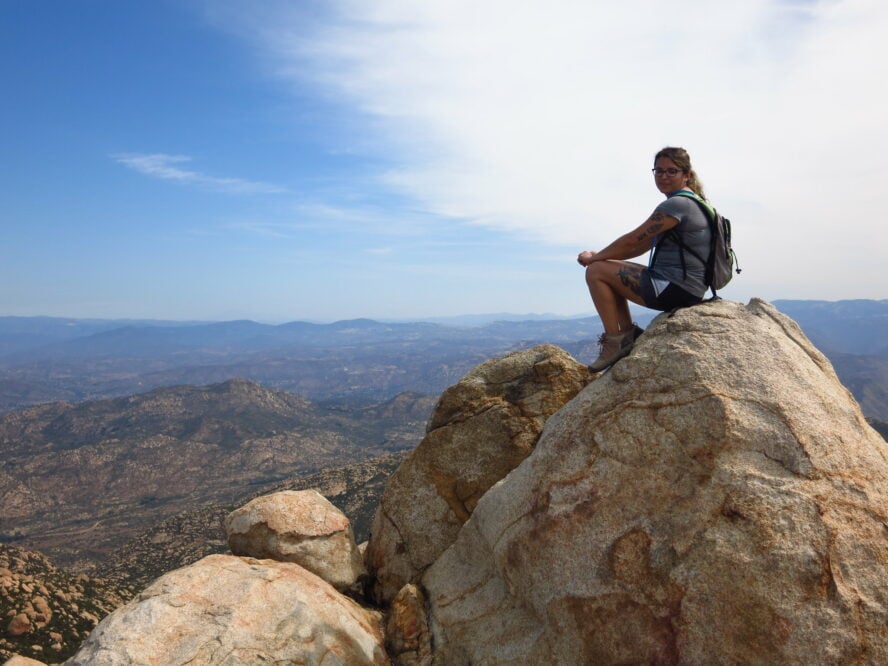 A few miles in, there's a side trail to a mine shaft. Otherwise, continue to the summit, passing a rusted-out old truck that looks like it dates back to the mining days. The summit is nearby, just past the five-mile post. One last bit of rocky scramble leads to a boulder-filled summit. It feels like you're in a distant land quite different from everything else in the county.
Quote
One of the hardest hikes in San Diego County, summiting El Cajon via the rugged, steep, and exposed trail is proof that you are a hardcore hiker.
By Liz Thomas — urban hiker
4. El Cajon aka El Capitan Mountain aka El Cap - Good to Know
Distance and elevation gain:
10.4 miles and 4000 feet
Camping/Where to stay:
The area around Lake Jennings has several private campgrounds. The nearby town of El Cajon has the best options for hotels.
Permits:
None required for day hiking
Insider tip:
Start early to snag a spot at the parking lot and avoid the heat. Bring trekking poles, good shoes, and 4 liters of water.
More info:
CALIFORNIA
5. Three Sisters Falls
57h badges
RECOMMENDED FOR ADVANCED HIKERS
Pros and cons
Hike to a three-tiered waterfall in a mountain valley
Newly designed trail makes this previously scrambly route a much smoother experience
Visits one of the more remote parts of the county
Physically strenuous, with significant climbing on the return
Steep drop offs. Not advised for those afraid of heights
Visit one of San Diego County's biggest waterfalls on one of its most popular waterfall hikes. On a winter morning after a storm, there's nothing quite like the view of this giant three-tiered waterfall springing from a dry-looking mountainside. Three Sisters Falls and the nearby Cedar Creek Falls have become bucket-list hikes for many San Diego hikers. But while Cedar Creek requires hikers to get a permit ahead of time, Three Sisters is still open to anyone who shows up. During wildflower season, expect to see poppies and wild mustard to add to the waterfall scenery.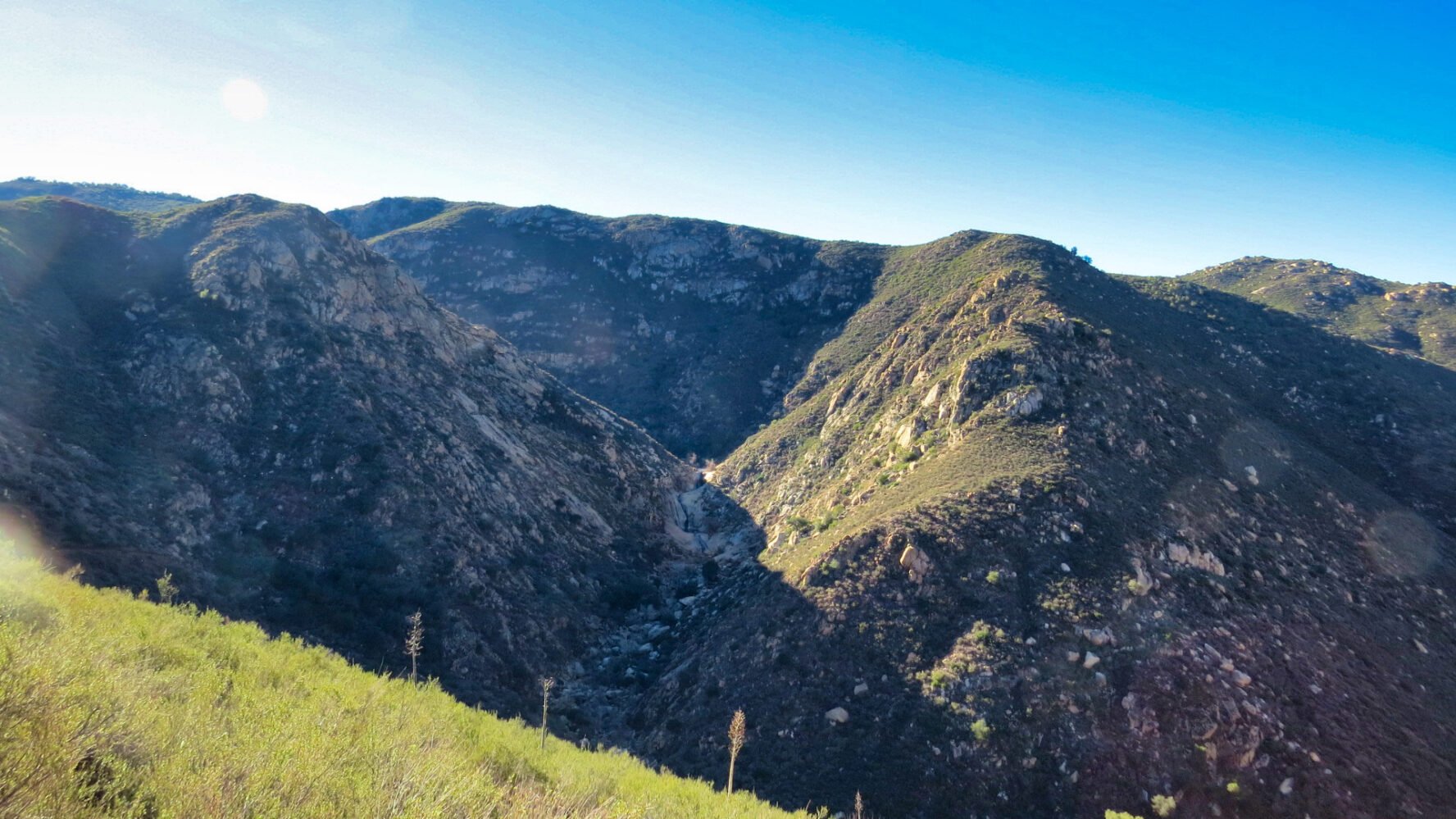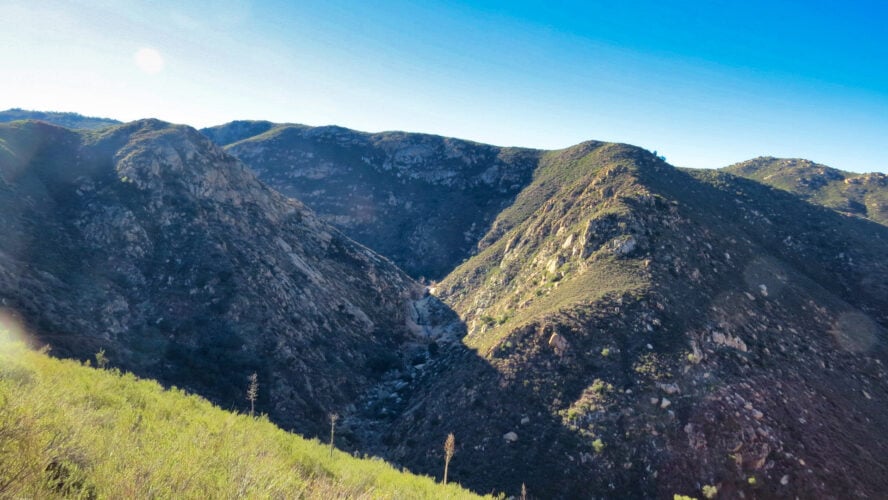 Consider leaving your pets at home
While technically open to dogs on leash, the Three Sisters Trail (like the nearby Cedar Creek Falls) have become notorious for taking the lives of innocent pets dragged on hikes by their owners. Even on cooler days, the surface temperature near the ground can be 20F degrees warmer than what a human may feel while hiking. I would highly recommend saving your dog hikes for something more gentle on your pet.
No shade, so bring water
I've visited this trail several times and am always astounded by how warm it gets, even in the morning in January. The Forest Service recommends bringing a gallon of water per person, and I'd throw in some electrolytes and plenty of sun protection. A reverse hike (like the Grand Canyon), you'll be dropping down to this waterfall. All the climbing is on the return — after legs are already tired from walking half the trip. As a result, this is one of those San Diego hikes where rescues are common. I'd advise checking the Forest Service Palomar Ranger District on warm days. The rangers will often close the trail down for extreme heat when temps reach 95F degrees or more.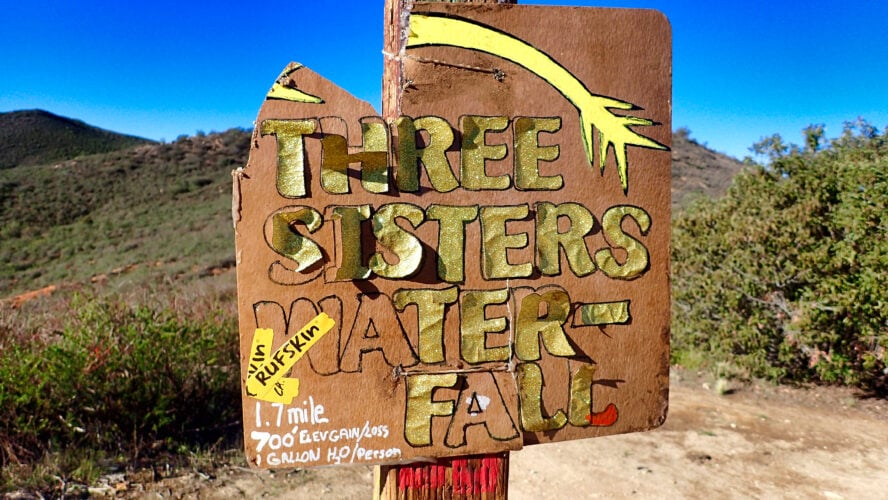 The best trails to get to the waterfall
From the large parking area, take the wide, flat dirt trail (an old ranch road) for half a mile to a wooden post. This marks the intersection with the Eagle Peak Trail. Make a sharp left to get your first views of the top of Three Sisters Falls. Sometimes, the junction sign is missing, so I always look for the distinctive V-shaped notch across the valley to make sure I'm headed in the right direction.
The trail descends along the dry creek bed of Boulder Creek through oaks and ferns. Soon, you'll reach the new section of the trail that bypasses what was formerly a steep, almost canyoneering-esque route to the waterfall. Now, the well-designed path skirts around the hillside. After a few short switchbacks, you reach the smooth granite slab right below Middle Sister Falls. The last 50 feet across the slab can feel tricky and exposed, especially when wet. If you feel comfortable crossing it, you'll be at the pool below Middle Sister. The water tumbles 50 feet to a pool, and you can see Lower Sister Falls below.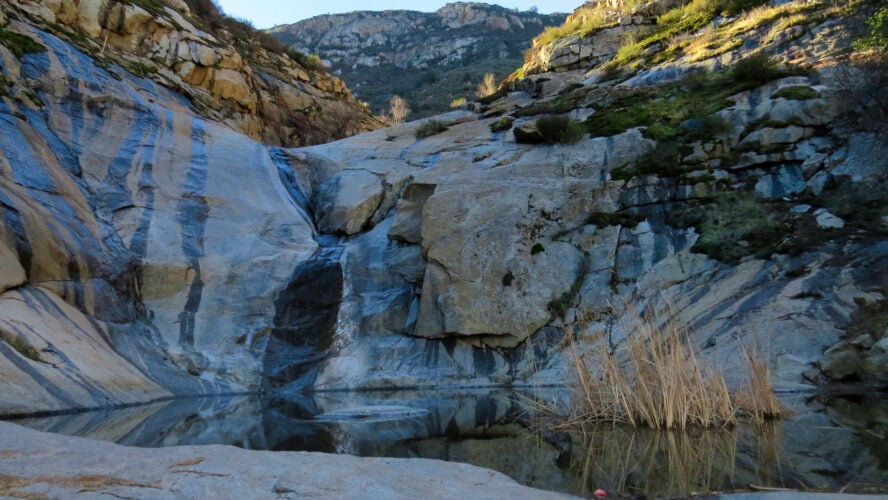 Don't underestimate this hike. Despite its length of four miles, I've always found it a lot more physically demanding than it appears on paper. Take your time on the return and remember to drink plenty of water!
Quote
Three Sisters Falls and the nearby Cedar Creek Falls have become bucket-list hikes for many San Diego hikers. But while Cedar Creek requires hikers to get a permit ahead of time, Three Sisters is still open to anyone who shows up.
By Liz Thomas — urban hiker
Gallery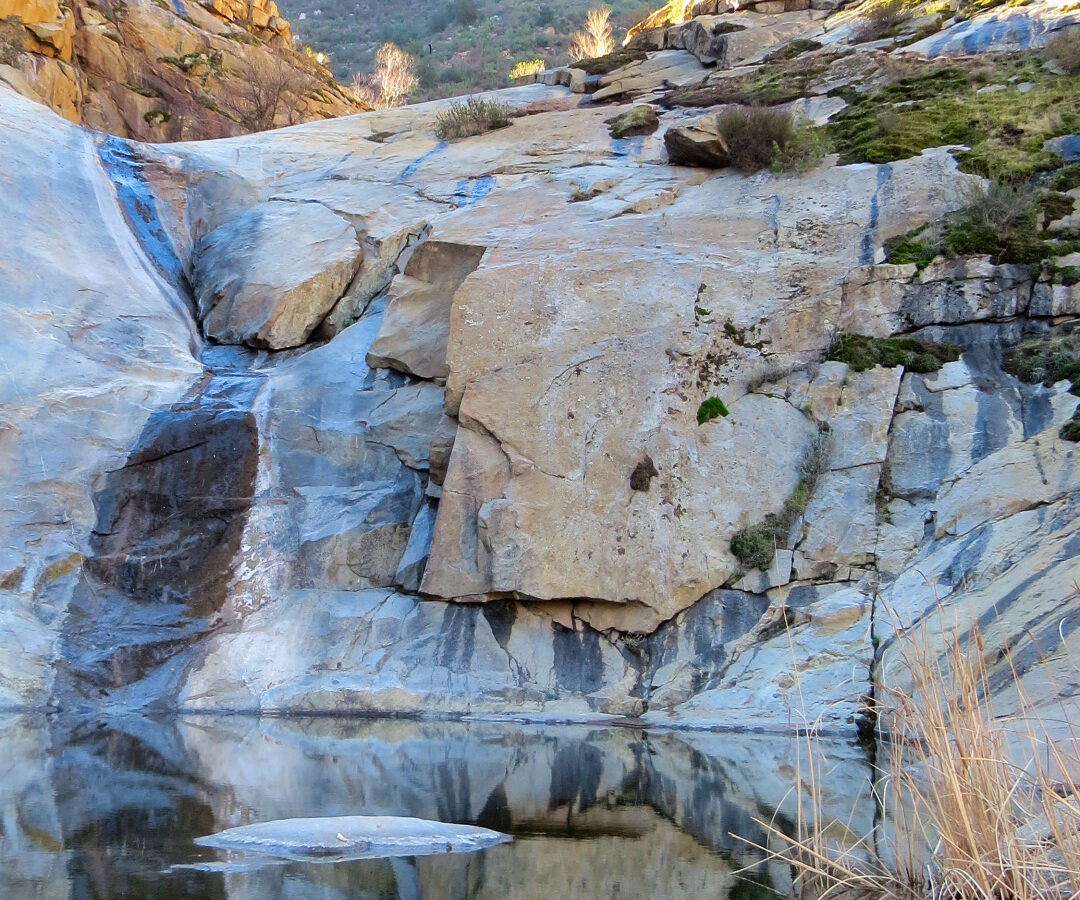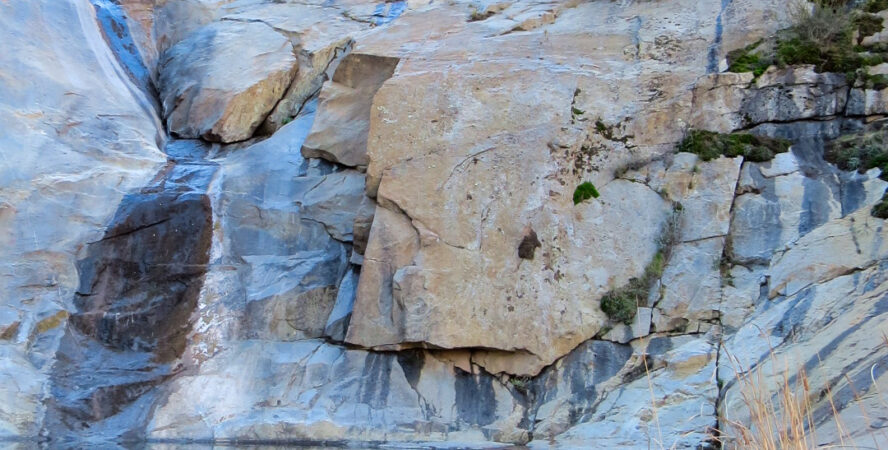 Three Sisters Waterfall Hike Near Julian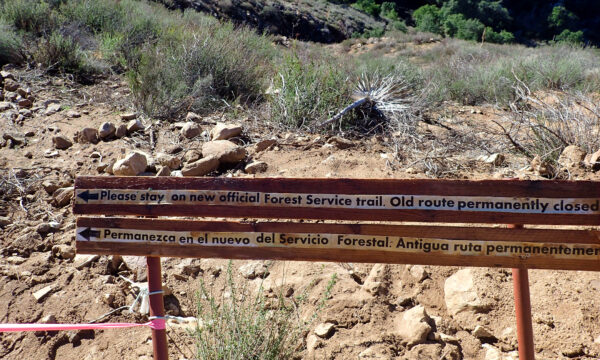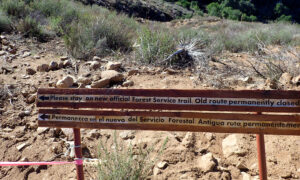 5. Three Sisters Falls - Good to Know
Distance:
4.5 miles round trip
Elevation:
1,400 feet elevation gain on the return
Camping/Where to stay:
The nearby towns of Julian or Lake Cuyamaca offer campgrounds and hotels
Time allotment:
3 to 5 hours
Weather/Best season:
Winter. The Forest Service closes the trail on days of 95F degrees.
Insider tip:
Get to the trail early (like dawn). The parking lot can fill up and the hike is a lot easier when temperatures are cooler.
Getting there
The trailhead is accessible via a dirt road that is good enough for most 2WD cars (at least if the roads are dry). From Julian, head west on CA 79, Turn left on Pine Hills, following signs for the YMCA and Girl Scout Camps. Turn right on Eagle Peak Road and left on Boulder Creek Road, which you'll take for 13 miles through the Inaja Indian Reservation. The trailhead and parking lot is at a sharp bend in the road. This area is very remote and doesn't have cell reception, so consider printing out directions and downloading it to your phone beforehand. While it is possible to reach the trailhead from the town of Descansos (and sometimes Google Maps or car GPS may direct you that way), I've found the water crossings on that route to be a bit much for 2 WD vehicles.
What You Need to Know for Hiking in San Diego
Whether you're planning a vacation or a local looking for a good day hike, here's some important info you need to know for hiking in San Diego, from when to visit, to where to stay to some gear essentials you don't want to forget.
What makes San Diego hiking so great?
San Diego is known for its beaches, but its canyons, woodlands, deserts, palm oases, and mountains (they even get snow!), which means that there's an adventure for everyone. The county is home to 1.4 million people. It's also home to numerous state, city, and county parks and national forests. Almost a quarter of the county is public land that's open for anyone to explore. San Diego is considered by many to be the second most botanically diverse county in the country. The endangered Torrey Pine, for which Torrey Pines State Park is named, is one of the rarest pines in the world.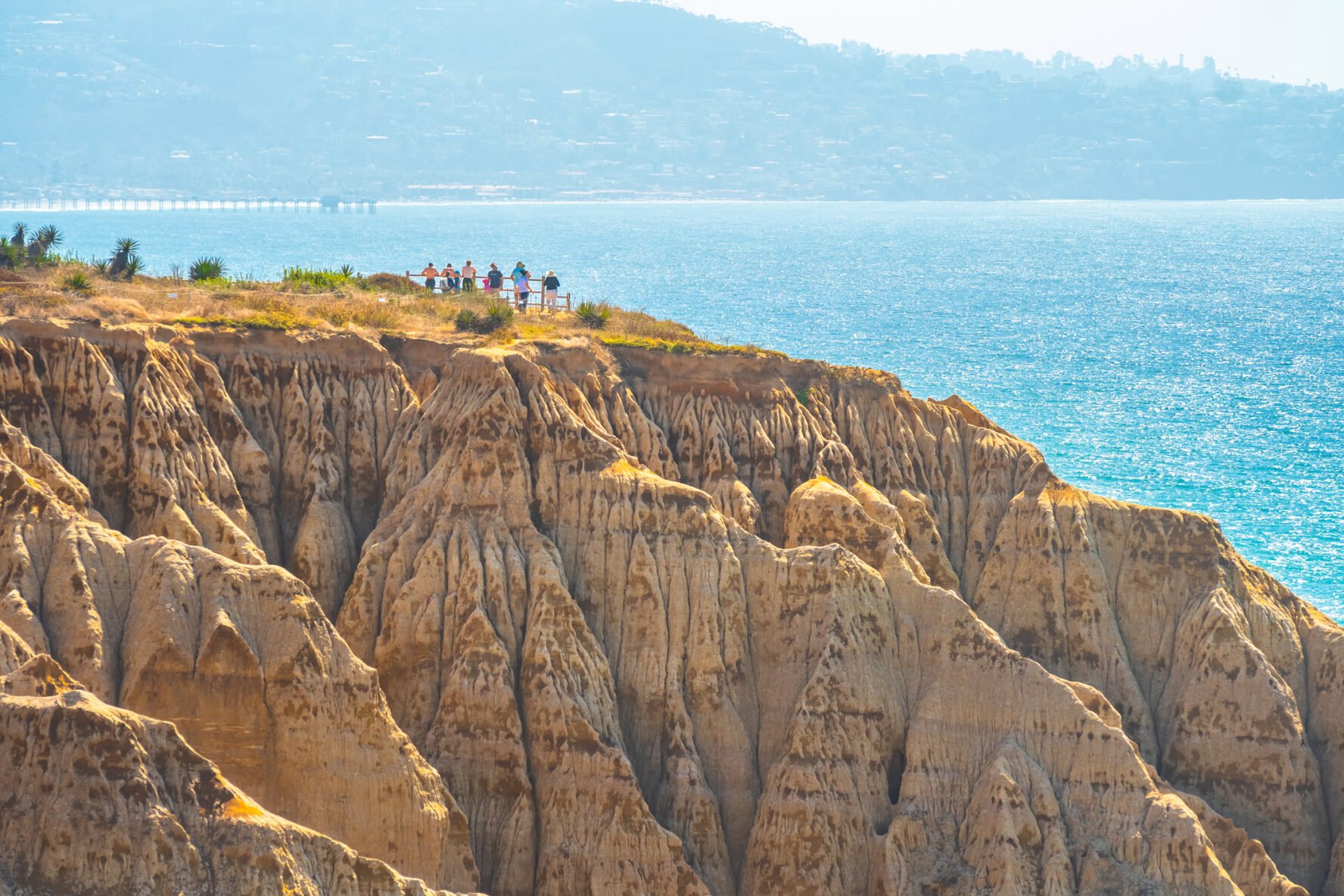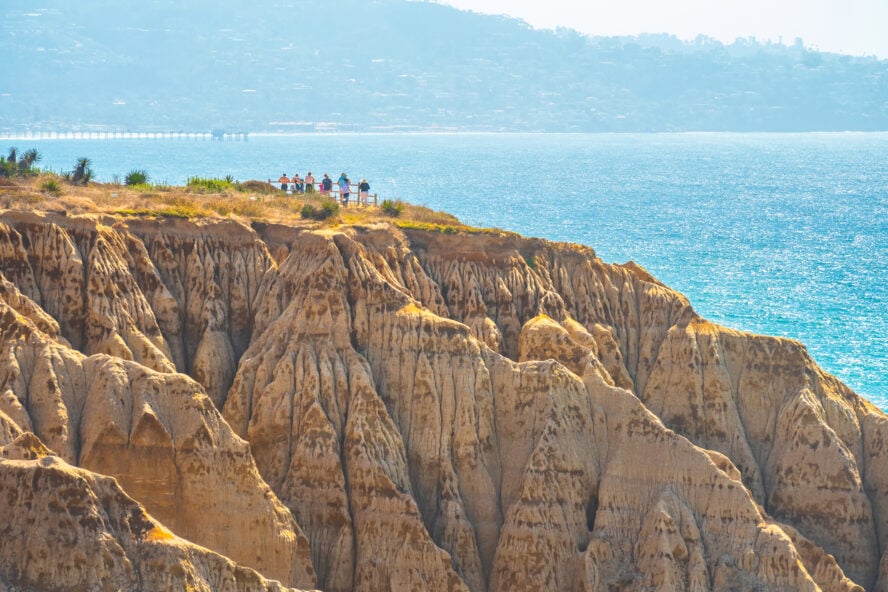 Because of the diversity in elevation in the county (sea level to 6,535 feet), it's home to six climate zones: Coastal, Coastal Inland, Upland Central, Transition, Mountain and Desert. For hikers in San Diego, you can walk through a lot of ecosystems and experience many different types of hikes — all with trailheads less than an hour from one another!
Hikers looking to explore all the county has to offer are best suited by renting a car, though there's plenty of bike trails and trailheads accessible by public transit.
When is the best time to visit San Diego for hiking?
Hiking in San Diego is a winter hiker's paradise. Where other hiking destinations may be trapped under snow for months, San Diego's desert, foothills, canyons, and even mountains are all pleasant temperatures. The county is known for having among the most sun anywhere in the country. For hikers, campers, and backpackers aching to get some miles in from December through February, San Diego has become the place to soak up Vitamin D and get in some nature time.
Although winters are pleasant, spring wildflowers in the desert attract photographers and Instagrammers from around the world. In late February through early April — especially in years after a big rain — poppies, cacti flowers, and rare California natives bloom to form a colorful carpet over the otherwise sandy landscape. It's a must-do event worth seeing at least once in your life.
If you want to see flowers but would rather not battle the crowds, coastal wildflowers bloom in April and mountain wildflowers bloom in April to May.
Should you hire a guide to hike in San Diego?
Experienced hikers will find their way around San Diego trails no problem. Beginner hikers can do the same with a little planning. However, a local hiking guide can show you the highlights of the area and take care of all the planning and logistics for you — a great option if you have a little time and want to make the most out of your day of hiking.
Stay cautious in the summer
As great as winter and spring are for hikers, San Diego is really a year-round destination. It's easy to find trails with comfortable temperatures whenever you visit. Cooling ocean breezes maintain mild temps along the beaches and bluffs, even when summer sun brings the Anza Borrego Desert up to 120°F. Keep in mind that the inland temps can be 15 to 20°F warmer than on the coast. It's smart to avoid hiking the desert during the summer and to exercise extreme caution when visiting some mountain destinations as well. Ditto for your pup. If you're hiking with a dog, check temperatures and pick your trails not just based on whether they allow dogs, but whether there's enough shade and water to keep your dog cool.
I'm local, so have the freedom to hike each of San Diego's distinct areas during their prime seasons. But if you're visiting from afar and want to get the best hike possible, plan your San Diego trip around the types of ecosystems you want to see.
Be prepared for varying temperatures and conditions
As you may have guessed, a county with beaches, desert, mountains, and woodlands has a lot of variation in temperatures and conditions. San Diego's elevations go from sea level to Hot Springs Mountain (6,535'), and from desert and beach to mountains that get snow. Temperatures depend a lot on where you are. As in most hiking destinations, conditions vary by elevation and season. For example, the Anza Borrego Desert is mild in January, but gets to 120F regularly in summer. Torrey Pines State Park right on the beach stays a consistent 60-80F year-round. Cuyamaca Peak, meanwhile, can get below freezing in winter but can be in the 90s in summer.
Pack the essentials: water and sun protection
Regardless of when or where you hike, San Diego's constant sunshine means you don't have to exert much much effort to start warming up — even in January. The dry air and lack of shade on many trails means your body will need more water than you think. Pack some electrolytes, too. One trick I often use when hiking in San Diego is to start around sunrise because it takes a few hours for marine layers to burn off or temperatures to otherwise rise. I avoid a lot of the crowds that way, too.
I love the sun in San Diego but that also means sun protection — including sunglasses, a sun hat, and sunblock — is essential year-round. Some San Diego trails, like Cedar Creek Falls and nearby Three Sister Falls, claim lives every year and rescues are common due to overheating and dehydration. While dogs aren't prohibited on most San Diego trails, some trails are too hot and exposed for most breeds to handle, especially in late spring, summer, and early fall. Be prepared and check weather and conditions before setting out on any of these hikes at any time of year — and be prepared to leave four-legged friends at home.
Plan your stay ahead of time
If you're visiting San Diego specifically for hiking, many of the world famous hiking destinations are in the eastern or northern part of the county away from the city center. If you're interested in desert or mountain trails, you may want to look for hotels near the towns of Julian, Alpine, or even Poway (which may be less expensive). Julian is famous for pies, apples, and cider. Even when I don't stay in town, I always get a slice.
If you're visiting during wildflower season — especially for Anza Borrego Desert State Park — I recommend making reservations for hotels and campgrounds before your trip. I've always had luck finding free or low-cost campsites in the desert from October through January, but it can get quite busy when the flowers are blooming, especially on weekends.
If you are visiting San Diego during summer or are more interested in city, beach, bluff, and lagoon hikes, you've got options. Torrey Pines, Del Mar, and La Jolla have beautiful accommodations and are closer to Torrey Pines State Park. The downside is you may need to book early and these areas tend to be pricier than other parts of the county. Unless you're into golf, you may want to avoid visiting during the U.S. Open at Torrey Pines.
Many folks will prefer to stick to Old Town or City Center, where it's easy to walk to restaurants and easily catch public transit or ride-shares to popular trailheads. You'll also have access to bike trails and the easy-to-use bikeshare system that not only gives you access to different neighborhoods to eat and visit, but also some of the more popular urban trailheads.
Are you ready to head out hiking in San Diego but want a little help from a professional guide with extensive knowledge of the area? Check out our guided San Diego hikes and join a group tour or head out with a private guide hiking in Torrey Pines or Cowles Mountain.