Bolivia's El Choro Trek is an Experience You Don't Want to Miss
Alpine peaks and lush rainforests come together on the El Choro Trek, and while I never know what this incredible hiking trail has in store for me, the discovery alone makes me follow its roads time and time again.
Bolivia is a world all its own. I've travelled the globe and cannot compare it to anywhere else I've ever been. While Patagonia's world-renowned treks—such as the Torres del Paine W Trek—feel like you've stepped onto a peak somewhere in the Alps, trekking Bolivia is something else entirely — it's almost untouched by time. People still live in the countryside, nurturing their cutlure and practicing traditions like they have for thousands of years. With barren alpine terrain dotted with glacial lakes on one side, and exotic rainforests bursting with life and color on the other, the El Choro Trek feels like a world tour of hiking packed in only four days.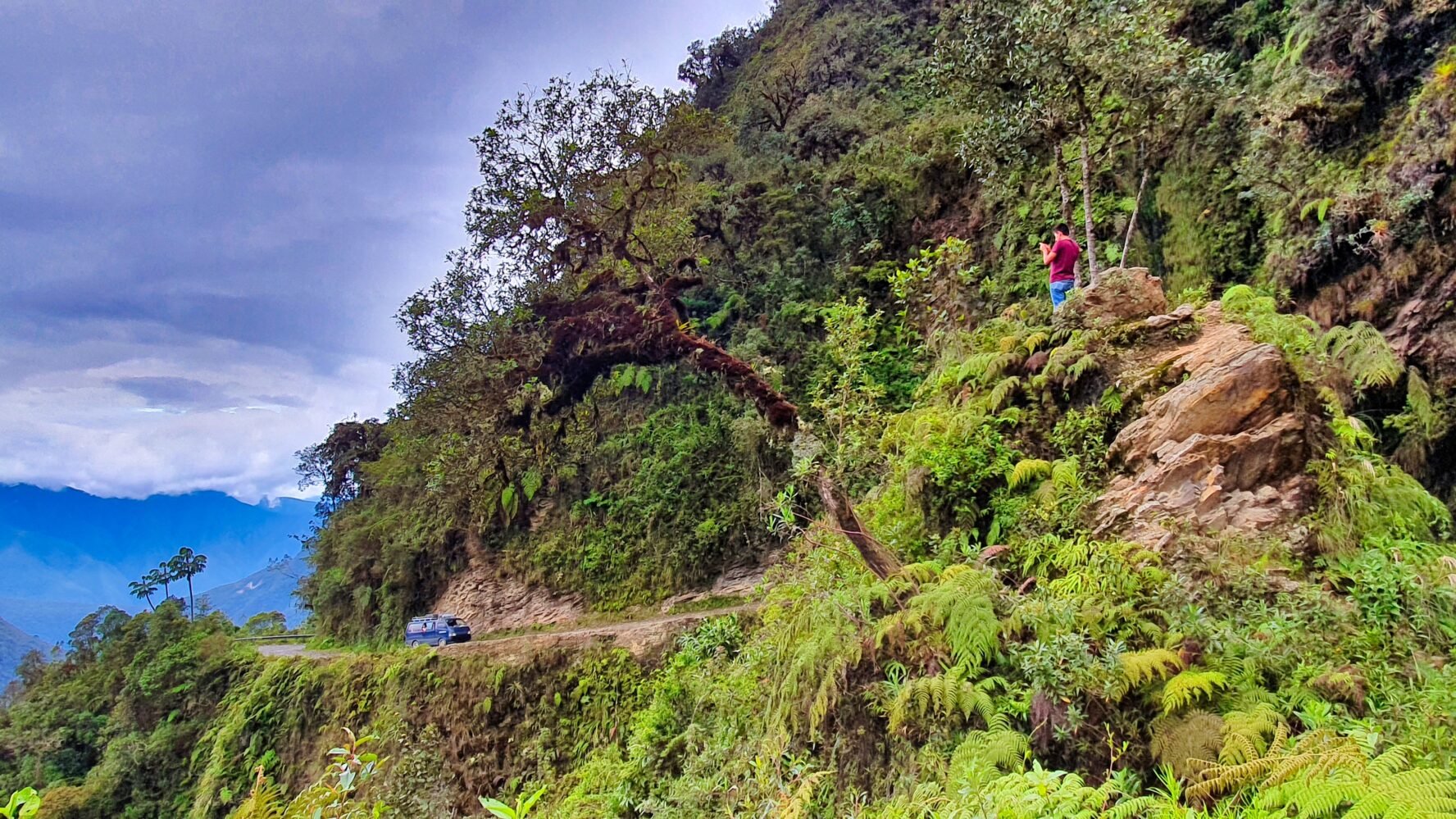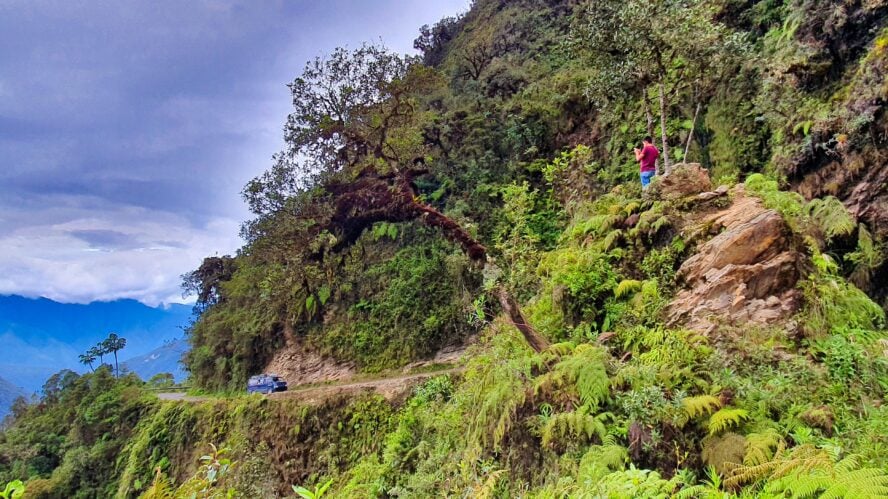 Pros and Cons of Hiking the El Choro Trek
Experience starkly different terrains in a matter of days
Discover a local culture that has stayed intact for thousands of years
Follow ancient Incan trails that take you deep into native flora
Supplying water can be an issue
The trail gets crowded during high season
Altitude sickness is a real issue and requires thinking ahead
What I love about trekking in Bolivia?
So, how come this isn't on the list of the best hikes in the world? I think it's because Bolivia is a locals destination. I'm originally from Argentina, where I guide for Montañas de una Vida. Kids in Argentina and the neighbouring countries can't wait for the day they get to go explore El Choro; it's almost like a rite of passage. Even though I'm a native Spanish speaker, sometimes not even I can understand the locals because there are roughly three dozen officially recognized Indigenous languages. Bolivia lets you get lost in its authenticity. While it follows the lesser known parts of the 500-kilometer-long Inca Trail network, El Choro isn't your typical tourist trek. Consider this an "off the beaten path" version of hiking the Inca Trail to Machu Picchu.
Bolivia has huge, 6,000-meter tall mountains, perhaps the tallest in all the Andes, save for the tallest peak which is actually in Argentina. The whole landscape looks like you've been transported to the Himalayas, with its mountains and valleys. This is where it gets interesting. Where you would normally find alpine forests, Bolivia boasts rainforests. You'll find yourself in the driest place possible and the wettest the next day. It's truly an ever-changing adventure!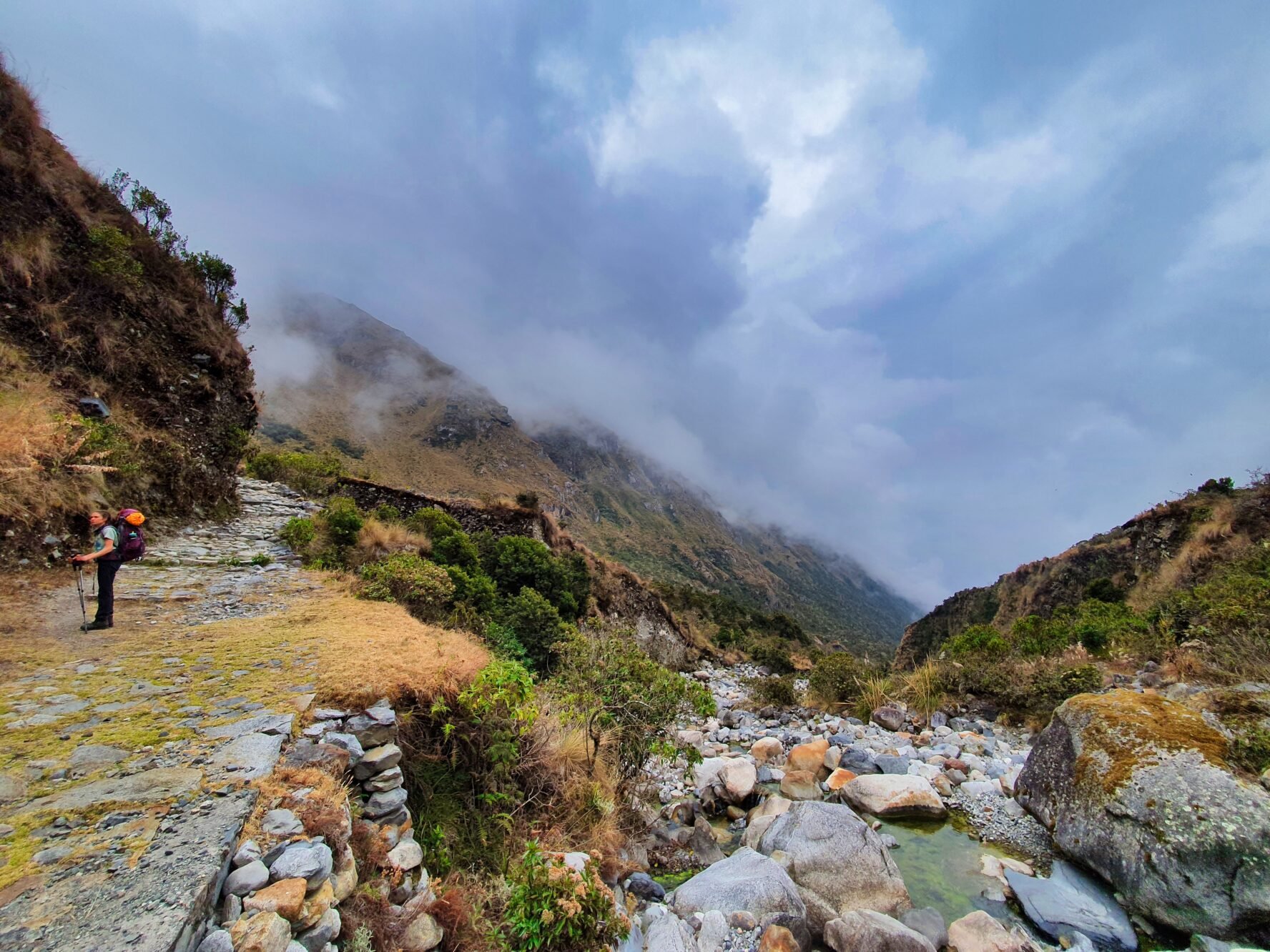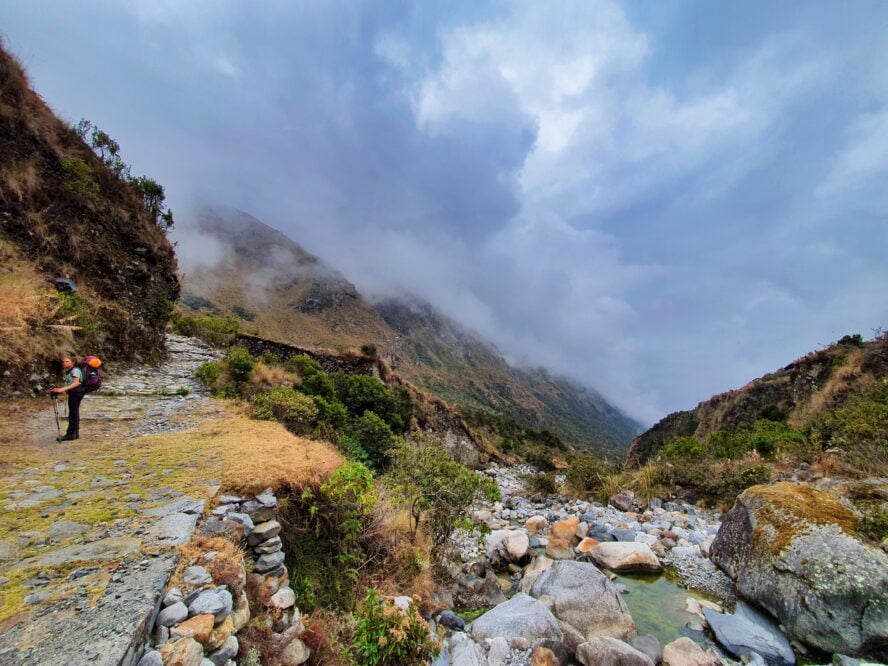 Hiking the Iconic El Choro Trek
Tourists usually hike the El Choro Trek in three days, but if you ask me, it doesn't do it justice. Four days is the way to go. (You can check out the El Choro Trek route map on FATMAP). If you do it in three days, you'll have to hike for more than 10 hours a day and you'll barely get to look around and soak in the ancient beauty of the place. Four days is a much more chill ordeal and a better opportunity to connect to this wild and unique place. This allows you to get to know the locals, as well. Bolivia's nature is beautiful, but what will take your trip from pretty good to unforgettable is experiencing the local culture — there is nothing like it anywhere else on the planet.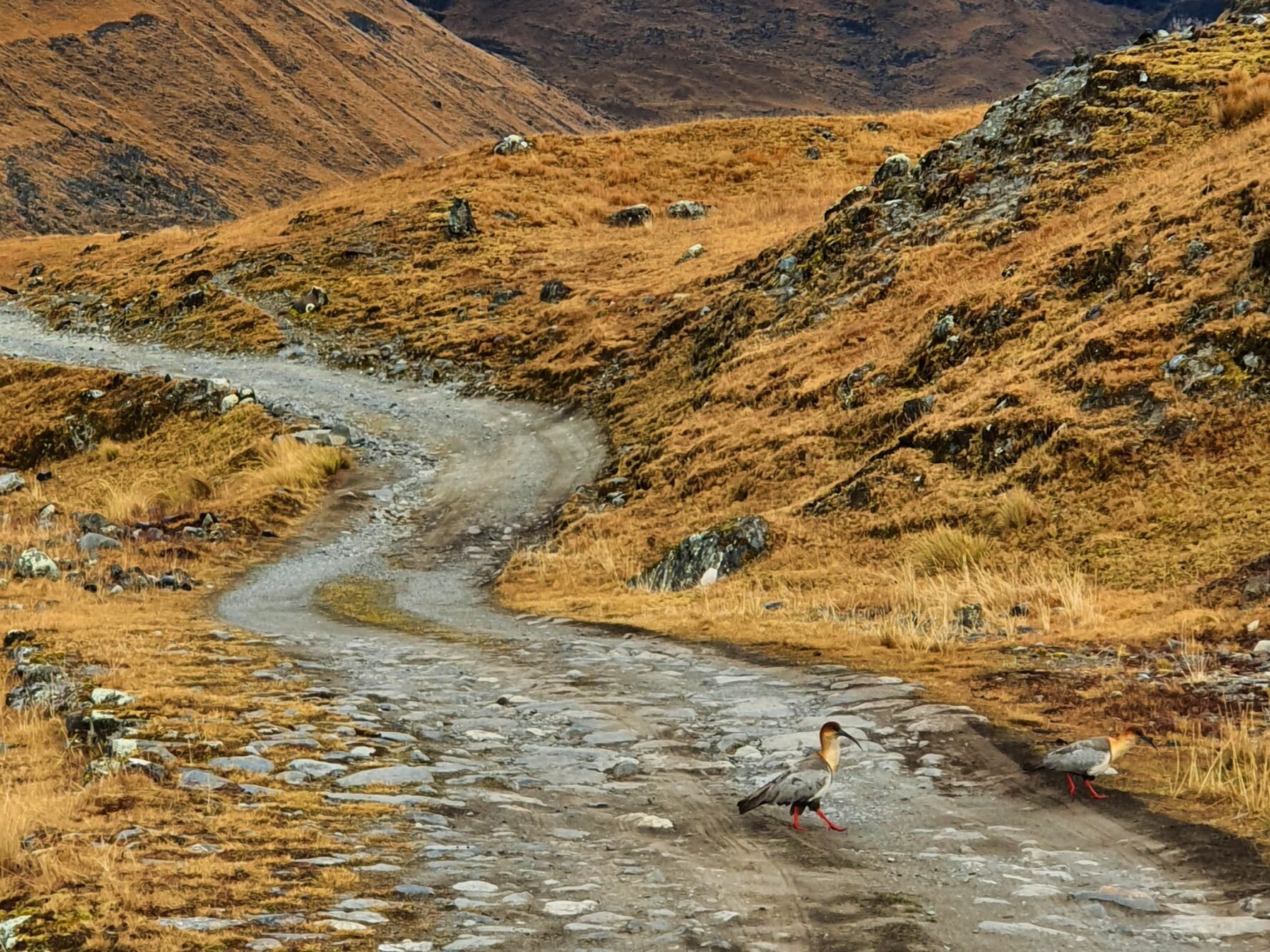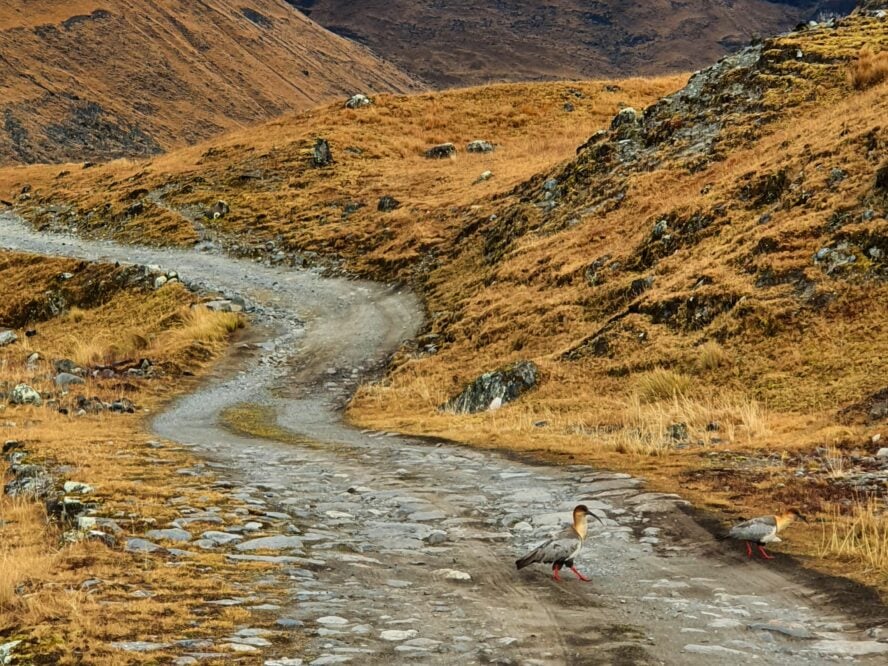 Day One: Trekking through the high alpine terrain
As opposed to starting from La Cumbre, a small town south of the trek, I prefer my first day starts in the heart of the action. I always skip the not-so-scenic three-hour mining road route from town and start the trek in Huayna Potosí. All you have to do to get here is take a mini van from La Paz. Right off the bat, you get to see those mountain views you came here for. From there, I go on a short hike up to a pass. The 400-meter elevation gain hardly feels like a chore, since you get to see amazing glacial vistas along the way.
The trek dives down into a deep valley where the first campsite awaits, Samaña Pampa. I set up camp in the shadow of big mountains, which are to thank for the beautiful alpine views. Even though it's far above the treeline and alpine, the terrain is surprisingly easy to hike. The real challenge is the altitude, so make sure you keep track of your health!
Day Two: Linking up with the Incan trails
On the second day of your El Choro Trek, you'll finally see those Incan features the area is known for. From paved steps to ancient ruins, this is the day to walk among history and possibly my favorite day on the trek. Since we're leaving the high alpine terrain, it's only natural that this is where the trek turns downhill. We'll be losing 2000 meters of elevation, to be precise. Local flora only amps up this experience. Yunga is a special type of Andean vegetation, and it's in stark contrast to high alpine terrain hiked only the day before. It's not quite like the vegetation you'd find in the Amazonian rainforest, but it is the perimeter of it. It gets wetter, it's warmer and this is where I start shedding some of the layers off.
The trek winds through a bunch of small, authentic Andean villages including Challapampa. Don't miss out on the opportunity to see how the locals live. They live in nature, but with nature as well. From the materials they've gathered to build their houses to the way they grow their own food, I promise it's going to be unlike anything you've seen. It might make you want to live a simpler life, too. The second day marks traversing from one environment to the other.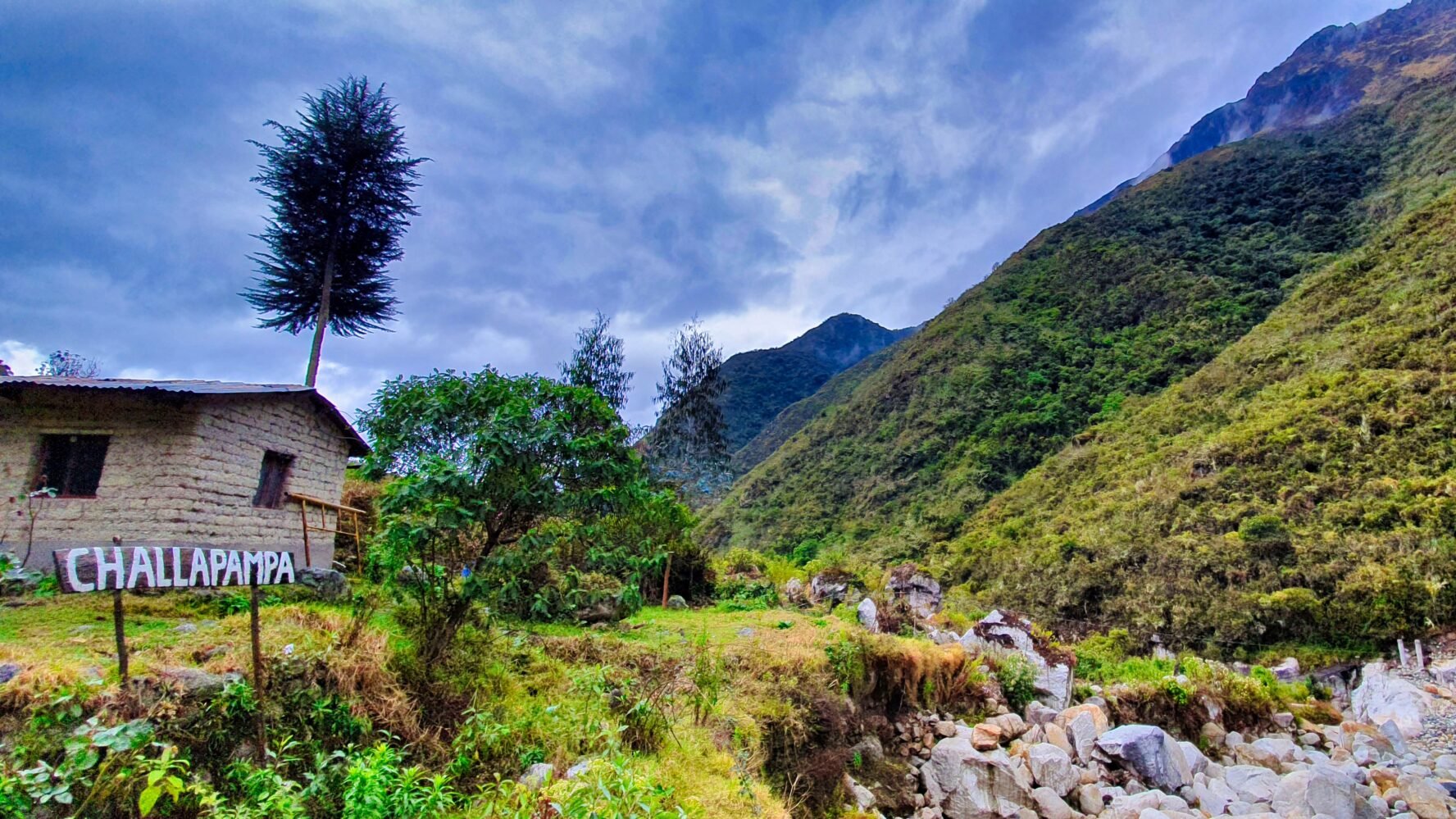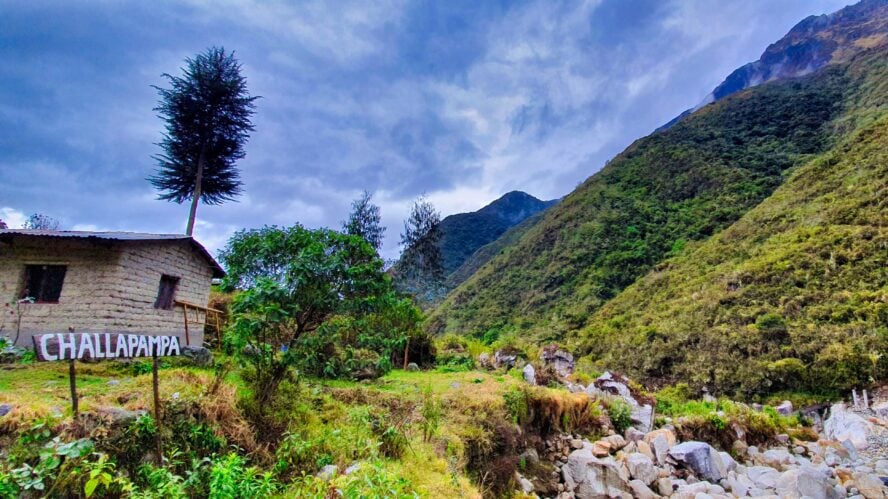 Day Three: Hiking among clouds and with wildlife
The trek gets crowded on the third day, but not in the way you might think. While you might encounter a local here and there, you'll actually see a lot of the native wildlife. From condors flying overhead to restless hummingbirds, this part of the trek is buzzing with life. As we make our way down the hill, we're nearing Río Jucumarini. One of the forest's inhabitants that calls that same river its home is the spectacled bear, also known as the Andean bear or the Jukumari bear. They're the only bear species that lives in South America and they kind of look like reverse raccoons. The fur around their eyes is lighter and makes them look like they're wearing glasses, which earned them their name. I haven't seen them that many times, but there are lots of birds to make up for it.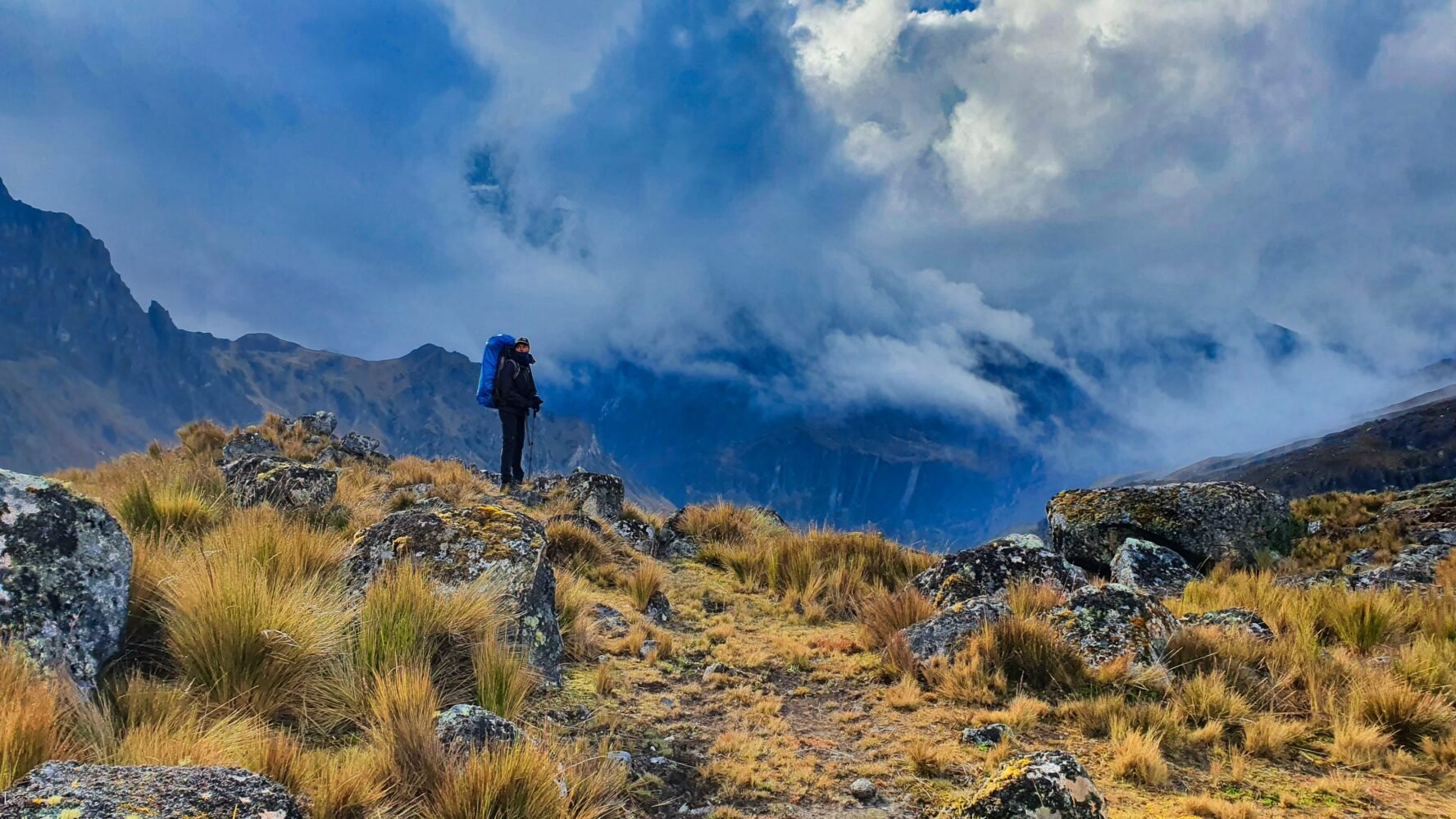 By now, we will have dove into the rainforest. It's humid, it's even hotter than the day before and there are clouds forming in the pit of the valley. They'll be climbing up its walls, but we'll hike through them and eventually surpass them and reach Sandillani. How often do you get to say you walked through clouds?! The trail dips down the Incan steps once again, taking us closer to the river.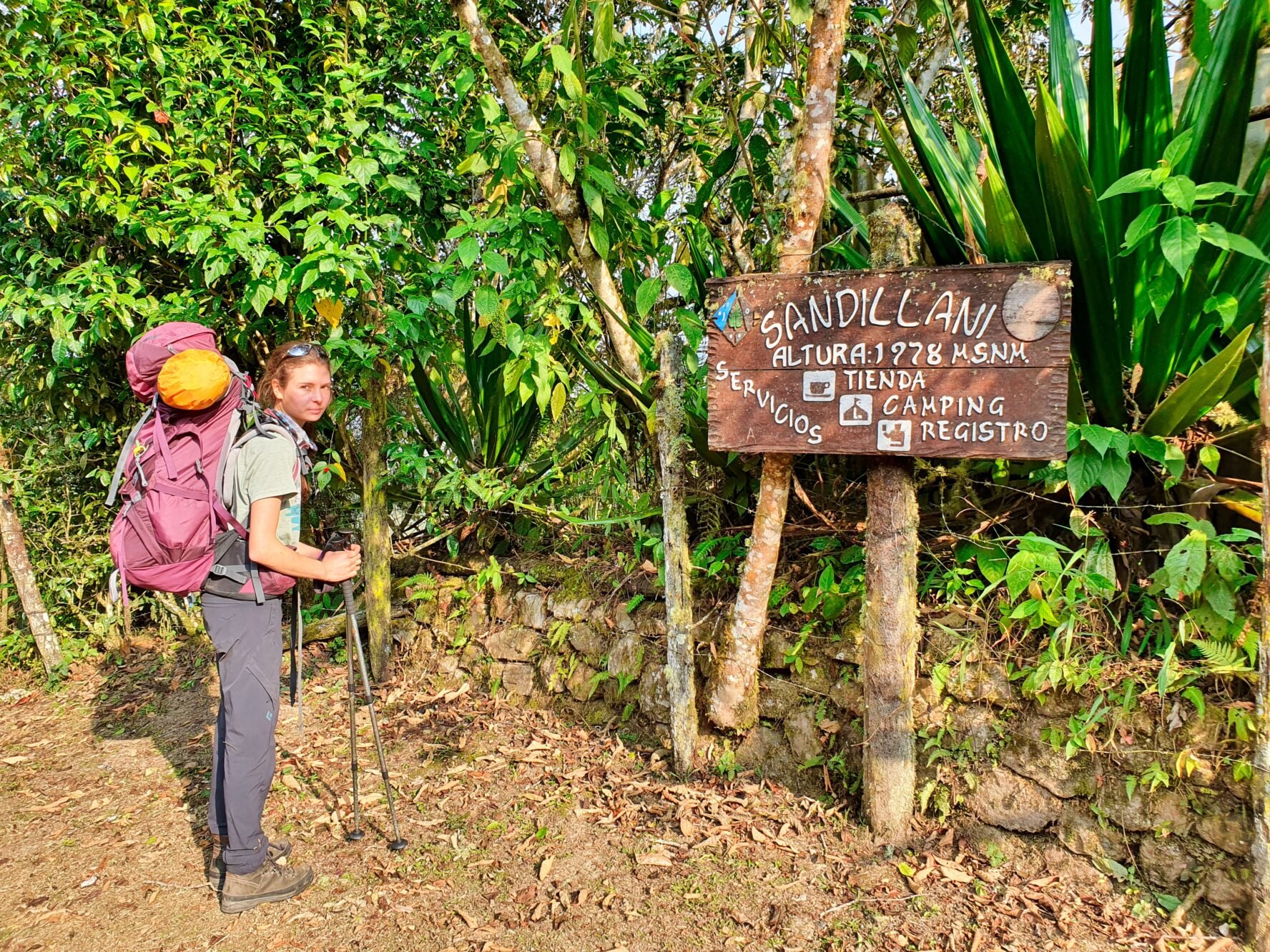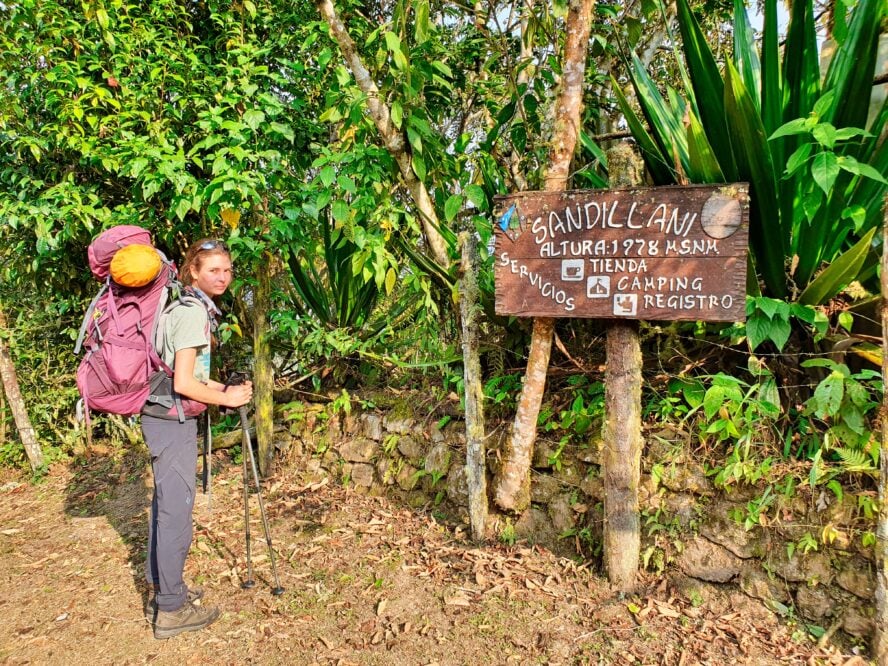 Day Four: Back to civilization
The final day won't ask too much from you. In comparison, it's milder and allows you to cool down as your El Choro adventure comes to an end. All that's standing between us and Chairo is an easy three-hour hike. We'll see Incan tambos, cattle enclosures, which still stand to this day. The Yunga gets even more colorful than the day before and wildlife more active, giving us a gorgeous send-off.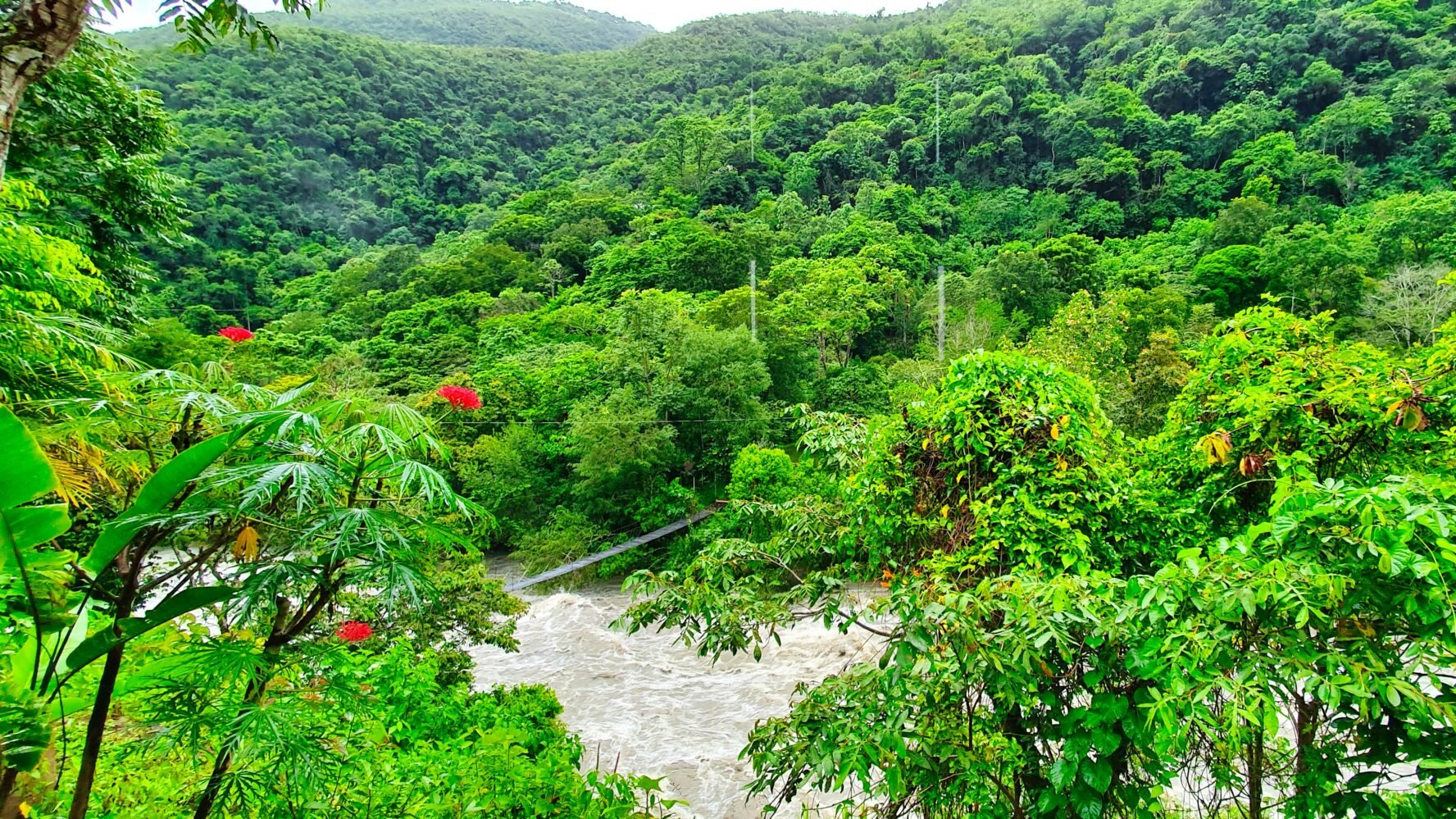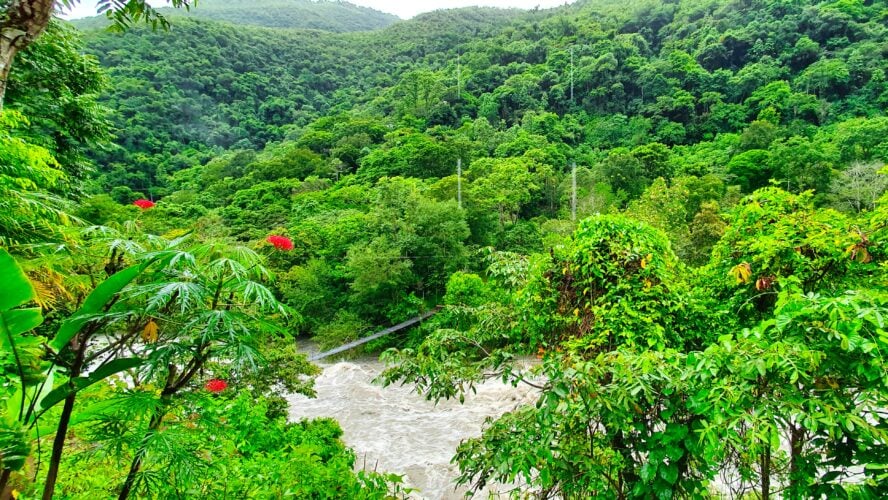 My Insider Tips for Planning Your El Choro Trek
El Choro is a true moderate trek that any outdoor enthusiast can do. However, there are a couple of things to keep in mind before you dive into this wild place. I listed everything you'll need to make this trip your favorite adventure yet.
When to visit El Choro
You'll want to plan your El Choro Trek anywhere from April to October, with April to August being the high season. Summers in Bolivia are monsoon season, so expect rain. Winters are colder, but they are also drier and there aren't as many tourists. If you go too early, there might still be snow, which adds unnecessary difficulty.
Watch out for altitude sickness
If you can, fly in La Paz a couple of days prior to your trek, ideally three or four days. La Paz itself stands at 3,640 meters, which is very high above sea level. The altitude will hit you straight away. Don't stay at La Paz on your first day. The Moon Valley is an area that sits 400 meters below La Paz and is a great place to sightsee and explore while you get acclimatized. I advise you to have a checkup prior to your trip. Your doctor can even prescribe medication to ease the whole acclimatizing process.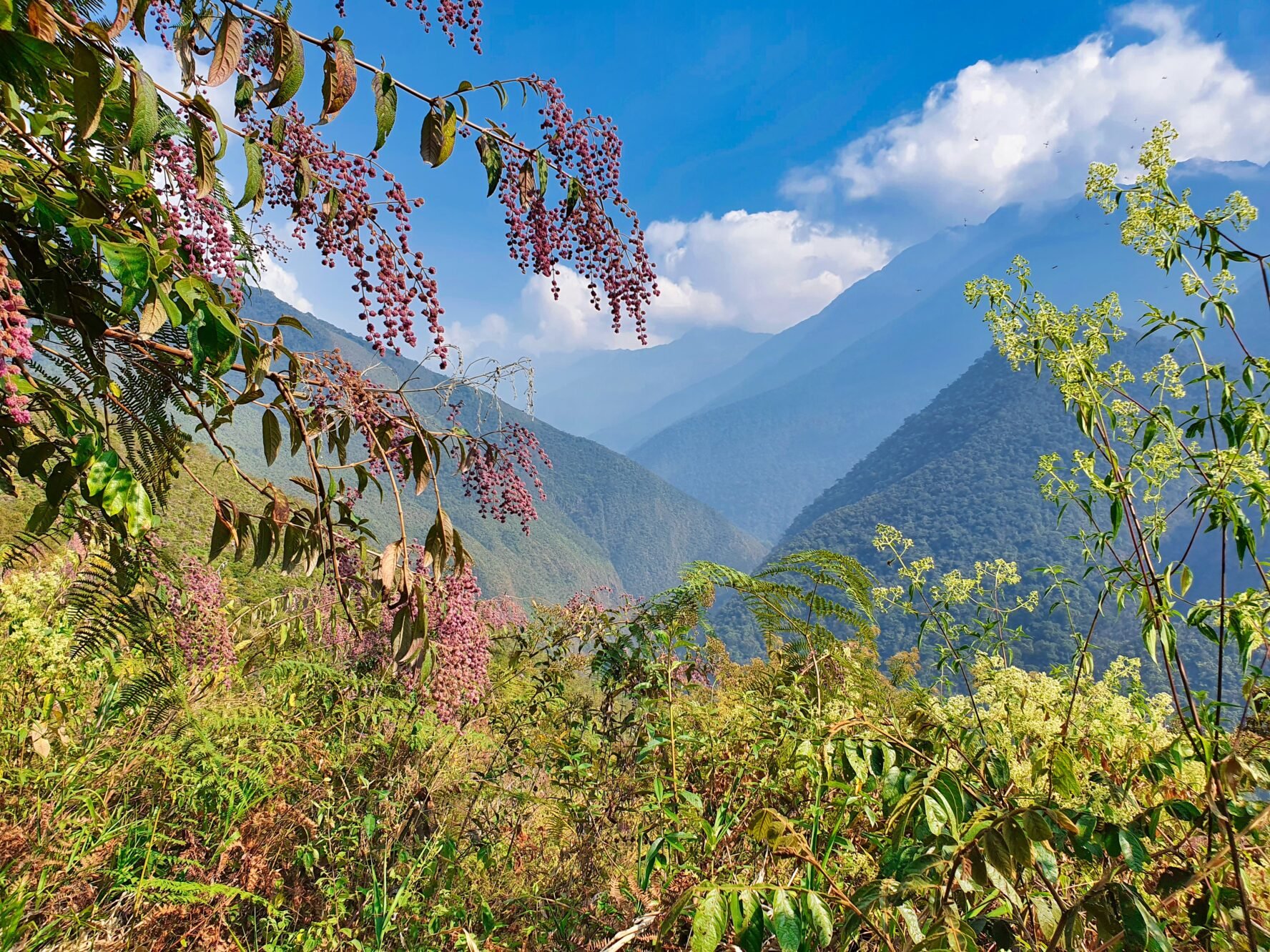 Who can hike the El Choro Trek
If you don't lead an active life, skip this trek. The terrain isn't too challenging, but the trek does require you to be in good physical shape. You'll be hiking long distances and doing it really high above the sea level. Elevation gain and loss can hit you harder than you might think. It's very demanding for your legs, even if it's mainly a downhill trek. You'll actually be wanting to hike uphill.
Can you hike this trip solo
El Choro Trek can be a solo adventure. However, hiking with a local guide might be that one thing that takes your experience from memorable to unforgettable. Part of the appeal of the El Choro Trek is its doability. However, if you don't start your trek in La Cumbre, the route can get difficult to follow. Having a guide means taking any guesswork out of the game, from permits to where to get water. Most guiding services offer a chef, too. Food is arguably one of the best ways to get to know the culture. I can't stress this enough, but the locals really do make this trip a one of a kind experience. Any chance you get to get to know them — use it!
Do you need a permit
You do need a permit to hike the El Choro Trek. You can obtain your permit in Samana Pampa. Once you're in, you won't have to worry about campsite reservations and such. As far as logistics go, this trip is a breeze.
What to pack for your El Choro Trek
While going from one extreme environment to the other is part of the appeal of the El Choro Trek, it does require some preparation on your end. Make sure you pack waterproof layers that are easy to take off in the more humid and warm parts of the trek. Since the trek is mostly downhill, you'll want to wear sturdy hiking boots with lots of ankle support. Your regular 30L day pack is all you need, but make sure you pack an additional water bottle, as it's better to have extra than find yourself without it.
And that's it! I hope I've inspired you with my description of what I consider to be one of the best hiking trails in the world. The landscape, the culture, the history — it all comes together on this trail to provide the adventure of a lifetime. If you're planning your next big trip, I highly recommend you add the El Choro Trek to your short list of ideas. I promise, you won't be disappointed.