How to Spend 2 Weeks Hiking the Annapurna Circuit in Nepal
With over 100 miles of dense forests, terraced rice fields and dramatic high-altitude walks through the Himalayas, this is one of the most awe-inspiring long-distance treks in the world.
What's the first image that comes to mind when you picture Nepal?
The common answers I get are "mountains," "cliff faces" and "Sherpas." But what if I tell you that the Annapurna Circuit will take you through dense jungle and sprawling rice fields in the clouds? Or that one second you're forging a path through undergrowth, the next you're treading on snow-capped mountains?
Snaking through several distinct biomes, this legendary trek around the Annapurna mountain range—named after the Hindu goddess of food and nourishment—feeds the soul and heals the mind. As you loop from one village to another, you shed the cobwebs of everyday life and, passing through the highest point at Thorung La Pass, come down the mountain feeling cleansed.
This is one of my favorite treks in the whole world, and I'd be glad to tell you all about it.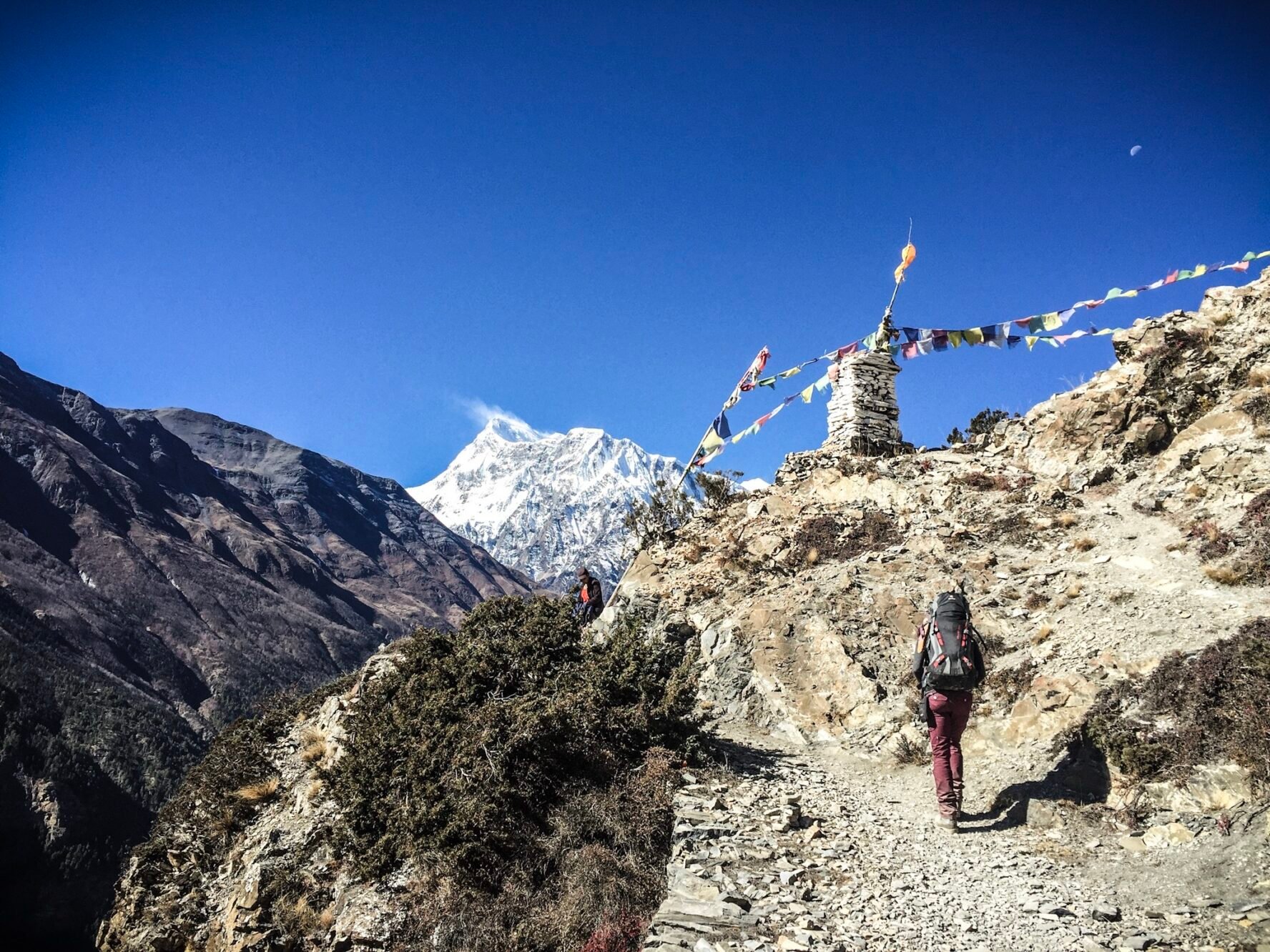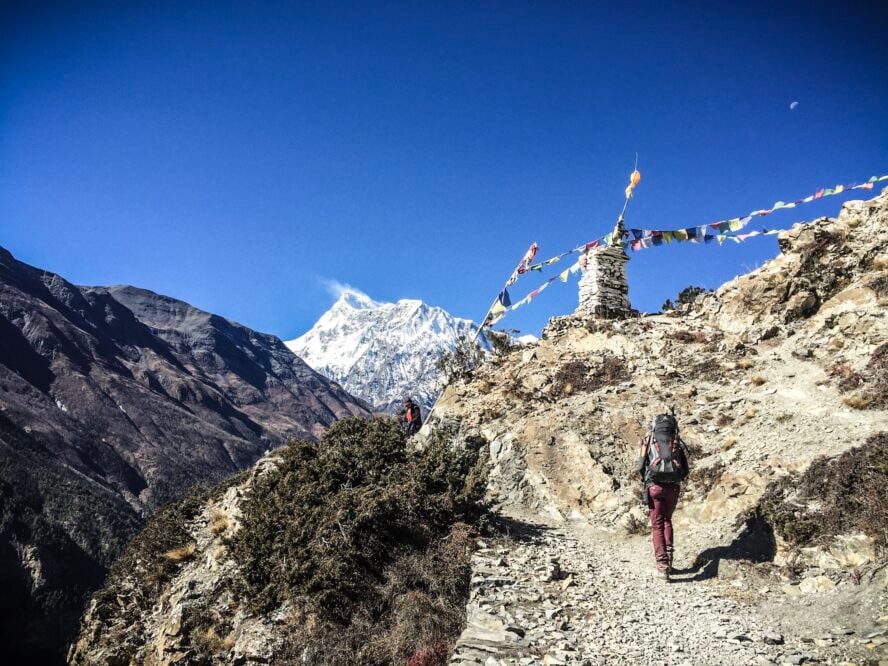 Pros and Cons of Hiking the Annapurna Circuit Trek
Arguably the world's greatest long-distance trek
The Nepali are renowned for their excellent cuisine and warm hospitality
Anyone with reasonable fitness can tackle the Circuit
The high elevation can prove difficult for some
Planning and completing this trek requires serious time and dedication
Surrounded by goliaths on all sides, Nepal lies on the southern slopes of the Himalayan mountain ranges between India and China. Around 75 percent of the country is covered by some of the most rugged and difficult mountain terrain in the world, which naturally makes it a favorite destination for hikers and climbers.
Due to great changes in elevation, Nepal's climate ranges from monsoon conditions in the Terai lowlands all the way to Everest's ice cap climate—four distinct ecosystems from just several hundred to over 29,000 feet. The Circuit alone has 15,000 feet of elevation gain. This unique feature endows the country with wildly diverse flora and fauna. Animals such as deer, buffalo, tigers, leopards, and even elephants and rhinoceros all make it their home.
Depending on who you ask, there might even be the elusive Yeti hiding somewhere deep in the mountains!
What Is the Annapurna Circuit?
Fast facts:
Difficulty: Moderate

Length: 230 km (145 miles)

Duration: 15-20 days

Starting elevation: 760 meters (2,493 feet)

Peak elevation: 5,416 meters (17,769 feet)
Where is the Annapurna Circuit located?
This backpacking tour encircles the Annapurna range in north-central Nepal, crossing two river valleys for a total of around 230 kilometers (145 miles) over the course of 15-20 days. It's most often hiked counterclockwise to allow for easier acclimatization. Starting in the small municipality of Besisahar, you ascend into the highlands of Nepal to reach Thorung La Pass, then descend to the terminus in Pokhara, the country's vibrant tourist capital.
The Annapurna Circuit runs the full gamut of conditions, from precipitous lush forest in the lowlands to the pine-forested highlands to grasslands, barren alpine mountains and more. Villages dot the circuit, and locals welcome trekkers, offering accommodation in traditional teahouses, incredible food, homemade yak-milk tea and friendly company.
What is the cultural significance of the route?
For centuries, the Nepali people have traveled this loop, connecting with the land, visiting relatives and making the pilgrimage to sacred ceremonial sites. The most important of them is Muktinath, a sacred place for both Hindus and Buddhists. It holds one of the eight most sacred shrines for Hindu Vaishnavas and one of the oldest Hindu temples of Vishnu.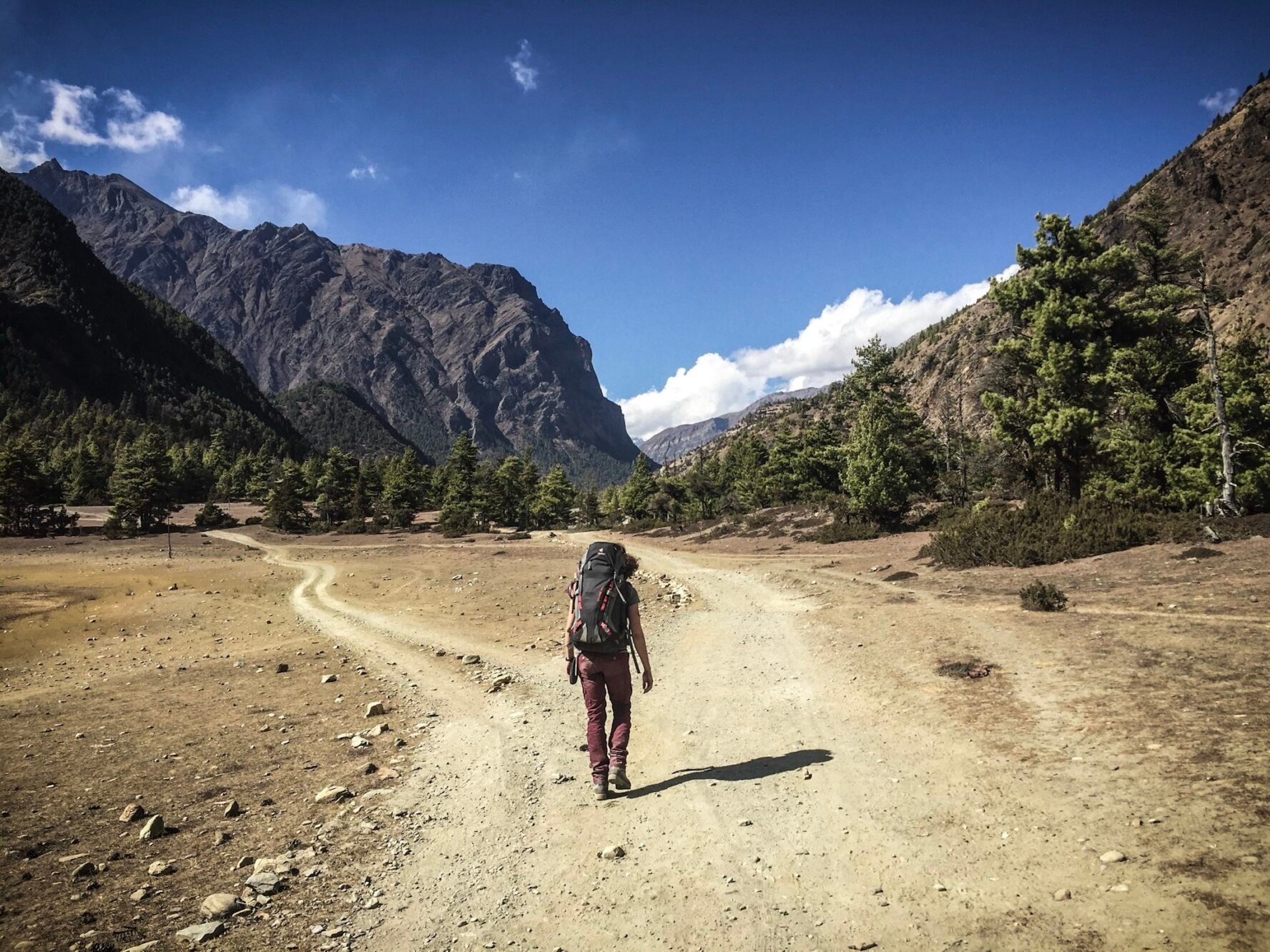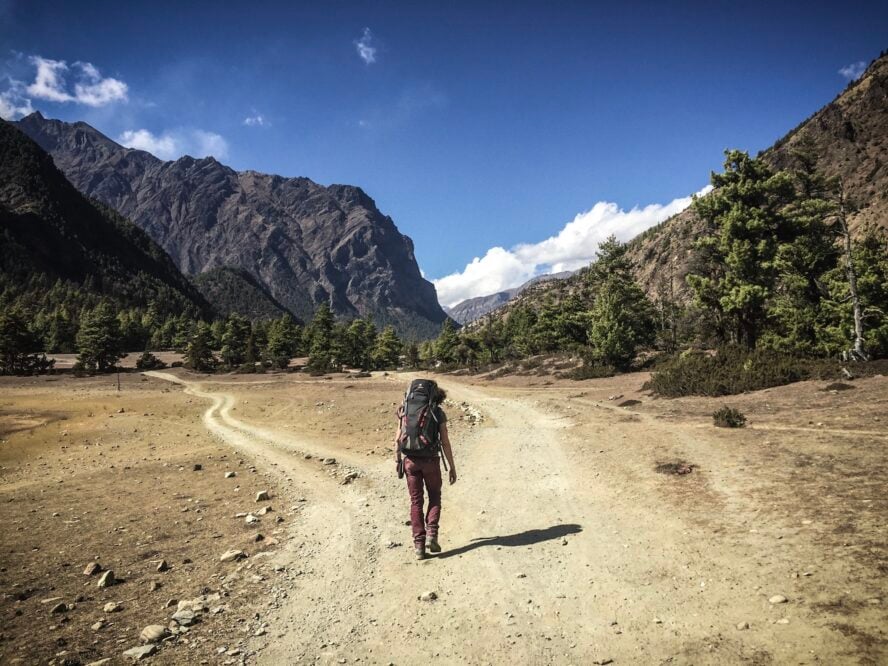 Nepal Is Why I Became a Hiking Guide
I was born in Spain, but for over a decade now I've been living in Iceland, where, along with my partner Mónica, I run
Amarok Adventures
, an outdoor adventure guiding service for mountaineering and hiking. We organize
hiking adventures in Iceland
, the
Faroe Islands
,
Nepal
, and
Greenland
, with more destinations coming up.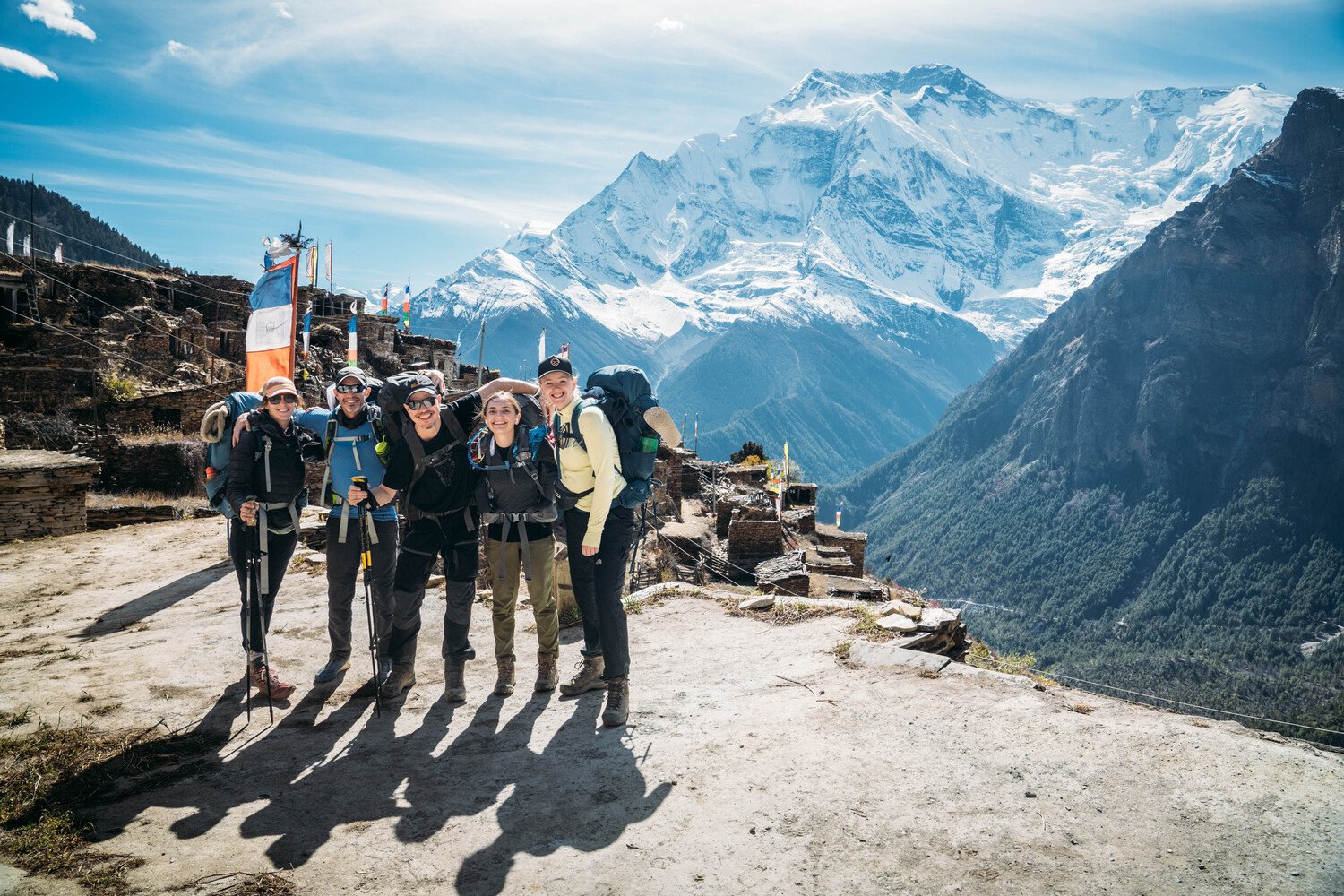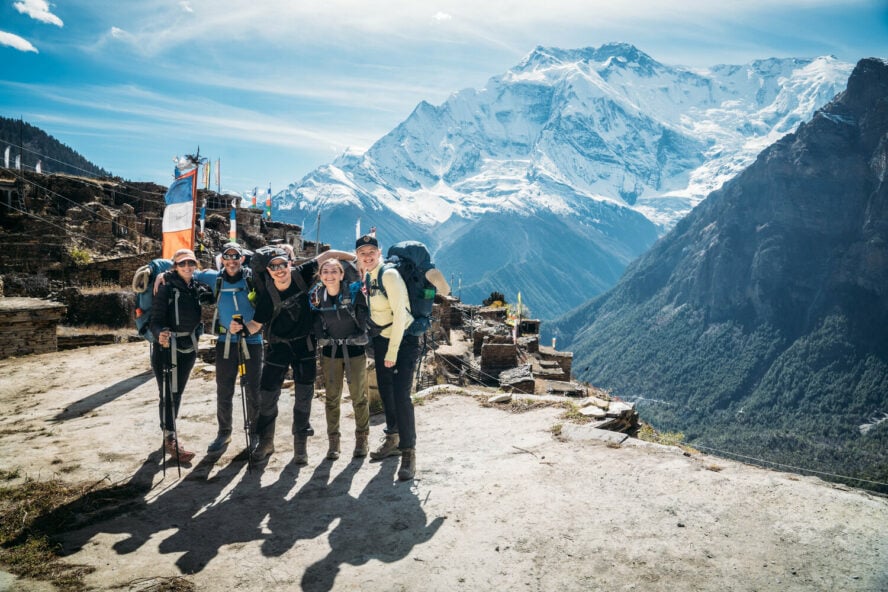 I inherited my love of adventure from my grandfather, an accomplished skier who took us to the mountains whenever he had the chance. When I grew up, I naturally started applying for outdoors-related jobs.
That's how I became a trekking guide in Chilean Patagonia and started leading kayaking tours in Greenland. When I met my partner Mónica on a trip to the Icelandic Highlands, everything fell into place. We traveled to Nepal together, then set up our own company in Iceland. We've been on many incredible adventures since then, but Nepal continues to hold a very special place in our hearts.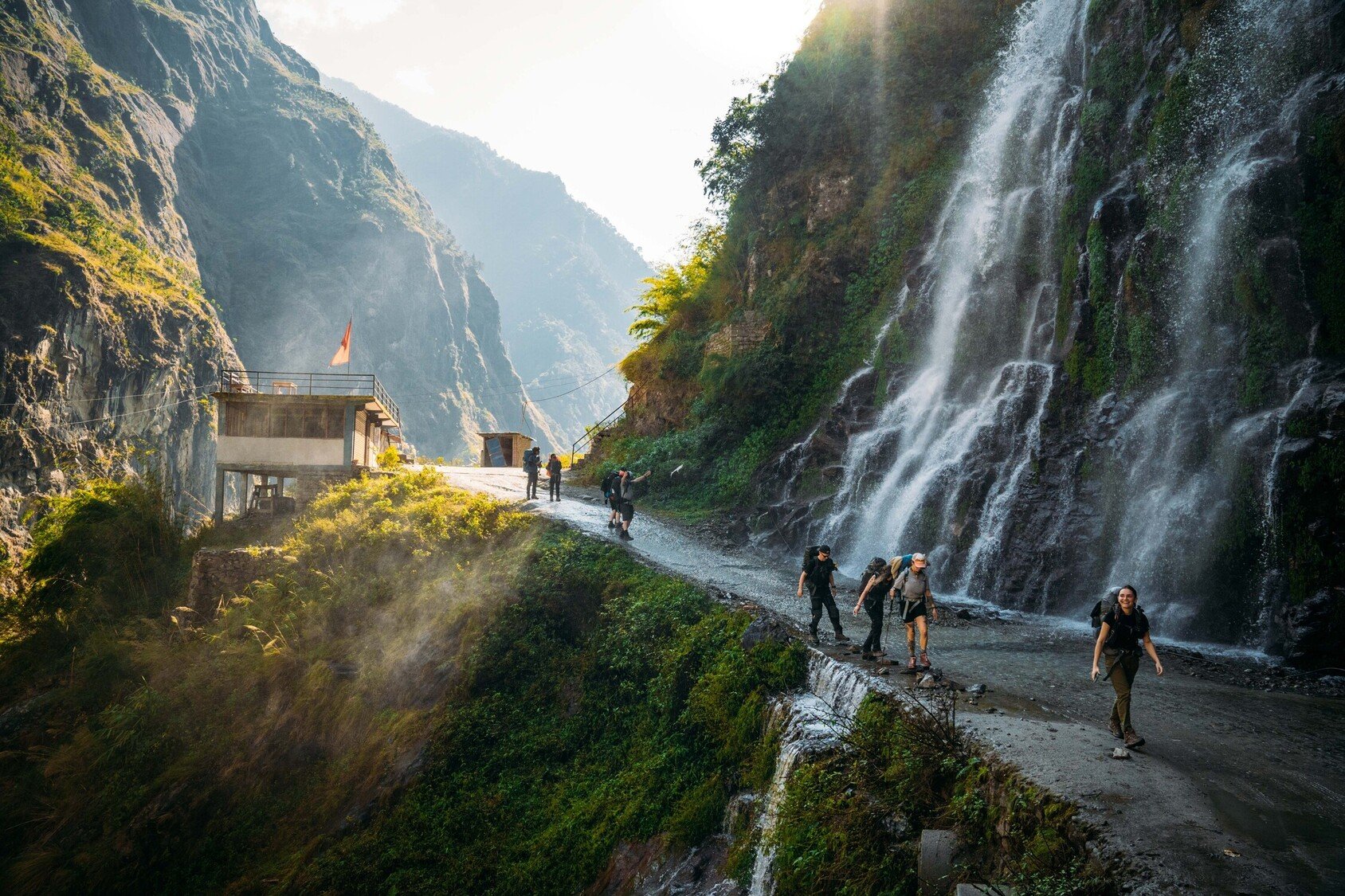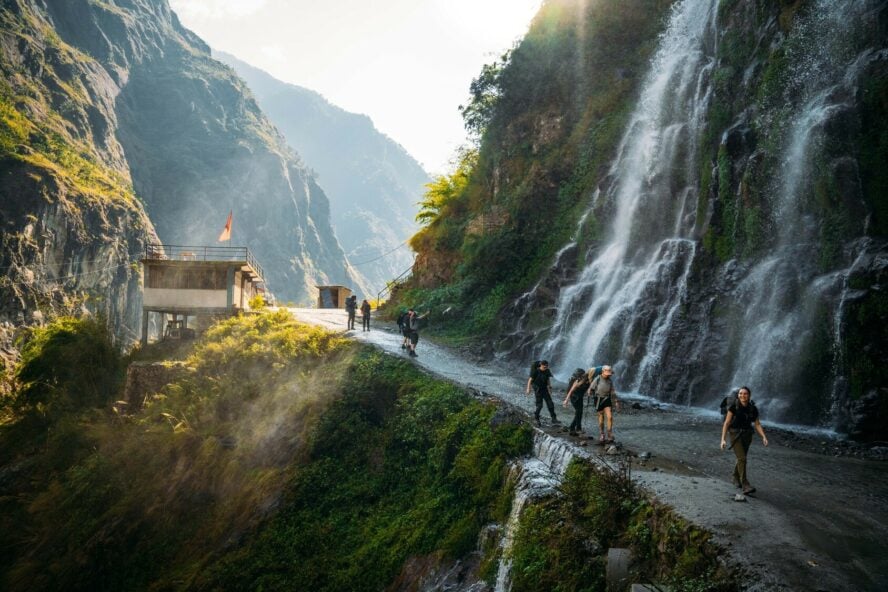 Nepal is a diverse society with a rich culture
What I love most about guiding is the connection with the people. No group is ever the same, which is why every trip is a unique opportunity for people from all walks of life to gather in a remote location, share their stories and bond over a singular goal—exploring the vast beauty of the natural world around them. It's an experience and one I look forward to every time.
One of my favorite things about
trekking the Annapurna Circuit
, especially compared to Everest Base Camp, is that there's much fewer people around. We always try to get away from large groups and take less-trodden paths, opting to stay in small villages and support local businesses.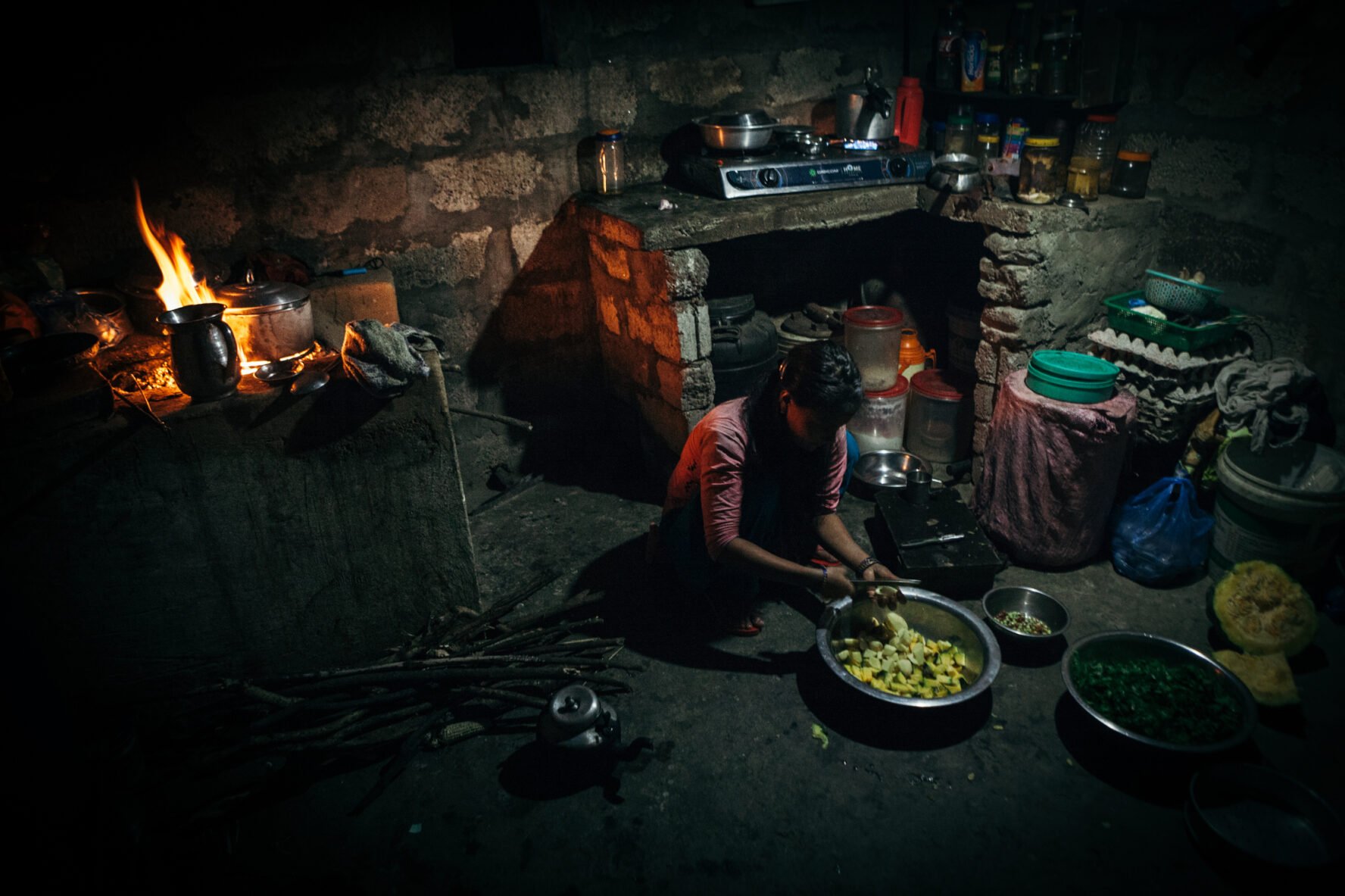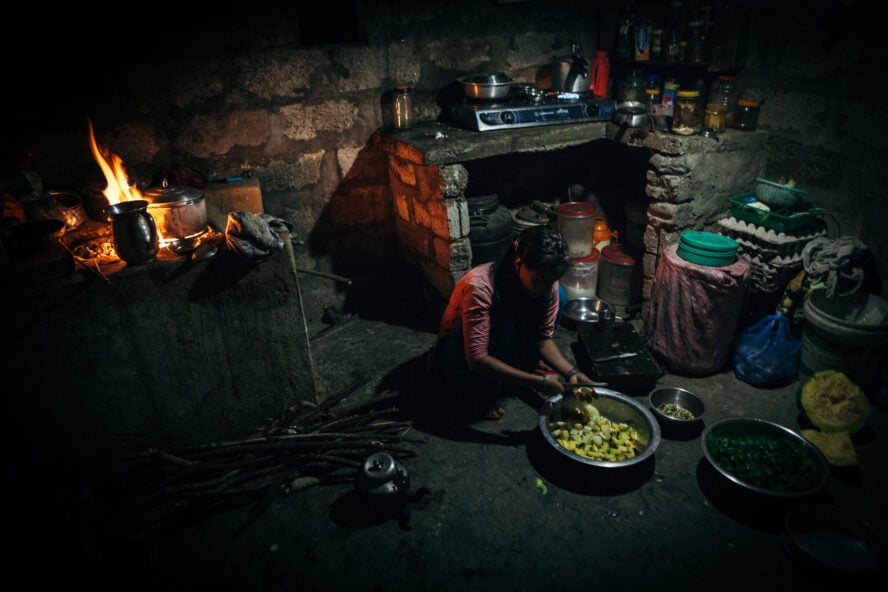 Nepal is a pluralistic society where different religions coexeist peacefully and foreigners are welcomed with open arms. During your trip you might see religious rituals and practices not common in the West, but as long as you're respectful towards their culture, the Nepali will treat you well.
In my experience, locals are used to tourists and can be indifferent towards guests in famous villages featured in guidebooks, whereas the inhabitants of smaller villages are extremely friendly. It's impossible not to fall in love with the Nepali when you experience their generous hospitality, warm smiles and, most of all, their great cuisine. Seriously, they're the best cooks I've ever seen in my life!
Trekking the Annapurna Circuit: The Itinerary
Now that I've given a bit of background of myself and the area, it's time to get into the Annapurna Trek itself.
How long does it take to hike the Annapurna Circuit?
I recommend blocking off three weeks so that you can take your time along the trail, though it can be done in as short as 15 days. With that,
this is how we lay out our
15-day Annapurna Circuit itinerary
: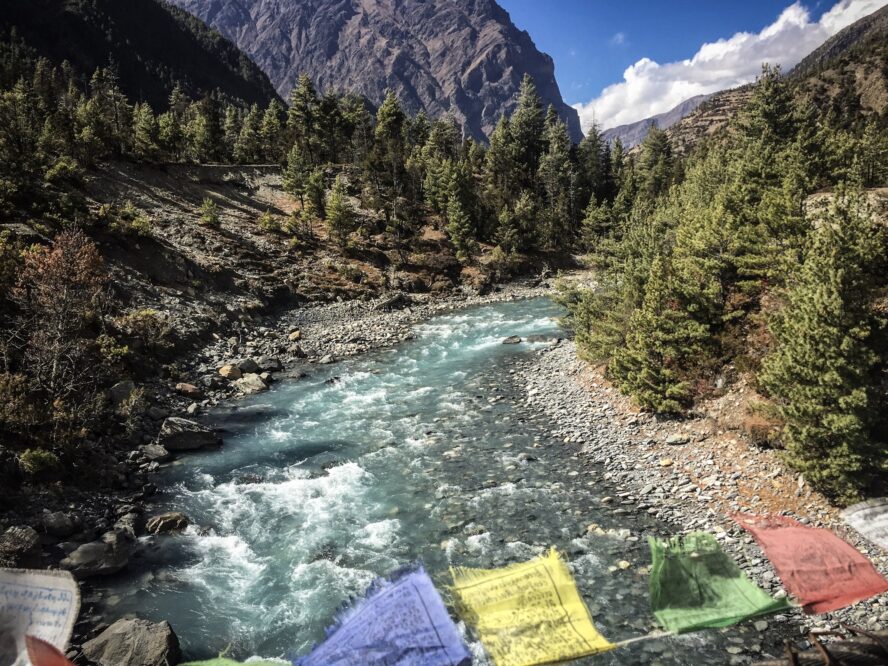 Days 1-4: Welcome to the Kathmandu Valley
For guests that hike with us, they arrive at Tribhuvan International Airport in Kathmandu, and we will provide transportation to a hotel in the city center. Once the entire group gathers, we have dinner together and discuss the details of our trip. This gives us the chance to get to know each other and make sure everyone's suitably prepared for the trek ahead.
Afterwards we have a day off to manage our permits, stock up on any additional gear we might need, and freely explore the vibrant city of Kathmandu. On the third day, a local bus will take us to Besisahar, where our trek will begin at an elevation of around 1,000 meters. From here, it's a short ride to the village of Jagat. After spending the night, you'll get to experience Nepal's jungle landscape firsthand before crossing the Marsyangdi River on one of the region's famous suspension bridges.
Following the route up a steep slope you'll pass through the villages of Jagat and Syange, continuing on to the village of Tal, located in an enormous glacial valley. Tibetan symbols begin to appear along the way in the form of colorful prayer flags.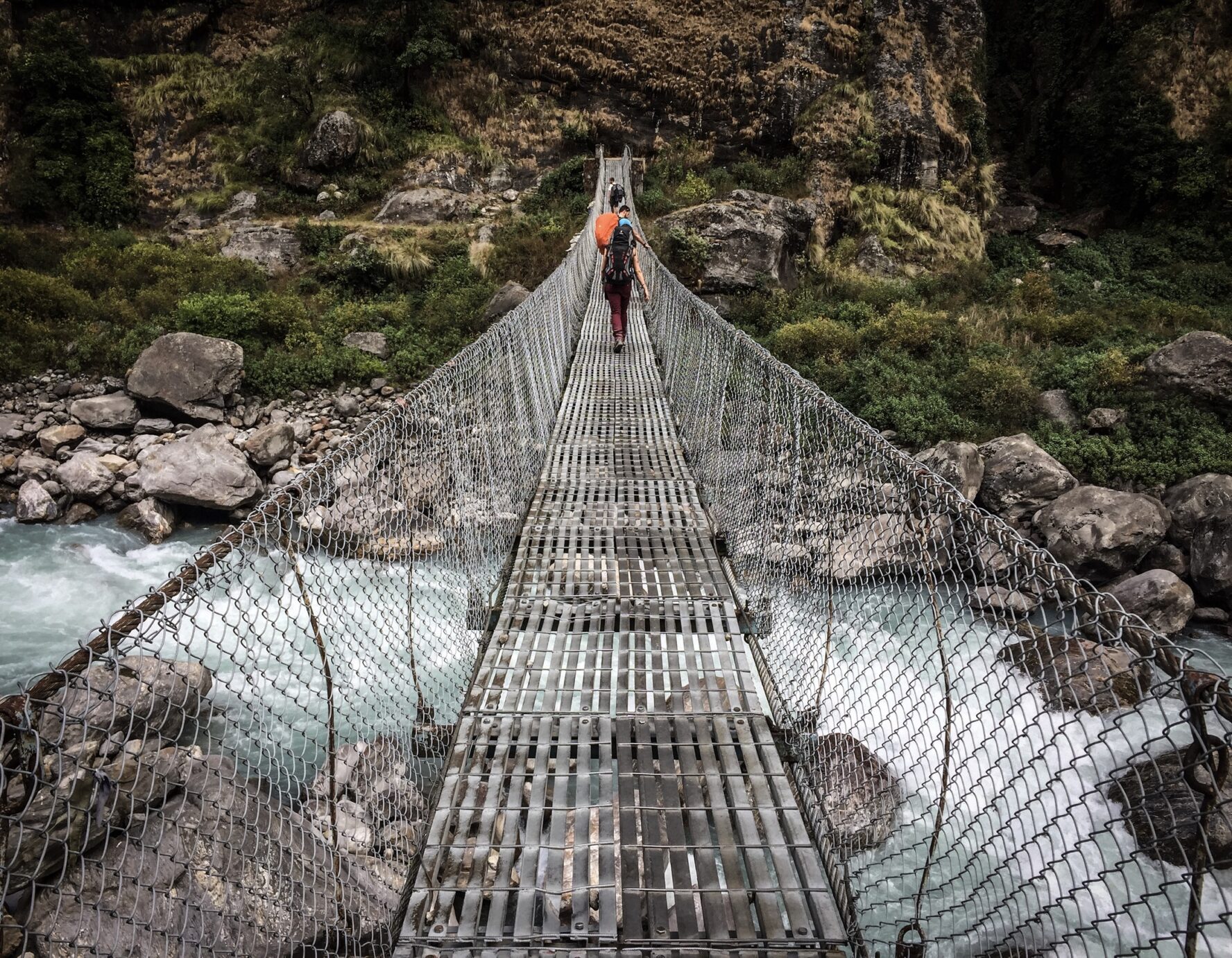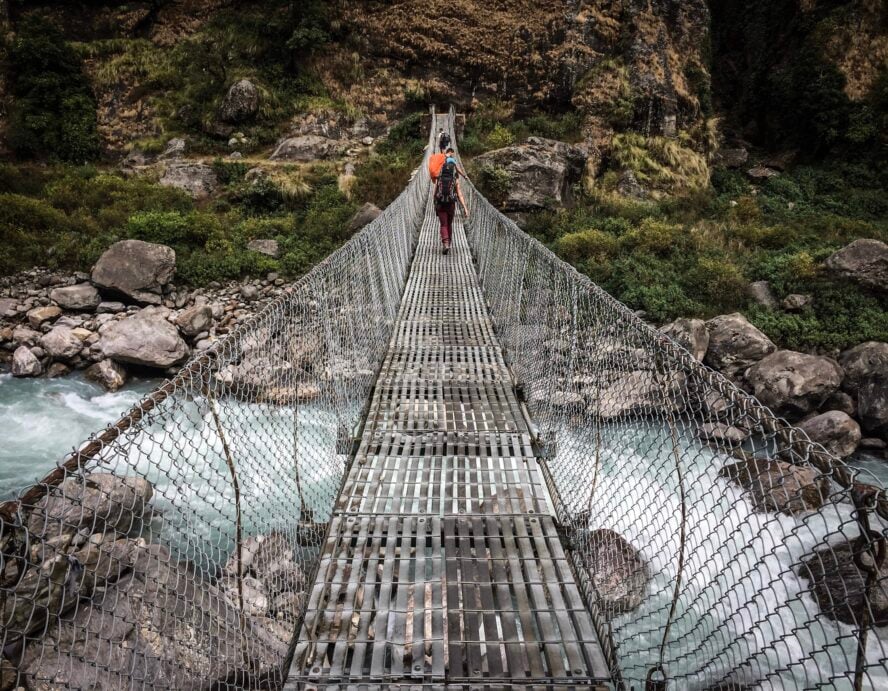 Days 5-8: Scenic hikes in Upper Pisang
Starting from the fifth day, wet rice terraces will start to give way to tall pine forests before turning into a pure alpine environment as the road takes us to an elevation of around 3,000 meters (10,000 feet).
This is when we take it down a gear to give our bodies enough time to acclimatize. Spending the night in the beautiful village of Upper Pisang is a delight. Located at the the bottom of the Annapurna II and Gangapurna mountains, it offers intensely humbling views of the towering range. We make sure to have a free afternoon here. A local school here has a playground where we sometimes play football with the locals at an impossible elevation.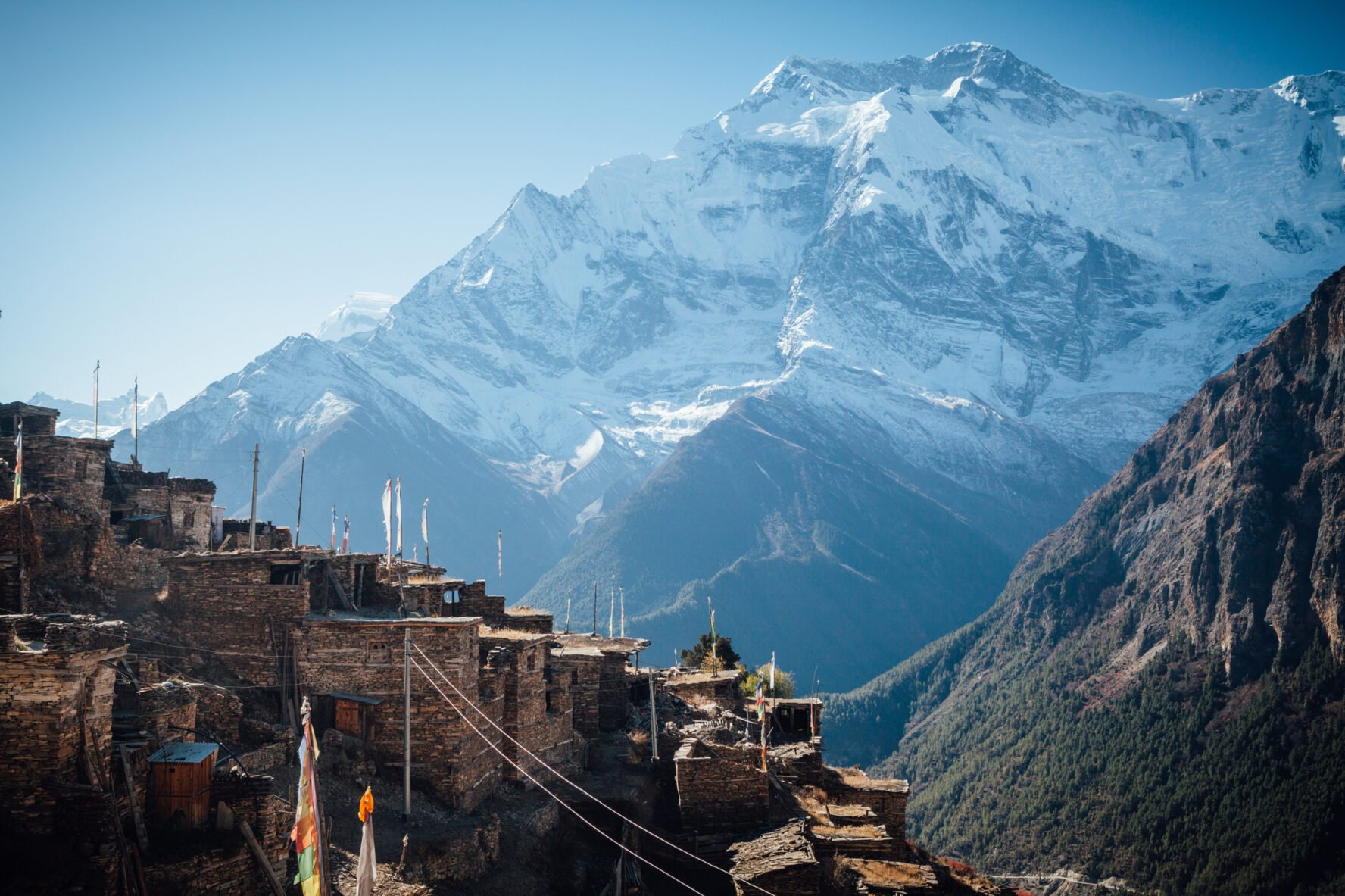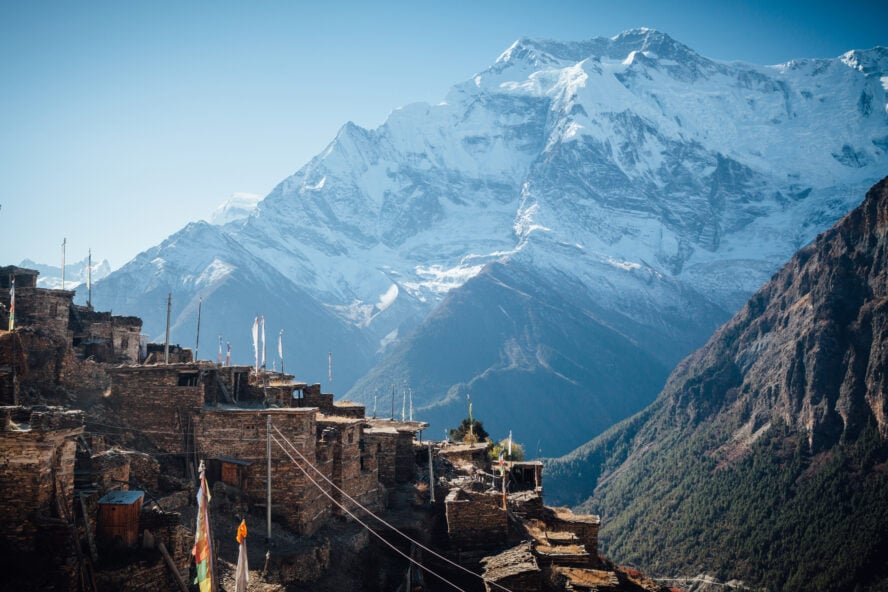 Hiking through the villages of Ghyaru and Ngawal, we are treated to excellent views of Annapurna II, IV, Tilicho, and Pisang Peak. We pay a short visit to the region's oldest and largest Buddhist monastery in the village of Braga, then continue towards the biggest Tibetan settlement in the Manang region.
The following days feature shorter hikes and plenty of rest time in between to avoid altitude sickness. Lots of people opt to spend a day in Manang for acclimatization, but since we do that from the first day, we like to put in another short hike.
If circumstances permit, we take our guests to Gunsang, a tiny village with only two houses, where we can enjoy the solitude and peace of the area. From there we proceed to the small town of Letdar while avoiding the bustle of Yak Kharka, which is always full of trekkers.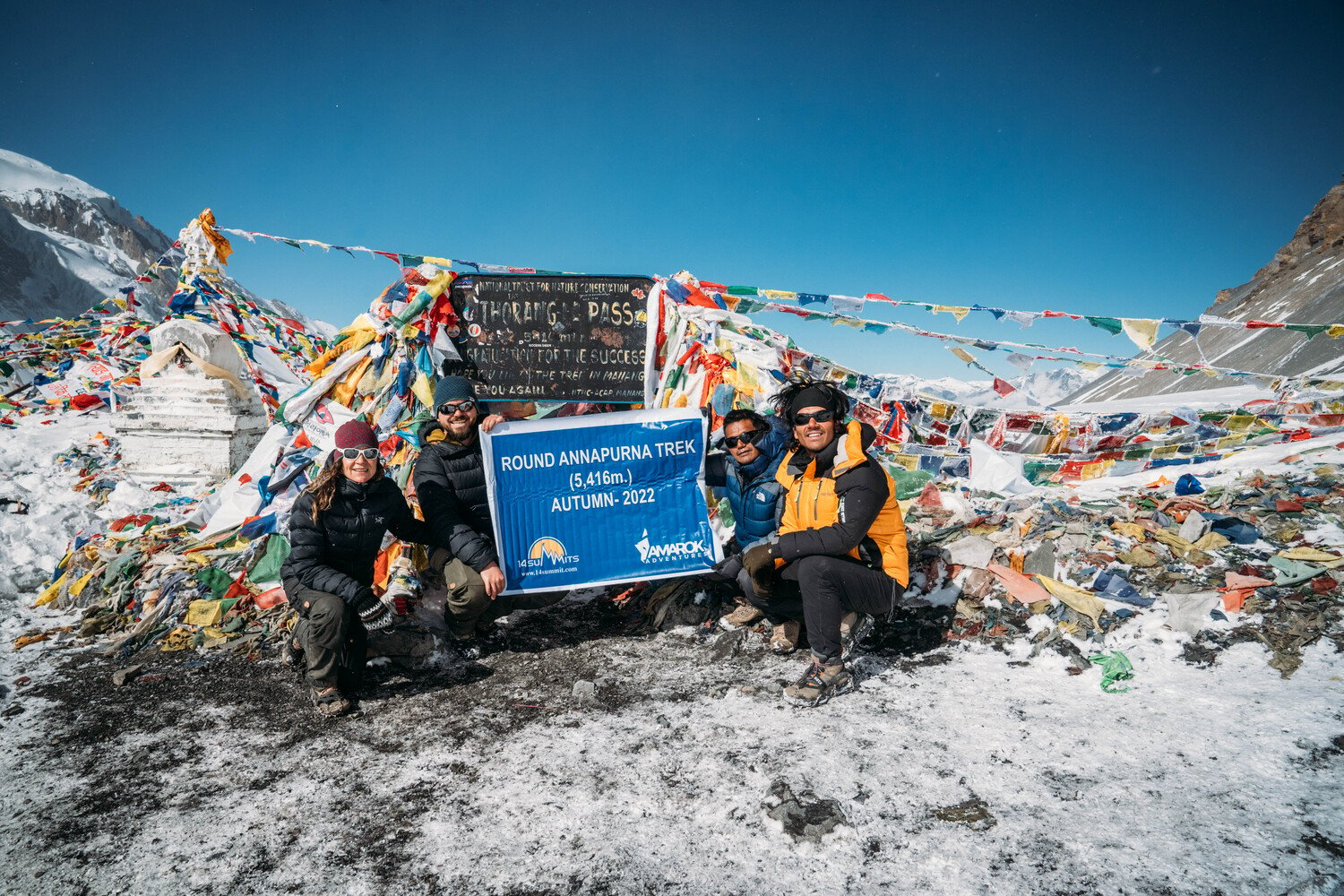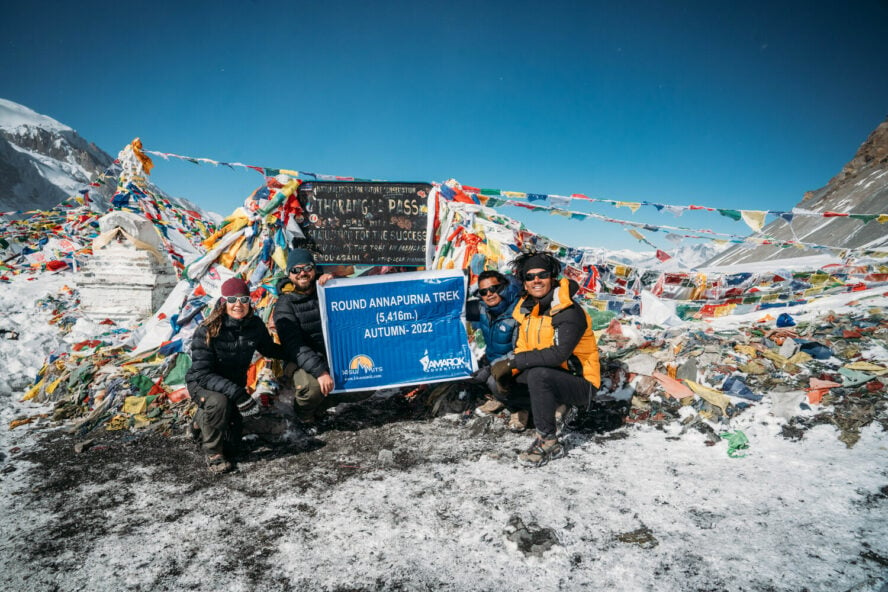 Days 9-11: Reaching Thorung La, the highest point of the Circuit
After spending the night in Letdar, we continue towards High Camp, our last stop before the toughest stretch of the entire trek, located at approximately 4,000 meters (13,000 feet). The trail turns northwest along the tributary valley of the Jargeng Khola area. If you're lucky, you might even catch a glimpse of blue mountain sheep on the cliffs.
On the day of the final push, we're up bright and early, ready to make the three-hour hike up to Thorung La, the highest point and highlight of the entire circuit. The indescribable beauty of Annapurna is one of the greatest gifts of the natural world. Taking in the vast and rugged scenery around you, you'll realize it was all worth the effort. After crossing the pass, we descend to the sacred site of
Muktinath
to pay our respects.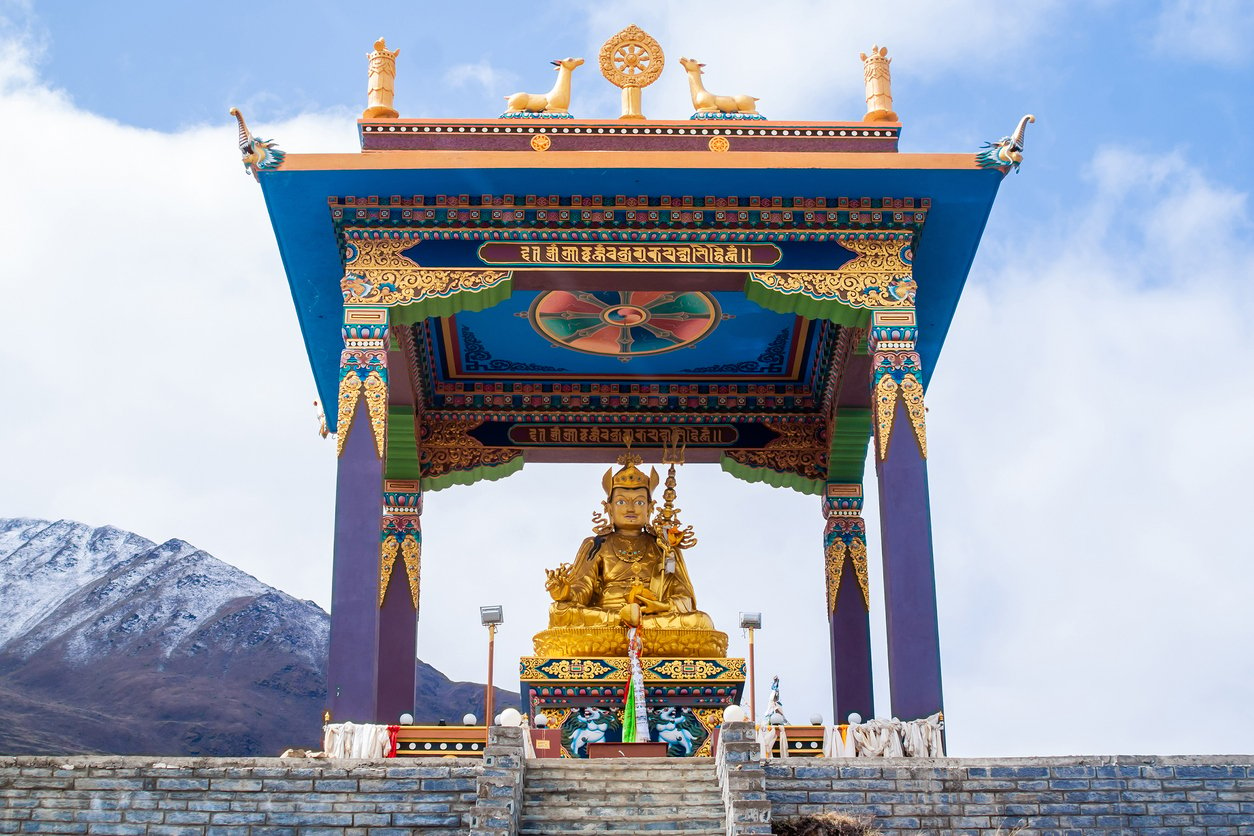 Days 12 & 13: From the Kingdom of Mustang to the urban zone of Pokhara
The following day, we proceed to the village of Kagbeni, which many travelers avoid to reach Jomsom as soon as possible, but it would be a mistake to miss one of the most beautiful areas on this entire journey. Kagbeni is the gateway to the hidden kingdom of Upper Mustang, one of the world's most preserved regions, restricted to visitors until 1992.
After lunch, it's time to explore Jomsom, the chaotic commercial hub of the Mustang district, where merchants and government officials rub shoulders with the locals. The next day an internal flight will take us to Pokhara, a famous rest station situated on Phewa Lake. Having spent the day under the watchful eye of Annapurna and Dhaulagiri, we leave for Kathmandu in the morning.
On the twelfth day, we proceed to the village of Kagbeni, the gateway to the Kingdom of Mustang, a famous historical site and one of the most beautiful cities I've ever seen. Many travellers avoid going through Kagbeni in order to arrive in Jomsom as soon as possible. However, I think this is a mistake because this one of the most beautiful cities of this entire trekking adventure, and it is not to be missed! We spend the night in Kagbeni before the last stretch of the trek.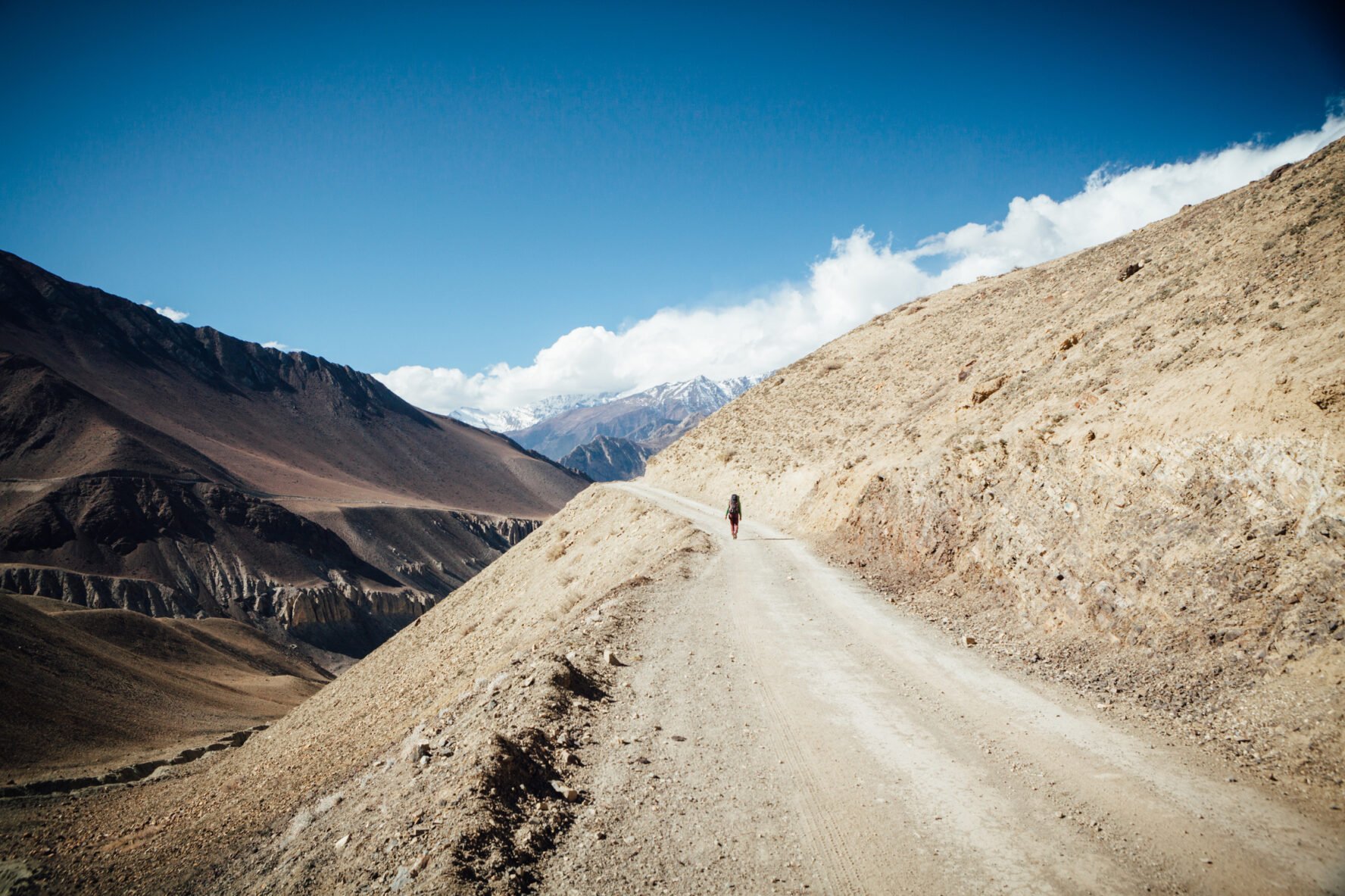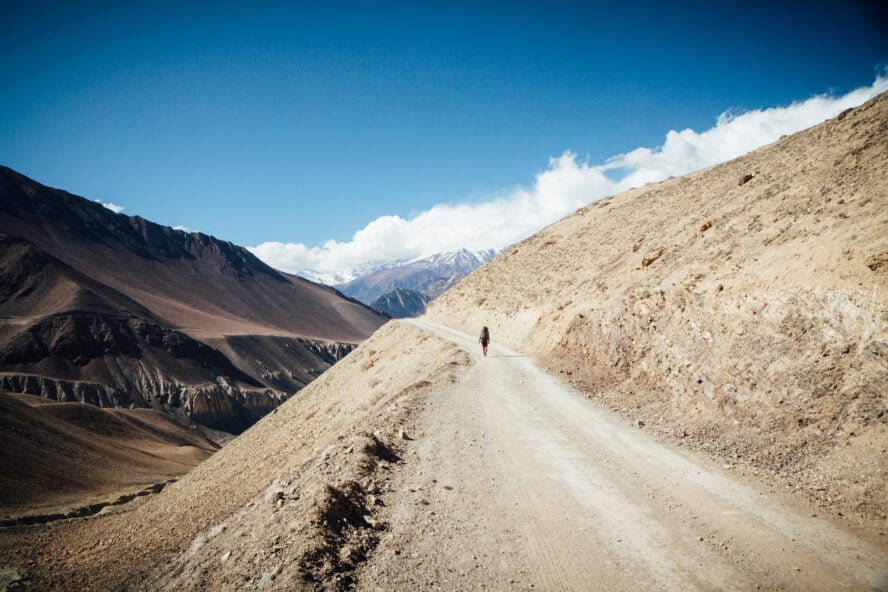 Days 14 & 15: Revisiting the capital for the final goodbye
It's time to turn our sights back to Kathmandu. Having experienced the
Annapurna Circuit Trek
and Nepal's fascinating culture, we can explore the city once again with fresh eyes—feel its accelerated heartbeat, the bustling crowds flooding the pavement, the rhythm of the city's dusty streets, and the never-ending noise of traffic flowing out from behind every street corner.
This is a city brimming with life. Getting lost in its labyrinthine alleys filled with shops and stores is a joy. I especially recommend visiting the Thamel neighborhood for a nice cup of coffee, a pint of cold Gorkha beer, or Everest beer (my favorites!).
In the morning, it's time to say goodbye to Nepal. Our adventure has taken us through the heart of this beautiful country and filled our minds and souls with wonder. Leaving the spectacular landscape behind us, we set off for the airport.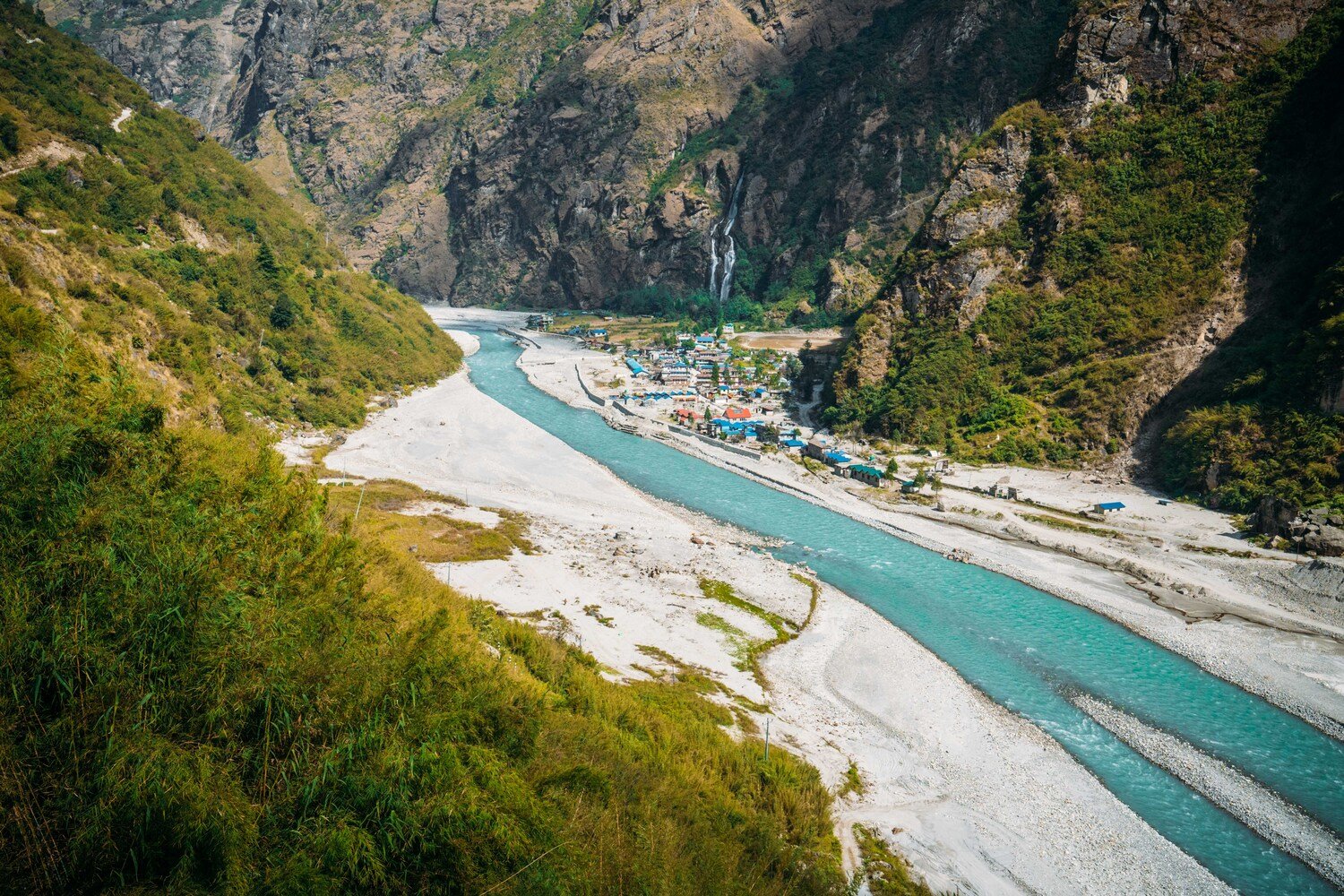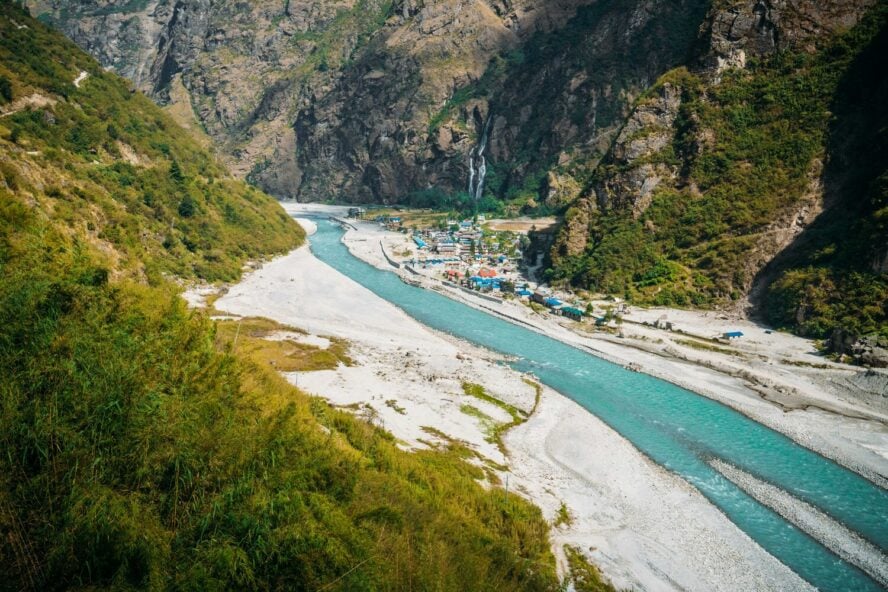 Good-to-know Info for Trekking the Annapurna Circuit
Now that you know what's in store for you, here's some additional info to help you prepare for your trip. From permits to gear, from packing to finding the right season, here's what you need to know: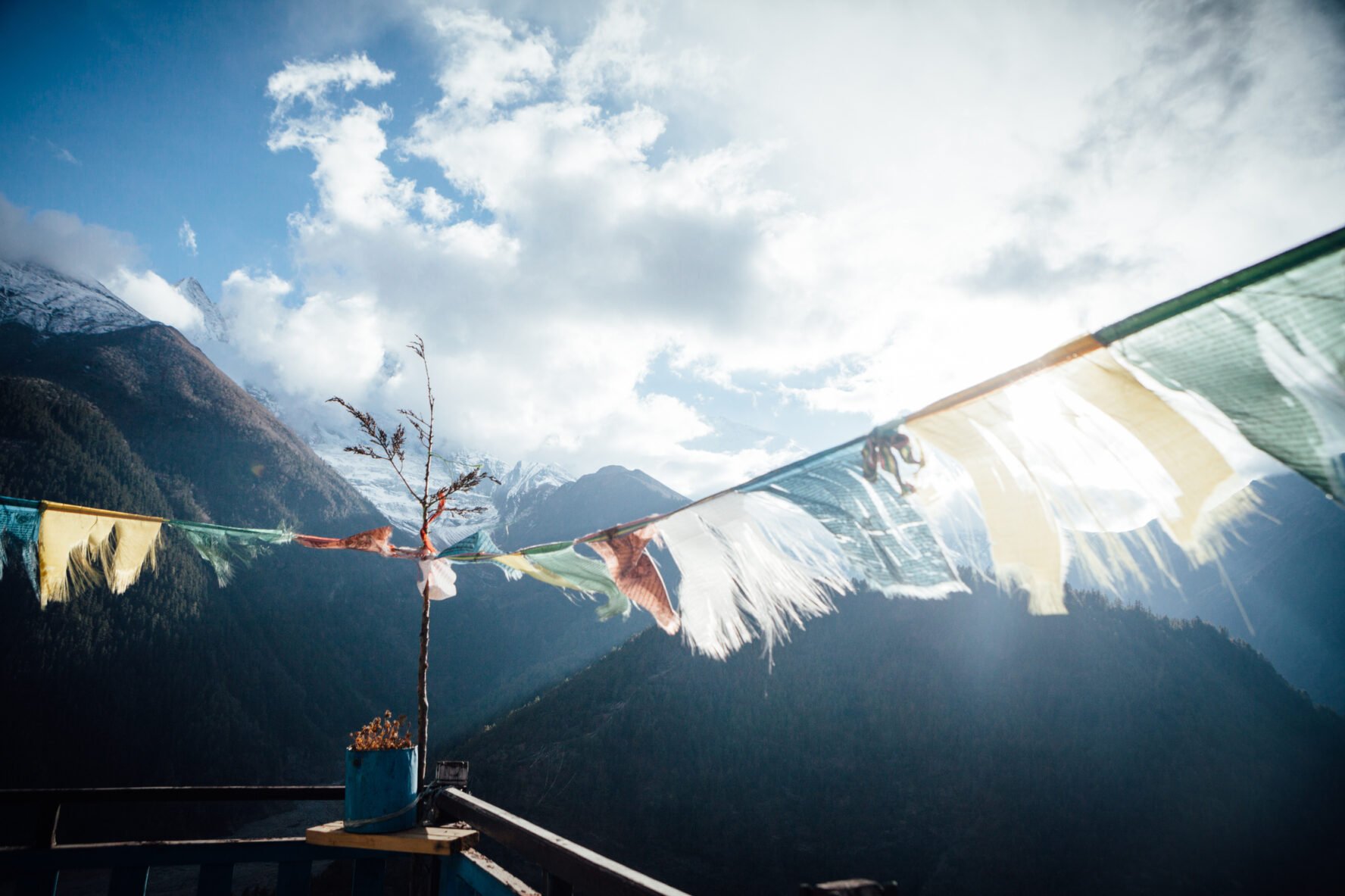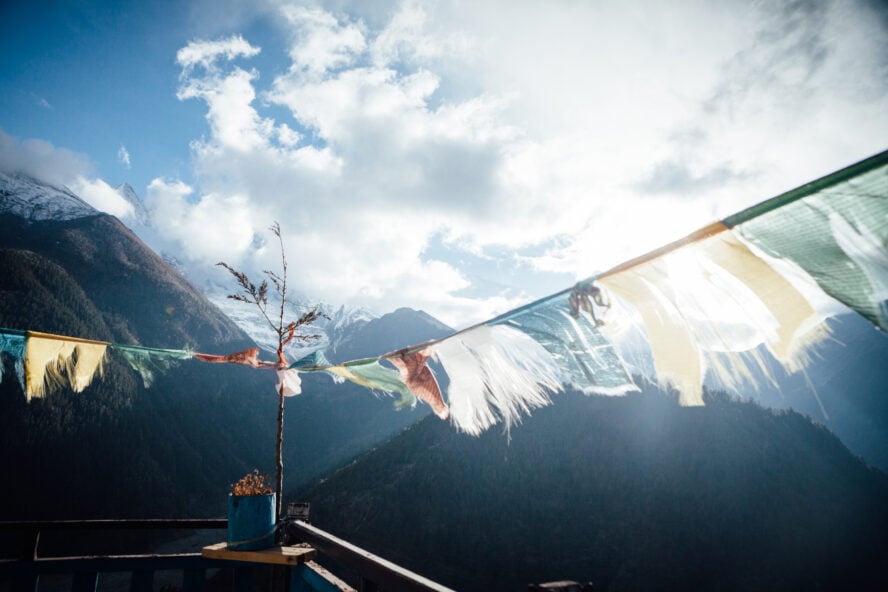 Most hikers can tackle the Annapurna Circuit
On our first trip to Nepal, during one the most difficult stages of the trek, we met these trail runners who just breezed past us like it was a light jog. We arrived at the teahouse three hours after them. The following day we continued our ascent, while they were so exhausted they dropped out and had to hike back down.
Not even drinking copious amounts of black mountain tea, which is said to relieve high-altitude fatigue, could help them in the end. The thing with altitude sickness is that, once it happens, it's too late—you have no choice but to give up.
We normally hike six to seven hours a day, but after passing the 3,000-meter threshold we take it easy to the top. Slow and steady is the way to go on the Annapurna Circuit. We adjust to the elevation at every checkpoint and pay close attention to our physical condition.
As for the required level of fitness, you should be able to cover 6-12 miles every day while carrying your backpack all the way. You don't have to worry about technical terrain as the paths are wide and well-maintained.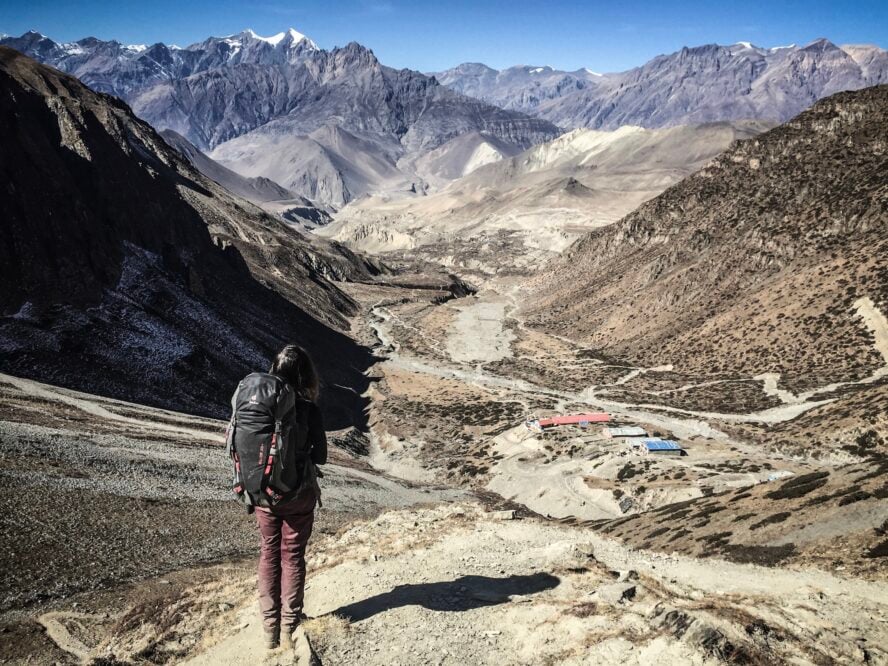 When should I hike the Annapurna Circuit?
I consider the two-month period between October and November to be the best time for trekking the Annapurna Circuit. People usually want to come in the summertime, but that's when the rainy season starts in Nepal. This is a highly commercialized route, so, regardless of the time of year, expect to see plenty of people on your way to Thorung La Pass and back.
Fall is the dry season:
lots of sunny days with clear blue skies. Very occasionally, there will be light storms that pass quickly. During the day, temperatures can rise to 15
°C (59°F)
, while nights can get quite cold, usually hovering around freezing.
The second most popular time for hiking is April
, which is when the rhododendron—Nepal's national flower—blooms, covering the landscape in vivid blankets of pink and magenta. Mid-spring temperatures range from 20
°C (68°F) to -6°C (21.1°F) depending on the elevation.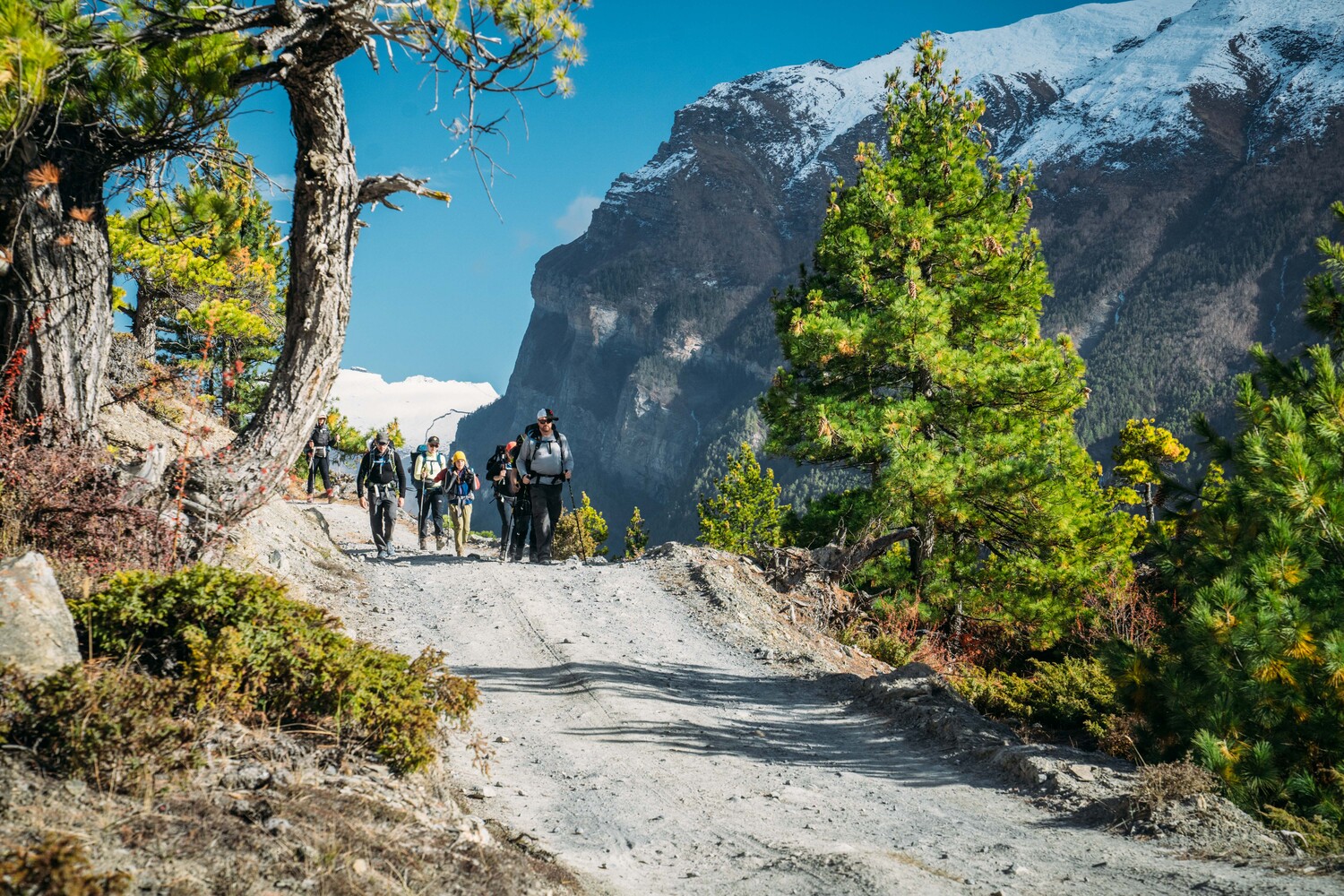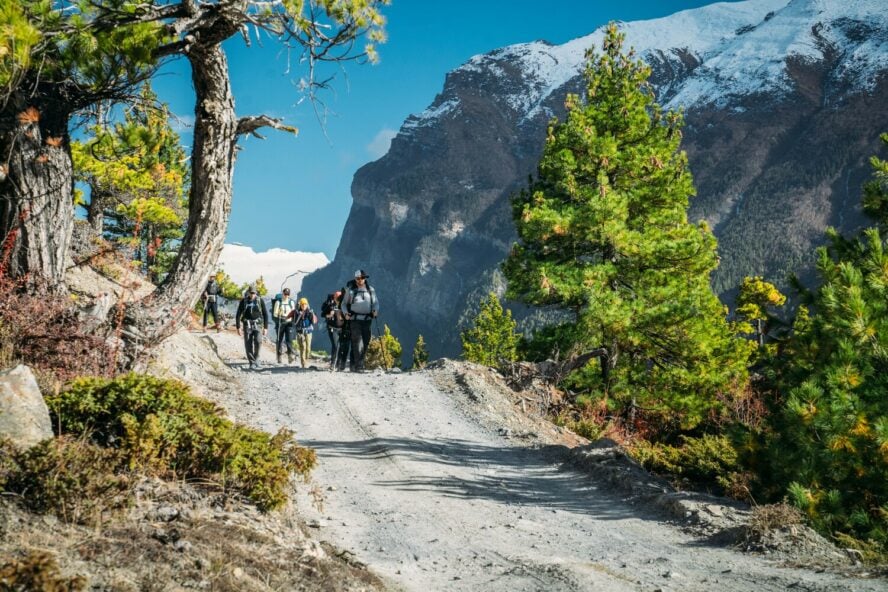 Accommodation and food on the Annapurna Circuit
When we lead hiking groups on the Annapurna Circuit, we always stay in local accommodations such as guesthouses and teahouses, in twin rooms with shared bathrooms. Not all of these accommodations have heating, some have electricity and others have hot water. We use sleeping bags on the beds of guesthouses and teahouses, and hardly any of them have pillows, so I always recommend that people bring their own.
As for the food, you can expect plenty of simple, hearty Nepalese staples, such as
dal bhat
(rice and lentils),
momos
(dumplings),
thukpa
(noodle soup), served alongside roti flatbread and plenty of vegetables.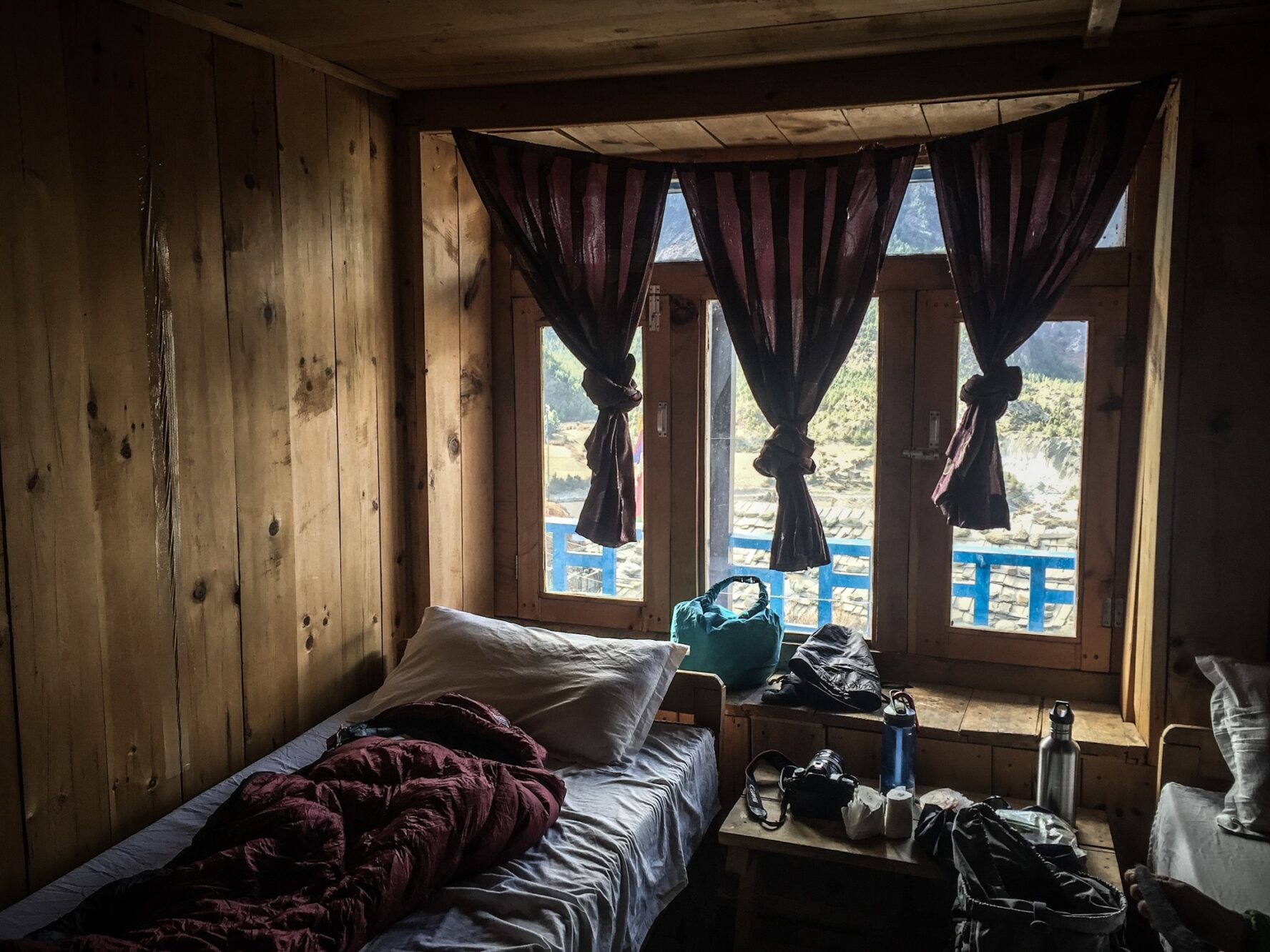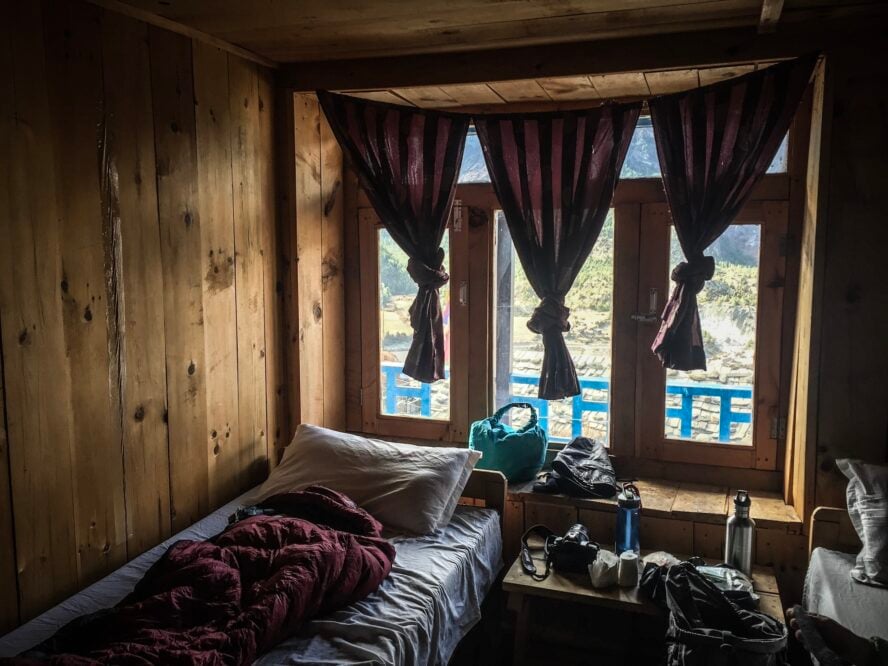 What do you need to pack for the Annapurna Circuit?
I recommend packing light and smart; you're not hiking the Appalachian Trail or Superior Hiking Trail, so be minimalist. This is not a very technically advanced trail nor does it require speed. Endurance is key, so be slow, be safe and enjoy the landscape. It is essential to have a good sleeping bag rated to at least a temperature of -10℃
(14°F)
.
If you don't have the space in your luggage for a sleeping bag, we work with a local shop in Kathmandu that makes their own extremely high-quality sleeping bags for just a fraction of the price than most. Even now, for my trips in Iceland, I use the same sleeping bag I got in Nepal years ago. Buying the most expensive gear is not necessary, but make sure that at least your boots are comfortable and well-made.
There are a lot of stores in Kathmandu with seemingly identical equipment, but wildly varying prices. It's not until night falls on the mountain and you decide to get some sleep in your new sleeping bag advertised as suitable for -20
°C
(-4°F)
that you find out it's actually useless. That's why we always steer our guests to the same friendly, affordable gear store with a proven record.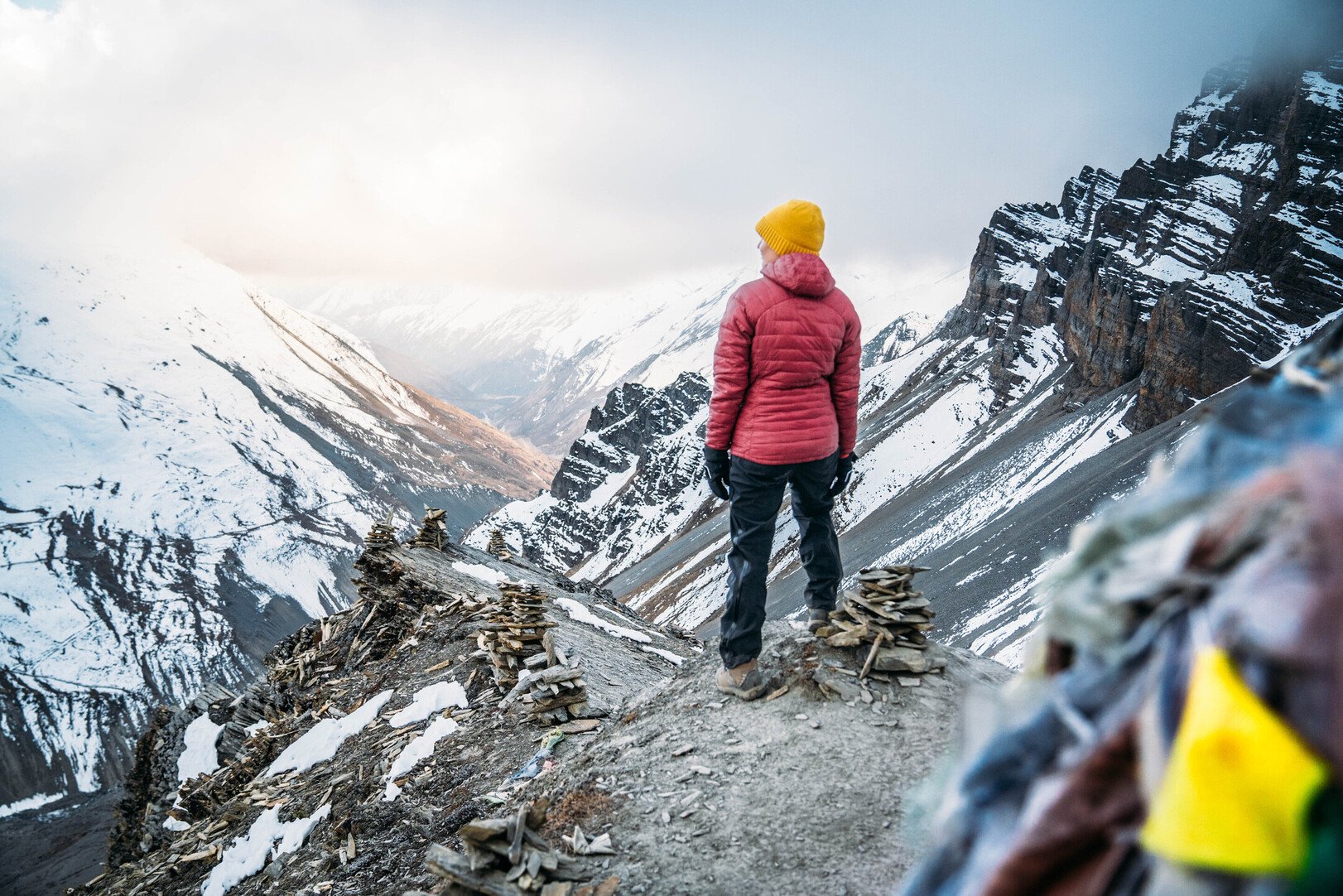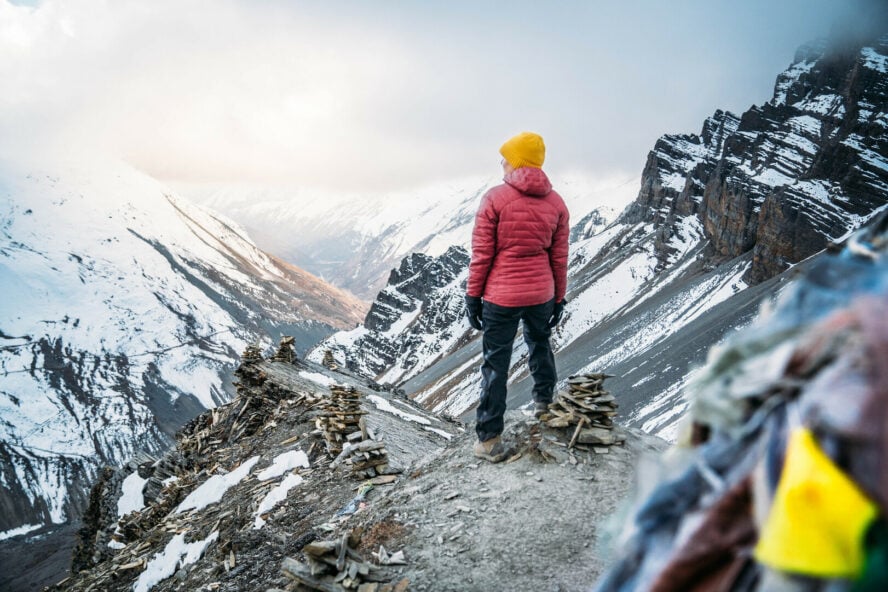 What permits do I need for the Annapurna Circuit?
As far as permits go, there are two you need to get. The first one is
TIMS
(Trekkers' Information Management System), which is about $20. To apply for a TIMS card, you need to bring your passport and two photographs. You can get these anywhere in Kathmandu for a couple hundred rupees.
The other permit is the
ACAP
, which will cost you around $25. It's a national park permit for the Annapurna Conservation Area. You can apply for both of these trekking permits at the
Nepal Tourism Board
, located in Pradarshani Marg, and they'll be ready in just a couple of hours. There are checkpoints in every village where everyone has to show their papers, so having your permits in order is a must.
Do you need a guide for the Annapurna Circuit?
Sure, with a lot of planning and a reasonable level of fitness, you can complete the journey on your own, but on a
guided Annapurna Circuit hiking tour,
you get a vastly richer experience. You are able to immerse yourself in the culture, steer away from the crowds, and have a much better time all around. Leave all the pesky logistics to a professional and enjoy your journey.
Another factor to consider is safety. Hikers go missing on the trail every year, whether due to accidents or crime, so going solo inherently poses a greater risk. If not with a guide, try to join up with other travelers who can watch your back.
What are some alternatives to the Annapurna Circuit?
If you're looking for a less-traveled trail to explore, there are some hidden gem treks to try in Nepal. One of them is the Manaslu Circuit, a gorgeous journey around the Manaslu Conservation Area with jaw-dropping views of the eighth highest peak in the world, and panoramic overlooks that rival the Trolltunga hike in terms of awe-factor. You might also want to consider the Tamang Heritage Trail, which is great for immersing yourself in Nepali culture. Though if you'd like to cross over to the Southern Hemisphere, Torres del Paine W Trek in Chile is undoubtedly one of the greatest treks in the world—just like hiking to Machu Picchu.
Can I use a car on the Annapurna Circuit?
Recently, the government has completed construction of new roads going up the Marsyangdi and Kali Gandaki valleys, causing worry for hikers who don't like seeing vehicles on the trail. These are mostly rugged dirt tracks suitable for jeeps and buses.
The good news is that remote parts of the country are now more easily accessible and, if you wish to do so, you can even shorten your time on the Annapurna Circuit by taking a ride. If you're a purist, traffic is luckily not dense, so you don't have to fret about being enveloped in constant clouds of dust.
Money on the Annapurna Circuit
The total cost of the Annapurna Circuit trek depends on many factors, but usually it falls somewhere between $900 and $2,000. When planning for your trip, take into account that there are no ATMs on the Annapurna Circuit. You might have heard about there being one in the village of Jomsom, but it is too unreliable to count on. I suggest budgeting around $30 (NR4,000) to cover all your basic expenses. Some will manage with less, others will need more for luxuries like beer and hot showers.
What do you need for the Annapurna Circuit?
Hiking poles (optional)

Water bottle or hydration bladder (2L capacity)

Water purification tablets, iodine

Lightweight hiking boots or shoes

Camp shoes, sandals

Polypropylene socks

Down or fiber jacket

Water and wind-proof jacket

Loose-fitting lightweight trousers and shorts

Thick wool jumper or sweater

T-shirts

Spare clothes for layering

Sunhat

Toiletries (sunscreen, hand sanitizer, bug spray, toilet paper, etc.)

Travel towel

Headlamp or flashlight

First aid kit (plasters for damaged feet are recommended)

Sleeping bag

Sleeping pad

Sunglasses

Chargers and batteries

Backpack large enough to carry all the items listed (35-50 liters)
Etiquette on the trail
When exploring Nepal, we should keep in mind that we are merely guests and act with respect towards trekking staff such as porters and cooks, as well as local traditions and customs.
For example, you should always remove your shoes when entering sites of worship. Also, try to walk around stupas and monasteries in a clockwise direction and keep prayer wheels to your right side. Pointing your finger at people is considered rude, just like taking their photos without permission. Avoid single-use plastic and follow the principles of
Leave No Trace
to help fight the growing pollution on the Circuit.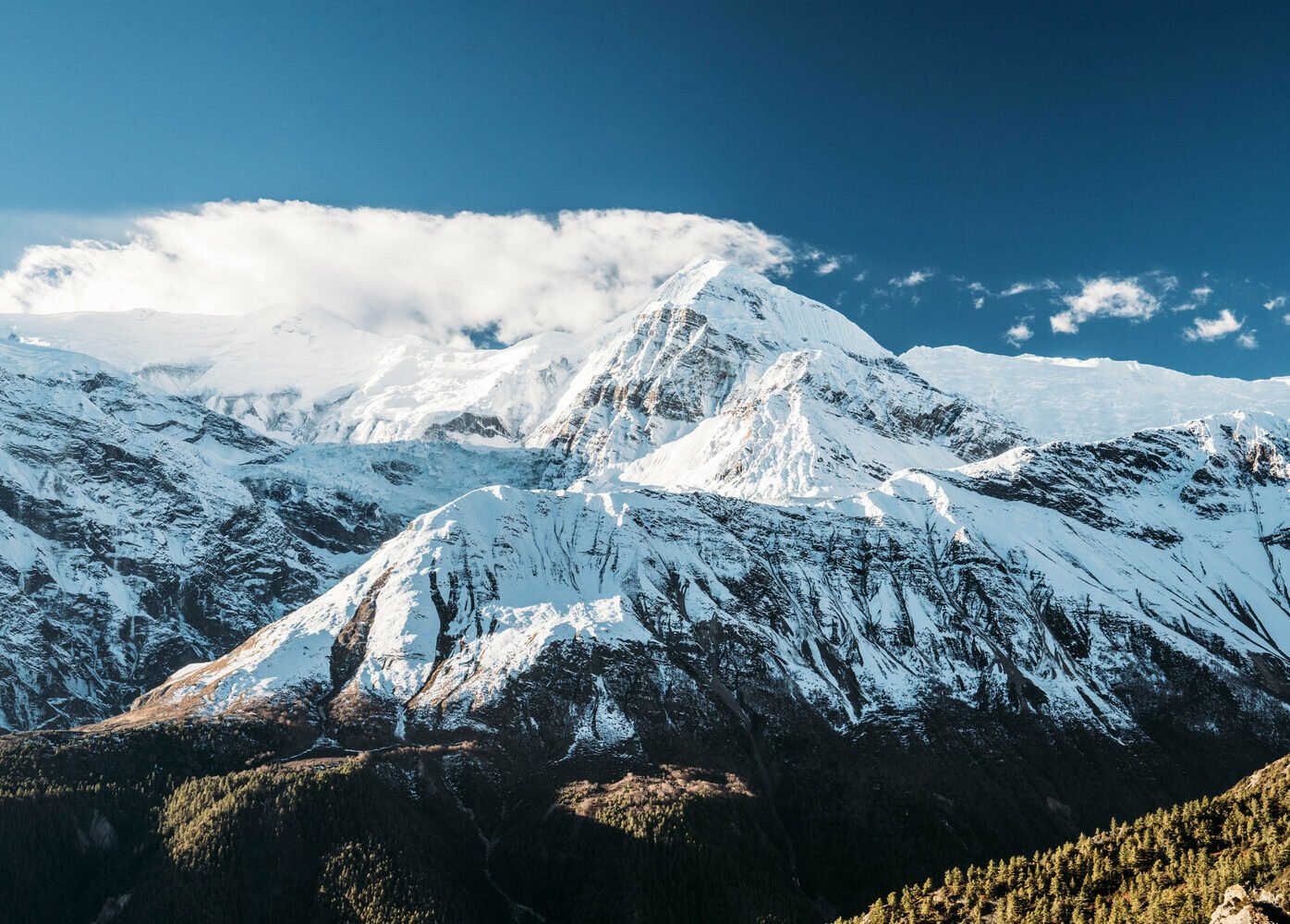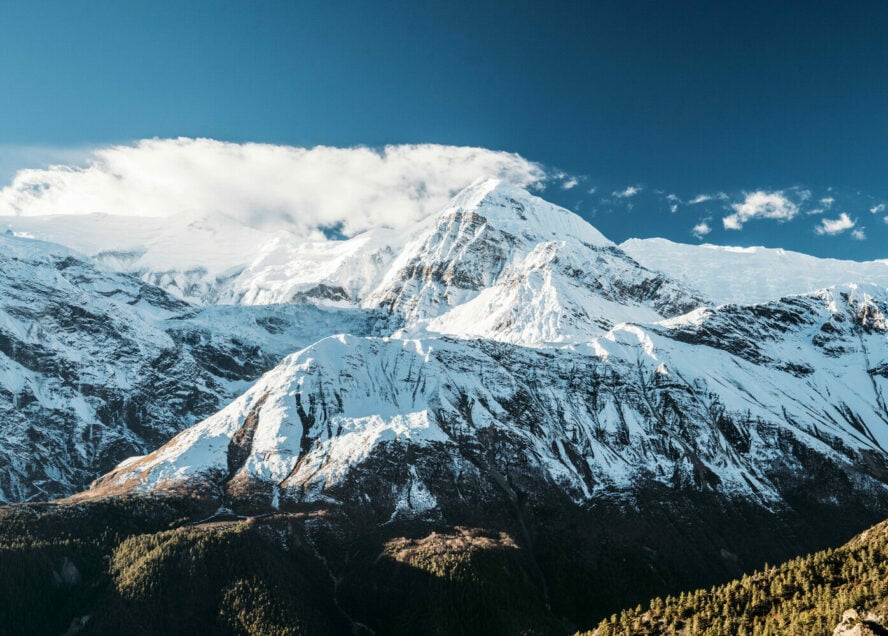 Elevate Your Hiking to Unimaginable Heights
Overflowing with history and astonishing sights, the Annapurna Circuit is a pilgrimage along the sacred trails of the Nepali people. Ever since opening up to foreign visitors, it has become something of a hallowed path for hikers the world over. I would know—I'm one of them! If you had any doubts about attempting this extraordinary trek before reading, I hope they've dispersed like the clouds over Pisang Peak.
Namaste,
my friends, and safe travels!
Interested in a
guided tour of the Annapurna Circuit
? Check out what's included in this life-changing adventure.