Hiking the John Muir Trail from Tuolumne Meadows to Yosemite Valley
This short three-day hiking trip along the John Muir Trail is a great way to explore Yosemite National Park. Make sure to add on the trek up Half Dome for the ultimate experience.
The hike from Tuolumne Meadows to Yosemite Valley is a 27.2-mile section of the famous John Muir Trail. For most people, it takes about three days and two nights to complete at a moderate speed. It's a point-to-point hiking trail with a manageable amount of elevation gain, and there's plenty of sights along the way worth stopping at, which makes it perfect for a weekend getaway with family or friends. If you find yourself in California near Yosemite National Park with an empty weekend, this small section of the John Muir trail will most definitely be a hike to remember.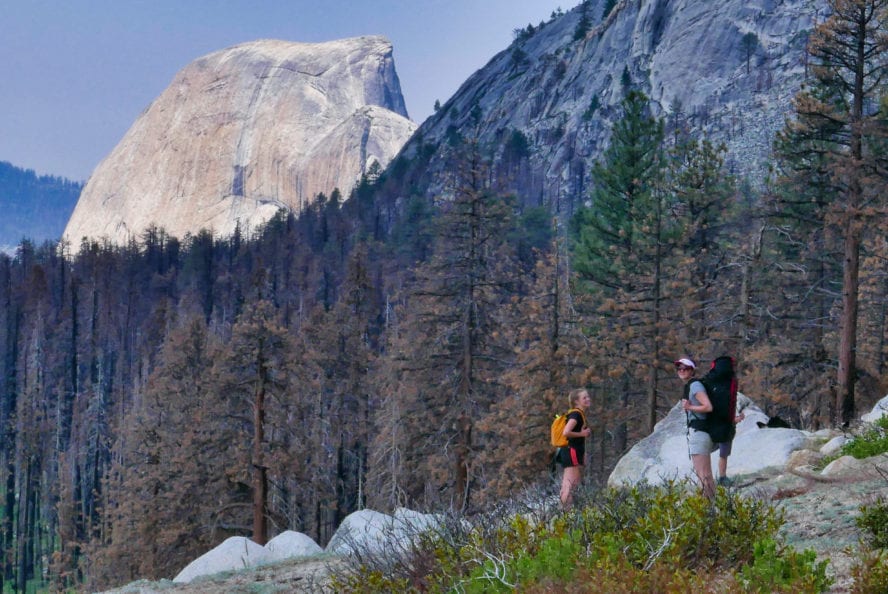 Pros and Cons of Hiking the John Muir Trail
This is an easy to moderate hike, making it suitable for almost everyone
The terrain is beautiful and there are many breathtaking sights along the way
A great intro into overnight hiking, with plenty of great camping spots
The trail can get crowded closer to Yosemite
Permits are needed for overnight camping, so you need to plan ahead
Hiking the John Muir Trail
My family was about halfway through our month-long road trip of the Western United States when we reached
Tuolumne Meadows in Yosemite National Park
. We had spent the majority of our trip hiking in the different parks we passed, occasionally stopping in a few cities to refuel and recharge. But there was one spot I was really looking forward to — the John Muir Trail was going to be special for me. One of my most played songs that summer was "Barbary Coast" by Conor Oberst. One of the lines in the song goes, "Tried to lose myself in the primitive / In Yosemite like John Muir did." Whenever I hike, this song pops into my head, getting stuck on repeat for hours. Now finally, I was going to be on that very trail being sung about in my favorite song, walking in John Muir's footsteps. This trail did not disappoint. I can say it was one of the best short backpacking trips I've done in my life.
This hike makes for the perfect 3-day weekend
We decided to hike for three days and two nights along the trail with a little detour in Yosemite to hike up the famous Half Dome. Our hike took place in mid-August, when the day's heat can be quite intense. Not as bad as on the best Joshua Tree hikes, but if you aren't used to the temps, they can wreck you. Luckily, there are a few watering holes along the way that are good for a quick cool down. This hike takes you through a meadow for the first portion of the trail, before entering a more wooded area as you get closer to Yosemite. It never gets boring. You pass through all kinds of terrain, with something new to see every step of the way.
Day 1: Hiking Through the Meadow
We entered Yosemite National Park through the Tioga Pass. That morning, we got a
wilderness permit
at the ranger station just past the Tioga entrance to Yosemite National Park. This hike requires some planning beforehand. Since you start in Tuolumne Meadows and finish in Yosemite Valley, you need to take care of the transfer. We were lucky enough to have a family hiking with us for the first day and night of the hike. On the second day, they planned on returning to Tuolumne Meadows, while we continued hiking toward Yosemite Valley. From there, they drove our car to Yosemite to meet us on the other end. If you cannot have someone drive your vehicle to your endpoint, there are plenty of shuttles between Yosemite and Tuolumne Meadows that you can take.
After everything was ready, we got our backpacks on and headed towards Yosemite Valley. Soon after we reached a footbridge, I was tempted to take off my shoes and soak my feet in the water, but I was assured that better swim places were close ahead. The next portion of the hike goes through an expansive meadow. It's grass and open field for miles, with a few boulders scattered about which I was told were remnants of a former glacier.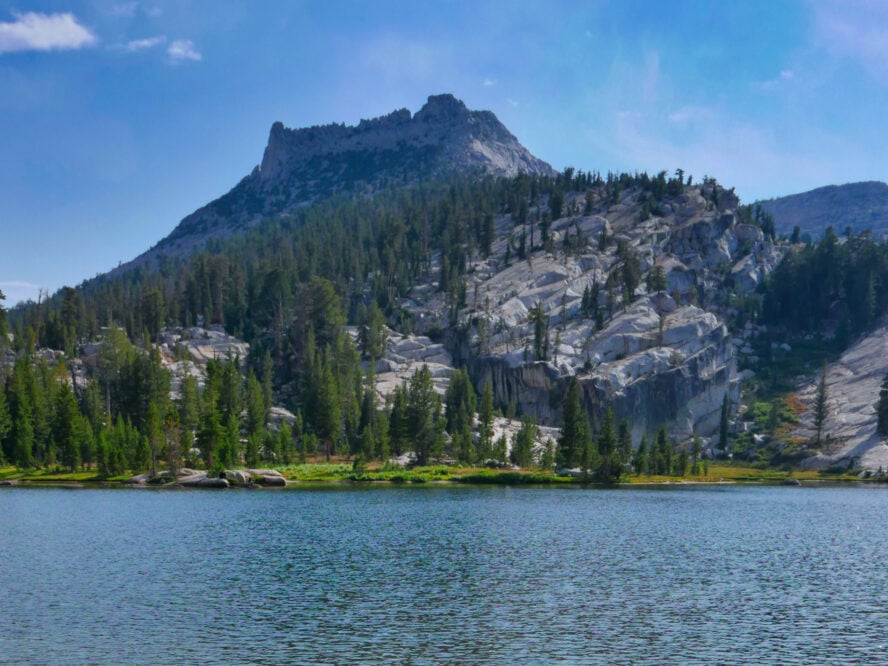 Moderate hiking with a well-deserved lake swim
It was a beautiful sunny August day, but after a while, the warmth of the sun got a little bothersome. Soon the hike got steeper, and I was thoroughly surprised because meadow hiking usually means being on flat ground. We had two 10-year-olds with us, and the steeper section called for multiple breaks along the way.
After the steep section leveled off, we entered another beautiful and wide-open meadow. Soon enough, we reached a lake. We sat down for a well deserved long break. After we ate our sandwiches and snacks, we all got into the ice-cold lake. I was hot the whole day, and I just kept thinking about wanting to jump into the water to get cooled off. My wish was granted. We spent some time relaxing, soaking in the hot sun on the rocks, and dipping in and out of the water.
Camping in Yosemite National Park
We continued for a little longer until we reached our camp for the night. We
set up camp in the designated area
past High Sierra Camp. This spot had bear boxes on site, but we still carried one with us because sometimes the bear boxes can be full. Also, we knew that we would need a bear box for our second night since there wasn't one where we planned to camp. Bear boxes are essential whenever doing overnight hikes in Yosemite.
They can be rented
near the permit offices, but it is important to research beforehand if you need to carry one or if one will be provided at your campsite.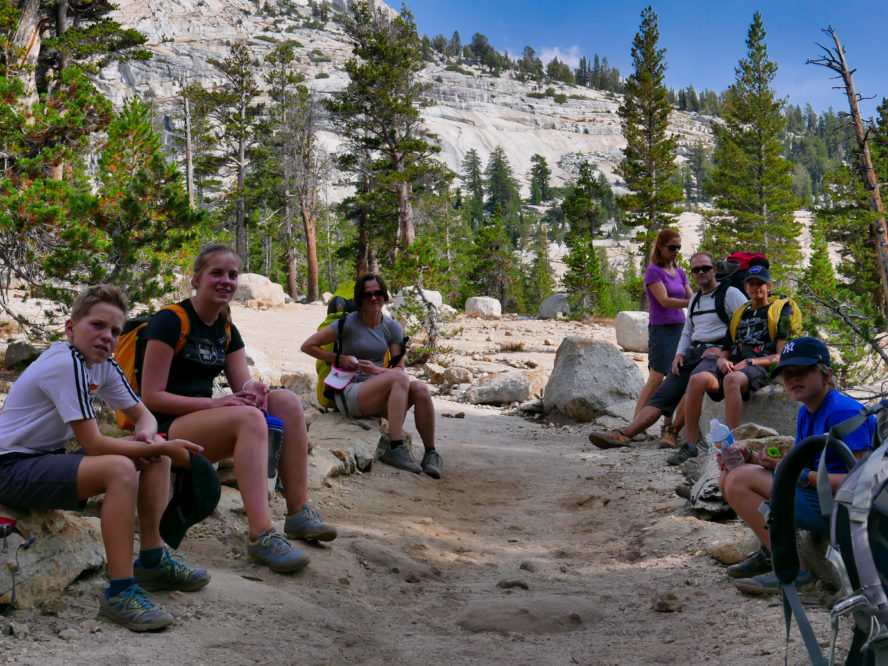 Day 2: Up Half Dome and Back Down Again
We got up early the second day, parted ways with our family friends, and started the trek towards Half Dome. The second day felt much easier and quicker than the first day. Most of the trail was flat and downhill, and there were substantially more trees, which meant more shade. So unlike the previous day, we weren't in the scorching sun for the majority of the hike.
We got near Little Yosemite Valley and found a spot further away from the trail to leave our backpacks. We tried to be quick on our way from our previous camp to Little Yosemite Valley so that we'd have plenty of time to go up and down Half Dome. If you want to do this hike in two days, you might consider skipping the trek up Half Dome. Instead of staying another night, you can continue on to Nevada Falls and finish in Yosemite Valley.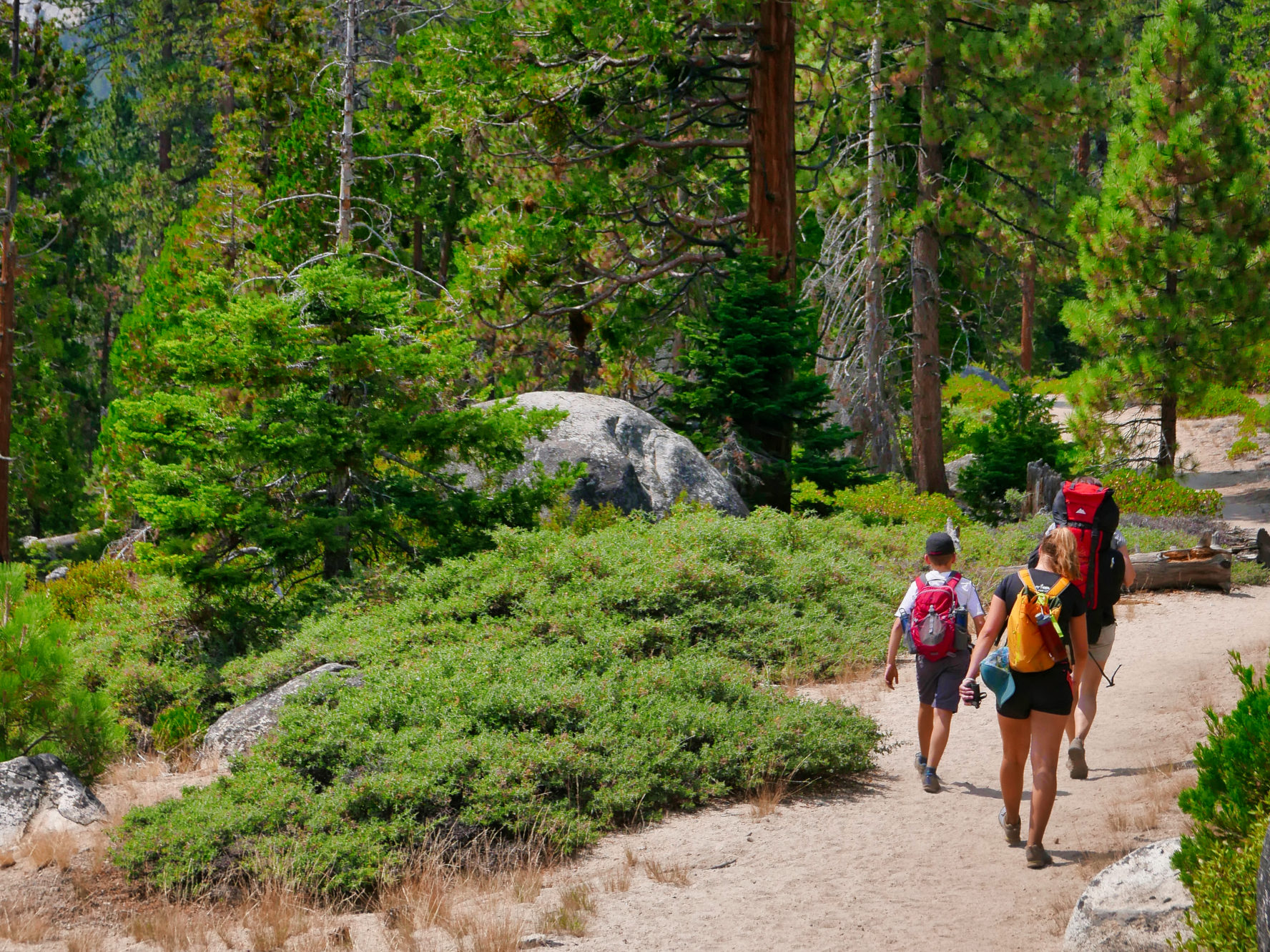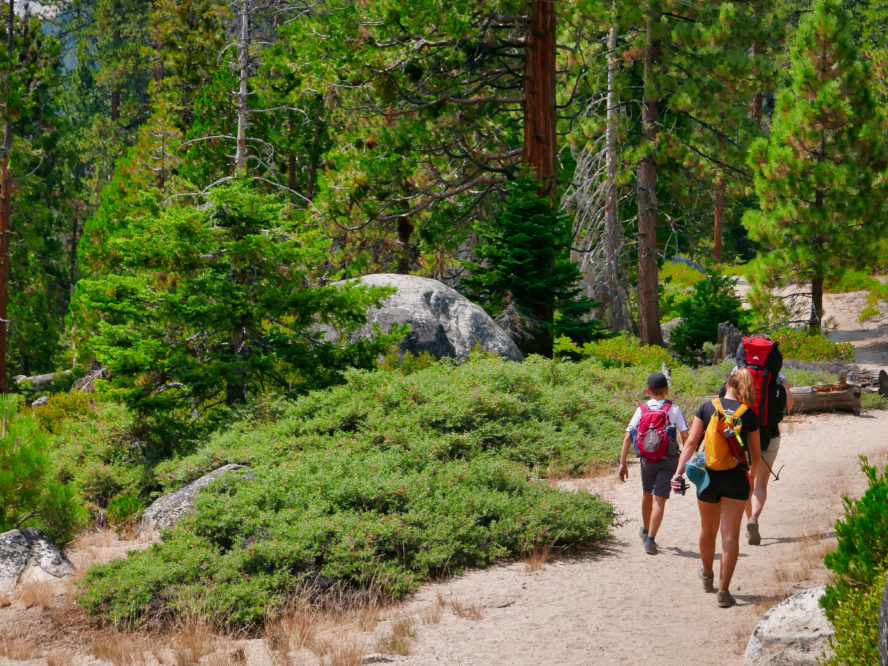 If you have the time and can obtain a permit for Half Dome, you should most definitely hike up it. We left our backpacks and followed the trail up through a forest of Sequoia trees. It's not a hard climb, but it is a constant uphill walk. At a few points along the route, you catch glimpses of Half Dome.
Reaching the Half Dome cables
It wasn't long before we reached the cables on Half Dome's steep granite domes — by far the most difficult part of the trip. The rock's granite surface felt a lot more slippery than grippy, having been worn out from all the people who've previously hiked this trail before us. Getting to the top required that we use our upper body strength to pull ourselves up the cables rather than walk with our feet on the steep rock. There was a small bundle of gloves left at the bottom for people to use (at least there was when we did it!). The gloves really helped us grip the cables so that we didn't hurt your hands. I recommend taking a pair with you as I doubt that after COVID there will be gloves available for everyone to use.
Once we got to the top of Half Dome, we enjoyed views of marvelous Yosemite Valley while sitting on a few boulders. After a nice rest, we forced ourselves to peel our eyes away from the valley and had to head down to reach our camp before dark. We headed down the slippery rock once again and back towards Little Yosemite Valley. We set up our tent, had our dinner, and headed to bed on our last night on the John Muir Trail.
Day 3: The final Stretch to Yosemite Valley
The next morning, we packed up our camp and started heading down into Yosemite Valley. We passed by the Nevada Falls and by crowds of people doing a day hike up to Half Dome. This part of the hike offers many different options. You can go down the Mist Trail to get a better view of Nevada Falls and Vernal Falls, or you can continue down the John Muir Trail to get a different view of Nevada Falls. If you have extra time, you can play around in this area, hiking wherever you can to take in all the beautiful nature. After a little more downhill hiking, we reached a footbridge and a sign for all the different trails. This meant our three-day expedition was coming to an end. All that was left was to find our car parked somewhere in the parking lot.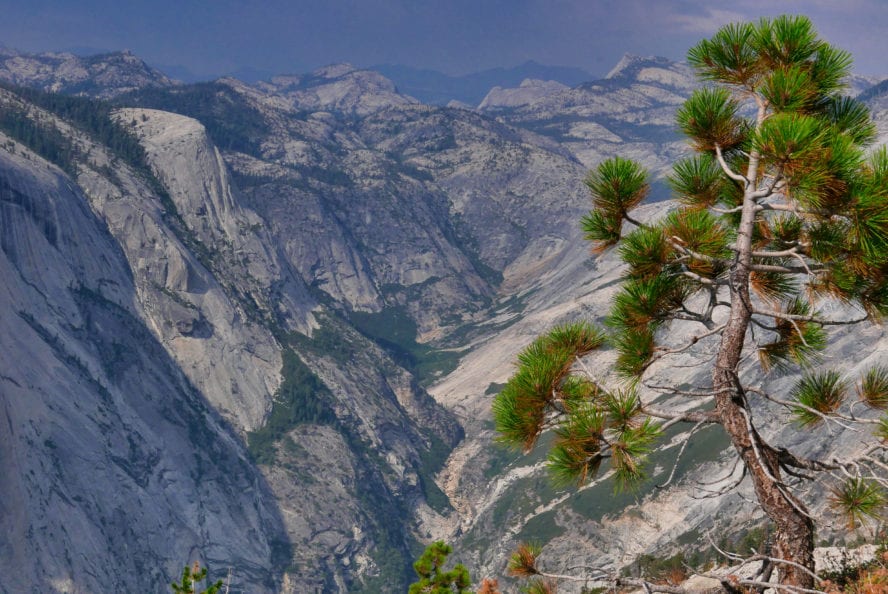 Tips for Planning Your Visit to Yosemite National Park
To best enjoy California's Yosemite National Park, planning ahead is key. Before you set out on your John Muir Trail hike, whether you're doing a short three days like we did, or doing a longer thru-hike, here are a few things you need to know before you depart on one of the best hikes in the US.
The best time to hike the John Muir Trail
The trail is best hiked from April until October. At this time, many shuttles will take you from the Yosemite Valley to the start of the trail in Tuolumne Meadows via Tioga Road. If you are planning on hiking outside of those months, you will need to park your car in the valley and find a ride to Tuolumne Meadows. You can also park your car at the trailhead next to the Tuolumne Meadows Visitor Center and find a ride back when you finish in the valley. The Tioga Road opens in late May or early June and is open until November. Always check the park's website for
information on current road conditions
.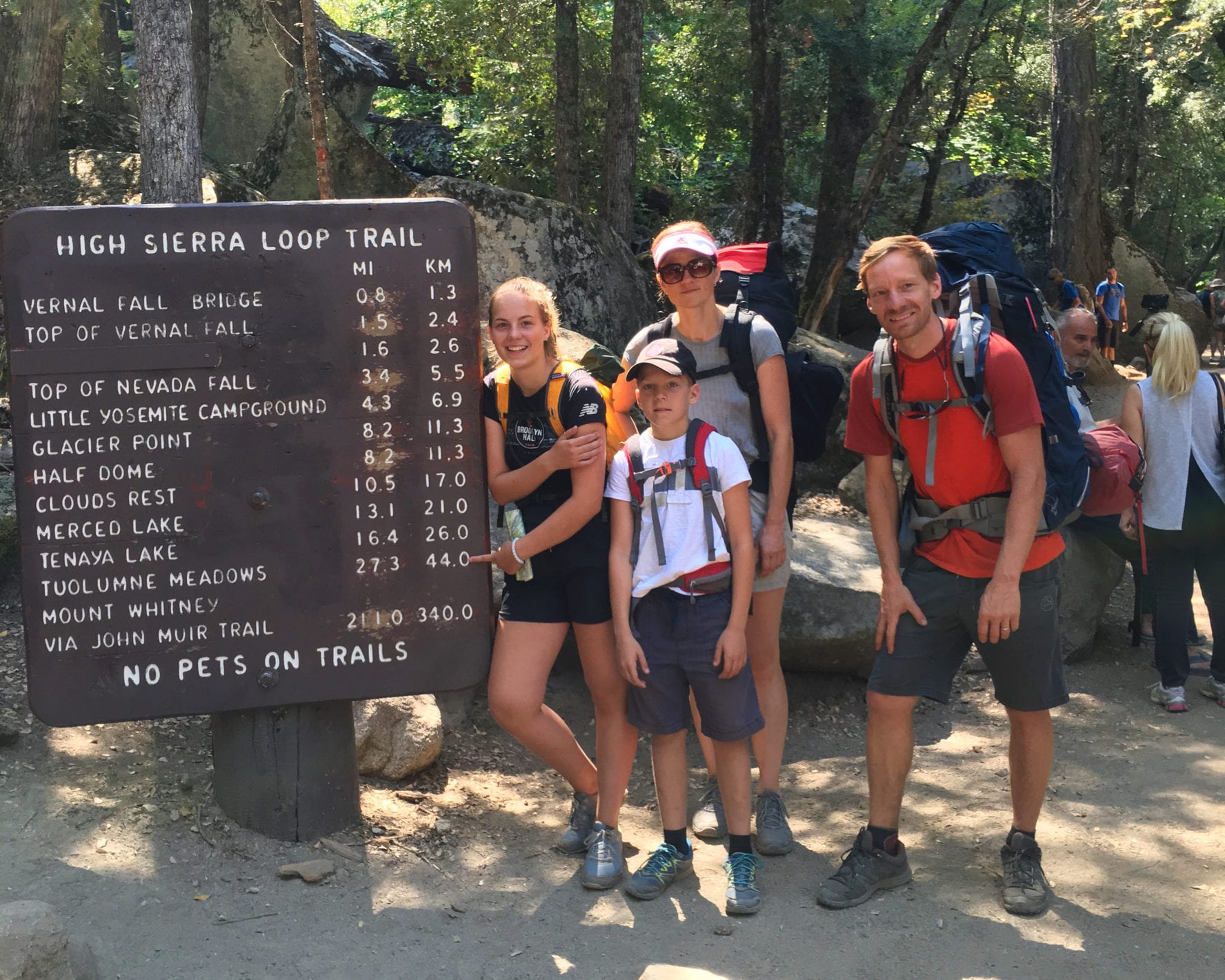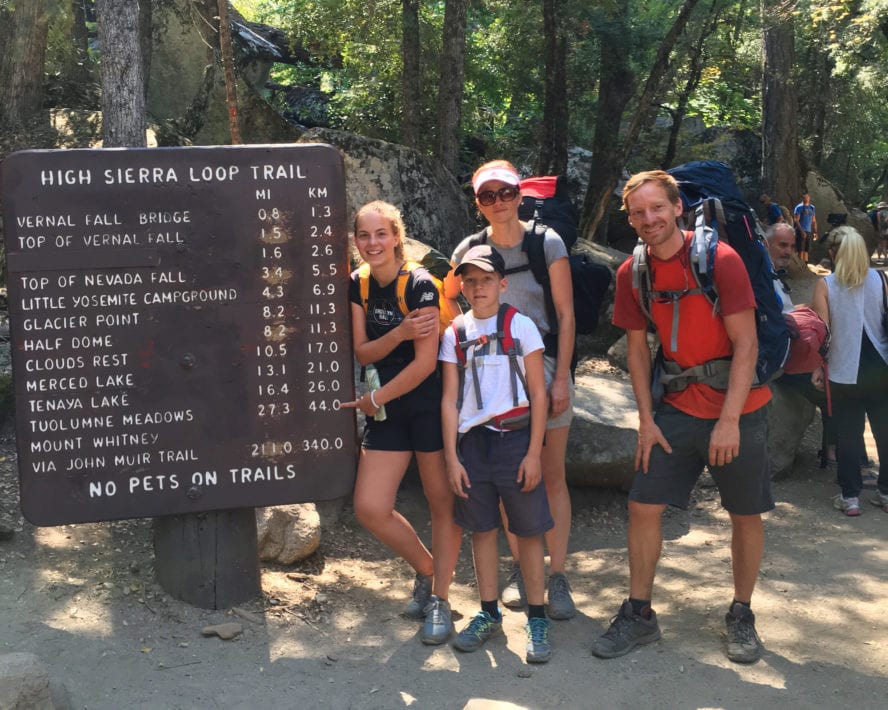 How long is the John Muir Trail?
The John Muir Trail is 211 miles long and passes through Yosemite, Kings Canyon, and Sequoia National Parks. However, this section of the trail, from Tuolumne Meadows to Yosemite Valley, is only 27.2 miles — without tacking on the extra hike up Half Dome.
How long does it take to hike the John Muir Trail?
For the Tuolumne Meadows to Yosemite Valley portion of the trail, three days and two nights is the perfect amount of time. It allows you to see all the sights, make the trek up Half Dome, all while keeping a lively pace. If you're hiking for speed, you can do it in two days. For those that really want to take their time and relax in the area, five to six days will ensure that not a single sight is missed.
Obtaining a Yosemite wilderness permit
Wilderness permits
are required year-round for any overnight stays in Yosemite. A wilderness permit is not required for day hikes unless you are hiking to Half Dome. Wilderness permits are issued to a limited number of people for each trailhead. Many trails in Yosemite are very popular, especially in the warmer months, so you should try to get a
reservation
as early as possible. Each trailhead has a daily quota; 60% can be reserved ahead of time while the other 40% are available on a first-come basis.
Yosemite trail maps
While
online trail maps
are useful for planning trips, you should make sure to get a physical copy of the necessary maps before you head out. They can be bought in stores around the park or ordered online. Whether you're looking to your hiking route, or just want a general overview of the park,
The National Parks Service
offers several different maps to help you plan your visit to Yosemite.