The 7 Best Hikes in Zion: Utah's First National Park
With gargantuan rock formations, deep slot canyons, tumbling rivers and pine-clad peaks, there's a reason Zion was Utah's first National Park.
Table of Contents
The hikes in Zion leave you feeling small, in the best possible way.
So when I first drove into Springdale, a quaint little town located at the mouth of Zion National Park, I couldn't believe my eyes. The serrated pinnacles of Eagle Crags dominated the horizon, a jagged skyline of pale-toned and rust-red Navajo Sandstone.
Like an ancient custodian, the range oversees the entrance to a buckled geography of canyons, towers, buttes, mesas, and slickrock mountains—carved out by unrelenting rivers millions of years at work.
That humbling I felt on arrival has remained with me to this day. Whenever I step inside the park and walk in the shadow of its gleaming walls, I feel grateful for being a small part of its history.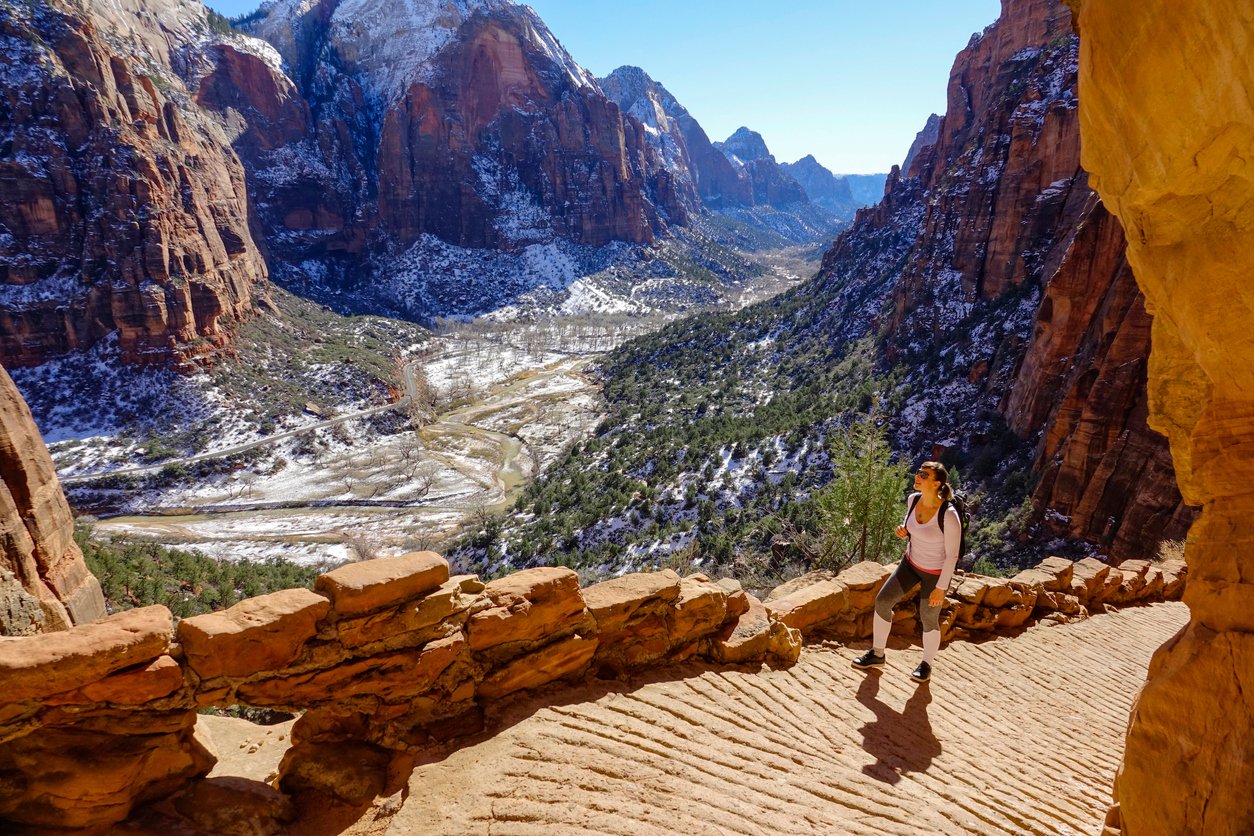 Millions of Years in the Making
Zion National Park sits in southern Utah near the city of Springdale, a few hours each from Las Vegas and Salt Lake City. It was established in 1919, to preserve what the foundational document calls a "labyrinth of deep and brilliantly colored Navajo sandstone canyons formed by extraordinary processes of erosion".
But that's only the tip of the iceberg—or Markagunt and Kolob plateaus, as it were. Situated at the junction of the Colorado Plateau, Great Basin, and the Mojave Desert, streams carried sand, mud, and gravel from surrounding mountains and deposited them here, forming layers upon layers of sediment. Over vast spans of time, 10,000 feet of material accumulated!
Then those same forces cut deep paths through, too. Zion Canyon, one of the most prominent features in the park, is 15 miles long and over 2,000 feet deep, shaped and eroded by what is now known as the Virgin River.
The geography and elevation difference has produced a bio-rich region. While at the rim of the canyon it's mostly desert, the terrain at the floor is a riparian zone—river landscape—full of forest. In between you'll find pinyon and juniper woodland, sagebrush, blackbrush, yucca, and cacti, which supports animal and plant diversity you'd be hard pressed to find elsewhere.
Which is what I found. And why I stayed.
I Found My Home Among the Walls of Zion
Spending time in nature was always my second nature, if you catch my continental drift. Ever since I was five months old, my parents took me camping with them. They introduced me to hunting, fishing, canoeing practically as soon as I could run and swim.
It's no wonder I decided to get a parks and rec degree in college—I mean, what else could it be? My path to guiding started with an internship at a summer camp in Hayward, Wisconsin, after which I moved to Utah to work in wilderness therapy. Exploring the red rock backcountry made me fall in love with hiking all over again. Naturally, when a friend of mine invited me to join him as a guide in Zion, I couldn't pass up the chance to visit my very first national park. And let me tell you, it was love at first sight.
These magnificent rock formations made the perfect arena for hiking, rock climbing, and canyoneering—three of my favorite things to do in the outdoors! Even now I still feel that same sense of boyish wonder that keeps me coming back with renewed fervor. Today, I'm lucky to welcome others to this land through my role as a hiking and canyoneering guide with Zion Guide Hub.
The Best Hikes in Zion National Park
To help you experience part of that magic, I've compiled a list of the best hikes in Zion National Park. Whether you're a first-time hiker or a certified trail fiend, traveling solo or with family, you'll find something for you below.
Easy Hikes in Zion:
Pa'rus Trail – 3.5 miles out-and-back, best for accessibility

Emerald Pools Trail – 3 mile loop, best for families

Canyon Overlook Trail – 1 mile out-and-back, best easy access vistas
Moderate Hikes in Zion:
Scout Lookout via the West Rim Trail – 3.5 miles out-and-back, best for Angels Landing experience without needing a permit

Observation Point via East Mesa Trail – 7 miles out-and-back, best for avoiding crowds
Strenuous Hikes in Zion:
The Narrows – 12-15.5 miles (depending on if you start at the top of bottom), best for slot canyons

Angels Landing Trail – 14 miles out-and-back, best for challenging hiking with some of the best views in the country
Map of the Hiking Trails in Zion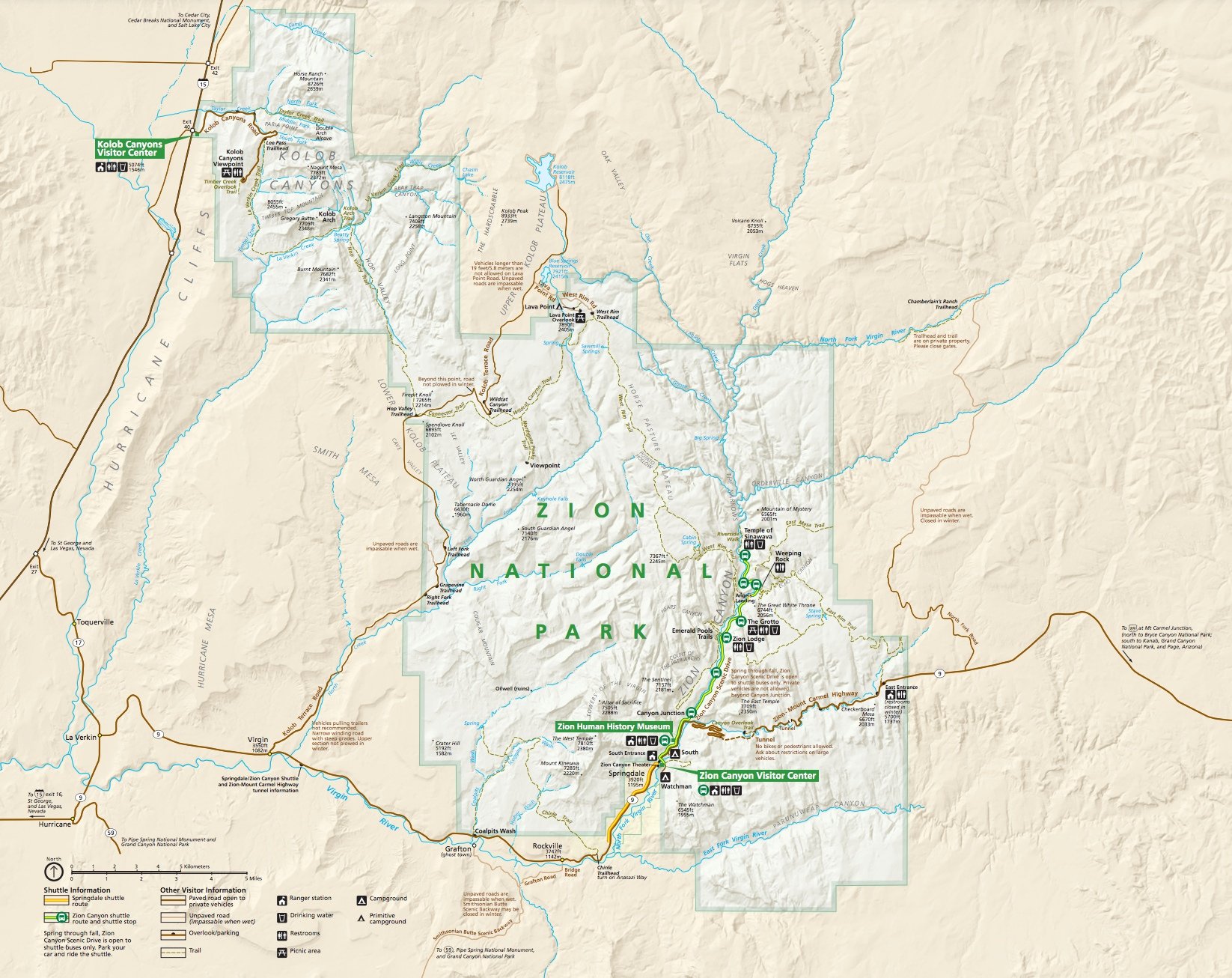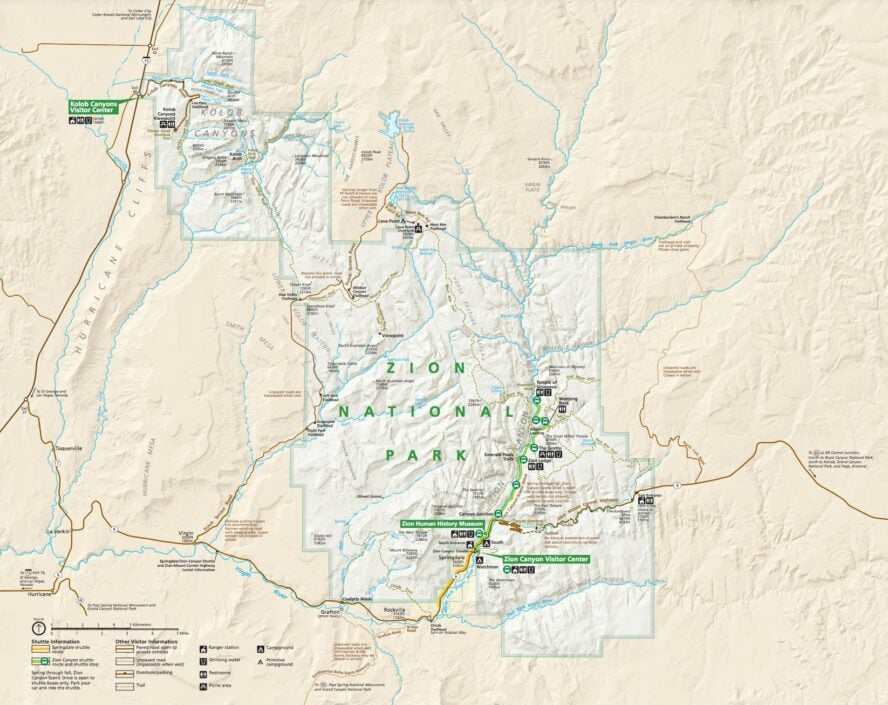 Pa'rus Trail
1. Pa'rus Trail
TOP CHOICE FOR ACCESSIBILITY
Beautiful hike along the Virgin River
Great access: plenty of parking space, suitable for bikes and wheelchairs
This is the only trail in Zion that allows dogs
There's not a lot of shade to speak of
If you're looking for some challenge, you won't find it here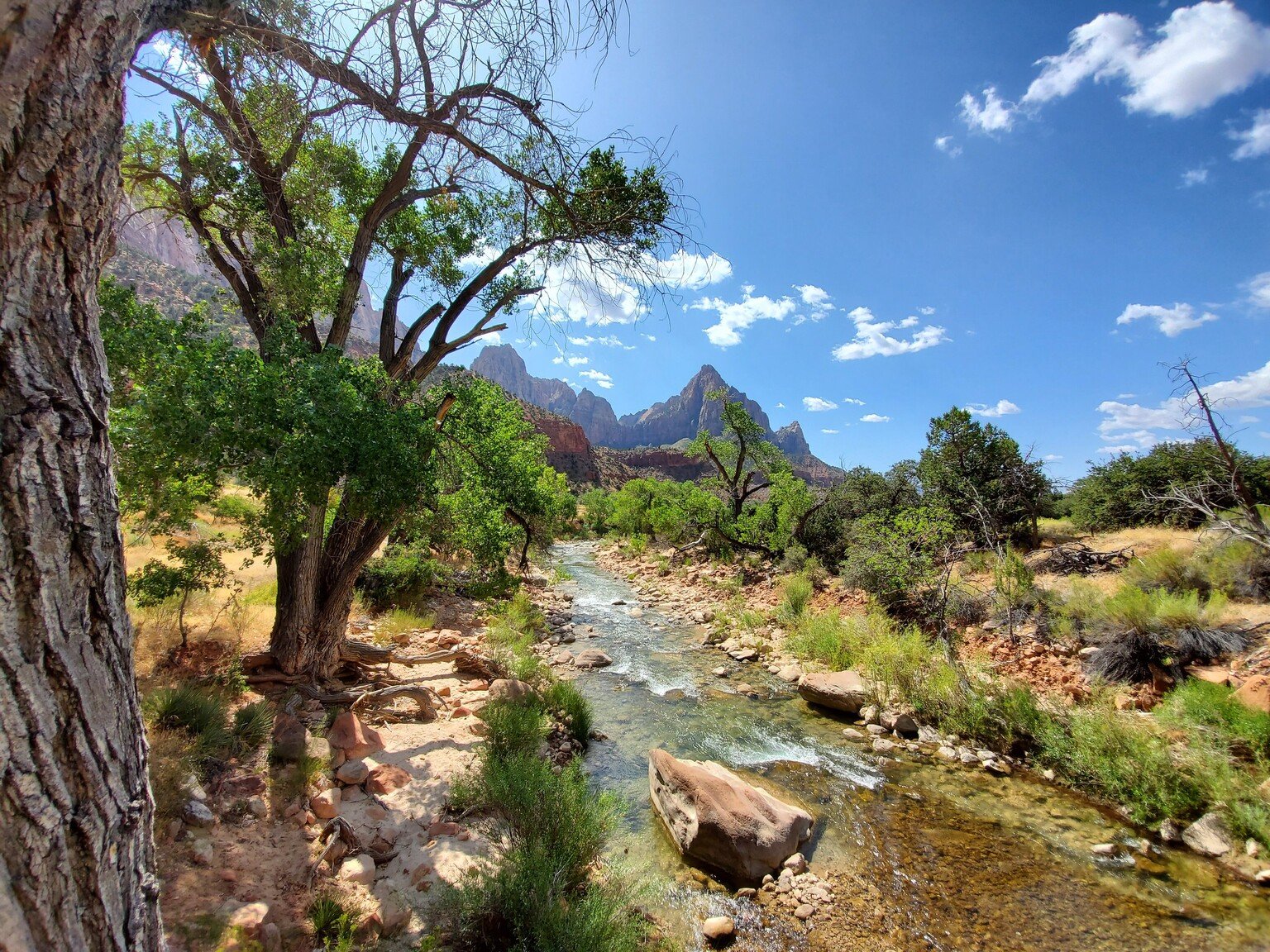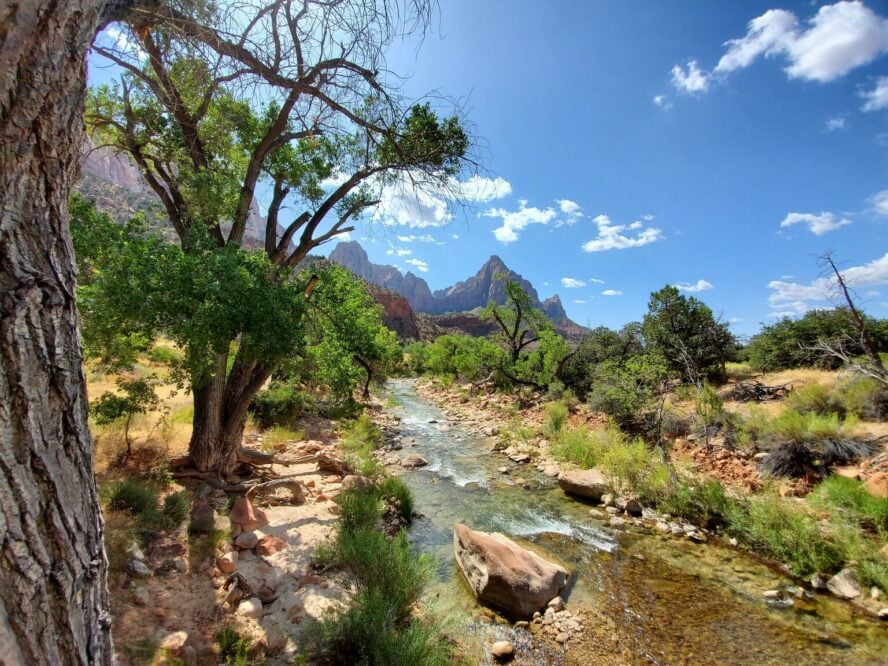 One of the best trails in Zion for first-time visitors
If you're looking for easy Zion hikes to try out on your first visit, look no further than the Pa'rus Trail, one of the finest (and most overlooked) trails the park has to offer. This is a completely paved route that starts at the Watchman Campground next to the visitor center, meanders along the Virgin River, and ends at the Canyon Junction tram stop.
Several bridge crossings will have you explore both sides of the river, with splendid views of the surrounding cliffs and mountains. If you're lucky, you might even catch a glimpse of the park wildlife, such as mule deer and foxes, playing in the sparse wildflower-strewn forest.
During monsoon season (roughly from June through September) the water level rises significantly and the Virgin River becomes a force to be reckoned with. Standing on a bridge above the torrent of rushing water was one of the most exciting and humbling experiences of my life. Besides heavy rains, the monsoon season brings a whole new level of complexity and beauty to the park. After heavy rains, you'll see waterfalls pouring down the cliffsides, while the east side of Zion Canyon will be flash flooding.
I've hiked this trail more times than I can count—it's just that easy and fun. I think every visitor should try it once.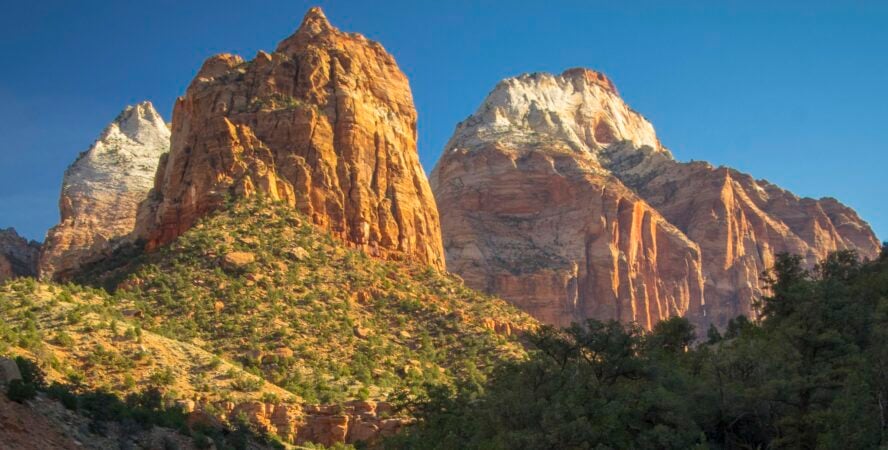 Pa'rus Trail Hike - Zion National Park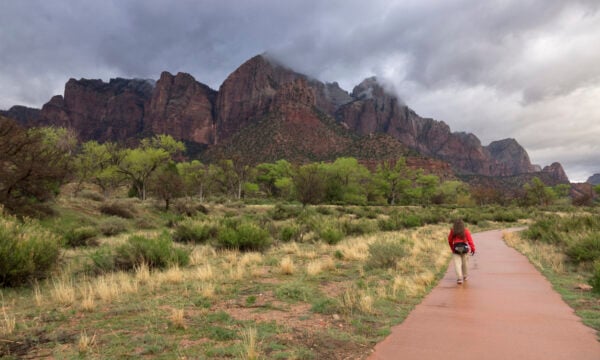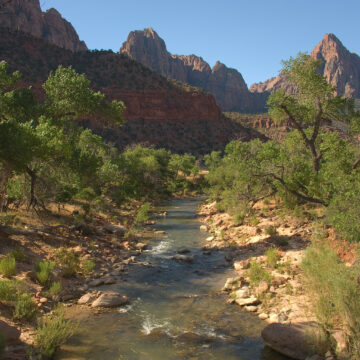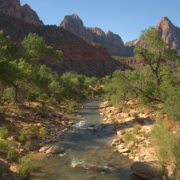 1. Pa'rus Trail - Good to Know
Distance
3.5 miles (5.6 km) out-and-back
Elevation gain
160 feet (49 m)
Getting there
Access from the Zion Canyon Visitor Center
Tips
Best to visit in the shoulder seasons, especially during sunset or sunrise
Recommended guided tour
Emerald Pools Trail
2. Emerald Pools Trail
TOP CHOICE FOR FAMILY HIKES
Serene area with pools, waterfalls, and lush vegetation
Offers excellent hiking throughout the year
Can be hiked in two directions, completely or partially
Watch out for a couple of exposed spots in the upper section
Before you ask: no, you can't swim in the pools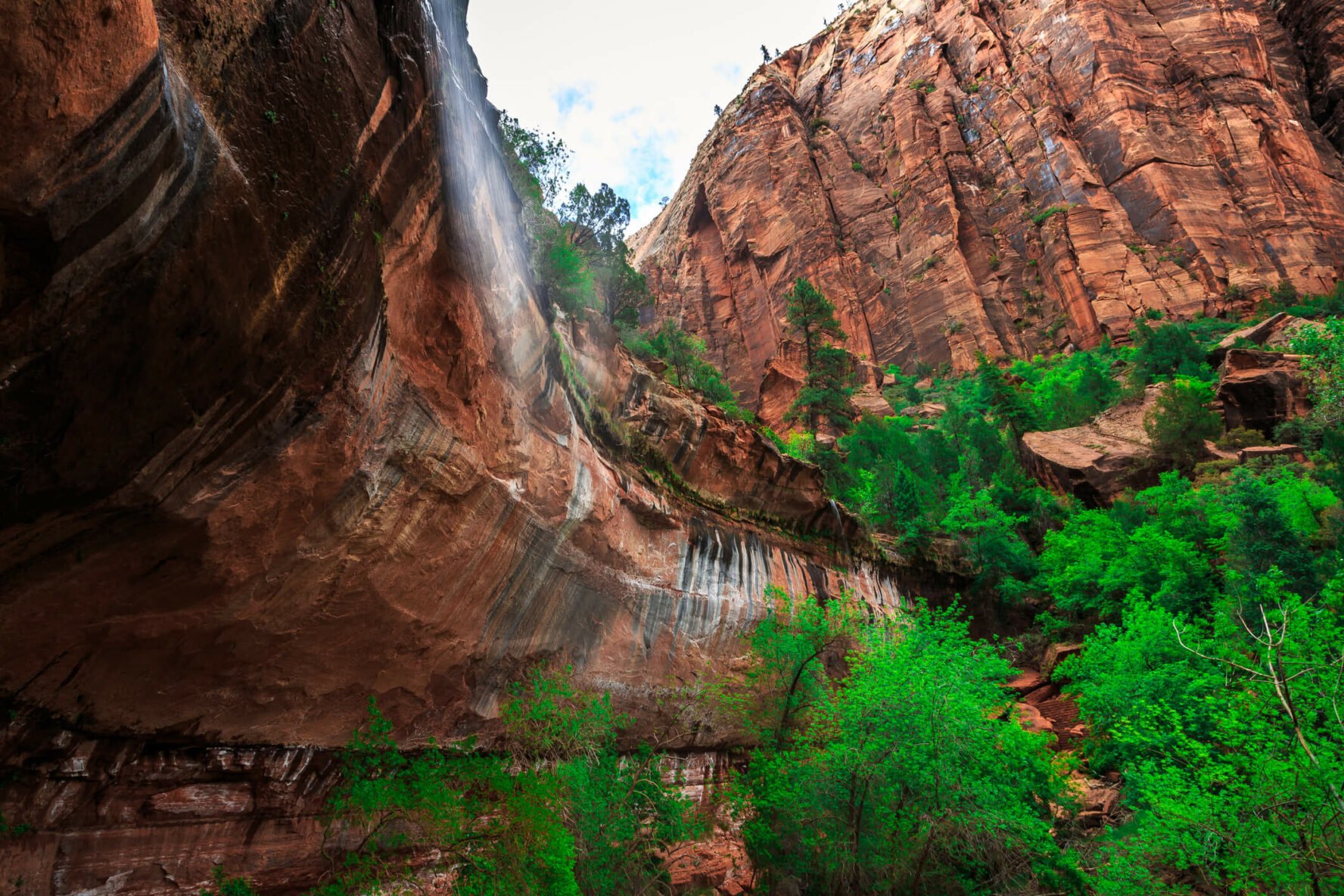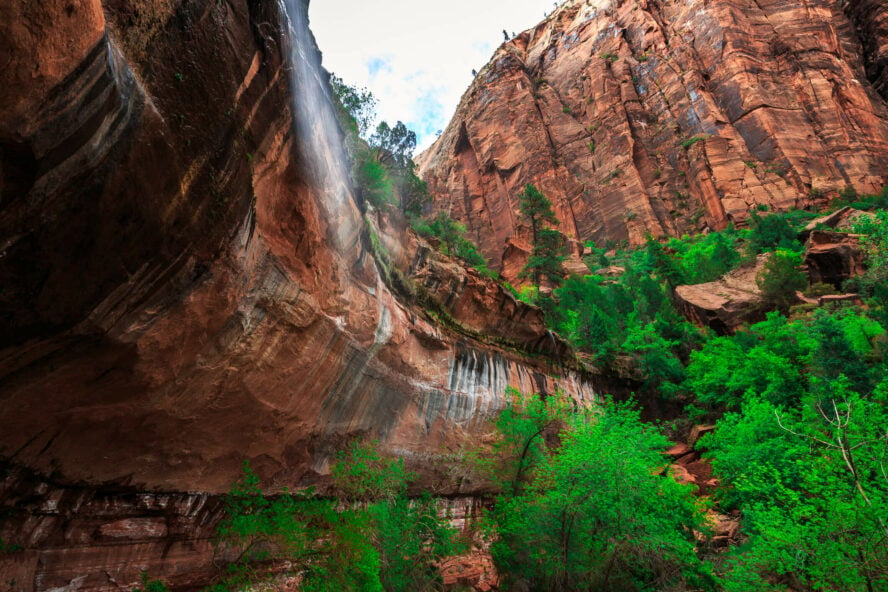 A glistening garden growing in the desert
If you're heading into the Zion Canyon Scenic Drive, you're going to pass the Court of the Patriarchs, a dramatic series of Navajo sandstone peaks, before reaching the Zion Lodge, the starting point of the Emerald Pool Trail.
The Emerald Pools Trail is a classic loop hike in the heart of Zion. This lush desert oasis offers beautiful views of the canyon and a fresh change from the arid scenery the park is known for. It consists of three sections: the Lower, Middle, and Upper Emerald Pools. You can hike the whole thing as one big three-mile loop or do just the Lower and Middle sections for little over 2 miles of scenic hiking.
From the Zion Lodge, get up on the paved trail, then drop into the Lower Emerald Pools. If you're going through this section after a rainy day, you'll have a waterfall rushing over your head. Just make sure to bring your hiking boots, maybe even microspikes, to combat the mud. The middle section, which reopened in 2020 after a decade-long closure, offers gorgeous views of the Great White Throne and Red Arch Mountain.
Even more options once you reach the top
In the Upper Emerald Pools, you can find some more wide panoramas and the exit out of Heaps Canyon, the big kahuna of canyoneering in Zion. The terrain here is rockier, with plenty of steps, and even a couple of exposed spots where a fall could prove quite dangerous. If you're bringing children with you, please be extra careful.
There are two ways you can exit the trail. You can cut back upcanyon and connect to Kayenta Trail and West Rim Trail or simply go down and finish the loop at Zion Lodge. Consider bringing trekking poles for the final section if you have issues with hiking downhill.
All in all, this is one of the best Zion hikes for casual parkgoers. It's available year round, there's no significant elevation gain, and it's got just enough excitement to please everyone.
Whenever I bring young families to the verdant oasis of Emerald Pools, I can see the spark of wonder in the children's eyes. To me, that's the hallmark of a terrific hike.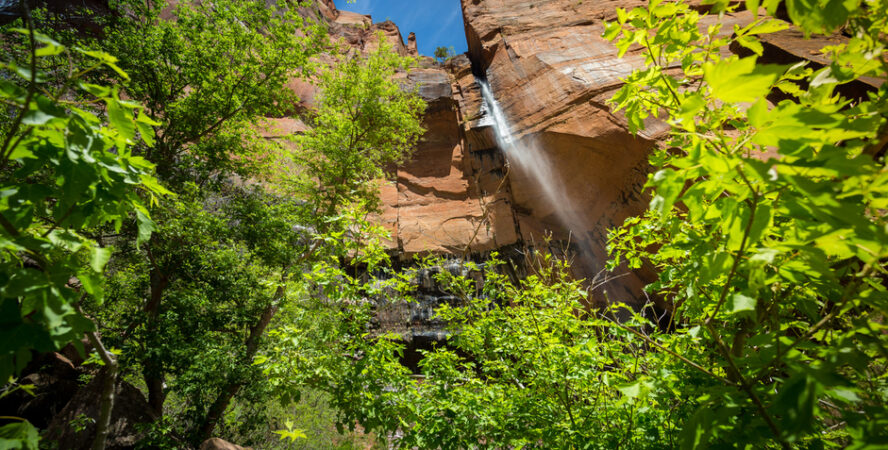 How to hike Emerald Pools in Zion National Park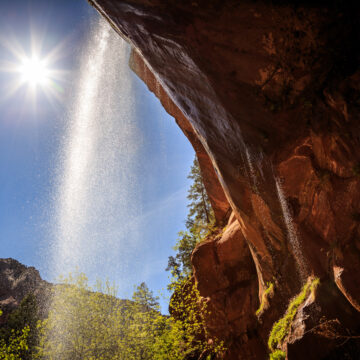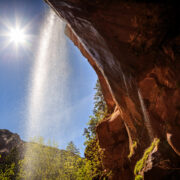 2. Emerald Pools Trail - Good to Know
Distance
3 miles (4.8 km) loop
Elevation gain
620 feet (189 m)
Difficulty
Beginner to moderate. Going right from the Zion Lodge is the easier option, while going left gives you a steeper start.
Duration
2-4 hours, depending on how you plan your loop
Getting there
Access from the Zion Canyon Visitor Center.
Tips
In the dry season, the pools and waterfalls may not be as exciting, so try to time your visit when there's rainfall.
The Narrows Trail
3. The Narrows
TOP CHOICE FOR SLOT CANYON HIKES
One of the most iconic sites in the United States
Unbelievably beautiful the whole way through
Diverse hike that combines paved and rocky sections with some wading
Expect to see plenty of people on the trail
The canyon is prone to flash floods after heavy rains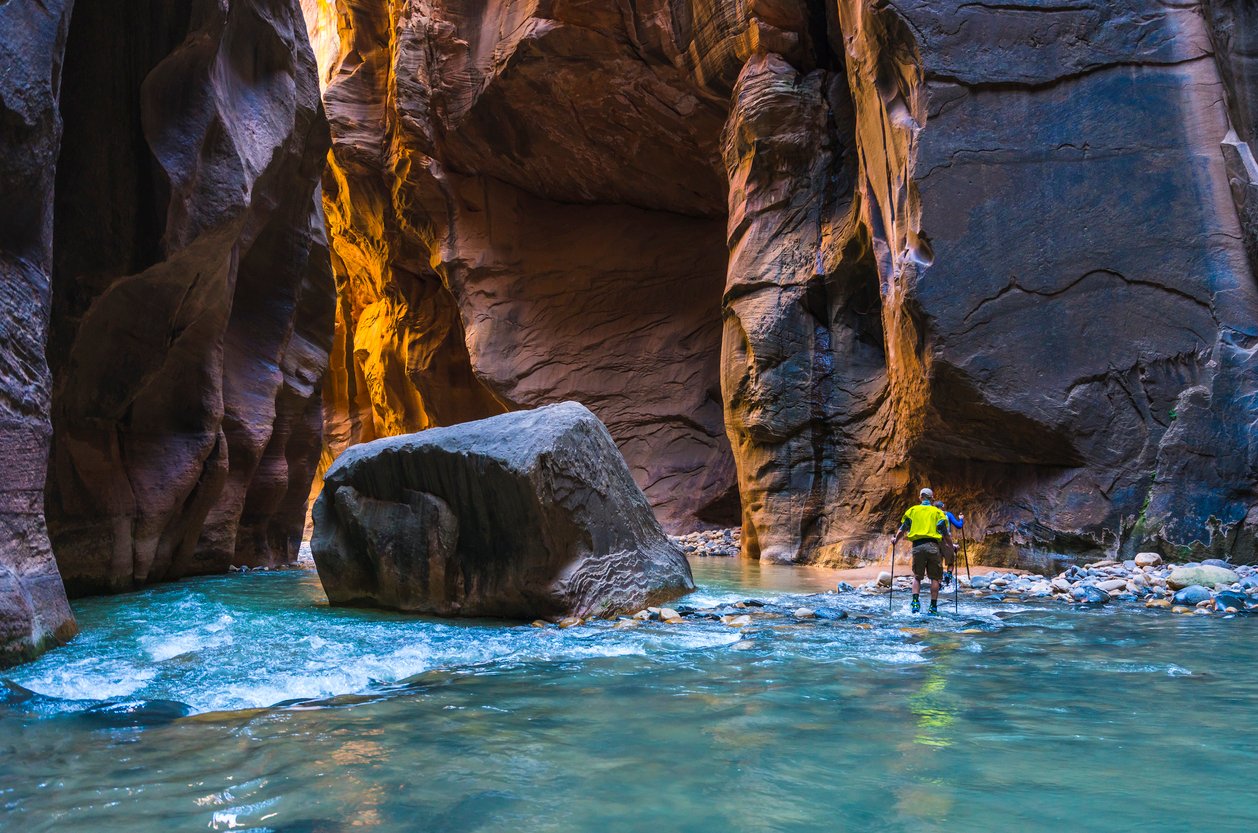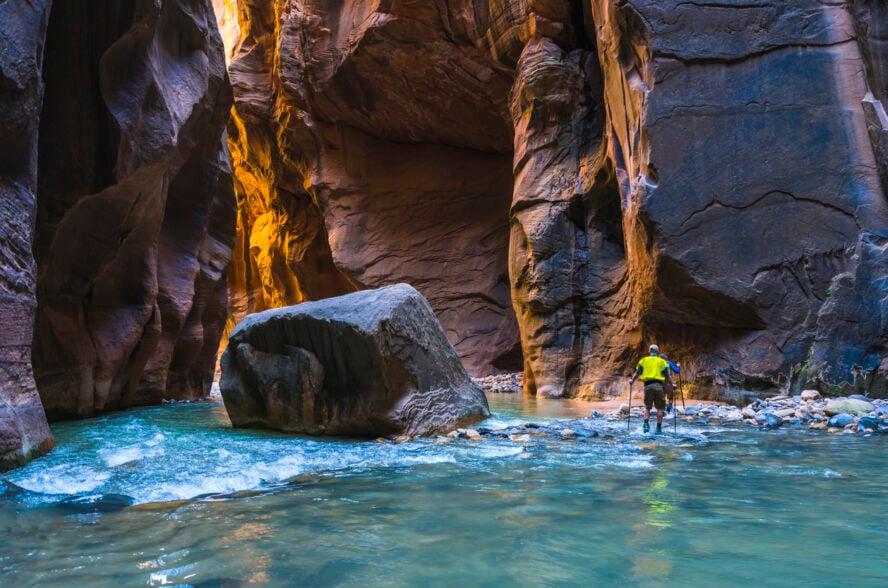 Dip your toes in the waters of Zion
The Narrows are home to one of the world's most famous slot canyon hikes. Carved by the Virgin River between thousand-foot walls of multi-layered sandstone, this colorful trail through the narrowest section of Zion Canyon features a variety of extraordinary sights and ever-shifting terrain.
There are two ways to hike the Narrows: top-down and bottom-up. The first method will take you through the entire canyon on a massive one-day hike (or two-day backpacking trip). The second, more popular method is a mellower out-and-back hike, perfect for a family-friendly summer excursion.
Starting from the sandstone amphitheater called Temple of Sinawava, the paved mile-long Riverside Walk will take you along the lush hanging gardens and weeping walls of the canyon until you reach the Virgin River. Follow the trickling cascades, gravel bars, and shining coats of black desert varnish until the gigantic walls constrict. This is where you enter the river and the wading starts.
No two trips in the Narrows are ever the same
From mid-May through September the water is waist-deep at worst and you can go in without any gear. For the rest of the year, you'll want to bring waders or a dry suit (which you can rent in town). The ground consists of sand, debris, and rocks carried endlessly by the river. My favorite thing about the Narrows is how entire sections become deeper or shallower over time, rocks and sand bars constantly move to new spots. Everytime you enter, it's a new place.
The bottom-up hike will take you as far as Big Springs without a permit. You can also add a side-trip to Orderville Canyon to make it a 12-mile round trip. The ending point is not that important because the Narrows are all about the journey—and what a journey it is!
After rain, the wet canyon walls glisten like gold in the sun, dotted by vibrant green resurrection moss—which springs back to life after being dormant during dry periods. Hiking the Narrows feels like entering planet Pandora from Avatar.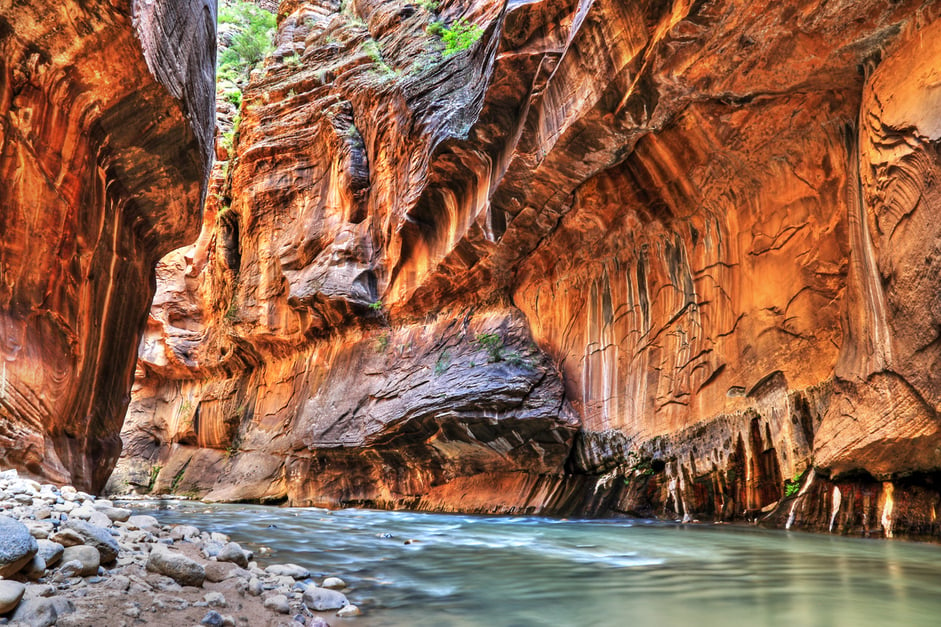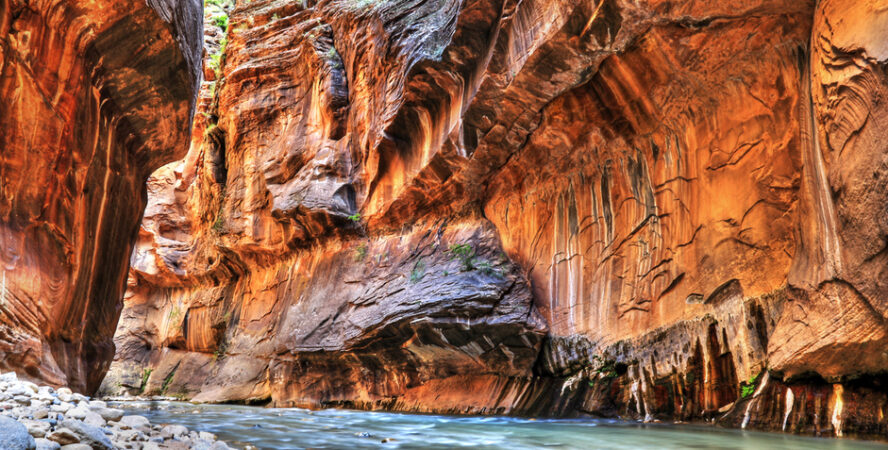 ZION National Park | The NARROWS Hike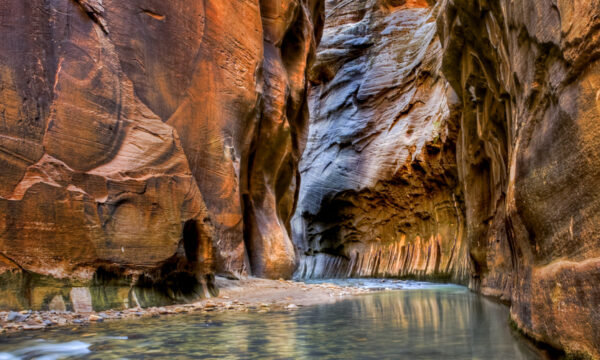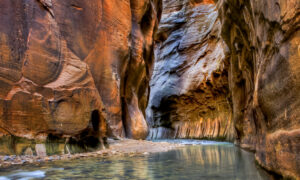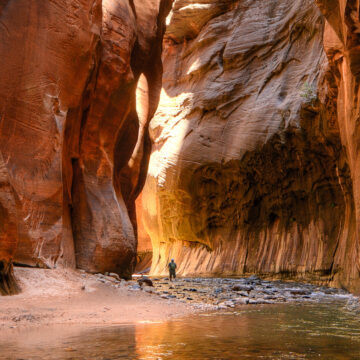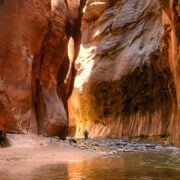 3. The Narrows - Good to Know
Distance
Top-down: 15.5 miles (25 km) point-to-point
Bottom-up: 12 miles (19 km) out-and-back with the Orderville Canyon side trip (10 miles (16 km) if you turn back at Big Springs)
Elevation gain
Top-down: 1,000 feet (305 m)
Bottom-up: 700 feet (213 m)
Difficulty
Top-down: strenuous
Bottom-up: easy to moderate, depending on the weather conditions and water level
Duration
Top-down: 10-13 hours
Bottom-up: 3-8 hours, depending on your tempo (don't rush—enjoy the beauty!) and water level
Getting there
Top-down: From the intersection of Highway 9 and North Fork Road, travel up NFR for around 17 miles, then turn left at BLM93. After a mile, turn left again to reach the starting point at Chamberlain's Ranch Trailhead.
Bottom-up: at the Visitor Center, take the Zion Canyon Shuttle to The Temple of Sinawava trailhead and get off at the last stop.
Tips
During monsoon season or after snowmelt, the river is closed for a day when the flow reaches over 150 cubic feet per second.
Recommended guided tour
Canyon Overlook Trail
4. Canyon Overlook Trail
TOP CHOICE FOR EASY-ACCESS VISTAS
Undemanding but extremely rewarding trail
One of the best introductory Zion National Park hikes
Open to visitors year round
Gets quite crowded at times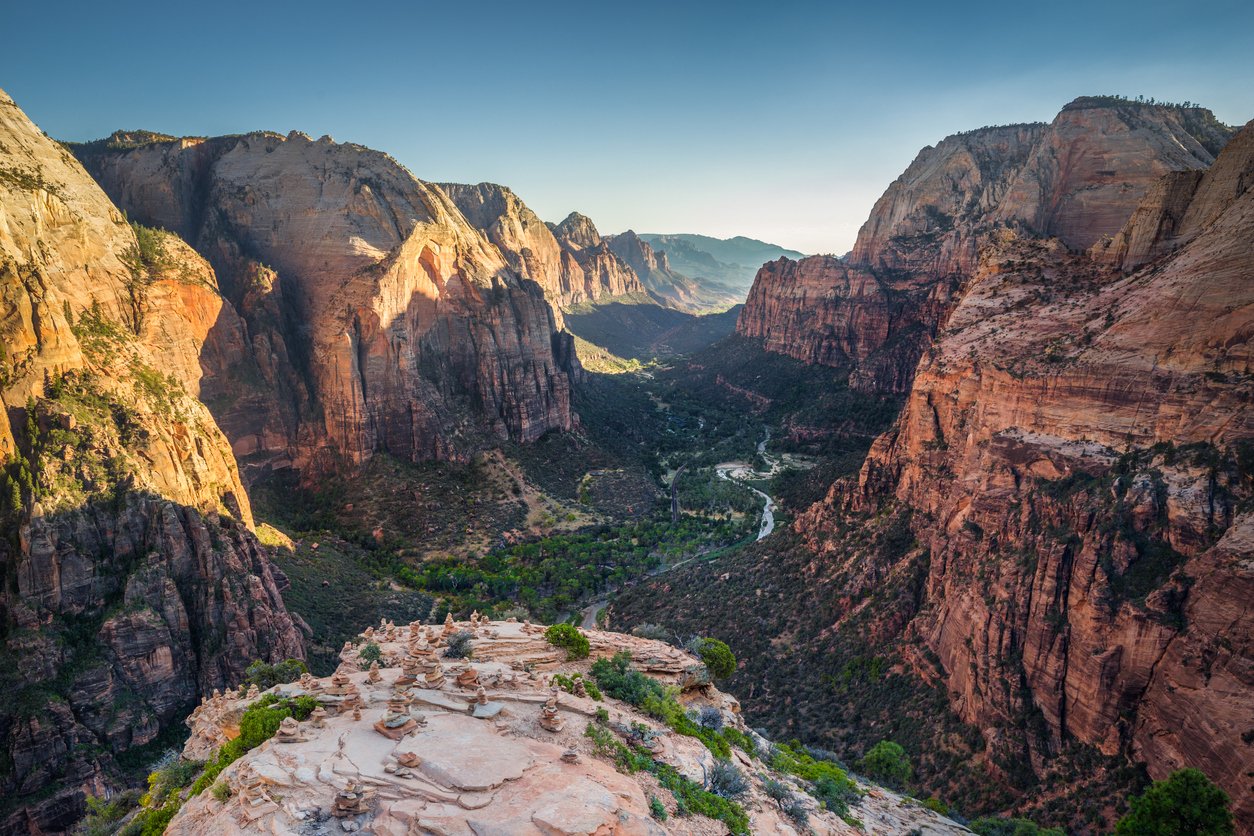 Best views for the least effort
Short, scenic, and suitable for all ages and skill levels, the Canyon Overlook Trail would make a fine choice for your first Zion National Park hike. This 1.6-mile round trip will take you over fun sections of dirt and slickrock with minimal elevation gain. There are some narrow spots and steep drop-offs to watch out for, but for the most part you'll be gaining ground without much challenge.
To access the trail, follow Highway 9 until you reach a small parking lot near the east entrance of the historic Zion-Mount Carmel Tunnel, one of the longest sandstone tunnels in the world. You'll find the trailhead right across the road, where a series of stone steps initiates the ascent towards the lookout.
Accompanied by bighorn sheep and chipmunks playing among the pinyon trees below, you'll pass a slot canyon at the bottom of Pine Creek. A little further stands a bridge with wooden planks that leads to a shaded fern-covered alcove where you can get out of the sun. All that's left now is to cross a slickrock section to reach the top—a closed-off area with a wonderful view of the canyon.
If you're drawn to the spectacle of Angel's Landing and Observation Point, but the prospect of hiking for hours on rocky terrain worries you, then Canyon Overlook is a great option to consider.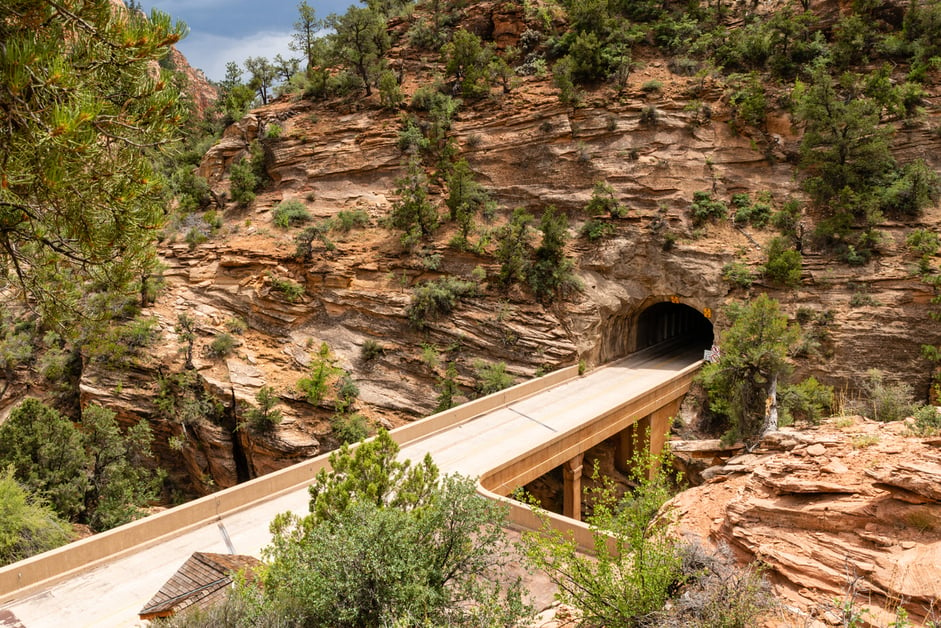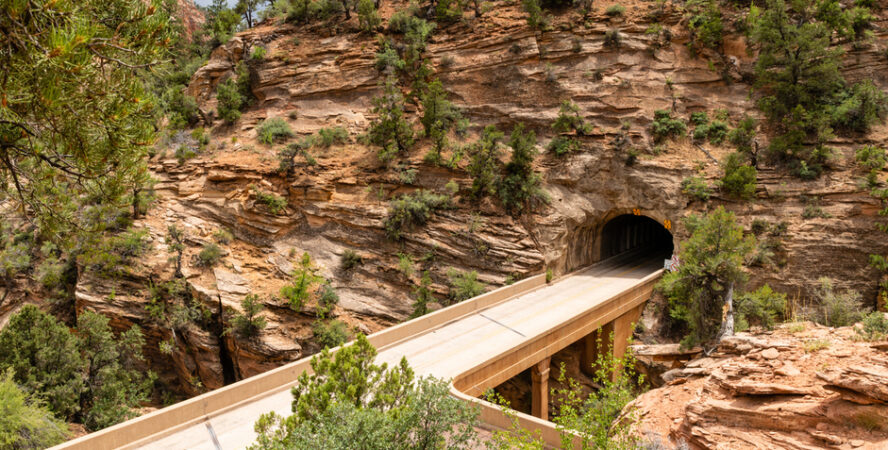 Zion's Canyon Overlook Trail | What To Know Before Hiking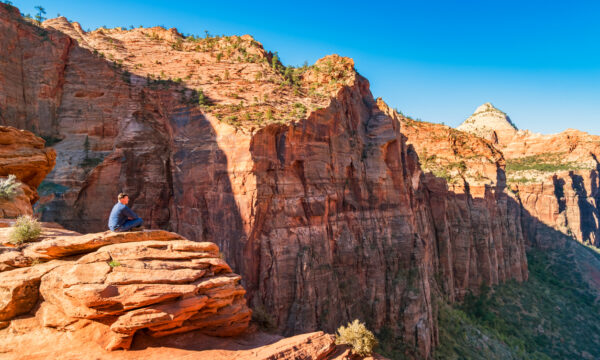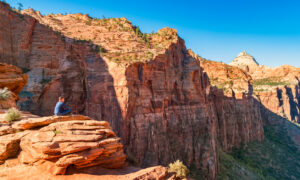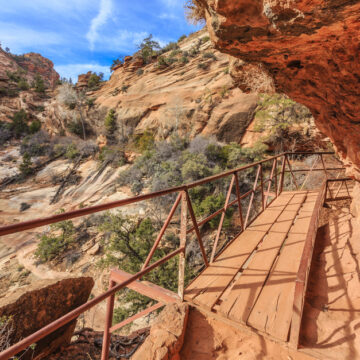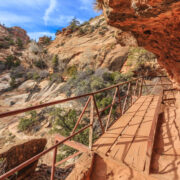 4. Canyon Overlook Trail - Good to Know
Distance
1 mile (1.6 km) out-and-back
Elevation gain:
190 feet (58 m)
Difficulty
Easy to moderate
Getting there
Take Highway 9 until you reach the parking lot at the east entrance of the Zion-Mount Carmel Tunnel. There are no shuttles to this trail.
Tips
The trail can get icy and muddy at certain parts of the year, so consider bringing waterproof shoes or spikes
West Rim Trail
5. Scout Lookout via the West Rim Trail
TOP CHOICE FOR PERMIT-FREE THRILLS
Phenomenal views of Zion Canyon and the surrounding peaks
Get most of the Angels Landing experience without needing a permit
The Refrigerator Canyon section is a welcome relief from the sun
You'll have to put in a decent amount of work for those views
Excellent as it may be, it's still not Angels Landing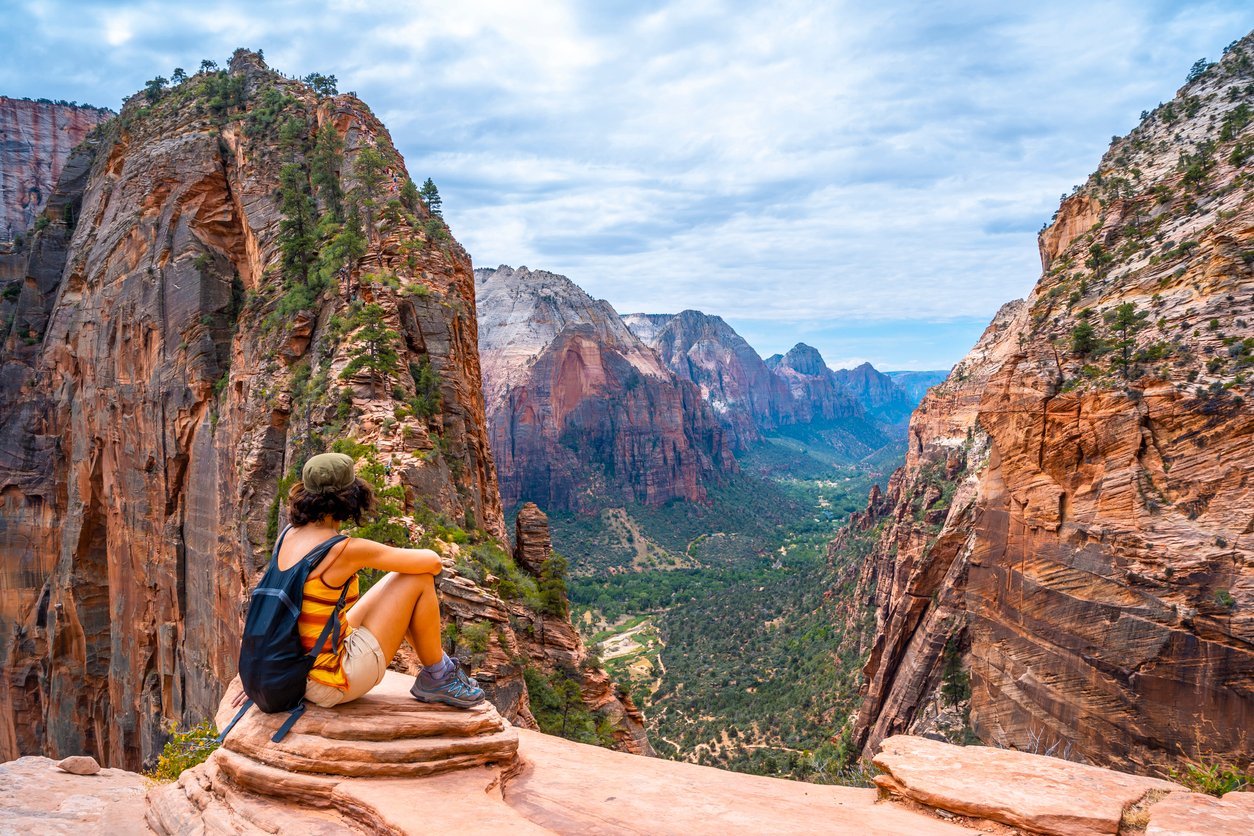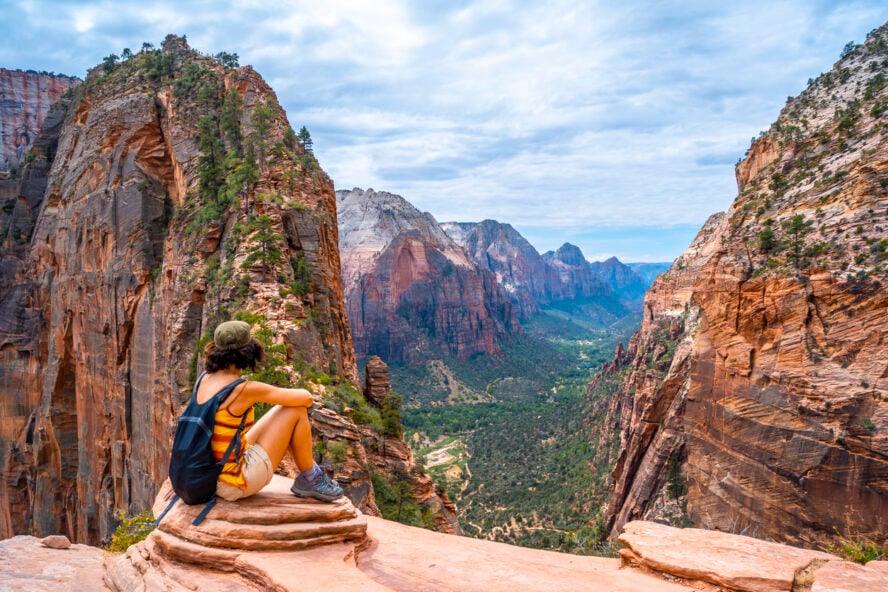 21 switchbacks to glory
The West Rim Trail is a beautiful 16-mile point-to-point backpacking route from the Grotto to the Lava Point Campground. However, it's also an important artery running through the park that connects to other exquisite trails and lookouts. One of them is the Scout Lookout, a relatively flat, sandy area located 5,330 feet above the canyon floor and the ending point of this hike.
This is one of the more challenging trails in the park. Starting from the Grotto, cross the Virgin River, then proceed towards the aptly named Refrigerator Canyon, quickly gaining elevation along the way. The canyon got its name from the cool breeze that blows through it, offering welcome respite to hikers and climbers.
Next up is the real crux of the hike. A rift on the east wall houses a sequence of twenty-one steep switchbacks known as Walter's Wiggles, whose playful name belies their strenuousness. Often called a marvel of engineering, the zig-zagging Wiggles pick up a lot of elevation very quickly, leaving tired hikers at risk of falling, especially if they're not used to such intensity.
At the top you'll find an open area with a prominent sandstone slab—this is the Scout Lookout. Take a seat, enjoy the view of the road and Virgin River below or greet hikers coming back from Angels Landing, which sits just beyond this area.
If you weren't lucky enough to win the lottery for the Angels Landing permit (or just don't like crazy ascents), Scout Lookout is the next best thing.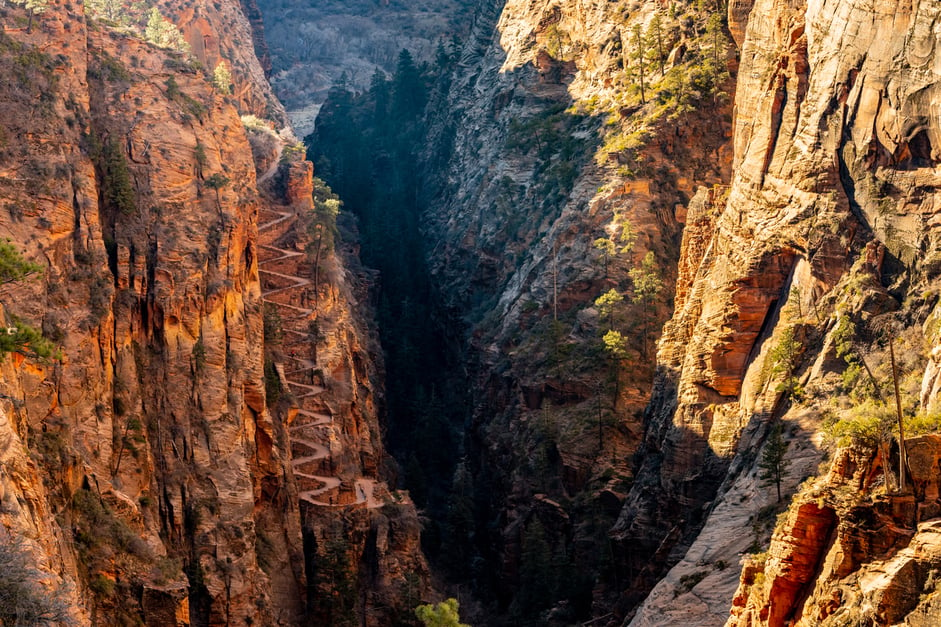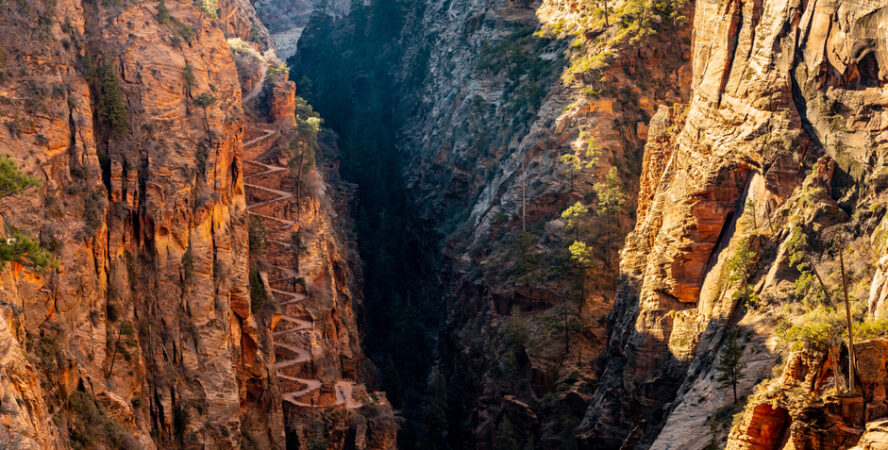 Scout Lookout - Zion National Park - GoPro Hyperlapse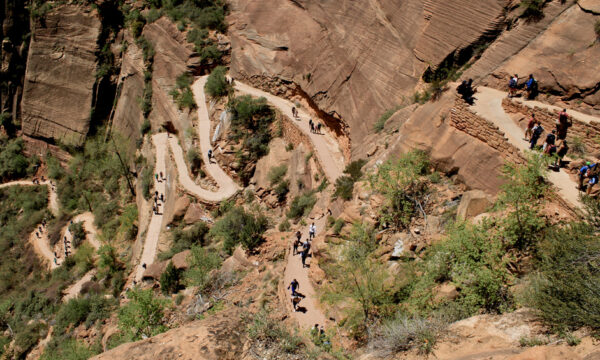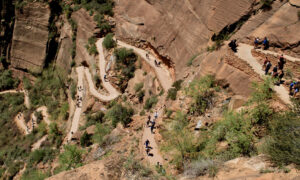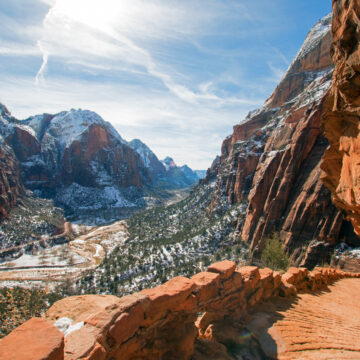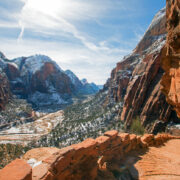 5. Scout Lookout via the West Rim Trail - Good to Know
Distance
3.5 miles (5.6 km) out-and-back
Elevation gain
1,115 feet (340 m)
Difficulty
Moderate to strenuous
Getting there
The starting point at the Grotto can be accessed via the Scenic Drive or the Zion Lodge, which is the fifth stop of the Zion Canyon Shuttle.
Tips
Scout Lookout is best enjoyed in the shoulder seasons, especially when glistening snow creates a contrast to the bright red rock formations.
Recommended guided tour
Angels Landing Trail
6. Angels Landing Trail
TOP CHOICE FOR HARDCORE HIKERS
Probably the greatest views in the entire park
No other hiking trail around can offer such an adrenaline rush
Impressive feat of trail building on highly exposed rock
Requires a permit to hike
If you're not a fan of heights or holding onto chains, it might not be for you
Although countless people have cleared it, it's still undeniably dangerous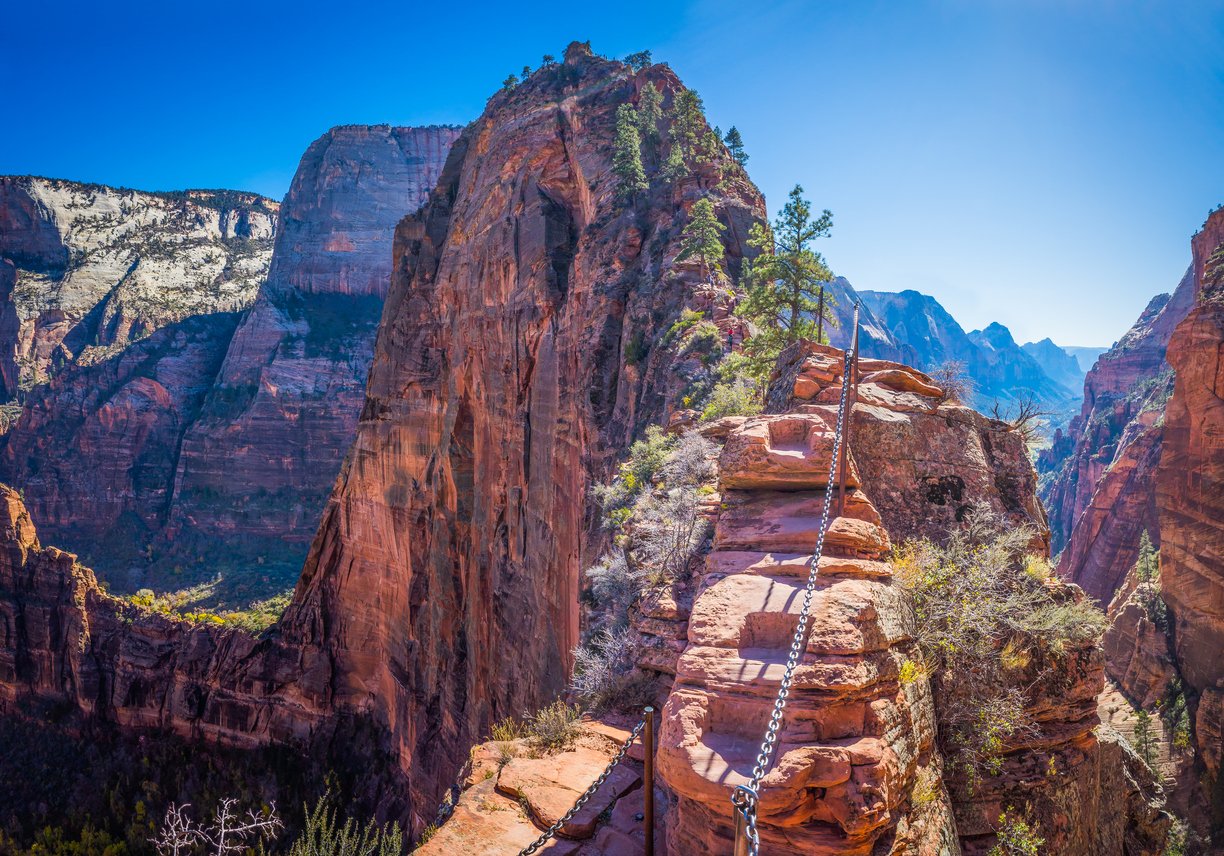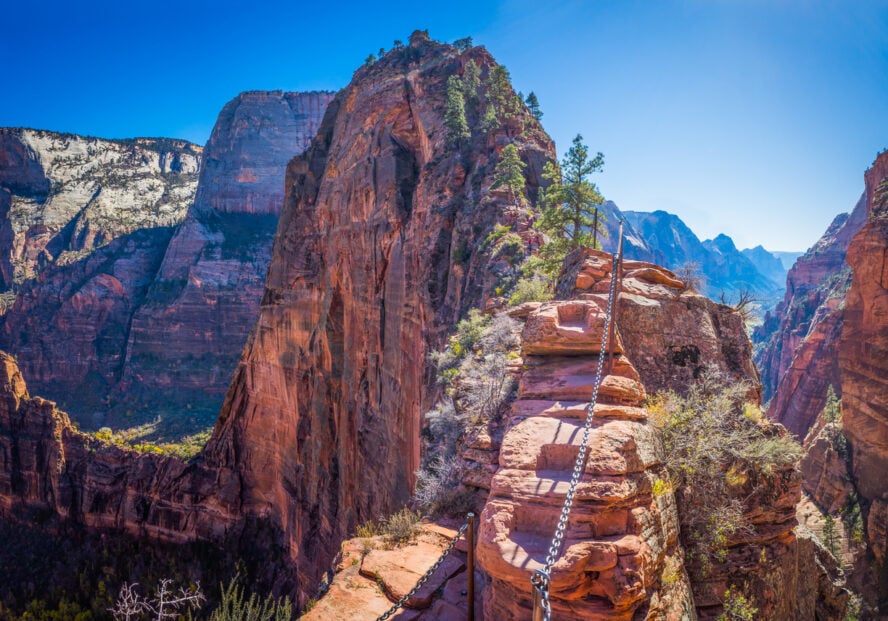 So popular you need a permit
When it comes to must-do hikes in Zion National Park, Angels Landing takes the cake. It is everything a bucket list adventure should be: audacious, dramatic, even a little bit crazy!
However, as one of the most popular destinations at Zion, there have been growing concerns about crowding and congestion on the trail. As a result, everyone who hikes Angels Landing needs a permit.
A hike to the heavens
Built over a century ago on some of the most exposed, inhospitable terrain this rocky realm has to offer, it's a testament to the hardihood of hikers chasing that sublime high only the outdoors can provide.
This 5-mile out-and-back trail contains the entirety of the Scout Lookout via West Rim Trail, but adds an additional layer of complexity that elevates it to hiking greatness. Instead of stopping at the Scout Lookout, those carrying a permit can enter the next section—a narrow sandstone fin with massive drop-offs on both sides that will make your head spin.
Yes, that spine-tingling 500-vertical-foot push to the summit is so sensational that it warrants a separate entry. To call it merely steep would be a disservice to the heroes that built the trail and bolted chains to provide handholds throughout this final stretch. The abyssal gaps, scrambly slabs, and tight walkways will keep you on your toes at all times.
Along the way, you'll pass above Moonlight Buttress, one of the best spots for rock climbing in Utah and my personal favorite. Once you've reached the top, which is a delightfully wide and level surface, you'll have earned eternal bragging rights and the finest 360-degree views in the entire park.
Anyone in decent physical shape can take on the Angels Landing Trail—but the real challenge of this heavenward trek is psychological. If you think you can handle the height, don't miss it!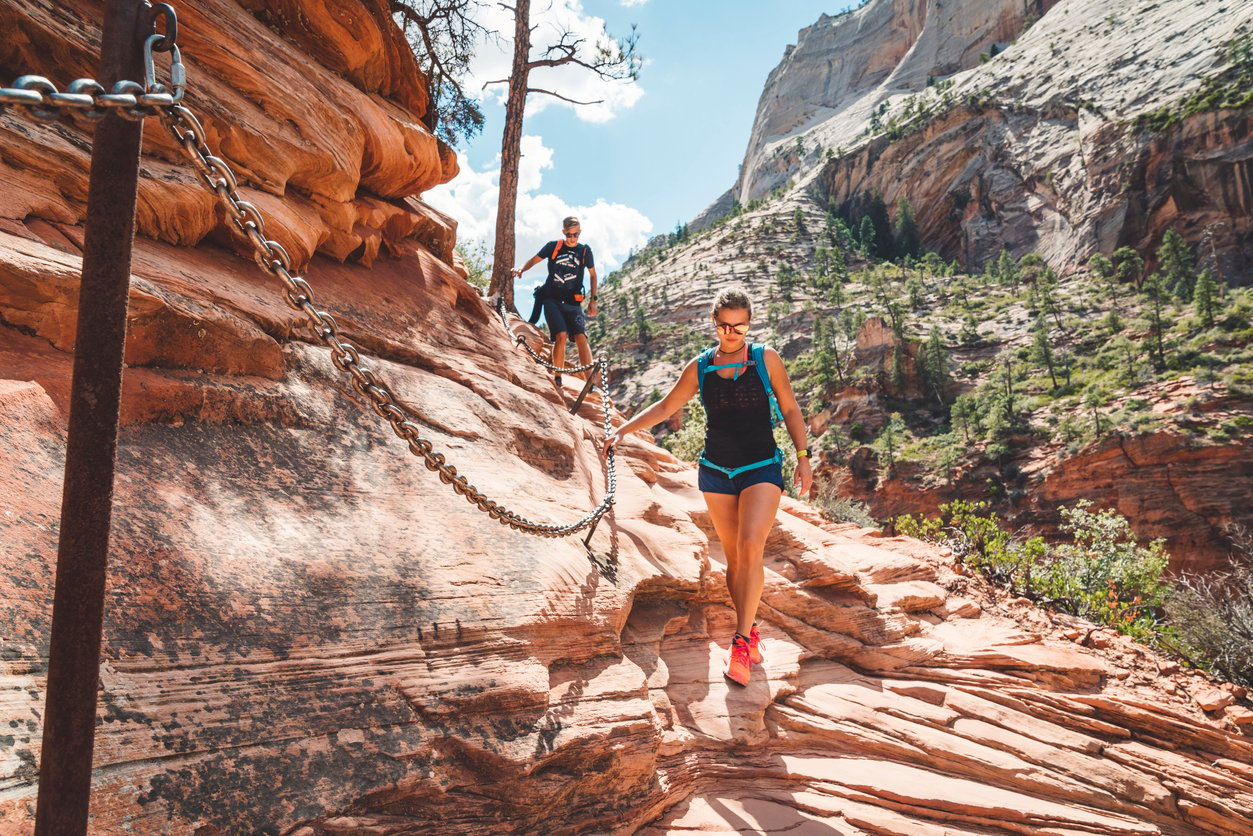 Angels Landing Trail in Zion National Park: Hiking One of America's Most Dangerous Trails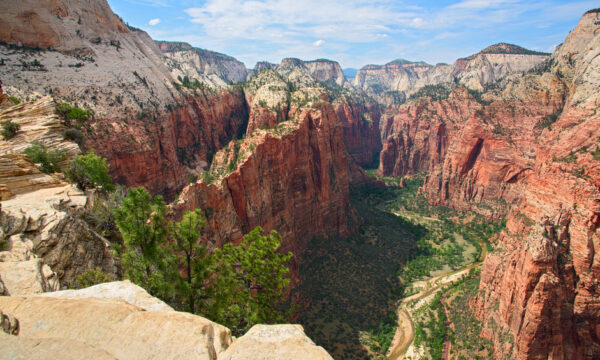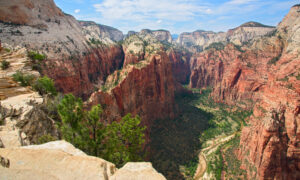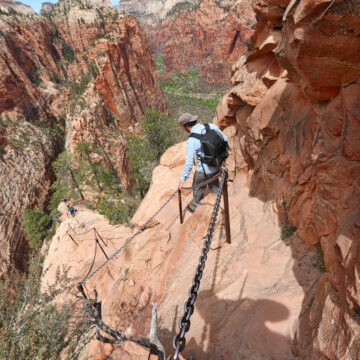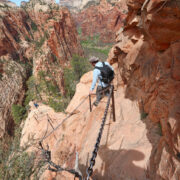 6. Angels Landing Trail - Good to Know
Distance
4.4 miles (7.1 km) out-and-back
Elevation gain
around 1,500 feet (457 m)
Getting there
Just like for the Scout Lookout Trail, the Grotto can be accessed via the Scenic Drive or the Zion Lodge, which is the fifth stop of the Zion Canyon Shuttle.
Tips
At the chain section, keep your movements smooth and controlled; don't rush the people in front of you and maintain adequate distance.
Observation Point via East Mesa Trail
7. Observation Point via East Mesa Trail
TOP CHOICE FOR AVOIDING CROWDS
One of the most incredible panoramas in a park chock-full of them
A subtle hike far from the madding crowds
Great opportunity to see some of the park wildlife
You'll have to go out of your way to reach the trailhead
A good part of the hike is done in the full sun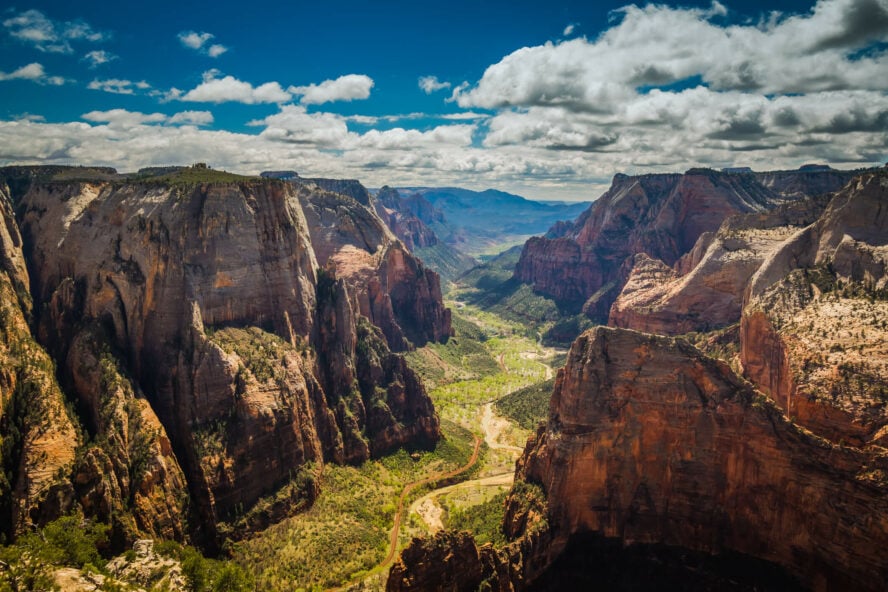 It's impossible to talk about the best hikes in Zion National Park without mentioning Observation Point, one of the most iconic spots in Utah. Standing atop Mount Baldy at 6,500 feet of elevation, this popular overlook commands a view of the Great White Throne, Cathedral Mountain, Big Bend, and Angels Landing.
Before 2019, you could have accessed the trail to the overlook from the Scenic Drive, but a massive rockfall at the Weeping Rock shuttle stop led to the closure of this well-known route. To reach Observation Point now, you'll have to take the East Mesa Trail, which is quite mellow and straightforward in comparison.
The 7-mile round trip hike starts on a wide, flat path through a lovely juniper and ponderosa forest, home to a variety of wildlife such as wild turkeys, deer, or coyotes. A little over two miles into the hike, you'll pass the head of Mystery Canyon. Follow the trail south until you reach the intersection with the Observation Point Trail. Follow it westward to reach the top of one of the best day hikes in Southern Utah.
The East Mesa Trail trades dramatic scenery and leg-burning intensity for a more subtle but still beautiful approach to one of the most beloved viewpoints in the park.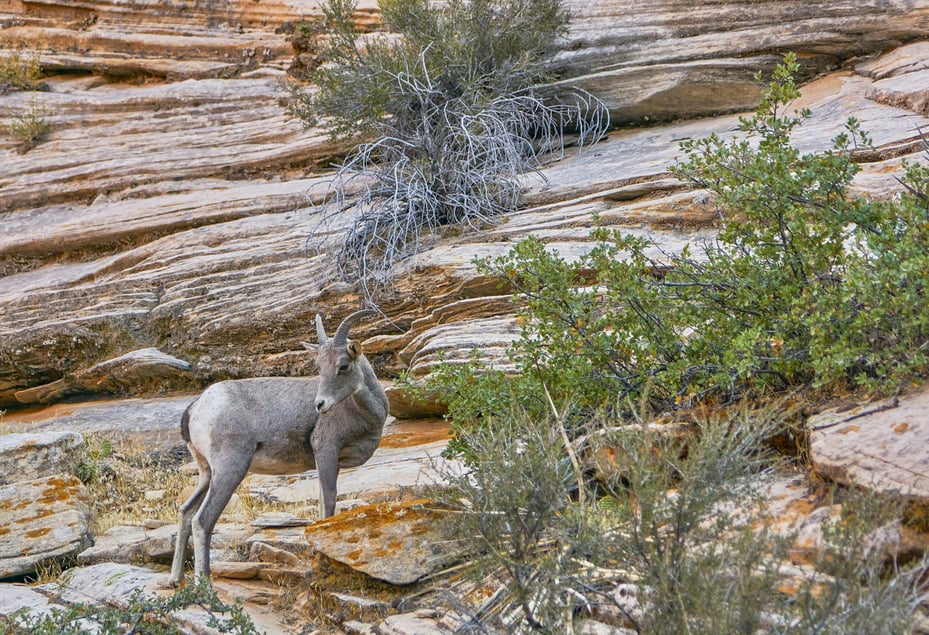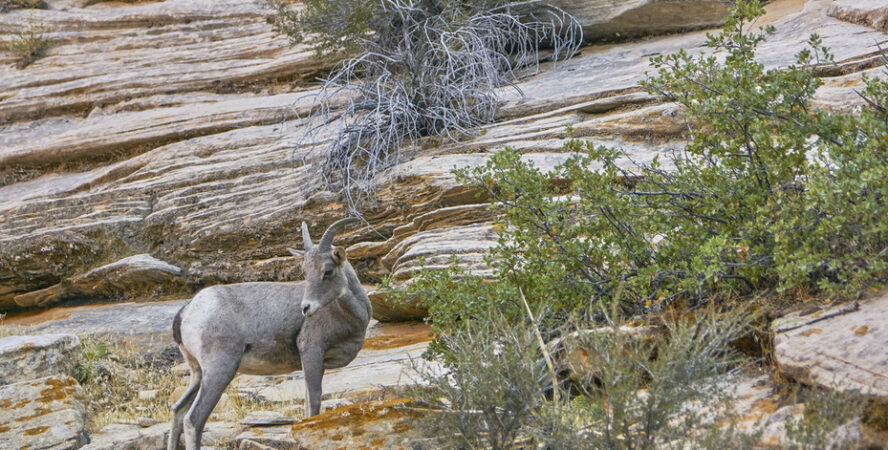 Observation Point From The East Mesa Trail (Zion National Park)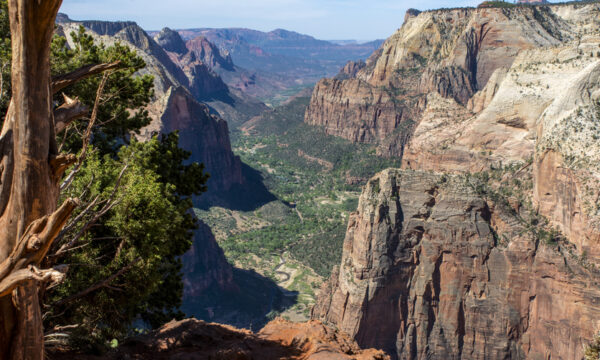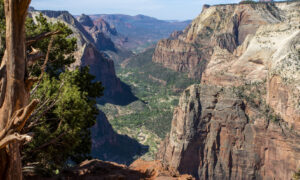 7. Observation Point via East Mesa Trail - Good to Know
Distance
7 miles (11.3 km) out-and-back
Elevation gain
700 feet (213 m)
Getting there
An hour-long drive from Springdale; take Route 9 toward Mt. Carmel Junction, then continue east from the East Entrance. Turn left on North Fork Road to reach Zion Ponderosa Ranch Resort. Enter the ranch and follow the signs to the trailhead. If the ground is muddy, you might have to buy a shuttle ticket from Ponderosa to the trailhead.
Tips
As most of the hike is done in the full sun, I recommend coming in the shoulder seasons, when the temperatures are more manageable.
Additional Info to Help You Prepare for the Best Hikes in Zion National Park
Those were some of the top hikes in Zion, whose beauty rivals even the legendary Grand Canyon hikes. But before you plan your trip to Utah's first national park, I'm sure you'd like to hear some more details. Below I've answered the most common questions I get from my guests.
Reaching Zion National Park and getting around
The St. George Regional Airport is the closest airport to Zion; it's only a 45-minute drive to the park. For most people, though, the Harry Reid International Airport in Las Vegas is the preferred option. From there, you can rent a car and drive for 2.5 hours to Zion.
The park has a seasonal shuttle system (from March through November) to reduce traffic congestion and parking issues. The shuttle leaves from the Zion Visitor Center every couple of minutes. During non-shuttle season, the Zion Canyon Scenic Drive is open to drivers until all the legal parking spaces are taken. If there is no parking available in the park, you'll have to leave your car at Springdale.
What is the best time to visit Zion National Park?
Although the park is open year round, the majority of visitors come between April and September. I recommend coming in early spring or fall, when there's fewer people around and the temperatures are much more bearable.
What gear do I need for hiking in Zion National Park?
Here's a list of the equipment you need to bring:
Day pack large enough to carry all the items listed (around a 25-40L bag)

Hiking poles — optional

Water bottle or hydration bladder (2L capacity)

Lightweight hiking boots or shoes

Microspikes for hiking on slippery or muddy terrain

Spare clothes for layering

Waterproof rain jacket

Sunhat

Snacks you can eat on-the-go

Toiletries (sunscreen, hand sanitizer, bug spray, toilet paper, etc.)

Headlamp or flashlight

Sunglasses

Camera — optional (but recommended)
Zion National Park entrance fees
All visitors have to buy a recreational use pass when entering Zion National Park. These will set you back $35 per vehicle and an additional $20 per person. You can also get an annual pass, which costs $70 per visitor.
Restaurants to check out near Zion National Park
If you're in the mood for some good pub grub, the Zion Canyon Brew Pub is just a 7-minute walk from the visitors center. In the Springdale area, Switchback Grille Steakhouse is a more upscale option. Thai Sapa may not have the most extensive menu, but their high-quality ingredients make them one of the best Asian restaurants around. And lastly, of course, there's Oscar's Cafe, a favorite local dining spot with plenty of options to choose from.
Where to stay near Zion National park
Cable Mountain Lodge is the closest hotel to the park entrance and the most popular high-end accommodation in Springdale. For a good mid-range option, check out Best Western Plus Zion Canyon Inn and Suites. And if you're looking for the best affordable option, Zion Park Motel is the way to go.
Do I need permits for Zion National Park?
Once you've paid the entrance fee, you don't need tickets, permits, or reservations to enter the park and ride the shuttle. None of the hikes require permits with the exception of the Narrows top-down (even if you're completing it one day) and the Angels Landing Trail.
Angels Landing Trail permits: A permit can be obtained in two ways—via Seasonal or Day-before Lottery. The seasonal lottery let's you apply months in advance by selecting "seven ranked days and times or windows of days and times you want to hike." If you can be flexible with your travel dates, this is your best bet; should you receive a permit you can then plan your trip around the hike. The other other option is a day-before lottery. This lottery opens every day at 12:01 a.m., and you need to apply the day before you plan to hike. If you like to wing it, or weren't able to win the seasonal lottery, this is your only other option. Find out how to apply at the official National Park Service website.
Also note, all overnight trips in the Zion wilderness require a backcountry permit.
Does Zion National Park allow dogs?
You can bring your dog to roads, campgrounds, and paved overlooks, but they are not allowed on any of the hiking trails—the only exception being the Pa'rus Trail, a paved path that starts at the Visitor Center and follows the Virgin River.
Where can I camp in Zion National Park?
There are three campgrounds to choose from in Zion. The Watchman Campground in Zion Canyon is open year round. South Campground, located near the Visitor Center, closes in winter, just like Lava Point Campground, which is an hour-long drive from Zion Canyon on the Kolob Terrace Road.
Why go with a guide
Whether you're backpacking in Zion National Park or just going for a day hike, having a guide by your side will always enhance the experience on the trail and ensure the safety of you and your group. A knowledgeable guide will know the area's history, geology, offer hiking tips for beginners, and know the perils and highlights of each location in the park.
Alternative adventures you can check out
If you're seeking ideas for some more outdoor fun, why not try a hike & bike tour of Zion National Park or drop in next door for some spectacular Bryce Canyon hikes? A bit further, there's a host of hikes in Arizona to whet your appetite for exploration. And if you're looking for something different, you can stay in the area and try your hand at canyoneering near Zion National Park.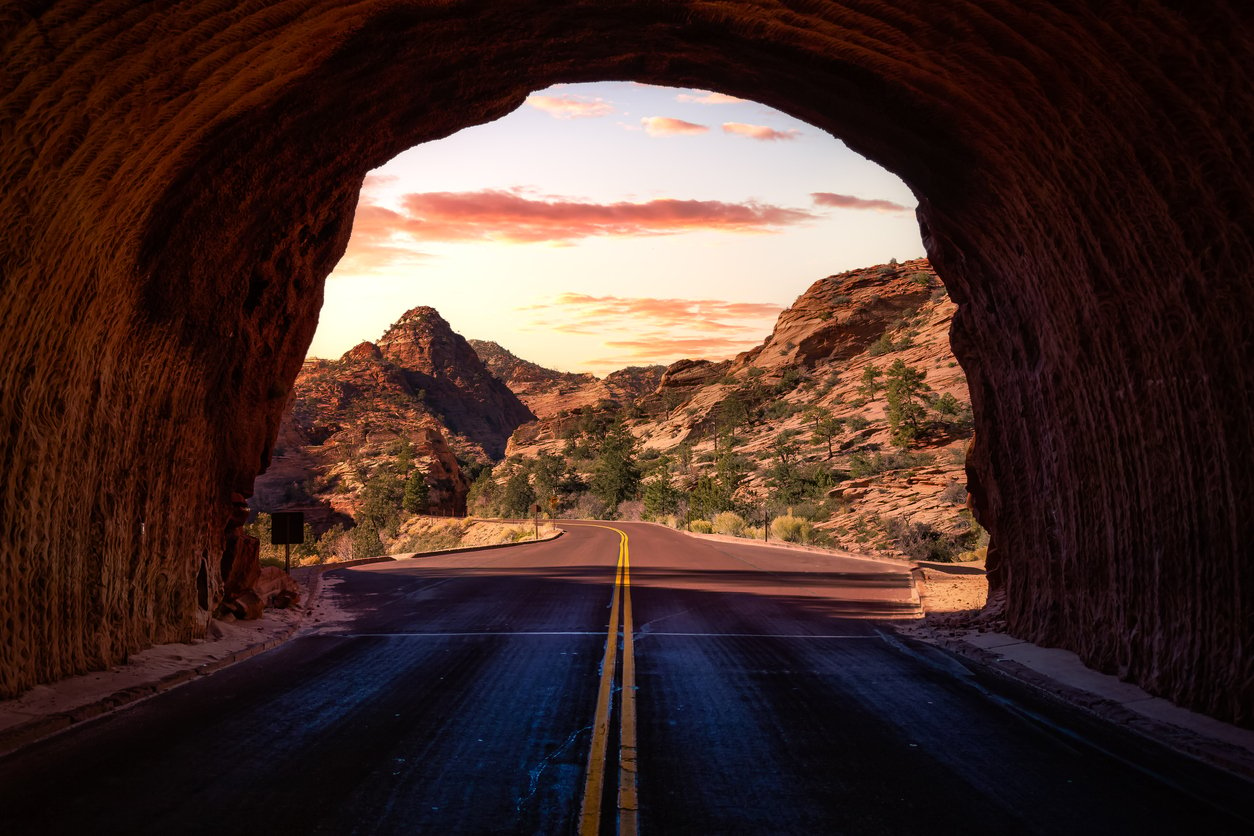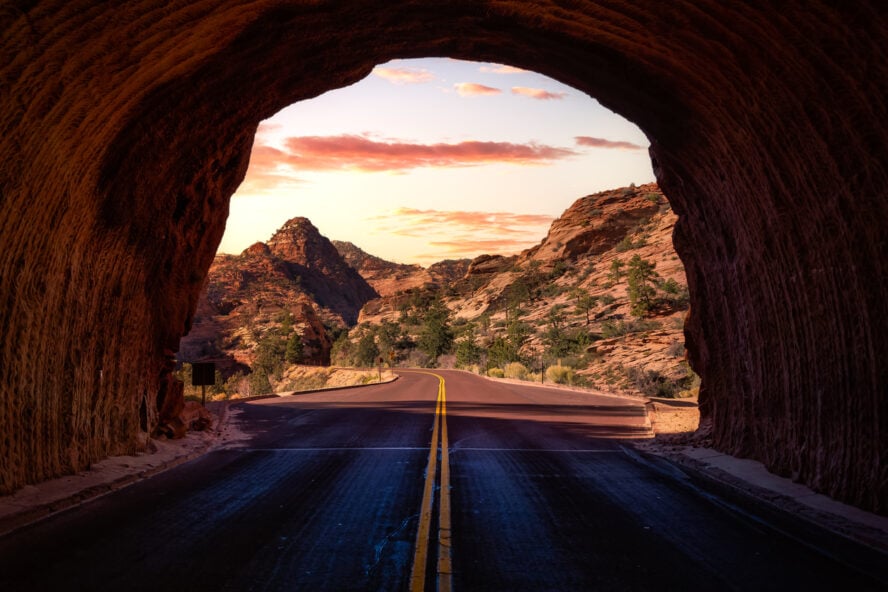 "I Got to Keep on Walkin', on the Road to Zion"
I had never stepped foot inside a national park until I came to Zion, but in the face of its sublime beauty I became a convert. Every pilgrimage that takes me high above the canyon floor or into the depths of its ancient heart makes me appreciate life even more.
Even minute things, like the sheen of black desert varnish that coats the rocks or the roar of the Virgin River after heavy rain, make me stop and think how crazy it is to be a part of something so immense. For me, any place that can make you feel that way is a must-see destination.