Julián covered:
Why he considers Patagonia a paradise for hikers and travellers
Fun facts about Argentina's rich culture, geography and biodiversity
A deep dive into the top regions and sites for hikers

The singular beauty of the

Southern Patagonian Ice Field
How to plan your own visit to Argentina's Capital of Trekking
Welcome to Patagonia—the heart and soul of outdoor adventure in Argentina. Enveloped by oceans and dominated by the Andes, this rugged region in the south of the country boasts some of the wildest landscapes in the world.
Local UIMLA Guide Julián López has spent his entire life exploring and guiding in Patagonia— and now he's here to show us the full splendor of its hiking trails. Chech out his webinar to find out all about the primeval forests, icy lagoons, and vast glaciers gathered under the striking spires of Fitz Roy and Cerro Torre!
If the photos aren't enough to fuel your daydreams about experiencing the untamed wilderness of Patagonia, check out this  FREE WEBINAR and learn how to plan your own trip.
Webinar host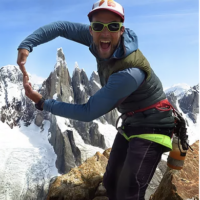 Julián López
AAGM/UIMLA Mountain Guide
Born and raised in Bariloche, Argentina, Julián has spent his entire life exploring and guiding in the wildest corners of the Patagonian region. Having embraced the outdoor life at a very early age, he's learned to be an autonomous adventurer and is dedicated to passing those skills on to others. Today he leads trips in Argentina—especially in Southern Patagonia—as well as neighboring Peru and Bolivia.