Partner

Julián will show you:
What drew him to Argentina's wild landscapes carved out by ancient glaciers
Why he considers El Chaltén a paradise for hikers and travellers
A deep dive into his favorite hiking trails in El Chaltén
The striking granite monoliths of Fitz Roy and Cerro Torre
The calving glaciers on the Huemul Circuit
The singular beauty of the Southern Patagonian Ice Field
Fun facts about Patagonia's rich culture, geography and biodiversity
One glance at the jagged, glacier-carved peaks rising from Southern Patagonia's expansive flatlands is enough to understand why the village of El Chaltén (the Smoking Mountain) is dubbed Argentina's Capital of Trekking.
Here in Los Glaciares National Park—a UNESCO World Heritage site grazing the Chile border—lies a gateway to the granite walls of Mount Fitz Roy and the endless hiking at the base of the Andes. Barren moraines streaked with shadows of serrated peaks, gem-coloured icy lagoons and glacier-fed rivers shape this undulating, rocky landscape stretching high above the timberline.
In this one-hour session, local UIMLA Guide Julián López will show you why Argentina's El Chaltén is celebrated as one of the greatest hiking hotspots in the world.
Webinar host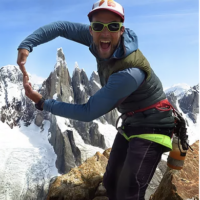 Julián López
AAGM/UIMLA Mountain Guide
Born and raised in Bariloche, Argentina, Julián has spent his entire life exploring and guiding in the wildest corners of the Patagonian region. Having embraced the outdoor life at a very early age, he's learned to be an autonomous adventurer and is dedicated to passing those skills on to others. Today he leads trips in Argentina—especially in Southern Patagonia—as well as neighboring Peru and Bolivia.