Alberto covered
Packing for the 15-day trek through Nepal
The physical and mental challenges of the journey
Key points on the Annapurna Circuit
Terrain and weather in Nepal's diverse ecosystems
The country's rich culture and history
Altitude sickness and how to counter it
Since opening its trails to foreigners in 1977, the Annapurna Circuit has enchanted curious minds and enticed hikers with promise of larger-than-life adventures.
The potent mix of rich cultural heritage, dazzling biodiversity and epic views of the Nepalese Himalayas makes this one of the best—and some might say, most enlightening—long-distance treks in the world. What does this epic journey through jungle and clouds entail?
In this one-hour session, AIMG Guide Alberto Ojembarrena will take you on a virtual hike from the bustling municipality of Kathmandu to the 5,416m high Thorung La Pass—which is higher than Everest Base Camp!
Alberto covered everything from permits and prices to blue-haired goats and Buddhist pilgrimage sites. After the presentation, there was a Q&A session where Alberto answered any questions you had about this spectacular 15-day trip on the coveted Annapurna Circuit.
Whether you're looking to take on this Holy Grail of hikes or simply find inspiration for your next outdoor adventure, Alberto's stirring stories and photographs are sure to do the job.
Webinar host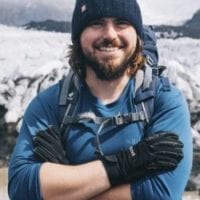 Alberto Ojembarrena
AIMG Mountain and Glacier Guide
Alberto is the owner of Amarok Adventures and has guided adventure treks in Iceland, Greenland, South America and Nepal. He has also worked as a documentary and travel photographer for international magazines. He has lived in Iceland since 2015, traveling the country discovering hidden gems and loads of adventure off the beaten path — always with his camera in tow.