Superior Hiking Trail: Discover the Breathtaking U.S. Thru-Hike
Looking to take your first crack at thru-hiking? This 310-mile long trail in Minnesota might be your best bet.
If the Lake Superior Hiking Trail isn't on your list of thru-hikes to complete, it should be. Winding its way from just south of Duluth, Minnesota up to the Canadian border, the Superior Hiking Trail (SHT) is a few hundred miles of trekking through rugged midwestern terrain. Taking you along the spine of the famous Sawtooth Mountains, the Superior Trail has enough vistas to keep you pushing and plenty of spots along the way to take in views of the sweeping Lake Superior. Wondering if a lake is worth the trek to this remote location? Get ready for fresh water as far as the eye can see.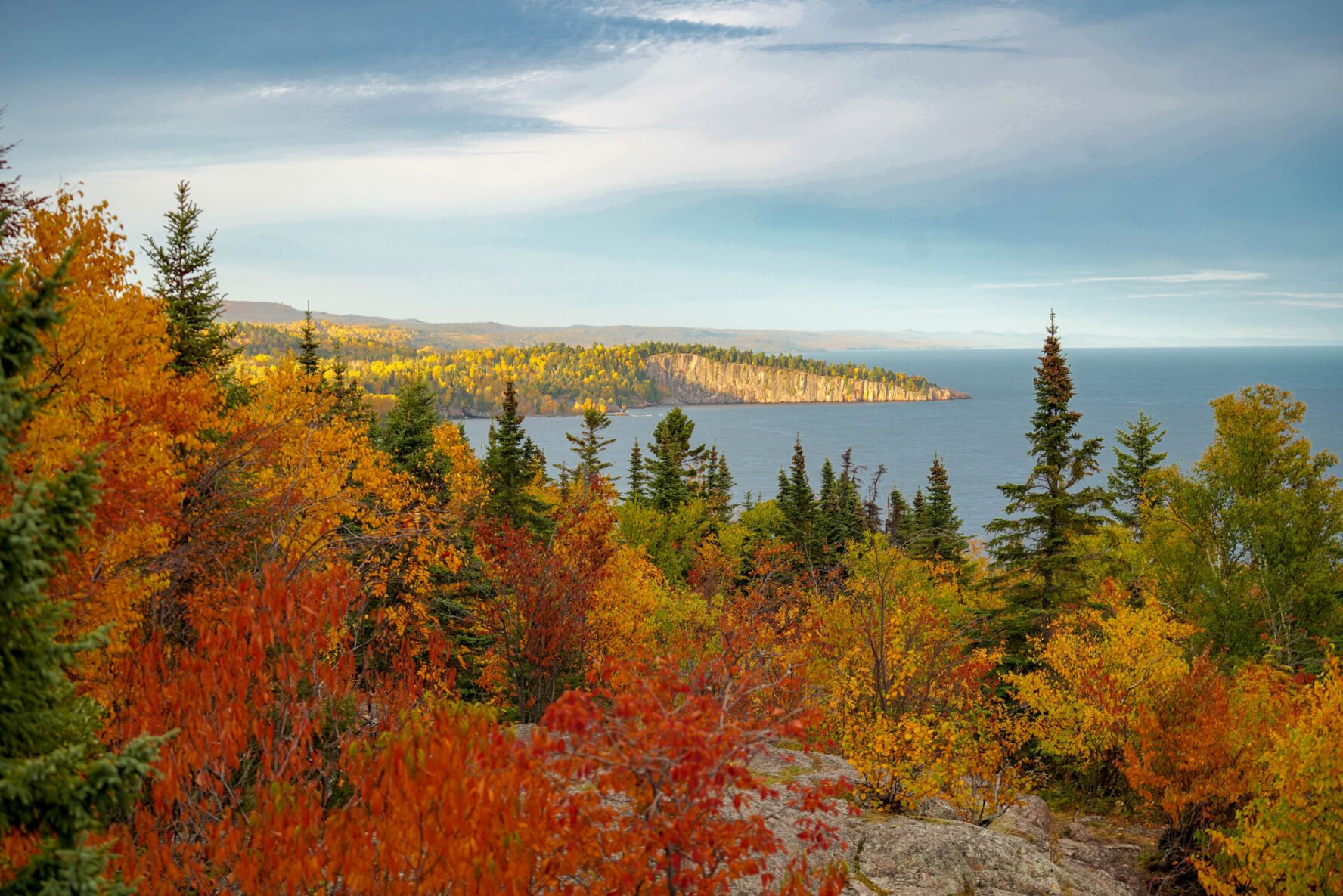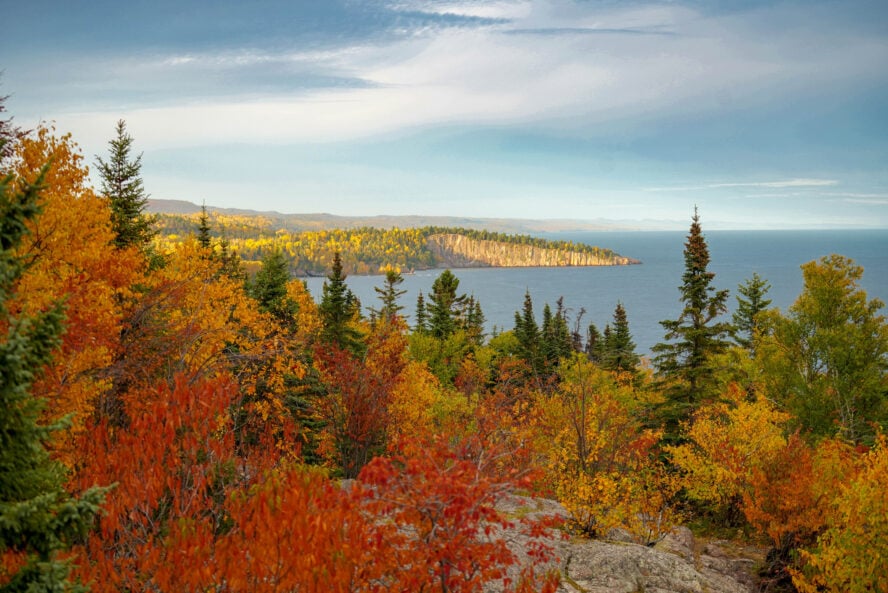 Pros and Cons of Hiking the Superior Trail
Shorter distance to tackle for new thru-hikers
Options for day hikes with places to re-supplying
Gorgeous foliage in autumn with plenty of vistas
Less crowded than other long-distance trails
Prime hiking season can be hot and humid
Mosquitoes can get bad in late summer
Summer thunderstorms are common so pack accordingly
Superior Hiking Trail is the best unsung thru-hike in the U.S.
The Superior Hiking Trail length is 310 miles along a ridge overlooking Lake Superior through eight state parks in Minnesota. One of the best hikes in the USA, the trail kicks off about three hours from Minneapolis at Jay Cooke State Park and ends at the Canadian border. The southernmost segment is a 52.8-mile stretch only open to day hikers, along the Minnesota/Wisconsin state border to the coastal city of Duluth. The northern portion runs from Duluth to the Canadian border, offering 269 miles of main trail and spur trails along which you can hike and camp.
The trails vistas are plentiful and rewarding: rushing rivers, deep gorges, rock outcroppings, waterfalls, views of Minnesota's Sawtooth Mountains — not to mention the frequent overlook of Lake Superior. The elevation gain is where the challenge lies: the trail fluctuates between 602 and 1,829 feet and climbs a total of 37,821 feet over the course of the 269-mile section. Downhills are just as frequent, so the net gain is actually only 449 feet.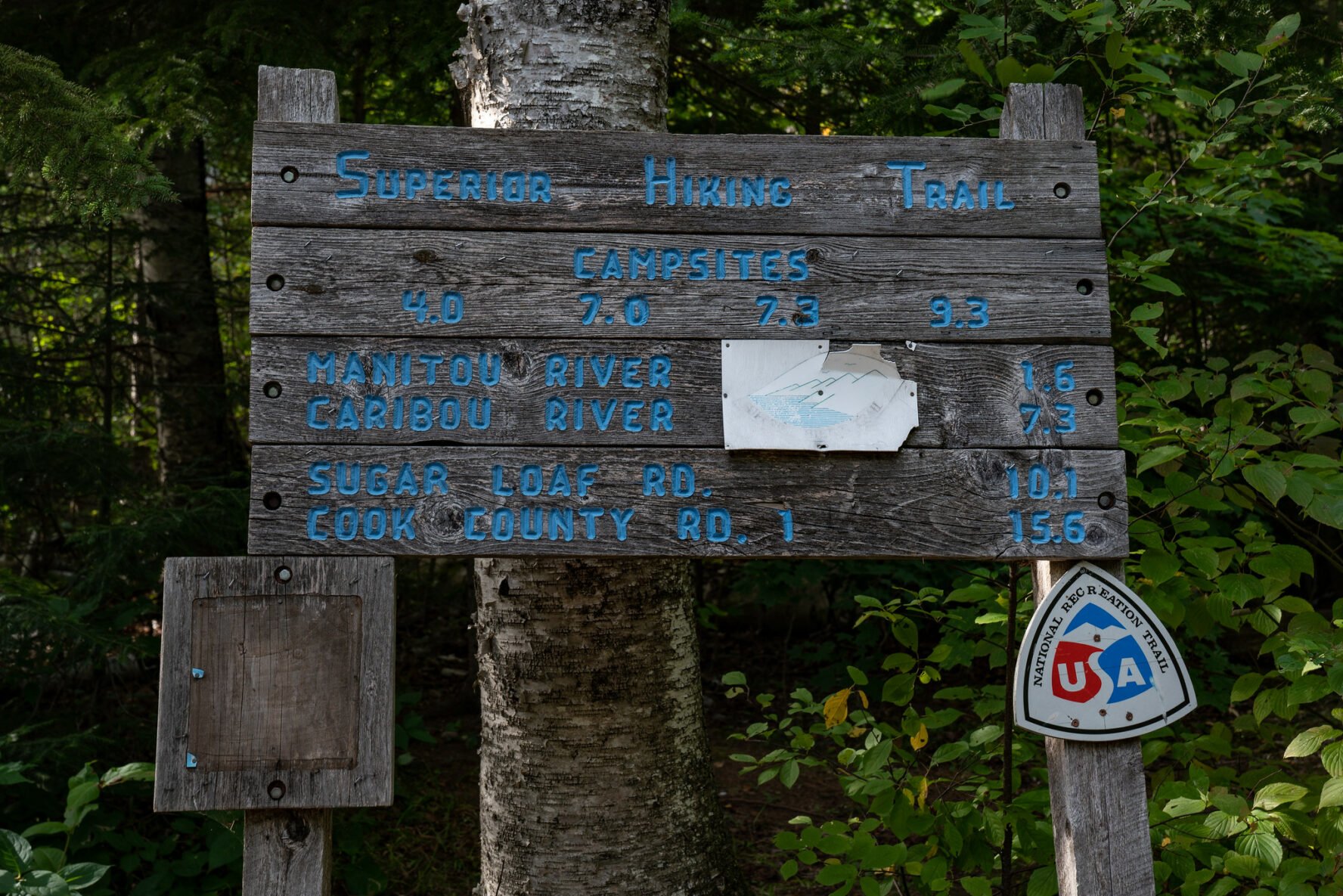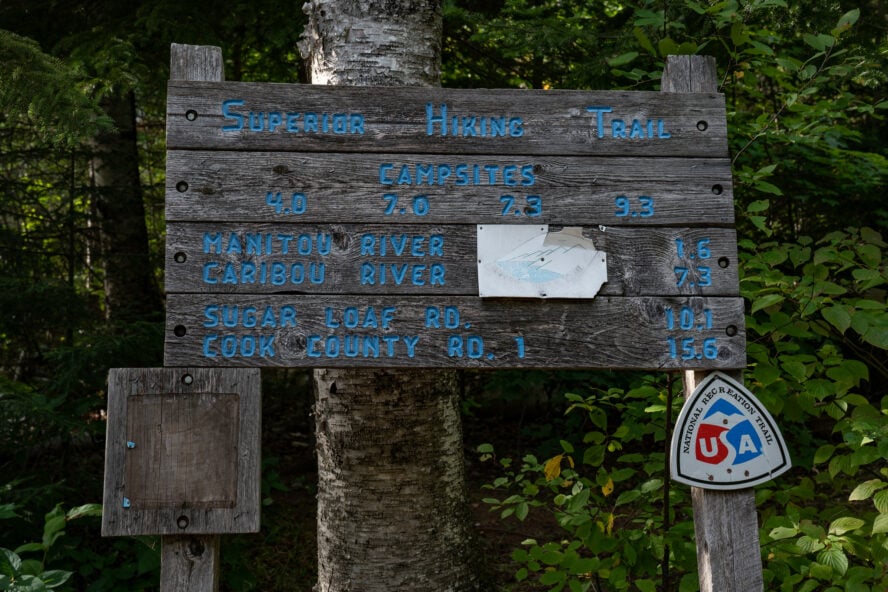 How long does it take to hike the Superior Trail?
Most hikers take between two to four weeks to complete the Superior Hiking Trail thru-hike, while other hikers choose to hike a section of the SHT. Traditionally, the SHT starts at the northern Duluth Martin Road Trailhead and heads north for 260 miles (not counting spur trails breaking off from the main route). Hiking from south to north is recommended as cell phone service is limited at the most northern end. As a result, it's difficult to change your plans should something go awry at the beginning.
The Superior Trail connects at its northern end to the Border Route Trail (65 miles), and then later to the Kekekabic Trail (41 miles). Ambitious hikers head all the way into the Boundary Waters Canoe Area Wilderness featuring lush, birch-covered scenery every step of the way. This Superior Hiking Trail map from Superior Hiking Trail Association shows you a brief overview of the entire 310-miles, with state parks also marked.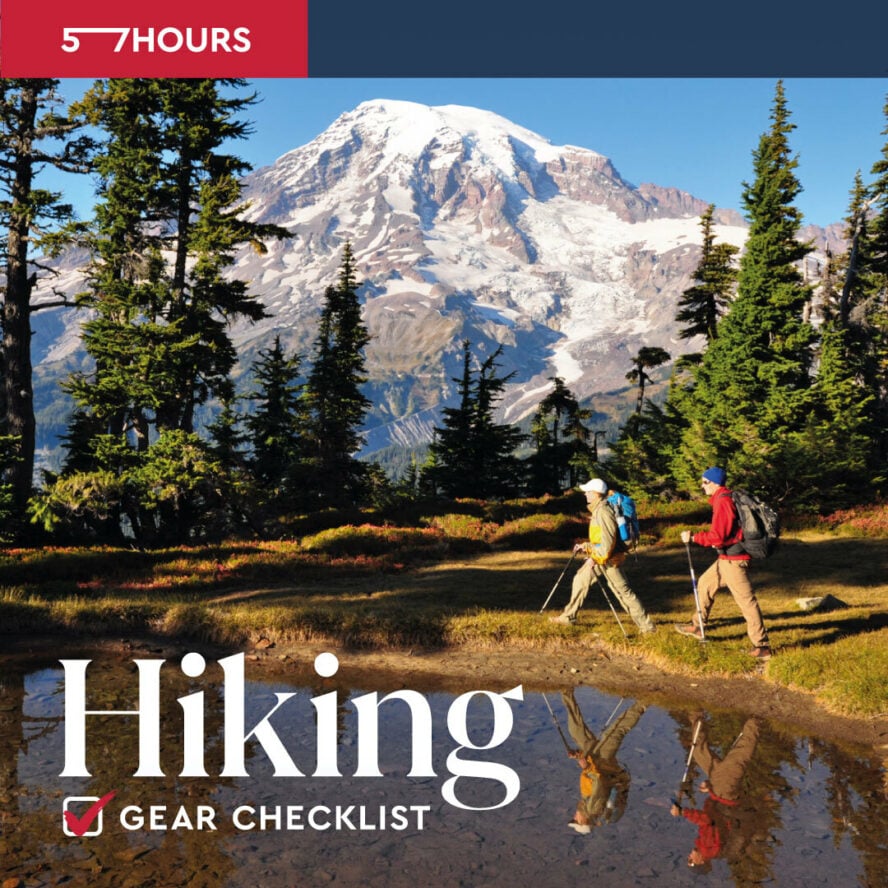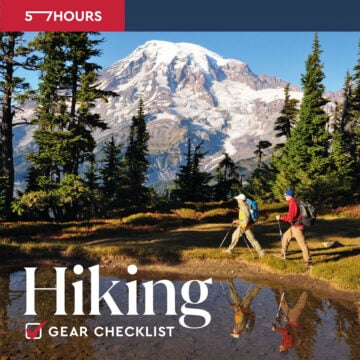 Download our hiking checklist free of charge
Check your inbox
Accessibility to camping is a benefit of the Superior Hiking Trail
Trailheads are accessible every three to 11 miles along the Superior Trail. It's easy to pop in and out by using the main trail's network of spur trails. Free backcountry campsites dot the trail every five to ten miles. Two to six tent pads are found at each of the 94 sites stretching from the northern end of Duluth to the Otter Lake Road Trailhead at the Canadian border. Leave Duluth, you'll pass nine towns with post offices, grocery stores, lodging, and sometimes outfitters. The towns range anywhere from 1.3 to 6 miles off the nearest trailhead, meaning you'll need to account for a few extra miles on foot or catch a ride for supply trips. Beaver Bay and Finland are the only towns under two miles from the Superior Trail. The Superior Hiking Trail Association has also prepared the best info on points for re-supplying.
Highlights of Hiking the Superior Trail
The Superior Trail is broken up into two main sections. The first section only allows for day-hike access for 52.8 miles along the Minnesota and Wisconsin state border, south of Duluth. The second section includes the traditional Superior Trail thru-hike including everything north of Duluth to the Canadian border — 260 miles (plus nine miles in spur trails) of backpacking and day-hiking access.
This portion of the hike can be broken into six sections, then further broken into four to eight sections within those six. I've detailed summaries of the six sections below. Overall, the 36 Superior Hiking Trail sections range from 4.8 to 11.8 miles in length from Duluth to the Canadian border. Breaking the six sections into micro-sections means you'll achieve goals left and right. It's one mental trick that I recommend and many long-distance hikers use when trying to tackle a lengthy trail.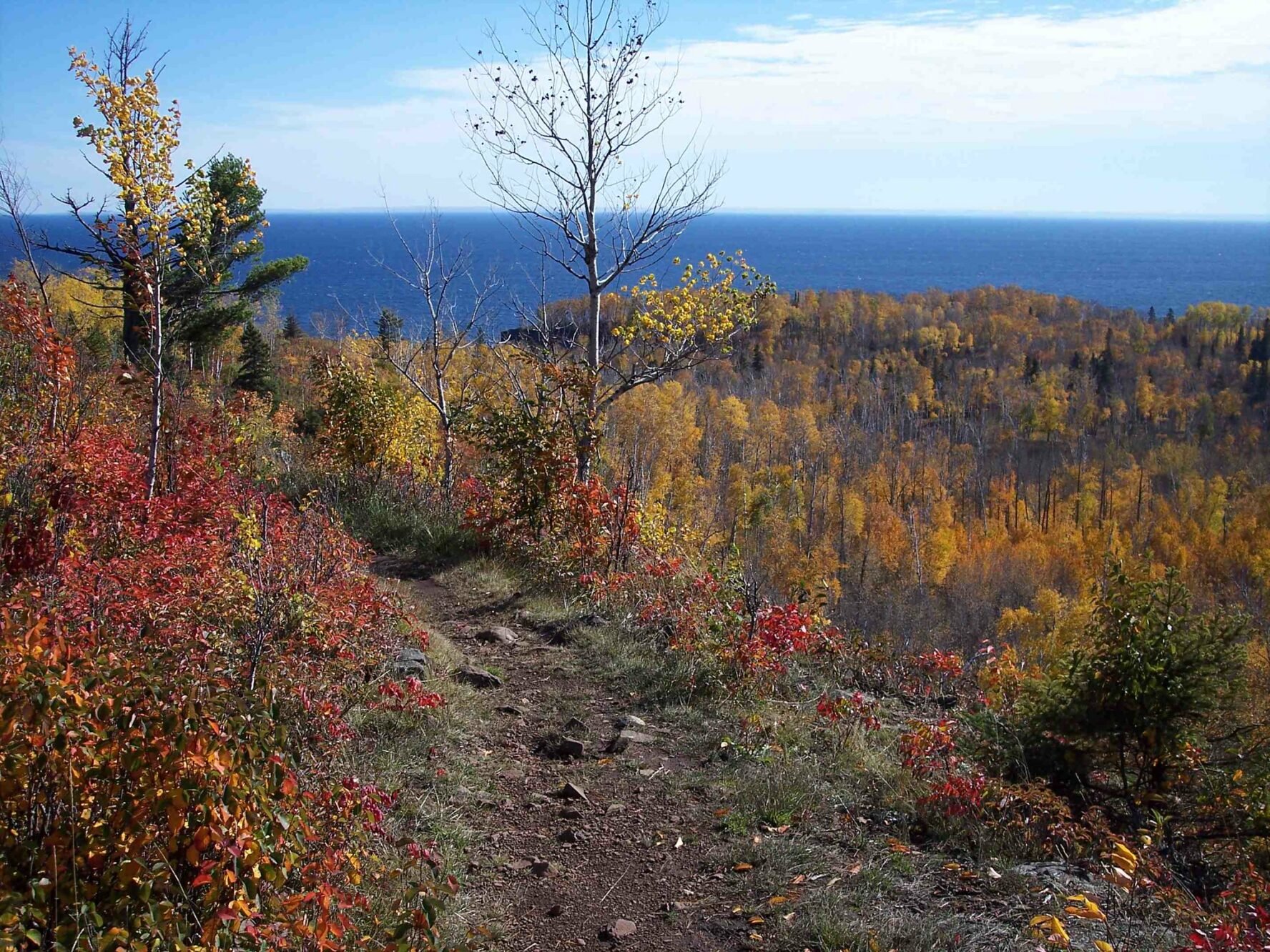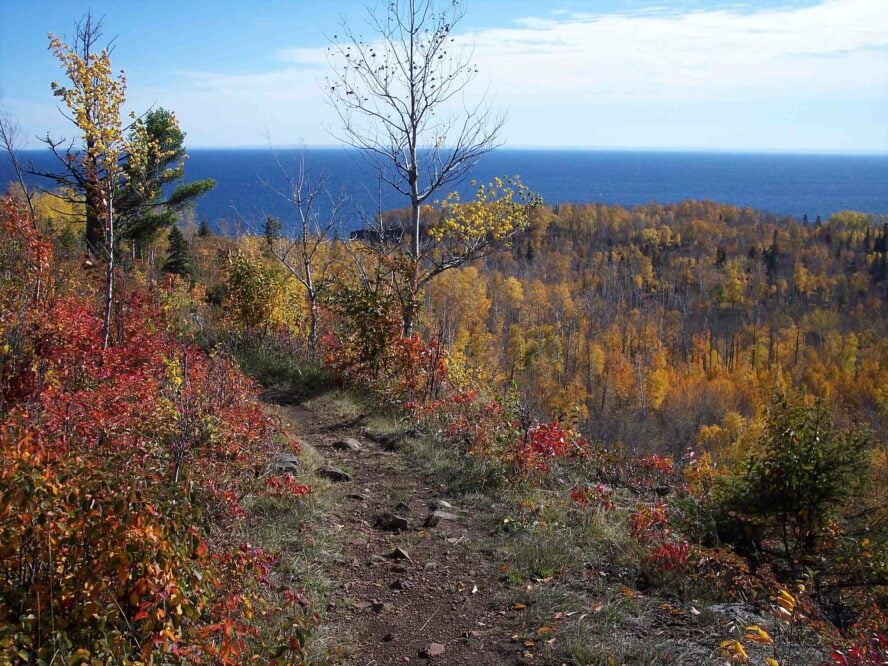 Six Major Sections of the Superior Hiking Trail Thru-Hike
1. Duluth to Two Harbors is best for backpacking beginners
This 57.5-mile Superior Hiking Trail section is broken down into eight micro-sections of trail. Kick off the thru-hike at the northern border of Duluth at the Martin Road Trailhead to the town of Two Harbors. There are 93 campsites near the trailhead. Expect to travel through mixed forest with large white pines and old-growth maple trees. You'll pass occasional ponds and get views of the west branch of the Knife River, McCarthy Creek. Cross the Stewart River. The last five miles of this section include a descent from a steep cliff with rock stairs and a meandering hike for two miles along Silver Creek.
2. Two Harbors to Silver Bay leads to the stunning Gooseberry Falls
The next 44.6 miles of trail spans from Two Harbors to Silver Bay in a chain of six micro-sections. The first six miles pass through mostly private land, so don't expect camping here. There is plenty to do. Take in rolling valleys dotted with pines and cross the stepping stones on Encampment River. The trail then leads up a short steep climb to deliver views of Lake Superior. Stop at Mike's Rock for more views. Follow the Gooseberry River for four miles before arriving at Gooseberry Falls State Park. Here is where you can enjoy the towering waterfalls. "Gooseberry State Park is an easy favorite [spot]," says Jacob Stern, an assistant editor at Powder Magazine who used to lead trips on the Superior Hiking Trail in college. "It will be the most crowded, but the falls are worth the hassle. They are a gorgeous series of cascades that lead down to the lake."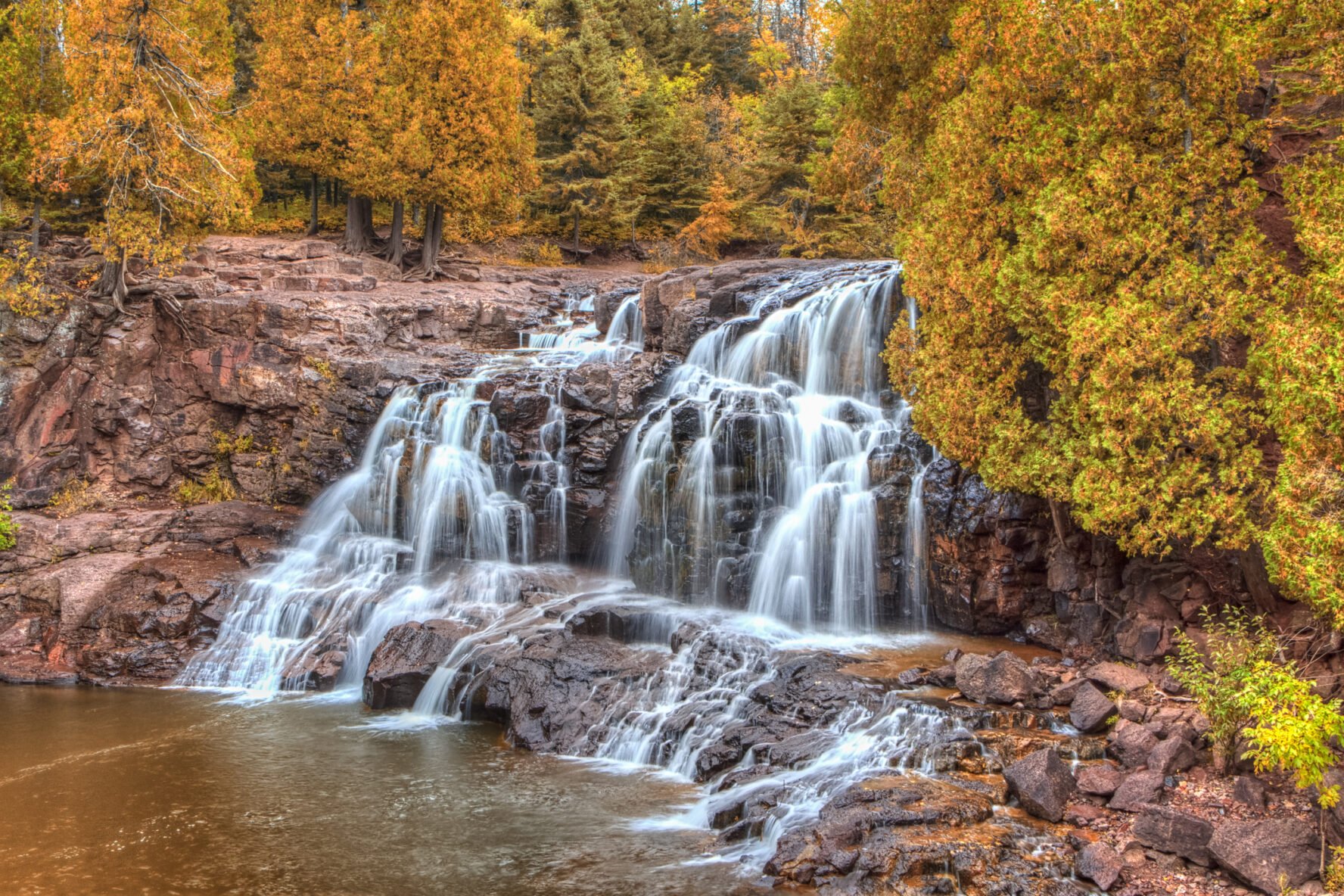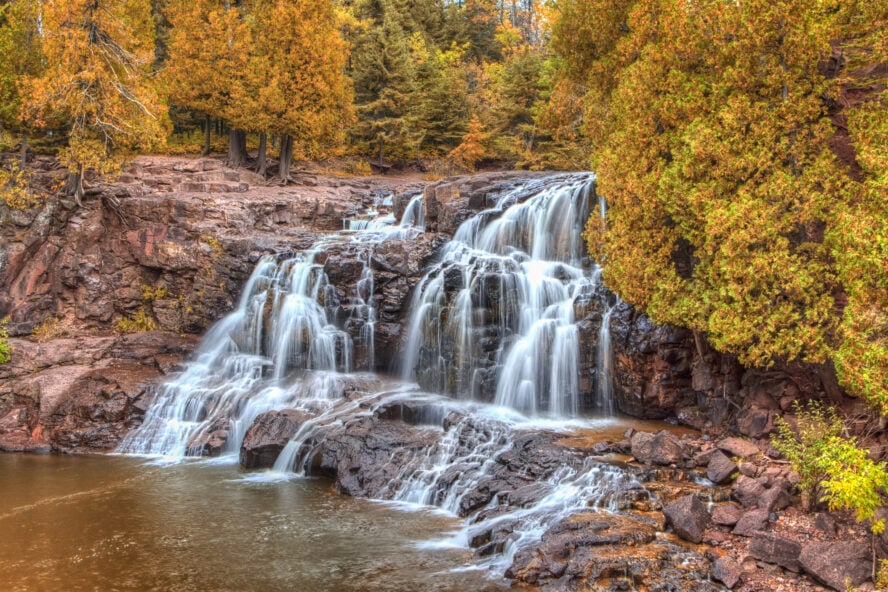 The next 8.5 miles feature a full mile of trail overlooking Lake Superior under aspen and birch forests. Take in more waterfalls and the impressive Split Rocks before hitting a challenging 11.3-mile stretch with steep ascents and descents. It's worth the stunning views of Lake Superior. This Superior Hiking Trail section ends at Silver Bay after hiking through beautiful pine forest.
3. Silver Bay to Caribou Falls State Wayside for mountaintop views
Prepare for five sections of trail over 45.3 miles. This route will take you from Silver Bay to Caribou Falls State Wayside. The first 11 miles offer plenty of views of Lake Superior, as well as Bean and Bear Lakes. Expect three viewpoints atop Round Mountain, Mount Trudee and Raven Rock, a series of rock steps down "the Drainpipe." You'll also pass a bridge crossing over the highest falls in Minnesota, High Falls of the Baptism River. This is also where it gets challenging. "Section 13 offers the most strenuous hiking, but rewards with a beautiful overlook," says Stern, "The lakes all offer good swimming and are gorgeous when the colors turn."
The Silver Bay to Caribou Falls State Wayside also has a hidden bonus. "Tettegouche State Park has must-see features," says Stern, of this section, "It has natural rhyolite rock arches and cliffs over the lake that not only make for beautiful scenery for hikers, but are home to some of the best rock climbing in MN, with the most stringent traditional ethics to boot."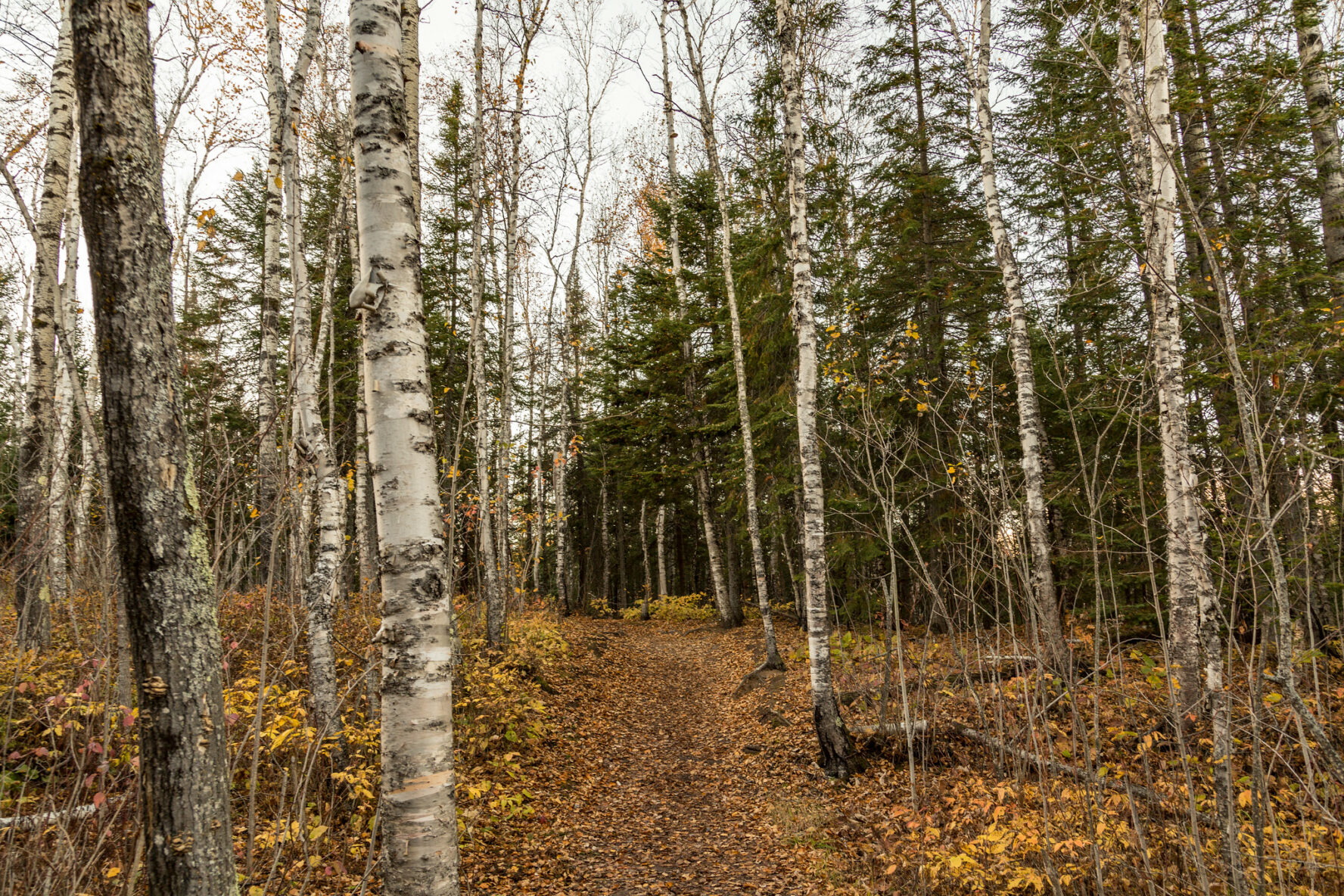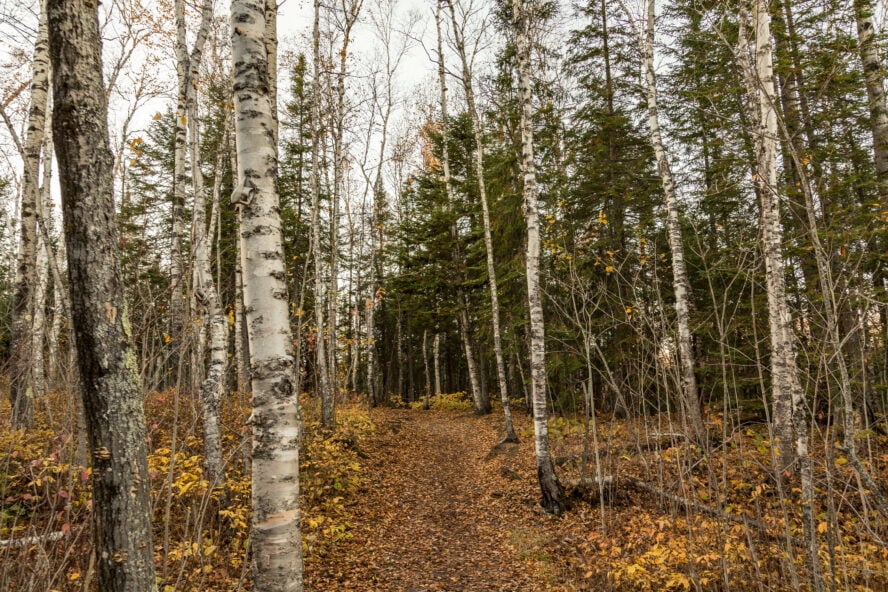 The next two 14.4-mile micro-sections include lake views, open ledges and panoramic vistas over valleys from high cliffs. Highlights on the trail also include a 440-foot boardwalk stretching over a beaver dam and a 20-foot tall glacial rock. "My favorite section of the trail is a small and concentrated patch of numerous lakes," says Stern of this section, "It runs past Tettegouche from Sawmill Dome through Sonju Lake."
Walk to Lily Island on Sonju Lake in this 11.8-mile section before reaching the final steps of the trail. You'll get more stunning views of Lake Superior, the Caribou River and the Manitou River.
4. Caribou Falls State Wayside to Lutsen delivers Caribou River Gorge
This Superior Hiking Trail section is 34.5 miles across five micro-sections. This route kicks off with a dramatic ascent of Caribou River Gorge then moves into old-growth maple forests with views from Tower Overlook. Climb through Temperance River Gorge and take in the views at Carlton Peak. A 5.7-mile section rolls through maple and birch that are particularly spectacular in the fall. The trail end reaches a couple of tough ascents of Moose and Mystery Mountains.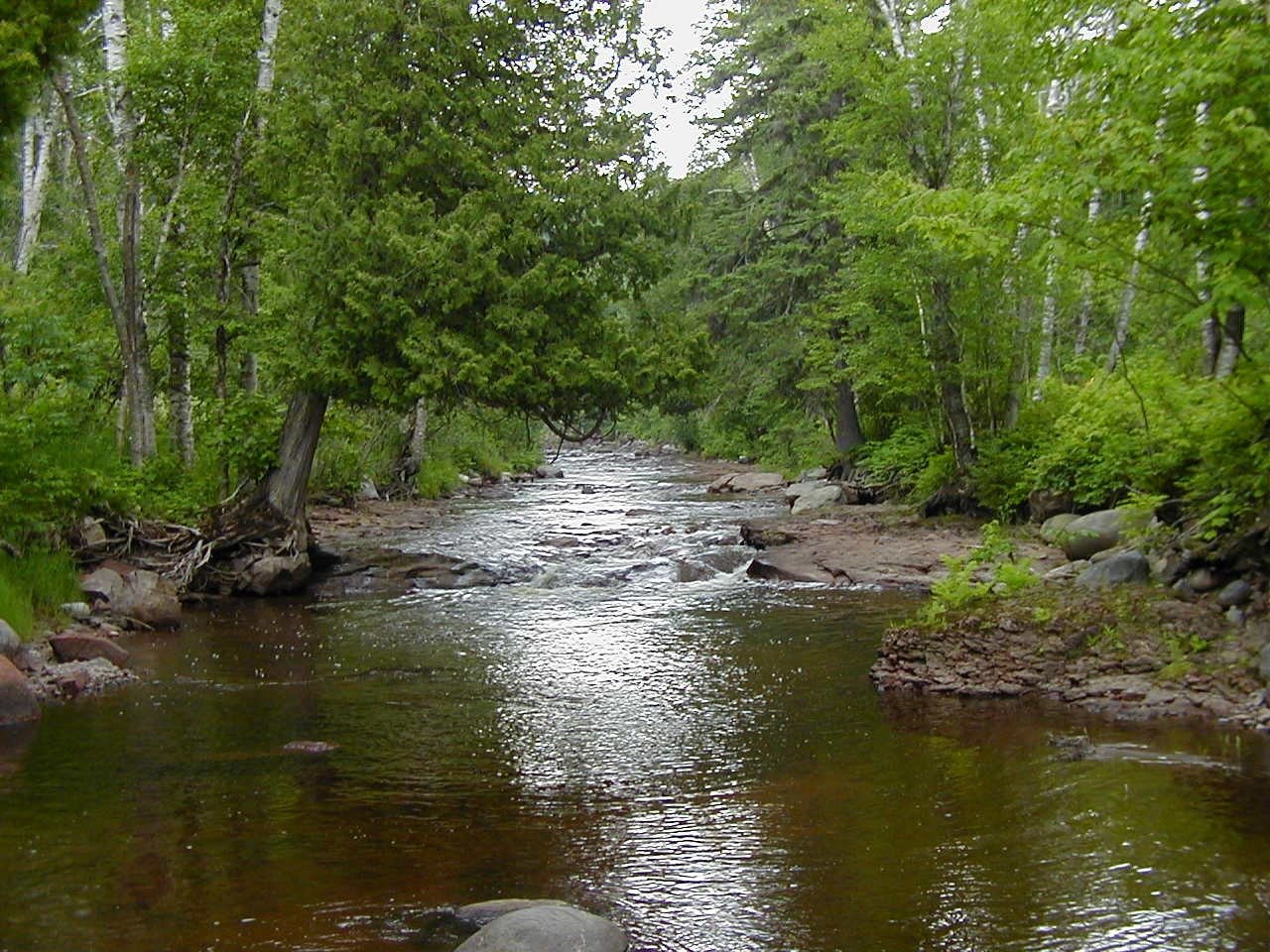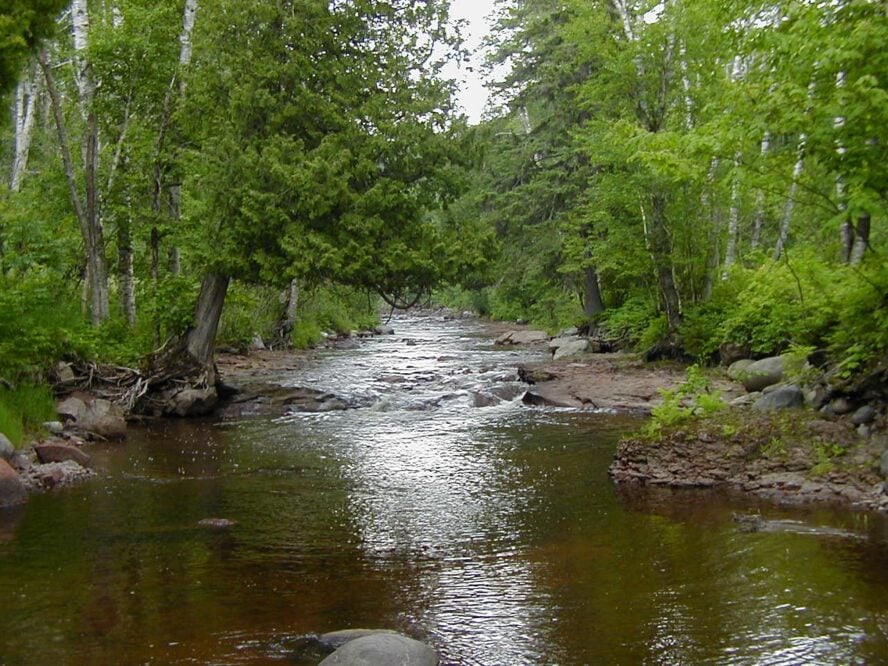 5. Lutsen to Grand Marais features views of tallest point in Minnesota
Four micro-sections make up this 35.2-mile stretch of trail. It's also the second to last of the six stretches making up the Superior Hiking Trail. Lake and river views, peeks into stunning valleys, maple ridgelines, waterfalls, and a panoramic view of Lookout Mountain await. You can also see Eagle Mountain, the highest point in the state of Minnesota. Eventually, you'll hit a red-pine patch before descending towards Lake Superior.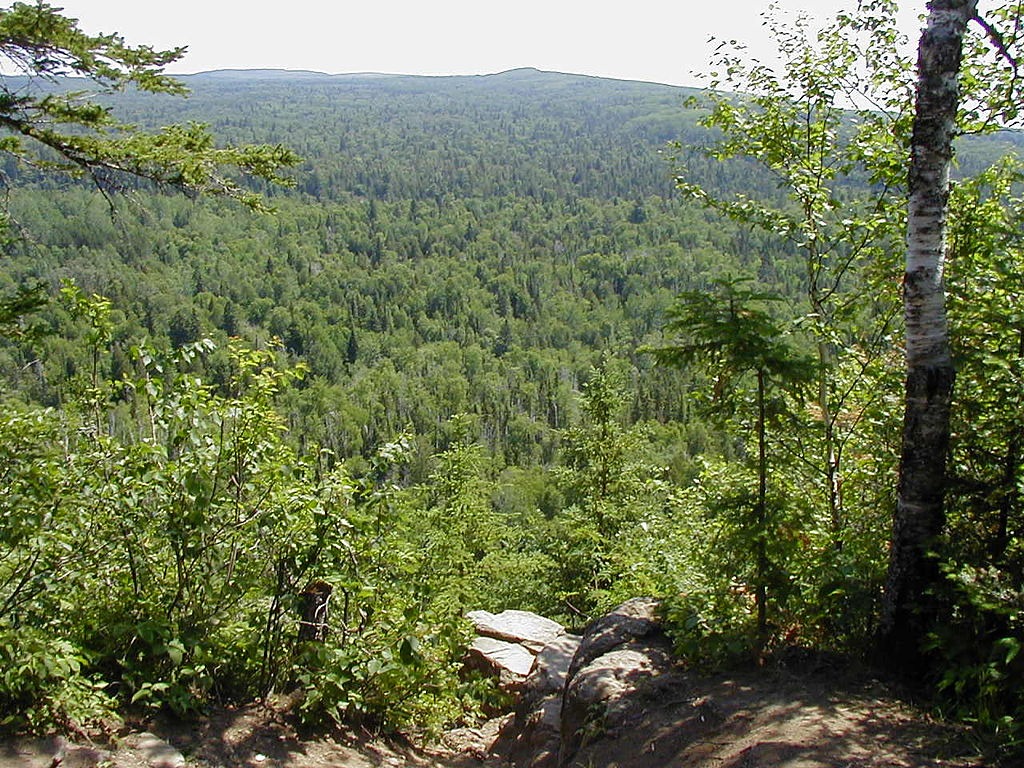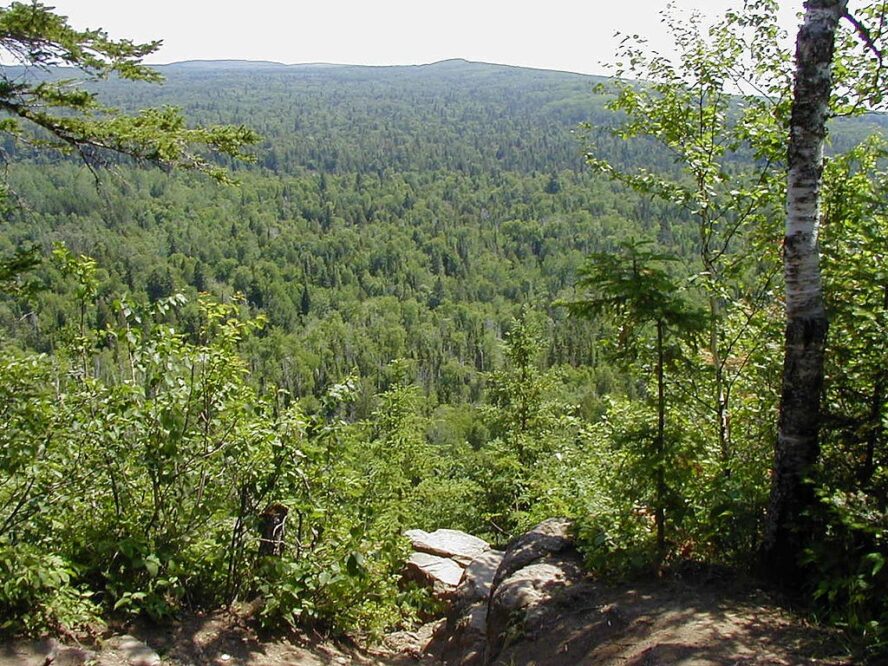 6. Grand Marais to 270 Degree Overlook for walking along the beach
The final section of the Superior Hiking Trail is 54.2 miles and broken down into eight micro-sections. Start by descending into the Devil Track River gorge. Cross several bridges over the river. A 1.6-mile stretch travels along Lake Superior's sandy beach shore before following several creeks and rivers perfect for viewing wildlife. Finally, you'll arrive on the road for a mile before joining the Border Route Trail, which leads to the 270 Degree Overlook, the final point on the Superior Hiking Trail.
Tips for Hiking the Superior Trail
Which way should I hike the SHT?
Beginner thru-hikers and backpackers are recommended to hike the SHT northbound, starting in the south and heading to the Canadian border. Starting in the south also offers mellow terrain between Duluth and Two Harbors, an added benefit for beginners to bigger hikes. Heading south to north also gives you a better opportunity to bail out if things aren't going as planned. Cell phone service is spotty along the trail, especially in the northern sections where catching a ride can be more difficult. A shorter guided section hike of the SHT is another great option for those new to hiking longer distances.
Some hikers prefer to start in the north and travel south due to the difficulty of coordinating a pick-up from the northern terminus, what is known as the final destination. Satellite GPS systems are also an easy investment for whenever you head out into the backcountry. Remoteness is the whole point of the Superior Hiking Trail, after all. Another popular method is a "flip flop" by hiking from the south to the midway point at Grand Marais. Hikers can then get a ride to the north point and head south back to the Grand Marais in order to not retrace their steps. The national forest service offers the Superior Shuttle Service to assist hikers getting to and from trailheads.
How to navigate the Superior Hiking Trail
Navigating the trail depends on following the trail markers. Blue rectangles on trees along the path clearly mark the trail. Spur trails, short deviations that are a dead end, are marked in white. The turns on the SHT are designated with two rectangles, one higher to show which direction the hiker should turn to follow the trail. An expert hiking guide is able to show you the worthwhile spur trails, show the way and make sure you are supported throughout the journey. Plus, company and a moral support team can go a long way when attempting the SHT.
When can you hike the Superior Hiking Trail?
Fall is the perfect time to hike the Lake Superior Hiking Trail for a couple of reasons. Late summer means bugs and thunderstorms. August also tends to be reliable as the hottest month in the Midwest. Fortunately, a small window in September is when you'll have the best luck with both bugs and weather. Campsites open up dramatically after Labor Day. For winter travelers, travel by snowshoe travel is encouraged in many sections during the winter. The trail isn't wide enough for cross country skiing, though. Late-July through August will be more popular times for hiking along the trail due to time constraints for most people. May is another option, if you're willing to brave spring showers. Once the trail is dry in spring, you can see plenty of flowers and wildlife. The chance of rain or thunderstorms are always a risk, unless it's winter. Always bring waterproof gear.
How bad are the bugs on the SHT?
Bugs are an issue until after the first frost of fall. Be prepared to dive into your tent between 7-8 p.m. before the mosquitos carry you off. They're practically a state bird in these areas. If you want to stay up later or do star gazing, however, you can wait them out in your tent until the temp drops. Mosquitos become significantly less active around 10 p.m. The time of year will also help deal with the bugs like black flies or mosquitos. September is much more forgiving than early to mid-summer. If you're headed for summer, late July and on will see a decrease in bugs with each passing week. Wear layers, use bug spray as needed, and plan accordingly. Bugs tend to be worse in certain sections than others, so movement will be your friend.
What are some of the best local spots to stop at while hiking the SHT?
Major stops along the way are Two Harbors, Grand Marais, Beaver Bay and Silver Bay. Services for SHT hikers vary, and only Beaver Bay and Finland are under two miles from the Superior Trail. Load up on local smoked cheese and fish for the hike, worthwhile local treats of the region. Shops are easy to find in Two Harbors and other towns along the way. Detour into Grand Marais for the World's Best Donuts. You'll thank me later. Be sure to check the dates on the Superior Fall Trail Race. Otherwise you'll have hundreds of ultra-marathoners passing you day in and day out.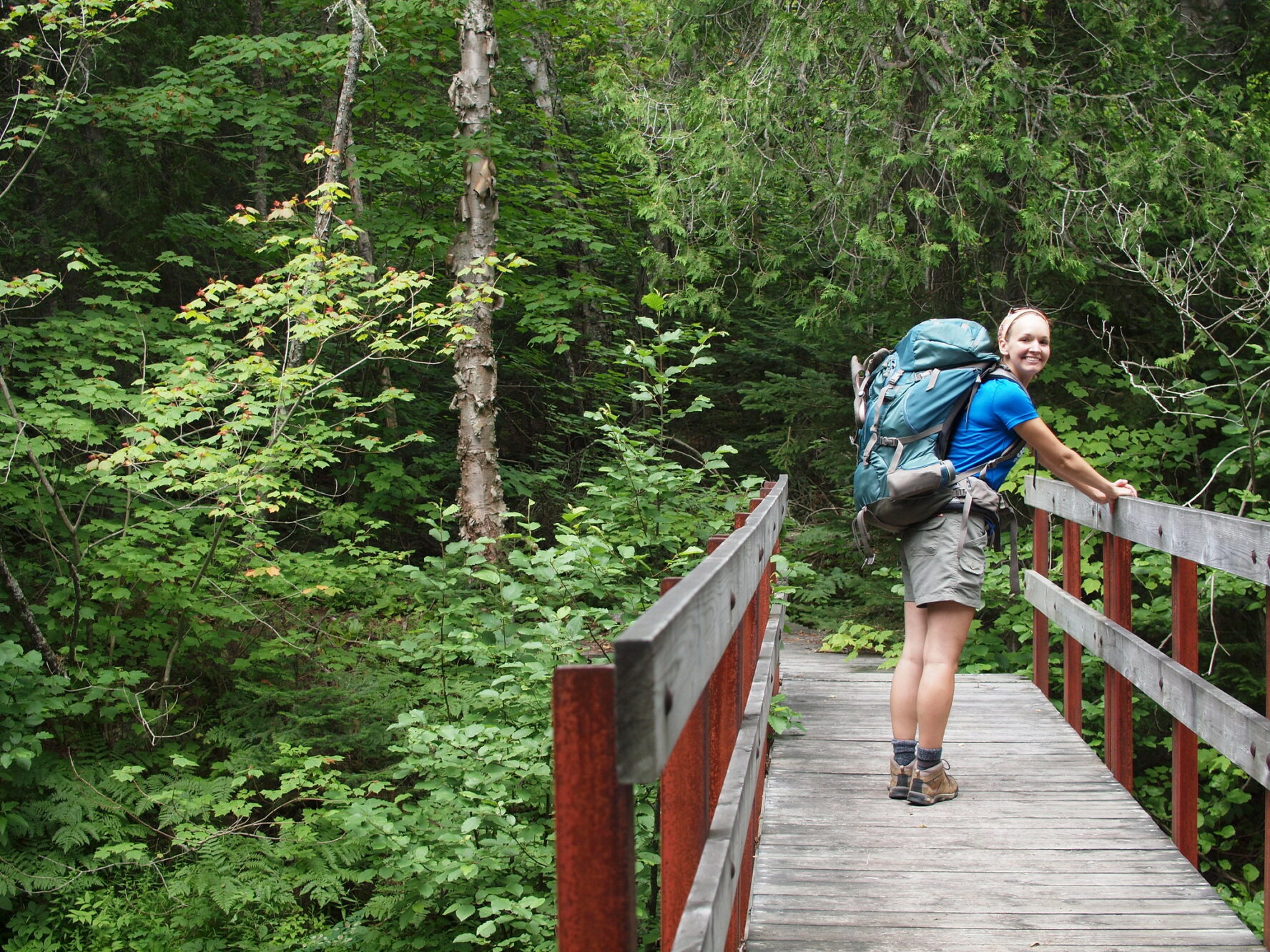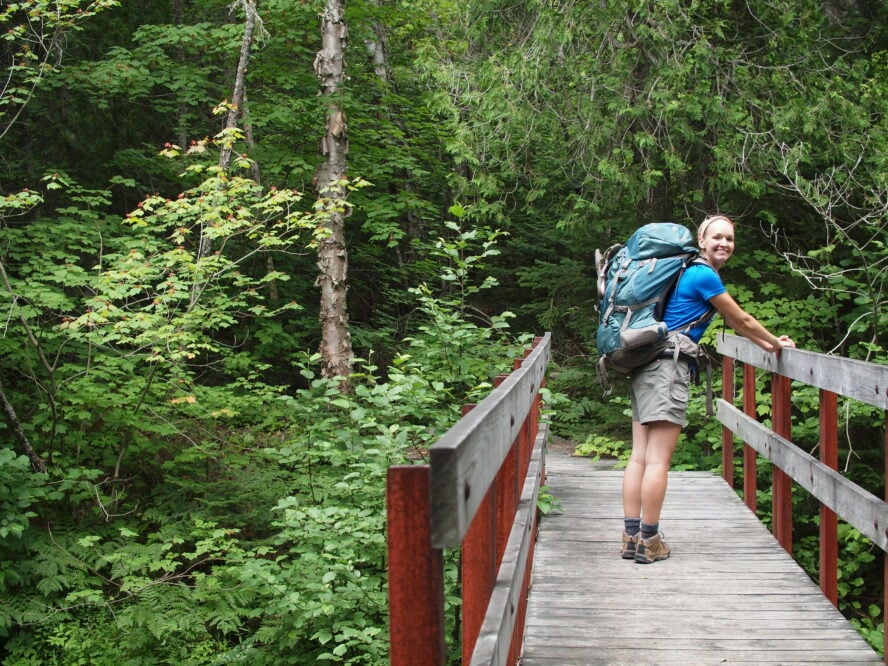 How to use the Superior Hiking Trail shuttle and package services
For day hikes, book a Superior Hiking Trail shuttle so you can hike a section end-to-end. Reservations need to be made in at least four days in advance due to new social distancing guidelines. Different groups are no longer allowed to ride together and plexiglass is set up to protect the driver. The shuttles are available five days a week and allow backpackers to skip out on coordinating a ride. Package hold options are available at some businesses as a way to have supplies waiting for you along the SHT. Confirm with a business ahead of time to ensure they anticipate your arrivals, and still offer this option.
Become an SHT End-to-Ender
In October 2019, The Superior Hiking Trail Association launched the SHT End-to-Ender Program, which recognizes individuals that complete the entire trail. Completing the trail doesn't have to be in one go. You can hike Superior Hiking Trail sections in over many years. As long as you do it, you're eligible to receive a certificate. A fun way to commemorate all that hard work. It's also a great way for the Superior Hiking Trail Association to improve the route for future users. The applications are processed twice per year.
Become a Superior Trail steward
Consider donating to the Superior Hiking Trail Association to help maintain and protect this area for other hikers. Hundreds of volunteers work on the SHT trail stewardship teams to ensure the footpath is clear and usable. Volunteers also dig latrines and maintain campsites, so thru-hikers have reliable amenities along the trail. SHT might not have the name recognition of other thru-hikes in the country, but that's all the more reason to support one of the best unsung routes in the country.
Feel ready to take on the Superior Hiking Trail? Start with a guided SHT section hike and learn the ropes from a professional with years of experience in the area. Get the information and mentorship you need over a few days in the backcountry and feel confident to take on the rest of this thru-hike challenge all on your own.