The 5 Best Hikes In Telluride According to A Local Guide
Hiking in Telluride is easy! No, no, not the hikes themselves, but the access. For hiking lovers, this might be one of the best, and most convenient, destinations in the West for your next trip.
The coldest hour is right before sunrise.
With my watch blinking 4:30 a.m., the night sky brightens, revealing the jagged edge of endless peaks lining the horizon. I shake my arms to force blood into my hands and methodically exhale, small clouds of breath dissipating into the fading darkness. My headlight clarifies the rocky trail, and I move faster up into the spreading morning light.
Breaking treeline, the crisp alpine air sharpens the senses. The sky is a pool of dark blue, lightening, diluting the stars among the wispy pinks and oranges spreading their ethereal glow.
From the hikes high above Telluride, looking like a toy town thousands of feet below, I anticipate the sun's appearance above rose-colored ridgelines. Warmth will come soon. Watching the sunrise from a high place—these mountains, and that small town down below (that I'm lucky enough to call home)—never lose their luster.
To spend so much time on the trails here is a privilege. Hopefully with a little insight, you can experience the feeling for yourself.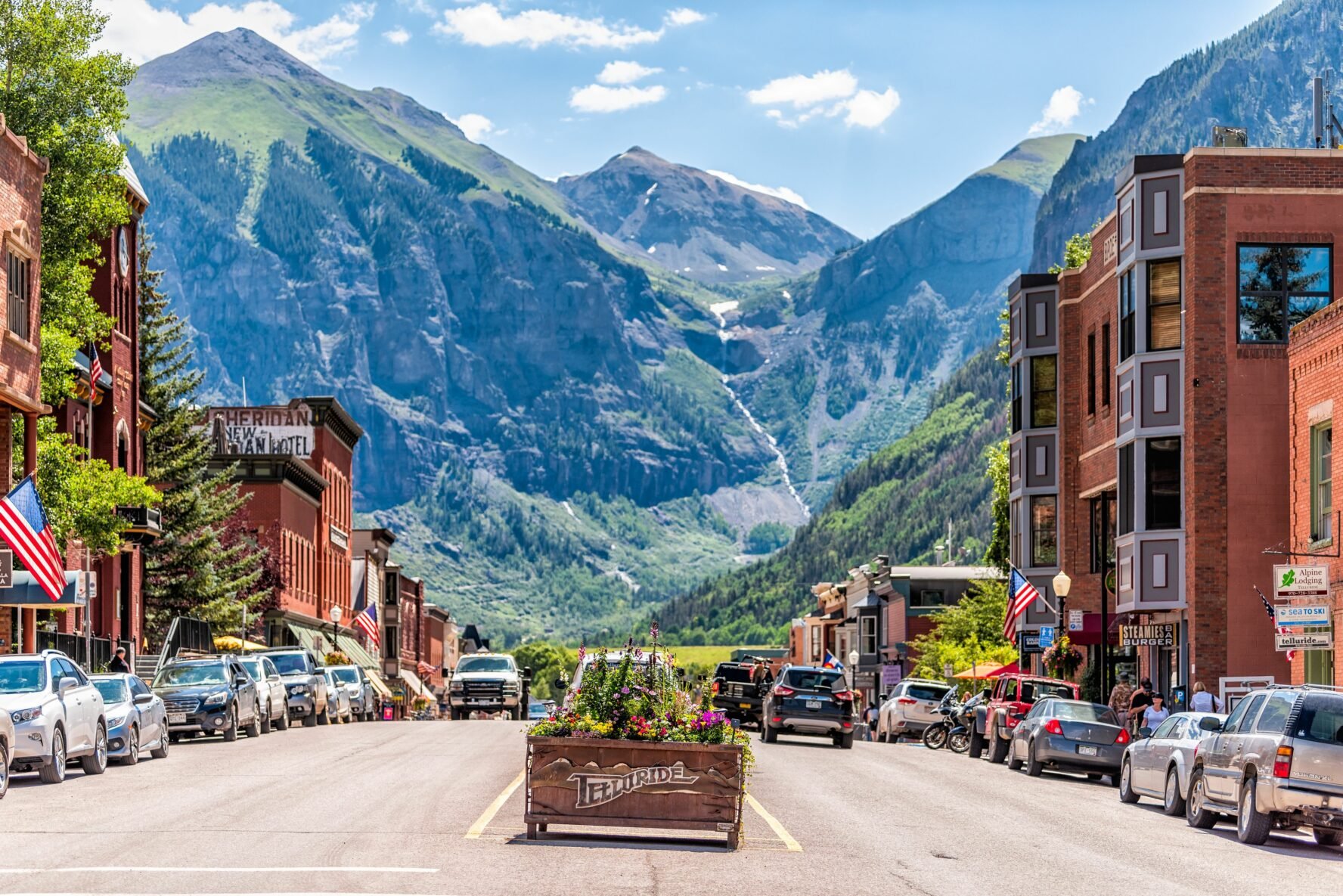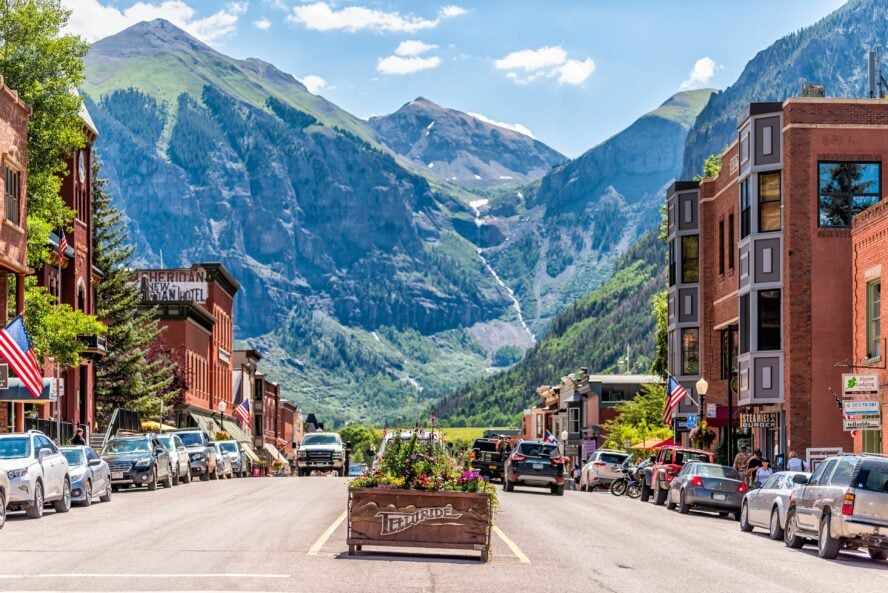 Pros and Cons of Hiking in Telluride
Trails the whole family can enjoy
Easy access directly from town, no driving required
Great food scene with many options
Beautiful views from every direction
Free gondola provides additional access
Necessary to plan far in advance for accommodations
Can get crowded during peak months
Many trails are very steep, the nature of the box canyon
Cost of living: staying and eating here is as high as the surrounding peaks
A "Gold Mine" of Outdoor Activity
Telluride sits in the secluded southwest corner of Colorado, tucked in the craggy folds of the Western Slope of the Rockies. The high, aesthetic peaks of the San Juan Mountains, like ramparts, have made this area difficult to access from the plains of the Denver area since time immemorial; today, the drive takes over six hours by the fastest route. It remains one of the more remote of the major mountain town destinations in the state, with only one paved road in—part of what allows Telluride to maintain its rough-around-the-edges charm.
The boom time beginnings
Formed from deposits of volcanic ash, tectonic uplift, and carved by long-gone glaciers of the last ice age, the town Telluride was first established in the late 1870s after a gold mining claim was staked in the hills above.
For several decades, miners flocked to the area and extracted millions of dollars of ore from deep within the mountains, toiling through tough days at high altitude. Many of the trails that remain today were established during that era, to carve paths and roads to hard-to-reach basins rich with gold and silver. Countless remnants of the mining boom are left behind in the high country, an ever-present nod to Telluride's rugged past.
Transition to white gold
The mining industry was the lifeblood of the town for nearly a century until the 1970s, when the opening of Telluride Ski Resort reinvigorated the community and shifted the economy to an outdoors and tourism focus.
Since then, the same rough terrain that made Telluride so arduous for miners has made it a hotspot for adventure sports enthusiasts, with world-class backcountry skiing, rock and ice climbing, paragliding, mountain biking, trail running, and of course, hiking.
There are over 90 named hiking trails around Telluride and through this corner of the San Juans (with many more off the map), running like mineral veins through the topography. This mountain range includes thirteen "14ers", peaks over 14,000', and dozens of 13ers, and is peppered with picturesque basins, waterfalls, impossibly blue alpine lakes, and towering vertical relief. Even though I tend to avoid superlatives and absolutes, I'm comfortable saying that the hikes outside of Telluride reveal some of the most stunning terrain in the country.
And it still feels like a well-kept secret that holds a different kind of gold in the hills today.
There's a Reason Many Mountain Guides Call the San Juans Home
Mountain Trip, a local guide service established in Alaska in the 1970s, has been headquartered in Telluride since the early 2000s—for good reason. Our guides work here year round and keep in shape for climbing expeditions around the world by spending as much time in the mountains and on the local trails as possible.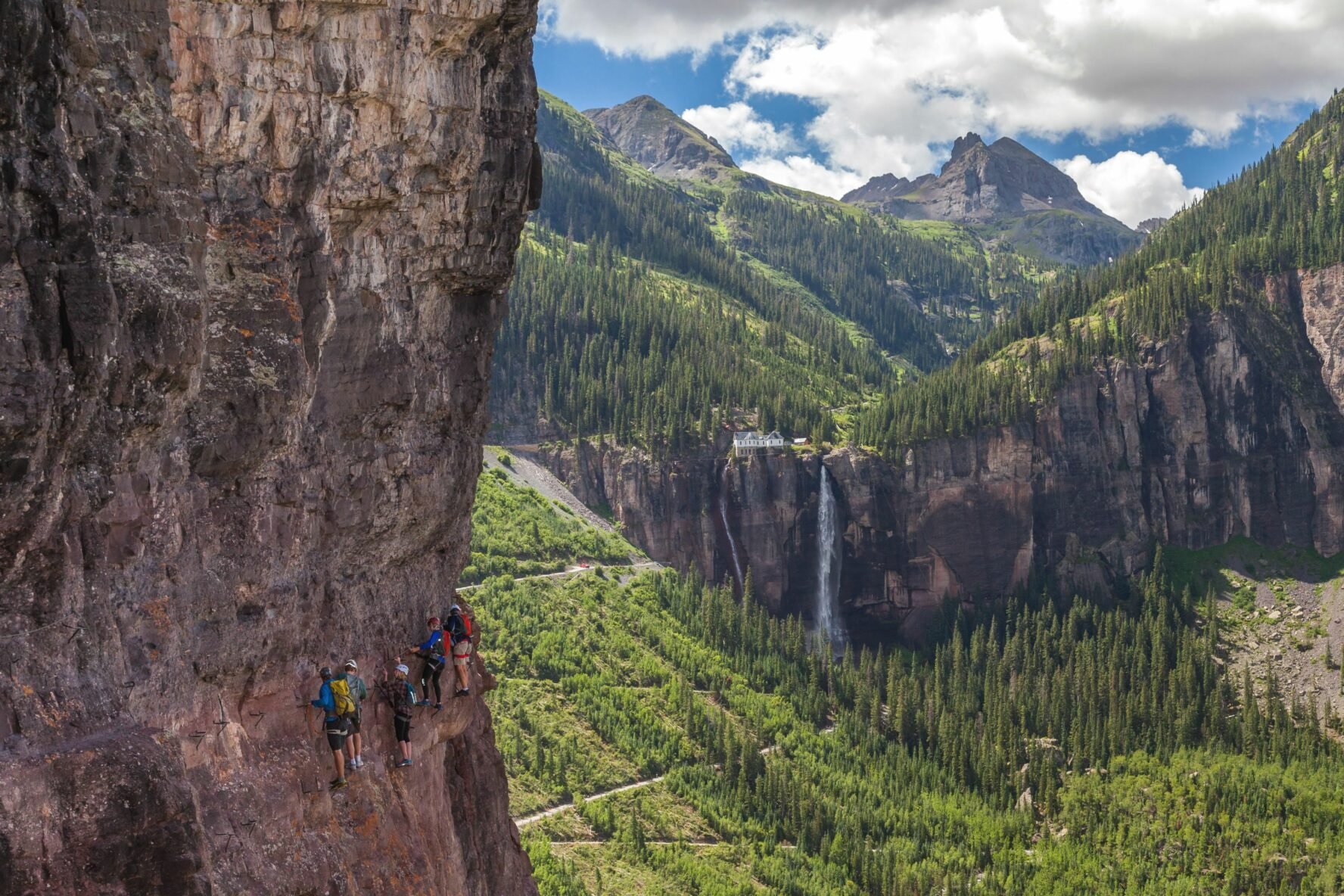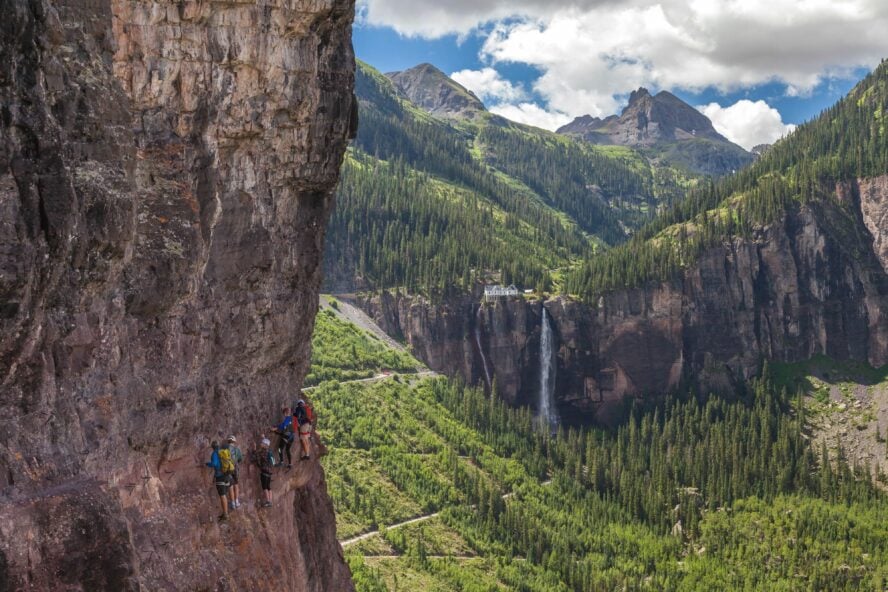 I've worked as a guide for Mountain Trip for nearly seven years, guiding both locally and in far-flung places, including weeks-long expeditions to the summit of Denali in Alaska. There are many reasons I've kept this area as my home base, the access to so many trails being near the top.
Though it's incredibly tough to narrow it down to just five trails to recommend, the following selection provides a "greatest hits" to first-time visitors. Still, you'll have to return to the valley many times to be able to scratch the surface of what is available here.
Five Great Hikes in Telluride According to a Local Guide
Before we dive deeper, here's a brief synopsis of the hikes with more details to follow. You can check out which one might be calling your name based on the stats:
Easier Hikes in Telluride
Bear Creek Falls Trail –

5 miles out-and-back, best for families

Blue Lake –

6 miles out-and-back, best for seeing Telluride's historic mining and hydroelectric past
Moderate Hikes in Telluride
Telluride Via Ferrata – 4-5 hours to complete, best for a unique, adrenaline-laced experience in Telluride
Strenuous Hikes in Telluride
Sneffels Highline Trail – 13-mile loop, best for wildflowers

Wilson Peak – 9-mile out-and-back, best for an iconic and challenging summit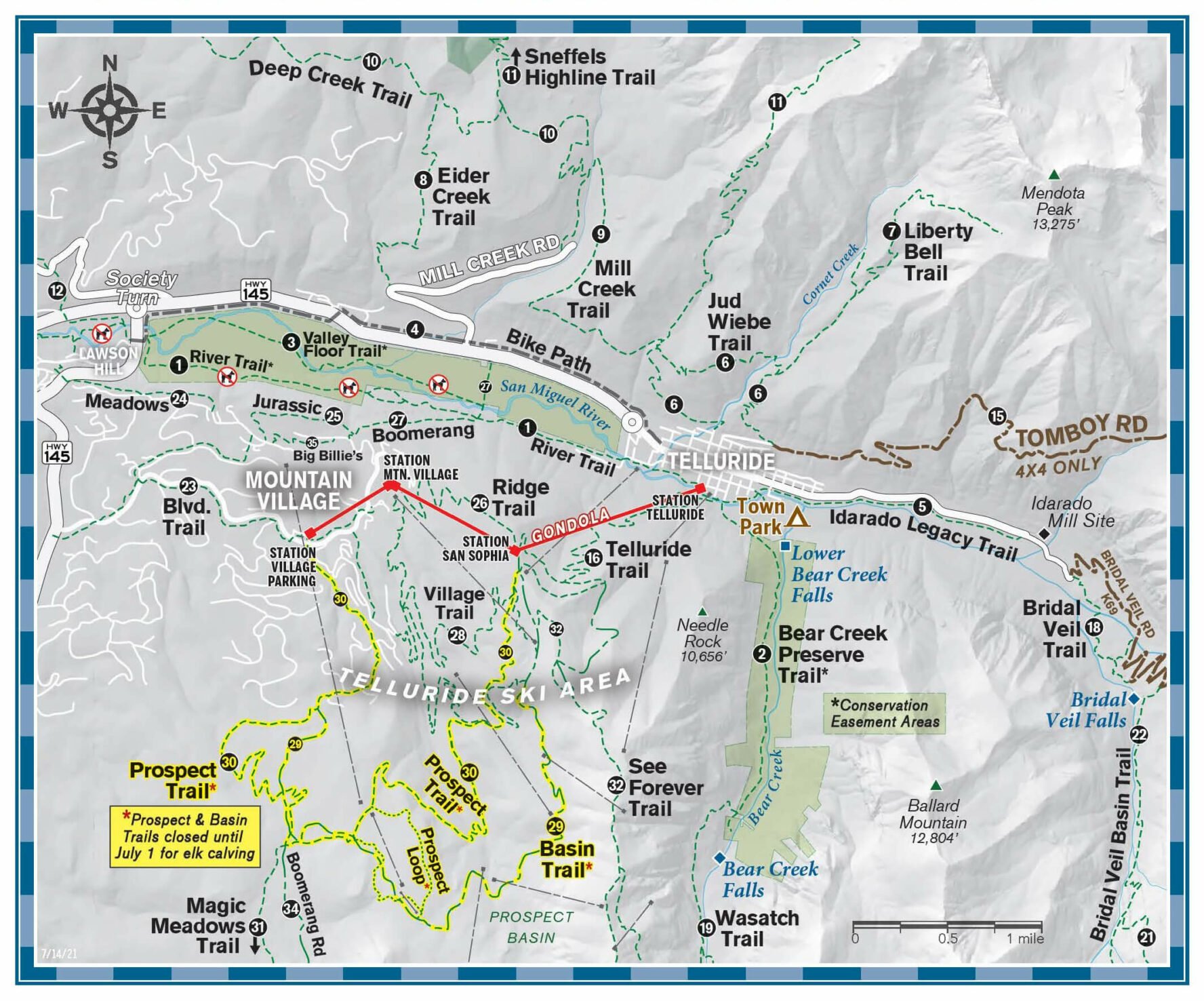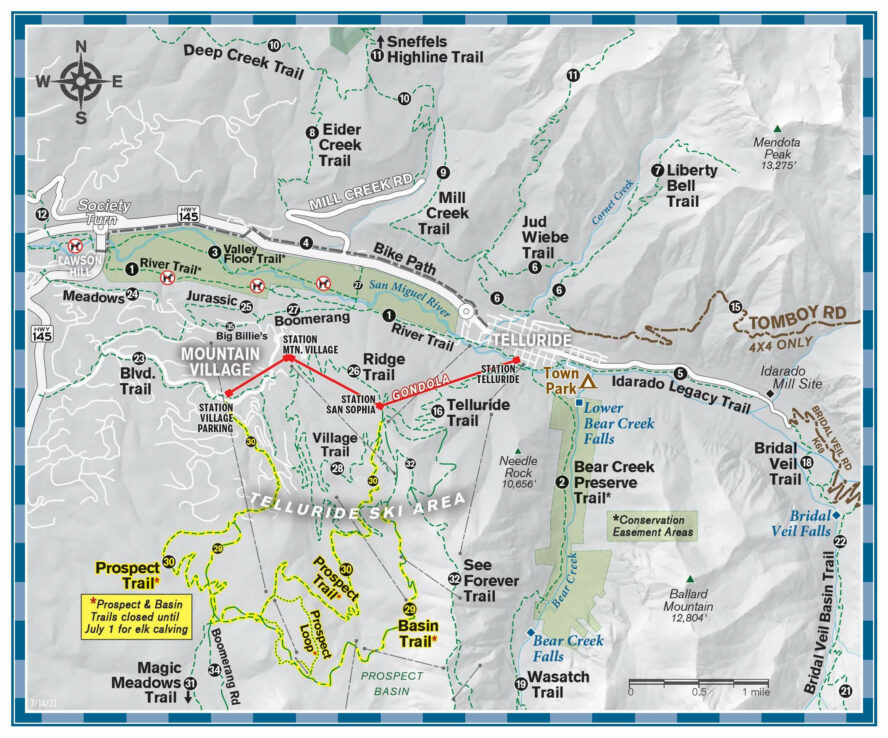 Bear Creek Falls
The Bear Creek Falls trailhead lies a couple of blocks past the town library on Pine Street. This is a great introduction to hiking in Telluride and one of the most leisurely. It also features a 100' cascading waterfall and big views along the way.
At 5-miles out-and-back, the hike generally takes two to three hours on relatively flat terrain compared to other options on this list (though there is still a gain of about 1,000 feet). I recommend this for families or as a "warm up" for those arriving from lower elevations.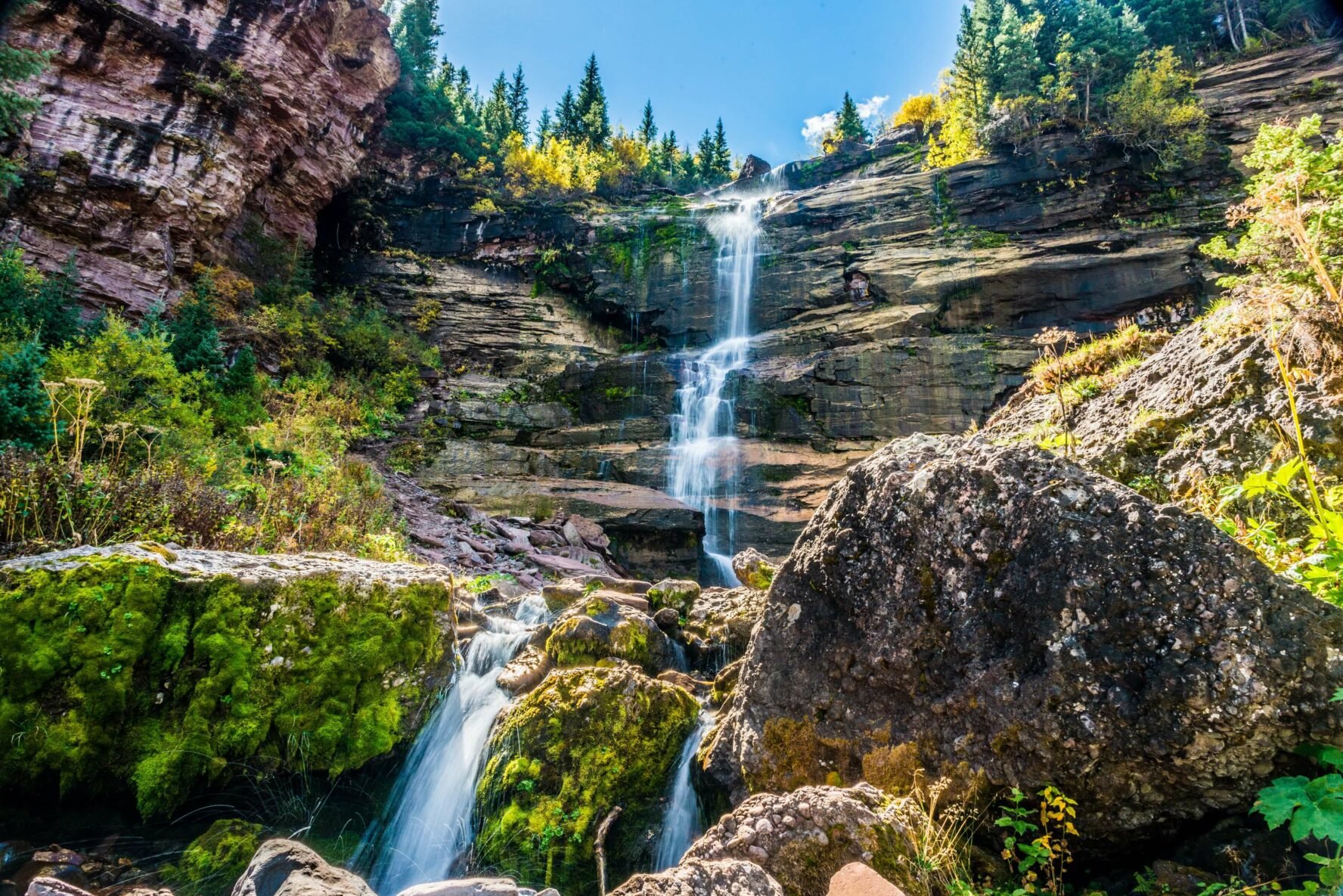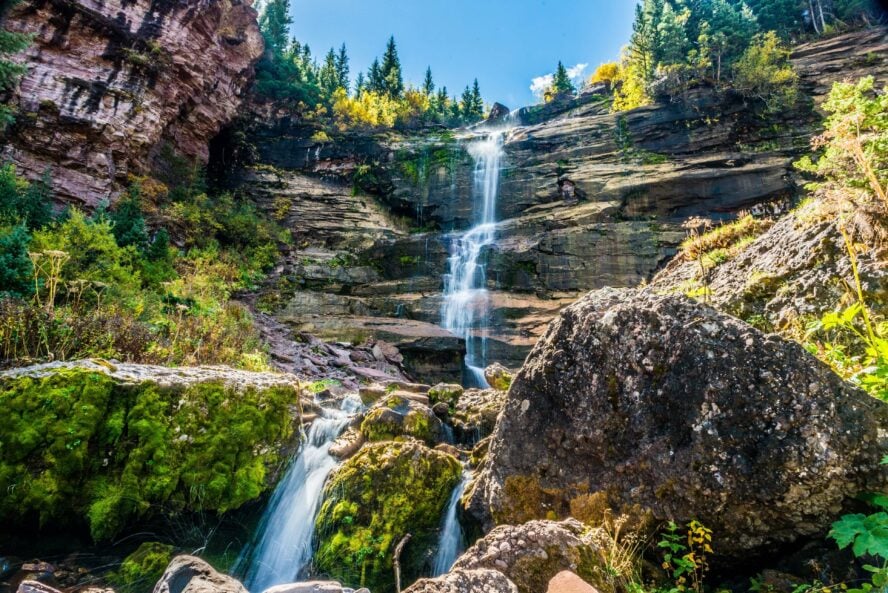 The trail, once an old mining road, follows Bear Creek, and lies entirely within the Bear Creek nature preserve. Once you reach the waterfall at the apex of the trail, there are plenty of spots to enjoy a picnic, or stretch out on the boulders below the waterfall. Note that you will stay sub-alpine, tucked away in the trees, so this hike can be a good option if you suspect bad weather. For the more intrepid, Bear Creek provides an access point to many other long trails that head into the alpine (like the Wasatch Loop, Wasatch Connection and Ballard Mountain, to name just a few).
Because of its accessibility from town and easy terrain, this is one of the most popular hikes in Telluride—you will almost always have fellow hikers or runners along the route.
Blue Lake
Blue Lake shimmers beneath a steep panel of rock in a high alpine cirque beyond upper Bridal Veil Basin. To get there, you'll take a walk into the past, through a basin that uniquely showcases the mining past of Telluride, and the hydroelectric equipment that still provides approximately 40 percent of the town's power.
The trailhead begins at the end of Bridal Veil Road near the Bridal Veil Powerhouse (there is also a lower parking lot that ups the hike to 10-miles round-trip with additional vertical gain). Only drive up the switchbacks if you have a car with a bit of clearance and all-wheel drive, but along the way, make sure to stop at Bridal Veil Falls (the highest free falling waterfall in Colorado at 365') for a bonus photo opportunity.
This 6-mile out-and-back hike follows alongside Bridal Veil Creek, and takes about 4 hours on average. It is mostly above treeline, starting around 10,400' with about 2,000 feet of elevation gain. The trail is fairly gradual, but keep in mind that the high altitude can make things feel considerably more challenging.
Once at the lake, look across to find a miner's cabin with an old canoe (still occasionally used by hikers) banked on the rocky shoreline. You can also find equipment from when Blue Lake was a hot spot for silver mining scattered about. Feeling extra adventurous? Take a dip in the lake on a bluebird day, and be ready for the full body shock and euphoria induced by the snowmelt-chilled waters.
Sneffels Highline Trail
Not to be confused with the 14er (Mount Sneffels), the Sneffels Highline Trail is a 13-mile loop right out of town. It takes you up and over a 12,000' pass, where you'll find yourself surrounded by towering 13,000' peaks, verdant high alpine basins, and chest-high wildflowers. The best time of year to go is between mid-July to early September during peak wildflower season, when each basin has its own distinct floral population—and your chances of seeing marmots, deer, elk, pika and the occasional bear are greater.
(I've even had a mountain lion encounter on this trail before, although the likelihood of that is very low!)
On average, the Sneffels Highline hike takes about 6 hours, in either direction. However, if you do it counterclockwise you'll get the steeper climbs out of the way first and have a long descent after you successfully hike over the pass.
This is one of those Telluride hikes that you should do only on a clear day (or get a pre-dawn start) as inclement weather and electric storms associated with the monsoonal flow are known to arrive without much warning in the afternoon throughout the summer months. Be sure to have the route directions well memorized or accessible on your phone, as there are quite a few trail junctions where choosing the correct fork is essential to your success.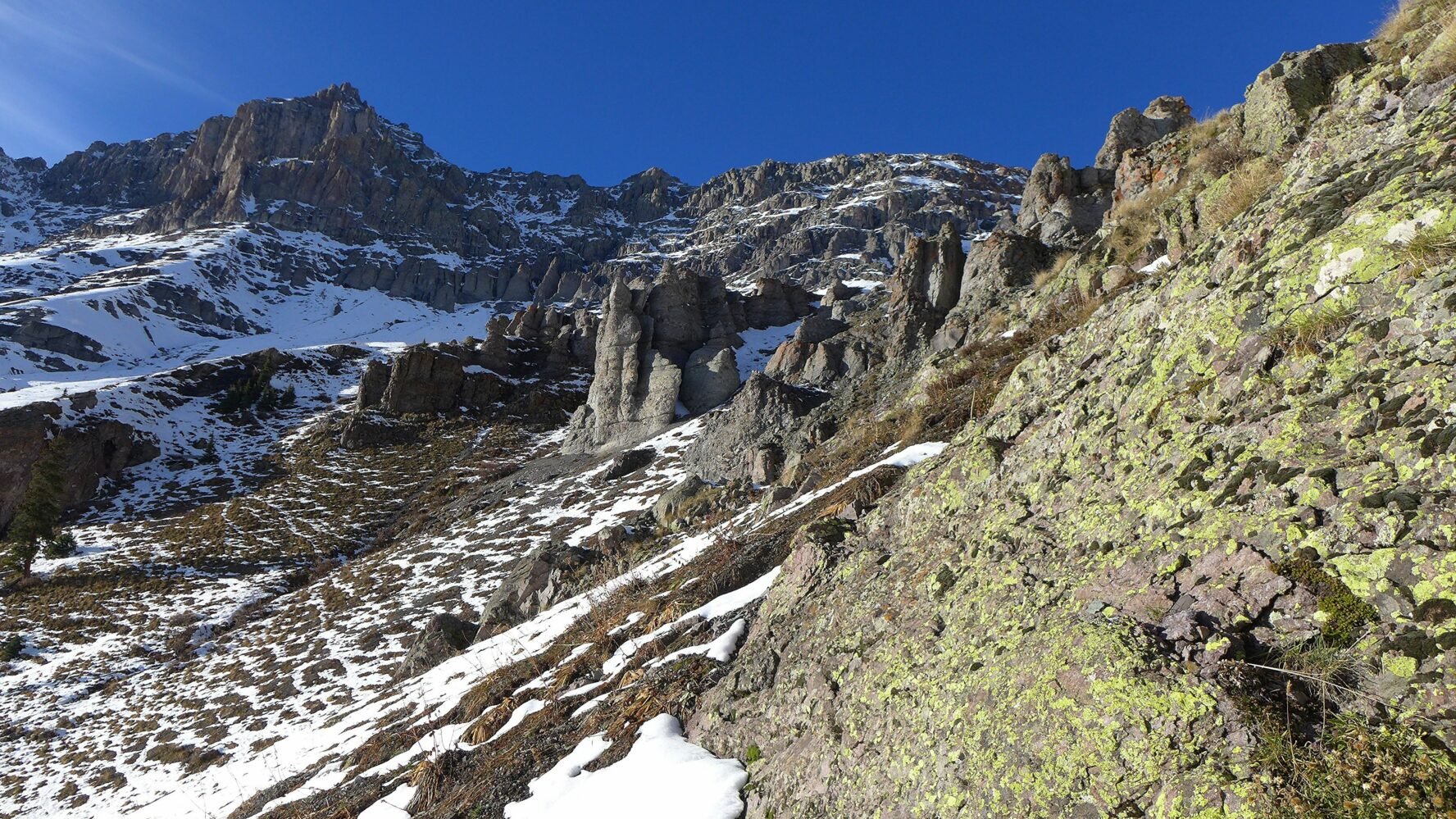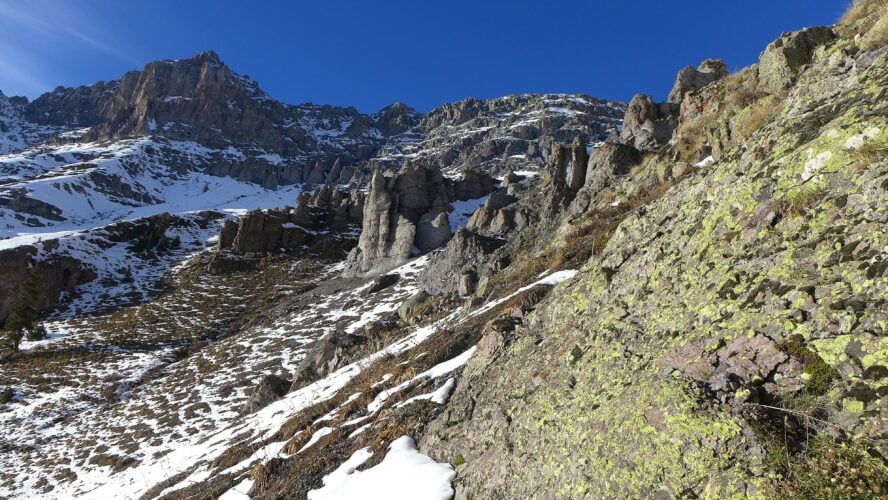 The trail begins amid aspen forest and crosses several small streams, ascends into high alpine meadows, and eventually into more rocky terrain as you approach 12,000 feet. A recent rockslide event made the trail a little bit more challenging to follow near the high saddle leading between upper Mill Creek and Pack Basin, but the section of true route finding is short. As mentioned above, I highly recommend having both the trail directions and a GPS mapping application like Gaia or CalTopo downloaded on your phone to ensure that you stay on track.
Wilson Peak
Rising to 14,023 feet, Wilson Peak's perfect pyramid-shaped summit dominates the skyline as viewed from Mountain Village and Telluride Ski Resort. The mountain also dominates the Coor's Light can, and it is often affectionately referred to to as such: the "Coors Light Mountain." The name given by the native Ute is my favorite, however: Shandoka, meaning, "storm bringer," as it often amplifies and catches storms coming in from the southwest.
As one of the more challenging and remote 14ers in Colorado, with sections of exposed climbing, Wilson Peak is a serious undertaking reserved for more experienced hikers.
The Rock of Ages Trail is the most moderate option to the summit. Located about 13 miles southwest of Telluride (a vehicle is necessary for this one), it's a 9-mile out-and-back hike with over 4,000 feet of elevation gain that takes an average of 8-10 hours. This combination of high-mileage, altitude and mixed terrain makes it one of my favorite mountain outings in the area, and you'll get an unmatched feeling of satisfaction reaching the summit.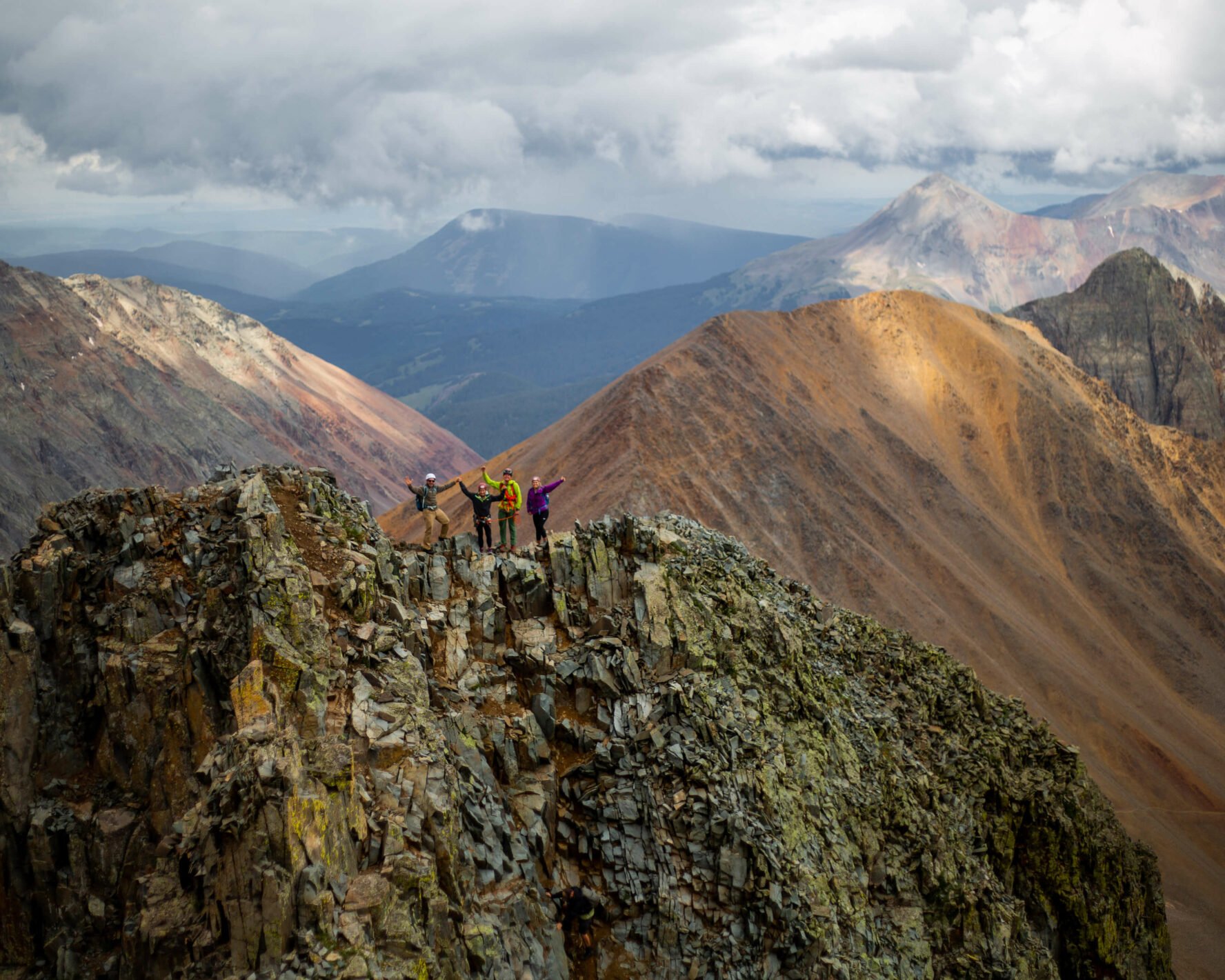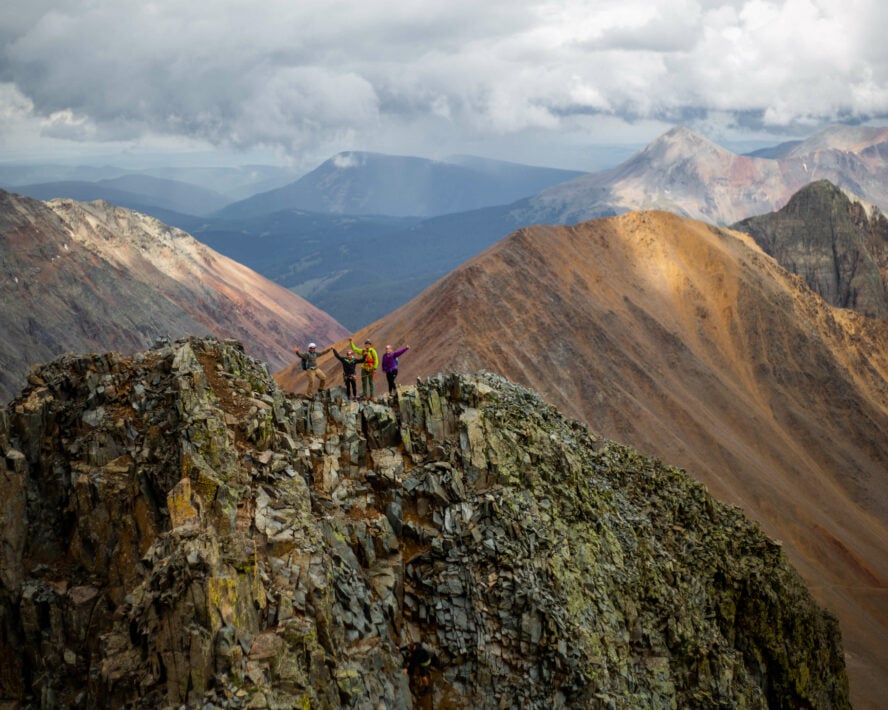 A clear forecast and an early start are important for success in climbing any Colorado 14er, but this is especially imperative for a more committing route like Wilson Peak.
Check the weather before you go, be prepared for changes throughout the day, and be watchful of approaching thunderstorms (generally arriving from the southwest). Your day begins ideally well before sunrise, below treeline on an established trail. After a few hours, you'll emerge into a broad valley of loose rock, surrounded by high cliffs with the impressive summit block of Wilson Peak off in the distance to your left. From here, the trail becomes less distinct and the real route-finding begins.
Those GPS apps that I mentioned above are essential here, and I'd also consider carrying a device like a Garmin inReach, so that you can send out an SOS signal in case of emergency.
About 1,000 feet below the summit, you reach the Rock of Ages saddle where the class 3 scramble begins, meaning you'll be tackling some steeper climbing while using both your hands and feet for balance. I recommend putting on a helmet here, to protect against possible rock fall from above. Once at the summit you'll be rewarded with an expansive landscape rolling all the way into Utah and Arizona, with seemingly never-ending views all around you.
Telluride Via Ferrata
The Telluride Via Ferrata is not to be missed for the adventurous hiker; an exciting, technical alternative to typical trails. It traces the cliffs high above town and provides expansive views of the entire box canyon, and an up-close look at the unique geology of the area.
Via ferrata routes originated in the Italian Dolomites during World War II, built to help troops gain high ground on the enemy, and move through otherwise impassably steep areas of the mountains without the use of ropes and technical skills. Today, via ferratas are typically protected routes that combine hiking and climbing, where you are attached to fixed cables and climb on iron rungs to move along the mountainside when the trail falls away and the going gets more vertical.
The first via ferrata in the United States
Looping back to Telluride, it was rogue-installed on public land in the early 2000s. The route was masterminded and pioneered by local big wall rock climber, ultra-runner and ironworker, Chuck Kroger. Chuck unfortunately passed due to cancer in 2007, and is not around to witness the legacy of his route today—the route allows hundreds of people each year to push their limits in the vertical, and to experience a feeling of big exposure without having high-level rock climbing skills.
I'd highly recommend a harness, helmet, good sturdy hiking shoes, and a proper via ferrata load-limiting lanyard. You don't want to put your security at the mercy of improvised gear here. If you don't have the proper equipment, or previous experience, I'd highly recommend using a guided service to take you on the Telluride Via Ferrata. It'll make for a much lower-stress day (on an already potentially stress-inducing traverse).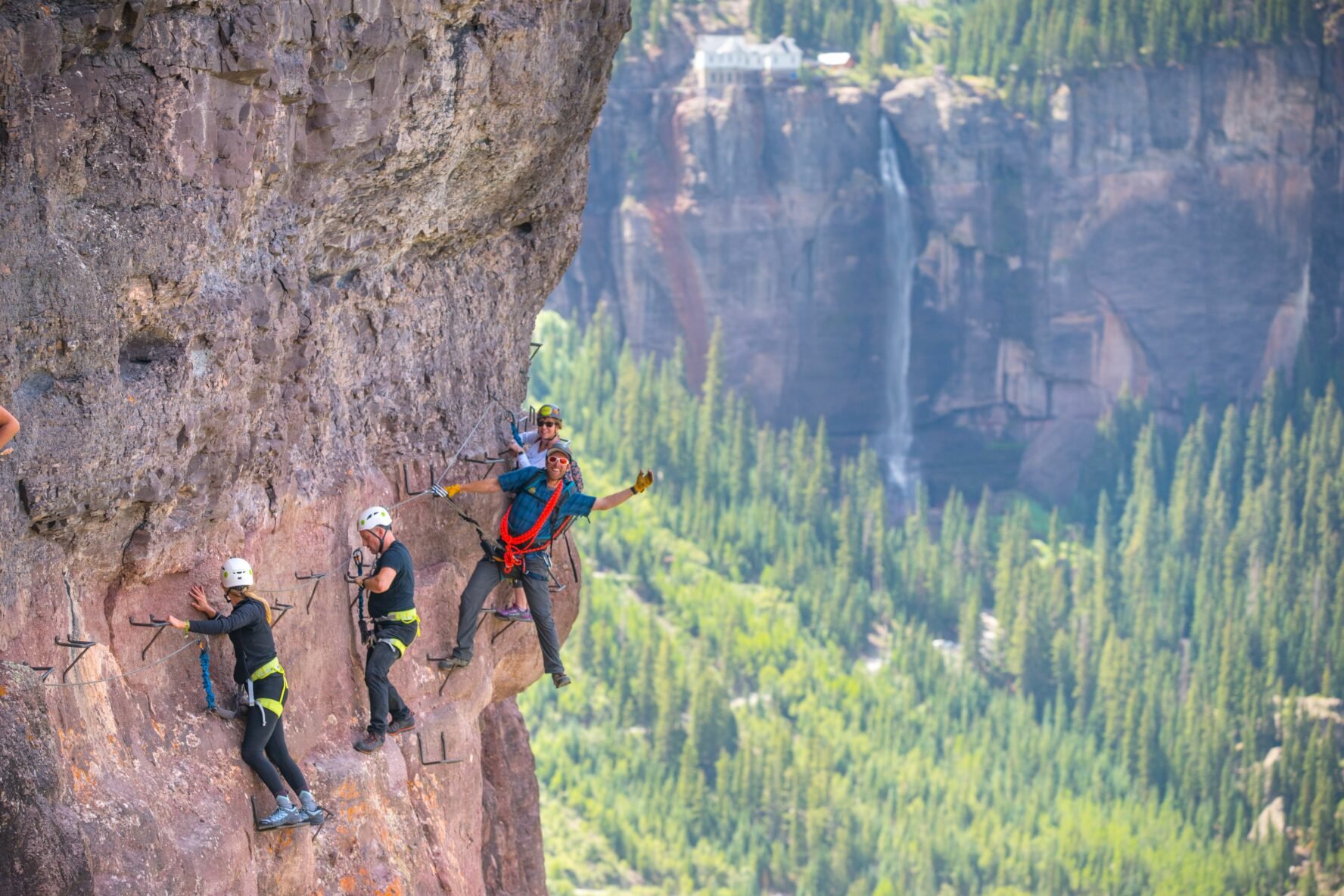 The Telluride Via Ferrata runs from the east end of the canyon to the west, following a narrow ledge between two different types of rock that eroded at different speeds through geologic time. For those with a fear of heights, this might not be the best option: a cliff drops off to your left 200-600 feet down the entirety of the route. It's not particularly physically strenuous compared to the other hikes listed here, but can be mentally taxing, taking many people to the outer limits of their comfort zone. That said, it makes for a truly transformative experience for those pushing through their fears.
Altogether, the route takes about 4-5 hours on average, and again I would recommend an early start to avoid potential afternoon storms.
Having the proper mindset, gear and timing (and going with a guide if not) can make the Telluride Via Ferrata one of the coolest experiences you can have in the San Juans. Not to be underestimated, the route is in a consequential alpine environment with long sections without cable, meaning you are often not attached to protection and fully responsible for your own security. Give thanks to the Telluride Mountain Club for managing and coordinating maintenance of the route, as well as other area trails.
How to Prepare for the Hikes in Telluride
Is Telluride worth visiting in summer?
The most popular time of year to visit Telluride is in the summer, surpassing winter. Typically, the bulk of summer tourism is between late June and September, when the wildflowers are blooming and the snow has melted out enough to access high-mountain passes.
However, I personally think that fall, with endless groves of golden aspens, might be the most picturesque season in Telluride. "Gold season" when all of the colors are at their peak, typically falls in early to mid-October. If you're lucky, there will also be a dusting of early season snow on the high peaks, making the area incredibly striking.
Where to stay between your hikes in Telluride
You should try to book as early as you can manage, as accommodation and camping fills up months in advance.
High End Option: The Madeleine offers knockout views from every room, upscale amenities and friendly staff. If you are looking to treat yourself and have the most relaxing, luxurious time in Telluride, this is your place.
Hostel Option: The Bivvi Hostel is a budget-friendly stay located just outside of Telluride. They have a shuttle that will bring you to and from town, making staying in the area accessible to those who would prefer not to camp but don't want to break the bank.
How do I camp in Telluride? There is a campground in Town Park on the eastern edge of town, which offers easy walking access as well as hot showers for an additional fee. Book your campsite far in advance to guarantee the date you prefer. Outside of town, there are six primitive camping options near Telluride: Woods Lake Campground, Sunshine Campground, Alta Lakes Campground, Matterhorn Campground, Priest Lake Campground, and Lizard Head. You can see these on the Forest Service camping map.
Unique Option: The Opus Hut provides a European-style cabin experience with bunk rooms, a hutkeeper who doubles as a bartender, and delicious meals included. Being in the San Juans, you would be forgiven for thinking you're in the Alps, but with that said, it's far outside of Telluride located at the top of Ophir Pass at just under 12,000'.
Where to eat
Fine Dining: La Marmotte is an upscale modern French restaurant that utilizes local ingredients whenever possible. With everything down to the small details made in-house and an extensive wine list, this restaurant really maximizes the European feel while being set in the third oldest building in Telluride. This is a premium option for a night out on the town
Food Truck: Caravan is a Mediterranean-style food truck that is permanently parked on Main Street and offers a great variety and quantity of food at a reasonable price—a favorite post-hike stop!
Grab-and-Go: The Butcher & The Baker has a charming atmosphere and is a good place to grab a breakfast burrito and latte before heading out in the mornings. There are lots of fresh and quick options in the ready-to-go case, but they also serve lunch and dinner, making it one of the busier places to eat.
Creative Fare: 221 South Oak is top-notch for an after-hike brunch (on Sundays, during summertime) or early evening appetizers at the bar. Enjoy a specialty cocktail accentuated by the fun and eclectic vibe inside a refurbished, Victorian-style house. Try to get a reservation before heading over since the small place often fills up quickly.
The best place to get gear for your Telluride hikes
Jagged Edge Mountain Gear is the place for all your outdoor equipment needs. They stock everything from gear for long expeditions to trail running kits, to cool lifestyle clothing and maps of Colorado. Their staff is extremely knowledgeable and spend a lot of time in the mountains locally, and are happy to advise you on what gear might be best for the activities you have planned.
How to get around
If you're not driving or flying into town (via the Telluride Regional Airport), the closest and most affordable option is to fly to the Montrose Airport, about 1.5 hours away, and take a shuttle to Telluride or Mountain Village. If you are staying in town, it's easy to get around without a car with the help of the Galloping Goose free bus system, and the Telluride Gondola, which provides free (and super scenic) trips to Mountain Village.
If you're staying further outside town or plan to hike throughout the region, it's beneficial to have your own car for transportation to the trailheads that aren't within walking distance. It's worth considering a four-wheel drive option to provide easier access to some of the rougher roads and high mountain passes to maximize your time in the San Juans.
Permits and passes
For all the hikes mentioned in this article you don't need any permits or passes.
Cell service
Note that most of the high-country area around Telluride often doesn't have cell service, so don't rely on your phone for emergencies on your hikes.
Remember: Trail Etiquette
Telluride is a very popular mountain destination due to its easy access to the outdoors and cozy town setting, which makes it one of the best places for hiking in Colorado. This inevitably means that trails and wild areas are seeing more traffic than ever. Remember to review and abide by Leave No Trace (LNT) principals to help preserve the mountains for all.
The Perfect Place for Adventure
The hikes in Telluride might just strike the perfect chord between adventure and comfort. You can have a big mountain day—catching the sunrise before the rest of the valley wakes up—and still enjoy a fancy brunch a few hours later thanks to all the trails that begin and end right near downtown.
Of all the places I've caught the sunrise, seeing it from the summits around Telluride is still my favorite.
Ready to push your boundaries on the via ferrata, climb one of the most iconic 14ers, or mingle with the town's mining past?
Book a hiking trip in Telluride!