Your host, AMGA Guide Jack Bynum, covered:
What it takes to tackle The Tall One
Finding peace and solitude on Denali's paths less traveled
Close encounters of the bear kind and other wildlife tales
The thrill of backpacking on North America's tallest mountain
Alaska's boisterous weather: planning the unplannable
Beyond Denali—Lake Clark National Park and Wrangell St. Elias
At 20,310 feet, Denali dominates the great Alaskan wilderness with an unmistakable presence. As its colossal crown engulfs the horizon, one cannot help but gasp in wonder. Or, if you're a seasoned adventurer like AMGA Guide Jack Bynum, you might tingle with excitement.
With no trails, designated routes or campsites, backpacking on North America's tallest mountain is as rugged as it gets. Enter unprepared and you'll have a bad time. But if you embark into Denali's backcountry equipped with the right know-how, you're in for one of the most liberating backpacking adventures out there. And if that doesn't scratch your hiking itch, there's even more gems to be found in national parks nearby!
Luckily, Jack is here to help with all of that. As an alpine ace with a decade of guiding experience and over 20,000 outdoor miles under his belt, he's made going off the beaten path his specialty.
Check out this one-hour session and find out what it's like to walk in the shadow of one of the world's most awe-inspiring mountains armed with nothing but a backpack and a healthy dose of determination.
Webinar host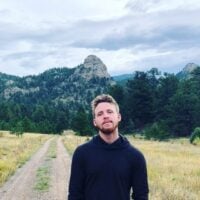 Jack Bynum
AMGA Guide and founder of Indigo Alpine Guides
Although he calls Seattle home, Jack can rarely be found sitting still. Most of the time he's out looking for adventure with his trusty backpack in tow. After nearly a decade of guiding around the world, Jack wanted to provide his customers with something new—custom expeditions to the remotest parts of the globe. That is why, in 2017, he founded Indigo Alpine Guides. His company's mission is to celebrate the great outdoors and preserve the natural world we partake in—while having tons of fun in the process.