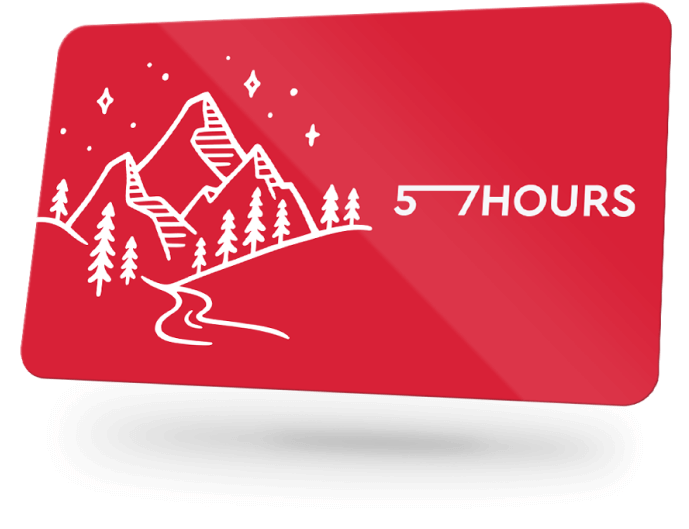 Why Gift Cards
57hours digital gift cards make shopping for the outdoor adventurers in your life easy. Redeemable on any 57hours adventure, they can be used towards the purchase of guided outdoor trips, lessons, outdoor education courses, and more. For the person that has enough stuff, give them the experience of a lifetime instead.
You simply select the design, fill in the recipient's information, and an e-gift card will be scheduled to be delivered anytime you want — whether that's now or on a special occasion date in the future.
Choose & Buy Your Card Now
About 57hours Gift Cards
Send the perfect adventure gift in a matter of minutes.

Step 1: Select e-card design
Step 2: Fill in the recipient's information
Step 3: Choose instant delivery or select a date of your choosing

It's that easy! Your recipient will receive their gift card directly to their inbox with instructions on how to redeem it on the 57hours website or mobile app.

We're doing our best to help preserve the outdoors and the places we love adventuring in. To reduce disposable plastic, we only offer e-gift cards. Digital gift cards are delivered within hours, there's little risk of losing them, and they're better for the environment (meaning they won't be tossed after one-time use). Don't worry; we still offer fun designs to choose from and a customizable message to go along with your gift.

Online at 57hours.com or on the 57hours Mobile App.

On the checkout page, enter the 57hour e-gift card number in the appropriate box. The amount will be applied to the total cost of the adventure. Review your order, complete the payment information section, and submit. It's that simple!

Any remaining balance can be used on future 57hours purchases.