Why Hiking in Thorsmork Will Leave You Feeling Thunderstruck
Thórsmörk has seemingly been crafted by the gods themselves. From the wild rivulets to its roaring glaciers, you'll see why it's named after the brawny one once you set foot here.
Three glaciers ward a verdant valley in the south of Iceland. When they rumble, it's like thunder striking.
Where there's thunder there must be lightning, and here the guttural cackling of the northern fulmar takes over the canyon—their sharp crackling crisp in the Highland air. Compounding the sounds, vibrant shapes and colors overwhelm the senses: cotton-white glaciers contrast with brown-hued tuff peaks and moss blanketed cliffs. Is this real life?
But it is. Welcome to the symphonic land of thunder and lightning; a mosaic of beauty, fragility, and orchids. Welcome to Thorsmork, a lush valley in barren Iceland, where the hiking reaches mythic proportions.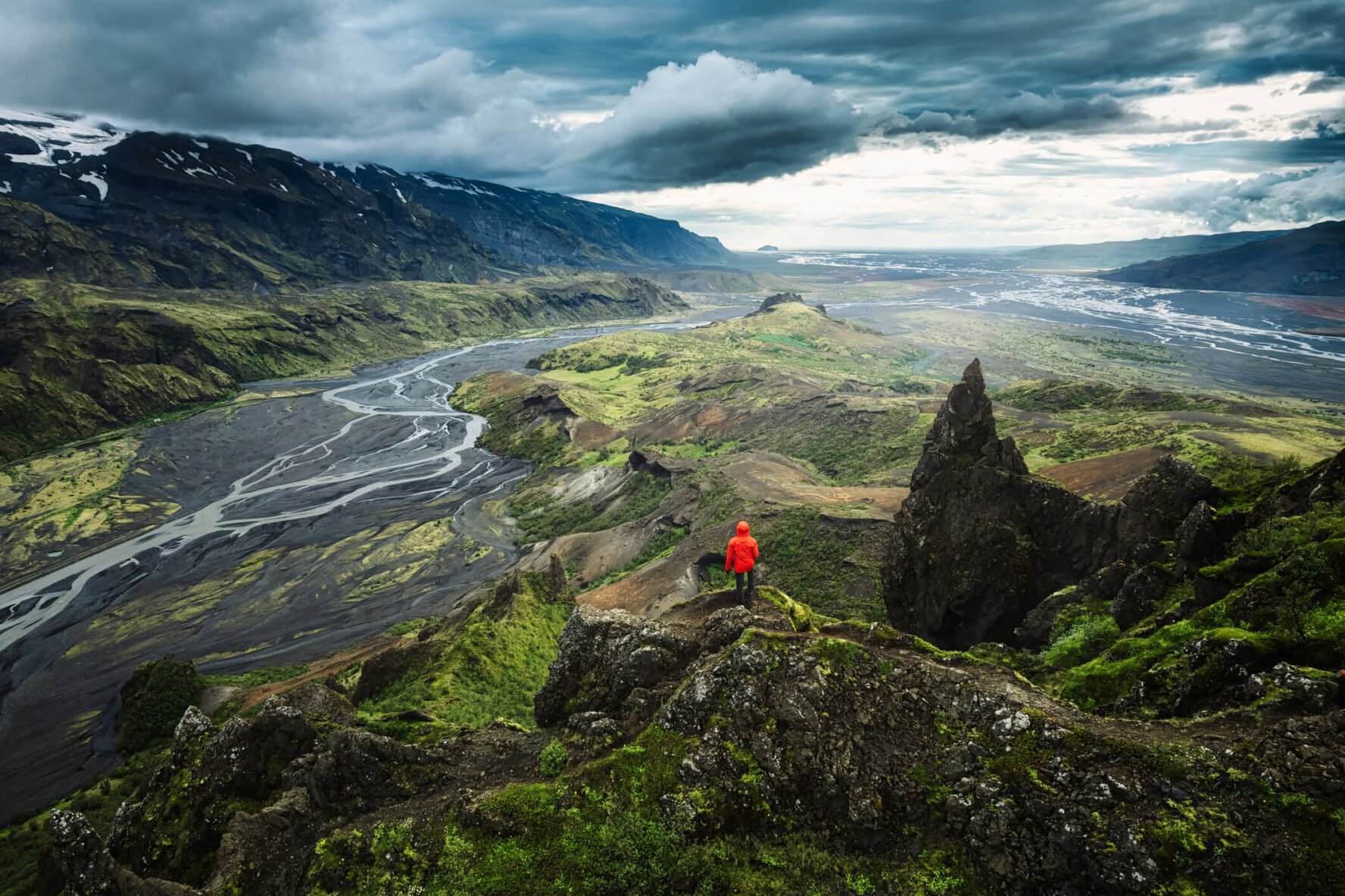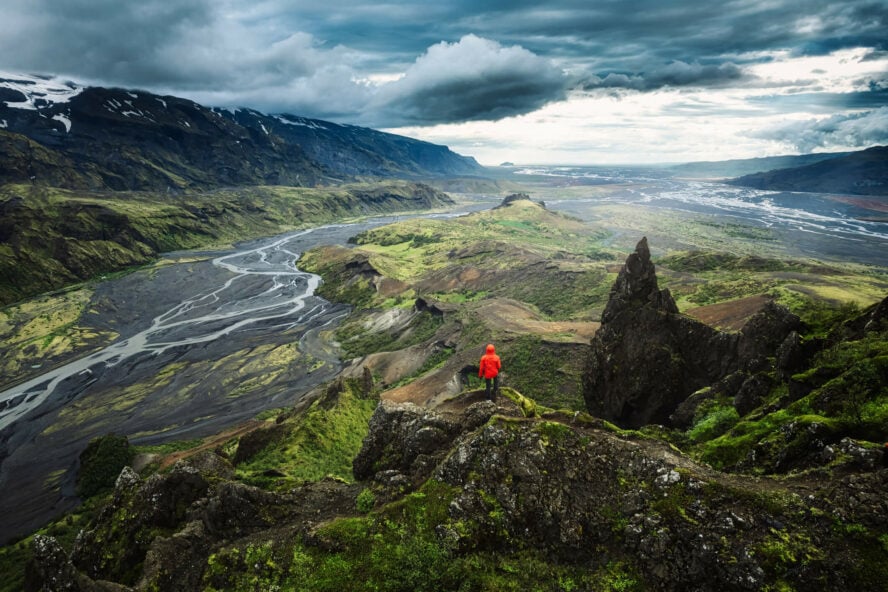 Pros and Cons of Hiking in Thórsmörk
Remote, yet only a few hours from Reykjavík
One of the rare forested areas in South Iceland
Walk on land younger than you
Trail options for all levels
Fickle weather: bear witness to four seasons within a day
Much more difficult to access outside the summer months
Thorsmork Steals Iceland's Thunder
While Iceland is known for having some of the best treks in Europe, the hiking in Thorsmork stands out among this pantheon for one particular reason: how lush it is.
Iceland used to be "forested from mountain to sea shore", according to Ari Þorgilsson, a 12th century Icelandic chronicler. However, because of deforestation, a prominent livestock industry (historically, anyway), and delicate volcanic soils, Iceland's forested landscape is scarce. But Thorsmork Nature Reserve bears witness to what the primal forests might have been.
Inside the park, because of 95 inches of rain per year and the fact that it's been exempt from sheep grazing since the early 1900s, the southern Highlands are a braided weave of rivers and carpets of greenery including birches, moss, ferns, and many seed-bearing plants. Between this leafy growth, ashy-black soil and jagged peaks are 90 km (55 miles) of hiking trails.
Maybe you're thinking you've heard of Thorsmork before, but can't quite place it? It's the tail end of the famous Laugavegur Hiking Trail and has gained some notoriety as a tack on to the four-day hike. I think it's worth visiting for its own sake, though.
Adored by locals and tourists alike, if you can get here
Icelanders enjoy the area equally for the outdoors as they do spending their weekends grilling lamb and camping with family and friends. Still, compared to some other areas of the island, the hiking trails in Thorsmork are less visited, partly because getting into the valley is a bit of a hero's quest.
Driving, it is four hours from Reykjavík, but you have to cross unbridged rivers—including the capricious Krossá—and need to either go with a 4×4 bus or with your own 4×4 vehicle. The latter is not something I'd recommend to anyone but the most experienced drivers. So while it is "accessible", you still get the sense of remoteness, which is really what most people are looking for when they head to the mountains.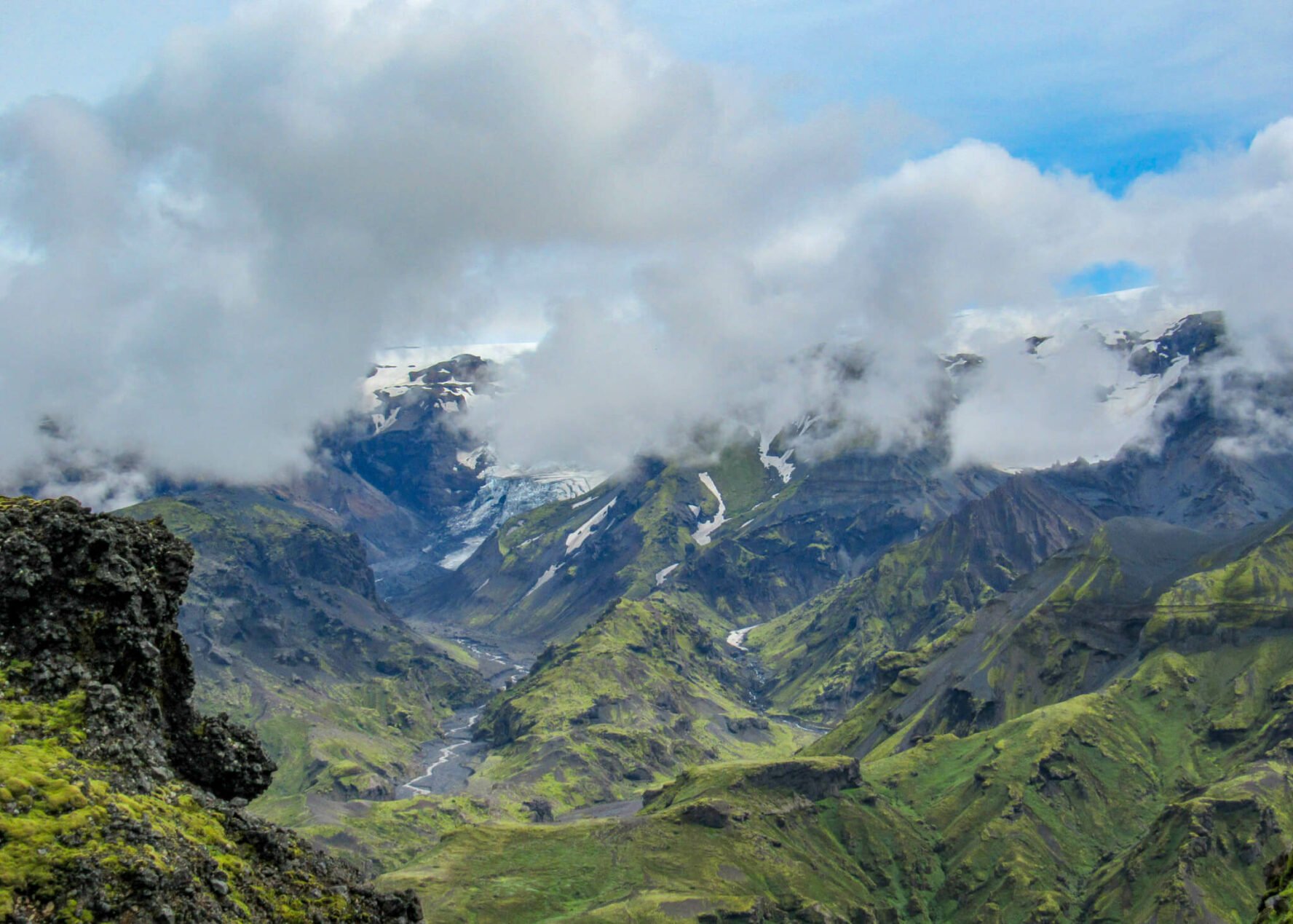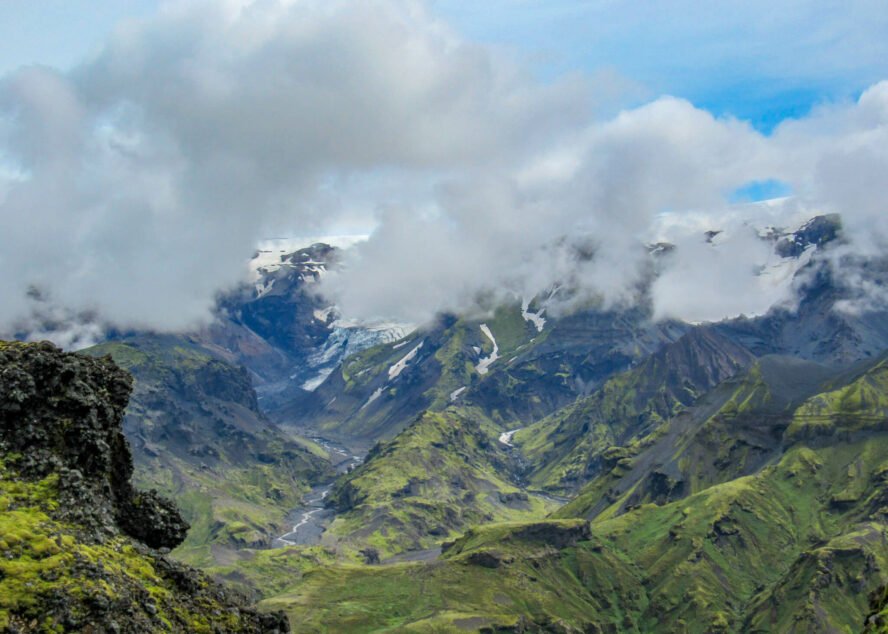 The Iceland Syndrome
Thunderstruck
Looked around
And I knew there was no turning back (thunder)
My mind raced
And I thought what could I do (thunder)
And I knew
There was no help, no help from you (thunder)
I'm not much for AC/DC's high voltage guitar chords and screechy vocals, but in the parlance of their 1990 hit, you could say that I was thunderstruck by Iceland the first time I visited. I later learned there's a term for this: Iceland Syndrome. That is to say, once you come here, you just don't want to leave.
I originally came on a whim (on a plane), and what was initially supposed to be a brief visit turned into an 18 month stay. Several years later, I returned and found an exciting job at a cultural heritage museum in Skógar, which sits at the foot of Eyjafjallajökull, the ice-capped active volcano that marks a boundary of the Thorsmork reserve. I love being outside much more than being inside, so I decided to couple my love for history and culture with the outdoors and went to guiding school. I've been here ever since.
Can't afford to fly to Mars? Hiking in Thorsmork is out of this world
Keep in mind that this is one of the world's most tectonically volatile places, meaning that you won't have trouble finding ever-changing landscapes to hike. The aforementioned Laugavegur Trail is like a mini encapsulation of all you can see in the country, while there are plenty of hidden trails in Iceland if you're looking for more of a detour. Should you only have a few days for hiking in Iceland, the hiking in Thorsmork stands alone for its otherworldly character.
Believe it or not, you'll have a chance to walk on land younger than you here—when Eyjafjallajökull disrupted world air traffic by blowing its top in 2010, it laid down fresh lava tracks around Fimmvörðuháls and two fresh craters emerged: Magni and Móði, the sons of Thor. You can still feel heat rising from the rock today.
Whether you're losing count of all the waterfalls on the way in or counting on more unearthly features to see when you get there, the day hikes in Thorsmork will make you question your own vision—but yes, you're still on Earth.
Four Best Trails for Hiking in Thorsmork
Every summer in the last few years, I've went hiking in Thorsmork at least once every other week, which has given me the chance to really discover the area and its different paths. Here's a brief summary of four of my favorites: all of them equally stellar and equally difficult to pronounce.
3D Map of Thorsmork
The expansive nature reserve of Thorsmork sits between the Tindfjallajökull and Eyjafjallajökull glaciers and is hemmed in by the Krossá, Þröngá, and Markarfljót rivers. Video made with Google Earth
Fimmvörðuháls—start off your hiking trip with Thorsmork's showstopper
Fast facts:
Distance: 25 km (16 miles)

Duration: 8-10 hours

Point-to-point trail
I'll describe Fimmvörðuháls to you, but it's going to sound so surreal that you probably won't believe me. And I can't blame you, since it sounds like something straight out of A Song of Ice and Fire series (actually, Thorsmork did make an appearance on Game of Thrones).
But picture this, all within a day: we start at the 60-meter tall Skógafoss waterfall, after which there's another waterfall, then another, and another… More than 30, actually. We follow the Skógá river along its fertile land until crossing a bridge to the next section of the trail.
Suddenly you find yourself walking on a jeep track until reaching the Baldvinsskáli and Fimmvörðuháls huts, and the eponymous pass leading into Thorsmork. This is the second section tightly squeezed between two glaciers, Mýrdalsjökull and Eyjafjallajökull. The latter is the infamous volcano which erupted in 2010; you'll have the privilege of treading on some of the youngest formations on Earth.
The grand finale is hiking into the Thorsmork Valley. Standing on the precipice of a ridgeline, you'll just have to stop and take in the views before you. A meandering river cuts through land and is towered over by green or exposed slopes and peaks. Descending into the valley marks the end of this journey.
Not for the faint-hearted
Reaching those mind-blowing landscapes comes at a price, though. The trail has some steep ascent and descent sections, some of them running along a cliffline. It can get especially daunting for acrophobes, but don't let this discourage you. I've led many people through the hike—one of the most satisfying things in this job is being able to help people achieve something they didn't know they had in them!
While the hike takes around 8-10 hours, you can also take a detour to one of the two mountain huts and make this a two-day hike. Though quite rugged, the huts always remind me of homey gingerbread houses up on the plateau. Spending the night is also a good idea if you see the weather's just not cooperating. Even in the summer, you have to be prepared for strong winds, rain, fog, or even a snowstorm—meaning that you should always bring some warm layers.
Fimmvorduhals is a one-of-a-kind hike from Thorsmork, but there are shorter and equally enchanting options if you don't have all day, many of which are as good as the best hikes in Landmannalaugar.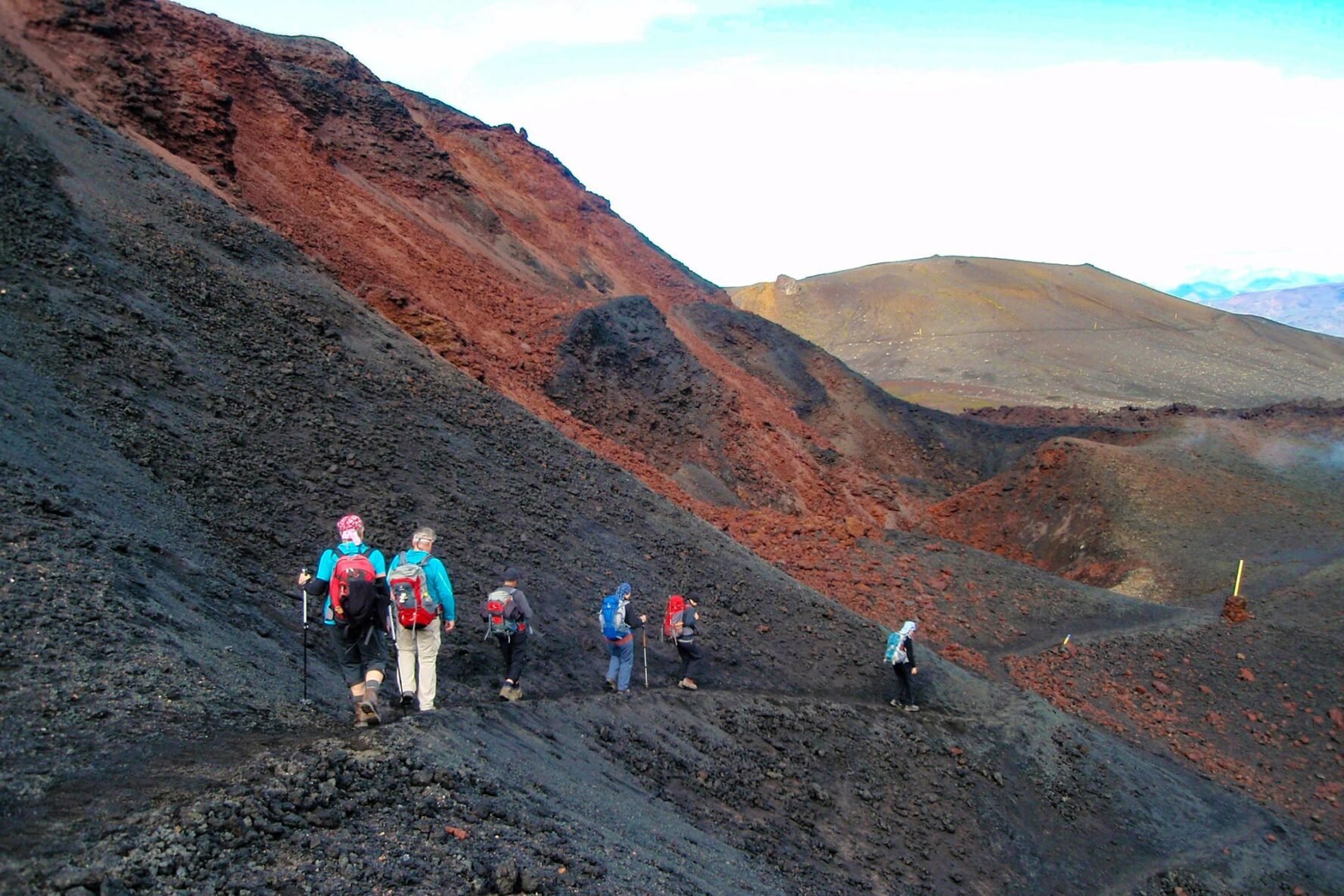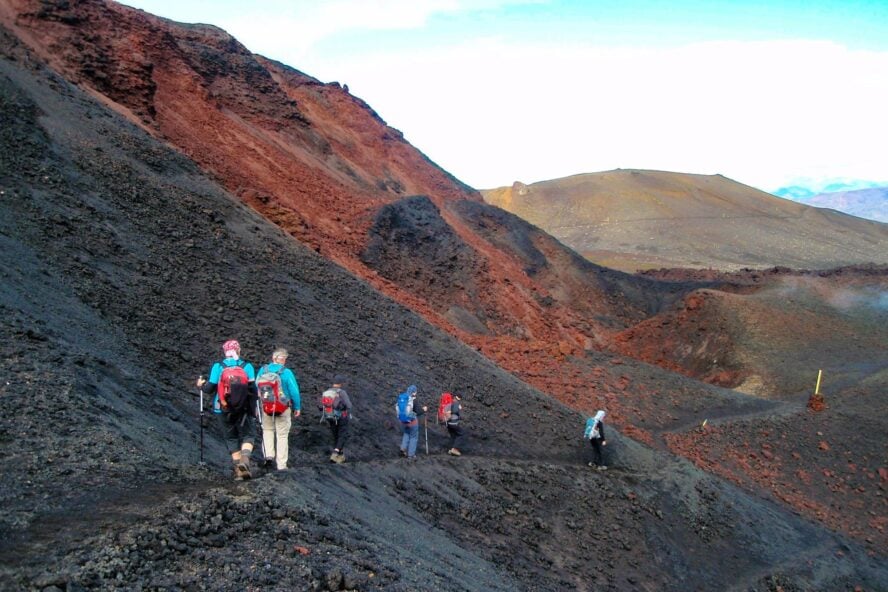 Valahnúkur—the best deal in Thorsmork
Fast facts:
Distance: 2.4 km (1.5 miles)

Duration: 1.5 hours

Loop or out-and-back trail
When you google Thorsmork, most of the images that pop up will be those of Valahnukur's viewpoint. It's the best panoramic hike in town—you get a 360-view featuring glaciers, verdant slopes and ridges, intertwining streams of the Krossá River, and the South Coast.
Even better, it's easily accessible. I often go up there to witness this million-dollar view again and again, and while it's possible to scale it in just 15 minutes, the average Valahnúkur route takes around 1.5 hours starting either from the Volcano Huts or the Langidalur Hut.
If there is good visibility, we can see most landmarks of the Laugavegur Trail. That's always fun because travelers are able to point out the mountains themselves by the end of the hike. The path is well-marked and well-maintained, and although some parts can get a bit steep, there are steps to make it easier—taking your walking poles, though, is never a bad idea. Valahnúkur is the perfect hike for beginners and families!
Tindfjöll Circle and its three glaciers
Fast facts:
Distance: ~10 km (~6.2 miles)

Duration: 4-5 hours

Loop trail
Although more challenging and longer than other Thorsmork hikes, that just means there's more time for the path to show off its immaculate and varied views.
Kicking off at the Langidalur Hut, the trail takes you on a bumpy ride. It goes up and down, and even though the trail is narrow with steep drops at times, rest assured that it's safe. Even if you are afraid of heights, I still encourage you to try it out; wait 'til you hear about the panoramas!
As you hike, you'll notice plunging canyons on both sides and once you're in the heart of the circle, there's a terrific view of Thorsmork. If you're lucky, you'll spot those three mighty glaciers sheltering the valley, Eyjafjallajökull, Mýrdalsjökull, and Tindfjallajökull, all at once. You should also be able to see the path to Fimmvörðuháls as well as the whole bed of the river, including its dynamic courses. And, of course, you can revel in lush slopes and carpeted volcanoes, constant reminders of Iceland's geological differentiation.
I do this hike a lot and am always happy when I do.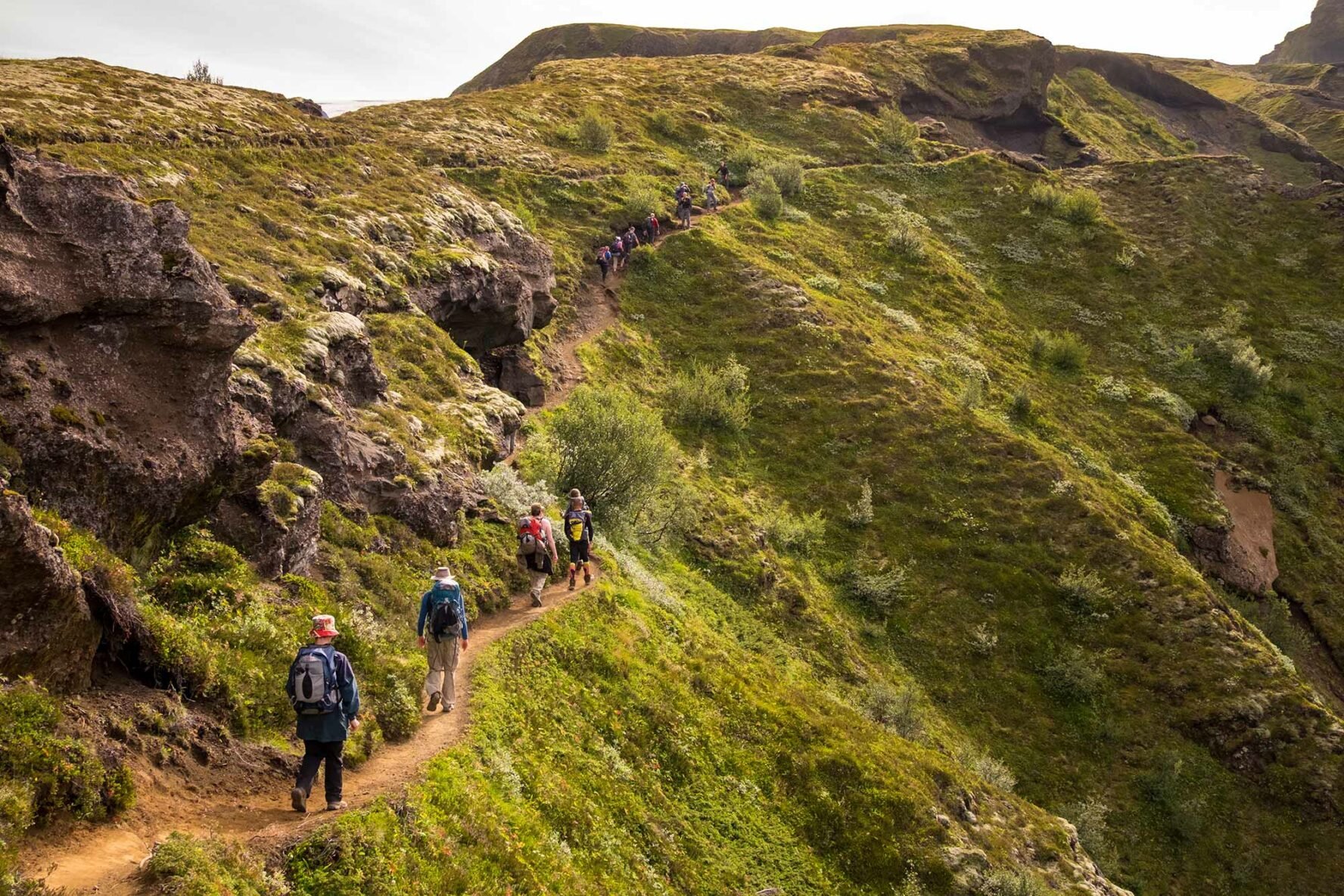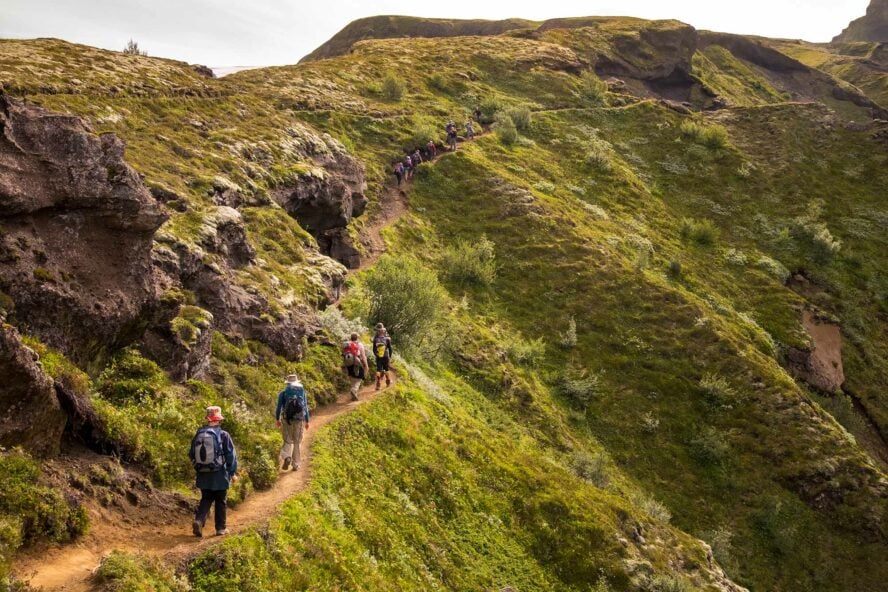 Hues of Hvannárgil Canyon
Fast facts:
Duration: 2-5 hours, depending on the chosen trail

Loop trail
Apart from the usual shebang of Thorsmork's kaleidoscope of colors and textures, this hike takes you to a place where mythical creatures are believed to roam.
The first step is crossing the Krossá river, after which we reach the solitary spire of Álfakirkja, translated as the "church of elves". It's worth noting that mythology and folklore are still a big part of Icelandic culture. You must have heard about elves—the mythical hidden beings occupying enchanted rocks and cliffs—this unique rock formation is just one of their remnants.
We have a choice now to either hike into the colorful Hvannárgil valley or up to Mt. Réttarfell, or perhaps even both! The valley is a bit more exposed with patches of greenery, but that only means that you can see incredible shades of palagonite rock.
If you're looking for an easy half-day hike with a dash of Norse mystique, consider this one!
Useful Information for Hiking in Thorsmork
What's the best time to visit and go hiking in Thorsmork?
It's tough to say what the best time to visit Iceland is, and this rings especially true for Thorsmork. Thorsmork is accessible year-round, and definitely the easiest to get there in the summer—you can count on huts being open and buses driving into the valley.
Other than that, all seasons are charming and the weather is equally erratic. Due to high ridges and glaciers surrounding it, the valley is a bit warmer than the rest of Iceland, but also more rainy. Sometimes you can experience all four seasons in a day—Icelanders like to say that if you don't like the weather, just wait five minutes. As long as you're well-prepared with warm layers, you'll be just fine.
If winter's your jam, you'll have a bit less comfort regarding transportation and accommodation, as anyone who's been ski touring in Iceland can tell you. On the other hand, maybe you won't encounter a single soul out there and masses of snow will allow you to venture to places unreachable in the summer. You can read more about what it's like winter hiking in Iceland, and if you've already made up your mind, check out this winter hiking adventure in Iceland!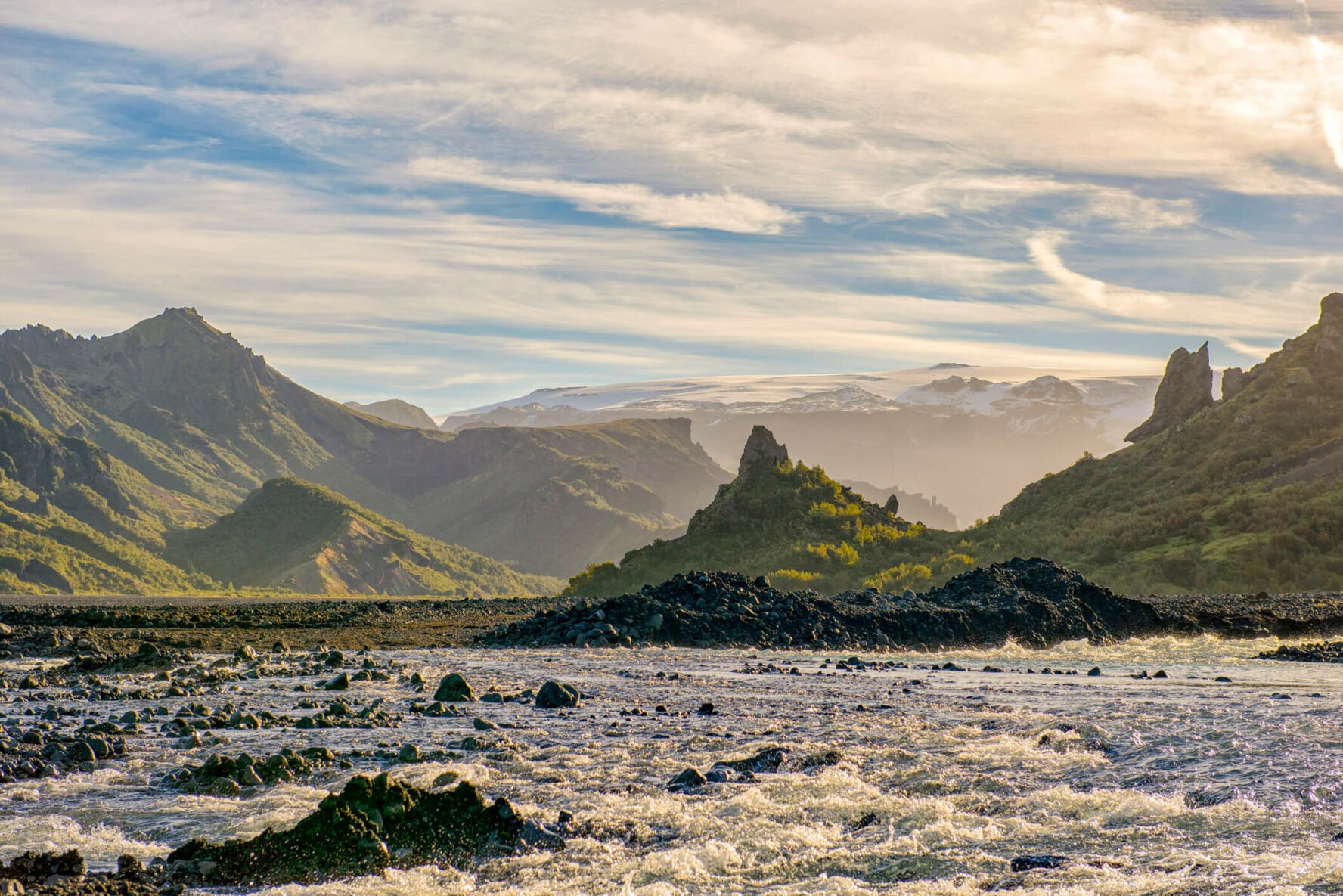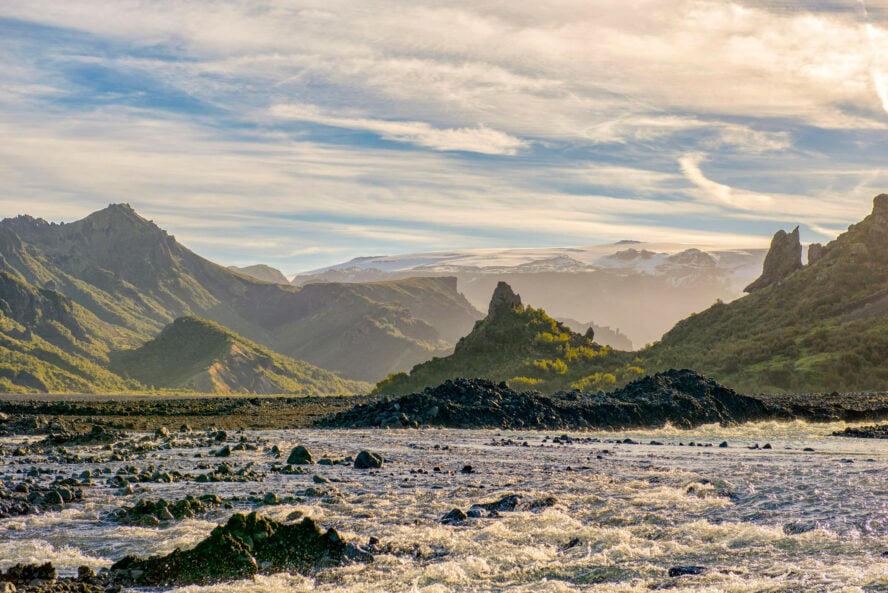 How to get to Thorsmork?
One of the safest choices to get there is by a modified bus designed for Icelandic F-roads and river crossings. Departing from Reykjavík, there are several stops along the way taking you to huts in Thorsmork valley. Buses run from the end of May to mid-September, and you can check out the schedule with Trex or Reykjavík Excursions.
You can also reach the valley by going on the Fimmvörðuháls hike with Skógafoss as your starting point. Another option is to start with the Laugavegur trail, but make sure you have a few days ahead of you! A day hiking tour in Landmannalaugar is a good start if you want to do the rest of the trek by yourself or you can also join a guide on a hiking tour in Laugavegur and the South Coast of Iceland.
Finally, you can either book a guided tour in a super jeep or rent your own car, which is what many people do when chasing the Northern Lights in Iceland. The latter is not something I'd necessarily recommend—I stopped counting how many cars I've seen get stuck in the crossings. People underestimate the power of these rivers and think it's like driving over a puddle. Unless you're a very experienced driver with a 4×4, it's best to choose another option. Just bear in mind the road is not maintained in the winter.
Where to stay when you're hiking in Thorsmork?
The Langidalur and Básar huts are in the valley while the Volcano Huts are slightly on the outskirts. The huts are usually open late May through September. Outside of that period, only Volcano Huts take in organized groups.
While the Langidalur and Básar huts are modest but still cozy options, you'll love the Volcano Huts if you're looking for a bit more comfort. You have multiple choices of accommodation, including glamping and cottages, and at the end of a long day out, you can retreat to their restaurant or a bar. Don't miss out on the sauna and its nice sitting pool to cool you down. It's not quite like Iceland's iconic hot springs, but it does the job swimmingly.
Camping in Thorsmork is also allowed, but due to it being a protected nature reserve, only in designated areas. If you go there outside of summer, you'll have to camp out there. If you're eager to join an organized hiking trip in Thorsmork, you might be interested in a co-ed hike or an all-female hiking tour for over-50s in Thorsmork.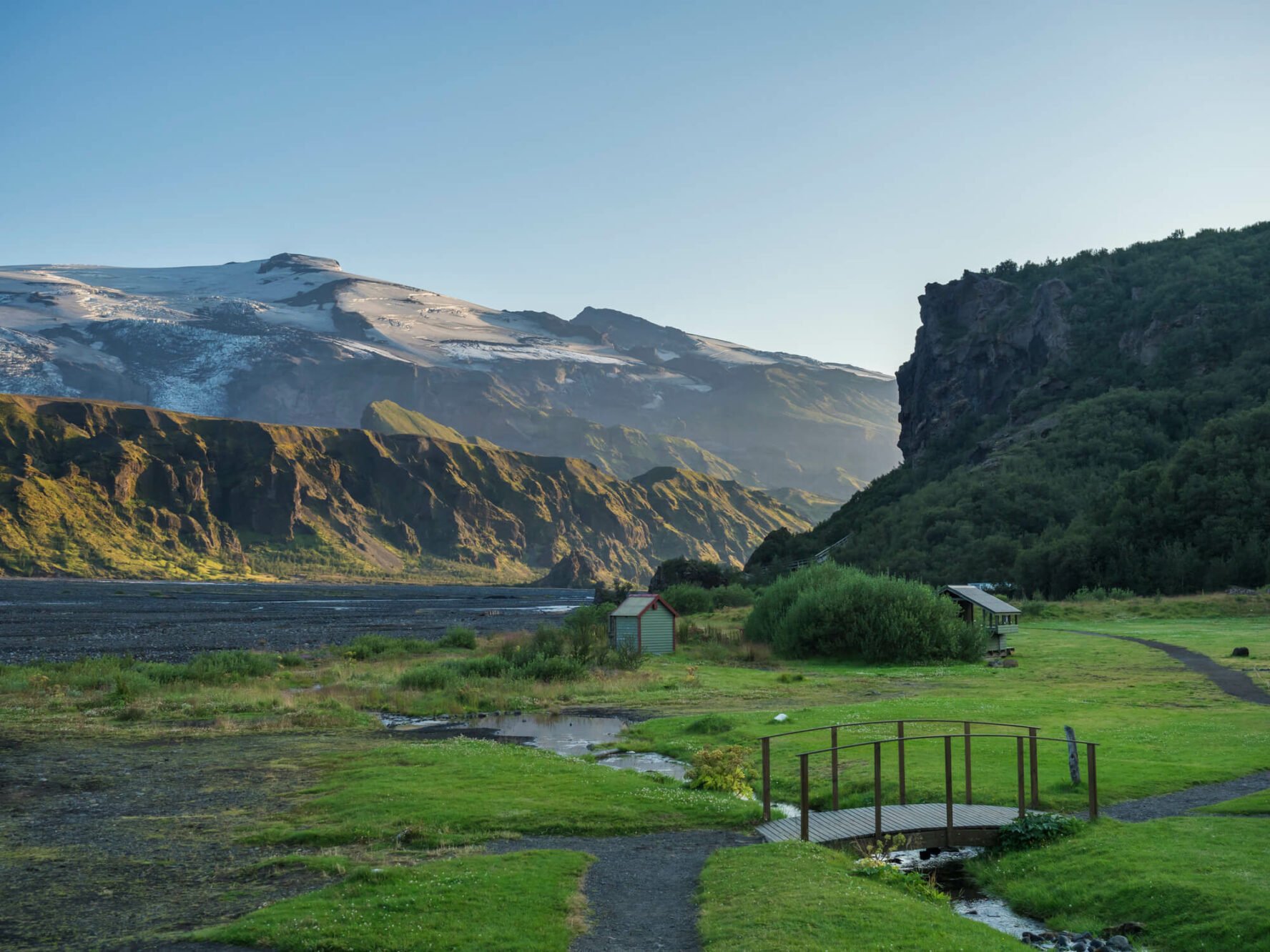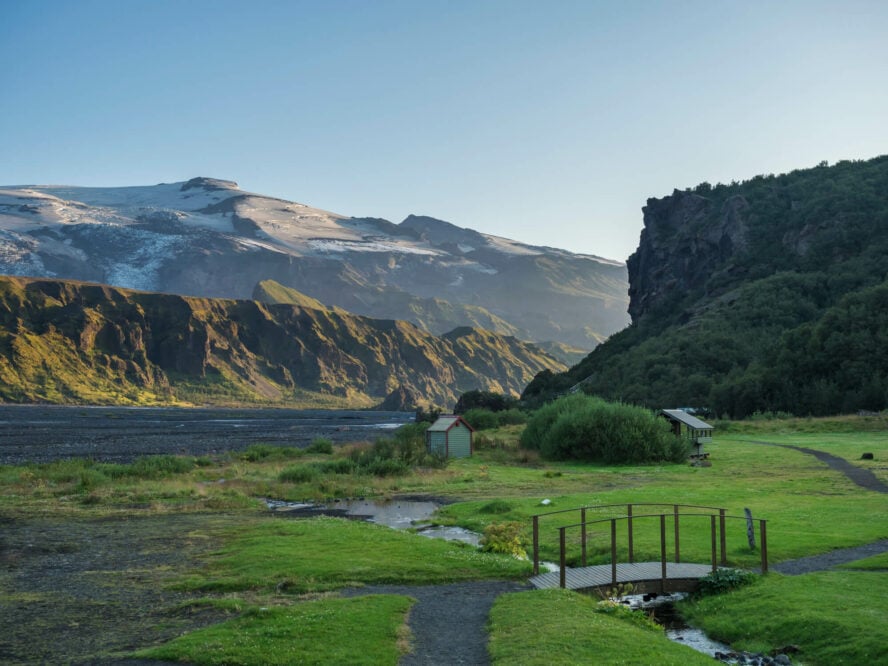 What about preparations for hiking in Thorsmork?
While some people may be a bit annoyed that there aren't many shops and bars in Thorsmork, I must say—I quite like it. There really isn't a need for shops to be placed all over the valley. All you need to do is plan ahead and be aware of where you're going.
Even if you're staying at the Volcano Huts, stock up on your food for hiking. If you need gear, I recommend getting everything, including the food, in Reykjavík or the towns of Selfoss or Hvolsvöllur on your way in, that way you don't have to worry about it. However, there's a small shop at the Langidalur Hut offering a limited selection of dried foods and snacks (think candy bars, nuts, biscuits, etc), while the Volcano Huts' store has some food as well as souvenirs.
What else can I do in Thorsmork?
Every year the Thórsgata Volcano Trail Run is held in Thorsmork in September. It's one of the most popular races in Iceland with minimal impact, so it's quite sustainable. If you want to learn more about landscapes you can expect, read about one account of a volcano hike in Iceland (from one of 57hours' Founders). If you fall in love with how all of this sounds, book this hiking tour of volcanic trails in Iceland ASAP!
Sharing Thorsmork in a Sustainable Way
Tourism boomed in Iceland after the Eyjafjallajökull eruption in 2010; it really put us on the map and the number of visitors rose drastically—we went from half a million tourists per year to over 2 million. At the moment, Thorsmork is not yet overcrowded and we want to keep it that way—promote it, but don't overuse it.
One of the reasons I wanted to become a guide is to educate people on how to treat nature kindly and use it in a sustainable way. Although Thorsmork is a protected area by law, there are no quotas of visitors, which poses an even bigger challenge to nurture it. I always tell my people about Leave No Trace principles, which remain important reminders for all of us. I'd love to see you in Thorsmork and show you my favorite spots—but promise that you'll follow sustainability practices. Pinky swear?