GR20: Ultimate Guide for the Toughest Trail in Europe
The GR20 will humble anyone willing to tackle it, but the toughest trail in Europe is also the most rewarding, that is, if you come prepared.
You're not hiking the scenic trails of the Cinque Terre here – the GR20 is notoriously challenging. The 180-kilometer-long (112 miles) trail connects the villages of Calenzana and Calvi, thus stretching from the northwestern to the southeastern part of the island of Corsica. The GR20 is easily Europe's toughest hiking trail, winding hikers through iconic pine forests, high into the jagged mountains, and over superb rocky routes over the course of two weeks. Not all who answer GR20's siren call, however, manage to complete it.
Once you enter this alpine labyrinth, you'll likely forget you're on an island in the middle of the Mediterranean. You'll spend your days scrambling up granite spires and descending on steep rubble. Rest assured, every sore muscle and painful misstep on its slippery slopes pays off in the end. The moment you reach the sign marking the end of the GR20 will stay with you forever.
Pros and Cons of Hiking GR20
Alpine terrain on a paradise Mediterranean island
A once-in-a-lifetime hike that you can cross off your bucket list
Incredible scenery throughout (including wild horses!)
Extensive preparation needed, both mental and physical
Finicky weather changes in a matter of minutes
Putting down roots in Corsica
From Saudi Arabia to Hungary, I've seen it all. Having grown up on Reunion Island, I realised how much I missed the island life after years spent living away. The hustle and bustle of big city life had its time, but the untouched nature and ocean air were calling me back and I wanted my kids to have the same childhood as I did, and Corsica gave us just that. Combining my love for enjoying life in nature with my marketing and business savvy, I founded my own company, Europe Active. For the last 15 years, I've been organizing adventures, including the GR20, for fellow outdoor lovers here in Corsica.
What does GR20 mean?
The GR20 is one of Europe's long-distance hiking trails. The "GR" stands for Grande Randonnée, or "great hike," and the "20" refers to its route number. Basically, it's "Great Hike #20." An immense network of trails, there are more than 100 GR routes in Europe, with most of the long-distance thru hikes found in France, Spain, Belgium and the Netherlands.
The Corsican name for the GR20 is fra li monti, which means "across the mountains," and the high-alpine trek does just that. The GR20 extends the length of Corsica, starting in the north at the edge of the mountains in Calenzana and ending in the south at Conca. Similar to how people add the famous hike at Machu Picchu to their bucket list, accomplishing the GR20 is a huge feat because it's by far the most difficult long-distance walk in Europe. Just reading some hiking tips for beginners won't help you here.
When navigating one of these trails or looking for treks across the continent, an easy way to recognize a GR route is the discreet but characteristic trail marker — a white stripe above a red stripe. In France, the markers might look like two dashes, one red and one white, painted on a building. In the Pyrenees, you might find a red and white "X" marking the trail. Once you know, you'll easily find these markings all along the footpaths.
How long does it take to do the GR20?
The standard time to hike the full GR20 trail is about two weeks. In reality, same as with other thru-hikes like Superior Hiking Trail, how long the long-distance walk takes heavily depends on your fitness level and objectives. Seasoned hikers can manage to complete the trail in just under seven days. In my experience, it's a shame to rush through Corsica's stunning scenery. Some hikers choose to book a guide and wrap their adventure up in 15 days. Others come to the island to push themselves to the max. It's not uncommon for trekkers to race and find out how quickly they can take on the formidable Corsica hiking trail.
Where does the GR20 start?
The GR20 trail starts in the town of Calenzana, at the foothills of the mountains. Most hikers fly or ferry into Calvi, the closest major town to the trailhead. From this coastal location, you can then drive to Calenzana, a small village 13 km (8 miles) away. Calenzana is the official start of the north to south trek. No one does it like Corsica — get ready for sleepy villages surrounded by olive trees, wide bays with sandy beaches and turquoise water, and stunning citadels overlooking the hilltop villages. Trust me, you'll want to book a few extra days solely for sightseeing.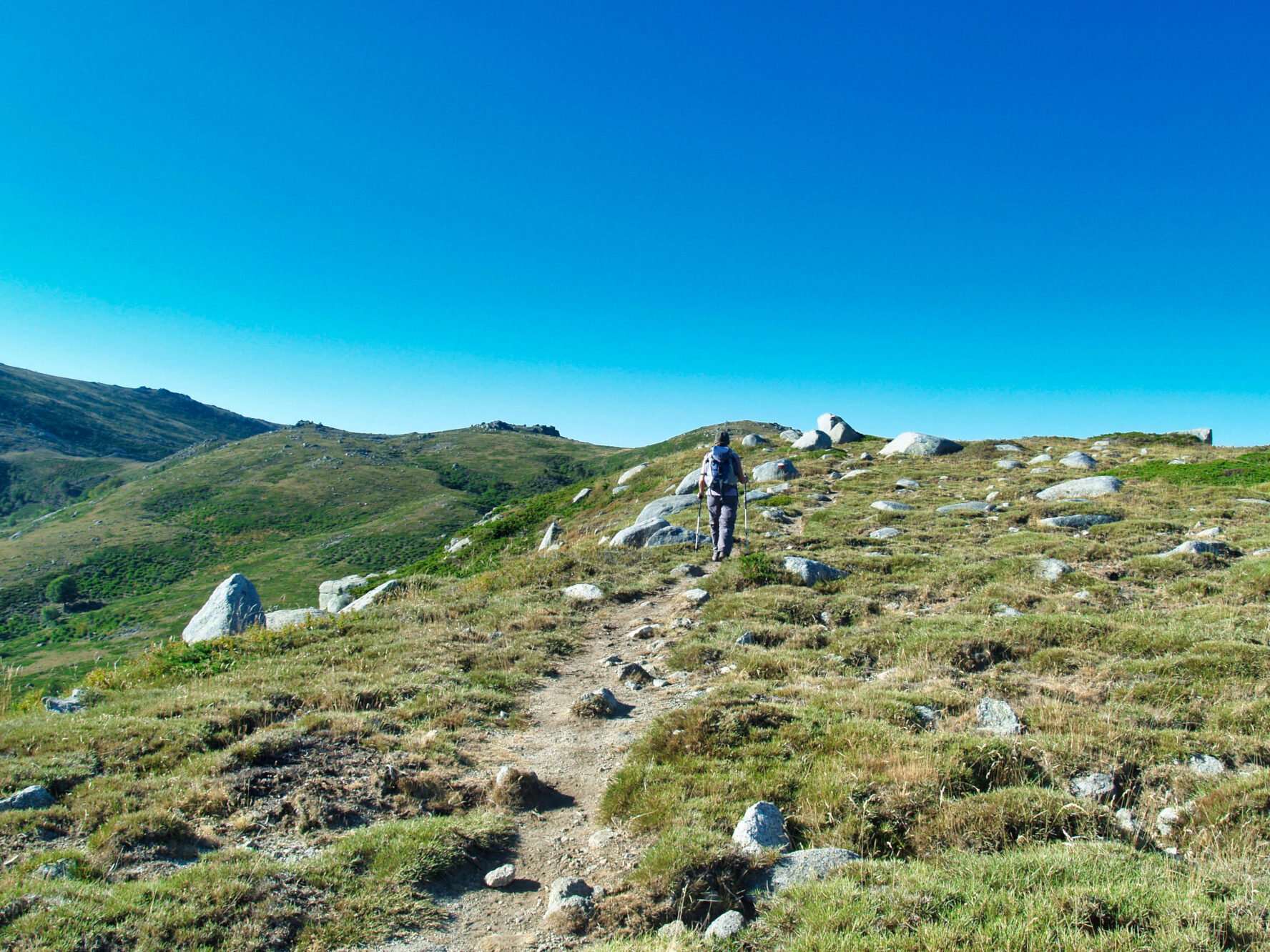 When can you hike the GR20?
The best window to hike the GR20 is from the end of June until the beginning of October. July and August are the most popular months for hiking, but you'll contend with more crowds and the hot weather can be challenging. The most optimal time, in my opinion, is at the beginning of the hiking season, so late June until mid-July, and then the end of the season, late August to the end of September.
While you'll get the most out of your visit to Corsica in warm months — it is famous for its beaches after all — you can hike the GR20 year-round, but you need to be an experienced hiker to do so. Starting in October, the refuges won't be staffed. If you're not an experienced mountain hiker or winter camper, you'll want to skip hiking the GR20 route when there's snow in the mountains. Set yourself up for success by attempting the GR20 hike when it's warm, or practice hiking in winter conditions in other areas first.
While the mountain huts do stay open year-round, keep in mind, in the off-season, huts along the GR20 trail are low on supplies, heat and drinking water. For large portions of the trip, refuges are your only chance to resupply or refresh. You'll want to make sure they're open and be with a guide who knows trail logistics. You don't want to be stuck in the high country without proper supplies.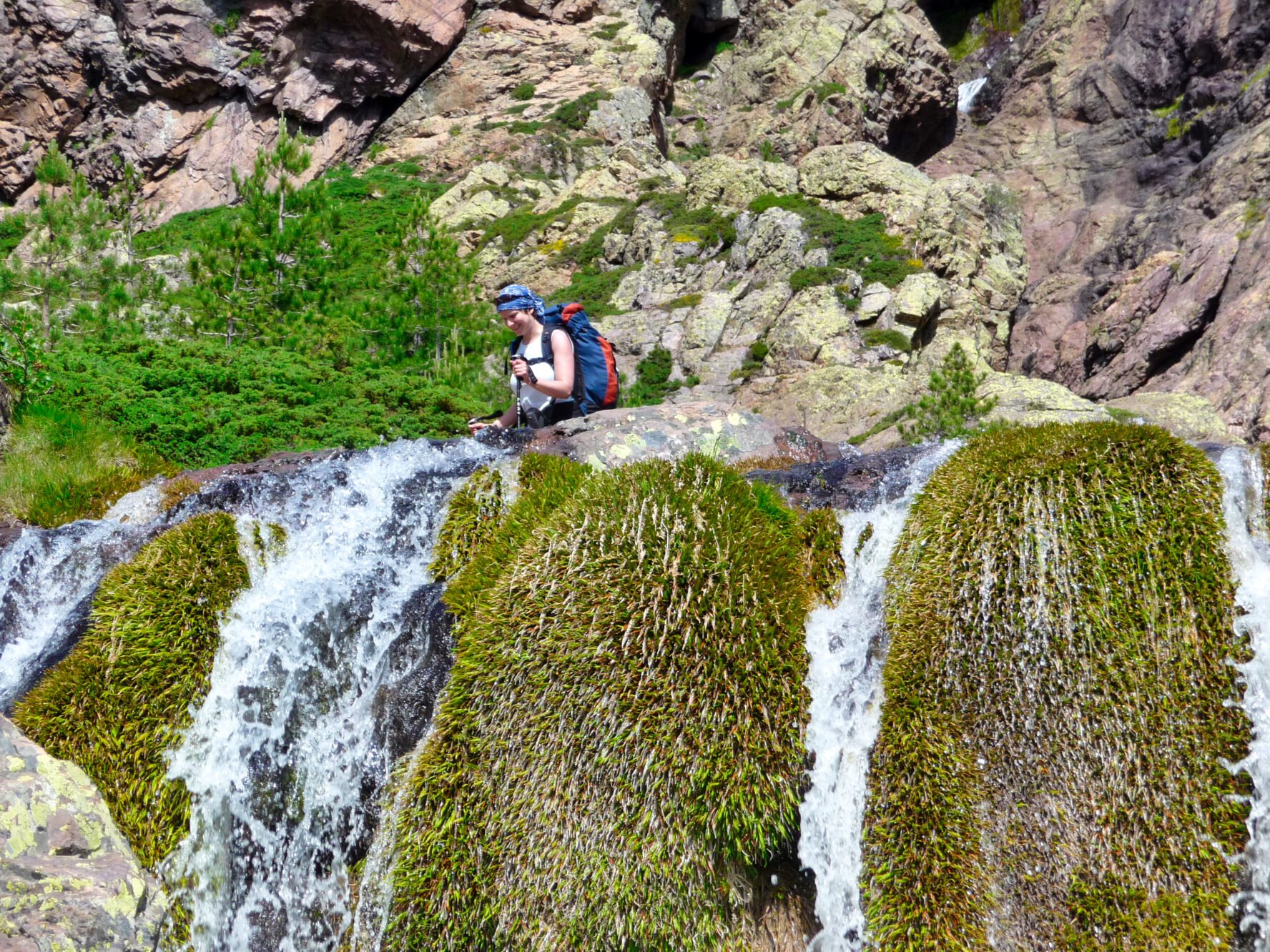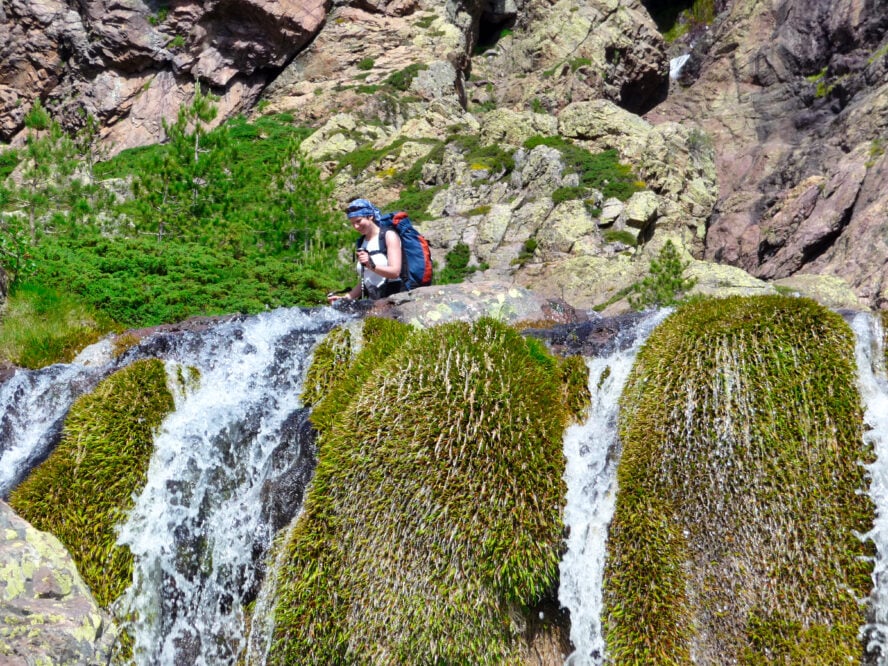 Hiking Europe's Toughest Hiking Trail: Corsica's GR20
The GR20 is one of the best hikes in the world. But, before you head out on your GR20 hike, you'll want to make sure you're fully prepared. You will most definitely need a GR20 map. The new 2020 IGN map for the GR20 combines multiple maps into one, so you'll have all the route info you need. It can also be downloaded to your smartphone. The Cicerone GR20 Corsica Guidebook by Paddy Dillon is a great place to start your trip planning. Here's what two weeks on the GR20 trail looks like:
Day 1: Start on the Corsican coast for an intro to the GR20 trail
Most hikers start their GR20 adventure in Calenzana, a quaint Mediterranean village complete with olive trees and characteristic rubble scenery. Calenzana is a short drive away from Calvi, an accessible and picturesque town on the northern coast. I highly recommend you arrive a couple of days early. You'll want plenty of time to marvel at the many citadels and beautiful beachfront surrounding the coastal town.
The first day of the first half of your trip, the hiking tour of the North Gr20 trail, will serve as a warm-up and a great introduction to the Corsica hiking trail as you hike just over 10 kilometers (6 miles). The first stop is Bonifatu, a forested area in the mountains. On your way to Bonifatu, you'll cross rivers and witness incomparable views of the coast and the Balange citadel below. The way that we do it, we mostly stay in gîtes along the way. The "traditional" trail goes from refuge to refuge, but we choose to diverge slightly and stay in gîtes along the way because we feel it provides a more rich experience. Before you reach the gîte (think authentic private rental accomodations), you'll hike for about four hours and gain 700 meters of elevation.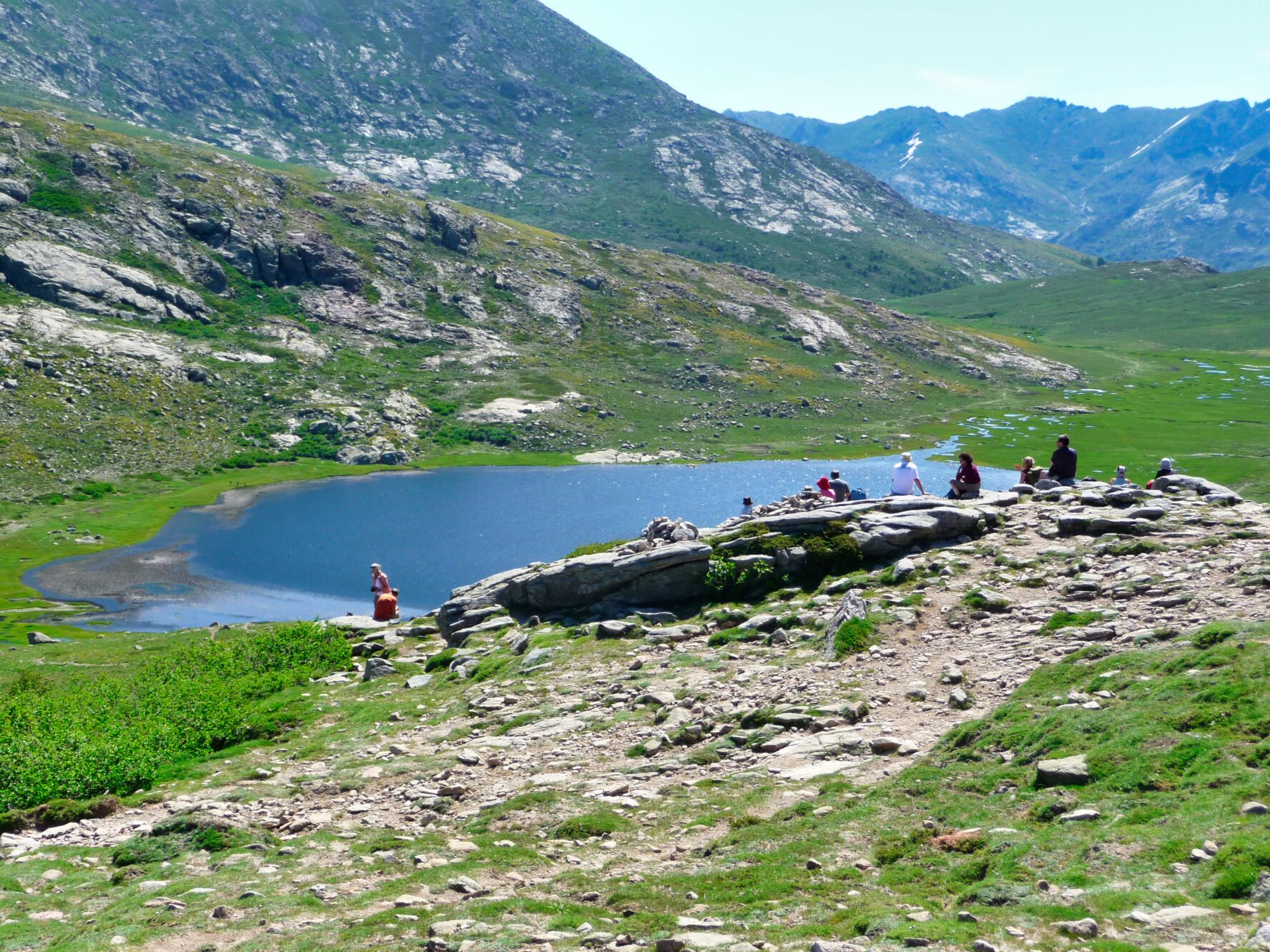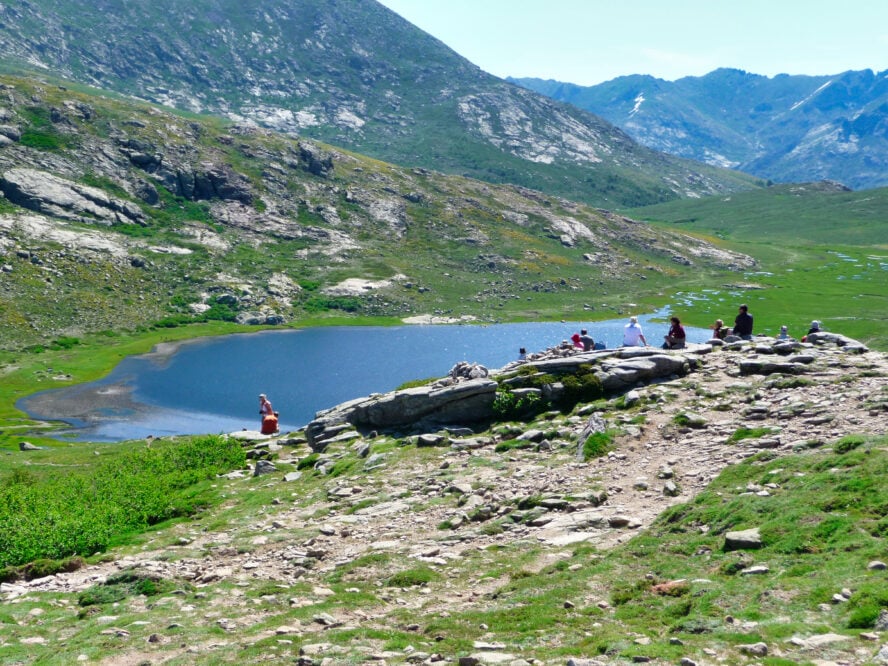 Day 2: Hiking GR20 from Bonifatu to Haut Asco
Make sure you rest well and eat up because your first proper taste of the GR20 awaits on your second day hiking Corsica. Prepare to travel over nine kilometers (5.6 miles) spread-out over eight hours of walking. You'll want to have your camera ready for the famous footbridge Spasimata and the Valley of the Muvrella . You'll cross rivers and finicky rubble, gaining 1,300 meters of elevation (4,200 miles), to reach Spasimata. This bridge is 30 meters long (98 feet) and suspended above a stunning waterfall.
Still gobsmacked, you'll head to the valley, where you'll see a beautiful lake. From there, you'll make your way to the foot of the Monte Cinto, the highest mountain in Corsica and your gîte for the night.
Day 3: Hike from Haut Asco across the mountains to the Sheepfolds of Vallone
Before 2015, on your third day, you would traverse the Cirque de la Solitude. Due to a fatal accident, this part of the route has been closed off to the public. Don't worry, you won't be left deprived of your adventure. With a 1,200 meter (almost 4,000 feet) ascent and lots of technical scrambling needed to get to the top, the new GR20 route is deemed even more challenging. Your 7.5-kilometer (4.6-mile) hike will take you high through the mountains, past Pointe des Éboulis.
You might forget you're in the middle of the Mediterranean once you scramble up the summit. The GR20 route continues to the sheepfolds of Vallone, a secluded rocky oasis where you'll spend the night in a tent. You'll barely pay any mind to your humble accommodation when you try some of the home-cooked meals in shepherds' huts. Corsica is known for its variety of delectable cured meats and cheeses.
Day 4: Take in the landscapes from the Sheepfolds of Vallone to Castel di Vergio
After breakfast in the alpine wonderland of Vallone, your six-hour day begins with a stroll through a pine forest. The day's trek will give your muscles some welcome exercise since you'll need to climb, or rather, scramble up the Bocca di Fuciale. This challenging, slow ridge walk will reward you greatly with views expanding towards the Golo Valley. The hardest part is over, and you'll start to make your descent to the valley, passing many rock pools of the Golo River. If the weather allows it, you can take a dip in the water and refresh yourself. Then you'll trek through one more forest before reaching Castel di Vergio, your gîte for the night.
Day 5: Approach Lake Nino from Vergio to the Manganu
Refuge
Today, you'll break from views of the mountains and be reminded you are in fact on an island. As you pass the saddle Bocca a Reta, Corsica's azure coastline comes into view. A stark contrast to the Mediterranean Sea is a glacial cirque, which is shrouded in greenery. As you walk, the trail finally mellows out and allows you a moment to catch your breath. Bordered by its pozzines, Lake Nino is a hidden jewel and one of the highlights of the entire GR20 trail. If you're lucky, you might see a herd of wild horses on the shores. After about 7.5 hours of walking, you'll rest at the Manganu Refuge.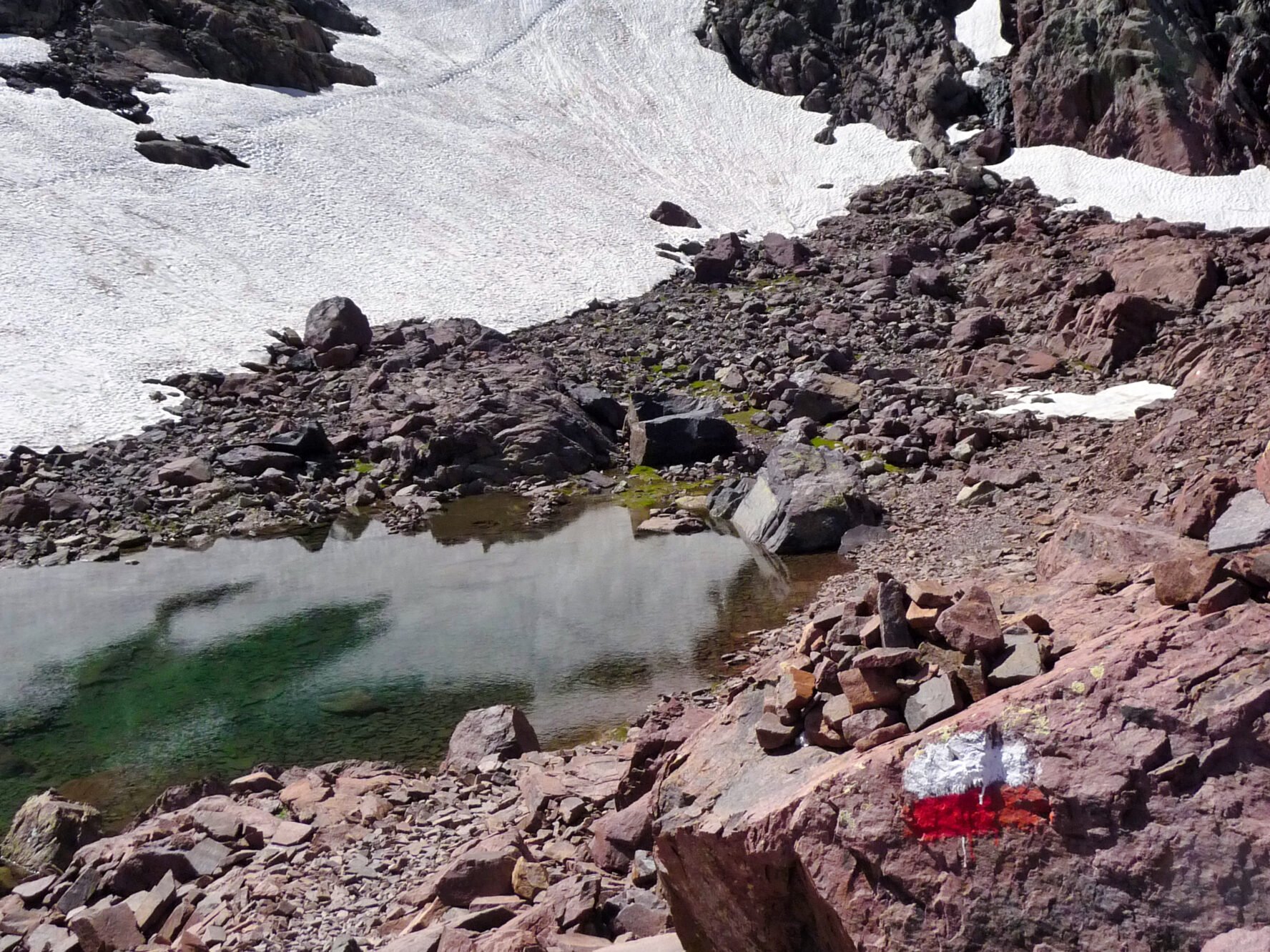 Day 6: View glacial lakes as you traverse to Petra Piana camp
This is a typical day on the GR20 hike, filled with challenging ascents and steep descents. Your highlight of the day will be the view of glacial lakes Melo and Capitello. The vistas are preceded by rocky bars and jagged rocks. After a steep ascent, you'll need to traverse a long and undulating ridgewalk to reach the Bocca Muzella mountain at 2,206 meters (7,200 feet) of elevation. From there, only a descent stands between you and your next refuge, the ever cloud-clad Petra Piana.
Day 7: Soak in panoramas of massifs hiking the GR20 to l'Onda Refuge
The GR20 will offer a reprieve as you make your five-hour trek to I'Onda. Now that you've been on the trail a week, you'll traverse a panoramic trek between the massifs of Monte Rotondo and Monte d'Oro. Save for a couple of passages, you're in for a mellow and relaxed day of trekking. Keep in mind, the trail gets tricky if the wind picks up. On a clear day, you'll be able to see the Gulf of Ajaccio. Fun fact, nearby is the town where the legendary Napoleon Bonaparte was born. Once you're at the refuge, you'll have plenty of time to explore, take a cold shower and get some rest before the next day's hiking.
Day 8: Celebrate the halfway point of the GR20 in the quaint town of Vizzavona
Day eight wraps up the northern part of the GR20 trail. To reward you for making it to the halfway point, get prepared for a magnificent trek through the Agnone Valley, at the foot of Monte d'Oro. Get ready for an exciting traverse across rock slabs, which turns into a tricky descent requiring all of your attention. After crossing over the Turettu footbridge, you'll be greeted by small waterfalls and refreshing streams.
As you make your descent through a lush forest, you'll conclude your 6.5-hour long trek in Vizzavona. The Corsican town offers a range of accommodations, restaurants and a train station.
Day 9: Start the south section of the GR20 trail to the Capanelle gîte
The first day of your hiking tour of the south GR20 trail begins on day nine. You'll start with a demanding climb to Bocca Palmente. You'll have some time to catch your breath as you admire the views. After passing the crest, you'll traverse past many rustic sheepfolds and arrive at Capanelle, where you'll spend the night. You'll hike for 14 kilometers (almost 9 miles), as well as gain 1,155 meters (500 feet). It takes five hours to reach the gîte.
Day 10: From the picturesque sheepfolds of Traghjete to the Col de Verde
To reach the gîte in Col de Verde, you'll climb 630 meters (2,000 feet) and descend for 915 meters (3,000 feet). Your first stop are the charming sheepfolds of Traghjete. From there, you'll trek on the Plateau of Ghialgone. From there, you'll cross the footbridge of I Spiazzi, another superb bathing point, and a welcome break before making your final descent of the day. On your way to gîte, you'll hike under the shadow of vibrant Corsican fir trees. Your 12-kilometer hike ends in Col de Verde.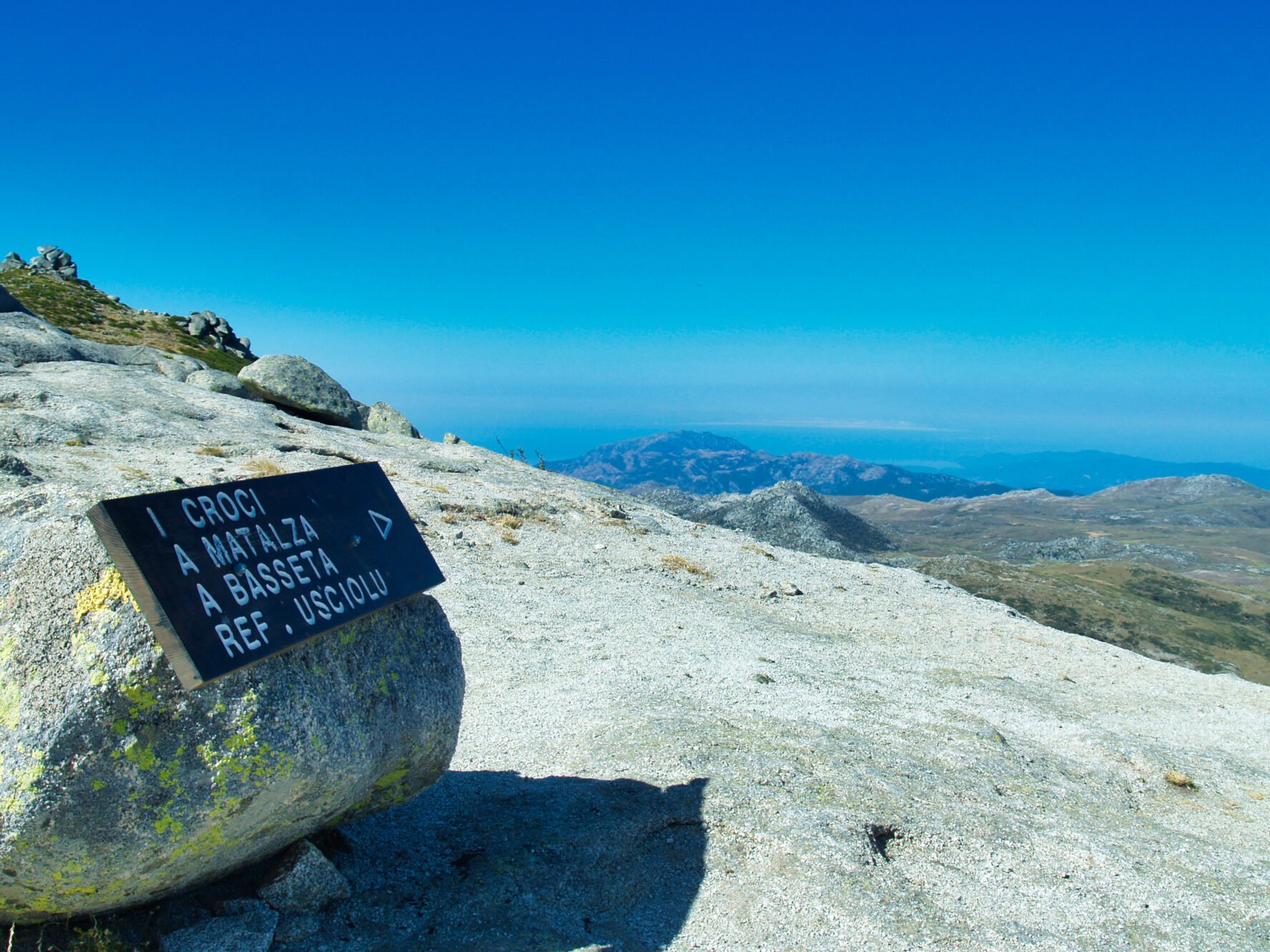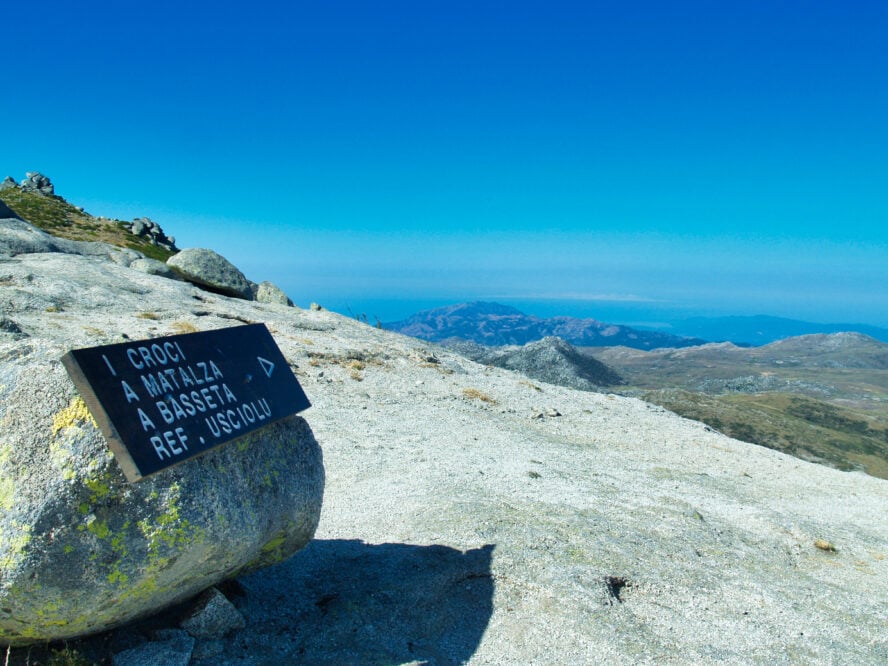 Day 11: From the Col de Verde to Cozzano
In the morning of your eleventh day on the GR20 trail, you'll climb towards the refuge of Prati, positioned for stunning views of the Massif of Renosu. At the top of the crest, you'll get views of the seemingly never-ending stretch of the Ligurian Sea. On a clear day, you might see the Ligurian crash against the shores of the Italian island of Elba (where Napoleon was famously exiled). Another drop awaits, across a stage of rock slabs. Leaving rocky spires and precarious boulders behind, Cozzano will welcome you among its ancient streets. After making your 18-kilometer (11-mile) trek, you'll rest in a gîte in Cozanno, a village tucked in the heart of Corsica.
Day 12: Walk along a mountain ridge to the sheepfolds of Bassetta
As you scale the Bocca di l'Usciolu, you might experience the same strong winds that sculpted this rocky wonderland. The route descends through an old, alder forest. With branches hanging overhead, you'll soon reach the Coscione plateau. You'll get another chance to see wild horses, which are often found wandering around the plateau. Even though you'll climb for over six hours, you'll squeeze in a 1,240-meter (4,000 foot) elevation gain, as well as 13 kilometers (8 miles) of trekking, before reaching the huts at Bassetta.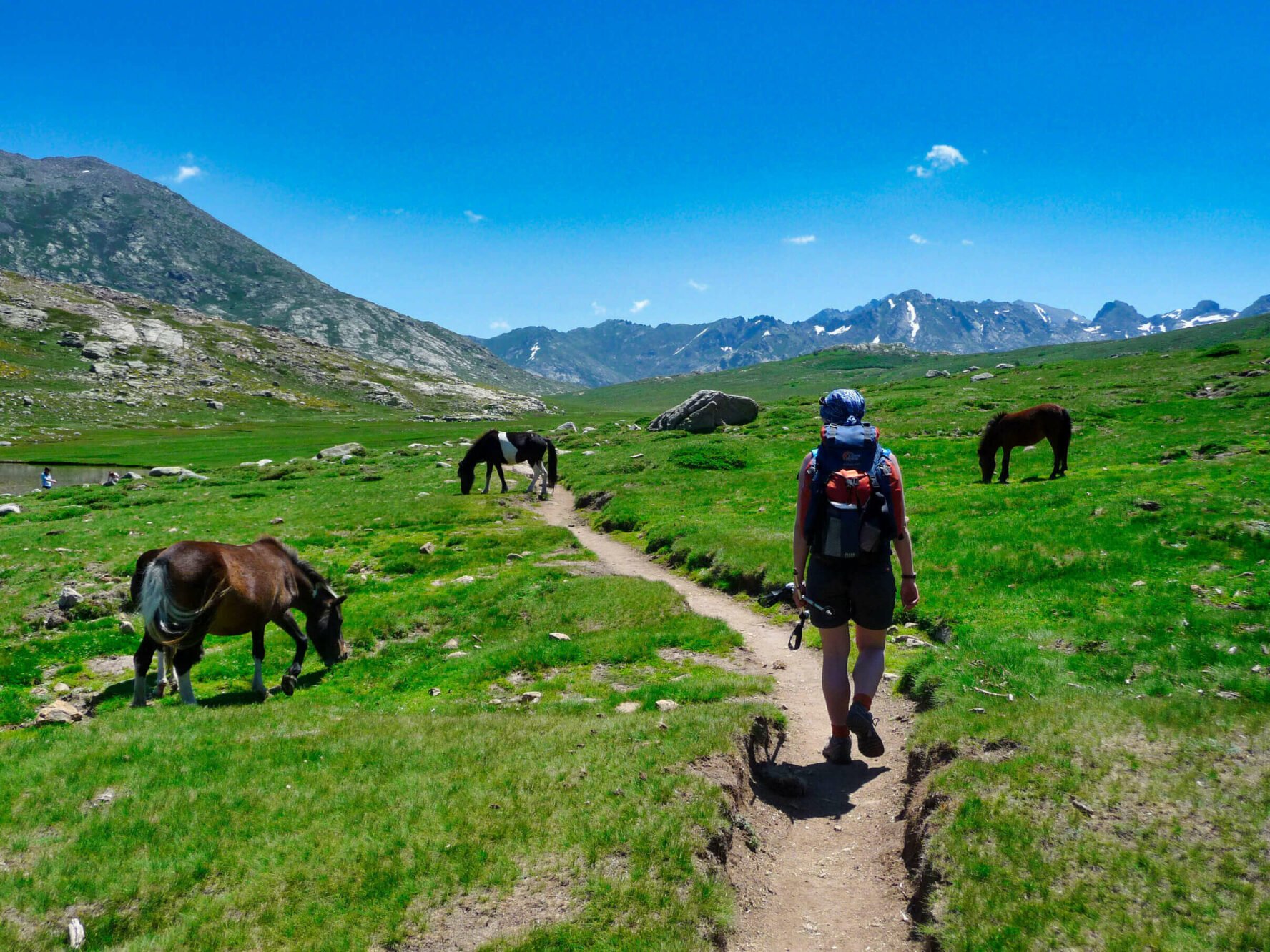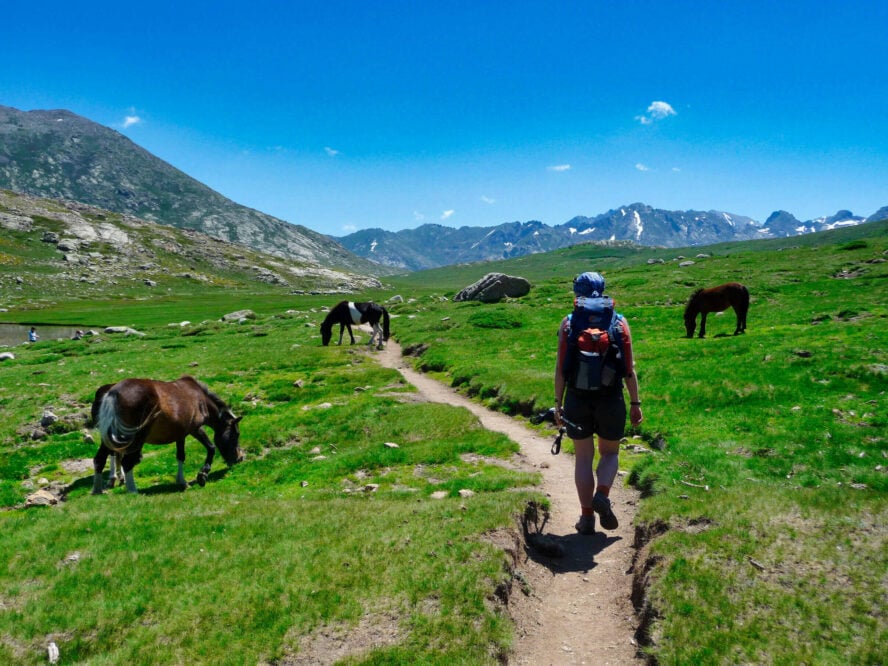 Day 13: Prepare for a challenging day on the GR20 hiking to Bavella
One final push, and what is considered to be the hardest day of the GR20 trail, awaits before you reach the last stage. You'll hike for 23.5 kilometers (14 miles) total for today's itinerary. Prepare to gain 1,300 meters (4,200 feet) of elevation and descend for 1,400 meters (4,600 feet). What will start off as a gentle stroll along the grazing lands will turn into a demanding climb towards Monte Incudine. For one last time, you'll get to see the panoramic views of green grazing lands and possines, a peat bog. After scaling the ridge, the descent will take you to the Asinau valley. The route snakes around the iconic Aiguilles de Bavella, also known as the needles of Bavella, spires of red granite rock towering over the landscape. You'll then make your way to a gîte for a well-deserved rest after nine hours of intense trekking.
Day 14: The southern Massif of Bavella to final stop on the GR20, Conca
After yesterday, you'll be ready for anything the GR20 throws at you. Thankfully, your day will begin with a leisurely path through a forest in the southern Massif of Bavella. After a short break at the Paliri Refuge, you then make your last descent. Your final day of hiking will take about seven hours to make your way down the 1,400 meters (4,600 feet) that separates you from Conca — your final destination and the official end of the GR20 Corsica hiking trail.
Celebration is in order, so pose next to the sign marking you've completed Europe's toughest hiking trail. You'll have your pick of lodging and restaurants, including staying in a gîte overnight to rest before traveling home.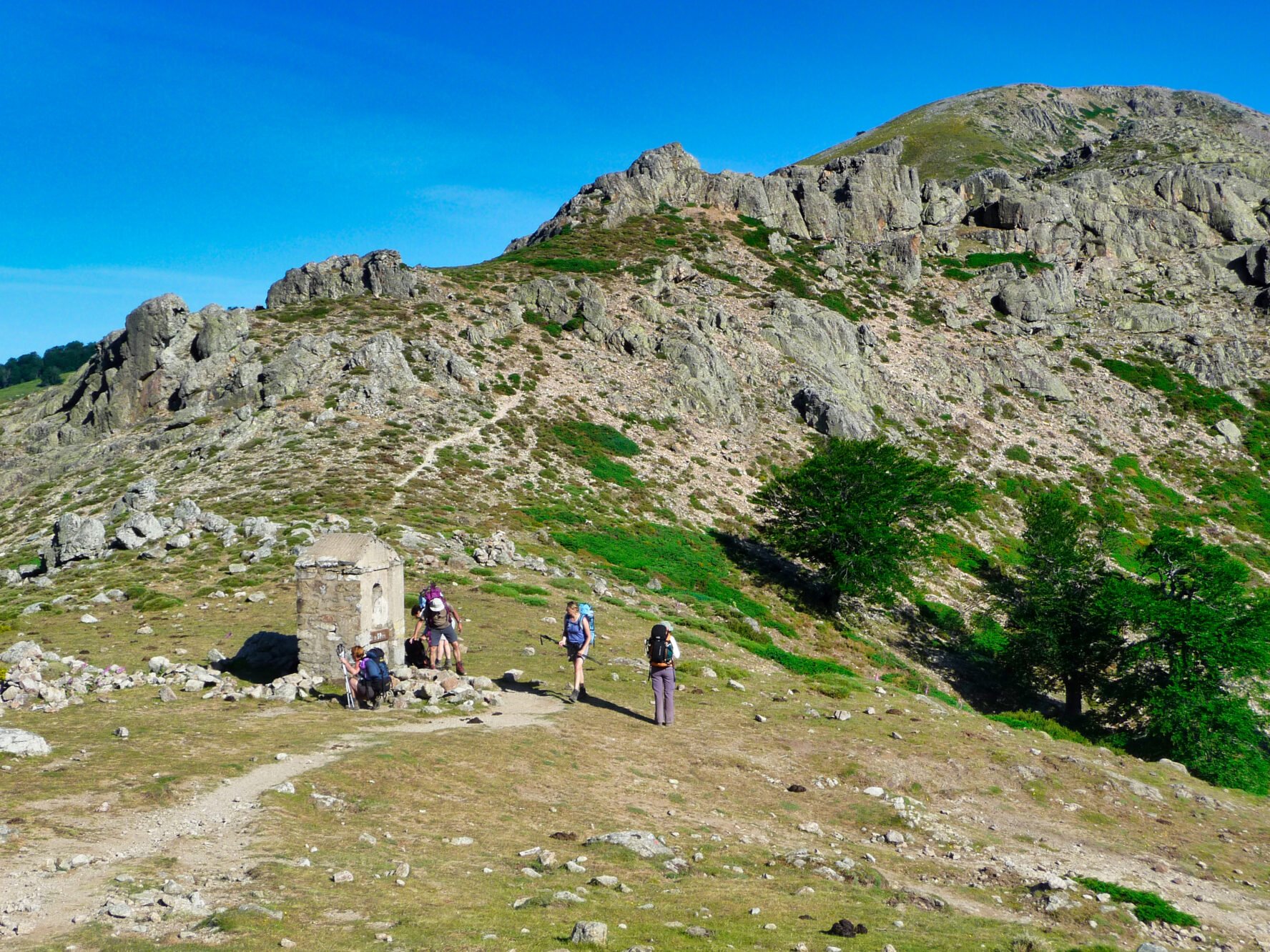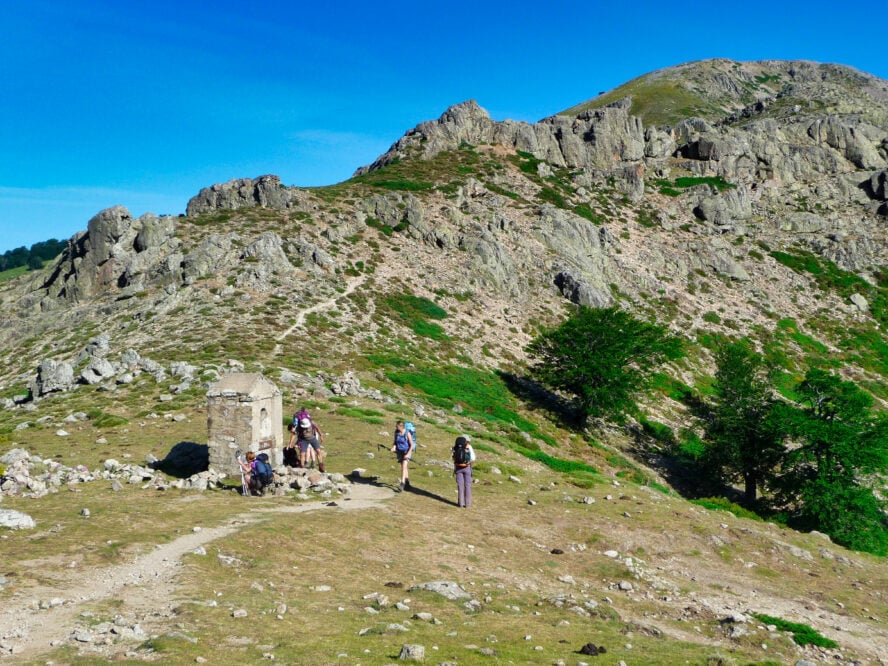 Day 15: Travel around the island or head back home
After tackling the GR20, you have the option to head back to civilization. You can take a shuttle to Porto Vecchio, which is well connected to other towns on the island. I recommend extending your stay in Corsica for as long as time allows. The southern edge of Corsica features some of the best tourist destinations the island has to offer.
Insider Info From a GR20 Corsica Hiking Guide
The GR20 demands respect and requires extensive preparation. What many guidebooks will fail to mention, in the midst of warning you and explaining its infamous reputation, is how fun the GR20 can be. With a bit of prep, you can ensure you're not only ready to take on this wonderful hiking trail in Corsica, but that you have fun.
Keep in mind, a smile goes a long way in Corsica. Whenever you communicate with the locals, make sure you're extra polite and positive. Corsicans are very proud people who take offense easily. If you treat them with respect, locals will treat you well in return.
Is the GR20 trail dangerous?
If you do your homework or hire a local guide, the GR20 isn't dangerous. Preparation truly is key. You need to know your body's limit and train for the weeks before your trip. As long as you follow the path, check the weather as regularly as you would if hiking New Zealand's North Island, and pay attention to your GPS, there is nothing to worry about. In fact, no dangerous animals are native to Corsica, not even venomous snakes. On the GR20, you are your greatest ally, and your mindset could keep you from becoming your own greatest enemy.
You also need to be able to navigate well. Some waymarks are incredibly easy to miss. Make sure you know how to read a map and operate a GPS if you're planning to go self-guided.
How do I train for GR20?
It's important you train for the GR20 by doing some hiking tours at higher elevations and carrying weight. Good training options would be doing the Alpe Adria trail, some hiking in the Dolomites, or the Via Dinarica. If you can't gain elevation where you're at, then you can practice running stairs and thru-hiking long distances. You need to be an experienced mountain hiker or be able to hike for up to nine hours a day while carrying a backpack. The GR20 terrain is unforgiving and varied, which is part of the charm. You'll scramble, traverse across rocky roads that crumble beneath your boots and cross rivers. The GR20 trail requires all of your attention. Mental preparation is just as important as physical fitness.
Poor preparation, and lack of support, might be why 40 percent of people show up to the trail and quit before the first refuge. Reading up on the trek, getting (and keeping) yourself hyped is key. The GR20 is harsh and takes a lot of preparation, but the landscape, vistas, refuges and camaraderie on the trail are incredible. Once you reach the sign marking the end of the trail, it's all worth it.
If you're wondering whether you have the skills to take on the GR20, take this quiz to find out!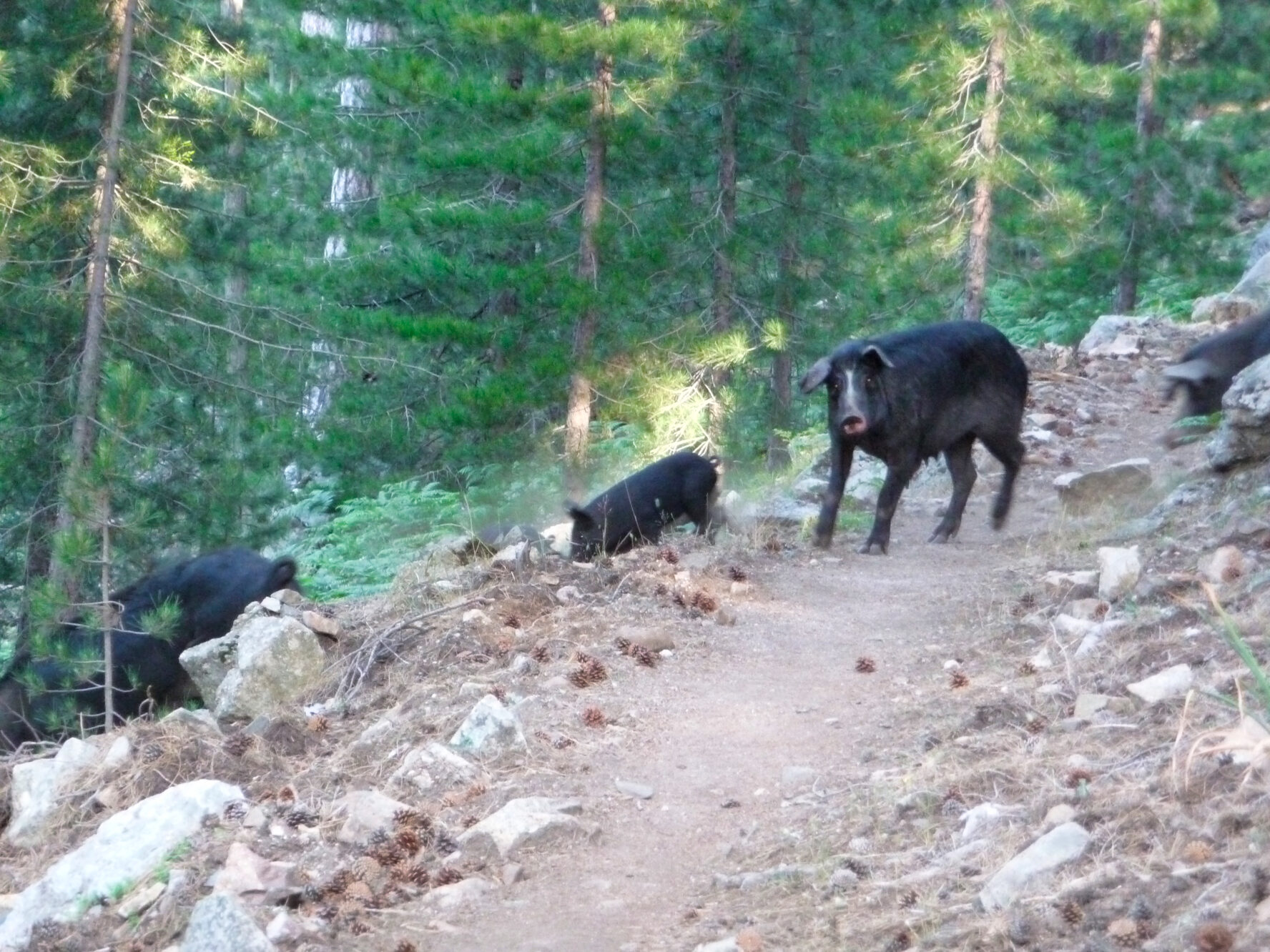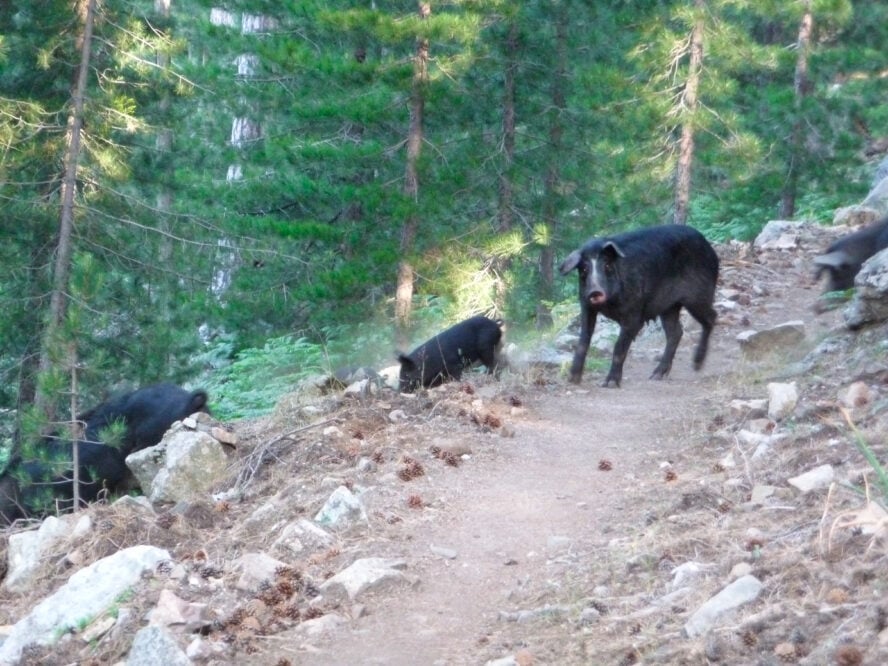 Do you need a guide for the GR20 hiking trail?
You do not need a guide to hike the GR20. In fact, a lot of hikers choose to take on this legendary trek on their own. You set your own pace and adjust the schedule as needed. If you're going to do this unguided, I recommend taking into account as much of the logistics as possible before you arrive at the trailhead. Planning out the route, a GR20 kit list and bringing first aid items are all necessary. You also won't need to pack more than two days worth of food, since you'll approach refuges selling meals along the way.
That said, there are a lot of factors to consider and hiring a guide takes a lot of the guesswork out. The planning, including accommodations and meals are all taken care of for you. Route finding is made easy and you're sure to stay on the right track. Weather is another element to consider on the GR20. Clouds might provide a welcome shade one minute, but can turn on you almost instantly, sending merciless hail or lightning your way. What was supposed to be a lovely day can easily become a foggy maze. If you have little to no outdoor experience, hiring a guide might just save your life.
Do you need a GR20 permit?
You do not need a permit to hike the GR20. The only thing you'll want to take care of in advance is booking a bed or a tent at the refuges or gîtes. Use the time you save from not having to deal with paperwork to read another guidebook.
What should I pack for the trail?
The number one thing you should consider when packing is that you're going to be carrying your backpack while you scramble, so it's best you travel light. A 30-45L daypack should be all you need to fit your supplies in for the two weeks. Here is what you need to bring on your GR20 hike:
Start off with a good pair of hiking boots. Make sure they're worn in, but not worn out. It's crucial that they have a good grip and strong ankle support.
3 pairs of hiking socks, preferably merino wool or synthetic blend, but not cotton
Dress in layers. Some days you might wear shorts and a t-shirt, other days might require you to bundle up. I suggest bringing at least a few t-shirts, some shorts, comfortable hiking pants, and a warm fleece and a thermal base layer
Puffy jacket or equivalent mid-layer
A good quality waterproof shell — GORE-TEX recommended
Waterproof pants
Warm hat and gloves
Sun protection (sunscreen, hat, sunglasses, lip balm)
Swimsuit
2L water bottle or hydration pack (water available along the route)
Electrolytes (optional)
Swiss army knife
First aid kit
Personal items (hand sanitizer, toiletries, etc.)
Headlamp
Compact sleeping bag
Trekking poles (optional but recommended)
Camera!
Another thing you might forget to pack is money, cash to be exact. There are no ATMs in the mountains. You'll want to have your money at the ready when you're exhausted from a day of climbing and want to get your food ASAP.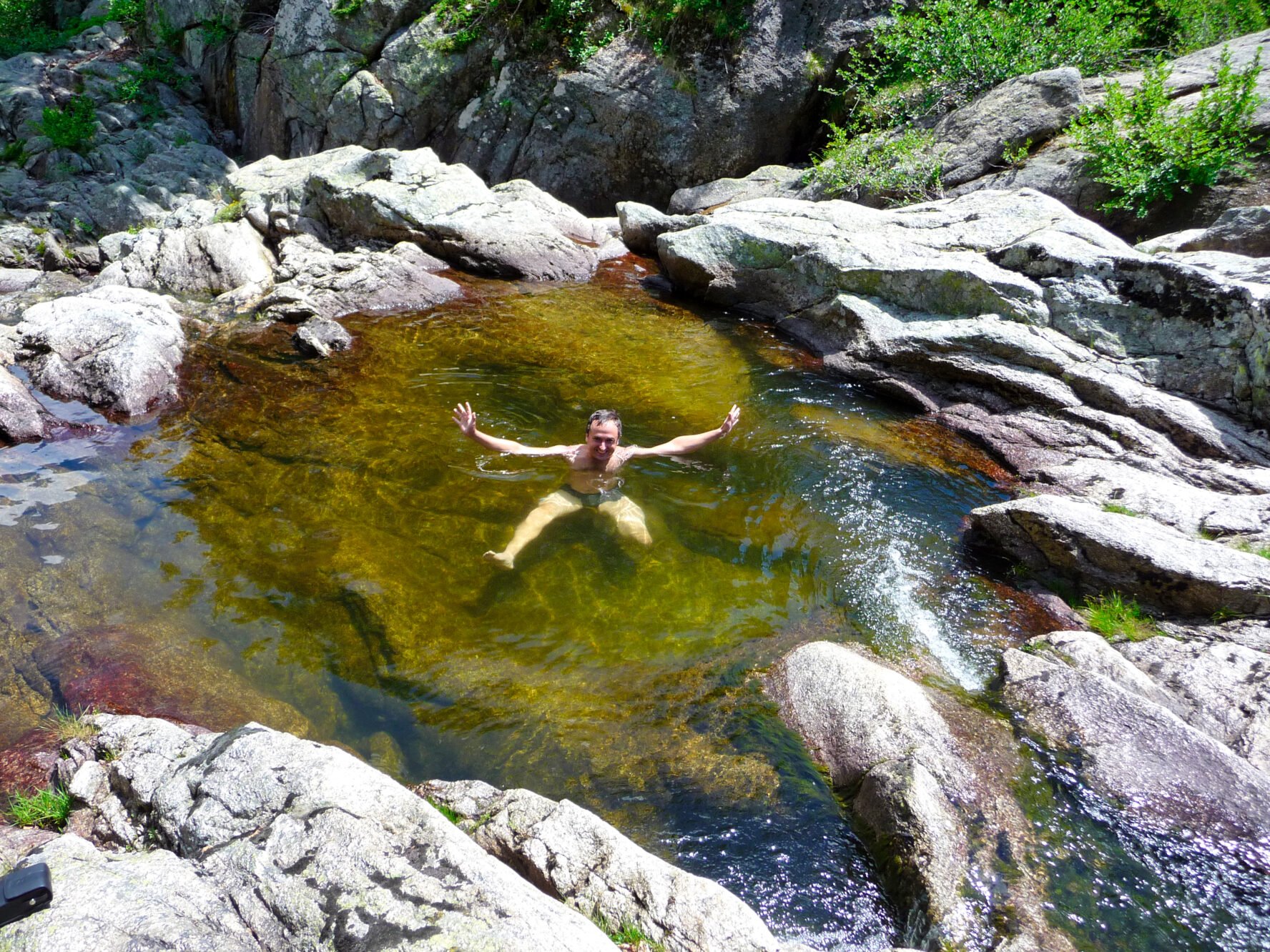 Where should I stay when on the GR20 trail?
There are a few options for accommodations when hiking the GR20. Most will opt to stay in the park-run refuges, AKA mountain huts. As mentioned, these fill up quickly during the busy season so make sure to plan ahead and make reservations. These are dorm style accommodations and amenities range from flush toilets, hot showers, and electricity to pit toilets and cold showers. Breakfast and dinner are available for an additional cost.
There are also gîtes all along the trek, an option that we frequently use. These are privately run and expect basic accommodation, often dorm style but sometimes with the option for a double room. Staying at gîtes gives you a perfect opportunity to try local specialties. To make sure you get a bit of everything, order a charcuterie board that features superb homemade cheese and sausages. There are also some hotel options when you're closer to civilization.
If you're itching for a more rugged experience, you can also set up a tent on campgrounds near the refuges. Wild camping is illegal in Corsica, however, so only stick to the areas specifically designed for camping.
The GR20 is too much for me, what are some easier hikes I should try?
Iceland has plenty of great hikes with minimal elevation gain. I would recommend hiking the Laugavegur Trail, one of the most popular trails in the world, or leaving the crowds behind and hiking the hidden trails of Iceland. Though it's still challenging and demanding, you can find an easier version in Nepal if you head to the Annapurna Circuit Trek. And if you want to truly go off the beaten path, try a Faroe Islands hiking tour.
But maybe you'd like to cross over to the Southern Hemisphere. In that case, the Torres del Paine W Trek is a treasured trek in Chile, though it's still quite demanding. Witnessing one of the Seven Wonders of the World is always a fantastic bucket list item, so read more about hiking to Machu Picchu here.
Are you feeling inspired? Choose between the classic guided GR20 Hiking Adventure and the Comfort GR20 Adventure. Push your limits and explore this alpine wonderland set on a paradise Mediterranean island!