Dip Into Iceland's Best Hot Springs: A Cultural Tradition
Icelanders' blood runs hot for their hot springs. Learn just how powerful this nature can be, especially when it comes to relaxation.
Table of Contents
In Iceland, hot springs are a way of life.
From the dark nights of winter to the long sun-filled days of summer, one constant of the country is its geothermal activity. For centuries, Icelanders have harnessed this energy into places of community and ritual.
The pools of warm water, natural or man-made, are an essential part of each day—from senior citizens exercising in the morning, teens hanging out with friends after school, or parents bringing their young kids to play before bedtime. Still found in nearly every village, town and neighborhood of large cities, these thermal springs, spas and holes in the wall are as common as a grocery store or pharmacy—and arguably, just as important.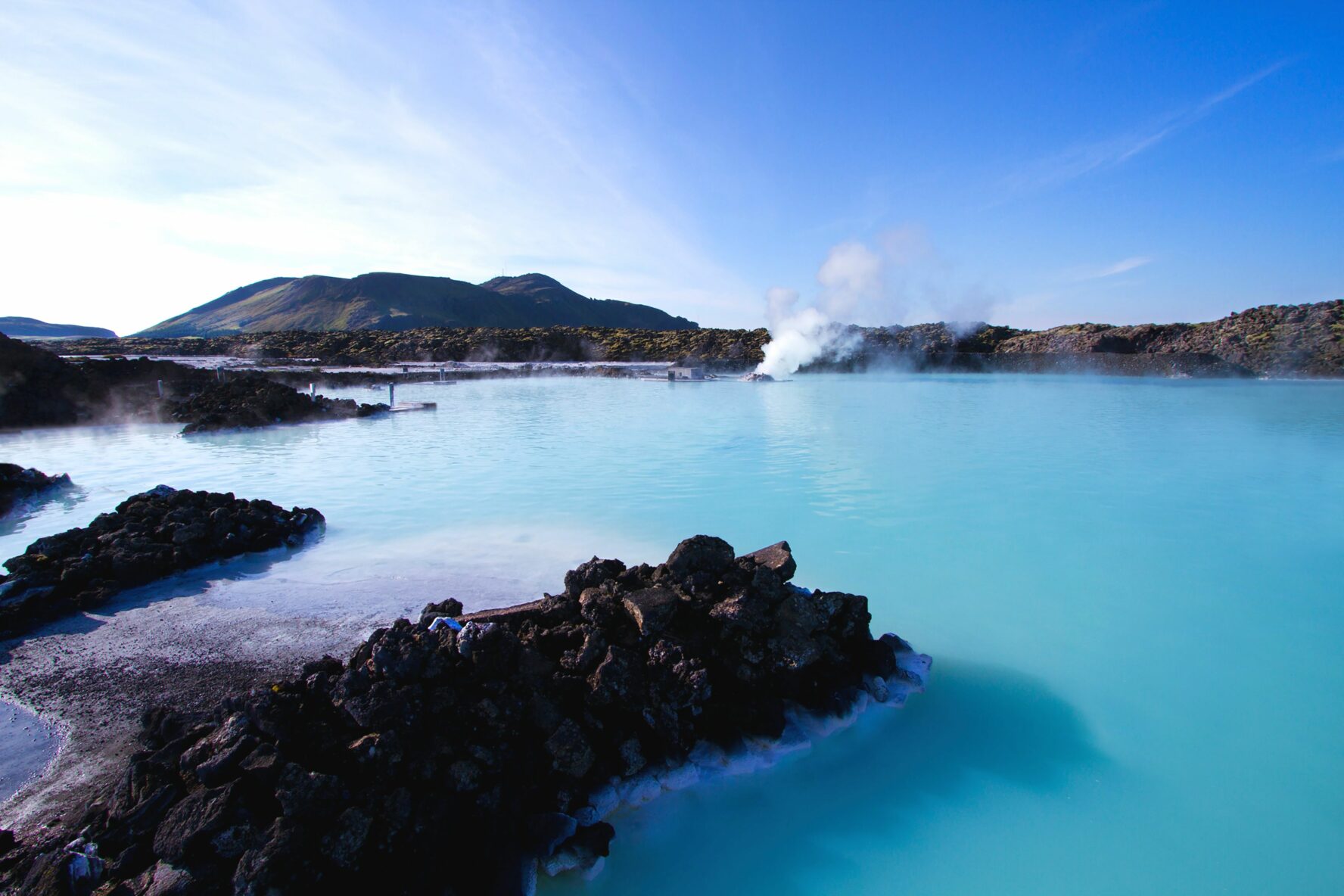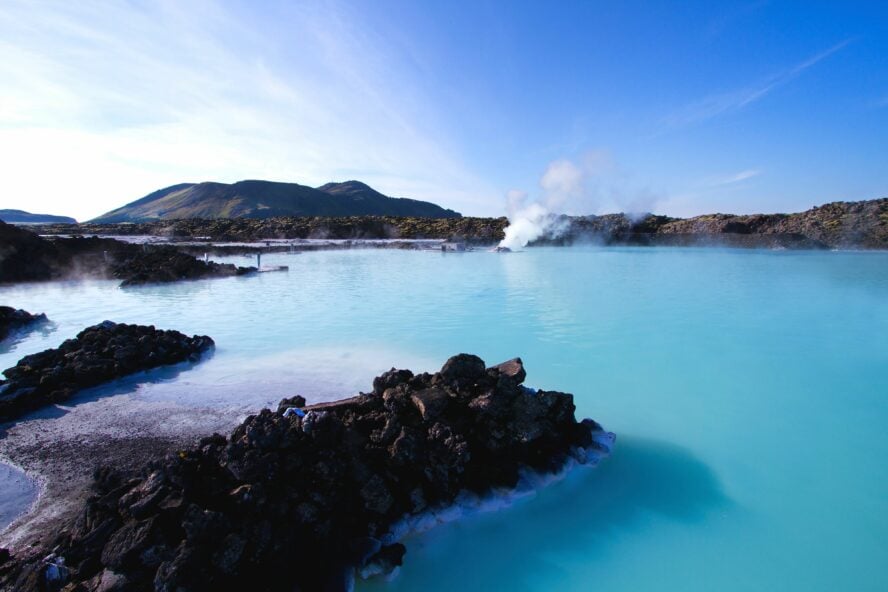 Iceland is a Hot Destination
Iceland sits on top of a boundary between two tectonic plates that are slowly spreading apart. At this split—the Mid-Atlantic Ridge—magma flows from the Earth's core towards the surface, heating up the crust and often creating chambers full of molten material which, over time, become volcanoes. Some magma leaks into cracks in the bedrock heating up groundwater—and that, my hot-blooded friends, is what emerges to the surface as hot springs!
All that activity is the reason there are so many volcanoes, geysers, mud pots, and steam vents in the country.
In fact, Iceland is home to over 700 geothermal sites (reservoirs of hot water located deep underground), which is used to create electricity. The water is pumped to a power plant which uses the steam to turn a turbine that activates a generator which produces electricity for Iceland's towns and cities—about 85% of all houses in Iceland are heated with energy produced this way.
In other words, the hot springs in Iceland power not only our homes, but our communities too.
Be Sure to Sample All of Iceland's "Hot Springs"
Just as people take hikes to volcanoes in Iceland, treks to natural hot springs are popular too. However, while "hot springs" get the most renown, they are only one of four main types of thermal pools found in the country. To explain each type, I like to think of them as a different alcoholic beverage.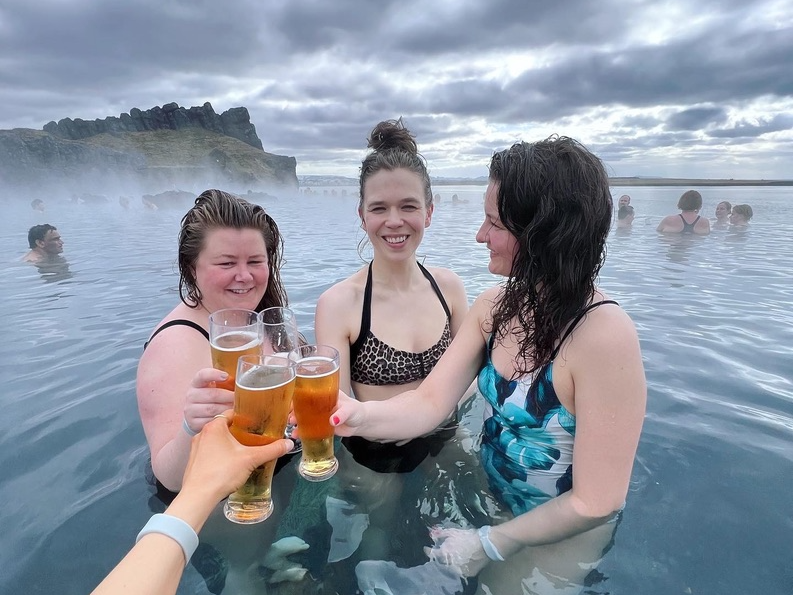 Local pools: Beer
First we have local pools, which are like beer: everyone can enjoy them and it's not too expensive.
Most towns have their own public version that anyone can attend at a low cost. Each pool has its own uniqueness to it—some are fancier than others with saunas, steam rooms and various sizes, like a craft beer, while others are more like a rustic hot tub. Community pools are man-made and in outdoor areas since they are heated year round by geothermal water which is often pumped from kilometers away. Even in the dark and cold winter months, locals can come to exercise, socialize and relax.
Hot springs: Moonshine
The next option is what most foreigners think of when they hear "Iceland hot springs." These are like Moonshine because they tend to be the most raw and natural.
Unlike geothermal pools (covered next), hot springs haven't been manipulated other than the occasional access trail or walkway needed to reach them. The water coming straight from the ground is at its natural temperature and often full of minerals. However, because there is no heat regulation, you must always check the water before getting in to make sure you don't burn yourself—just like moonshine you never quite know what you might get.
Geothermal pools: Red wine
Next up are geothermal pools that to me are like red wine; they are a bit more cultivated and come in a range of price and quality that accommodates many tastes (and budgets).
These are man-made pools that pump water from the ground or hot springs into the pool and are often mixed with cooler water to regulate the temperature. Geothermal pools can be found in remote locations with minimal features or can also be found close to cities with easy access to parking, changing rooms, and often additional areas to relax.
Geothermal spas: Champagne
The fanciest and most elaborate of the pools in Iceland are the geothermal spas. They are what I would consider the champagne of our pools: classy, expensive and really only for special occasions.
Geothermal spas are man-made complexes that offer extensive bathing options, spa treatments, restaurants and often a hotel to stay in. The Blue Lagoon, Iceland's most famous geothermal spa, is a perfect demonstration of the luxury that Iceland's geothermal spa can offer.
My Recommendations for Hot Springs in Iceland: Something for All Palettes