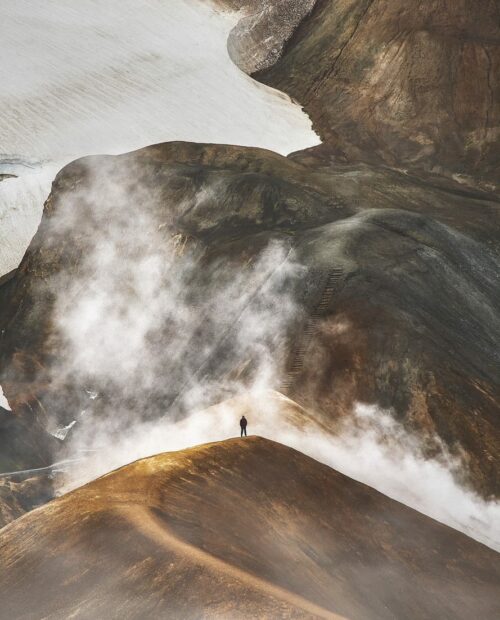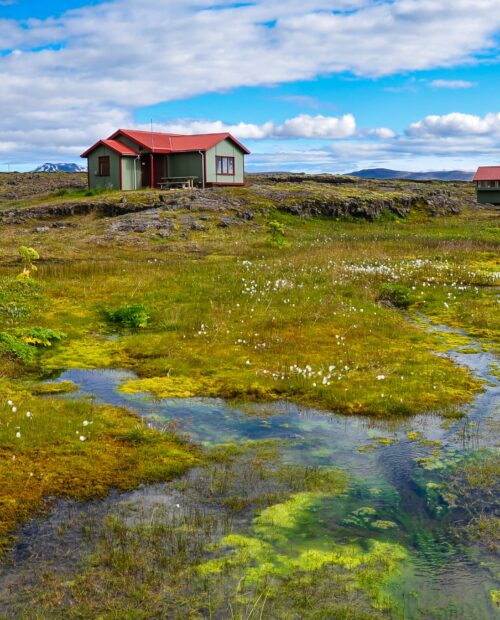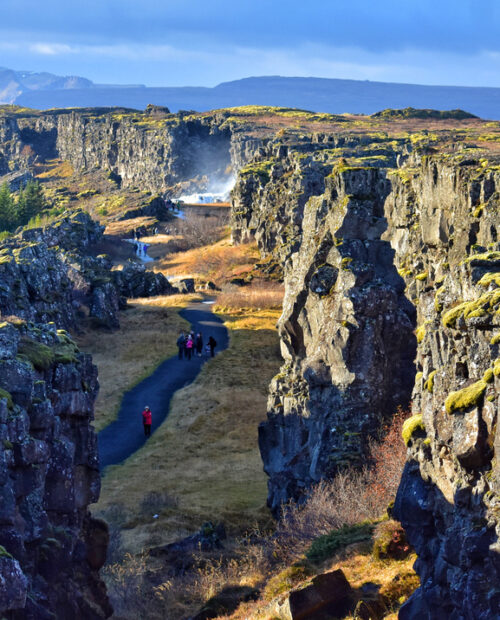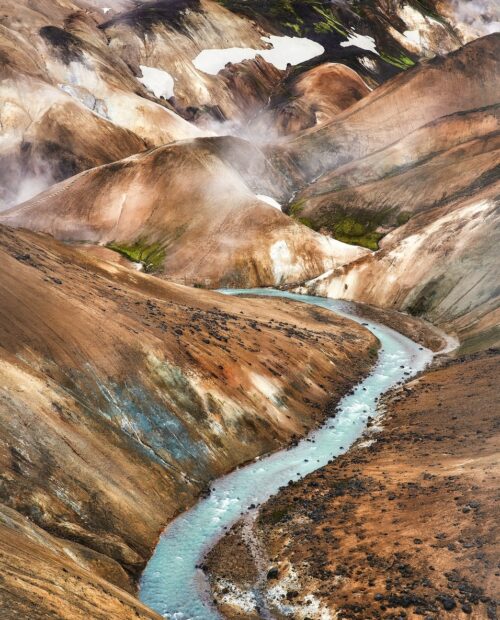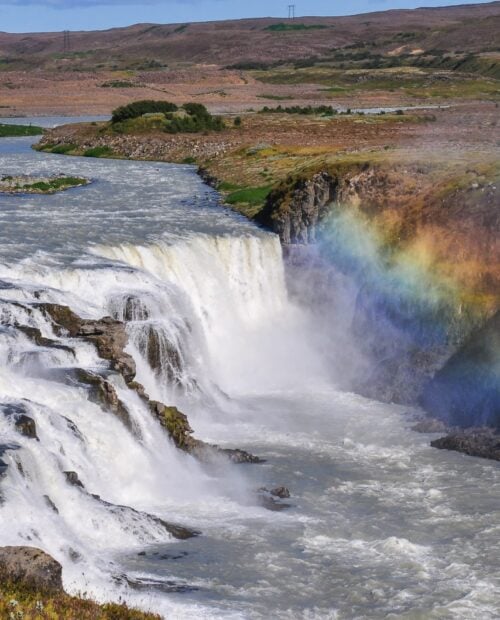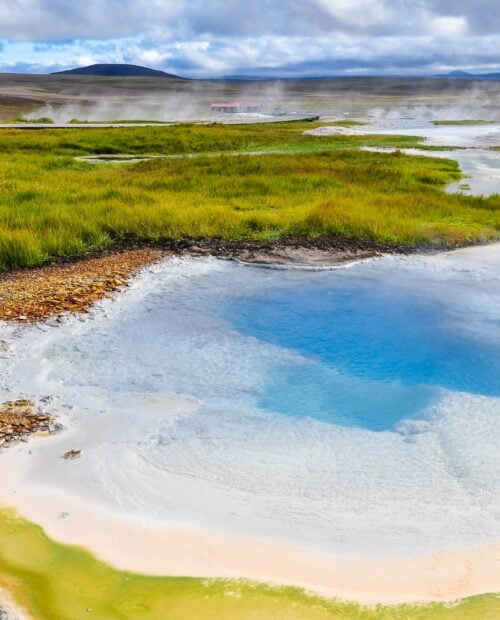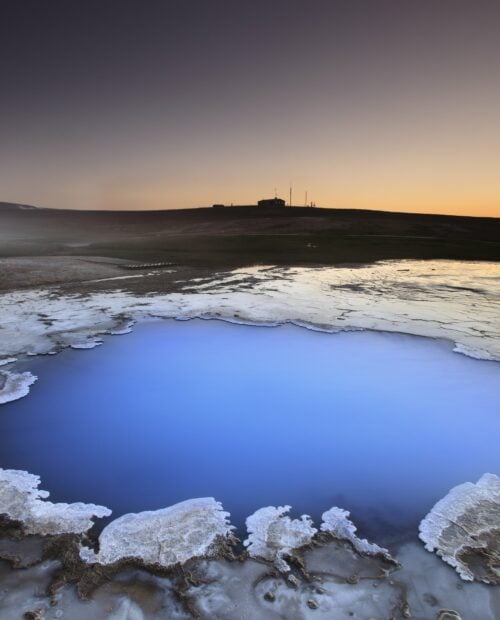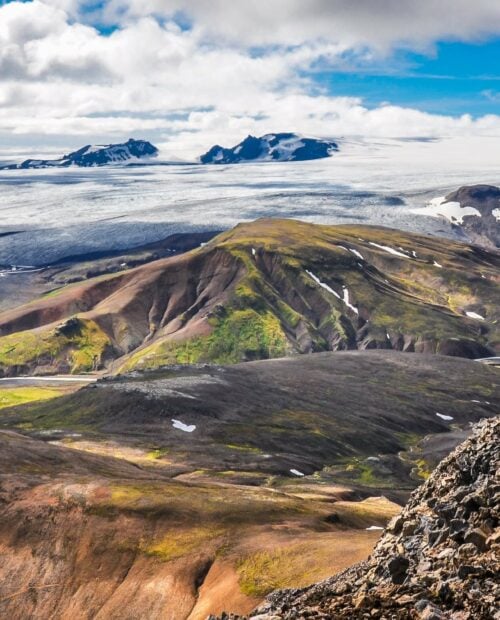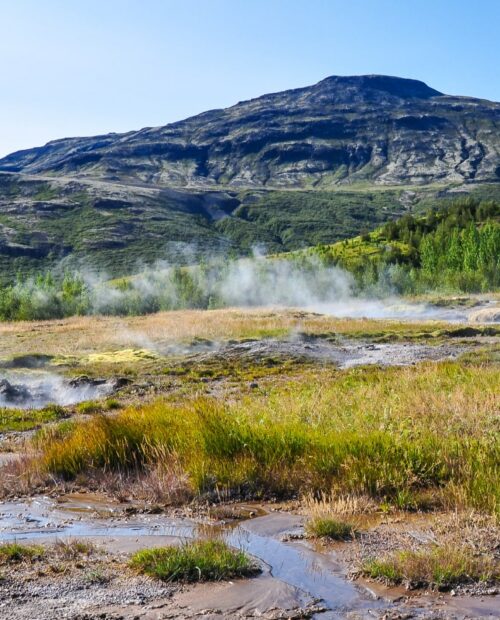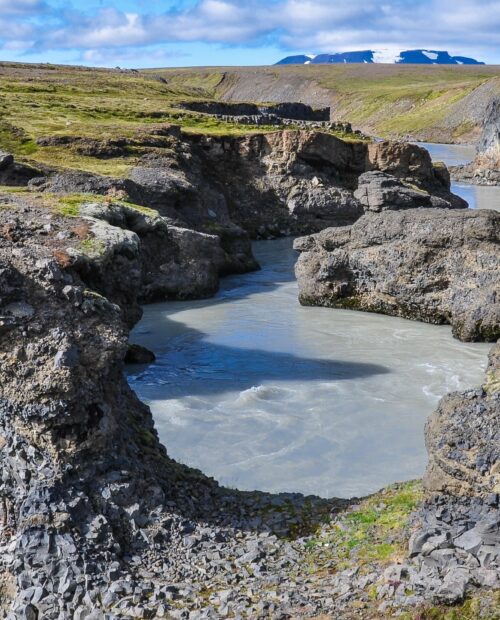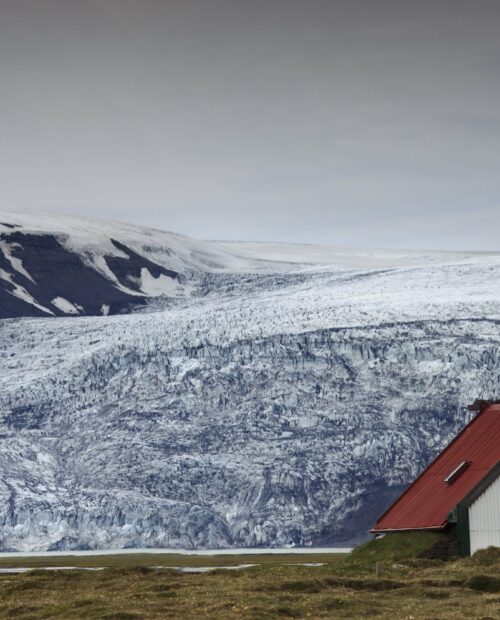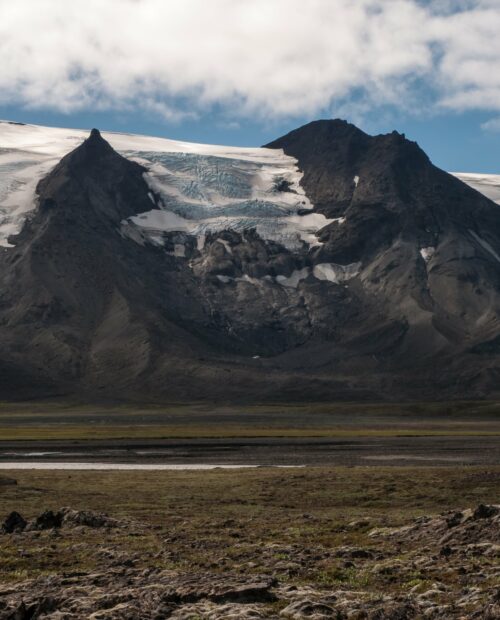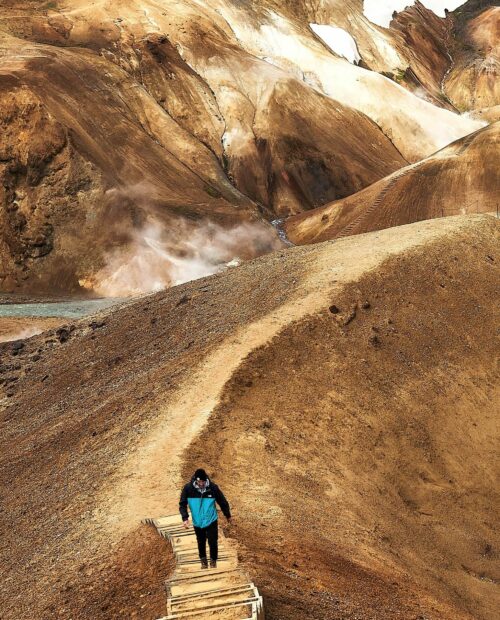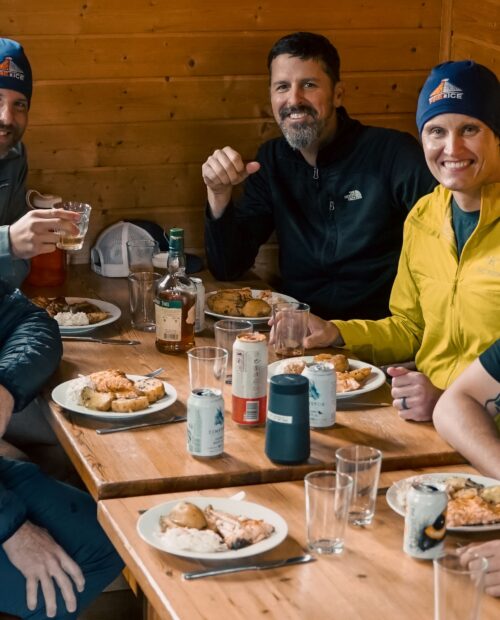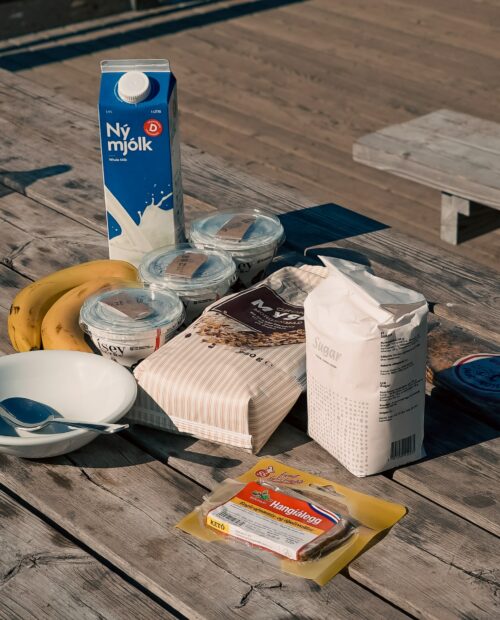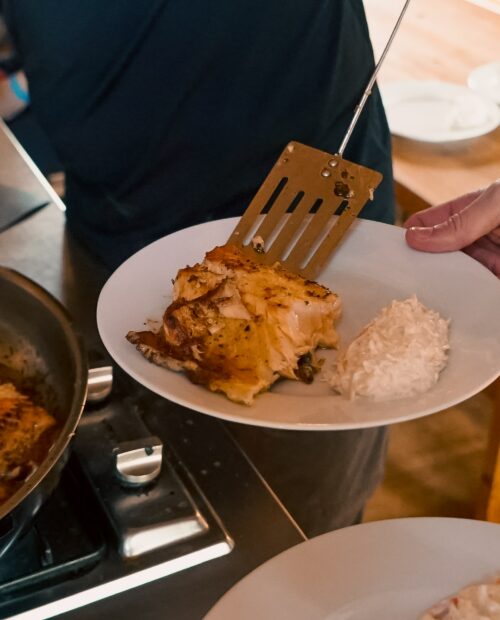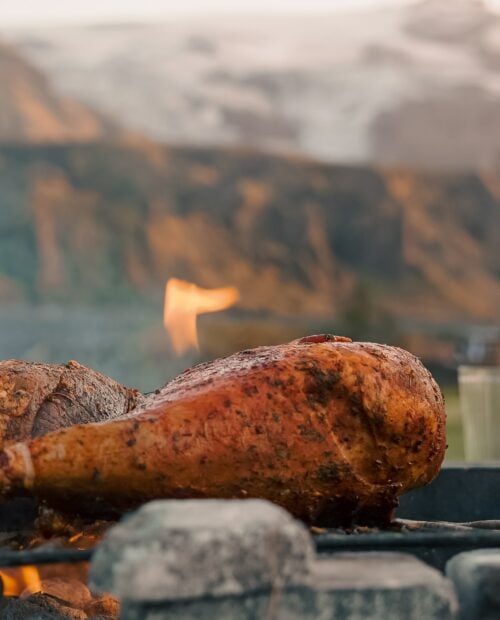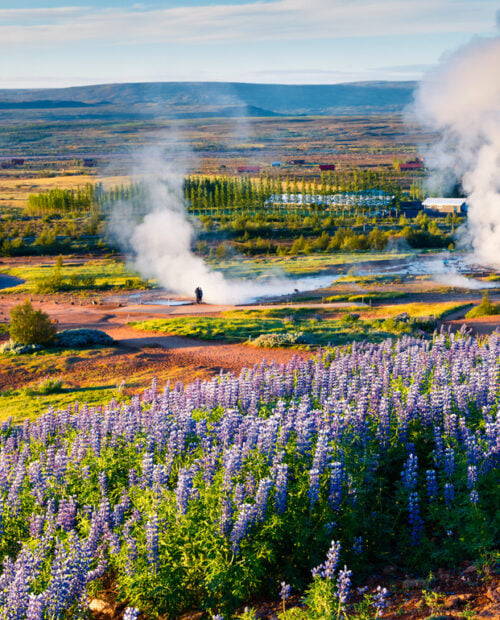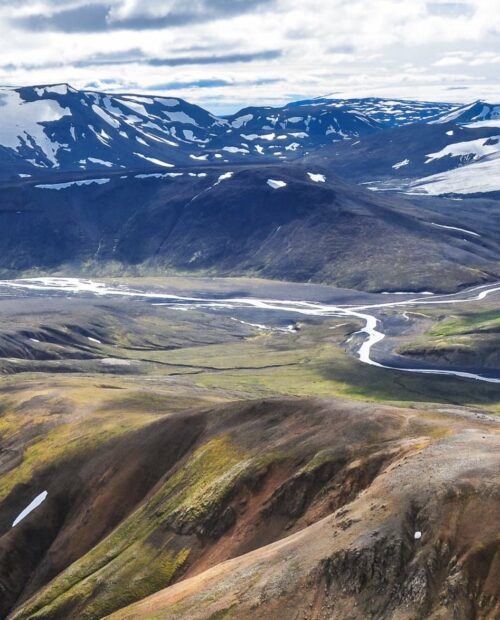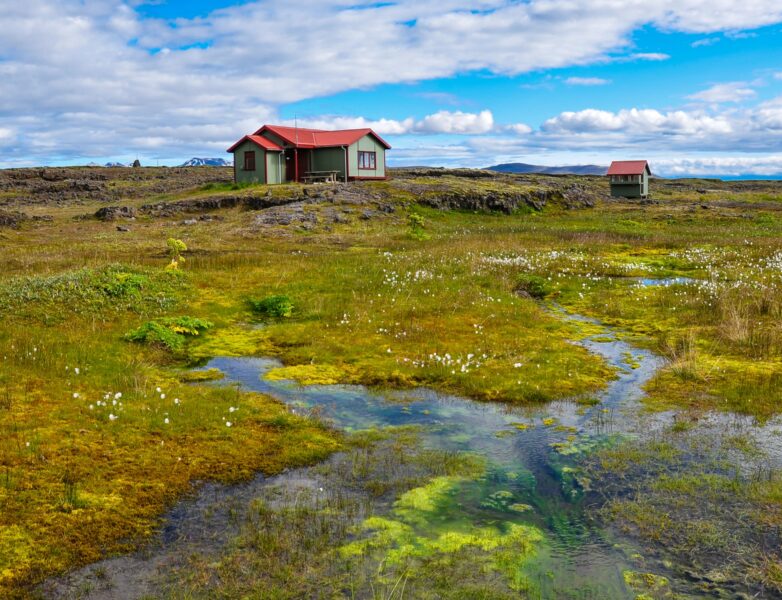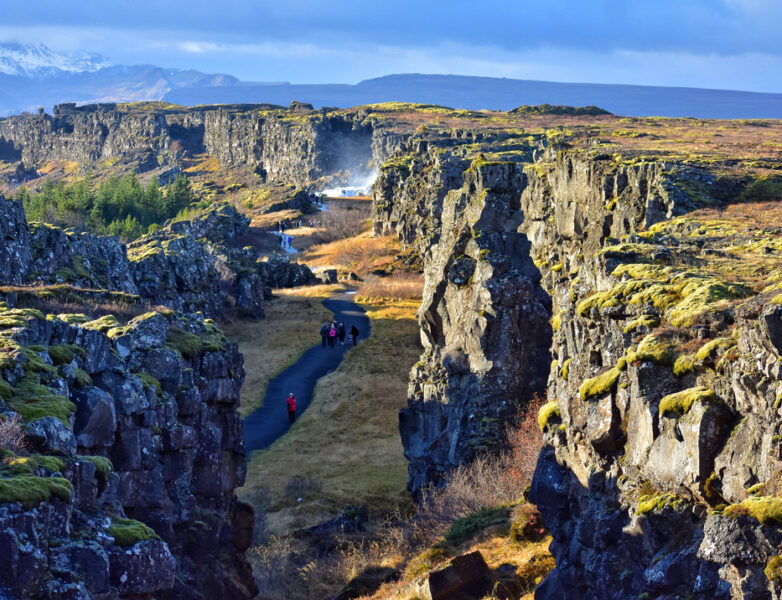 Hut-to-Hut Hiking Tour of Iceland's Ancient Trails
5.00

()
The story of Iceland is written in its landscapes and best told through its hiking trails. Get ready for a trek through time—past ancient glaciers, primordial geysers, legendary Viking footpaths, centennial hiker's huts, and uncover the forces that have shaped the Land of Fire and Ice for millions of years. Follow the historic Kjölur mountain pass used by Iceland's first settlers in the 9th century.  This path shrouded in myth and legend is one of the two roads connecting the country from north to south. At the end of each day, rest your weary feet in cozy huts, enjoy traditional dishes, and unwind in natural hot springs like travelers of old. The legacy of Iceland is one of fire, ice, immeasurable beauty, and mysterious history. Experience it all in a single hike.
See a unique blend of historic landmarks and timeless landscapes

Dive into the island's culture and delicious traditional cuisine

The Ancient Trail of Kjalvegur is one of the oldest passable highland routes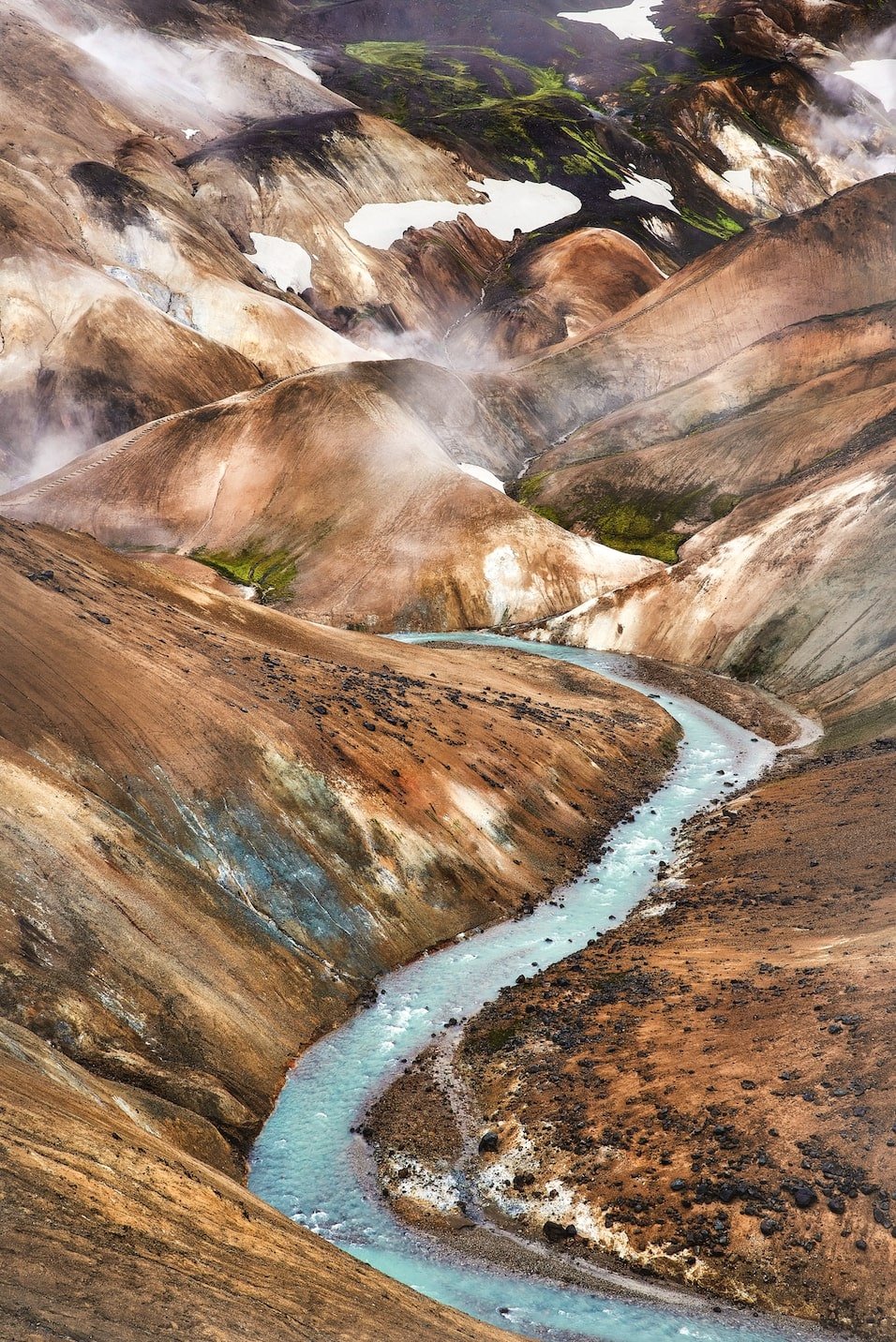 Hut-to-Hut Hiking Tour of Iceland's Ancient Trails
Leave the touristy trails behind and uncover the rich history behind Iceland's iconic landscapes on this 6-day hiking tour! Explore a spectacular mix of natural landmarks, ranging from geysers and colorful rhyolite mountains to timeless glaciers, while learning about their legacy from a seasoned local guide. Spend your time off the trails unwinding in scenic mountain huts, chilling in saunas, and tasting traditional Icelandic delicacies.  
Meet your guide at the BSI bus terminal in Reykjavik at 10 am and head for Thingvellir National Park, where you can walk between the North American and Eurasian tectonic plates. Curiously, this is also where the Althing, the oldest parliament in the world, was established in the year 930 AD.  Then, proceed to the Great Geysir and its smaller brother Strokkur Geyser, which consistently spews boiling hot water up to 130 ft (40 m) in the air every 10 minutes. Heading to the Kerlingarfjöll Mountain Resort in Ásgarður where you'll spend the night, you'll stop by Gullfoss falls, considered by many to be the most beautiful waterfall in Iceland.

Hiking distance: 5 miles/ 8 km
Duration: 3 hrs on foot, 4 hrs by car
Elevation change: 660 ft/ 200 m

Follow a loop trail over the mountains, to the boiling hot springs and fascinating multi-colored hills. You'll encounter a spectacular array of colors, including, yellow, blue, black, green, and red from the iron and the rhyolite that the mountains are composed of. After the hike, get transported to the Hveravellir oasis, where you will spend the night. Make sure to take a dip in the nearby geothermal pool before hitting the hay.

Hiking distance: 7 miles/ 12 km
Duration: 4 hrs on foot, 1 hr by car
Elevation change: 1,900 ft/ 575 m

Get ready for the first day of your multi-day trek along the ancient Kjalvegur route, once used by Vikings, settlers, and farmers. The route winds between the Langjökull and Hofsjökull glaciers, and you'll walk through unique vegetation, grass, flowers, and brush, but also black lava fields, volcanic craters, mountains, and glaciers. Spend the night in Þjófadalur, a small, cozy hut in a grassy green valley.

Hiking distance: 10 miles/ 15 km
Duration: 5 hrs on foot
Elevation change: 990 ft/300 m

Today, you'll follow the Kjalhraun lava field while enjoying a spectacular view of the Hrútfell mountain and its gliding glaciers throughout. Watch the Fúlakvísl river roar through a very narrow canyon carved out by lava millennia ago. The scenery around your hut is so incredible you'll want to explore it for days on end.

Hiking distance: 9 miles/ 14 km
Duration: 5 hrs on foot
Elevation change: 660 ft/ 200 m

On day 5, you'll hike to one of the oldest mountain huts in Iceland. Built way back in 1930, the hut and its turf roof are protected by Icelandic law because of its age and uniqueness. Follow a trail through vegetated areas interspaced by some deep horse trails and crystal-clear water fountains. The hut is close to the Hvítárvatn glacial lake, which runs from the Langjökull glacier and is the source of both the Hvítá river and Gullfoss falls.

Hiking distance: 10 miles/ 16 km
Duration: 5 hrs on foot
Elevation change: 660 ft/ 200 m

Make your way back to Reykjavik. Once you arrive, enjoy a short walk around town where you'll experience the landmarks, learn the stories of the statues scattered throughout, and learn about the culture of the contemporary Icelandic people. Then, it's time to fly back home!

Hiking distance: 8 miles/ 5 km
Duration: 2 hrs on foot, 3 hrs by car
Elevation change: 165 ft/ 50 m
Hut-to-Hut Hiking Tour of Iceland's Ancient Trails
Get free trip brochure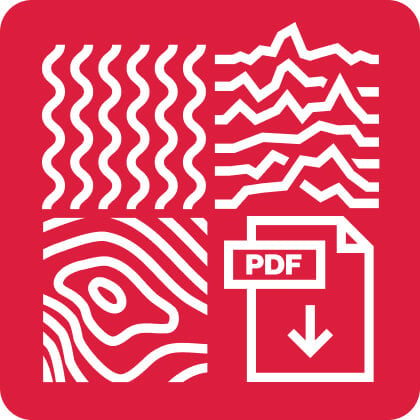 The brochure contains:
Adventure and location overview, itinerary, available dates, what's included, how to prepare, and much more.
Brochure sent, check your inbox
Talk with us
and let one of our adventure experts help you plan your perfect adventure.
Maggnus Viking is sometimes called the Handstanding Viking because he's often seen upside down on top of a rock or next to a waterfall. He got his rough traditional Icelandic vibe and behavior from his father, and his soft, academic side from his mother. Maggnus loves adventure and socializing—perfectly connected through guiding adventurers through Icelandic wilderness, he's a commercial pilot, flight instructor, ship captain and a truck driver.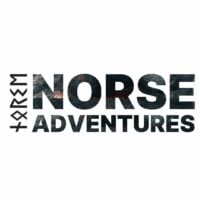 Norse Adventures is a family-run guiding service provider focusing on turning travels to Iceland people only dream of into reality.
Travel deep into the mountains and hike the roads less traveled to find hidden gems that you will remember for the rest of your life. Norse Adventures are determined to provide the absolutely best support and enthusiasm to make it happen.
Incredible! He knew exactly the best hikes and had a great personality! We felt safe and had the trip of a lifetime!!! Thank you, "Maggs" Maggnus!
What a genuinely nice guide with an amazing hike trip that surpassed all of our expectations! Great communication and fun energy. A really great way to see Iceland that is not a touristy trap. So many great photos and really adventurous hikes! What a great trip so many excellent photo shots and a great workout!!
Magnus and Arnie were great guides and very informative while we were backpacking through the Icelandic Highlands on the KJALVEGUR Trail. The food was amazing, all of our meals were traditional Icelandic meals like Grilled Lamb, Meat Stew, Grilled Char and an amazing Cod Gratin on the last night. Our adventure was awesome. we started with a drive to our first start point in the highlands. however while travelling to the start point, we hiked through Þingvellir National Park, the original Parliment site dating back to 930 AD. This is also the site of the rift valley and we had the opportunity to hike between the North American and Eurasian Tectonic Plates. We next visited a traditional farm that has embraced agro-turism and had a delightful lunch and farm made ice cream. We continued on to a geyser and then on to Gullfoss Nature Reserve Park that had a large waterfall. Next we drove to the first hut that we were staying in. It was a beautiful hike that had us cross glaciers, high meadows and deserts as well as lava fields. Absolutely breathtaking.
Magnus and Arni were gracious guides who listened to customer requests and worked hard to make sure we had the opportunity to have input on our custom trip. They are very knowledgeable outdoorsmen who obviously enjoyed sharing their love of Iceland\'s history and landscape with our group. I hope to share another adventure with them in the future. The Ancient Trails trip was a perfect alternative for our group who wanted to avoid crowds and to visit some lesser known portions of Iceland. The terrain was not difficult and the weather cooperated nicely (late June 2023). The overnight huts met all our needs comfortably. The day hike in the Troll Mountains (Kerlingarfjoll) was amazingly beautiful and breathtaking.
Our guides were Maggnus Viking and
Arni Odinsson of Norse Adventures. They were excellent! They were knowledgeable, patient, kind and wonderful hosts!
Maggnus is a consummate professional guide. I knows what we needed and always provided it. He knew the routes and took us to some amazing places. We always felt safe. Maggnus and Husky Fendris have personality, smarts and skill. We saw some amazing places on our hike.
Our guides were amazing. Jonas Valdimarsson was the perfect person to have as a guide on the Kjalvegur trail hike. He told us stories, showed us what to notice in terms of vegetation and landscape. He was perfect. Arni Odinnson was also incredible. He cooked us great food and made sure we were taken care of every step of the way in the huts. These two made the trip so much fun, and they taught us a lot about Iceland. Aside from our first day, we didn\'t see another hiking group during our trip. It was great to have these trails to ourselves, which was one of the reasons we chose the Kjalvegur trail. The hike at Kerlingarfjöll was challenging, but it was really worth it. And the hikes after that were less challenging but gorgeous.
We were quite happy with the adventure, the meals were great, our two guides were great and the trails and scenery were fantastic. After just hiking the Laugavegur we really appreciated being the only hikers on the trail. The only thing that was difficult for me personally was the lack of beds in the huts, our western culture has us expecting a little more room! A suggestion for improvement would be to only take 8 clients at a time to help with bed space. Overall, loved the trip. I would gladly return to hike with your crew, the north western part of Iceland interests us greatly.
Both Magnus and Stephan were funny, talented, and overall amazing tour guides!
-Kyle
Definitely one I will be remembering for years to come.
Six family members (two parents, 4 of our kids) travelled to Iceland from Aug 8th to 14th and experienced a hiking tour from Reykavik through the Highlands down to the southern black sand beaches. We were fortunate as to weather — one day with a short rain shower, one 1/2 day of rain (on the glacier) — and even more fortunate with our guide, Maggnus, his fearless and playful canine companion Fenris, and his excellent support crew (led by Unnur and Tristan). The hikes were of the right distance and difficulty for our family, the overnight locations (hotels vs cabins) were clean / enjoyable / friendly / well run, the food and drink excellent, and Iceland showed off some of her most beautiful locations to us. Highlights of the tour included (with some the GoT locations!):
Pre-hiking tour day in Reykavik, including a helicopter tour (Litli-Hurtur Reykjanes area) via AlantsFlug — well worth the time and $ — great introduction to Iceland and its (every changing) geology
Efstidalur farm lunch, Thingvellir national park, and some reasonably predictable geysers
Two nights at the newly built Highland Base Hotel at Kerlingarfjoll, with a short hike to its geothermal pool alongside a glacier-fed stream
2/3rds day long hike into the Hveradalir geothermal valley
Surface of the moon drive from the Highlands to the south leading to a climb of Hekla (aka "Mordor")
Intra-family soccer at the Basar Cabins, Thorsmork mountain ridge, Merkurker ravine, Stakkholtsgja canyon
Overnight at Midgard Base Camp hotel (wonderful dinner, great staff, very hot hottub), six person communal bunk rooms…
Solheimajokull glacier, Reynisfjara black sand beach, Raufarholshellir lava cave
Our family would strongly recommend following Maggnus and Fenris on a guided walking /hiking tour of Iceland!!
The Glanville Family
Magnus & Norse Adventures were the perfect fit for the adventure we were looking for. Magnus adapted to our personalities, abilities, and desires throughout the trip and made small adjustments along the way to enhance our experience. This often meant adding small detours to other scenic sites that were not originally on the itinerary. Magnus has the experience and drive to show any group a one-of-a-kind adventure.
Magnus and Arnie were exactly the personality type to make this trip enjoyable. They were super laid back and the trip was perfectly planned. Ooo and the food was amazing. Never ate like that backpacking.
Arne was pleasant and knowledgeable.
Magnus and Arni were fantastic guides. They made sure everyone was comfortable and adapted to meet everyone\'s needs. Would highly recommend doing a tour with them. As a bonus Magnus brought his dog who provideda lot of entertainment. From the amazing hiking to the incredible food it was an unforgettable adventure. The entire experience was well planned and executed. The trail was gorgeous with a diverse landscape. The huts were cozy and fun to stay in. The first couple of days of excellent meals were provided by a farm and restaurants. After that Arni and Magnus were the chefs and they surprised us with their cooking skills. There was so much food- soup, salmon and lamb, that was always prepared perfectly in the small hut kitchens. Would highly recommend getting off the beaten path and hiking the Ancient Trails with Norse Adventures.
Magnus and his crew are the best, though Fenris (The Albino Husky) is the star of it all! Great food, great fun and great people! 10 stars and by far the best trip to take!
I had an amazing time. I would highly recommend Magnus; he is an amazing and fun tour guide!
The guides were amazing. Very informative and down to earth. The adventure was incredible. Iceland is so beautiful. The accommodations were interesting and adequate. The food provided was excellent.
Things to know
What you get on this adventure:

An experienced, local hiking guide with extensive knowledge of the area

4 or 6 days of hiking

Transportation for the duration of the tour

Mountain hut accommodations for 5 nights

All meals for the duration of the tour 

Transfer of luggage between huts

Charging battery/power bank

Sleeping bag

What's not included:

Transportation to and from Iceland

Transportation to the BSI Bus Terminal in Reykjavik

Accommodations in Reykjavík before and after the tour

Personal hiking gear

Use of showers in huts — 500 ISK ($3.50 USD), payable on site

Alcoholic beverages

Meals outside of the trek

This Icelandic hiking adventure requires decent fitness levels. You'll be hiking for 4 to 6 full days, covering around 7.5-10 miles (12-17 km) per day with moderate altitude change while carrying a loaded daypack. Your main luggage will be transported with a support vehicle. Keep in mind that you'll also be covering tricky volcanic terrain, the weather and trail conditions may affect the difficulty and you will encounter several river crossings along the trail.

Here's a list of the equipment you need to bring:

Day pack large enough to carry all the items listed (around a 25-40L bag)

Waterproof duffel bag for transporting your overnight gear between huts

Quality lightweight hiking shoes with ankle support

River crossing shoes — Crocs are a good choice, don't use open sandals or flip-flops

2-3 pairs of soft wool or fleece hiking socks

Long sleeve shirt (thermal underwear, wool or fleece)

T-shirt (thermal underwear, wool or synthetic)

Light sweater (wool, fleece or similar)

Jacket with a good hood — windproof, waterproof and breathable, GoreTex or similar

Hiking pants or shorts, something strong and light that dries quickly e.g. soft-shell

Rain trousers — windproof, waterproof and breathable, don't bring a poncho

Warm hat and gloves

Hiking poles

Light towel, easily packable

Sunglasses or ski goggles

Sun and lip balm

Neck buff

Wind- and waterproof protective clothes

Cash for the showers, normally around 500 ISK per shower

Lunch box to pack each days lunch into

Water bottle or hydration bladder (2L capacity)

Swimwear if you want to bathe in the hot geothermal pool in Landmannalaugar

Slippers for indoor use

Clothes for wearing in the hut

Toiletries (hand sanitizer, bug spray, toilet paper, etc.)

Headlamp or flashlight

Camera — optional (but recommended)

Your main luggage will be transported with a support vehicle, and you will not have access to it until you reach the huts in the afternoon. Everything needed for the day's trek must be in your day backpack. 

Please do not bring hard suitcases. A soft duffel bag, ca 60 L, is preferable, and please do not exceed 40 lbs (18 kg) per person. Also, keep in mind that the bags might move around or get wet during transport, so pack accordingly.

The huts on the trail are very basic. You will spend your night in shared dormitories with bunk beds. While the beds have mattresses, you should bring a sleeping bag and a liner. Each hut has different facilities but most include gas cooking. Some hut have running water, showers, and toilets, while other have out-houses and no running water.

Group sizes and prices:

For this group adventure, the usual client-to-guide ratio is 10:1. 

It takes a minimum of 2 people for this tour to operate. 

The cost does not decrease as the group grows. 

Hiking in Iceland can be arranged for larger groups. Contact us to make arrangements.

Min. age requirements:

If you are older than 18, you're good to go.

Minors younger than 18 may be permitted to join the hike on a case-by-case basis, but must be in the presence of a parent or legal guardian.

If your group has hikers under the age of 18, contact us prior to booking to make arrangements.

Secure your spot for next year with a 10% deposit! This tour gets sold out very quickly, but with early-bird booking, you  can pick preferred dates without the risk of your bucket list adventure selling out!

Only 10% of the total amount should be paid as a deposit upon booking. This deposit is non-refundable, but can be transferred to another 57hours adventure any time in case the dates don't suit you.
Confirm your booking by the end of this year by paying another 20% of the total amount.
The final balance is due 3 months (90 days) prior to departure.
Once the trip has been confirmed, the regular cancellation policy applies.

For this year's dates, a 30% deposit to secure your place is due upon booking.  The remaining amount is paid 3 months (90 days) prior to departure. Once the trip is confirmed by the guide, the cancellation policy stated below applies. 

If Client cancels the Booking anytime prior to ninety (90) calendar days in advance of the trip contemplated by the booking, Client is entitled to a full refund. 

For cancellations eighty-nine (89) to sixty (60) calendar days in advance, Client is entitled to a refund in the amount of ninety percent (90%) of the total amount paid when Booking. 

For cancellations thirty (30) to fifty-nine (59) calendar days in advance, Client is entitled to a refund in the amount of fifty percent (50%) of the total amount paid when Booking. 

After that deadline, Client is not entitled to any refund. Any reimbursable expenses arising out of the Booking incurred by Guide prior to the date of cancellation (including but not limited to plane tickets, car rental payments, and lodging or transportation fees) are non-refundable as soon as they are incurred by the Guide.

To get to the BSI bus terminal in Reykjavik, the starting point of this tour, most people fly into Keflavík International Airport (KEF). From there, you can take a bus, shuttle, or taxi to Reykjavík.

You will be meeting your guide at the BSI bus terminal in central Reykjavik at 10 am, which can be easily accessed by foot or public transportation. From there, you'll head to the trailhead.

57hours is committed to providing safe outdoor adventure experiences. We require all guides using our platform to have a COVID-19 safety plan and to make the details of that plan accessible to travelers. In most cases, group sizes will be reduced, guides will avoid overcrowded locations, and other safety measures will be met depending on the location and activity. 

We also expect clients to respect local regulations and take measures to protect themselves, their guides, and the communities they're traveling to. For more information on COVID-19 measures in Iceland, please refer to the official guidelines for international travel to Iceland. 

Please contact us if you have any questions or require further information. We are happy to provide you with the most up-to-date information!
Get free trip brochure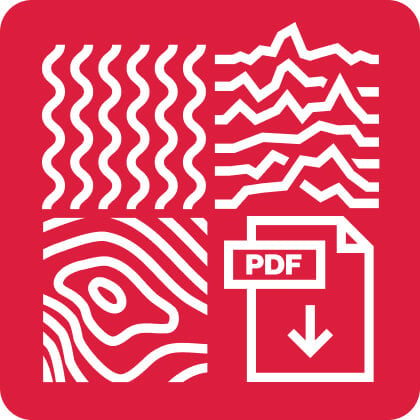 Adventure and location overview, itinerary, available dates, what's included and much more.
Brochure sent, check your inbox
Talk with us
and let one of our adventure experts help you plan your perfect adventure.
Other things to do in Iceland