Hiking Tours in Iceland Powered By Local Guides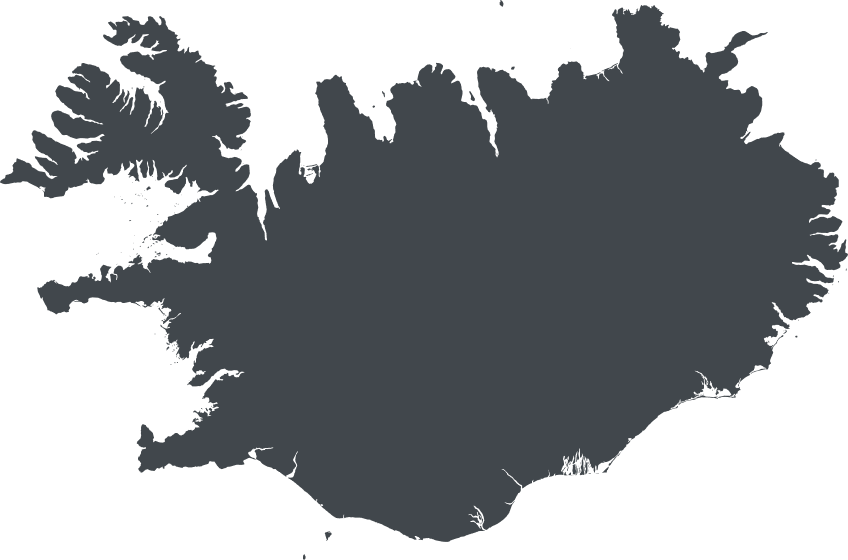 Forged by fire and neverending frost, the hiking trails of Iceland are some of the most dramatic in Europe.
In the north, follow ice-bound valleys under the Northern Lights. In the west, find obsidian sands sprawled along the shoreline. Among the highlands, track through mossy mountains and cooling lava fields. Or choose to have it all: on trails like Laugavegur and Landmannalaugar, you'll experience different worlds and all four seasons in the span of a single trip.
Ready to explore the Land of Fire and Ice? Discover awesome Iceland hiking trips below and reserve your spot today!
Iceland Hiking
Stories
Looking to learn why National Geographic named the Laugavegur Trail one of the most beautiful hikes in the world? Want to know what it takes to trek Iceland in the wintertime (apart from a very warm jacket)?
Check out Iceland trip reports and adventure travel stories written by seasoned trekkers and knowledgeable local guides. From seeking enlightenment among volcanoes to finding female empowerment on Laugavegur, these tales will get you hyped for the trails.
Why Book an Iceland Trekking Tour Through 57hours?
We work with the best guides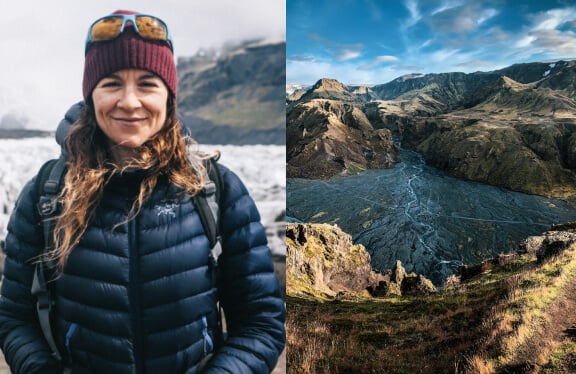 As avid adventurers ourselves, we're well aware of the importance of choosing the right guide. A great guide will bring a local flair to the trek, making sure you experience all the hidden gems of the area. They'll have the professional know-how to keep you safe on your adventure. Finally, they'll be a much-needed friend in the wilderness: they'll keep you company, joke around with you, and, if need be, motivate you to keep pushing onward!
This is why we employ an extensive and detailed vetting process. All of our guides are highly experienced, well-versed in the area, and, most importantly, they're awesome individuals who we'd love to have a beer with. Plan a trip using 57hours, and you'll be in good—no, great!—hands.
We take care of the boring stuff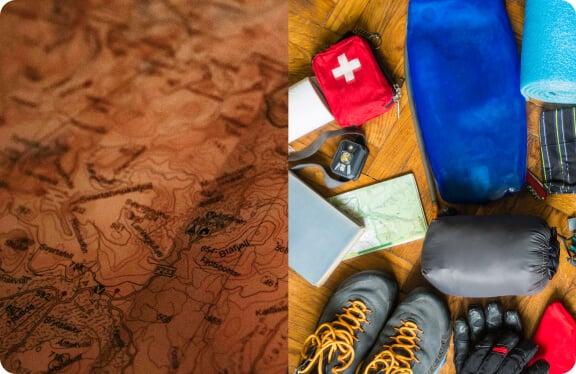 Think of all the stuff you need to take care of before planning a trip: the endless googling, the metric ton of e-mails, fiddling around with deposits and permits, etc. Now imagine if you had someone to do that for you. We'll help you rent all the equipment you need, assist with the logistics of the trip, and make all the necessary arrangements with your guide—you just need to show up!
We contribute to the communities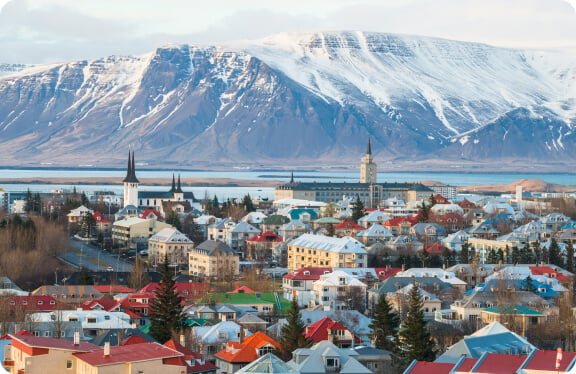 The Iceland hiking guides we partner with don't simply helicopter in, they are a part of the local community. By booking your trip through 57hours, you're supporting local jobs and businesses while guaranteeing yourself an authentic taste of Iceland.
Join the community of certified outdoor addicts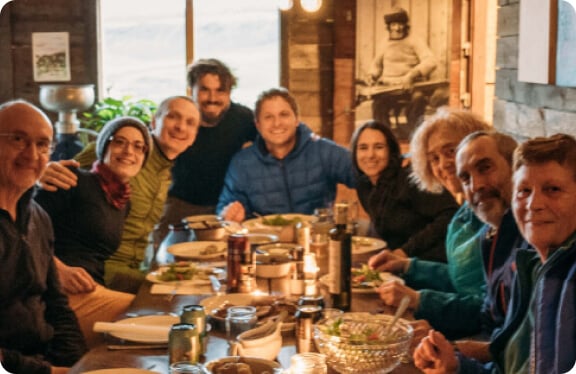 The fun doesn't end when you're off the trails — we like to keep things going even after the adventure. We'll help you stay in touch with your guide, sharing photos, updates, and keeping you posted on any new trips. Also, you'll be able to chat with the folks you've met on your hike via our handy Facebook and WhatsApp groups.
Get to know Iceland
Reykjavík
Iceland's vibrant capital is full of history, art, and gastronomical delights. Believed to be the oldest settlement in Iceland, Reykjavik will give you a break from Icelandic raw beauty if you ever feel the need to go back to civilization.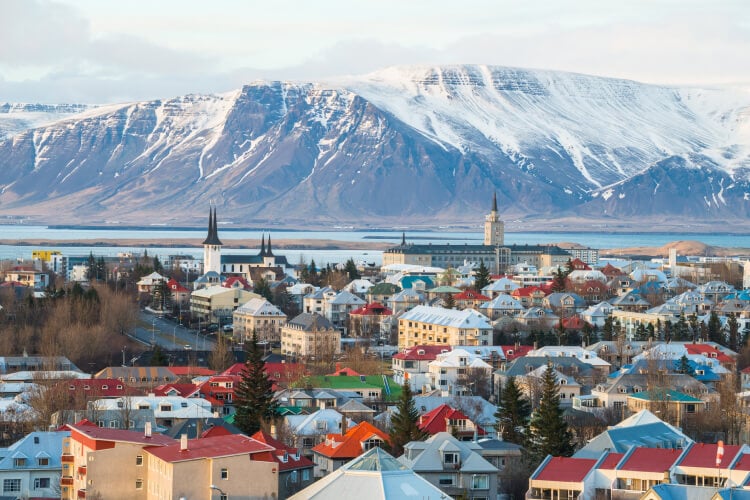 Keflavik
Some 30 miles (50 km) southwest from the capital, Keflavik is home to Iceland's largest airport. Once there, you will likely have to head to Reykjavik—a vibrant city which is a starting point for most adventures in Iceland.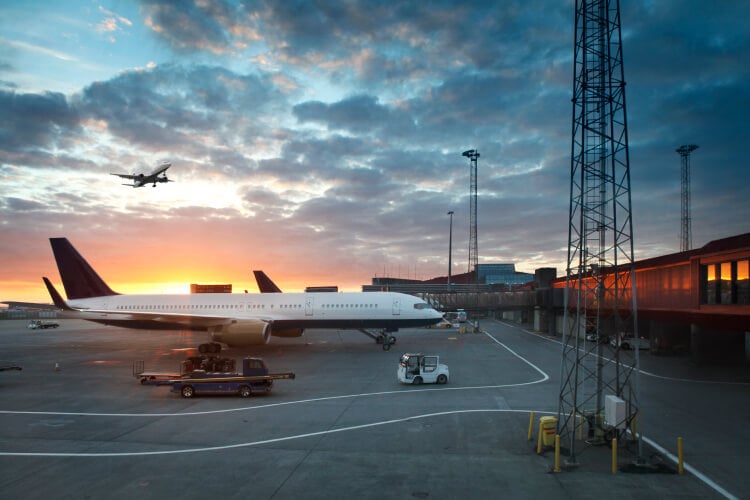 Valley of Tears
This canyon in Icelandic Highlands boasts dozens of waterfalls pouring out of its walls—as well as lush vegetation, bold hues of blue lakes, and black rocks formed by lava flows.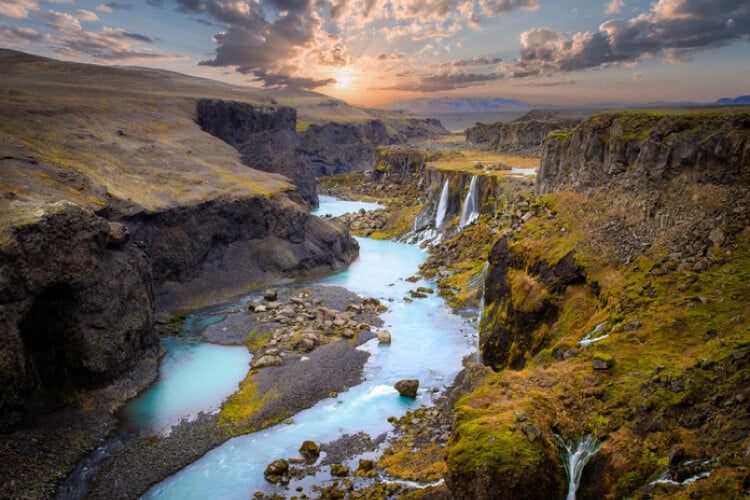 Landmannalaugar Valley
In the heart of Fjallabak Nature Reserve, you'll find the Landmannalaugar Valley's ever-changing volcanic landscapes, rainbow-hued mountains, and azure lakes. Apart from jaw-dropping panoramas, the valley is also a top-notch hiking site speckled with inviting hot springs.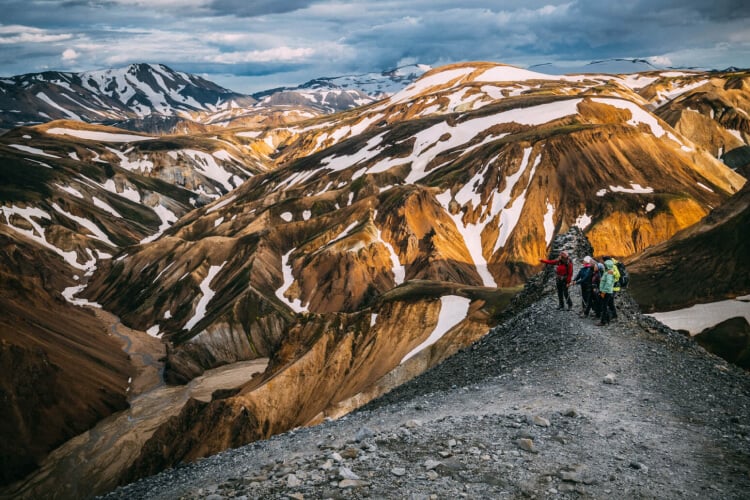 Skælingar
You can find this strange lava formation in the uninhabited Icelandic Highlands. Serene surroundings and interesting folk tales give this remnant of a violent eruption a unique and fantastical flavor.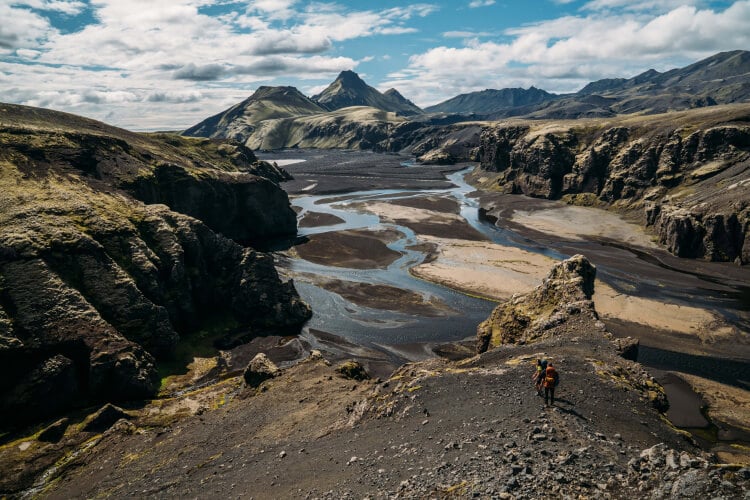 Vatnajökull Glacier
Simply put, Vatnajökull is nature's magnum opus. Being the largest glacier in Europe, it covers almost ten percent of Iceland's territory and boasts some of the world's most beautiful glacial landscapes.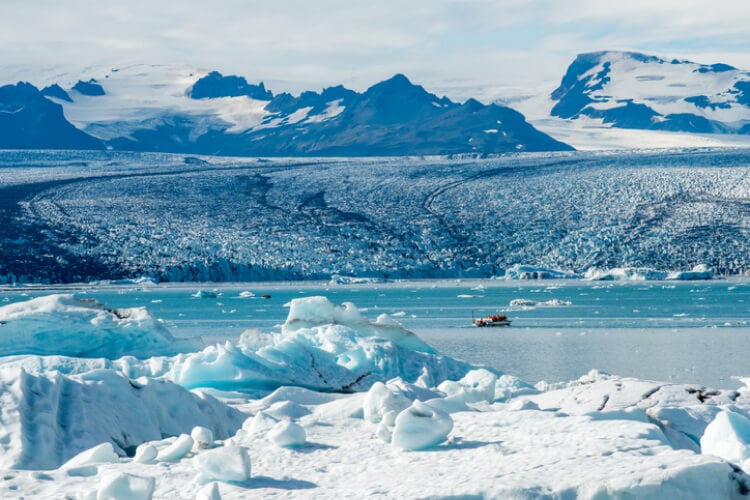 Troll Peninsula
Nestled in Iceland's Northern regions, the Troll Peninsula boasts abundant snow, varied terrains, and 5,000-ft descents—as well as summit-to-sea skiing. All that combined with unique Icelandic landscapes and northern lights grant the Peninsula its status of a first-class ski touring location.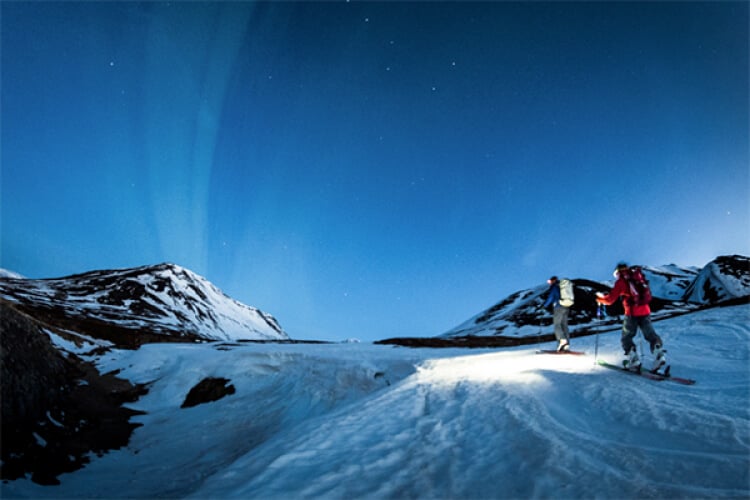 Diamond Beach
Situated by Jökulsárlón lagoon, this strip of black sand is one of the most photographed places in Iceland. Its shore is full of small icebergs that resemble diamonds, making the place look serene, otherworldly, and undeniably photogenic.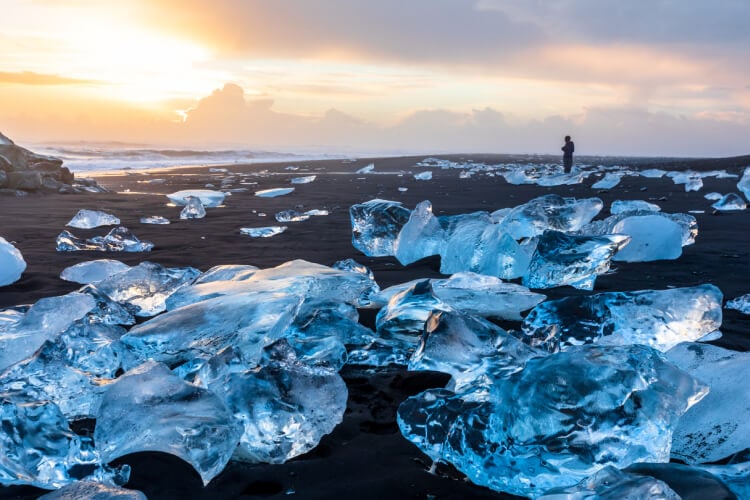 Beach of Reynisfjara
Situated around 112 miles (180 kilometers) from Reykjavik, Reynisfjara is one of the world's most beautiful beaches. Arguably the most stunning black sand beach in Iceland, it is known for towering basalt stacks rising 215 ft (65 m) above relentless Atlantic waves.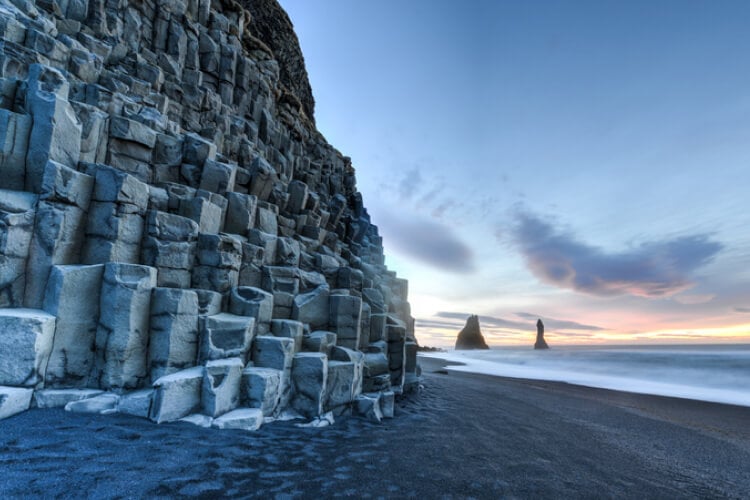 Skogafoss Waterfall
One of Iceland's most beautiful waterfalls is quite a sight to behold—not only for its size (it is nearly 200 ft/60 m tall), but also for its changing surroundings and gorgeous rainbows popping up during sunny weather.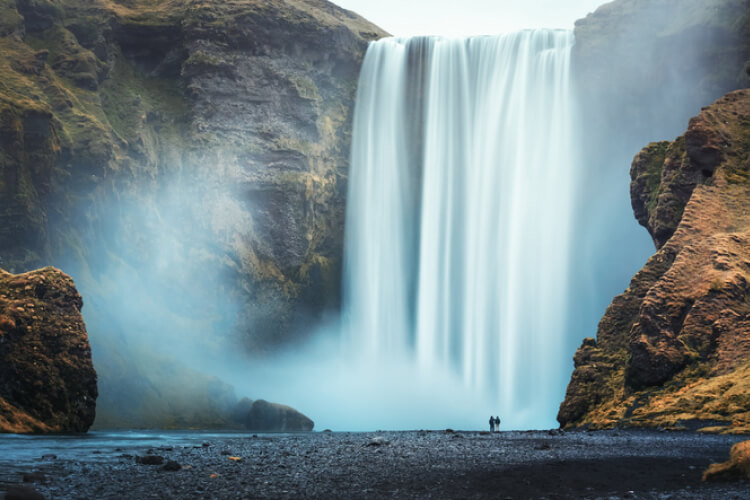 Thorsmork
Snuggled between three spectacular glaciers, Thorsmork's surrounding hills, slopes and mountains hide some of the most breathtaking and diverse hiking routes out there. In the "Valley of Thor," you can experience typically Icelandic landscapes featuring moss-covered mountains, black deserts, and gorgeous glacial streams.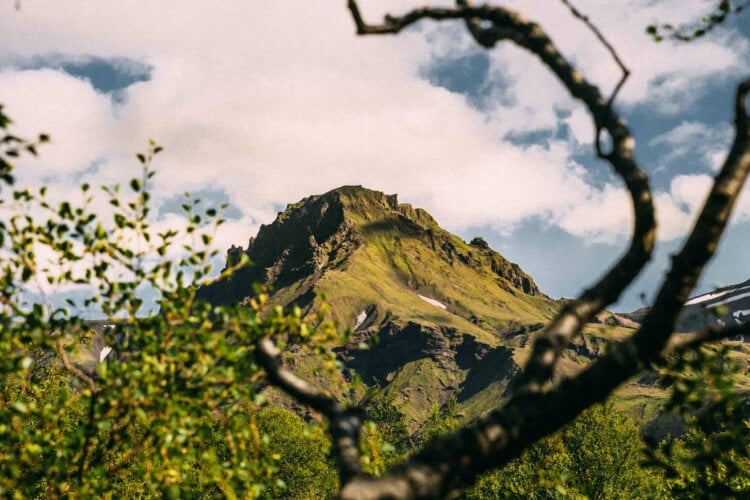 Iceland Visitor Information
What is the best month for hiking in Iceland?

Iceland's best hiking season is between May and September. The temperatures stay between 50-55°F (9-13°C), there's significantly less rainfall than in the shoulder seasons, and all the popular trails are open.

If you're interested in the ice caves or Northern Lights, wintertime trekking tours of Iceland are possible, albeit challenging.

While it's liberating to be free from schedules and have the most popular spots all to yourselves, hiking Iceland in the winter takes a lot of determination and prep work. The highlands get extremely cold and windy, the snowfall is immense, and many roads are closed to non-specialized vehicles. If you're planning a winter hiking tour of Iceland, make sure to go with a guide.

What is the weather like in Iceland?

High season: between June and August, the temperatures in Iceland are at their warmest, reaching 77°F (25°C), Plus, you can catch the midnight sun. It's the most stable season, but the weather still gets unpredictable.
The shoulder seasons: May, September, and early October. Winter loses its grasp in May, but it slowly catches up in September, marking the start of Northern Light spotting season.
Low season: Proper Icelandic winter lasts from mid-October to the end of April. Expect snow and heavy winds. The temperatures linger around 35°F (1°C) but dip into the low -20s (-30°C) in the highlands and northern regions. Best season for chasing the Northern Lights and avoiding the crowds.

Can you see Northern Lights in Iceland?

As Iceland is situated near the North Pole, it is possible to see the Northern Lights. Plan on visiting between September and March, when the nights are longest.

If you want to increase your chances of seeing the Northern Lights as much as possible, visit in March. The third week of March sees twice as many geomagnetic storms as usual, which means more lively and visible Lights.

However, keep in mind that seeing them is never a sure thing—it's better to view it as a cherry on top of an already amazing adventure.

How to get to Iceland?

If you are traveling to Iceland from abroad, flying into Keflavik International Airport is the way to go. Keflavik is the hub for international travel to Iceland and is only an hour away from Reykjavik, the starting point of most Iceland hiking tours. The airport provides regular bus transfers to Reykjavik, Iceland, where you'll usually be meeting your hiking guide.

Alternatively, if you're up for an adventure, you can also take a weekly ferry to Iceland from Denmark. You get a chance to explore the Faroe Islands, as well as transport your own car, motorcycle, or bicycle.

What are the best hiking destinations in Iceland?

Iceland has over 500 hiking trails, and most are very enjoyable. These are some of our top picks:

Alternatively, if you're up for an adventure, you can also take a weekly ferry to Iceland from Denmark. You get a chance to explore the Faroe Islands, as well as transport your own car, motorcycle, or bicycle.

The Laugavegur Trail: The most popular multi-day hike and a great way to see what hiking in Iceland is all about: you will cross crater ridges, traverse glacial rivers, venture through endless mossy expanses, and relax in a geothermal valley all in the course of a few hours.
Landmannalaugar Valley: Dubbed "the Pearl of the Highlands", Landmannalaugar is our top recommendation for guided day hikes in Iceland. With colorful rhyolite mountains, azure lakes, and relaxing hot springs, it's the place to go if you're looking to experience Iceland on a tight schedule.
Thorsmork Valley: Situated at the foot of three glaciers, Thorsmork Valley offers fantastic Iceland walking tours for all age groups and fitness levels. You'll explore moss-covered mountains, deep valleys, and amazing glacial streams on forgiving and exceptionally maintained hiking trails.

Is Iceland expensive to visit?

Iceland is beautiful, but it's not really a budget-friendly destination. Considered to be the fifth most expensive country in the world by the cost of living, the guided hiking trips in Iceland will cost you between 300$ to 400$ a day, with all-inclusive meals, accommodation, and expert guidance.

Iceland uses Krona (ISK) as its main currency, but you can use your credit or debit cards at most places. Still, it's a good idea to exchange your main currency for Krona during your stay.
Contact us
Feel free to ask us anything about hiking tours in Iceland. We always aim to reply within 24 hours.