A Local's Top 8 Picks for The Best Hiking in Colorado
Whether it is seeking a high alpine lake or sandy red rock trails, hiking in Colorado gives you access to some of the most diverse trails in the country. With so many great options, it can be hard to narrow it down. Believe me, I've tried!
Table of Contents
As soon as we left the car it began to rain. A slow, light drizzle that brought the clouds in towards the trees and hid the mountains surrounding Crested Butte. I quickly pulled out my raincoat and kept an ear open for thunder. Not hearing any I cautiously, yet eagerly, walked into the woods. This was my first hike of the season with my new favorite hiking partner—my nine-month-old son.
Protected in his covered kid carrier, he was quiet as he took in the nature around him. I, too, found myself in awe, gawking at the mushrooms alongside the trail and standing silent at each lake we passed, absorbing the stillness of the water.
Together we walked to a waterfall, navigated rocky descents, and when the rain stopped, observed the still-snowy Elk Mountains. The hike was a success—not only as a mom and son adventure, but also as a reset. Hiking gives me the chance to unplug, clear my mind, and to simply be present with my surroundings. One step in front of the other, out into the unknown of the trail ahead.
Now with son in tow, we've looked for more diversity in our days out. Luckily, hiking in Colorado is a lot more than just 14ers—from the towering Rockies and alpine lakes to low-lying day trips, there's a trail for everyone here, growing families and all.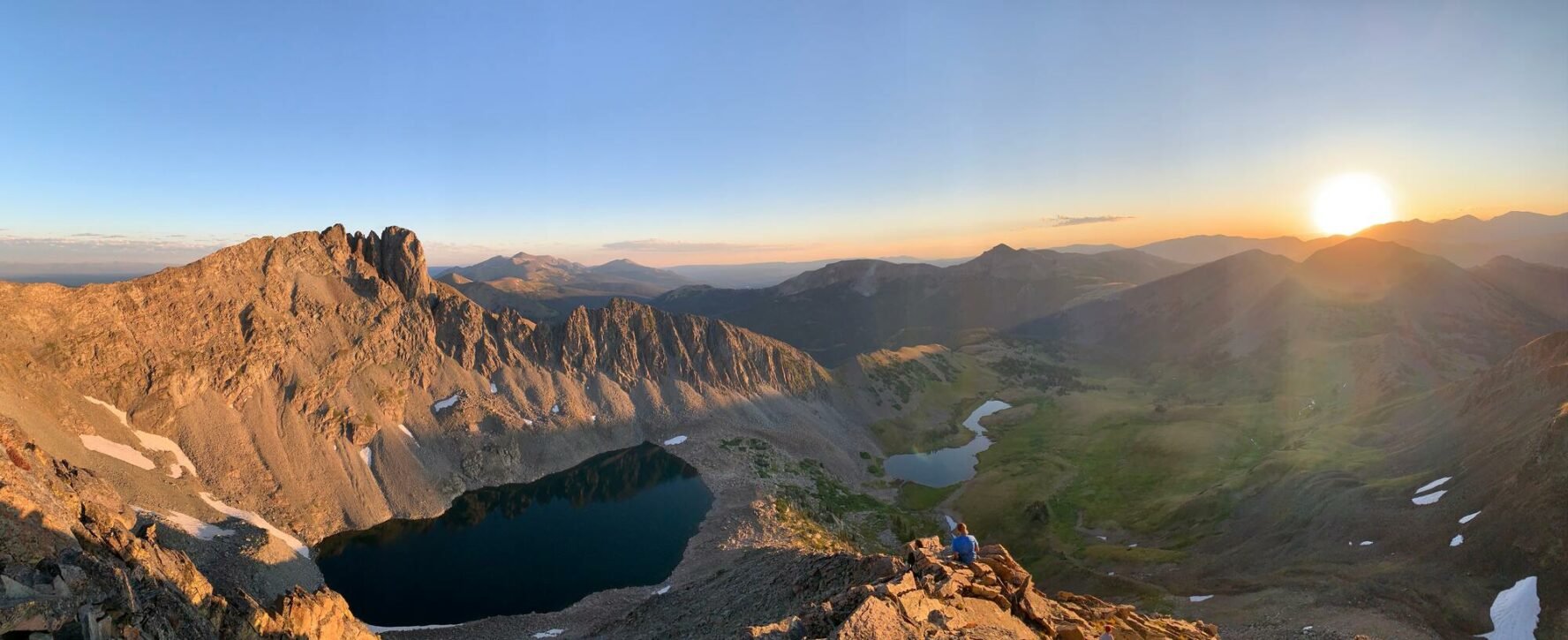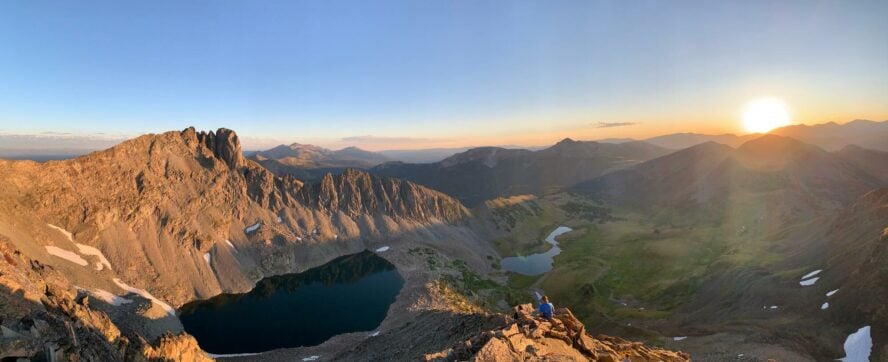 Finding a Place in the Mountains
I have always found myself living in places where I can quickly get to nature from my back door. In college I devoured the Blue Ridge Mountains, waking up to hazy hues after impulsive overnight hikes with friends. Then I moved to Utah's Wasatch Back to begin my career—finding dense aspen groves that turned a vibrant gold in the fall and traveled south in the shoulder seasons to explore the still-warm, sandy desert trails of Moab.
Home is now the Western Slope of Colorado, where the mountains are big and the landscape changes from mountain desert to high alpine in a short drive. I'm excited to raise our young son here, where he will learn and grow in the outdoors.
The Many Faces of Hiking in Colorado
Of all these places that I have lived and explored, Colorado provides some of the most dramatic landscapes with iconic mountain views. The state draws people in with its impressive list of 14ers dotted with high alpine lakes and mountain goats but as you look beyond those peaks, you will find amazing diversity across the state: deep ravines that evoke best Grand Canyon hikes, rivers fed from snow run-off, and incredible desert trails that rival the best Joshua Tree hikes, with red desert rock dotted with sagebrush.
In Colorado, there are 3 National Parks, 11 National Forests and 43 state recognized wilderness areas, which means that there is 3.7 million acres of protected land across the state. Within these areas are thousands of miles of trail, known for stunning views of Rocky Mountain peaks, interesting geology, and the opportunity to see wildlife such as mountain goats, elk, and moose. The Colorado Parks & Wildlife department has even created an app to track the many hiking trails: Colorado Trail Explorer. They have documented over 39,000 miles so far!
Best of all, like the hiking in San Diego, the best trailheads are a quick drive from major cities, so a satisfying day hike is not out of reach. Whether you are looking to bag a peak or get out on a mellow trail for a leisurely hike, keep reading as I lead you on a tour through Colorado's best—and varied—hiking destinations.
Emerald Lake Trail, Rocky Mountain National Park
1. Emerald Lake Trail, Rocky Mountain National Park
TOP CHOICE FOR multiple high alpine lakes
Three lakes in under three miles
Parking is available at the trailhead
Continue past the lake for added challenge
You have to plan ahead for reservations and parking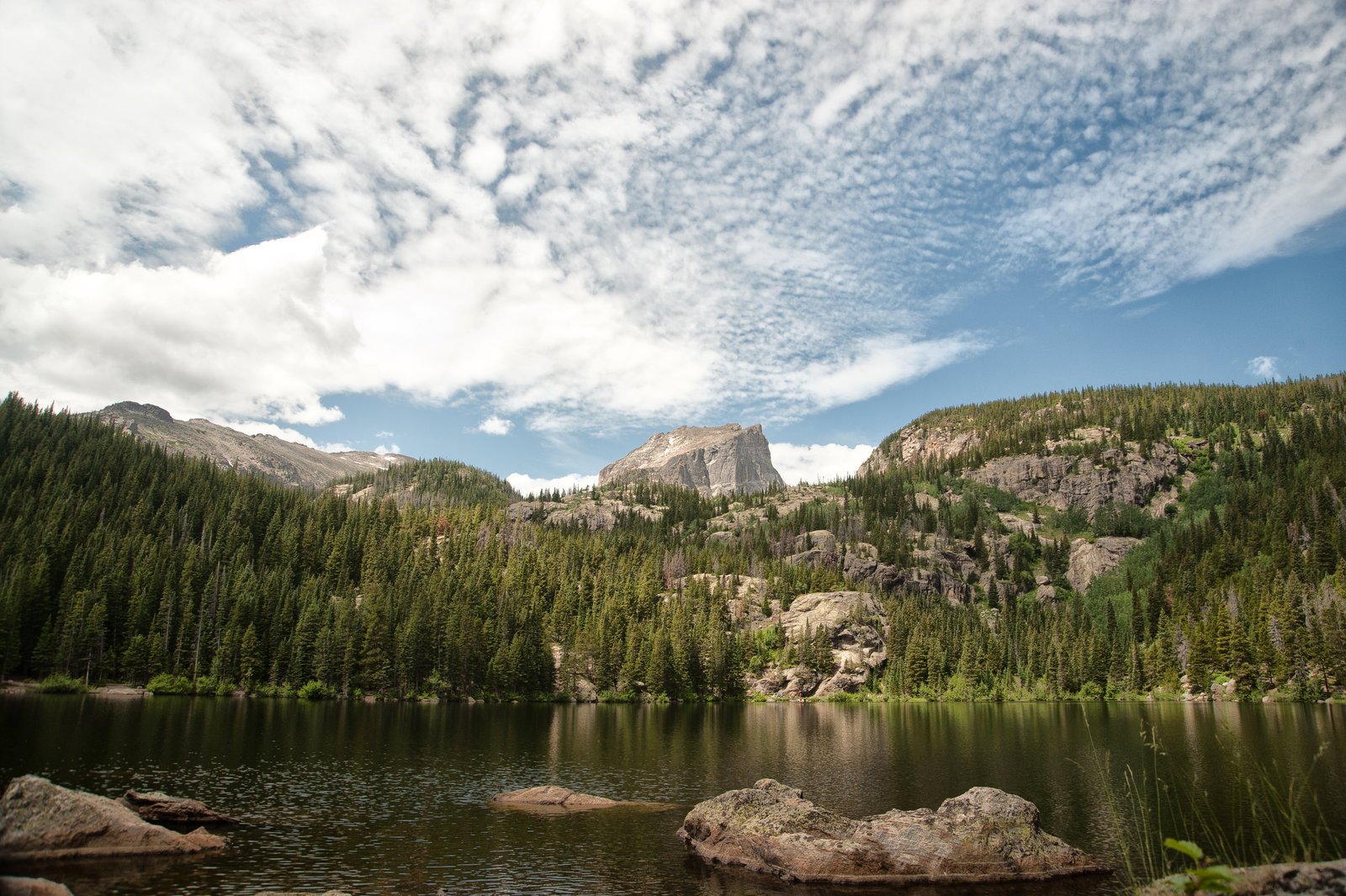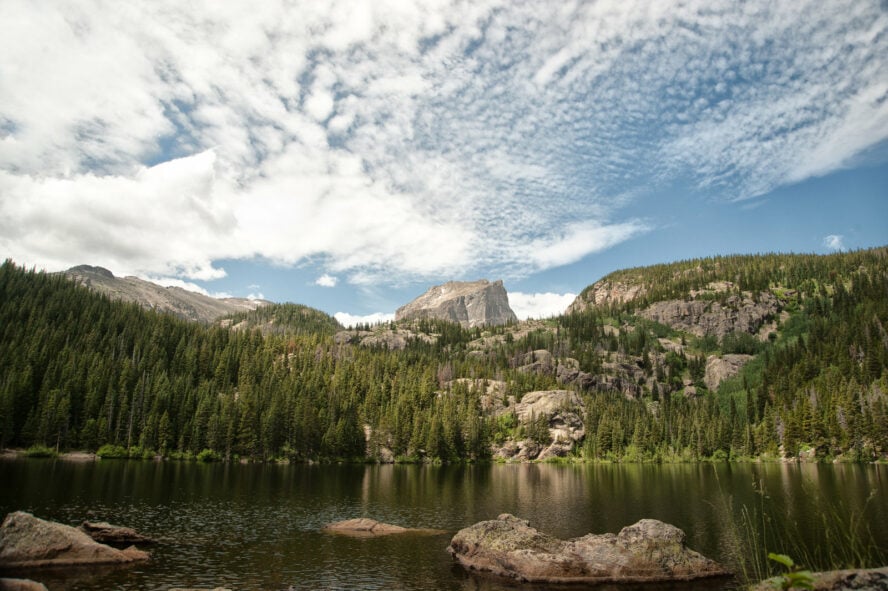 Rocky Mountain National Park: The pride and joy of Colorado
The first three hikes on our list fall within Rocky Mountain National Park. Located just outside of Estes Park and only a 2 hour drive from Denver, RMNP has a seemingly endless supply (265,807 acres, to be exact) of hikes, rivers, lakes, wildlife and great camping. There are 300 miles of trails within the park for you to explore new areas with each visit.
You do need to plan ahead (which is never my forte), as the park is one of the busiest in the country. If you are visiting between late-May to mid-October, you need to purchase a Timed Entry Permit or have a Service Reservation (such as a campsite) along with a Parks Pass/Entrance Fee to enter the park. This requires a bit more forethought, but prevents overcrowding.
Helpful Hint: Did you know that the National Park Service has several free National Parks Passes? Current military members and their dependents and US military veterans and Gold Star Families can register for the free annual Military Pass. There is also the Access Pass, which is a free lifetime pass for US citizens/permanent residents who have a permanent disability. Your kiddo in 4th Grade? There is also a free 4th grade pass that is valid for the duration of the school year!
Emerald Lake: A gem of the park
Our first hike within Rocky Mountain National Park is the Emerald Lake Trail. The Bear Lake Trailhead will be your starting point, which also takes you to Bear Lake, just off the parking lot. I recommended that you take one of the shuttles to avoid the headache of finding an open spot.
The trail around Bear Lake is wide and packed and gives easy, flat access to a beautiful mountain lake without continuing up to Emerald. Along the way, you'll pass Nymph Lake and Dream Lake and you will cross a set of bridges, allowing you to keep your shoes dry instead of a creek crossing. If you look close enough, you may be able to see trout in the clear water.
Looking up the trail, you'll see Hallett Peak (12,713′), which 57hours guide Kevin Capps tells me is a popular place for climbers. The 1,000 foot north-facing wall is said to have some of the best climbing in RMNP, including Culp-Bossier, a classic 5.8 multi-pitch. If you get up early enough to catch the sunrise there, the sunlight illuminates Hallett peak with a beautiful orange glow. Another perk? You'll get a great parking spot.
Of course, you can hike up to the summit of Hallett Peak too. The hike is just over 10 miles and is considered challenging as you gain 3,240 feet in elevation and traverse through steep and rocky terrain. At the peak, you will be standing at 12,718 feet with views of Longs Peak, Flattop Mountain, the Never Summer Range and more.
If you get up to catch the sunrise—and I recommend you do!—you'll see the sun illuminate Howlett Peak in a warm, orange glow over Emerald Lake.
Emerald Lake Hike- MOST POPULAR HIKE IN Rocky Mountain National Park. Emerald Lake Rocky Mountain NP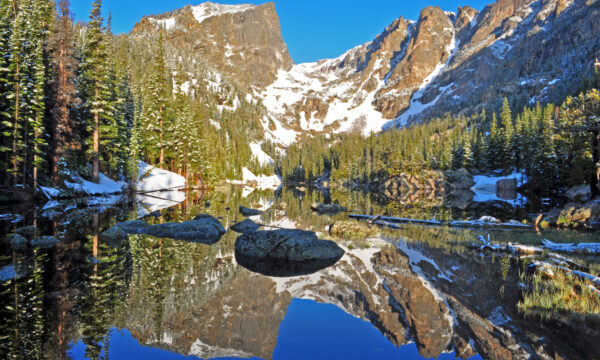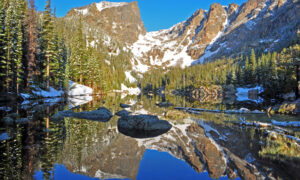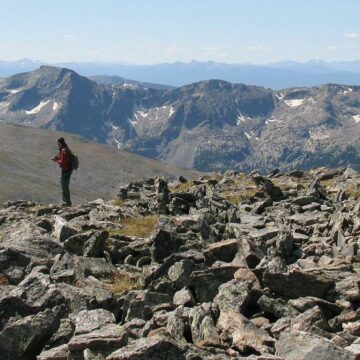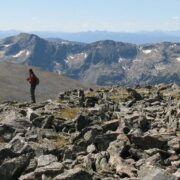 1. Emerald Lake Trail, Rocky Mountain National Park - Good to Know
Distance
3.6 miles round trip
Terrain
Well maintained, packed, wide trail. Built-in, natural steps when steeper, and a few rockier sections to cross
Permit
Timed entry permits are required to enter RMNP (or a service reservation) May 27 – October 10
Trail Map
How long does it take to hike?
Around 1.5 hours
Best time to hike
June through early October
Insider tips
Get up early and catch the sunrise hitting Hallett Peak!
Alberta Falls Hike, Rocky Mountain National Park
2. Alberta Falls Hike, Rocky Mountain National Park
TOP CHOICE FOR a family-friendly waterfall
Easy waterfall destination
Short, mellow, well-maintained trail
Good option for those with small children
Very popular and can be crowded
At the top of the falls the rock can be slippery when wet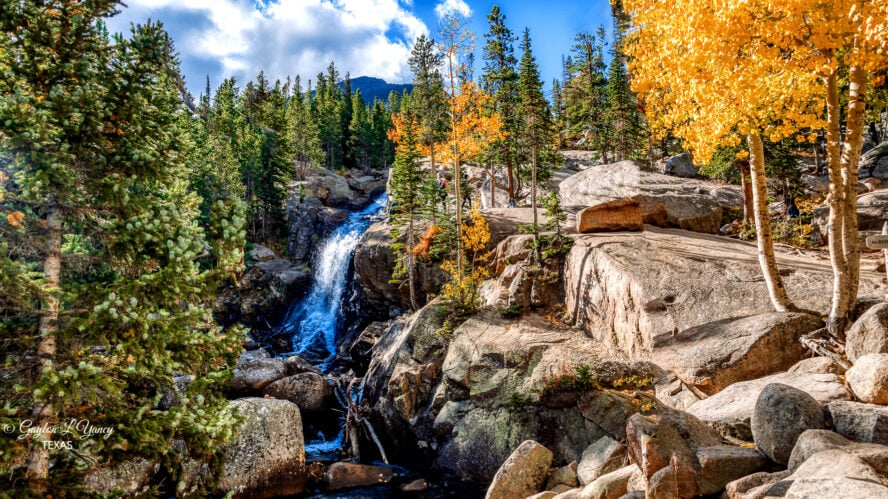 Alberta Falls is a grand slam for the fam
The next stop within Rocky Mountain National Park is Alberta Falls, just slightly east of Emerald Lake and accessible from the same parking lot. This is another hike that is appealing to families because of the mellow trail, short distance (under one mile to the top!) and the impressive, 30-foot waterfall.
You can start at the Bear Lake Trailhead or you can use the Glacier Gorge Trailhead, which brings you a little closer and shortens your hike slightly. Both options see crowds, though, and you'll often feel like you're backpacking in Big Sur based on how many people you see around you.
Glacier Creek, which runs through the park and over the falls, is popular for fishing. You have a good chance of landing a "grand slam" here, which means that you could catch and release at least three different types of fish within a day. Fly fishing is not in my wheelhouse, but even I managed to catch something as I practiced my casting.
Hiking Alberta Falls is not only stunning, it is a part of the rich history of hikes in Colorado that, thankfully, has been preserved for us to experience today. I found it interesting that the waterfall is named after one of the first settlers of Estes Park, Alberta Sprague. With her husband, they built some of the first cabins and lodges in the park, along with the man-made Sprague Lake, to provide fishing for their guests. Imagine being one of the first to welcome travelers to this area!
2. Alberta Falls Hike, Rocky Mountain National Park - Good to Know
Distance
1.2 miles round trip
Permit
Timed entry permits are required to enter RMNP (or a service reservation) May 27 – October 10.
Trail Map
How long does it take to hike?
20-30 minutes to the top, depending on your pace
Best time to hike
Late spring, early summer to avoid crowds and see the peak run-off
Insider tips
If you are looking for a slightly shorter route, then start and end at the Glacier Gorge Trailhead
Longs Peak via Keyhole Route, Rocky Mountain National Park
3. Longs Peak via Keyhole Route, Rocky Mountain National Park
TOP CHOICE FOR the experienced hiker
Rewarded with amazing views
Offers two privies (rustic bathrooms) on the boulder field
Can be crowded during high tourist season
Likely to encounter dangerous, quick-moving afternoon storms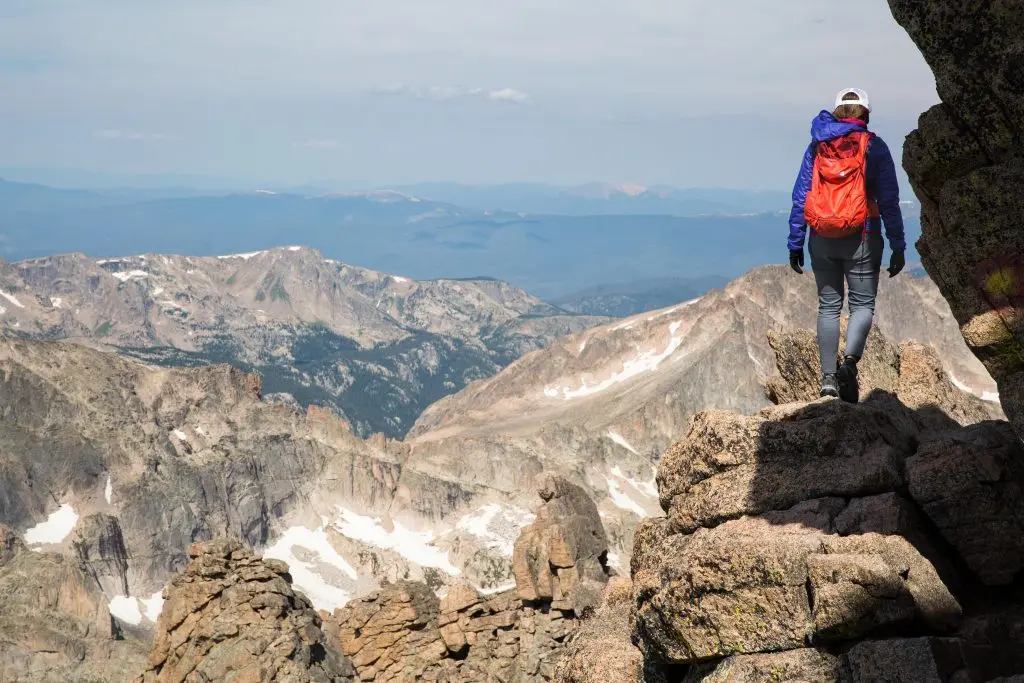 A step up in difficulty for a 14er
Last on our list in RMNP is the well-known, even iconic, Longs Peak Hike via the Keyhole Route.
Kevin Capps calls this a major "step up" for a fourteener: the route is long, challenging and much more than just a hike, requiring class 3 scrambling. It is about four and a half to five miles—just to get to the boulder field—and that, Kevin says, is where the difficult part starts.
Some people will just go to the boulder field, eat lunch and turn around. If you choose to continue on to Keyhole, you will then move into what Kevin classifies as "class 2" and "class 3" terrain. Class 2 means you will be hiking in "stairmaster" mode: very steep step-ups that can quickly become taxing. Class 3 requires contact with all of your limbs on the mountain. You will likely use your hands to help scramble up this slope of granite, where there are painted dots on the rock to help you navigate.
With a hike of this nature, there are several precautions you need to consider. It is important to start early, around 2 AM, because you don't want to be caught on the summit when afternoon storms roll in. In fact, a few of my family members were forced to turn around after being caught in a terrifying storm—but at the boulder field (imagine that happening at the summit?). If there is a chance of storms on the day of your hike, it may be best not going at all due to the lack of shelter above treeline.
Further, Kevin recommends wearing climbing helmets because as you get past the boulder field, rocks can get kicked down from hikers above. If you are not an experienced hiker and still are eager to bag this peak, consider booking a guide to help you reach the top.
There's a spot called The Narrows—which like the name suggests, is a narrow walkway—with a steep drop on your right side (to the West). It's where a lot of accidents happen, reinforcing that this is a trail that needs to be taken seriously.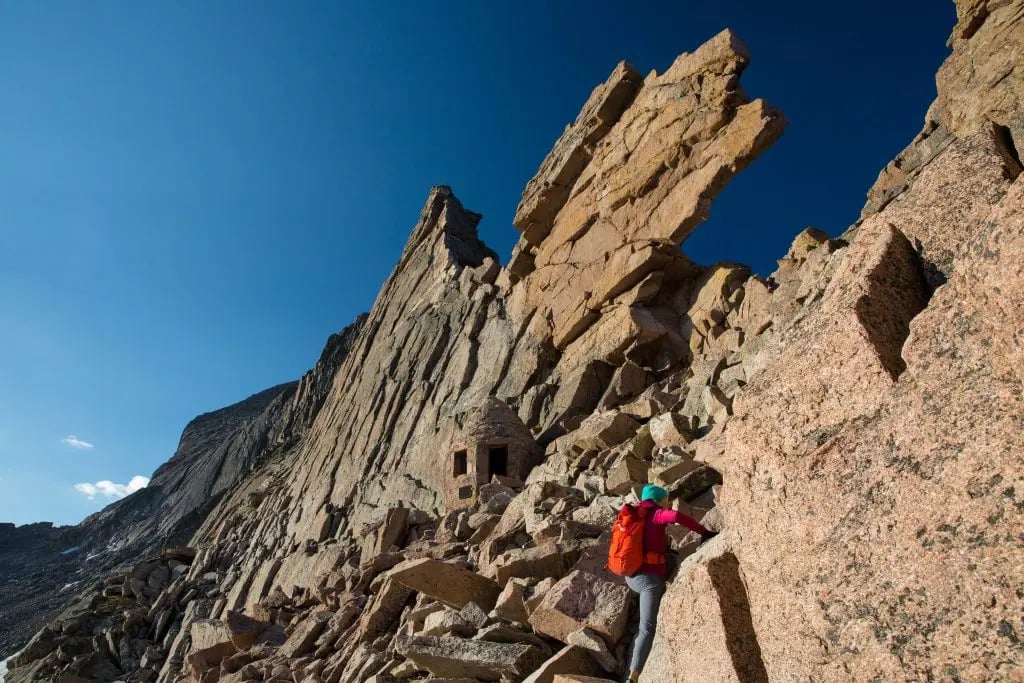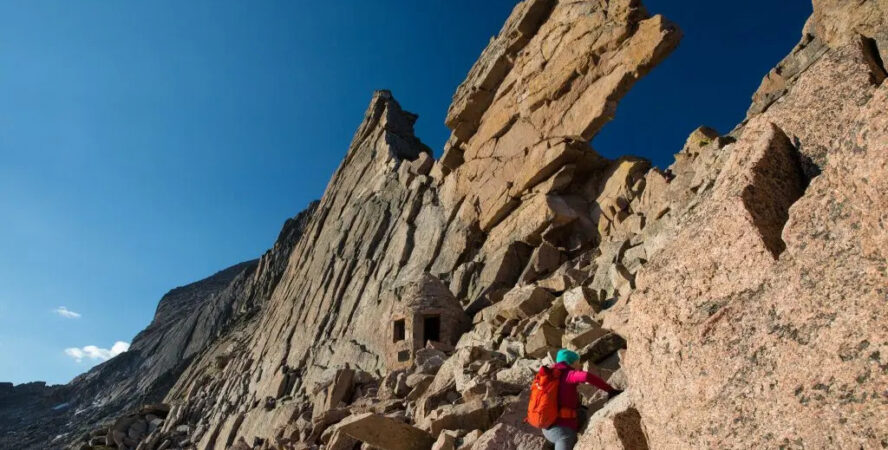 Longs Peak Keyhole Route - Cinematic 4k Footage and Photography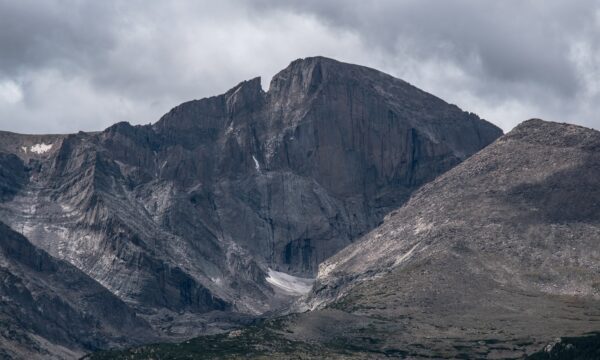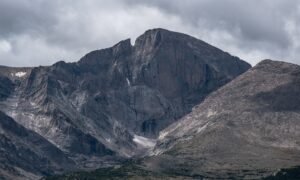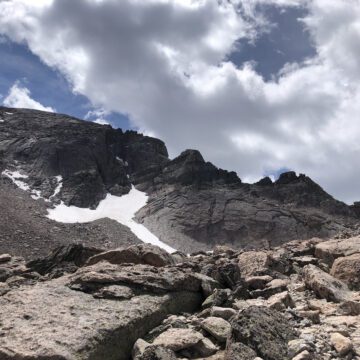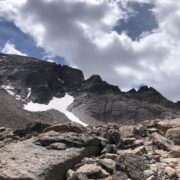 3. Longs Peak via Keyhole Route, Rocky Mountain National Park - Good to Know
Distance
15 miles, round trip
Permit
Timed entry permits are required to enter RMNP (or a service reservation) May 27 – October 10
How long does it take to hike?
10-15 hours
Best time to hike
Mid-July through Mid-September
Insider tips
Plan ahead with layers: an insulated layer, shell, hat, gloves, sunscreen and a first aid kit. Also, download a map that can be used off-line, as service is not available
Royal Arch Trail, Flatirons
4. Royal Arch Trail, Flatirons
TOP CHOICE FOR getting back in time for dinner
Pet-friendly (if you don't go when it's busy)
Just a few minutes from downtown Boulder
Can hike and get back to down in an afternoon
The steps can be quickly fatiguing
With the proximity to Boulder, it can crowded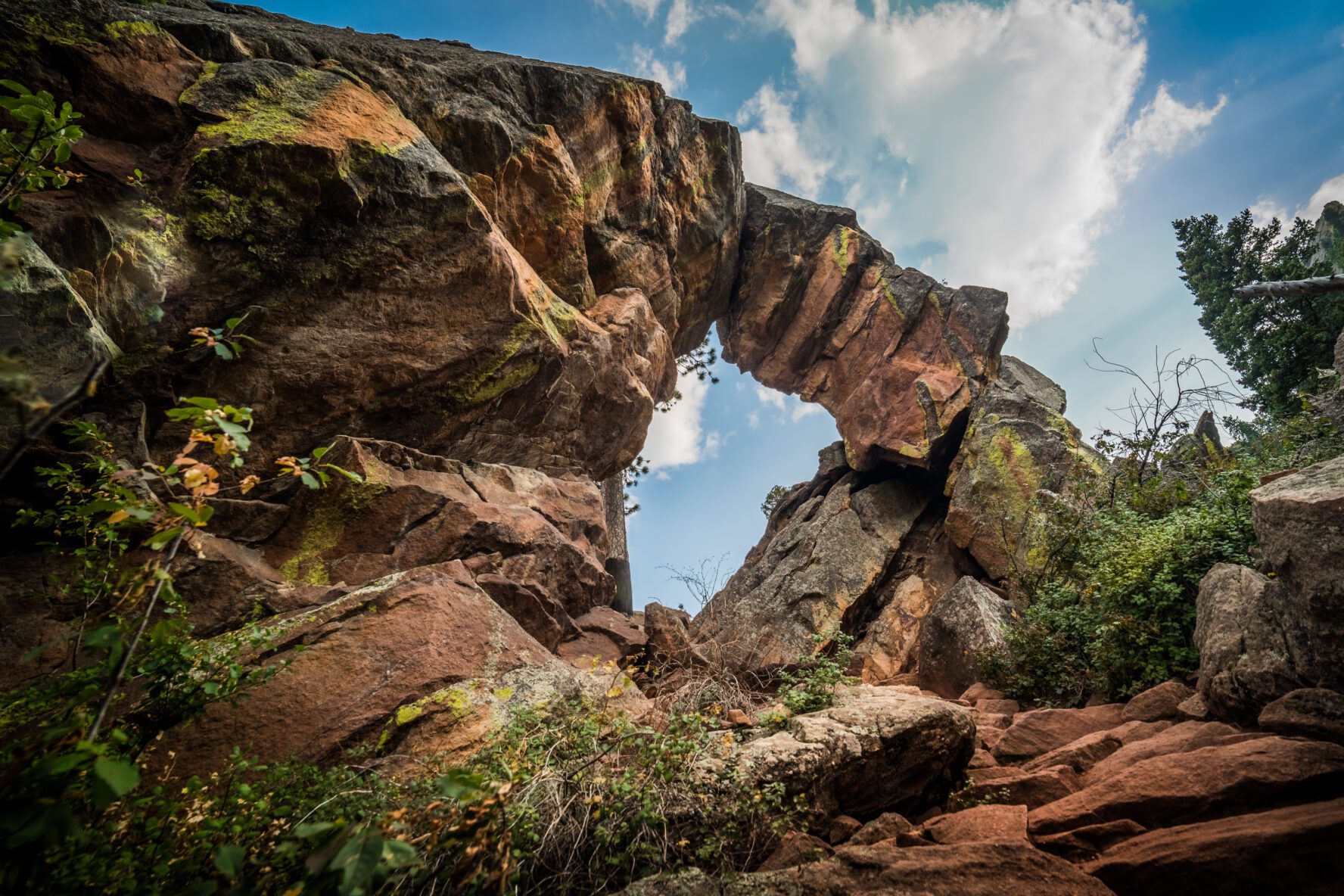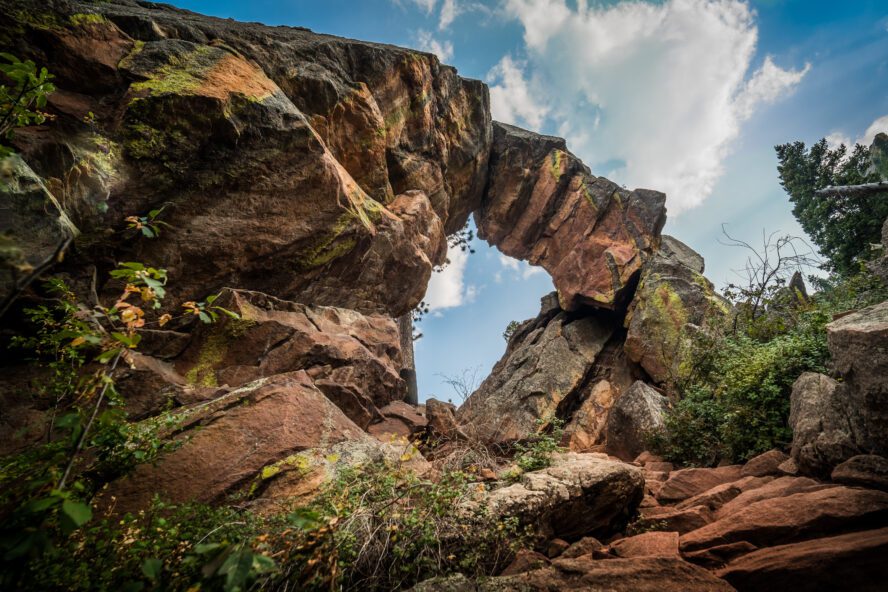 The not so flat Flatirons
Moving away from Rocky Mountain National Park, we now head south towards Boulder, where you will find the famed Flatirons.
Kevin describes these as huge, plate-like rock formations that are leaning against the hillside, and at the base, you will find the Chautauqua area (pronounced shuh-TAW-kwuh). The land offers an impressive 40 miles of trails, with the Royal Arch Trail considered a staple.
To hike the Royal Arch trail, park at Chautauqua Park. Here you can find bathrooms and a restaurant called The Dining Hall which has quality dine-in options including a spacious patio with a full selection of local beers and wine (après hike, anyone?)—as well as food to go.
Head up for some royal views
Hiking in Colorado never fails to surprise and this hike is no different with a spectacular natural arch at the top of the trail. From grassy meadows and into lush forest, make your way to the Flatirons, a good warm up for the steep sections to come. When you arrive at the base of the flagstone stairs, get ready to earn your elevation gain.
The Flatirons also have some of the best climbing in Colorado. With routes for beginners and seasoned climbers, the sandstone slabs are great for moderates and epic views—especially at sunset.
The Royal Arch Trail is great for getting out, seeing the views, and then being back in town for dinner.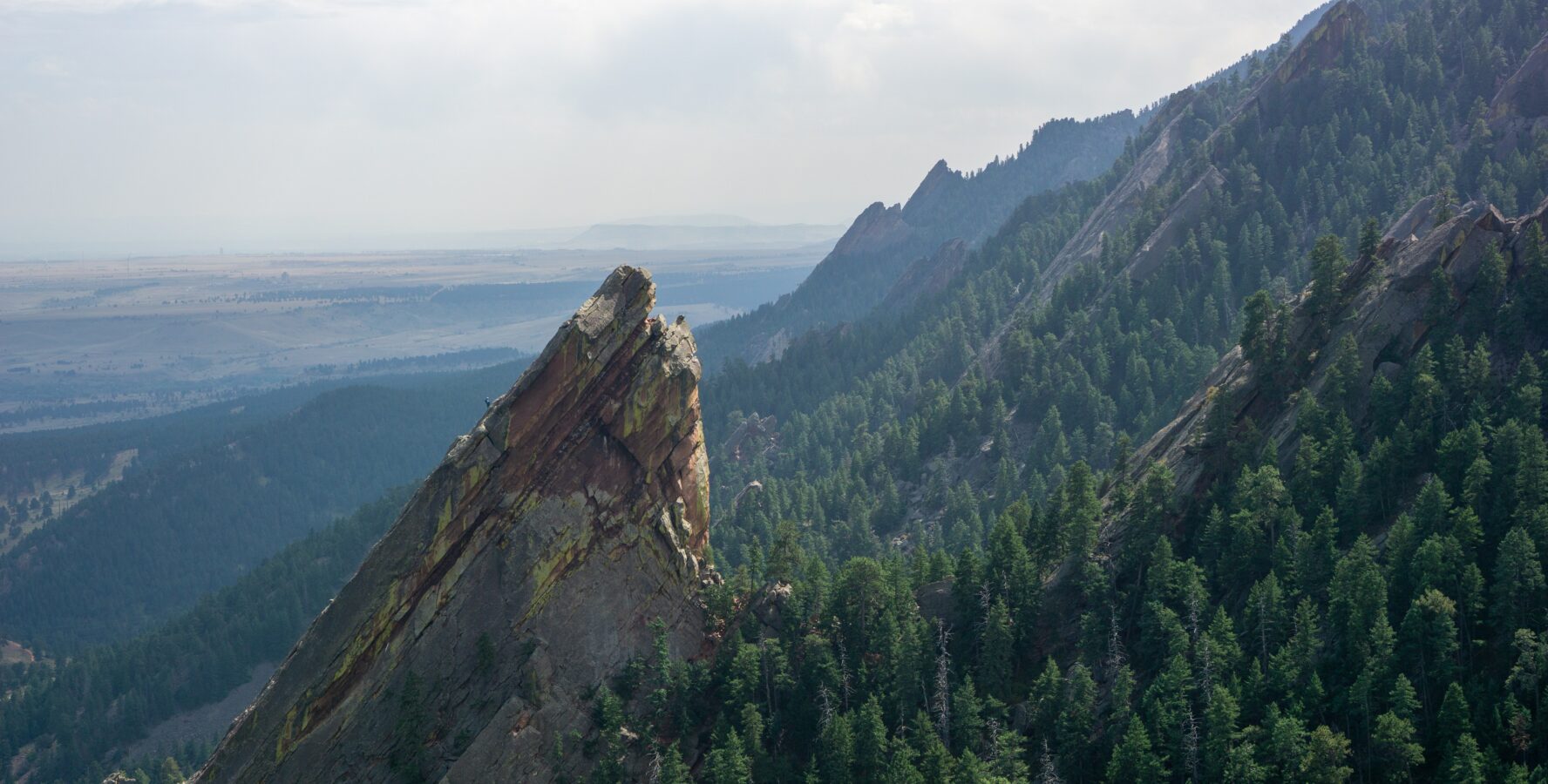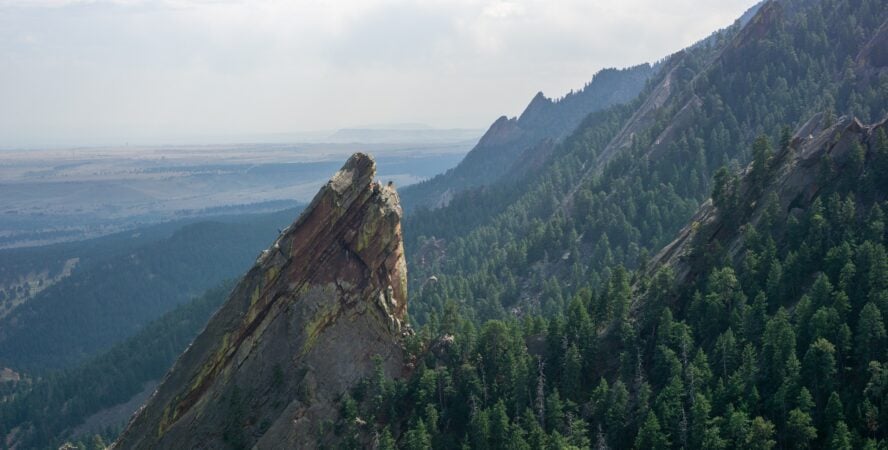 Royal Arch Sunrise Hike in Boulder, Colorado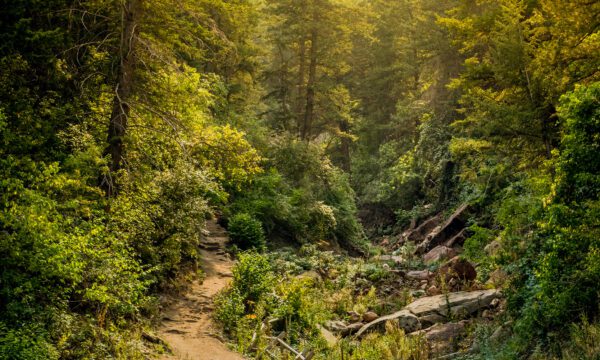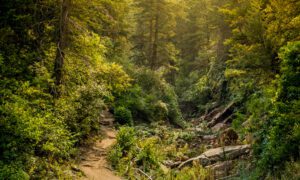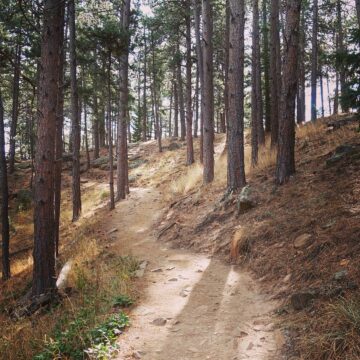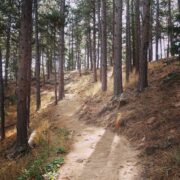 4. Royal Arch Trail, Flatirons - Good to Know
Distance
3.1 miles round trip
Terrain
Meadow, lush forest, steep rocky stairs
How long does it take to hike?
About 2-2.5 hours
Best time to hike
March through October
Insider tips
Stay for dinner at The Dining Hall for great local offerings! Also note that the trail underwent several improvements in 2021 so should be in good condition for years to come
Garden of the Gods, Colorado Springs
5. Garden of the Gods, Colorado Springs
TOP CHOICE FOR the whole family
Paved trail that takes you to many formations
Great option for winter hiking in Colorado
Crowded on weekends and holidays
If traveling to the state, can be far from main destinations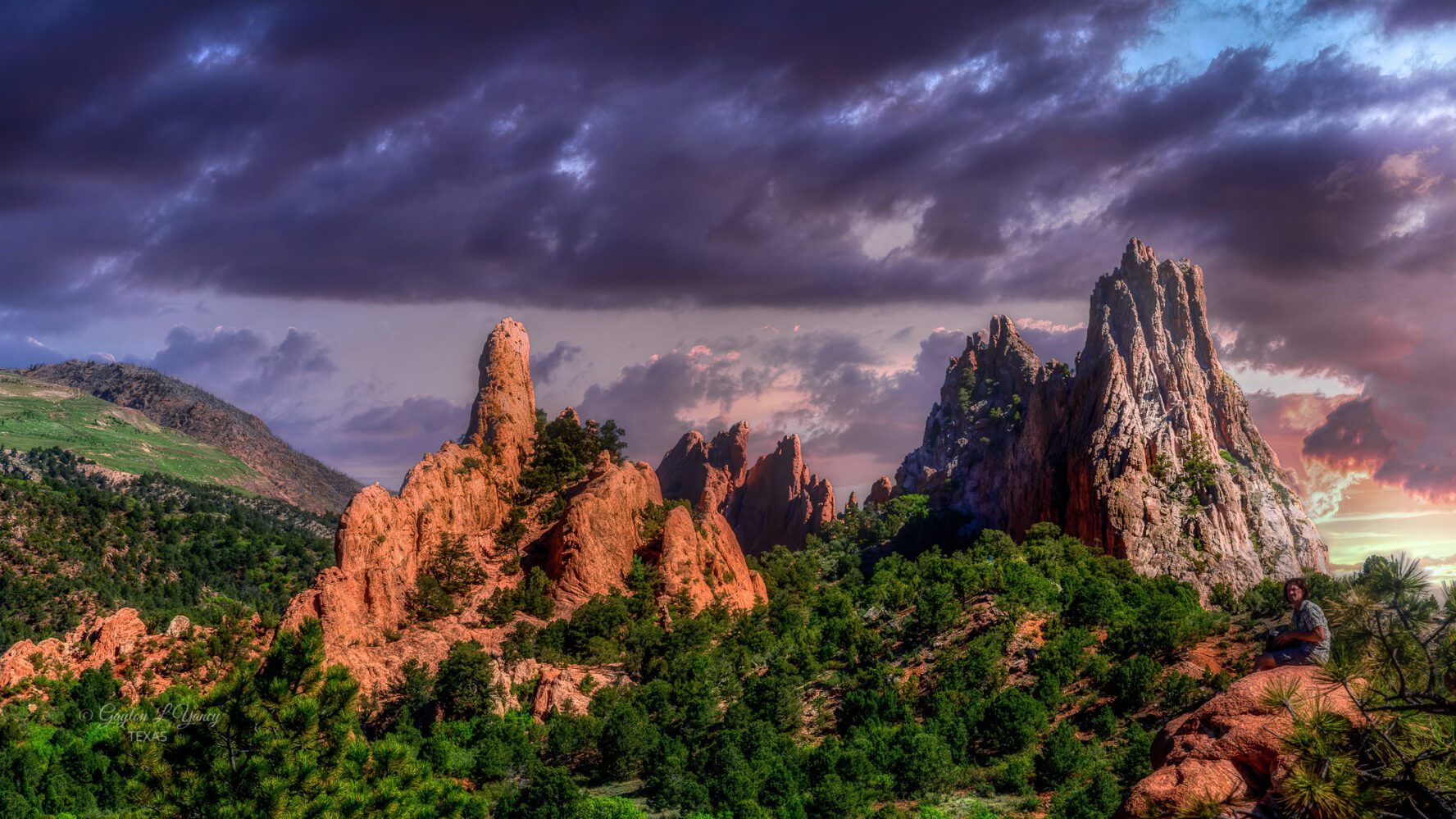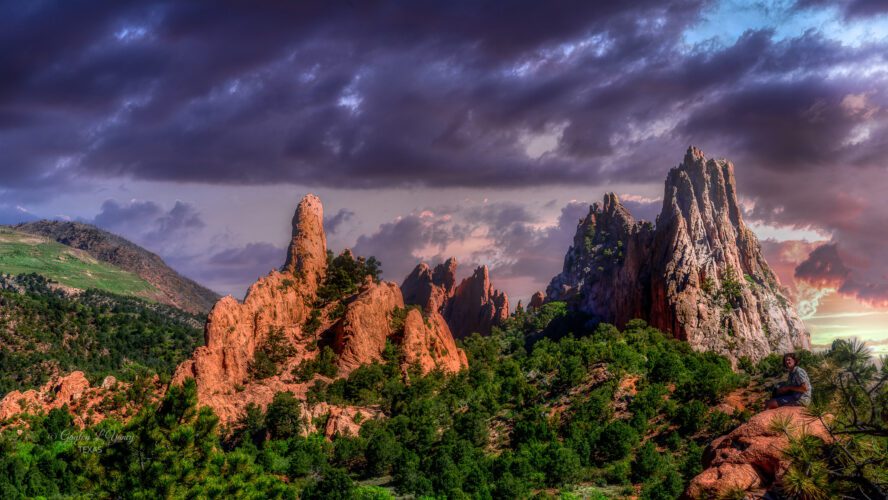 As old as the gods themselves
If you are looking for more astounding rock formations while hiking in Colorado, I recommend that you take the trip to Colorado Springs to visit Garden of the Gods. Just over an hour and a half south of our previous hike, at the foot of Pikes Peak, these massive sandstone towers began as horizontal layers that were eventually pushed upward by the formation of Pikes itself.
The rocks that you find here are millions of years old and many showcase ancient fossils. One of the most well known features in the park, Balanced Rock, is made of conglomerate and is about 300 million years old! You will also see different types of shale, Niobrara, and Mason Gravel, which is the newest layer of stone in the area, coming from glaciers on Pikes Peak.
A pantheon of Colorado day hikes
There are 21 miles of trails here, with options from mile-long to longer navigations deeper into the park. The Central Garden Trail is the park's most accessible hike—a paved mile and a half trail that has little elevation gain yet takes you to the base of some of the largest formations. To get out further and awat from the crowds, try the Chambers/Bretag/Palmer Trail. This takes you around the circumference of the park and is about three miles long, featuring impressive views and more challenging terrain.
The Garden of the Gods park is free to visit and has a little something for everyone. In addition to hiking, the park has a visitor center full of exhibits, a café (if you like to walk with your coffee like I do), and of course, a souvenir shop.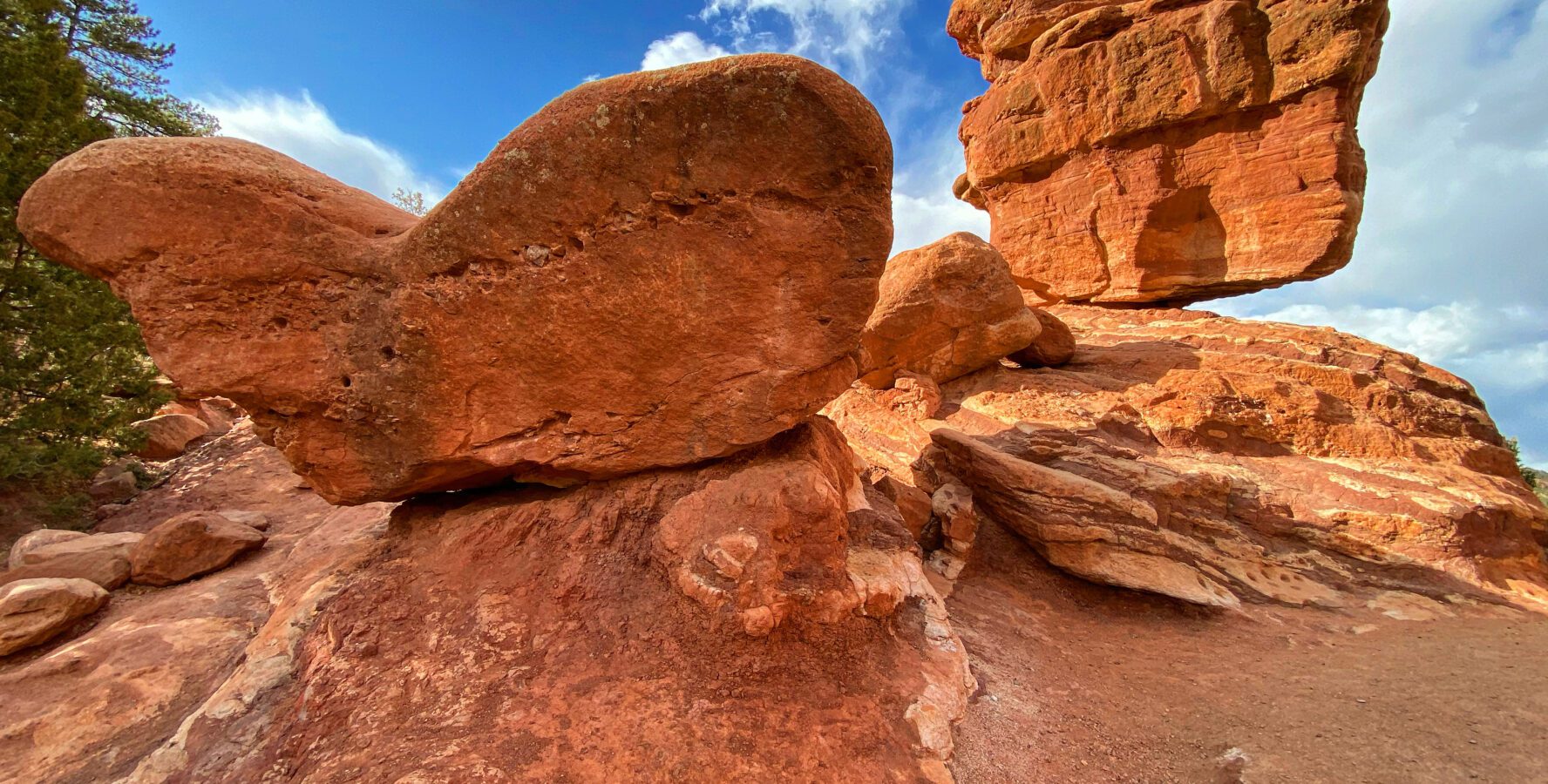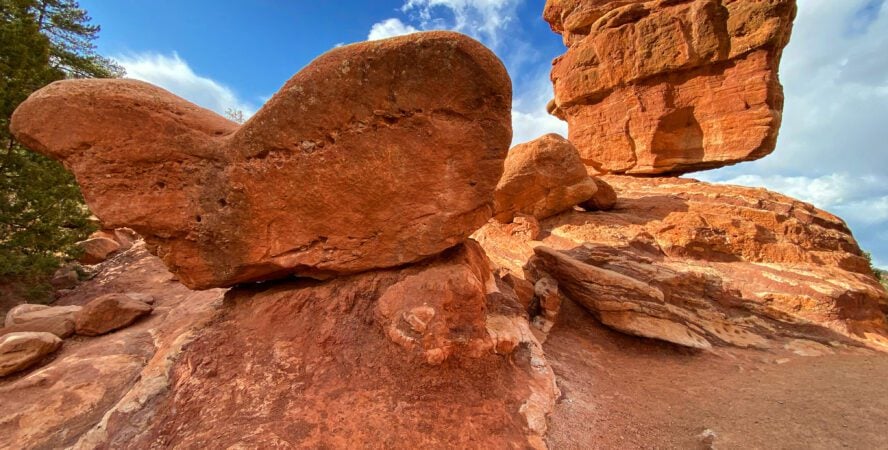 Garden of the gods - Colorado Springs, CO - 4K footage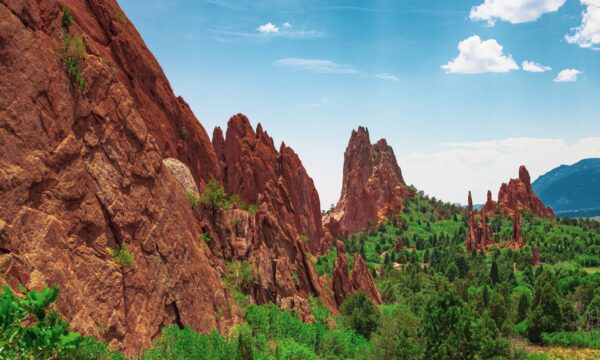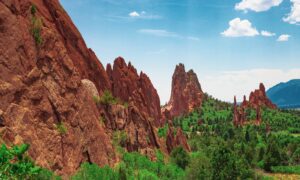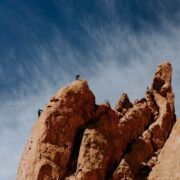 5. Garden of the Gods, Colorado Springs - Good to Know
Distance
Trails vary from just under 1 mile to 3 miles, but can be linked to create longer routes
Terrain
Paved, singletrack, varying from soft dirt to smooth sandstone
Permit
Only needed for commercial use (groups over 25)
How long does it take to hike?
The shorter hikes can take around 20 minutes, while the longer hikes can take 2+ hours
Elevation Gain
Just under 600 feet
Best time to hike
Early in the day or late afternoon in spring-fall to avoid crowds and heat. Otherwise, check out Garden of the Gods in the winter, when the crowds are smaller. If you catch some snow on the red rock, it's a stunning sight!
Insider tips
Keep your feet on the ground in the park! While climbing is permitted on certain routes with prior registration, climbing more than 10 feet up on these tall rocks is illegal and could result in stiff fines
Blue Lakes Trail, Breckenridge
6. Blue Lakes Trail, Breckenridge
TOP CHOICE FOR Family-friendly lake destination
Short trail, accessible to young and old
Plenty of wildlife, such as mountain goats, marmots, and pika
Can drive to Lower Blue Lake too
Road can be bumpy and rough early and late season
Trail doesn't branch off like other popular hikes, leaving few options to expand your itinerary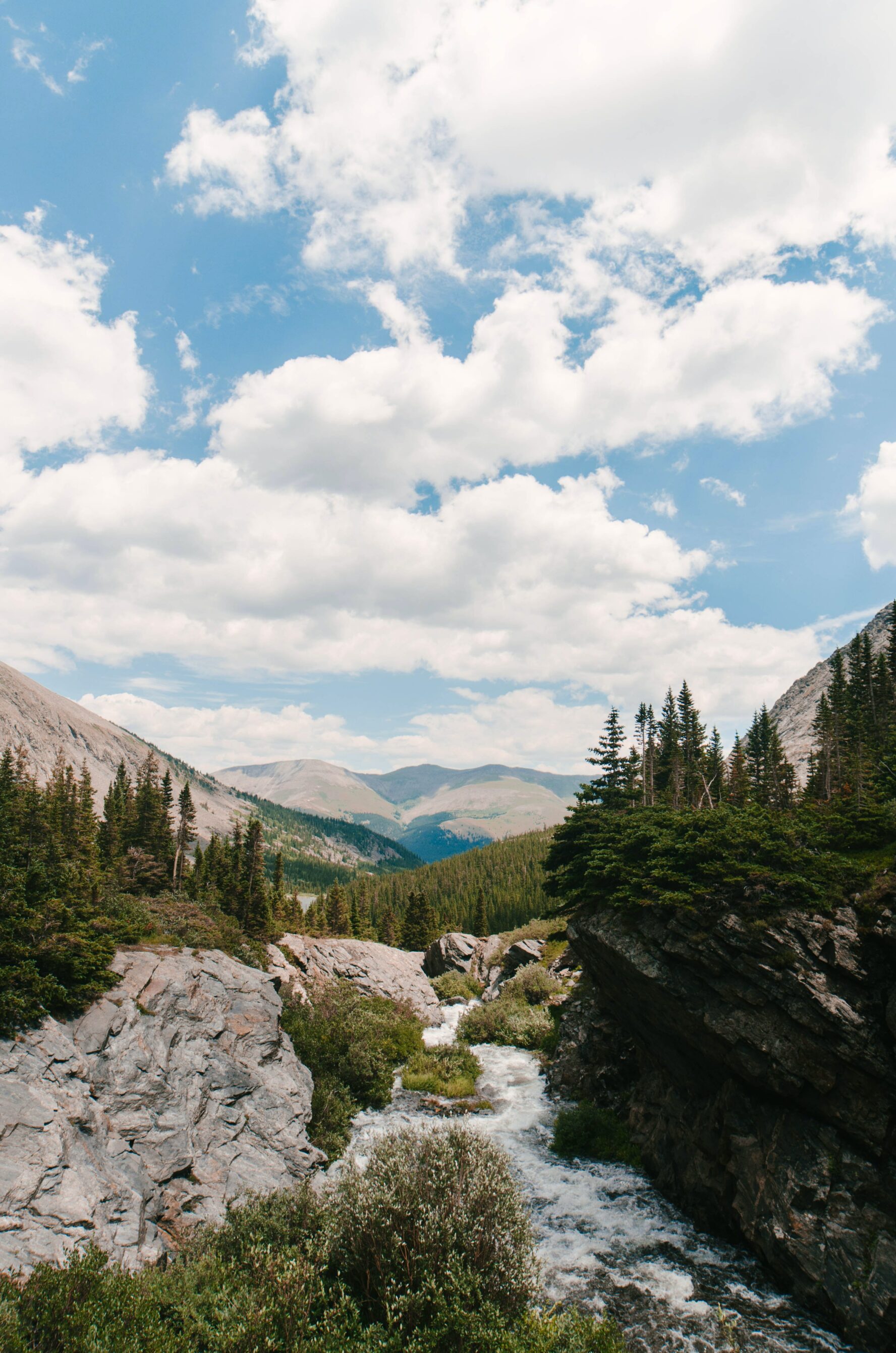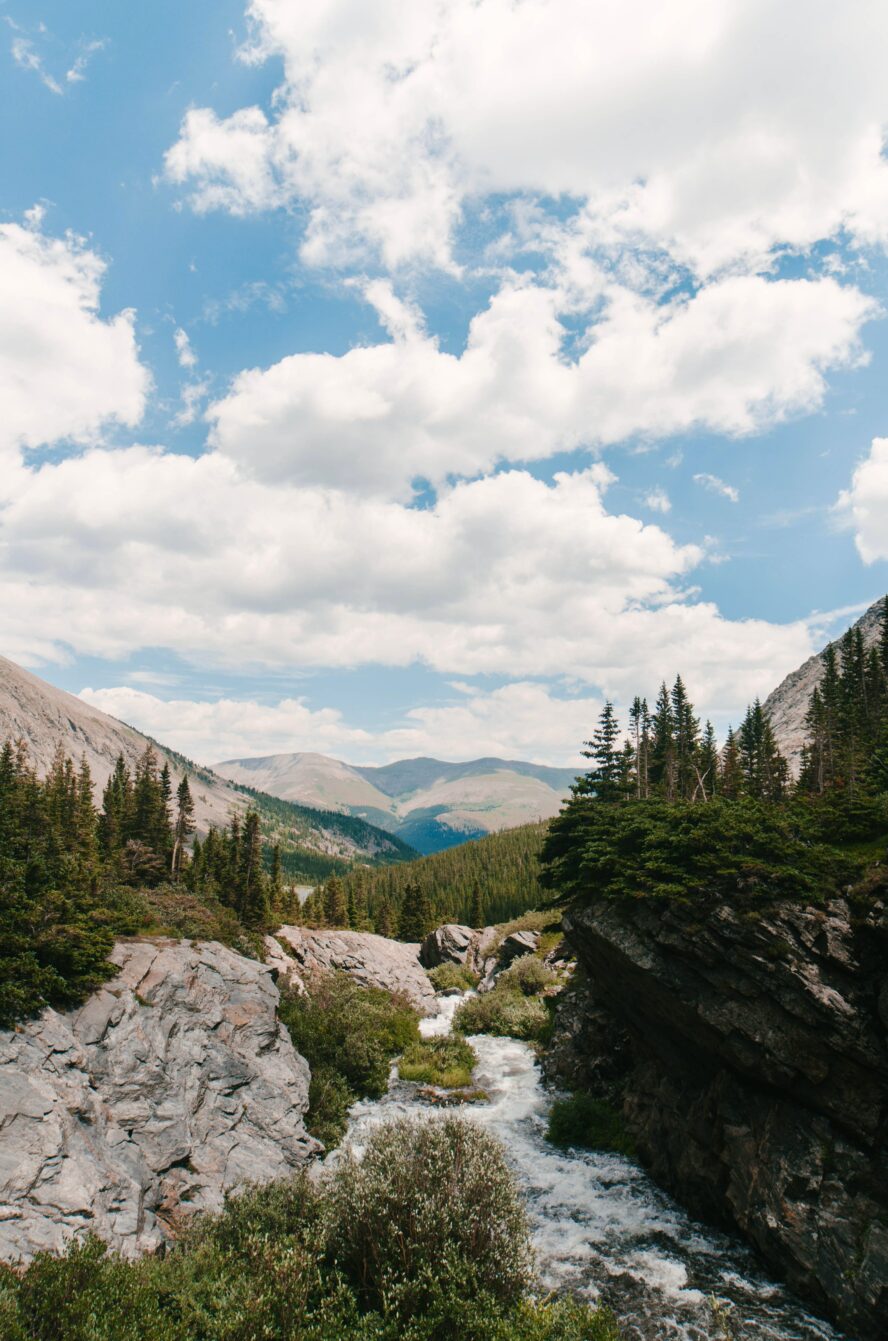 One of the best hikes in Breckenridge
Breckenridge sits at an impressive 9,600 feet and is synonymous with skiing. What people may not know, is that for all of the hype that this town gets in the winter, most locals will say that they stay for the summers.
In my opinion, summer in the Colorado mountains is perfect. The temperatures at higher elevations average between 68 and 75 degrees in the hottest months and you can usually count on an afternoon thunderstorm to roll in. While you may not see leaves on the trees until mid-May, the mountains eventually turn a bright shade of green and get sprinkled with some of the most amazing wildflowers I've ever seen. The runoff from the snow creates full creeks and rivers, and waterfalls are common. If that doesn't make you want to get out for a hike in Colorado, I'm not sure what will!
Blue Lakes Trail: One of the best day hikes in colorado
A favorite in Breckenridge, the Blue Lakes Trail brings together rugged high alpine landscape, streams, and wildflowers. Not to be confused with the Blue Lakes Trail in the San Juans, this trail is just about 20 minutes outside of town, though the gravel road to the trailhead can be rough, so 4WD is recommended but not required.
Start by parking at the dam at the lower lake and take the trail up to the second lake. Here, you can see a popular fourteener, Quandary Peak, which has its own trailhead that you pass on your drive up.
While it's not a long hike, you will still want to come prepared with some layers and water, as it's likely for storms to roll in and the temperatures to drop at this elevation. If you are with very young children or elderly parents, a walk around the lower lake is an accessible, yet still enjoyable alternative. And for a multi-sport day, consider two wheels too—Breckenridge is a premier mountain biking locations in Colorado.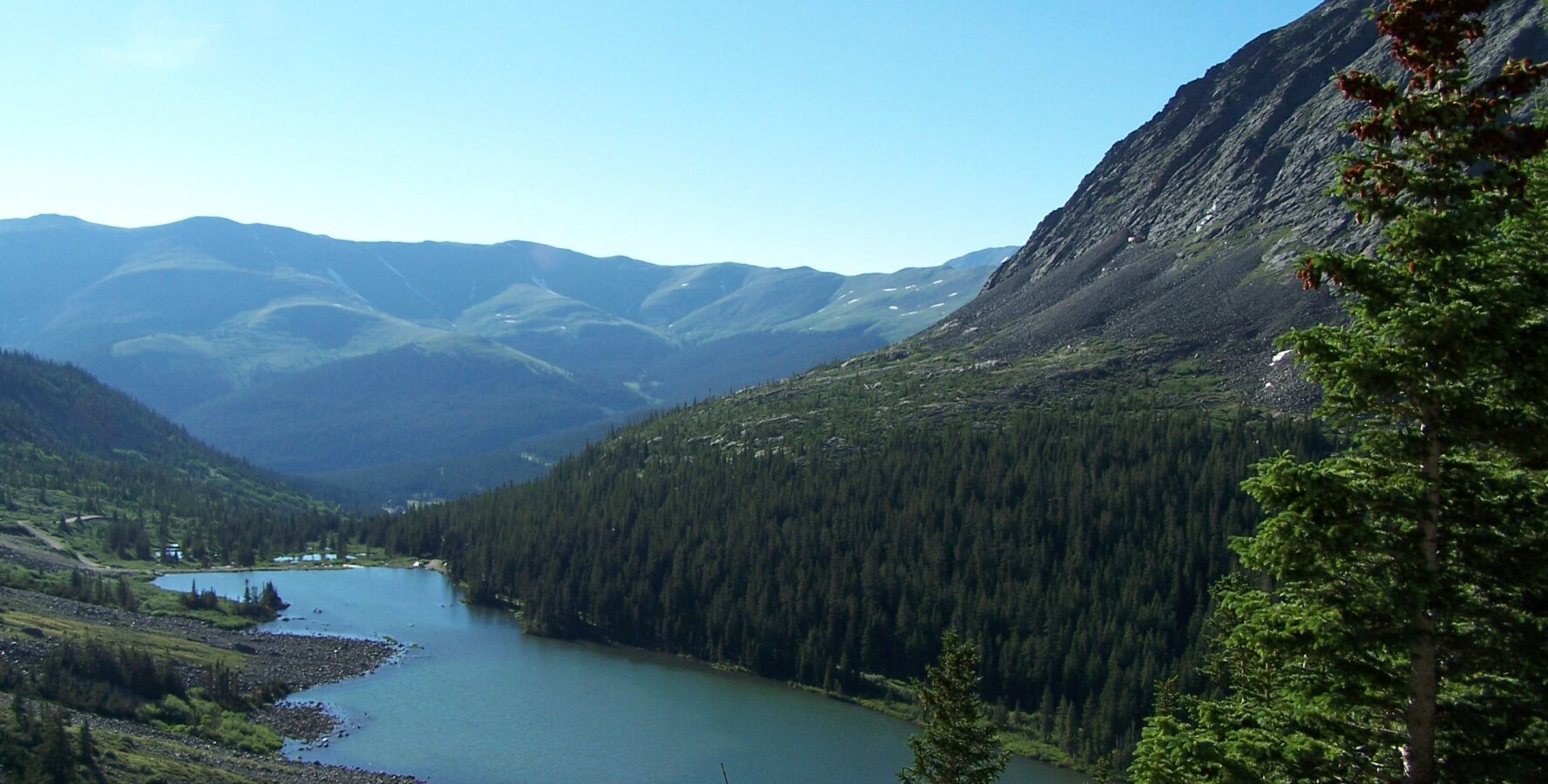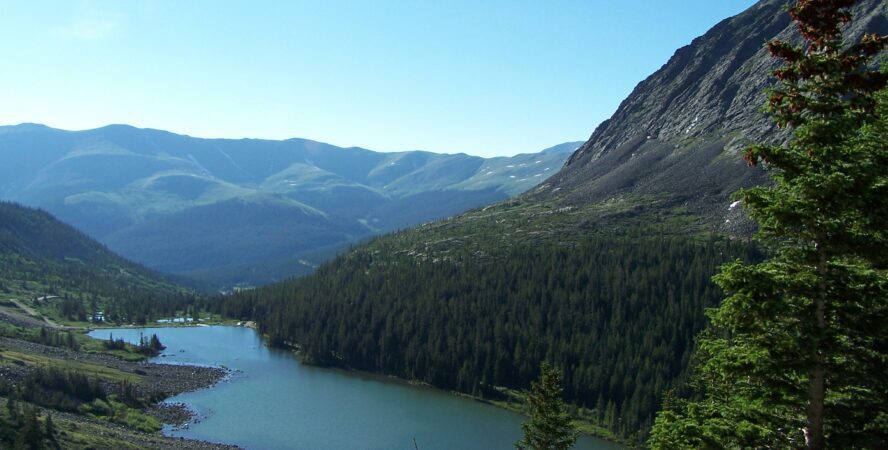 Breckenridge, Colorado | Probably the best short hike I've ever done...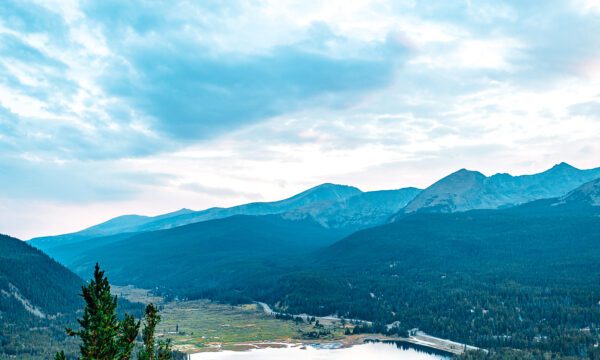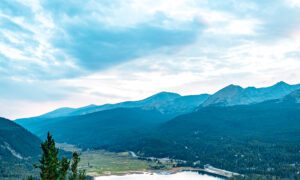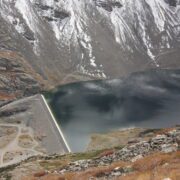 6. Blue Lakes Trail, Breckenridge - Good to Know
Terrain
Gravel road to tight single track with scattered roots and rocks
How long does it take to hike?
Around 45 minutes
Best time to hike
Mid-summer to early fall
Insider tips
The trail starts at over 11,000 feet, so prepare by bringing appropriate layers and lots of water to combat the effects of high altitude
The Scenic Loop Trail, Maroon Bells Scenic Area Aspen
7. The Scenic Loop Trail, Maroon Bells Scenic Area Aspen
TOP CHOICE FOR fall colors
Several options for hiking
Aspen Highlands Center offers a free shuttle to the park from 8:00 a.m. to 5:00 p.m.
Must choose between a parking or shuttle reservation when visiting from summer to fall
The area is susceptible to quick moving afternoon thunderstorms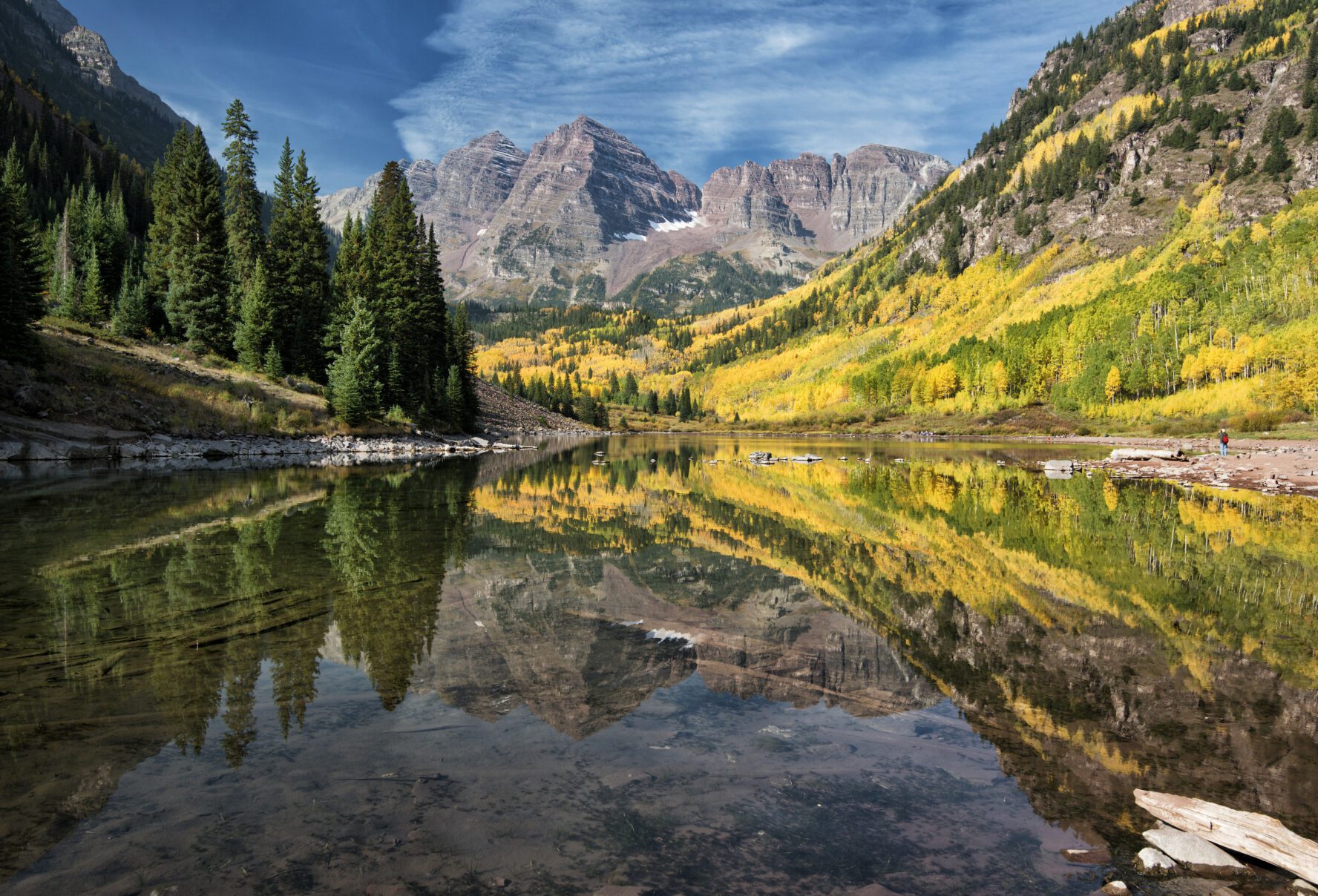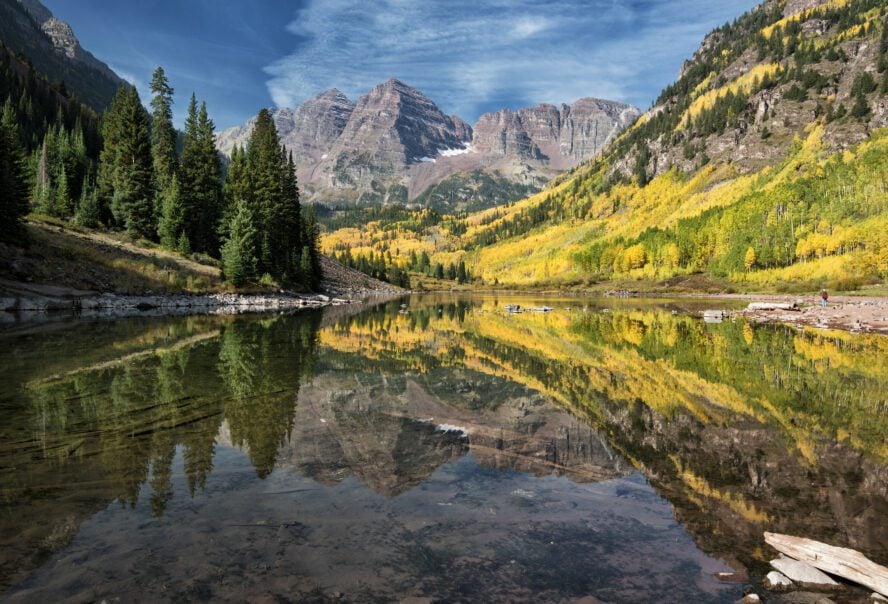 Some of Colorado's most recognized mountains
The next hike is in Aspen, east of Breckenridge, in the Maroon Bells Scenic Area. Maroon Bells gets its name after two bell-shaped fourteeners: Maroon Peak and North Maroon Peak which are located within 181,595 acres of the Maroon Bells-Snowmass wilderness of the White River National Forest. The Maroon Bells Scenic area is a major access point for people traveling into the Wilderness area and is also home to several trails, camping, and wildlife.
Hiking Maroon Lakes Scenic Trail is full of color and wildlife
Hikes in the Maroon Bells Scenic area can range from easy one-milers to moderate 13-mile adventures. A favorite among these is the Maroon Lakes Scenic Trail, an (almost) 2-mile loop on a wide, maintained path up to Maroon Lake.
As you follow Maroon Creek, keep an eye out for moose and beavers, which inhabit the area (and because of this, dogs are not allowed). Along the way enjoy views of the Bells rising above Maroon Lake and in peak summer, bathe in wildflowers blanketing the ground around you.
A more challenging hike heads to Crater Lake, which is about 3.6 miles and considered easy-moderate. This trail leads you through groves of aspens and rocky scree fields. Looking for an adventure? Try the West Maroon Pass trail, a difficult 10.2-mile hike which shows you just how close Crested Butte is, even if it takes hours to get to by car.
Don't get marooned, plan ahead
Getting to the Maroon Bells Scenic Area takes a bit of planning. Beginning in 2021, all vehicles traveling into the park require a parking reservation from mid-May to mid-October—note that this is one of the heaviest used recreation areas in the state, so booking early in the season is key!
For a day visit, you must arrive before 8 a.m. After that, vehicle traffic is restricted to shuttle use only. There is an option to be dropped off at the trailhead between 6 and 8 a.m. but keep in mind that you will need a shuttle ticket to leave the park too. Learn more about Maroon Bell reservations and permits here.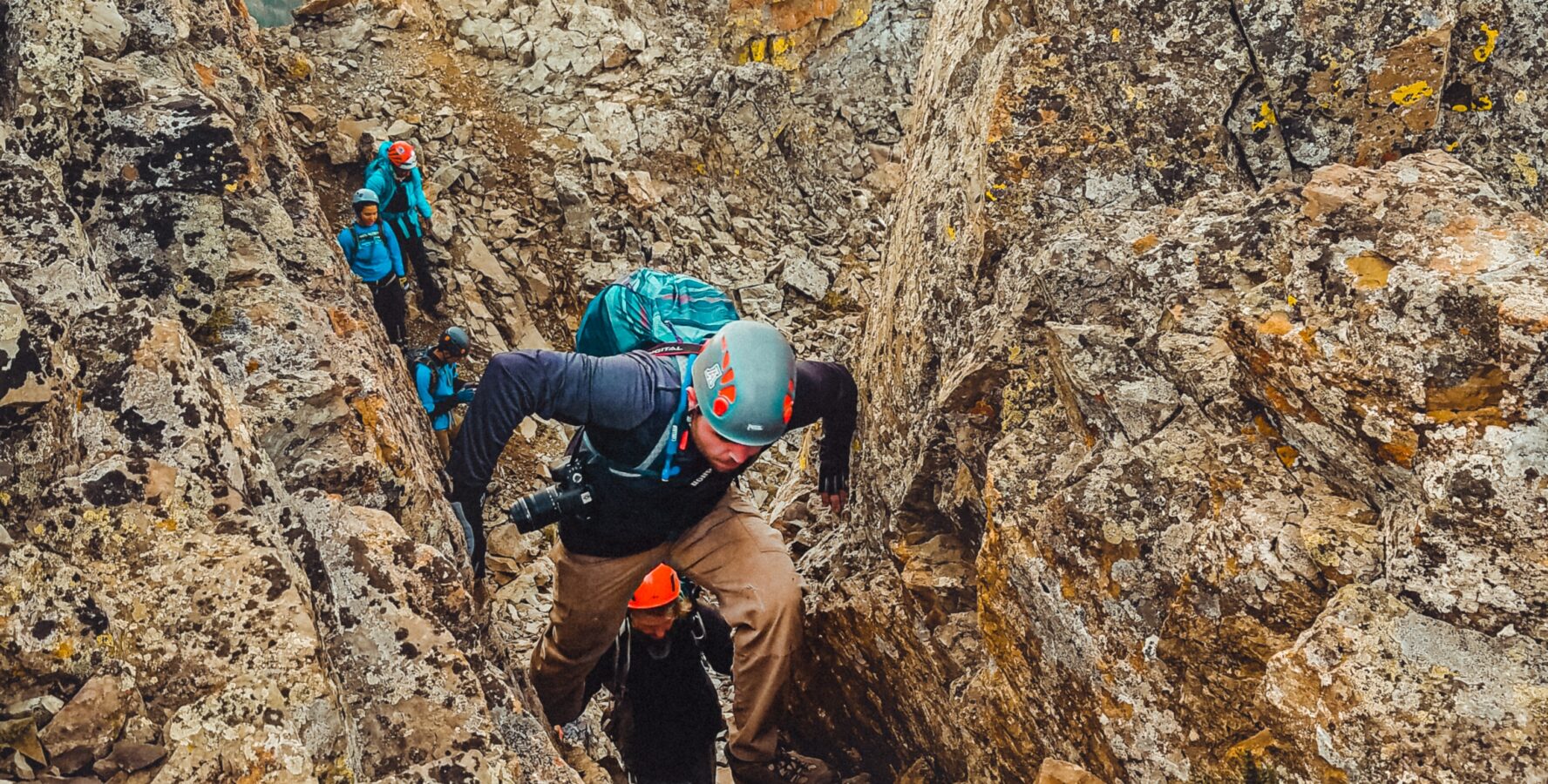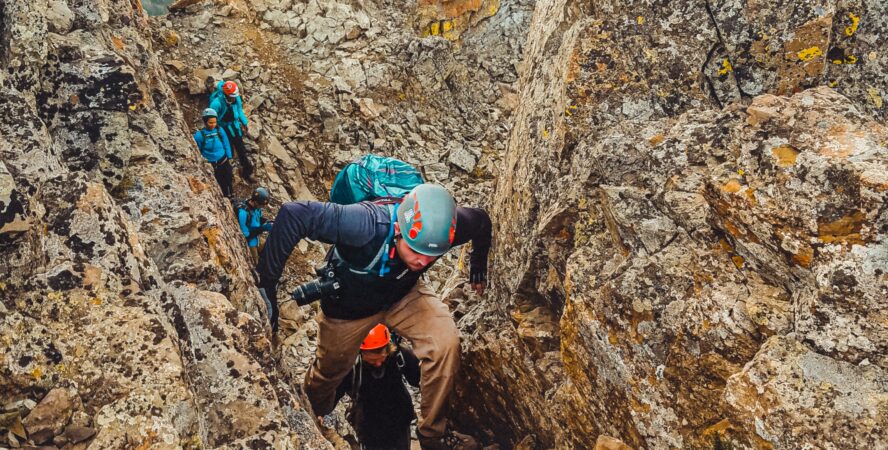 MAROON BELLS Aspen, Colorado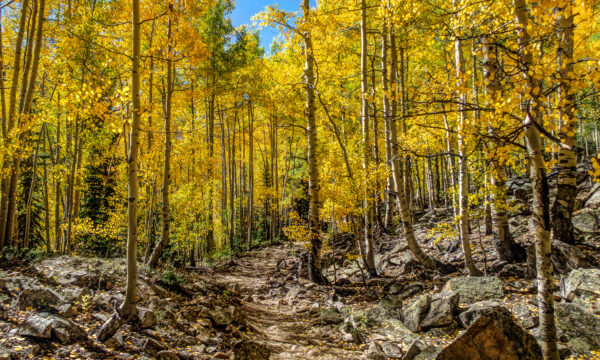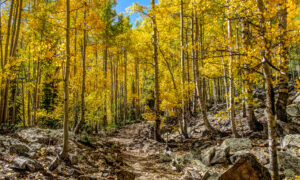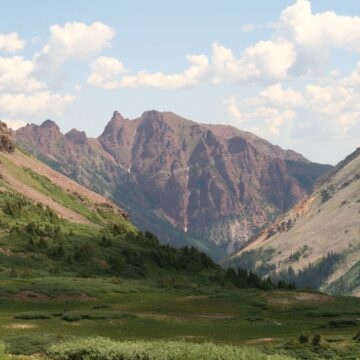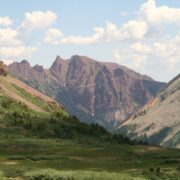 7. The Scenic Loop Trail, Maroon Bells Scenic Area Aspen - Good to Know
How long does it take to hike?
45 minutes
Best time to hike
May – October
Insider tips
Book your reservations early to ensure a spot in the park!
Ouray Perimeter Trail
8. Ouray Perimeter Trail
TOP CHOICE FOR hiking directly from town
Less crowded than many others on the list
Engaging trail with lots of man-made and natural points of interest
Offers several access/exit points along the way to get back to town
Off the beaten path—it takes 4-6 hours to get to from the Front Range
May not be for you if you don't like heights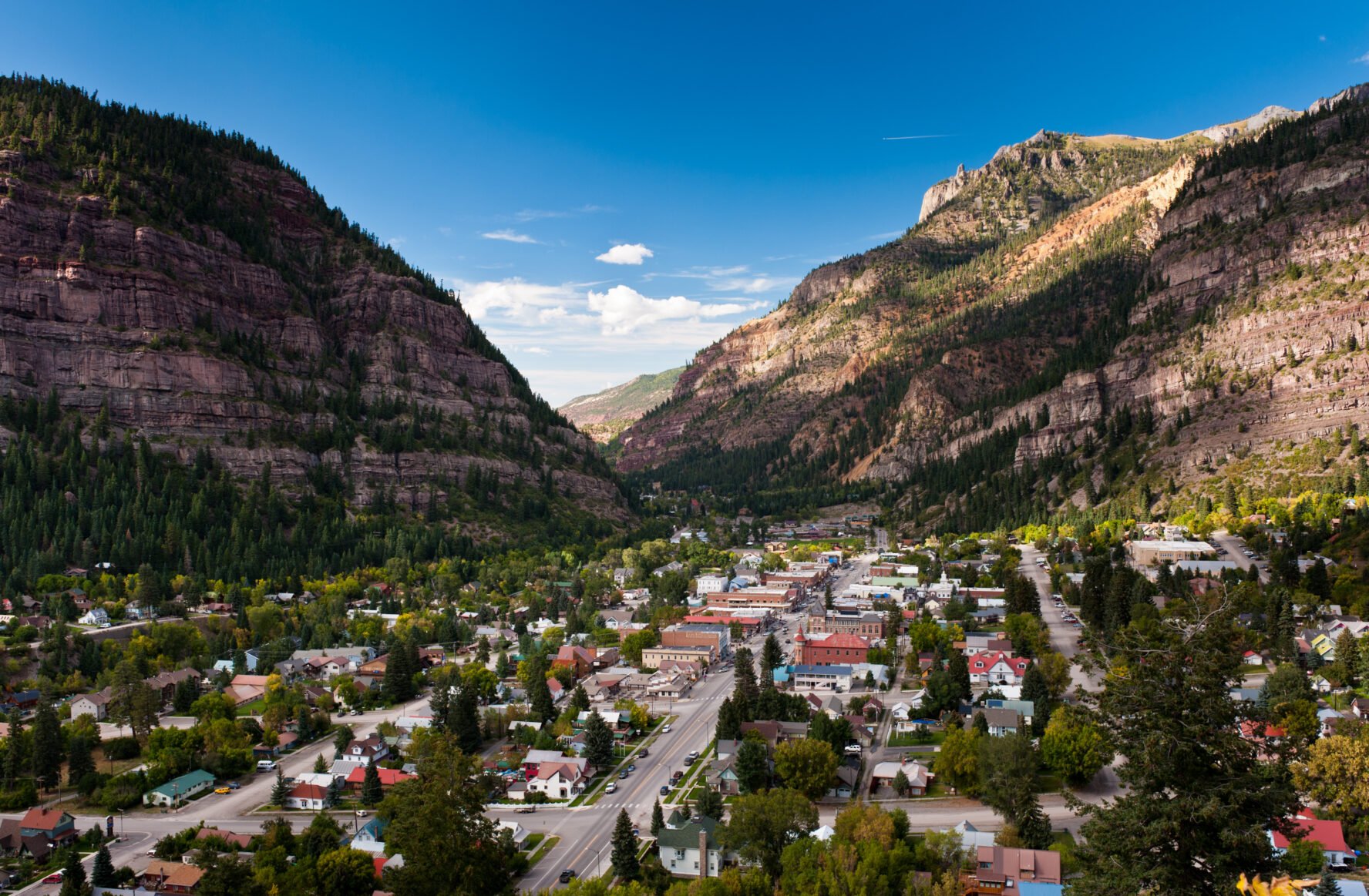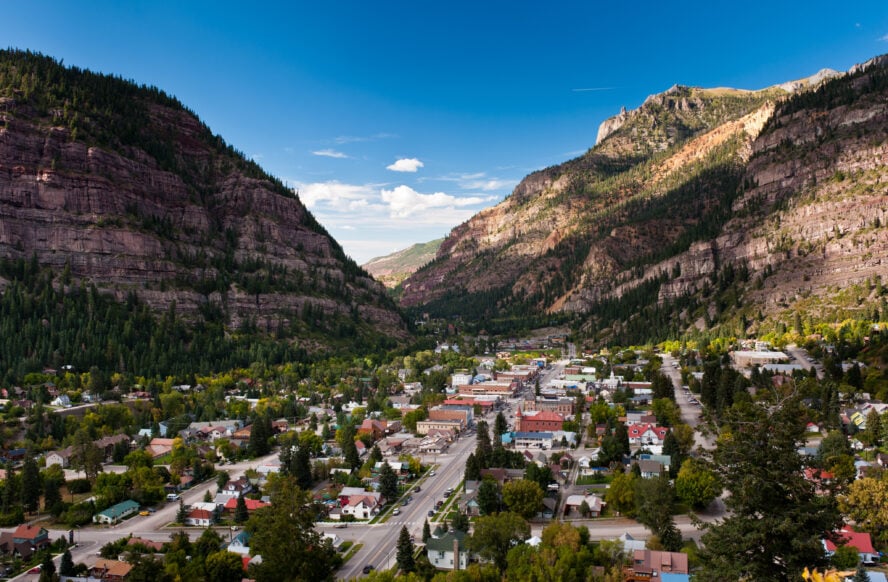 Turning gold to white gold, Ouray is an outdoor boomtown
The last stop on our best hikes in Colorado tour takes us to Ouray (pronounced YOU-ray), which lies far into the southwestern corner of the state in the San Juan mountains. Coined the "Switzerland of the US", this small town with a population of just over 1,000, is surrounded by more fourteen thousand foot peaks than any other area in the country. Once a booming gold and silver mining town, Ouray is now famously known for its ice climbing.
Driving into Ouray is breathtaking. If you continue on towards Silverton and Durango, you can get your heartrate up without even getting out of the car by driving along the Million Dollar Highway—a portion of Highway 550 that narrowly winds its way through Red Mountain Pass. With no guardrails, the highway that sees more avalanches than any other in the country is a hair-raising affair.
A top trail in the Western Slope
The Ouray Perimeter Trail is an engaging trail that encompasses Ouray's unique history and varied landscape from start to finish. The trail loops high above the town and takes you up steep mountain walls and down into canyons. You can count on seeing four waterfalls, five bridges, the Baby Bathtubs (little pools within the rock that are fun for kids and dogs to play in), a walk past the famed ice climbing park, and perhaps the most unique sight—a hidden troll.
While anytime between May and October is a good time to go, the driest and mildest weather usually occurs mid-May through late-June. The hiking is not particularly technical but you will encounter some sections of trail that have steep drop offs to one side and a tall bridge that crosses over a deep gorge. If you have a fear of heights, some of these sections may be challenging for you.
Due to its popularity, the town has placed log books along different sections of the trail. This is to help keep track of the hikers passing through in case of emergency, so take a moment to stop and sign in as you go. Since the trail circles town (you're actually never more than 500' above it) there are several options to exit the trail to get back. After your hike, head back into town to soak in the Ouray Hot Springs Pools—a relaxing way to treat your sore muscles.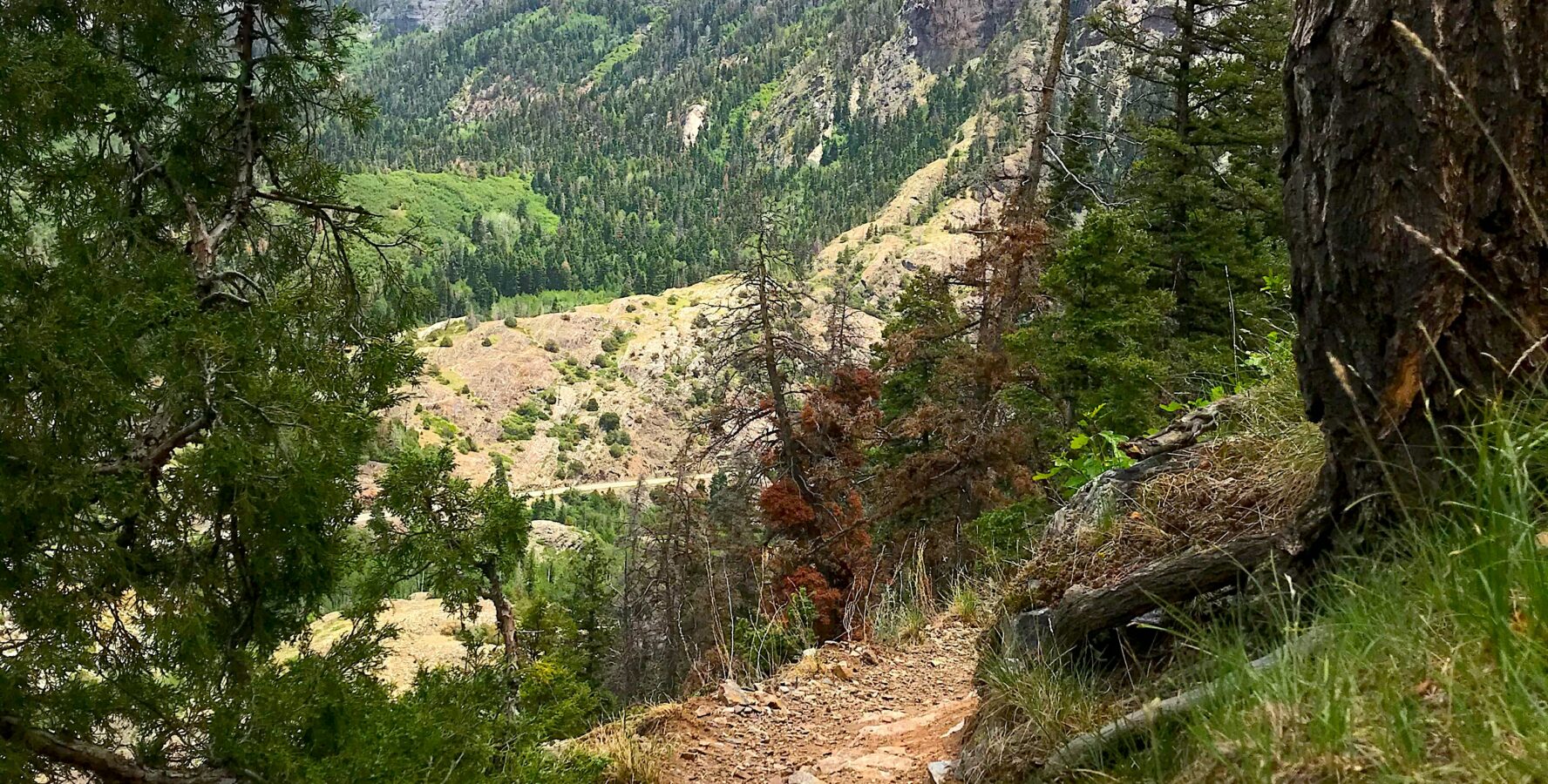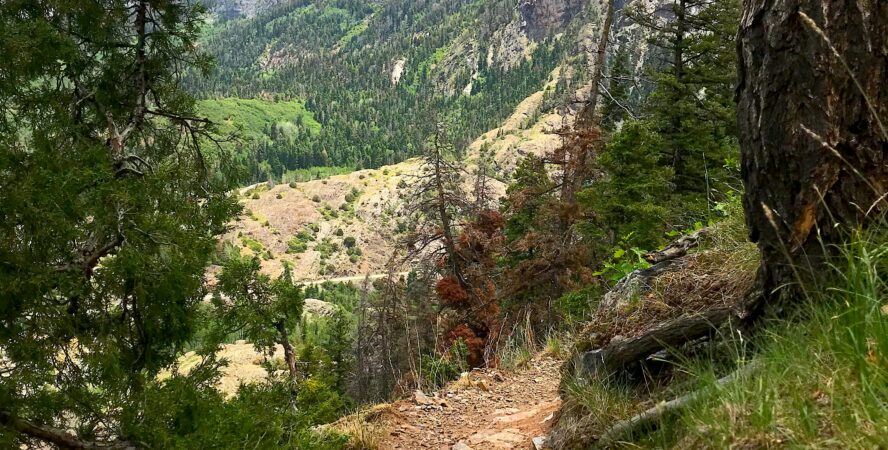 Visiting the Switzerland of America! (Ouray, CO) | Box Canyon, Cascade Falls, & Perimeter Trail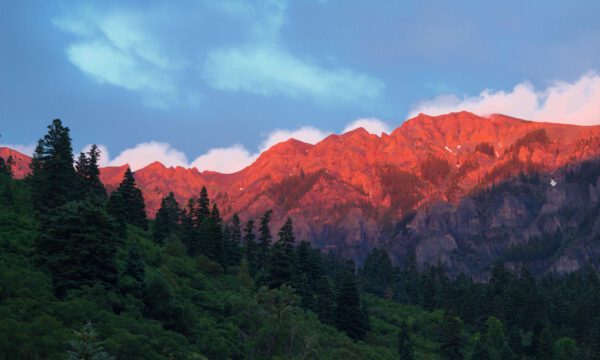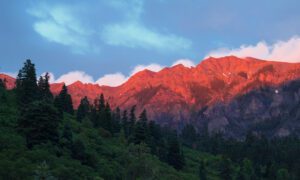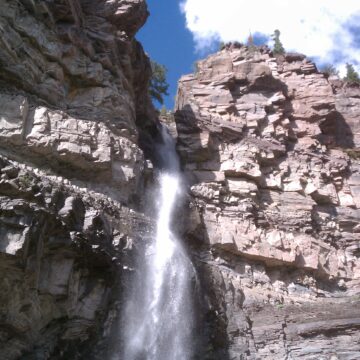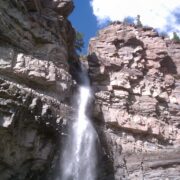 8. Ouray Perimeter Trail - Good to Know
Terrain
Varying with mellow to steep sections encountering bridges, rocks and rooty sections
How long does it take to hike?
4-5 hours
Best time to hike
June – October
Insider tips
This trail is never more than 500 feet from the city limits, so there are several options to break off and head back into town
Happy Hiking in Colorado!
All of these hikes in Colorado paint a beautiful picture of Colorado's rich landscape and history. Whether you are truly looking for a road trip map of some of Colorado's best hikes or hope to pick one out for a quick day visit, I believe this list will give you a great start. Here's to getting out, putting one foot in front of the other, and breathing that cold mountain air!