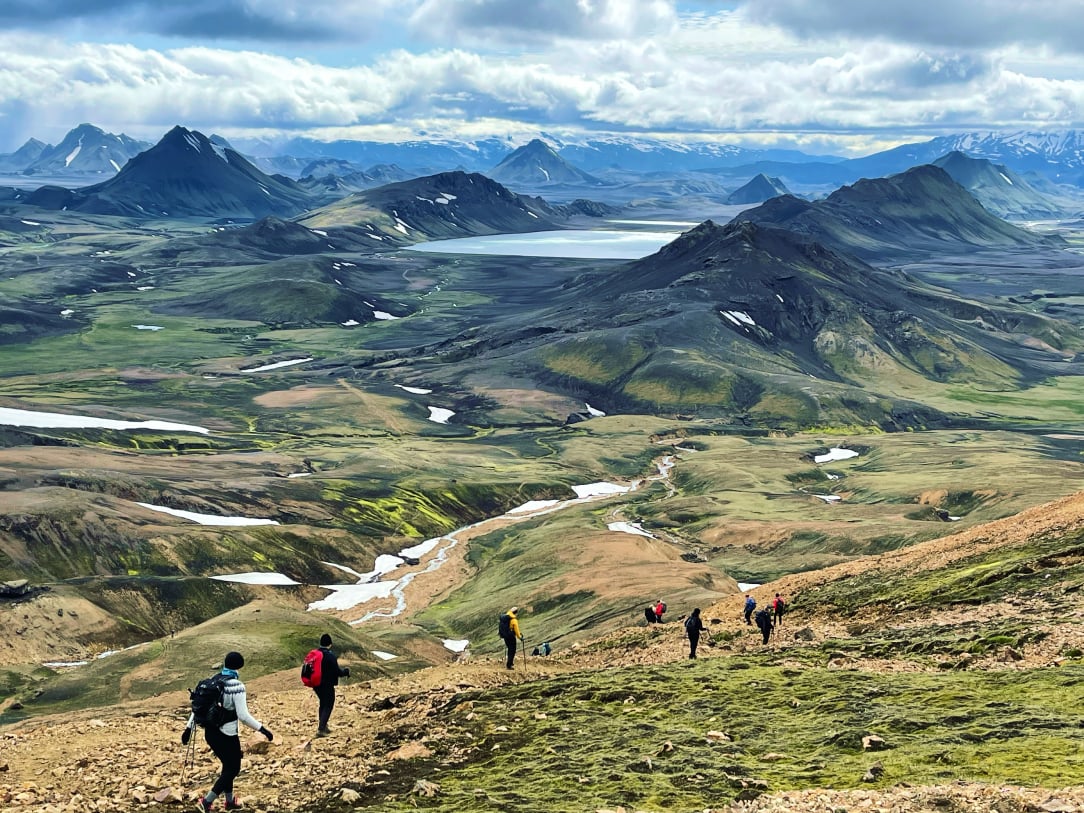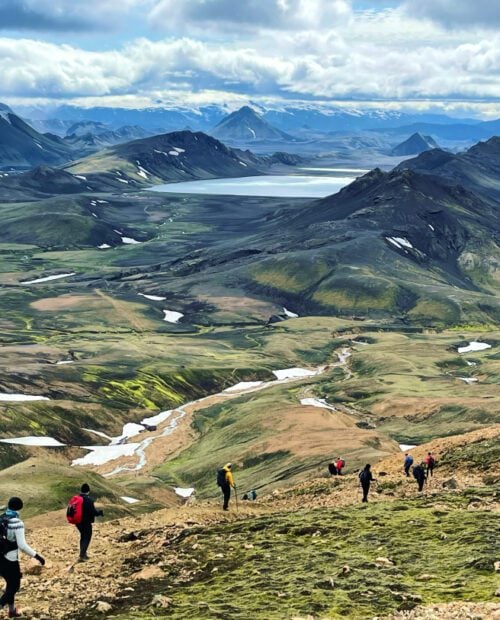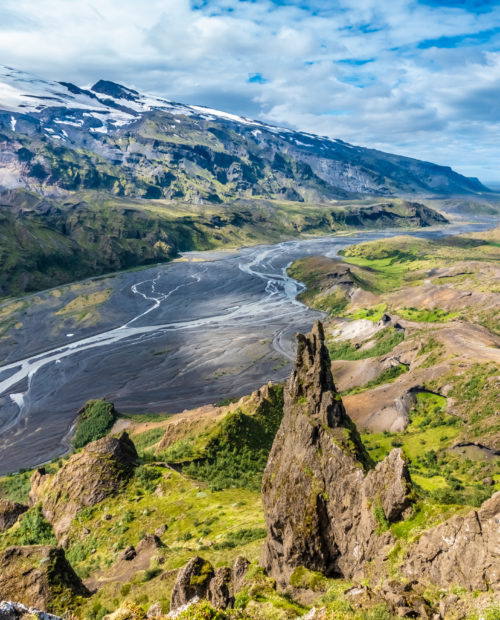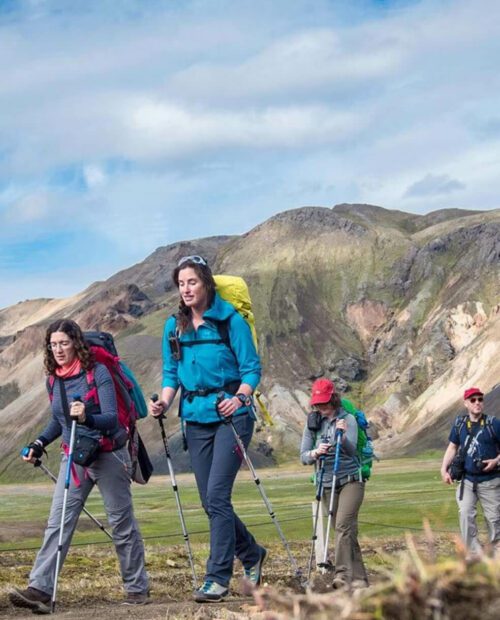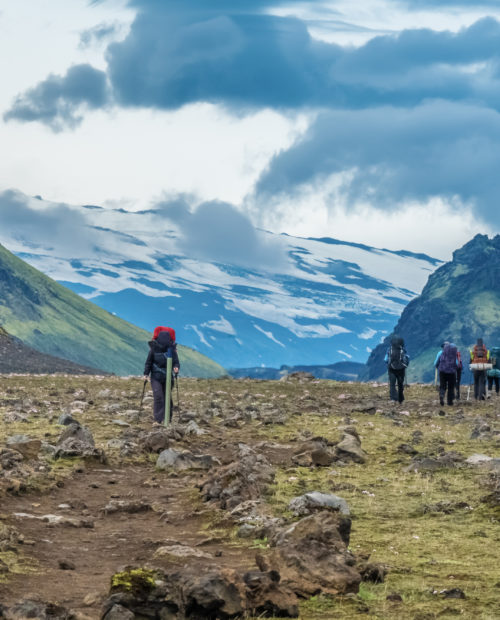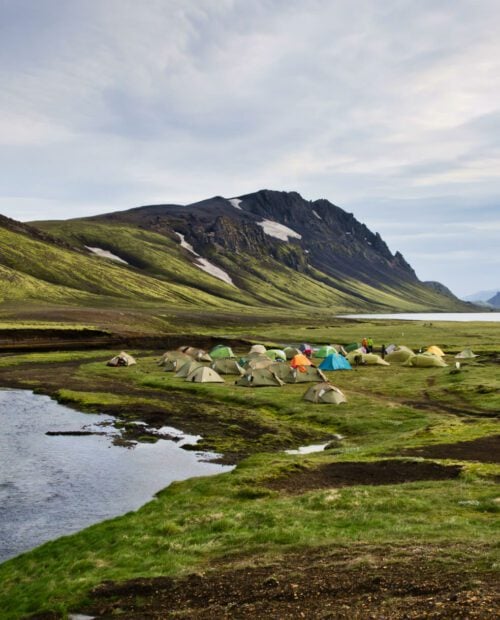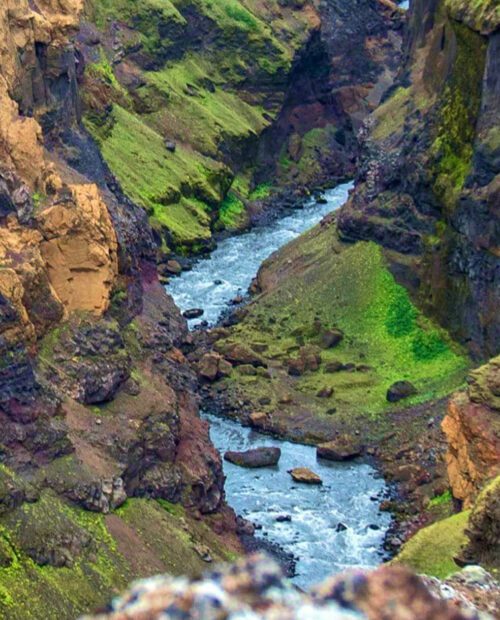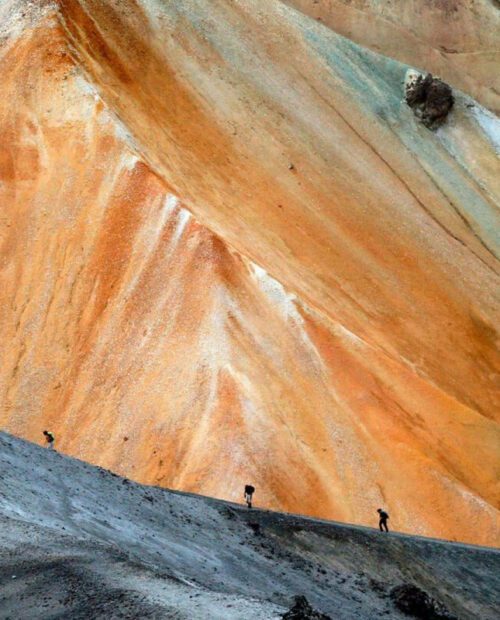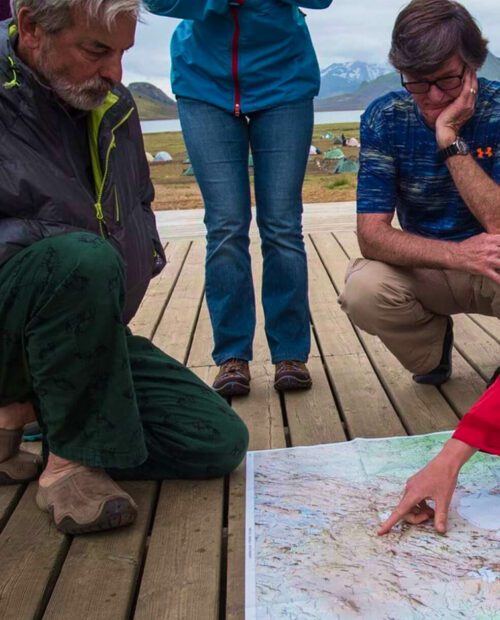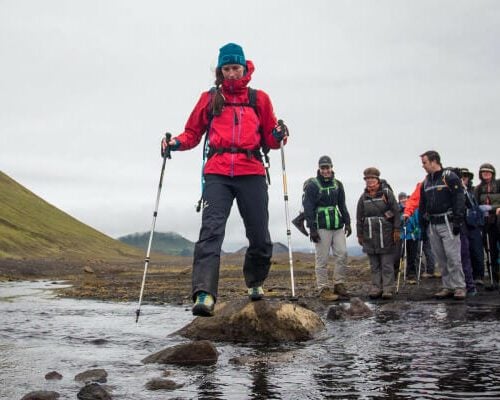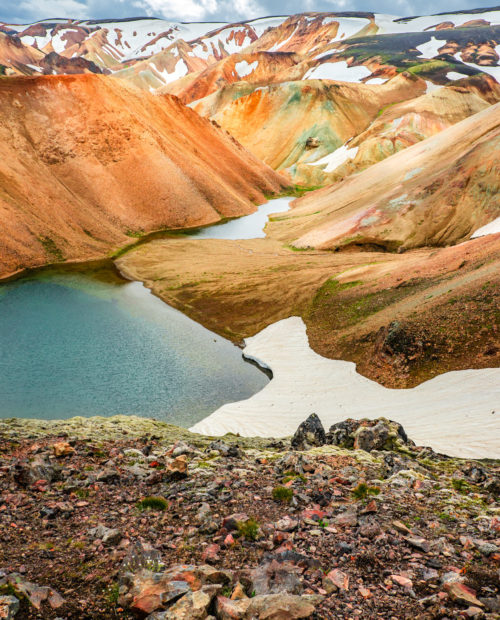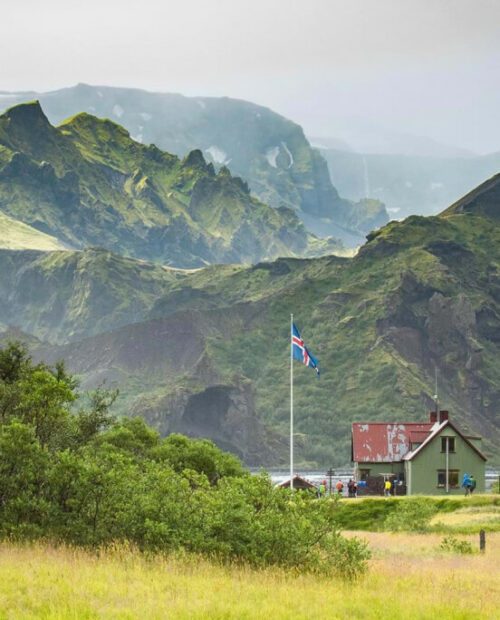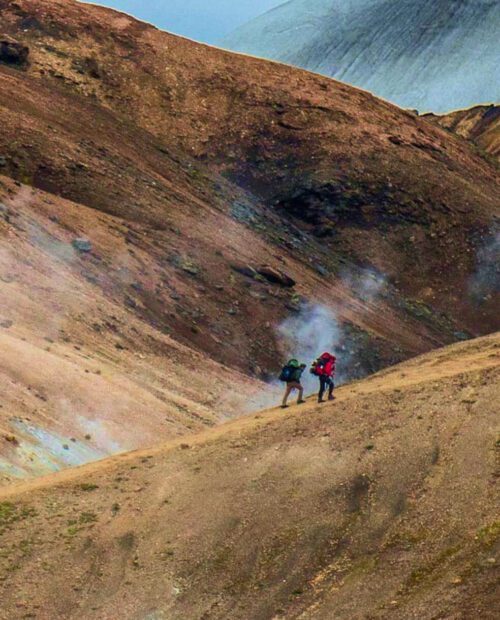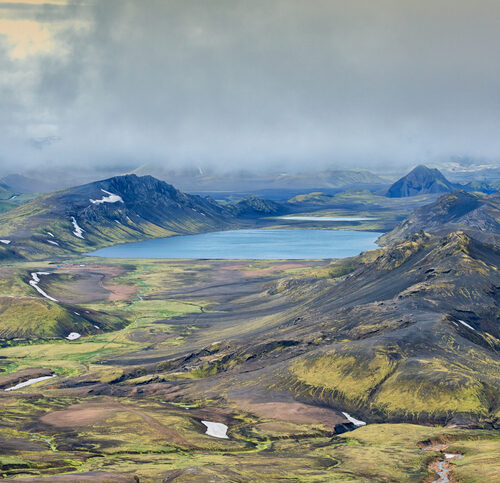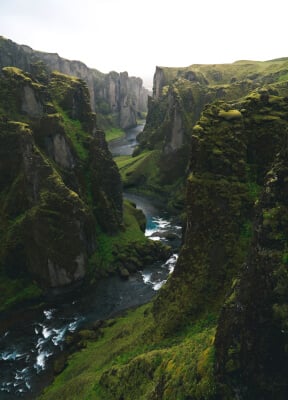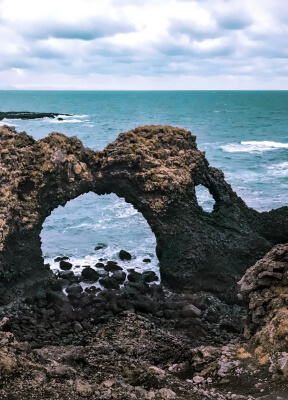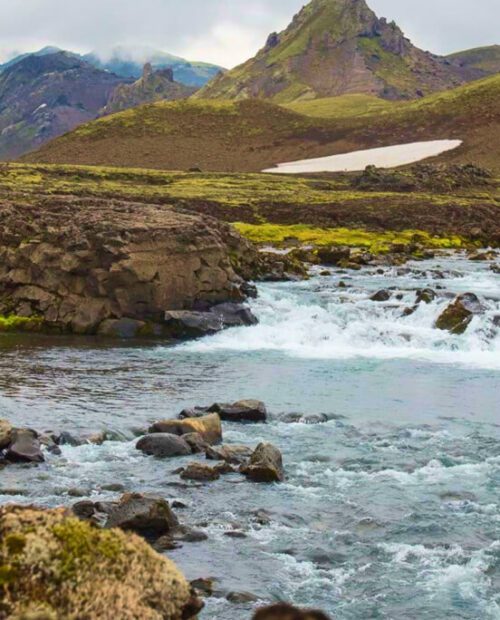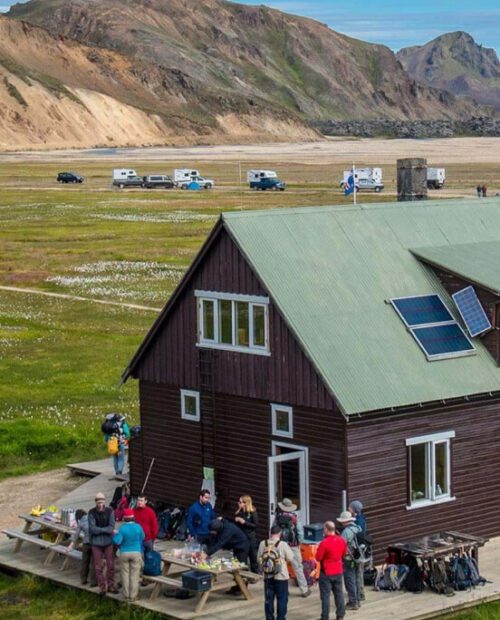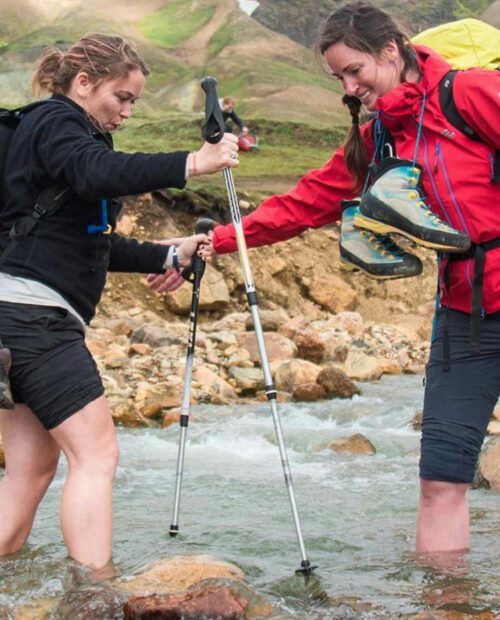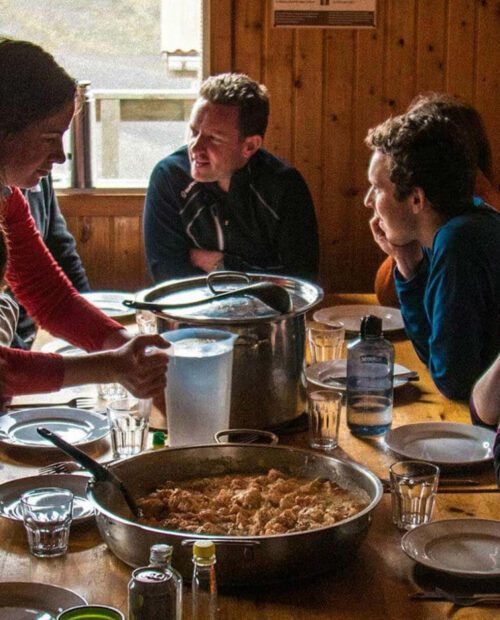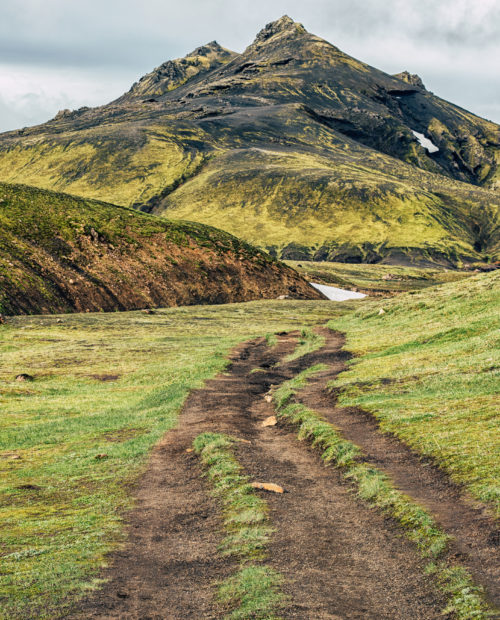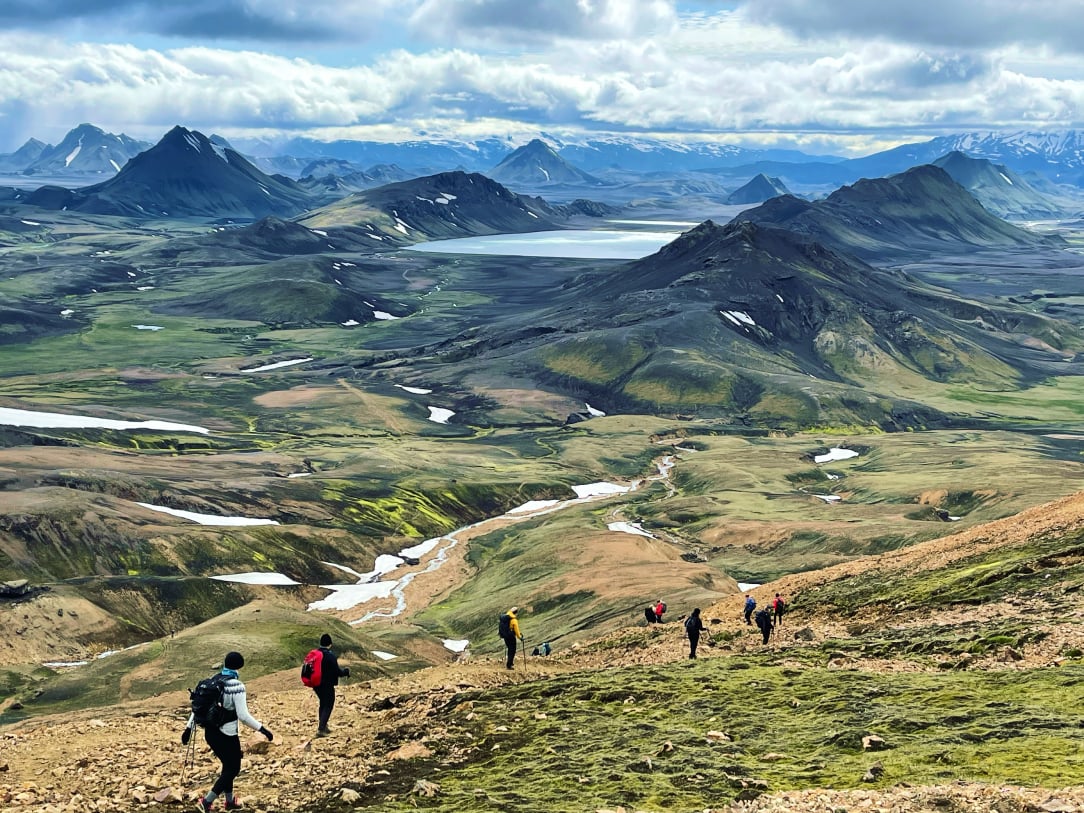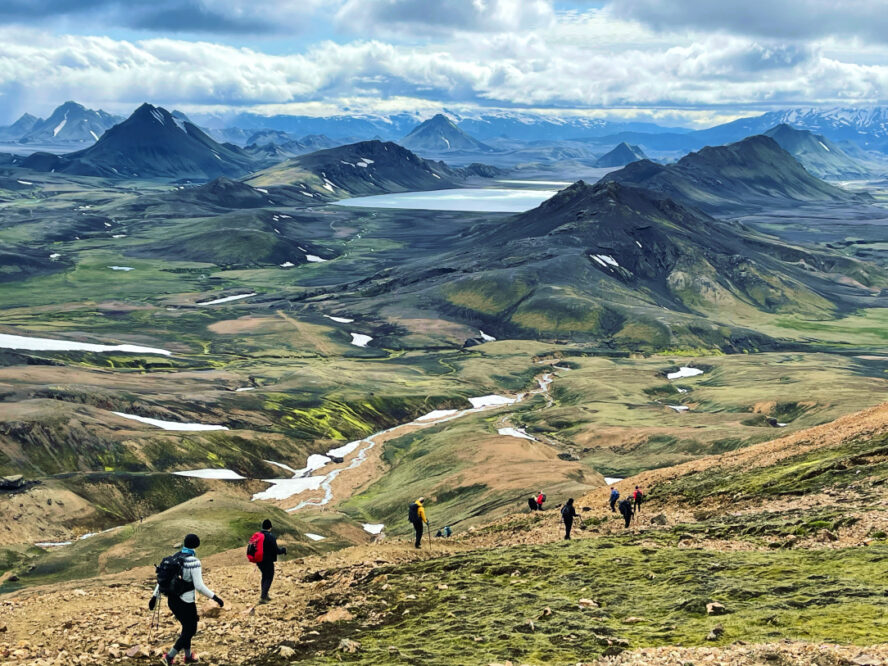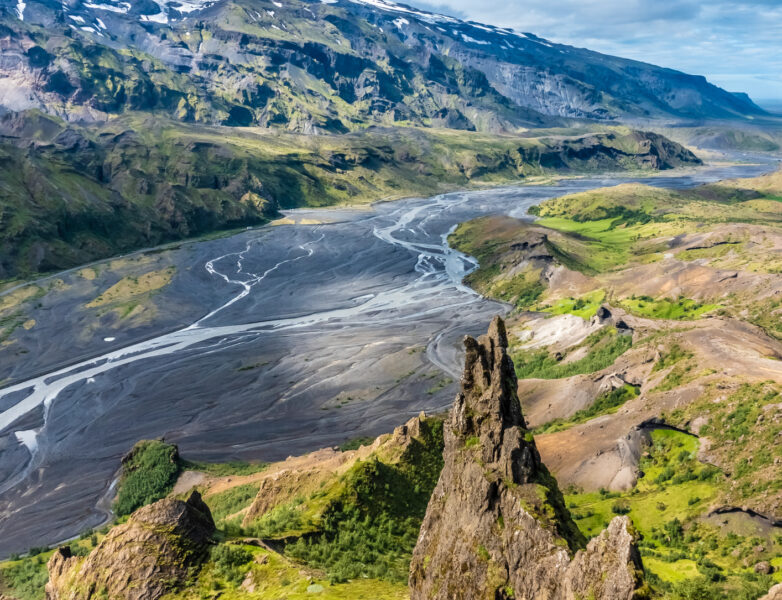 Walking through the ever-changing landscape of the Laugavegur Trail, you'll understand why Iceland is called the land of fire and ice. With its unspoiled wilderness forged by volcanoes and glaciers, and awash with natural wonders—rainbow-colored mountains, coal-black deserts, petrified lava and emerald valleys, waterfalls, glacial streams, and much, much more—hiking the the Laugavegur Trail takes you through the heart of Iceland. But there's more than meets the eye (if you can believe it), and your expert guides will take you to hidden places that lie off the beaten track. Find out why this is one of the best hiking destinations worldwide according to Maggie Slepian, backpacker, trail runner, climber, and mountain biker.
Explore glacier-fed lakes, deep canyons, and hidden waterfalls

One of the most incredible shorter thru-hikes in the world

Landscapes formed by millennia of glaciers and volcanoes
Choose itinerary
5-Day Classic Laugavegur Tour
Jun 19
|
Jun 26
|
Jul 03
|
+25 more
5-Day Women-Only Laugavegur Tour
6-Day Classic Laugavegur Tour
Jun 16
|
Jun 23
|
Jun 30
|
+20 more
Early Bird: 5-Day Women-Only Laugavegur Tour 2024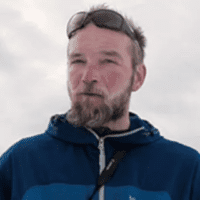 Jón is a very experienced summit and glacier guide for both summer and winter. He's been leading and co-leading expeditions in Iceland and Greenland and he has been an instructor to junior grades. Jón is an IMG and AIMG-certified glacier guide, a level...
View details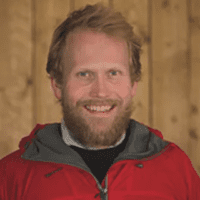 Sölvi Signhildar- Úlfsson
Sölvi Signhildar- Úlfsson
Sölvi is an experienced guide who enjoys looking for new fjords, valleys, and mountains. He spends his summers in the outdoors, feeling the folklore imprinted in the Icelandic and Greenlandic landscapes. Sölvi has a Ranger license, he's a certified hik...
View details
Sigþór was born in Reykjavík and he has been exploring the outdoors since an early age. After university, he moved to Spain as a tour leader. Sigþór decided to come back to his home country and he's been with IMG since 2004. Apart from being a passiona...
View details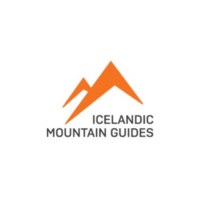 Icelandic Mountain Guides
Icelandic Mountain Guides
Hiking Guides
Icelandic Mountain Guides offer the perfect variety of experiences to satisfy anyone's desire for adventure. Whether you want to relax in the unparalleled beauty of Iceland's nature or take a more challenging adventure, they've got you covered. The pos...
View details
5-days Laugavegur trek, an experience of a lifetime!
Frances C
about
Icelandic Mountain Guides
on TripAdvisor
How do I start this…I celebrated my birthday with a trip to Iceland. We did the 5-days Laugavegur trek first and then another 5 days sightseeing in Reykjavík. For me the trekking experience was amazing. The weather was so nice during the trekking, mostly sunny with a few cloudy moment here and there. Our tour guide Greta was caring, fun, knowledgable, very helpful and a good story teller. I love listening to her stories, especially the ghost one! The scenery on the 5-days trek was breathtaking, so raw, pure, and untouched in some places. The only suggestion I would have is the hut accommodation, I hope they would put less people in a tiny room (I still couldn't believe that 20 adults were actually sharing a tiny hut). Other than that, hands down the best Laugavegur trek in Iceland!!!
5 day Laugavegur hiking trail in huts
Suzanne12014
about
Icelandic Mountain Guides
on TripAdvisor
What an awesome experience. If you are unsure just do it. This company were great even before we set off on our adventure. They stepped in and helped out with kit when our luggage was delayed. The professionalism of the whole team and the planning was superb. Our driver transported our bags from hut to hut and helped out with the cooking. His lamb stew will live long in the memory after trekking in a storm that day. Sölvi our guide was brilliant and our group of fellow trekkers (we were 7) and lovely Silja from the company quickly became friends. The scenery was epic and ever changing and Sölvi our native Icelandic guide was a source of geological knowledge and wonderful Icelandic folk tales to scare us with. The food was incredible given the circumstances. The river crossings were even fun! Make sure you have the right kit. The weather was stormy on one of our days but we were in safe hands and had a cosy lunch inside our guide's storm shelter to warm us up.
Lisa Cashmore
about
Icelandic Mountain Guides
on 57hours
The trails were breathtaking. It was challenging and fun. A truly incredible adventure. Solvi was absolutely amazing. He took care of our every need. Cooked incredible food. He answered every question we threw at him. I couldn't have asked for a better experience.
Tony Dickson
about
Icelandic Mountain Guides
on 57hours
My guide was an absolute professional who knew her route, her group and brought them together in creating a wonderful experience. This land is varied, beautiful and inspiring on so many levels. I would do this all over again, for sure.
Lori von Alten
about
Icelandic Mountain Guides
on 57hours
Michal and Hunka were our guides and they were absolutely fabulous!!! They both made sure we had the experience of a lifetime while making safety first and foremost. Because of them, we were able to get a couple of bonus hikes off the main trail that proved spectacular!! Can't say enough about how special Michal and Hunka were for this adventure (Hunka was a last minute add on who volunteered her time, and without her, the trip would not have been as fantastic). This trip requires 2 guides as differences in participants' physical abilities impacts everyone on the trip. Because we had 2 guides, we were able to break off into 2 groups and accommodate those that wanted to hike longer vs. those that didn't want to. Absolutely amazing experience!! This trek is absolutely beautiful!! God was on our side w/ respect to weather—we never missed a view because the skies cleared every time we came upon a viewpoint. Can't recommend this trek enough!!! Absolutely stunning scenery!!
Claire Morris
about
Icelandic Mountain Guides
on 57hours
Wow, what an amazing trip. The landscape was stunning and we saw so many different sights, just wonderful. It was fantastic joining a group of like minded fellow hikers. The whole trip was one I will never forget. Our guide, Emma, was absolutely fantastic. She managed our group very well over the six days. She was very knowledgeable and experienced and did a fantastic job feeding us all too!
Things to know
What you get on this adventure:

An experienced, local, English-speaking guide with extensive knowledge of the area
5, 6 or 7 days of guided hiking along the Laugavegur Trail depending on your chosen itinerary
Mountain hut accommodation in shared dormitories
Meals during the hike
Kitchen and cooking equipment
Transport at the beginning and end of trek
Transfer of luggage

All of the mountain huts are heated, some have electricity and some have hot water. They have bunk rooms with single and twin beds. Participants have to be prepared to share a bunk with other travelers from the group.

What's not included:

Showers in huts (payable on-site, approx. $3.5 per shower)
Transportation to and from Iceland
Accommodation before and after the tour
Meals before and after the hike (breakfast on day 1, lunch and dinner on the last day)

Optional extras:

Sleeping bag (has to be rented before the tour)

Meals will be prepared by all participants, guides and the team—make food and friends at the same time! Although the guide is usually the leader on the project this can go all ways.

Special dietary supplements, such as vegetarian, pescatarian, vegan, gluten free or other supplements, can be accommodated at some extra cost. If you have any special dietary requirements, please let us know prior to booking to make arrangements.

Bring a water bottle that you can then fill with the tap water at the huts/campsites. Iceland's water is perfectly safe to drink. There are also several streams along where people tend to get more water from!

For the Laugavegur Trail, you need to be able to hike for full days, carrying a daypack full of your gear. Each day you will hike between four and seven hours. On top of that, volcanic terrain can be challenging and the weather unforgiving. That said, if you are looking for adventure and up to the task of multiple days of full-day trekking, you'll be rewarded immensely.

In terms of backpack weight, you will only need to carry a smaller day backpack with your lunch, water bottle, medication, sunglasses, river crossing shoes, rain gear, and other items or clothing you might need for the day.

The 6-day itinerary has extremely steep drop offs along the hiking trail and scrambling with the use of a chain is required both up and down. It is not for those with a fear of heights. Overall, the Laugavegur Trail is a challenging trek.

Here's a list of the equipment you need to bring:

A duffel bag for the transport of your overnight gear between mountain huts
Day backpack for extra clothes and lunch pack during the day (around a 25-40L bag)
Your own sleeping bag – a basic sleeping bag with no specific temperature rating is sufficient for this entire trek since all the mountain huts are heated
Small thermal mat to sit on — optional
Hiking poles — optional
Gaiters — optional but recommended for departures in June and early July
Gloves – wool or synthetic 2 pairs of different thickness
Long sleeve shirt (thermal underwear) – wool or synthetic
T-shirt (thermal underwear) – wool or synthetic
Light wool or fleece sweater (2nd layer)
Warm, down jacket
Puffy jacket e.g. Primaloft — optional
Jacket with a good hood – windproof, waterproof and breathable, e.g. Gore-Tex or comparable
Soft-shell trousers – strong and light material that dries quickly
Rain pants – windproof, waterproof and breathable — full raingear is mandatory in Iceland, poncho is not useful because of wind
Socks – wool or synthetic
Change of clothes for wearing in the hut
Sunhat
Wool hat
Sturdy hiking boots – waterproof with good ankle support
River crossing shoes – walking sandals or old running shoes with a good grip are a good choice, along with a pair of warm socks or neoprene socks
Comfortable shoes for the camp
Quick dry towel – lightweight and packable
Swimwear if you want to bathe in the hot geothermal pool in Landmannalaugar
Toiletries (sunscreen, hand sanitizer, bug spray, toilet paper, etc.)
Water bottle or hydration bladder (2L capacity)
Lunch box
Pocket knife
Aperitif or other heart-warming spirits – liquor laws in Iceland prohibit the sale of alcohol, so having a thermos flask to share with your fellow travelers in front of the campfire can be the crowning of a good day — optional
Headlamp or flashlight
Sunglasses
Earplugs
Portable power bank
Dry-bags for electronics and extra clothing — optional
Camera — optional (but recommended)

Dress comfortably and for the weather in warm clothes you can move in. Iceland is home to infamously unpredictable weather, so you need to be prepared with the right gear.

There is a limited space on the luggage trailer, so try to pack light out of consideration to other passengers on the tour and use a a waterproof duffel bag which is easier to store. If you have extra luggage that you would like to leave, we recommend storing luggage at the BSI Bus terminal (fees apply) or another luggage storage space in Reykjavik.

You will be joining a group that usually consists of 6-16 people going on a hiking tour of the Laugavegur Trail. Pricing is per person.

All the tours for 2023 have been confirmed to run. Once you get a confirmation email, you can start booking your flights to Iceland.

Min. age requirements:

Anyone over the age of 18 can join these tours.
Teens as young as 14 can join on a case-by-case basis.

If you plan to hike with anyone under the age of 18, please contact us prior to booking to make arrangements.

If you are an individual traveler, you are more than welcome to join the group. The guide will be adding travelers until the minimum group size to confirm the trip can be guaranteed. There are no supplements to individual travelers, as they will share a room.

A 30% deposit to secure your place is due upon booking. Once the trip is confirmed by the guide, the cancellation policy stated below applies, and deposits are no longer refundable. The remaining 70% of the amount is paid the latest 3 months (90 days) prior the departure.

All cancellations must be made by letter or e-mail. In conformity with business practices within the Icelandic travel industry, your guide is obliged to charge cancellation fees to passenger(s) as follows:

– 90% of the price of the trip is refundable more than 59 days prior to departure
– 50% of tour price is refunded if cancelled 30-59 days prior to departure
– 0% of tour price is refunded if cancelled 16-29 days prior to departure

All rates are based on current purchasing prices in Iceland. Your guides reserve the right to change prices without notice due to inflation, changes in oil prices, government taxes, or any other cost increases that are outside the guide's control. Your guides will absorb an amount equivalent to 5% of the price. Amounts that exceed the 5% will be charged and clients will be entitled to cancel their booking with a full refund if the surcharge exceeds 10%. Eventual changes in rates will not be made with less than 4 weeks' notice before departures or on bookings already made and confirmed.

Your guides reserve the right to alter tours and itineraries due to weather or road conditions. All programs can be changed or cancelled at any moment during the trip to assure the safety of the clients and staff. No responsibility is accepted for losses, expenses due to delays, changes of flights, or other services or because of strikes, accidents, sickness, damage, negligence, weather, war, changes in schedules, or other similar causes.

To get to the Laugavegur Trail, most people fly into Keflavík International Airport (KEF) — about three and a half hours away from the trailhead. You can take a bus or a taxi to Reykjavik, where you'll join your guides who will transport you to the trailhead. 

The meeting location is BSI Bus terminal. After joining your guides, a scenic 3.5-hour drive is the only thing separating you from your hiking adventure!

57hours is committed to providing safe outdoor adventure experiences. We require all guides using our platform to have a COVID-19 safety plan and to make the details of that plan accessible to travelers. In most cases, group sizes will be reduced, guides will avoid overcrowded locations, and other safety measures will be met depending on the location and activity.

We also expect clients to respect local regulations and take measures to protect themselves, guides and the communities they're travelling to. For more information on COVID-19 measures on Laugavegur Trail, Iceland, please visit the official Government of Iceland and Official Information about Covid in Iceland websites.

Please contact us if you have any questions or require further information. We are happy to provide you with the most up-to-date information!
Get free trip brochure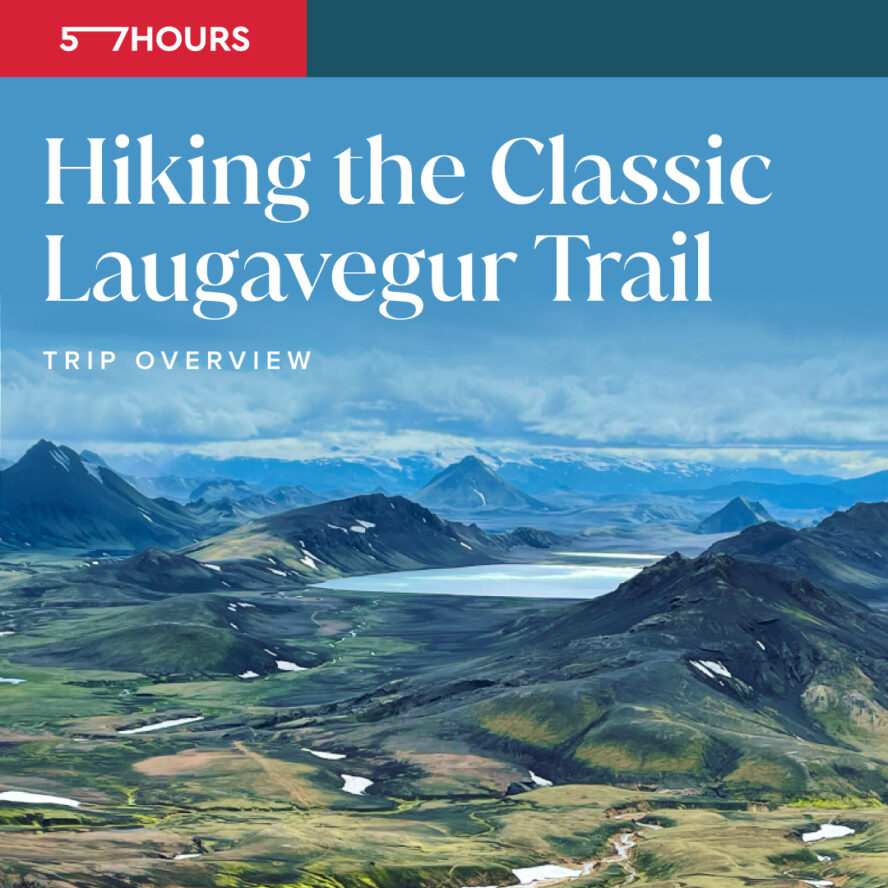 The brochure contains:
Adventure and location overview, itinerary, available dates, what's included, how to prepare, and much more.
Brochure sent, check your inbox
Book a call
with our adventure expert and start planning your perfect adventure.