The 7 Best Trails for Backpacking and Hiking in Alaska
From coastal rainforests and arctic tundra to glaciers and towering mountain peaks, America's Last Frontier offers exceptional hiking opportunities.
Table of Contents
Alaska is massive. At more than 660,000 square miles, it's nearly one-third the size of the contiguous 48 states. It accounts for two-thirds of the country's national parklands, about 80% of wildlife refuges and is home to the two largest national forests. I was fortunate enough to spend nearly four years here. That's not nearly enough time to see it all, but it gave me a pretty good idea of what the 49th state has to offer. I'm happy to be able to share some of the best trails for hiking in Alaska!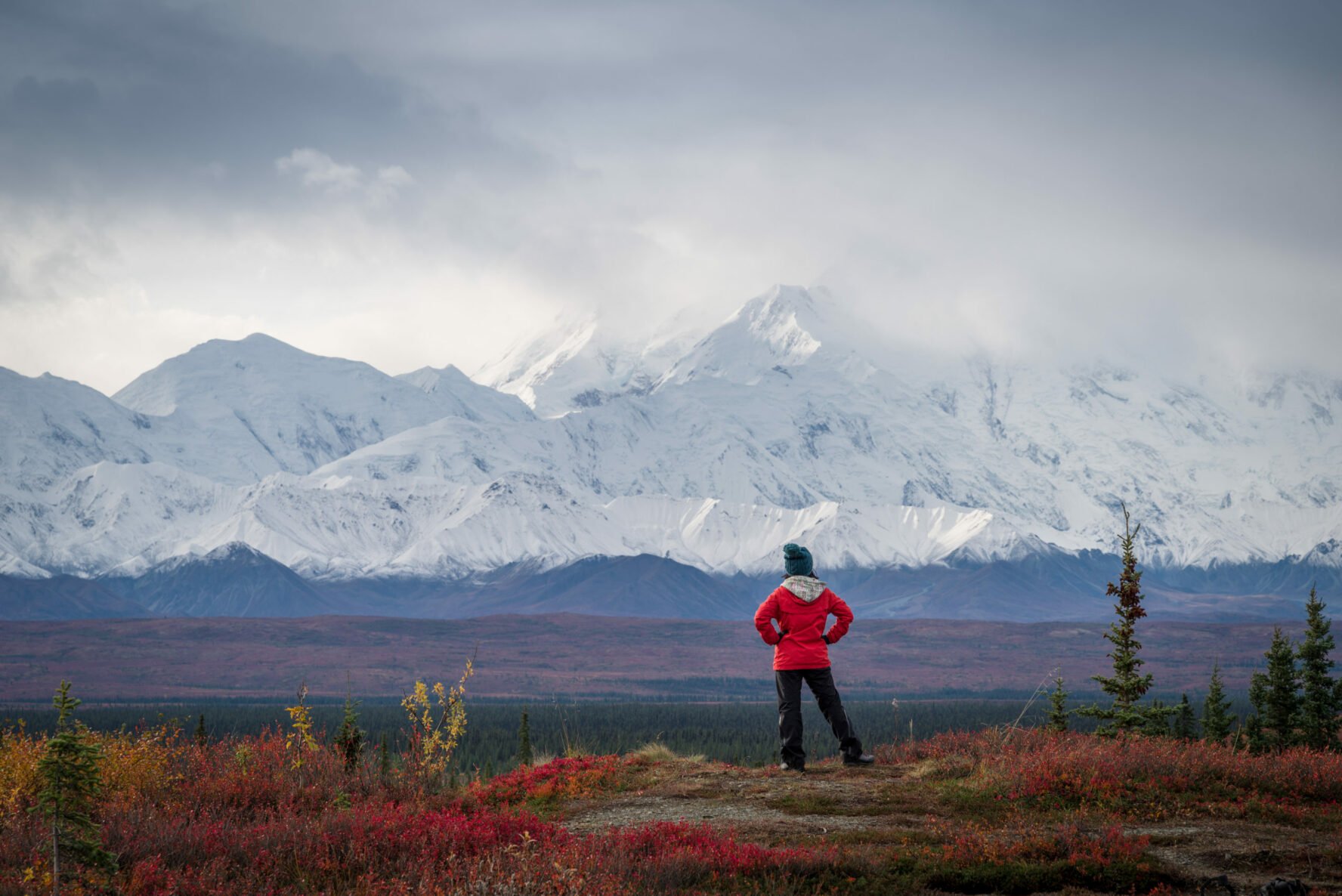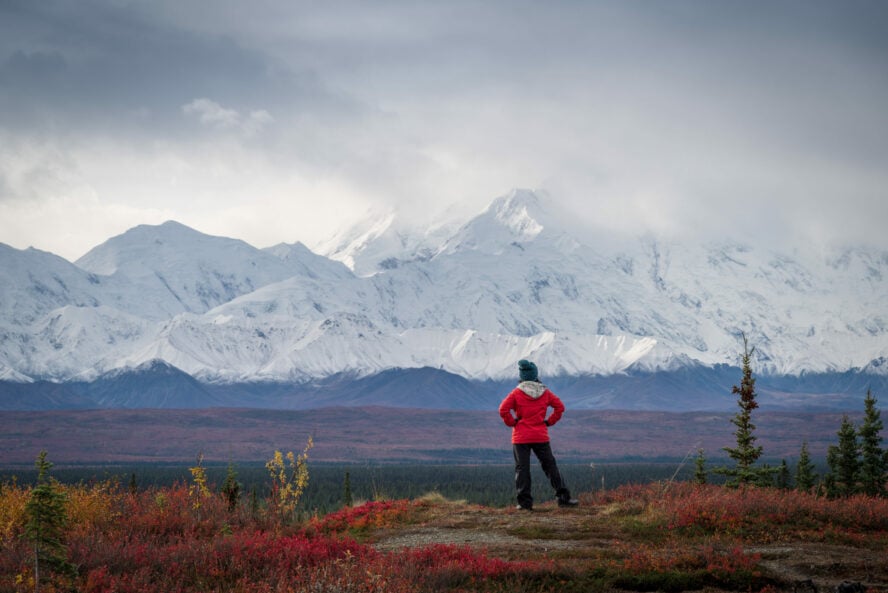 A brief overview of Alaska: the Last Frontier for hiking
Outside of hiking in San Diego, few other places offer such a diverse setting as Alaska. You can experience fjords and an uncut temperate rain forest in the southeastern part of the state. You'll discover transitional and boreal forests in Alaska's south central and interior area. The arctic tundra is further north. Opportunities to see glaciers close up abound throughout the state. With relatively low tree lines, you can also explore alpine hiking without the elevation.
Download our hiking checklist free of charge
Check your inbox
Why hiking and backpacking is the best way to see Alaska
Alaska might seem like a place only for the daring. While opportunities abound for backcountry wilderness adventure, you can also find easy day hikes on well-prepared trails. Alaska hiking features hundreds of trails and plenty more places without trails. Every kind of hiker, regardless of fitness level, gear, and experience, can find a way to enjoy Alaska's hiking trails.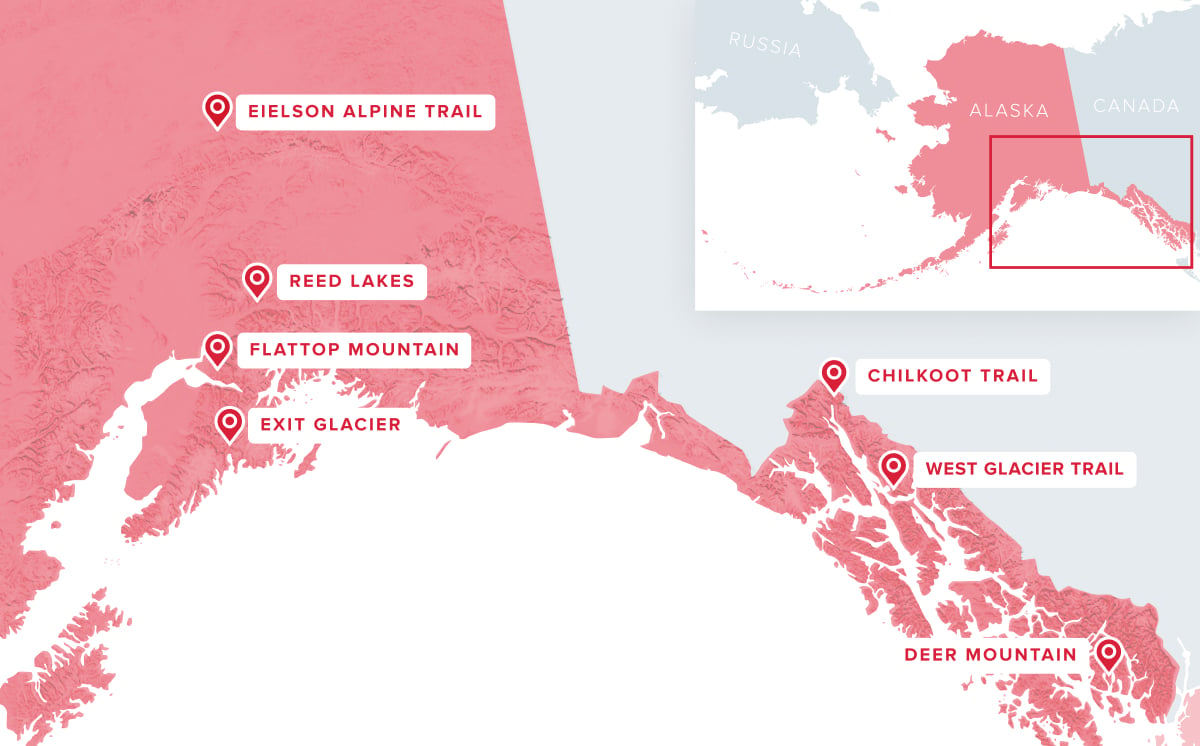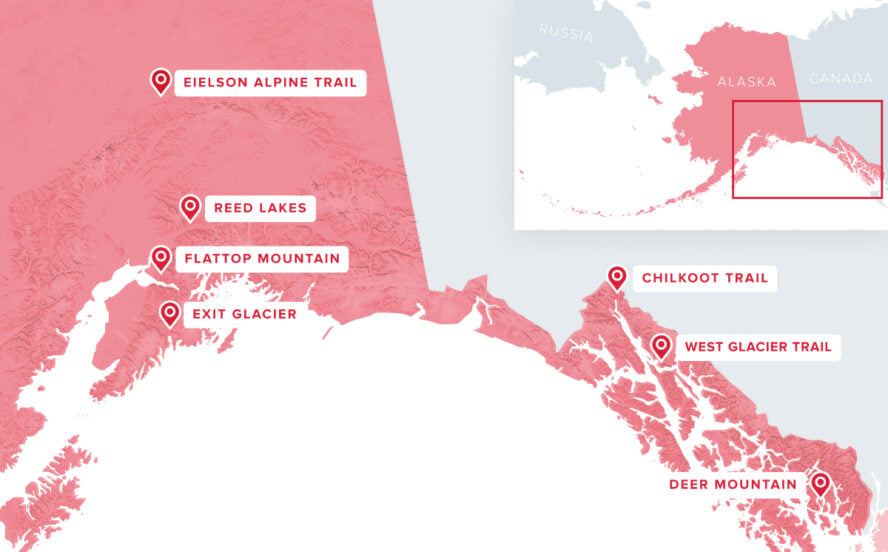 If you're planning a visit to the U.S.'s largest and most wild state, be sure to make time for a hike or two by exploring a side of the Last Frontier you won't see from a tour bus or cruise ship!
ALASKA
1. Chilkoot Trail, Skagway
TOP CHOICE FOR MULTI-DAY BACKPACKING TRIPS
A chance to hike through history
Opportunity to meet other hikers from around the world
Diverse terrain will challenge and inspire you
A limited number of permits per day
Weather can be challenging and unpredictable
Starting in the coastal lowlands near Skagway and ending at the shores of Bennett Lake in British Columbia, the Chilkoot Trail follows the route of the 1897-1899 Klondike Gold Rush. The only long-distance traverse in southeast Alaska, the trail passes through a coastal rainforest, high-mountain basins, and alpine terrain with views above treeline.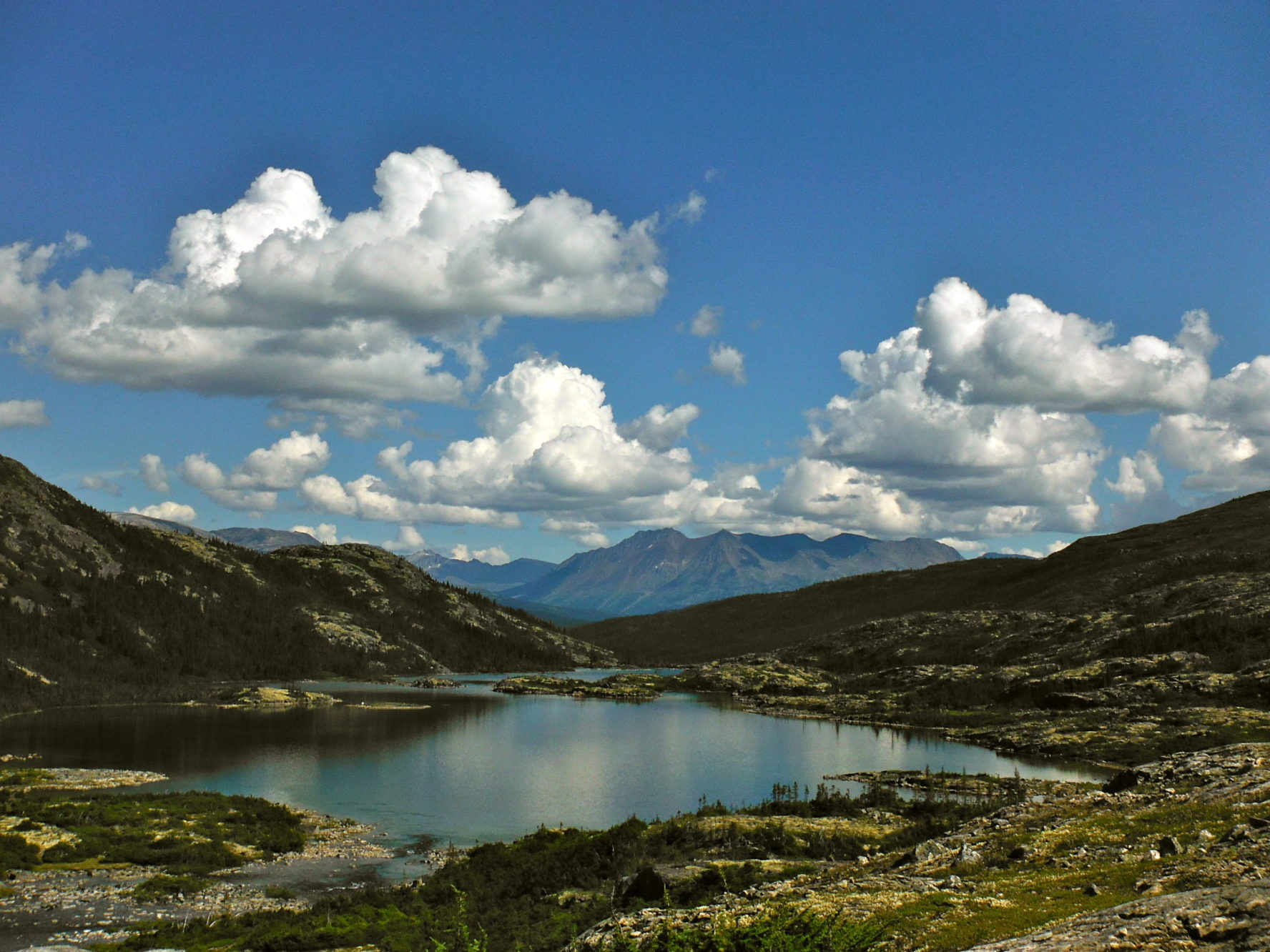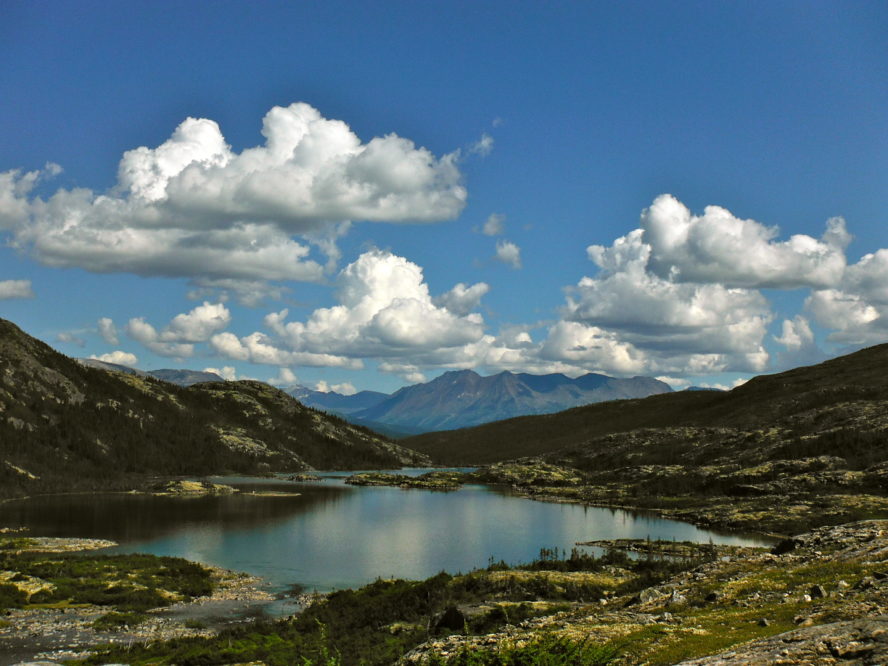 Along the way, you'll see relics from the gold-rush era when prospectors had to ferry a year's worth of provisions across the pass. You'll need camping gear and food for a few days for this Skagway hike, along with warm layers and rain-appropriate clothes. The weather can change in a snap. There are designated places to camp with separate cook shelters and caches to keep your food safe from bears.
What to expect on the popular multi-day Skagway trail
This is one of the most regulated trails in Alaska. You'll need to secure a permit (a certain amount is set aside each day for walk-ins, but most are for reservations). Chilkoot Trail also crosses an international boundary, so you'll want to be up to date on the current requirements for checking in with either Canadian or U.S. customs, depending on which direction you go. The trail is also rather popular. Despite the permit requirements, you're not likely to have it to yourself, especially during peak season. On the other hand, it's a wonderful opportunity to meet fellow hikers from around the world.
1. Chilkoot Trail, Skagway - Good to Know
Terrain:
Developed trail with some boulder hopping
Time:
3-5 days for trekking the full distance
Trailhead:
South end: 9 miles from downtown Skagway; North end: Lake Bennet train station (not accessible by road) or Log Cabin on the Klondike Highway 5 miles past the Canadian Customs station.
Best Time to Hike:
Late June to mid-September
Insider Tip:
Consider taking the White Pass and Yukon Route Railway between Skagway and the northern end of the trail
ALASKA
2. Exit Glacier/Harding Icefield, Seward
TOP CHOICE FOR FAMILIES TO HIKE TOGETHER
Accessible route to the foot of a glacier
Options for hikers of all abilities
Conveniently close to Seward
Prone to fog and reduced visibility
Can see heavy traffic, especially on the Exit Glacier Trail
The Exit Glacier and Harding Icefield hikes give adventurers of all ability (and ambition) a few different choices to see one of Alaska's most easily-reached glaciers. You'll also get to experience the Kenai Fjords National Park. The two trails also share a trailhead at the Exit Glacier Nature Center. The Glacier View Loop trail is a fully accessible, paved trail featuring views of the glacier's face and outwash plain. The short Edge of the Glacier overlook trail features steps to help negotiate a brief climb to a vantage point above the foot of the glacier. It's a brilliant opportunity to see how a forest develops as a glacier recedes. Signposts along the access road and the trail show just how far the ice used to extend.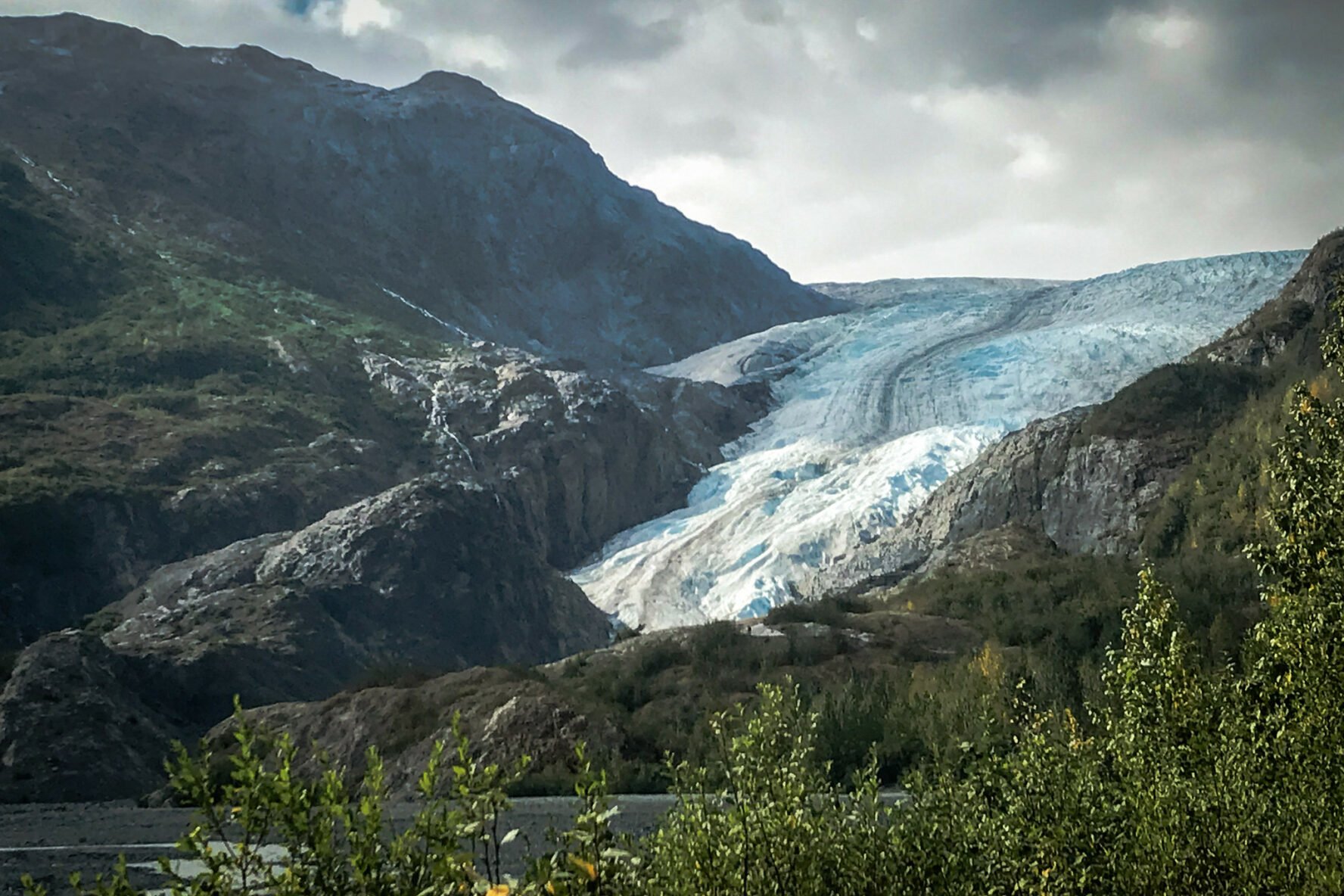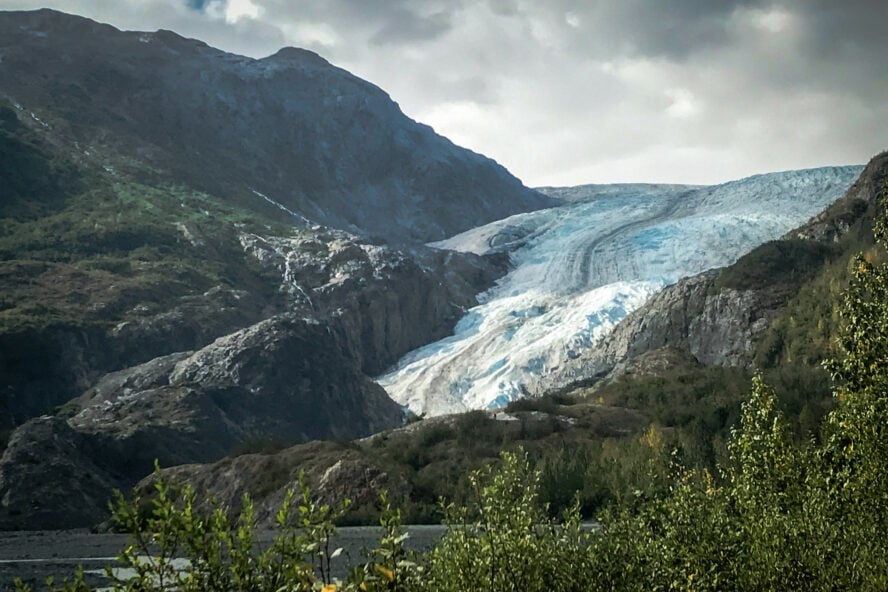 Head to Harding Icefield for views of surrounding peaks and fjords
If you're an ambitious hiker, you can make a day out of it and follow the switchbacks up to Harding Icefield. This 500-square-mile frozen mass feeds almost three dozen glaciers, including Exit. The trail is well developed but steep with nearly 3,000 feet of elevation gain. After climbing above the forest and through the low brush and alpine meadows, the trail gets rocky. The view out over the expanse of ice and the jagged gray peaks surrounding it is worth the effort – even if it's cloudy like it was for our visit.
2. Exit Glacier/Harding Icefield, Seward - Good to Know
Distance:
Exit Glacier – choice of trails up to 1 mile long; Harding Icefield – 4 miles one way
Difficulty:
Exit Glacier – easy; Harding Icefield – strenuous
Terrain:
Accessible/developed trail with some rocky sections near the icefield
Time:
Up to 4 hours, depending on fitness level
Trailhead:
11 miles from downtown Seward in Kenai Fjords National Park
Best time to hike:
May to September
Insider tip:
Seward is also a great place to take a sightseeing cruise or sea-fishing charter
ALASKA
3. Reed Lakes, Anchorage/Wasilla
TOP CHOICE FOR INTERMEDIATE HIKERS
Beautiful lakes and waterfalls, ringed by mountain peaks
Easily accomplished in one day
A taste of interior Alaska mountains close to Anchorage
Sometimes crowded on summer weekends
Boulder fields can be challenging
The Reed Lakes Trail is one of the most popular trails in the Hatcher Pass Management Area, and possibly one of the most popular hiking trails in Anchorage. The trail gives you a sample of interior Alaska hiking terrain only 1.5 hours from Anchorage (and even closer to Palmer and Wasilla). I tried to visit as many different trails as I could when I lived in the state, but this is one of the few I made a point to visit again.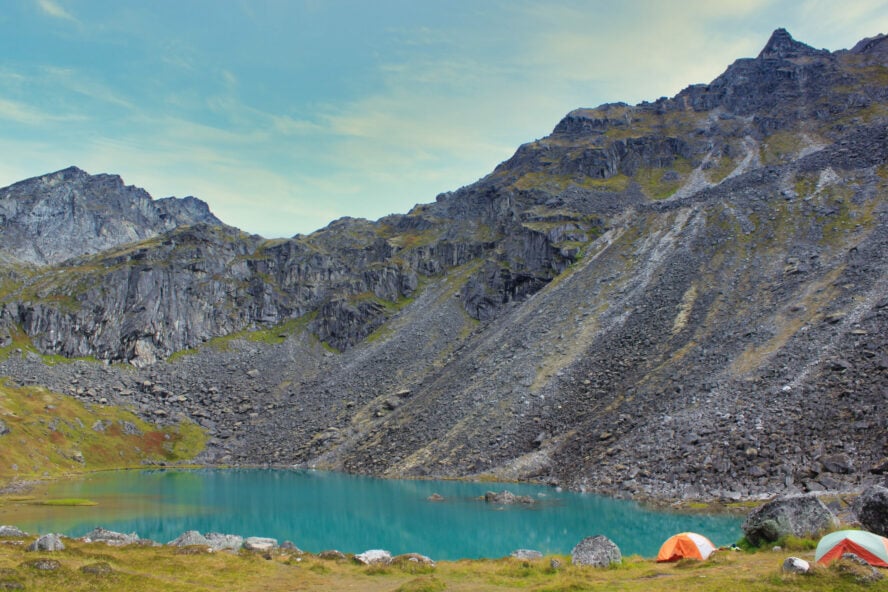 Reed Lakes trail starts relatively flat and clearly defined for the first 1.5 miles or so. As the climb begins to get steeper, the trail gets more rugged. You'll encounter a couple of stretches of boulder travel that would be a challenge for smaller children and some dogs. If you're like me, though, you'll think it's all worth it when you catch sight of the lower lake glowing like a turquoise jewel. The meadows around the lower lake are also popular for camping, which often leads to unexpected crowds, evoking the best Joshua Tree hikes.
Hike to Upper Reed Lake to see an abandoned plane wreckage
The trail continues, passing cascading waterfalls that feed the lower lake from the upper one. If it's early enough in the day, and you can manage the steep ascent through rock and scree, you can continue up past the upper lake. Here you'll find the wreckage of an Air Force bomber that crashed in the 1950s on aptly-named Bomber Glacier. Some people make this Anchorage hiking trail part of a multi-day traverse that includes the Gold Mint Trail the next valley over. This involves stretches of ice travel that should only be attempted by people with the proper training and equipment.
When I lived in Anchorage, Hatcher Pass was one of my favorite places to go. And Reed Lakes was one of my favorite parts of Hatcher Pass.
3. Reed Lakes, Anchorage/Wasilla - Good to Know
Distance:
3 miles to Lower Reed Lake, 4 miles to Upper Reed Lake
Difficulty:
Moderate, with some boulder hopping
Terrain:
Forest, brush, alpine meadows and lakefront
Trailhead:
Archangel Road, Hatcher Pass (19 miles from Palmer, 60 miles from Anchorage)
Best time to hike:
June to September
Insider tip:
Nearby Independence Mine State Historical Park offers a fascinating and photogenic look at the area's past with grooming for Nordic skiing in the winter. 
ALASKA
4. West Glacier Trail, Juneau
TOP CHOICE FOR GLACIER VIEWING
Convenient to both downtown Juneau and the state ferry terminal
Beautiful views of Mendenhall Glacier and Lake
Generally easy route finding and not too steep
Prone to noise from flightseeing tours
If you want to get close to a glacier but can't fit Seward into your itinerary, Mendenhall Glacier is practically in Juneau's backyard. The trailhead is minutes away from downtown's cruise ship terminals, the airport and the state ferry dock. There's even a city bus stop a mile from the trailhead!
This Juneau hiking trail starts well-defined and not particularly steep with only 250 feet of elevation gain in the one mile it takes to get to the first overlook. Here, you get a beautiful view of the glacier and lake at its base, as well as Nugget Creek Falls on the far side. The first section of the trail is an excellent option for those short on time or not interested in the steeper climb later on.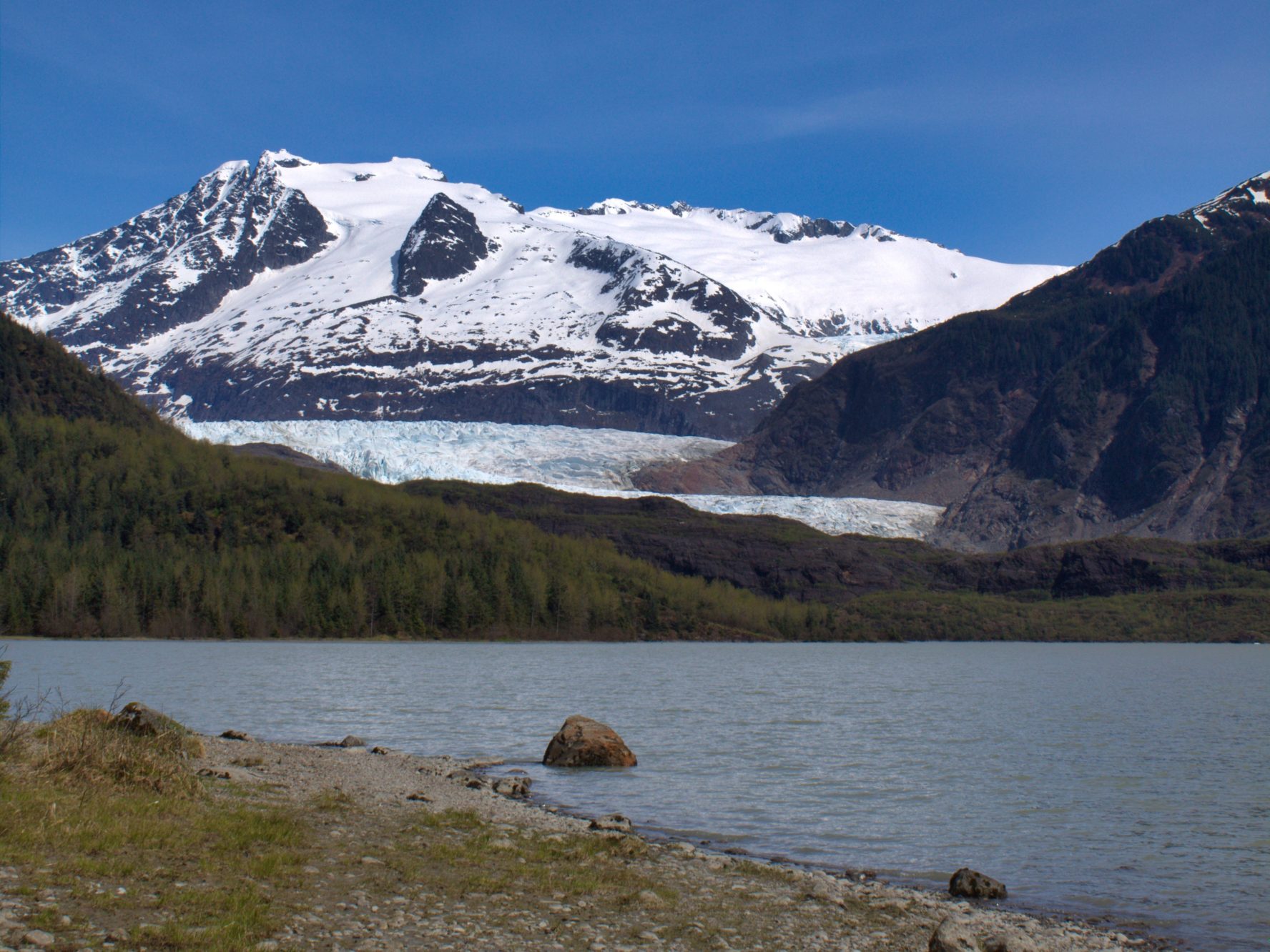 Continue hiking to take in views of Mendenhall Glacier
If you keep following the West Glacier Trail path, you'll eventually climb out of the young forest and find yourself following cairns across bare rock. After cresting a rock shoulder, you come right to the edge of the glacier. When we did this Juneau hiking trip, the air noticeably cooled as we neared the ice. We appreciated the temperature dip as it was a warm afternoon for late May!
You can get right up to the ice and take in the varying shades of white and blue. Keep in mind, extended travel on the glacier is for those with the proper experience (or guides!) and equipment. Commercial outfits in Juneau offer guided glacier explorations and even the chance to explore ice caves within the glacier!
This hike is worth the trek to the top for the incredible views of the Mendenhall Glacier — a seemingly endless ocean of vibrant blue ice.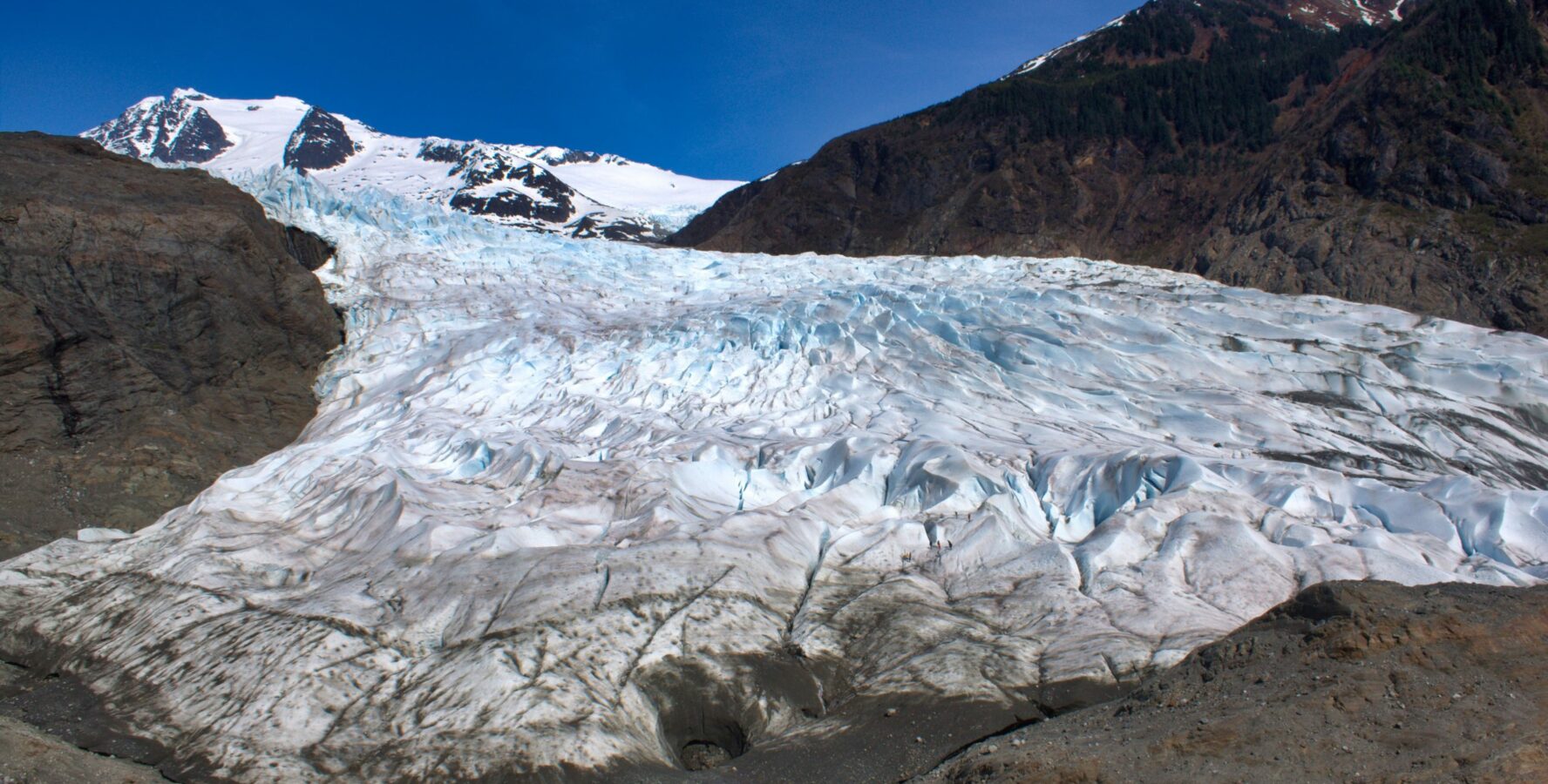 trektheusa | How to Find the Mendenhall Glacier Ice Caves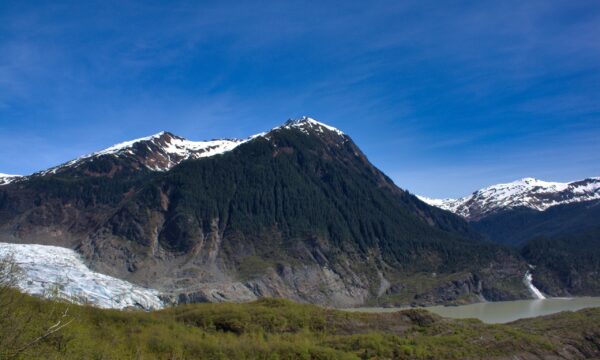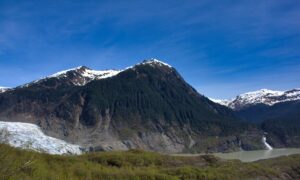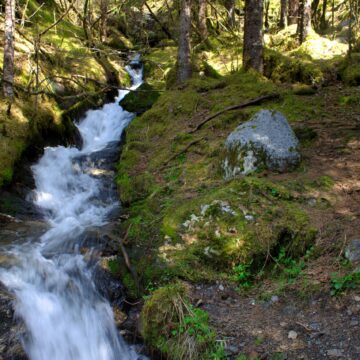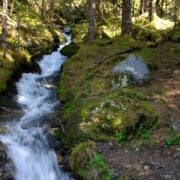 4. West Glacier Trail, Juneau - Good to Know
Distance:
3.4 miles one way
Difficulty:
Moderate (mainly due to the incline at the end)
Terrain:
Developed trail through forest brush, then bare rock
Time:
4-6 hours round trip
Trailhead:
About 1 mile from Mendenhall Loop Road and Montana Creek Road, just past the Mendenhall Campgrounds
Best time to hike:
Mid-May through September
Insider tip:
There are shorter and easier hikes on the east side of the lake near the national forest visitor's center. They also offer a view of the glacier, but don't get as close to it.
More info:
ALASKA
5. Deer Mountain, Ketchikan
TOP CHOICE FOR TRAVERSING TRUE WILDERNESS
Easy access from the heart of Ketchikan
Diverse scenery and panoramic mountain views
Less crowded traverse than Chilkoot Trail
Snow in summer can present hazardous hiking conditions
Full traverse will require arranging a trip between the eastern trailhead and Ketchikan
Deer Mountain is a popular Ketchikan hiking trail for locals but not as well known outside Alaska as the Chilkoot Trail. Although it lacks Chilkoot's historical legacy, the Deer Mountain Trail offers fantastic views of the islands, fjords, and channels that make up southeast Alaska. Like many of Alaska's trails, you'll get to experience forests, climb through meadows and alpine basins, and hike past mountains that hold snow well into the summer.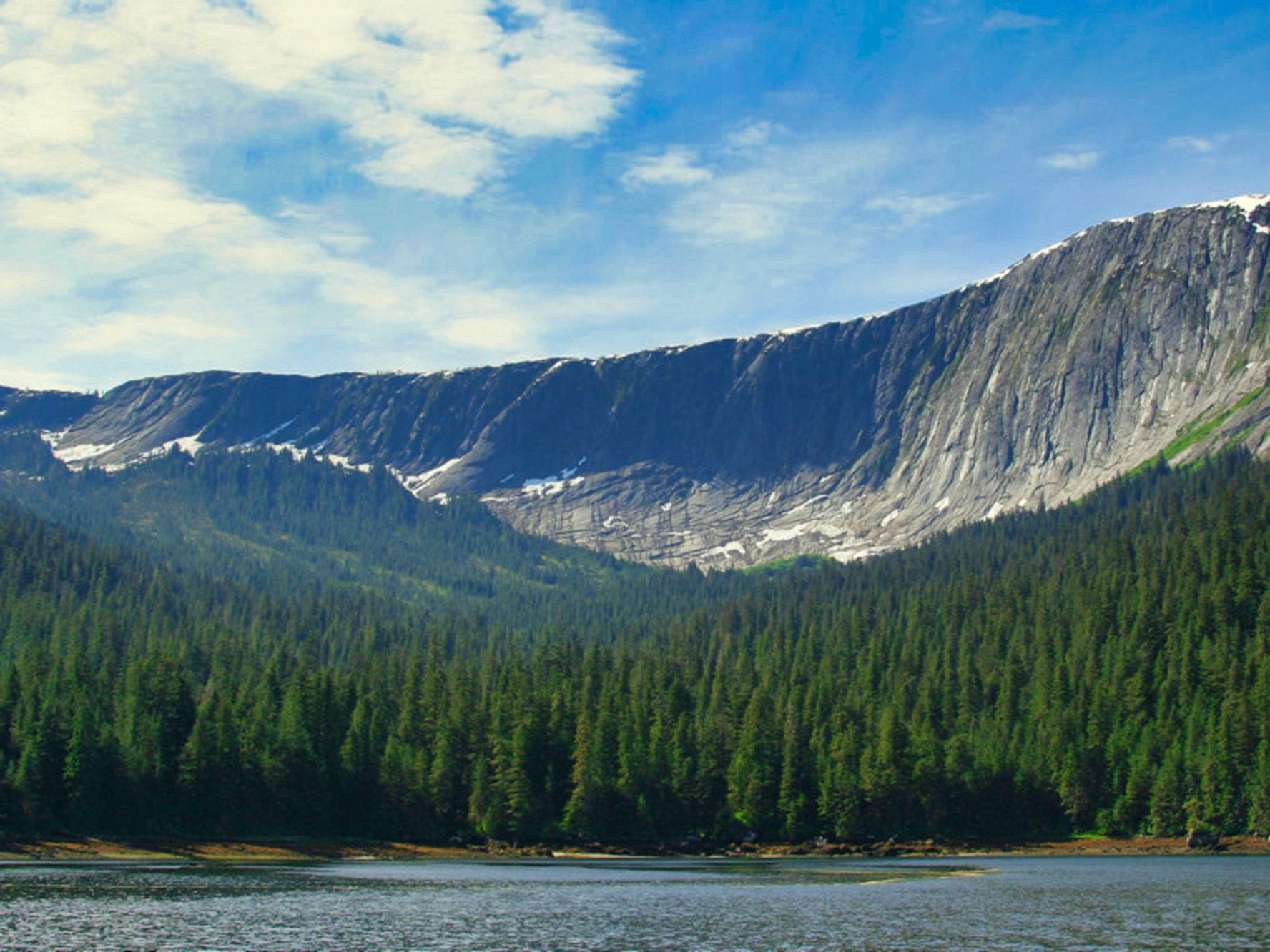 Traverse Deer Mountain trail for a variety of views and alpine
The Deer Mountain Trail starts steep shortly after leaving the parking area. You happen upon viewpoints at both the one- and two-mile marks. At 2.5 miles, a short spur runs up to the top of Deer Mountain itself. The main trail continues past a shelter available for camping on a first-come, first-served basis. You can also take shelter at Blue Lake, and the basin between Mahoney and John Mountains is suitable for tent camping. You can also find plenty of water along the way, as long as you filter or treat it first.
If you traverse the entirety of this Ketchikan hiking tour, you'll be crossing the mountainous spine of Revillagigedo Island. Here winter comes early and stays late. You might want to consider having an ice ax with you, even in the summer. If the weather or snow conditions seem questionable, play it safe and turn back at Blue Lake
No other trail in this region offers such dramatic views of surrounding islands, the 'First City' itself, and alpine lakes, than Deer Mountain.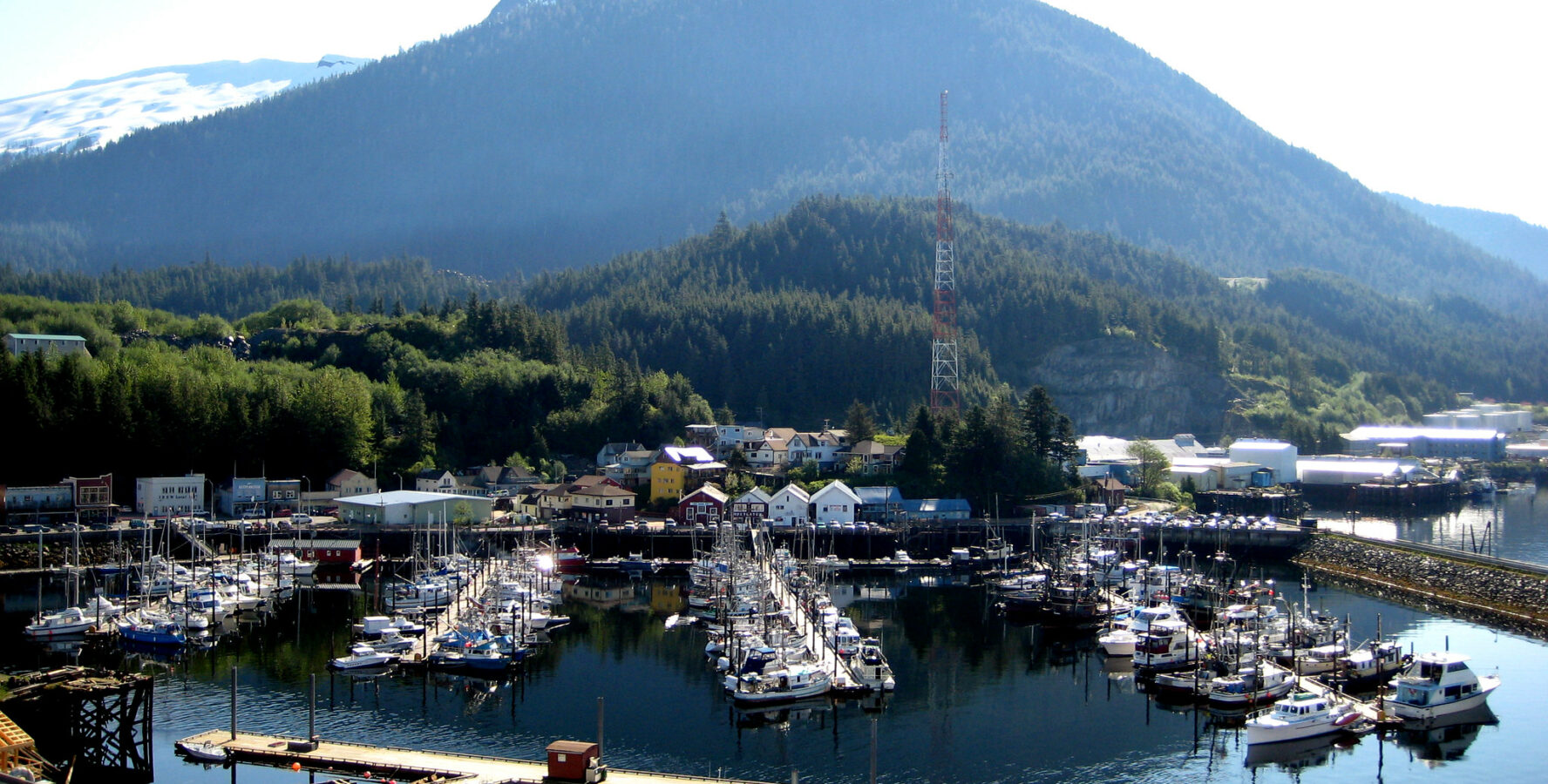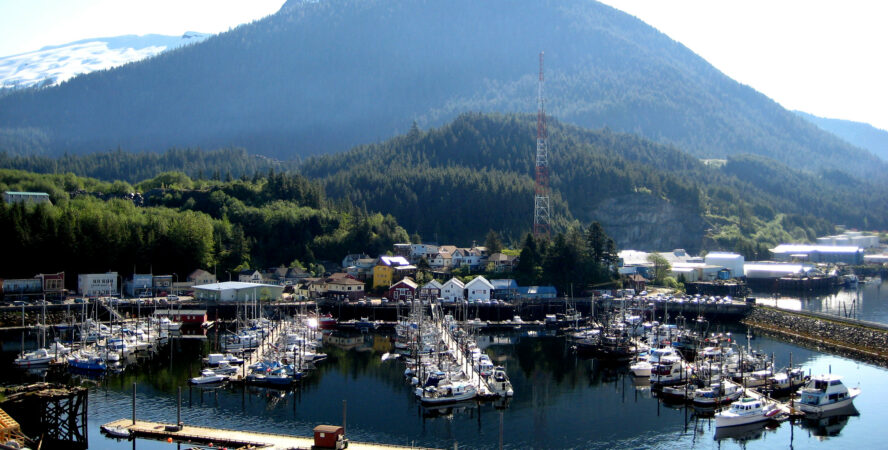 Deer Mountain to Silvis Lakes Traverse - Ketchikan, Alaska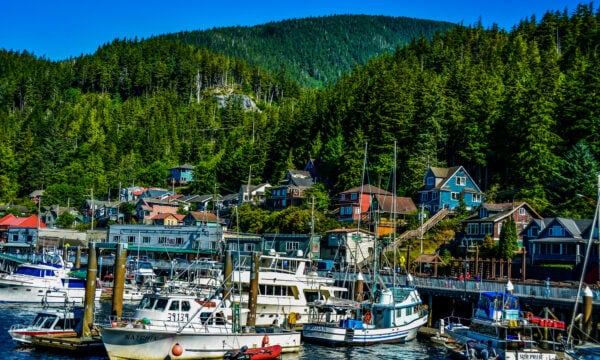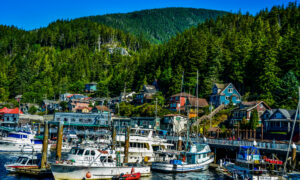 5. Deer Mountain, Ketchikan - Good to Know
Distance:
2.5 miles to Deer Mountain, 4.5 miles to Blue Lake, 12.5 miles for the full traverse
Terrain:
Developed trail as far as Deer Mountain, then rough alpine footpath
Time:
Half day to Deer Mountain; long day hike to Blue Lake; usually 2-3 days for the full traverse
Trailhead:
1 mile southeast of downtown Ketchikan. Start on Steadman Street and follow the signs.
Best time to hike:
June through September
Insider tip:
This is one of the wettest areas in Southeastern Alaska. Even if it's sunny when you start, make sure you take rain gear!
More info:
ALASKA
6. Eielson Alpine Trail, Denali National Park
TOP CHOICE FOR ICONIC PANORAMIC VIEWS
Easy to reach from the Eielson Visitor Center
Epic view of Denali when it's clear!
Often heavy traffic from bus riders
Spanning a staggering 6-million acres, Denali National Park and Preserve offers an entire world of hiking opportunities all by itself. You won't follow many established trails, though, which is a conscious decision by park management to preserve as much wilderness for visitors as possible. For many who enjoy backpacking in Denali, this is the biggest draw.
Fortunately, however, for those who aren't quite ready for route finding and unprepared surfaces, you can explore a handful of Denali hiking trails marked for ease of use. Most are near the park entrance, but you can find a few marked trails farther inside the park.
Getting deeper into the park requires riding one of the busses. Limited vehicle traffic is also part of the effort to minimize human impact.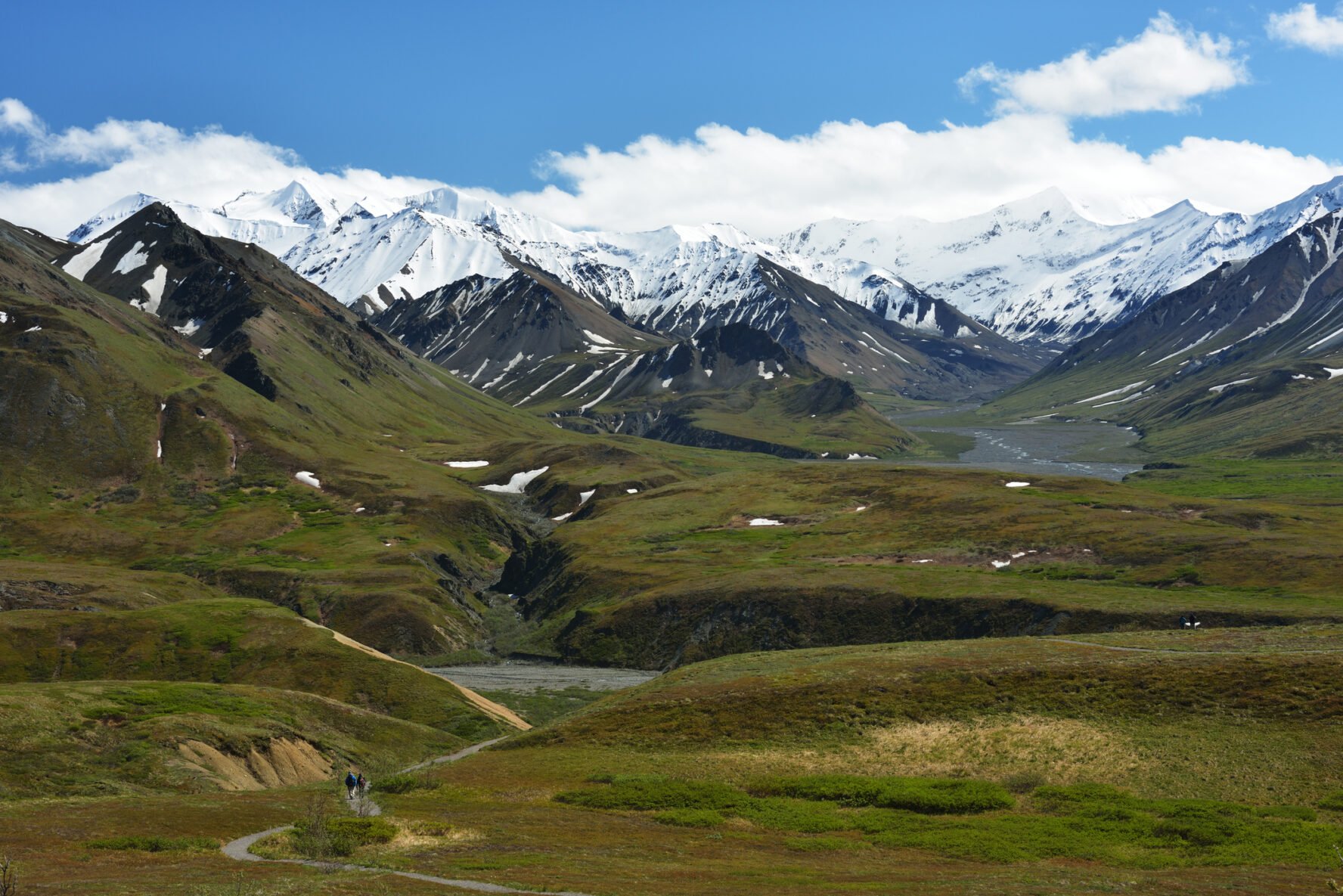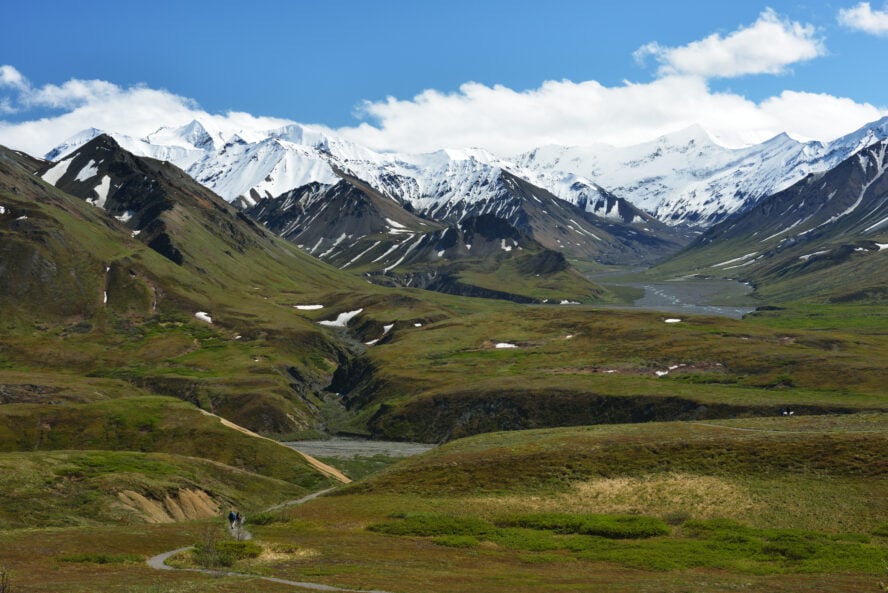 Hike the steep face of Thoro Ridge to gain impressive views of Denali
By the time you reach the Eielson Visitor's Center, you might be ready to stretch your legs a bit, and the Eielson Alpine Trail will do the trick! Even when clouds obscure Denali itself – which was the case for us – the view across the valleys to the west is panoramic.
It's a short but steep trail, climbing the ridge across the Park Road from the Visitor's Center in a series of switchbacks. When we embarked on our Denali National Park hiking trip, marmots seemed quite fascinated with watching humans make their way up and quite happy to pose for pictures. The ridge is broad where the trail reaches the top, and you can easily walk a bit west and take in the expansive valley to the north. This view of Mount Galen and the distant hills is completely hidden from those who never stray from the busses.
Most people return the way they came, though you could continue west and descend back to the highway about a mile or so west of the Visitor's Center. More ambitious hikers could head east and make the steep trek up 5,629-foot to Thoro Peak. You won't regret taking more time for hiking in Denali.
Even when clouds obscure Denali itself – which was the case for us – the view across the valleys to the west is panoramic.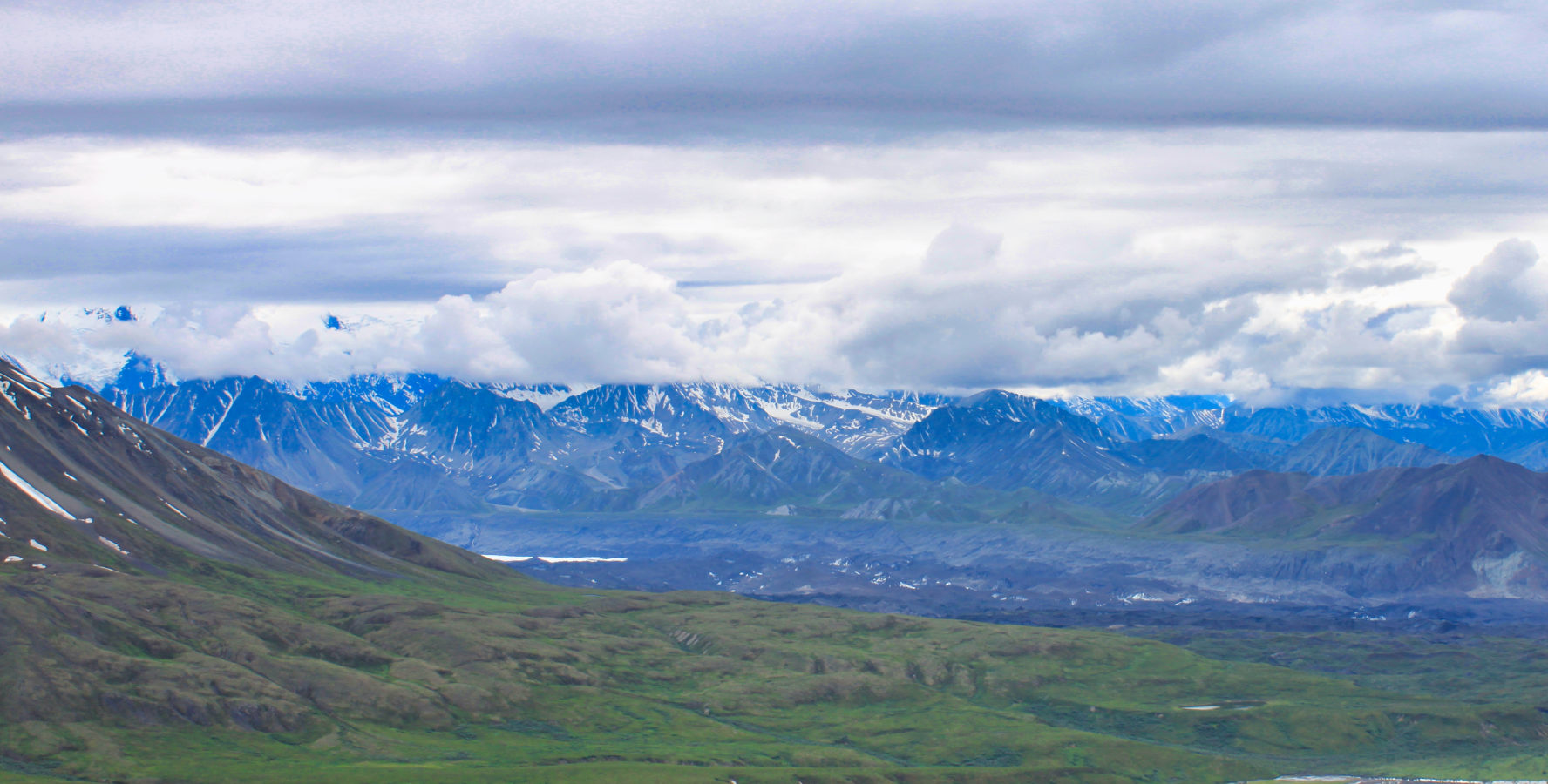 Denali National Park (ALASKA) // Tips for Visiting + Things To Do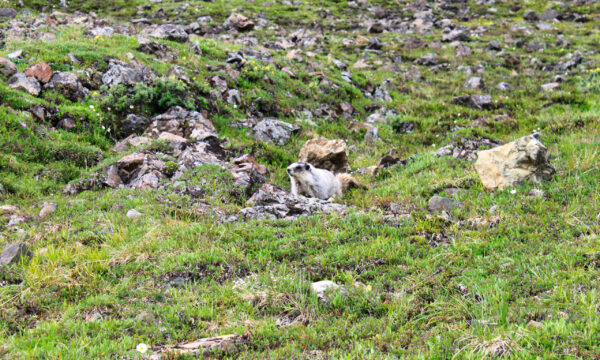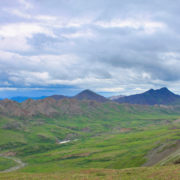 6. Eielson Alpine Trail, Denali National Park - Good to Know
Distance:
1.75 miles round trip
Difficulty:
Moderate (steep)
Terrain:
Developed trail through low brush and alpine meadow
Trailhead:
Across the Park Road from Eielson Visitor Center, about 4 hours from the entrance
Best time to hike:
June through mid-September
Insider tip:
Leave time to enjoy the Visitor Center and some of the other short trails; off-trail hiking is also welcome
Guided trips:
ALASKA
7. Flattop Mountain, Anchorage
TOP CHOICE FOR SHORT HIKE, PLUS CAMPING
Views of the city skyline, Cook Inlet, and surrounding mountains
Ability to camp at the top
Popular trail among hikers
Vehicle break-ins aren't uncommon at trailhead parking
Flattop was one of the first hikes I did after moving to Anchorage. The Glen Alps Trailhead is right at the edge of town and easy to reach. You could even take a taxi or Uber if you happen to be in town without a rental car. Flattop Trail is short enough to enjoy time in nature without investing an entire day. The views of the water, mountains, and skyline are more than worth the minimal effort to reach this Anchorage hiking trail. On a clear day, you can even see Denali far to the north.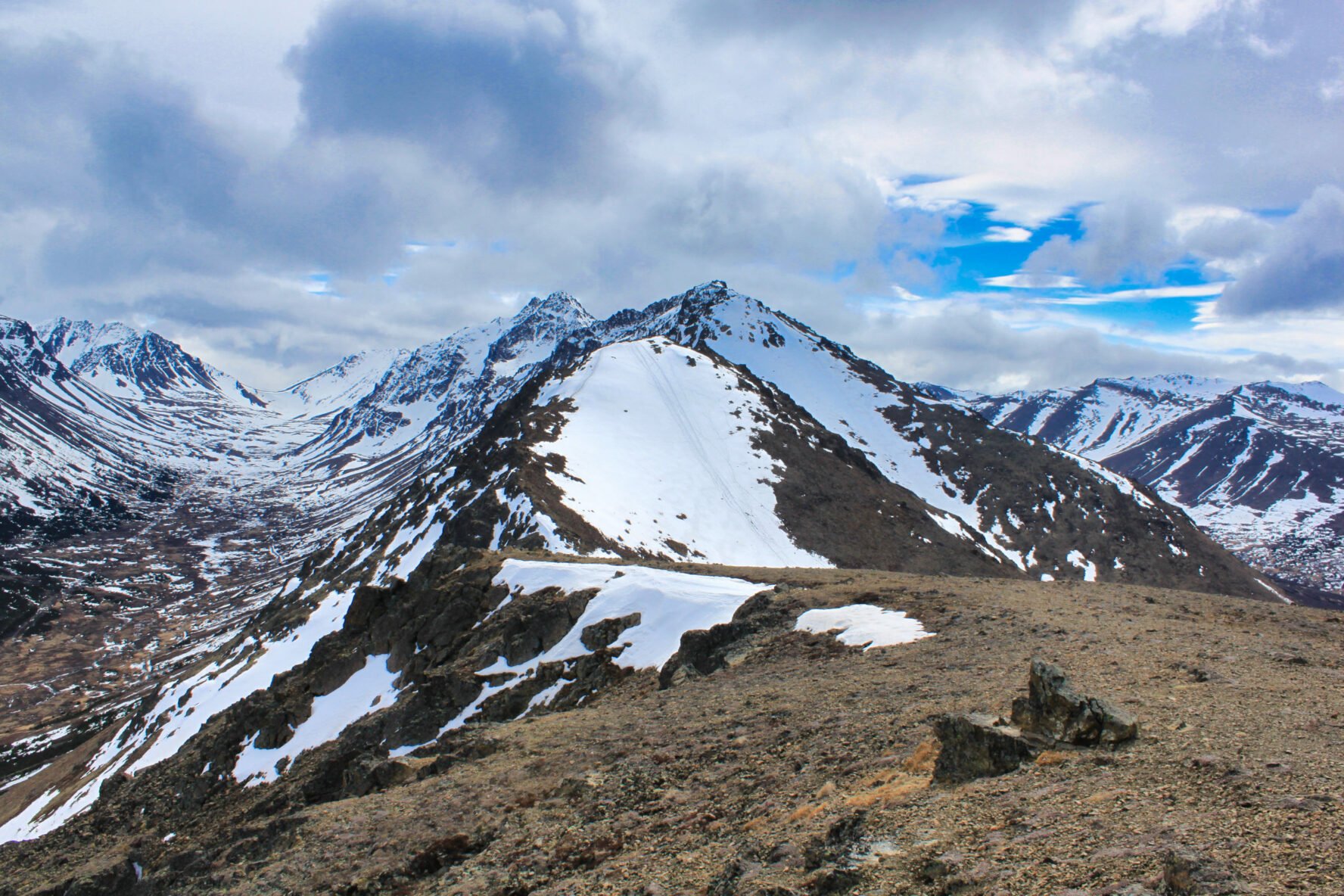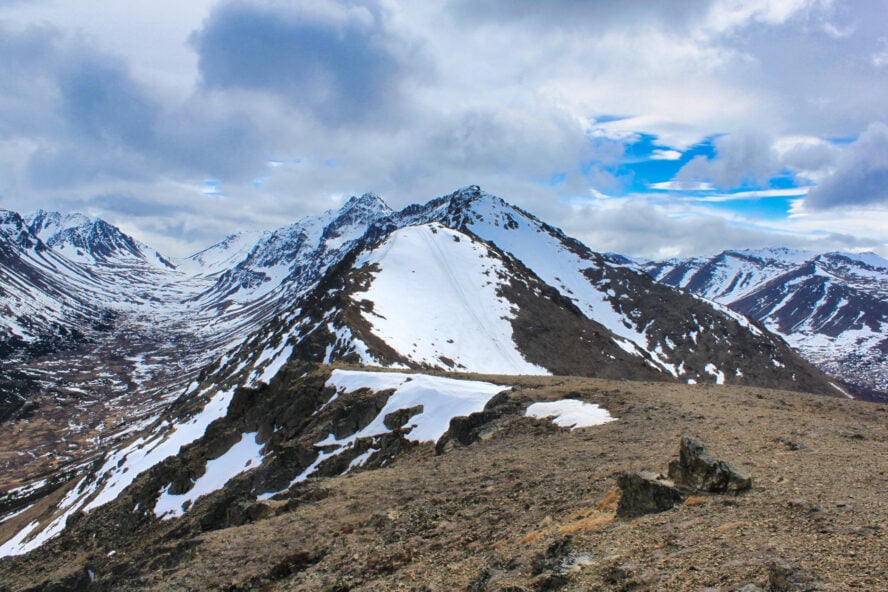 Climbing the popular but worthwhile Flattop Trail
The Flattop trail is a well developed and easy to follow Anchorage hike. Most of the hike is relatively easy, aside from a steep final pitch that'll get your heart rate up. The last climb is on a north-facing aspect and can retain snow well into summer, which can make things slippery. When I went on a late May afternoon, I found hard-packed steps in the snow left by an endless stream of previous hikers. The top is a broad flat expanse (hence the name) where you can also camp overnight. Flattop is also the site of an annual summer solstice celebration where hikers get to take advantage of almost 20 hours of daylight.
Hikers with an appetite for more hikes near Anchorage can follow the ridge to the southeast to bag two more peaks. Here you'll find the less creatively named Peak 2 and Peak 3 in the front range of the Chugach mountains.
Flattop trail is short enough to enjoy time in nature without investing an entire day. The views of the water, mountains, and skyline are more than worth the minimal effort.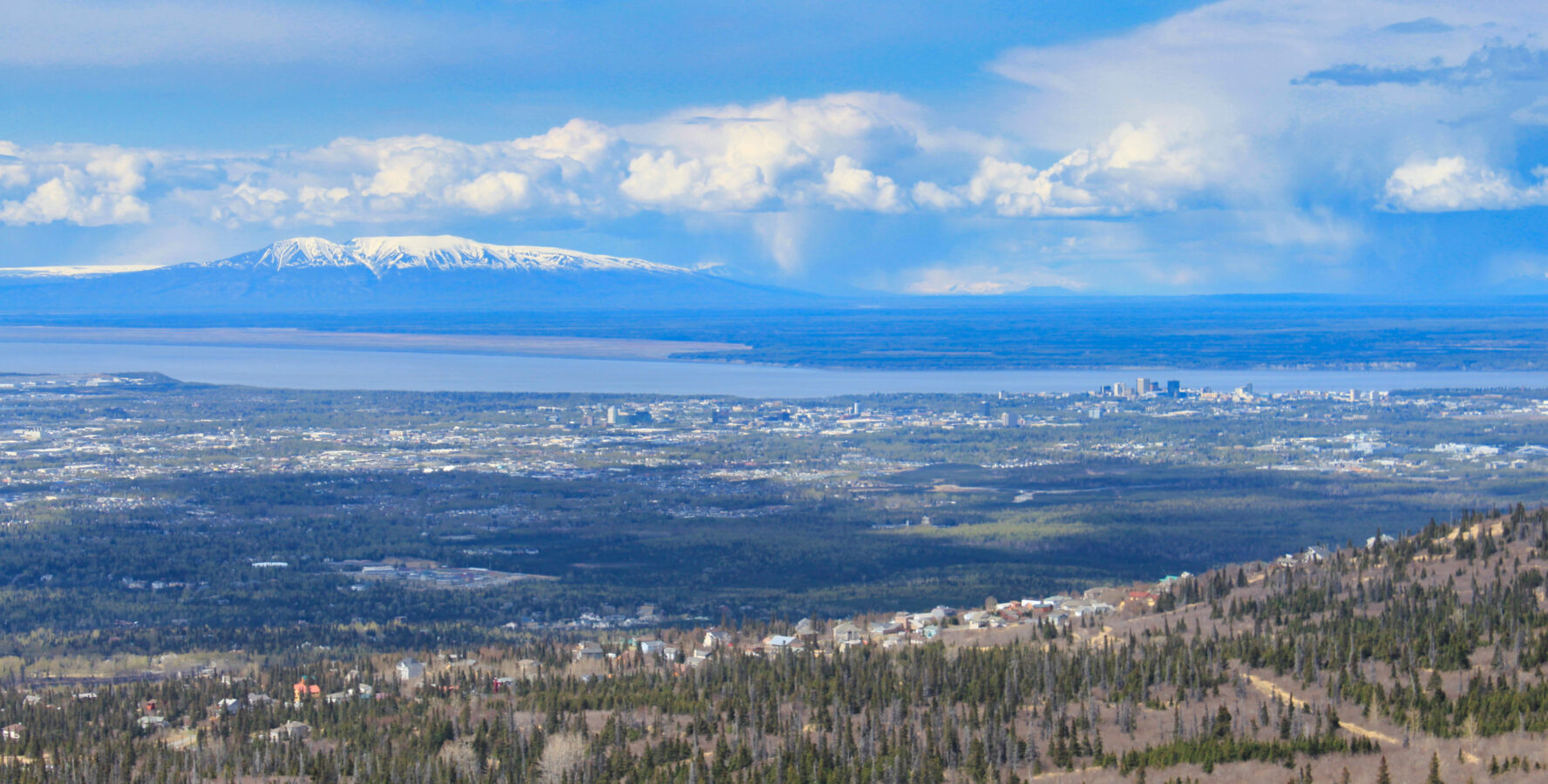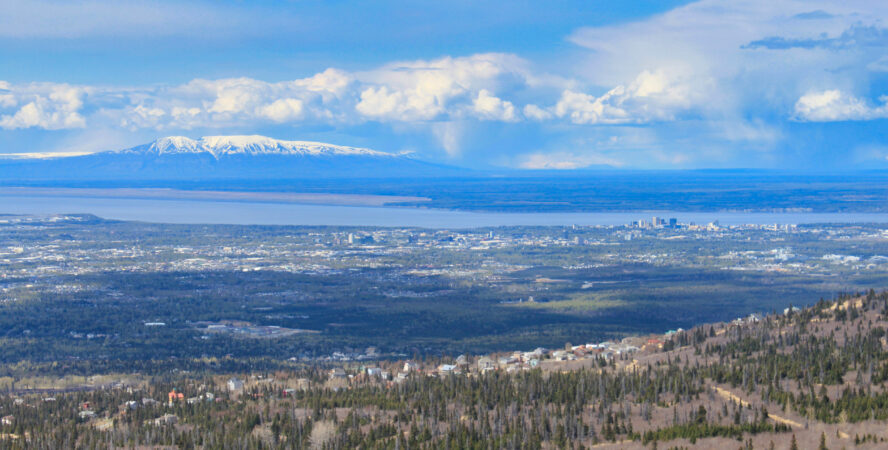 Hiking Flattop -- Anchorage, Alaska
7. Flattop Mountain, Anchorage - Good to Know
Distance:
1.7 miles one way
Terrain:
Developed and well-marked trail
Trailhead:
Glen Alps Trailhead in south Anchorage
Best time to hike:
May through September
Insider tip:
Blueberry Loop offers a shorter hike without the climb at the end; on the north side of the trailhead parking lot an accessible paved trail provides a panoramic viewpoint for those who don't want  – or can't – hike to the mountain
More info:
8. My Advice for Planning Your Alaska Hiking or Backpacking Trip
When is the best time to hike in Alaska?
Alaskans, or at least some that work in outdoor equipment stores, offer similar logic as fellow locals in cold, damp climates: There's no such thing as bad weather, only poor preparation. Even though you could explore many of the trails listed here in snowshoes in the wintertime, most people will prefer to hike them in the summer. Daylight lasts longer in the summer, so you won't get caught in the dark and many of these areas are prone to avalanche with winter snows.
Because of the latitude and elevations involved, you might still encounter snow on some of these trails as late as June or July. It's never a bad idea to check on conditions for each location before setting out.
Permits and fees
Fees involved vary depending on the agency managing the trail. Chilkoot Trail is the only Alaska hiking trail I feature in this article that requires a permit. You can visit the rest by paying modest parking or park entrance fees. Some even offer free entry!
Overnight camping rules
Rules for camping also vary depending on the agency, so it's best to check ahead if you think your trip might involve overnight camping. National parks tend to have more restrictions. Chilkoot Trail only allows camping at designated spots, and Denali has regulations governing how far from the road to make camp. State-managed lands tend to be more permissive. You can pitch your tent right on top of Flattop, for example.
Safety tips for encountering wildlife while hiking
Alaska isn't necessarily a dangerous place to hike, but vast portions of it are wild. All hiking in Alaska is bear country. If you're in a wooded area where you can't see very far ahead, make noise to prevent surprising an unsuspecting bear. Consider hiking in a group, which deters aggressive bears, and carrying bear spray — just make sure you understand how to safely use this powerful deterrent.
Also, be prepared to encounter moose along the trail. Moose are known to be aggressive, and a mother moose with calves to protect is the most dangerous. Despite their beauty, they're best viewed from a distance and aren't tolerable of close-up photo ops. If you find one enjoying lunch in the middle of the trail (which has happened to me!), it's best to turn back or wait for the animal to go on about its business. Again, be aware and cautious when it comes to wildlife on the trail.
Do your research or hire a guide before hiking in Alaska
Alaska's terrain can pose its own risk. Many of these trails involve stretches of bare rock, which can be slippery during and after rain. Boots with good tread are in order and trekking poles can help you keep your balance. Pack for weather events and bring a GPS, especially if you're headed into remote areas. And regardless of the terrain or weather, make sure someone knows where you're going and when you expect to be back.