Winter Hiking in Iceland: Not for the Regular Tourist
Looking past the freezing temps, logistical nightmares, and constantly changing weather, hiking in Iceland in winter is a blast—of cold air! But with access to places you can't normally get to—and sans crowds—it's also the most freeing time to visit for the adventurous spirit.
Our 20-minute trip is nearing the third hour.
The squalling winds make it hard to keep my eyes open, but I manage to squeeze in a glance at our car in the icy abyss. As I trudge on through knee-deep snow, razor-sharp snowflakes whiz by my face, and I can't help but think of how different everything was just a few months ago. And how different it will be in a few more.
Come spring and summer, these trails will be littered with people. There'll be tents wherever you turn, the huts at surplus, and the Laugavegur Trail will feel like rush hour in downtown Jakarta.
But, hiking Iceland in the winter is different. Starting with the first snow that covers the fields and culminating with blizzards that scare away any lingering tourists, what remains could best be described as a frozen hellscape.
Yet for those perseverant enough—and with a warm coat—they will be surprised by what they find: walks along frost-bound valleys under the Northern Lights, odysseys to crystalline caves, and glaciers thick in the hoarse breath of the winds.
People say Iceland is two different planets between summer and winter. I'd say it's two different options. If you like something a little different, well Iceland in winter is about as stark as it gets.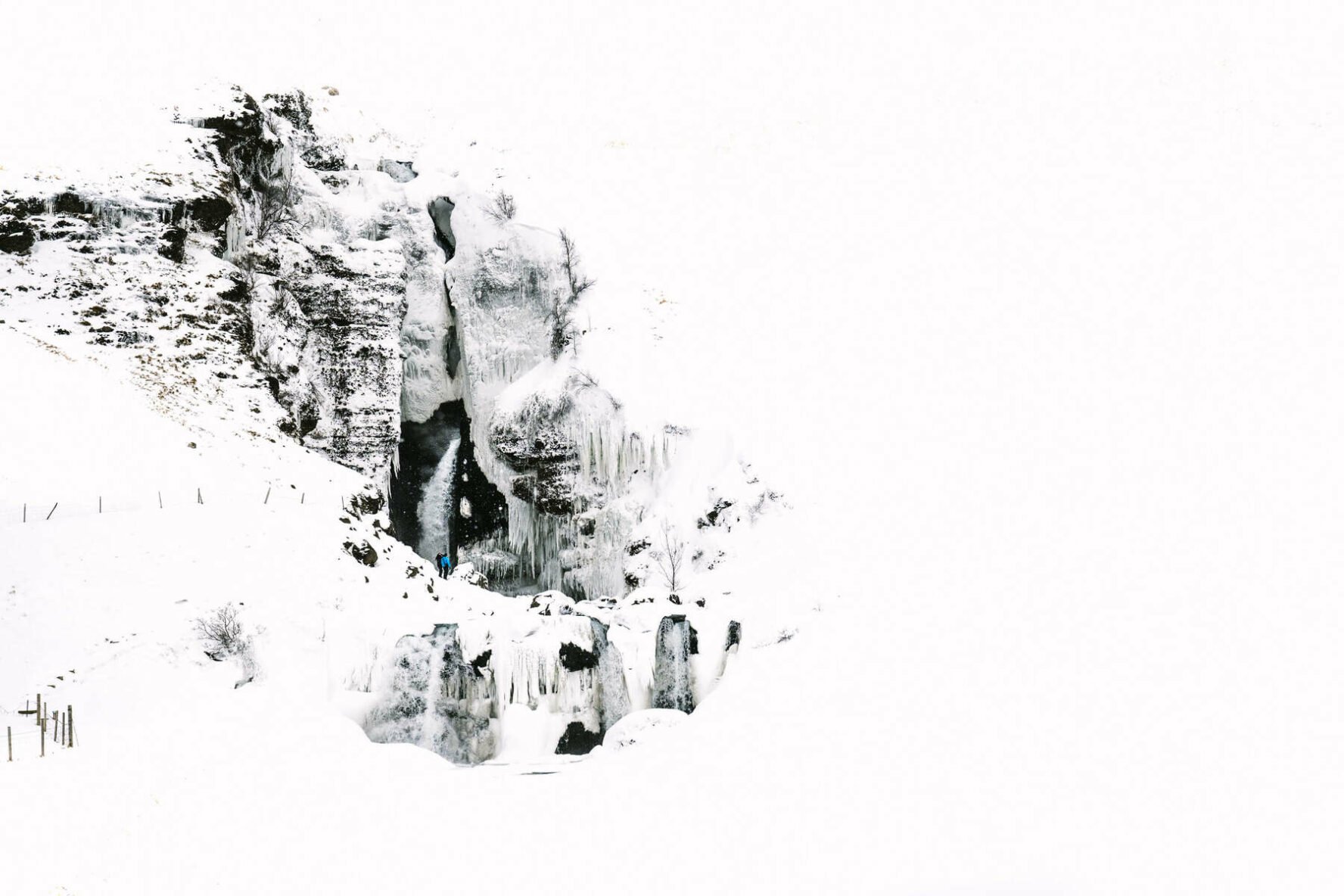 Pros and Cons of Winter Hiking in Iceland
Hike Iceland's legendary landscapes free from the crowds
Experience some of the most raw landscapes of the South Coast and Highlands
Access otherwise inaccessible places
Short daylight hours (but you're more likely to see the Northern Lights)
The winters can get harsh. REALLY harsh
The Land of Fire and Ice
Iceland owes its characteristic obsidian deserts, geysers, and uncanny rock formations to its 30-plus volcanic systems, many of which are still active. Most recently, when Fagradalsfjall erupted in 2021, it gave us locals quite a scare since it occurred less than 40 km away from Reykjavík.
As an island, the interplay between the chilly Iceland and Greenland Seas and the warm Gulf Stream leads to some interesting geographical anomalies, especially in winter. While the Highlands in the north enjoy a hefty snow cover during the colder months, the south sees practically none at all. But it is cold, and the frozen waterfalls, secluded fjords, and azure ice caves are either closed off or difficult to access, staving off most tourists.
As you might have picked up by now—we're not regular tourists!
What we're all about
My partner Mónica and I have been heading hikes for as long as I can remember. We've spent more than 10 years leading people from all walks of life along Iceland's most popular, and sometimes hidden, trails. But after a while, we felt like we'd explored every nook and cranny of Iceland, crossed every black desert, climbed every peak, and dipped our toes in every hot spring.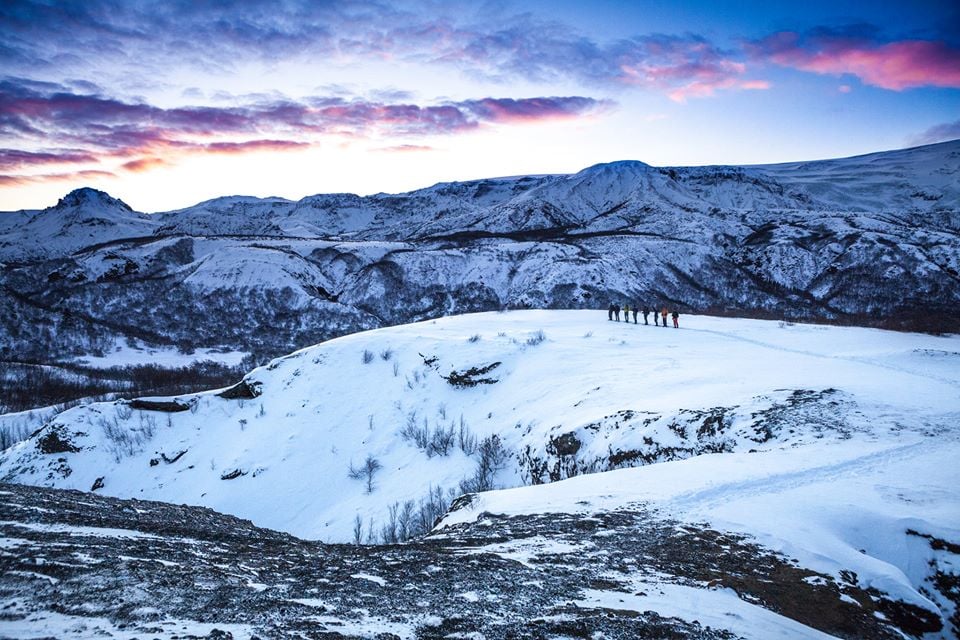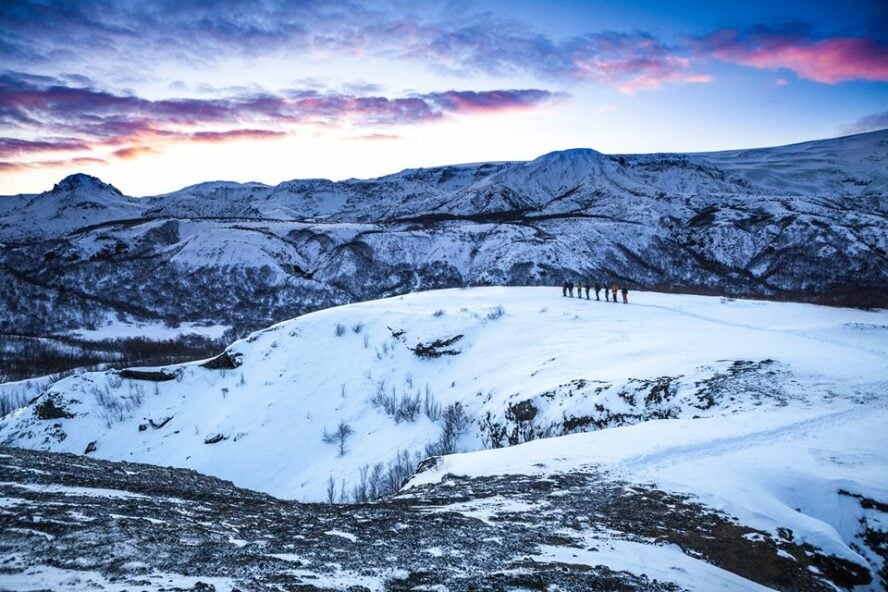 So we started crafting hiking trips in Iceland with a focus on the adventurous, and this is how our company, Amarok Adventures, came about. We aim to give each of our clients an authentic Icelandic experience: off-the-beaten-path treks to the far-off, less-touristy areas of our beloved island.
And trust me, there's nothing touristy about this.
Iceland laughs at your plans
If you're planning to come here in the winter months, learn to expect the unexpected. Having a plan B isn't enough, you need plans C, D, E, F, and G at the very least. In all my years as a guide, I hardly had one or two tours where we could do everything as planned, and this rings especially true for the winter hikes. Actually, I have a great anecdote that perfectly illustrates just how fast the weather can change here.
Three or four years ago, we were taking a group of hikers on a 10-minute drive over a mountain. It was blue sky and clear, the conditions as perfect as could be. Then we happened upon a car stuck in the snow, and a guy asking for help. Of course, we stopped to try and dig him out. As we were freeing the tires, I remember feeling a change in the air, the slightest touch of wind picking up.
Next the storm.
I can still see myself absent-mindedly shoveling, then looking around and seeing—nothing. When we finally got the guy unstuck and rushed back to our car, we were engulfed in a blizzard with a whiteout past our windshield. Guided completely by our GPS system, we managed to leave the valley. In three and a half hours.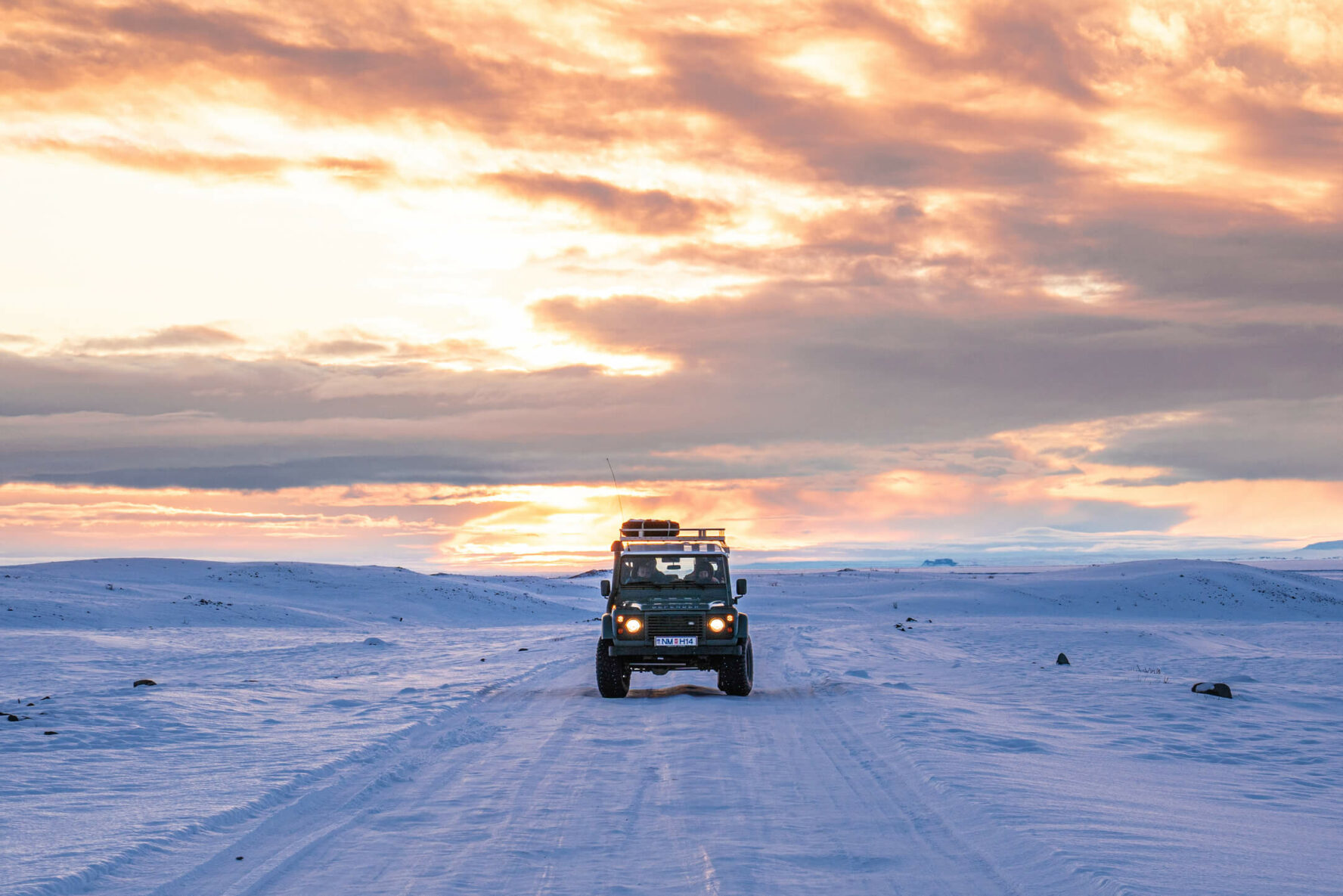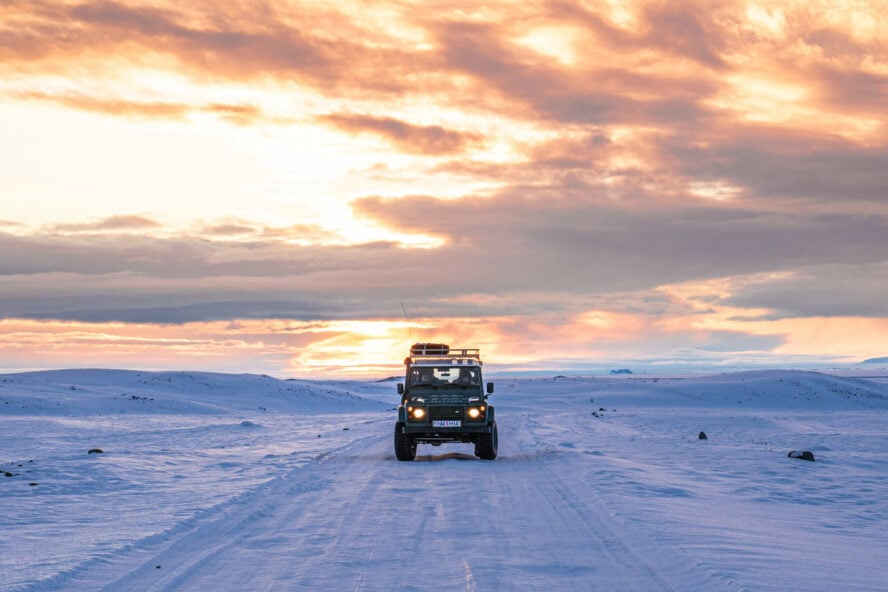 The day stuck with me. It inspired me to start crafting trips that embrace Iceland's inherent uncertainty. Instead of trying to adapt a plan to the weather, we flow with it. If the conditions change, so do we!
Welcome to the Wilderness
Potential Day 1: Glaciers
With the coming of winter, the glaciers littering Iceland's southern shores are primed for exploring. Like the basalt columns and sea stacks that are all the rage in the summer, these glacial landscapes are surreal. Here you'll snowshoe across beaches full of diamond-shaped icebergs, shifting glacier tongues, and ice caps tens of kilometers in diameter.
Sadly, the glaciers are rapidly shrinking, and we've been seeing it with our own eyes. While it is a bit depressing, it's also amazing to witness just how quickly nature changes. If there's any lesson, it helps put things into perspective.
Potential Day 2: Ice Caves
Looking for more glacier time? You can always get under the ice.
Caving is a big deal in Iceland, but it's definitely not for the faint of heart. If you're claustrophobic or can't get over the tons upon tons of ice dangling overhead, you're gonna have a bad time. If you do make it out it's like stepping into The Lion, the Witch and the Wardrobe.
Inside the walls glow with coal-black, teal, and turquoise hues, icy chunks coalesce in grotesque shapes, and sun rays meekly glow through thin slivers of the ice. It's as beautiful as it is frightening, and the south of Iceland is full of these. If the weather allows for it, we could spend a whole day spelunking. I'd happily oblige as it's one of my favorite things to do in Iceland in the winter.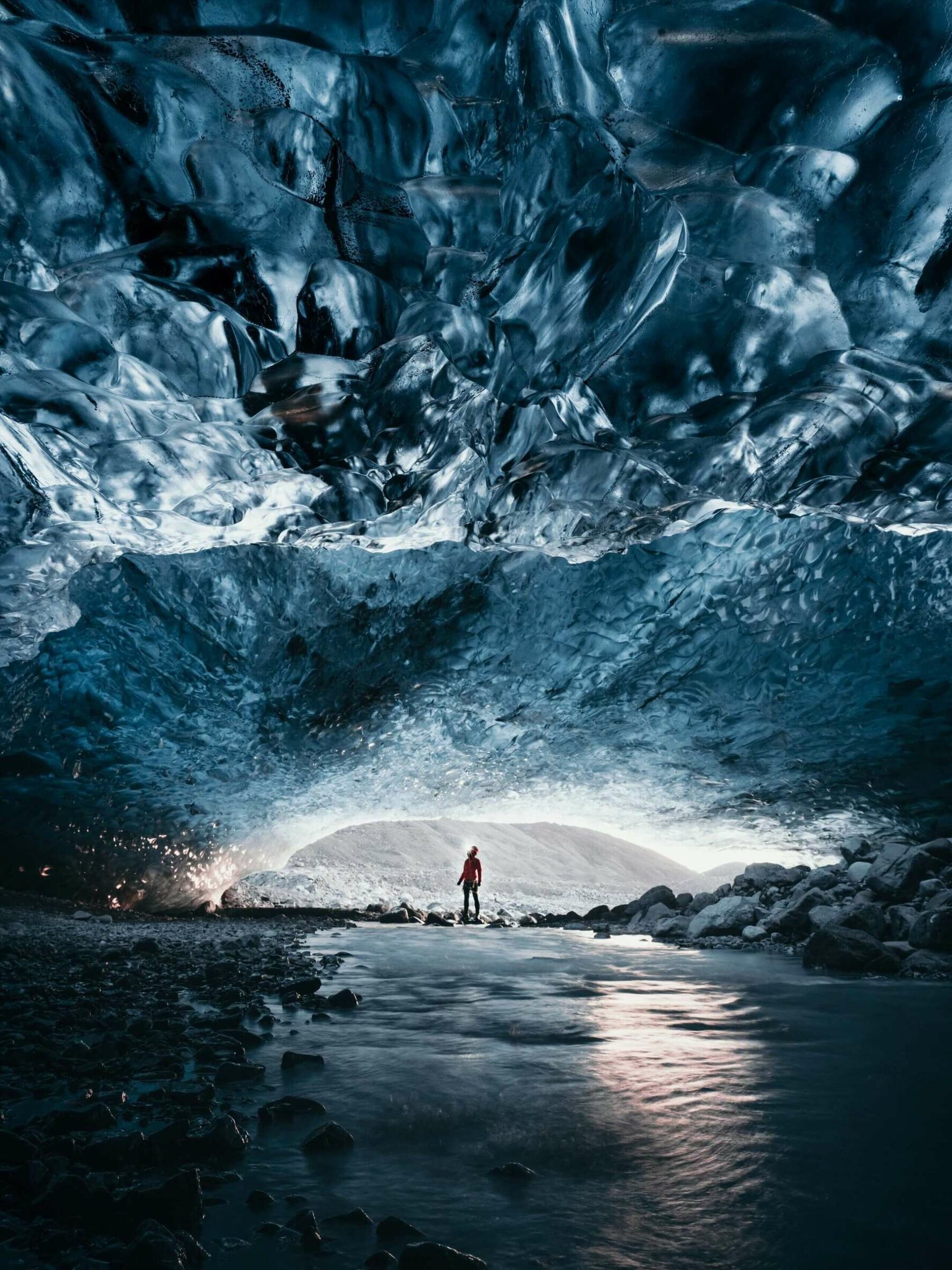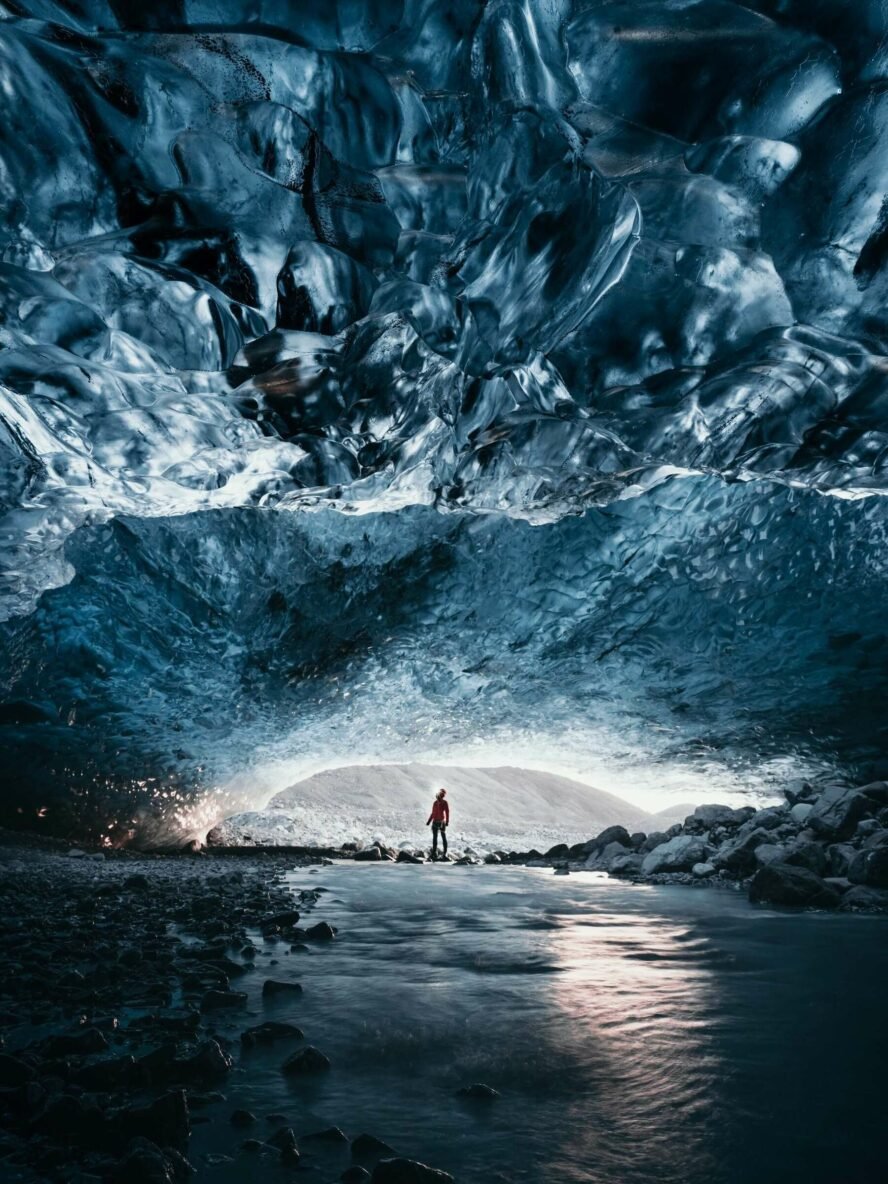 Potential Day 3: Thórsmörk
Then again, it's a shame to stick solely to the South Coast. If you're armed with a good vehicle and a driver that knows what they're doing, hiking the stunning Thórsmörk valley is a must.
Imagine: your snowshoeing in an endless alpine tundra. The only sound you hear is the wind dredging through boreal birch tree forests. The winding, frozen trail spits you to the top of Valahnúkur mountain and you're hit with a panoramic view of the Eyfjallajökull volcano, still cooling from its 2010 eruption.
The snows bring a whole new atmosphere, one of silence, solemnity, and total bliss. If you've already seen it in its full summer glory, hiking in winter will feel like an untrammeled wilderness.
Potential Day 4: Stakkholtsgjá Canyon
No other place showcases the winter metamorphosis of the Icelandic Highlands better than Stakkholtsgjá Canyon, one of our favorite winter trekking spots.
In the summer months, a peaceful creek flows down the popular valley, enveloped by massive mossy walls glowing with a hypnotizing green hue. However, in the wintertime, a thick layer of pale snow covers the rocky ground, and the walls grow rows upon rows of precarious icicles. But they are just the tip of the iceberg. The Highlands are full of frozen waterfalls to discover, canyons to explore, and locals to meet!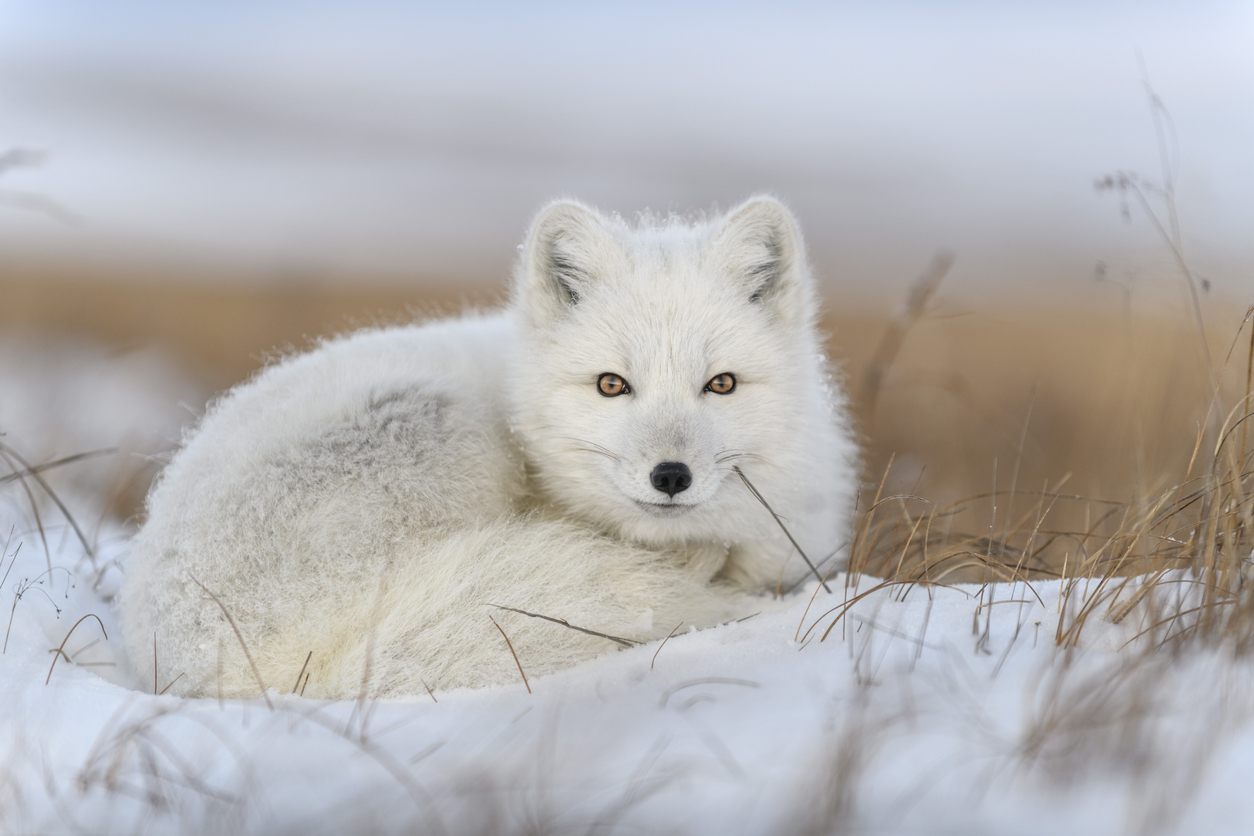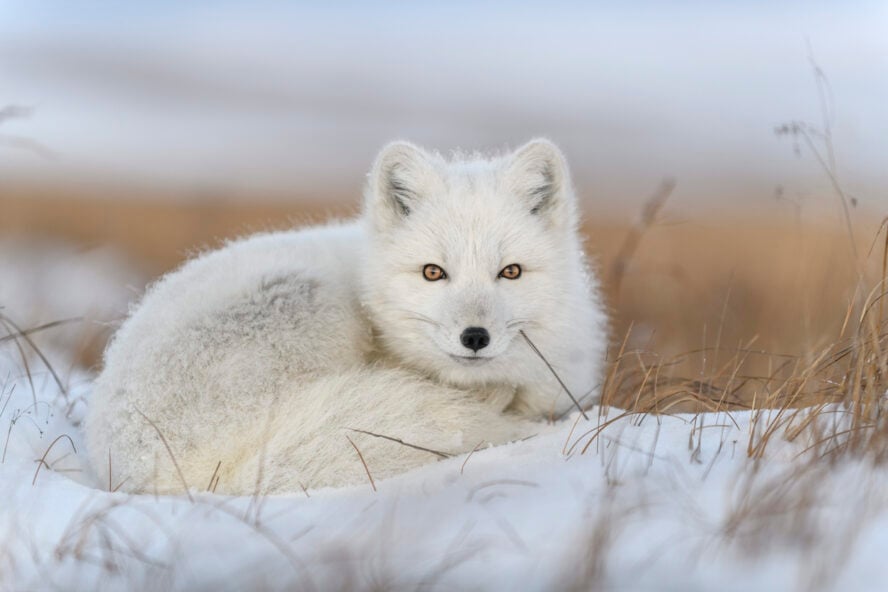 Potential Day 5: Evening with the locals
The arctic fox, Iceland's only native mammal, is one of the toughest natural survivors in the world. Like Iceland itself, the fox changes color with the passing of the seasons, growing thick, white fur that makes it virtually invisible in the winter. Arctic foxes usually hunt at night, but they have a natural curiosity for humans, so they're often caught by camera lenses. You don't need to look for them—stay quiet enough, and they'll come to you.
If the weather and temperatures allow, we like to spend a night in Thórsmörk at Básar, a mountain hut at the heart of the valley, as well as a popular arctic fox hangout. Gathered around the bonfire, we'll share in the ancient Icelandic tradition of storytelling, and honor those who walked these paths before us. Once the fire dies down and the darkness fills the valley, we may even get to see Iceland's iconic northern lights.
Potential Day 6: The Northern Lights
When I saw my strongest aurora borealis, I was both petrified and mesmerized. Thousands of red and green ribbons dancing in the sky.
I was in Reykjavík at the time, while Mónica was leading a group somewhere far away. As soon as I called her she asked, "are you seeing what I'm seeing right now?" I said, "can you see it too?"
"Yes, it's unbelievable."
That night, everything lined up. It was pitch-black, the light pollution was minimal, and there were no clouds. There was a ton of solar activity however, and a particularly generous solar flare graced us with a geomagnetic storm. While it's not common, when it does it's… unbelievable.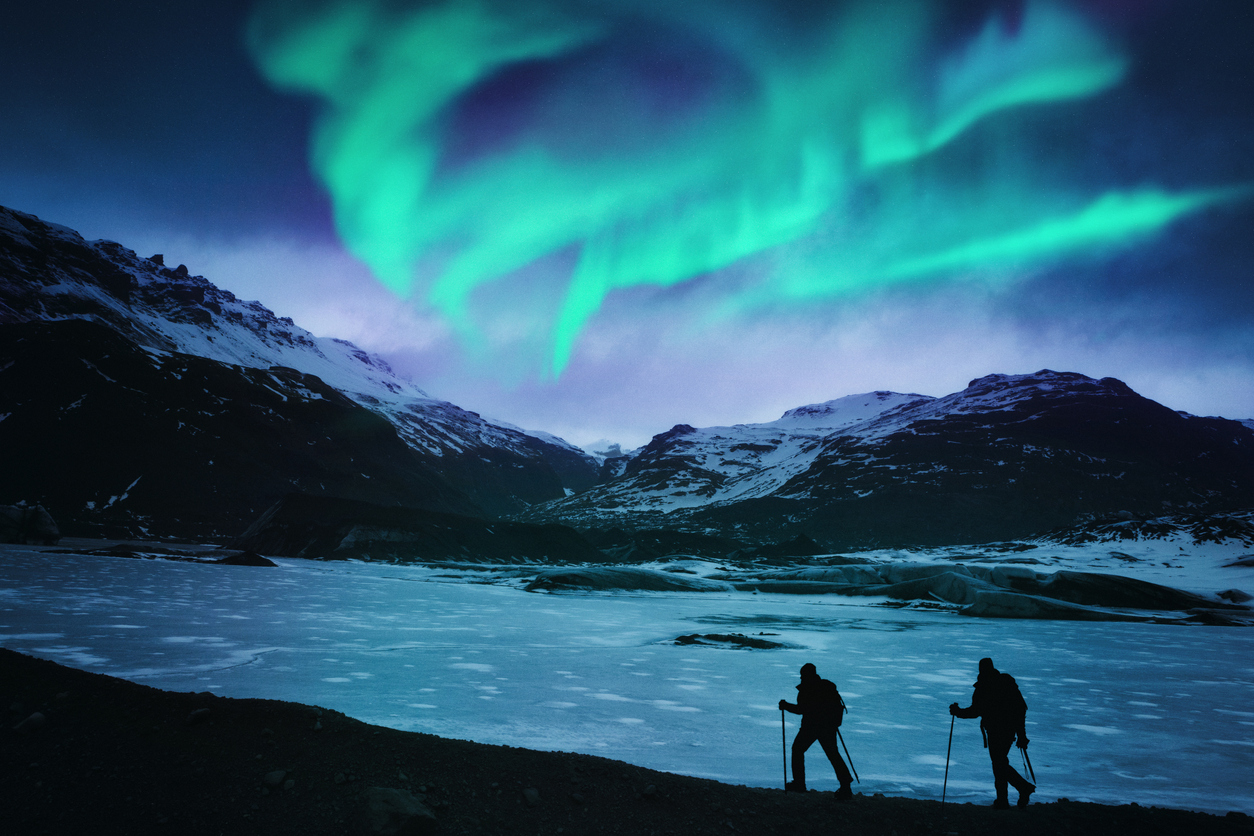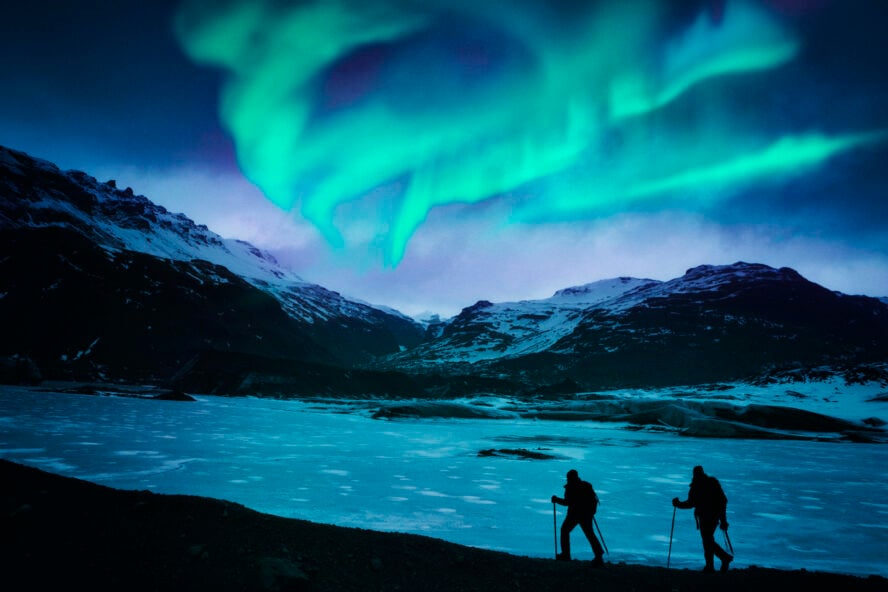 While winter is the best time to see the lights, there's no guarantee you will. The aurora borealis is unpredictable, and its appearance depends on many factors. Because of the longer nights and the lack of light pollution in the wilderness, you stand a much better chance. But there's no command switch. If Madam Aurora wants to, she will show up and dance in the sky for you. But if she doesn't, well, you'll just have to come again!
A Few Tips to Enjoy Your Icelandic Winter Adventure
Where will we stay?
To keep things simple, we often use the Midgard Base Camp & Restaurant in the town of Hvolsvöllur for the entirety of our trip. It's cozy, well-equipped, and provides easy access to both the south and the north of the country. We usually sleep upstairs, in six-person rooms with comfy bunk beds. There's some extra space inside each bed, as well as a curtain for added privacy.
Downstairs, there's a cozy communal area where you can enjoy an ice-cold beer, play some foosball, and share stories. Finally, there's a sauna and a hot tub, ideal for post-hike recuperation.
If we do spend a night in Thórsmörk, it will be in the Básar mountain hut. It has separate sleeping and dining areas, and a well-equipped kitchen. It also has a toilet, running water, and a big patio for grilling and telling stories around a campfire.
How do we get around?
For winter expeditions, we always use custom 4WD vehicles we call "Super Jeeps." Before anyone sues, they don't have anything to do with the Jeep brand. They are just durable trucks with massive tires modified to handle the harshest conditions. By using them, we are much less limited by the weather or the conditions, and they are what let us access some of the remotest volcano hikes in the warmer months. Some can accommodate seven people, others fit up to 15, but all are well-maintained and ready for anything Iceland throws at them.
What should I pack?
There's a saying here in Iceland: "There's no such thing as bad weather, only bad clothing." You'll need some really good gear for this adventure. A warm and weatherproof jacket and pants are a must, as is layering. Make sure that your hiking boots are sturdy, with adequate ankle support and a strong sole. Finally, make sure to bring spares: gloves, hat, shirts… spare everything!
Do I need to buy any technical equipment?
When it comes to technical gear, we've got you covered. Whether it's snowshoes, crampons, harnesses, sleeping bags for the valley—we've got it all. If there's anything else, we'll be sure to let you know in time.
Is winter hiking in Iceland safe?
Since we're exploring rarely visited territory in some really harsh weather, we get a lot of questions about safety. In case of emergencies, we always pack TETRA radios with us. It's basically a very strong satellite radio that allows us to reach out for help in any and all conditions. Thankfully, we've never had to use one.
Does Iceland stay dark in the wintertime?
Because of Iceland's high latitude, the days get very short here in the winter. This is popularly known as the December Darkness, as the longest days last only around five hours. While that's certainly a limiting factor, there's some good news. The best time to visit Iceland in winter is February and March as they get eight to 10 hour days, which is plenty of time for a quality hike. Also, with the long nights, you're much more likely to see the northern lights!
The Winter Solace
It's certainly not for everyone, but when the days burn off and the sun sits low in the sky I'm happy to be here. There are no trails, just boundless snow. Whether you're hiking the hidden trails of Iceland or the most popular ones, the frozen wilderness is indifferent. There are no rules. And yet, once you embrace just how limited you are to control things, you'll feel freer than anywhere else in the world.
Ready for your winter hiking trip to Iceland? Let Albert explain why you should consider visiting when most tourists choose to stay home in his 40-minute webinar.