The Best Hiking in the Dolomites: A Legacy of Limestone
With a dizzying array of peaks, the Dolomites are one of the world's most storied mountain ranges and home to some of the best hiking in Italy.
Table of Contents
I look up at the sky and—instead of a big blue canvas—I see a colossal wall of jagged peaks piercing the heavens.
This enormous chunk of the northern Italian Alps marks a stark contrast to the landscape below: an endless field of green sloping gently towards a cluster of gabled roofs and a thin belltower tying them into a village. On the other side of the valley are two lonely cows grazing between patches of trees.
A postcard vision of Alpine life.
Connecting the rustic to the rugged is an endless network of trails, and where the best hiking in the Dolomites is found. These pallid peaks command the horizon, beguile you with their striking beauty, and—like in my case—never let you go.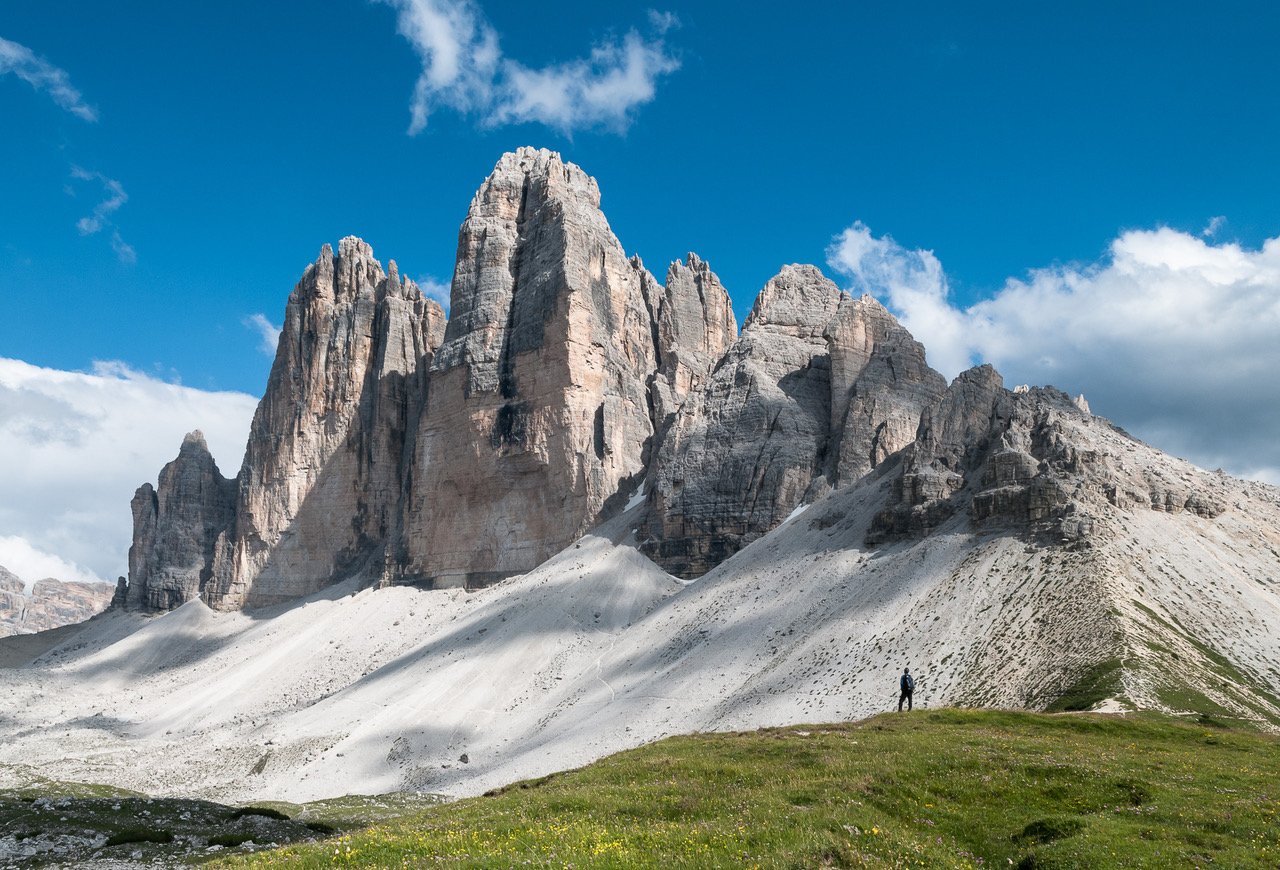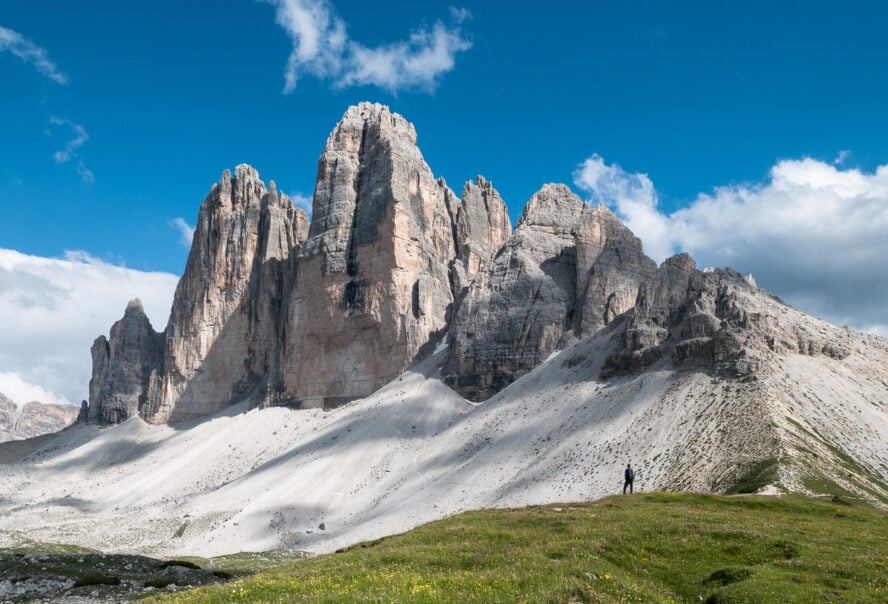 The Borderland of Cultures and Dreams
Extending across three regions in northern Italy (Veneto, Trentino-South Tyrol, and Friuli-Venezia Giulia), the Dolomites are home to diverse mountain landscapes and cultures.
Since the 1850s, nature lovers have flocked to this pocket of Italy to marvel at its imposing faces and pinnacles. Among its 2,000-plus named peaks, 18 mountains rise above 3,000 meters (around 10,000 feet), with Marmolada standing proudest. The 3,343-meter (10,968 ft) "Queen of the Dolomites" thrusts upwards in pale vertical walls, formed from a carbonate rock first described by French geologist Dieudonné Dolomieu, in whose honor the range was named.
Prior to the end of WWI, Trentino and South Tyrol were part of the Austrian Empire. This is why, even today, three quarters of its population speaks German as their first language, alongside Italian and Ladin, a local Romance language. The vibrant mix gives the Dolomites an eclectic appeal that echoes throughout its language, history, architecture, and cuisine.
The Best Hiking in Italy Is in the Dolomites
Listed as a UNESCO World Heritage Site for their beauty and geomorphic significance, the "Pale Mountains" occupy an area of 15,942 km2 (6,155 sq mi) between the Adige River in the west and the Piave Valley in the east. When the snowmelt releases the range from its icy slumber, Italy's most celebrated network of hiking trails unfurls into a pastoral landscape full of deep valleys, shimmering alpine lakes, and rustic mountain huts, known as rifugios.
With endless options for day hikes or hut-to-hut backpacking trips, this rocky realm is a place where both picnicking families and serious-minded hikers can get their fill of gorgeous Alpine scenery. Interestingly enough, even with the significant influx of tourism in the last couple of decades, everything in the Dolomites is still locally run.
The hotels, rifugios, restaurants, and guiding companies are typically operated and staffed by people from the area, forming a big family network where everyone will extend a helping hand to those in need. The folks here are proud of where they come from, what they do, and they're glad to share their heritage with guests.
How a Girl From an "Estancia" Ended Up in Europe
Growing up on a ranch in Argentina, I could never have imagined life would take me to the mountains of Italy. At that time, horse riding and fly fishing was the extent of my outdoor experience. Then, when I turned 20, I traded the plains of Patagonia for the urban sprawl of California and Toronto, where I studied fashion design and photography. For a time, that was enough.
When I got the chance to visit Italy, I didn't think twice—instantly falling in love with the land and the culture I knew there was no going back. It's been almost three decades since I came here. Over the years, I've hiked, climbed, skied, ridden all over these mountains, crossed its via ferratas and stood on its towering peaks. Now, as founder of Dolomite Mountains s.r.l., my goal is to help others fall in love with the Dolomites too.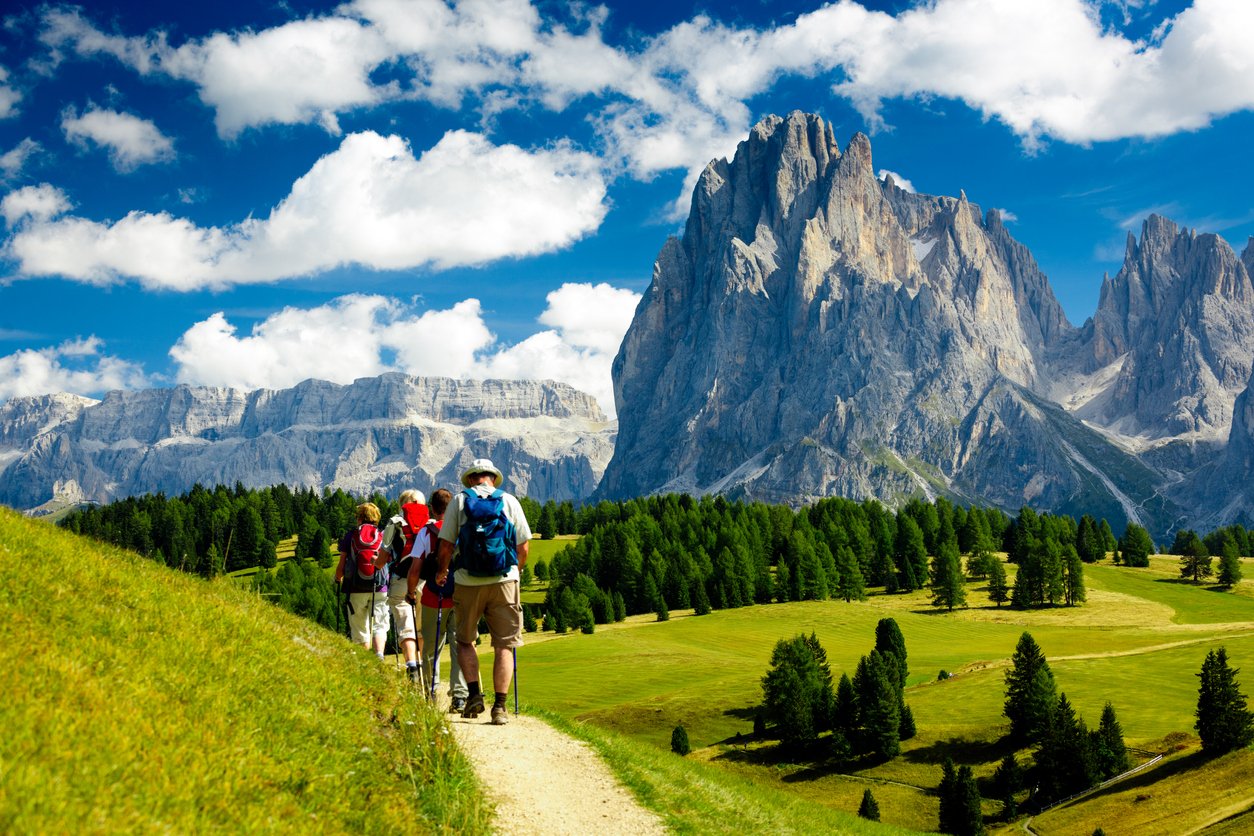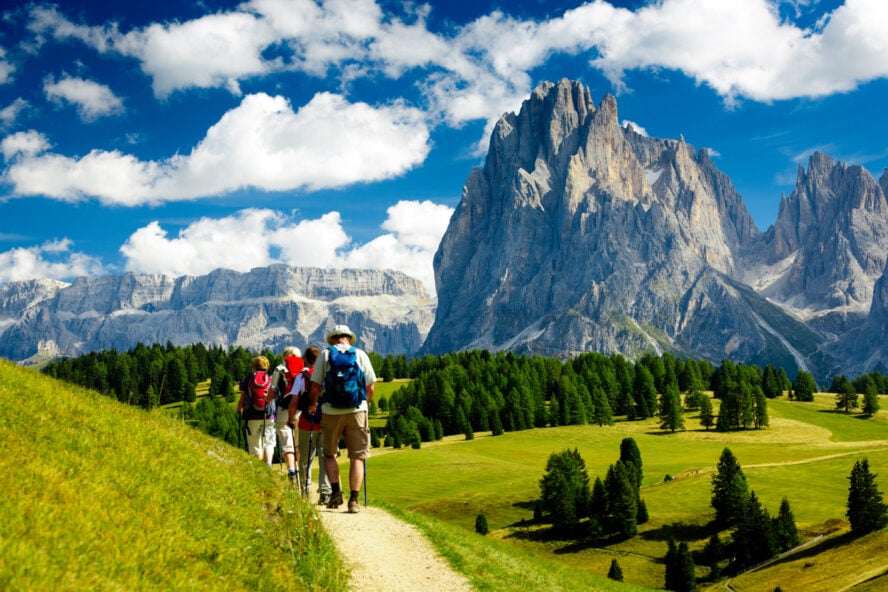 Your Guide to the Best Hiking in the Dolomites
To help you plan your Dolomites hiking trip, I've compiled a list of the best trails.
I suggest setting aside at least a week to make the most of your visit—two weeks if you're planning to do an Alta Via trek. Just remember: you're bound to encounter plenty of people on the trails. Try to be respectful of the mountains and your fellow hikers. Maintain proper distance, don't hurry or push the people in front of you, and avoid littering.
Easy Hikes in the Dolomites:
Lago di Braies Circuit – 3.5 km (2.2 miles) loop, best for easy access

Tre Cime di Lavaredo Circuit – 10 km (6 mi) loop, best for iconic views

Adolf Munkel Trail – 9.2 km (5.7 mi) point to point, best for family hikes

Seceda Ridgeline Hike – 9 km (5.6 mi) out and back, best for cable car rides
Moderate Hikes in the Dolomites:
Lago di Sorapis Trail – 13 km (8 mi) out and back, best for glacial lake hikes

Alta Via 1 – 120 km (75 mi) point to point, best bucket list hike
Strenuous Hikes in the Dolomites:
Alta Via 2 – 170 km (105 mi) point to point, best for hardcore hikers
TOP CHOICE FOR A BUCKET LIST HIKE
Unparalleled views for the duration of the trek
Features some of the best rifugios in the entire Dolomites
Despite its length and elevation, it's suitable for most hikers
The signage on the trail can be hard to follow
You need to plan ahead and set aside enough time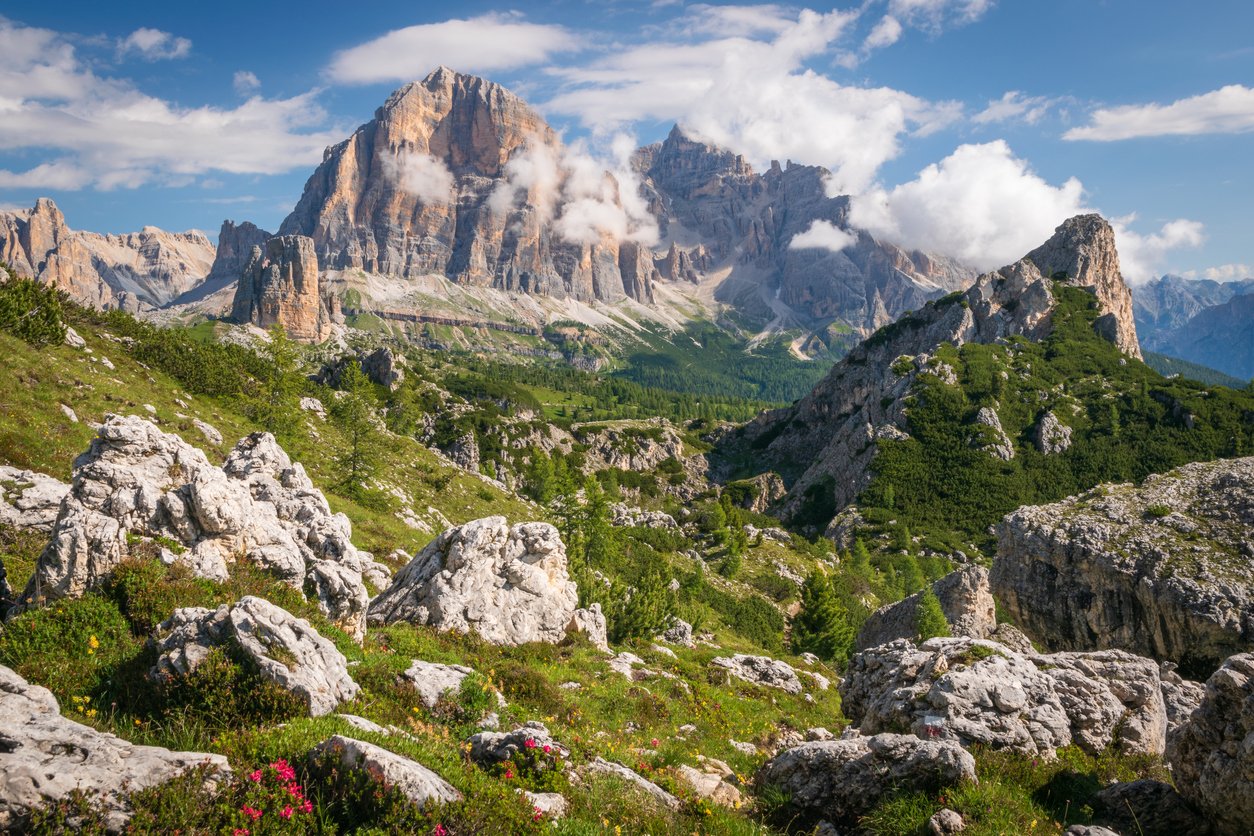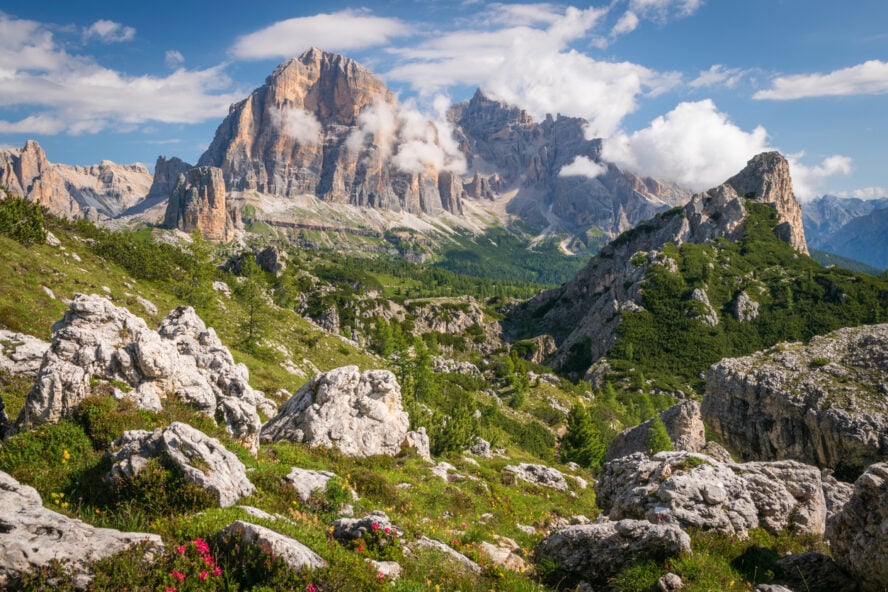 All the vistas you could ask for
When it comes to trekking in the Dolomites, the Alta Via 1 is number one (pun intended) for a multi-day hut-to-hut adventure. Starting from Lago di Braies in South Tyrol and ending in Belluno, this 120 km (75 mi) trail is the most approachable of all the high routes in the area.
Moving north to south in bite-sized stages, Alta Via 1 can be completed in 7-14 days, depending on your fitness level and preferred pace. For large portions of the trek, you'll be staying high above the mountains, passing through vast rock fields and rolling pastures, with enchanting views all around you.
Since camping is not allowed anywhere in the Dolomites, you'll be staying at rifugios owned by various alpine clubs. They all offer meals, dormitory rooms (some of them have private rooms as well) and they need to be booked individually. Due to high demand, most of them require deposits to secure your reservation.
A bucket list hiking trip
The hike will take you past dolomitic towers and crags, idyllic meadows, deciduous and evergreen forests, as well as barren, lunar-like landscapes strung together by high mountain passes. Some sections can be squeezed into a single day of hiking, while others offer alternative routes and side trips.
When you enter the Dolomites, you're soon treated to the imposing summit of Mount Lagazuoi. An optional hike here will take you through restored WWI trenches, barracks, and tunnels steeped in history. A little further, the Cinque Torri towers are known for their excellent rock climbing. The middle, more technical section that lies beyond rifugio Nuvolau features ladders and cables—nothing particularly demanding. If you wish, you can extend your trek by bypassing some of them.
The second half of Alta Via 1 holds even more memorable vistas, including those of Monte Pelmo, an isolated block of pale rock, and Cima de Zità Sud. Some steep ascents and ridgeline walks later, the trail comes back down into grassy hillsides and wooded valleys before culminating in a vast ravine and the La Pissa bus stop.
As the easiest high route in the Dolomites, Alta Via 1 is the best way to experience multi-day hut-to-hut trekking with the least effort.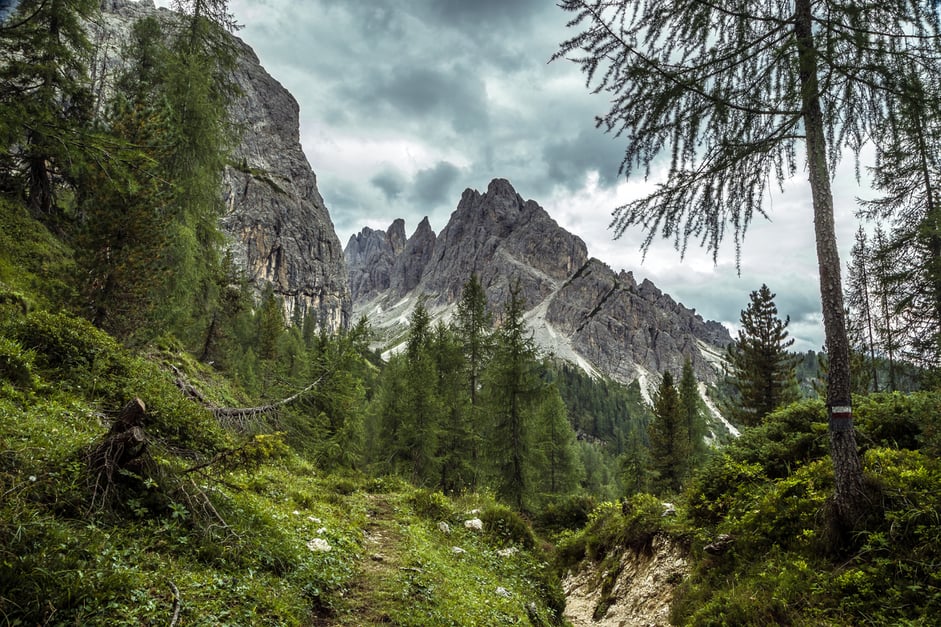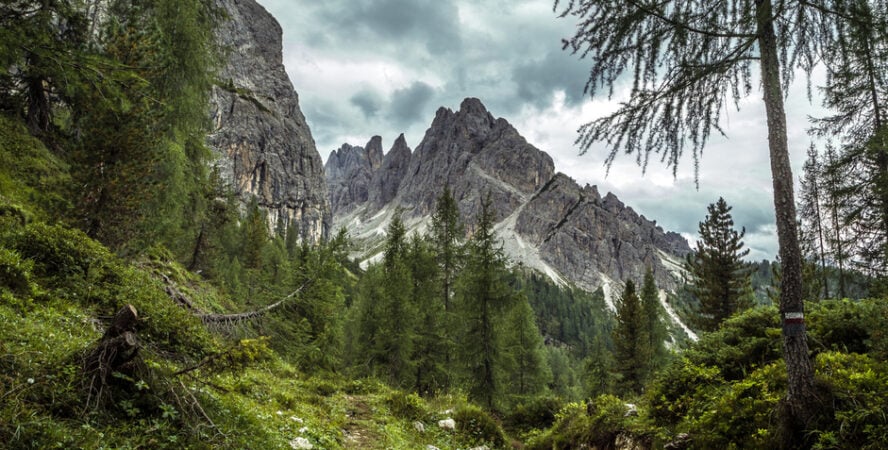 Hiking 90 miles on the Alta Via 1 Dolomites Italy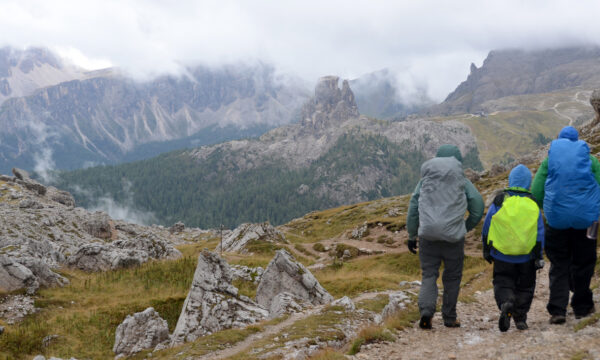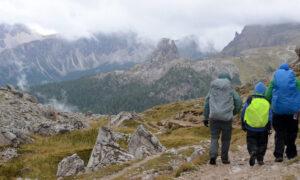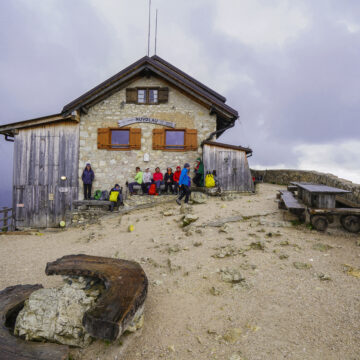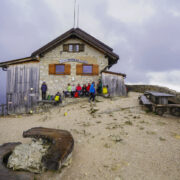 1. Alta Via 1 - Good to Know
Distance
120 km (75 miles) point-to-point
Elevation gain
7,700 m (25,260 ft)
How to get there
To reach Lago di Braies, drive directly from Cortina d'Ampezzo or take the bus. There are several car parks near the lake.
Insider tip
If you'd like, you can arrange for your luggage to be transported to the rifugios beforehand so you could hike with just a small backpack
Recommended guided tour
TOP CHOICE FOR HARDCORE HIKERS
Sunrises and sunsets that will melt your heart
Rich diversity of landscapes and vistas
Delicious local cuisine in the rifugios
There are dangerous no fall zones to watch out for
Additional via ferrata gear is recommended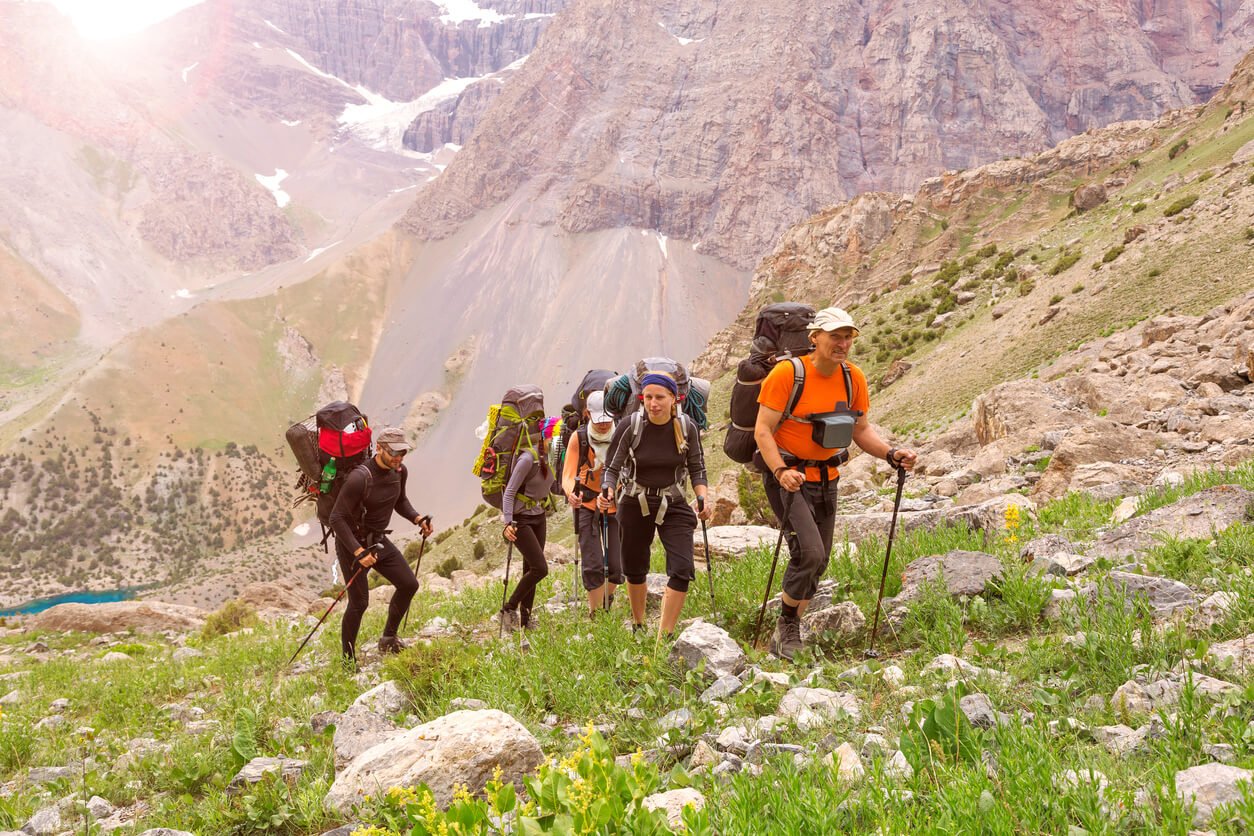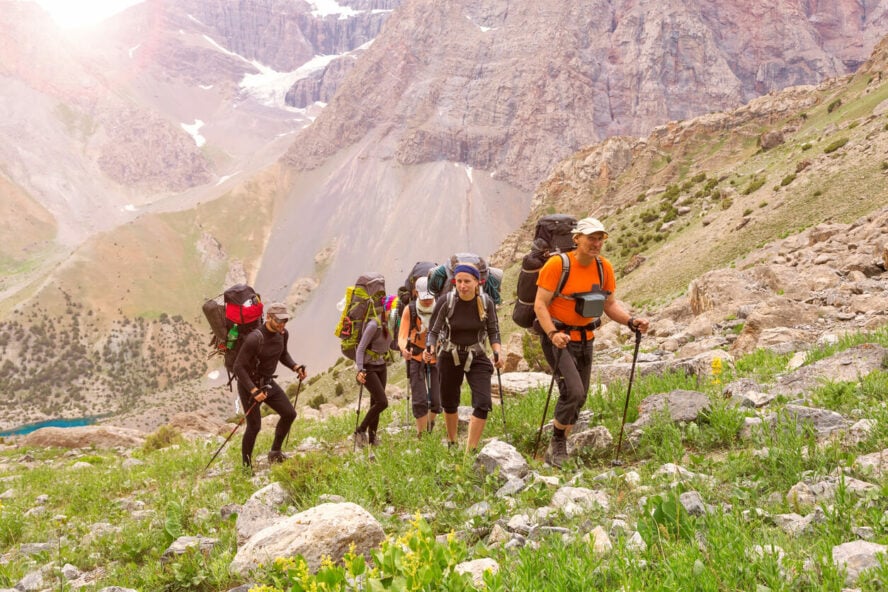 Leg-burning thrills and heart-stopping views
For experienced hikers who prefer their panoramas with a side of adrenaline, the vertigo-inducing thrills of Alta Via 2 are just what the doctor ordered. Starting in South Tyrol's Bressanone and ending in Belluno's medieval town of Feltre, this difficult journey crosses three provinces and eight mountain groups.
Significantly more challenging than its sister trek (covered above), Alta Via 2 features a number of technical sections full of steep, narrow paths on exposed rock, scrambles, washouts, and via ferratas. Although the latter does not necessarily require special gear, I suggest you do bring it for safety reasons. As the Dolomites are prone to sudden thunderstorms, especially in the summer, you'll also have to face muddy and slippery slopes.
Dolomite hiking trails and delicious food—the perfect recipe
With the caveats out of the way, I can say that this trail offers some of the best hiking in the Dolomites and might be my favorite of all the high routes. It has the right amount of beauty and challenge to make two weeks of walking in the mountains seem like a great idea.
Highlights include the towering spires of the Puez-Odle National Park, the sprawling Gardena Pass at the foot of the Sella group (with Piz Boè as the highest point), Marmolada rising sharply from the pristine water of Lake Fedaia, and the serene stretch of Alpine meadows from Forcella Rossa to Passo San Pellegrino, where you can meet friendly horses grazing in peace.
Along the way, you get to enjoy the region's signature dishes, such as casunziei (stuffed half-moon-shaped pasta), canederli (bread dumplings with spinach or speck), various game meat and vegetarian dishes. And then there are the finger-licking Austrian desserts: Linzer torte, Kaiserschmarrn, Sachertorte, strudel… This is in equal measure a culinary trip!
As a long-time hiker and guide, I love trails that pose a serious challenge. That's why, for me, Alta Via 2 is the ultimate Dolomite trek.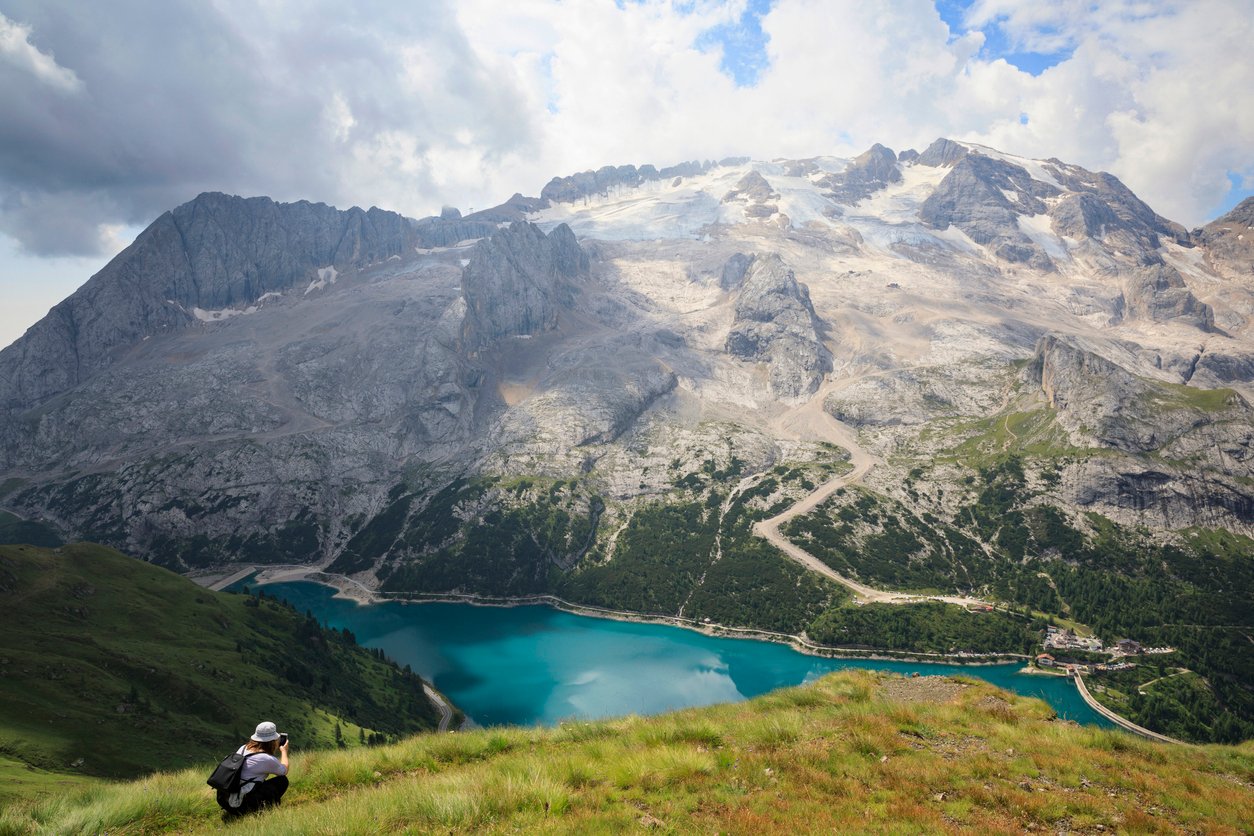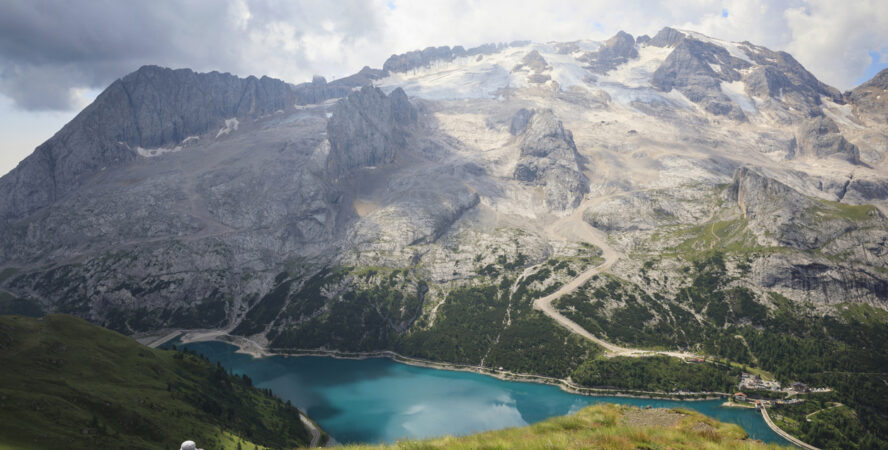 Solo Hiking 50 Miles on Alta Via 2 Dolomites Italy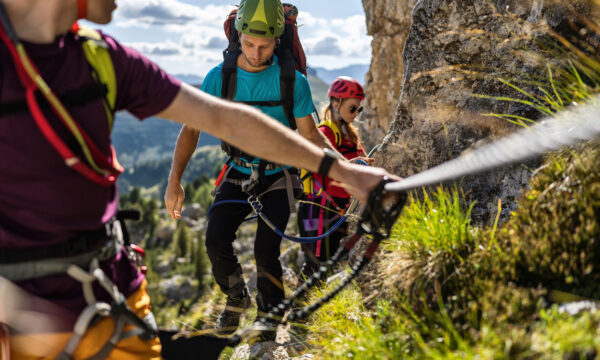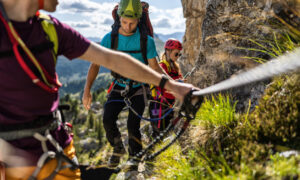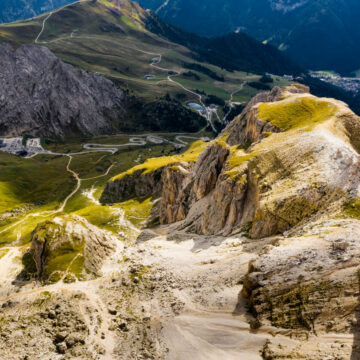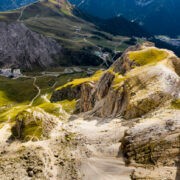 2. Alta Via 2 - Good to Know
Distance
around 170 km (105 miles) point-to-point
Elevation gain
around 13,500 m (44,300 ft)
How to get there
The hike starts at the top of the Plose gondola station near Bressanone, reachable by car or bus.
Insider tip
I suggest hiking between Mid-June to late September. It's not as crowded, the temperatures are cooler, and thunderstorms less frequent.
Recommended guided tour
Lago di Braies Circuit
3. Lago di Braies Circuit
TOP CHOICE FOR EASY ACCESS
Perhaps the easiest to access of the hikes on this list
Photo-worthy alpine scenery
Perfect for young families
Gets awfully crowded in summer and winter
There's no real challenge to it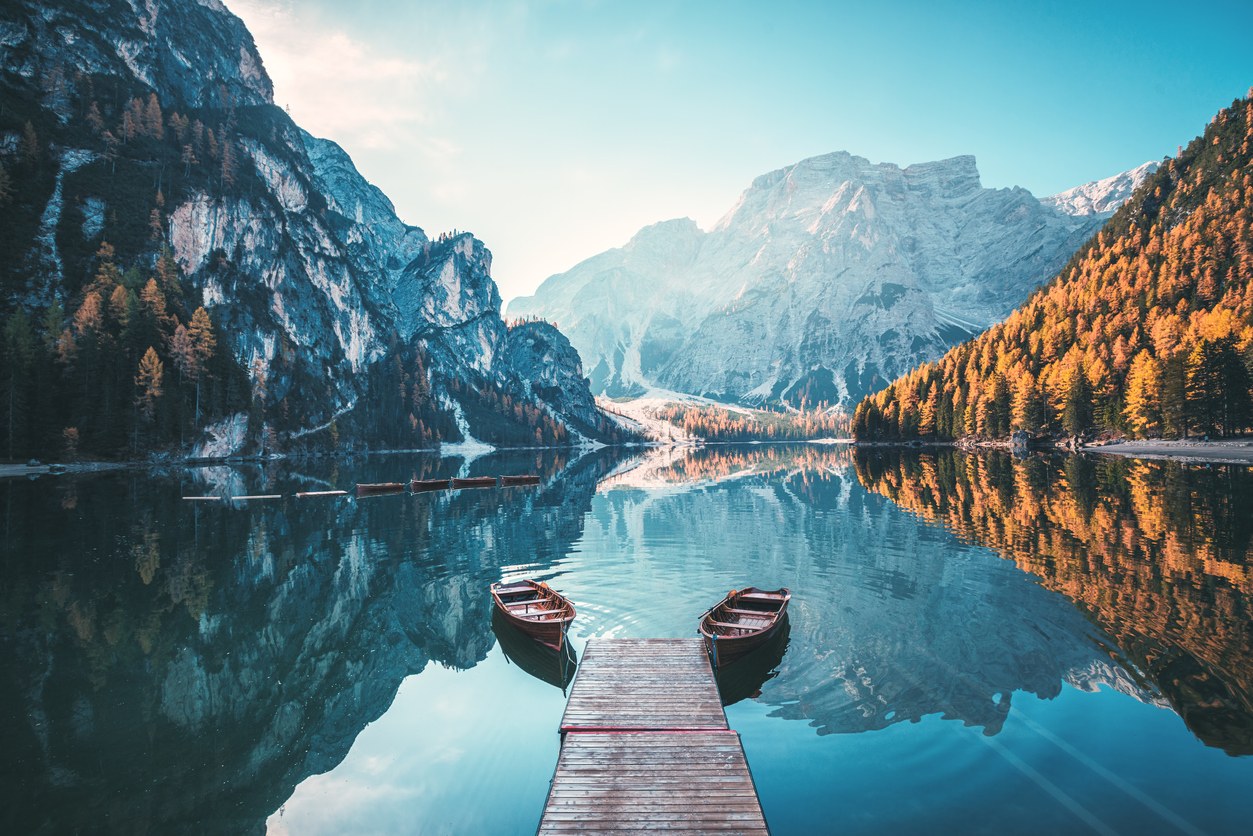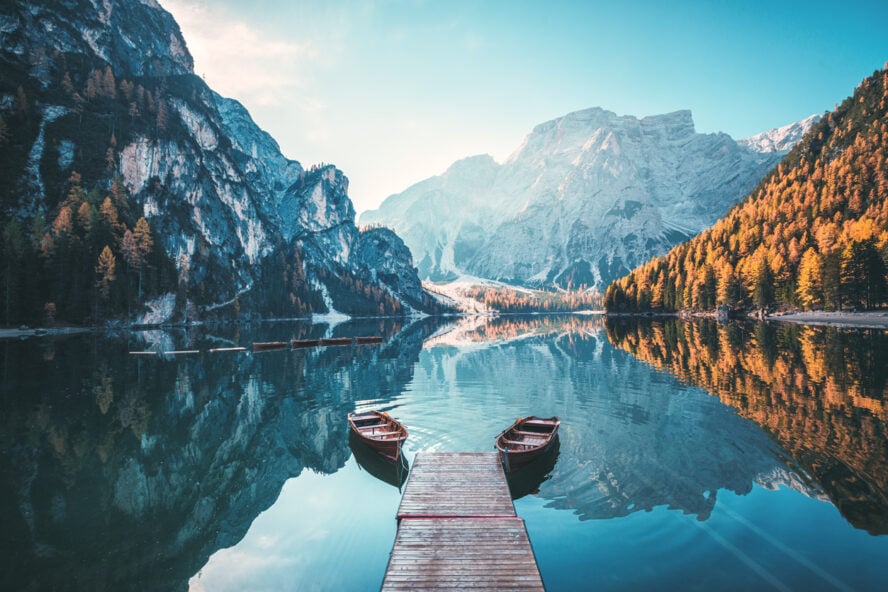 "Benvenuti" to the Pearl of the Alps
Lago di Braies (or Prager Wildsee in German) is the most famous lake in the Dolomites. Ringed by dense rows of larches and warded by massive mountains, it bears the nickname "Pearl of the Alps". Perfectly reflected in its wide mirror is the north face of Croda del Becco (or Seekofel), which forms the border between the South Tyrol and Belluno regions.
Due to its picturesque setting and easy approach, Lago di Braies has become one of the most Instagrammable locations in Italy. Every day during summer and winter, crowds of people gather to admire the scenery and snap photos on its tiktok-iconic dock. The majority don't go further than that, which is a shame, because a loop hike is a great way to enjoy the sights.
This is a short, extremely simple loop that can be done clockwise or counterclockwise without much effort. I recommend going as early as possible or later in the day, when the sunset dyes this amphitheater in shades of orange and pink. The lake is also famous for being the starting point of Alta Via 1.
Bring your kids, snacks, and cameras. Lago di Braies is the perfect spot for a lakeside family picnic.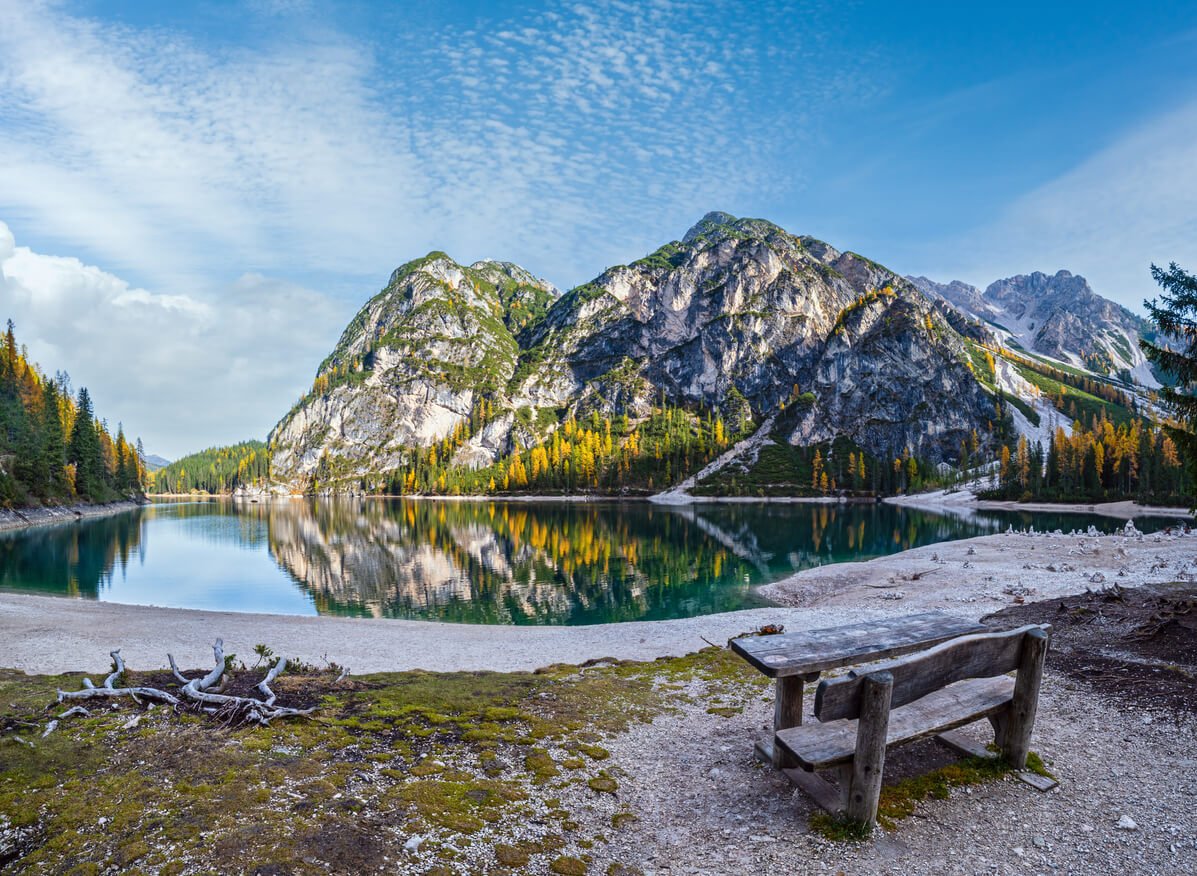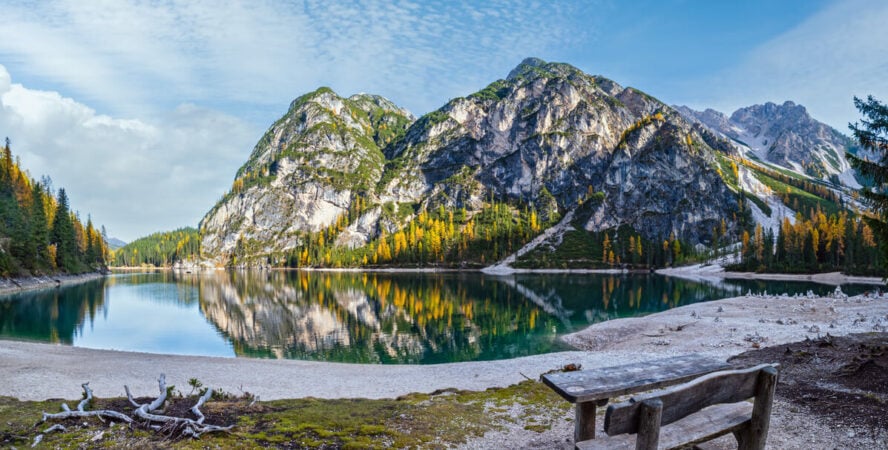 LAGO DI BRAIES | PRAGSER WILDSEE - HIKING AROUND THE MIRROR LAKE BRAIES ITALY 4K 60 FPS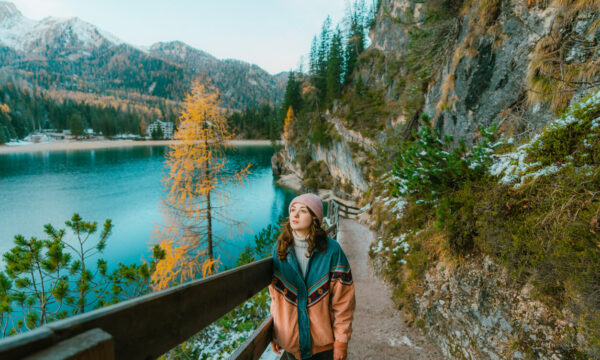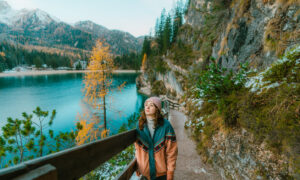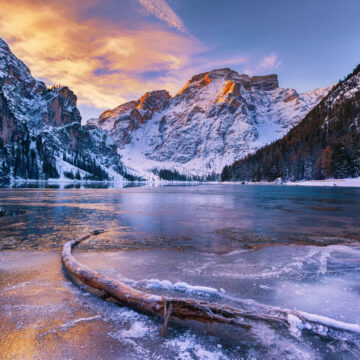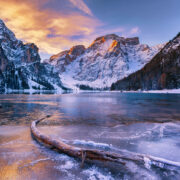 3. Lago di Braies Circuit - Good to Know
Distance
3.5 km (2.2 miles) loop
How to get there
Drive there directly from Cortina d'Ampezzo or take the bus. There are several car parks near the lake.
Insider tip
From July 10 through September 10, between 9:30 AM and 4 PM, you can't park at Lago di Braies due to government restrictions. If you don't pre-book, you'll have to park 5 km from the lake. There's no entrance fee.
Elevation gain
50 m (164 ft)
Tre Cime di Lavaredo Circuit
4. Tre Cime di Lavaredo Circuit
TOP CHOICE FOR ICONIC VIEWS
Three peaks for three times the views
Plenty of options for side trips
All the trails are well-marked
Expect to see a lot of people throughout the day
There is one rather steep section in the middle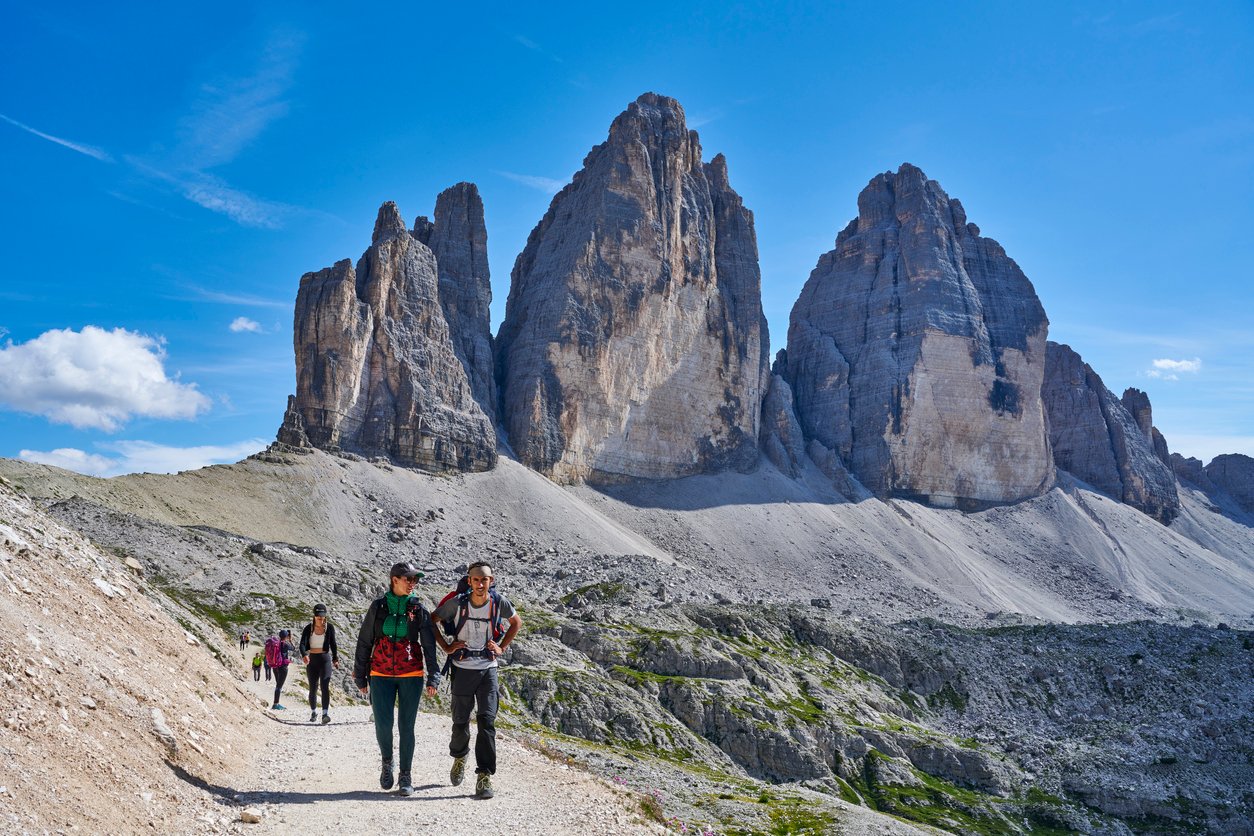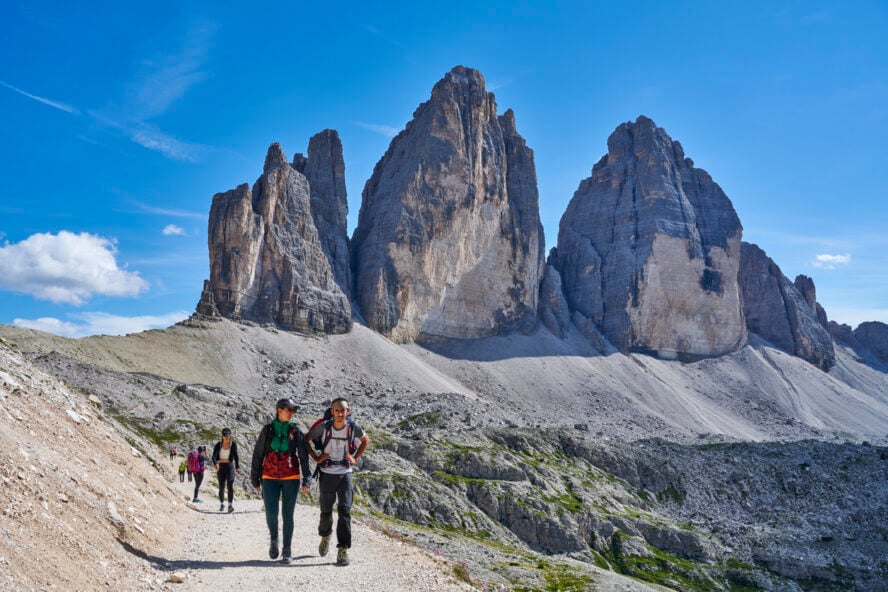 Exploring the Tre Cime Nature Park
We can't talk about the best hiking in the Dolomites without mentioning Tre Cime di Lavaredo, arguably the most recognizable sight in the entire range. These three immense pillars of layered limestone rising out of the rolling alpine scenery are the centerpiece of one of Europe's most celebrated day hikes.
Starting from the Rifugio Auronzo, a wide rocky path runs north towards the Italian Alpine Club's Rifugio Locatelli, which offers the finest views of Tre Cime, then loops back around for a full circle tour of the pale trident. Along the way, you're treated to sweeping vistas of the rest of the Dolomites and a vast, rocky expanse dotted with colorful splashes of grass and wildflowers.
The basic loop can be completed in 3-4 hours, but one of the defining features of this area is its extensive network of side trails. These can be combined any way you like, netting you even more panoramas. If you're adventurous enough, you can easily turn this into a multi-day journey by staying at the numerous rifugios.
Just like the sight of its gigantic three peaks from so many mountains in the area, the Tre Cime di Lavaredo Trail is unavoidable. As far as bucket list day hikes go, this is it.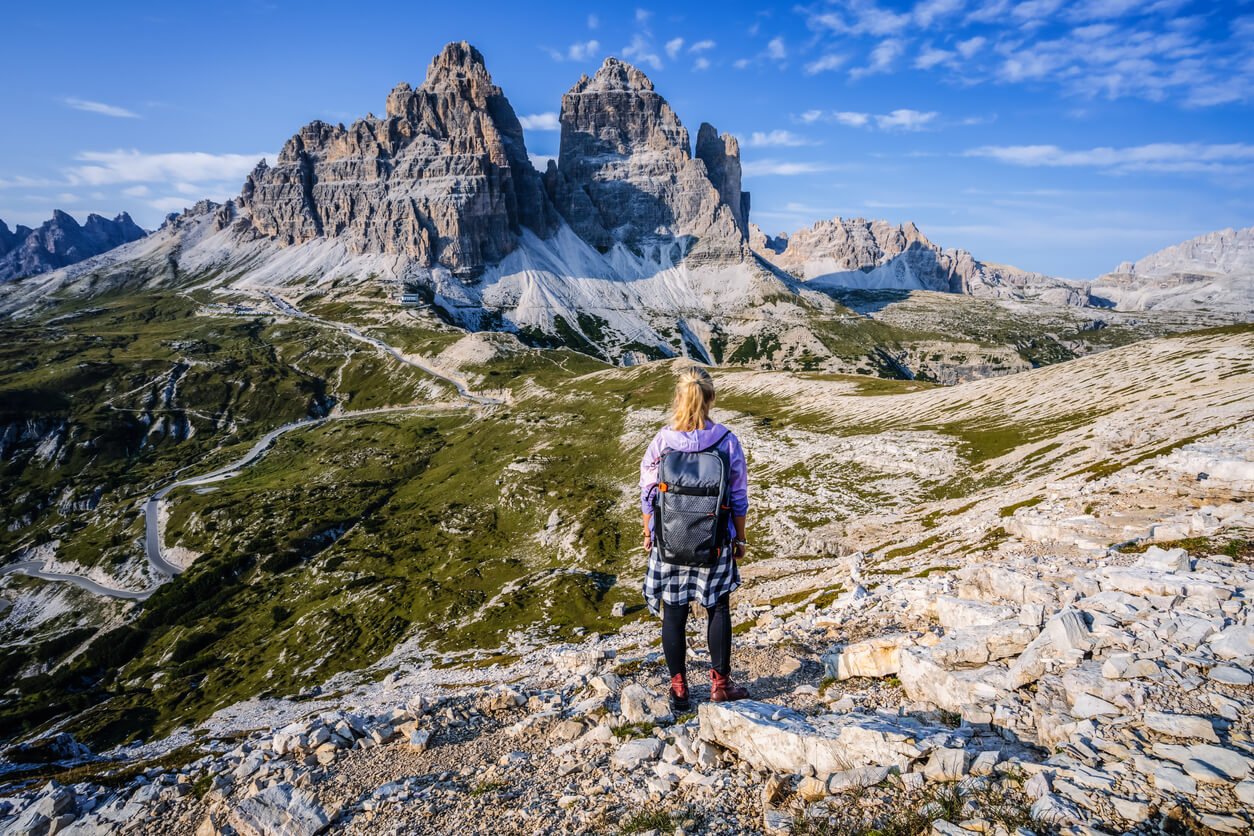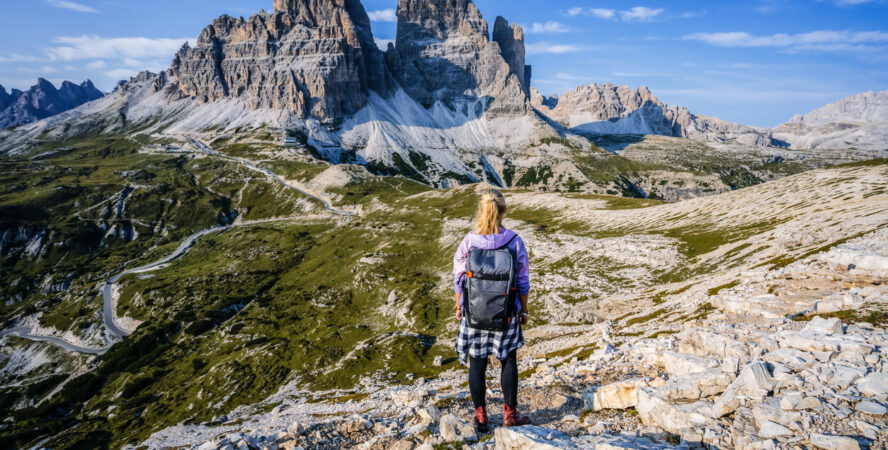 Dolomites Tre Cime di Lavaredo Italy 4K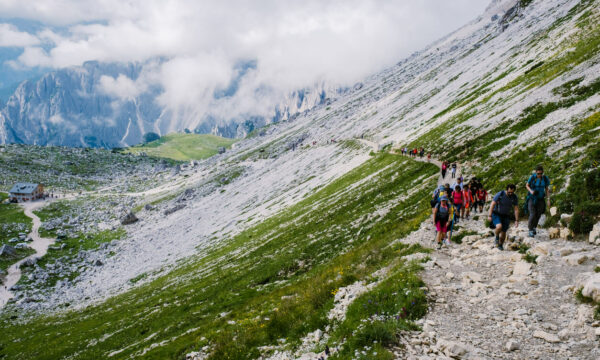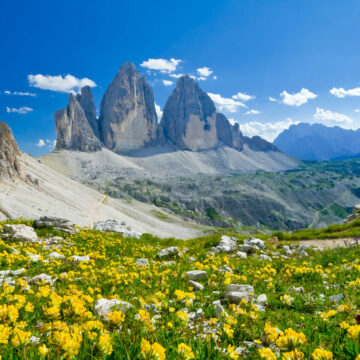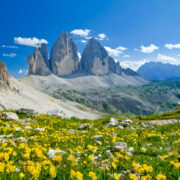 4. Tre Cime di Lavaredo Circuit - Good to Know
Difficulty
Easy to moderate
Distance
Around 10 km (6 miles), loop
How to get there
Take a scenic toll road from Lake Misurina to the south side of Tre Cime di Lavaredo, where Rifugio Auronzo and the trailhead are located
Insider tip
The trail gets quite crowded (even during off-season), so the best way to enjoy this hike is to get there early, ideally around 7 AM.
Elevation gain
Around 420 m (1,400 ft)
Adolf Munkel Trail
5. Adolf Munkel Trail
TOP CHOICE FOR A FAMILY HIKE
One of the most charming settings on the list
A number of mountain huts at your disposal
Simple, well-maintained trail
Not as spectacular as some classic Dolomite hikes
Parking spaces fill up quickly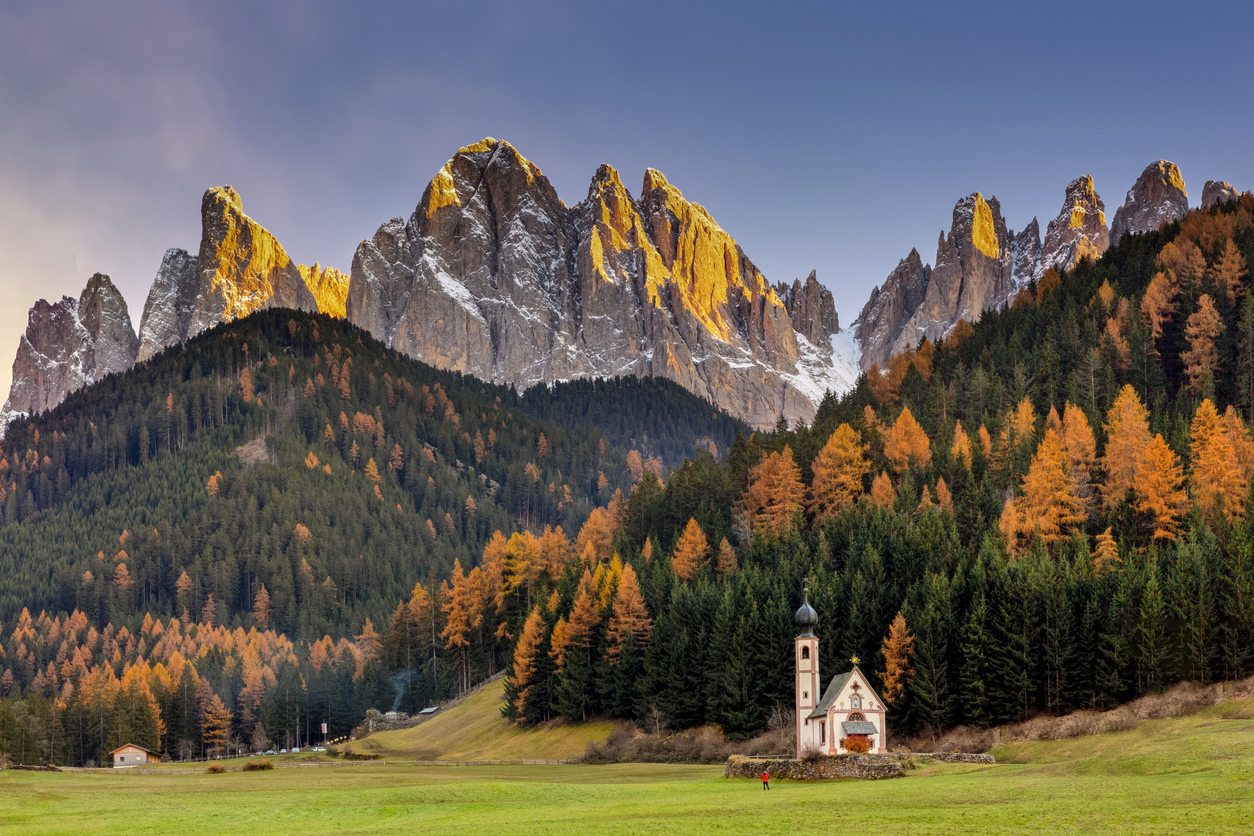 Where the peaks and pines stick out like needles
Located in Val di Funes, a fairytale valley in the heart of South Tyrol, the Adolf Munkel Trail is a delightful point-to-point hike that runs along the Odle (or Geisler) mountain group. Although occasionally rocky, this family-friendly route is very well marked and maintained, with four rifugios where weary travelers can stop for lunch or spend the night.
Starting from the Zanser Alm mountain hut, a short walk on Trail #6 takes you to a bridge where the Adolf Munkel Trail starts. Named after the first president of the Dresden Alpine Club Section, this simple narrow trail winds its way through lush meadows, dwarf shrub heaths, and larch forests spreading under the imposing north face of the Odle group. The word Odle means needle in Ladin, referring to the distinctive shape of these dramatic peaks.
The route takes you to the lovely Brogles Alm mountain hut, located at 2,045 m (6,700 ft) before descending towards the ending point in the small village of Ranui. If you're short on time, you can turn this into a shorter loop hike. This variant will have you take Trail #35 at the Geisler Alm hut, then circle back down to the starting point.
Do it as a longer point-to-point hike or a shorter loop; start at the Zanser Alm or at Ranui—the Adolf Munkel Trail will wow you without fail.
5. Adolf Munkel Trail - Good to Know
Difficulty
Easy to moderate
Distance
9.2 km (5.7 miles) point-to-point
How to get there
The trailhead is located at the Zansler Alm hut, which has three parking lots.
Insider tip
If you finish the hike at Ranui, make sure to pay a visit to the nearby Church of St. John (San Giovanni), one of the most picturesque in the Dolomites.
Elevation gain
50 m (164 ft)
Seceda Ridgeline Hike
6. Seceda Ridgeline Hike
TOP CHOICE FOR CABLE CAR RIDES
One of the most beautiful hikes in the Dolomites
Can be connected with the Adolf Munkel Trail
If you're into cable cars, you're in for a thrilling ride
If you're afraid of heights, you're in for a thrilling ride
Tickets for the cable don't come cheap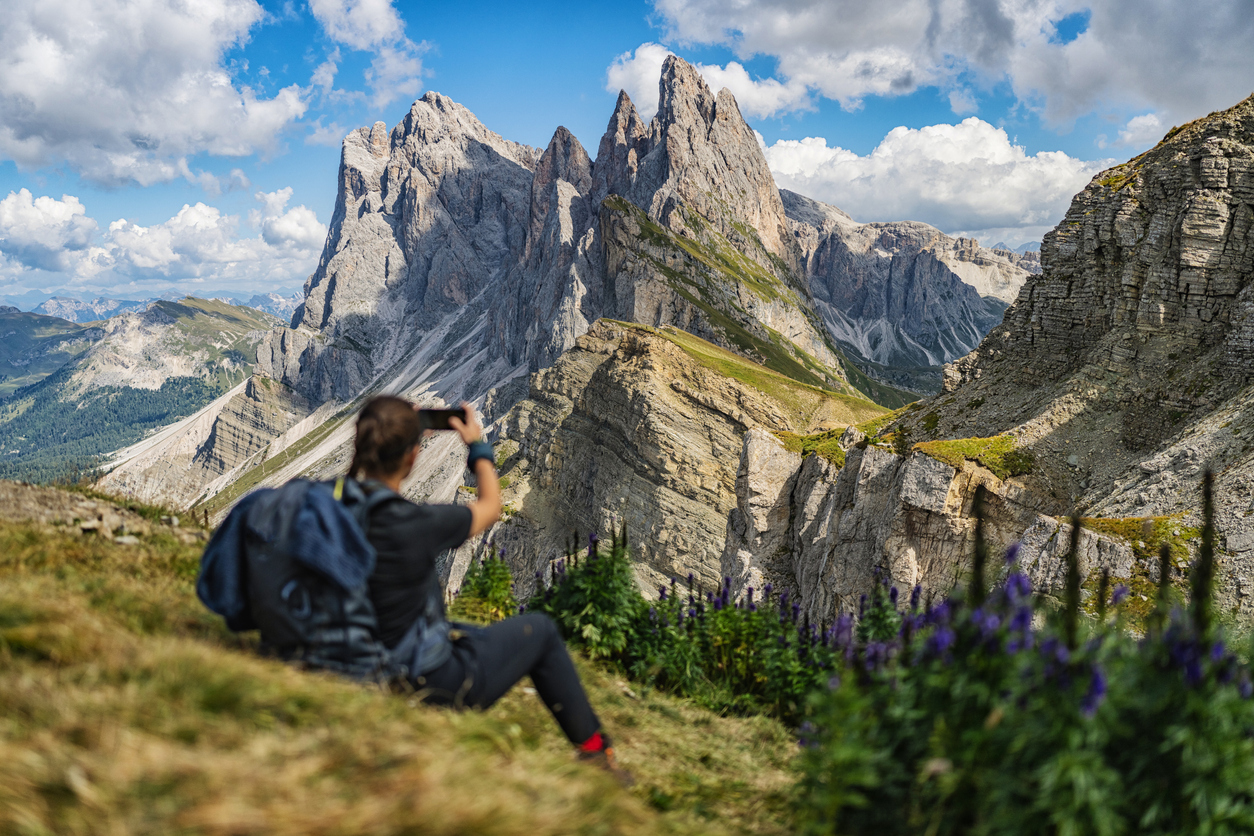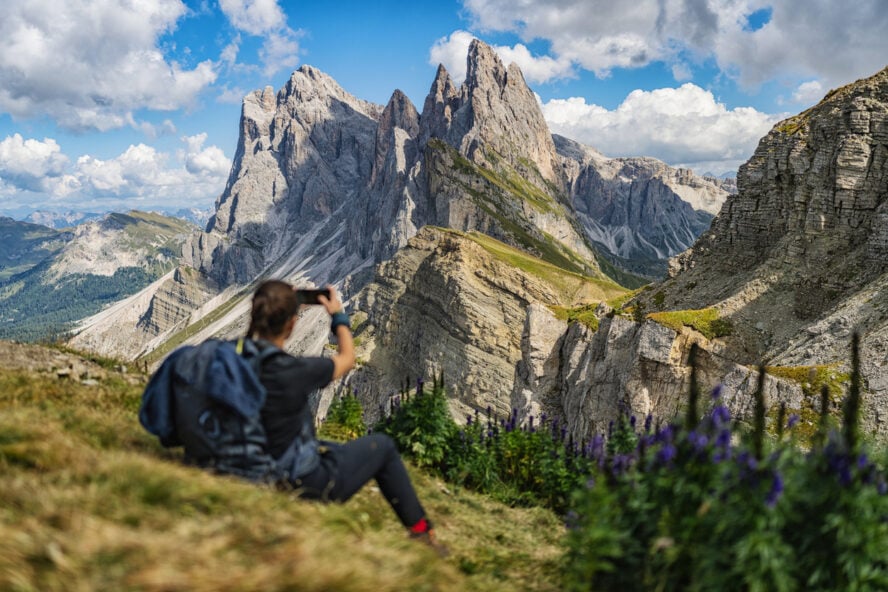 A wild ride all the way all the way through
Seceda is one of the most beloved mountains in the Odle mountain group, located in the Puez-Odle Nature Park. Every day, hikers flock to this 2,500-meter (8,200 feet) peak to enjoy the arresting views of the Val Gardena region below and walk along its staggering ridgeline.
This panoramic point-to-point hike cuts across a steeply sloping plain that abruptly culminates in a series of gigantic peaks that jut out toward the sky at sharp angles, resembling a mountain cracked in half by some unimaginable force. The views are so magnificent you'll have to remind yourself to keep moving and not stand still with your mouth agape.
To complete a loop on the Seceda ridgeline, you'll hike towards a memorable lookout point, then slowly descend towards the Pieraloniga mountain hut, a popular break spot. From there, Trail 13B will take you to Rifugio Firenze, a pastoral oasis where cows peacefully graze under the watchful eye of the Dolomites. Trail 1 takes you on an uphill hike through alpine pastures and back to the Seceda cable car.
If the viewtiful cable car ride to the top doesn't floor you, then the panoramazing ridgeline of the mighty Seceda will.
Monte Seceda - Drone Dji 4K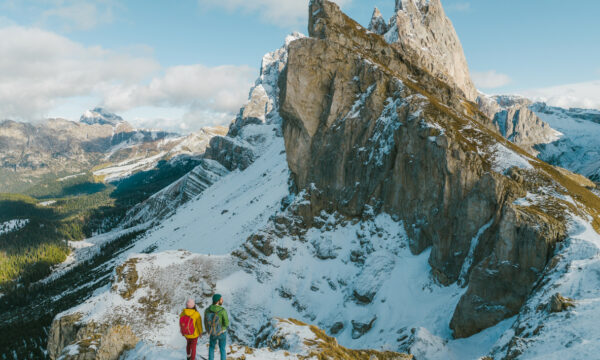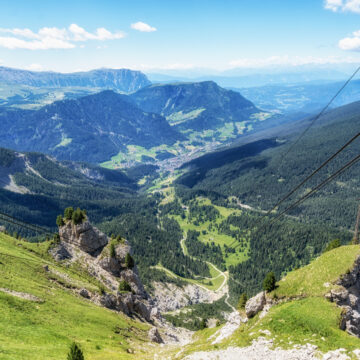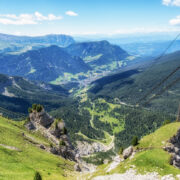 6. Seceda Ridgeline Hike - Good to Know
Difficulty
Easy to moderate
Distance
9 km (5.6 miles) out and back
How to get there
To get to the top of Seceda, simply take the cable car from Ortisei, a lovely mountain village in Val Gardena.
Insider tip
da, you can take the Col Raiser gondola from Santa Cristina (cheaper and longer variant) or ditch the cable car altogether and hike all the way to the top (quite strenuous)
Elevation gain
575 m (1,900 ft)
Lago di Sorapis Trail
7. Lago di Sorapis Trail
TOP CHOICE FOR A GLACIAL LAKE HIKE
Storybook sights all the way through
Gorgeous reward waiting at the top
Perfect for hikers looking for a little challenge
Watch out for some steep ledges along the way
Great beauty brings great crowds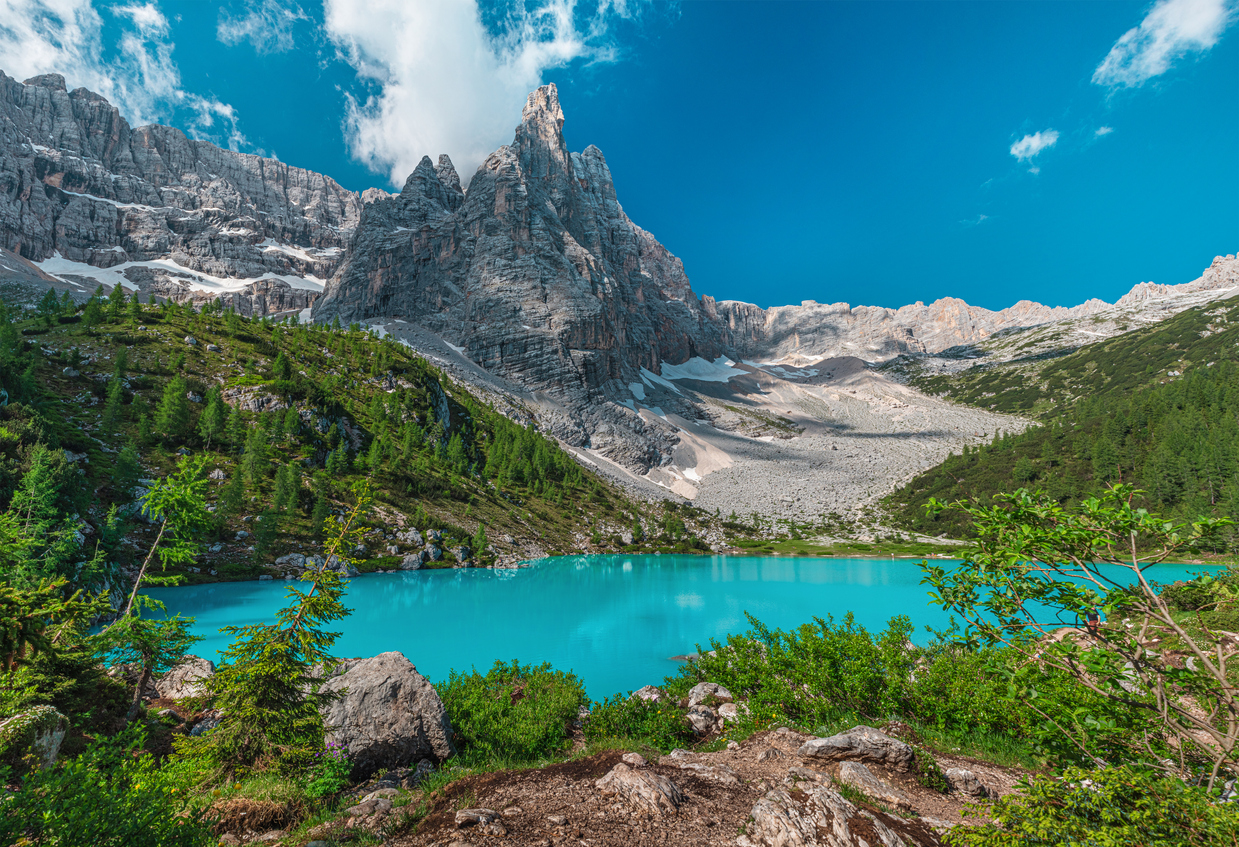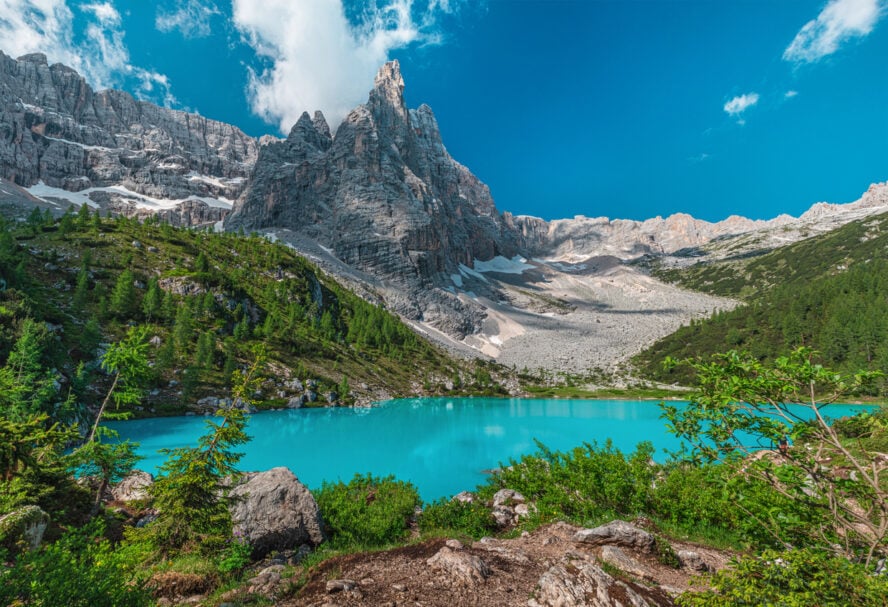 A glimmering lake shrouded in legend
Located in the province of Belluno, not far from the town of Cortina d'Ampezzo, the Lago di Sorapis Trail is a much-loved route that runs from Passo Tre Croci (Path of Three Crosses) to a turquoise-tinted glacially fed lake on Mount Sorapis. Renowned for its intense color and untouched beauty, it's one of the greatest payoffs to any Dolomites day hike.
The trail is rated moderate due to some narrow and exposed uphill sections, but no worries—they're all secured with steel ladders and cables. Possibly the biggest challenge you'll face are other hikers, who might slow you down or surprise you with bad etiquette. Outside of that, this is a wonderfully scenic journey through a dense larch forest, across rushing mountain streams and undulating cliffsides.
Once you reach Lago di Sorapis (and are inevitably rendered speechless by your alpine surroundings), you can take a short walk around the lake and admire its milky appearance, the result of fine glacier powder settled inside. The nearby Rifugio Vandelli, operated by the Italian Alpine Club, will provide food and shelter before you go back down.
According to legend, King Sorapis turned himself into a mountain to satisfy the whims of his daughter Misurina. Seeing her father's sacrifice, the young princess wept tears of grief that formed this very lake.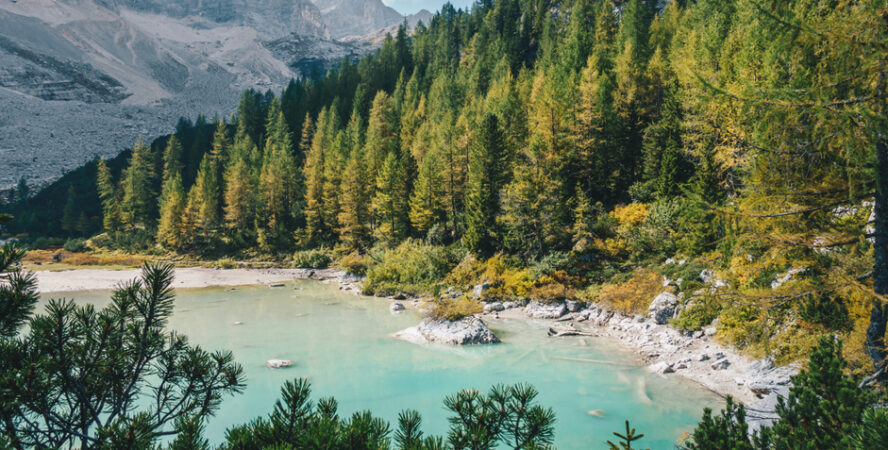 Hiking Lago Di Sorapis in 4K - Trail 215 Dolomites Hiking With Dog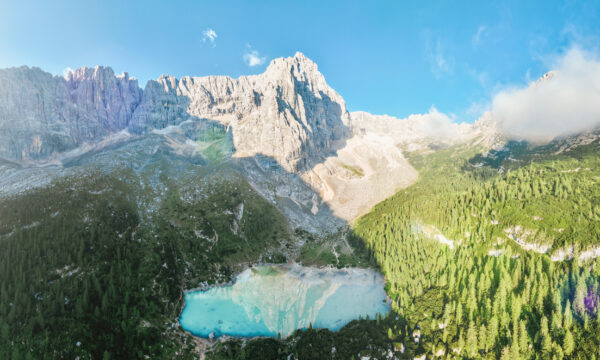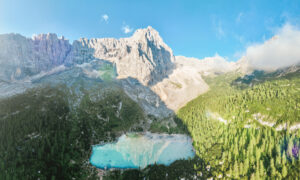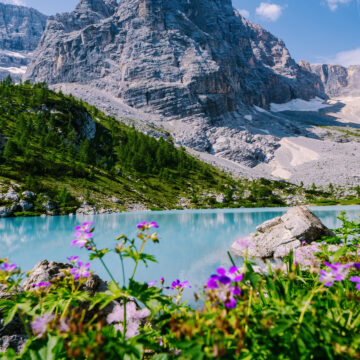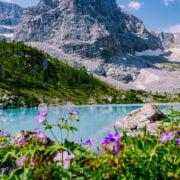 7. Lago di Sorapis Trail - Good to Know
Distance
13 km (8 miles) out-and-back
How to get there
You can drive or take the bus from Cortina d'Ampezzo to the car park at Passo Tre Croci, where the trailhead is marked with a metal gate.
Insider tip
You can make the hike longer and more challenging by returning via Forcella Marcuoira, which introduces steep ledges, switchback, and a sharp descent to Passo Tre Croci on loose rock.
Elevation gain
850 m (2,800 ft)
Take It From a Local Guide: Useful Information for Enjoying the Best Hikes in the Dolomites
One of the great things about the Dolomites is that there are no wrong options. Whichever region or town you decide to visit, whatever hike you embark on, you'll come out feeling enriched and inspired. The best Dolomites hikes are the ones you've tried.
With that said, here are some of my travel tips for planning your own visit:
Where should I stay in the Dolomites for hiking?
The Dolomites cover a massive area, almost 16,000 km2 (6,177 sq mi), so in order to access its best hikes, you should choose two or three bases for your trip. I suggest staying in Val Gardena, and Cortina d'Ampezzo. Additionally, you can base yourself in Bolzano, Ortisei, or Val di Funes. All of these places are known for their vibrant culture, picturesque sights, and access to various trails.
Up in the mountains, rifugios are huts used as shelters for hikers, and knowing how to navigate the rifugio system is incredibly helpful. The huts have very limited availability and need to be reserved. Keep in mind, the private rifugios tend to give reservations to locals due to the tight-knit Alpine community.
Gear recommendations for hiking in the Dolomites
For hiking in this Italian alpine environment, I suggest bringing:
Long hiking pants

Light shorts for warmer summer days or just for lounging in the rifugio

Thermal layers: long sleeved top and long pants for the cold nights (even in summer)

Lightweight down jacket

A rain/wind jacket

Hiking socks AND refugio socks. There is nothing better than putting on a clean warm pair of socks after a long day in sweaty socks

Lightweight t-shirts

Warm hat and gloves for the winter months

Sturdy hiking boots, and make sure they're broken in before your trip

Flip flops (hiking boots are not allowed in most rifugios)

Sunscreen

Trekking poles (optional)

Sleepwear
If you want to cross a via ferrata or find some rock climbing in the area, you will need a harness and helmet. In the case of rock climbing, you'll need rock climbing shoes, rope, a belay device, and carabiners. That being said, you'll find a lot of shops in most towns. I personally think they're even better and offer much more than shops in major cities around the country.
Oh, and don't forget your camera!
What via ferrata should I climb in the Dolomites
Via ferratas were born in the Dolomites and gained wide popularity during World War I as a means for troops to navigate the perilous mountains. Currently there are over 600 of these protected climbing routes in the area, each one more fun than the last. Some of my favorites are Ferrata Olivieri a Punta Anna, which goes up the Tofana di Mezzo, and Ferrata Fusetti al Sass de Stria, which includes preserved WWI trenches that function like an open-air museum.
What is the best season for Dolomites hiking
The best time to visit the Dolomites is in the shoulder seasons, but you'll find outdoor activities year round. To avoid the crowds, I recommend planning your hiking trip in May or June, right before summer break hits its peak. You can also travel to the Dolomites in the fall when temperatures start to get cooler. If there is no snow on the trail, hiking in October is a very pleasant affair. The timing of your travel also depends on whether you plan to do other activities in addition to hiking.
What is the weather like in the Dolomites
The Dolomites feature typical Alpine weather. It's not too cold down in the towns, but temperatures drop as altitude increases. The weather is also quite unpredictable, so be sure to pack all kinds of layers when coming. June to September is prime time for walking in the Dolomites without snow on the trails. There's a fair amount of rain that passes through the area, but June and September are known as the drier months. In July and August the maximum temperature is 25°C (77°F). Average temperature in June and September is around 20°C (68°F).
Getting to and getting around the Dolomites
Due to their remoteness, the Dolomites are not the easiest place to reach. The simplest and most direct way to get here is flying to Venice, Milano, Verona, or Innsbruck, then driving to your chosen homebase. Having a car will give you the flexibility to cover large distances between different regions. There is the option of using bus or train transportation, but it's not as fast or reliable.
What about parking and cable car fees
Parking near hiking trails is a constant issue in the Dolomites. Prices depend on multiple factors (type of vehicle, duration of stay, proximity to the trail, etc.), but in general you can expect to pay somewhere between 15-35 Euro for a day hike. Tickets for cable cars (for example, to reach the top of Seceda) will set you back around the same amount.
Do I need a guide for trekking in the Dolomites
Hikers headed to the Dolomites can enjoy both guided and self-guided tours. If you feel experienced as a high-alpine, multi-day hiker, then you might want to do a self-guided tour and go at your own pace. If you're new to multi-day treks and would like to access the best hiking in the Dolomites with an expert, then go with a local guide who knows the land, its geology and history.
Other activities to do in the Dolomites
Depending on the season and how much time you have on your hands, you can try out a number of different activities in this mountainous adventure paradise. Change up your routine with hut-to-hut trail running in the Dolomites or climbing the famous via ferrata. In winter, I recommend snowshoeing Alta Via 1 or, for all you shredders out there, ski touring in the Brenta Dolomites and backcountry skiing on the Marmolada Glacier. Whatever you choose, you simply can't go wrong!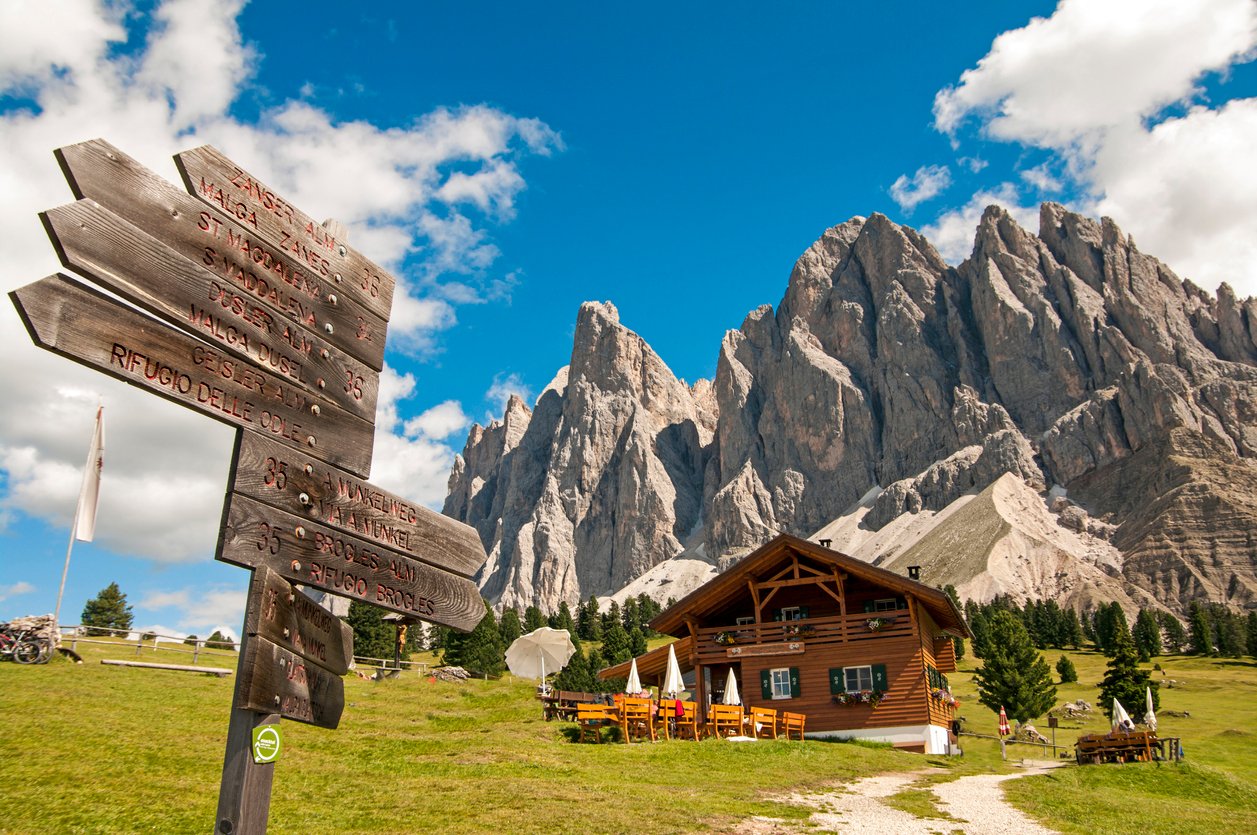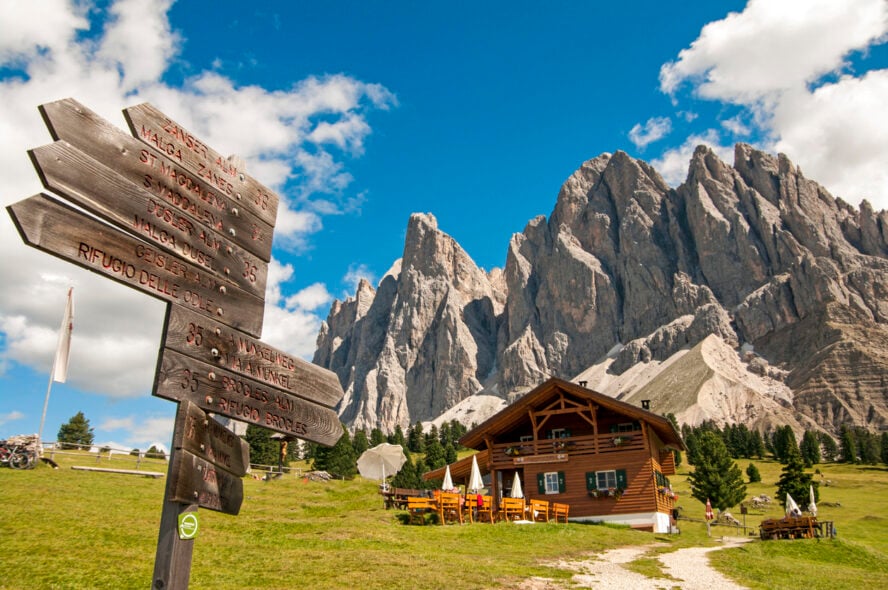 The Dolomites Will Accept You With Open Arms
I arrived nearly three decades ago and haven't wanted to leave. The people who live and work here possess a warmth that makes you feel like a welcome guest, not just any old visitor from out of town. So when you come to the Dolomites for hiking, you won't just discover natural wonders, but also gain insight into a wonderfully rich culture that keeps the magic of the mountains alive.
Going on a guided Alta Via hiking adventure helps you make the most out of your Dolomites experience. Just when you think it couldn't get more epic, it does!