Why Backpacking in Denali is a Constant Source of Wonder
As someone who's always gravitated towards nature, I thought Denali would be a much needed escape—from just about everything and everyone. It turns out, bonding with people through the powers of this park was the thing I needed all along.
As a kid I used to ponder the elusive regions of Alaska, wishing there was a way to get just a small taste of the Far North. There was only one way to slake my desires, and it was actually on my shelf. Christopher McCandless teased me with the ruggedness of the landscape. And I devoured books of backcountry adventure and backpacking in Denali until they left me hollow—like pondering your backyard through a frosted window pane, I could only see hints of the colors and shapes. I needed to get out, to touch and smell and feel it, for myself.
Pros and Cons of Backpacking in Denali
Come face-to-face with North America's tallest peak
You'll find little evidence of man in this untouched wilderness
Rich wildlife and biodiversity
The weather is extremely fickle
Your achilles tendons will not be happy
Go Off-Trail Towards Adventure
To experience Denali, wilderness backpacking is the only way to go. For one, there aren't many trails across the sprawling six million acres of land. And the
hiking routes that do exist, like the Alpine Trail to Savage River
, are quite short and mostly near the entrance or along Denali Park Road. Rather, much of Denali is an unspoilt landscape full of wildlife and rarely-trodden gems waiting for the curious explorer. To get to any of the major sights you have to go into the wild.
For context, Denali National Park is larger than the state of New Hampshire. Its low-elevation taiga forest gradually turns into high alpine tundra, reaching its zenith in the tallest peak in North America, the namesake Denali. This skyscraping pinnacle stands at an impressive 20,310 ft. and as such serves as the centerpiece. Sounds. Your footsteps crunching through cracked topsoil, grasses and sedges, muffled by whipping gusts that cut across this vast and formidable environment. Denali's wilderness, full of glaciers, towering granite escarpments, and grizzly-populated tundra, beckons you to explore it all.
Backpacking off the beaten track might seem daunting
With no trails or designated routes to follow, venturing out may be unsettling. This is why coming prepared with a detailed plan and the right mindset are an absolute must. However, because tree line is around 3,000' in elevation, much of the landscape is open tundra and provides good visibility—to the Denali Park Road, the 92 mile two-laned road, the only one in the park, or other major landmarks as you navigate around. It might seem daunting, or you can approach backpacking in Denali from a different perspective—no two
adventures in Denali National Park
are ever the same. Trust me, boarding a floatplane to set off from the middle of nowhere is my favorite part.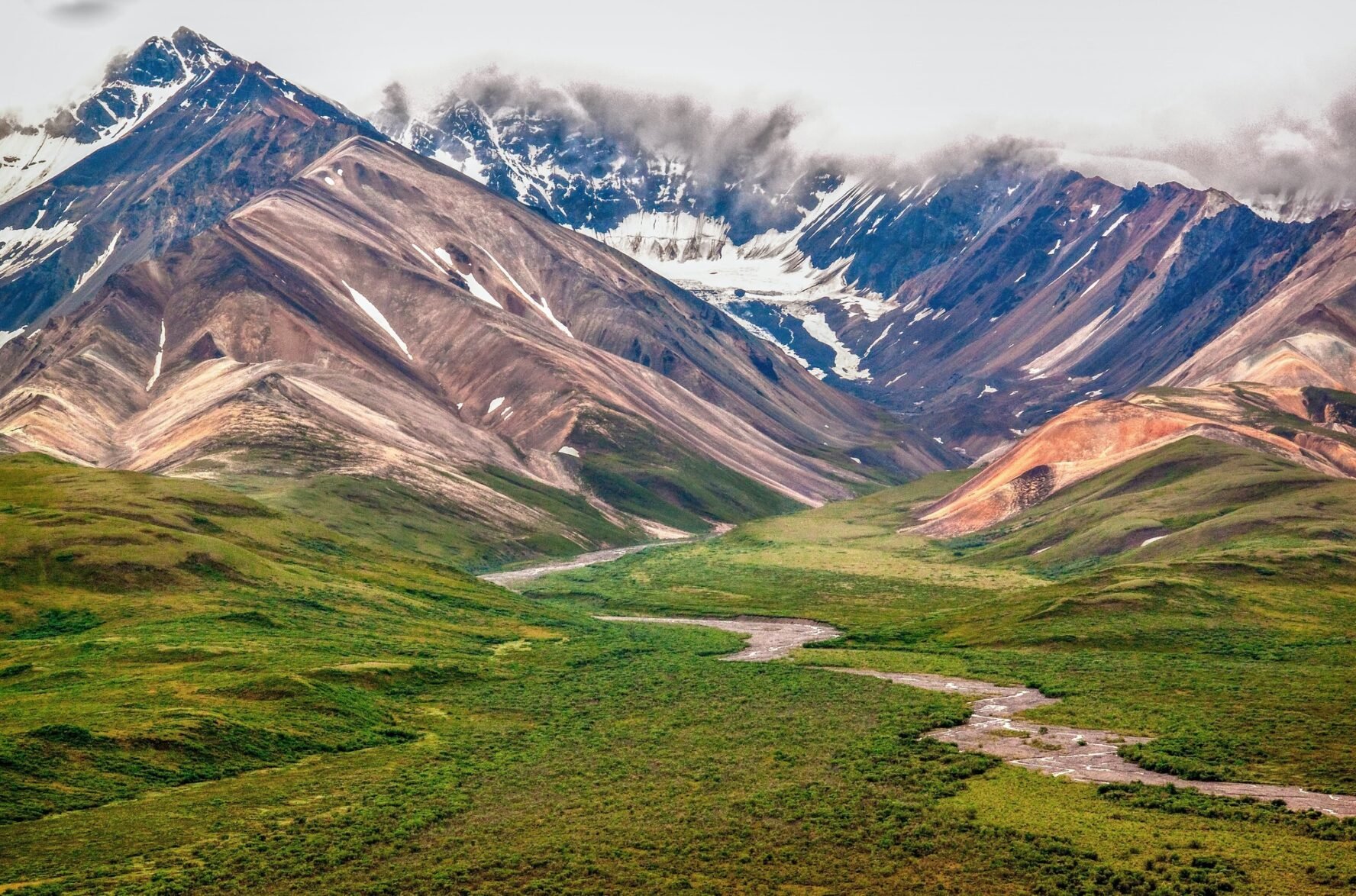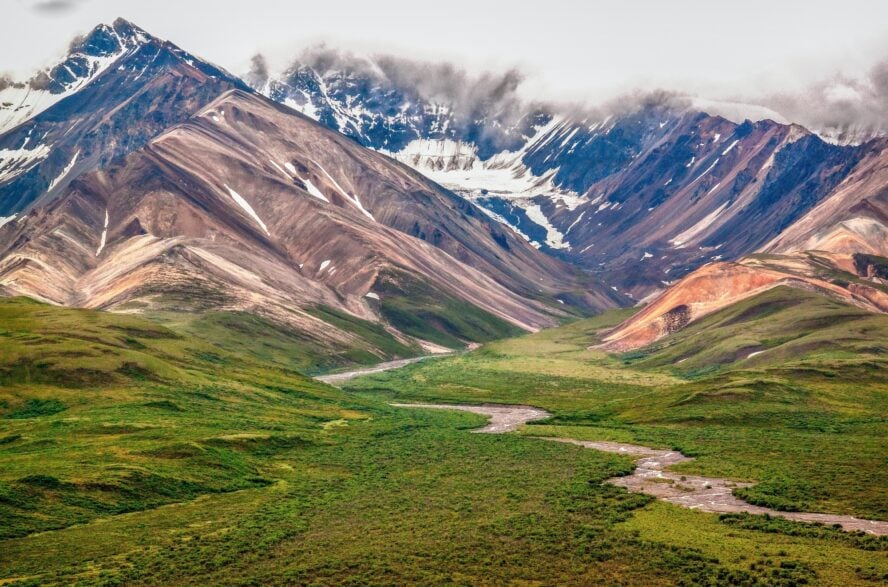 Finding our way on the Whale's Tail
The Whale's Tail is a massive piece of land that really does look like it sounds. It is a mountain peninsula that extends towards Denali, bounded by the Ruth Glacier on the right—punctuated by a chain of 6,000' peaks—and the Tokositna Glacier on the left. We access it by plane, landing on Backside Lake. Here you can backpack high alpine meadow and tundra without the ruggedness you encounter in the lower sections of the mountain itself. To me it almost feels like you're
climbing the West Buttress
, minus the frigidness and cumbersome gear. Typically, we spend seven days and six nights here covering 20 to 30 miles of high mountain passes, scrambly summits, and big vistas. Moose, pikas, wolves, coyotes, dall sheep, and bears call this area home. And it is these wild animals that make you realize how pristine the park is.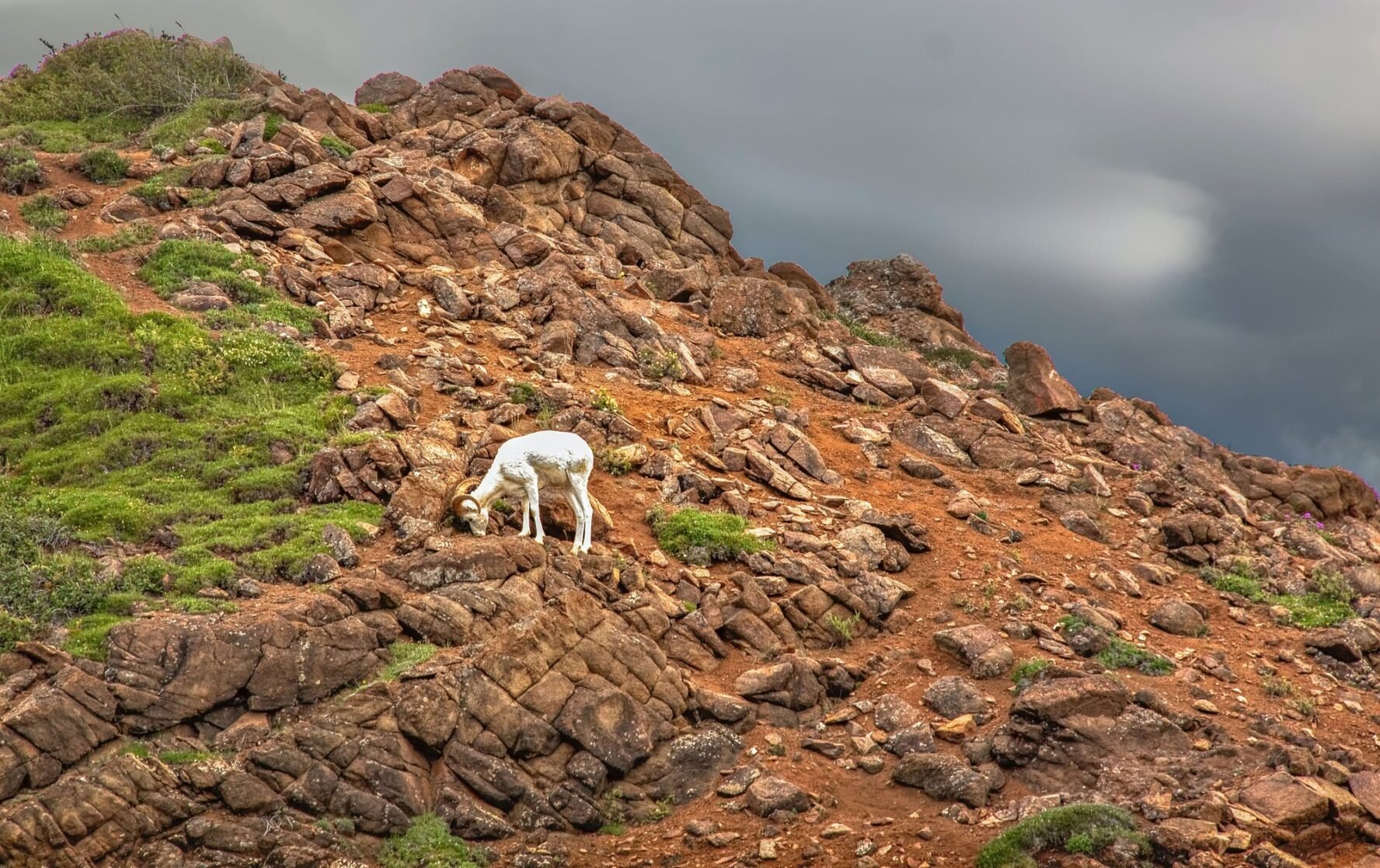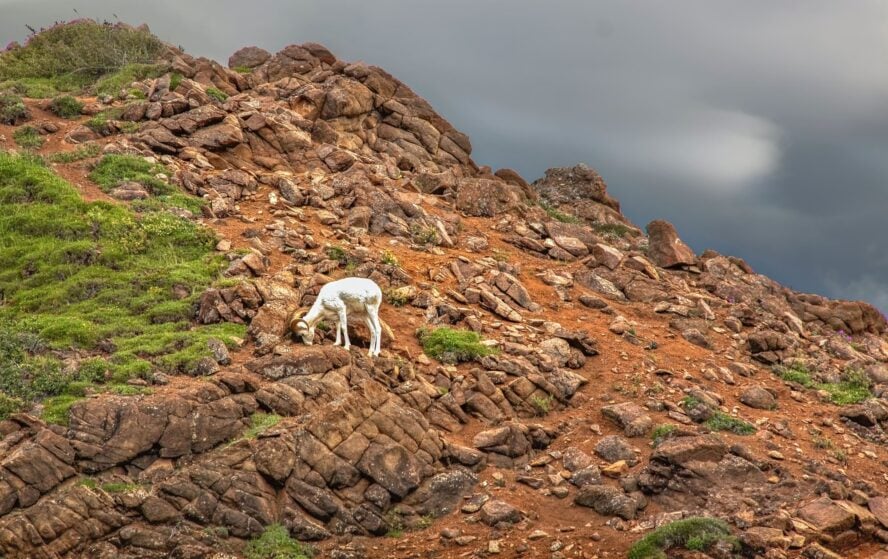 How It All Began
Whenever I visit the Whale's Tail, I can't help but recall my first time in Denali. I had moved up to Alaska to be a guide fresh out of high school. With little experience but burning with ambition, the first destination I chose was the Ruth Gorge. We ended up being stuck in a tent for 10 days, drinking whiskey and listening to podcasts as a heavy snowstorm impounded us. On the last day, the storm cleared and we watched as avalanches hurtled down the peaks around us.
I simply fell in love with this place. It is more than just a mountain, it has become a sanctuary that engenders respect for nature; to be high on ridgelines you feel like you're on top of the world, and realize how small you are—something I try to remind myself of each day. For me, if you're coming to Denali and looking for one backpacking route, that's why I recommend a
tour of Denali's Whale's Tail
.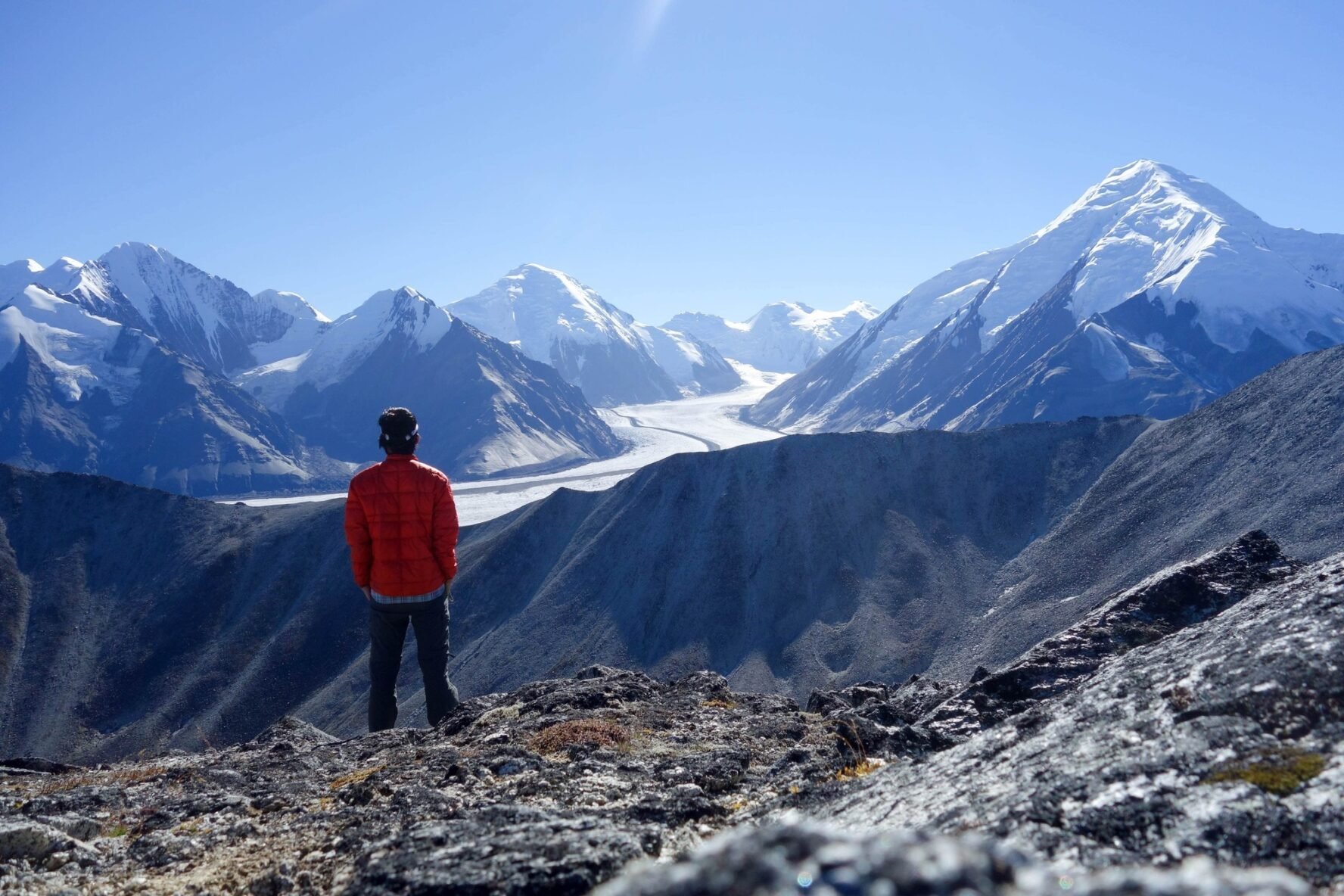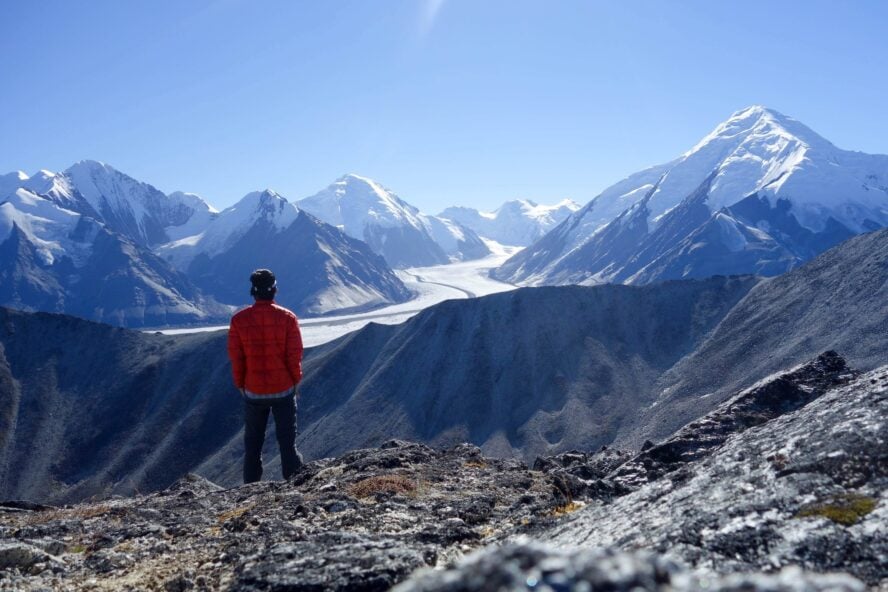 Preparation Is Half the Battle for Backpacking in Denali
If you've never backpacked before, this trip is not the best introduction. However, if you are comfortable hiking around 10 miles a day and have experience camping, you should be good to go. On our trips, we backpack for approximately 5-8 miles a day with 35-40 lb. packs, but you can figure out what works best for you and your fitness level. Denali's terrain spells trouble for those not ready to get their hands (and boots) dirty. You'll occasionally be crawling on hands and knees pushing the infamous Alaskan alder out the way, and going across marshy terrain, scree slopes, and mountain passes is inevitable.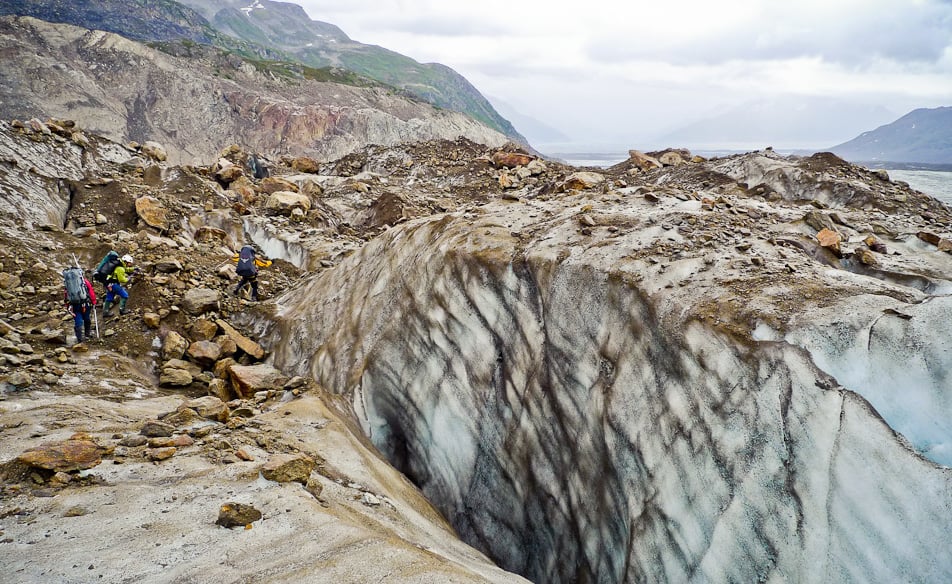 One thing to keep in mind is that exploring wilderness areas comes with certain caveats. Familiarity with off-trail navigation, such as being able to read and orient yourself on a map, having a GPS device, and an attuned intuition, plus several plans drawn up beforehand, are essential for this trip. On top of that, the weather changes quickly and unexpectedly. You can expect sun, rain, clouds, and wind all on the same day—Denali always keeps you on your toes. Even snow can start falling any time of the year, especially in the mountains. The period from June through August sees the most rain, so coming ready is crucial. This is where hiring a guide, who knows the lay of the land, comes in handy.
Discover the Call of the Wild: Backpacking Denali's Whale's Tail
Denali is traditionally accessed by one road that winds through the park, and if you're
hiking Savage River
or other accessible areas, you can just shuttle in. However, certain areas are best accessed by flying in—such as the Whale's Tail. Here's a rough day-by-day itinerary and a description of the route.
Day 1: Arrival in Anchorage, a city bathed in summer sunshine
We kick things off in Anchorage, one of my favorite places in the world. Frankly, if sunlight wasn't such an important factor in my life, I'd move up there for good. However, summers are a different ball game since the sun never sets—from 9 pm to 6 am, you're bathed in alpenglow. The day, or rather evening, begins at a lakeside hotel. We talk about the gear and our route, look at maps, and discuss risk management and safety precautions, all over a delicious dinner and drinks.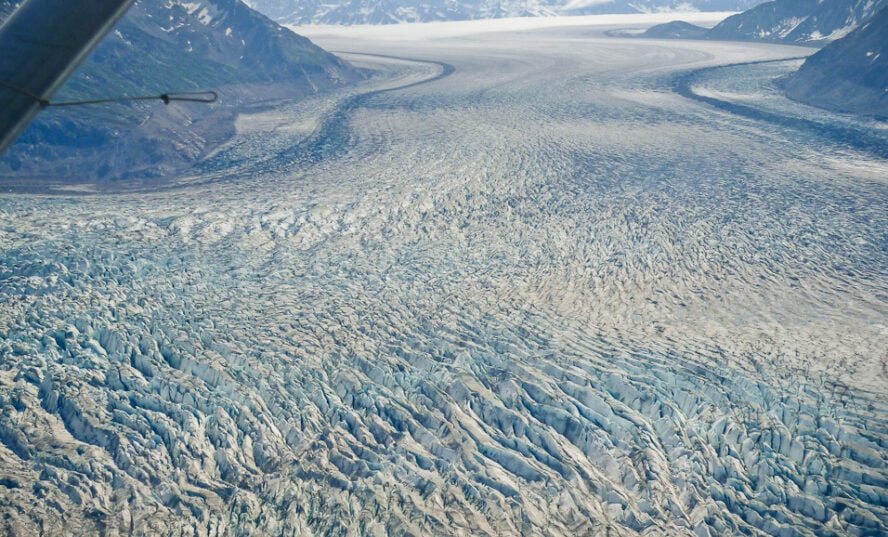 Day 2: Flying into the park
After breakfast, we head over to Lake Hood Seaplane Base and board a scenic bush plane. We fly past the sky-piercing mountains and over glacially carved valleys, spotting moose, grizzly bears, and dall sheep among the braided glaciers. The plane leaves us on Backside Lake, and we unload our gear onto the beach. From my experience, once the plane has left, reality kicks in for most folks—as the plane roars away around the bend, they become aware of the piercing silence. And how isolated the place truly is. Next, we set up a camp and get ready to explore the Whale's Tail.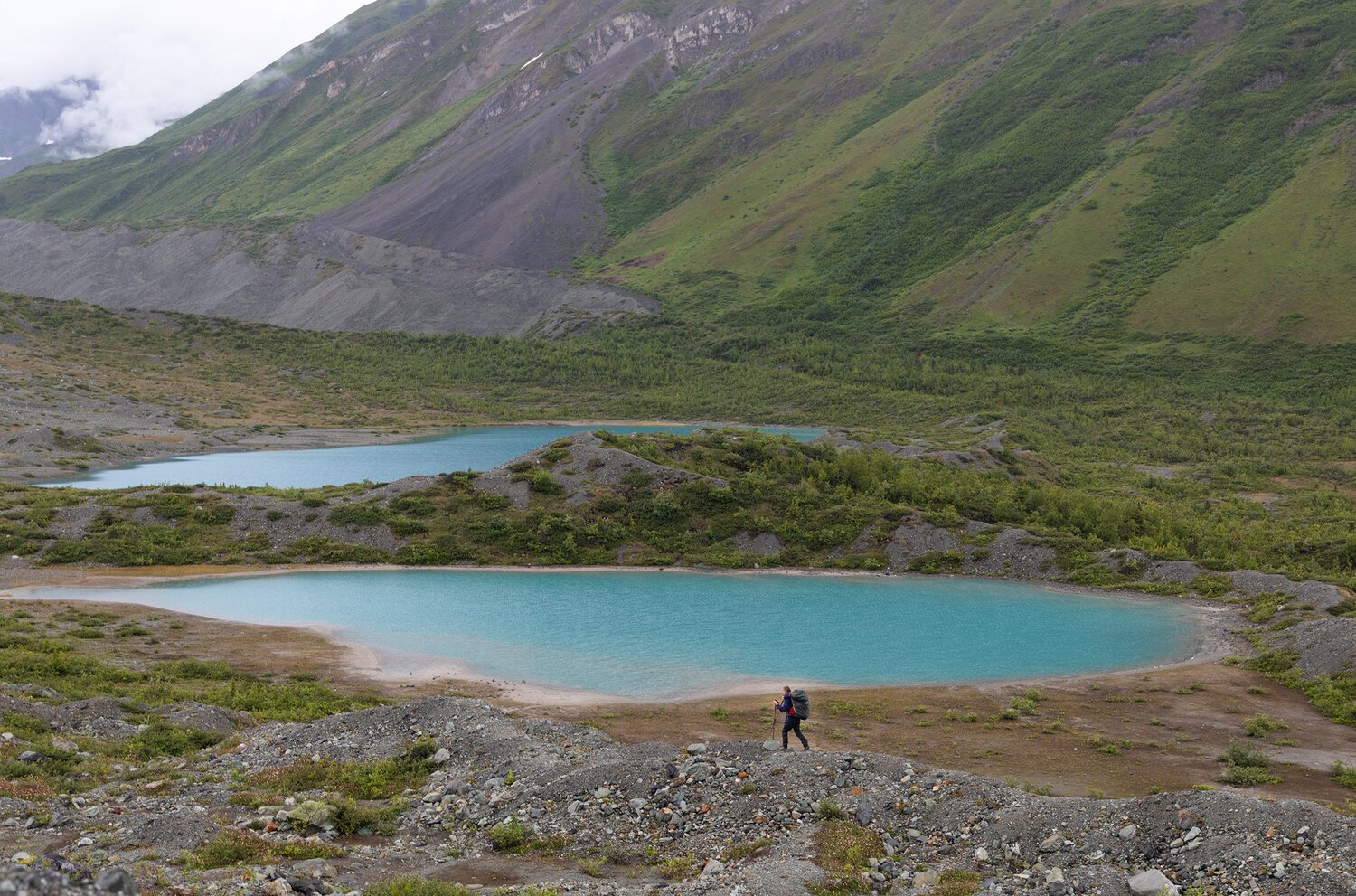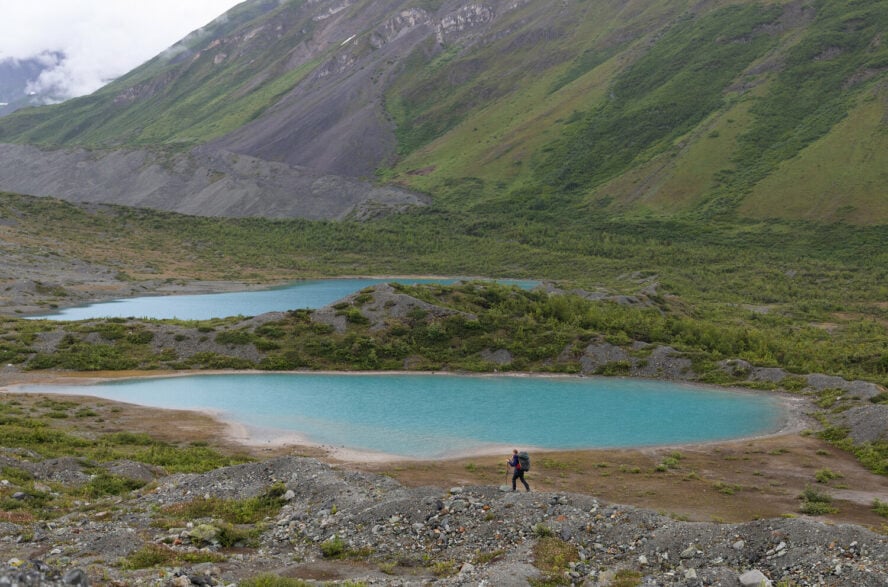 Days 3-6: Enter the Whale's Tail
Over the next four days, we explore the Whale's Tail. We spend the first few days climbing the greener, lower areas, wandering high alpine meadows, crossing small peaks, and reveling in the views of abundant wildlife. We'll also make friends with moulins. These are nearly vertical shafts within a glacier that can plunge hundreds of feet down, typically forged by melting water and moving debris. Speaking of, the glacial water is the best water I've ever tasted and indeed a much enjoyed refreshment after a hike. Upon reaching the top of the route, we leave the alpine environment and head back towards Backside Lake.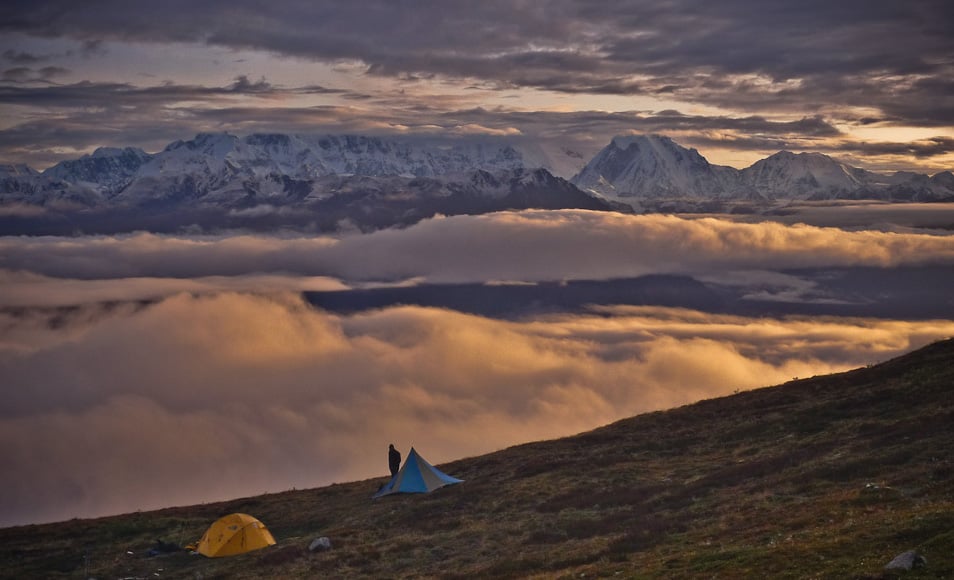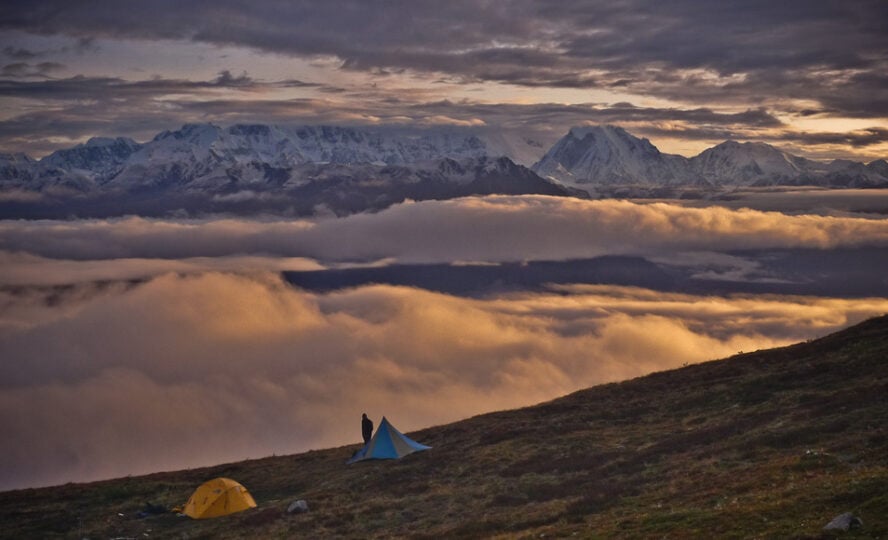 Day 7: Goodbye, Denali
With the arrival of the last day comes that bittersweet moment of hearing our plane arriving to propel us back to reality. Weather permitting, we'll get a chance to do a flight tour around Denali and take in the final views of the surrounding gorges and mountains. Back in Anchorage, we'll have our final dinner, hug each other, and say our goodbyes.
Additional Info to Help You Prep for Backpacking in Denali
Bear safety
When you think of
hiking in Alaska
, one of the first things that may pop into your mind are: bears. I have some good news for you! Albeit curious, they seem to be more afraid of us than vice versa. Personally, I'd chalk that up to there not being much human contact in Denali. Despite this, we'll take the utmost precaution with bears. Everything that has a smell will be stored in bear canisters, we'll have bear spray handy, and our bigger group size will usually deter them from coming close to us. I must add that I've had a close encounter with a bear in Alaska. As I was moving through thick alder, pulling branches apart, I came face to face with a grizzly bear. To my surprise, it looked me directly into my eyes and simply walked away.
Gear list
Since we'll be backpacking for almost a week, and on our own, taking the right gear is vital. Cotton is a big no-no since it won't keep you warm if it gets wet, so bring lots of warm synthetic or wool layers. A good rain jacket and pants are a must and probably the most important items on this list. You'll also need a backpack (50-55L+), a sleeping bag, some sturdy hiking shoes or boots that cover up your ankles, some wool socks, a sunhat, toiletries, eating utensils, and lunches you can eat on-the-go. We'll make sure to cover all of the group gear (tents, cooking supplies, fuel, breakfast & dinner) and send you an exhaustive gear list for backpacking in Denali before the trip.
Do you need permits for backpacking in Denali?
While you do have to pay an
entrance fee
in Denali National Park, backcountry
permits for backpacking
are free. On top of that, obtaining one is as easy as filling out a backcountry permit application and sending it via email to the National Park Service. Once you receive your permit, you can save it on your smartphone and show it to a ranger upon request. You can also get your permit at the Backcountry Information Center.
Can you camp anywhere in Denali?
There are no designated campsites in Denali National Park so you can go backpacking and backcountry camping anywhere you like. This opens up a world of possibilities and allows you to explore any part of the park. Your campsite should, however, have good visibility in all directions and be out of sight from the road.
Can you have a campfire in Denali National Park?
All campfires are prohibited due to Denali's hot and dry weather that can cause dangerous fire conditions. However, you're allowed to use gas camping stoves.
What is the best time of year to visit Denali National Park?
Visiting Denali during the main season is your best bet. It lasts from May 20 to mid-September. Bear in mind that this is the busiest time of the year, but Denali does not get too crowded for backpacking. Other seasons include winter (October 15-April 15), which is the least busy, and the shoulder season lasting for a few weeks each spring and fall. Conditions during the shoulder season can vary and are often not ideal, so you can expect snow and rain.
Backup Itineraries
As mentioned, the weather in Alaska can be a real fickle mistress, so we can fly into Backside Lake in the evening rather than in the morning or reroute our trip entirely to Lake Clark or Wrangell-St. Elias National Parks. We can even go to some of our other places in the state. I always like to remind people that this is a really remote trip, but I and my fellow guides have emergency communication devices and the necessary know-how to ensure this trip ends up being smooth sailing.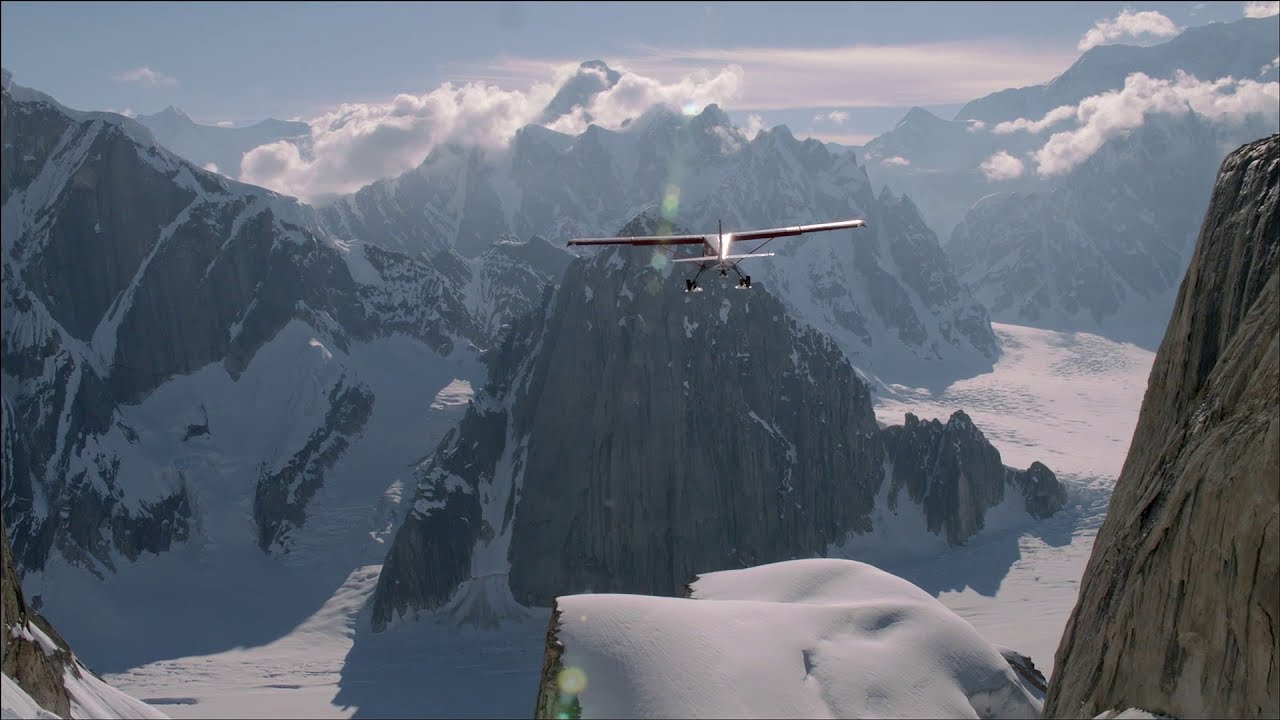 Backpacking in Denali: An Inexhaustible Source of Inspiration
Over the years, I've found it funny how I thought Denali's remoteness would offer me a chance to get away from everyone and everything. As I've gotten older, I've realized what I value most are the deep connections I develop, both with the people I travel with, and with who I am. While I'm a bit conflicted about guiding in general, one thing that puts a smile on my face is that refreshing moment of realization when I ask myself whether my job is meaningful: the answer is a resounding yes. I'm grateful to welcome others to these powerful places, and to share in the experience with them. Denali is where I've made many life changes, and is why I'll keep coming back every summer for the rest of my life.
Join Jack on a backpacking adventure in Denali, get a close-up view of North America's tallest peak, and taste freedom in this serene wilderness.