Why The Hiking Trails of Cinque Terre Are Poetry in Motion
Few places in Italy have cultivated as much poetic inspiration as the villages of Cinque Terre. Hiking the trails between them, your footsteps will sing a song of sun, sea, and stone.
The landscapes are alive with poetry and lemon trees.
80 km north of Pisa, along a ridgeline above the Ligurian Sea, the five villages of Cinque Terre lap against the warm Mediterranean and unfurl into terraced sanctuaries of grape vines, olive groves and stands of perky citrus. Wandering through them are some of the most celebrated hiking trails in Europe.
Once a remote outpost of the Republic of Genoa, the fishing towns remain isolated from mainland Italy by the craggy Apennines to the east—a towering range that tussles with the clouds. From the western slope, the hillside hamlets rise from azure waters in a découpage of brightly painted buildings, backdropped by dry stone walls and stepped fields.
Traipsing among the trellises may best be captured by Nobel Prize-winning poet—and Cinque Terre local—Eugenio Montale:
Limoni (The Lemon Trees)
The little path that winds down
along the slope plunges through cane-tufts
and opens suddenly into the orchard
among the moss-green trunks
of the lemon trees.
To discover the poetry of these little paths for yourself, you need to experience them on foot.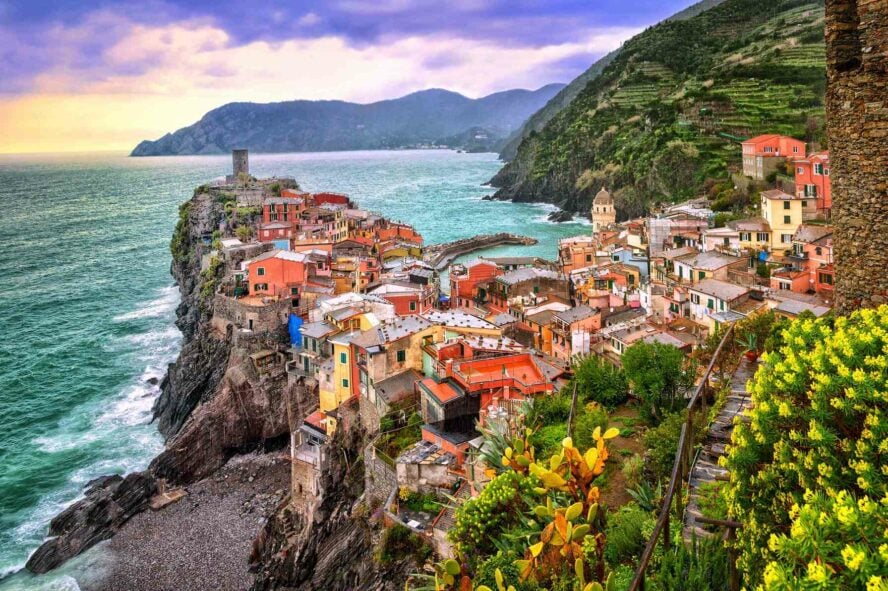 Pros and Cons of Hiking Cinque Terre
Interconnected trails let you create your own path through the villages
No car traffic means you can slow down to the pace of your footsteps
World renowned local staples include wine, fish, and lemons
The hikes can have steep ascents and descents
Some of the more well-known parts can be crowded
Between the Sea and a Steep Place: The Five Villages of Cinque Terre
Cinque Terre National Park (Parco Nazionale delle Cinque Terre) is comprised of five settlements that overlook the sea. From north to south they are: Monterosso, Vernazza, Corniglia, Manarola, and Riomaggiore.
Unlike the vast landscapes you can find hiking in the Dolomites, this tiny national park covers a touch less than 40 square kilometers (15 sq mi). The intimacy is what makes it unique; cars have been banned within the villages for more than a decade, which means that the best way to travel along Cinque Terre's hiking trails is on foot, just as famous poets—including Lord Byron, Mary and Percy Shelley, Dante Alighieri and Eugenio Montale—have done over the centuries.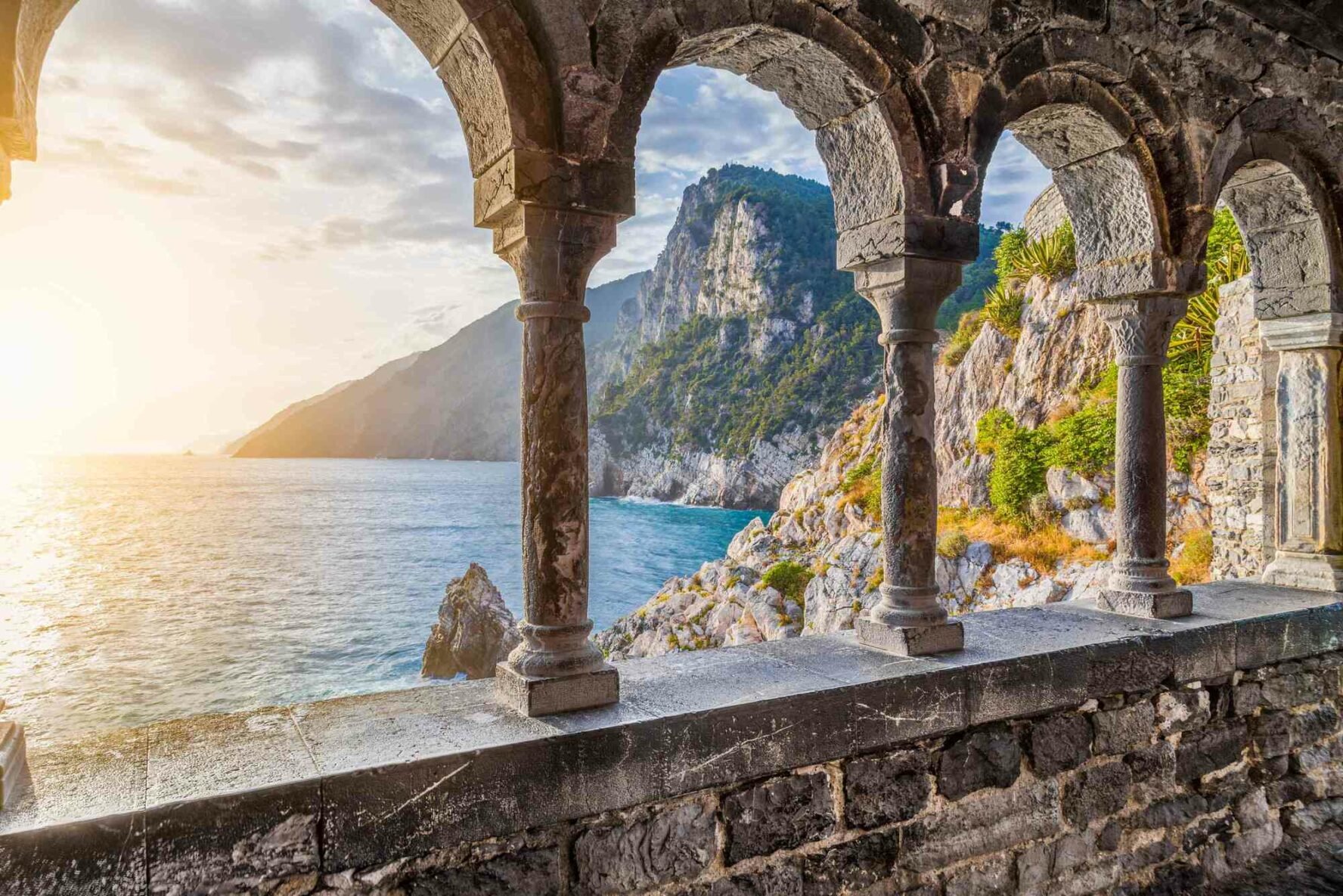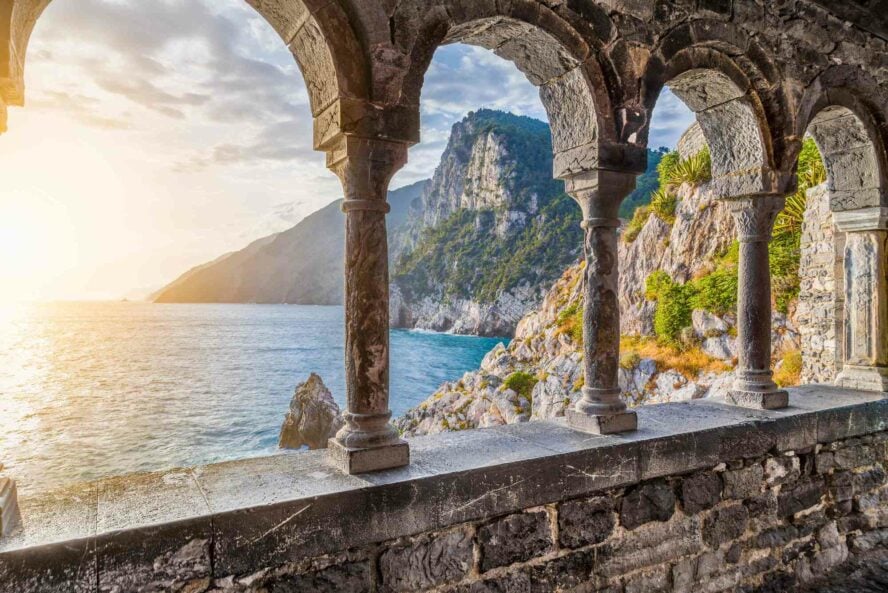 A tapestry of hiking trails in Cinque Terre
Cinque Terre is designed as a pedestrian space with over 120 km (74 miles) of hiking trails. The paths either run along the coast, connecting the towns, or head into the hills for exploring further afield. They are well-marked with signage, including the name of the trail and distance to the next village.
The Blue Trail (also known as Sentiero Azzurro or SVA #592) is the most famous (and trafficked), and considered one of the best hikes in Tuscany, if not Italy. The coastal trail is made up of four individual sections between the five villages, and overlooks the sea the entire time. People often ask, how long does it take to hike Cinque Terre? From end to end, it is about 11.6 km (7.2 mi), with nearly 610 m (2,000 ft) in elevation gain, and can be walked in 5-8 hours. However, most hikers choose to break up the trail over several days in order to spend time in each village. I recommend taking at least five days to fully explore the area, and I'll share my own itinerary below.
The High Trail (aka Alta Via delle Cinque Terre or AV5T) is the second most popular of the Cinque Terre hiking trails, and a much more challenging one at that. At 35 km (21.7 mi) with 1,473 m (4,832 ft) in elevation gain, it starts from Portovenere and ends in Levanto, and is often completed in 2-3 days. If you prefer more mountainous terrain, consider hiking in Tuscany afterwards, in order to explore the secrets of the Garfagnana Valley.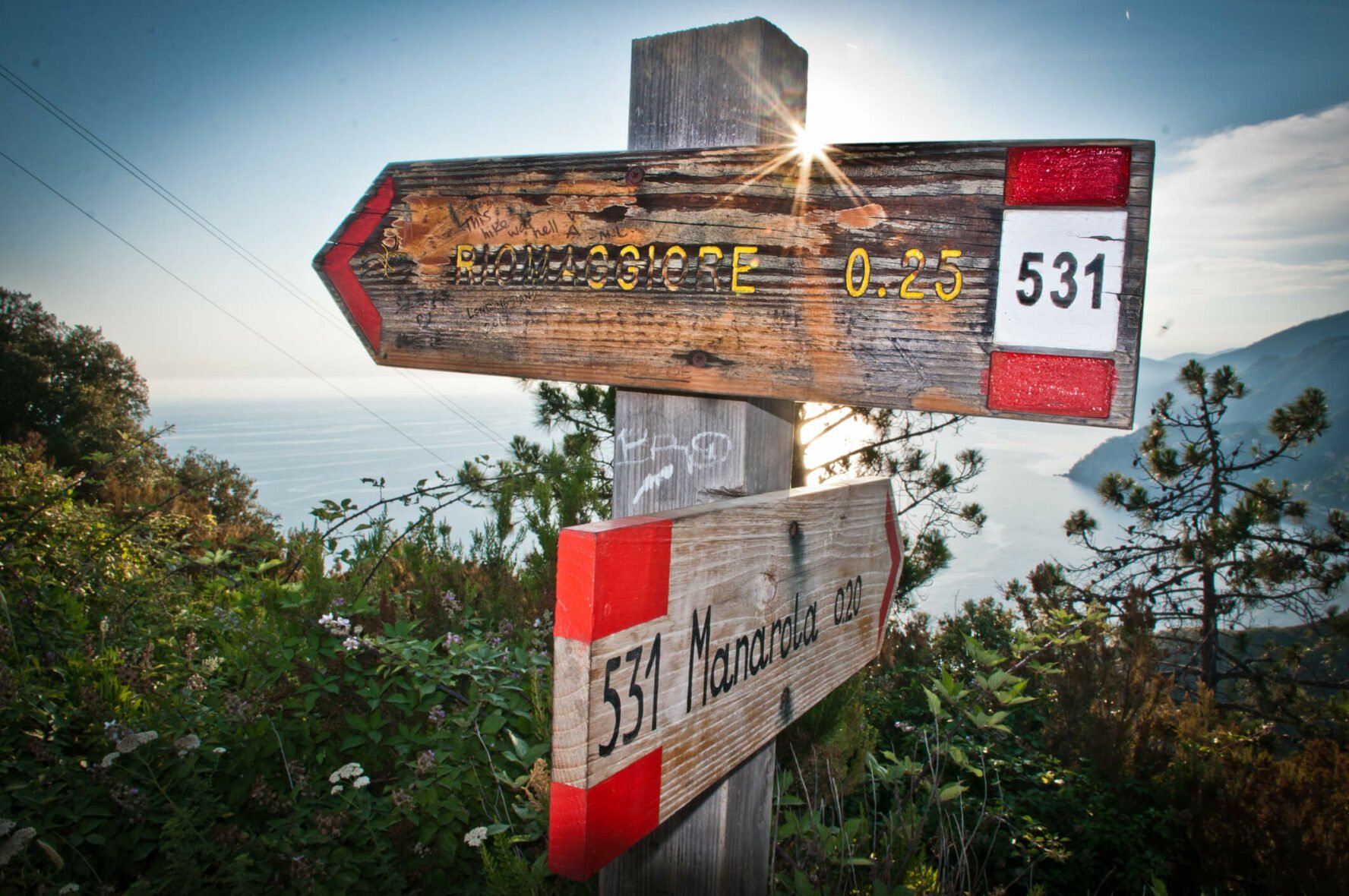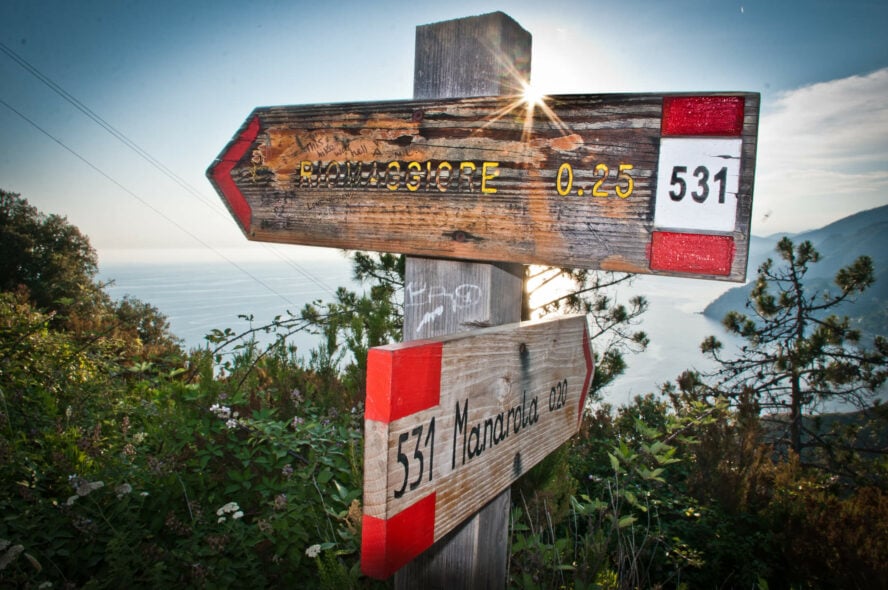 Or create your own! There are many more hiking trails among the Cinque Terre. You can find an interactive map of Cinque Terre National Park from the park's official website, to help you plan alternate day trips or design your own winding multi-day adventure. One thing for sure, you'll want to take plenty of pit stops.
Rather than zoom from place to place, the trails urge you to slow down and become familiar with the surroundings; ogle over sharp cliffs that drop into the sea, investigate hidden coves full of crystal clear water, absorb the aromas of rich rosemary, thyme, and lavender wafting in the air, and savor la dolce vita of each town.
Sweet and salty: Enjoy the local specialities
One of the attractions of the hiking trails in Cinque Terre is the pleasure of exploring the villages. While each has its own culinary distinction, there is no cellar complete without jars of anchovies and bottles of wine.
Wine: The practice of viticulture along the steep terraces is a thousand years in the making, and this is the only place where you can find the beloved Sciacchetrà, a sweet, white wine made from vines perched close to the sea. The grapes are set out to dry for 40 days, which concentrates the sugars, producing an amber color with notes of honey, apricot and hazelnut. Naturally, this pairs well with a particular catch from the sea.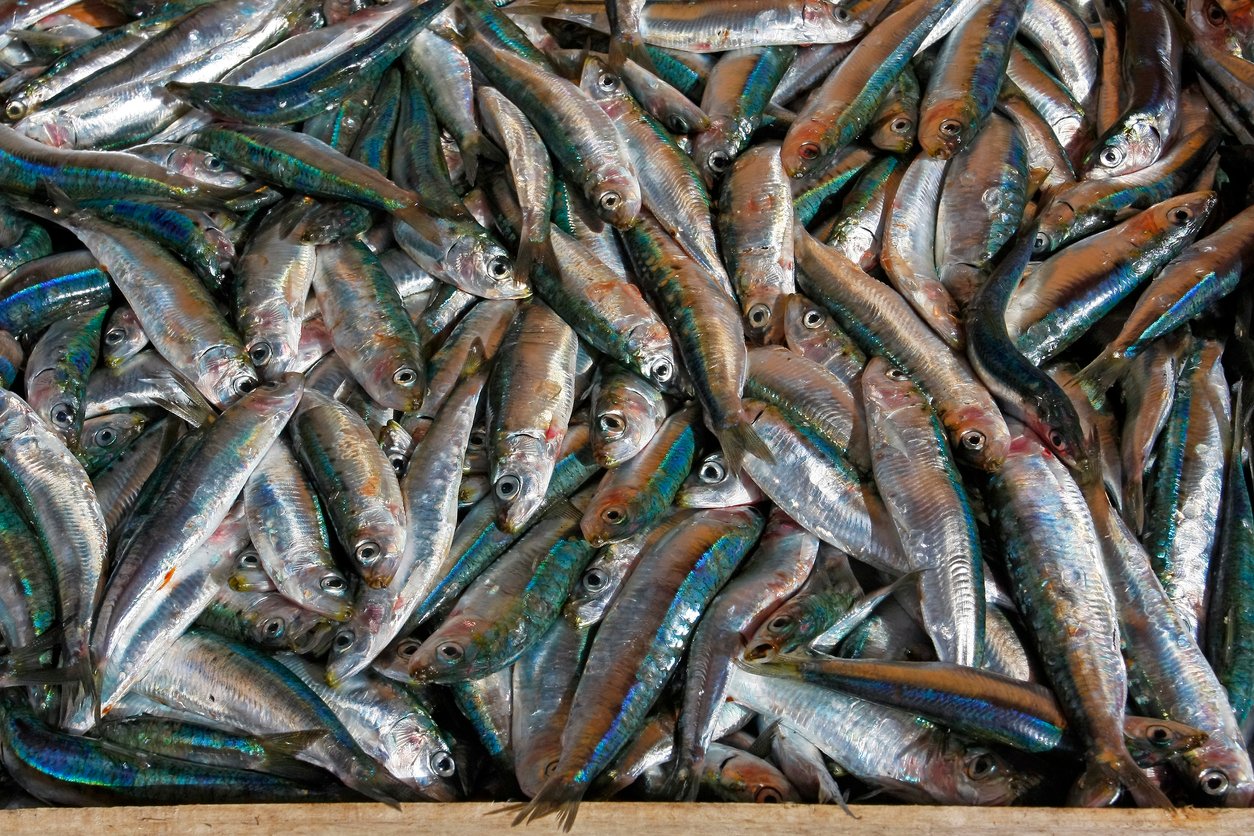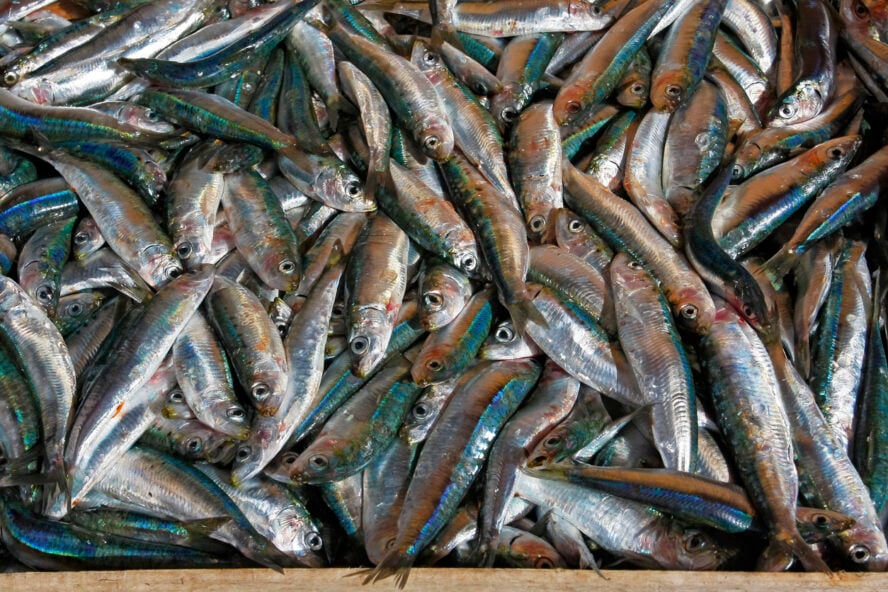 Fish: The traditional dish of Cinque Terre is the Monterosso Salted Anchovy. Processed according to an ancient recipe, the fish are harvested using a lampara net and time-tested methods. The harvesting and brining process is carefully done by hand, preserving the best aromas and flavors. They are often paired with oil, oregano, and garlic.
Cinque Terre's cuisine alone makes this a unique territory to admire, but as a UNESCO world heritage, environmental and cultural site, you know there's much more to see.
Guided by a Passion to Share What Makes Our Region Special
I grew up in northwestern Tuscany in a city called Lucca, only about an hour south from Cinque Terre. My childhood revolved around days in the mountains and learning about the surrounding landscape.
When it came time to figure out what to do, I decided to enroll in a rigorous course to become a hiking guide. During the 600-hour program, I learned everything from geology to safety techniques, but what I enjoyed best was how guiding is a way to engage with the rich history around me.
Having visited Cinque Terre many times as a child, I was excited to return to craft my own tour—one created through a love of connecting with others, exploring the land, and their stories. Now I'm able to do that through my company, Wild Trails.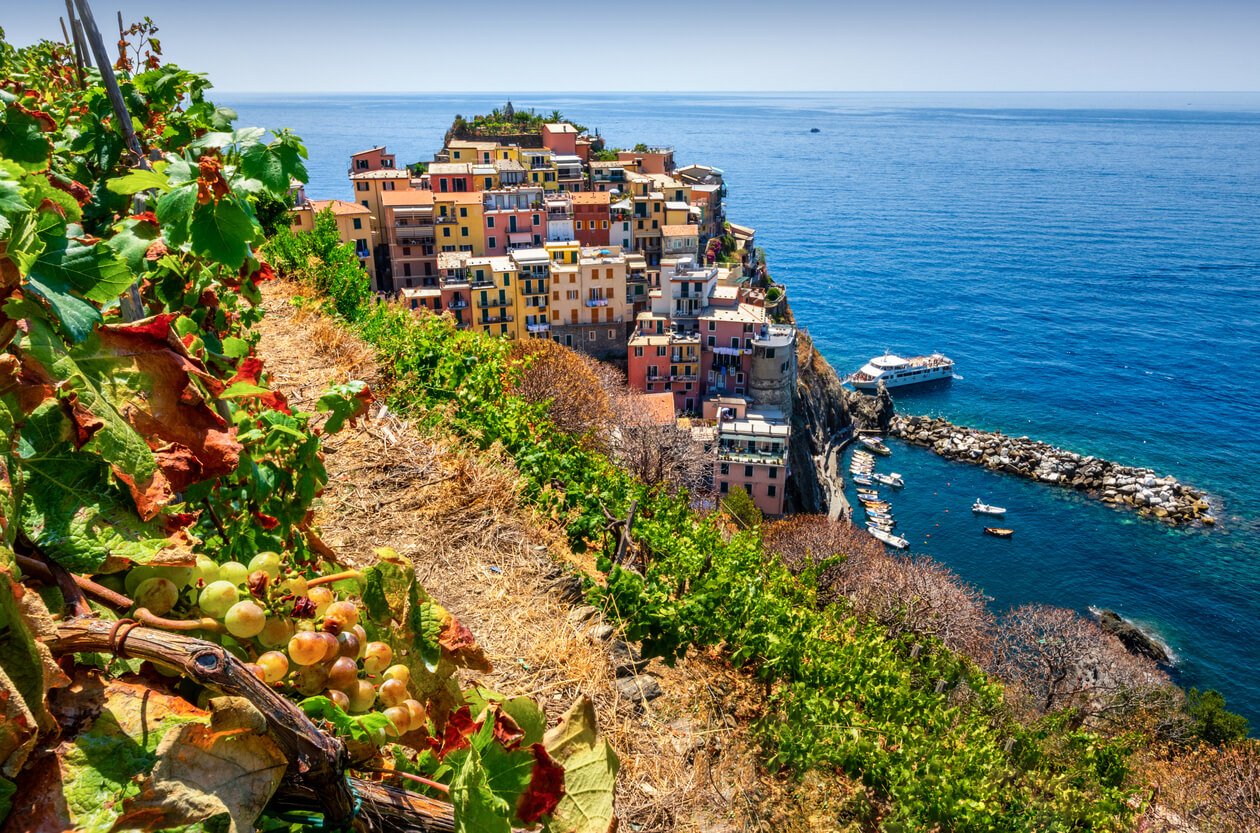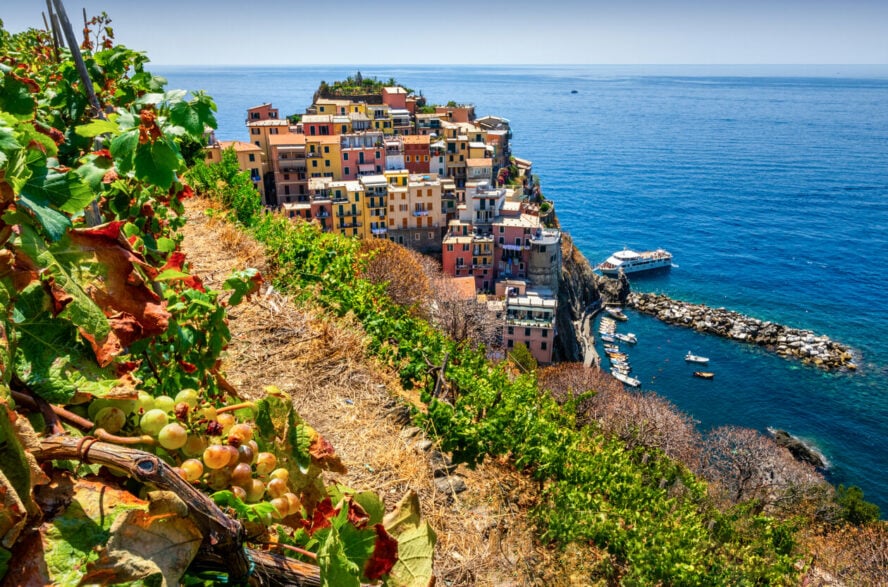 Hiking the Trails of the Cinque Terre: A Six-Day Itinerary
Below is my recommended itinerary to enjoy Cinque Terre, from the vineyards of Riomaggiore to the sandy beaches of Monterosso.
Note this tour is designed around staying in one town, Riomaggiore. Each day, you will head out for a new hike and place to explore. However, you can also walk from town to town (staying in a different village each night), loop around, and generally make your own path.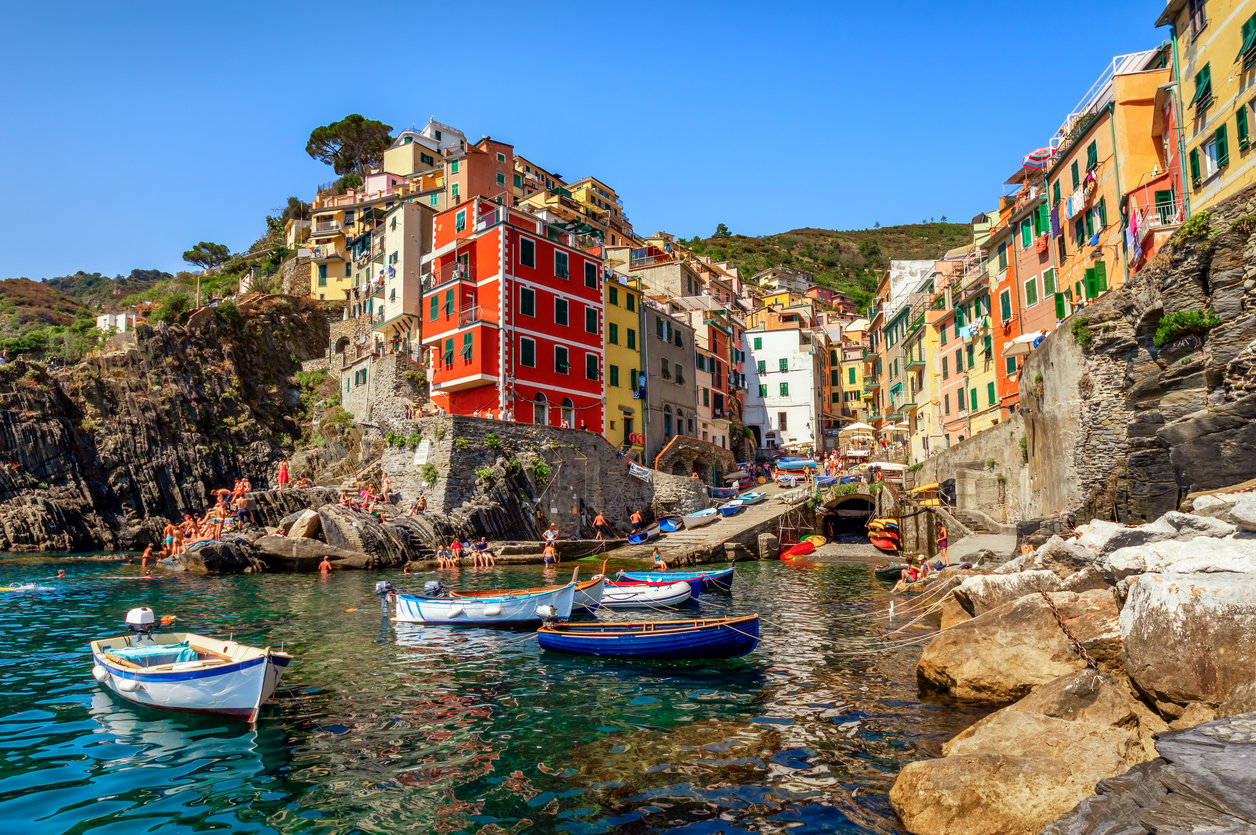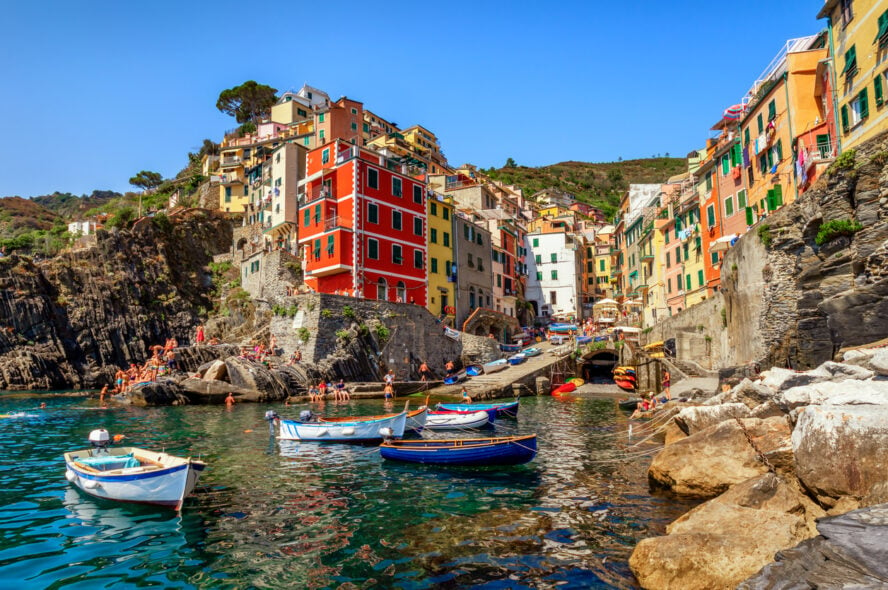 Day 1: Your adventure begins in Riomaggiore
The first and largest village—and the closest to the main point of entry, La Spezia—is Riomaggiore. Established in the 13th century, it is situated between two steep hills, spilling forth colorful houses stacked along twisting alleys. In the center is the Church of Saint John the Baptist, built in 1340, while up in the hills is perhaps the best vantage in town, the Castle of Riomaggiore. Locally, it is known for its wine and fresh seafood.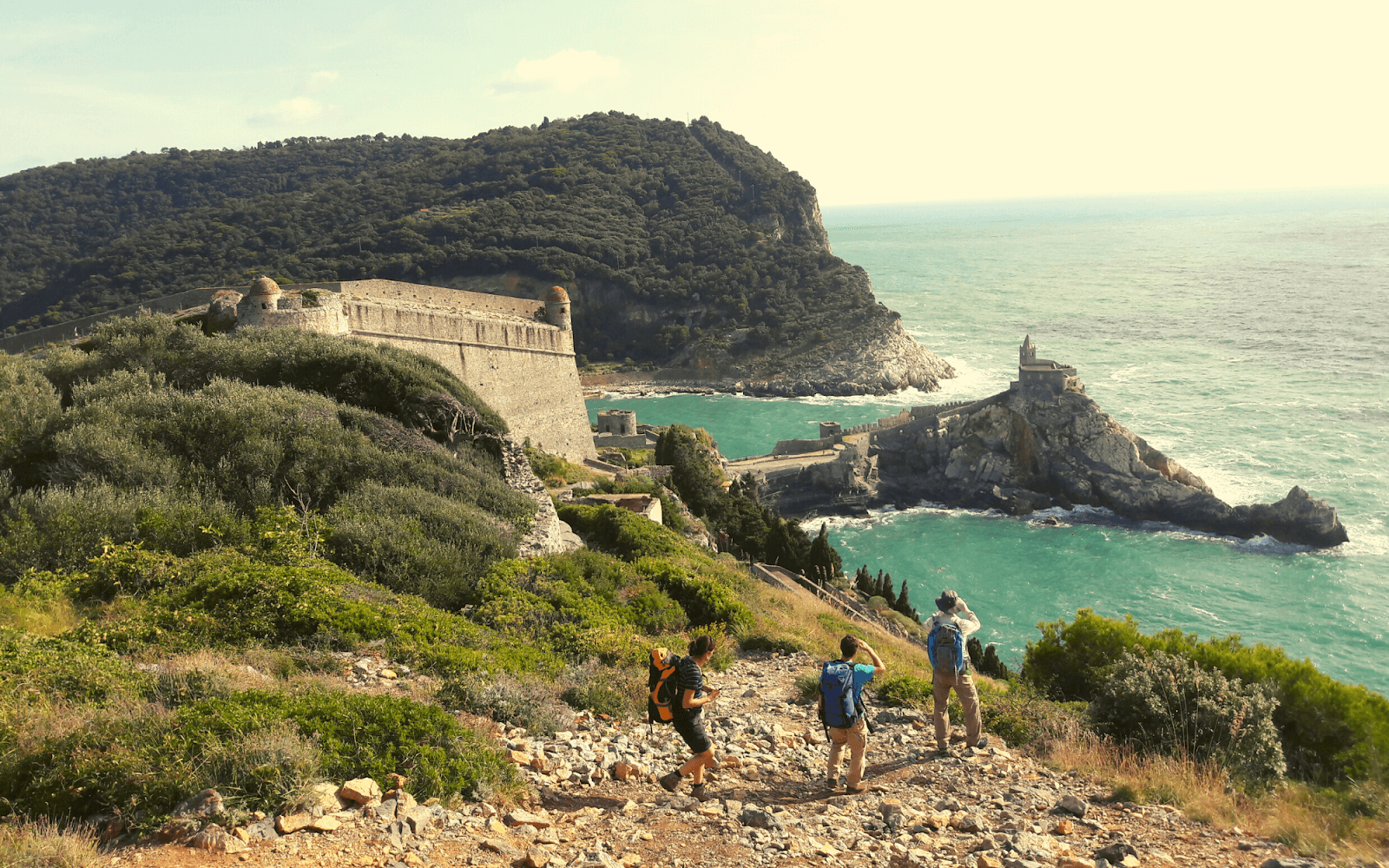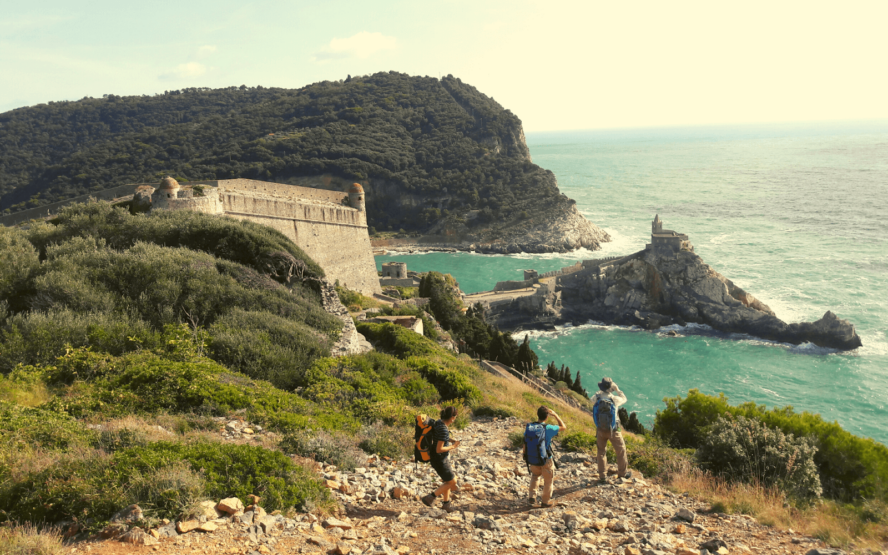 Day 2: Trip to Porto Venere
Quick facts:
Duration: 5h

Ascent: 600 m (1,970 ft)

Boat fare: around $20
Start off the day with a boat ride to Porto Venere, considered the "Sixth Town" of Cinque Terre. Best known as the Gulf of Poets (Golfo dei Poeti), the cliff outlook has attracted wordsmiths, artists, painters, singers, and dancers through the centuries, including the likes of Lord George Byron, D.H. Lawrence, George Sand, and Percy and Mary Shelley,
There is also a beautiful Romanesque 13th century church built atop a temple dedicated to Athena. Thought to be the birthplace of the goddess, it was the home she returned to after adventuring around the Mediterranean Sea.
You'll understand why she kept coming back—the hillside walks will unfurl panoramic views of the coastline and the three islands to the west, while the many Middle Age sites, including the Doria Castle and Chiesa di San Pietro church, will keep you happily exploring. You can end your day by walking back to Riomaggiore.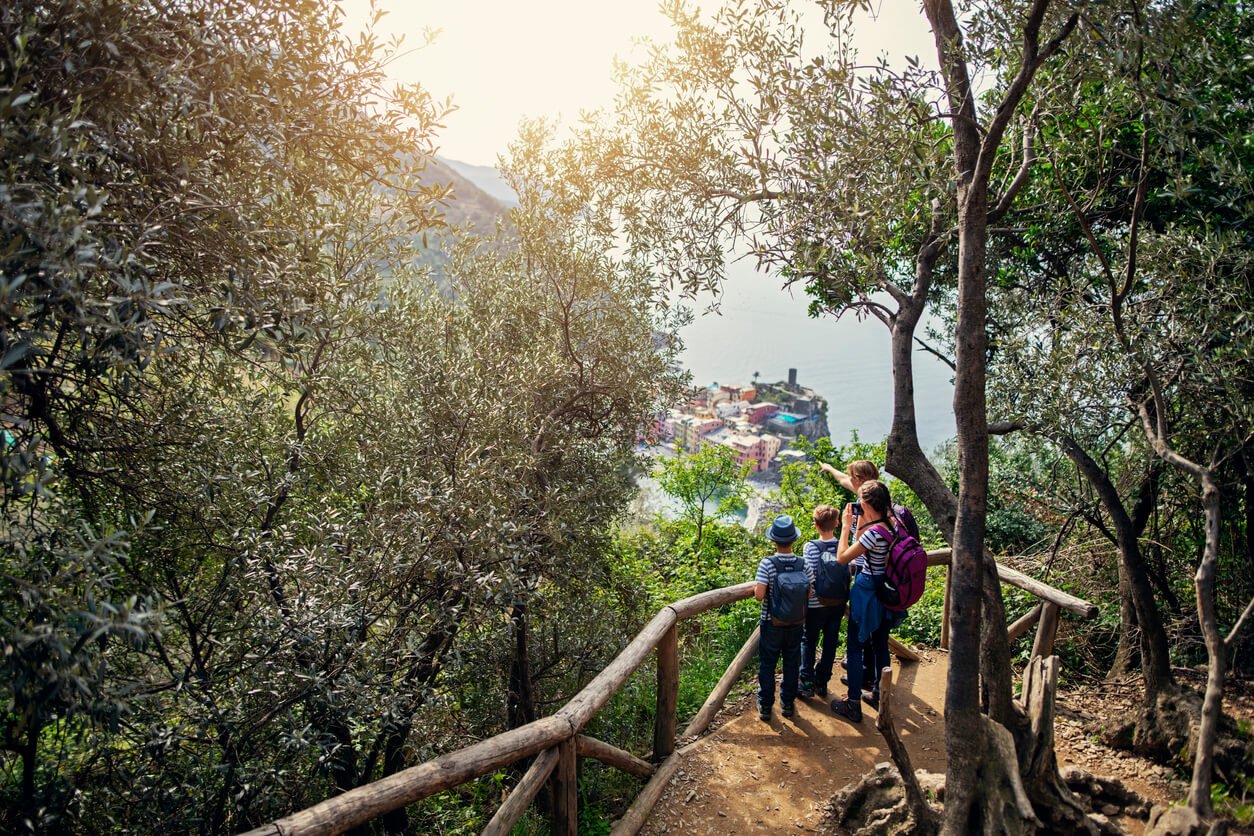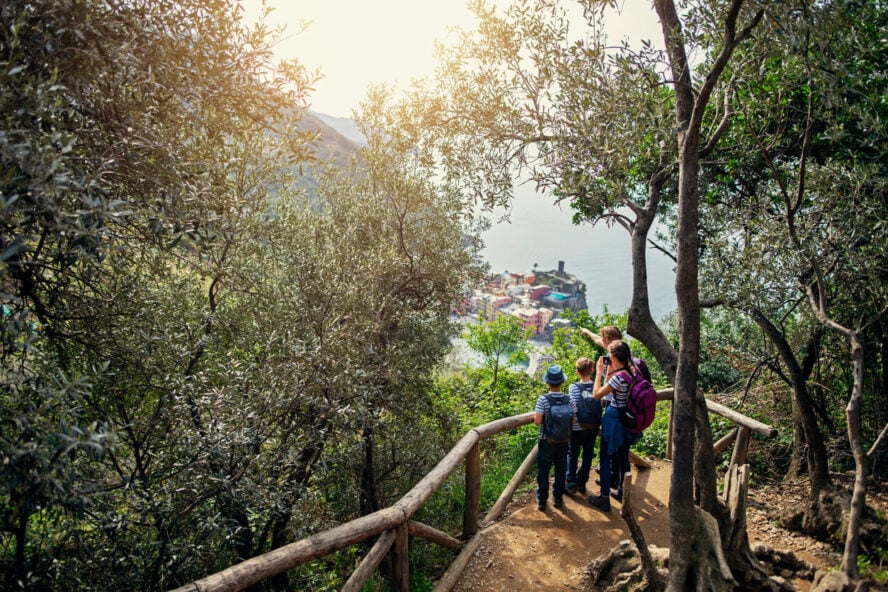 Day 3: Riomaggiore – Vernazza
Quick facts:
Duration: 4.5h

Ascent: 750 m (2,460 ft)
The walk from Riomaggiore to Vernazza is full of views and legend. After a steep climb, take a panoramic walk through the famous terraced vineyards and observe a 13th century church located on a small island off the coast. Then you'll head into a lush forest—one of the wilder places in Cinque Terre—connected to the mainland through a narrow walking trail. It is unexpected, and often not as crowded as other places.
Pay a visit to a lonely menhir, a set of standing stones, or head to the mountainside, before taking the path down to Vernazza, the heart of Cinque Terre.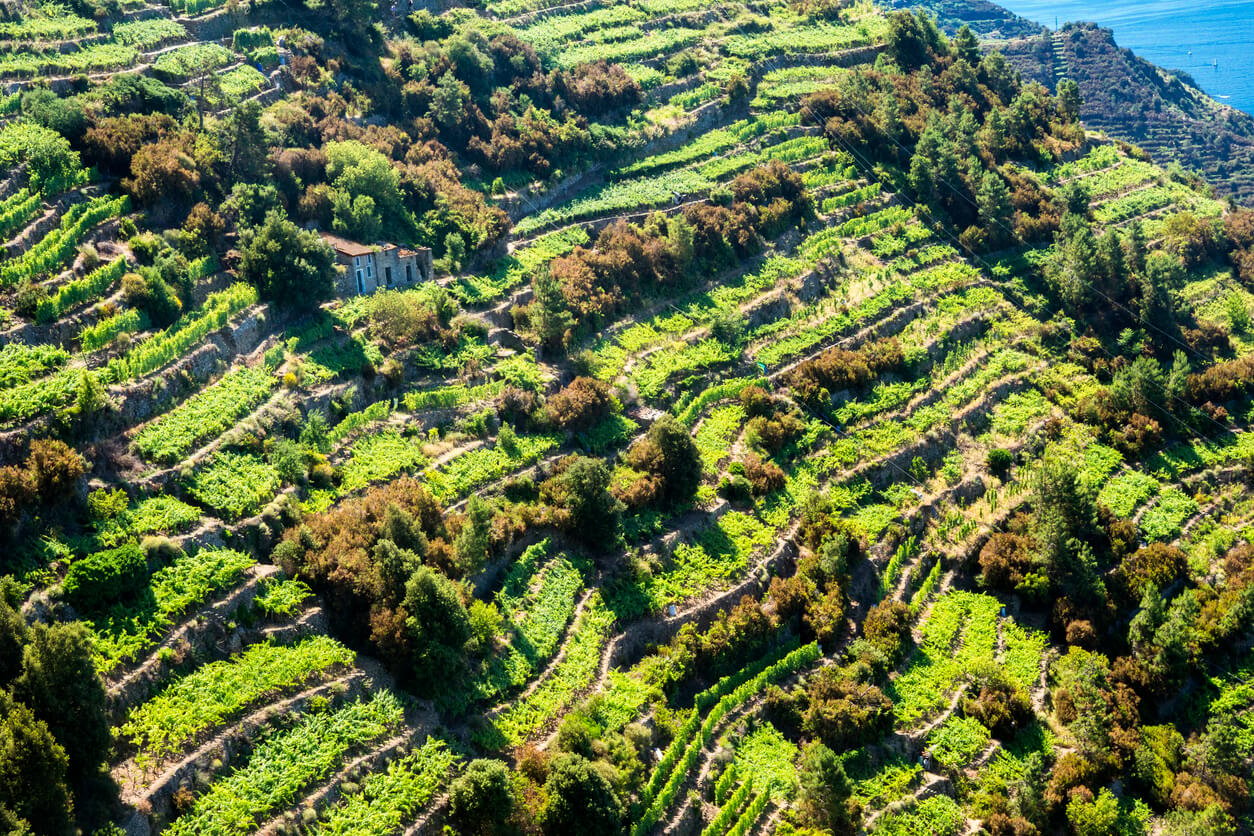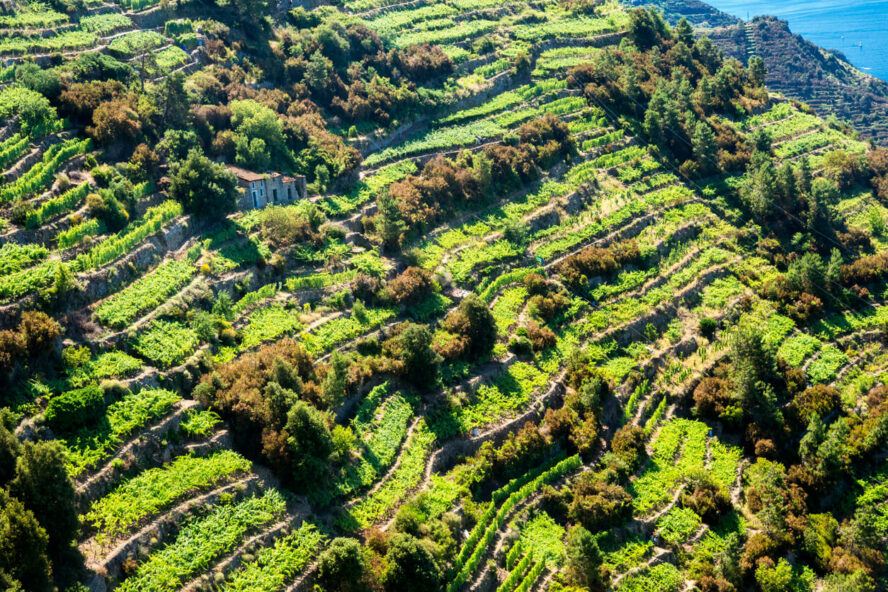 Day 4: Vernazza – Manarola
Quick facts:
Duration: 4.5h

Ascent: 700 m (2,296 ft)
Today, you'll start by taking in the striking views over Vernazza and its tower overlooking the cove. For more elevated sights, head high above the town to the Belforte Castle, erected in the 1500s. Once you leave the shaded pine forest, follow a panoramic vineyard path overlooking the sea.
From the village of Volastra, you'll walk downhill through olive groves and grape vines to reach Manarola—the second smallest village in Cinque Terre—perched directly atop steep cliff faces. There is plenty of architecture to enjoy here, from the prominent Church of San Lorenzo—characterized by a sandstone facade and highlighted by a rose window in white marble—and vibrant murals dedicated to the work of the local farmers and fishermen.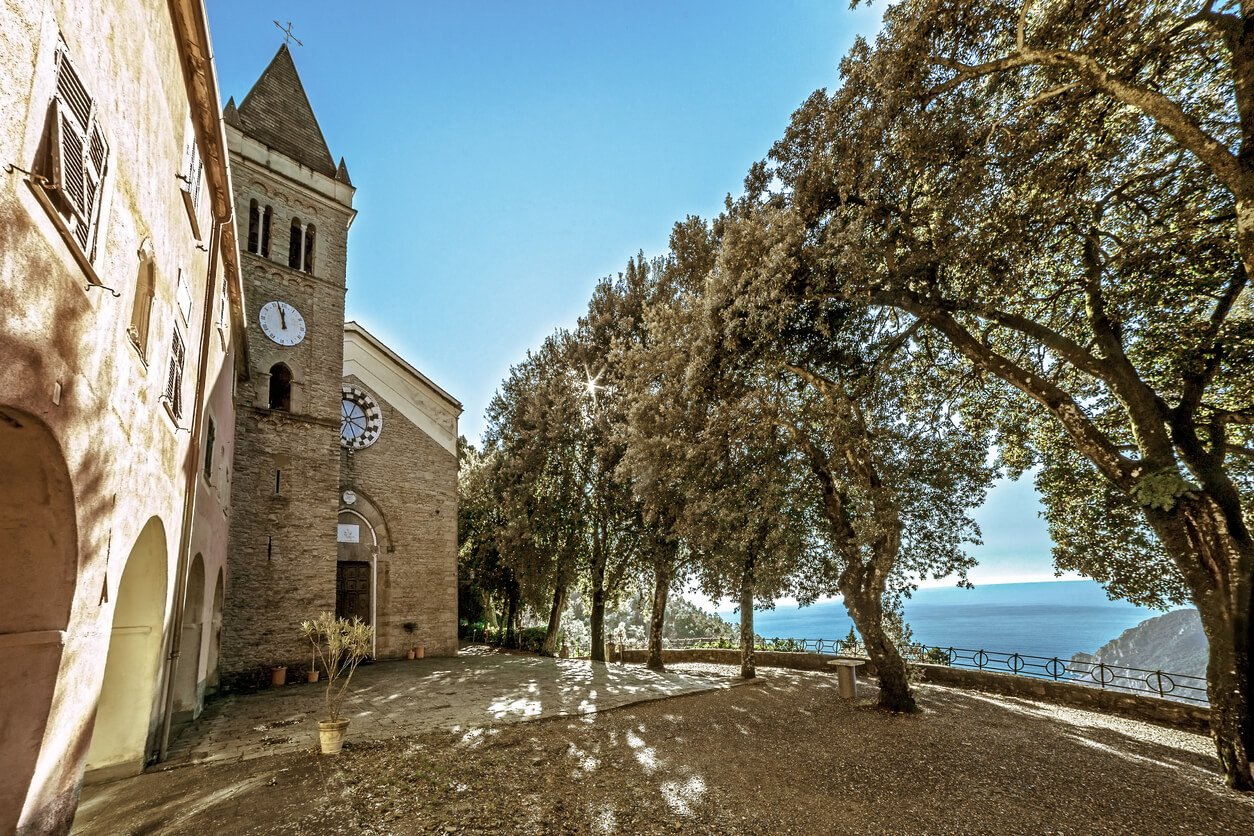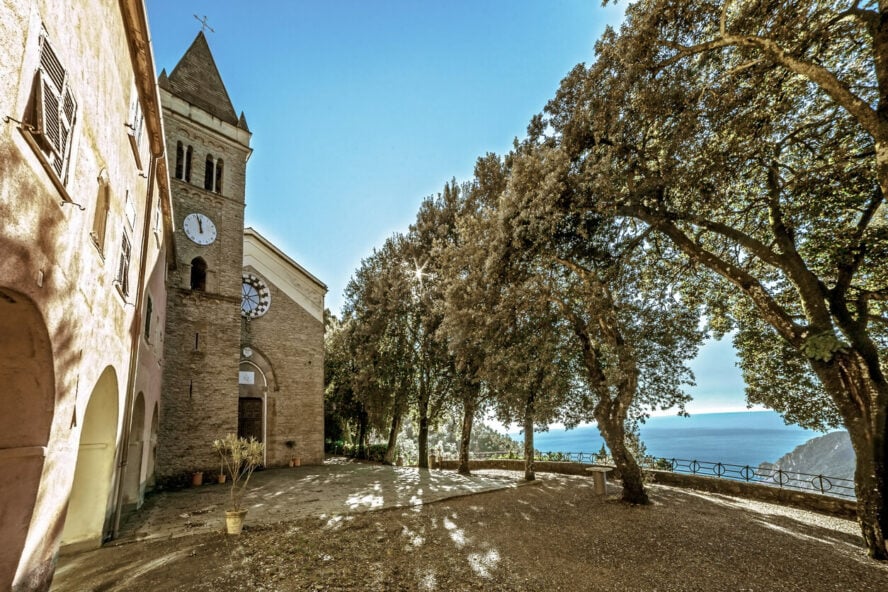 Day 5: Monterosso
Quick facts:
Duration: 5h

Ascent: 670 m (2,200 ft)
"Standing on the dramatic cliffs of Cinque Terre, I have no wants, needs, or concerns," says Italian writer, poet, and winner of the Nobel prize for Literature, Eugenio Montale, who spent his childhood in Monterosso.
"I am simply coexisting with the land. The air is cleansing and looking down I see vegetation speckled with houses and a few restaurants and I think, this is life in its most basic components: beauty, food, and nature."
The northernmost and flattest of the five villages of Cinque Terre, Monterosso is famous for its white sand beaches—which separate the two sections of the town—cobbled walkways, and quiet sanctuaries.
From the beach, you can hike to two churches: St. John the Baptist, built in the late thirteenth century, and the Capuchin Friars' Convent. From the hillside, you can look down onto the giant statue of Neptune, the god of the sea, which is positioned on the cliffside to offer protection for this former center of culture and politics.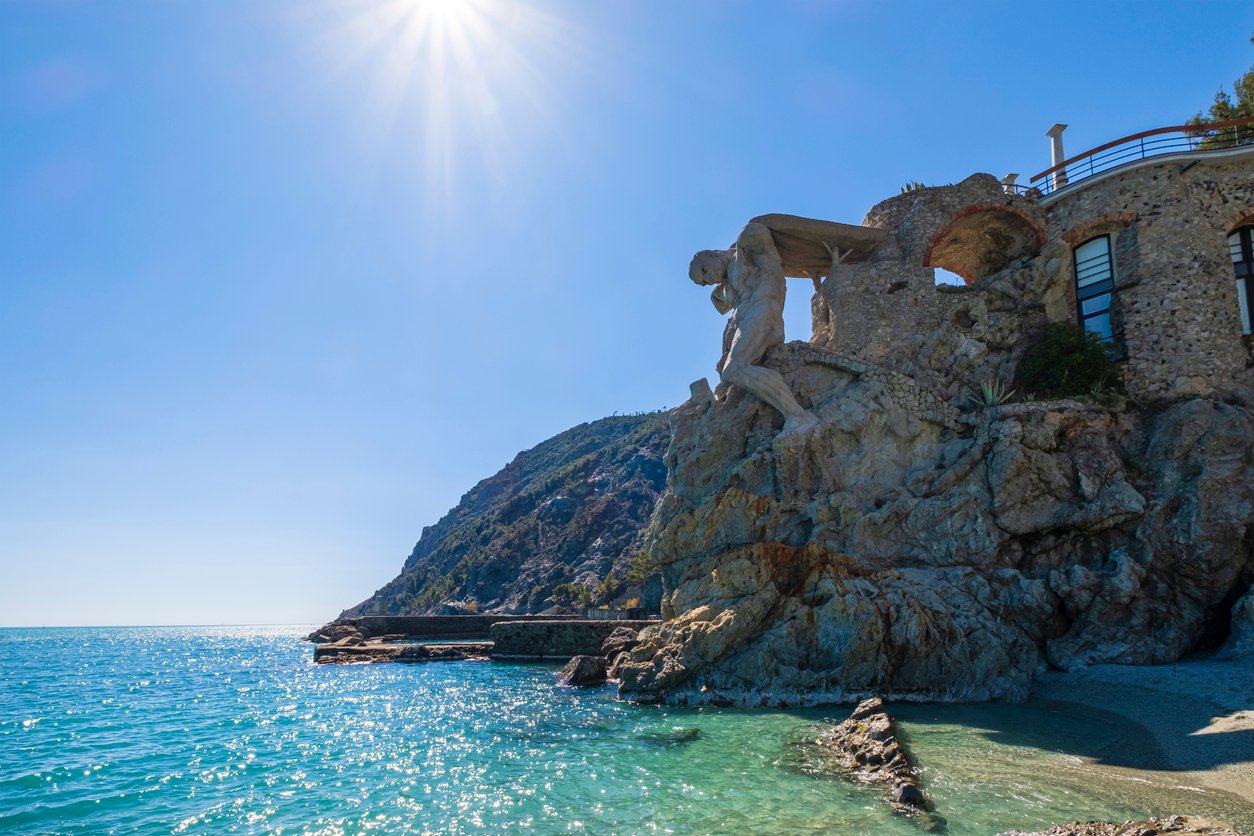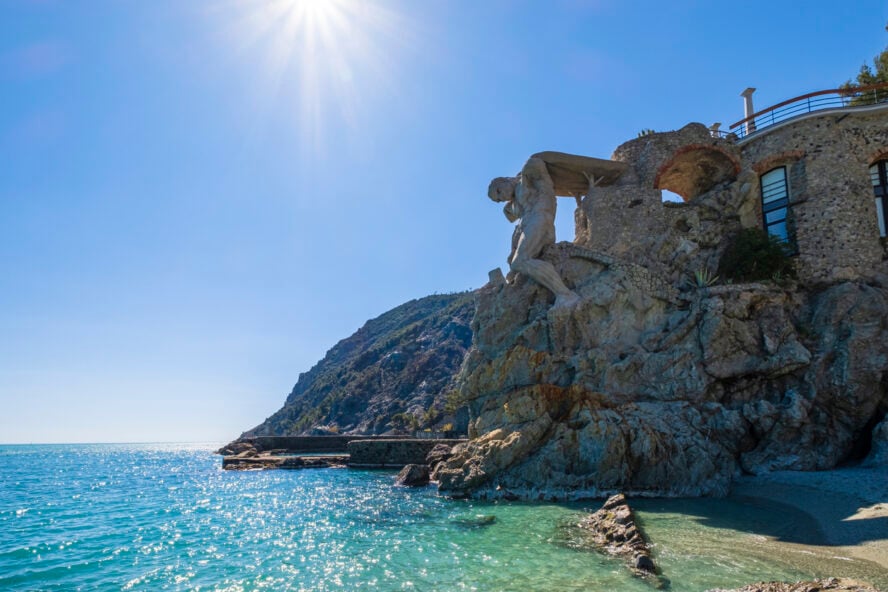 Day 6: Monterosso – Levanto
Quick facts:
Duration: 3.5h

Ascent: 200 m (657 ft)
Wrap up your time on the Cinque Terre hiking trails by visiting the last village. A coastal path will lead you to Levanto, tucked into the middle of a valley, surrounded by forest and groves of olives and grapes.
After an hour of hiking, you'll come upon a beautiful overlook within the protected area of Punta Mesco—one of the only places with ideal surfing conditions in the area. Today, the town is most known as a seaside resort with long sandy beaches, shops and quality restaurants. This is a great place to celebrate your trip—enjoy a fresh meal and glass of local wine, and maybe even scribble a few rhymes on your napkin, keeping in time.
Useful Information About Hiking Cinque Terre From a Local Guide
What is the best time to hike in Cinque Terre?
The best times to be in Cinque Terre are September and early May, especially on the hiking trails. These months bring the most predictable and enjoyable weather with the smallest crowds. Being a string of seaside villages, Cinque Terre's weather can be unpredictable, which is why it is best to come during the most reliable time of year.
How do you get to Cinque Terre?
Genoa and La Spezia are the main points of departure. Because the villages are designed for pedestrians, driving can be a challenge. Rather, the best way to get here is by train (via La Spezia, along the Pisa-Genoa line) or boat; ferries embark from La Spezia, Lerici, and Porto Venere. Major nearby airports can be found at Genoa, Pisa, Rome, Florence and Nice.
Once there, a railway system can bring you from one village to the next. If you don't feel like walking, that is.
Is Cinque Terre too crowded?
As Cinque Terre has become more popular, the crowds have grown. Home to only about 4,000 to 5,000 residents year round, the region receives an estimated 2.5 to 3 million visitors per year; much of this is during the summer high season.
Beware of trail closures
Note that after heavy rains, trails can be damaged and are subsequently closed (often for many years).
Currently, on the SVA #592:
The Riomaggiore – Manarola segment (The Way of Love or

Via dell'Amore

) is closed from a rockslide in 2012. Trail N. 531 is the alternate route. It is expected to reopen in May 2024.

The Manarola – Corniglia segment is also closed due to landslides that washed out parts of the trail. Recently, a large hole has opened up, making the trail impassable. An alternate route runs from Trail N. 506 to Trail N. 586 to Trail N. 587. It is expected to reopen in 2025.
Luckily, the park has an app that lets you check for trail closures and alternate hiking routes through Cinque Terre.
Who can hike Cinque Terre?
While the individual hiking trails through Cinque Terre are moderate in length, the landscape itself can be difficult at times. There are long, hard ascents and steep descents, but the terrain is not overly technical. One of the special (or challenging, depending on your perspective) features is the historically steep hiking staircases.
A well-prepared hiker should:
Be able to hike 6-13 km (3.7-8 mi) a day with 250-600 m (820-1,968 ft) in elevation

Be comfortable ascending and descending steep terrain, including staircases

Have adequate gear, outlined below
Gear for an enjoyable hiking trip
Day pack large enough to carry all the items listed (around a 25-40L bag)

Hiking poles (optional)

Water bottle or hydration bladder (2L capacity)

Lightweight hiking boots or shoes

Spare clothes for layering

Waterproof rain jacket

Sunhat

Toiletries (sunscreen, hand sanitizer, bug spray, toilet paper, etc.)

Headlamp or flashlight

Sunglasses

Camera (optional but recommended)
Dress comfortably and for the weather in clothes you can move in. If you choose to stay in the same village for the whole week, you only need to carry a daypack with you for the walks.
Cost of Hiking in Cinque Terre
During the off-season, from November until March, the hiking trails are free of charge. In season, however, you will have to pay to use the most famous trails: from Monterosso to Vernazza and from Vernazza to Corniglia. For this, you will need to purchase the Cinque Terre Card, which is 7.50 euros for one-day and 14.50 euros for two-days for adults, or 4.50 and 7.20 euros, respectively, for children.
Most people take a train to get into Cinque Terre, and then to travel between the villages. A one-way train ticket between two towns costs 5 euros for adults and 2.50 euros for children.
You can purchase both a hiking and train card online.
Nights in town: where to stay in Cinque Terre
Riomaggiore, the village in Cinque Terre where we will be staying, is relatively small, with only a few housing options. I prefer to put the group close to each other, so that there can be an aspect of community for all of us.
The first option is to stay in various apartments around town, some amidst the narrow streets and others close to the sea. Remember, Cinque Terre is geographically very small, so though there are separate apartments, they will still be close to one another.
The second option is to stay in a hotel, located just above the village. This would allow the group to stay together in one place, and although the hotel is outside of the center of town, it provides an incredible view overlooking the sea.
Local food and activities you'll encounter on the Cinque Terre hiking trails
Each day is planned to end around 3pm, allowing time to relax and enjoy this scenic slice of the Italian Riviera. Pamper your taste buds at seaside restaurants serving local delicacies such as mussels, anchovies, and pesto, then cross the street for a cooling dip in the sea. As the day winds down, don't miss a chance to catch one of Riomaggiore's famous sunrises.
A common lunch throughout the trip will be focaccia with olives, tomatoes, potatoes, and onions. Over the course of the week, lunches are provided, as well as two dinners.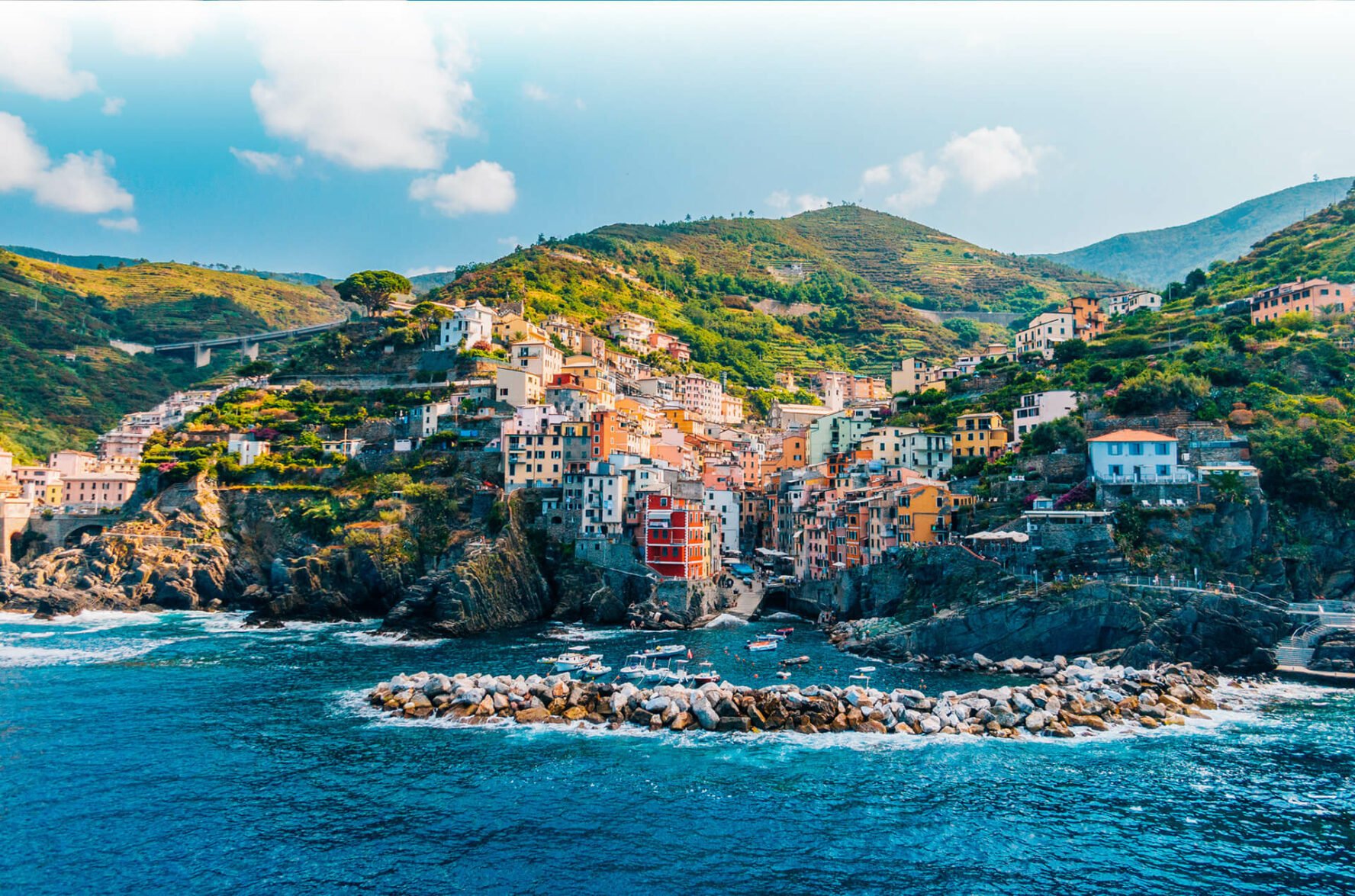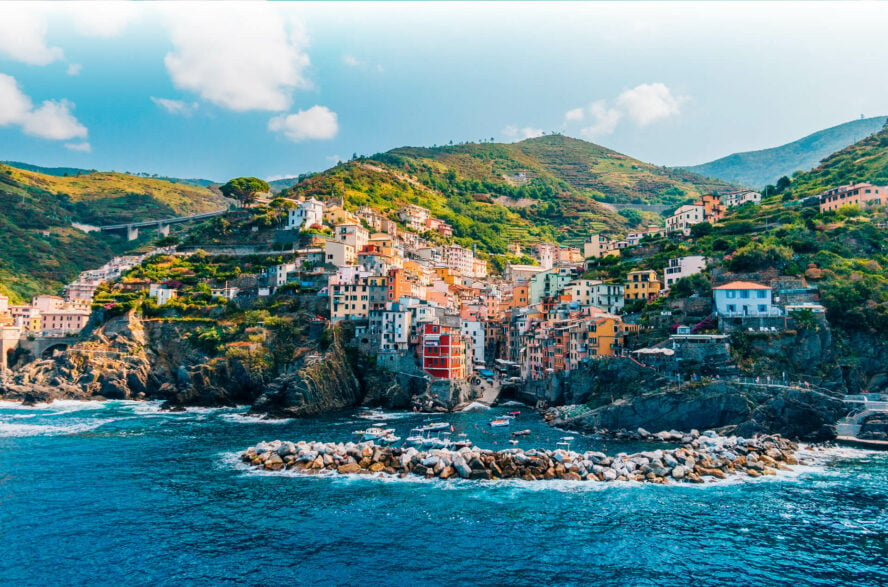 A Poetic Ending to a Dream Trip
When the time comes to say arrivederci to your hiking trip in Italy, you'll understand why they call it Bel Paese—the beautiful country.
And with that, I leave you with one last poem by Lord Byron, who is thought to have written his famous long tale in verse while summering here:
The Corsair
"O'er the glad waters of the dark blue sea,
"Our thoughts as boundless, and our souls as free,
"Far as the breeze can bear, the billows foam,
"Survey our empire and behold our home!
Are you ready to experience the rhyme and rhythm of hiking in Cinque Terre? Sign up for a tour with Stefano and see why this is one of Italy's most sought after trips.