Partner

Sally and Madison covered:
The basics of backpacking in the wilderness
Montana's mountains and why you must experience them
Why backpacking and wellness go hand in hand
What you need to pack for your first backpacking trip
How to set up the perfect campsite
Inspiring stories from boundary-breaking women backpackers
The forests, lakes, and lush mountains of Montana might be easy to get lost in.
However, with the right guidance, they're also the perfect place to find yourself.
Madison Browning and Sally Stretcher have been leading women's backpacking expeditions in Montana for years now. They craft their walks with a focus on wellness — through yoga, guided meditation, journaling, and other curative activities, they help their guests reset their minds and bodies, as well as build confidence, comradery, and a connection with the Great Outdoors.
Want to know how a hike can heal, and how a backpacking trip can help you get rid of your baggage? Tune in to this FREE WEBINAR!
You'll learn about the fundamentals of backpacking, such as pack management and setting up the perfect campsite, but you'll also hear inspiring stories about women who had their lives changed in Montana's marvelous wilderness.
Webinar hosts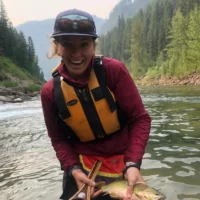 Sally Stecher
Co-owner of Great Northern Wilderness Guides
Psychology graduate Sally Stecher considers herself a great lover of people. Born and raised in Texas, she has always been drawn to the mountains. She grew up traveling every chance she got, and in college, she fell in love with running. Her enthusiasm for learning and spending time outside has shaped her to be a grounded individual, open to new experiences and testing her limits.  Sally enjoys espresso and a good book, but give her a pair of running shoes, and she feels ready for anything thrown her way. Sally is currently in the process of attaining her Yoga Teacher Training Certification and Wim Hof Method training.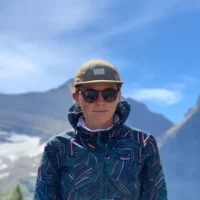 Madison Browning
Co-owner of Great Northern Wilderness Guides
Madison was raised in the mountains of Glacier NP, spending her summers hiking and backpacking through the peaks and valleys. From a young age, she knew that Northwest Montana was home in her soul. As a college junior, she embarked on a sailing trip around the world, connecting with people of all walks of life and returning with an even greater thirst for adventure. Since that time, Madison has lived in Japan and New Zealand, while always seeking the outdoors. The idea of starting her company came to Madison on a backpacking trip in 2020, when she realized how healing the outdoors was for her, and how wants to provide this same experience for others. Recently she has been leaning into her other great passion of woodworking.