Partner

Michelle shared:
The difference between section hiking and thru-hiking
Training for months on the trail
Gear you'll need and staying minimalist in your packing
Planning your nutrition and resupplying along the way
Route planning and expected costs
The benefits of having an experienced guide
Staying safe
There's hiking and then there's hiking the A.T. One of America's most iconic footpaths, the Appalachian Trail entices trekkers old and new to an adventure of a lifetime—and the challenge of leaving their footprints along its entire formidable length. At nearly 2,200 miles spanning 14 states, this is one of the longest and most demanding treks in the world.
Guide Michelle Michaud has the answers. She has twice thru-hiked the A.T. and completed countless sections from the Shenandoah to Mount Greylock. Michelle knows all about the thrill and the challenges of this rugged East Coast trail with the white blazes.
Completing the thru-hike is not just a question of stamina, but also of dedication, mental preparation and logistics. Check out this one-hour webinar recording and find out what it takes to complete the legendary Appalachian Trail, from planning for the months ahead to packing your supplies, training and staying safe on the trail.
Webinar host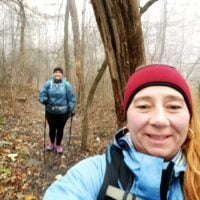 Michelle Michaud
Lead Hiking Guide
Michelle Michaud is the founder and primary guide at Wandering Boots, which specializes in adventures on the Appalachian Trail. Since starting to hike the A.T. in 1998, she's completed the trail several times both in sections and all the way through. Her travels have also taken her hiking and climbing in the UK Highlands. Due to her experience working as an EMT and firefighter, no emergency on the trail can rattle this indefatigable born and bred Mainer.