What it Takes to Thru-hike the Appalachian Trail
EPIC ADVENTURE WEBINAR BY

&
Webinar is finished. Sign up to get the free recording.
Taking the first step on the journey of a lifetime
Register for free and join us on August 12th, for this free live info session with Michelle Michaud. Presented in partnership with Somewear and Jack Wolfskin.
There's hiking and then there's hiking the A.T. One of America's most iconic footpaths, the Appalachian Trail entices trekkers old and new to an adventure of a lifetime—and the challenge of leaving their footprints along its entire formidable length. At nearly 2,200 miles spanning 14 states, this is one of the longest and most demanding treks in the world.
Guide Michelle Michaud has the answers. She has twice thru-hiked the A.T. and completed countless sections from the Shenandoah to Mount Greylock. Michelle knows all about the thrill and the challenges of this rugged East Coast trail with the white blazes.
Completing the thru-hike is not just a question of stamina, but also of dedication, mental preparation and logistics. In this one-hour webinar, you will find out what it takes to complete the legendary Appalachian Trail, from planning for the months ahead to packing your supplies, training and staying safe on the trail.
WHAT YOU GET IN THIS ONE-HOUR SESSION
MICHELLE WILL COVER
The difference between section hiking and thru-hiking
Training for months on the trail
Gear you'll need and staying minimalist in your packing
Planning your nutrition and resupplying along the way
Route planning and expected costs
The benefits of having an experienced guide
Staying safe
LIVE Q & A SESSION
Michelle will follow up with a live Q&A session, where you can ask her anything you want to know about completing the legendary Appalachian Trail.
Get free professional advice from a professional guide who has both section hiked and thru-hiked the A.T.
After hearing Michelle's story, you'll be marking the next six months on your calendar with big red circles and only one goal in mind—completing the entire 2,200 miles.
Webinar host & partners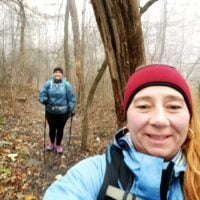 Michelle Michaud
Lead Hiking Guide
Michelle Michaud is the founder and primary guide at Wandering Boots, which specializes in adventures on the Appalachian Trail. Since starting to hike the A.T. in 1998, she's completed the trail several times both in sections and all the way through. Her travels have also taken her hiking and climbing in the UK Highlands. Due to her experience working as an EMT and firefighter, no emergency on the trail can rattle this indefatigable born and bred Mainer.
4oz Global Hotspot
Somewear
Somewear provides 100% global connectivity and peace of mind for off-grid weekend warriors and global explorers alike. The 4oz Somewear unit pairs with your mobile device to provide global SMS/Text, location sharing/tracking, 7day weather forecasting, SOS emergency rescue services via GEOS Worldwide. What sets Somewear apart from competitors is dependability and user-friendly app interface. This is why Somewear has become the goto satellite communication device for backcountry snowboarding pioneer Jeremy Jones.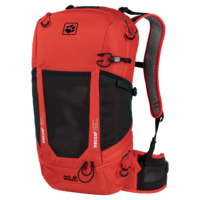 The Kingston 30 RECCO pack
Jack Wolfskin
The Kingston 30 Pack RECCO from Jack Wolfskin incorporates RECCO chip technology, making it easier for rescue services to locate you in an emergency. This 30L hiking pack offers an ACS back system for support and ventilation when carrying heavy loads, a sternum strap with an SOS whistle, water bladder storage, and multiple compartments for easy organization. The pack incorporates recycled materials aligning with Jack Wolfskin's sustainable brand ethos and is ideal for extended day hikes or short backpacking excursions.
By signing up you will also subscribe to the GearJunkie & 57hours newsletters and enter the giveaway.