Emma will cover:
Why the Tour du Mont Blanc is one of the greatest long-distance walks in Europe
Choosing your itinerary and why it matters
The awesome destinations that await you
The must-see highlights of this hike
What to pack and how to prepare for the Tour
Other essential logistical info
Crowning the King of the Alps with 170 km of pure hiking greatness, the Tour du Mont Blanc is one of the most iconic multi-day treks in the world. With 360-degree views of the massif and the 10 summits surrounding it, this is a long-distance classic that never eases up on the "oohs" and "aahs".
It's not all about the vistas, either—the Tour is an opportunity to swim in crystal-clear lakes, visit charming alpine villages, and sample three distinct, world-renowned cuisines. What happens when you mix a Swiss raclette with a French tartiflette? Try it, we dairy you!
However, the circuit is anything but straightforward, and it requires a "massif" amount of prep work. With seven different starting points, endless accommodation choices, and itineraries ranging from 3 to 13 days, it's enough to make your head spin.
That's why we've dedicated this webinar to teaching you everything you need to successfully tackle the Tour. From packing and physical prep to picking the right time and itinerary, we'll make sure you find your footing on the terrific trails of Mont Blanc.

Live Q&A sesssion
Emma will follow up with a live Q&A session, where you can ask them anything you want to know about hiking the Tour du Mont Blanc.
Webinar host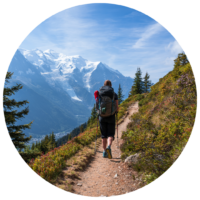 Emma Jack
International Mountain Leader & Co-founder of Cloud 9 Adventures