Caroline covered:
How the Everest Base Camp Trek is transformational
What makes the trail unique in the hiking world
A look into the history, culture, and people of Khumbu Valley
The titular base camp: what it's like and what you'll do there
Managing the logistics of the journey
Pro tips regarding training, gear, and dealing with the altitude
When you're dealing with the tallest mountain in the world, reaching the base camp is no walk in the park. It is, however, a transformational journey through some of the most spectacular landscapes in the world.
For most alpine adventurers, the mere mention of Everest is enough to evoke images of colorful bazaars, roaring rivers, rhododendron-clad forests, and sky-shattering peaks. It's a name that carries more weight than the mountain itself.
However, the Everest Base Camp Trek is more than just a stroll above the clouds—it's a life-changing pilgrimage that converts hiking hobbyists into true trekking fanatics. As such, it requires tons of knowledge about the area, as well as physical and mental prep work. This is where we come in!
Follow us on a virtual journey to learn what it takes to plan, prep for, and execute an Everest base camp expedition. You'll be joined by an expert guide who will share invaluable insight on making it through this humbling high-alpine hike.
Webinar host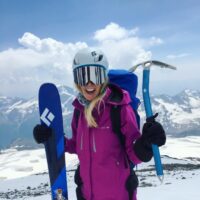 Caroline Pemberton
Co-owner and General Manager of CTSS
Caroline fell in love with the mountains in 2005, when she spent an entire season in the Everest Base Camp supporting her brother, Rex, who became the youngest person ever to reach the summit. After a decade spent  traveling the world as an adventure TV host and journalist, Caroline founded MissAdventure, a community dedicated to helping girls aged 7-14 improve their self-worth and body image through action sports. She spends her days organizing epic adventure tours, surfing, skiing, biking, and in her rare quiet moments, gardening.